Eating South Africa
Dec 29, 17, 10:47 am
FlyerTalk Evangelist
Join Date: Mar 2010
Location: JER
Programs: BA Gold/OWE, several MUCCI, and assorted Pensions!
Posts: 27,143
Eating South Africa
---
I worried about starting this TR, as it had the full potential to be a complete re-run of last year's December trip to the Western Cape. Same airline (BA), same aircraft (B772-ER, 48J), same routing (JER-LGW-CPT) and the same hotels in Cape Town, Stellenbosch and Franschhoek. Indeed, my previous TR (
BA in Club World to the Western Cape
) probably had some better and more interesting photographs and narrative than I can offer this time. However, as I started to organise photographs, something eventually emerged. It seems that food [and wine] dominated proceedings and the contents of my camera, so perhaps that's the way it will turn out.
Anyway, having been bitten by the South Africa bug in December 2016, we started looking for ways to repeat the experience in 2017. To our amazement, on 21 Jan 17 we found reward availability again for LGW-CPT, enabling us to use a 2-4-1 companion voucher to fly in J for the princely sum of £501.42 each in Taxes and Fees
I did however note that the previous trip only cost £420.72 each, but I'm not going to quibble about that! With the critical component of the trip sorted, it was an easy task to re-establish contact and make bookings with the hotels in Cape Town, Stellenbosch and Franschhoek. From our past experiences, we were able to refine our requirements and actually ask for specific rooms … on this occasion we were successful in 2 out of 3 locations.
Sat, 9 Dec 17
1400-1500
JER-LGW, BA2773, A319, G-DBCI
CE seats 2A/C
The weather at JER airport reinforced the wisdom of getting away at this time of year!
However, the airport processes were singularly painless and after a short relax in the Lounge we were called for Boarding at Gate 2. A local initiative segregated Priority pax in a separate holding room until boarding commenced
… at which point we scampered through the rain to board! With only 4 rows of CE, and 10 pax, the CSD kindly passed among us offering a pre-departure cup of tea! We pushed back on the dot of 1400, and at 1420 we faced the reality of the BA "Afternoon Tea". The "Shrimp Count" in the sandwich proved we were on BA (:
As the pre-departure tea offer indicated, our CSD was very engaging and interactive. As is said so often here on FT, what a difference the crew can make, even on a short (60 minute) sector!
Anyway, safely on chocks at LGW at 1500, and having wended our way out through Arrivals and back in through Departures and Security, we settled into the BA FLounge at 1530 for a couple of hours. The blurry view of the short-haul ramp area was quite uplifting, as we would soon be escaping all that grey and damp!
Sat, 9 Dec 17
1830-0815
LGW-CPT, BA2041, B772-ER (48J), G-YMMR
CW seats 5A/B
At 1722 on the dot as pre-warned on the electronic displays, boarding was announced at Gate 13. We were there by 1730, and entered the large [and empty] holding area where we positioned ourselves at the far end near the door to the jetway. Apart from a 'Priority' line for the BP check, no other signage existed: we were on our own initiative from here onwards! At 1745 the CC started arriving, and we could see the food trolleys being loaded - these were good signs. At 1800 the pre-boarders were called [via a typically unclear PA system] and at 1805 the Priority boarders were called … we were quickly down the airbridge and into our pre-selected seats, delighted to find that for a change the airframe had not been changed from the 48J to the 40J or a 4-class
Loading clearly went quickly, because at 1830 we pushed back exactly on schedule, to then enjoy a manual safety demo (I hoped the IFE would be fixed soon!). Safely airborne at 1850, drinks and nuts were served - where it became clear that the full published wine list had not been loaded. There's a surprise: how do BA get that wrong so often? It was particularly annoying as the missing item was the South African Sauvignon Blanc that would have put us in the right frame of mind for the start of the trip! I watched "Dunkirk" on the now-functioning IFE, interrupted by the meal service, of course.
The Dinner service [which started at 2000] was one of BA's better offerings: we were pleased.
Menu - we had both pre-ordered the chicken, which turned out to be quite tasty and perfectly edible!.
The Smoked Salmon was fine.
The traditional "Chicken Breast with Sauce of the Day"
And a reasonable cheese plate
By 2110, after a soothing glass of Graham's "Six Grapes" port, and having finished the film, I went fully horizontal and enjoyed 7 hours of sleep
Sun 10 Dec 17 - CAPE TOWN
Cabin lights on at 0430 … or 0630 local, by now. A perfectly acceptable BA cooked breakfast ensued.
We landed at 0800, 15 minutes early, and made our way to Immigration where, at 0815, we joined the barrier queue behind a few hundred other people from an earlier flight. Some 30 minutes later we emerged, reclaimed our bags and cleared Customs. … yay! The holiday begins here!
As we did in 2016, we had pre-booked our airport>hotel transfer with the efficient Rikki's Taxis >>>
Rikkis Taxis - Cape Town - South Africa
<<< at their fixed-price of 380R (c. £22). Slightly confusingly, the shuttle is actually >>>
Sport24hrs - Cape Town Taxis - Airport Shuttle - South Africa
<<< but whatever it's called there's an Agent standing at Arrivals with our name on a red-edged board who escorts us on the LONG walk to their desk, where we pay and get escorted into the car park to link up with our driver. At 0910 we are on the road, and arrived at the hotel about 20 minutes later. Incidentally, Sport24Hours are very good at personal confirmation emails of bookings - a great feeling of confidence ensued!
Southern Sun - The Cullinan
https://www.tsogosun.com/the-cullinan
A perfectly decent, 400-room 4-star establishment, with good dining facilities. A convenient hourly [free] shuttle to the V&A Waterfront is a bonus, and is the availability of smoking rooms
"Good Morning, Reception. We know check-in isn't until 1500, but we have no choice as this is when the flight delivers us. We have a confirmed reservation here for a smoking room." (I would also note I joined their loyalty program, and received a 750R voucher towards F&B during our stay).

"I'm sorry, there are no smoking rooms available. I will try and get you a non-smoking day room, and hope to have a smoking room available by 1800."
Bugger!!
We eventually dump our stuff in the day-room, grab a shower and change. We duly loiter pool-side, in the smoking zone, and grab some tapas and drinks from the very pleasant in-house Cafe/Bar ("Stella" -
https://www.tsogosun.com/stella-cafe-and-bar
). To our amazement, three of the staff remembered us from last year, and greeted us enthusiastically! At 1800 we meet up with
CrisL
and
gillyd22 + 1
for the 2017 CPT FT Mini-Do, which entailed a couple of hours drinking and chatting (as one does). And,
finally
, at 2000, we have been allocated our room! A flurry of activity as we shift our bags to Room 702, unpack essentials and declare "Early Night"
Mon 11 Dec.
We take stock of our surroundings, now that it is daylight. A nice comfortable room, loads of space and a decent view. A nice "Welcome Pack" of cookies and a bottle of Shiraz lifts our spirits after the previous day's messing around.
After a hearty breakfast, we did the mandatory tourist thing and headed for the V&A Waterfront (using the hotel's free shuttle) for a wander around the shops and cafes, before setting down for a leisurely afternoon pool-side with more tapas and wine
We would have to call the Breakfast good, with many hot options and a generous cold buffet.
And the tapas at Stella were, as previously, very tasty …
Spicy Chicken Liver, Bobotie Spring Rolls …
… and Angry Duck Curry. I guess any duck would be angry ended up like that - but delicious anyway. Thank you, duck.
Tue 12 Dec
More tourist wandering, this time up Long Street and through St. George's market. We felt perfectly safe, until we were accosted by a couple of Public Safety officers … who suggested that iWife shouldn't be wearing a visible gold chain! Apparently there is a risk of grab-and-run with exposed jewellery. Lesson learned!! After that excitement, we returned to the hotel and treated ourselves to some surprisingly cheap spa treatments
Wed 13 Dec
Cloudy with occasional showers! This will not do! We managed another wander up Long Street, tactically diving into various shops when necessary! We eventually retired to our room to sulk, and waited until 1500 when the weather improved [a bit] and the staff put the cushions out by the pool. We then sat out in the fresh air, wrapped up in sweaters for our afternoon repast
We then started organising ourselves for the morning departure.
---
Last edited by T8191; Jul 23, 18 at

2:08 pm

Reason: words, just words. And reloading all photos!
Dec 29, 17, 10:48 am
FlyerTalk Evangelist
Join Date: Mar 2010
Location: JER
Programs: BA Gold/OWE, several MUCCI, and assorted Pensions!
Posts: 27,143
Thu 14 Dec - STELLENBOSCH
Time to move on - Stellenbosch here we come. With checkout at 1100, we settled the bill (3,400R/day = £200) which isn't bad for a City hotel on B&B. Taxi booked for 1130, again through Rikki's but actually Sport24Hours again. Our driver was a rather tedious part-time tour guide, who kept droning on about this and that in a very thick Afrikaner accent. I managed to tune him out, pleading deafness
About an hour later, we arrived at the charming little
Eendracht Hotel
>>>
https://www.eendracht-hotel.com
<<< where we delighted to find our room (#8) was ready for us. We squeezed some of our clothes into the wardrobe, and headed back down to the poolside for a refreshing glass!
Before heading out to eat, we reviewed our new surroundings.
Nice comfortable beds …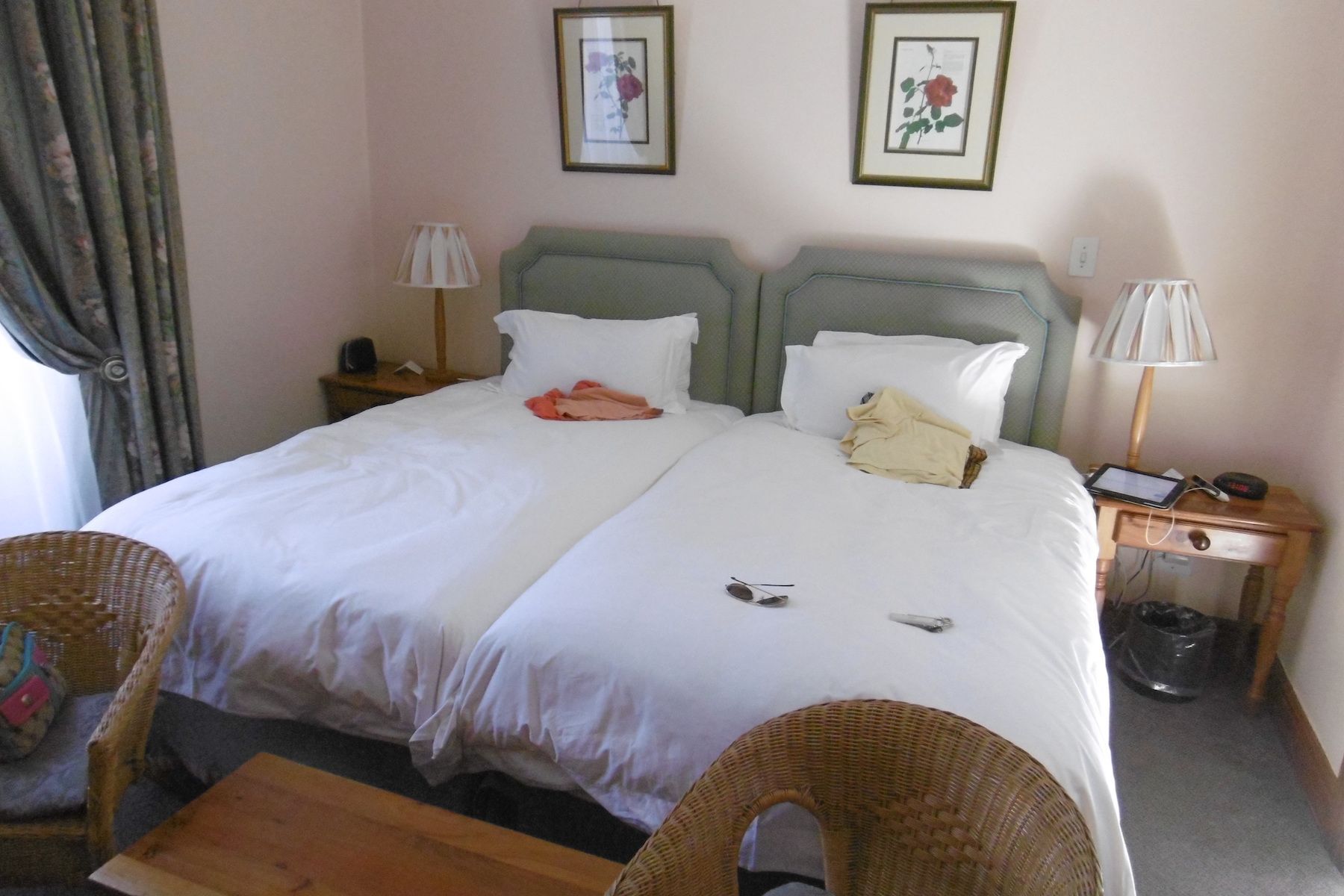 Well appointed bathroom … with water-saving measures in place to help combat the severe drought the Western Cape is suffering …
And a neat little balcony, on which we were allowed to smoke [with the room door closed, of course]
At this point we discovered we were not the only occupants of Room 8 … in the plant trough under a geranium was a nesting pair of Rock Pigeons, incubating 2 eggs. They seemed quite content to share the space, despite our close proximity, as they carried out their regular 'shift changes' every 4-6 hours.
All in all, a charming little B&B just a few hundred yards from the heart of town with its innumerable cafes and restaurants and shops. which leads me naturally to why we like Stellenbosch so much … the food and the wine
Have some foodie pictures ….
Eendracht … Breakfast
Stellenbosch Kitchen
>>
http://stellenboschkitchen.co.za
<<
Lovely staff, excellent cooking and presentation. Part of the eponymous hotel, and really well managed. Highly recommended.
We ate the following there …
Beef Sirloin - perfect beef, perfectly cooked.
Braised Pork Belly - she loved it!
Prawn Risotto - intense and tasty
Seafood Tagliatelle … quite gorgeous
Dark Chocolate and Toffee Fondant - mmmm, chocolate!
Citrus Cheesecake - refreshing
Steam
>>
https://www.dining-out.co.za/md-menu...estaurant/9417
<<
A new one on us, recently opened and just 30 yards from our front door! Great staff, but the food was only just good! Nice for a glass of wine during the day, though.
Ahh, ashtrays. We love you!
Springbok Shanks … somehow she felt it wasn't as good as it should have been. Generous portion, though!
Threesome of Fillet … sadly missing the Ostrich Fillet, and thus rather disappointing!
Oppie Dorp
>>
https://www.oppiedorp.co.za
<<
An absolute gem of a restaurant, just 250 yards down the road
From their Specials menu, the mandatory sharing platter …. Clockwise from bottom left … Springbok Spring Rolls, Kudu Steak, Ostrich Steak, Crocodile in Tempura Batter, Warthog Fillet.
Apart from eating and drinking, we did also walk around town regularly, and much enjoyed a visit to the
Stellenbosh University Botanical Garden
A delightful couple of hours were spent wandering the paths and odd corners … a really fascinating collection in a lovely setting, and including a huge collection of Bonsai..
That's enough culture ... bring on more food
---
Last edited by T8191; Jun 29, 18 at

6:24 am

Reason: reloading all photos!
Dec 29, 17, 10:48 am
FlyerTalk Evangelist
Join Date: Mar 2010
Location: JER
Programs: BA Gold/OWE, several MUCCI, and assorted Pensions!
Posts: 27,143
Tue 19 Dec - FRANSCHHOEK
Sadly, in some respects, it was time to move on after 5 nights at the Eendracht … that was 2118R/night, or about £125. Reception had organised a taxi for us for 1130, for the relatively short journey to Franschhoek … and thus we met the delightful [and cheap] Adriaan. What? 300R for the trip? Last year the same journey cost 420R! Thanks, Adriaan … a safe and friendly and informative driver!
And here we are again, at
The Franschhoek Country House and Villas
>>
Franschhoek Country House and Villa's - A 5 Star Luxury Hotel Accommodation experience in the Heart of the Franschhoek Valley | FCH
<<
Oh, we just love this place, and the welcome from the proprietor [no less!] and several senior members of staff made it feel like a Royal visit! Our earlier request for the room we had last time was, indeed, honoured … and more importantly it was available at 1230 instead of the normal check-in time of 1500. Oh, happiness! Our cases were conveyed to our room while we sat in the garden and refreshed ourselves with some of the local produce. At which point, a waiter arrived with 2 glasses of complimentary champagne! It seemed churlish to refuse
The room you may have seen previously, but I'll chuck in a few images anyway … lovely Room, lovely view, huge balcony, lovely grounds … all immaculately maintained.
On our first night we cheated, and popped next door to the
Village Grill and Butcher
>>
Village Grill & Butcher | Franschhoek ? Village Grill & Butcher | Franschhoek
<< for a quick dose of local country food. The Gorgonzola and Fig stuffed fillet steak was irresistible, and utterly delicious, as were the 250ml carafes of local Shiraz.
After which it seemed time to wander the 25 yards back to the hotel and … zzzzzzzzz
Wed 20 Dec
Yawn … stretch … what a wonderful night's sleep! Coffee and biscuits on our balcony, admiring the view, and gently stumbling into something resembling 'awake'
The hotel does an very nice [and sophisticated] range of hot breakfasts, and has a dazzling display of cereals, fresh fruit and Continental breakfast options. If I had one tiny criticism, ZA doesn't seem to do very interesting bread.
Now this is, IMO, a SERIOUS Breakfast Buffet!
Hot options from the Menu
A quick trip into the Village on the free shuttle led to us wandering happily around for a couple of hours before grabbing some refreshment at the well hidden
"Elephant and Barrel"
pub, in a courtyard off the main street >>
Elephant & Barrel Village Pub ? The only English Pub in Franschhoek.
<<. The Western Cape is NOT just about wine, even in the Winelands
Returning home, we booked Adriaan for our return journey to airport - he quoted 450R, a slight improvement on the 1,000R we were charged last year! Exhausted by all our activity, we settled down by the pool for a couple of hours, and were delighted to find 2 glasses of
un-ordered
free champagne materialising! And so onward to dinner at the in-house Monneaux Restaurant ..
Monneaux Restaurant - Award Winning Restaurant Franschhoek
<< for some 'posh dining'.
At this stage I must note that, for a variety of odd reasons, our experience there last year was less than stellar. However, this time it could not be faulted in any way - were we being specially treated as compensation?? Whilst enjoying our pre-prandial drinks outside in the garden, 2
more
glasses of free champagne materialised (!) and shortly afterwards we were escorted to our decorated table by our wonderful waiter, Foster.
Following a short conversation with Foster, we decided to pass on the Chef's Menu and instead went for a selection of Petite Assiettes >>
Monneaux Restaurant Menu - Monneaux Restaurant
<<. Foster assured us that they were about half the size of normal serving, and that 3 each would probably do nicely! OK, much examination of the options ensued, with decisions being made and overturned in an instant before we finally made our choices. What was staggering was that Foster could recite the ingredients of everything single dish on offer - what a memory!!
For Him:
Smoked Octopus
Chicken & Prawn Curry
Springbok Steak … I apologise again to Foster and Chef for calling it "Road-kill of the day"
For Her:
Line Fish of the Day
Lamb Cutlet
'Duckchetta' - which turned out to be a lovely piece of duck, with accompaniments.
I think that was one of the nicest meals we've ever had on our travels, and compared well with some of the Michelin* ones we've had at home in Jersey. Washed down with wine, and finished with coffees [and a Brandy for me], the bill was just 690R/£40
Thu 21 Dec
Our last full day, and guess what … a cloudy morning. "This will not do", they cried, and after breakfast settled into the comfy armchairs with Kindles and coffee
Annoyingly, and NOT the hotel's fault, the Internet connection to Franschhoek was having one of its worst days … constantly dropping out, as the hotel's WiFi tried to find a functioning server [I saw 3 while checking SpeedTest] and only getting a download of 0.3mbps.
We sort of wasted the day, really, until 1600 when we made our way to the Village Grill for our last ZA meal. A gorgeous Ribeye Steak for me, and the LineFish [yes, it's Kingclip today] for her, accompanied as usual by the finest potato wedges we've ever encountered!
We later spent over 30 minutes trying to check in on-line for the next evening's flight … given the slow connection this was obviously confusing ba.com, as at one point it generated for me an unrequested E-Boarding pass
We gave up, and went to bed!
---
Last edited by T8191; Jul 23, 18 at

2:27 pm

Reason: Wrong link! And re-loading all the photos, thanks to imgur!
Dec 29, 17, 10:49 am
FlyerTalk Evangelist
Join Date: Mar 2010
Location: JER
Programs: BA Gold/OWE, several MUCCI, and assorted Pensions!
Posts: 27,143
Fri 22 Dec
A look out of the window made it clear it was definitely time to go home
A further attempt at ba.com indicated that we had [somehow] achieved OLCI yesterday evening, and that I was the proud possessor of an E-BP. Whatever! Dressing slightly more warmly than we had ben accustomed to recently, we wended our way to breakfast, where one of the Management team confirmed we were OK for a late check-out and that we could stay in our present room. Yessss … thank you very much, and we'll be gone at 1500 anyway, Little things like that can make such a huge difference to a trip.
I celebrated by having Belgian Waffles with grilled bananas for breakfast ... "Bacon on the side, please"
The last day is always difficult, especially when its dull and the flight isn't until the evening. We were packed by 1115, and mooched around our suite. The sun eventually emerged, and we had a last glass of wine in the garden before heading to Reception and checking out. Our accommodation had been pre-paid in full … 12,300 for 3 nights B&B, or 4,100R/£240/night - serious value for money IMO, given the quality of everything. And the Bar/Restaurant bill was only another 1175R/£70! We are undoubtedly going to be "Returning Guests" again.
Adriaan and his taxi were already there waiting, our bags were collected from our room, and we were on the road at 1445. 1545 had us kerbside at CPT, and having bade farewell to our trusty driver, we entered the Terminal in search of the BA desks … which seemed further over than last time. In the 30+ area, anyway. The Agent at the empty First check-in greeted us with a cheerful smile, tagged our bags through to JER and carefully added the "Short Connection" tags to the collection. Then a pleasingly quick Security, with an extra lane seemingly being opened for us [this is going well
] and then the long-ish walk to Immigration where there was indeed some delay (10 minutes queueing?). A quick ciggie in the convenient smoking lounge, some Duty free shopping, and we were in the BA Lounge [at the far end of the Departures zone] by 1645. At this point my notebook appears to be empty, so the rest of this bit is from memory. However, we knew we were sitting around for a few hours, as the flight wasn't until 2020!
Fri, 22 Dec 17
2020-0615
CPT-LGW, BA2040, B772-ER (48J), G-YMMD
CW seats 5J/K
Boarding was well organised, with clear signage to a separate Tensa queue for priority pax. The sign board was cunningly positioned to ensure nobody started trying to enter the queue until the ground agents were ready!! And eventually, there we were … boarded, seated, PDBd and generally bracing ourselves for the 12-hour night flight to LGW.
Dinner was quite agreeable, in a BA sort of way.
The Springbok carpaccio was nice, and left a 'Taste of Africa' to mark our departure.
Bravely choosing the Seared fillet of beef, it proved to be tender and tasty … although I wondered how they managed to extract all the colour from it..
A reasonable cheese platter ended proceedings.
And then it was time to sleep, which I did successfully for many hours
Sat 23 Dec
A nice early morning arrival at LGW. Had I had breakfast? Oh yes ... "Cold Breakfast, please ... ummmm … a
bowl
containing two lumps of cheese, two slices of cold meats, a lump of salami [?] and some sliced veggies. Bizarre and impractical presentation! One of the strangest BA creations I've encountered!
But it was a nice refreshing long walk from the airbridge to Immigration and Arrivals. As usual, we popped across the road for a couple of restorative cigarettes and admired the wonderful UK weather … brrrr. Then back through Security (Premium Gatwick being its usual efficient and friendly self), at which point we realised that it was hardly worth making our way to the BA Lounge … it's so far away we would have to turn round almost as soon as we got there! So we joined the Great British Public on some benches opposite Boots for about 10 minutes until Gate 11 was declared. But a short walk to …
Sat, 23 Dec 17
0805-0910
LGW-JER, BA2770, A319, G-DBCG
CE seats 2A/C
… Gate 11, where there was a separate Priority line for the Security/ID check and the BP check. The general waiting area was already quite busy, but we found seats near the door to the airbridge and waited. The Agent at the door called for assistance passengers, and then returned to her podium at the far end of the room … leaving the door unguarded. Everyone was very well-behaved, though, and nobody moved until she announced "Club Europe, Gold …". And we boarded, taking our usual seats in the smallest CE cabin we've encountered. Just 3 rows of CE, and maybe 10 pax. The back end was, however, clearly full. And LGW was busy too, as our Captain noted with an apology - we didn't get airborne until 0825. I think we were offered another breakfast, but we decline ... there was only a hot option
And so that's the end of the narrative.
________________________
REFLECTIONS
That concludes my rambling TR, with many pictures of food to whet your appetite for visiting the Western Cape province of South Africa. Delicious eating at every step, accompanied by equally delicious wines [and the occasional beer/cider]. Combined with generally lovely weather, it made for a very pleasant couple of weeks.
But the abiding memories also include the staff we encountered. Cheerful, friendly, efficient and knowledgeable in equal degree everywhere we went. Without exception they were a joy to be with, and they all helped make this trip so great. Bless you all, and thank you everyone! You set the bar very high!!
And on this occasion, BA delivered what it says on the tin, which was a pleasant change. On this occasion, I'll say "Thank you, BA" as well.
And the hard-working iWife has finally finished doing 3 days of laundry and ironing, so we have clean warm climate clothes for the next trip … Jamaica at the end of February, in time for our 38th Wedding Anniversary! Bring it on!!
Hope you enjoyed reading!
---
Last edited by T8191; Jul 23, 18 at

2:33 pm

Reason: kerbside CPT, not JNB. WHY did I type that?! And photos reloaded.
Dec 29, 17, 11:19 am
Join Date: Oct 2015
Location: next to HAM
Programs: LH SEN, IHG Gold, HH Silver
Posts: 562
Cheers, I've to follow this route the other day (likely late 2018 or early 2019).
Dec 29, 17, 12:30 pm
Join Date: Jun 2004
Location: San Francisco, CA
Programs: AA Exp, One World Emerald
Posts: 108
The food all looks amazing.
Dec 29, 17, 12:55 pm
FlyerTalk Evangelist
Join Date: Mar 2010
Location: JER
Programs: BA Gold/OWE, several MUCCI, and assorted Pensions!
Posts: 27,143
Dec 29, 17, 3:46 pm
Join Date: Mar 2014
Posts: 180
Lovely report uncle T. We hope to follow in your and iWife's footsteps one day. Yummy looking food and wine. Weather maybe not so good this time? Mind you, I believe there was a water shortage and they were desperate for rain? Did you perform a rain dance for them.
Ps tip for iWife. Buy clothes that don't need ironing for your next trip. Happy 38th!
---
Last edited by AmaaiZeg; Dec 29, 17 at

3:53 pm
Dec 29, 17, 4:29 pm
Join Date: Dec 2003
Location: Charlottesville, Va. USA
Posts: 1,297
Thanks for the TR. We did 5 weeks in SA in Sept./Oct. It is truly a special place3.
Dec 29, 17, 7:34 pm
Moderator, Trip Reports
Join Date: Nov 2009
Location: 6km East of EPAYE
Programs: UA Silver, AS & AA GM, Marriott Platinum, Hilton Gold
Posts: 9,059
Really great TR, thanks for sharing
. I really want to take a long trip to South Africa - looks awesome.
Dec 29, 17, 9:33 pm
Join Date: Jul 2008
Location: NYC
Programs: DL/UA Silver, Hilton Diamond, Starriott Plat, Hyatt FreeBottleofWaterist
Posts: 7,413
Nice TR. This comment hit home, as I quite enjoyed Cape Town when I was there a couple years ago and plan to return soonish, but Cape Town is also the only place in all my travels I've faced an attempted robbery in person and I wasn't even flashing anything, but it happened to be after dark. I was walking down a sidewalk through a park (mistake number one, I took a short cut through the park as opposed to walking along the main street) and a man walking the opposite direction to me placed his hand on my jacket that had my digital camera in it and said "just give it up and there won't be a problem". Feeling emboldened from like 3-4 glasses of wine with dinner, fight or flight returned a fight response, so I struck his forearm as hard as possible to break his grip on my jacket and peaced out. I stopped when I found a bar. Turned out to be what I think was a gay bar. Whateves.
Dec 30, 17, 2:55 am
Join Date: Apr 2015
Posts: 367
Nice trip report, reminds me of the Garden Route trio I took earlier this year. You seemed rather unlucky with the weather. Made up for it with the food though!!
Dec 30, 17, 3:36 am
Join Date: Apr 2011
Location: London
Programs: BA Silver
Posts: 279
Thank you Uncle T- I so enjoy your narrative voice! We visited the cape earlier in the year (and loved it, naturally)- I'm interested to know how much worse you found the water restrictions?
Dec 30, 17, 3:51 am
FlyerTalk Evangelist
Join Date: Mar 2010
Location: JER
Programs: BA Gold/OWE, several MUCCI, and assorted Pensions!
Posts: 27,143
Thanks!
The water restrictions were more in the direction of encouraging the minimal use of water: we didn't actually encounter any actual restrictions.
The buckets in S'bosch were a strong visual reminder to minimise. Between the 2 of us we would fill about 3/4 of that bucket when showering, which shows how much you can waste!
In F'hoek there was a notice in the bathroom along the lines of "Take a shower rather than a bath, and sing just 2 songs instead of 3."
Dec 30, 17, 5:37 am
Join Date: Jan 2010
Location: UK
Programs: BAEC Silver
Posts: 367
Thanks for taking time to post this TR. you brought back so many memories to me, particularly from Franschhoek. What a wonderful place it is. I second your opinion on the rib eye at the village butcher!