2017: Your travel year in review
Dec 29, 17, 6:36 am
Join Date: Oct 2008
Location: SIN
Programs: A3 Gold, SQ KF Elite Gold, AB Gold, QR Silver, IB Oro
Posts: 148
New Cities/Towns/Locations
: Udaipur, India; Bucharest, Romania; Merzouga desert, Morocco; Yasawa Islands, Fiji; Kiev and Chernobyl, Ukraine; Riga, Latvia; Munich and Dachau, Germany; Buenos Aires and Iguazu Falls, Argentina; Colonia del Sacramento, Uruguay; Rio de Janeiro, Brazil; Cairo and Giza, Egypt; Athens, Heraklion and Santorini, Greece.
New Countries
: 8 — Romania, Ukraine, Latvia, Argentina, Uruguay, Brazil, Egypt and Greece.
New Airports
: 19 — DEL T3, UDR, JAI, OTP, FEZ, CMN, MUC, KBP, RIX, EZE, AEP, IGR, IGU, GIG, GRU, CAI, ATH, HER, and JTR
New Airlines
: 14 — SpiceJet, TAROM, Royal Air Maroc, Ukraine International, AirBaltic, AirExplore, Aerolineas Argentinas, GOL, Avianca Brasil, Egyptair, Aegean, Olympic Air, Sky Express and Malindo Air.
New experiences
:
Latest MH Business Class on the A330
Thai's A350 and 787-8
1st Long-haul Business Class on Turkish, Air China and Austrian
1st (and last) time trying out NZ's Spaceseat
Qatar's LATAM A350
Encountering a flight operated by a plane on wet lease (Air Baltic)
SQ's A350
Best experiences
:
Service on Air New Zealand, Qatar, Turkish and SQ
Being the only one in business class on Malindo
Flight transfers at ATH
Indian resorts and palaces
Visiting the amazing pyramids, stunning Santorini, the majestic Iguazu Falls and Rio, and eye-opening Chernobyl and Pripyat.
Less impressive experiences
:
Domestic flights in India - all were delayed!
Royal Air Maroc - plane turned back and made to wait 7 hours before knowing how we will get to our destination.
No service on 2.5h flight on Aerolineas Argentinas because of "poor" weather. Of course, it was smooth flight.
Overcrowded Star Alliance lounges in GRU and EZE
Beijing Airport - beautiful yet so user-unfriendly. Long queues and got my power bank confiscated.
Westin Fiji - no A/C, no hot water and poor service.
Shortest Flight
: CMN – RAK (122 miles)
Longest Flight
: AKL – EZE (6,415 miles)
Total Airports
: 32
Total Airlines
: 25
Total Aircraft Types
: 20
Total Sectors/Miles
: 53 sectors & 102,015 miles (164,177 km)
---
Last edited by marcelduchamp; Dec 29, 17 at

9:52 am
Dec 29, 17, 8:38 am
Join Date: Oct 1999
Location: New York
Posts: 6,297
Travel Review 2017:

Here is my annual travel review and I actually travelled a bit less than last year. I flew 203 flights on 180 different planes on 61 different airlines to 91 different airports on 165 different routes. I travelled 298,123 miles, which equals to almost 12 times around the earth in 2017. I spent 636 hours and 13 minutes in the air, and to no surprise, my top two airports are Los Angeles International Airport and Hong Kong Chek Lap Kok International airport, and my top two routes are from LAX to JFK and Taipei to Hong Kong. To my surprise, my number one airline in terms of flight distance is Air Canada, but to no one's surprise, my number one airline in terms of amount of flights are JetBlue Airways and Alaska Airlines, which tied at 17 flights each. In terms of distance, I flew the most on Boeing 777-300ER, and in terms of amount of flights, I flew 18 times on Airbus A321-200 Sharklet. Most northern airport is Yellowknife, Canada, and my southernmost airport is Sydney Kingsford Smith International Airport. Most eastern airport is Coffs Harbour, Australia, and most western airport is Honolulu International Airport. I flew many good quality regional airlines, including Fuji Dream Airlines and Cal Jet. Sadly, Island Air of Hawaii closed down shortly after I flew a quick flight on them from Honolulu to Maui on their brand-new Dash 8-Q400. Of course, flying C Series 300, A321NEO, and Boeing 737 MAX 8 are cool. 2017 has been an interesting year and I look forward to 2018, when ANA will launch its A380 service, which might be one of the last few airlines taking these new Super jumbos, as well as Singapore Airlines relaunches its ultra-long-haul flights on the brand new A350-1000s.



New Airlines:

1. Canadian North Airlines

2. Cathay Dragon

3. Japan Air Commuter

4. Ryukyu Air Commuter

5. Solaseed Air

6. Spring Japan Airlines

7. J-AIR

8. Fuji Dream Airlines

9. Air Baltic

10. Nordica

11. Jet Time

12. Meridiana/Air Italy

13. Aurigny Air Services

14. Bearskin Airlines

15. Cal Jet by Elite Airways

16. Island Air



New Airports:

1. Aberdeen Dyce International Airport

2. Yellowknife Airport

3. Amami Oshima Airport

4. Shin Ishigaki International Airport

5. Aomori Airport

6. Nagoya Airfield

7. Izumo Airport

8. Riga International Airport

9. Lennart Meri Tallinn International Airport

10. Oslo Gardermoen International Airport

11. Aalborg International Airport

12. Milan Linate International Airport

13. Indianapolis International Airport

14. Ketchikan International Airport

15. Wrangell Airport

16. Petersburg James A. Johnson Airport

17. Sitka Rocky Gutierrez Airport

18. Guernsey International Airport

19. Alderney Airport

20. Thunder Bay International Airport

21. Sioux Lookout Airport

22. Red Lake Airport

23. Winnipeg James Armstrong Richardson International Airport

24. Carlsbad McClellan-Palomar Airport

25. Victoria International Airport

26. Hualien International Airport



New aircraft type:

1. Boeing 737-200 Combi

2. Dash 8 Q400CC

3. Bombardier C Series CS300

4. Airbus A321-200 NEO

5. Boeing 737-900ER Scimitar Winglet

6. Dorner Do228-212K & -212NG

7. Fairchild Swearingen SA227DC Metro 23

8. Boeing 737 MAX 8

9. Boeing 737-700 Scimitar Winglet



Inaugural Flights:

1. First commercial flight and Virgin America's A321-200 NEO flight on VX 1 SFO-DCA May 31, 2017

2. Southwest Airlines' Inaugural Chicago Midway to Cincinnati on June 4, 2017

3. Southwest Airlines' Inaugural Cincinnati to Baltimore/Washington on June 4, 2017

4. Air Asia X Inaugural Kuala Lumpur to Honolulu via Osaka Kansai on June 28, 2017

5. Hong Kong Airlines' Inaugural Vancouver to Hong Kong on June 30, 2017

6. Japan Airlines' Inaugural/Resumption of Narita to Kona on September 15, 2017

7. Southwest Airlines' Inaugural Boeing 737 MAX 8 Commercial flight October 1, 2017 – WN 1 Dallas Love Field to Houston Hobby

8. Hong Kong Airlines' Inaugural Hong Kong to Los Angeles on December 18, 2017
Dec 29, 17, 11:23 am
FlyerTalk Evangelist
Join Date: Mar 2010
Location: JER
Programs: BA Gold/OWE, several MUCCI, and assorted Pensions!
Posts: 26,688
A steady year for 2 "Senior Citizens", renewing BA Gold/oneworld Emerald in the process, and obviously all for Leisure!
Mileage
- 52,828
Sectors
- 30
Destinations
-
ANU
, PHX,
OGG
, MLA, CPT.
Airports
- JER, LGW, LHR,
ANU
, DUB, PHL, CLT, PHX, LAX,
OGG
, MLA.
Airlines
- by distance, about 52/48 AA/BA, with a short connecting venture on EI Economy, which we won't repeat!
Longest Journey
- 36+ hours non-stop, OGG-LAX-CLT-DUB-LHR-LGW-JER. 8,626 miles, mercifully all in Domestic F or Business!
Shortest Flight
- the unavoidable 161 miles between JER and LGW
Best Experience
- The Winelands of South Africa's Western Cape Province.
Worst experience
- none of them!
---
Last edited by T8191; Dec 30, 17 at

2:56 am

Reason: add shortest flight
Dec 29, 17, 7:33 pm
New Countries:- Slovakia, Serbia, Bulgaria, Sri Lanka

Lifetime Countries Visited:- 58

Revisited Countries:- Thailand, Macao, UAE, UK, Czech Republic, Austria, Netherlands, Singapore, Malaysia, Maldives

New Airlines:- Austrian, Air Serbia, Bulgaria Air, Sri Lankan

Shortest Flight:- Belgrade to Sofia (Air Serbia Y) 212 miles

Longest Flight:- Sydney to Dubai (Qantas F) 7,474 miles

Total Sectors/Miles:- 24 / 60,009 miles

The World's Top 100 Restaurants 2017 Dined:- twice at Gaggan Bangkok (7th), Stiereruck Vienna (10th), Nahm Bangkok (28th), Attica Melbourne (32nd), Quay Sydney (95th)

Looking forward to more premium travel and fine dining experiences come 2018.
Dec 29, 17, 9:32 pm
Join Date: Jul 2008
Location: IAH
Programs: DL/UA Silver, Hilton Diamond, Starriott Plat, Hyatt FreeBottleofWaterist
Posts: 7,073
Copy pasting from TravelBuzz:

BIS Miles: 53,418
Segments: 34 (3 in J, 31 in Y)
Continents: 3
Longest flight: NRT-IAH (6643 miles)
Shortest flight: HOU-MSY (303 miles)
New airlines: NH, OZ, AM, AS
Strangest route: IAH-MEX-AMS on AM Y (error fare!)

With the exception of a nice J product I got to try on NH, and my first real trip to Japan, I was really disappointed with my travel year. This marks the lowest overall mileage in the last 3 years, and with only 1 TPAC and 1 TATL, I hardly deserve to be able to call myself an FTer. I had to scratch a trip to Morocco that was planned for last month which would have added 1 more TATL and probably 10k miles. As usual virtually all of my travel was personal, with only 2 of the 34 segments being work related, and as you can imagine, zero airline statuses achieved. Hoping for a better year in 2018!
Dec 30, 17, 2:12 am
Join Date: Aug 2004
Location: Let me check my Logbook
Programs: Southwest Rapid Rewards; AAdvantage; Alaska Mileage Plan; Wyndham Rewards; Choice Hotels
Posts: 1,513
2017 Recap of Flying
---
I flew 24 times in 2017, 35 total segments, total of 28,512 miles or 45,885kilometres.
All flying was done exclusively within the Continental United States
Longest flight distancewise was 1,744 miles ORD-LAX on AA. Time was 3:30
Longest flight timewise was 3:35 STL-LAX on WN.
Shortest flight both distancewise and timewise was 231 miles 0:40 LGB-LAS on WN

New Aircraft types were the Boeing 787-8 Dreamliner and the Boeing 787-9 Dreamliner

New Airports used: CHA Lovell Field and OKC Will Rogers World Airport

Airlines used: WN, AA and F9 in descending order of frequency used. No new airlines.

I ended up in a window seat 34 of 35 times. The other time was the last flying from DEN to LAX on WN and I got the last aisle seat as no window seats were available on the Boeing 737-700 with a C20 Boarding Pass.
Dec 30, 17, 6:08 am
Join Date: Oct 2015
Location: next to HAM
Programs: LH SEN, IHG Gold, HH Silver
Posts: 523
Looks like I started the thread too early (
2017 Travel Statistics - how did you do?
)
Repost:
BIS miles: ~65,000 (103887km)
M+M miles: 101,458 (yay)
Segments: 45
Longest: MUC-HKG
Shortest: TSA-HUN
Airlines: LH, EW, 4U, B7, TG, CX, 6E, LX, FR
Airports: HAM (home), AGP, HND, YUL, FRA, MUC, DUS, CGN, MRU, CDG, TPE, BKK, TSA, HUN, MZG, KHH, HKG, MAN, ZRH, BLR, HYD
On a map: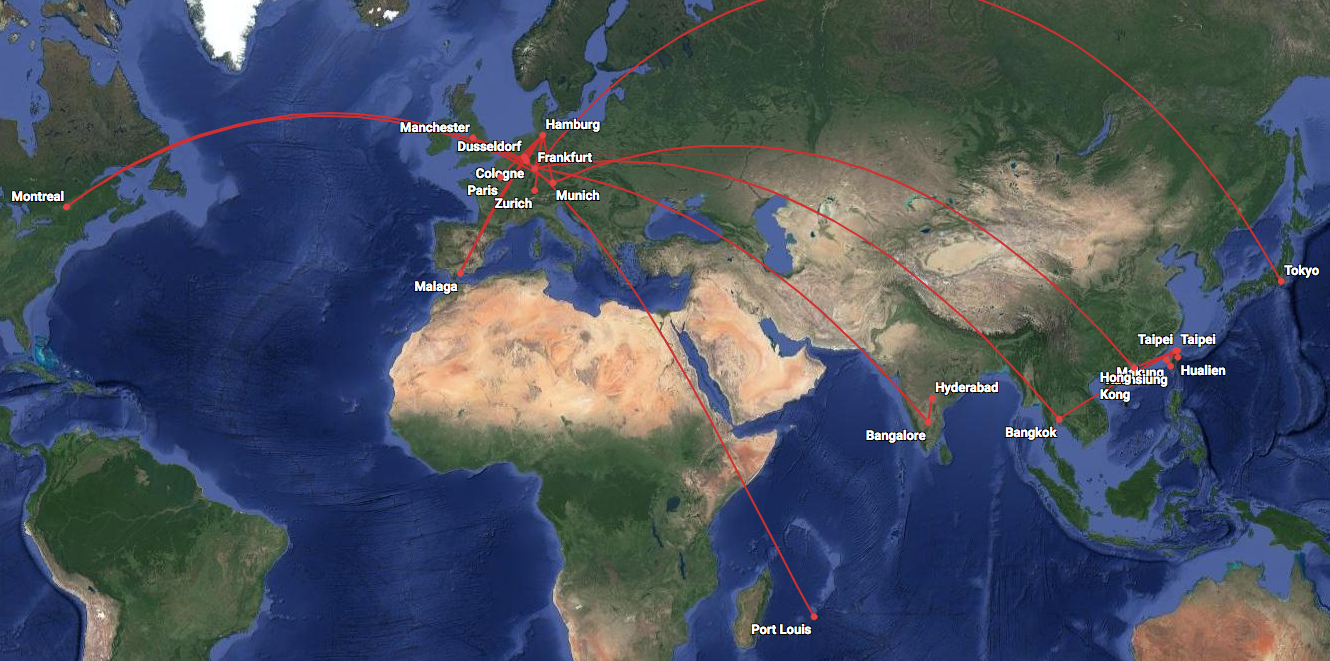 Dec 31, 17, 2:44 am
Join Date: Jun 2011
Location: ROM
Programs: BA Silver, UA, DL Gold, HH Gold
Posts: 299
Compared to you, road warriors, this is nothing. But after being virtually grounded for a couple years, this is an accomplishment.
Total Miles:
28,961
Total Segments:
25
New Airports:
PEK, ICN, ZRH, VIE, BUD, HEL, AMM, PNS, CLT
New Countries:
China (Mainland), Korea, Austria, Hungary, Finland
New Airlines:
CA, OZ, OS, LX, RJ
New Planes:
B788, B789
Shortest Flight:
TLV-AMM 67mi
Longest Flight:
MEX-LHR 5539mi
Dec 31, 17, 5:34 pm
Join Date: Aug 2012
Location: SEA
Programs: AS MVPG 75K, SPG Platinum, Marriott Platinum, Global Entry, UA
Posts: 1,280
Total Miles: 152,612
Total Segments: 96

New Airports: AKL, CHC
New Countries: New Zealand
New Airlines: QF
New Planes: 788

Most Unique Experience: Beating a Deadliest Catch Captain for the last F seat on TPA – SEA
Jan 2, 18, 6:43 am
Join Date: May 2007
Location: WAS
Programs: UA 1P, WN A-List Pref & CP, AS MVPG, SPG P100, Hyatt Glob, Marriott Plat, Hertz PC
Posts: 885
Total Airports: 28
Total Flights: 110
Total Miles: 161,387

New Countries (1): China
New Airports (4): MDW, CTU, PVG, CTS
New Airlines (5): Air China, Virgin America, Cathay Dragon, JAL, TAP

Shortest Flight: AUS-DAL
Longest Flight: PVG-ORD

Best Flight: Probably JAL F JFK-NRT with IAD-ICN KE F and NRT-IAD NH F close runner ups
Jan 2, 18, 10:17 am
Join Date: Jul 2005
Location: NYC
Programs: Marriott Platinum Elite, National Executive, United Gold
Posts: 945
https://my.flightmemory.com/stant62
Total Airports (33)
New Airports (20):
CGK, DMK, REP, PNH, HND, GRU, CGH, SDU, GIG, MEX, DXB, DOH, LCA, ATH, YYC, MSY, RIC, PHX, TPE, SGN
Total Flights (41)

New Countries (10):
Thailand, Cambodia, Brazil, Mexico, United Arab Emirates, Qatar, Cyprus, Greece, Taiwan, Vietnam
New Airlines (9):
Cathay Pacifc, Thai Lion Air, AirAsia, Cambodia Angkor Air (operated by Small Planet Airlines), China Eastern, JAL, Avianca Brasil, Qatar Airways, EVA Air
Shortest Flight:
IAH-AUS 140 miles
Longest Flight:
EWR-HKG 8,062 miles
Best Hotel:
St. Regis Bangkok
Best Flight:
Hard to pick between SFO-EWR on UA's new 77W where I got to sit in the FO's seat and FRA-JFK in Suites on Singapore Airlines
Jan 2, 18, 12:35 pm
Join Date: Jun 2009
Location: Tampa, Florida
Programs: DL Diamond , IHG Platinum, HHonors Gold, National EE
Posts: 990
Total Airports (35)
New Airports (13):
HAN, HAV, RIX, HEL, JNB, CPT, WVB, WDH, JAC, STL, MKE, SAT, OKC
Total Flights (92)
Total Aircraft (25)
Total Unique Routes (63)
Total Miles (104,063)

New Countries (5):
South Africa, Namibia, Finland, Estonia, Cuba
New Airlines (6):
Air Baltic, China Airlines, Virgin Atlantic, South African Airways, Kulula, Air Namibia
New Aircraft (4):
CS300, Dash 8 Q400, 777-200 (non ER/LR, actually was B-HNL, 1st 777 built), 787-9
Shortest Flights:
MKE-ORD 67 miles,
Longest Flights:
ATL-JNB 8,439 miles
Best Hotel:
Hilton Windhoek upgraded to a suite. Nothing fancy outside of that, a few "new = nice" properties in Asia and two Hiltons in Helsinki.
Best Flight:
DTW-ICN on 12/29 in the new Delta One Suites on the A350.
List of Trip Reports:
¡Bienvenido a Cuba!
Two Weeks in South Africa and Namibia: Joburg, Cape Town, Sossusvlei and Kruger
9 Days in Asia: Taipei, Hanoi, Ha Long Bay and Shanghai
Keeping it Domestic: Grand Teton National Park
Looking Ahead:
Jan/Feb: ~
35 flights, 4 new countries, ~72,000 miles
The other months aren't fully set in stone yet, but if I had to guess, I'll end 2018 with around 110-130 flights, 10 new countries and around 130,000 miles.
---
Last edited by ChiefNWA; Jan 2, 18 at

12:57 pm
Jan 3, 18, 5:37 am
Join Date: Dec 2008
Location: London
Programs: Mucci (Scirocco Sash), BAEC Gold plus various other pleb level air and hotel programmes
Posts: 688
New Cities/Towns/Locations: 6 – Oslo (Norway), Auckland/Blenheim/Wellington/Queenstown (New Zealand), Inis Meain (Aran Islands, Ireland)

New Countries: Technically 3 – Norway, New Zealand and Qatar (the latter entered to use the QR Arrivals Lounge for a few hours to break the monotony of a long layover – got a passport stamp though!)

New Airports: 7 – TLL, OSL, AKL, BHE, WLG, ZQN, GIG

New Airlines: A few this year – Avianca Brasil (06) from GRU-GIG; Aer Arann Islands (RE) on a fun hop around NNR-INQ-IIA (in a BN2A which was an experience); Air New Zealand (NZ) and Jetstar New Zealand (JQ) as we hopped around New Zealand. I was impressed with both Kiwi carriers.

New experience: The Norman Britten Islander for sure, very memorable.

Best experience: On balance I would say the First Wing at Heathrow Terminal 5, accessible to BA Exec Club Gold/OW Emerald as well as those travelling in F; it has truly transformed the experience of departing LHR T5 on BA and was a strong factor in me wanting to renew Gold for another year. BA First returning GIG-LHR was also very pleasant, and a nice long-ish sector to experience the service on.

Less impressive experience: Two BA experiences: ORD – LHR in BA CW on 747 UD, with an inattentive crew and unimpressive ground services; plus (more disappointingly) LHR-JFK in BA F, with a crew that was friendly but completely phoning it in (the return flight was worlds apart, so much better)

Shortest Flight: INQ – IIA (3 miles!); the very short hop from Inisheer to Inis Meain on Aer Arann Islands

Longest Flight: DOH – AKL (9025 miles); the longest commercial sector in the world at time of writing, which is quite doable travelling in J ;-)

Total Sectors/Miles: 50 sectors and 68,089 miles (slightly down miles-wise on last year)
Jan 3, 18, 7:07 am
Join Date: Feb 2005
Location: CGN
Programs: KL FlyingBlue Gold, AY+, MM FTL, TK*G
Posts: 321
In 2017 I:
* Took 14 flights, the lowest number since 2006.
* Flew to/from 2 new airports (KUL, BLQ)
* Flew on no new airline
* Flew on 1 new aircraft type (Embraer 175)
* Most frequent aircraft type: Airbus 380 (4 flights)
* Most frequent aircraft: Did not fly any aircraft more than once.
* Longest distance aircraft type: Airbus 380 (21130 km, 4 flights)
* Flew 4 new routes (DXB-KUL, KUL-DXB, MUC-BLQ, BLQ-MUC)
* Busiest routes: No routes flown more than once.
Links to previous years:
2016
2015
2014
2013
2012
2011
Jan 4, 18, 1:47 pm
Join Date: Jun 2008
Location: BEY (originally IAH)
Posts: 185
I'm not putting up as many flights and miles as most of you, but I've taken more international trips in 2017 than I have in the past few years:

Total Airports (14)
New Airports (7): CMN, SAW, BUD, AUH, AMM, LHR, CAI
Total Flights (18)

New Countries (3): Morocco, Hungary, Jordan
New Airlines (6): Royal Air Maroc, Pegasus, Etihad, Royal Jordanian, Middle East, Egypt Air

Shortest Flight: BEY-AMM/AMM-BEY(152 miles per flight memory, but I am not if this is the direct routing or accounts for the detour that RJ and most airlines take)
Longest Flight: LHR-IAH(4,829 miles)

Best Flight Experience: Business Studios on EY. I flew it on the 787 and the A380, which were the only business class segments I flew. I preferred my experience on the 787 just because it was a daytime flight, so I was able to enjoy it rather than sleeping.
Best Hotel Experience: I don't think of myself as a resort type of person, but Dead Sea Hilton for the pools and doing the typical touristy thing of being covered in mud and floating in the Dead Sea.

I have no trips booked for 2018 yet. I am getting restless though, and the beginning of the year is busy for me! While Beirut is centrally located geographically, I do not find it that well connected nor is it very cheap to fly from. For 2018, I want to explore more of Lebanon and the region while I am here: Oman, UAE, Cyprus, Qatar, Egypt (if security improves), possibly Zanzibar, and also fit in two trips to the US.