Pre-Christmas Week-end Getaway to London
Dec 18, 17, 1:53 pm
Join Date: Oct 2010
Location: Switzerland
Programs: BA Gold, Hilton Honors Diamond, Nordic Choice Hotels Silver, Avis Preferred Plus
Posts: 4,314
Pre-Christmas Week-end Getaway to London
---
Hey folks
This is a short trip report about our last week-end in London.
Fellow FTer
KARFA
organized a
Pre-Christmas Do
in London on Friday 15th of December. This was yet another reason to burn some Avios and fly to London for the week-end.
On the way to London we treated ourselves to Club Europe. At the time of booking our preferred flight, BA755 from Basel to London was scheduled to be operated by a midhaul A321 with lie-flat seats. I was very excited about this as I've never been on one of those planes before.
We drove to Basel and after a quick security check went to the Skyview Lounge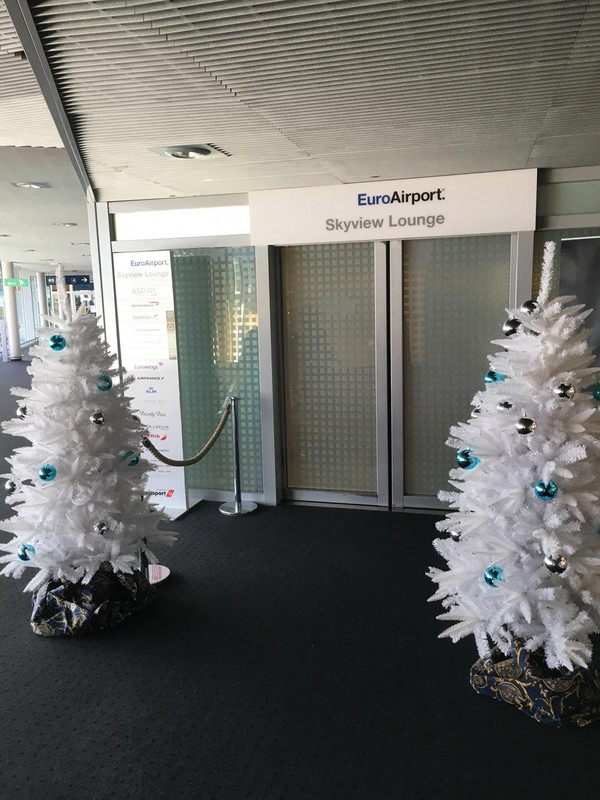 Boarding started at 1510 and this time gate 32 was used. This is unusual, as all BA flights we've taken before out of Basel used gate 30. The priority queue was long, as quite often on this route.
At this point I was really, really excited, as I had checked the inbound flight on FR24 to be sure it was indeed a midhaul configured A321 (G-MEDJ)…
And it was!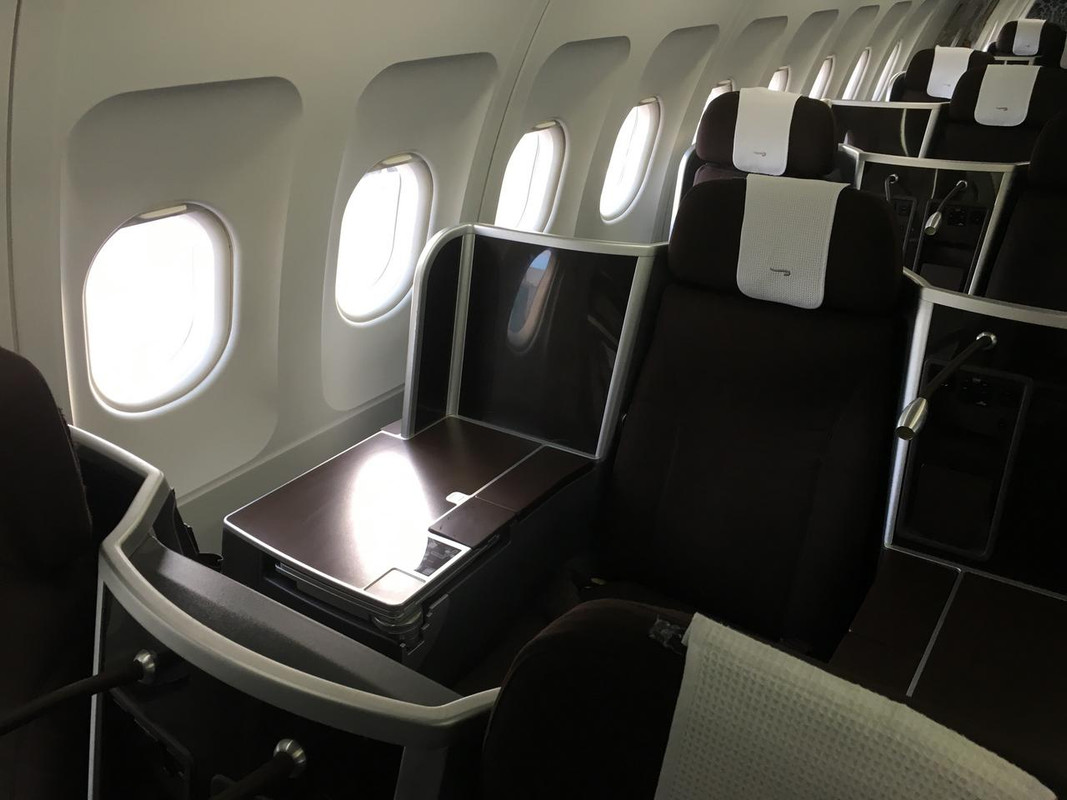 Can you see how excited I am?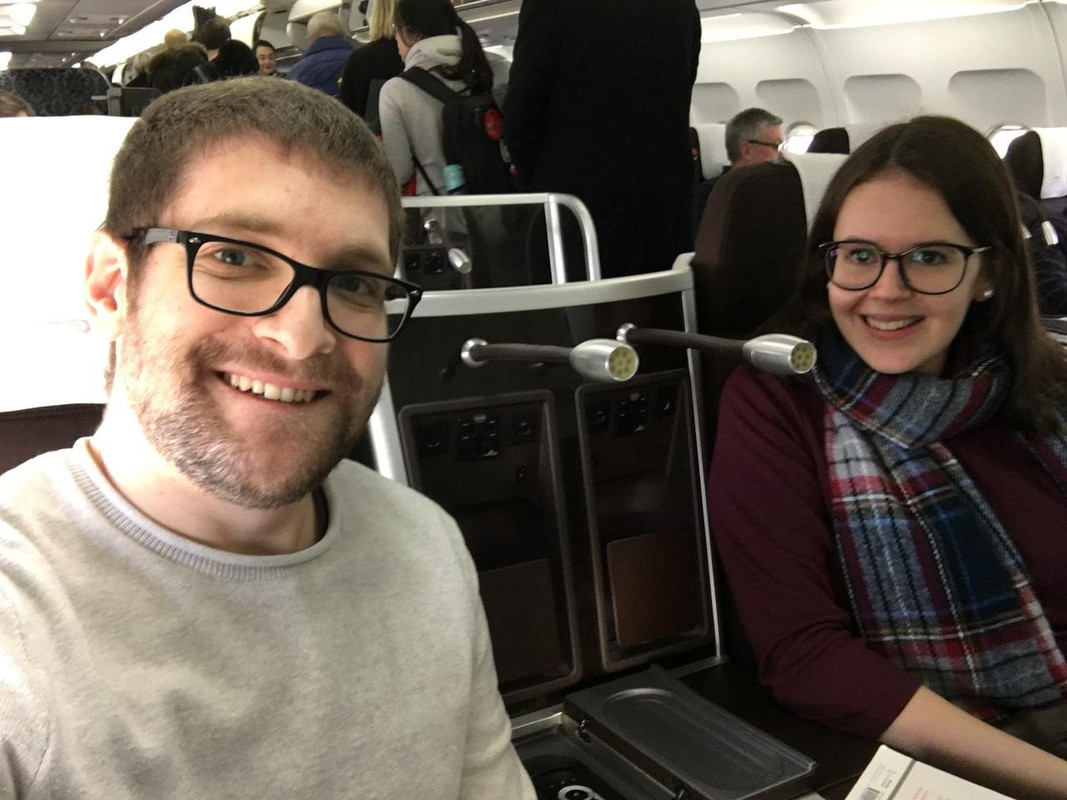 Legroom really is not an issue here!
We pushed back on time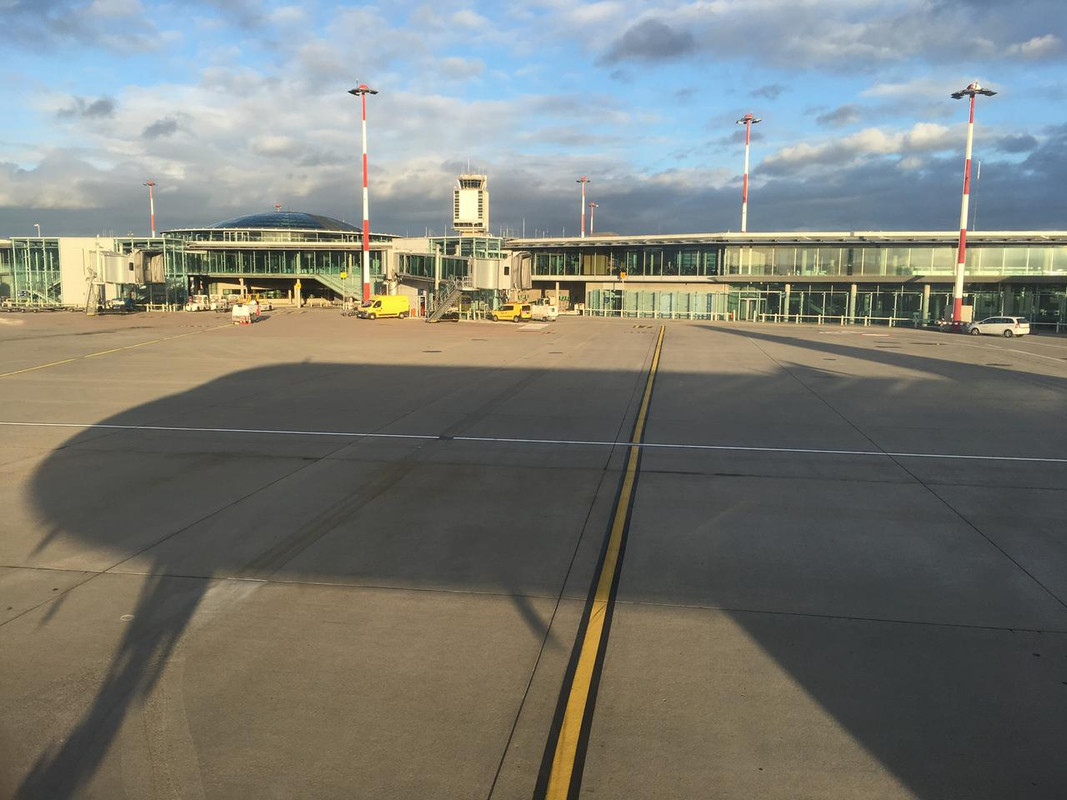 Seat controls (oh that massage function…)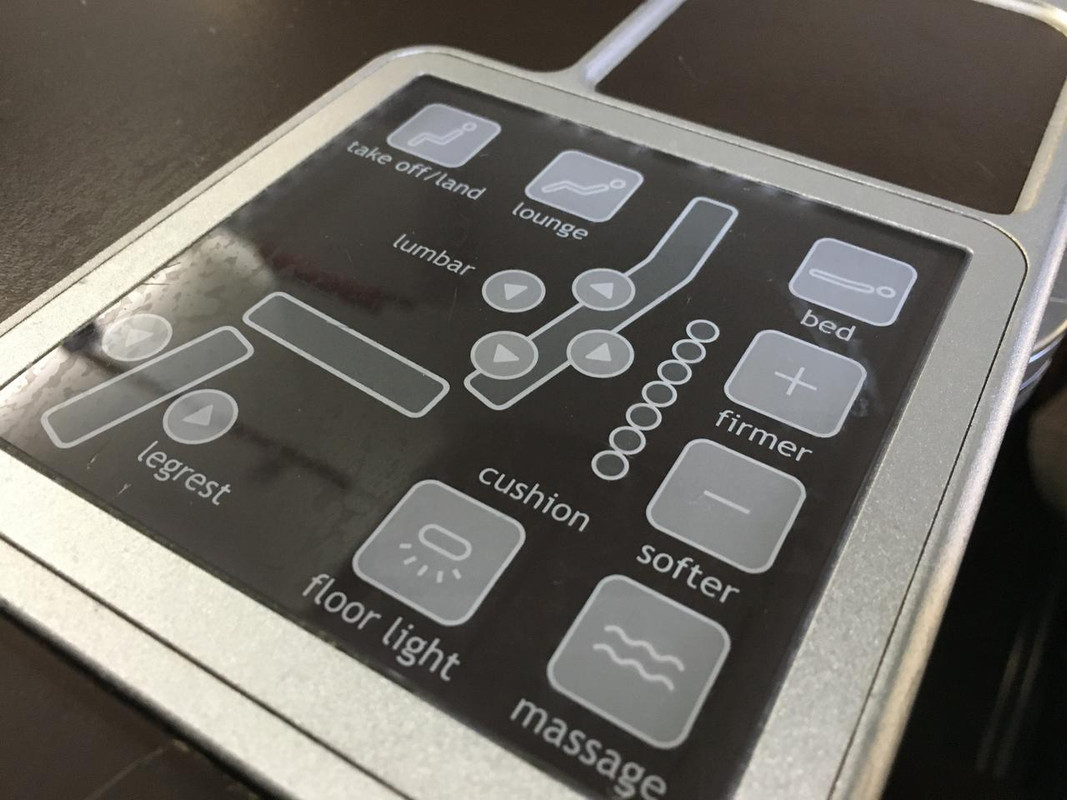 After departure from runway 15 we did a right turn which gave us a good overview of the airport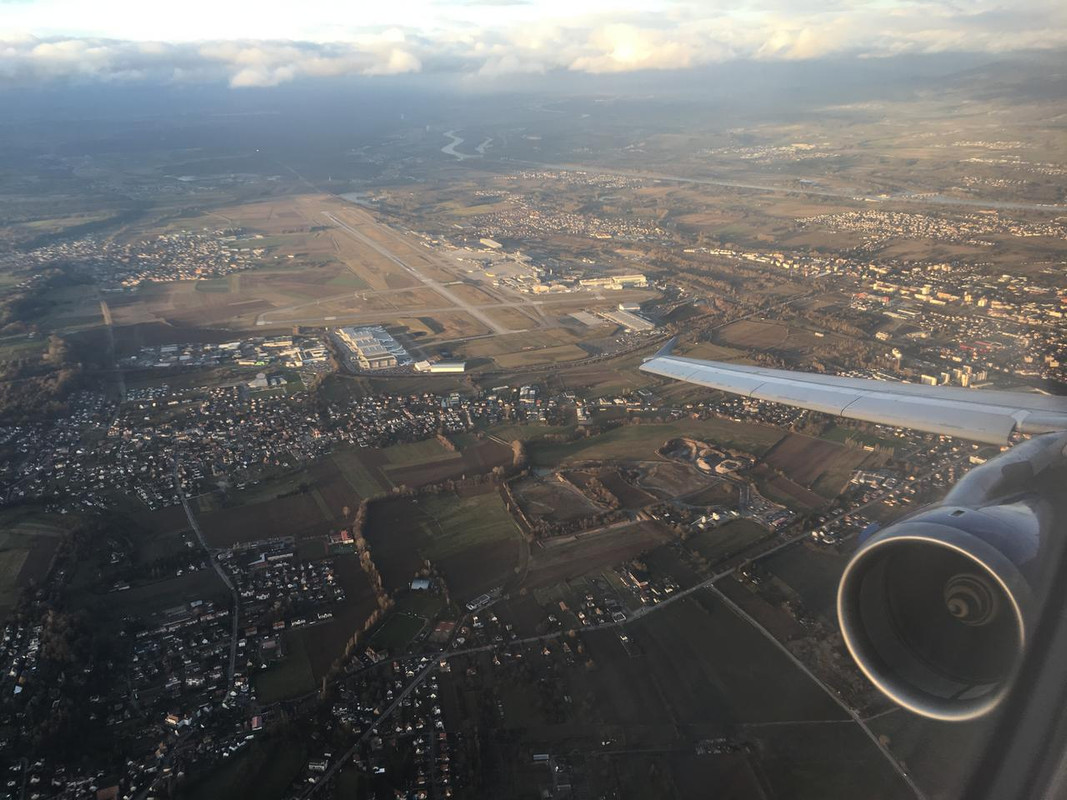 As this was an afternoon flight there is a choice of either a Ploughman's or Afternoon Tea. I opted for the former, which was tasty, but small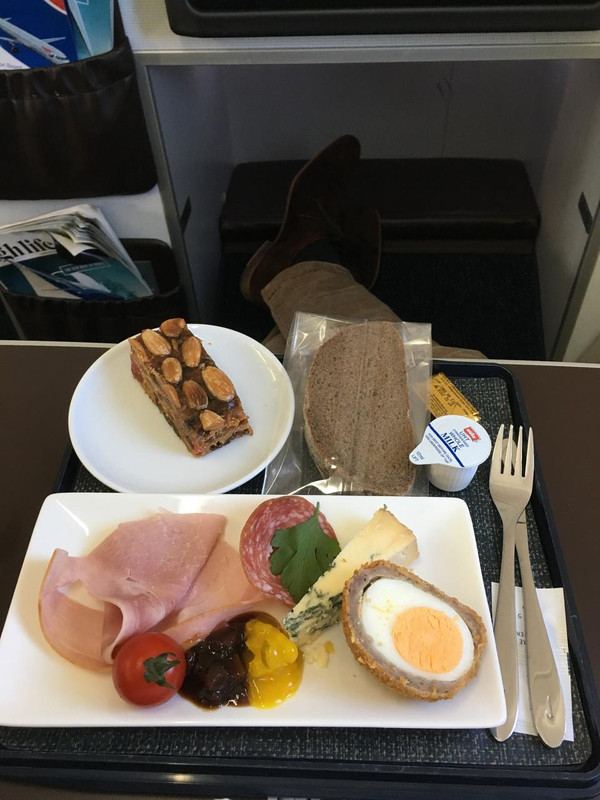 The flight went by quickly. I ordered a G&T and nuts and then put the seat into the full flat position…
Soon we were already descending into London where we had to hold for a couple of minutes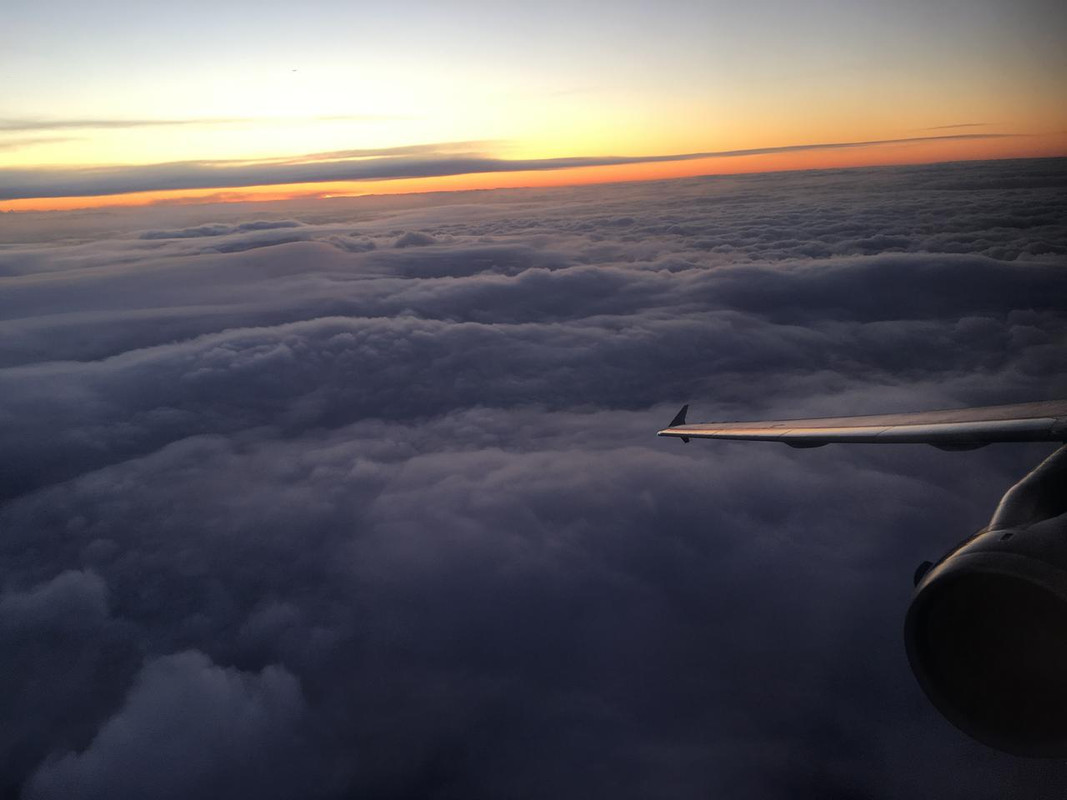 Final approach into London's Heathrow airport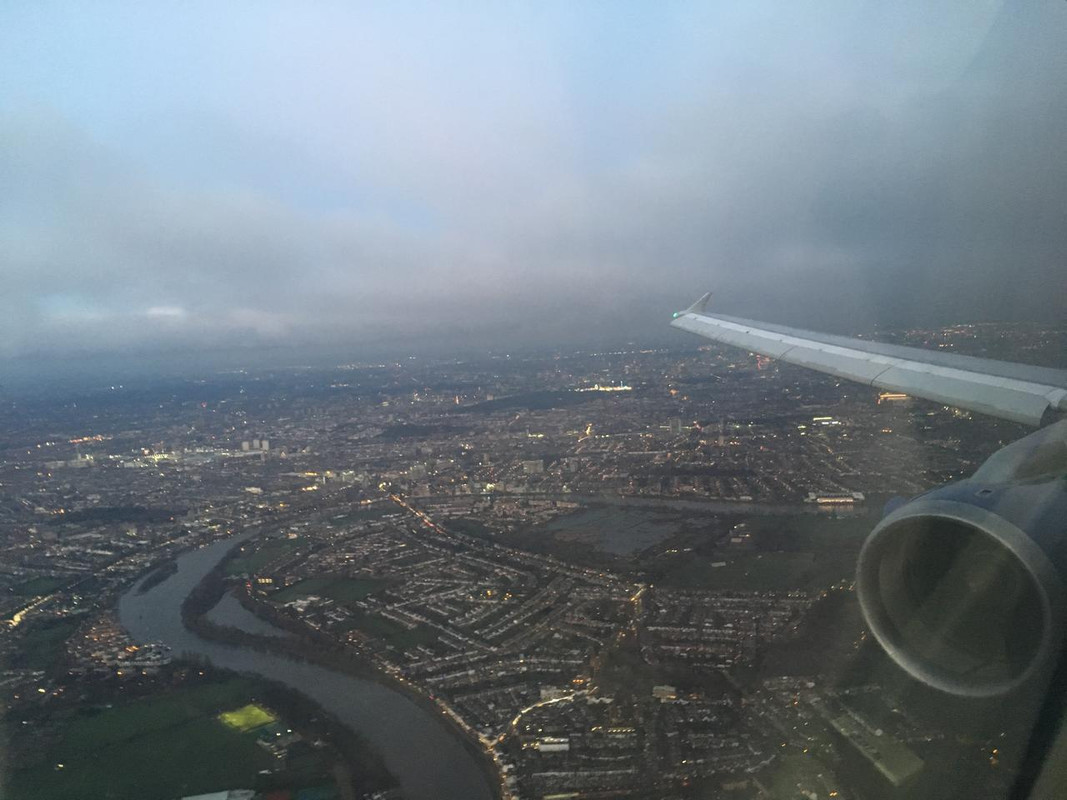 It was then time to say goodbye to 1F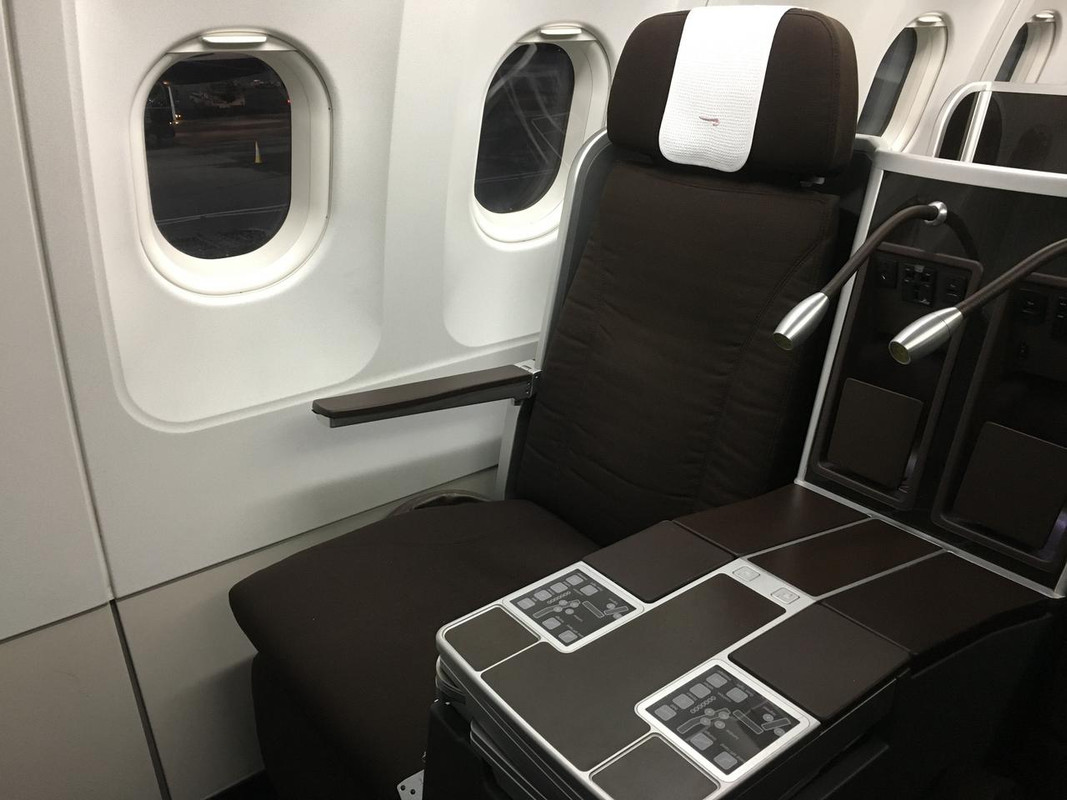 Landing:
As we were staying at the Doubletree Victoria we took the underground to the city. At check-in we were offered complimentary upgrade to one of their Premium Deluxe Rooms on the 10th floor. The room is on two floors; the entrance and bathroom are on one level and the bed is on the lower level. The view was fantastic too.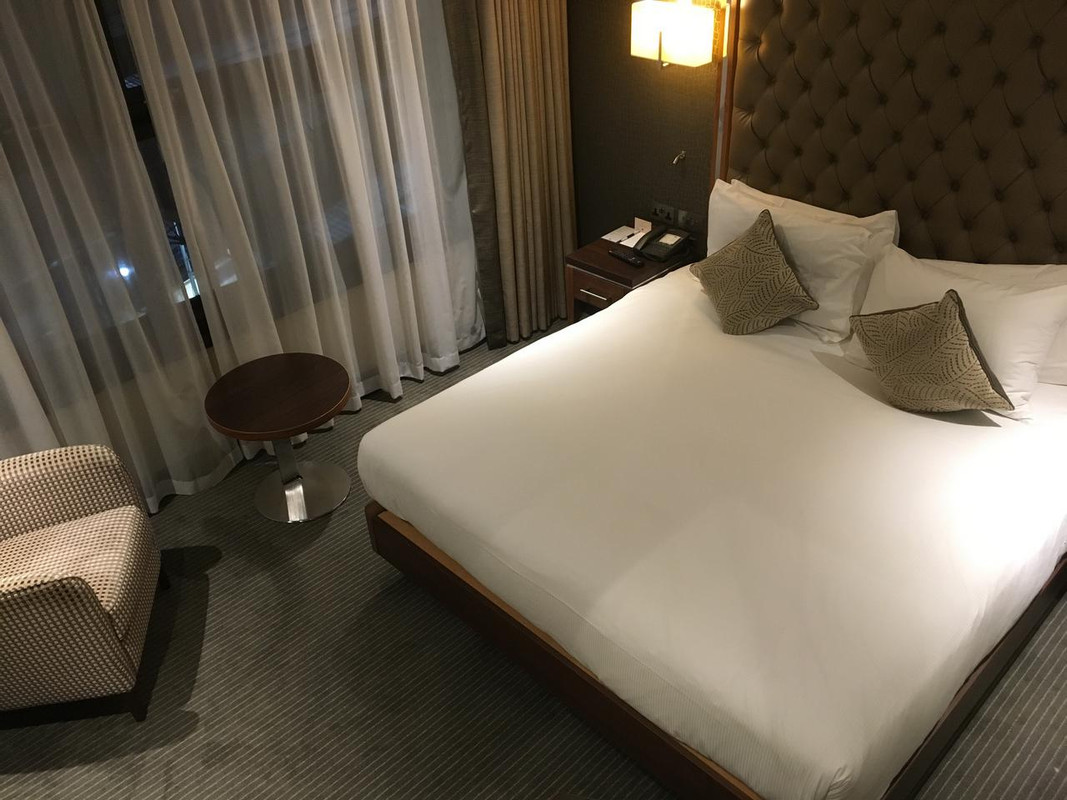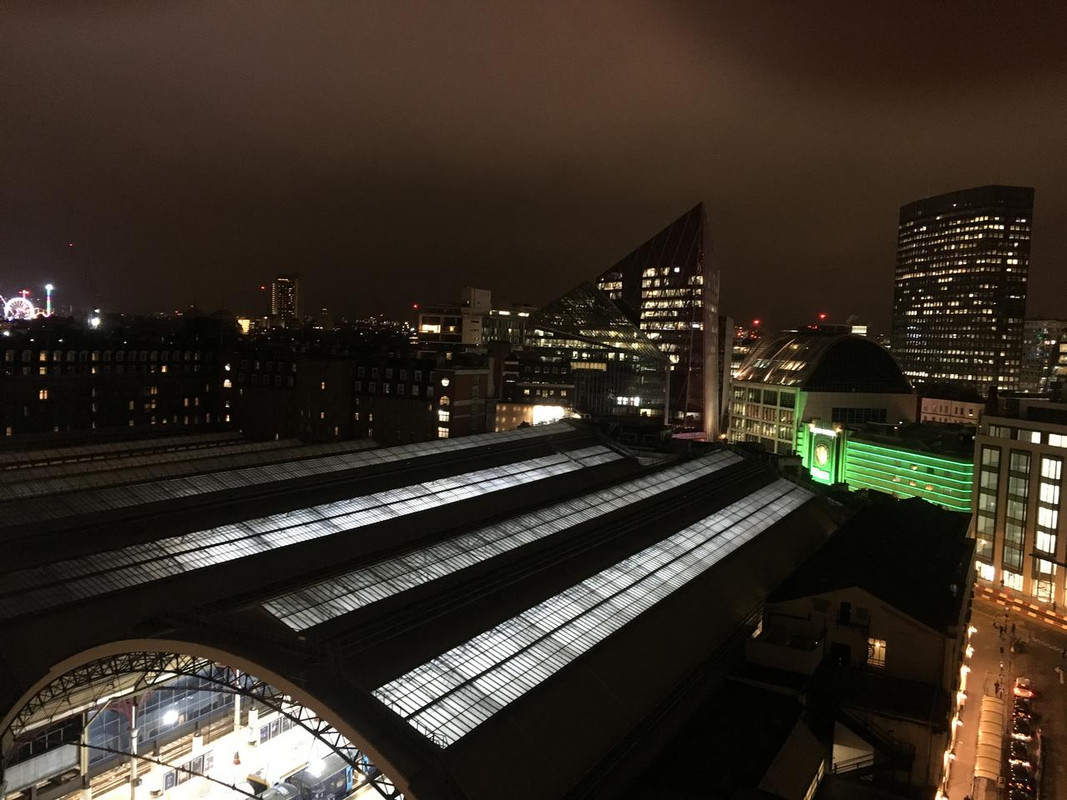 We then headed to Marlybone where the Do was taking place. It was a nice crowd and it was nice to get to know new fellow FTers and meet FTers that we've met before. Thanks
KARFA
and
teledude
for organising this!
Same view the next morning: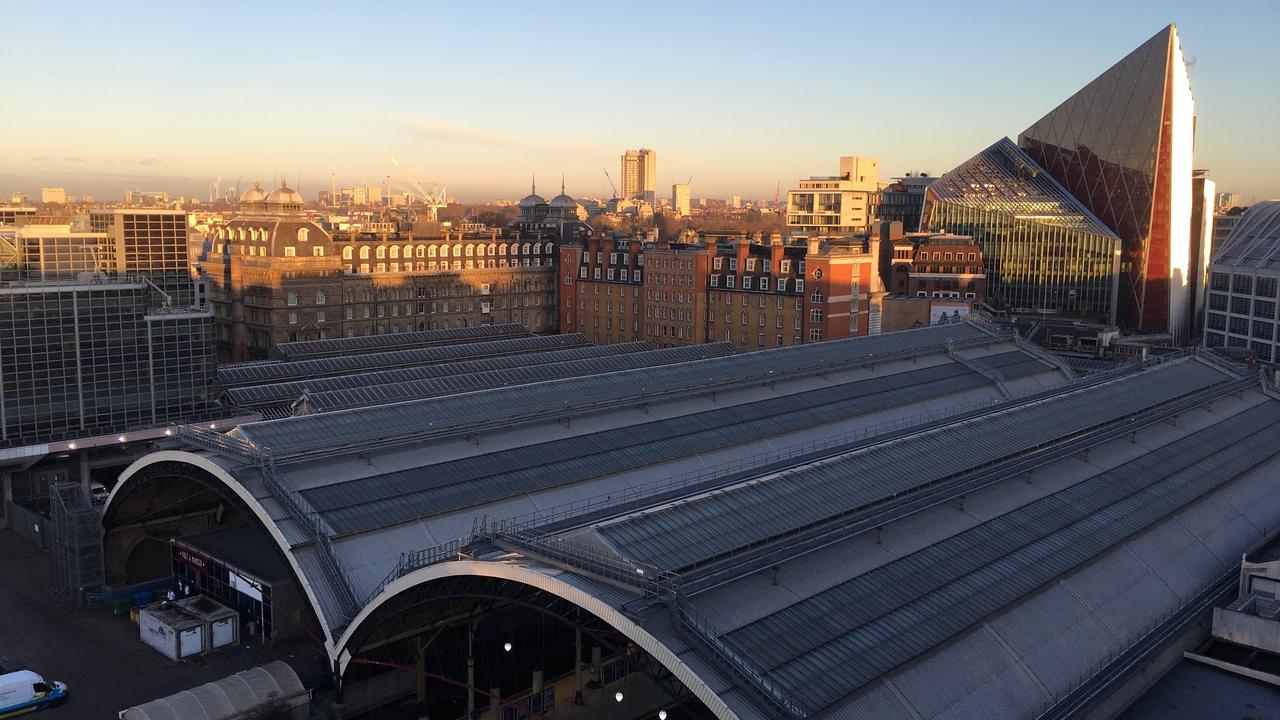 We headed to Oxford Street for some Christmas shopping. As expected, it was very busy.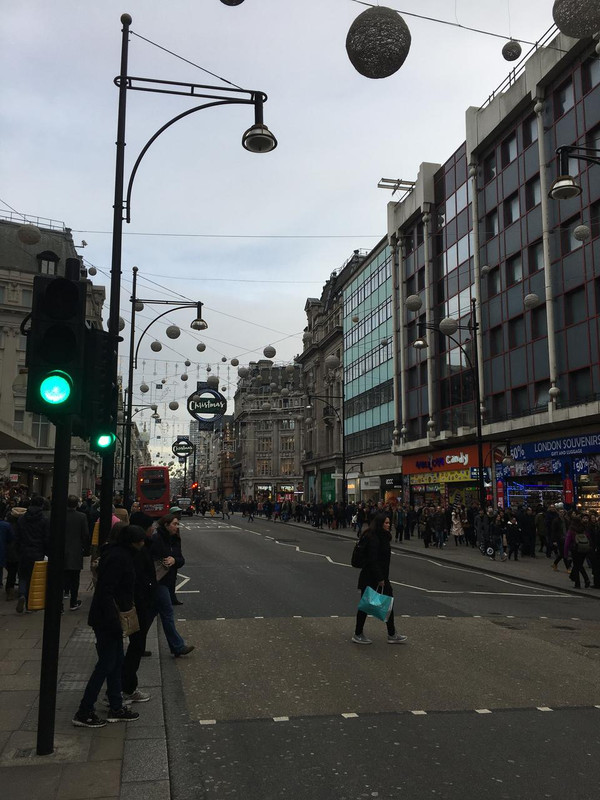 We grabbed lunch at Franco Manca.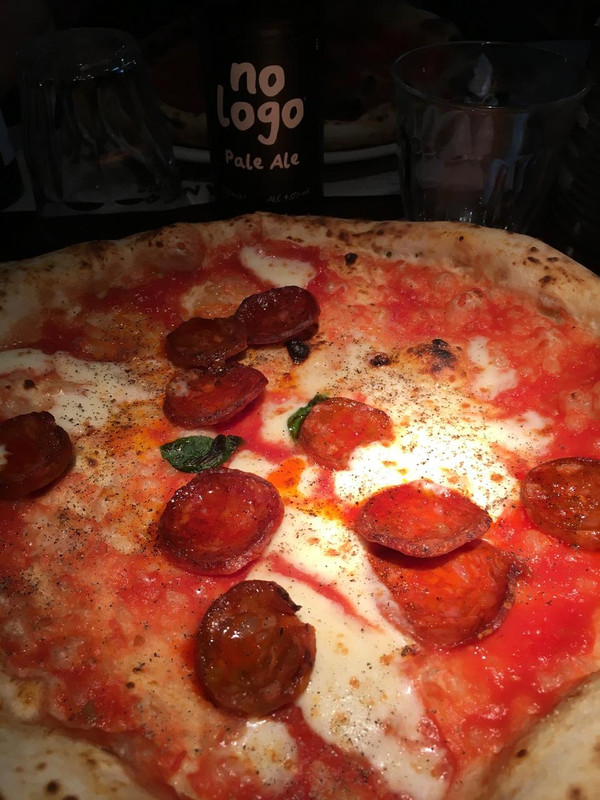 Yes, soon it's Christmas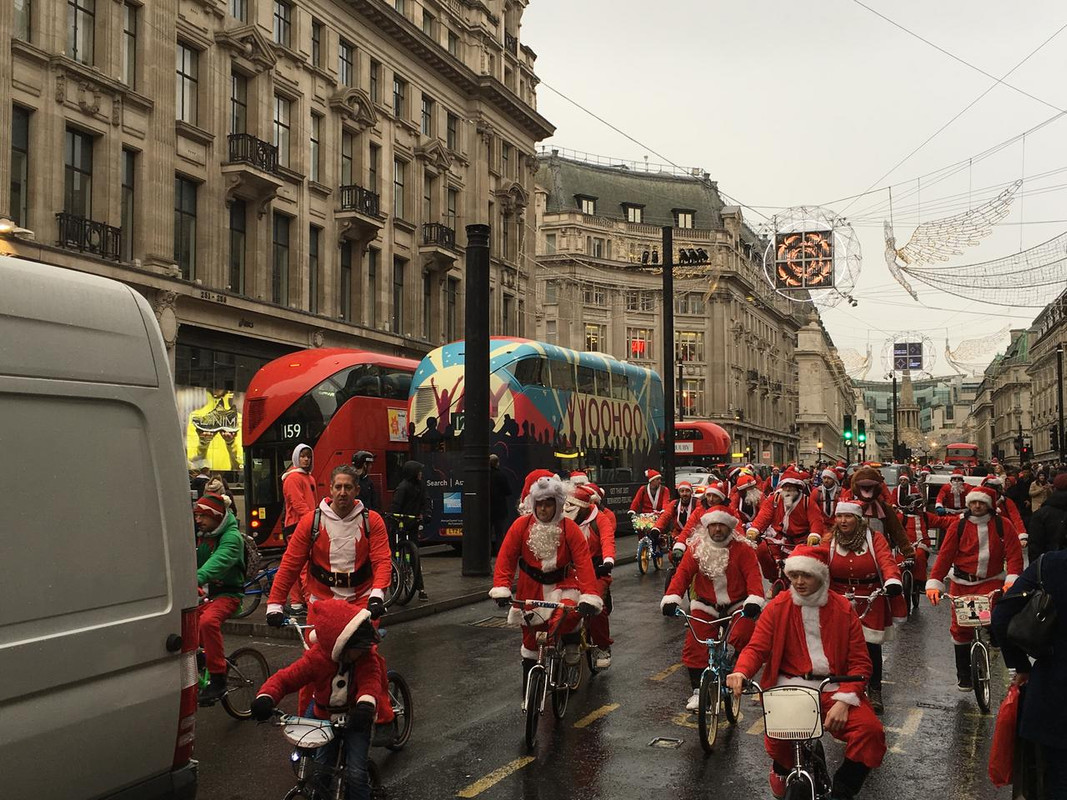 We then headed to the Twinings shop on Strand to buy tea and then went back to the hotel to get our luggage. We decided to stay the second night in Kingston Upon Thames. With this additional stay I'd have enough stays to become a Hilton Honors Gold member. The original plan was to take the train from Victoria to Kingston via Clapham Junction but we then opted for Uber as it was far more convenient. We stayed at the Doubletree by Hilton Kingston and got upgraded again. I had picked a room online but as there was a party on the floor below our room the friendly front desk lady offered us an upgrade. I must say I could get used to this.
Lobby area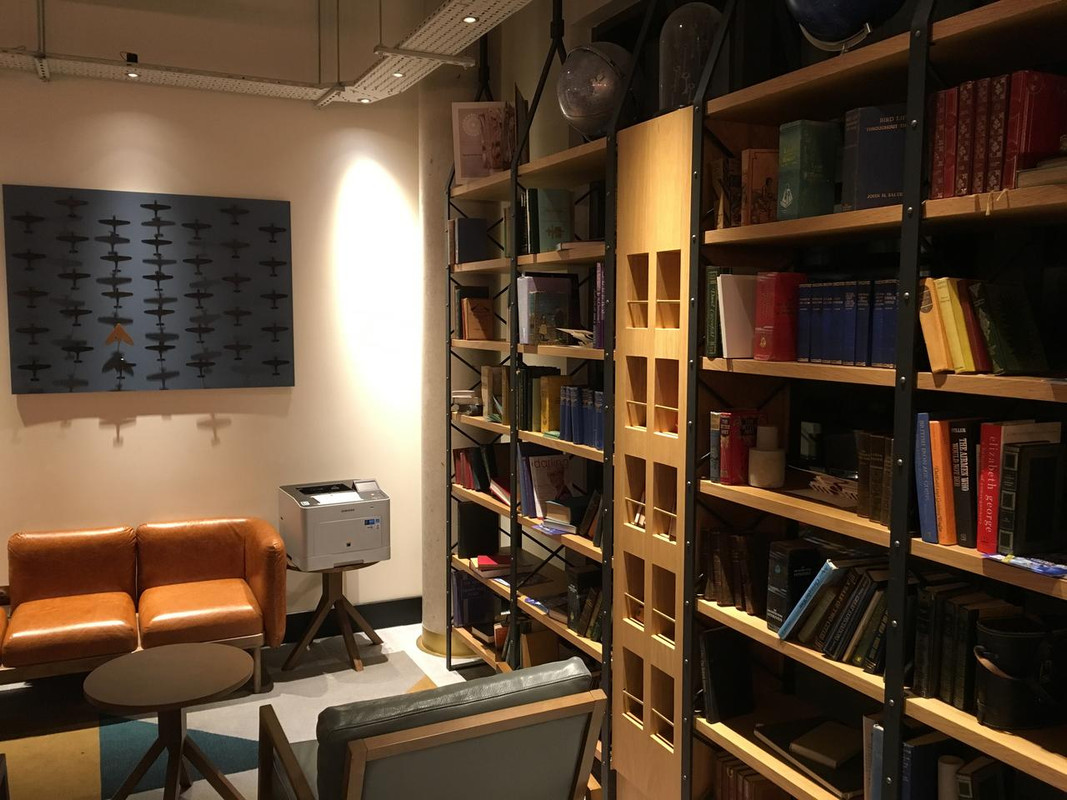 Superior King Room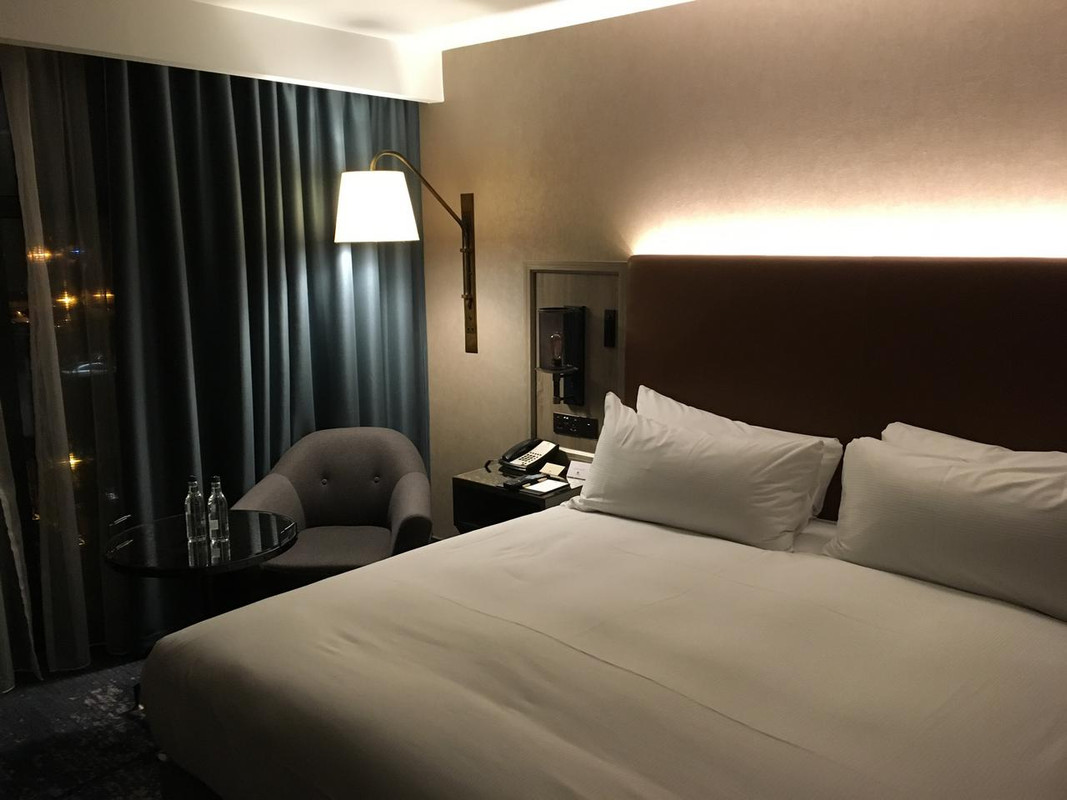 We headed down to the bar for a drink first before heading out for dinner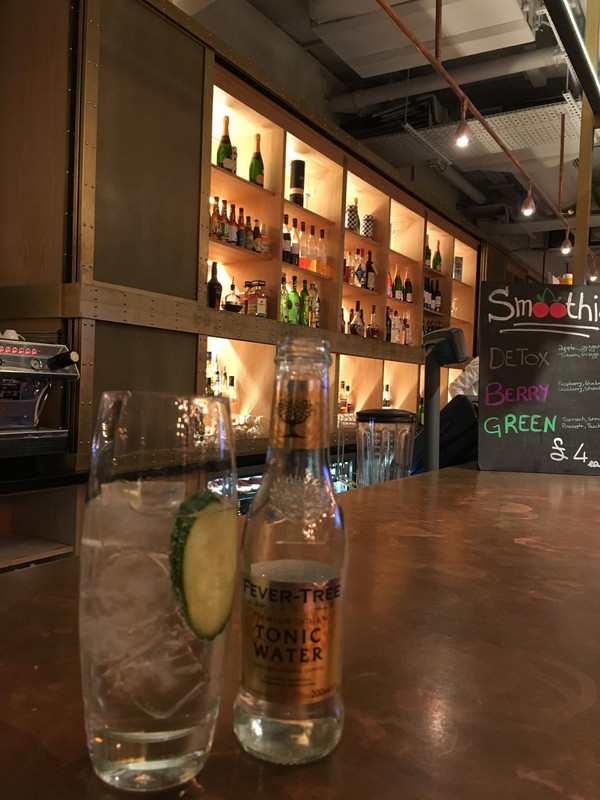 Riverside view at night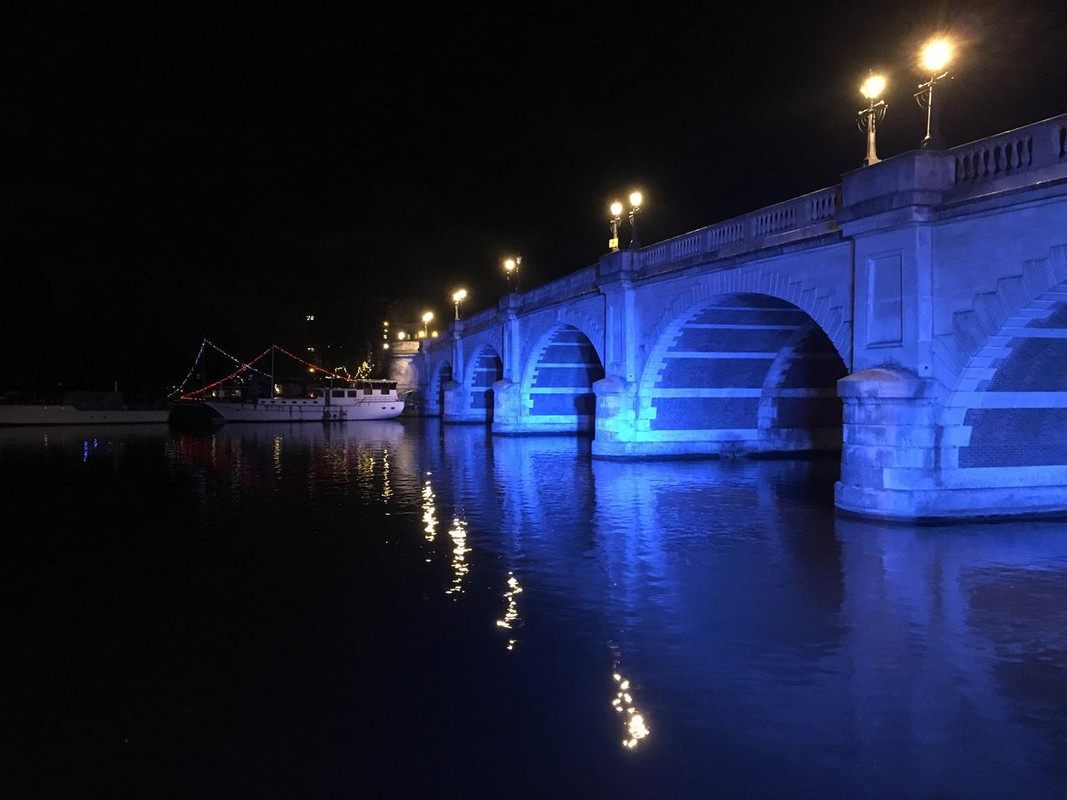 Christmas tree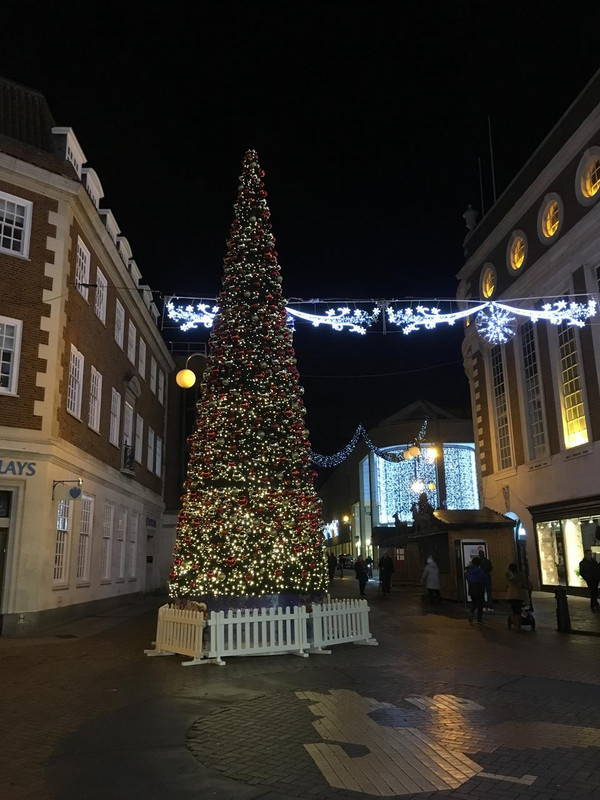 Outside hotel view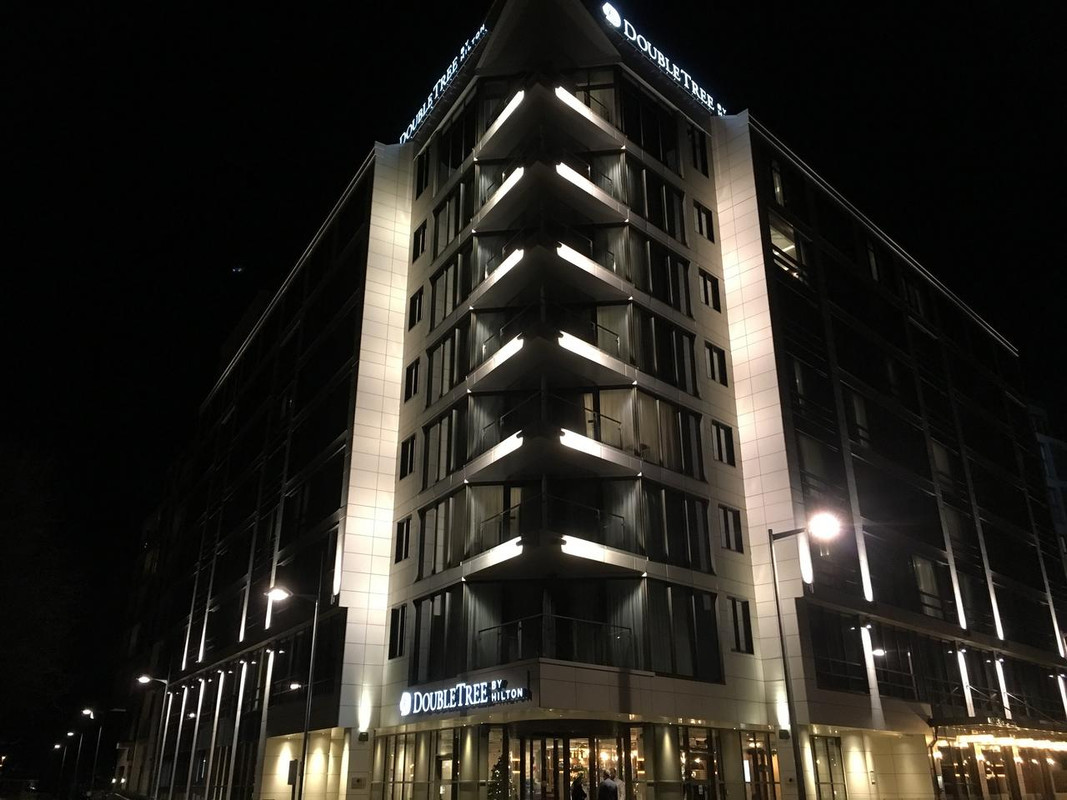 We went for a walk the next morning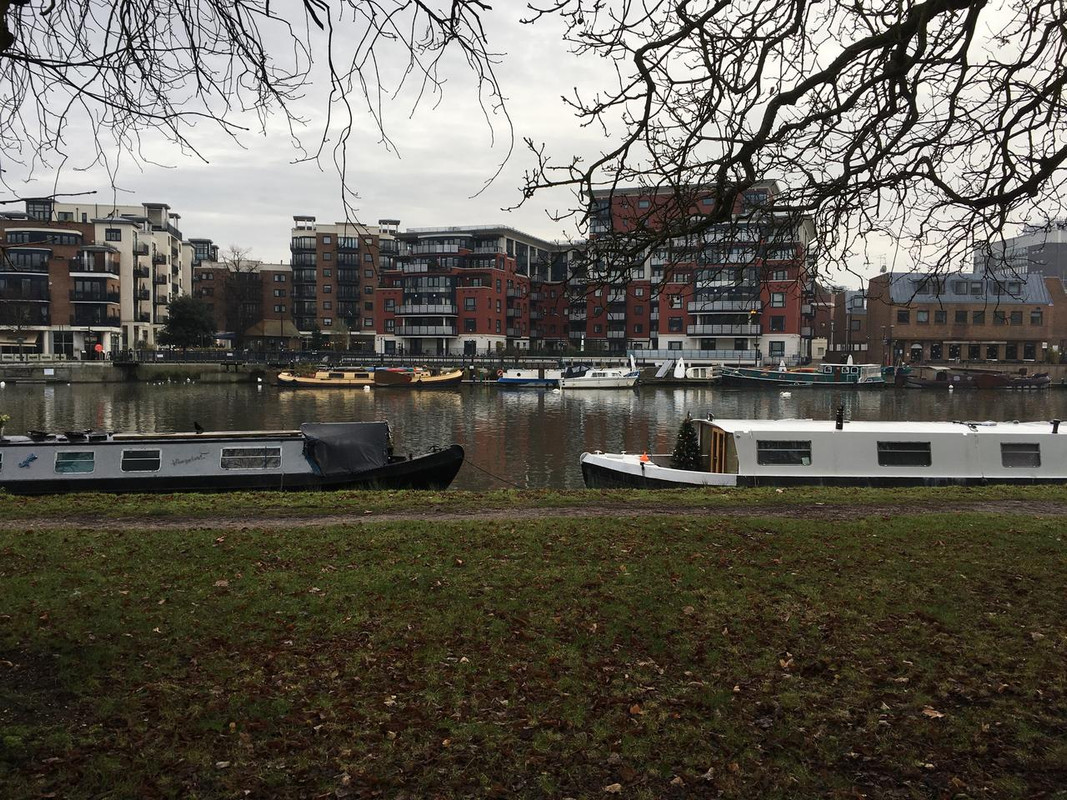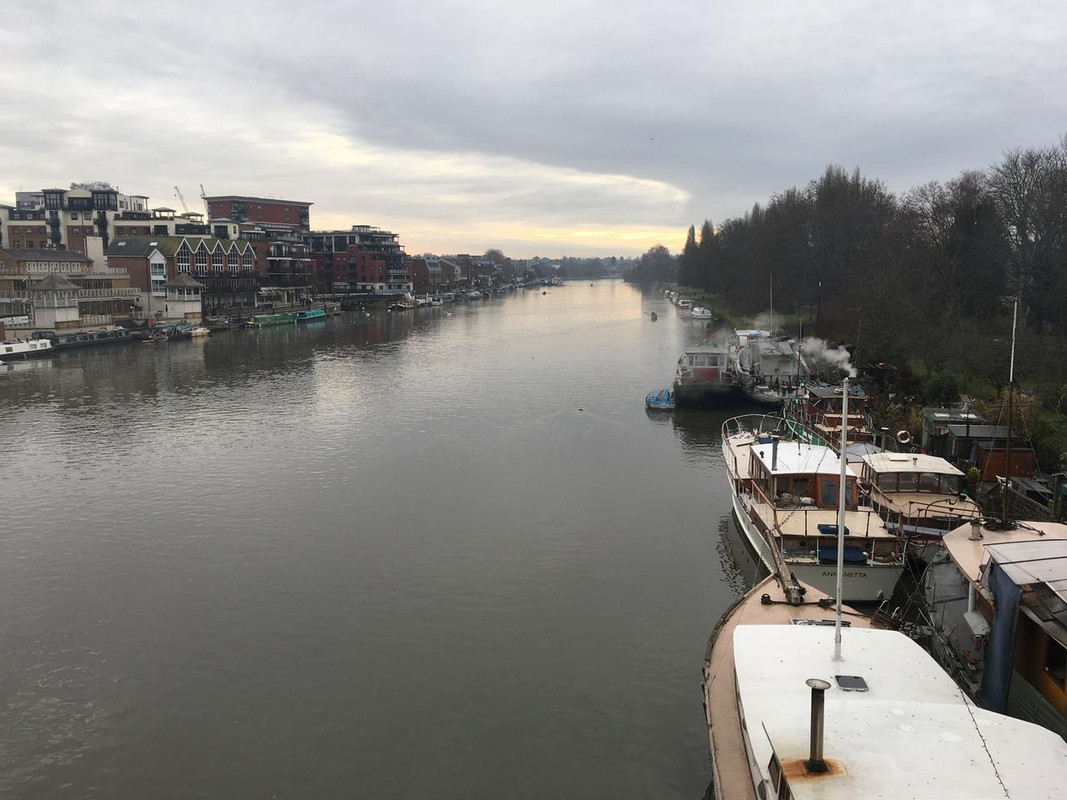 We did some more shopping. Bentall Centre is reminiscent of Toronto's Eaton Centre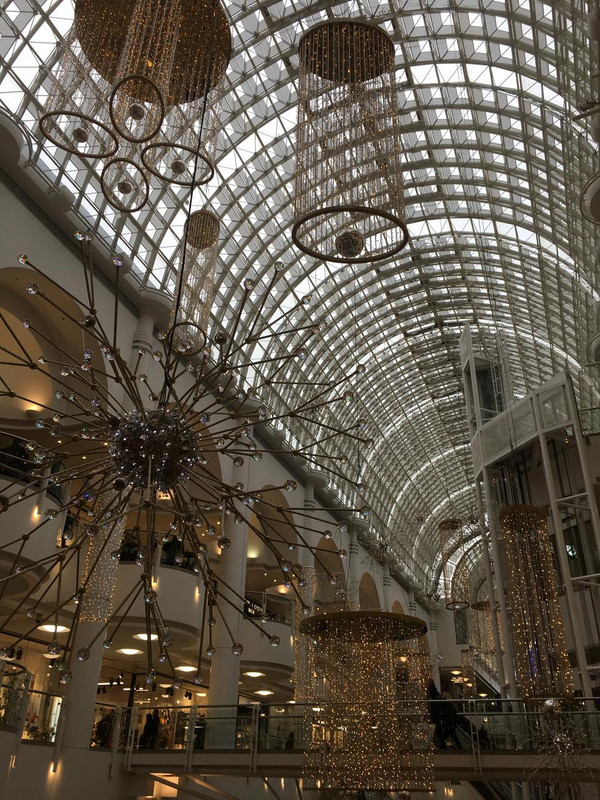 This is the "out of order" sculpture by David Mach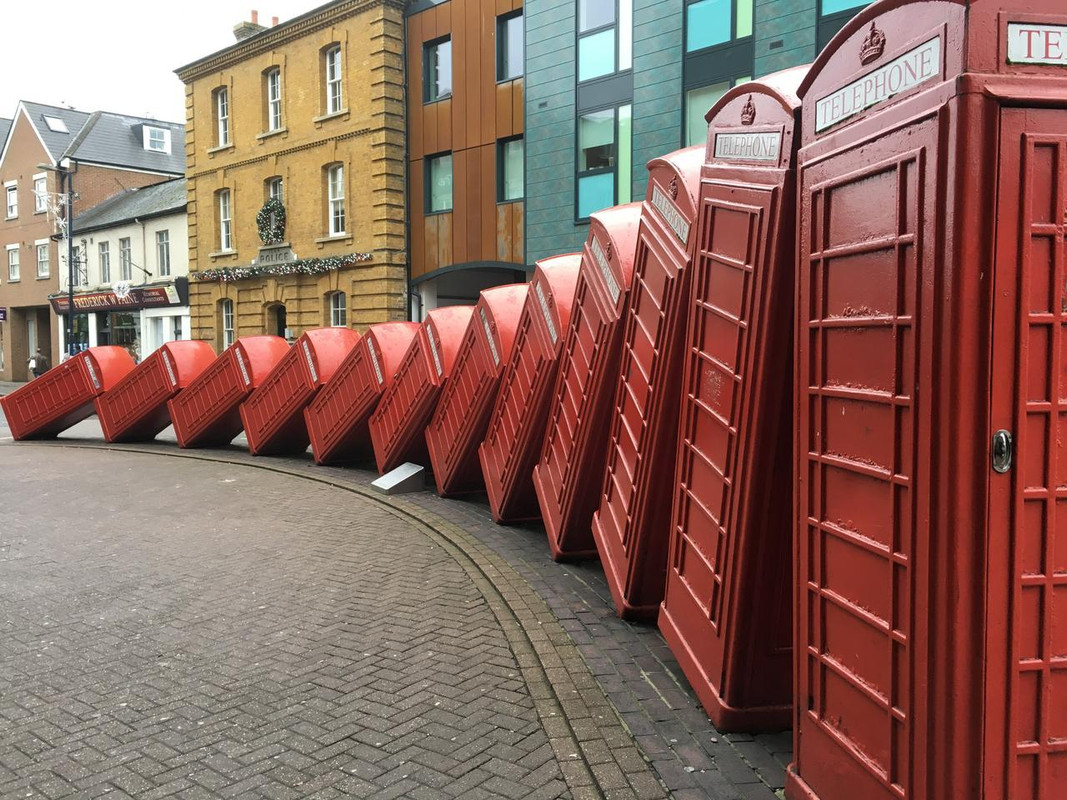 We had lunch at Henry's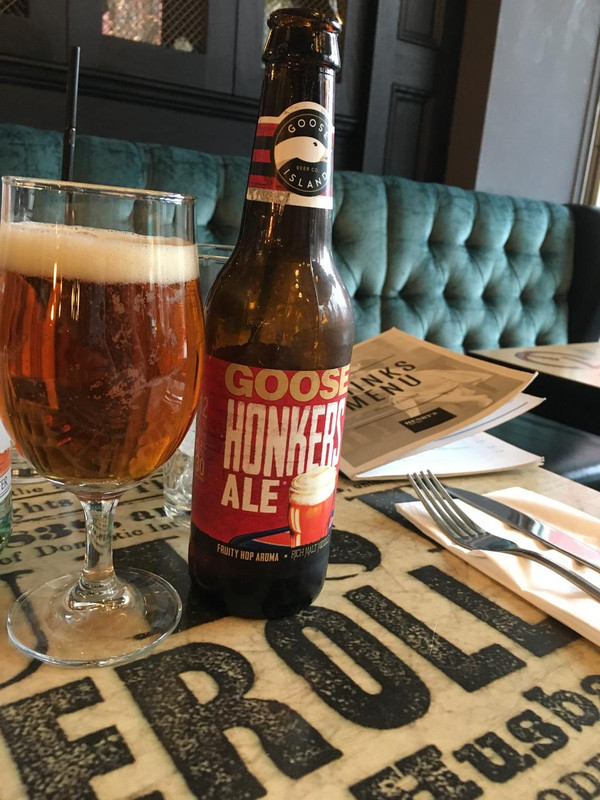 It was then time to head back to Heathrow. There is a direct bus line to Heathrow Central, X26, which takes about half an hour. We used the First Wing as always and it was a breeze.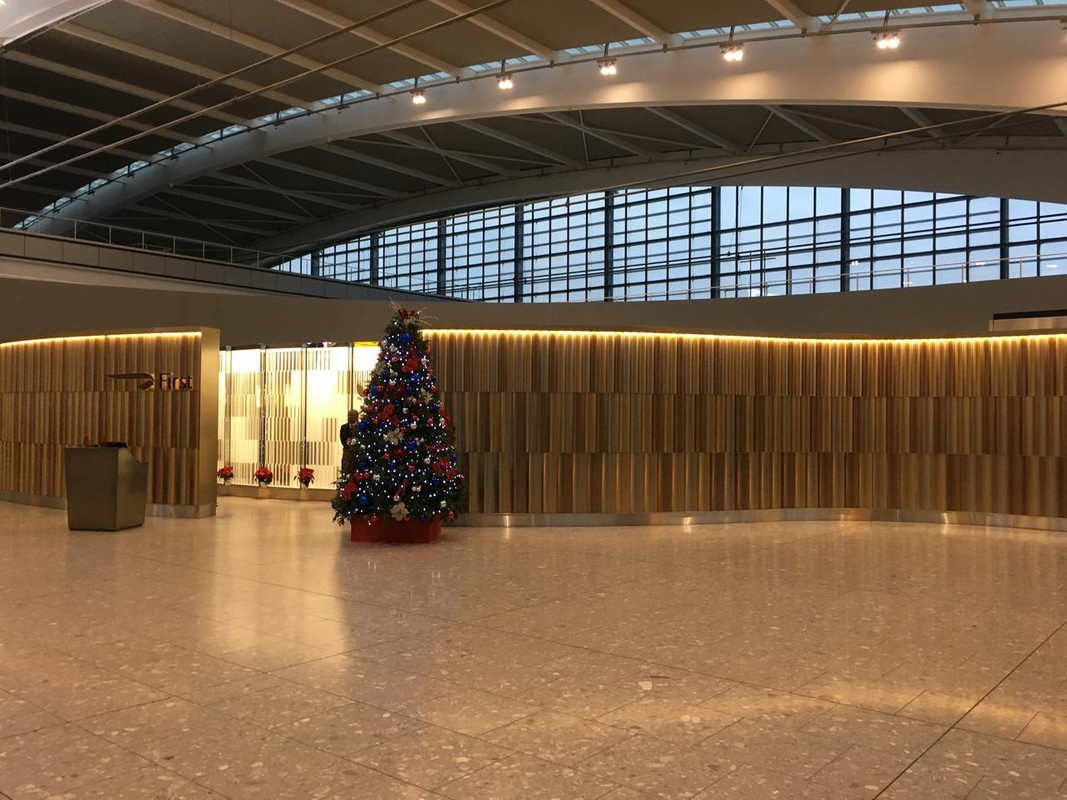 Fellow FTer
jason8612
was kind enough to guest us into the CCR for dinner, so thanks again!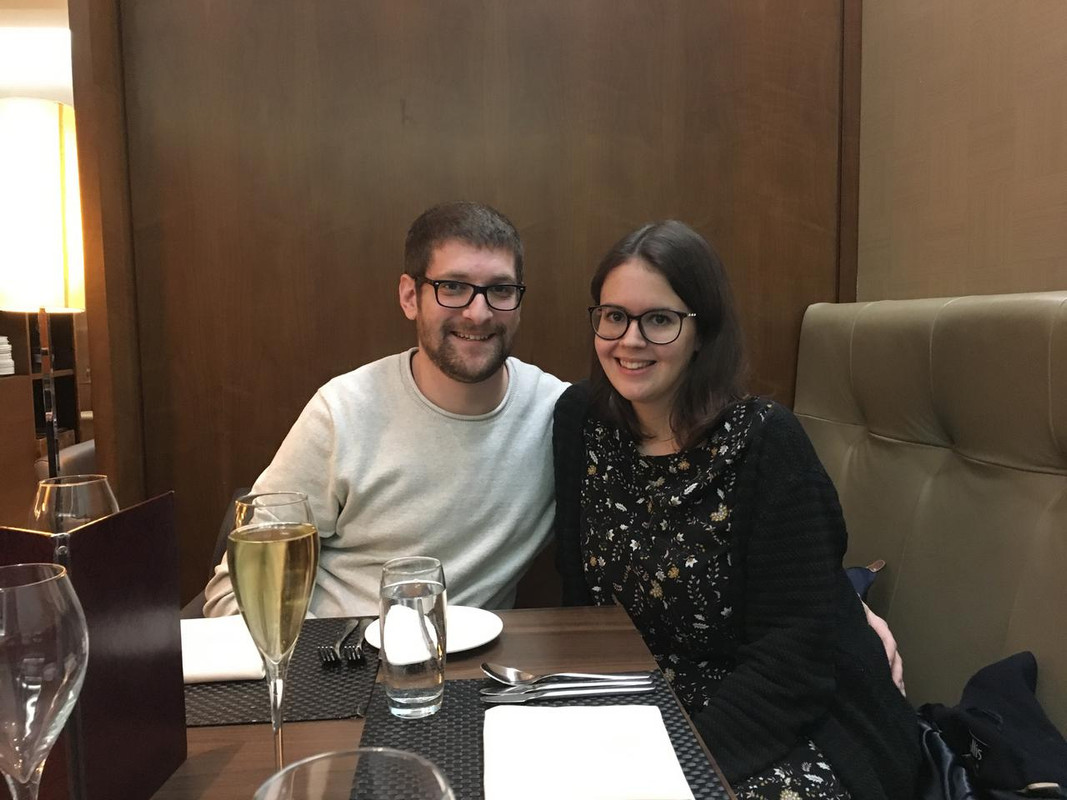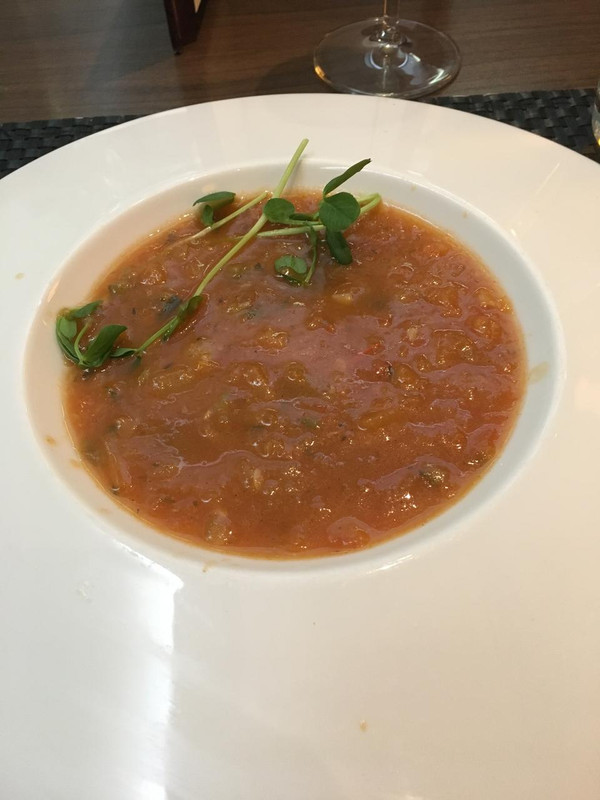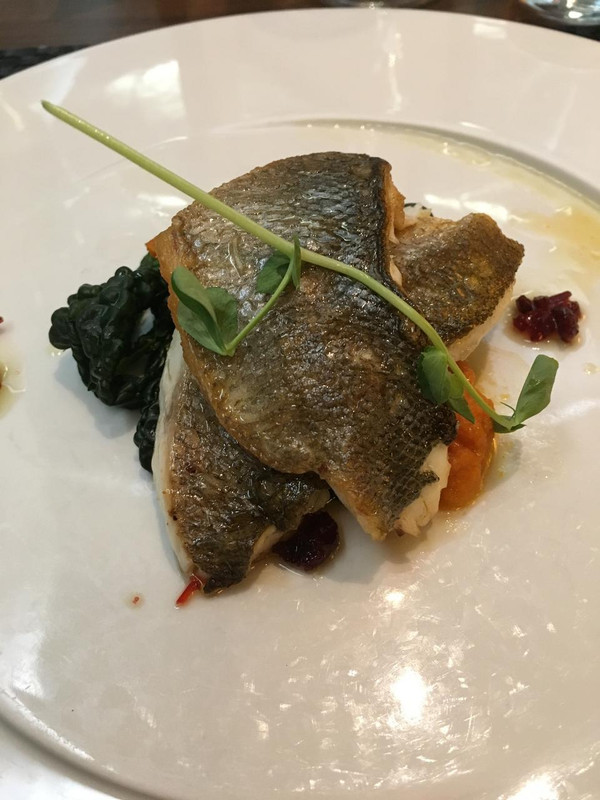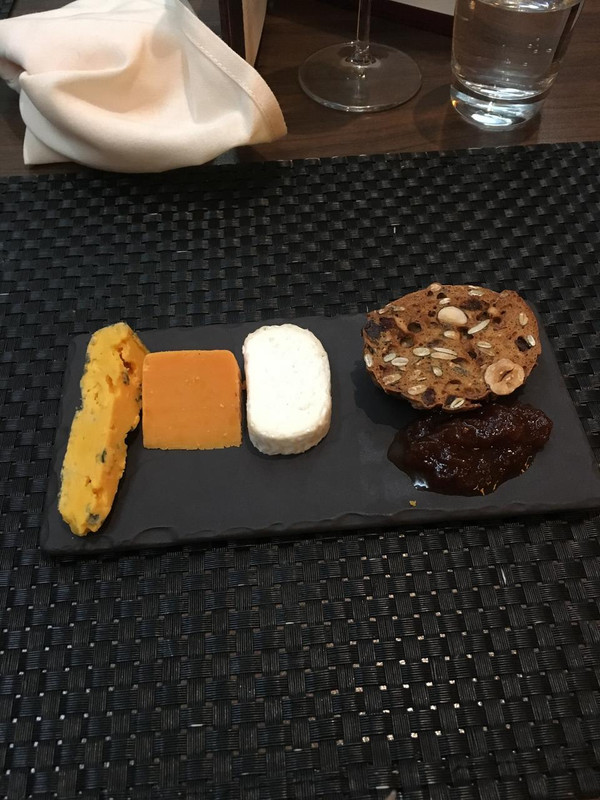 We were booked in Euro Traveler on the way back to Basel and thanks to Theoretical Seating the seat next to us (4D) remained free. The flight was uneventful. A nice week-end came to an end.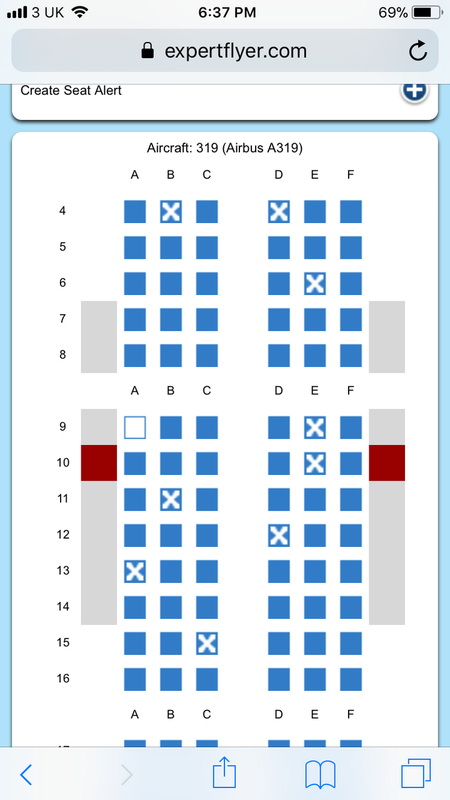 Thanks for reading!
---
Last edited by florens; Dec 18, 17 at

2:08 pm

Reason: typo
Dec 18, 17, 2:14 pm
Join Date: Nov 2008
Programs: AA EXP/LTP 4MM, BA GGL/CCR/GfL, HH Dia, SPG Plat/LTP
Posts: 9,639
Indeed, thanks for sharing. Indulging a lie-flat journey all the way from BSL to LHR must have been a timely way to relax for the trying exercises of the London DO that were to follow
Dec 18, 17, 3:36 pm
Join Date: Oct 2010
Location: Switzerland
Programs: BA Gold, Hilton Honors Diamond, Nordic Choice Hotels Silver, Avis Preferred Plus
Posts: 4,314
Dec 18, 17, 5:46 pm
FlyerTalk Evangelist
Join Date: Nov 2003
Location: Frisco, TX
Programs: The Airline Run by Doug P
Posts: 18,477
Nice report, thank you. That Doubletree looked very nice how was it? I was at the Doubletree in Santiago last month and upgraded to the suite. It was nicer than any Hilton I've been in anywhere.
Dec 19, 17, 12:59 am
Join Date: Oct 2010
Location: Switzerland
Programs: BA Gold, Hilton Honors Diamond, Nordic Choice Hotels Silver, Avis Preferred Plus
Posts: 4,314
jason8612,
it was good to meet you! Safe travels!
enviroian
. Which DoubleTree?
The one in Victoria was very nice, especially the top floor rooms. I am not sure about the regular rooms. I think they might be older/non-renovated. The breakfast was very delicious, but the breakfast room was a bit small. The front desk lady was very kind and helpful. The luggage storage room is too small and thus crowded, so they store some larger suitcases outside the room.
The one in Kingston was very enjoyable and the staff excellent. The rooms are not soundproof, but there wasn't much noise. There are train tracks on one side though, with a train passing every now and then, but the noise didn't bother us too much. The decor is very nice and detail-oriented. The breakfast was good, but not the best we had.
Dec 22, 17, 1:03 pm
Join Date: Oct 2010
Location: Switzerland
Programs: BA Gold, Hilton Honors Diamond, Nordic Choice Hotels Silver, Avis Preferred Plus
Posts: 4,314
Dec 22, 17, 2:41 pm
Join Date: Oct 2010
Location: Switzerland
Programs: BA Gold, Hilton Honors Diamond, Nordic Choice Hotels Silver, Avis Preferred Plus
Posts: 4,314