A Honeymoon to Remember: Hong Kong, Thailand, and Japan in Style
Jan 4, 18, 9:33 pm
Join Date: Aug 2015
Location: New York
Posts: 153
Japan is very special to us. We are both Japanophiles, and we make every effort to watch all the Japanese travelogue shows we can. I encourage anyone reading this report to watch Prime Japan on Amazon Prime. If you already have, then I recommend you have Roger Webb's Lucky Me playing on loop throughout these reports. That song became the unofficial song of the Japan portion of our honeymoon. I also proposed to my wife on our last trip at the Fushimi Inari Shrine. We even made a pact to come back every 5 years. Once I finish this trip report I'll write one up for our previous trip which was a full 2.5 weeks of traveling the main island. This time around, we only had 6 nights to make the most of it, but we were determined to do so.
As I mentioned in my last report, we left The Peninsula (abandon all hope ye who enter there) in fury, after they forgot to come pick up our luggage, forgot our breakfast, and forgot the car service we requested. We thus, sprinted through BKK security Home Alone 1 style, to at least inspect the Sakura lounge at BKK. Due to the distance between the lounge and the gate, and the marathon we made with our luggage, I did not have time to snap pics. The lounge is nice though, nothing flagship, but it definitely was comfortable.
We flew J on JAL from BKK-TYO. We had flown JAL J before, but this has been the best J flight we have ever had, and we much prefer JAL over CX. First, the hard product. Althought this flight did not have the fully recline seats, the JAL Neo was more than adequate for the five hour flight. Personally, I prefer the non fully lie flat seats because I hate having it fully flat, but that's neither here nor there. We also love JAL's IFE selection. They always have a bunch of travelogue shows and documentaries about Japan, that we really appreciate. The food was also very good. I always order the Japanese menu when flying JAL, and this one did not disappoint. The star of the courses was the dessert, which consisted of a mango pudding that was delicious and flavorful.
The service and soft product is where JAL shines, and, in this flight, it really stood out. Pat, our flight attendant, was incredibly kind to us throughout the flight. She must have noticed our behavior, because she immediately realized it was our honeymoon. She asked us where we were from and thanked us profusely for celebrating our honeymoon in Japan. When she found out I proposed in Japan, she asked about our trips and listened attentively as we told her about our love for the country. It honestly felt like we were the only people on the plane, and for J service, this was very special.
Later, she came back with a small toy plane, a bunch of sweets, and a bathtub rubber JAL plane "for when you have a kid." Whoa! Slow your roll there Pat! Towards the end of the flight, she also came by and explained that it's a sign of good luck for couples to witness Mt. Fuji upon arriving to Japan. She opened up our windows and pointed it out to us from the plane. Good marriage for us!
Fujisan on the upper left
We arrived at Narita Airport, withdrew money at the 7-11 underground, got our SIM card, and took the Narita Express to Tokyo station, and then transferred to the subway to get to the Ritz Carlton. The hotel is located in a large shopping mall and does connect directly to the subway, although there is a signficant walk. I would still recommend those coming to Tokyo to still take public transportation over cabs or car service. You will save time and money.
Immediately upon entering and giving our names and passports, we were congratulated on our honeymoon and escorted to the club lounge for check-in. The lounge was smaller than the RC Kyoto, but RC Tokyo's was much more refined and elegant.
View from the lounge
We were also assisted by Mariko, the concierge at the lounge, who would dress in a different formal kimono each day (often Christmas themed). She helped us check in, provided us with cocktails and snacks and escorted us to the room. Our room was very large by Japanese hotel standards, and had a great view of Tokyo Tower. Waiting for us in the room, was a beautiful quartet of wagashi (Japanese sweets) and some tea. It was a striking presentation and impressive, although we were surprised no champagne was in the room. It honestly wasn't a big deal because our room was on the same floor as the club lounge so it wasn't any trouble to go there for drinks.
Welcome wagashi
view from our room
We had a tight food schedule for this trip, so we needed to get our ramen fix this first night. We did the high end ramen on our last trip to Tokyo so this time we were looking for something different. We elected to go to Afuri Ramen in Ebisu, a small chain ramen restaurant that specializes in a yuzu based ramen broth, and we are so glad we went. The citrus and acid from the yuzu went perfectly with the fattiness and richness of ramen. It helped to relieve you of that normal coma-like feeling one often gets when they finish a bowl. If you go (and I highly recommend you do) make sure you go for the spicy broth, as that was the true winner.
One thing we always do when we are in Tokyo is to try and walk around as much as possible and avoid public transportation. Not because it's bad, because it most certainly isn't. But because we feel we see way more of the city when we do this. So, in typical fashion, we walked back to the Ritz, and as we made our way through the nearby park, we were treated to a holiday light show!
We decided to call it an early night because we would be heading to Nikko the next day and we were looking forward to our dinner at L'Effervescence in the evening.
Next Time on A Honeymoon to Remember: Nikko, Sauna, and dinner at L'Effervescence
Jan 5, 18, 6:06 am
Join Date: Aug 2015
Location: New York
Posts: 153
Jan 5, 18, 6:35 am
Join Date: Dec 2000
Location: bay area, ca
Programs: UA plat, spg plat, aa plat, marriott plat
Posts: 3,161
Oh my, if I knew you were staying there (and even if you weren't) I would have recommended Le Sputnik restaurant (but it sounded like you had a full list of reservations). It is an amazing place and only a 10 minute walk from the hotel. Maybe next time
Jan 5, 18, 2:16 pm
Join Date: Oct 2017
Location: Chicago
Programs: UA Plat
Posts: 16
What a great trip and great writing! Getting to Gaggan sounds like quite the adventure (putting it mildly) - in retrospect it's a great story but yikes! Really enjoying hearing about your restaurant choices too. Looking forward to the rest!
Jan 5, 18, 8:33 pm
Join Date: Aug 2015
Location: New York
Posts: 153
"It's not how much you do that counts, it's what you get done."-
Jake Adelstein, Tokyo Vice
We walked to the club lounge early the next day for breakfast, and to handle the logistics for our dinner at L'Effervescence that evening. Breakfast at the lounge was mostly consistent each day, a fresh omelet, some toast, fruit, and a cappuccino which the staff was aware I wanted each morning and had it ready moments after we arrived. Following breakfast, I met with Mariko, the club concierge, to figure out how we would get to the restaurant. I had forgotten that RC provides complimentary transportation to areas adjacent to the hotel. I'm not sure the exact distance (I think it's about 5 km) but fortunately L'Effervescence was within that window, and so, Mariko arranged for the car service downstairs in the evening. I assumed that it would be one of their BMWs or Mercedes vehicles that would take us there. It was not.
Following breakfast, we took the metro to Tokyo Station (I think it was Tokyo station) and boarded the Shinkansen to Utsunomiya, and then switched to a local train to the Tobu Nikko Line. Overall, the trip took about two and a half hours door to door. Our initial plan for Nikko was to see 1. stroll around Lake Chuzenji, 2. aee Kegon Falls, and, 3. make our way through the temples, followed by a nice snack of dango, and calmy make it back to hotel. The plan obviously failed spectacularly. Upon arrival, we did not realize that it would take approximately an hour by bus to get to the lake and waterfall area, and an hour back. Our dinner reservation at L'Effervescence was at 7. Thus if it takes one hour to get to the falls, one hour to get back to the main Nikko area, 2.5 hours to get back to our hotel, and it was 12pm when we arrived at Nikko, we would never make it. Thus, we abandoned our ambitious plan to stroll down the lake and see the falls, which I had really wanted to do. The best laid plans of mice and men… yadda yadda yadda, everything went to hell.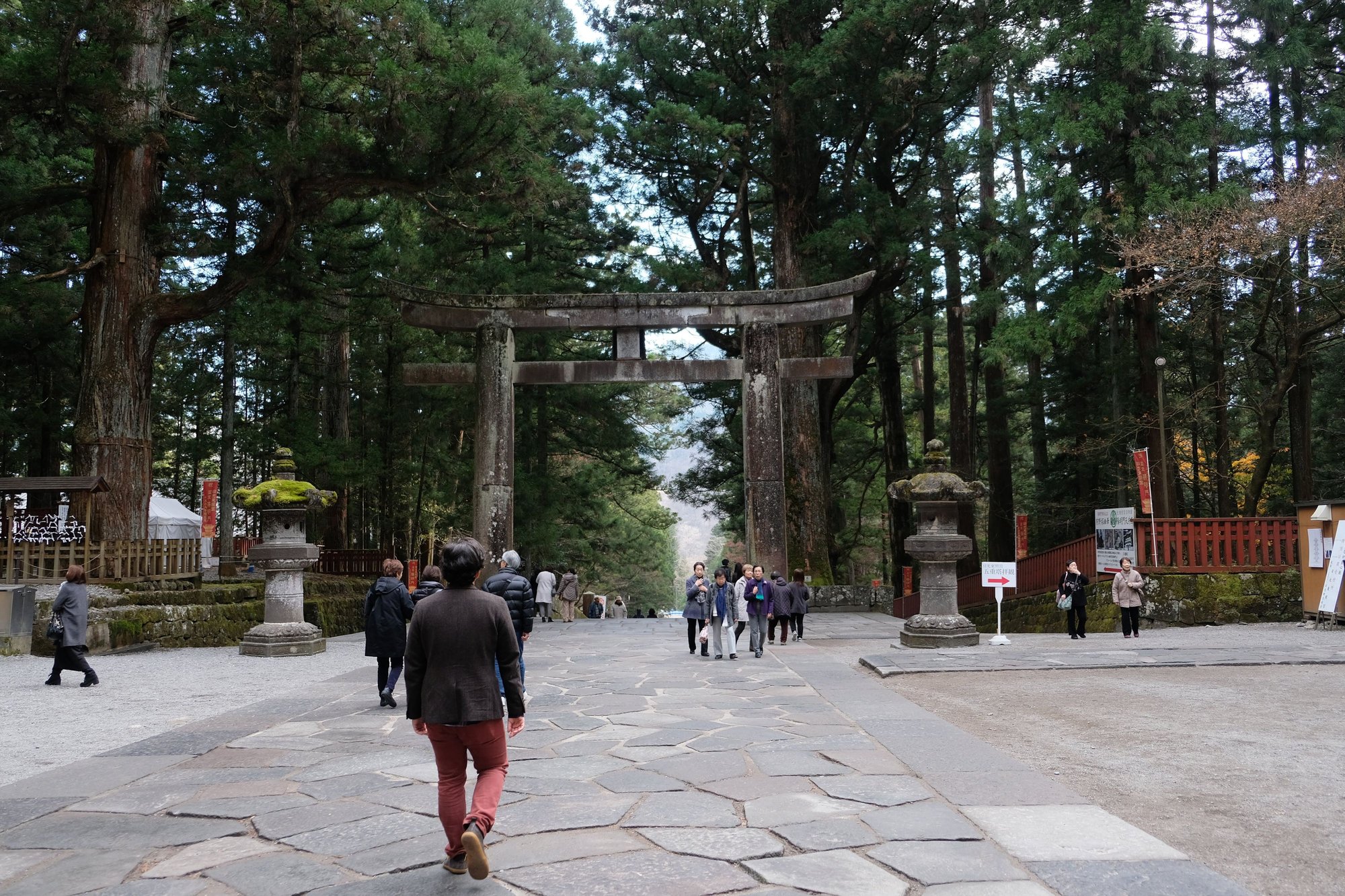 Instead, we made our way through Rinnoji, Toshogu Shrine, and the accompanying area and forest. Toshogu shrine is still under renovation, and will remain so until the end of 2018 or early 2019, but you can still go inside and climb the top. It's also interesting to see the renovation process, which is very intricate and time intensive. Basically, they have to remove all the pieces of wood that has been devoured by termites, and replace each segment.
As we traversed through each shrine and temple, we made sure to get a shuin for our shuin-cho. A shui-cho is a blank book you can buy at any temple or shrine in Japan (each temple/shrine has unique book), and for a small fee, you can have the temple's/shrine's priest write in ink calligraphy the temple's name, name of the deity and date of visit, and then issue the unique temple/shrine stamp. The style of shuin is different in every temple. It's a great way to remember your visit and we have made sure to do it in every temple/shrine we have visited. Our Shuin-cho that we got at Koyasan on our last visit is almost full!
Following our visit to the UNESCO temples, we made our way back to the town center for one goal. To devour dango. Dango is one of those quintessential Japanese foods that you really can only get there. I have scoured NYC for some good dango, but there doesn't seem to be any available. The packaged abomination at Japanese grocery stores are an insult to the confectionery. My one rule with dango, is that the older the woman proprietor, the better the dango. We decided to go to Nikko Miyamae Dango for our dango fix. This establishment focuses on a soy sauce based dango which was delicious. In typical fashion, your dango is accompanied by some matcha tea. Most importantly we were served by a septuagenarian woman, so, based on my rule, it was wonderful.
Following our snack, we made our way back to the train station, and back the Ritz Carlton. Surprisingly, we made it back by five p.m., and seeing as I had some time, I decided to check out the sauna and gym. The gym and pool area are impressive for a city hotel, with spectacular views and a well equipped gym. However, one pet peeve was the fact that to use the steam room, Japanese baths, and sauna, you have to pay 30 USD. This to me seems like an unnecessary nickle and dimeing for such a hotel. I coughed up the 30 bucks, and I did enjoy the sauna, Japanese baths and steam room. I was also impressed with the shower products in the steam room area, which differ significantly from those in the gym showers. The quality was much better, and there was every hair care product under the sun including Shiseido products. I guess that's where my 30 bucks went.
Following my schvitz, I met up with my wife who was enjoying some cocktails in the club lounge, and we made our way down to the the car. Remember how I said I assumed the car service would be a BMW or Mercedes from the RC fleet? Well Mariko hooked us up. We instead took the RC's Rolls-Royce Phantom. Priced at about $400,000, I never imagined being in the back seat of one, but here we were going approximately 3 miles in an inordinately luxurious vehicle. We arrived at L'Effervescence, and I'm convinced the nearby neighbors thought we were celebrities or something, because they gawked. Or maybe it was the car. Yeah it was probably the car. My wife and I have debated what we liked more L'Effervescence or Ryugin. I preferred Ryugin, my wife loved L'Effervescence. Regardless, bother were incredible meals, and I will acknowledge L'Effervescence had some outstanding and unique dishes.
There were two gems in this meal, First was "Darker", a dish composed of bonito, lotus root, burdock, shiso seedpod, and natto made fresh by monks from a temple. Natto is a love/hate thing, but I can assure you that this natto would be loved by all. This was a pure umami bomb. The second best dish was the "Autumn Foothills Hike", with the chrysanthemum ice cream being the stand out component. It was both refreshing, with a flowery and almost citrus-like note. We elected to get the 5 course wine pairing plus a glass of champagne, wherein you are given 5 glasses for the 12 courses. We enjoyed each of the pairings, but my favorite was the Azienda Agricola Valentini Trebbiano d'Abruzzo. The meal ended with "world peace" and consisted of a traditional matcha green tea ceremony. The tea was paired with a peanut drink that was basically liquid peanut butter. Both were excellent. Overall the restaurants' Japanese dishes using French techniques is well worth the price and is deserving of it's two stars. The service was excellent and the sommelier and staff were very knowledgeable and friendly. My only critique is that the restaurant was very warm (which I have found typical of all Japanese restaurants and airlines, JAL I'm looking at you). This was definitely a great start to our culinary adventure in Japan, but sushi was still on the horizon.
Jan 8, 18, 7:15 am
Join Date: Aug 2015
Location: New York
Posts: 153
Jan 10, 18, 9:14 pm
Join Date: Aug 2015
Location: New York
Posts: 153
Most people visiting Tokyo always go to Tsukiji Market, and come back lauding the visit. Nay, they come back exalting the market and recommend it as a "must go" destination. We have never understood why. My long standing theory is that humans are flawed creatures, and we would rather make people waste their time going to a raw fish market at five in the morning than publicly admit they made a mistake, and state that we wasted our time watching people throwing frozen fish and yelling in Japanese, and advise future visitors not to go. For the record, we have never visited the market and we do not recommend you do either. Sleep in, enjoy your morning, and go eat sushi at a reasonable hour.
In lieu of the fish-walk-of-shame™, we decided to make a trip to 'Little Edo' before heading to Sushi Harutaka, where we could enjoy the sumptuous bounty the sea had to offer. Kawagoe, or 'Little Edo' as it is nicknamed, is a small district, approximately 40 minutes from Tokyo, and is known for its preserved traditional Edo-style warehouse buildings that line a few of the streets. Kawagoe made for a good half-day trip from Tokyo. We were able to enjoy a tranquil stroll through the streets, while simultaneously appreciating the juxtaposition between modernity and old world style architecture. Perhaps we were
too
relaxed during this trip because before we knew it, we had 30 minutes to catch our train back to Tokyo so that we could make it to our 6pm sushi reservation, and we were 2.5 miles from the train. I'm not sure why this kept happening to us, but in the future I think I will start setting warning alarms on my phone. I suppose one benefit of our poor time management skills was that we got our daily HIIT workout in.
While many visitors to Tokyo elect to go to Jiro for their sushi fix, presumably due to the incredible documentary Jiro Dreams of Sushi, we chose differently. Sushi Harutaka has ranked repeatedly as a top sushi restaurant in Tokyo. It used to have two Michelin stars but recently lost both of them, though I'm unclear as to why. Regardless, Michelin is not a great guide when it comes to Japanese dining. Instead, I often look to Tablelog for Japanese restaurant recommendations, and per Tablelog, Sushi Harutaka has a Silver Award (roughly equivalent to 2 Michelin stars). Chef Harutaka Takahashi apprenticed under Jiro for 13 years before starting his own restaurant. I say this not to emphasize his skill, which is incredible, but because Chef Harutaka employs a similar
shari
(rice) style as Jiro. At Sushi Harutaka you will find a more al dente and vinegary rice than traditional sushi. This may not be for everyone, but we enjoyed it more, as we found the acidity brought out the subtle flavors of the fish. Another highlight of Sushi Harutaka is that he offers a sort of appetizer course within the sushi omakase, which helps to fill you a little more.
I couldn't take pictures of all the courses but, according to my notes we ate the following:
Kamasu (Barracuda)
Shirako (milt, which is just a polite way of saying cod fish sperm sac)
Cod and grouper in a ponzu sauce
Tile Fish soup (picture)
Spanish mackerel with green onion
Notoguro (blackthroat sea perch, a pricey fish)
Sumika (cuttlefish)
Sayori (needle fish)
The three fatty tunas: Akami, Chutoro, and Otoro
Kohada (gizzard fish)
Hamaguri (clam)
Saba (mackeral)
Ebi (tiger prawn)
Kobashi (surf clam)
Kasugo (sea bream)
Salmon roe
Amberjack
Unagi (eel)
Uni (sea urchin)
Tamago (egg omelet, a traditional Japanese dessert at sushi restaurants)
Overall the meal was excellent. The quality of the fish was top notch, the execution, flawless. My one critique was that the demeanor of the staff initially was very cold, to the point that for the first 20 minutes or so we felt very uncomfortable. I get that there was a language barrier, and this restaurant is not one that traditionally caters to foreign tourists, but it was still a little off. After some time, I think we began to chill the staff's icy hearts because they brought out a fish guidebook that was in English and Japanese, and gave us a very educational crash course in marine biology. The sea was angry that day my friends like an old man trying to send back soup at a deli, but I think once we were done, the Chef's heart grew three sizes.
Seeing as the night was young and so are we, 6 pm dinner notwithstanding, we decided to go out for a nightcap and a snack. We chose Bar Benfidich (B&F), a cocktail bar that opened 6 months prior to rave reviews, as our watering hole of choice. The bar is literally a hole in the wall, located on the second floor of a nondescript residential looking building. The bartender, Takeshi Matsuzawa has no menu.
Instead he asks you what sort of flavors you like and creates a custom drink to your tastes. For me he made a yuzu based Gin drink made from a Kyoto dry gin. For my wife, he made a kumquat old fashioned with a Japanese whiskey.
Both were elegant and exquisite, and this place has now become our go to bar when in Tokyo. A definite must go. Riding high on the amazing food and spirits, I failed to heed my own rule when it comes to Japanese sweets and we decided to stop for some dango from a proprietor in her mid-30s. It was terrible. Trust me, stick with the octogenarians when getting sweets. I think they imbue the food with a bit of their life force, making it all the tastier.
I close this day's review with a question. What would you prefer? A stroll through time, followed by some delicious sushi, and ending with a great cocktail. Or, waking up at the crack of dawn to watch people fling fish, scarf down some sashimi on an entirely empty stomach while half asleep, and smell like you were just violated by Poseidon himself.
Next Time on
A Honeymoon to Remember:
This dynamic duo do nothing. Aimlessly wander through Tokyo, some shopping, and dinner at Ometsando Ukatei. All this and more on our next installment.
---
Last edited by Anlun; Jan 11, 18 at

5:54 pm
Jan 10, 18, 9:55 pm
Join Date: Dec 2000
Location: bay area, ca
Programs: UA plat, spg plat, aa plat, marriott plat
Posts: 3,161
"Most people visiting Tokyo always go to Tsukiji Market, and come back lauding the visit. Neigh, they come back exalting the market and recommend it as a "must go" destination. We have never understood why. My long standing theory is that humans are flawed creatures, and we would rather make people waste their time going to a raw fish market at five in the morning than publicly admit they made a mistake, rather than state that they wasted their time watching people throwing frozen fish and yelling in Japanese, and advise future visitors not to go. For the record, we have never visited the market and we do not recommend you do either. Sleep in, enjoy your morning, and go eat sushi at a reasonable hour. "
It's called "cognitive dissonance"
On the other hand there are some cool hole in the wall type places where one can get a variety of food later in the day (and specials up to 2 pm on the street). And the best tamago ever made constantly and available for about 1 USD (and I don't even like tamago).
Thanks for all the pics
Jan 11, 18, 2:56 am
Wow what a great trip you guys went on! I got to say the Japanese tend to just take hold of something and do it better than anyone else in the world (see cars)... The cocktail bar looks just like they do exquisite craftsmanship... really looks like a great experience!

FDW
Jan 11, 18, 7:48 am
Join Date: Aug 2015
Location: New York
Posts: 153
@
estnet
Hah yes definitely cognitive dissonance. I don't care if the Emperor himself is visiting that market and offering me the best tamago in all of Japan, I don't think I would wake up at 5 a.m. to go. With all there is to see in Japan I just can't fathom the allure of a fish market. That's like saying "when you come to New York City, make sure to got to the Nathan's hot dog factory store and see how they make there hotdogs!" No one wants to see how the sausage is made.
@
FlyingDoctorwu
Thanks! The cocktails were incredible and are priced accordingly, although comparable to any cocktail bar in NYC. He had mentioned to me that there was a bar in NYC that a friend of his opened and is excellent, but I can't remember the name! I've been trying to think of it since we got back to the city. If you are ever in Tokyo you really should visit this bar. The only issue is finding it can be tricky. We had the address on Google Maps and everything, but it was still hard to figure out which building it was in.