Photo Trip Report: Goodbye Topbonus via AUH, SIN, BKK, HKG & TPE!
Oct 27, 17, 3:03 pm
Join Date: Oct 2017
Location: Germany
Programs: Oneworld Emerald, Sixt Platinum, Etihad Gold
Posts: 96
Photo Trip Report: Goodbye Topbonus via AUH, SIN, BKK, HKG & TPE!
---
After being a long-time lurker I thought it was finally time to register and contribute my very small part to all the exciting trip reports in this forum. As a long-time Air Berlin frequent flyer, I took the chance this July to spend some miles and say goodbye to all the perks and benefits of their Topbonus program. Here we go!
Prologue:
May 2017, Berlin:
temperatures in the sexy-hip always-so-poor capital of Germany are rising, similar to the amount of different smells in the metro. I sat in my office and looked back at the amount of vacation days I took this year and one big number came up:
0
.
I started checking fares to Southeast Asia and found a super cheap Etihad C fare from TXL to SIN. I adapted the routing a bit so I could fly via ZRH and try out the new Business Studios in the 787. I had a ton of miles in my Topbonus account and (when looking at the Air Berlin stock price) luckily spent them on some additional C flights with Cathay Pacific. This was my final routing:
TXL-ZRH-AUH-SIN-BKK-HKG-TPE-HKG-SIN-AUH-TXL
Hope you enjoy my first trip report!
Oct 27, 17, 3:26 pm
Join Date: Oct 2017
Location: Germany
Programs: Oneworld Emerald, Sixt Platinum, Etihad Gold
Posts: 96
Part 1: TXL-ZRH-AUH
As there is no proper public transportation to TXL in Berlin (besides an always overcrowded bus, welcome to German efficiency) I took an early cab to the airport in the morning. The check-in was underwhelming as well, even despite the overall cheap atmosphere in TXL's new container terminal. But hey – Berlin is the city where the airline goes bankrupt before they finally manage to get their airport built. A quick stopover in the new (and now defunct I guess?) Air Berlin lounge allowed some nice views of the tarmac: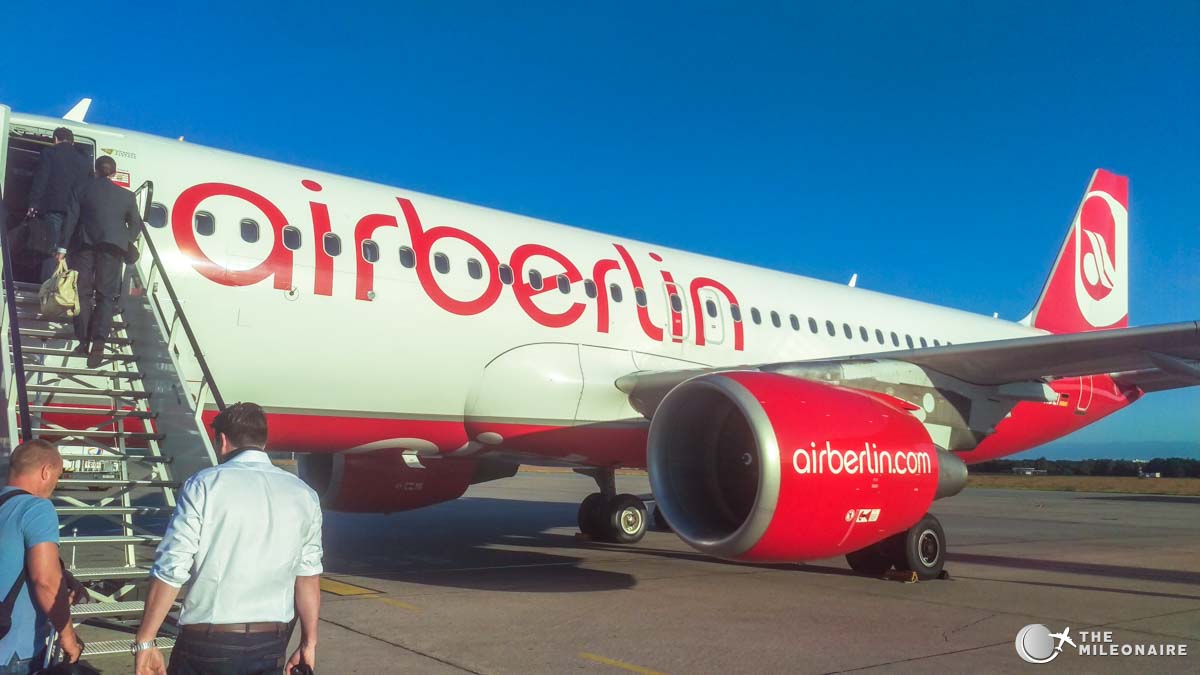 The first leg TXL-ZRH with Air Berlin was super uneventful, just your regular European Business Class. Although I have to mention that the Air Berlin crew was once again great, and I'll certainly miss a lot of their crews.
After landing in Zurich I stopped by the Aspire Lounge that is used by Etihad as well. Even though the lounge is quite basic, the terrace is really nice: great views for plane spotters, WiFi and great weather!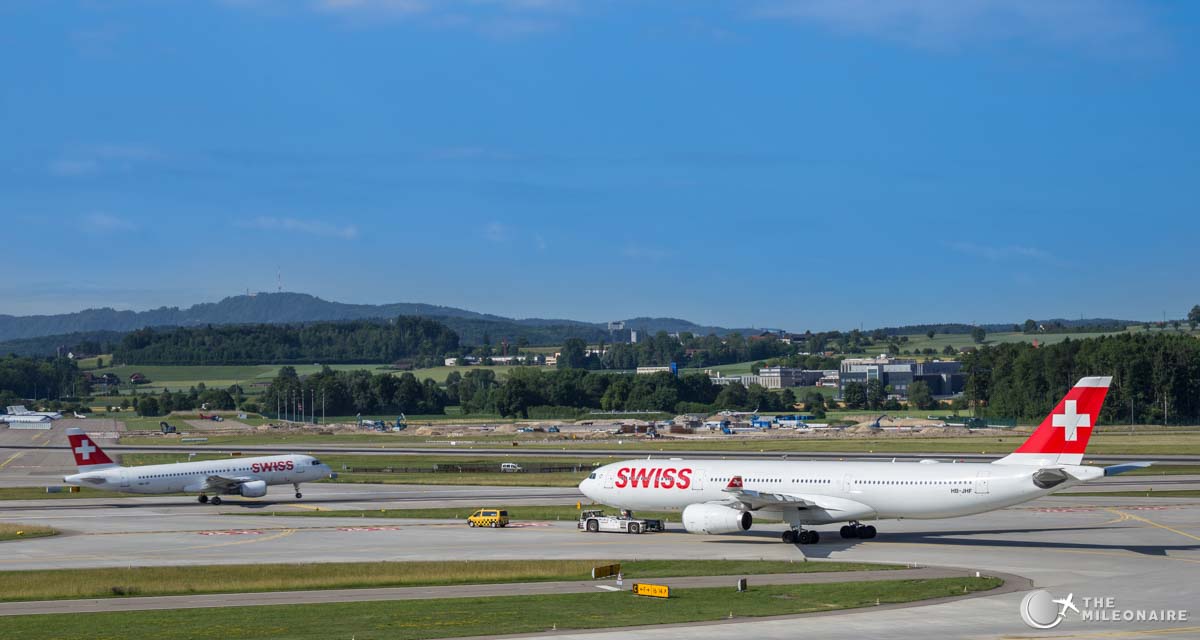 Below the terrace waited the reason for my detour over ZRH: Etihad's beautiful 787 Dreamliner!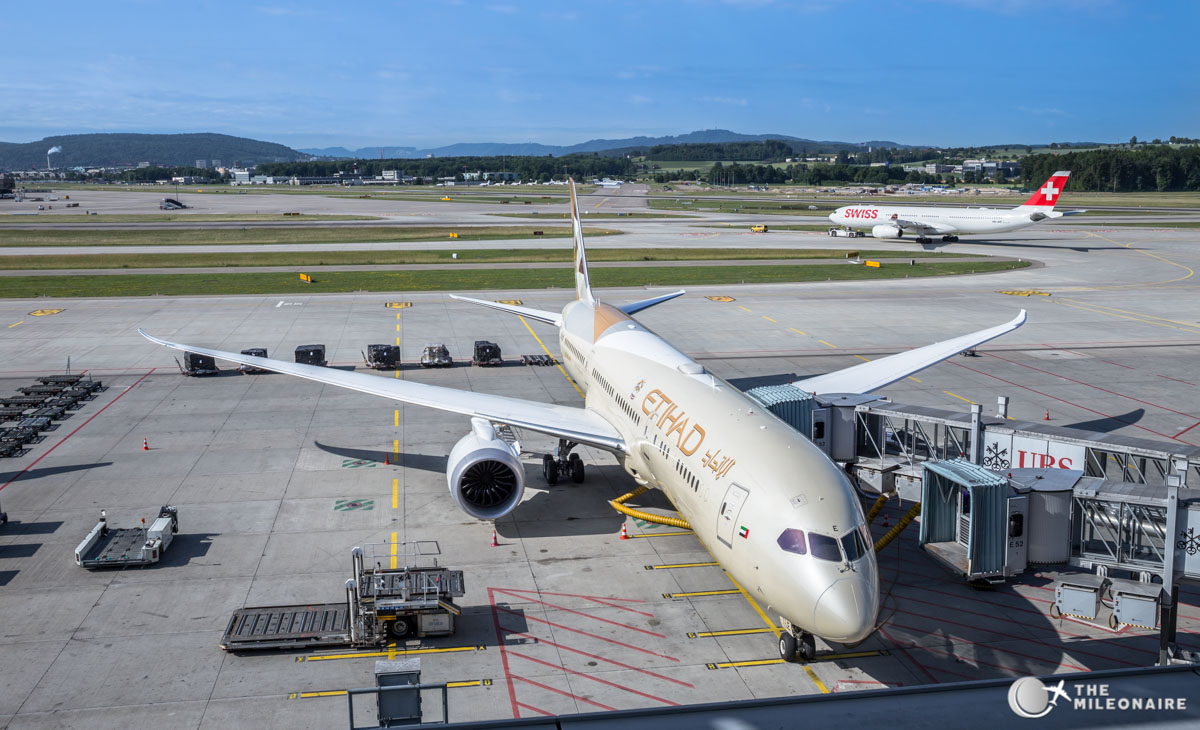 Boarding was efficient (obviously, it's Switzerland) and I was guided to my seat. The cabin looks really great in these, much brighter and more spacious than in e.g. the A330s.
The new Etihad Business Studio seat offers a very spacious experience as well: especially the 'true' window seats offer a great level of privacy. Plus: a large screen, a lie-flat seat, lots of storage space and a neat touchscreen panel to control everything.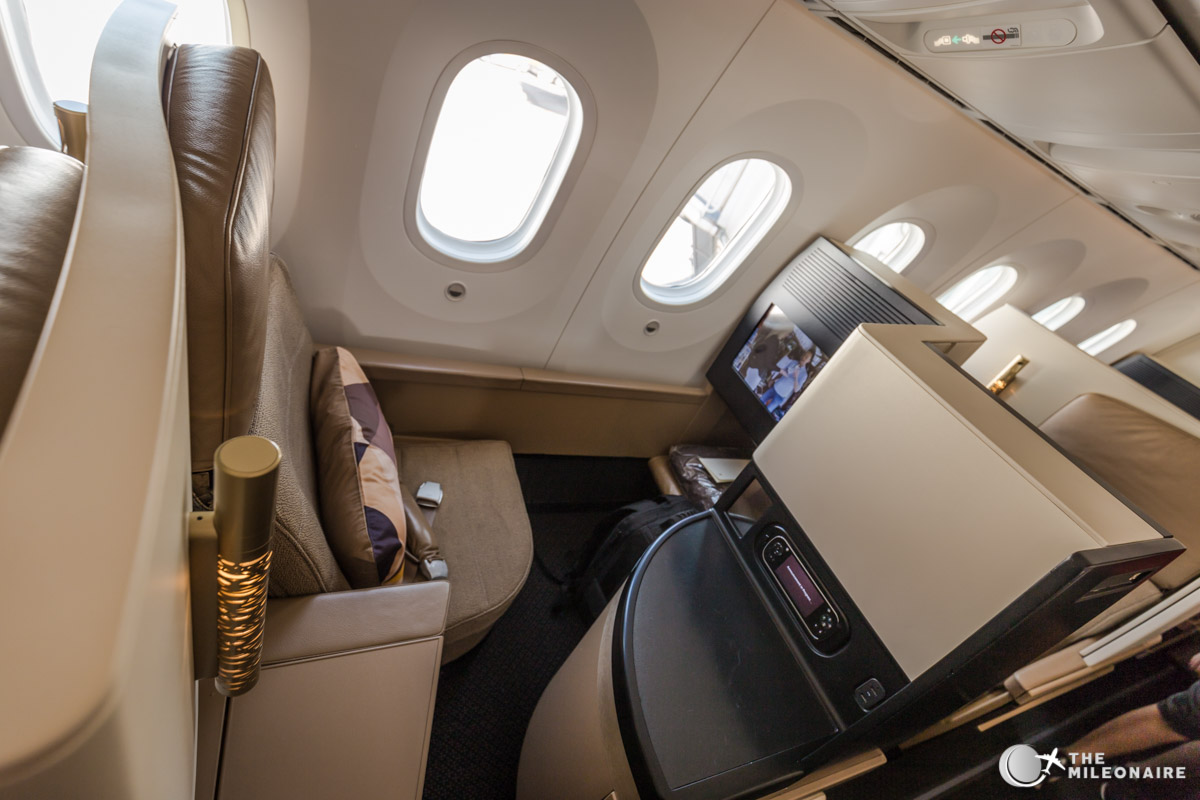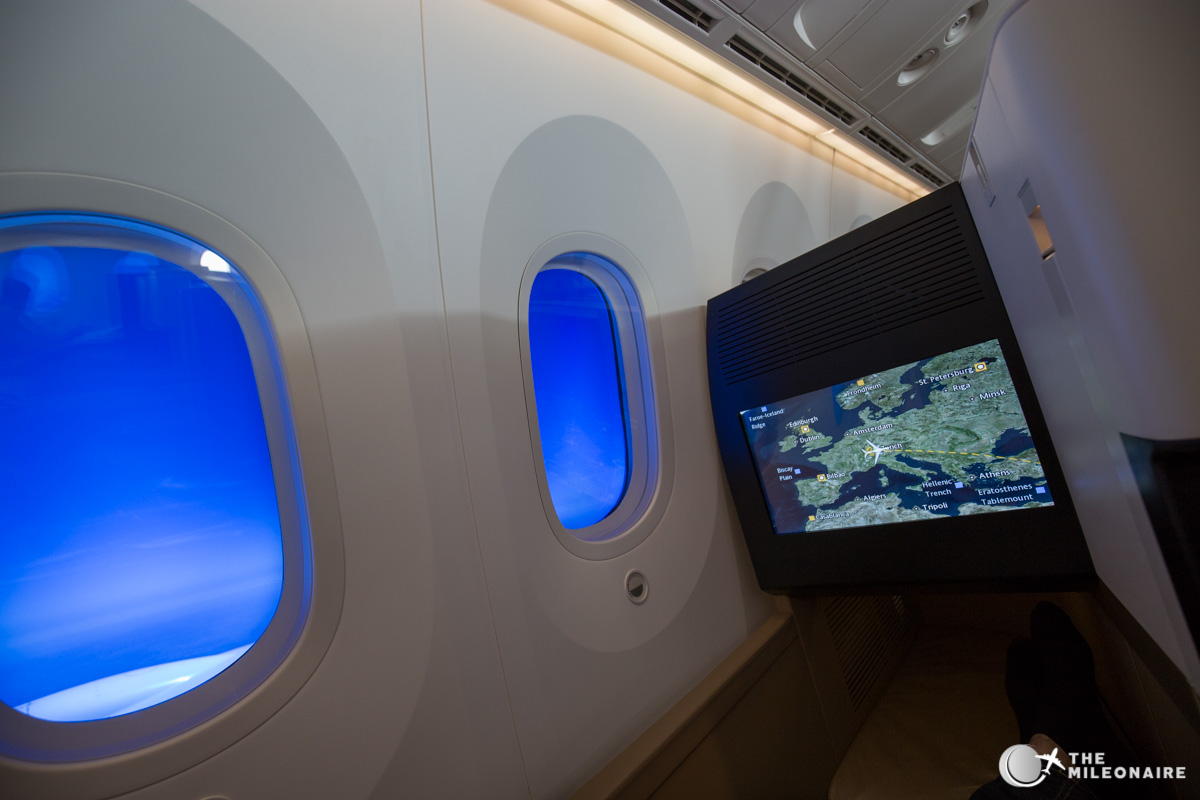 After a beautiful climb out of ZRH....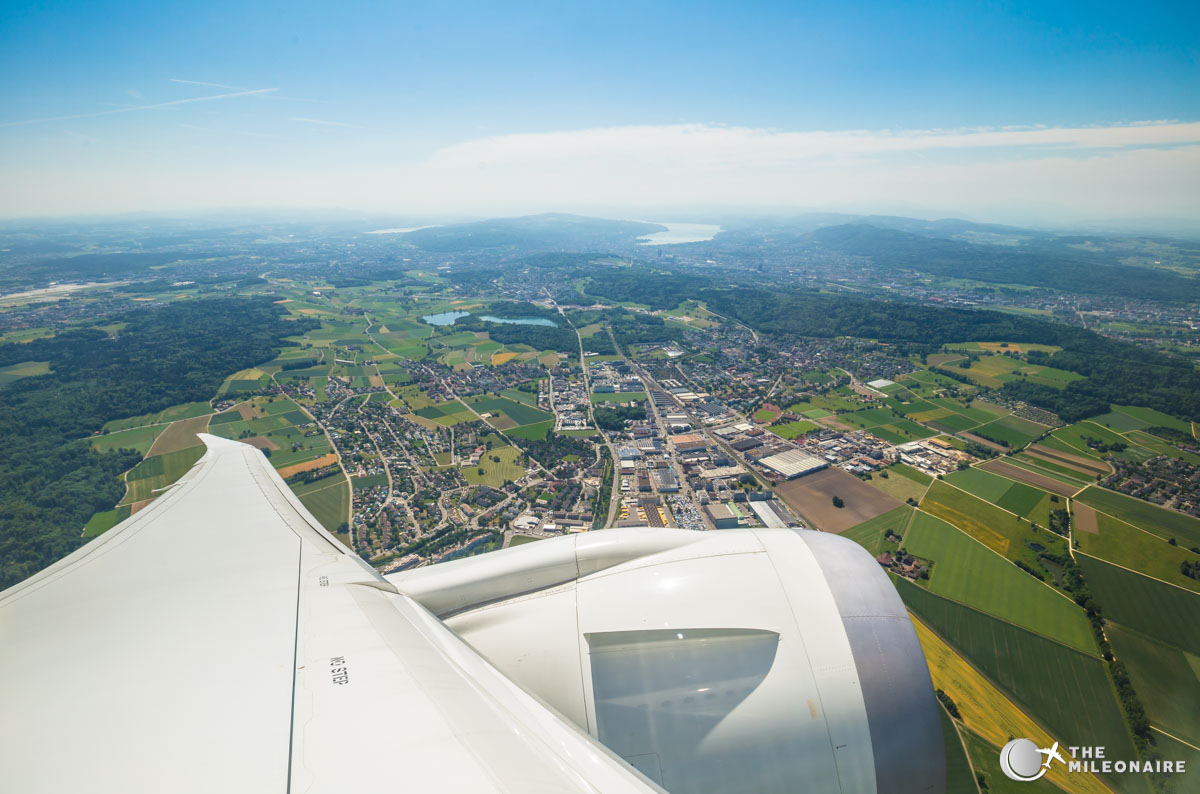 ...the first round of champagne started – and there'll be plenty more to come during this trip: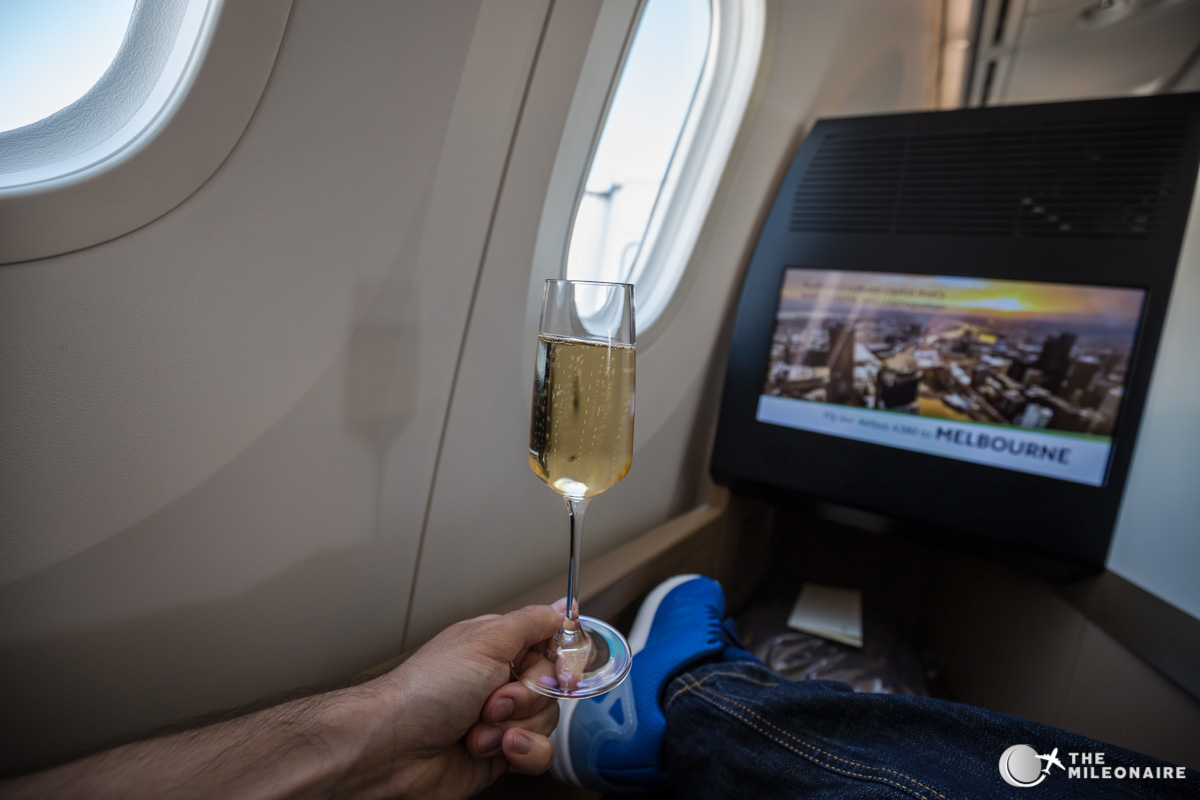 Service and catering were really solid as well, even though Etihad can be hit or miss from time to time. The menu out of ZRH read as follows: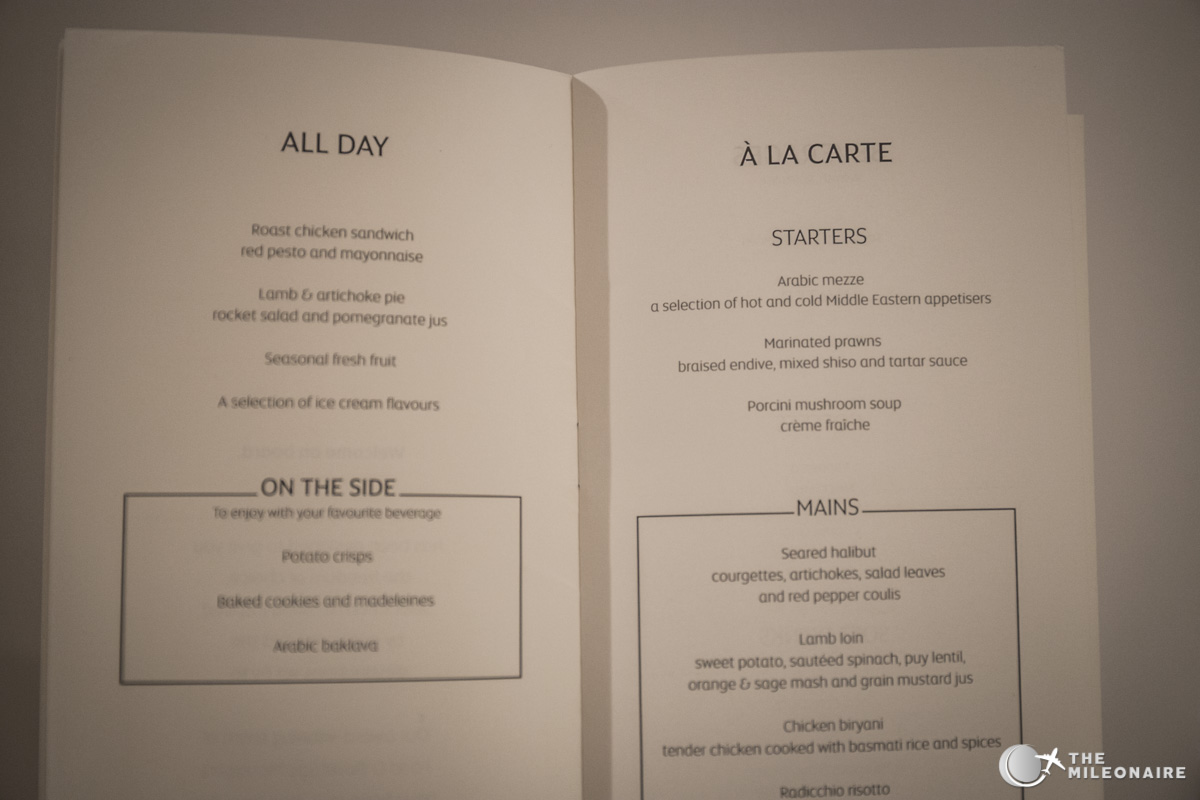 Lunch service started with some warm nuts and another glass of champagne...
...followed by a very tasty prawn appetizer with fennel: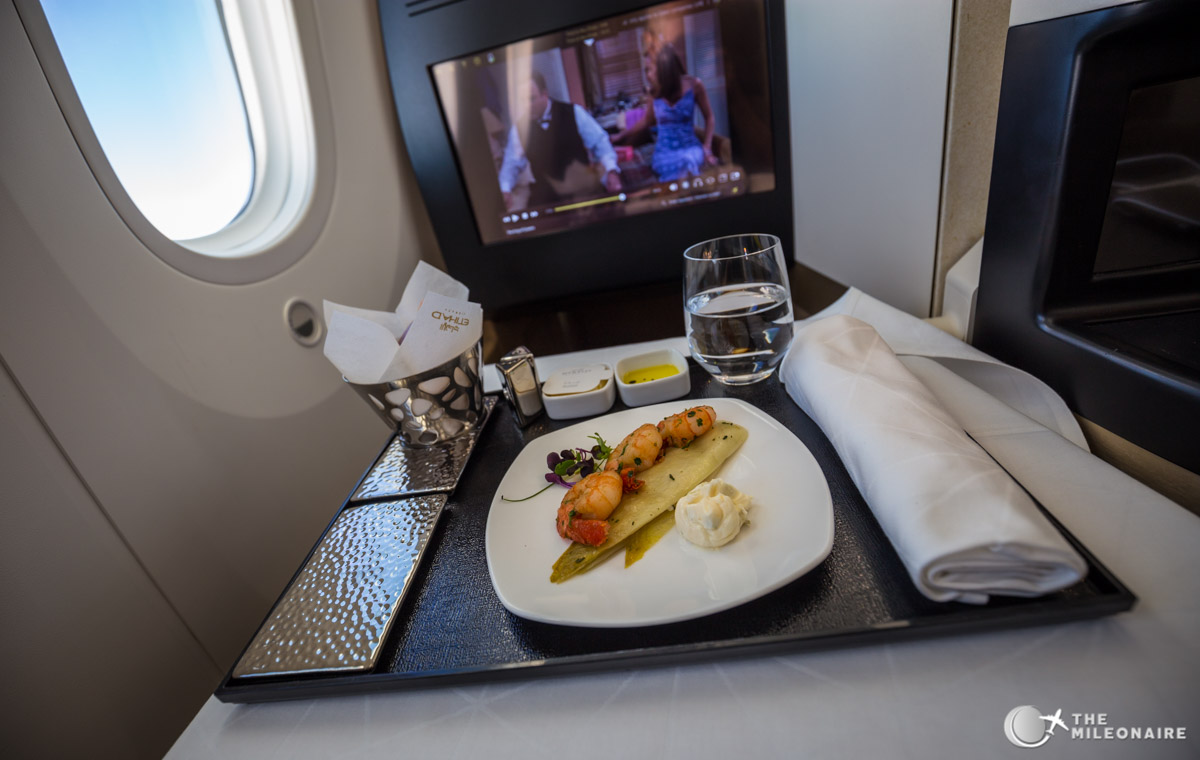 For my main I chose Chicken Biryani once again. Biryani seems to be the standard dish during Etihad's flights, either with lamb or chicken. Even though it doesn't look super fancy, I really enjoy it everytime I fly with Etihad: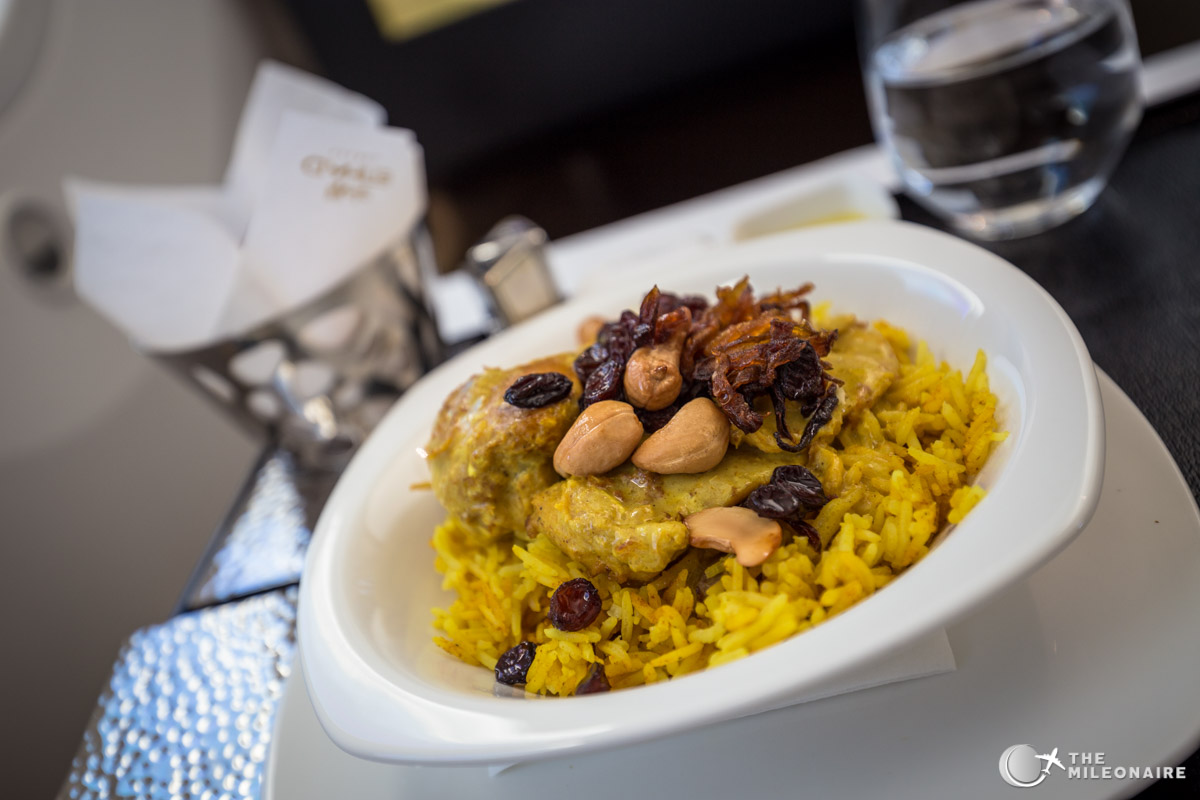 As I didn't have proper breakfast in the lounge, I continued with some cheese...
...a chocolate cake (awesome!) and a dessert wine (not my cup of tea):
After lunch I decided to rest a bit and play around with the Dreamliner's new window blinds, before starting the descend into Abu Dhabi. As this was my very first flight with the dreamliner, I had to take a photo of the GEnx engine in all its (blurry) glory: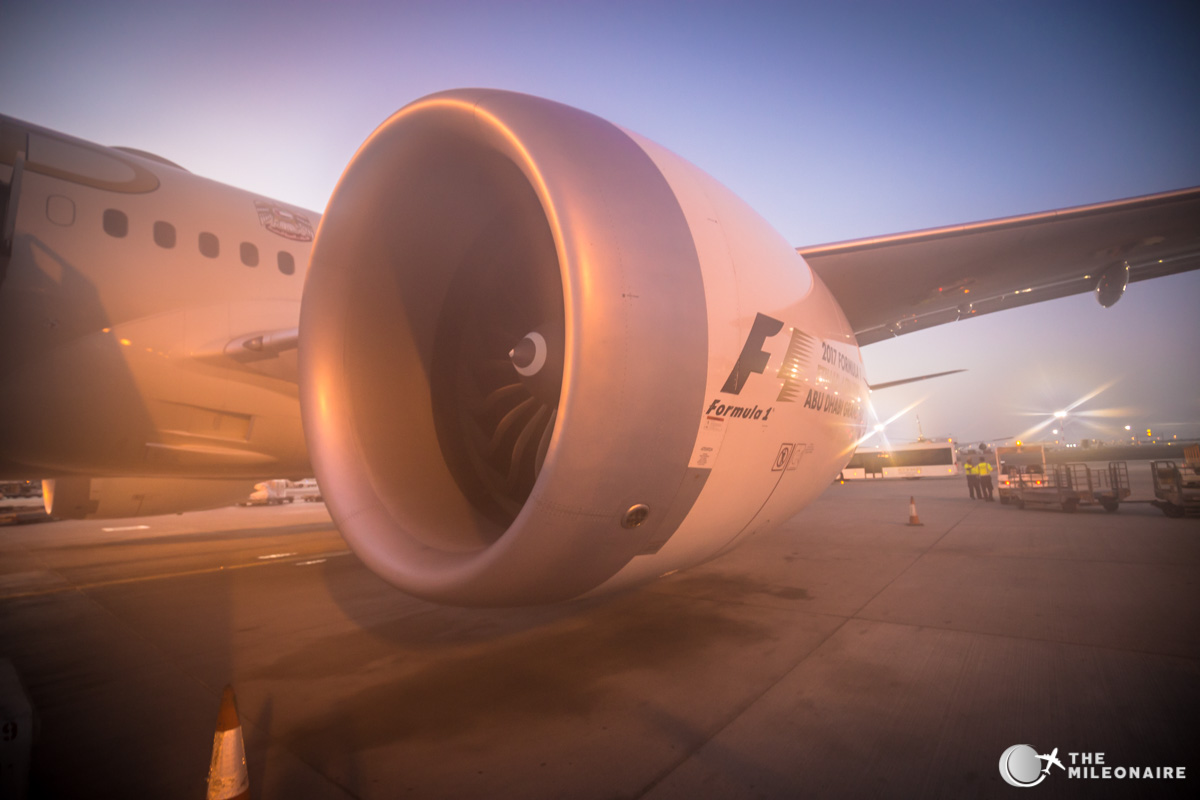 If you're interested, I've uploaded some more photos of Etihad's 787 Business Studios
here
. In AUH I had to endure the usual long bus tour to the actual airport building and the chaotic security check. A priority lane is nice and all, but pretty useless if you can't even get remotely close to it due to the whole are being overcrowded. After security I headed straight to Etihad's new First Class Lounge, coming up in the next part.
Oct 28, 17, 3:30 am
Join Date: Mar 2005
Programs: IHG Plat, Accor gold, M&M FTL, BA Blue, A3 *Gold
Posts: 1,267
Oct 28, 17, 8:25 am
Join Date: Jul 2013
Location: JNB
Programs: Flying Blue, Miles and Smiles, Hhonors, ICHotels
Posts: 931
Great that you managed to cash in your Top Bonus miles. Looking forward to reading the rest.
Oct 28, 17, 8:49 am
Join Date: Oct 2017
Location: Germany
Programs: Oneworld Emerald, Sixt Platinum, Etihad Gold
Posts: 96
Oct 28, 17, 10:10 am
Join Date: Oct 2015
Location: next to HAM
Programs: LH SEN, IHG Gold, HH Silver
Posts: 552
*subscribe* will like to see what HKG/BKK/TPE is right "now" since I've to see this first next week.
Oct 28, 17, 4:14 pm
Join Date: Oct 2017
Location: Germany
Programs: Oneworld Emerald, Sixt Platinum, Etihad Gold
Posts: 96
Part 2: Etihad First Class Lounge Abu Dhabi
The big advantage of Topbonus' Platinum status for me was having all the Oneworld AND Etihad Partner benefits at the same time (kinda like best-of-both worlds). This way, the hell that is Abu Dhabi Airport suddenly becomes quite enjoyable as you had access to Etihad's new First Class Lounge.
The entrance is directly on the left after security: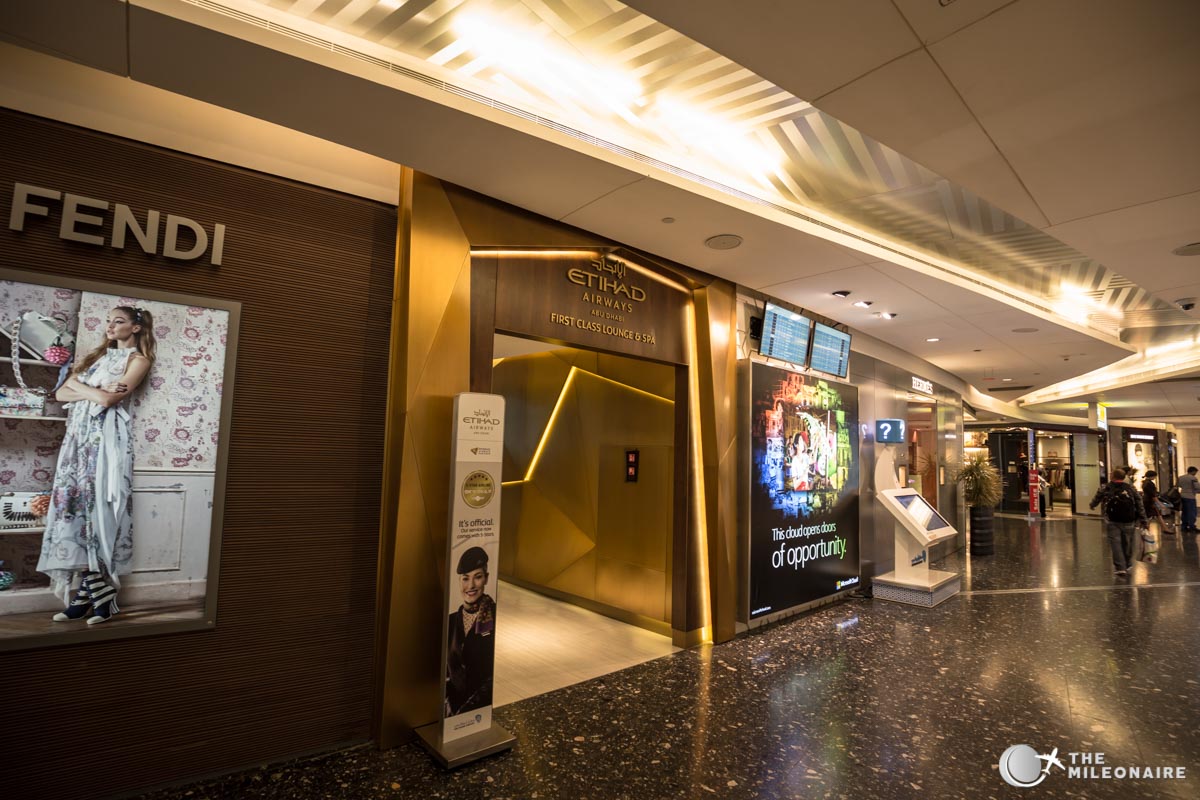 After checking into the lounge at the desk on the ground floor, an elevator takes you upstairs to the actual lounge area.
After the endless bus tour from the plane to the airport, I took a quick shower in Etihad's excellent shower cabins.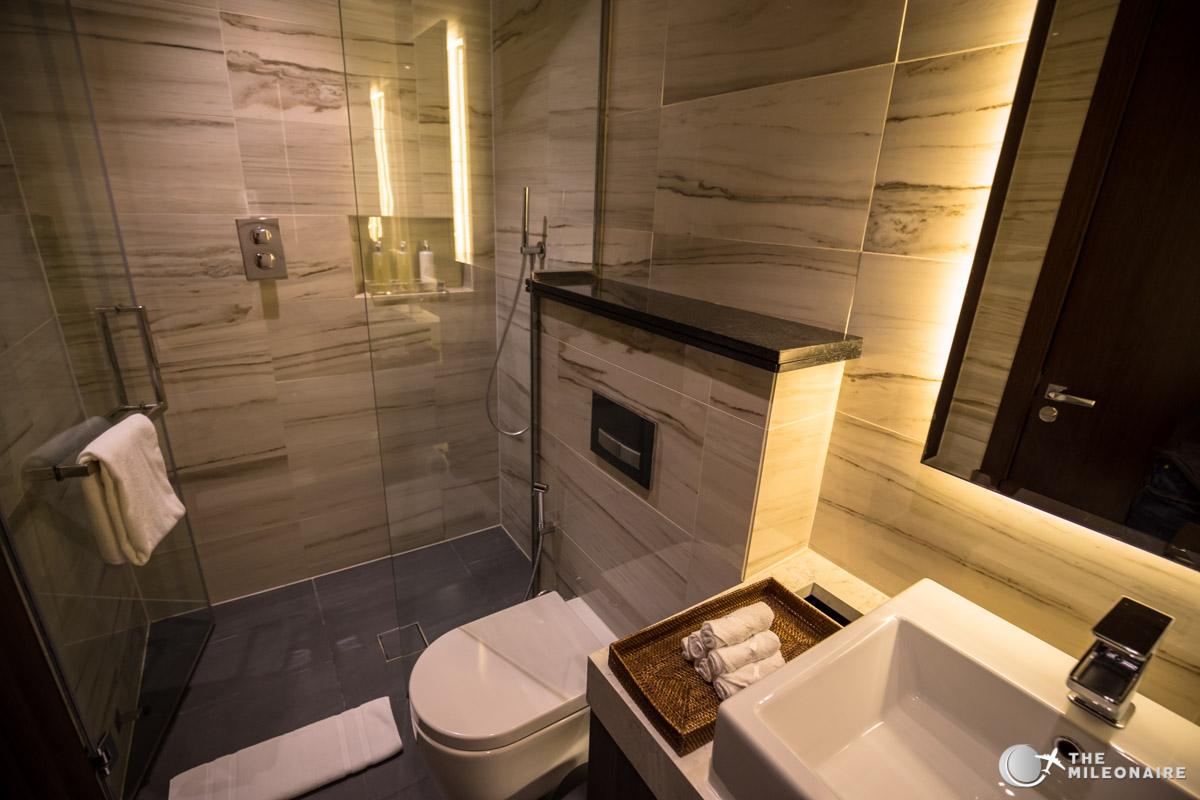 Super refreshing, and the First Class showers are really elegant as well (just lack some additional space to put away your bags and clothes). I passed through the gym (no thank you)...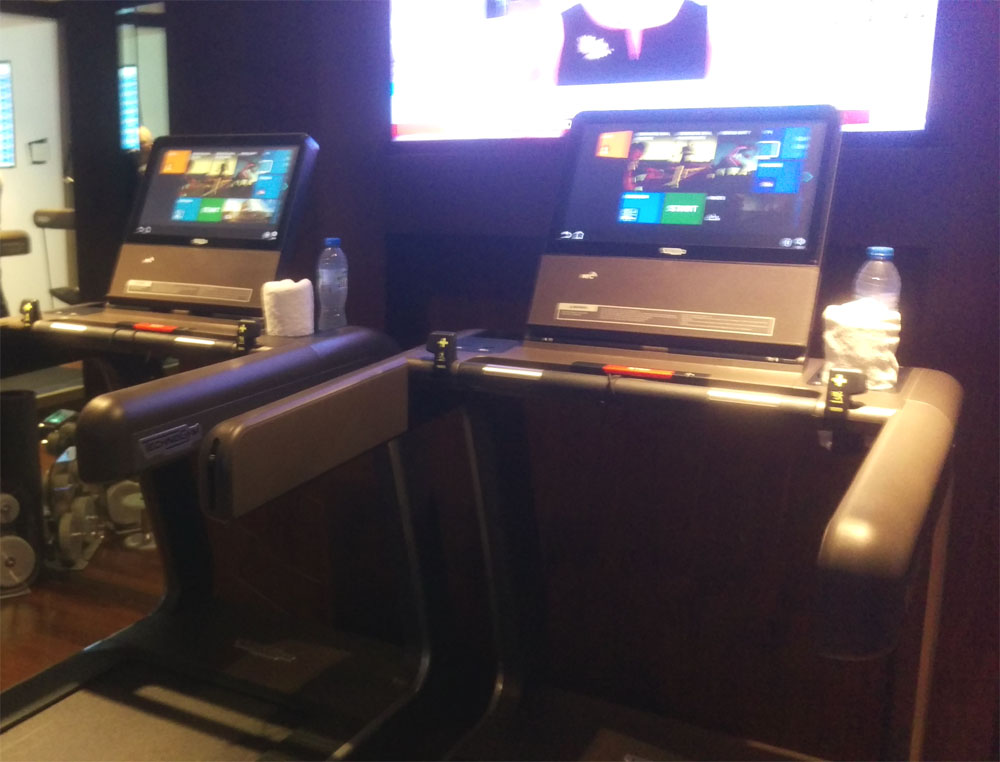 ...through the long corridor that connects all the different lounge areas...
...and headed to the lounge restaurant. On the way there I was offered the free Spa services, e.g. a massage (sorry, no time) or a haircut (sorry, no hair). Etihad's First Class lounge offers a full a-la-carte restaurant, so I sat down at the window and studied the menu: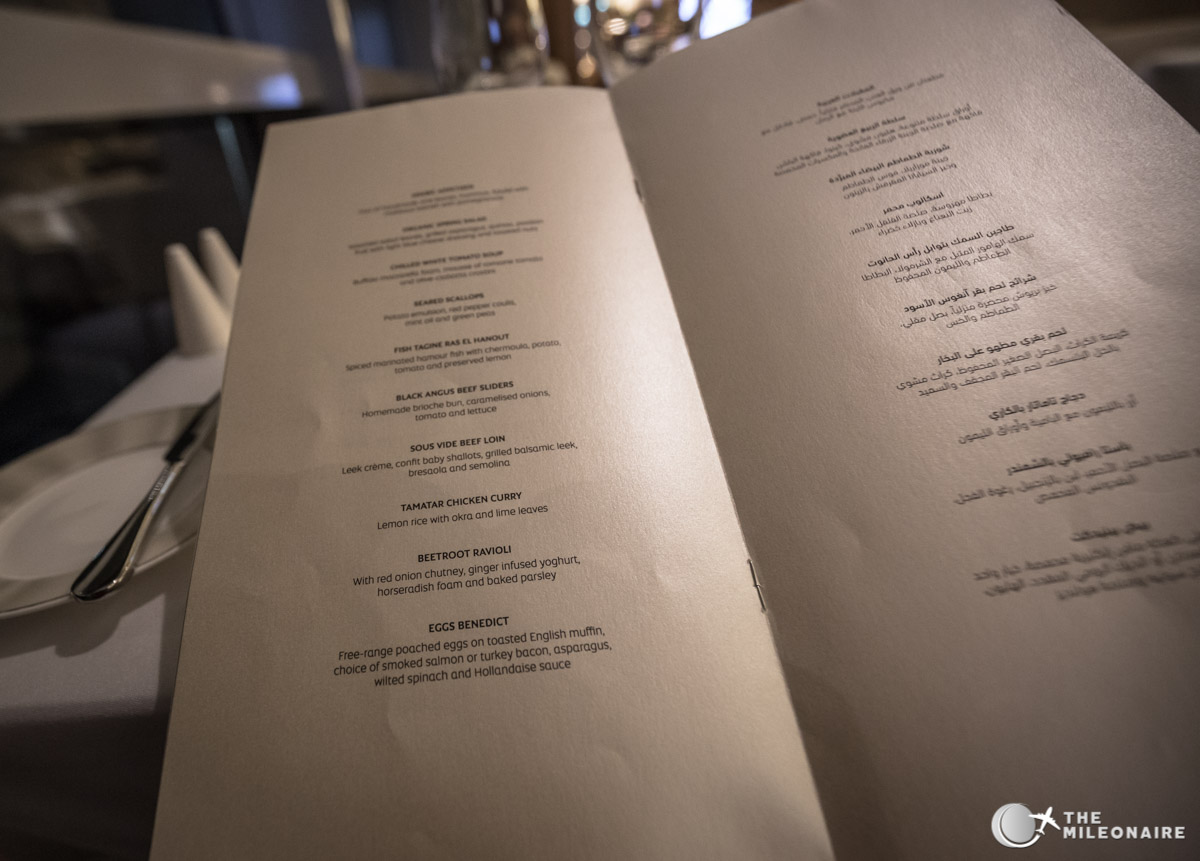 I started out with the scallops appetizer which was great: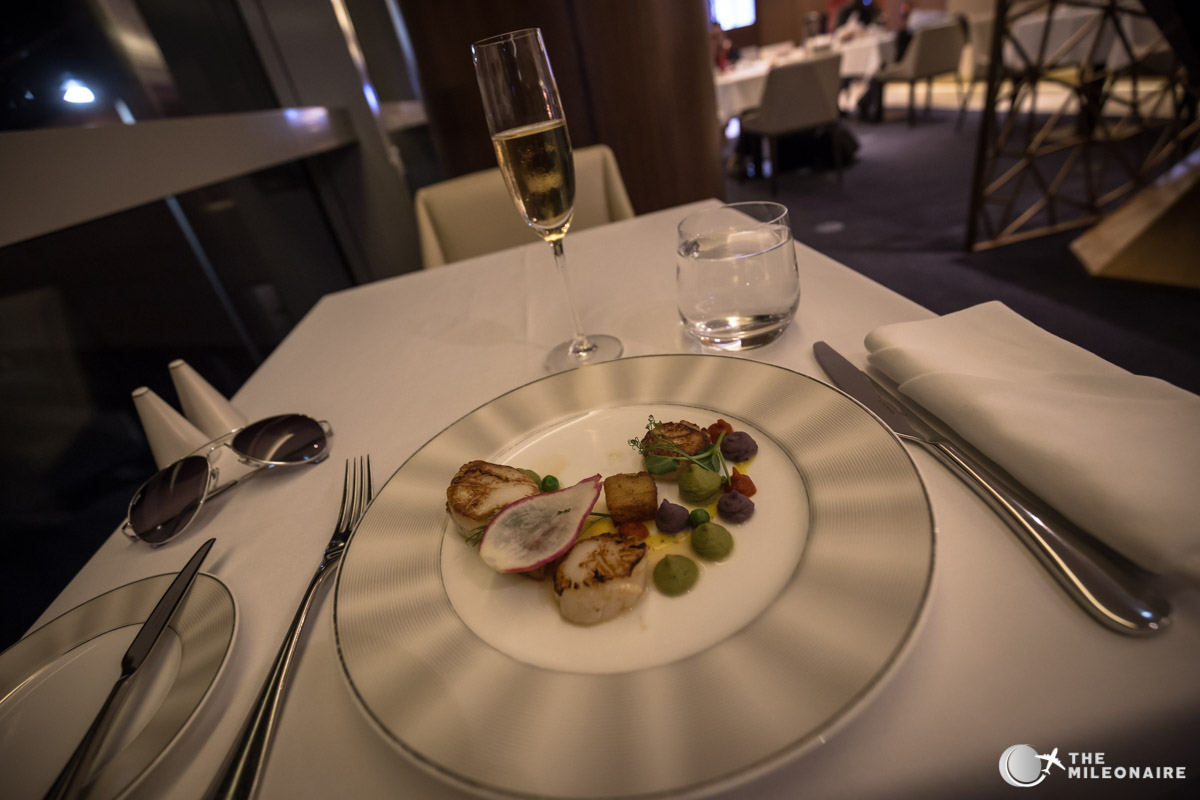 Followed by the Angus Triple Beef Burgers (super juicy and nice buns):
All that was accompanied by some champagne (again) and followed by a nice dessert from the buffet. Sadly my time in the lounge was very limited (so no time for the cigar lounge), but at least I wanted to explore the rest of the lounge. In the very back of the lounge is the infamous relax room with the incredible video wall:
I then spent the last 15 minutes at the bar, drinking a whiskey on the rocks and chatting with the barkeeper about rock, metal and the infamous German Wacken festival (highly recommended). I have the slight suspicion that Etihad only gets their best barkeepers to work in the First Class Lounge – during all my visits they were super interesting to chat with.
Afterwards I had to leave Etihad's "oasis in the desert" again and head towards the gate. My next flight was from AUH to SIN and I definitely didn't want to miss my sweet bus ride across the airport again. I've uploaded some more photos of
Etihad's First Class Lounge here
if you're interested.
The next leg with the 787 was quite uneventful, as I've mostly used the lie flat seat to compensate for my lack of sleep. After another glass of champagne I slept for a few hours and chose to have my dinner 1:30h before landing. Catering was really good again, a juicy chicken breast with a tasty crust:
After sunrise, a beautiful rainbow welcomed us during our final approach into Singapore: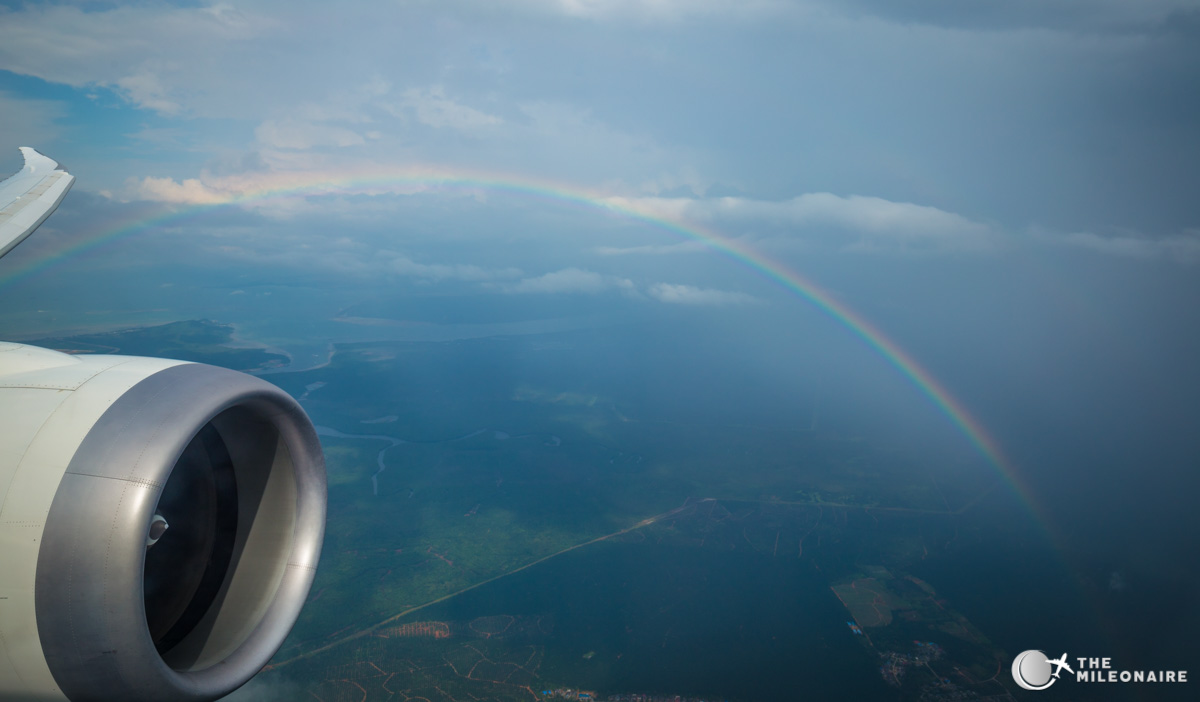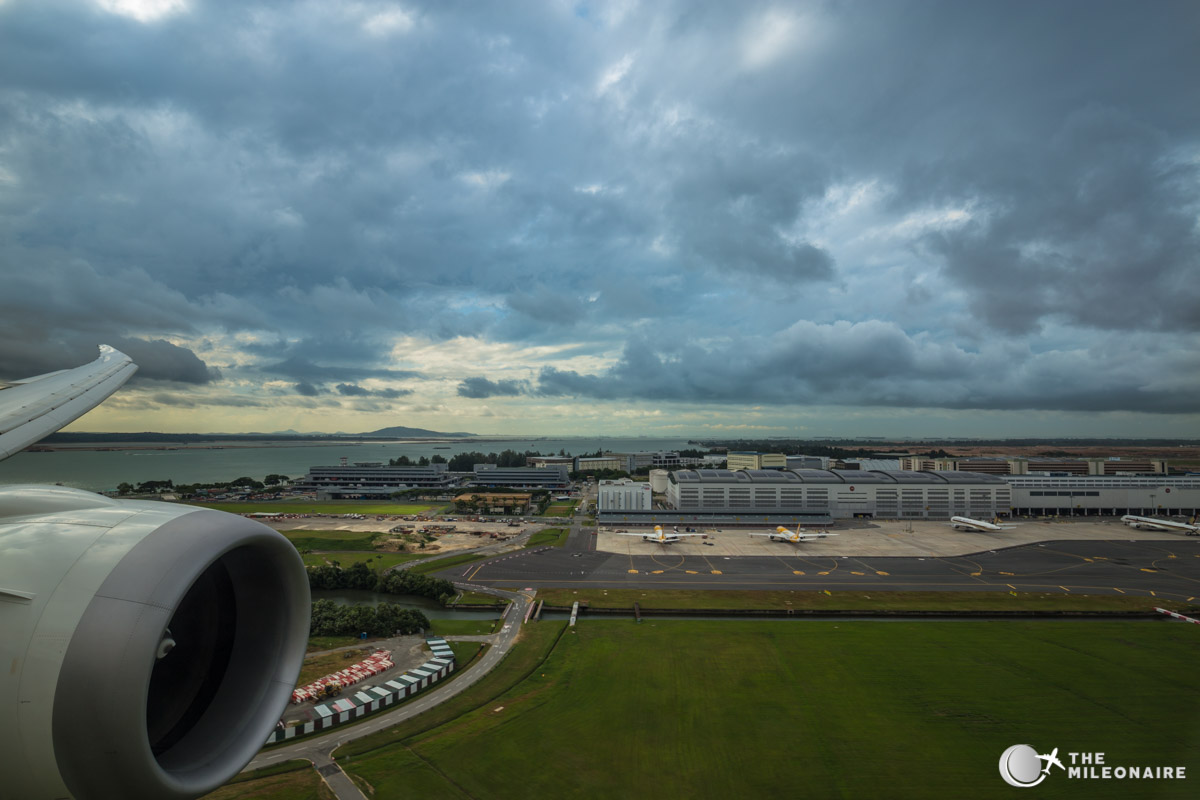 Coming up next: Cathay's A350 C from Singapore to Bangkok
---
Last edited by The_Mileonaire; Oct 29, 17 at

7:16 am
Oct 29, 17, 6:50 am
Oct 29, 17, 7:16 am
Join Date: Oct 2017
Location: Germany
Programs: Oneworld Emerald, Sixt Platinum, Etihad Gold
Posts: 96
whoops!
Thanks offerendem, corrected it
Nov 1, 17, 9:12 am
Join Date: Oct 2017
Location: Germany
Programs: Oneworld Emerald, Sixt Platinum, Etihad Gold
Posts: 96
Part 3: SIN - BKK in Cathay Pacific's A350 Business Class
What's better than 3 flights to reach your final destination? 4 flights to reach your final destination!
That's why I decided to directly fly on to Bangkok, and rather stay in Singapore on the way back. Another great thing about Topbonus was being able to spend miles on flights with Cathay Pacific around Asia; CX is one of my favorite airlines anyway, and the oneway trip from SIN to BKK just cost me 20.000 miles in Business. Plus: I got to experience the new A350, which still was missing from my log. After a short stop at the DNATA lounge in Singapore, this beauty was waiting for me at the gate: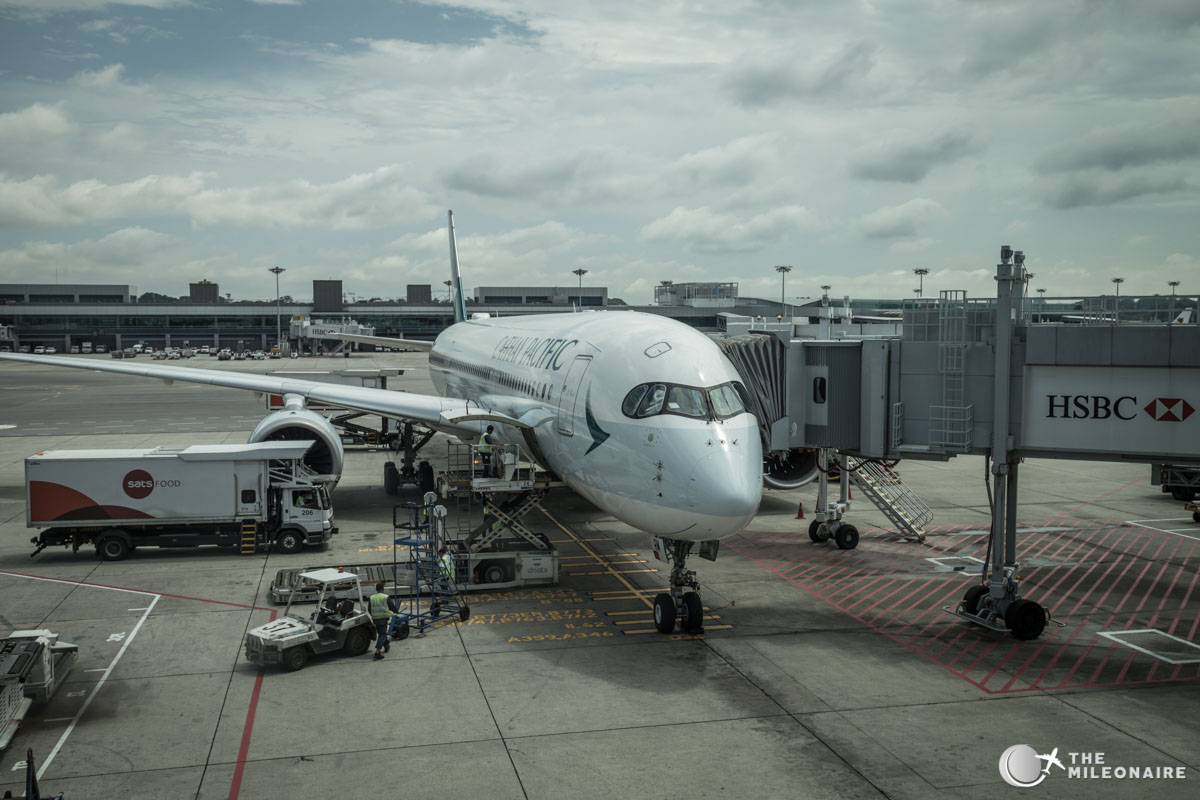 The cabin is really bright and spacious, but at the same time a bit sterile. I liked it though, especially the 1-2-1 herringbone configuration obviously: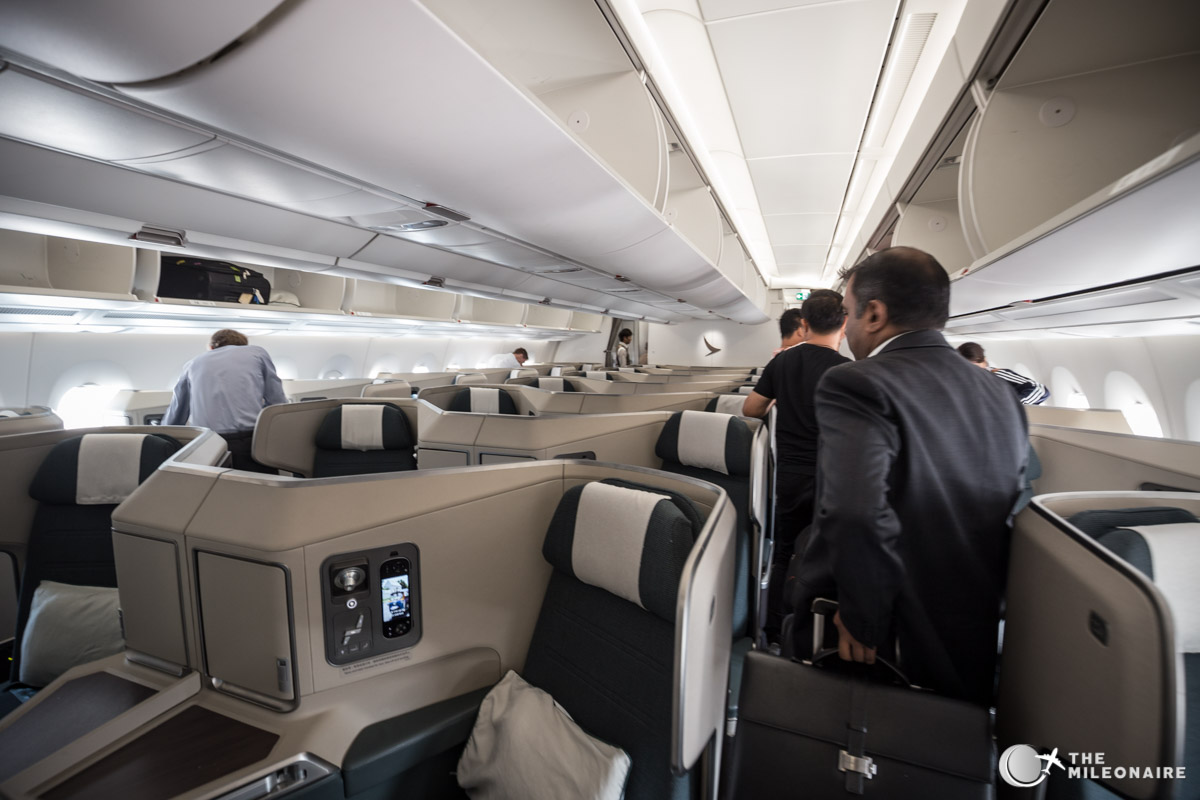 The single seats at the window are my favorite, but all of them offered enough space for me and my luggage:
Plus, all seat controls are in one single panel at the side: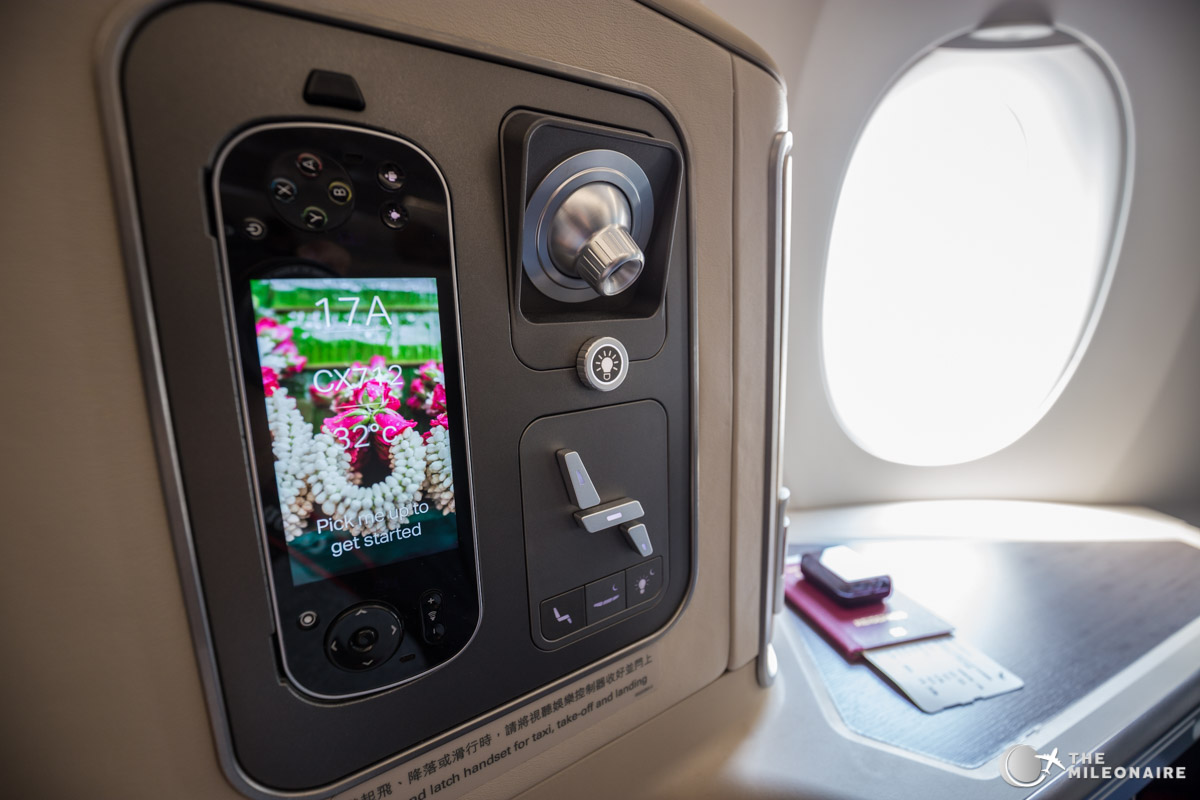 Luckily, more champagne was on its way before takeoff (even though Etihad's champagne flutes were a bit nicer):
After takeoff we had an awesome view on Singapore (with Downtown in the background) with Cathay's beautiful A350 winglet: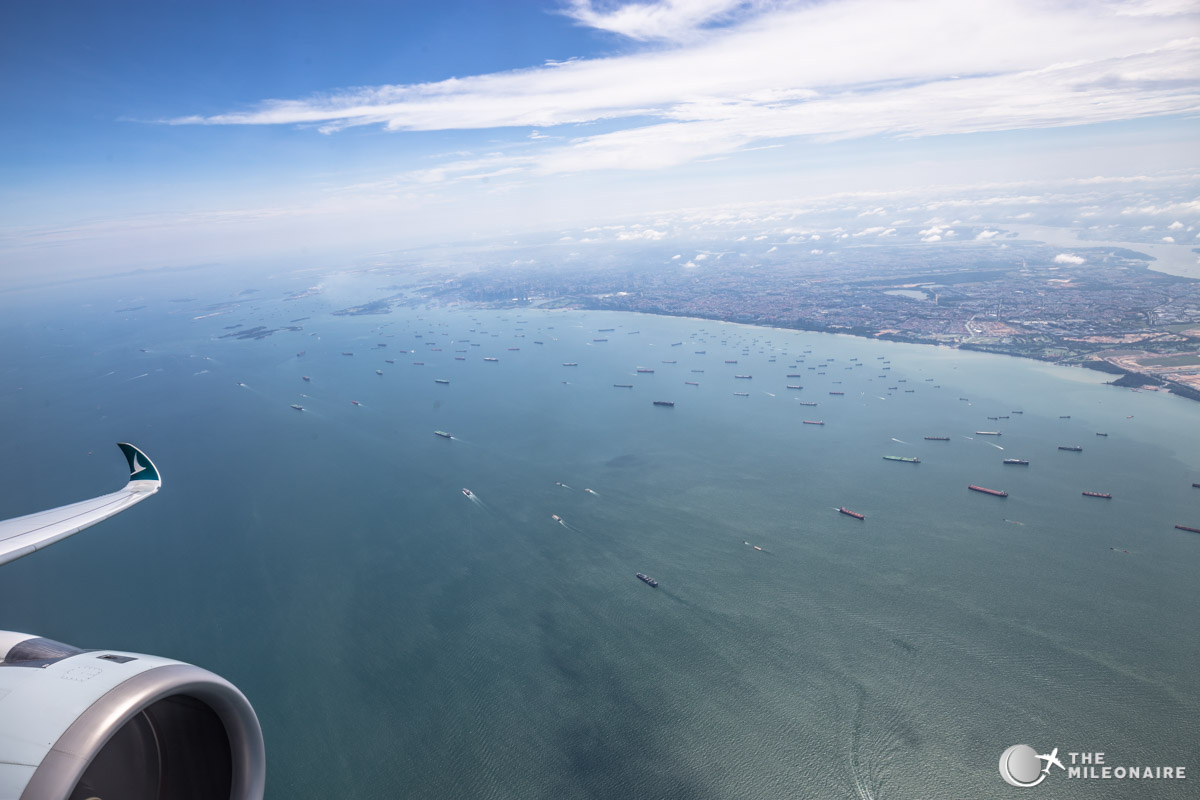 I've added more photos of
Cathay's A350 Business Class from multiple flights here
if you're interested. The flight itself was pretty standard, I even missed out on taking photos of the lunch service. It's a very short flight anyway, so I was rather looking forward to touching down on Bangkok Airport:
After landing and priority immigration (thanks for the voucher, Cathay) I was at the cab line to get to the city. This time I chose to book the Banyan Tree Hotel again, as I got a great deal on it for my short stay. After the typical welcome drink and check-in...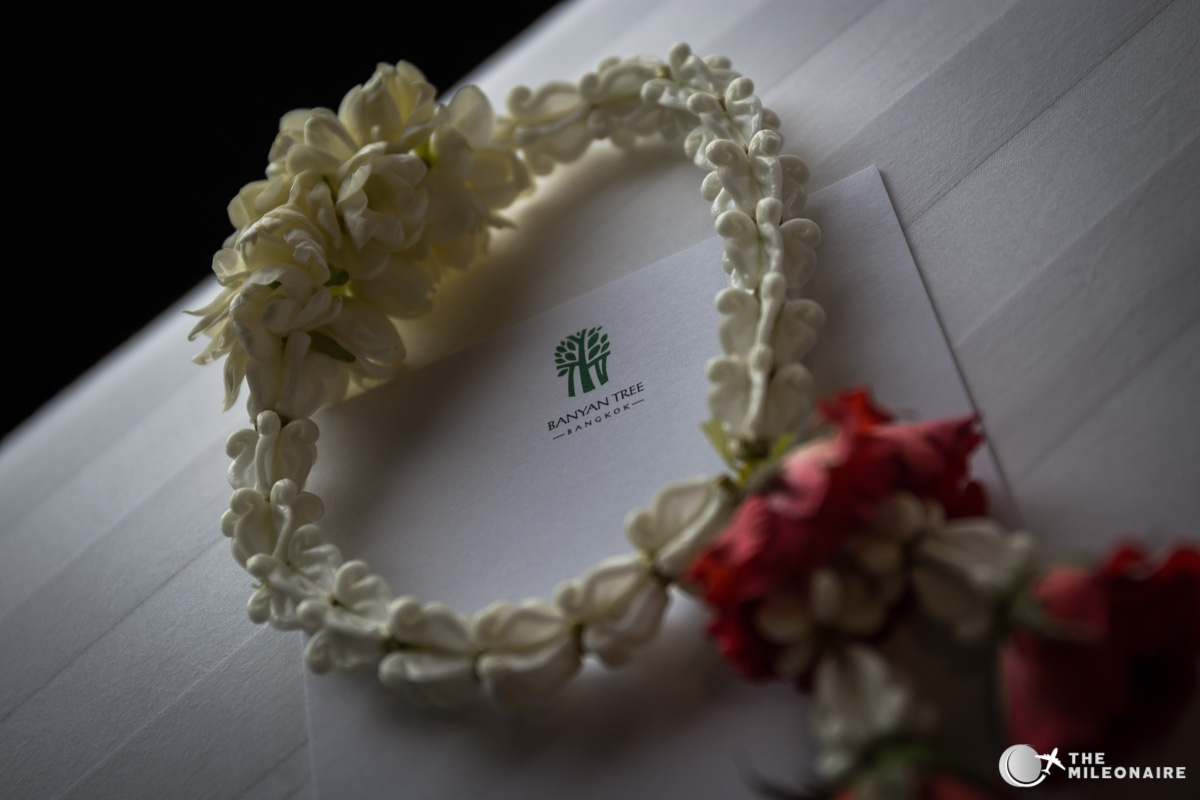 I got to my standard room: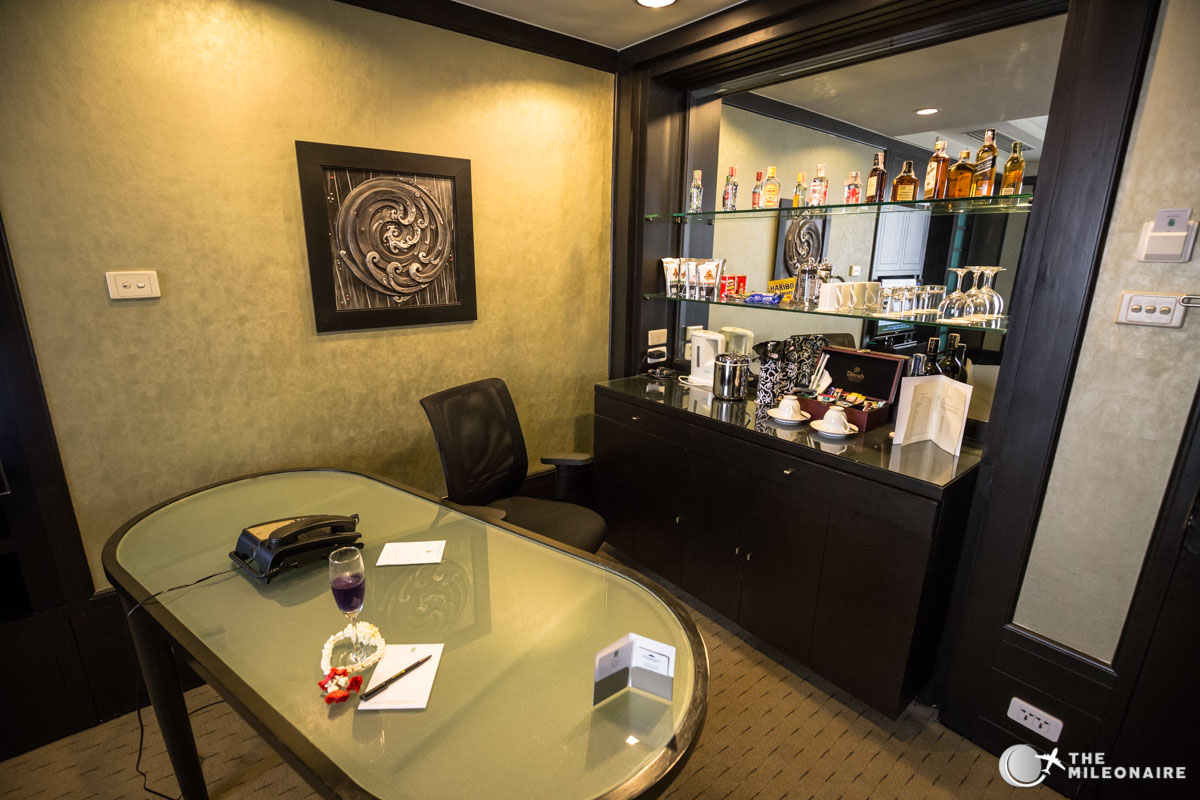 Although I really like the Banyan Tree, the interior of the hotel could use some renovation. The dark funiture has some battle scars, and some corners of the bathroom didn't look that fresh anymore either. The hotel location is not ideal as well, as the next Skytrain station (Sala Daeng) is around 15 minutes away.
Even though I was super donezo after 4 consecutive flights, I wanted to at least check out Sukhumvit Road again real quick and head for dinner. I love the food court at Siam Paragon Mall due to all the different food stalls there, and after such a long day(s?) it was a super convenient way to grab some great Japanese food: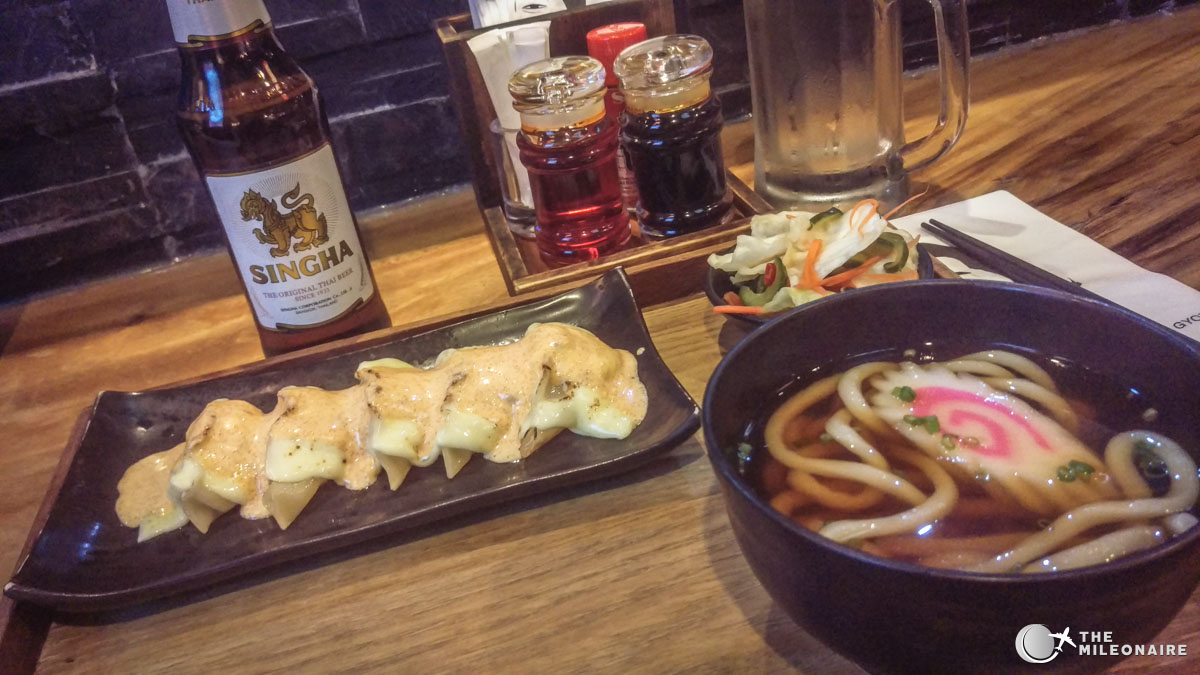 After a little bit of walking around Sukhumvit Road I went back to the hotel to get some rest before exploring Bangkok on the next day!
Nov 5, 17, 11:10 am
Join Date: Oct 2017
Location: Germany
Programs: Oneworld Emerald, Sixt Platinum, Etihad Gold
Posts: 96
Part 4: One Day in Bangkok...
Now it's getting touristy as I've had a full day to explore Bangkok! I've visited the city before in 2011, so I wanted to take some photos of the city's main sights. I slept like a baby, woke up at 10AM and had a quick 7/11 breakfast after. I had to head out asap as the Grand Palace closes at 3:30PM already, so I took a cab there.
As I arrived, I was super suprised that the whole area is now not accessible for cars as the security measures have increased A LOT. You have to pass a security screen to get close to the Palace now, instead of just walking up to it like some years ago. Despite the insane heat, I carried my camera bag twice around the Wat Phra Kaeo area to make the most of it.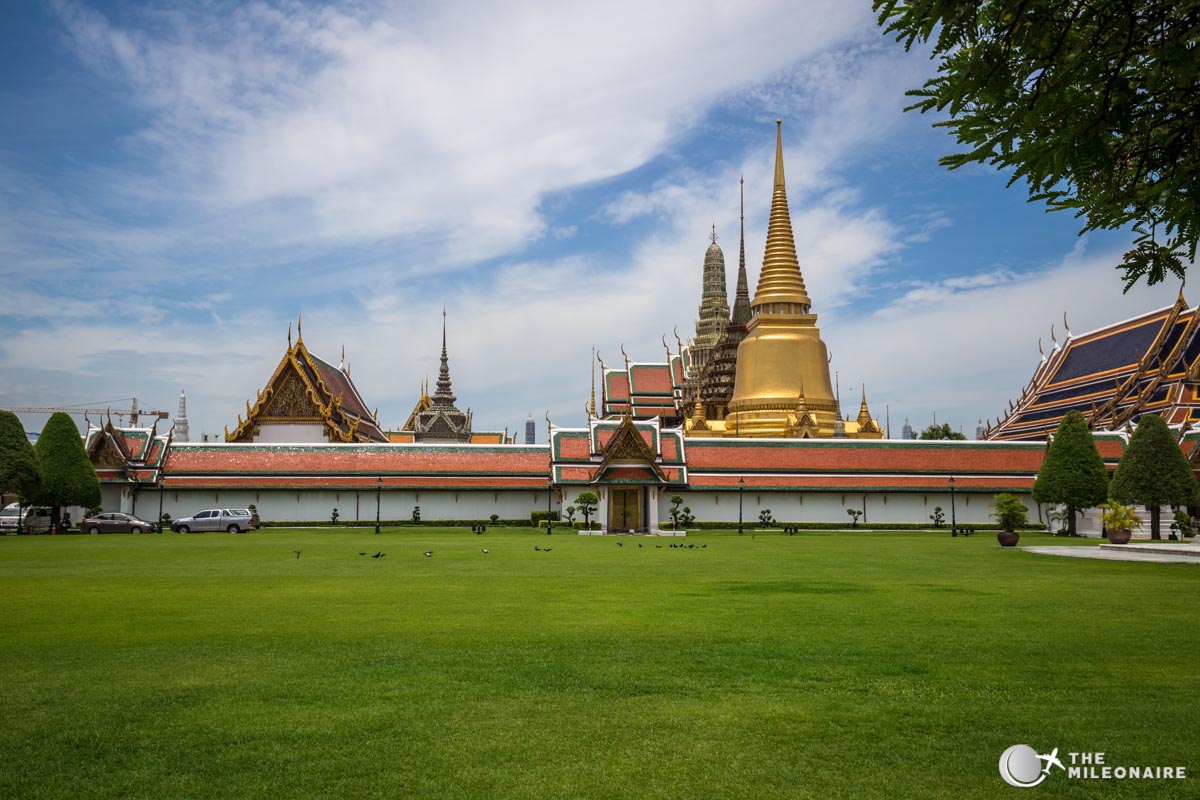 As many of you might already know Bangkok's sights inside out, I just let the photos do the talking: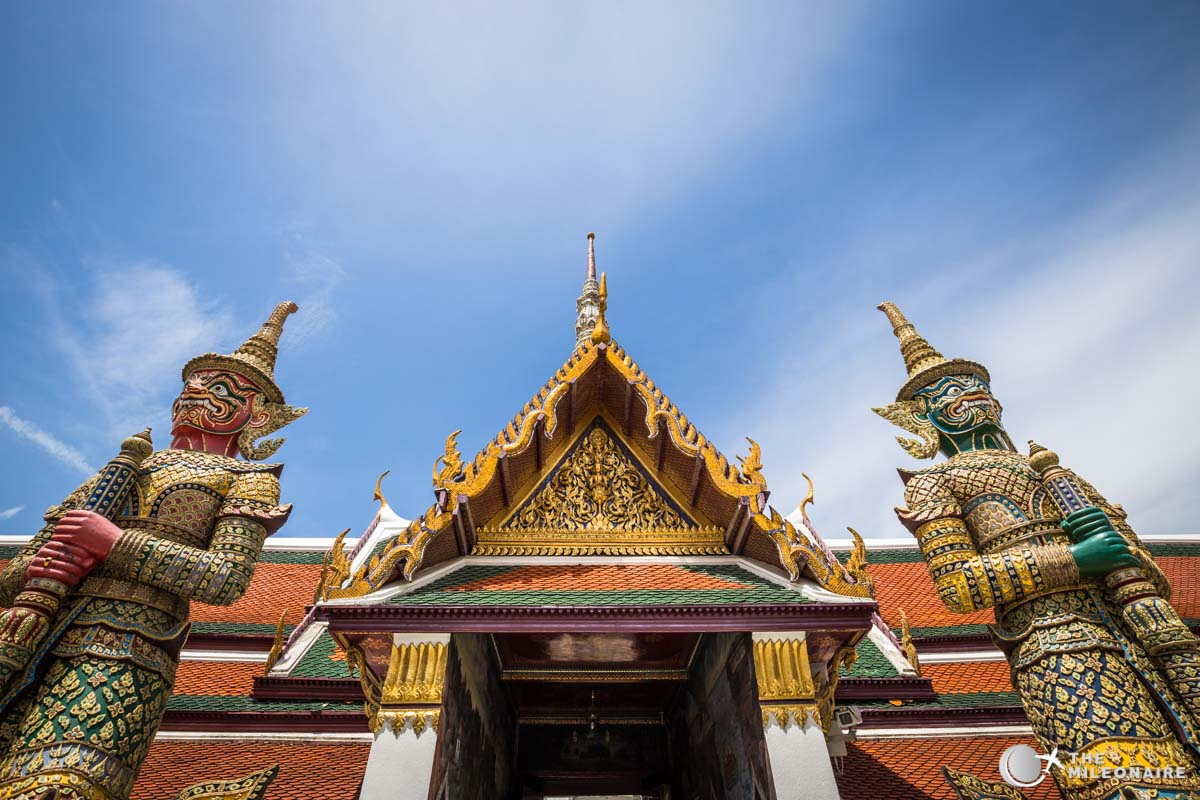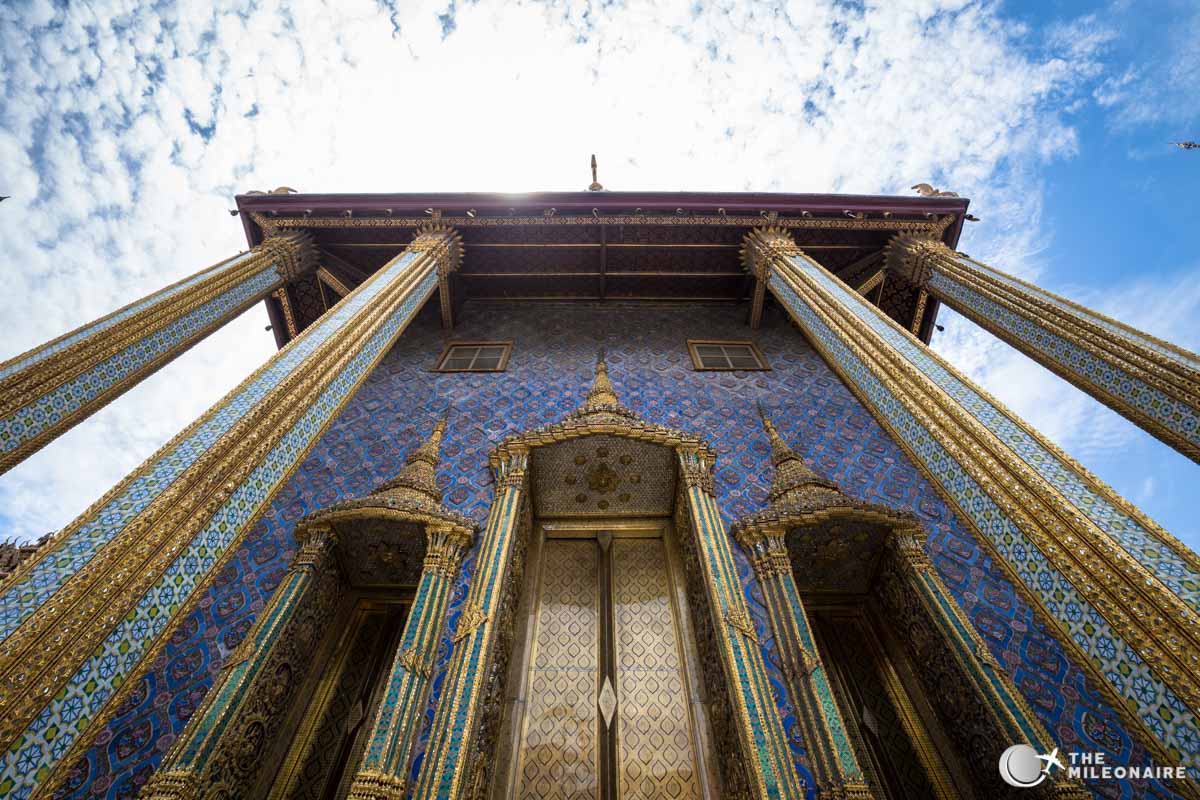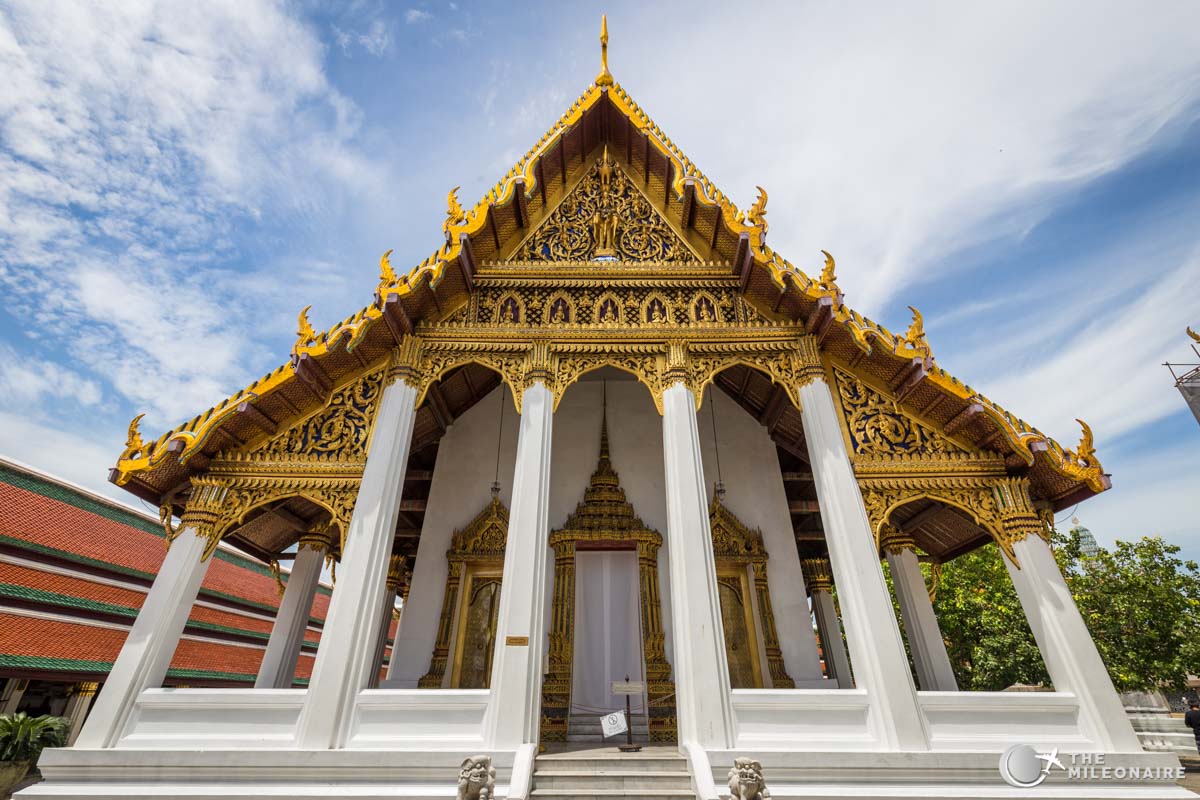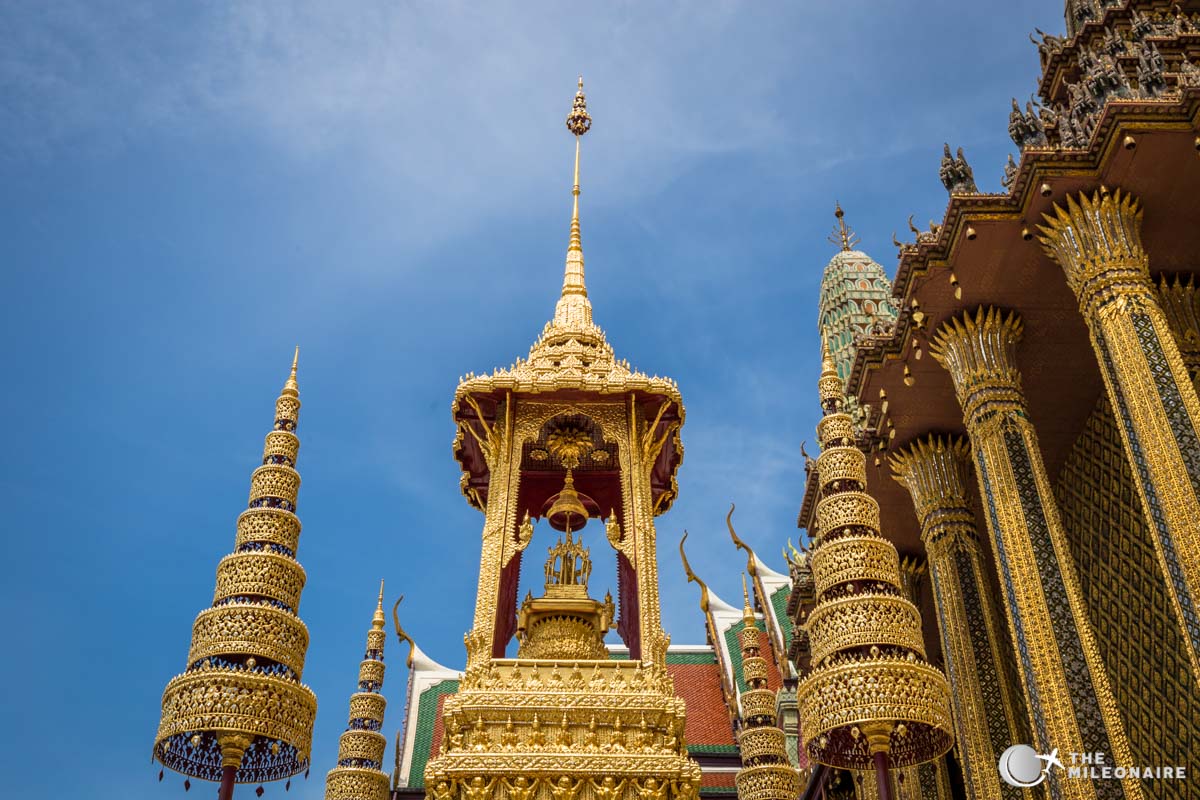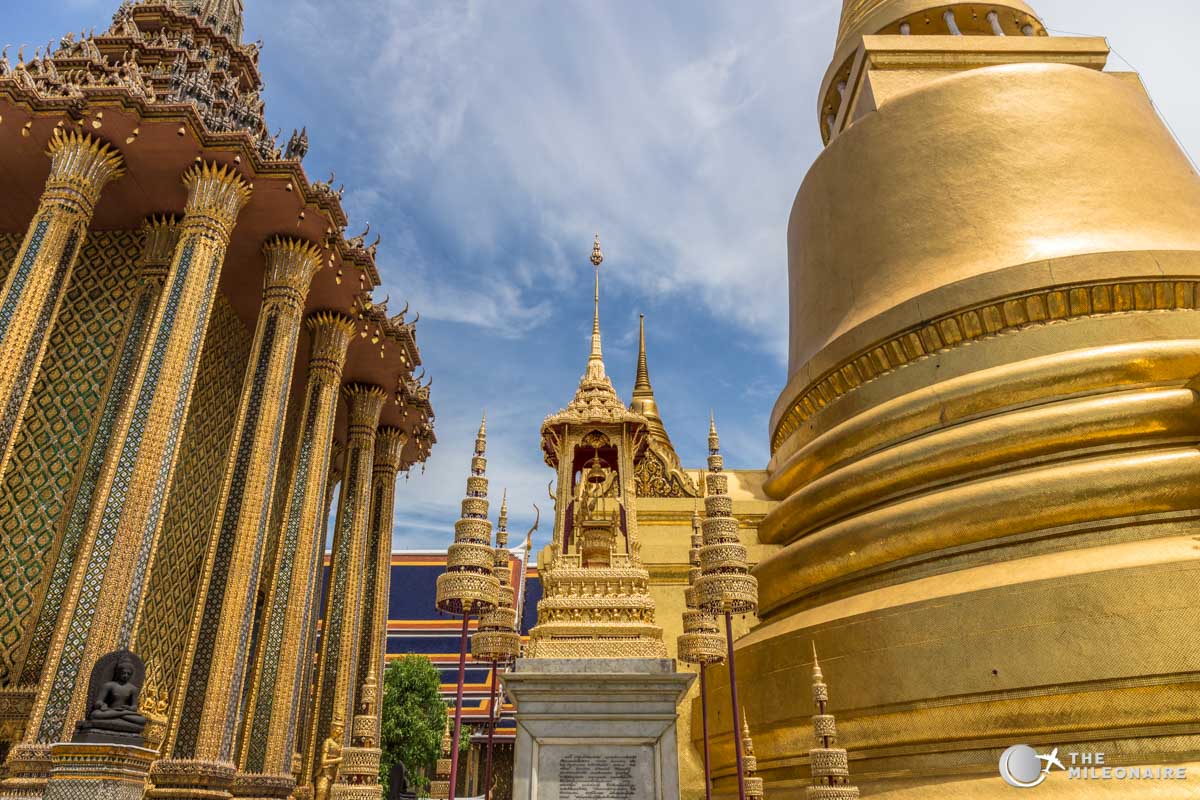 Of course I also passed by the actual Palace building: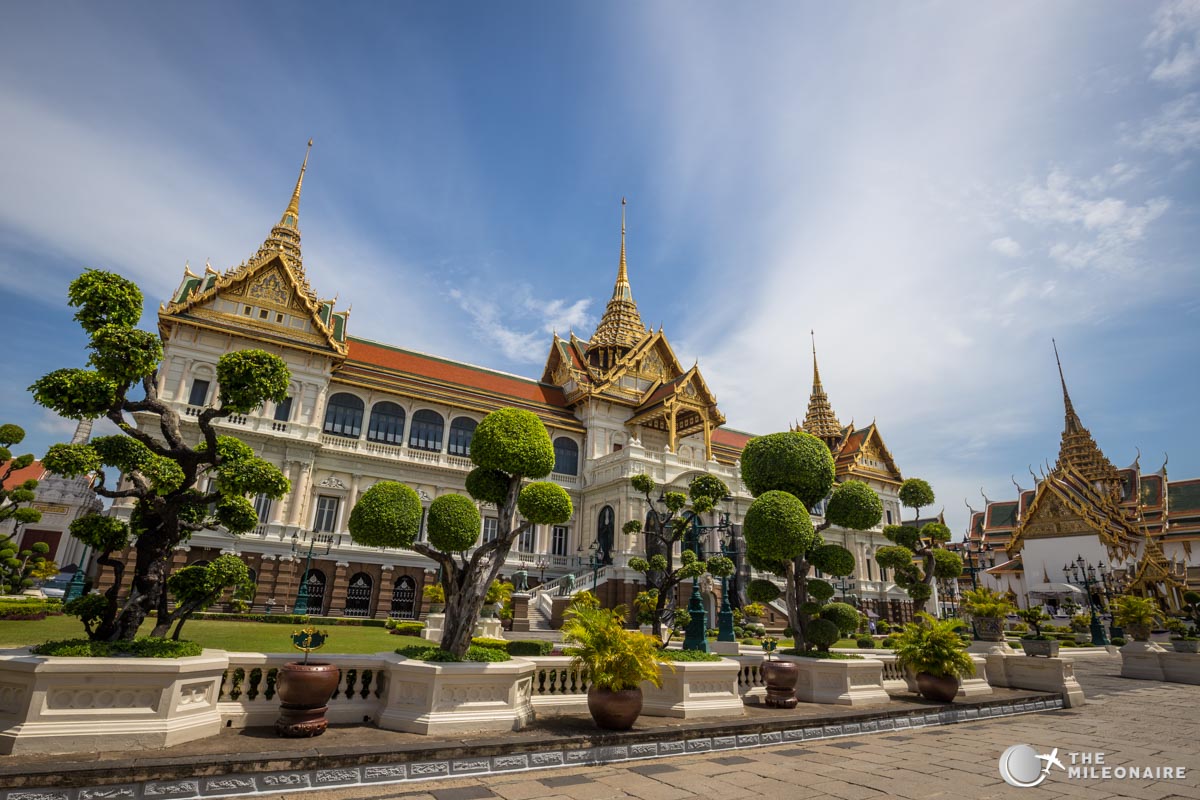 The great thing about Bangkok is that some of the biggest sights are very close together. The next stop on my sightseeing tour is just a few meters (or feet) away: Wat Pho, the Reclining Buddha statue. I walked around the pretty empty outside area with its various golden statues...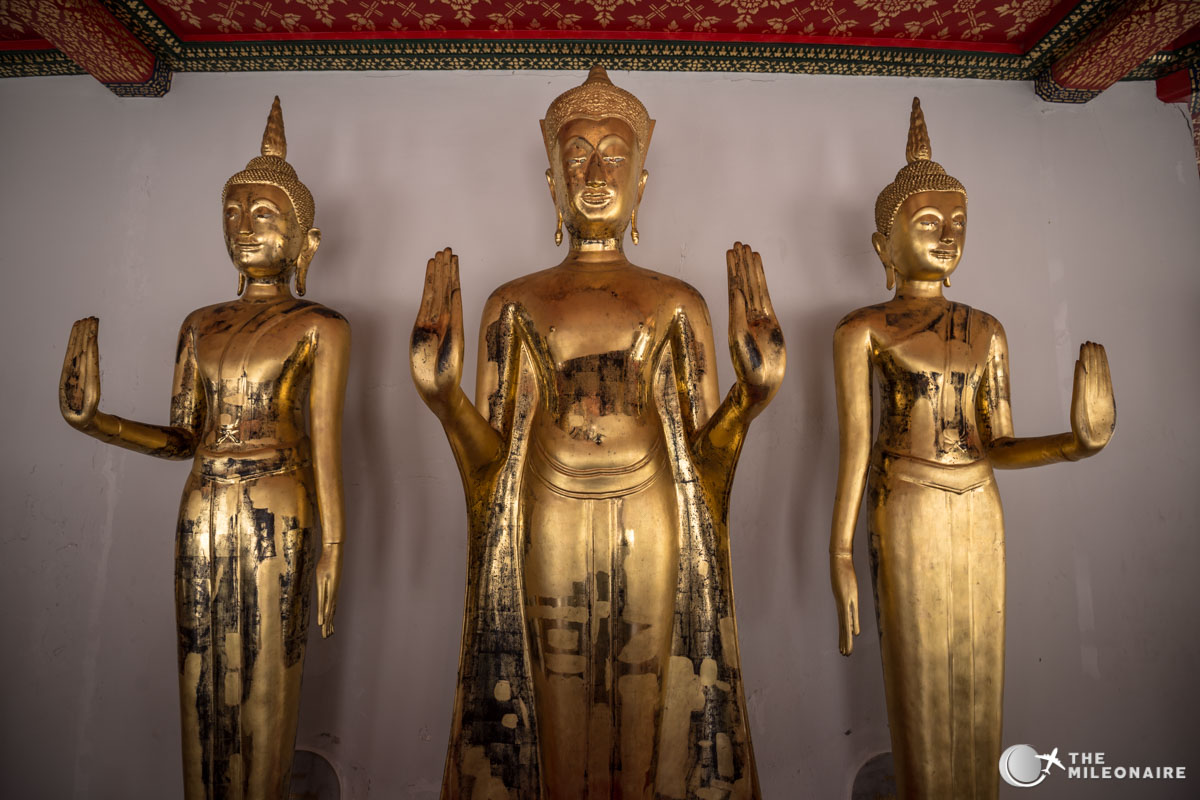 ...and visited the big hall with the actual Buddha statue afterwards: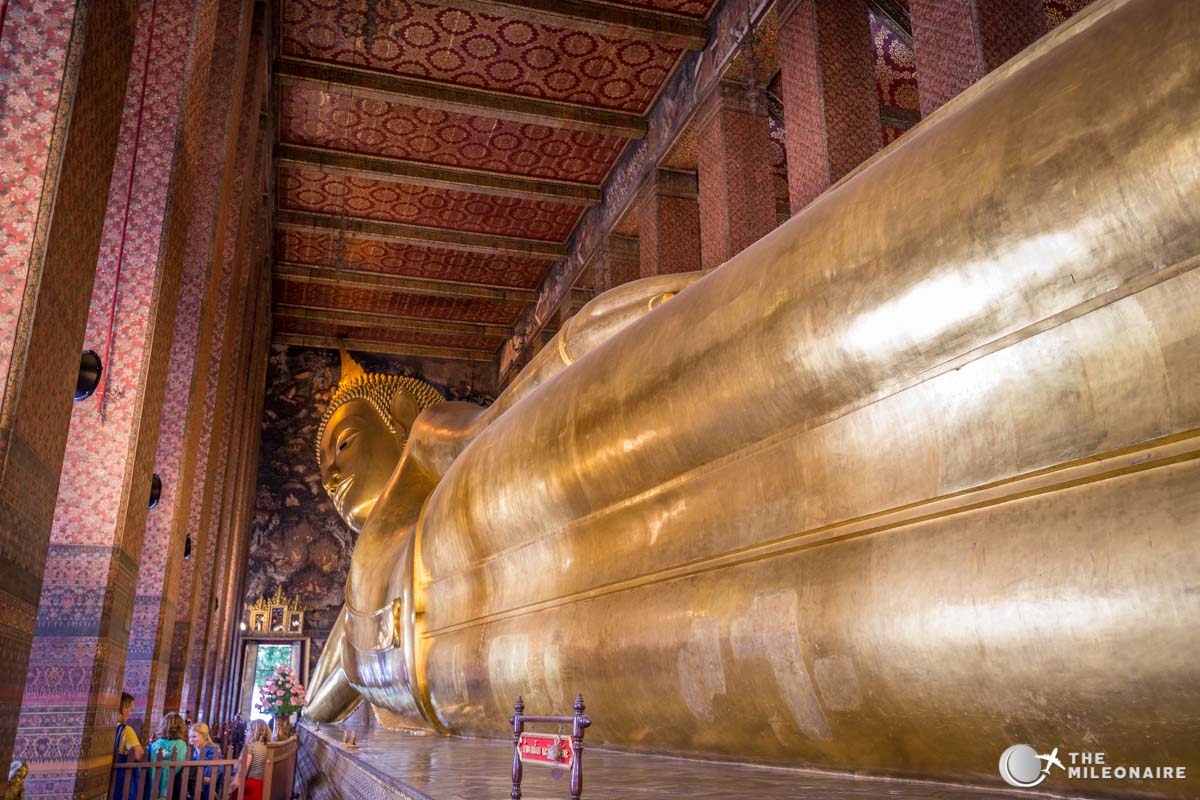 After that I took the ferry across the Chao Phraya River, so I could hop on the Express Boat to get to the Skytrain station in Saphan Taksin. I skipped visiting Wat Arun this time, so I got straight onto the pretty packed boat...
...and went back to Sukhumvit Road with the Skytrain. As it was afternoon already and I was sightseeing for the whole day, I was feeling hungry – so I went for a really tasty Bibimbap at Sukhumvit Road again:
I headed back to the hotel and caught the last sun rays at Banyan Tree's hotel pool (small, but good):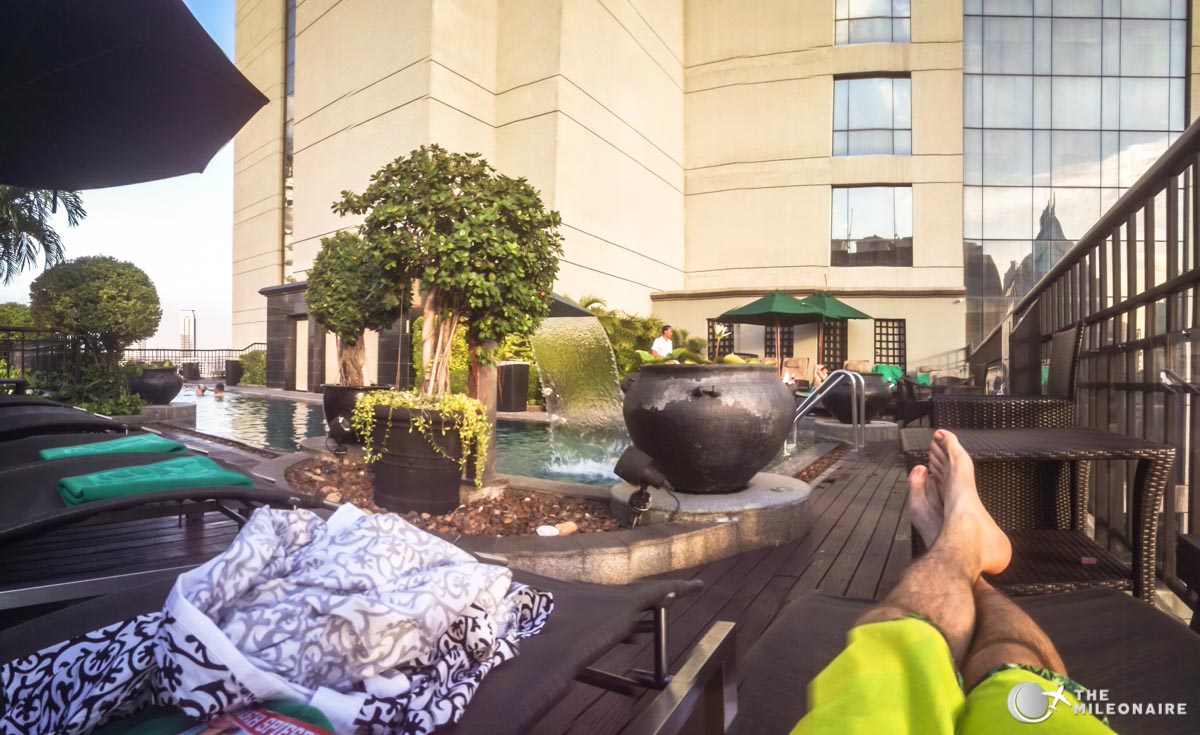 It's located on the 21st floor and offers some nice views of the city. I swam a few rounds, answered some mails (there's WiFi at the pool) and relaxed for a bit.
My real highlight of the hotel though is the rooftop bar that I always stop by when visiting Bangkok. The view from the Vertigo Bar is fantastic, and the drinks are good as well. Especially at night you can take some awesome photos of Bangkok and the bar's atmosphere. Highly recommended! After a....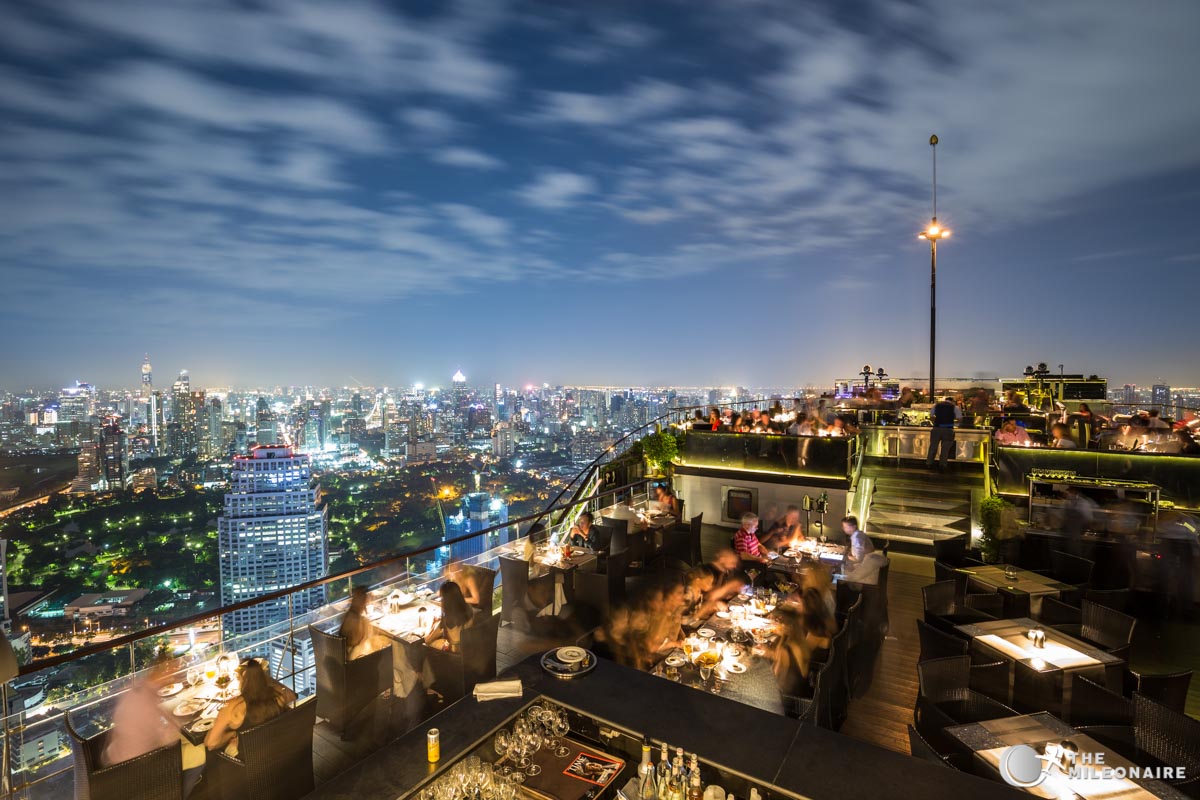 ...small...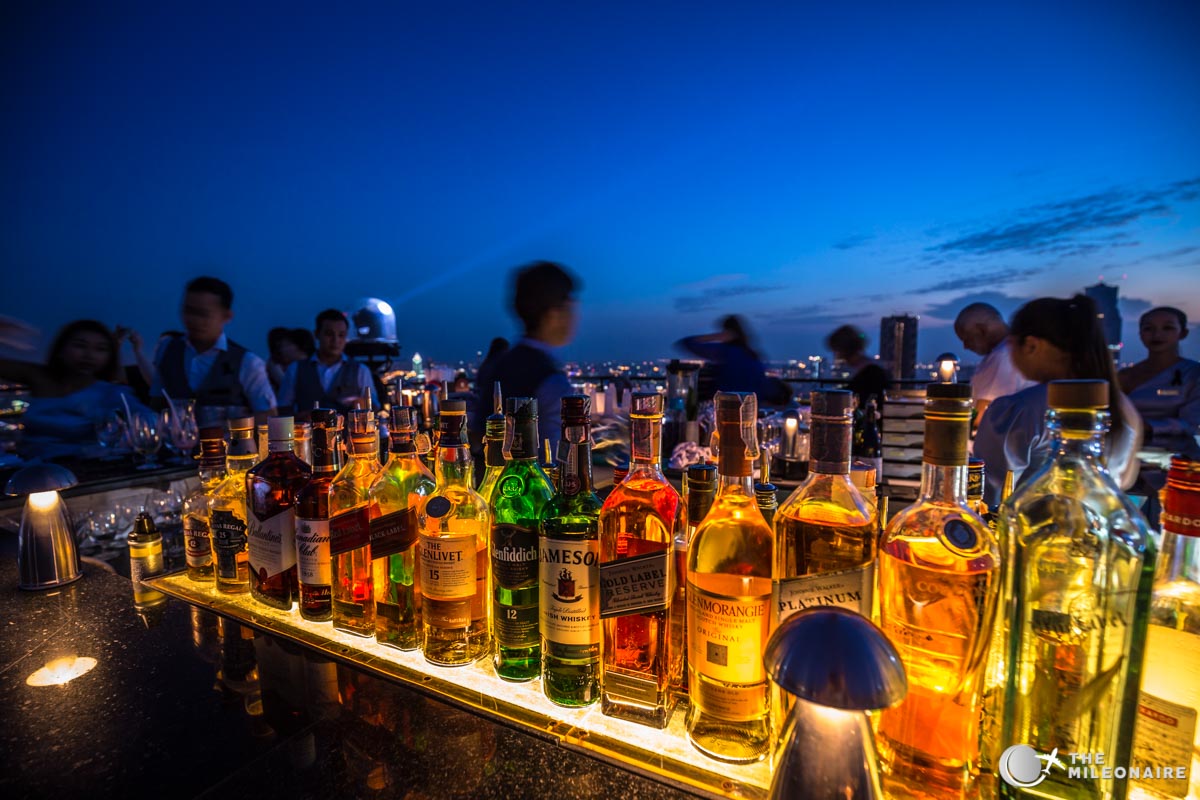 ...photo...
...session...
...I headed back to my room. It was a looong day in Bangkok's heat, so I was really looking forward to my bed!
Nov 10, 17, 8:44 am
Moderator: InterContinental Hotels and Germany
Join Date: Oct 2002
Posts: 5,037
Thank you very much for the report and especially the very good pictures.
Looking forward to the next installation though I have had a preview at your homepage
Nov 10, 17, 4:07 pm
Join Date: Sep 2014
Location: Leeds, UK
Programs: HHonors Diamond, SPG Plat, BA Silver
Posts: 257
great trip report

Im sure you've been asked this before but what camera and lens are you using? the pics are awesome
Nov 12, 17, 9:49 pm
FlyerTalk Evangelist
Join Date: Apr 2003
Location: DCA/IAD/MIA/FLL/PBI
Programs: UA Lifetime GS, SQ*PPS
Posts: 10,102
Great trip and excellent photos. What camera(s) did you use?
Nov 29, 17, 2:29 pm
Join Date: Oct 2017
Location: Germany
Programs: Oneworld Emerald, Sixt Platinum, Etihad Gold
Posts: 96
Hey, first of all a big "sorry" for not continuing the trip report sooner. I've been travelling through the US Southwest for the last 17 days and took 6.000 photos (118GB, puh...), so I didn't have the chance to update it
Also, thanks a ton for the nice words! For this trip, I've been using the following gear:
- Canon EOS 6D
- Canon 24-70mm f/4 (good standard kit lens with a nice macro option)
- Canon 16-35mm f/4 (perfect for wide angles - I've upgraded it with a 11-24mm after the trip though)
Part 5: Cathay Lounge BKK & BKK-HKG in Cathay's 777
After a short night at the Banyan Tree, I spent nearly all of the next day in planes & lounges. But hey, we're at Flyertalk – so this should actually be the interesting part. I booked BKK – HKG and HKG – TPE on one ticket via my old Airberlin miles. For just 40.000 miles in C, a great deal in my opinion (and I got to experience "The Pier" at HKG, coming up in the next post).
I took an early metered cab (which you have to specifically request at the concierge, else you might get ripped off) to BKK airport at around 5AM. Despite the short night, I actually enjoyed getting there without any traffic for once. Check-in and Priority Emigration (thanks to the voucher CX gives you) were super fast. I actually got to watch two Westerners being detained through Priority Emigration, so for all you guys maximizing your priority experience, this might be another way to go
As I didn't have any breakfast, a short stop at the
Cathay Pacific Lounge in Bangkok
(click for more photos) was needed. The escalator leads you to the lounge entrance: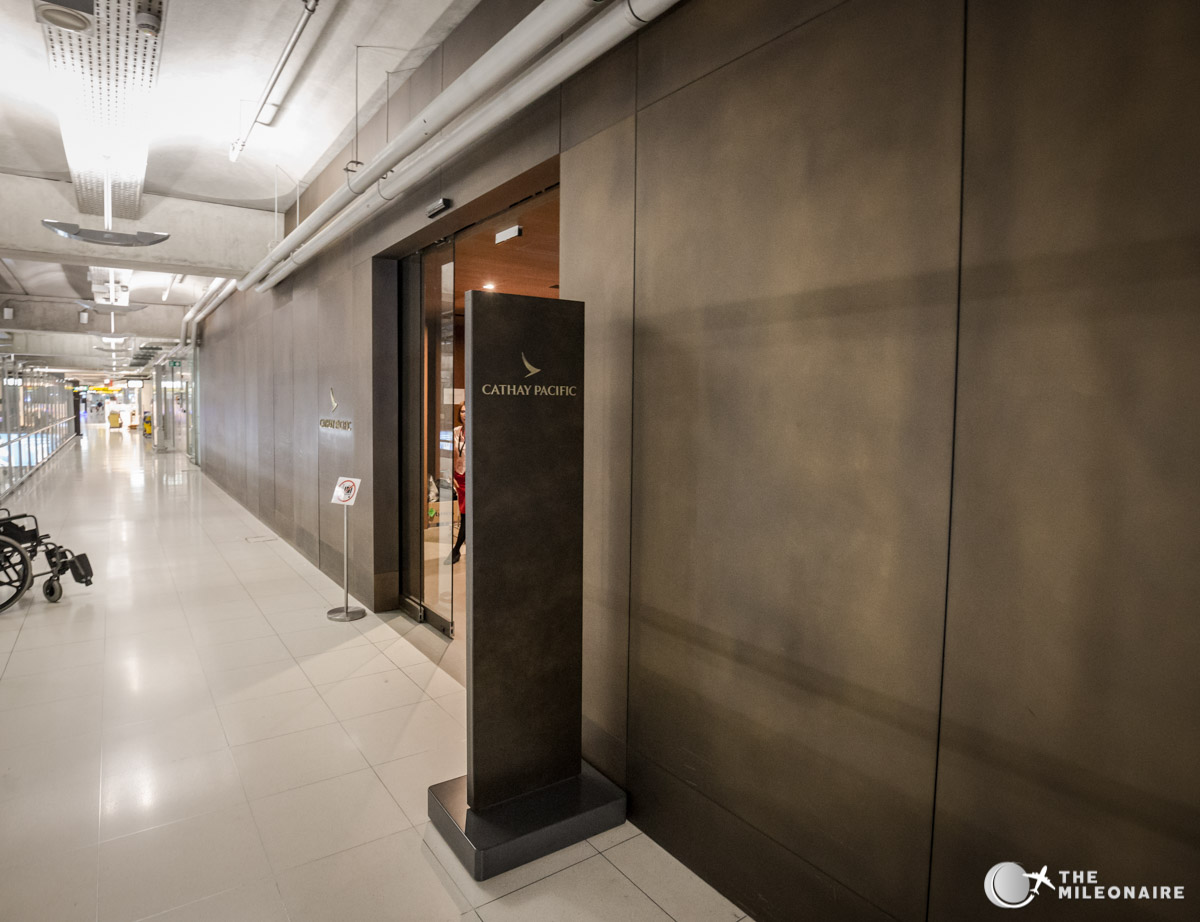 The lounge itself looks pretty nice in the new Cathay design, with wood panels and grey stone/marble elements.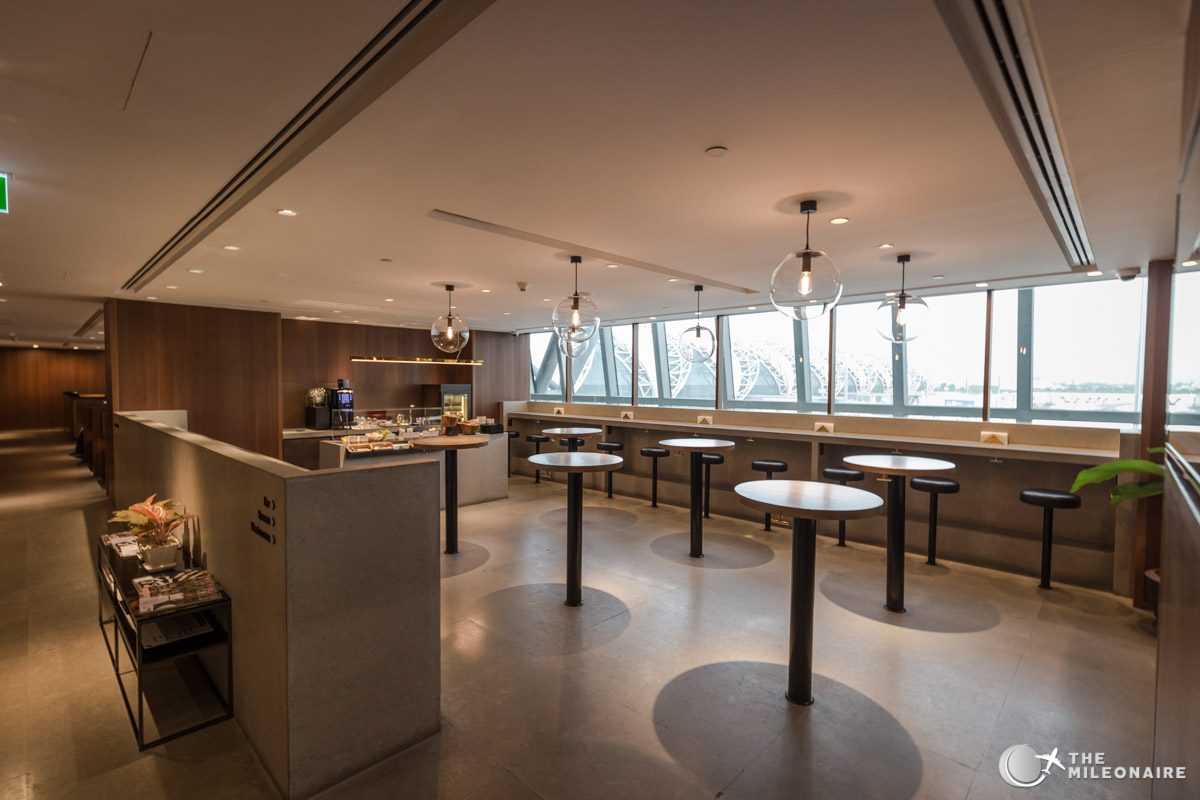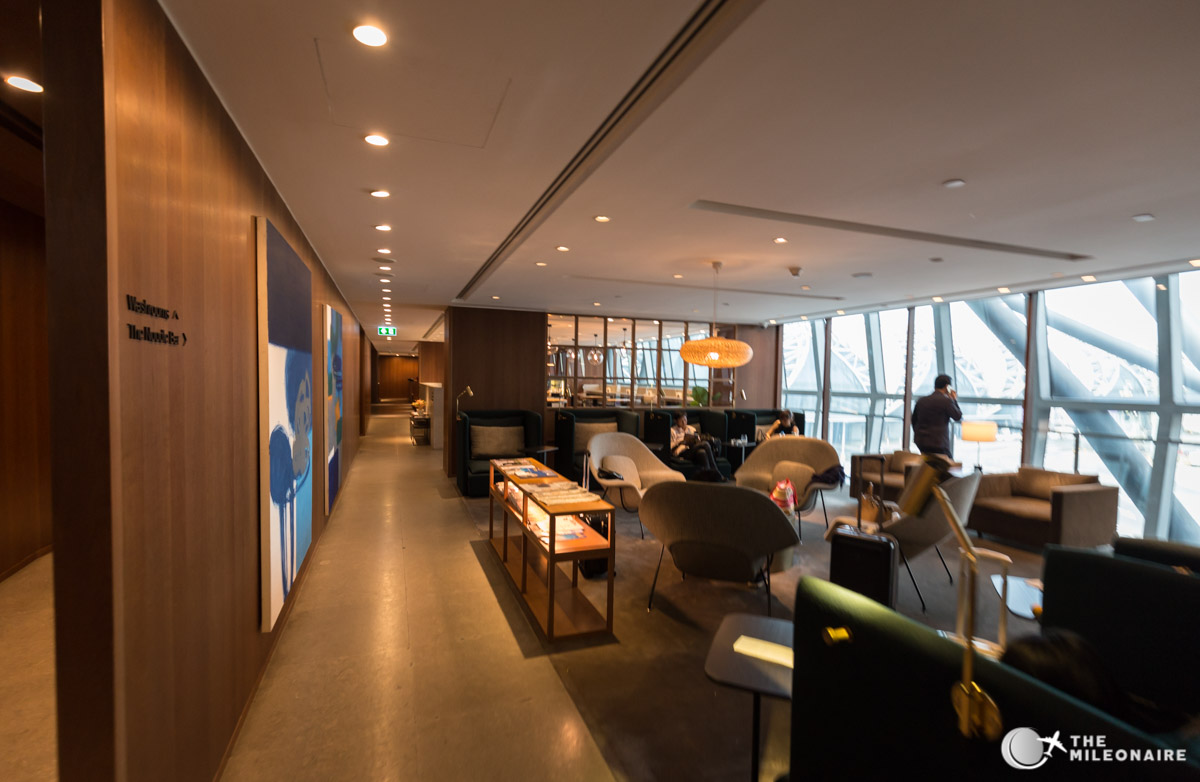 As with many CX lounges, there is also a noodle bar in the Bangkok one that has several smaller items on the menu. I simply love these noodle bars, especially for breakfast. After ordering you get a small buzzer (similar to Vapiano here in Europe) that lets you know, once your order is ready. I took a seat in the (as it was quite early) empty lounge and enjoyed it with a Coke Zero: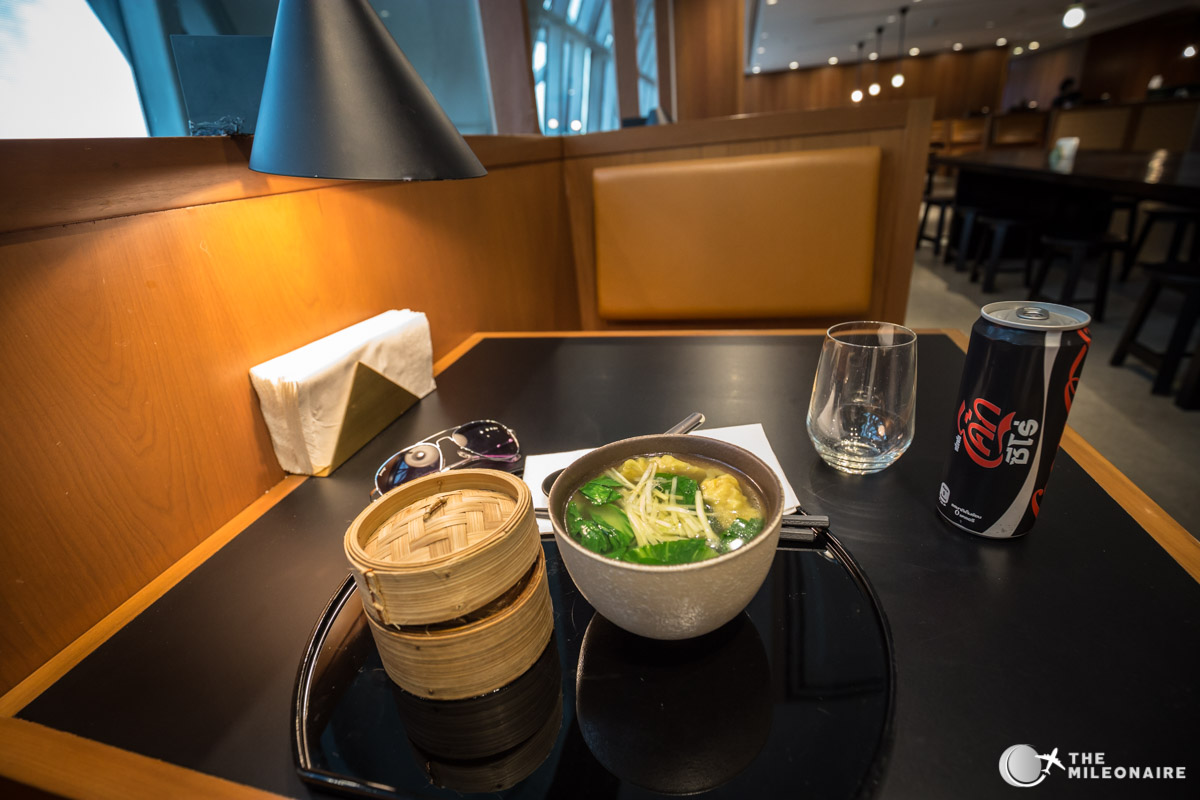 Afterwards I went to the lounge bar at the other end, where fresh croissants and other pastries were waiting for me – as well as fresh fruit and excellent coffee choices.
With a double espresso I sat down in one of the comfy chairs and enjoyed the views of the tarmac: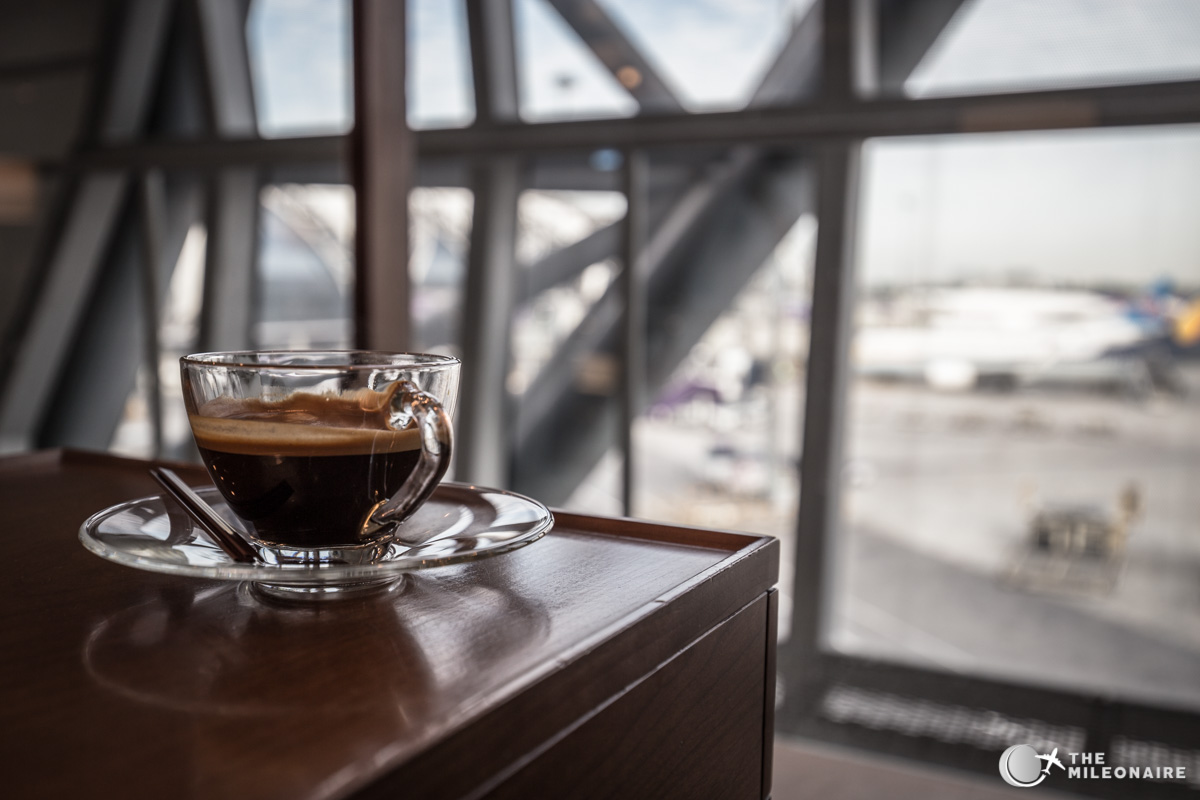 At around 7:30 I was heading to the gate, where Cathay's 777 was waiting to take me to Hong Kong in the old, 'classic' livery.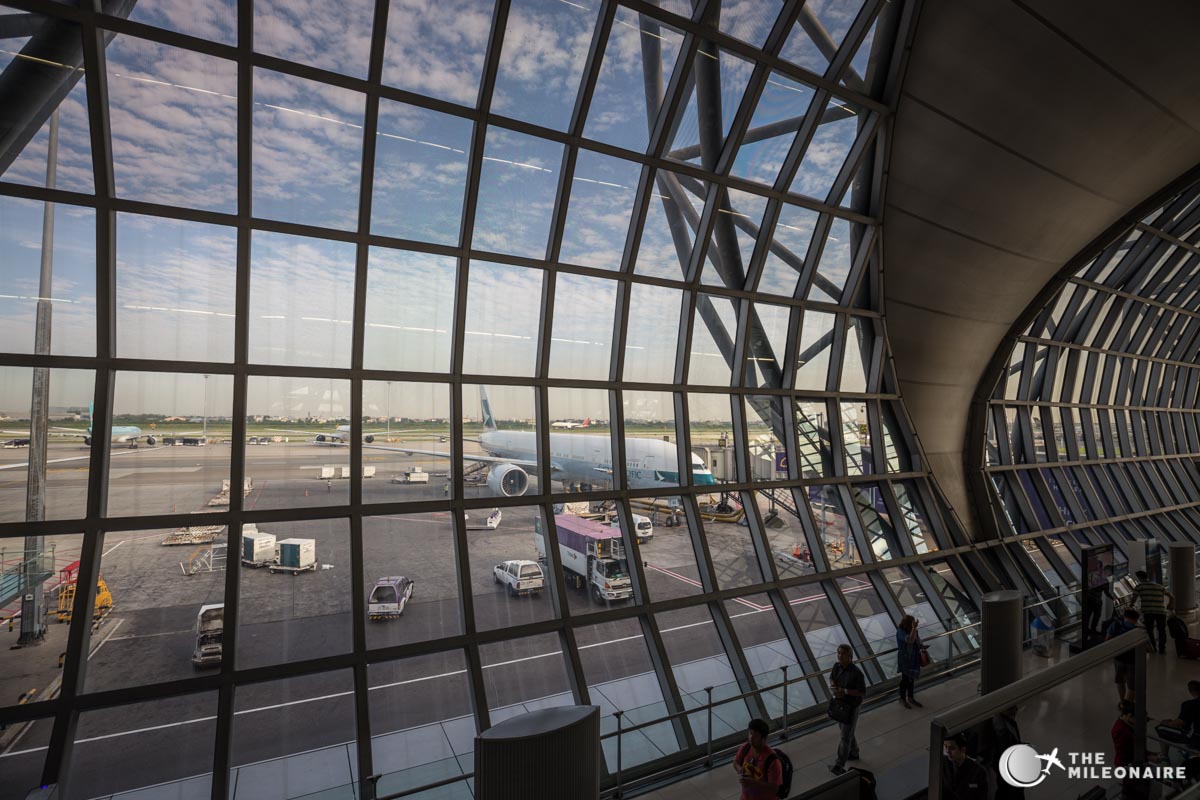 Luckily, this one had the new 1-2-1 configuration with a sweet window seat for me, very similar to Cathay's A350 I flew a few posts above this one. The cabin seemed a bit older and 'more used', but other than that the differences were marginal.
Here
are some more photos of the cabin in case you're interested.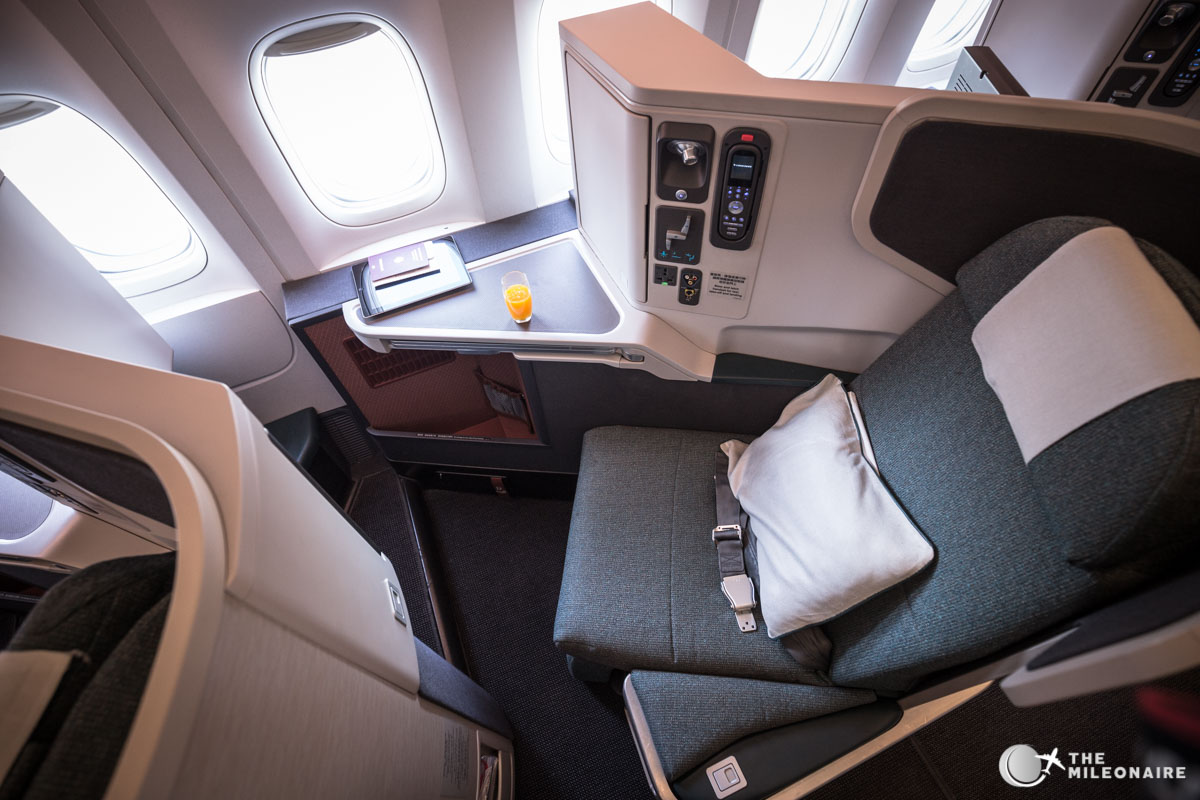 After some juice (no champagne on this one, as it was still pretty early) we were heading for the runway: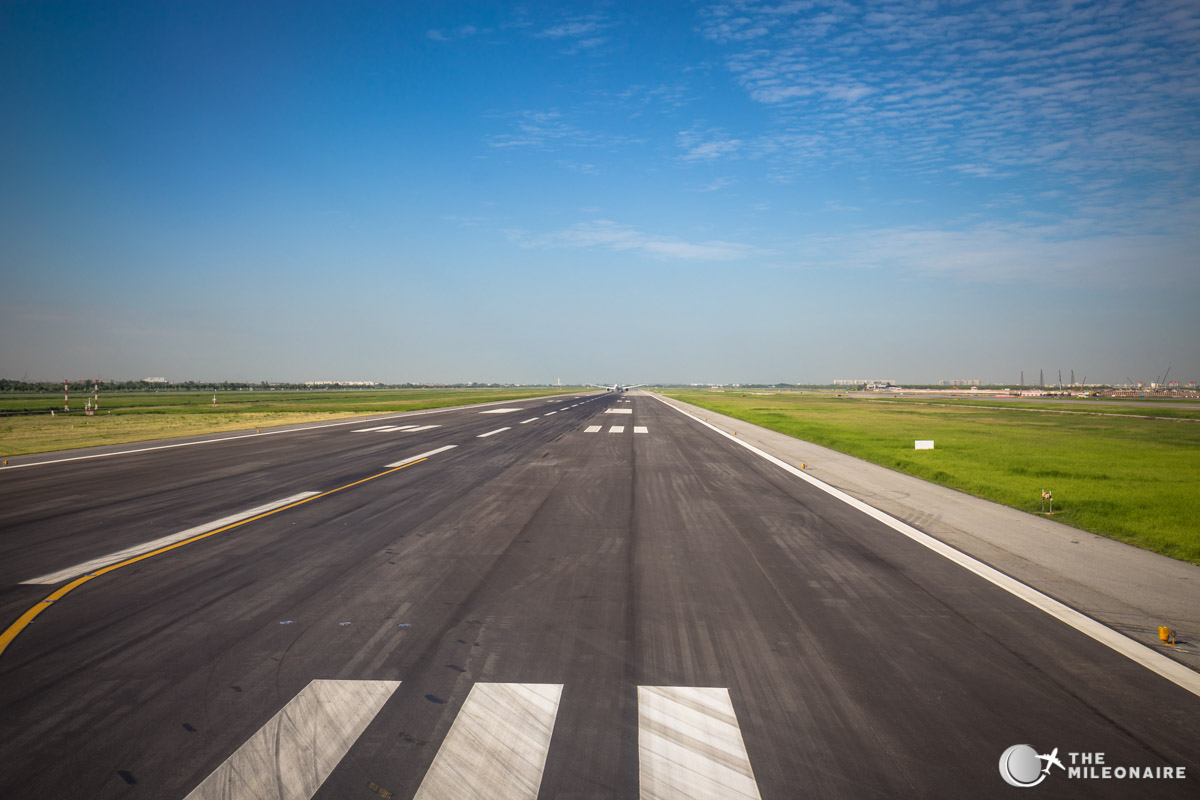 The flight itself was super uneventful, I didn't even take photos of my breakfast – even though the choices were pretty good: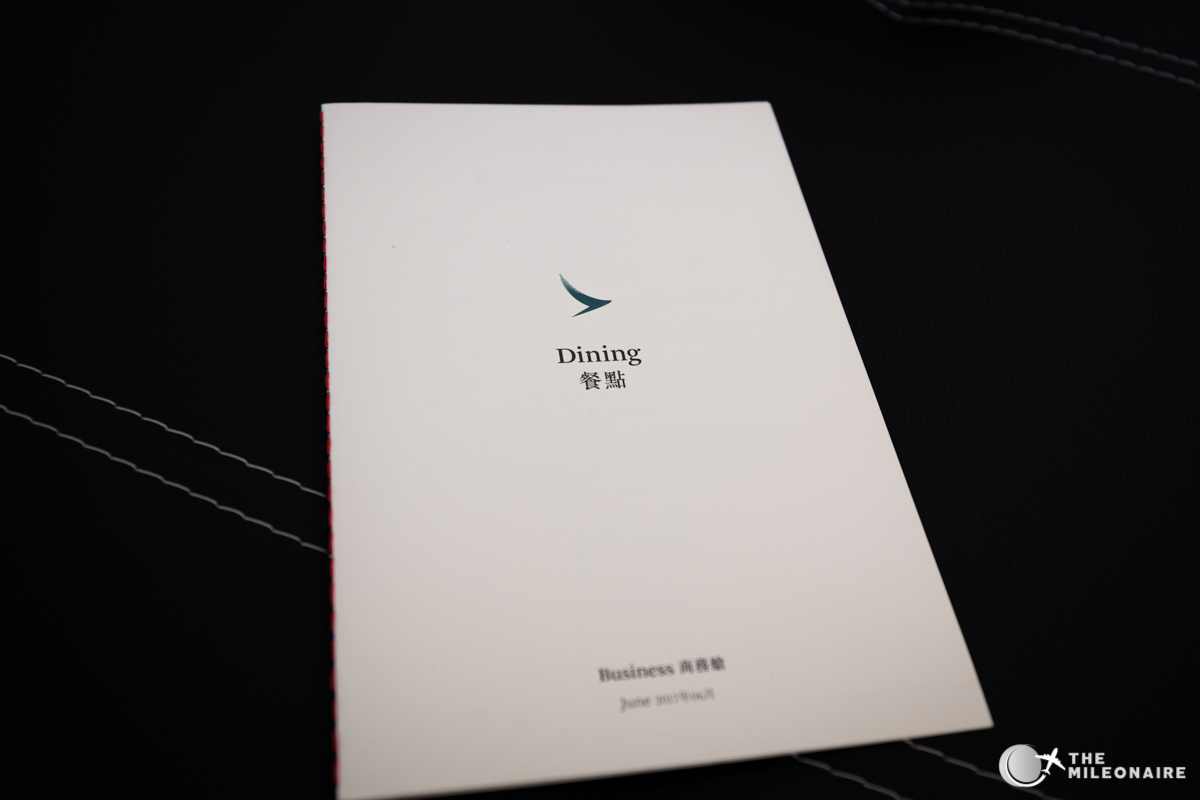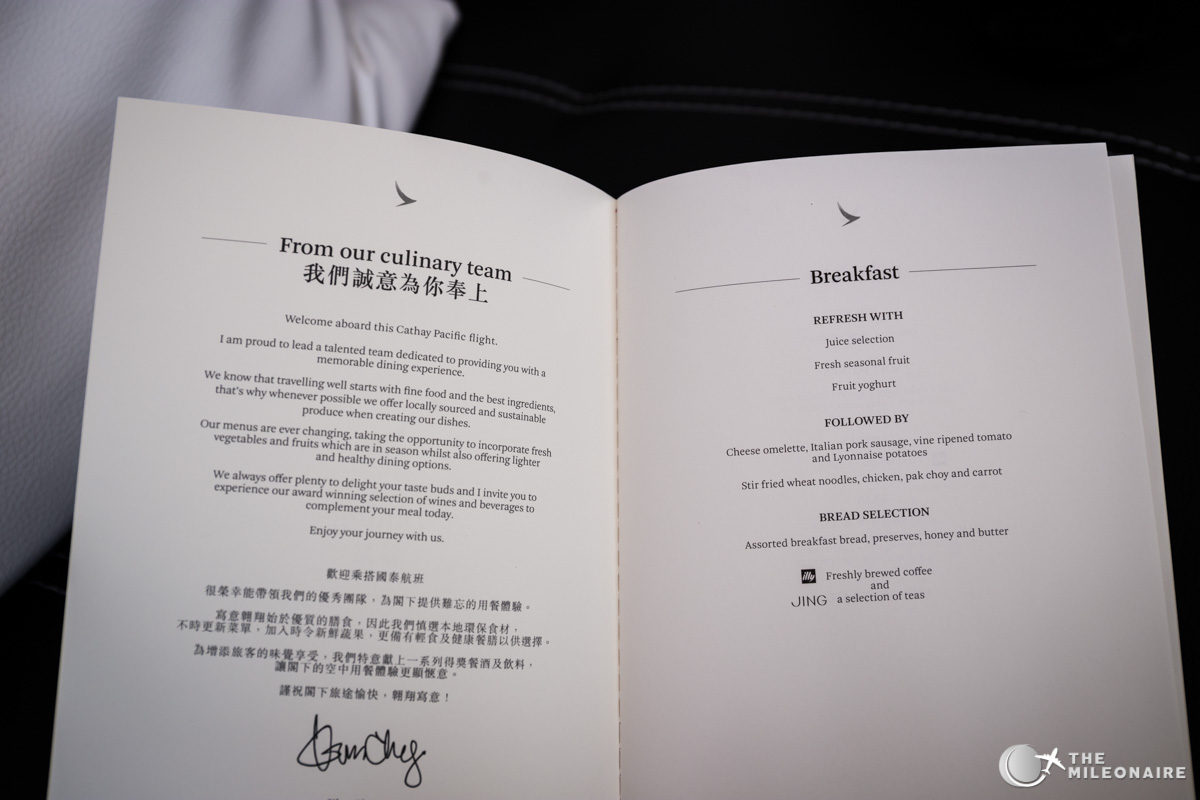 We landed on time in Hong Kong, where I was obviously heading straight to 'The Pier' lounge (coming up in the next post).