BA Holidays | Muscat | Shangri-La Al Waha | CW/WTP
May 8, 17, 11:10 am
Join Date: Apr 2017
Programs: BAEC blue
Posts: 13
BA Holidays | Muscat | Shangri-La Al Waha | CW/WTP
---
Good afternoon,
I signed up to FT a couple of weeks ago when I noticed a thread started by someone who was flying First on the same flight that me and my girlfriend were booked on, albeit further back in WTP.
As this site has been good to me when it's been quiet at work, I thought I would do a trip report of last week's holiday in my capacity as a lowly BAEC Blue.
BA079 | G-VIIM | Club World
Well, after two portions of eggs royale in the T5 Wetherspoon we were upgraded to Club World at the gate which was a very welcome surprise. "we don't have two seats next to each other" said the CSM, to which I replied "that's absolutely fine!" without making eye contact with the missus.
Having been lucky enough to travel in Club World before, I quickly gave a run-down of the seat functions to she-who-must-be-obeyed before enjoying a glass of bubbly.
The flight was smooth and I enjoyed a meze starter followed by the steak with potatoes and veg washed down with an Italian red. The crew were very good. I managed about 90 minutes sleep on the flight after watching two episodes and the film of Absolutely Fabulous.
After what felt like a very long taxi to the stand, we were met by the bus to take us to the terminal. As we pulled away from the aircraft, I wondered what other BA destinations are served by a wide-body where passengers are still bussed away. After being released from the bus outside the arrivals hall we made a dash to the Travelex desk to buy our visas at OMR 20 each and within about fifteen minutes of leaving the plane were in the baggage hall waiting for our bags.
I booked a transfer with BA Holidays where we had a 35 min trip in a Nissan Altima to take us to….
Shangri-La Barr Al Jissah Resort & Spa - Al Waha
Considered the most family-friendly of the three hotels making up this resort, we arrived at our week's retreat behind two families who'd obviously been able to retrieve their bags from reclaim quicker than the two of us. We were given a glass of orange juice whilst waiting our turn to check in. When our turn came around we were pleased to find out that the hotel already had a room available for us… but on the ground floor!
After our first night, we realised that the location of the room was not going to be an issue. I am guessing that all the Superior rooms are on the ground floor as the window is also the access to the room meaning that the bathrooms are full width of the room in order to accommodate the bath and separate shower. If we were poolside for the day then it meant we could pop back to the room very easily so it worked out well.
There is a lazy river going between the Al Waha and Al Bandar, which is good for a break away from the pool.
View of the Al Waha beach: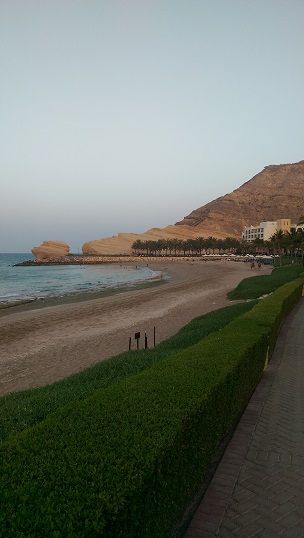 Poolside Al Waha:
Our half-board stay meant we could eat breakfast and dinner (both buffets) at two of the resort's restaurants, namely the Samba restaurant at the Al Waha and the Al Tanoor restaurant at the Al Bandar hotel. Having breakfast or dinner at any other of the resort's eateries would incur a OMR 16 (£32 ish) surcharge per person. The inclusive buffets were good enough and the surcharge suitably high to discourage us from trying any other restaurant, with the exception of having lunch one day at our pool bar, the Assira.
After discovering that the price of a pint of Heineken was about £7.20 once the local taxes were taken into consideration, we were pleased to find out that some of the resort's bars offered happy hour. Although Oman's happy hours are indeed just one hour, they all ran sequentially meaning that you could (if that way inclined) enjoy half price drinks between 1700 and 2300.
The exception to the above is that the BAB lounge (whose happy hour is the first of the day) closes for the hottest months on the 1st May so we only had two nights there. I think this is an oversight of the resort as it offers the best views and although is only a very short stroll from either the Al Waha and Al Bandar, it feels like you're going "off-site" for a drink away from the hotel(s).
BAB Lounge: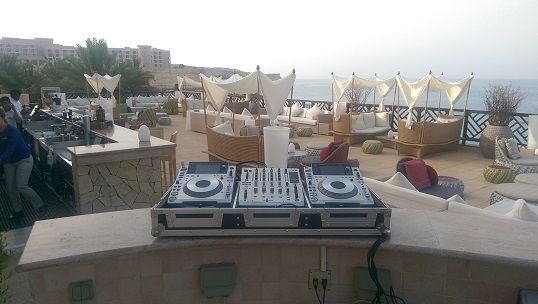 Drinks at the Piano Lounge (Al Bandar):
Brief notes on the Al Waha
- If, like us, you are not comfortable with the idea of laying claim to a sun lounger in the morning then not using it for five hours, you can find it hard to get a place by the pool after 1000, especially on Fri/Sat.
- The hotel WiFi was either good or excellent (in room/hotel/by pool)
- Bottled water is given out for free during the day at the pool and the beach. You're given four 500ml bottles in a small cool box, which can be topped up at your leisure.
- Bottled water also replenished in the room every day.
- The bed was not very comfortable and did not seem to improve after housekeeping turned the mattress.
- Is it a five star hotel? No, we don't think so.
- Staff need to better implement the 60 minute rule they have signposted regarding making unused sun loungers available again for others.
- The food in the Assira pool bar was not up to the standard expected for a £35 lunch (two plates and one pint – no other drinks). My shawarma here was tasteless and greasy unlike what's available at the evening buffet.
- Due to the flight times (checking-out before breakfast service begins) we were able to have breakfast on the first day after checking in (a nice touch).
We booked a fixed price taxi (OMR 15) to the airport at 0515. Journey time 35 mins.
BA080 | G-VIIS | World Traveller Plus
After clearing initial security we waited only about ten minutes before bag drop opened. Then we cleared passport control soon after that. As we had quite a bit of time to kill (approx. 90 mins until gate closing) we wanted to pay to get into a lounge. If I remember correctly there are three lounges, an Oman Air lounge, a Premium Plaza lounge and a lounge at the bottom of the escalator shortly after passport control. It was the latter that we paid OMR 24 to get into and I am still angry with myself for doing so! Not only did this lounge not accept cash but if only I had asked first to look around the corner at the lounge itself, I would have seen the grim, windowless place that it was. We stayed in there perhaps fifteen minutes. Never did find the Premium Plus lounge but wish we hadn't looked it up on the 'net!
Warning – we had no duty free so cannot comment on that but no drinks were allowed to be taken into the holding pen (gate 17). I checked with the guy at the kiosk very close to our gate (before we went through) and he wasn't aware of this rule. The can of Fanta from the "lounge" had to be left behind. If you're buying duty free – confirm at the till that you can take it through to London!
Bus to VIIS:
I have not travelled in WTP before and I have to say we were both impressed with the tidy little cabin!
About twenty minutes after departure we both declined the cereal bar offered by the crew, but then I became concerned that we'd both passed on the first "meal" of the flight! Luckily, not the case and we were presented with the choices of the day:
Between the two of us, we had both the options available. Note that two of the mushrooms on my "full English" are from her plate:
Is that tomato big enough?
We noted that despite the presence of butter and marmalade on our meal trays, we never saw or were offered any bread rolls or pastries.
Around two hours (or less) before arrival there was a trolley service for the bar. I opted for a can of Tribute to go with my light snack box, but had finished it before they were dished out about half an hour later. I was interested to hear my girlfriend's opinion on the box, as she is not a user of this website so is unaware of quite how much is going around about BA's "enhancements". She. Was. Not. Impressed!
Apart from commenting on the miserly excuse for a snack from our national airline, she also noted BA's failure to put anything healthy (fruit) in the box. Being the gentleman that I am, I gave up my Maltesers for her consumption as I would further my snack box calories by asking for a second can of Tribute and a can of Tiger (no more Tribute available):
All-in-all, a very pleasant eight/nine days away. Thanks BA for the upgrade on the way out!
If you're reading this line, then I hope you didn't find my first attempt at a report too boring!
May 9, 17, 8:40 am
Join Date: Jun 2014
Location: NCL
Programs: BAEC and Hilton mostly
Posts: 152
Thanks, BAW2 for the TR - useful info for a place that's on my to-do list!
May 9, 17, 9:28 am
Join Date: Dec 2006
Location: Lewes
Programs: HiltonH. Gold Starwood Gold BA BLUES! Mucci.
Posts: 4,608
Thanks for posting. Pretty meagre offering on day flight home.... interesting to see Blue card holders upgraded- well done!!
May 10, 17, 12:54 am
Join Date: Dec 2001
Posts: 2,983
BA are going downhill. That snack box looks awful. About 10 years ago American had a Snack Box westbound from Europe and they discontinued it. I think people complained.
May 10, 17, 1:49 am
Moderator: Trip Reports
Join Date: Jul 2013
Location: Dubai
Posts: 2,372
Great to see the beautiful Muscat Shangri-La
. Really interesting how they have three hotels from the same brand right next to each other. I stayed at the middle one (Al-Bandar?) for a night and would love to go back there.
May 10, 17, 1:53 am
Join Date: Apr 2014
Location: Aberdeen, Scotland
Programs: BA Bronze, Emirates Silver, Virgin Silver, Marriott Gold
Posts: 512
Thanks for the trip report and the more I read of BA lately, the more I am put off flying with them again!
May 18, 17, 4:36 pm
Join Date: Sep 2015
Location: Peterborough, UK
Programs: BA Silver; Westjet Gold; Avis P+; Global Entry
Posts: 1,010
Thanks for the post, shame BA standards are dropping
Posting Rules
You may not post new threads
You may not post replies
You may not post attachments
You may not edit your posts
---
HTML code is Off
---