Hong Kong, KL and Singapore (BA Club Europe; CX Y inc A350) ft. a nice birthday gift
Apr 3, 17, 3:55 pm
Join Date: Aug 2015
Location: Southend-on-Sea
Programs: BAEC: Bronze
Posts: 130
Hong Kong, KL and Singapore (BA Club Europe; CX Y inc A350) ft. a nice birthday gift
---
Introduction and Background
This was our annual family holiday back to Hong Kong/Asia. As of last year, my parents have trusted me to book separate tickets via Europe to make things cheaper.
This year, we've booked through CDG which means we're on the new CX A350-900
I had a leftover J leg from an ex-EU flight meaning that I was in CE. My parents were on avios redemptions in Y.
We booked CDG-HKG-KUL;SIN-HKG-CDG with CX and it priced at £470. This included stopovers in Hong Kong on the way out.
I'm writing this trip report on my CX flight so there will parts that will be omitted and to be completed once I arrive in Hong Kong
1. BA316. London Heathrow (LHR) to Paris Charles-de-Gaulle (CDG)
ETD: 1455, AOBT (Actual Off Blocks Time): 1548, ATOT (Actual Takeoff time):1620
A few 'details' to start with:
Seat: 1A
Flight time: (only!) 40mins
Touchdown time: 1800 (UK + 1hr)
We arrived at Heathrow Terminal 5 by underground. A trip from London costing £3.10 for the adults was, in my opinion, a lot more affordable than the Heathrow Express. Arriving at Heathrow at just before noon, we proceeded to the Club Europe check in desks in Zone G. The self bag drop and First Wing had commenced operations, but other than that - a normal day at T5. All quite boring so far.
The new bag drop policy hit us straight away. We were informed that bags couldn't be checked in between two PNRs and we happily accepted this; we had a 4 hour connection in CDG with no change of terminal so this wasn't an issue.
Fast track security (South) was queueing all the way back to the entrance of Fast track however it took only 5 mins to get through. The cramped nature of the fast track area made it look longer than 5 mins. For once, I managed to get through security without being stopped.
At this point, I still hadn't took any pictures and I'd been rushing a lot. Firstly I went to meet up another Flyertalk-er -
squawk
before heading towards my Galleries Club South.
GC South - briefly as I don't have many pictures. It was quite busy. Having only been there once before, I can't really compare it. The food offering was Thai Chicken Curry with Rice, Spinach and Mascarpone Pasta and Jacket Potatoes. I went for the pasta as I like that kind of stuff and it was cooked fairly well. In fact, I managed to get through three plates of the stuff
Having spent an hour there, I headed over to GC North at 2pm (T-55) since I'd never been there before. I do prefer GC North having now been there. If you want a brighter and more-open ambience, GC North is definitely for you. GC South seemed (relatively) dim. I had some biscuits (which were very tasty!, of some chocolate or black forest sort) with a cup of hot chocolate; would definitely recommend!
By the time I had got out of the shower, the gate was closed according to my boarding pass. However the flight had a delayed inbound arrival due to fog earlier that morning. This was a coincidence since the last time I flew, there was fog and delayed inbound flights. Anyhow - back to GC South I went and had a coke.
I returned to gate A18 as boarding commenced at 3pm (T+5). It was very busy and the priority boarding queue turned into the general boarding queue. I was on the plane quite early and so I visited the cockpit. At this point, we were due to depart at 3:55pm (T+60) so it was evident that there was a delay.
To be continued... (I need sleep on this long haul; pictures for the CX278 are being taken, spelling and grammar yet to be reviewed)
Apr 3, 17, 4:18 pm
unusual combination of short haul J and long haul Y. Hope you enjoyed HKG
Apr 4, 17, 1:04 pm
Join Date: Jul 2013
Location: JNB
Programs: Flying Blue, Miles and Smiles, Hhonors, ICHotels
Posts: 769
Looking forward to this TR!!
Apr 5, 17, 5:38 am
Join Date: Aug 2015
Location: Southend-on-Sea
Programs: BAEC: Bronze
Posts: 130
Part 2 of (hopefully) 3
---
1.5 - BA316. London Heathrow (LHR) to Paris Charles-de-Gaulle (CDG)
We return to the flight at A18
As boarding started, people realised that it was the priority boarding queue and the general boarding queue started to populate (at this point, I still hadn't taken any pictures). As Club Europe and bronze, I followed the sheep towards the boarding pass scanners. At this point, there was 20 people in front of me but this was quite quick. I was on the plane at 1500 (T+5mins)
I went into the cockpit to find out that we weren't pushing back for another 30 mins and airborne for another 50 mins. For the 5 mins I was in there, the times updated twice so by the time I left, we were estimating push back at 1540 and airborne at 1555.
The British Airways Club Europe product isn't much to get excited about. There was a good amount of space (including the centre console) as well as legroom available (for someone who is 5ft 10). Boarding seemed to resume very slowly for another 30 mins which meant boarding hadn't finished until T+35 mins (1530). One of the last people who boarded was the passenger in 1C: someone who got an upgrade (free or not no idea) from 28F (!) up to CE.
Doors were closed and captain's announcement at 1535 telling us a pushback at 1550. Having finally got on to the move at 1548, trouble wasn't over yet. Despite a simple, yet long taxi routing to 27R, the queue there was long. At 1607, we were in the queue when a BA 747 bound for Seattle had a bird strike as they took off. This closed the runway for about 7 mins; with the airport buried in fog earlier, this was the last thing Heathrow wanted. Hot towels were issued in the mean time and we took off at 1620. Here is a picture of the 747 and our takeoff.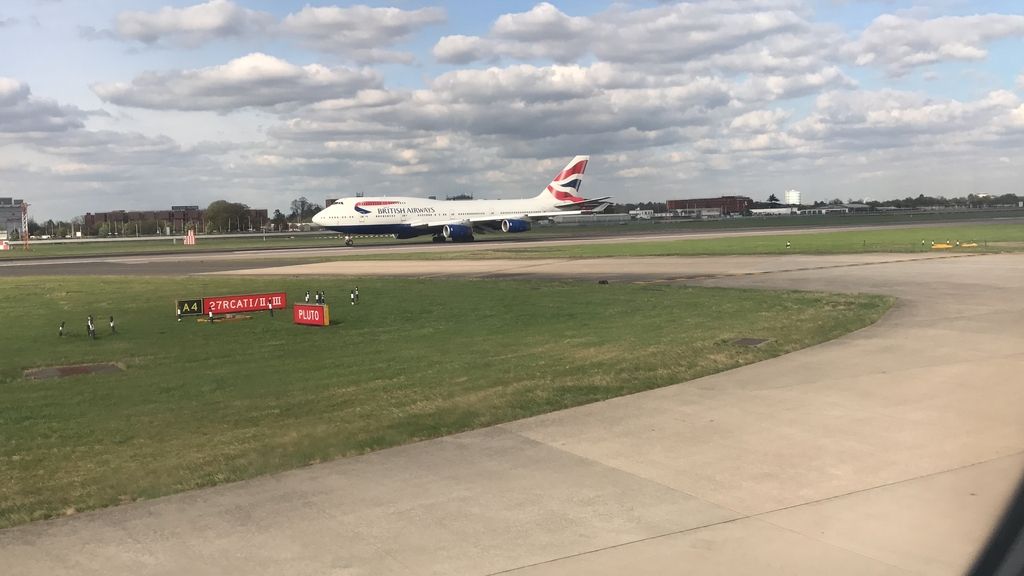 Cruising at 25,000ft, the flight to CDG was well under way. The flight crew came around with Afternoon Tea or Ploughman's Salad. Having perused the choices before hand, I wasn't too keen on the Afternoon Tea so I went for the Ploughman's. There were a range of flavours and it tasted pretty good! I accompanied it with a cup of tea which was presented in a proper mug.
And that's it. 40 mins in the air, and we landed on 08R and it was a sufficient taxi in of around 7 mins. We were parked on A45 which involved no walk to passport control. When I arrived, only one desk was manned however this soon became three.
The bags took a while to arrive, but we were fully landside by 1835. Since CDG's 2A (not sure about the others) was small enough so that landside departures and arrivals were on the same level. It took us less than 30 secs to get to check in desks for CX. Overall, a solid Club Europe experience, thoroughly enjoyed. (Except the delay of course, but I can't blame that on anyone. Perhaps the bird?)
Below demonstrates the route from leaving the plane to the check in desk. It's not exactly exact... but something on the lines of that. Connecting at CDG isn't that bad, providing it doesn't involve switching terminals.
Part 3. CX278. Paris Charles-de-Gaulle to Hong Kong
May 16, 17, 4:07 am
Join Date: Aug 2015
Location: Southend-on-Sea
Programs: BAEC: Bronze
Posts: 130
2 - CX278. Paris Charles-De-Gaulle (CDG) to Hong Kong (HKG)
A few 'details' to start with:
Seat 60A
Flight Time: 11hrs 10mins
This was our first long haul flight of the holiday starting off with the business class check in at CDG. As a OW Ruby, we joined the business class queue which was about 5-6 long at the time but there were only 2 desks being manned. Despite being nothing similar to the Economy queue: it still felt very long as another passenger had some issues which blocked one entire desk out.
The Economy 'snake' on for our flight. Clearly a low number of frequent flyers on this flight/route.
Annoyingly, security is about as far away from the CX gate as possible but very close to the lounge. Nevertheless my bronze card denied me access so I proceeded to the gate where I waited for the next hour and a bit. The terminal is not that interesting so but there was a McDonalds nearby and a selection of duty free.
Boarding commenced at around T-35. The gate is conveniently located to the walkway linking the main part of 2A to A37-A39. Therefore the economy boarding was directed that way making the main gate area quite 'orderly'. As a BA bronze member (ie. OneWorld Ruby in CX's eyes), I don't technically qualify for priority boarding. Throughout the course of this trip, I had a 50:50 success rate. For this flight, I was put in the premium economy/MPC Green queue which seems fair.
Prior to the flight, I did some research to see which seat was the best in Y in terms of extra legroom/exit row since I now had status. (This would my first time in an exit row seat, so I kinda got excited) 60A proved to be a popular choice from the general consensus so it was booked for this flight and the return. 60A isn't 'exit row' but it's the first window seat available (the 'exit row' only has 59B and 59C, no A). Here are few pictures from the seat:
From 60A looking into the exit row and 59B:
Unlimited legroom!
After we got airborne, the timestamp on my photo indicates we got served food 2 hours after takeoff which was quite late. Having been on CX before, this was a norm and it didn't bother me much. We got a
paper menu
as during taxi (@British Airways).
Since I had the Penne last time and not being keen on mashed potatoes on flights, I went for the Kung Po Chicken with Rice. If there's one thing you learn with CX economy nowadays is that they never mess up with rice and it always tastes good.
Oh, and don't forget the ice cream
I watched a few films, took a little nap and repeated that throughout the flight. Here's the new CX A350's in-seat phone holder/cup holder thing. This was my parents seat:
A second meal service (breakfast) was served about 90mins before landing. Having looked at the picture, it doesn't look as good as it tasted, and it didn't taste that good. I went for the Scrambled Eggs as I can't stand airplane Congee however my parents say it tasted very good so for those don't mind congee: you needn't worry.
We landed just a few mins late and taxied to E1 (Gate 1) - about as close as you can get to immigration I think... (which is good). A 10 min queue and luggage collected - we were out of the airport and boarded our bus. Here are a few iFE and wing shots of the A350.
---
Last edited by james_yuen; May 16, 17 at

4:19 am

Reason: To finish it off
May 16, 17, 11:19 am
Join Date: Jun 2012
Location: Toronto, Canada
Programs: Aeroplan Airmiles AMEX-MR Alaska Airlines
Posts: 391
the pics for your CX segment are not loading. am i the only one not seeing the pics?
May 23, 17, 9:38 am
Join Date: Aug 2015
Location: Southend-on-Sea
Programs: BAEC: Bronze
Posts: 130
Posting Rules
You may not post new threads
You may not post replies
You may not post attachments
You may not edit your posts
---
HTML code is Off
---