Three... yes three very good BA F flights in sequence
Apr 1, 17, 7:45 am
Join Date: Dec 2006
Location: in a cabin
Posts: 6,090
Three... yes three very good BA F flights in sequence
---
I couldn't believe it myself. After all the misery one reads and hears my expectations were set low for a bunch of BA First sectors during the summer months of 2016. The quite valid excuse for the delayed reports is lack of time.
At the time yours truly was flying BA Club Europe weekly between ARN and LHR, trying to squeeze in family life and a few more other projects! Looking back, not sure how we made it. I suppose all those Twin Packs of Perrier Jouet from LHR T5 helped!
Thankfully trips these days are much shorter and usually between the Nordic capitals. As it were, Norwegian is actually a pretty good airline!
Just for flying them 12 sectors I got free fast track and seat selection for a year. No need for status or such. Lounges are superfluous as one wants to spend as little time as possible in these airports.
As a final reflection before the report, travelling less for business makes one appreciate premium travel more when on vacation.
On to the report then. What follows is mostly pictures and an attempt at reporting from 3 F sectors with some added extras.
__________________________________________________ ______________
Had to be in New York over the weekend...
It was a bit of a hectic schedule as I was flying from LHR to ARN Friday evening, on the 6.20PM 784 arriving Stockholm around 10PM.
Back to LHR T5 the following morning on the 8:45 785 before connecting on to a BA747 to JFK. So a back to back on the same aircraft. Geek'o'meter satisfaction peak!
Here are some pictures of the 784 going to ARN:

Bus gate, with excellent views of the action on the tarmac.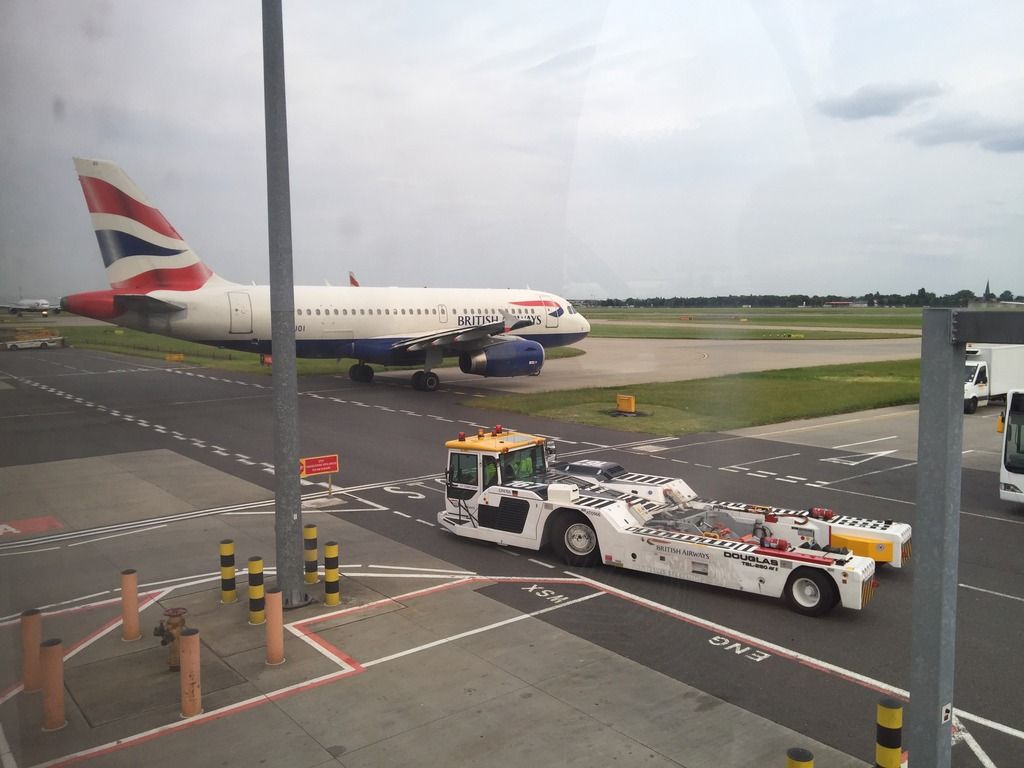 Row 1 deserted: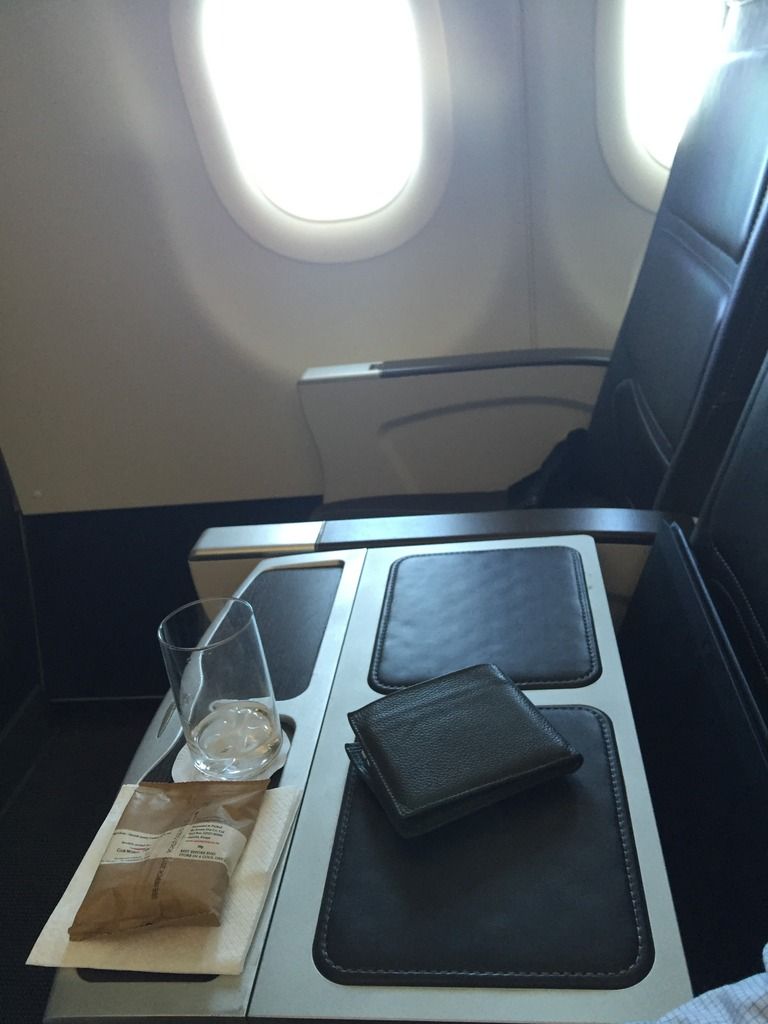 The flight itself was good, as most of my recent Club Europe flights have been over the years. Friday afternoons/evenings are usually a bit jolly up front with people going back home to Stockholm or Brits heading out for a weekend. The Champagne tends to flow on these flights
Home around 10PM, time for a few glasses with Mrs Petrus before preparing the very light packing. Two nights only, but lots of shopping so one empty large suitcase with another inside
8:45AM flight meant leaving the house 7:30 just in time to check bags.
Coffe in the mediocre Aurora lounge. Breakfast to come.
Next BA785 and the same plane I flew in on the night before, seated in 1F.
Safely sat and rather excited as usual about flying back to my old home town New York in 1K on a BA747. BA have their most experienced crew and better catering on the JFK route as it is "flagship".
Breakfast for CHAMPions:
Sausage, eggs and condiments: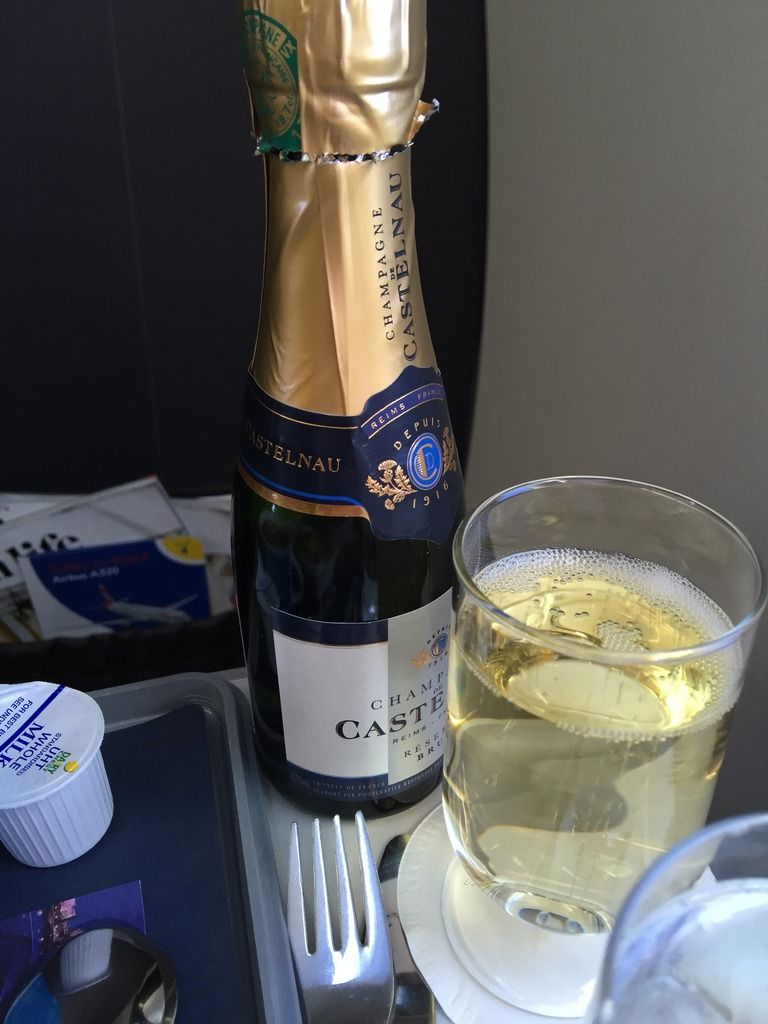 Above the North Sea: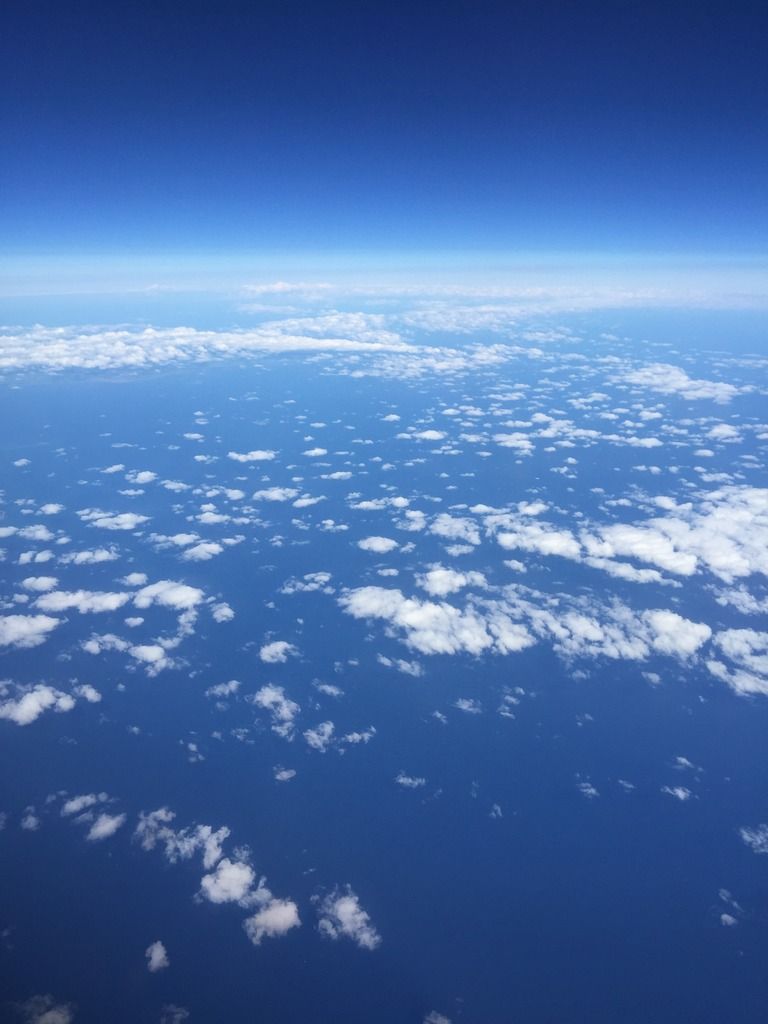 One of the nicest approaches anywhere? Flown probably over 500 times and still awestruck on the "S" turn heading west over central London:
It was a pleasant flight and connecting at T5 a breeze. Headed up to The Concorde Room for a breakfast with fellow FT member Karfa.
Catering has improved in the Concorde Room the last year or two. Which isn't that much of a feat considering how dire it was for a while...
Had the Scramble with Salmon and a poached egg, Karfa something fishy I do not remember...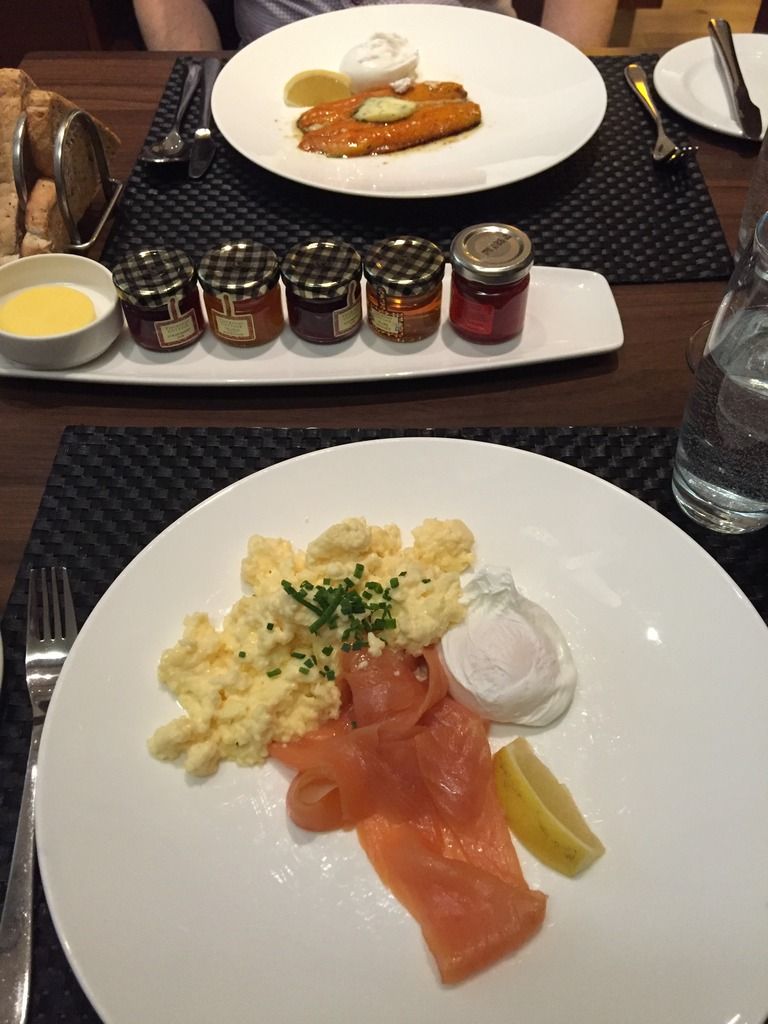 All in all could be a far worse start to a Saturday! Coming up a really superb jump across the pond in the nose of a BA747.
Thanks for tuning in so far.
Apr 1, 17, 9:58 am
Join Date: Jul 2013
Location: JNB
Programs: Flying Blue, Miles and Smiles, Hhonors, ICHotels
Posts: 1,031
Aaah, bubbles and salmon for breakfast. What a way to start the day!
Looking forward to the rest.
Apr 1, 17, 4:30 pm
Join Date: Dec 2003
Location: Charlottesville, Va. USA
Posts: 1,350
Apr 9, 17, 2:17 am
Join Date: Dec 2006
Location: in a cabin
Posts: 6,090
After a pleasant breakfast in company of Karfa it was time to head out to gate B-34. As many of you know this requires a walk from the Concorde Room to catch a train to the B satellite. This Saturday morning was quiet at Heathrow T5 so while not a First class experience comparable with other carriers it was civilised. For me, one of the nicest feelings I know is the excitement before boarding a 747 in row 1 going to New York. As mentioned earlier JFK is a very important route for BA getting the best crew and is catered by Do&Co.
BA 747-400
Seat 1K
LHR-JFK
Today's bird.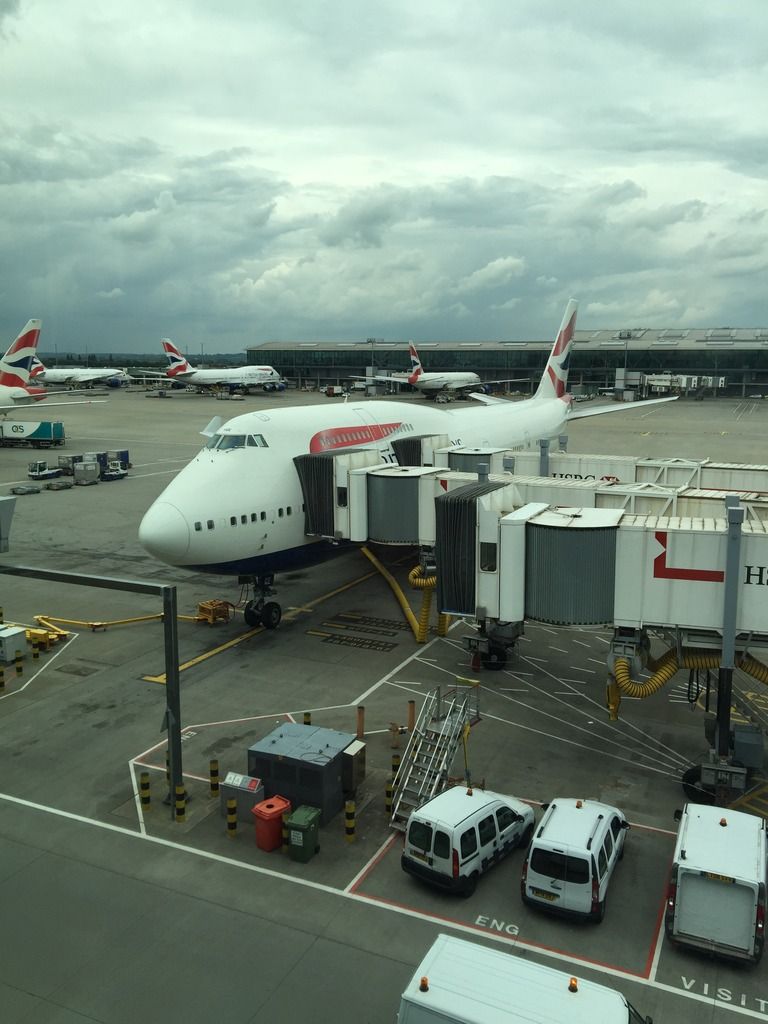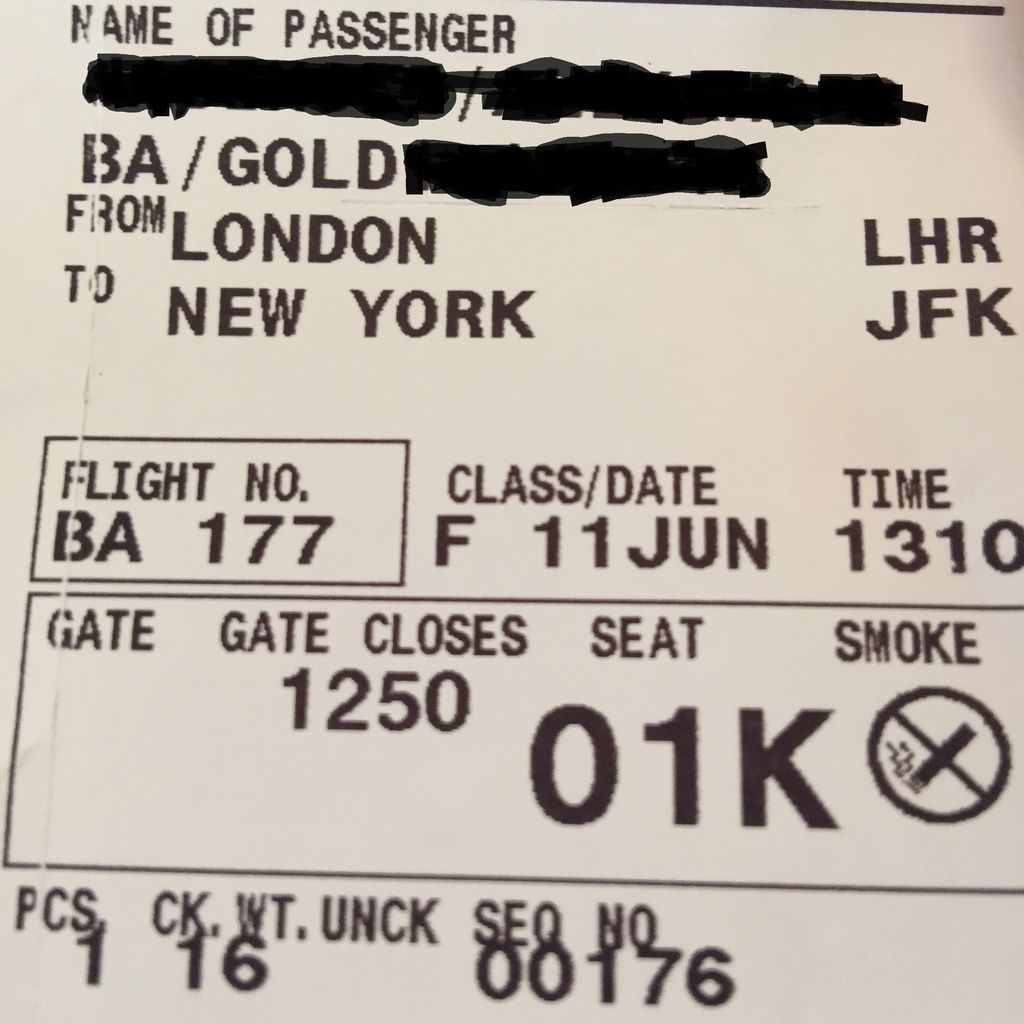 You could tell on boarding crew would be great. They had that reassuring, experienced friendly approach with tact. Was escorted to 1K and quickly a glass of Laurent Perrier Grand Siecle arrived.
All set for a lovely hop across the pond in my favourite airline seat.

We ended being only 5 occupants which meant 9 free seats. Superb cabin crew lady inquired about my food choices, was asked first due to the BA status. Mentioned I had a filling breakfast twice this morning and wanted a nap. She suggested we make the bed in 3A instead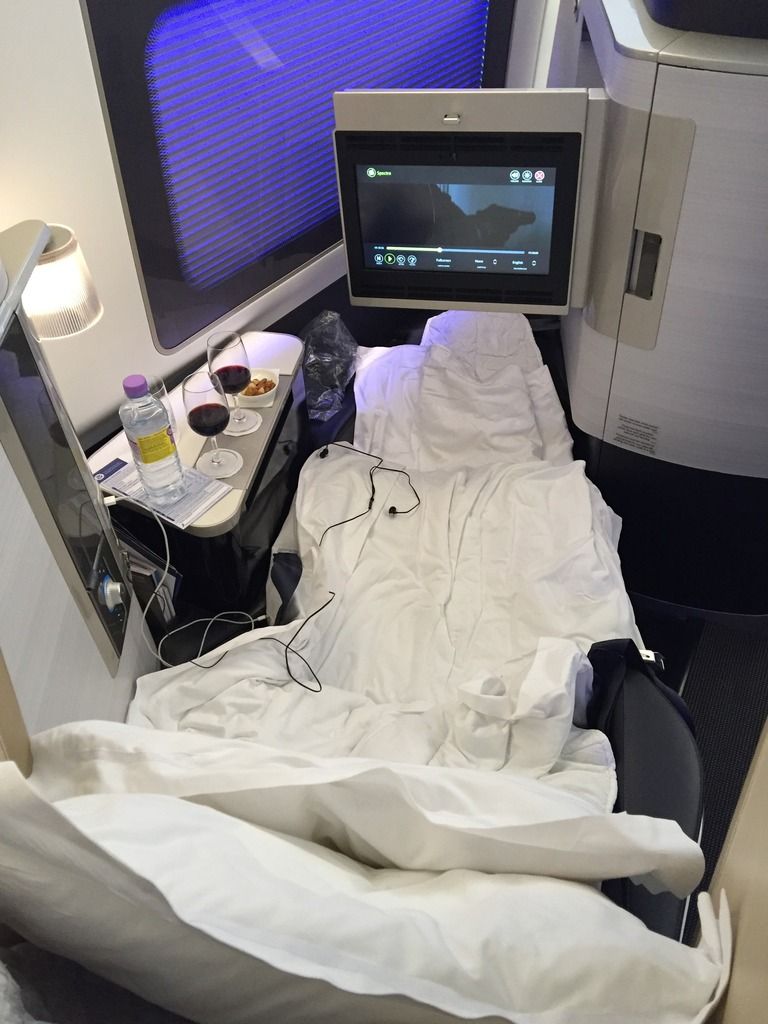 Looking across to 1K from my "bedroom".

As I wanted a nap, the choice for wine was red. I insisted I only wanted a mouthful to taste the two preferred choices. It was a 2008 Cru Classe Bordeaux from the Medoc, and a lovely Argentinian Malbec.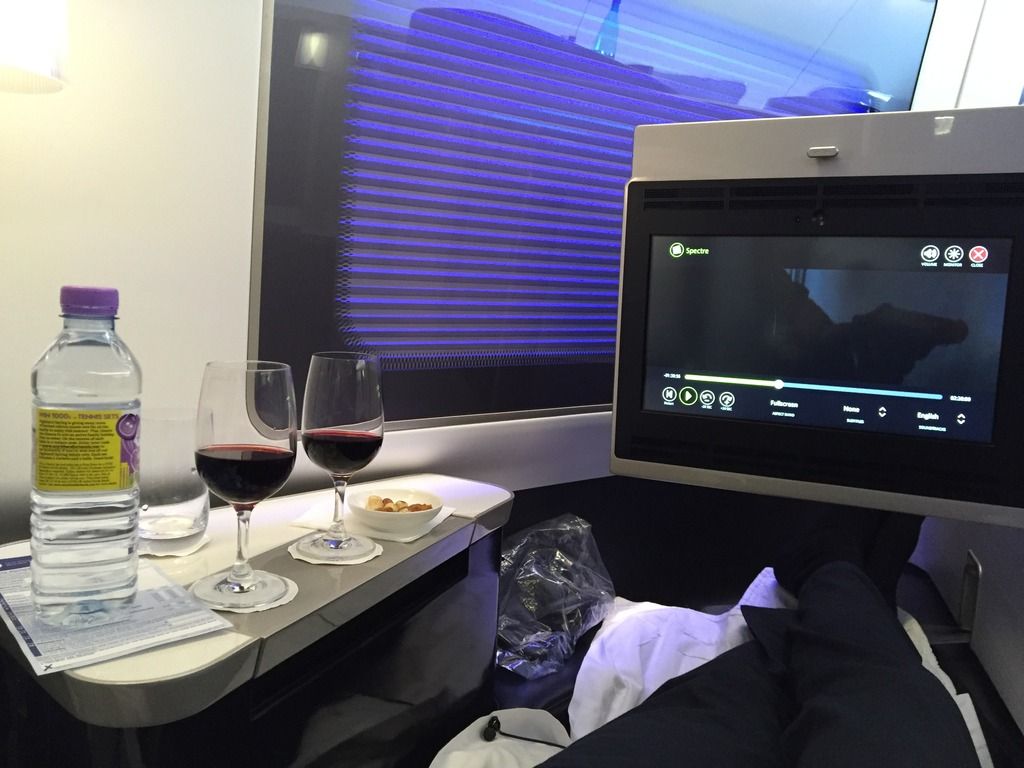 After two hours or so of dozing off it was showtime. Table being prepared.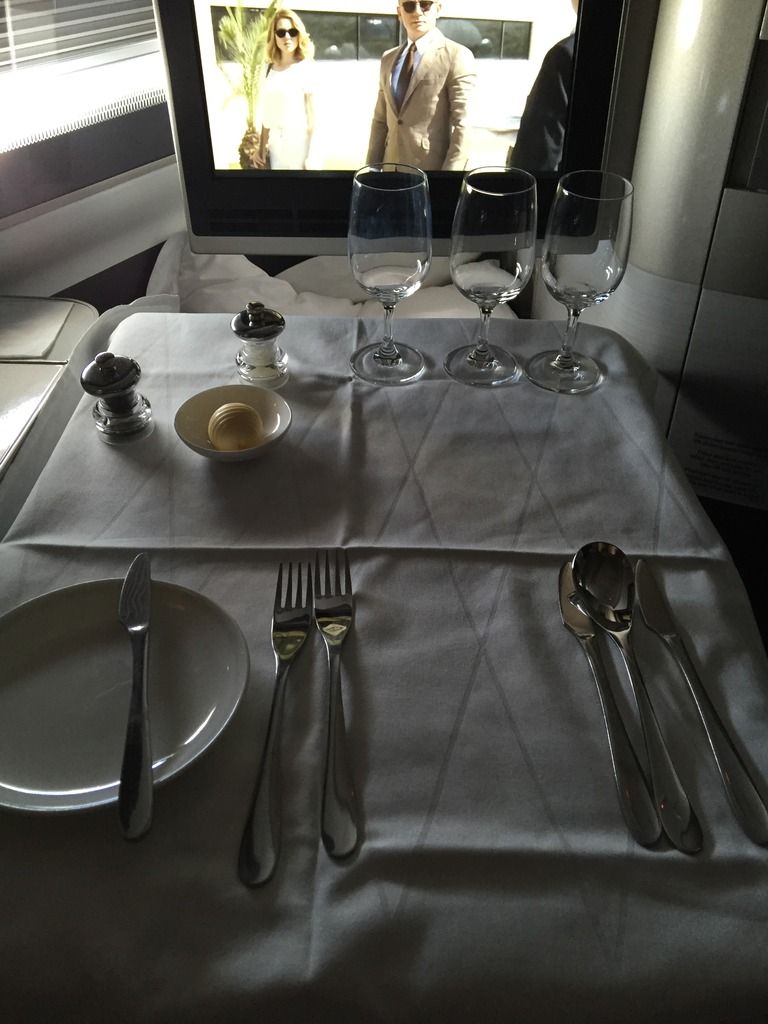 The white wine selection was great, with both a Meursault and Chablis Grand Cru available, line up complete with a new world white. The Meursault won.
Did I mention the great crew?
Amouse Bouche. Okay, but nothing special.
My three buddies. Again, asked for a taste of each... got full glasses.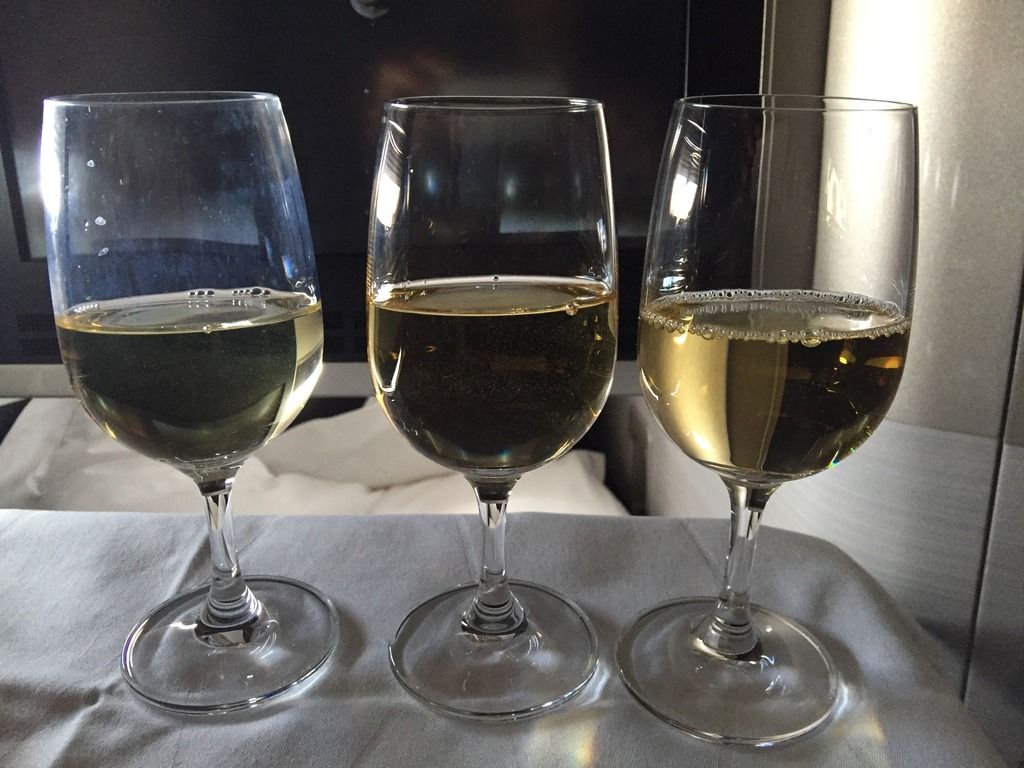 The starter was a Tuna Tartar of sorts. It was lovely! I had two...
Always soup on BA F. They do good soup. Or I should call it consomme...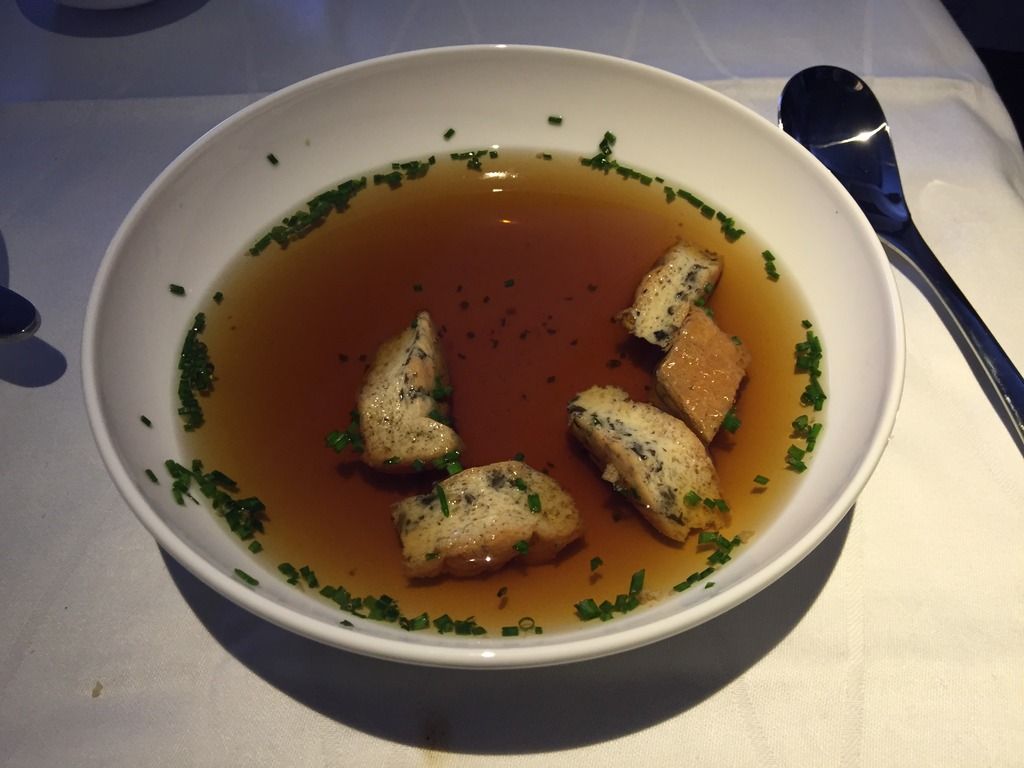 The main course was also fish. It was the least interesting dish, but not bad.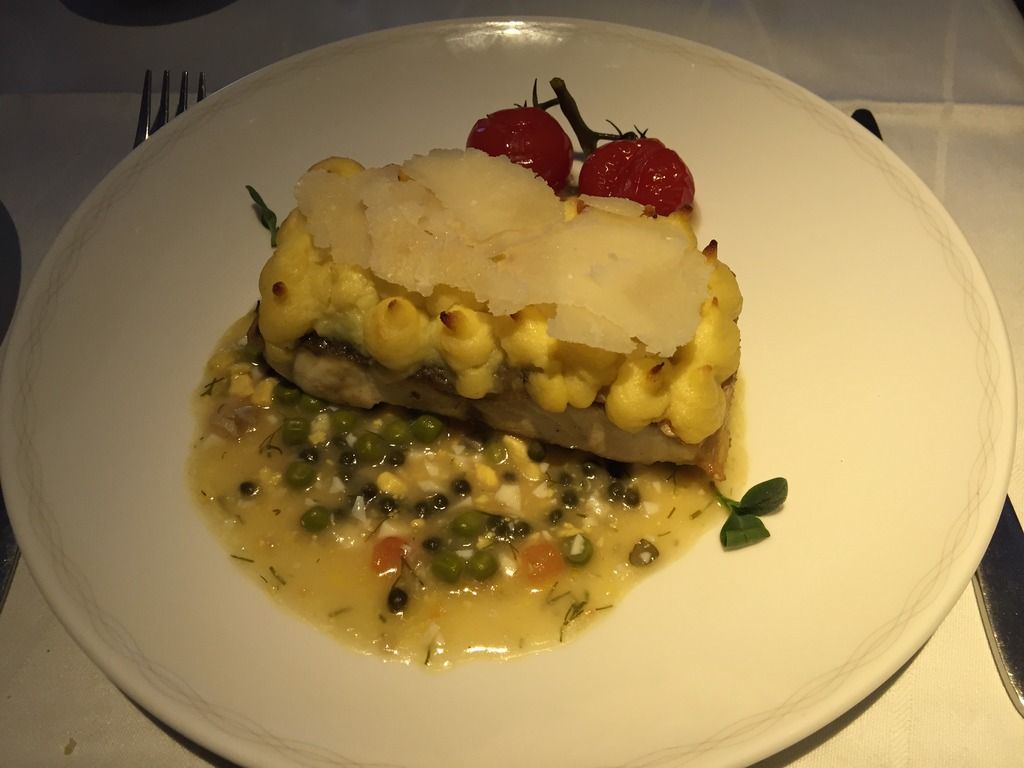 After that feast it was time for a stretch and stroll. Had to skip pudding as I was stuffed.
Cabin shot. I think it looks really elegant and inviting, even if there are 14 seats. Privacy has never been an issue for me in this cabin.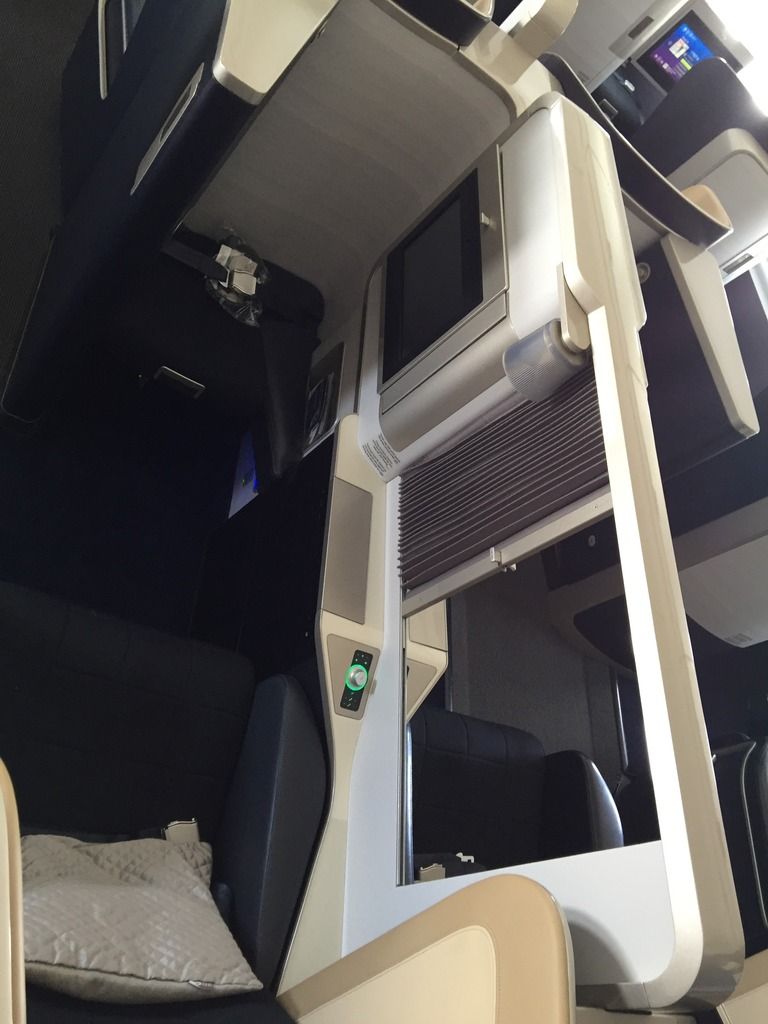 We began our descent and approach towards JFK on this lovely hot summer day. Views from 1K rather nice. On American Soil
Immigration was slow and took a while as we caught the tail of an LO flight.
Yellow cab into town to meet up with friends and buddy who's place I would be staying at.
TBC
Apr 9, 17, 3:43 pm
Join Date: May 2009
Location: DFW
Programs: AAdvantage Platinum, Hilton HHonors Gold
Posts: 2,829
Apr 9, 17, 4:27 pm
Join Date: Jan 2006
Location: BOS
Programs: AA EXP, SQ PPS
Posts: 1,049
Great report so far Petrus! I didn't realize there were special crews assigned to the JFK route. Is there a certain training or qualification required in order to operate there?
Apr 9, 17, 7:01 pm
Join Date: Mar 2011
Posts: 2,781
Thanks for the report.

When did BA bring back the amouse bouche?
Apr 10, 17, 11:17 am
Join Date: Dec 2006
Location: in a cabin
Posts: 6,090
Not sure if there is extra training, but I know for certain they roster the most experienced crew from the WW fleet (legacy BA crew from the old days).
I dread the day they go for Mixed Fleet on JFK.
Apr 11, 17, 1:18 am
Join Date: Jun 2016
Programs: BAEC GGL
Posts: 417
Really good TR. I'm relishing my first First in a couple of days, same aircraft and same seat!! Making me even more excited which I didn't think was possible
Apr 13, 17, 2:13 am
Join Date: May 2015
Location: ATL/MCO
Programs: SAS Silver, Finnair Gold, Starbucks Gold and statusless elsewhere
Posts: 2,927
Thanks for sharing! Nice to see you enjoyed BA F as it's a product people complain about.
Apr 24, 17, 9:11 am
Join Date: Dec 2006
Location: in a cabin
Posts: 6,090
Sorry for the late update...
Immigration at T7 was a bit slow as mentioned. Thankfully being first of the plane mitigated that. However, it could not save me from the horrific sight in the snaking lines: a couple with a "dude" and his "wife" wearing matching t-shirts in dark pink with his having "The King" printed on it and the female "His Queen".
Stay classy, wherever you are from. (I realise this is judgemental but won't apologise. It is such a faux pas!)
I headed straight for Tribeca to meet up with some buddies watching the EURO Championships. Temperatures in the 90's so the beers kept coming.
We then headed to my mates condo in Hells Kitchen, not far from where I used to have a place. The views from this Manhattan area are spectacular as, for now, it still isn't packed with sky scrapers.
Looking East over Manhattan towards Long Island. Some of the roof top terraces on Manhattan condos are magical!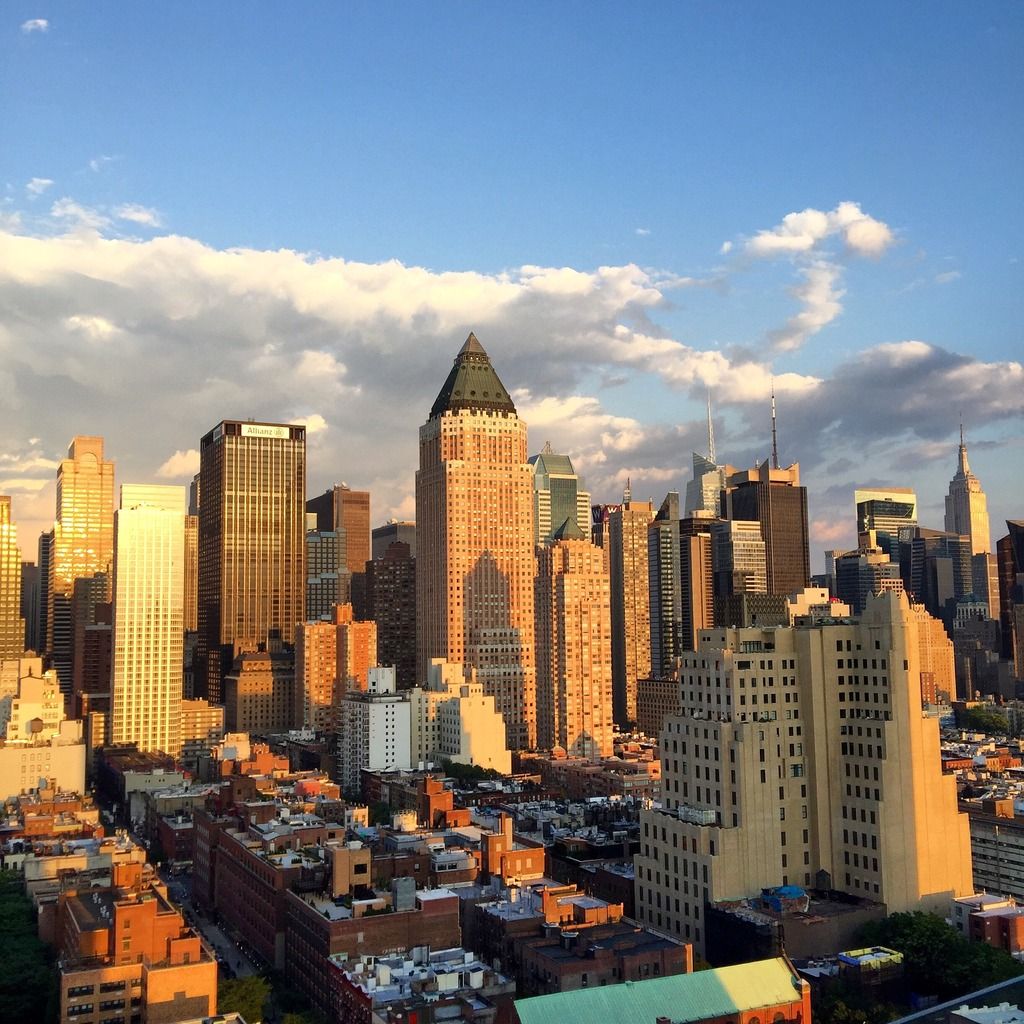 Looking west over the Hudson.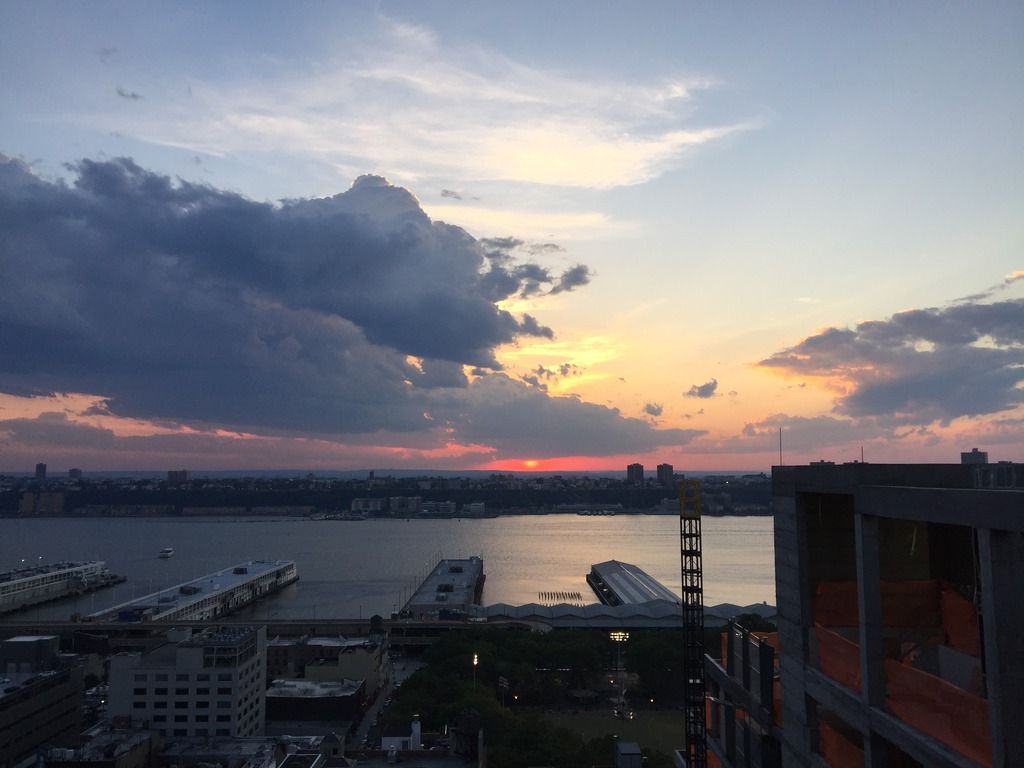 As per usual, every single time when in New York, a table was reserved at Peter Luger in Brooklyn. I still haven't found a place that makes better Porterhouse in the US or Globally. This would be my friends first visit and he agreed, it is marvellous.
After a long day of serious amounts of drinking but most of all eating it was time to hit the bed.
Sunday consisted of meetings and lots of shopping.
Bedroom view.
Strollin. I absolutely love walking around Manhattan.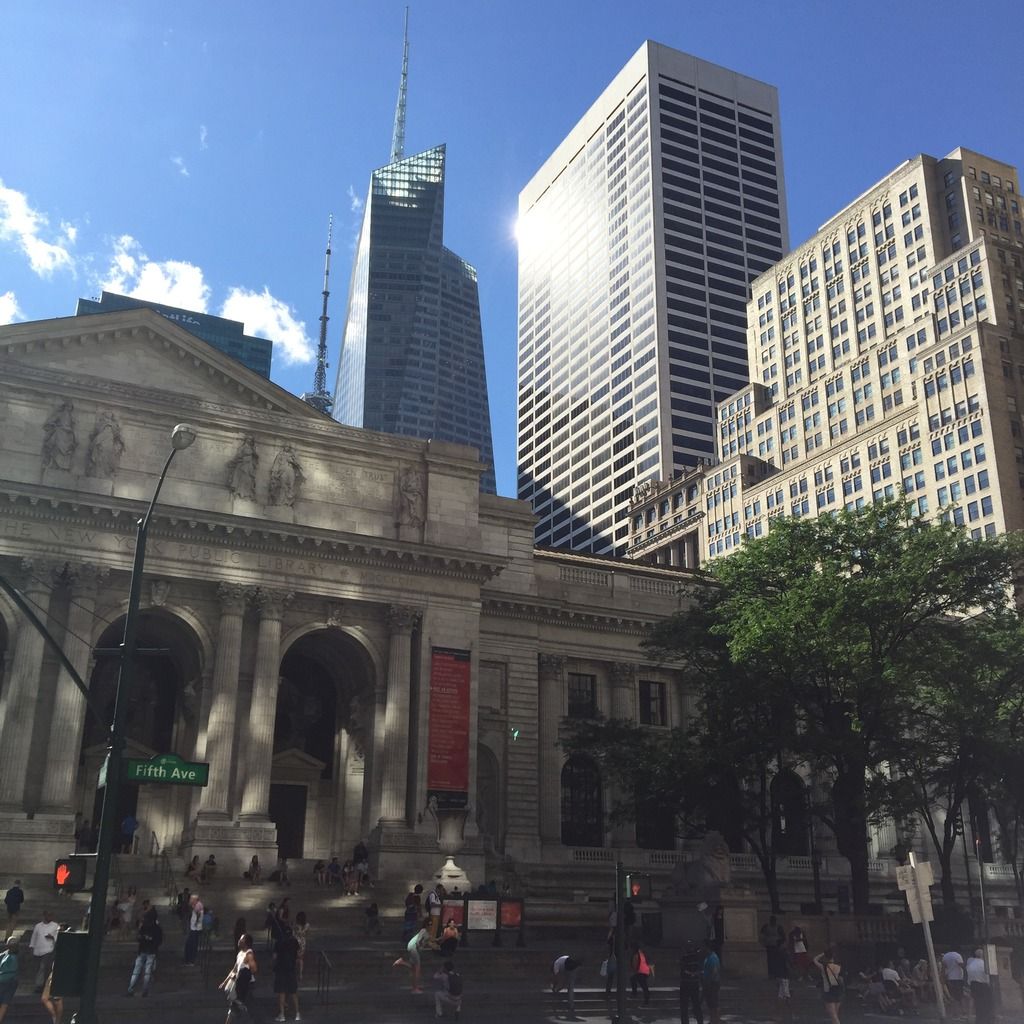 I saw a huge crowd of NYPD officers just standing on the corner of Madison and low 50's. Not sure what was going on, probably preparing for training or some such. Anyhow, I thought that if I could get a photo of myself with all of these fine officers my kids would freak out and think Dad is actually pretty cool.
The result.
Sunday lunch also meant a Sweden game. It is awesome being in the US watching European sports as you get all these lunch matches.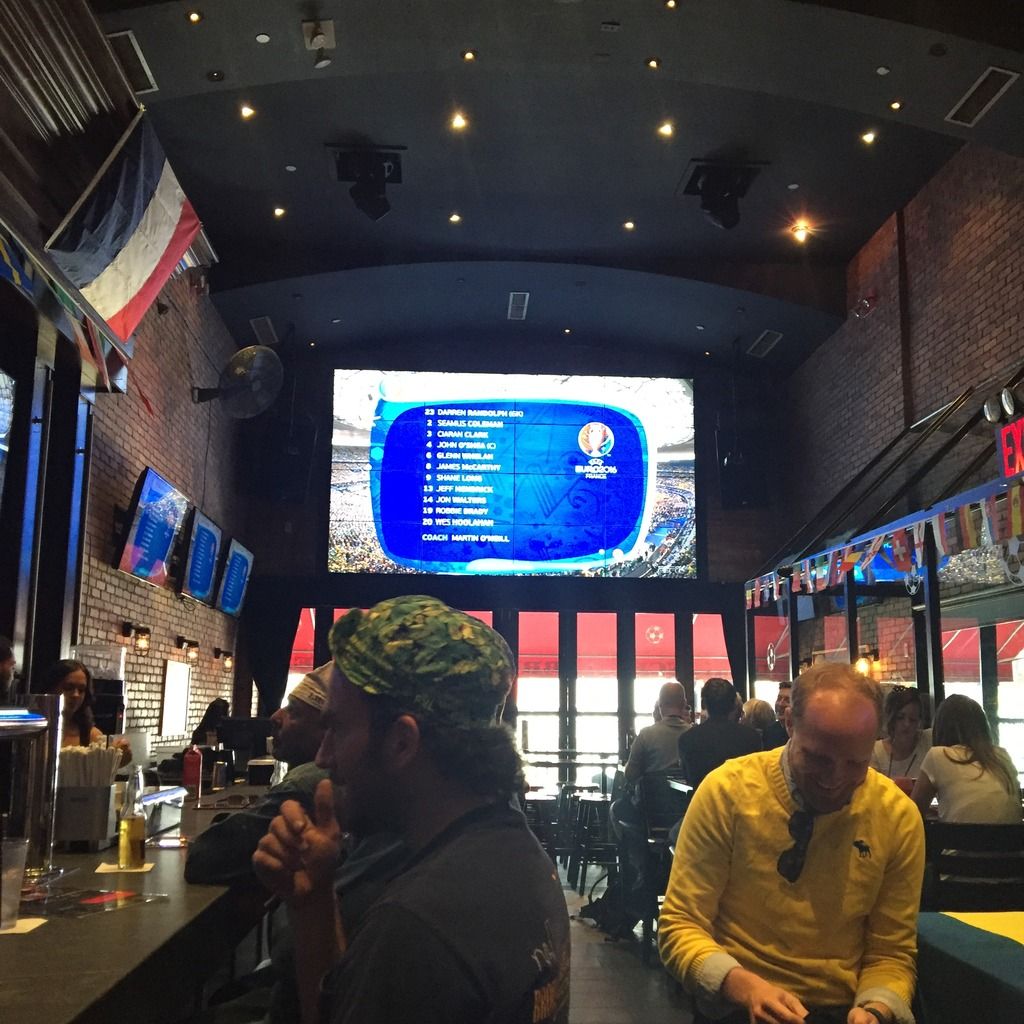 Monday arrived for a late night flight back, in Traveller. That is Y class.
Did the business and decided to not take a cab due to traffic mayhem but jumped on the Subway from Midtown all the way to Howard Beach and then the Air Train. First time in over 10 years. It actually worked quite well and took just over an hour. Met a lovely man on the train who I chatted away with.
There was a bit of a line at JFK T7 security but then I quickly found myself in the Gold/Emerald lounge for supper and some bubbles.
747 didn't seem to busy looking earlier so I was hoping I could snag a middle row of 4 seats to myself, making a fairly comfortable bed.
Upon boarding, I had the pleasure of meeting possibly the best BA CSD (Cabin Service Director) ever. She instantly greeted me by name, having expected me and said that "while it is not First class the flight is not so busy so I will come down once seat belt sign is off and make sure you get a row of four".
Wow.
How about that for pro-activeness.
She did arrive as announced and I got a row of four. Took a sleeping aid before boarding so passed out soon after. Woke up 50 minutes prior to landing feeling okay. Skipped the horrific "breakfast" as I would be connecting to ARN in a few hours with time to eat properly in the F Lounge.
So while it was a very good Y experience, the knowledge of having the next trip to NYC with both sectors in F made me feel even better. This time shared with Mrs Petrus, for one of our annual kid free trips.
Next up, more B F.
Apr 25, 17, 8:27 pm
Join Date: Dec 2003
Location: Charlottesville, Va. USA
Posts: 1,350
Looking forward to the next segments in F. I will be flying ba f jnb/lhr in oct. Was a little concerned given some of the negative comments about BA F but you have restored some optimism.

Thanks
Apr 27, 17, 1:41 pm
Join Date: Jun 2012
Location: Toronto, Canada
Programs: Aeroplan Airmiles AMEX-MR Alaska Airlines
Posts: 481
May 3, 17, 5:01 am
Join Date: Dec 2006
Location: in a cabin
Posts: 6,090
May 3, 17, 6:21 am
Join Date: Dec 2006
Location: in a cabin
Posts: 6,090
Cue forward some 2 months and it was time for another trip to the Big Apple.
This time in company with my adorable,(mostly) fantastic better half.
We try to do one or two long-haul trips on our own each year in a Premium cabin. On this occasion I had managed to grab two F return points (Avios) tickets from ARN via LHR to JFK over a long weekend in late august. Perfect.
This was a trip I thoroughly looked forward to. With three young boys at home after wonderful but also tiring summer with them we felt this was a deserved break together.
We were on the lunch flight out of ARN to connect on a late afternoon 747 across the pond, giving us (her) time for some shopping at Heathrow while I would explore the wines on offer in the Concorde Room.
As usual crew on the better side. In 2016 alone I probably did 50 sectors in Club Europe between ARN and LHR with consisently good to excellent crew.
Mrs P finishing off some work before going on to the Champagne.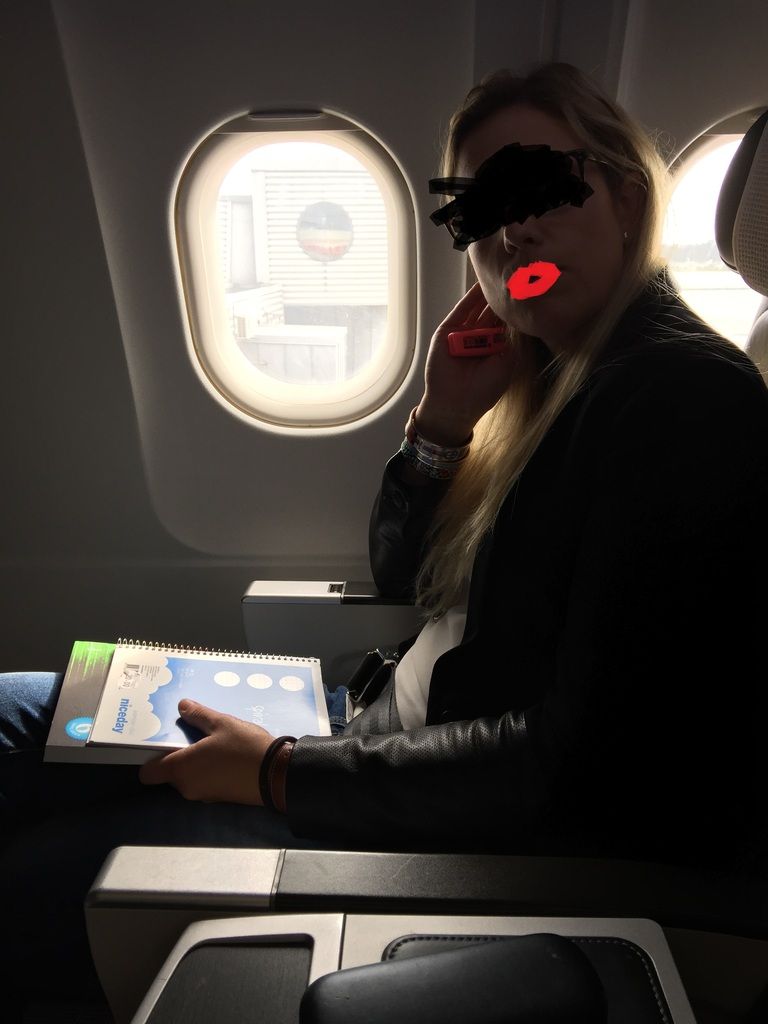 Lunch is served. Duck. Edible, that's about it.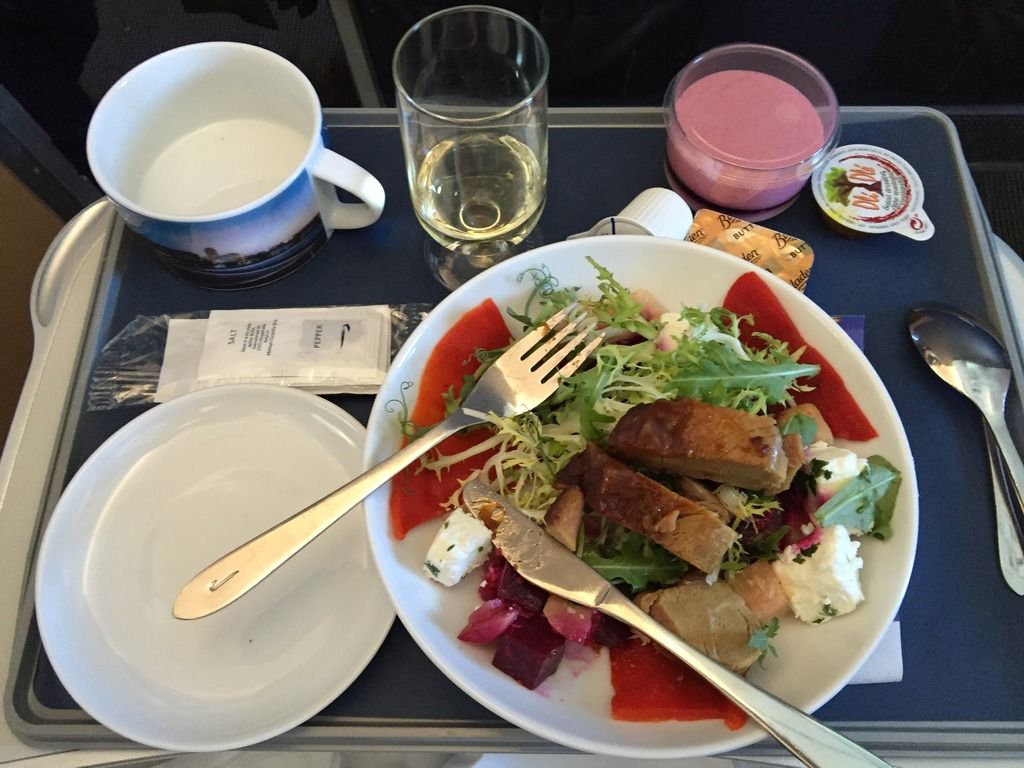 Concorde Room was pleasant. Place is getting tired in places, but service and staff up to good standard and one of the Polish ladies that I know from earlier visits looked after us.
Mrs Petrus opted to skip on a second lunch. Wines and Champagnes though was another matter.
Time flew by and I also had to run down and get some essentials for the trip. Mostly some twin-packs of the Perrier Jouet Grand Brut which we find very acceptable Non-vintage bubbles for everyday quaffing.
As usual boarding to JFK was from a B-gate and we headed out on the automatic train. Boarding was quick with Fast Track properly enforced and some stressed out Club/Business passengers tried to push past to which I politely asked if they are in a hurry? I suppose we're not going to leave without you. As we came down the jetty and we were turned left, escorted by crew into F, there were loooong glancing looks from the aforementioned pax.
We knew instantly we were in for a treat on this flight. Three super professional yet humorous ladies looked after the F cabin today. Occupancy was about 60% with 8 out of 14 seats taken. All PAX appeared relaxed and zero DYKWIA tendency. Every one as far as I could see opted for a glass of Champagne (LP Grand Siecle).
I was in 1K and Mrs P in 2K. 1A had been taken for a while (by it turns out after about half way of the flight a lovely gentleman who we later ran into in NY by coincidence). More on that later.
Mrs Petrus in a jolly good mood about switch into slippers. She begged me to not publish a photo with her feet visible... hence the art work.
Yes. 1K on a 747 to New York. Have I mentioned this is one of my favourite spots in the World? The LP Grand Siecle went down well in the summer heat.
Back to 2K for some chit chat and just taking in the good looks. Plane would be stuck on the ground for another 20 minutes. We also got chatting to two ladies sat in 4EF. Best buddies for 45 years, finishing off a trip to Europe together. They were super cool and nice. Hats off!
After some more bubbles it was time to depart so headed back to 1K and the excitement built up for the special feeling of taking off in front of the cockpit, hearing the RR engines scream
Here's an old video from BA's previous F cabin where you hear that amazing RR sound:
A great flight and more on New York coming right up. Thanks for reading so far!