TAAG (DT): LIS-LAD-WDH and return
Dec 7, 16, 6:35 am
Join Date: Jul 2005
Location: somewhere between Europe and Africa, from SFO
Programs: A3*G, EY Silver
Posts: 7,790
TAAG (DT): LIS-LAD-WDH and return
---
TAAG was having a promo for going to southern Africa from Lisbon, including Mozambique, Namibia and South Africa. I booked LIS-LAD-WDH-LAD-LIS for a total of 280€ in Economy.
Both of the long-haul flights were redeyes on a brand-new 777-300ER, with what looked like 36" pitch all over economy in 3-3-3 config, and a new Android-based IFE (though the IFE did not have too many movies or TV programs). J looked like it was in 2-3-2 config with lie-flat seats, and F seats were also lie-flat.
LIS-LAD
I checked in online 24 hours before and got both of my boarding passes. Kiosk check-in was also available in LIS.
Boarding started super early. Visibly-large carry-ons were weighed (5kg limit for economy), but my 1+1 was not checked.
Economy was maybe 60-70% full. After doors closed, I found myself a row of 3 seats in the back.
We pushed back 10 minutes early at 22:50.
Dinner (good catering from LIS) was served 30 minutes into the flight. Standard drink choices, with beer and wine available. Coffee was of the instant-coffee type, and tea was some weak herbal stuff which was not drinkable. Sugar was handed out only one packet per customer, and when someone asked for a low-cal sweetener instead of sugar, they had to give back their sugar packet.
I managed to get some shuteye for 5 of the 7 hours of flight time.
A measly breakfast of a bread roll, a crossaint, and butter and jam were also served.
After landing in LAD, Y pax disembarked using the rear door, while premium pax exited through the front (something that seems to be true for TAAG whenever both exits are open). Buses took us to the terminal.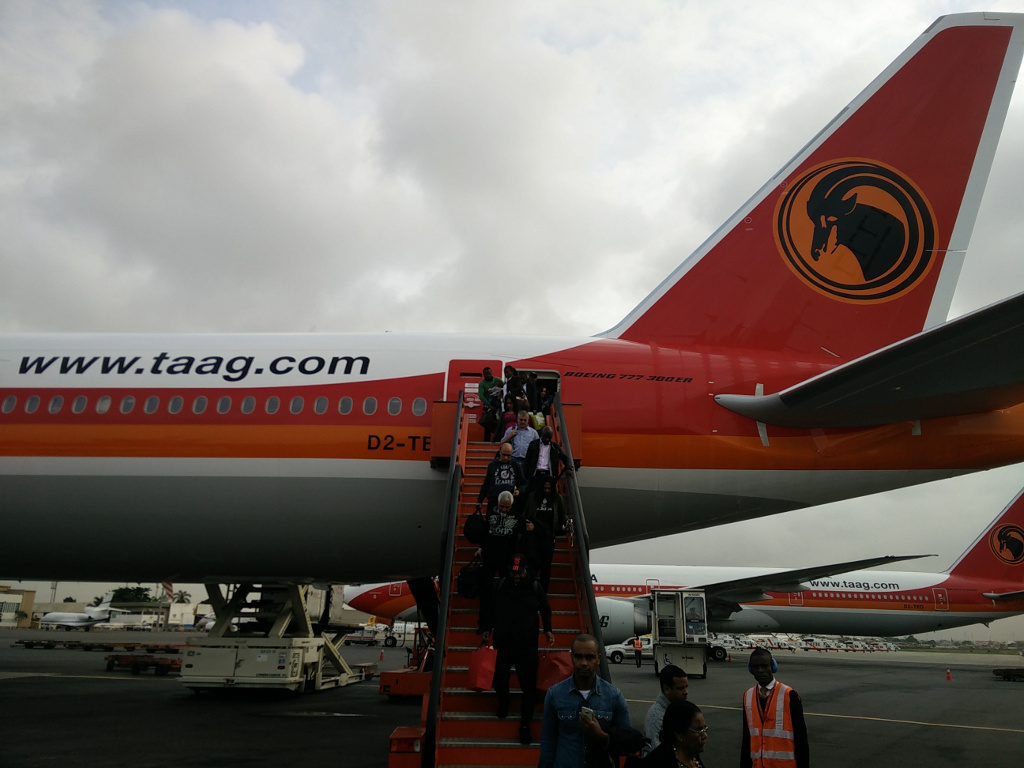 After a brief stop at the transfer desk and a brief security check, I went upstairs to find a priority pass lounge to spend the next 2.5 hours in.
The lounge had no food, and mostly alcoholic drinks and working internet. I was warned about lack of aircon at the airport, but found it to be not any warmer than a southern European shopping mall in the summer.
LAD-WDH
"Boarding" started an hour prior to departure, where everyone was escorted into the departure lounge for gate 3. The airport only has 4 bus gates. What is shown on the monitors does not match reality.
The TP LAD-LIS that was departing an hour before my WDH flight had its gate changed 3 times during the boarding process.
Finally 45 minutes late we boarded a bus to the 737-700. Checked bags were on the tarmac, and pax had to point out theirs when disembarking the bus. The bags were then promptly loaded onto a cart, and onto the plane.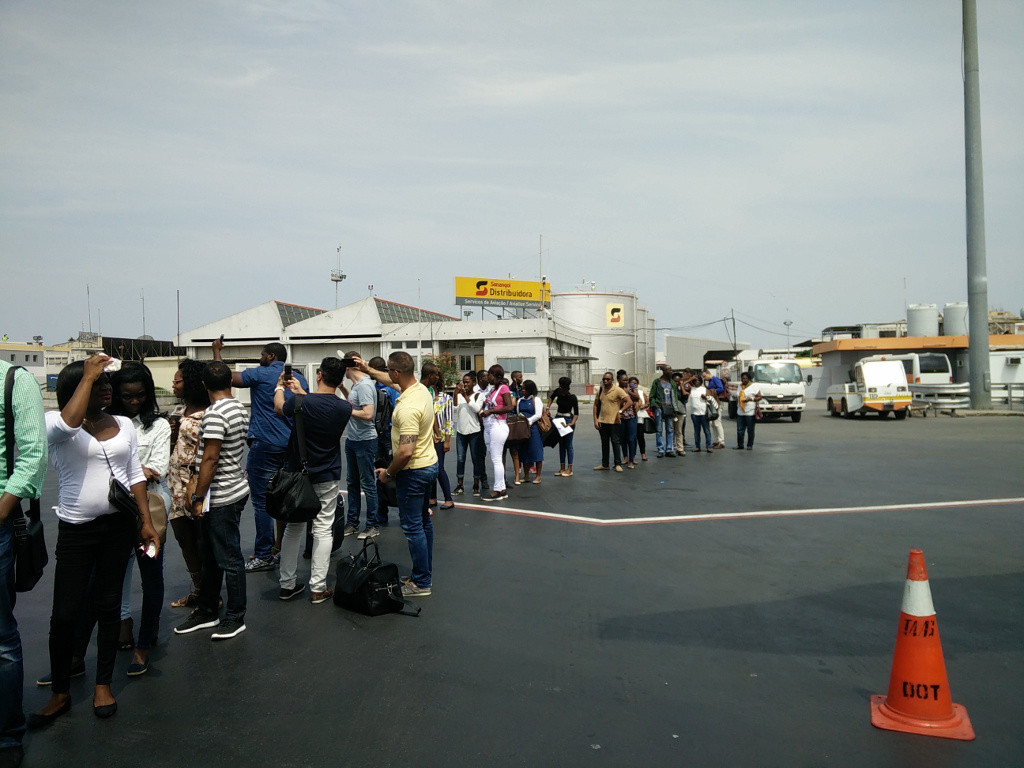 The 73G plane interior was a bit dated (partly due to the gray seat covers) and it could use a nice deep clean. It reminded me of US planes back in the day
Overhead IFE was playing some videos (without sound).
Again, Y pax boarded from the rear, F pax from the front. F seats were like US airline domestic seats. When I gave the FA my
log book
, she got really excited. This was the only FA that was in any way interested in providing good customer service during the trip.
We pushed back and arrived in WDH an hour late. A full warm meal was served during the 2-hour flight, with the same set of drinks available.
After landing at WDH:
WDH-LAD
After returning the keys to my rental car, I went to the check-in, which was staffed by Air Namibia personnel. No online check-in was available for this segment, but I did check-in for LAD-LIS online. There is a priority pass lounge available in WDH. It has a nice choice of cold and hot food, and various drink choices. They're renovating the main lounge, so they had to move the lounge to before passport control, which was not an issue as there was no line to go through passport control.
The inbound plane was late by 2 hours, but it had a 4 hour stop in Windhoek
, so the outbound departed more or less on time. After passing through the gate, we walked a few hundred meters a la ryanair to the plane, up the stairs. This 73G (D2-TBK) was a convertible 737, which lets the airline convert it from a passenger 737 to a freight one in an hour.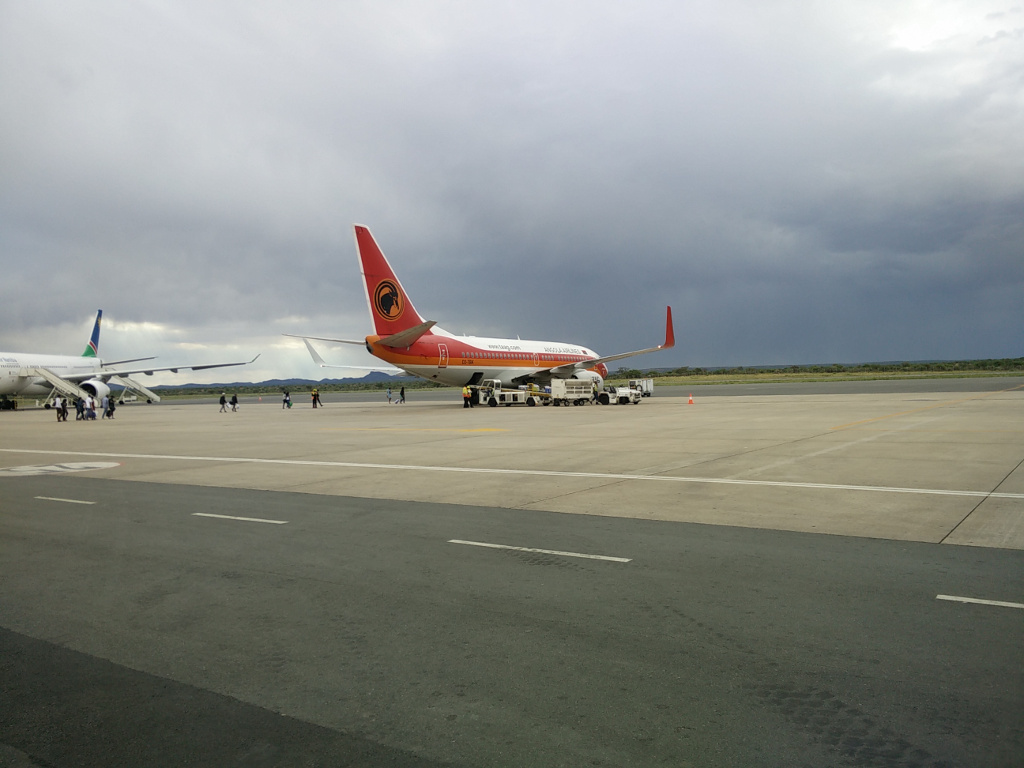 Again, a full hot meal was served in both classes, and we arrived at LAD pretty much on schedule.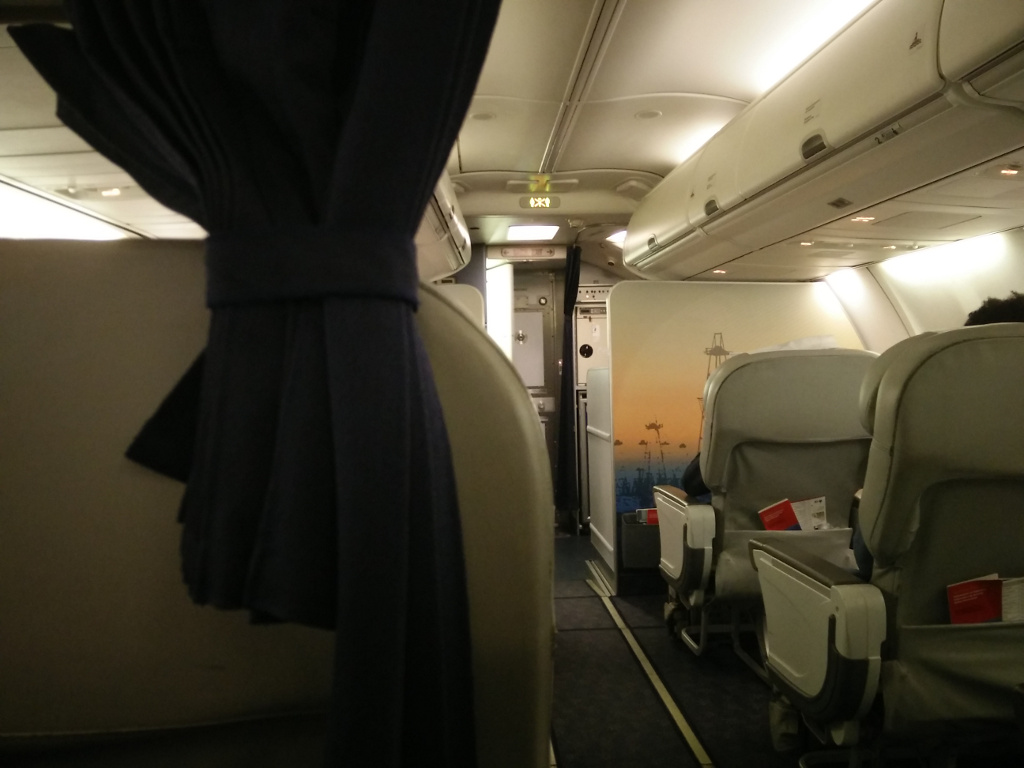 I had a 5-hour layover, and got myself a transit visa to go outside to meet some friends for a few beers.
I did not print my BP for LAD-LIS, and there was nobody at the transfer desk. The foreigners line was almost empty and I was quickly through passport control, and then had to get my bags scanned through an xray at customs. All in all I was out in 10 minutes tops.
LAD-WDH
Before leaving for drinks, I got a BP from the check-in counter, which just opened. Yes, people were queueing up 5 hours in advance.
Got back to the airport 90 minutes prior to boarding. The screen was already showing "boarding" even though boarding would not start for another 45 minutes.
After going through security and passport control, you also had to talk with the customs guys, who ask if you're carrying large sums of money, or ANY kwanzas (local currency). I didn't have any of that, and off I was to the departure lounge.
Boarding started 45 minutes prior, where we were let into a waiting area, and then put onto buses.
Economy was maybe 70% full, but I got lucky with an empty middle. We were about 30-35 minutes late pushing back. I was a bit worried since I only had 2:05 to make a connection on a separate ticket in LIS, and that connection would require going home to change clothes.
When we started pushback, I passed out from exhaustion, and woke up 4 hours into the seven hour flight.
Breakfast was served an hour before landing. I managed to talk my way to let me exit with the biz class pax.
We landed at 6:25 (instead of 6:10), 10 minutes to taxi, 10 minutes for the bus to get to the terminal, another 15 minutes to get through passport control and get to the curb (around 35 minutes total). I caught a taxi at 7:00, and at 7:30 I was back at the airport in a suit and tie, ready to go on another work trip.
Overall impressions
The long-haul hard product is good, but the cabin crew is not really interested in providing service - made me appreciate normally indifferent TP FAs. The food was quite decent.
Don't expect the short-haul flights to be on-time.
LAD is a mess, though not as much of a mess as I expected, probably due to low number of flights.
Also check out
this thread
---
Last edited by Palal; Dec 7, 16 at

4:41 pm
Dec 7, 16, 6:53 am
Join Date: Jul 2005
Location: somewhere between Europe and Africa, from SFO
Programs: A3*G, EY Silver
Posts: 7,790
I applied for a transit visa at the LIS consulate. It took 8 working days (+ the day you applied) to get it, and it was valid for a single entry of up to 5 days. If you have a good reason, you can get a double-entry transit visa. The cost was something like 30€ (as opposed to 130€ for a tourist visa).
Dec 7, 16, 11:30 am
Join Date: Dec 2001
Posts: 3,136
Good to know about their low fares.

I saw one of their planes in Cape Town. Our bus had to wait for them to pass us by.

I also met on the Rovos Rail an ex Air Angola steward. Because they were unable to find English speaking crew they were hiring South African crews. But he did not stay long with them.

We met a Portuguese couple who live in Angola. They said there was nothing to see in Angola itself.

Yet my Dad's cousin visited about 40 years ago and said she like it.
Dec 7, 16, 4:37 pm
Join Date: Jul 2005
Location: somewhere between Europe and Africa, from SFO
Programs: A3*G, EY Silver
Posts: 7,790
Sorry, I was extremely tired on all flights and was too lazy to take many pix. The Y seats were more than comfortable for Y, with a very generous recline.
FAs' English and friendliness leaves a lot to be desired.
Angola - unless you have things to do there, I'd skip it.
Dec 7, 16, 10:13 pm
Join Date: Mar 2001
Location: Austin, TX -- AA PLT 2.8MM+ (life PLT); IHG PLT Ambassador; UA Gold
Posts: 5,448
Originally Posted by
Palal
I applied for a transit visa at the LIS consulate. It took 8 working days (+ the day you applied) to get it, and it was valid for a single entry of up to 5 days. If you have a good reason, you can get a double-entry transit visa. The cost was something like 30€ (as opposed to 130€ for a tourist visa).
Sounds easier than my Angola visa! Houston consulate apparently doesn't issue transit visas (and it's always busy with oil workers). Took almost a month to get my visa from there.
I've flown TAAG more times than I'd like
CAB-LAD-TMS-RAI and DLA-BGF
Dec 8, 16, 5:03 am
Join Date: Dec 2014
Programs: OZ Diamond, KE Morning Calm Club, AS MVP, EK Skywards Blue, HHonors Gold, IHG Gold Elite
Posts: 366
The long layover in WDH is to improve connectivity to LAD - LIS flight.

If they turned it round in 90 mins you would have had a further 2.5 hrs in LAD on the return. Whilst you may have preferred this as you left airport, the transit pax probably would not!

The TAAG flights to CPT and JNB also have long turnarounds.

The airline needs foreign currency and even Rands are better than Kwanza.
Dec 12, 16, 2:52 pm
Join Date: Dec 2016
Posts: 2
I have quickly bought a February flight from Lisbon to Maputo (Mozambique) with them for 145€ return as soon as I got notified about the deal ... the more I read about malaria, dengue and others makes me however thinking about not flying it at all
Mozambique requires yellow fever vaccination certificate arriving from Angola, probably even if I go through transit. Have you been vaccinated against this ?
__________________________
facebook.com/errorflights
Jan 9, 17, 9:10 am
Join Date: Jul 2002
Location: London
Programs: BA Gold, LH Sen, MUCCI, Junior Jet Club.
Posts: 7,889
Interesting report! My parents live in the Algarve and the TAAG flight comes directly overhead every morning, despite being 280kms from LIS the flight is nearing the top of climb (30k+ feet normally) and so engine power means you can hear it much more loudly than the other traffic in cruise. It is certainly noticeable (presumably even if the flight isn't full of pax it is heavy from cargo)