SQ / 9W: SIN-BOM-GOI-BLR-SIN with a mix of J and Y with various hotels….
Sep 10, 16, 4:42 am
Join Date: Jan 2016
Posts: 637
SQ / 9W: SIN-BOM-GOI-BLR-SIN with a mix of J and Y with various hotels….
---
I hope my last trip report travelling around West Coast USA was enjoyable to read, well enough for you to be interested in this one anyway.
For this trip, I was lucky enough to visit 3 different places in India staying at a different hotel chain at each one (during monsoon season).
The itinerary in early August was as follows:
Day 1: SQ424 SIN-BOM B777-300 J Class new layout. Hotel Sofitel Mumbai.
Day 2: 9W426 BOM-GOI B737-800 J Class. Hotel Park Hyatt Goa.
Days 3-4: Hotel Park Hyatt Goa.
Day 5: 9W2952 GOI-BLR Y Class ATR 72. Hotel JW Marriott.
Day 6: SQ503 BLR-SIN J Class B777-200 ER.
The day began on a rainy afternoon in Singapore. My journey to the airport took me past some iconic views from around the city.
A blurry picture of MBS…. The rain began to fall not long after this.
Business class check-in area of Terminal 3 was empty. With this being a Sunday afternoon, I did expect a slightly more packed airport.
Time to head out to the back….
A quick visit to the lounge….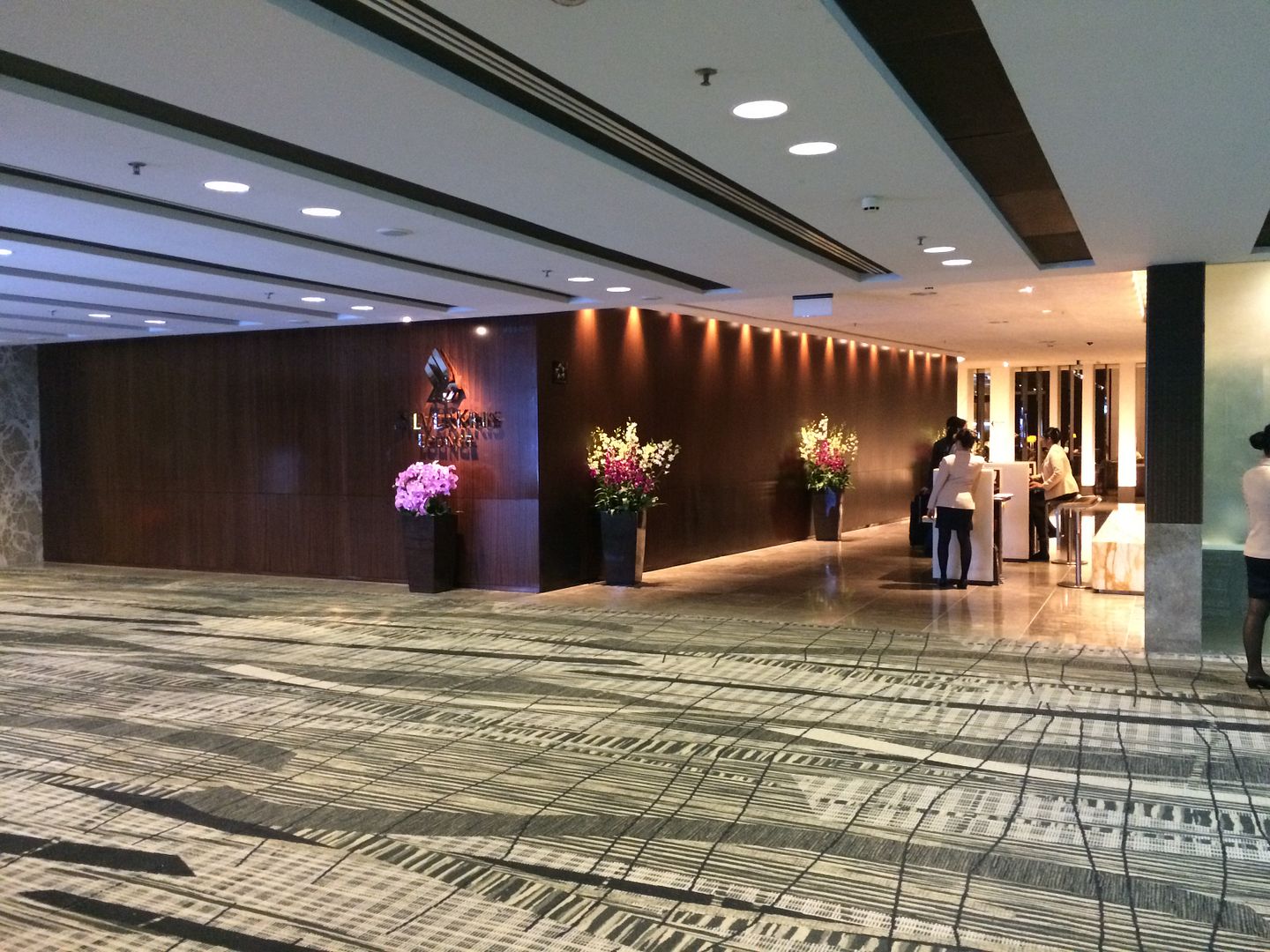 A very empty lounge I must say…...not that I minded.
There are seats inside the lounge that provides good viewing of the transfer area. Unfortunately, no windows to see any birds.
Just to show how quiet this lounge was…...
Food wasn't particularly appetizing so I ended up with chicken wings, meatballs and potato.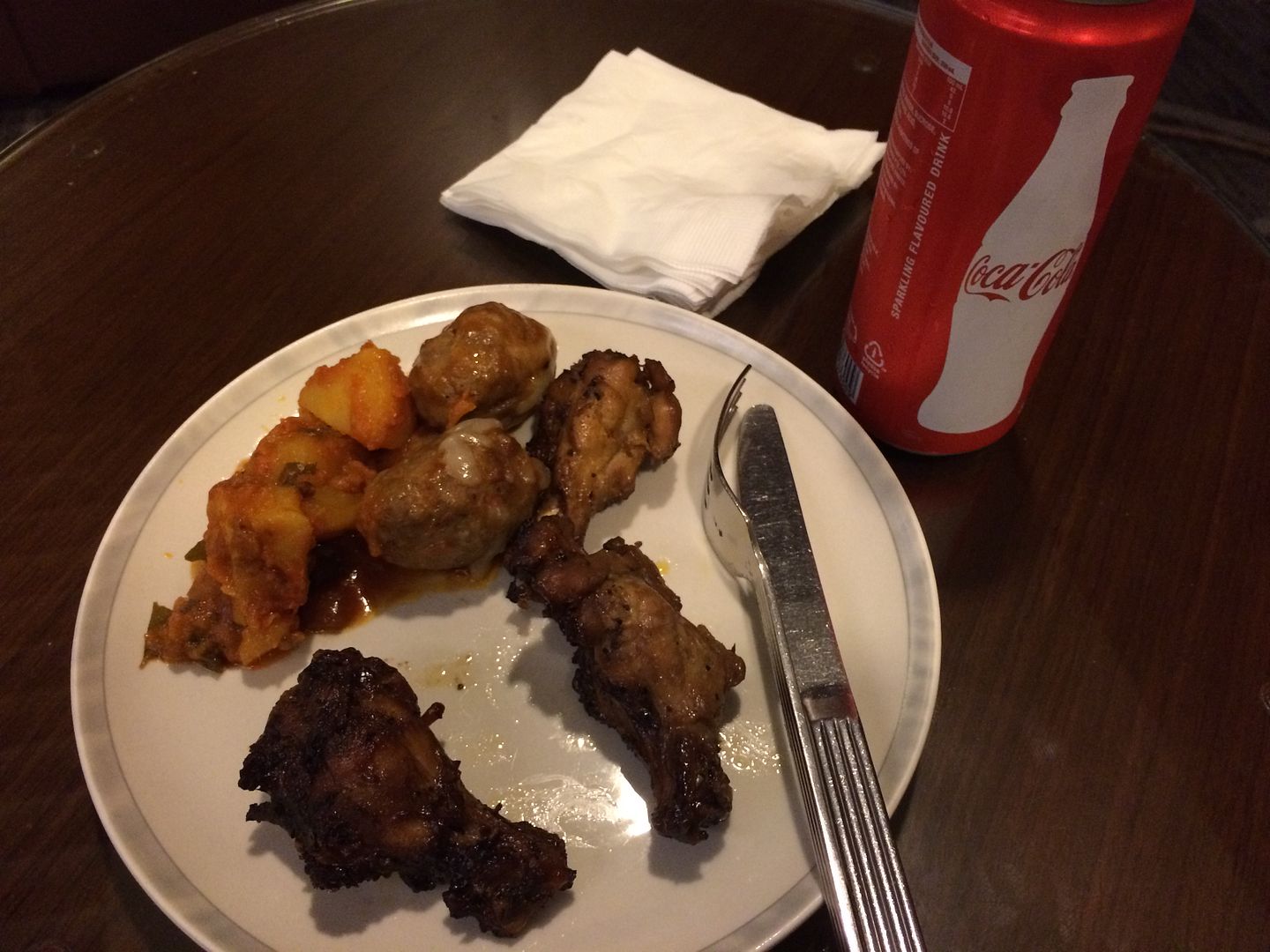 Drinks counter.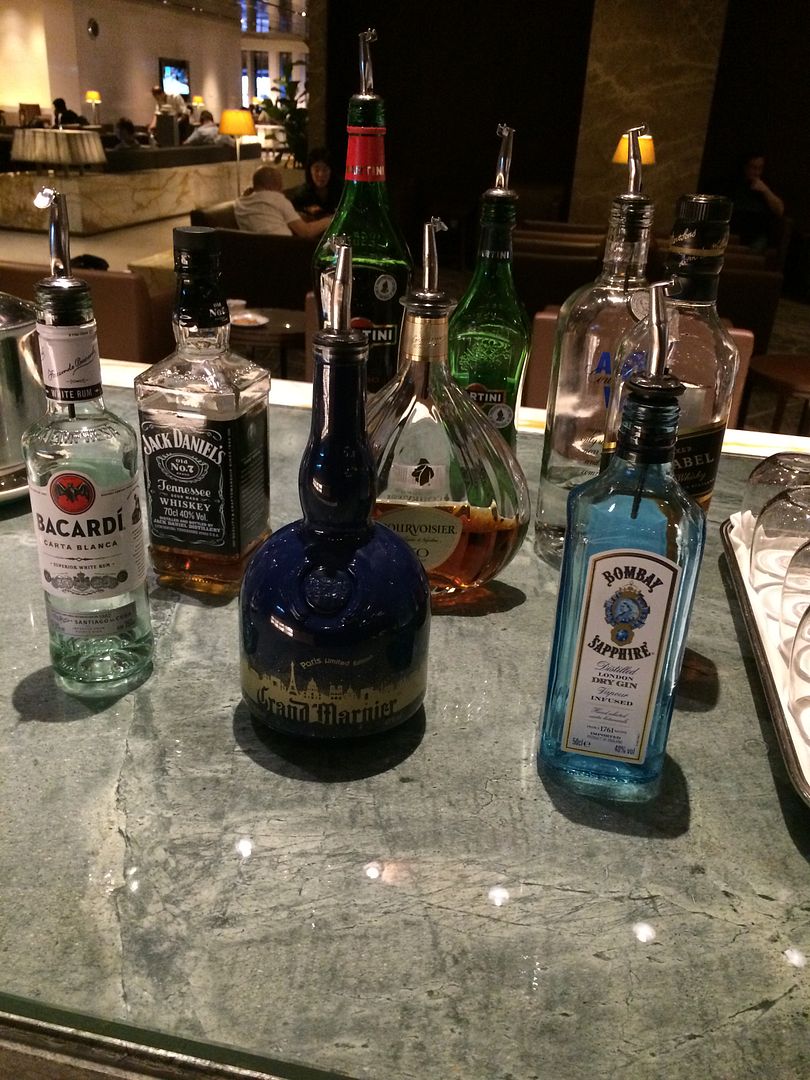 After food, I head to our gate. B10 if I remember correctly.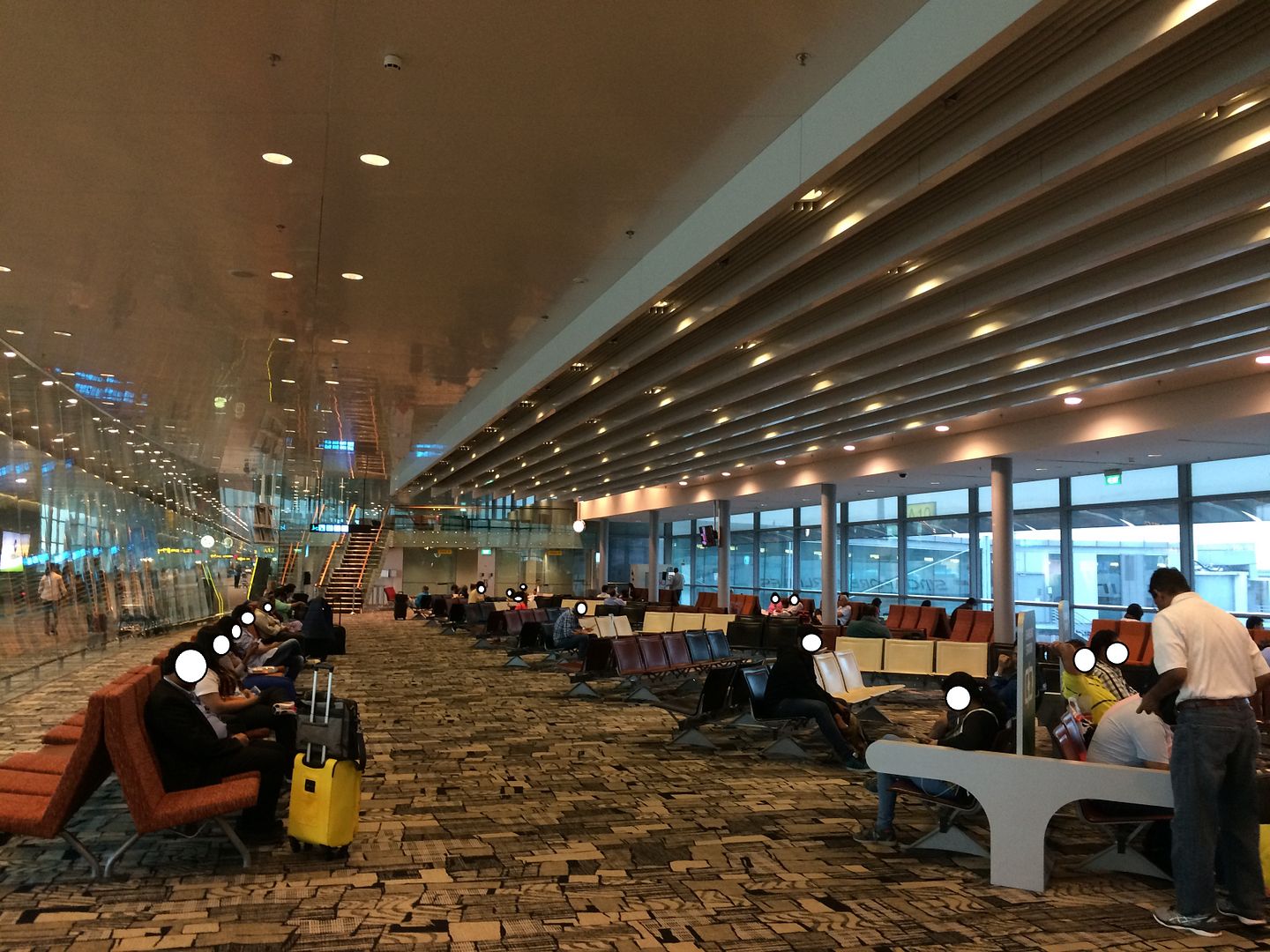 I couldn't get a shot of our bird for the night but I managed to take a shot of the plane parked next door.
Time to board and I make my way to seat 20K.
I didn't realise I would be trying the new J class layout until boarding. Small storage area. Adequate.
Nice touch screen remote…
The bed layout still directs your legs towards the corner. Although the seat is wonderful, if sleeping it can be a little restless.
IFE screen.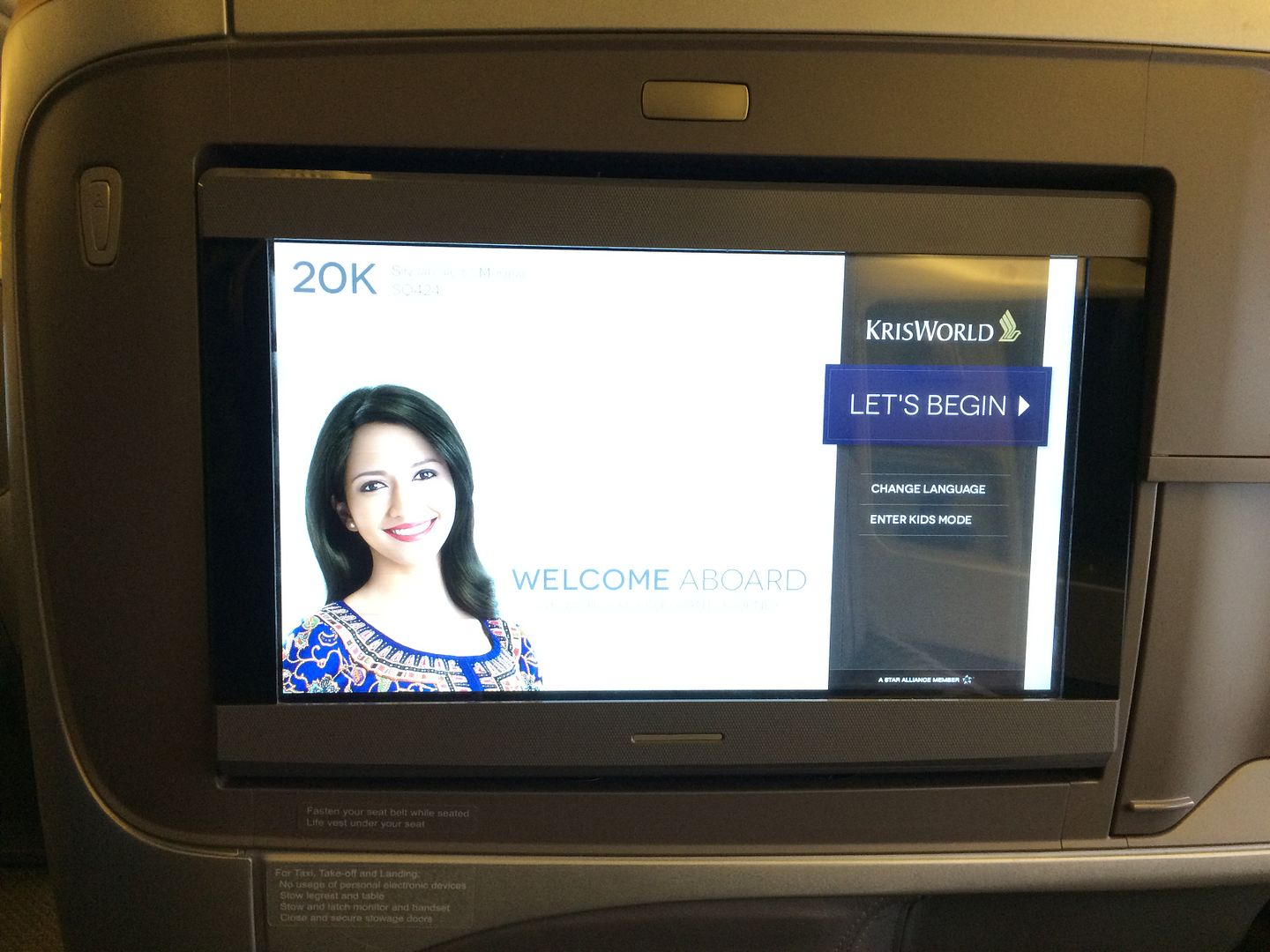 Plenty of leg space.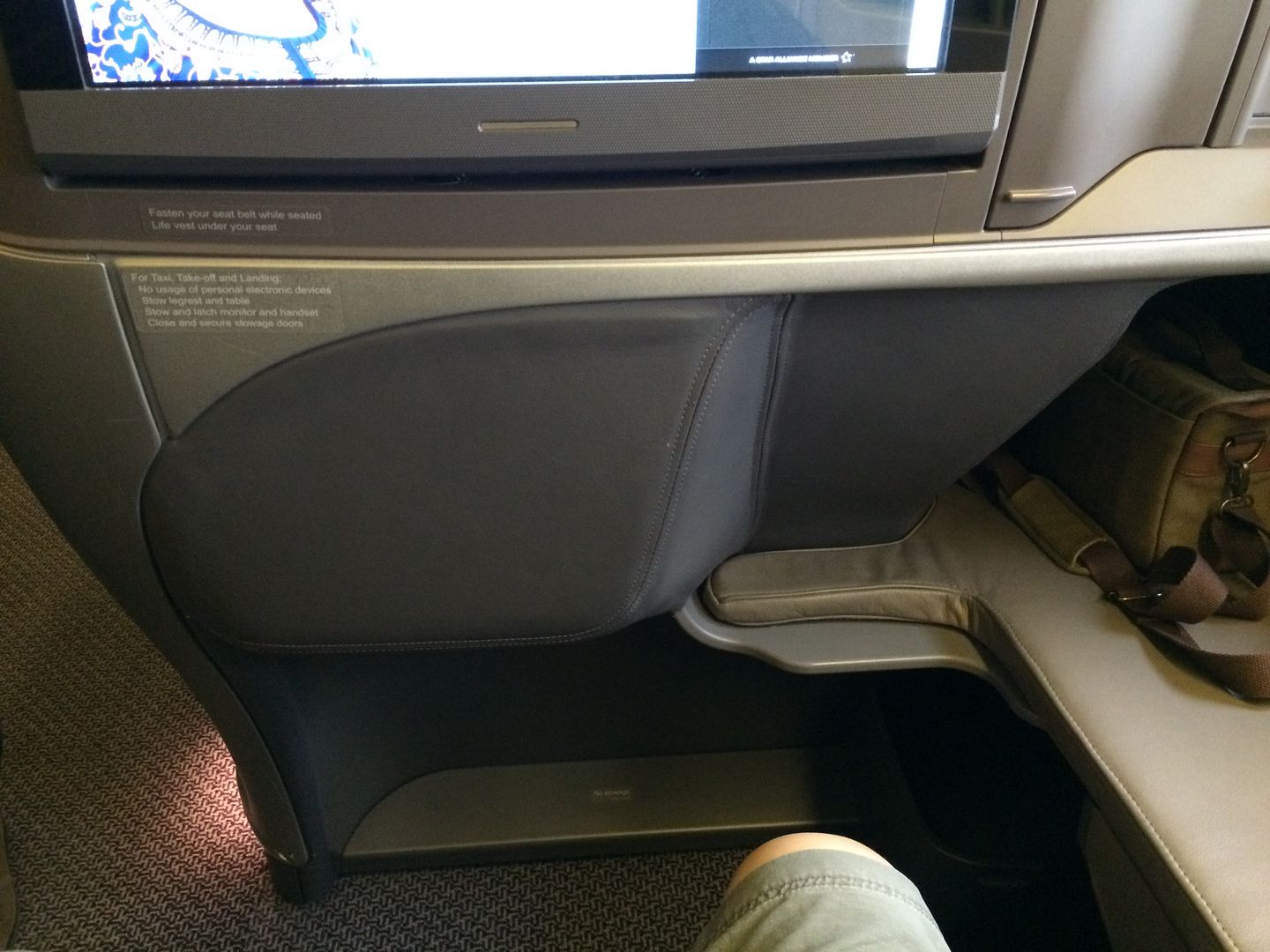 View from the side.
Food menu….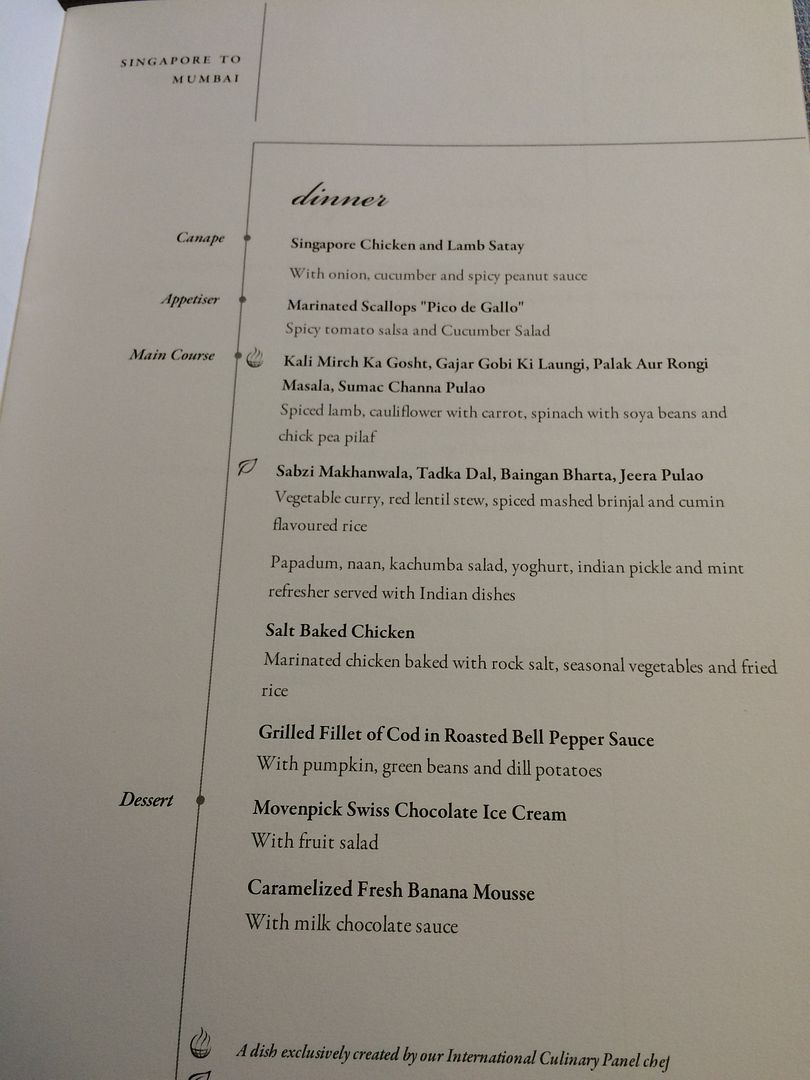 Champagne and wine offerings…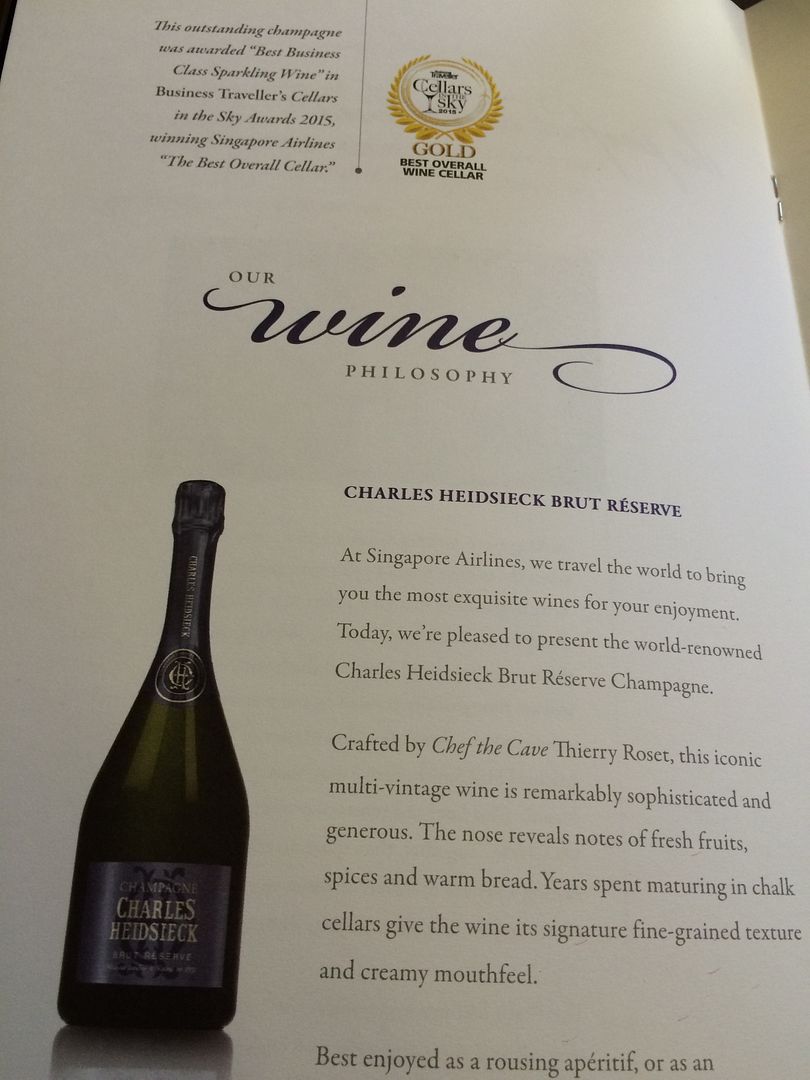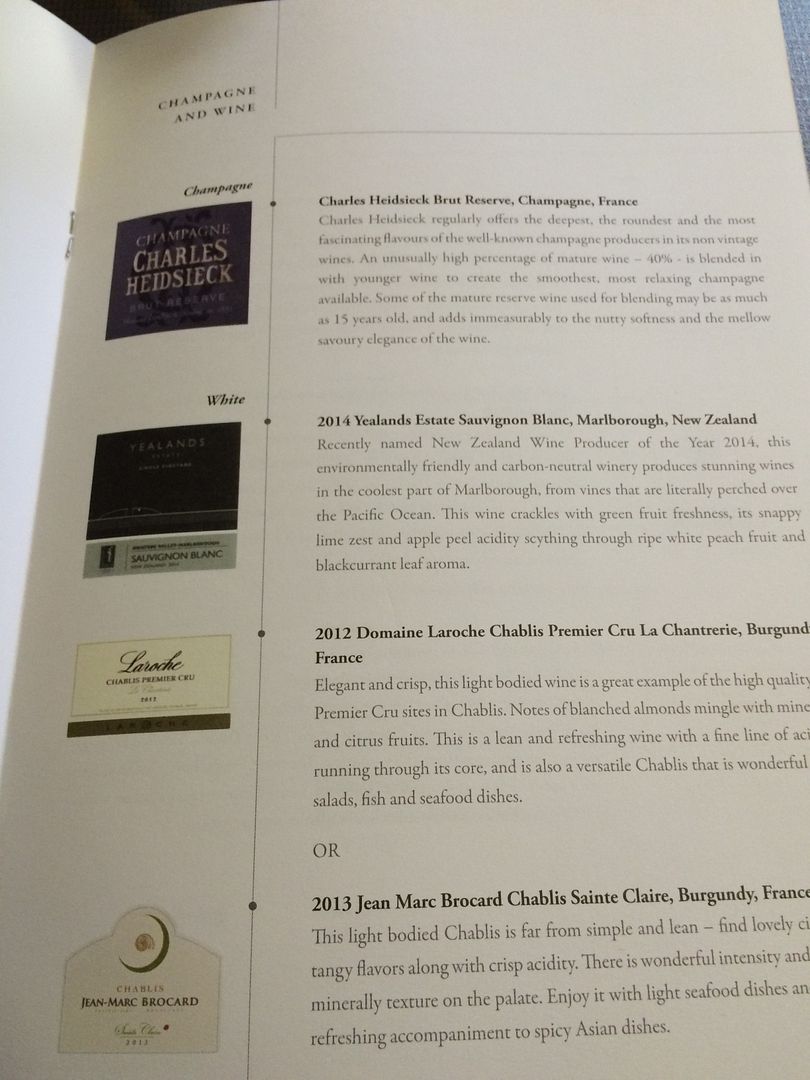 I went for my usual champagne…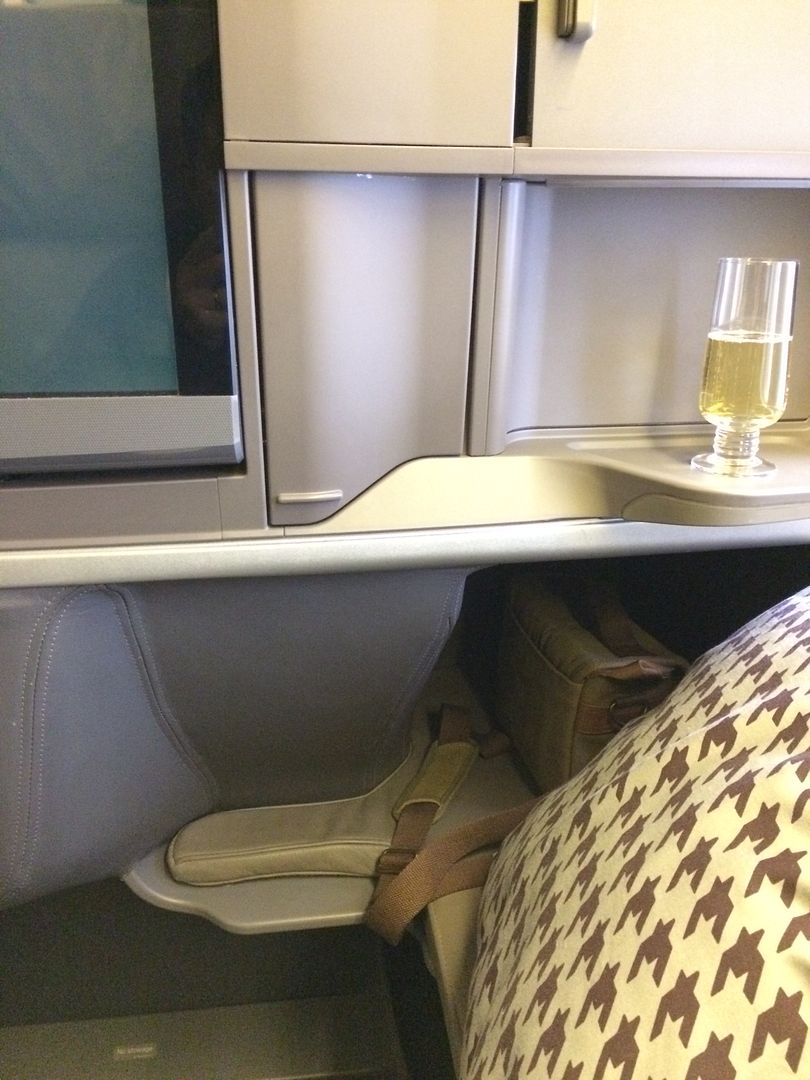 As we approach for take-off I do a little plane spotting, ironic I spot a couple of Jet Airways birds.
Heading off….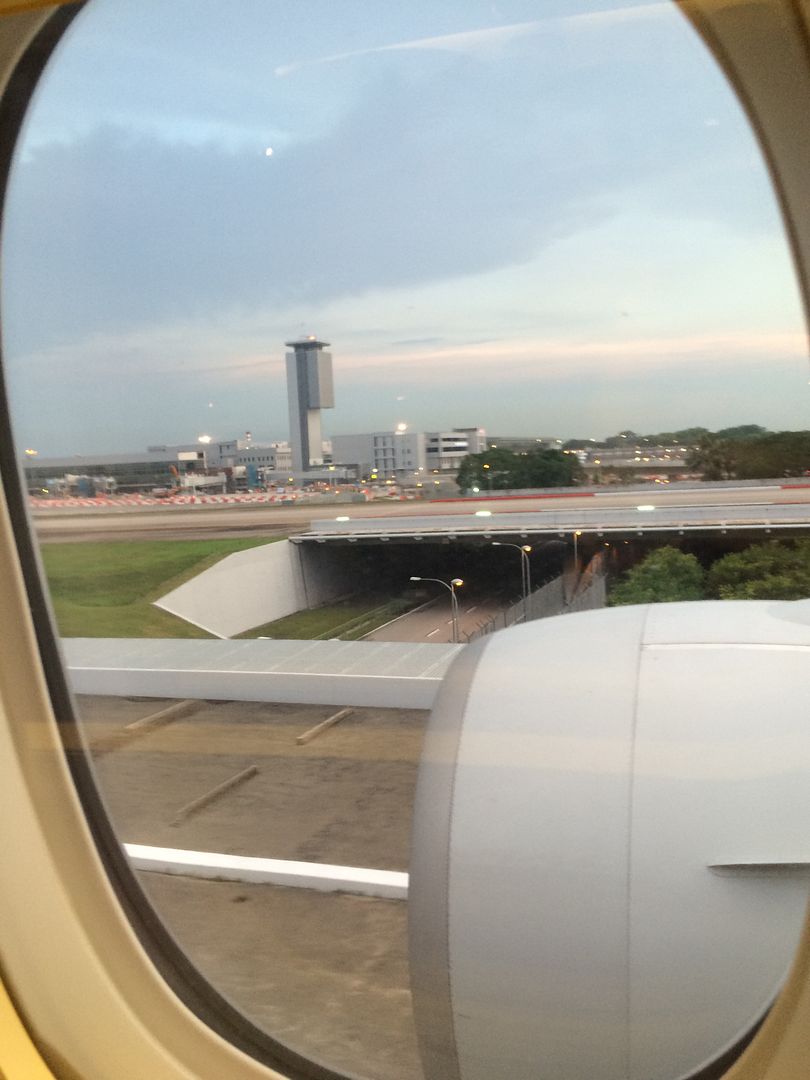 And off we go…
Flight information on SQ has improved a lot.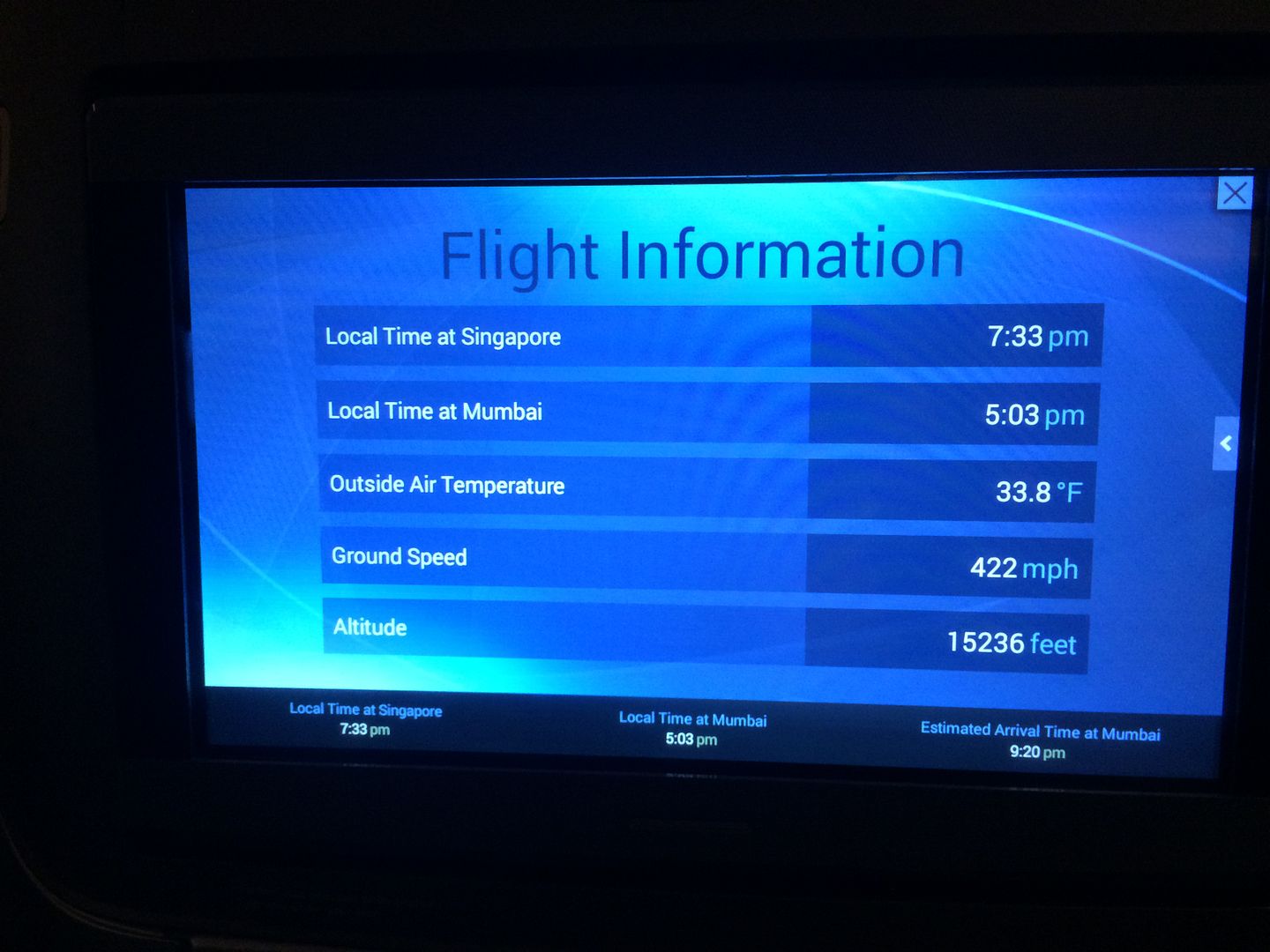 Headset, slippers and socks!
Seat view…
Time for food beginning with the traditional satay!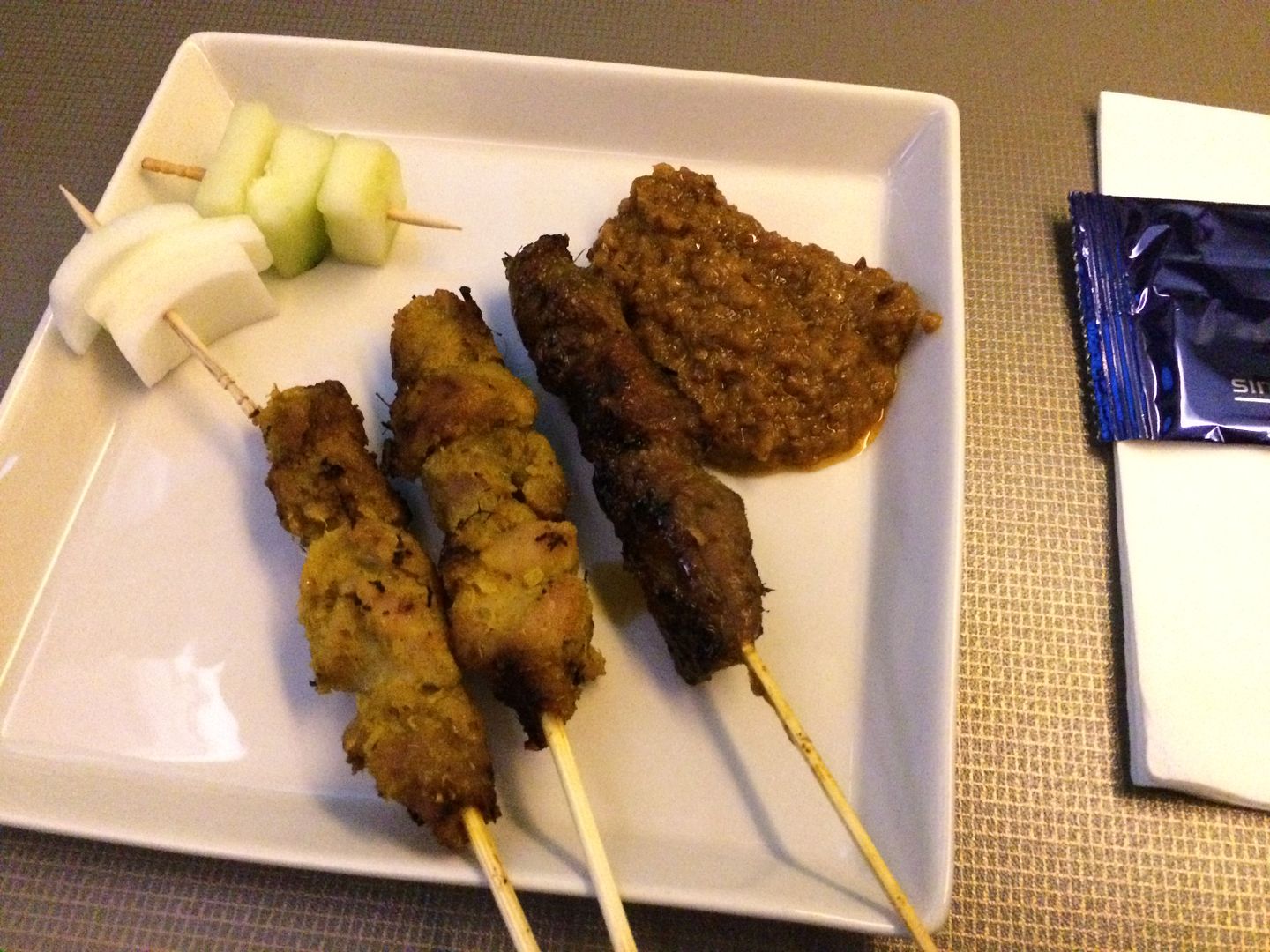 Seafood starter with garlic bread. Delicious!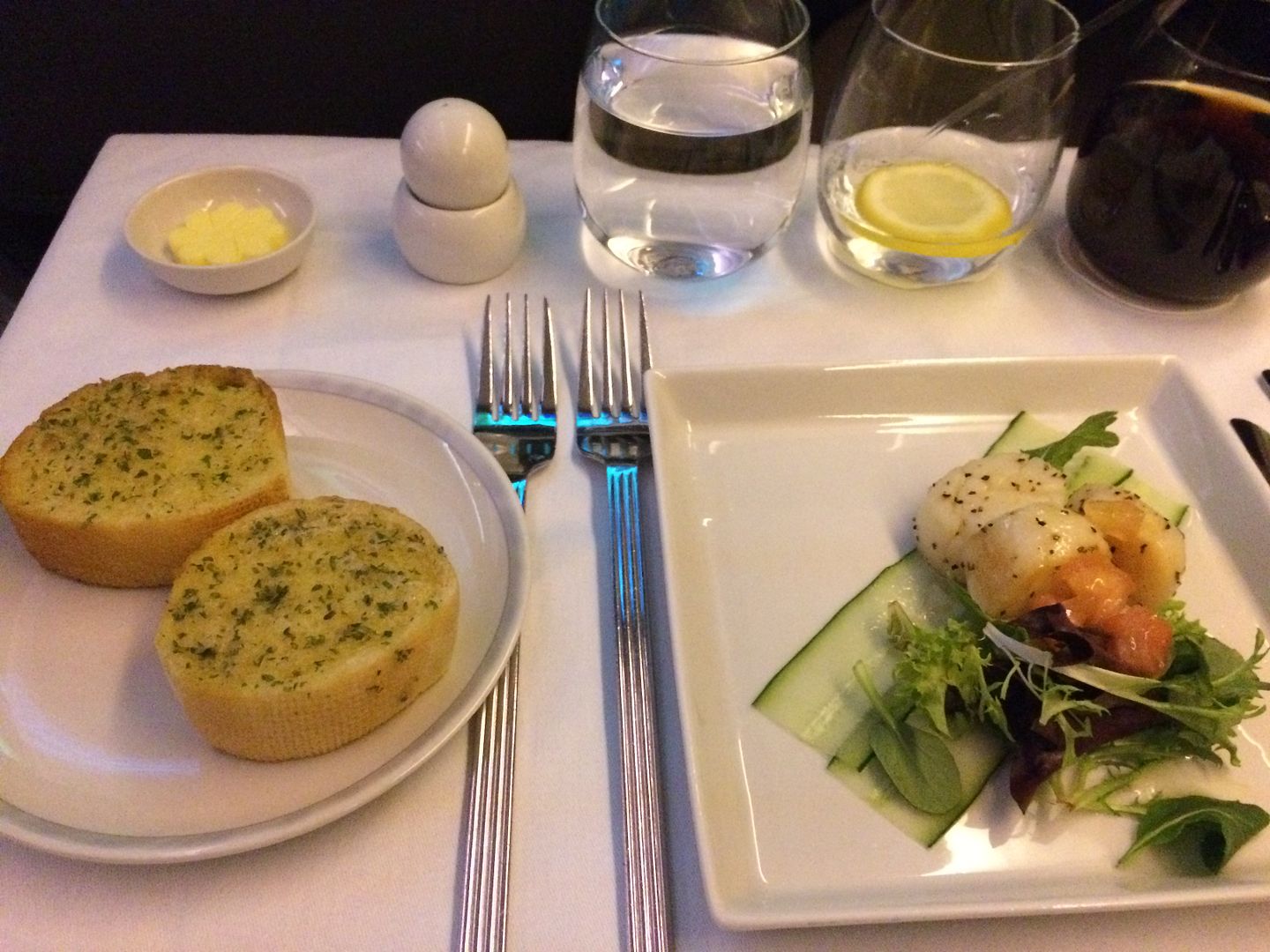 I went for book the cook. Beef fillet with mash potato and roasted vegetables! Great choice.
Ice cream dessert and cheese and crackers! I love cheddar cheese with crackers. I always ask for more.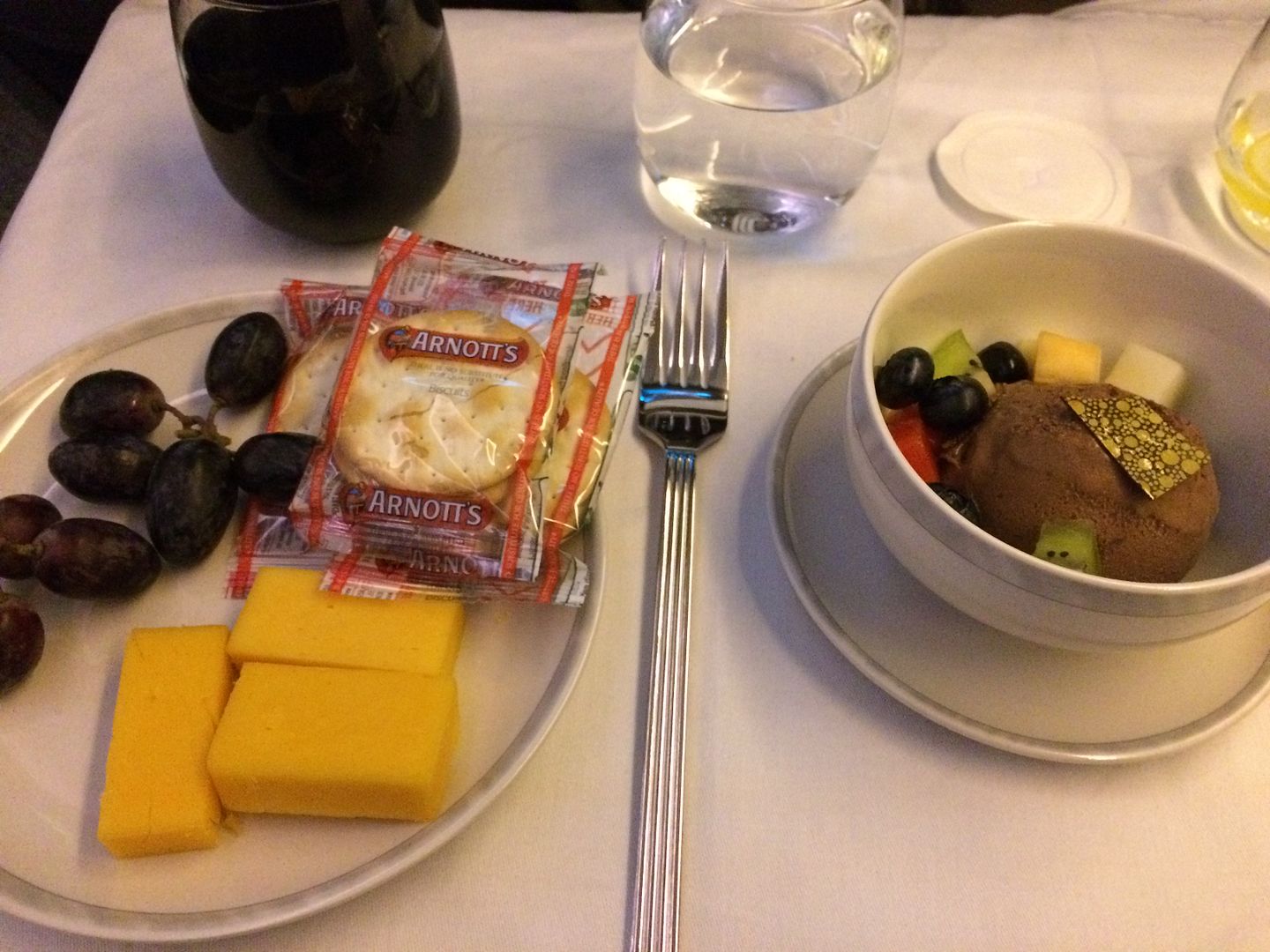 After food I get some rest and the flight map indicates we are only an hour away from Mumbai.
Wifi was available on board but came at an expensive price.
$19.99 for 50MB, other options include 30MB for $12.99 or 15MB for $6.99.
As we land, it's raining extremely heavy. No more photos as it was pointless until I reached the hotel. It is monsoon season after all.
This is my 3rd time staying in Sofitel Mumbai. It's a lovely hotel with great ambience about the place. I didn't have time to visit the gym or pool as I arrived late and my stay here would be for less than 12 hours. When I arrived they took me straight to my room to check-in. I am not a big fan of this as sometimes I like to enquire what my room is like before I reach.
Restaurant entrance where I would have breakfast the following morning.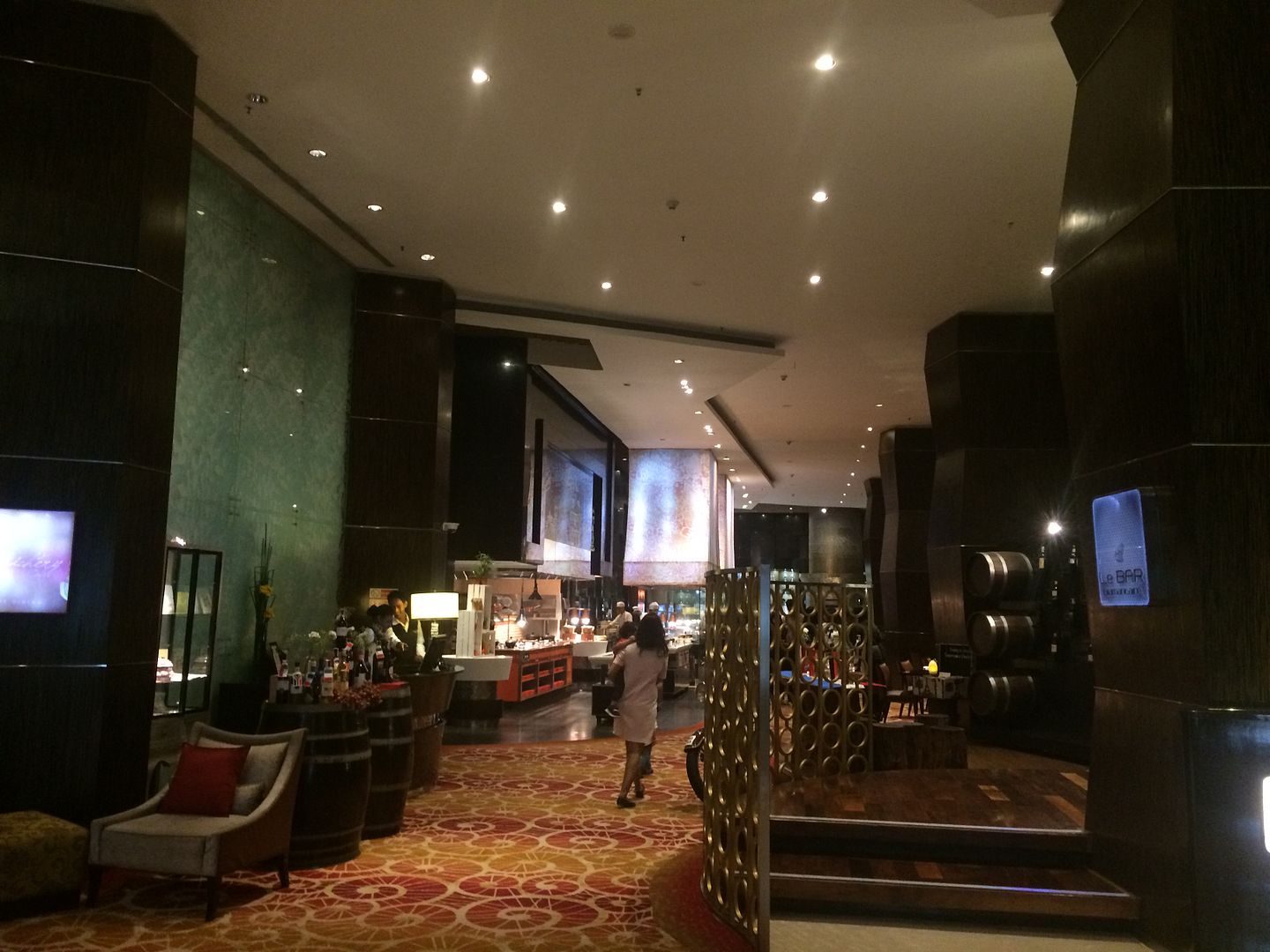 Room was pleasant with a nice feel to it. I can't complain really as it's my 3rd time here and it's the same quality of stay as my previous visits.
Separate bath and shower….
After a long days travel it's finally time to sleep.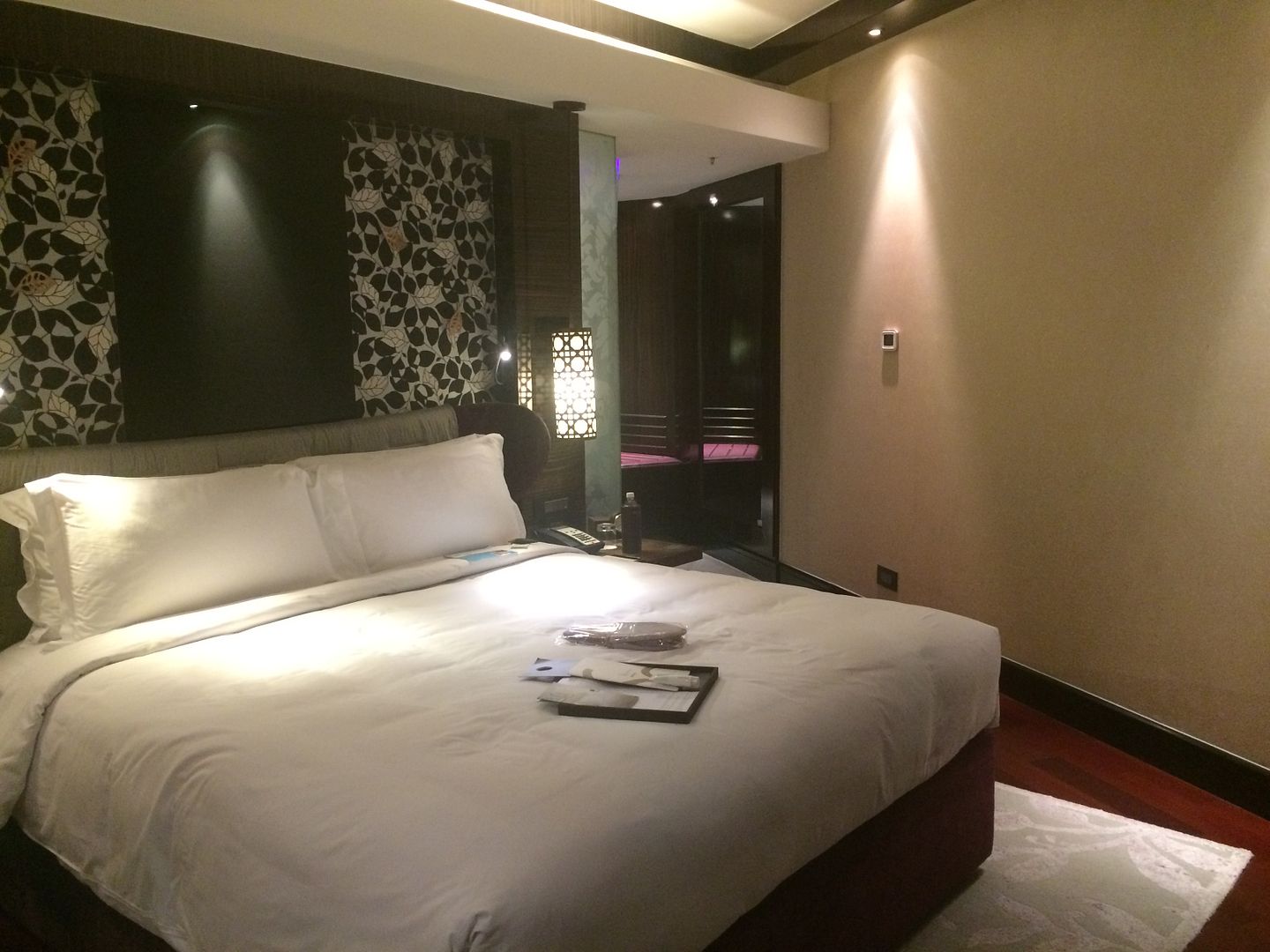 >
To be continued…...
Sep 12, 16, 5:37 am
Join Date: Jan 2016
Posts: 637
Sep 12, 16, 5:38 am
Join Date: Jan 2016
Posts: 637
SQ / 9W: SIN-BOM-GOI-BLR-SIN with a Mix of J and Y with Various Hotels Part 2….
---
Apparently, the rain had been non-stop for 36 hours by the time I arrived at the hotel. Understandable with this being monsoon season of course. However, the next morning the rain did stop briefly. As I looked outside the window, there was what I could only guess to be a hotel security or staff briefing.
The last time I was here was in November 2015, I don't recall the progress of the construction opposite so I decided to add this for next time sake.
Before I head for check-out, I grab a quick bite for breakfast. Lovely selection of cereals and fruits on offer.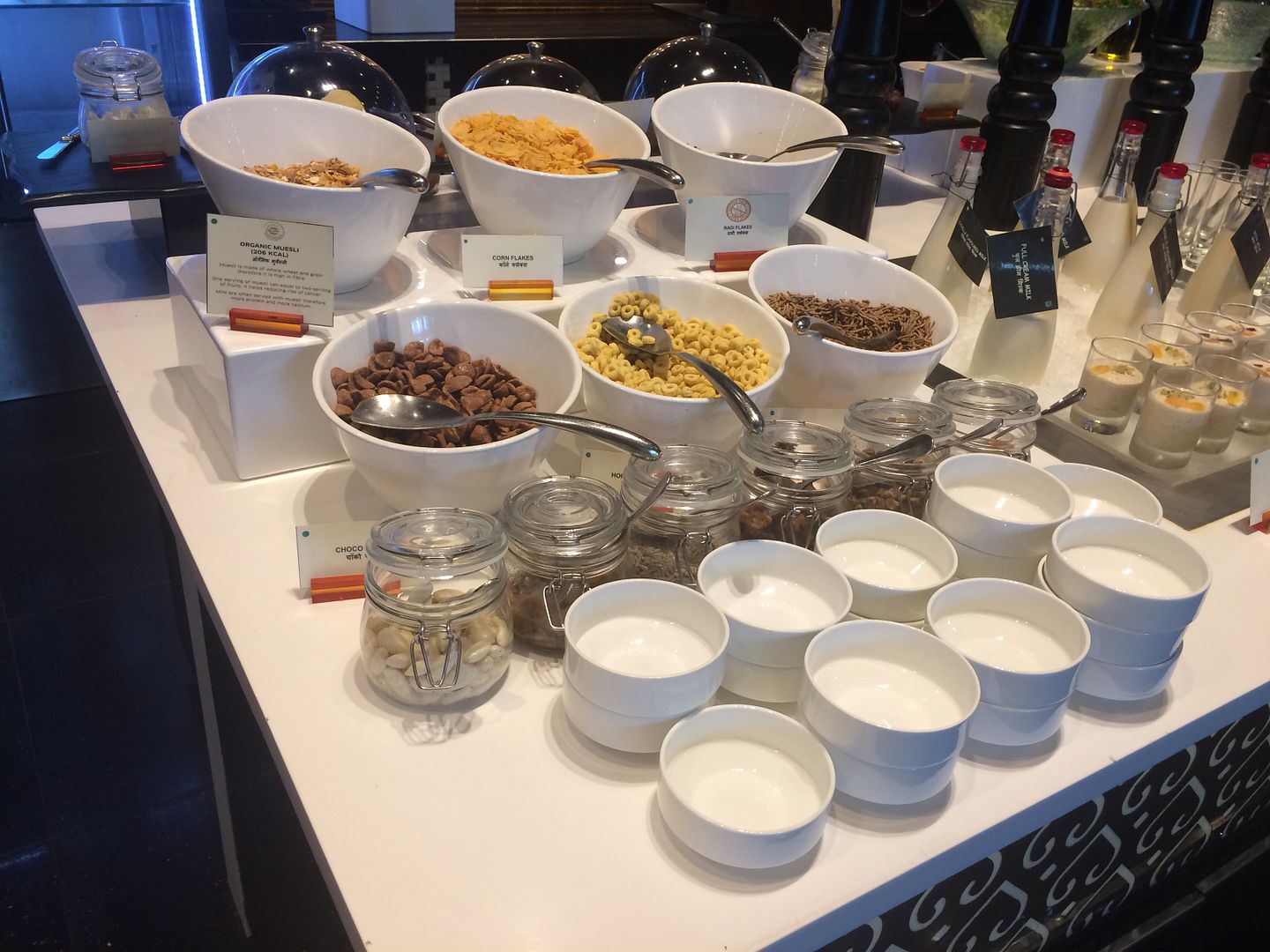 Congee cooking station…. better than many hotels I've stayed in around Asia.
Other offerings include local and western…
After breakfast it's time to head off for my day of meetings before making my way back to the airport for a domestic flight to Goa.
Jet Airways shares a first and business class check in area with Emirates.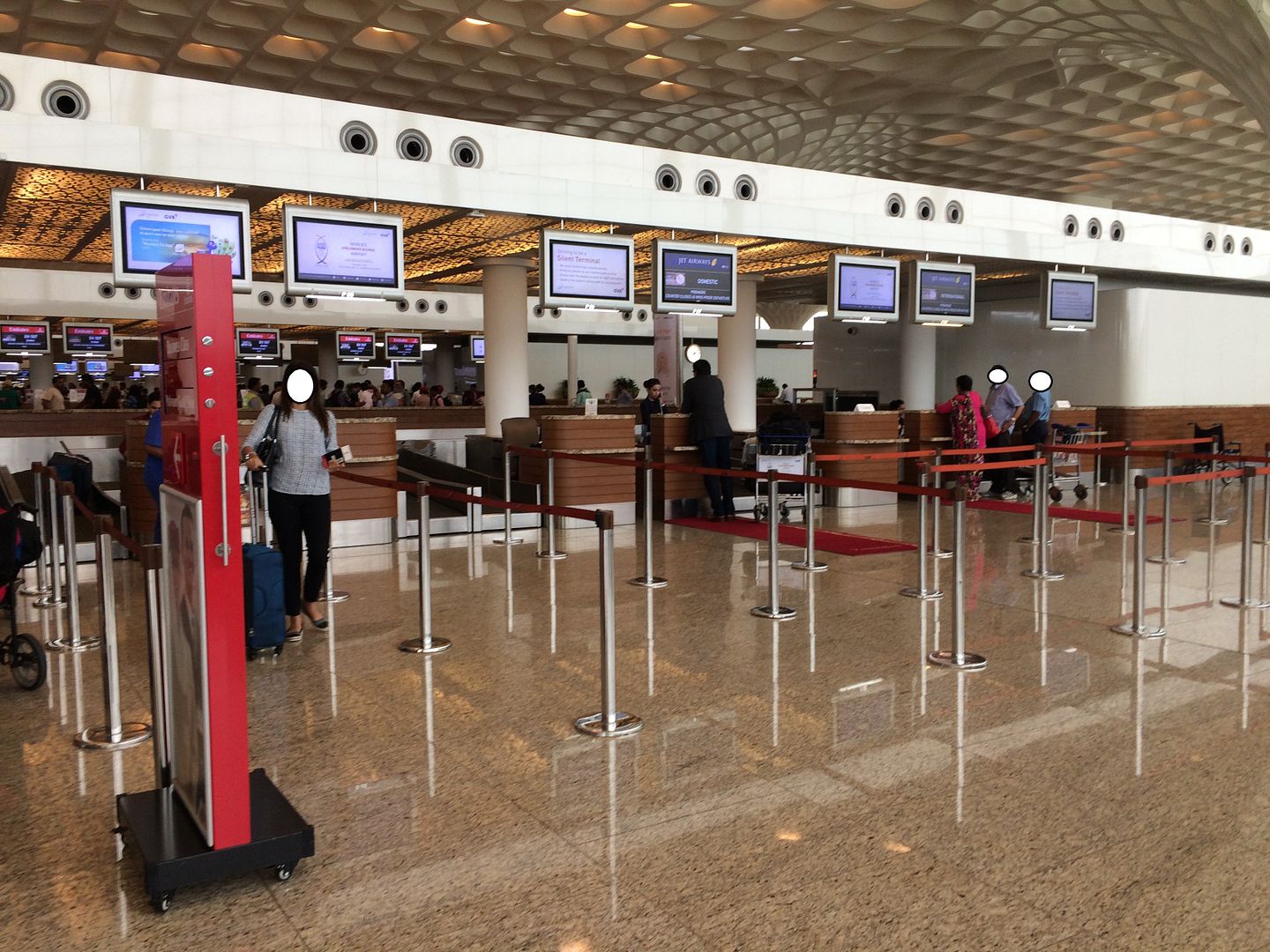 Everything related to check-in was efficient except the check-in girl printed off a priority sticker for my suitcase but forgot to include this with my suitcase. Unfortunately, this meant when I arrived in Goa, my suitcase inevitably was last rather than first!
As I didn't have time to get lunch, I decide to head straight to the lounge after security. There is no separate section in security for business class passengers. Queuing is not an option for many as a large number of passengers decide to walk straight to the front of queues and push in, in front of other folks. No one seemed to care about this either (including employees). It's not worth the hassle I'm sure so after a delayed 15 minutes I finally make my way to the lounge and grab a bite!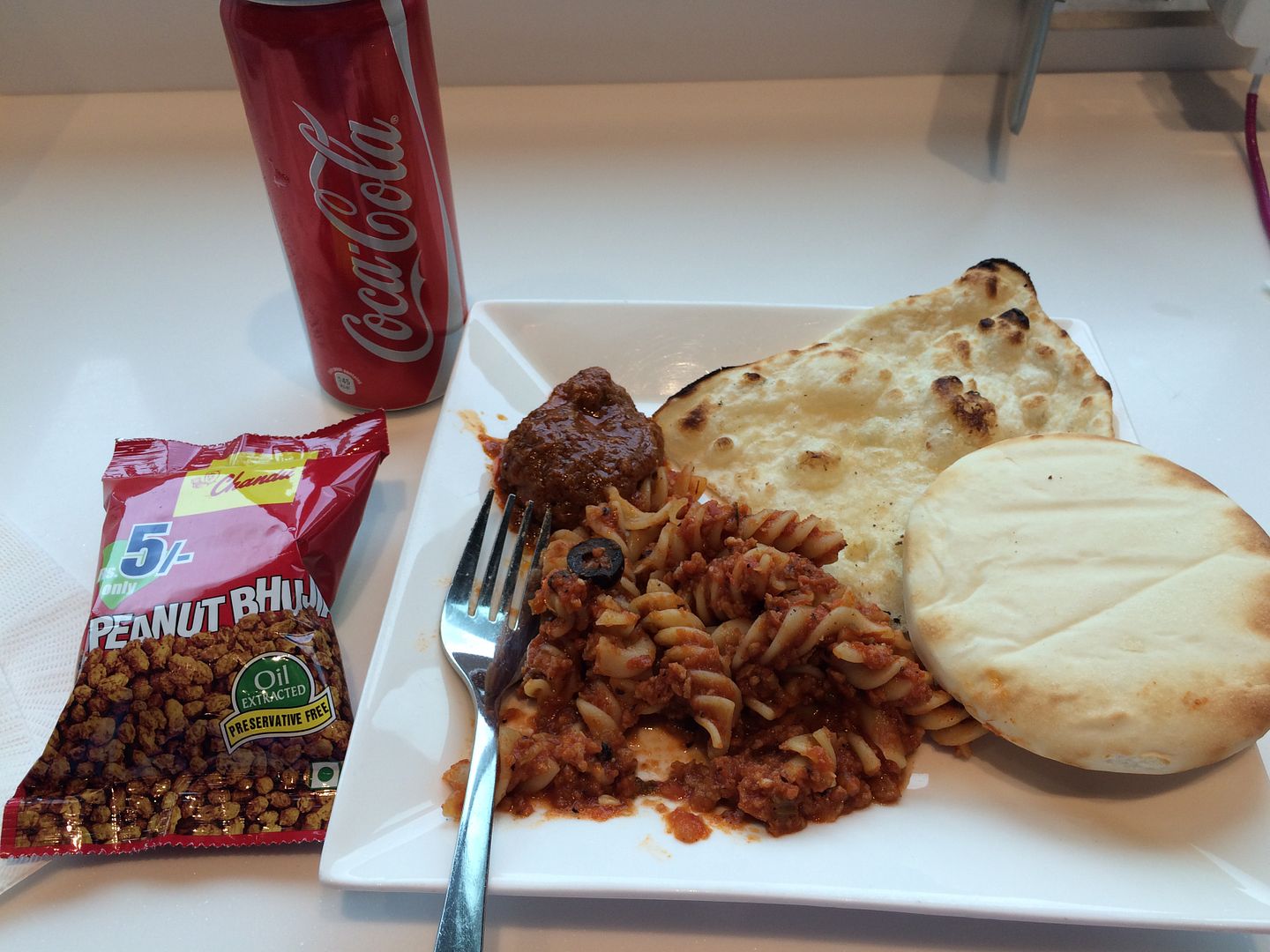 It is here that I discovered a love for Roti and Prata! The food wasn't bad either.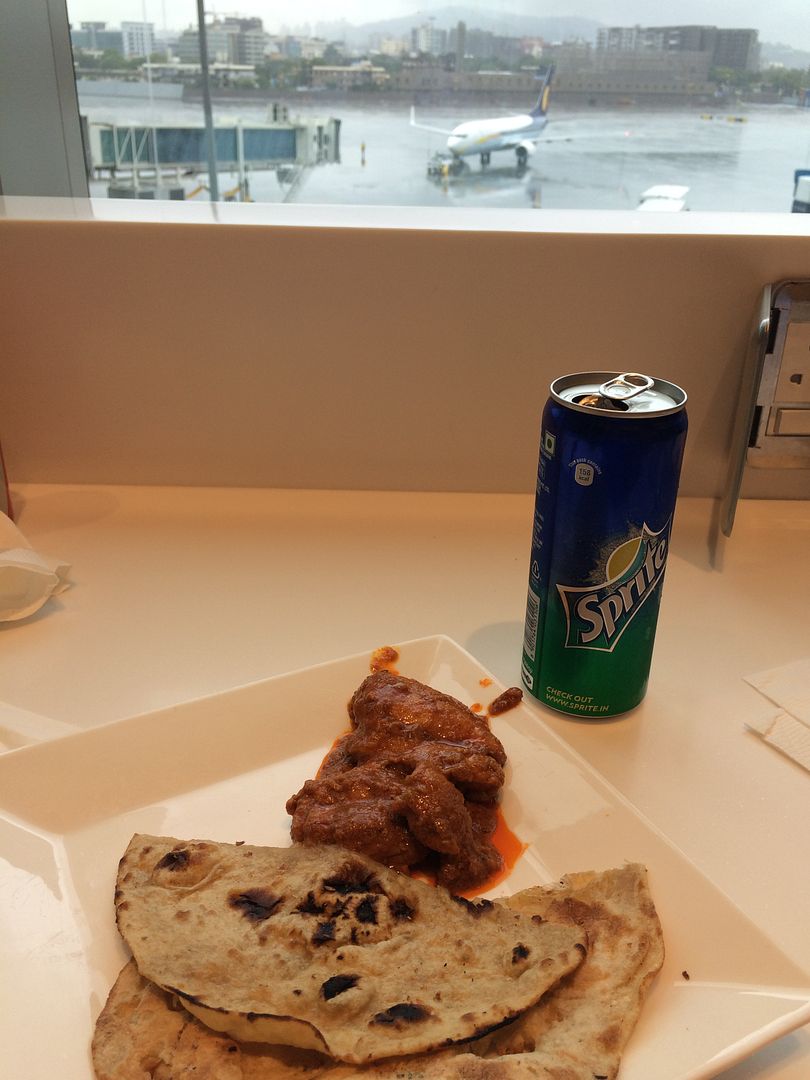 With the rains lashing down, every couple of minutes or so I still see a plane landing.
The bar area…
Lounge overall wasn't so busy.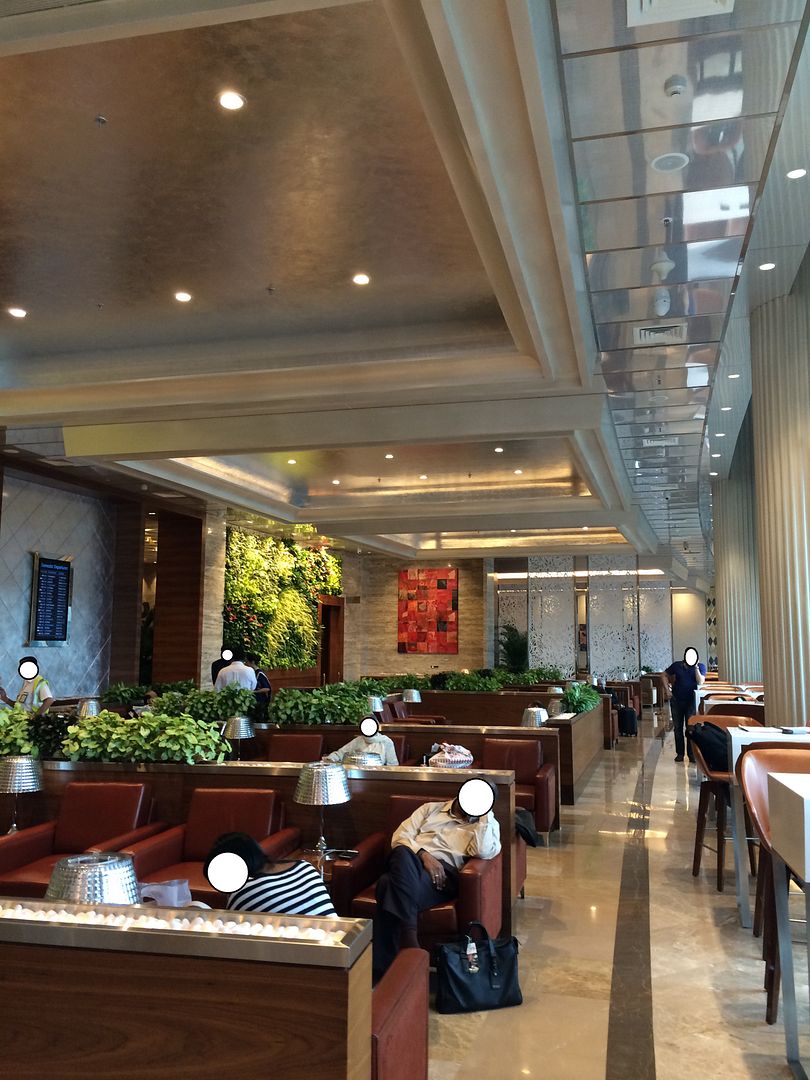 I pop out for a walk after to see what the shopping is like at the airport. Goodbye lounge!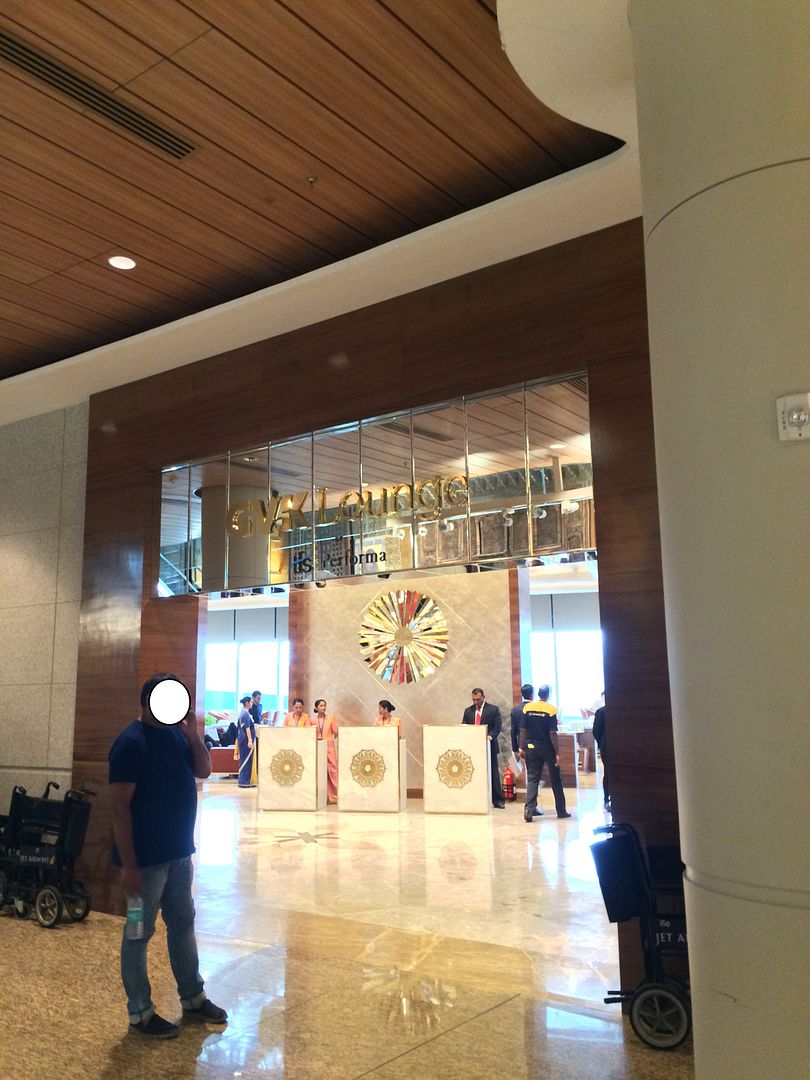 I take a glance at the screen and it's suddenly changed from being on time to being delayed by 35 minutes.
The airport terminal has a nice ambience feel to it…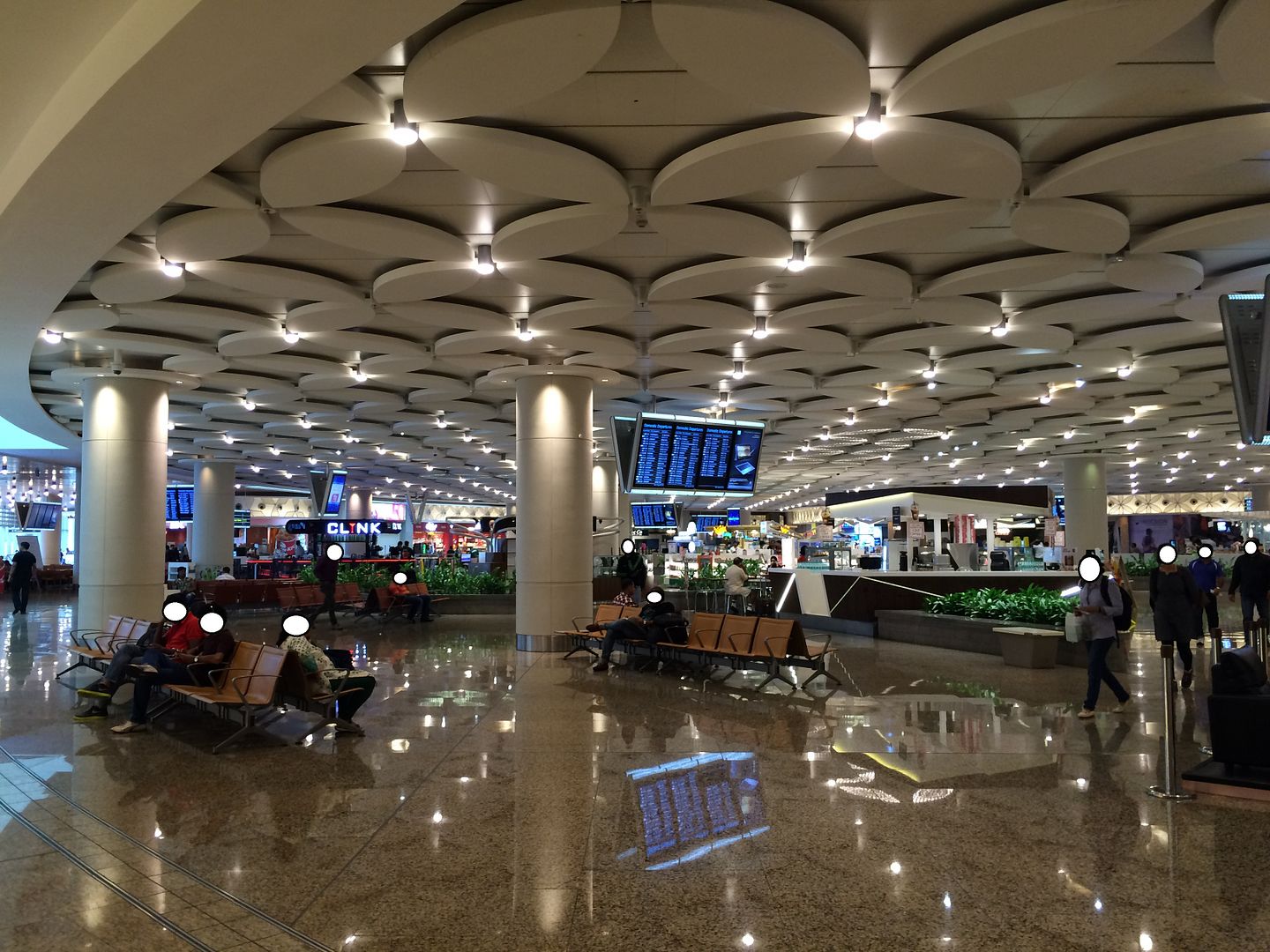 So with the delay, it's back to the lounge I go.
Lounge is still nowhere near half capacity.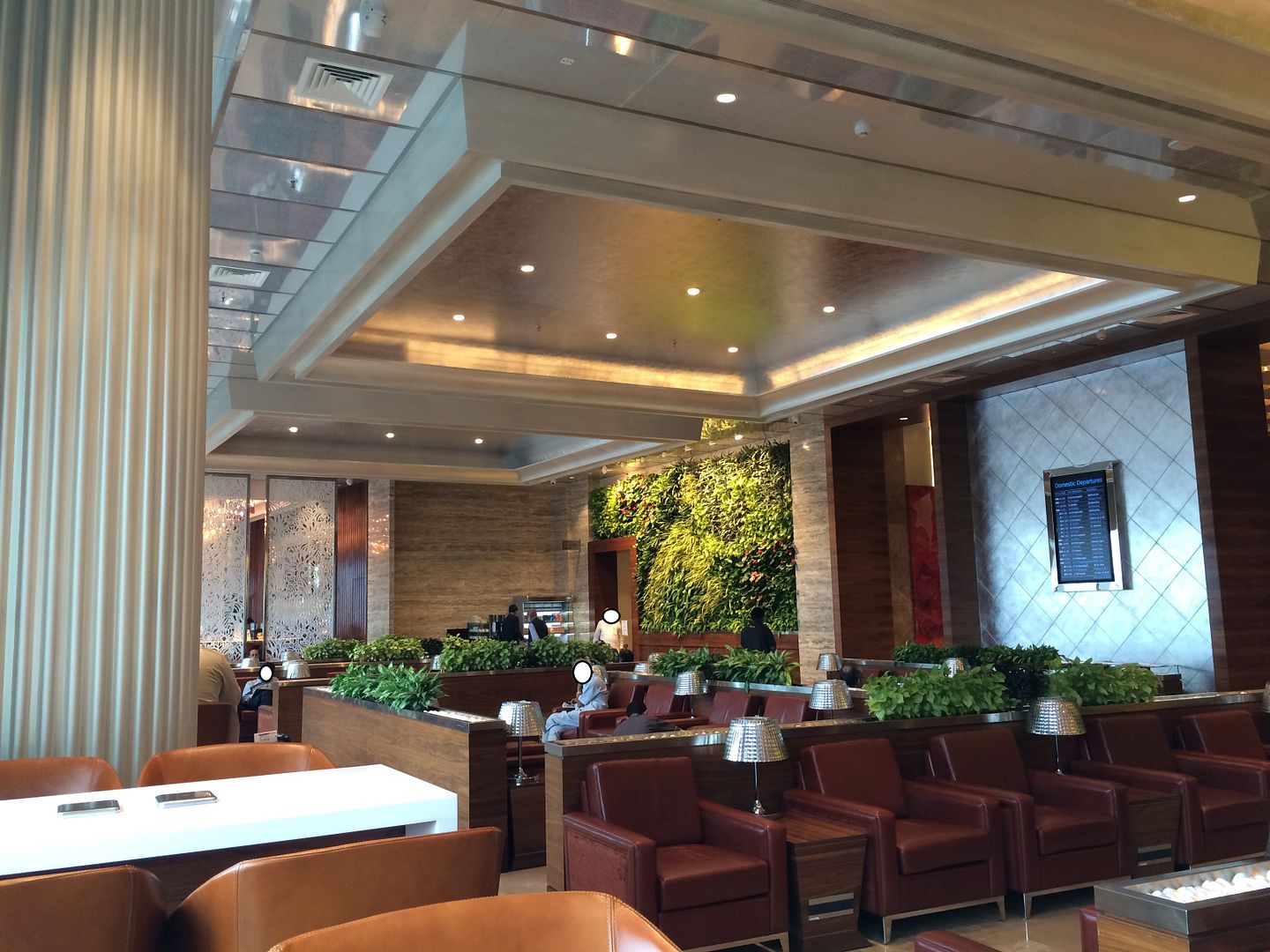 45 mins to departure and it's time to head to the gate.
Another delay is announced so I do a bit more window rain staring.
Eventually it's time to board and I make my way on to the 9W 737 aircraft to Goa.
There are 3 rows in business class each with a 2x2 layout. Total number of pax in business was 4.
Plenty of leg space, reminds me of premium economy on long haul flights on some carriers.
Even on this short 1-hour flight there are light refreshments served.
With a break in the rain, it's time for take-off.
Quick bit of plane spotting.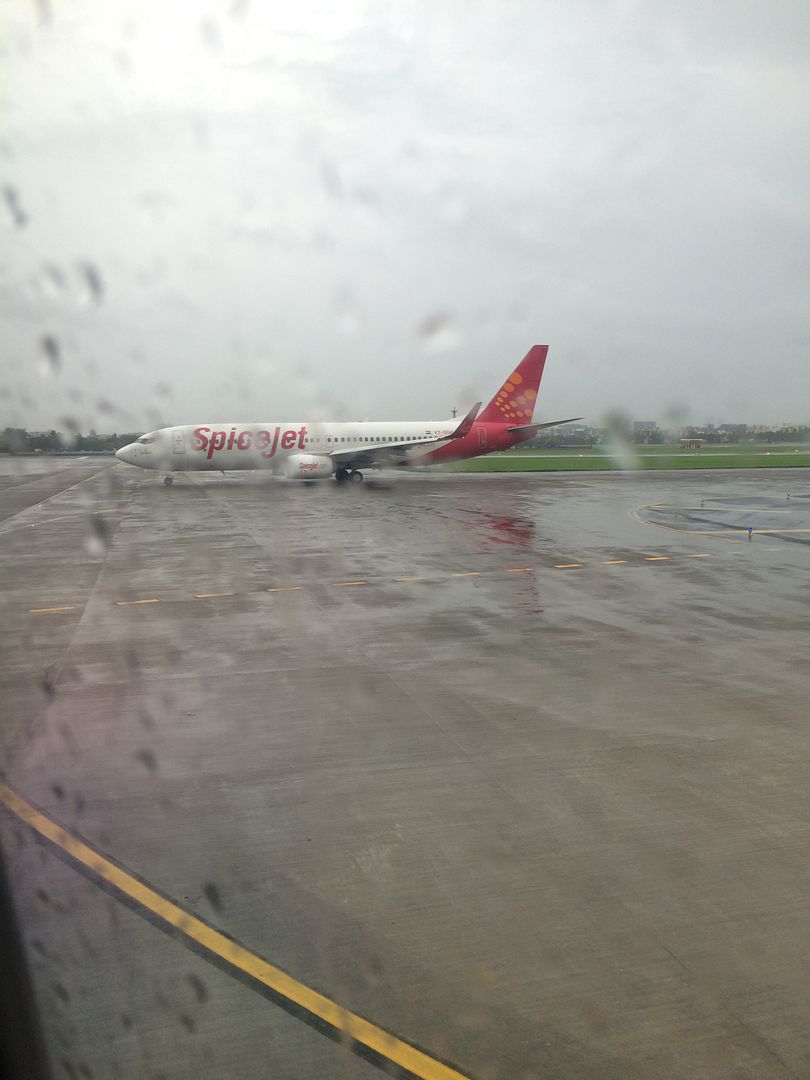 And off we go.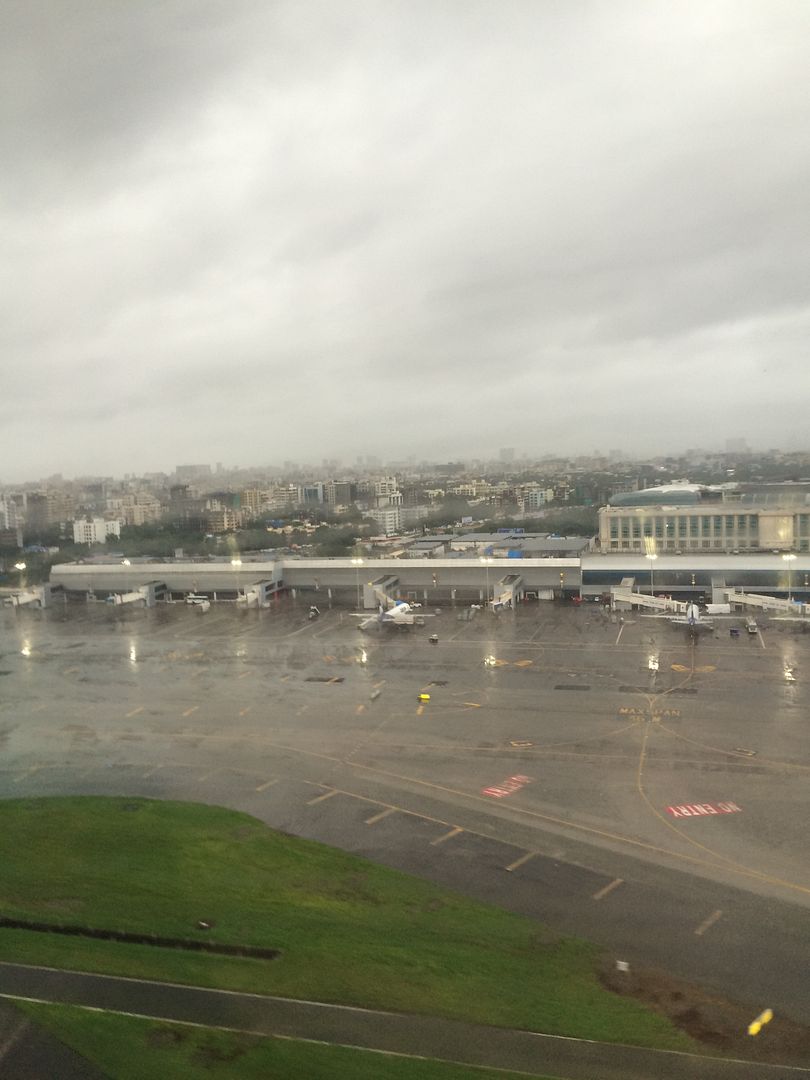 Shots of Mumbai as we leave.
Light meal served not long after take-off.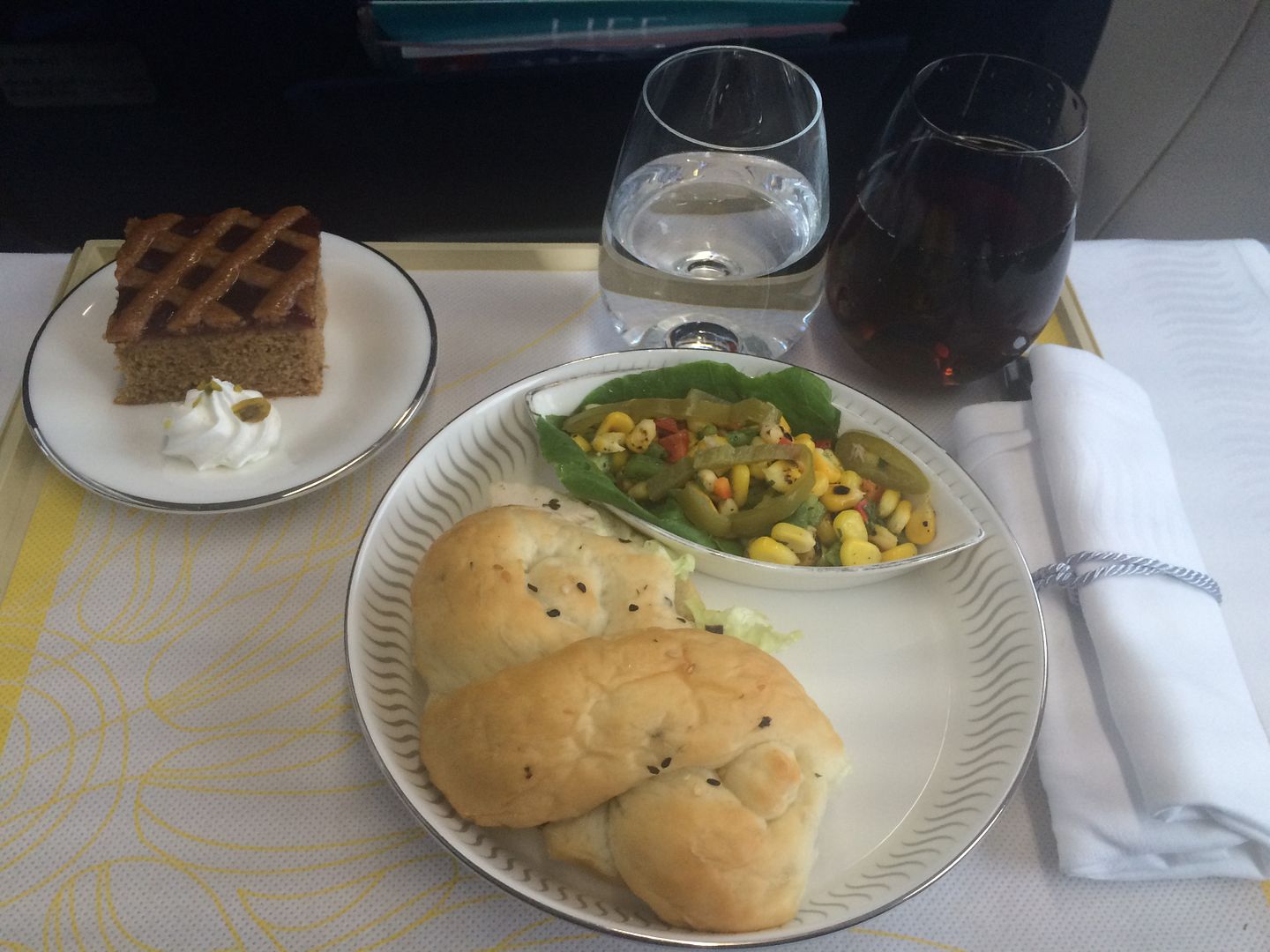 After food the flight gets hit with quite a bit of turbulence so we all remain in our seats until the end of the flight. Upon landing it's a quick exit with the exception of luggage. As mentioned earlier, my luggage wasn't tagged priority and ended up being one of the last bags to come out.
30 minutes later, I arrive at Park Hyatt Goa. I head straight to my room with high expectations.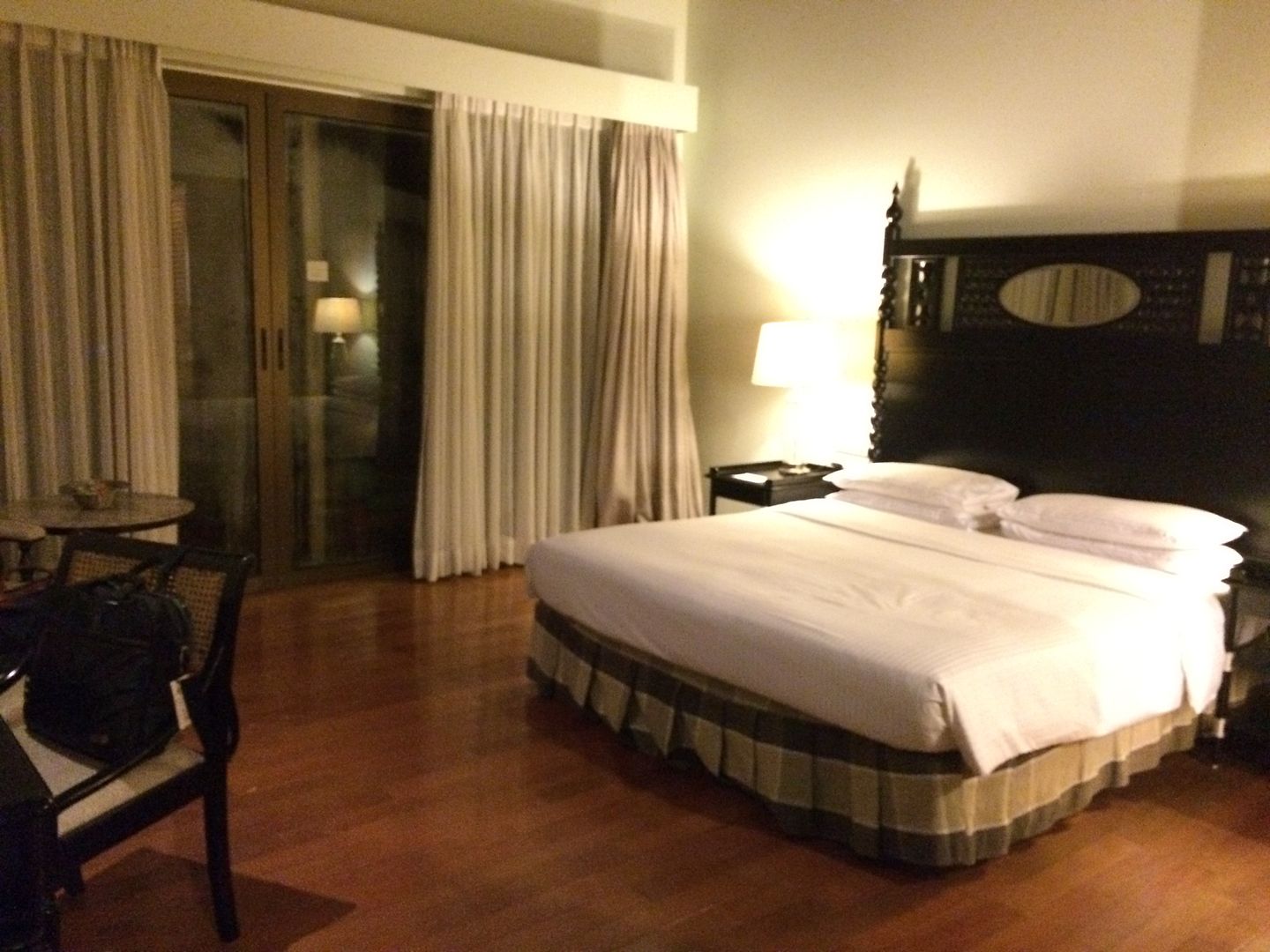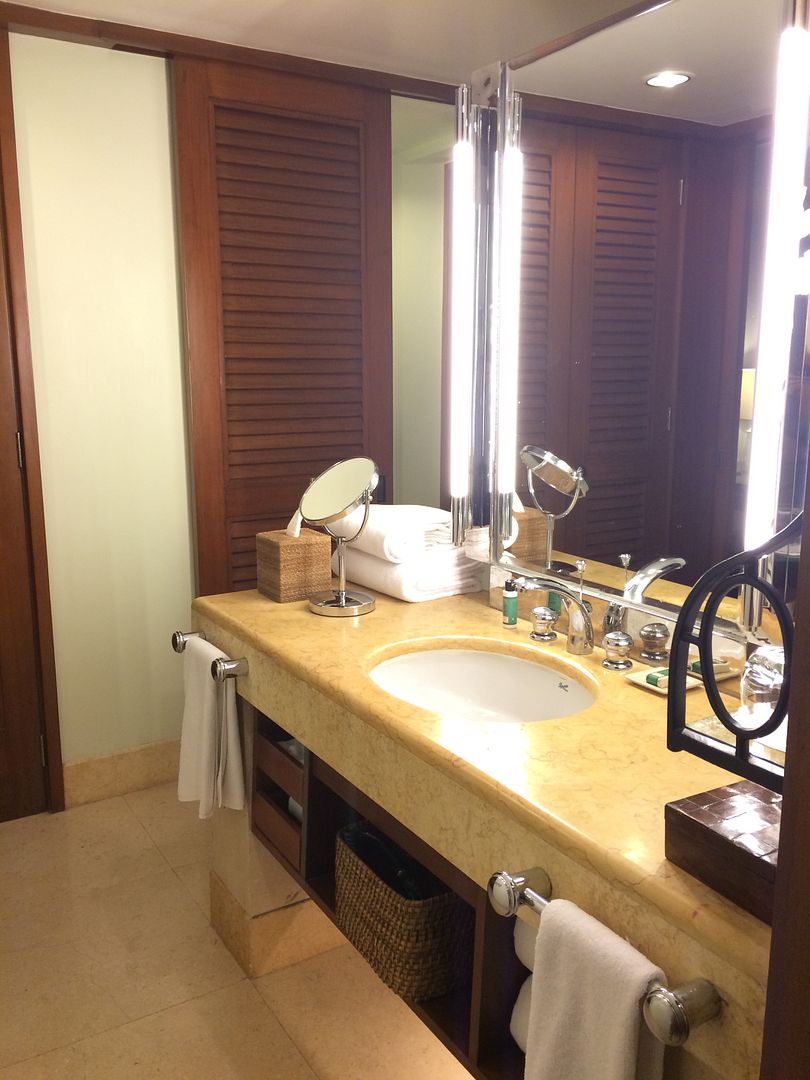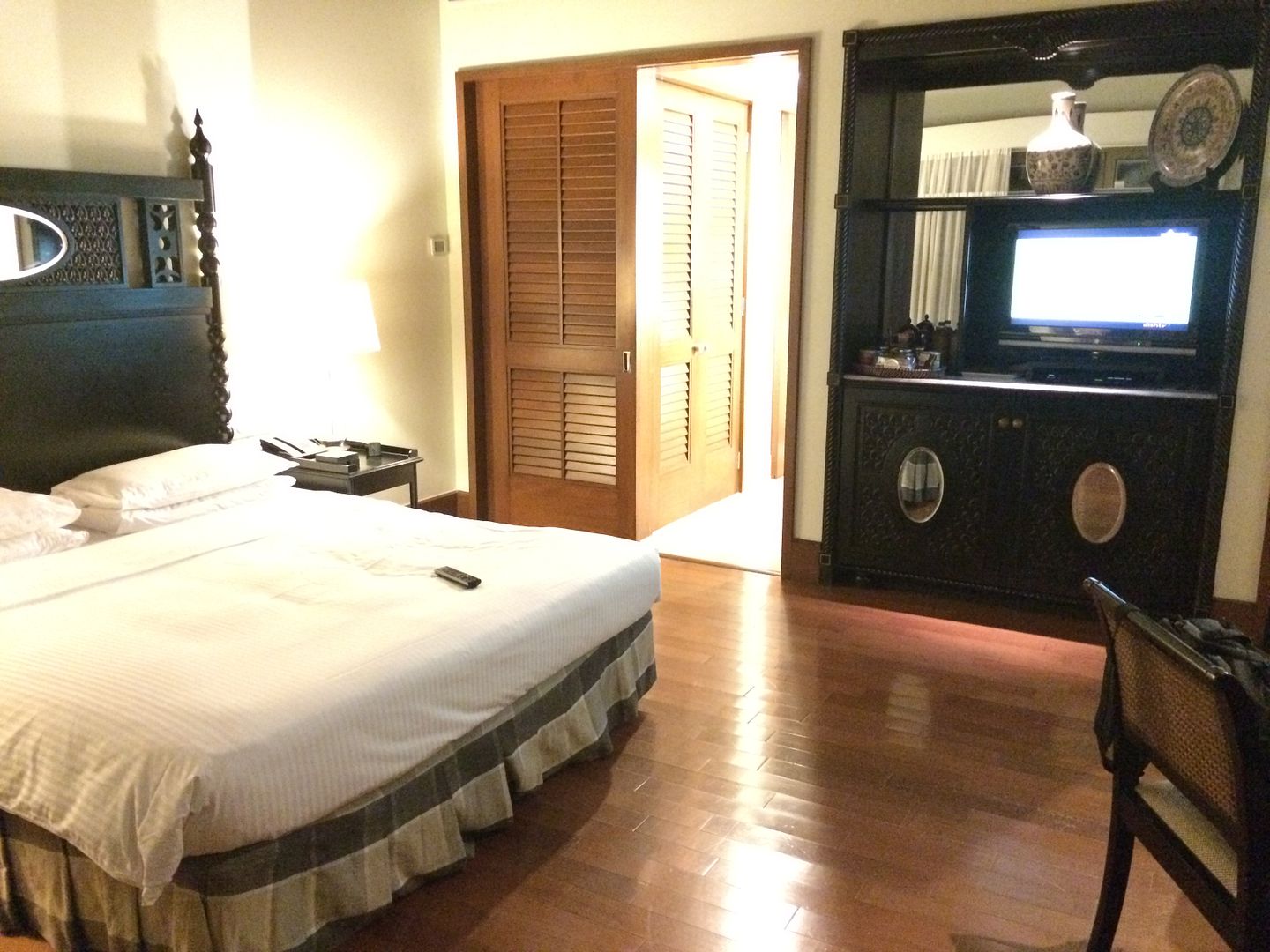 Nice hotel overall and will share the photos of the surroundings in my next update. However, I did expect the room to be better as I have had good Grand Hyatt experiences in Bangkok, KL and Regency HK.
To be continued….
Sep 25, 16, 8:08 am
Join Date: Jan 2016
Posts: 637
Yes, agreed. It does seem quiet regardless what time of day you travel at. Although saying that, the airport operates 24 hours a day and the traffic usually comes in with passengers mostly via transit and head directly to the gates of the next flights.
I wonder how the opening of new T4 will work out next year....
Sep 25, 16, 8:40 am
Join Date: Jan 2016
Posts: 637
SQ / 9W: SIN-BOM-GOI-BLR-SIN with a Mix of J and Y with Various Hotels Part 3….
---
With a bit of time spare before a full day of meetings, I take a gander around the grounds of Park Hyatt Goa. Although I wasn't too keen on the room, the grounds itself is quite exceptional. Especially for this part of the world, an unexpected hidden treasure.
The hotel entrance as expected is highly guarded. Once you pass security, you come to this wonderful looking complex.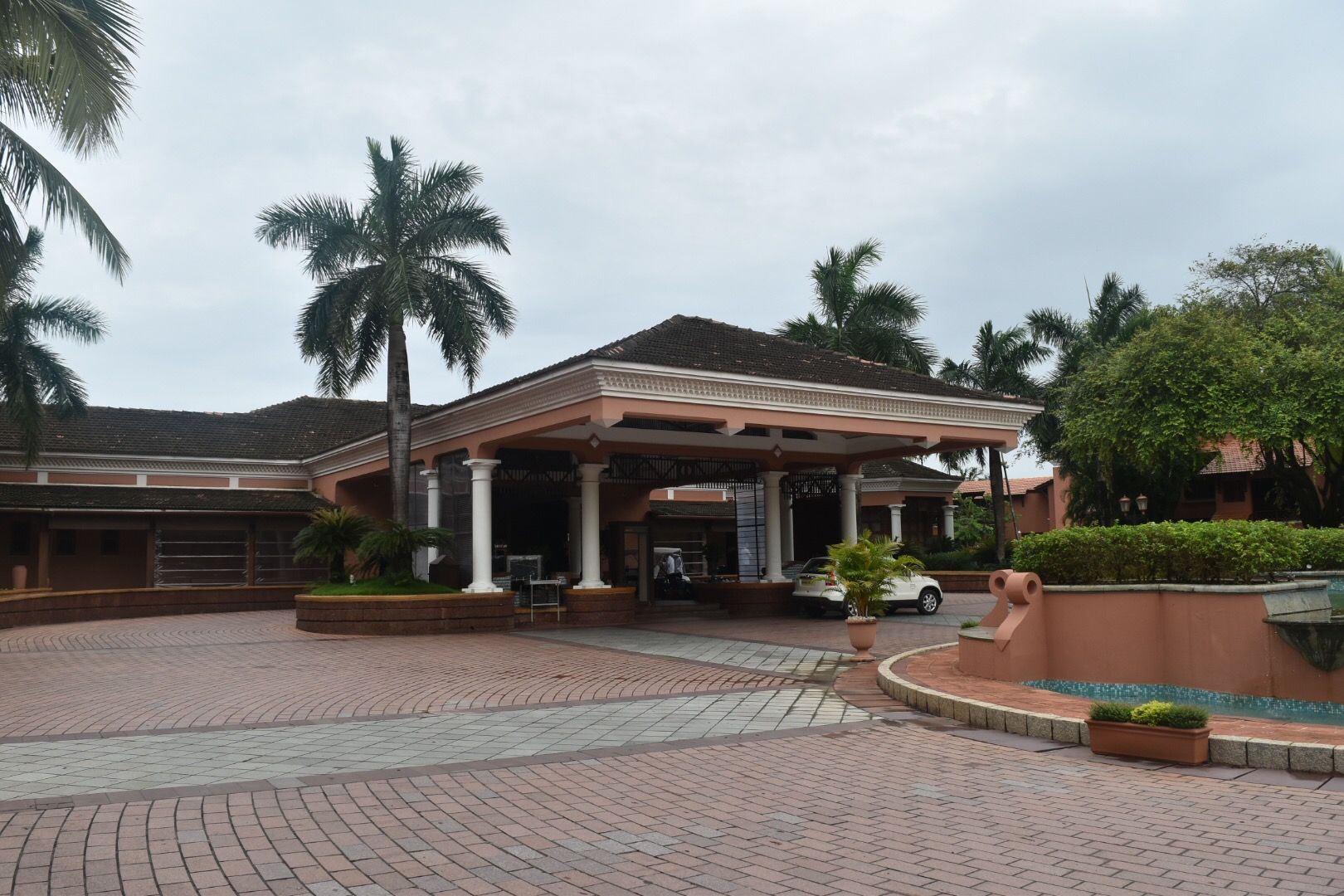 Hotel staff all courteous.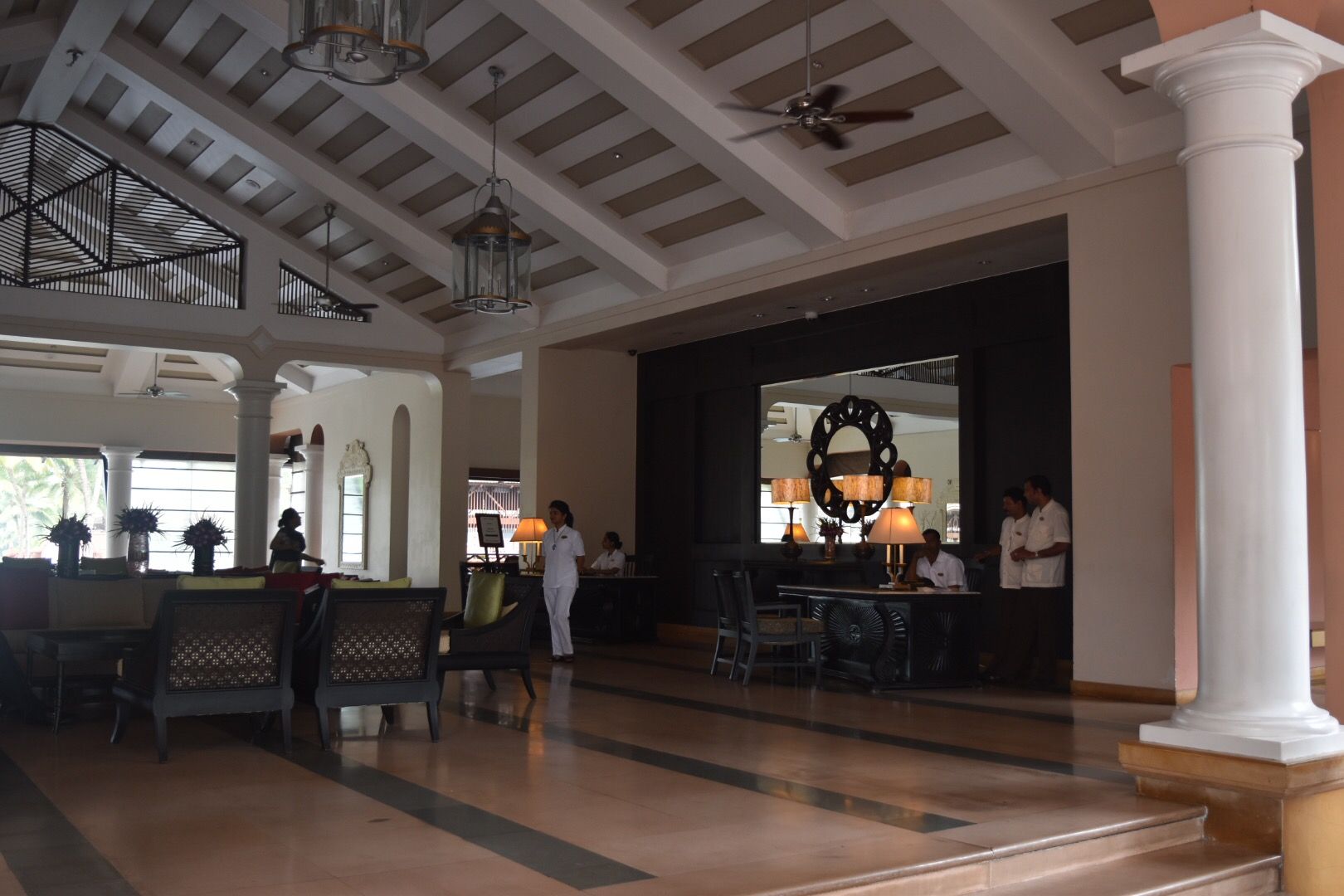 I must add that the photos were only able to be captured due to a temporary break in the rainfall.
View of the pool with the Arabian Sea in the background.
Hotel gardens.
View of the hotel from the gardens.
Reached the sea. As you can see it was quite windy.
After this I head off to work for the day. Work finishes and I arrive back at the hotel with the rain still falling and the light beginning to fade.
My colleagues and I head off to a restaurant 15 minutes away. The name of the place is called Martin's Corner.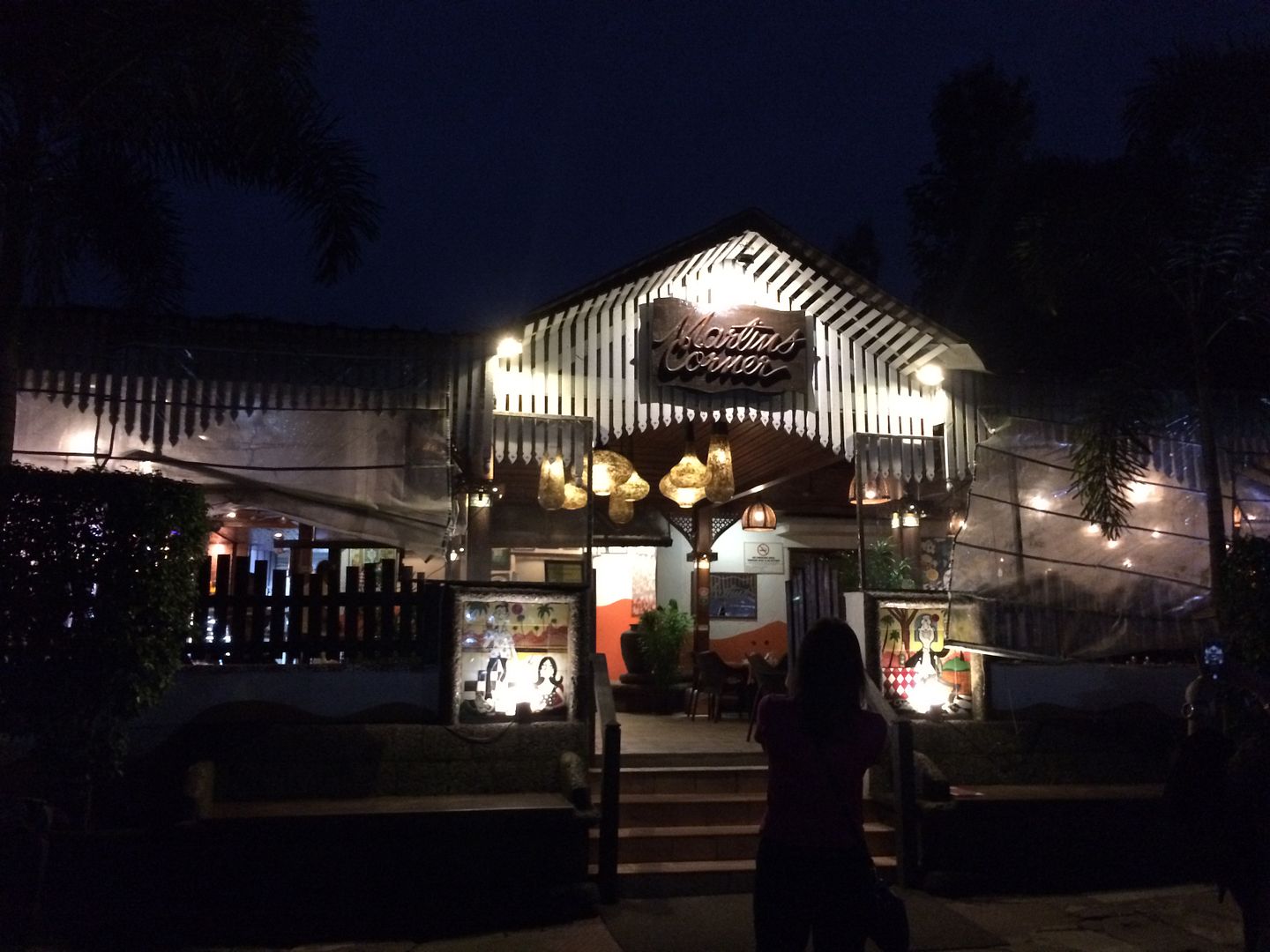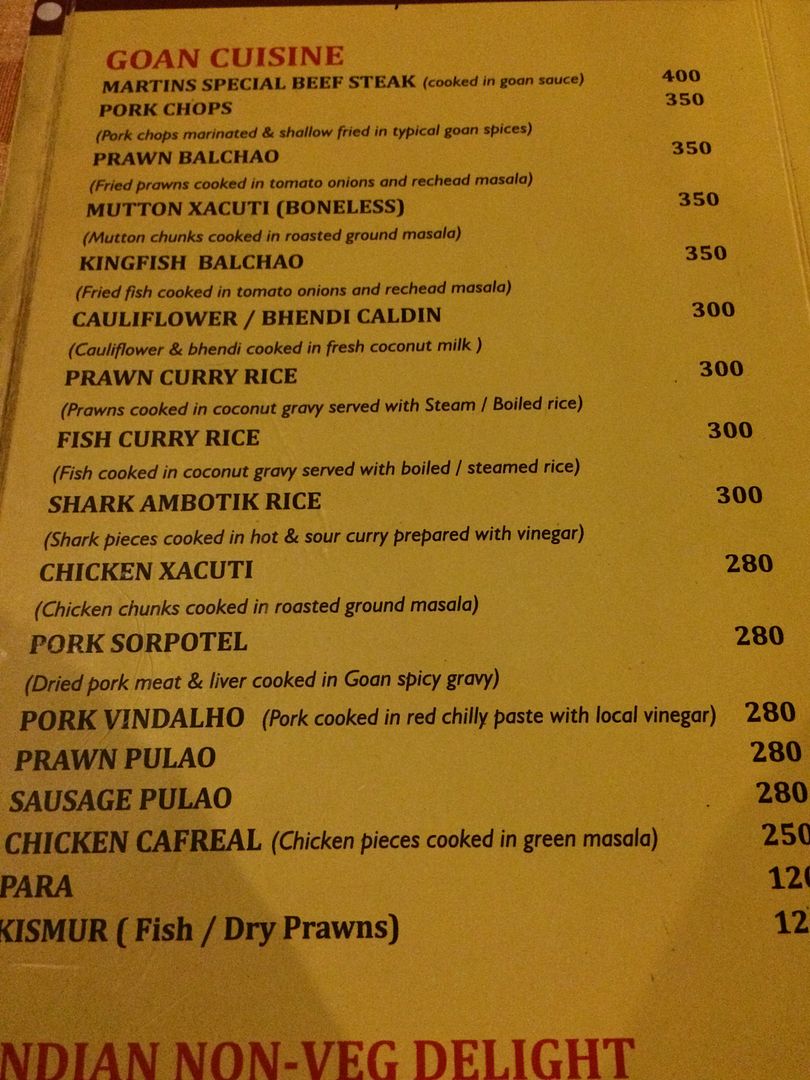 Had to try the light spiced Goan Crab. This was delicious. To go with this, we ordered a coconut chicken and a spinach dish. Also delicious.
A lovely restaurant, named after the original owner now passed down to his children.
After dinner, it's back to the hotel for a bath and shower in one.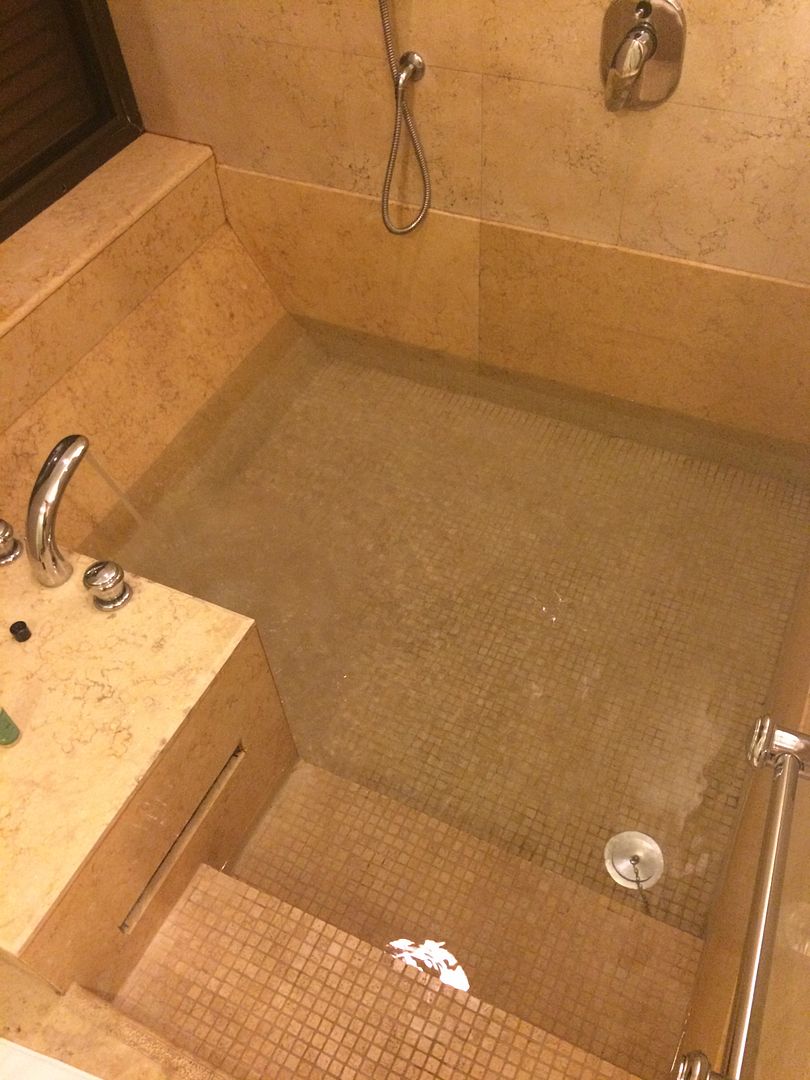 Never seen this concept before. Wasn't sure if this was a good idea or a bad one. Having a bath in this wasn't very comfortable. This brings my stay in Goa to an end and the next day will see me fly to Bangalore for the final stage of this trip report.
To be continued.
Sep 25, 16, 2:54 pm
Some of the villas at Banyan Tree Seychelles have such combinations too. Not my cup of tea
Oct 23, 16, 2:29 am
Join Date: Jan 2016
Posts: 637
Day 5: 9W2952 GOI-BLR Y Class ATR 72. Hotel JW Marriott
---
Unfortunately, due to plenty of travel and friends visiting, my latest update on this report has taken a lot longer compile than expected.
Day 5 began with breakfast and then a quick 2-hour flight from GOI to BLR on board an ATR 72. GOI was nothing to write home about. High security before checking in at the airport followed by separate queues based on gender to go through departure security. The women's queue was a lot shorter than the men's with many folks trying to push in. Be warned that getting through security can take some time.
Once past security, the airport itself does not have much to offer. Not much choice for food so do ensure you are full before heading to the airport. I hate to see what the airport is like during peak travel period, not long after this photo was taken, the airport got crowded quite quickly.
After a brief delay of maybe around 30 minutes, our flight is called for boarding. The notices for the flight were a bit confusing but eventually, myself and a fellow passenger managed to work out where we had to go. Coincidently, she was going to be my seatmate for the next 2 hours.
We board a bus that takes us on a quick 30 second journey to our plane.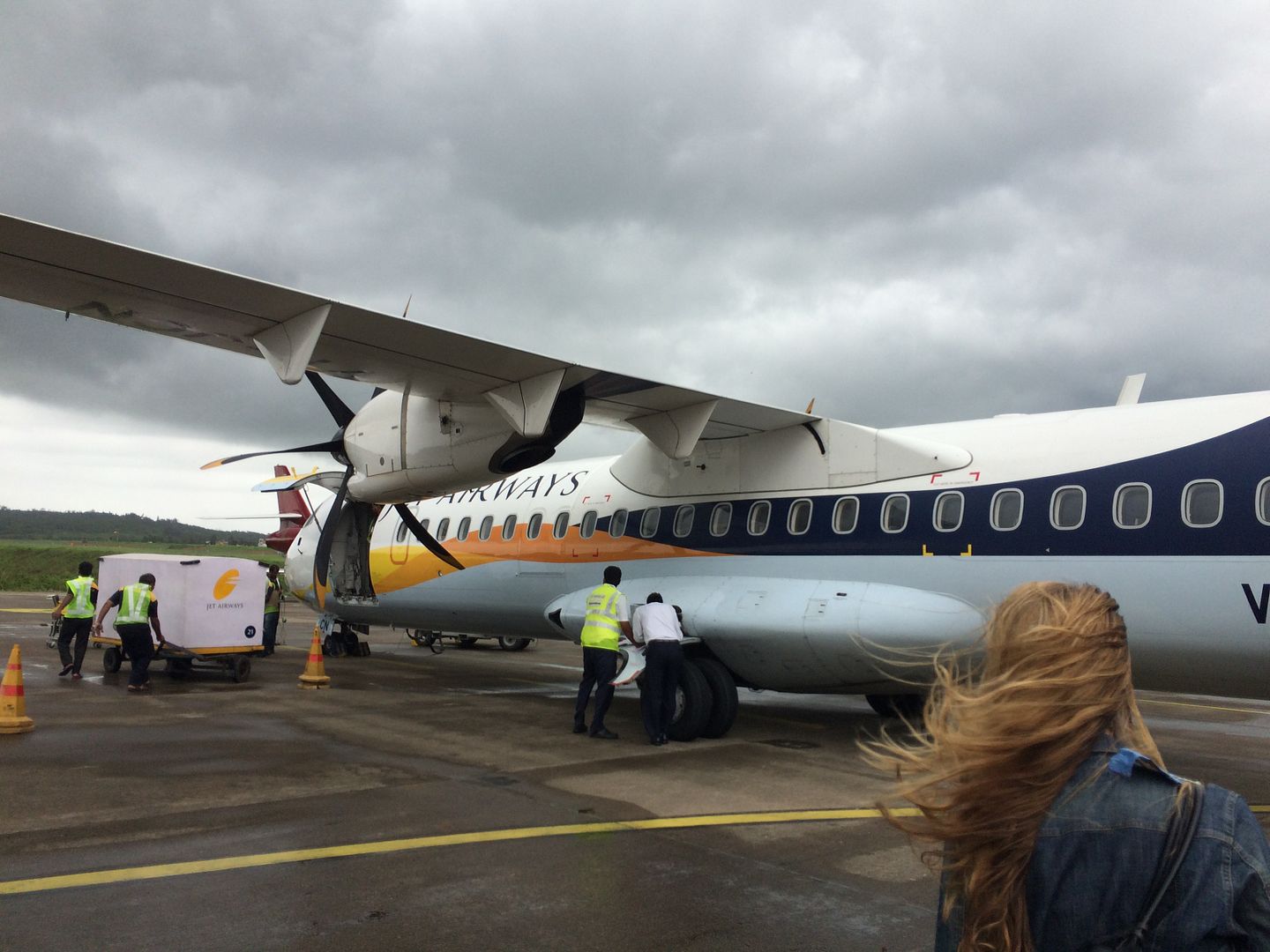 For those interested, you board this aircraft from the rear and not the front.
Seating is in a 2x2 format with 1 class only.
Seating space was adequate.
A snack consisting of sandwich and muffin was served almost immediately after takeoff.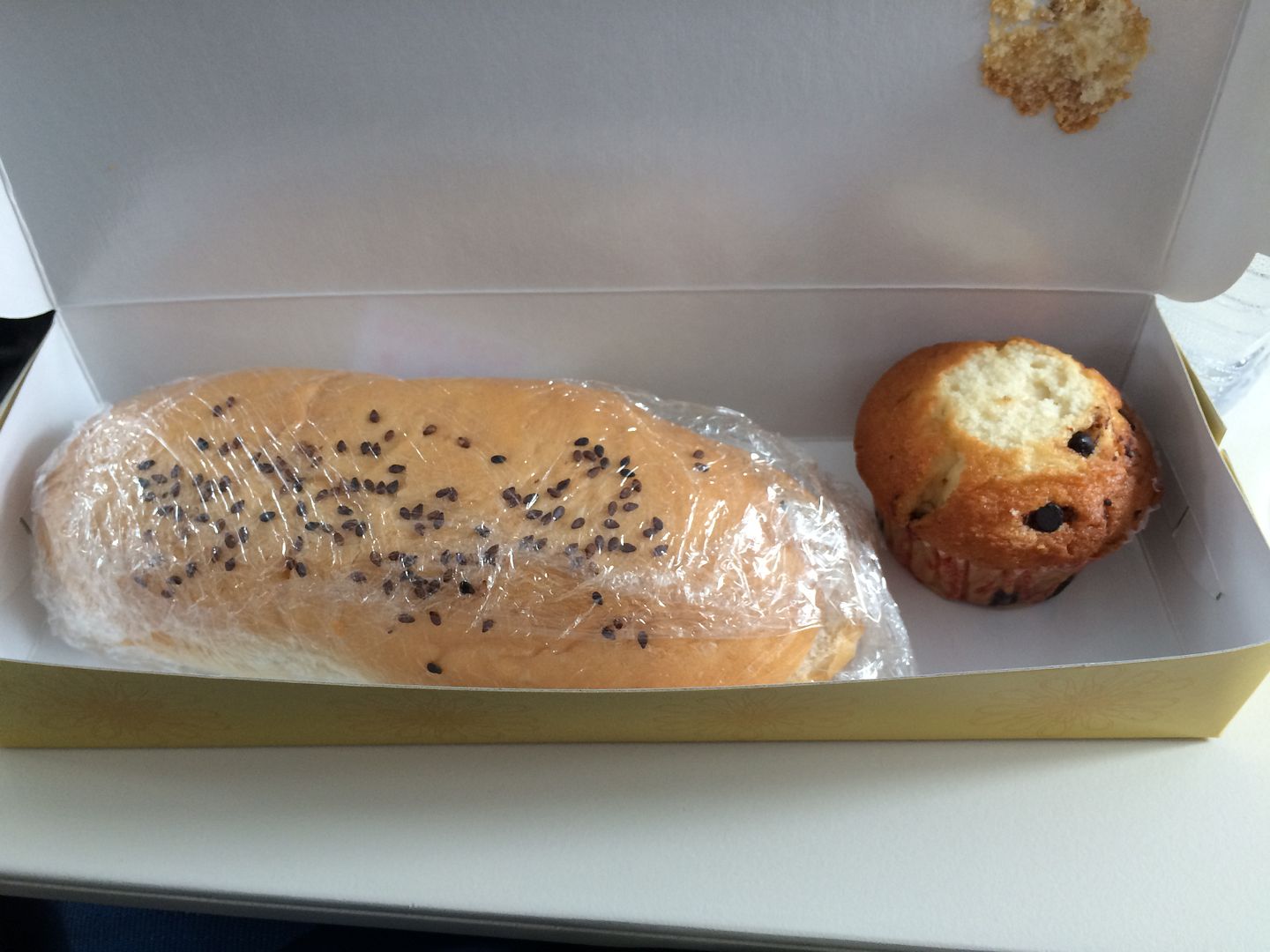 We arrive in Bangalore in good time and pleased to say there was no rain.
A quick shot of the front of the craft before we head off to the hotel.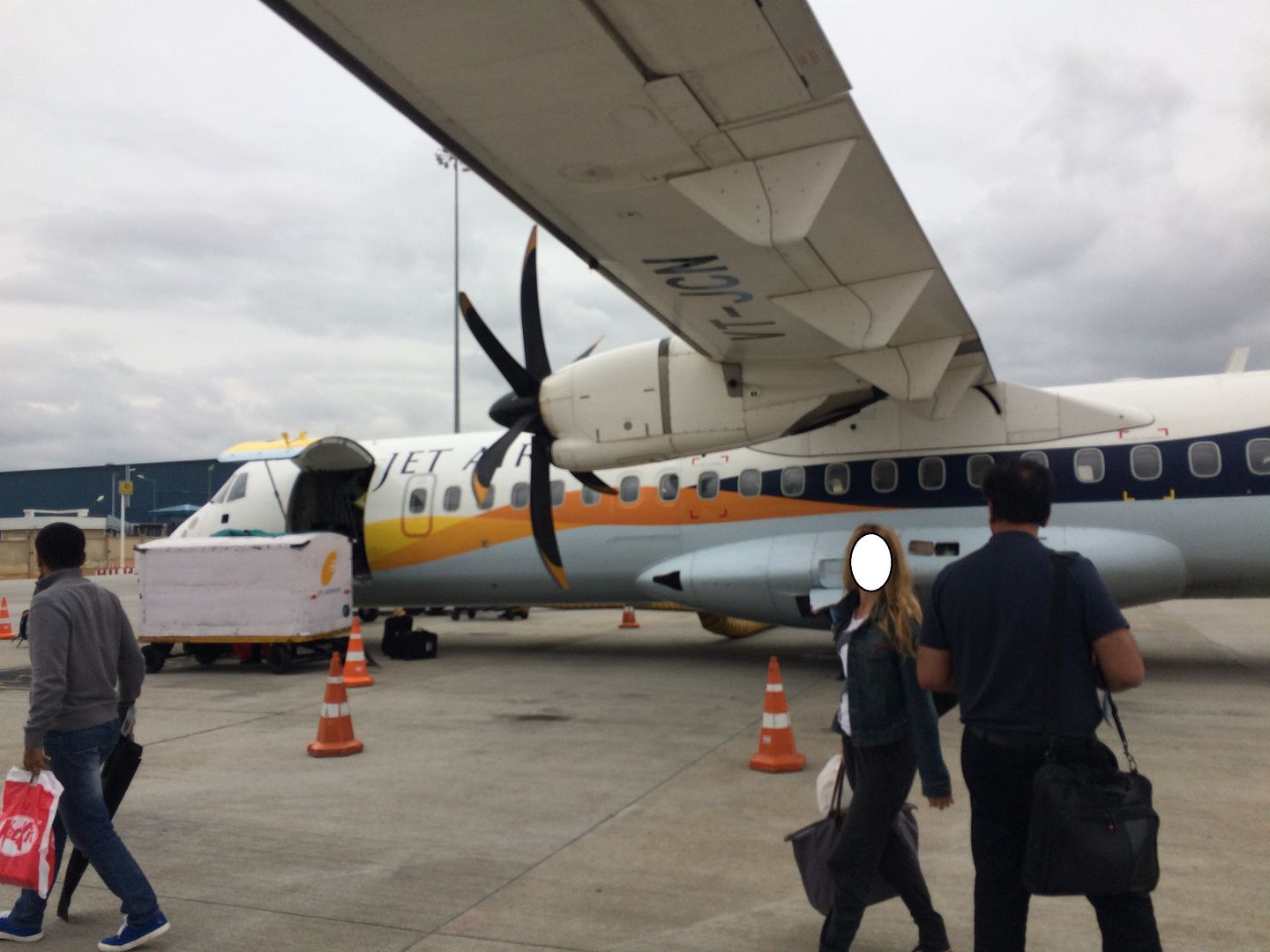 After collecting my luggage, I decide to grab an Uber, partly because the hotel taxi was going to cost around 8x more. I had to walk about 10 minutes from arrivals to the designated Uber pick up point. Taking an Uber was a great idea, but Uber really needs to signpost this better as it can be quite confusing.
In my Uber on my way to JW Marriott….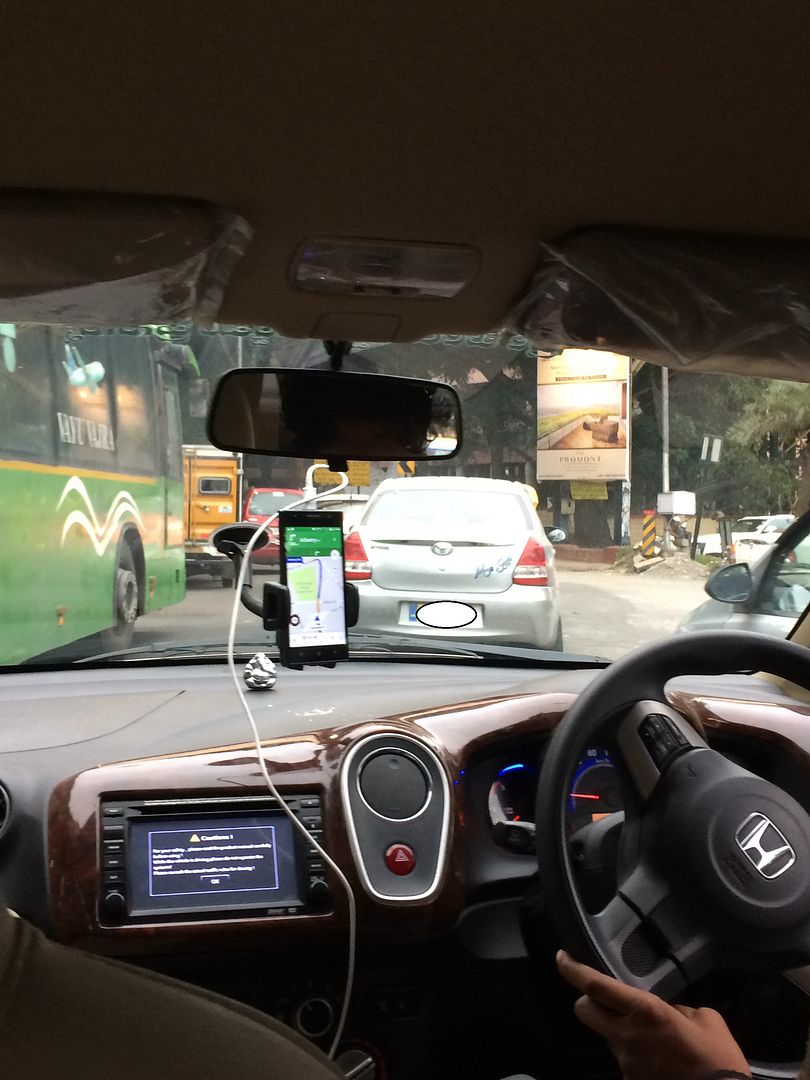 This driver was a complete c#@k. The maps used by Uber (I am assuming it's Google Maps) were slightly wrong and he had to drive an extra 150-200 metres to reach my destination. He demanded a tip from me because the maps were wrong, in fact he was quite threatening. Needless to say I told him I'll be contacting Uber management about what's happened. Anyhow, not sure if Uber are still associated with him.
After checking in, I make my way to my room and grab some quick shots of the view before I head to dinner.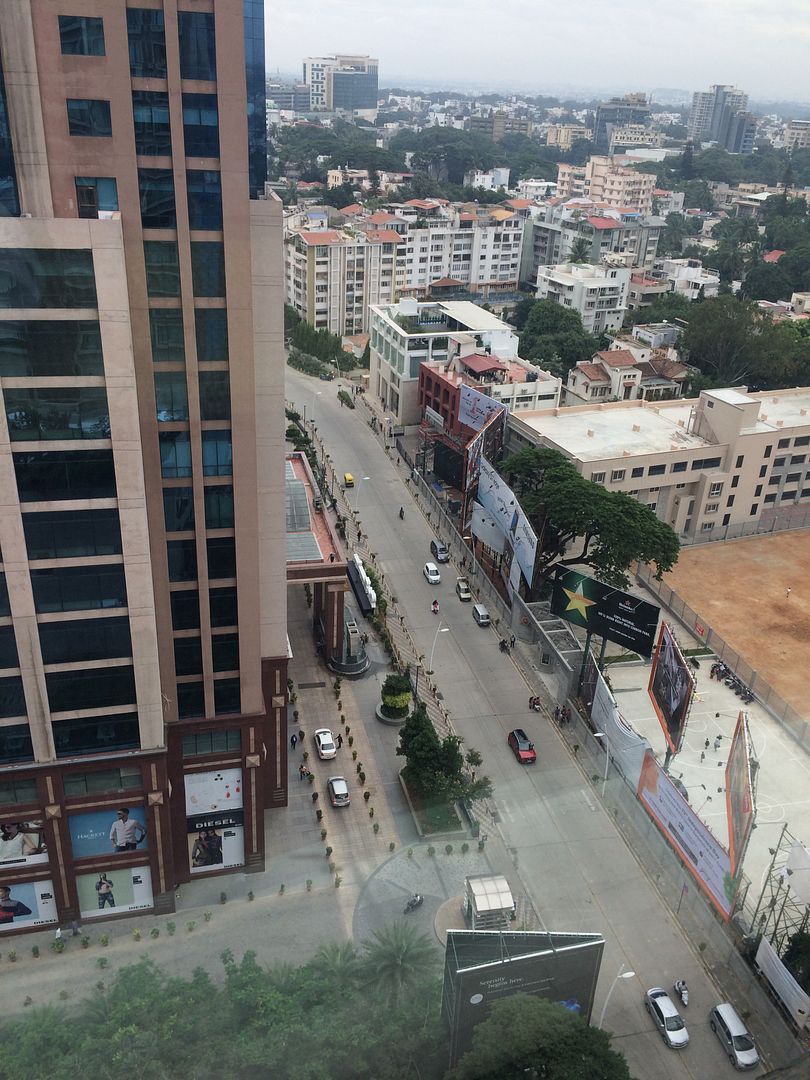 Semi view of the stadium next door…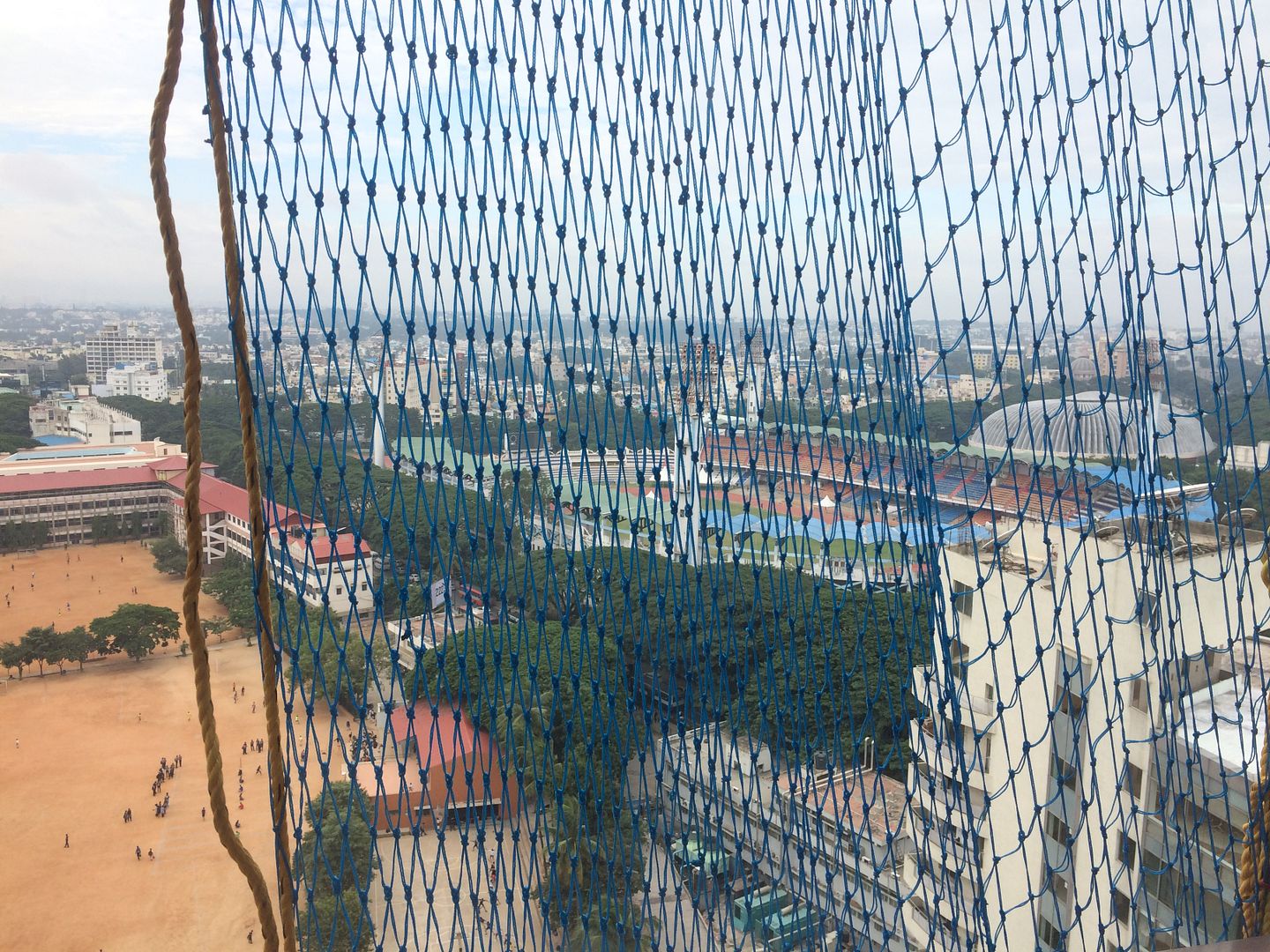 I head to the restaurant for buffet dinner before the evening rush arrives.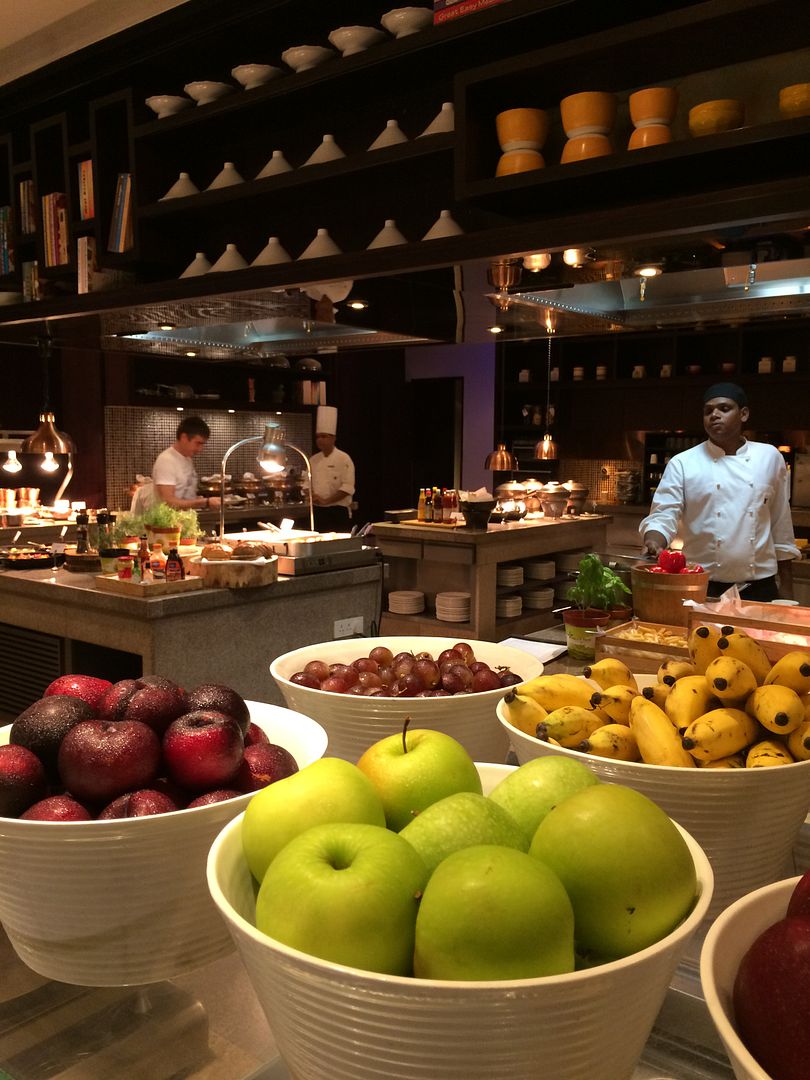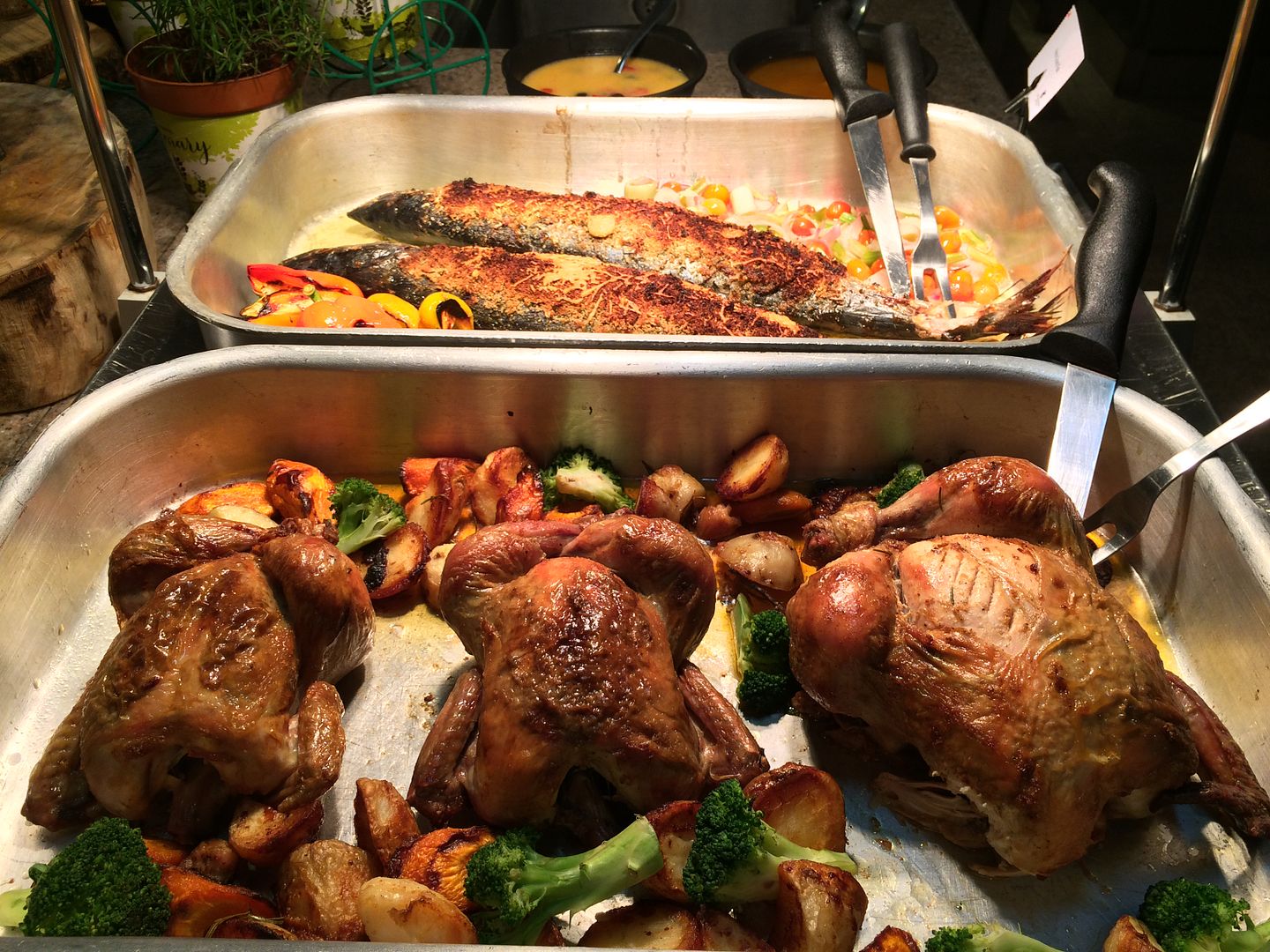 The choice of food was quite excellent, especially the desserts. After 3 rounds, I decide to call it a day with my decision to go early a winner as after this, the restaurant got quite busy.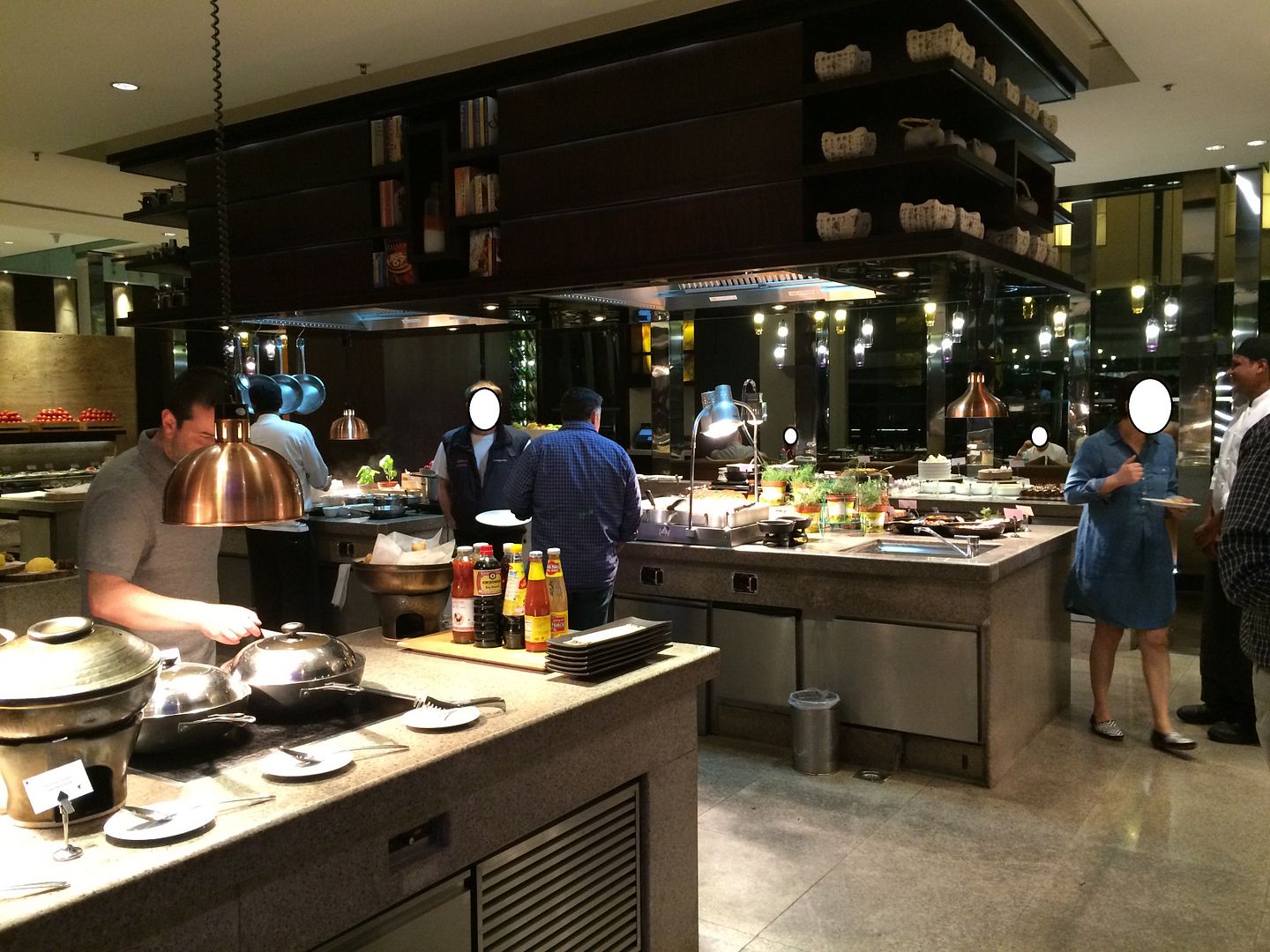 The JW Marriott buffet restaurant is one of my favorite places to dine in during all of my stays here in Bangalore.
Some final snaps of the hotel room before I get down to work for the night.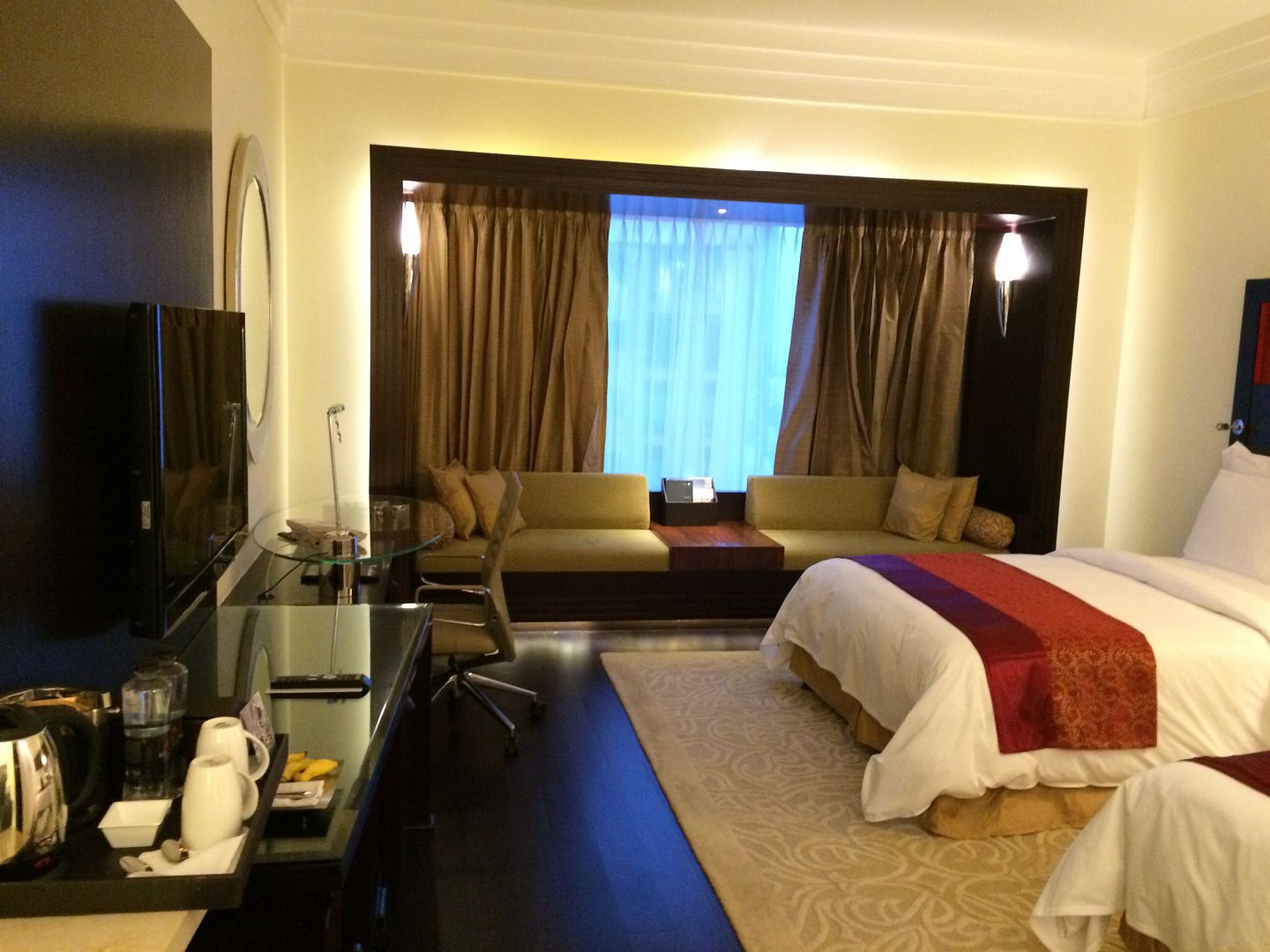 Spacious even with 2 queen beds in the room.
A lot different compared to the shower in Goa….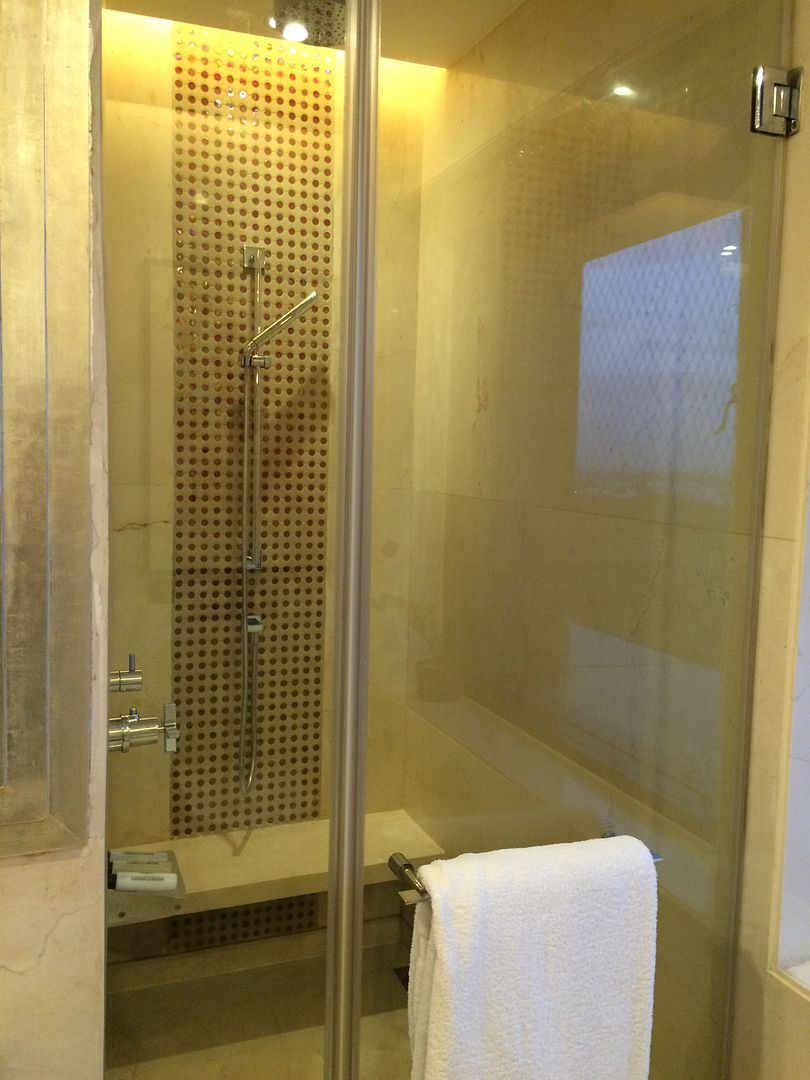 Bathroom with a view.
JW Marriott is probably one of the best hotels in India that I have stayed in. It's comfortable, spacious and has a lovely atmosphere. There is also a shopping mall next door with a number of restaurants. I ate in a Mexican restaurant the last time I was here, as well as a Chinese restaurant. None however were as good as the hotel hence why I decided to eat there this time.
My stay here lasted one night only. Once morning came, after a day of meetings it would be off back to the airport for a red eye flight back to Singapore.
Oct 29, 16, 9:03 pm
Join Date: Jan 2016
Posts: 637
Day 6: SQ503 BLR-SIN J Class B777-200 ER
---
After check-out in the morning, it's time for me to make my way to a series of meetings before I head back to the airport. These days, checking out of hotels has become extremely easy and simplified. I was the only one at the counter with the whole process taking less than 2 minutes.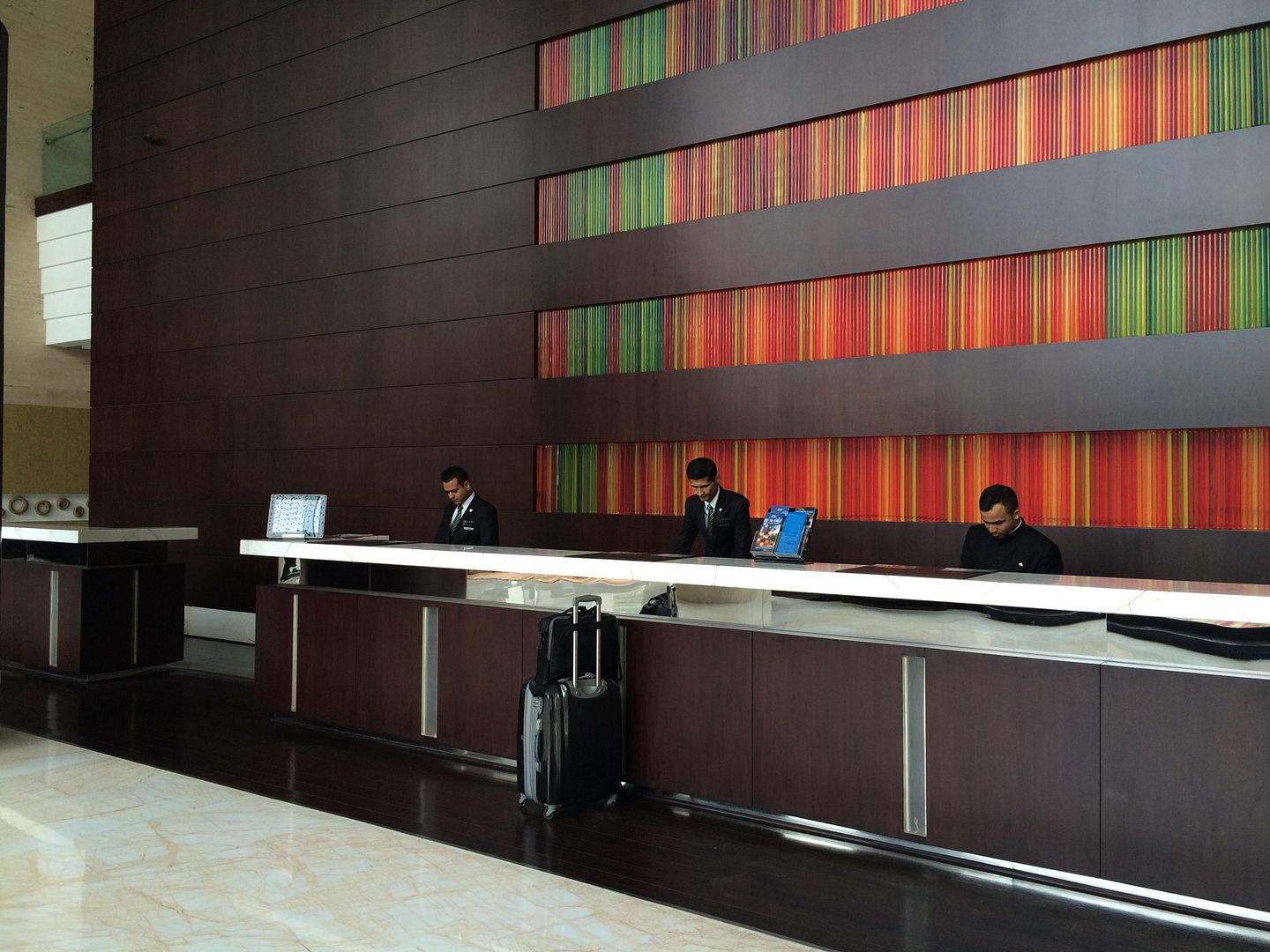 The décor inside the hotel was magnificent, the last time I was here I recall seeing the huge space filled with a Christmas tree so this part never stood out as much.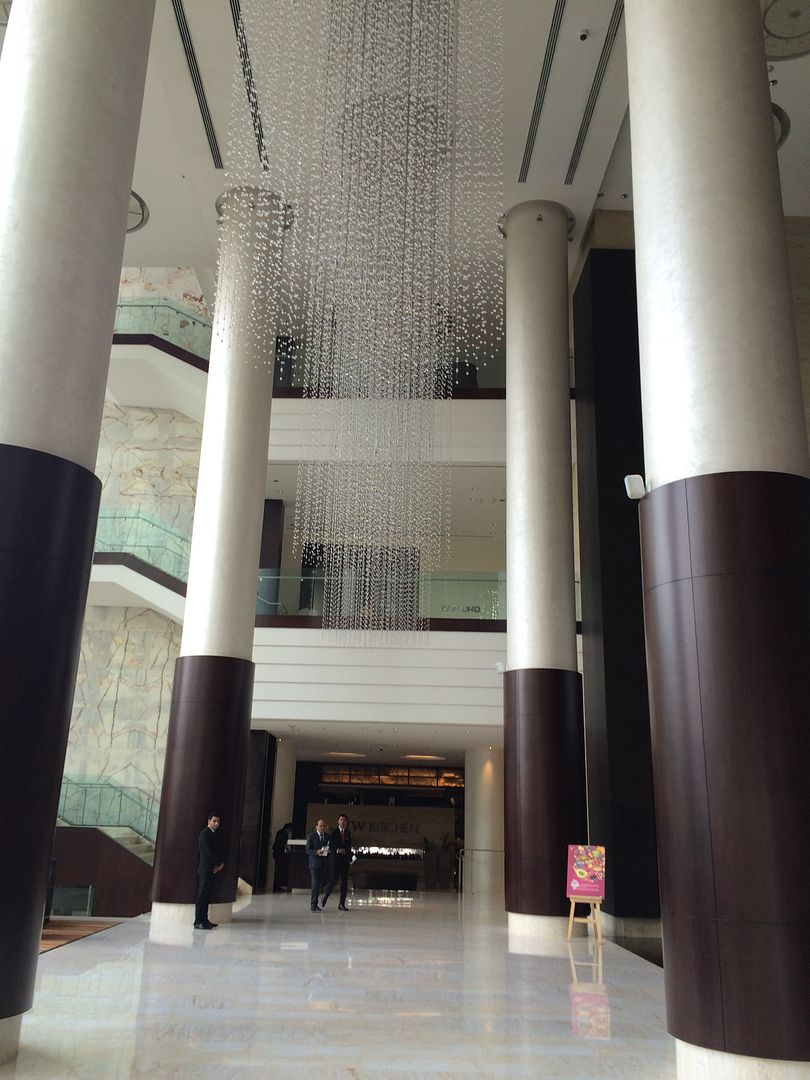 To reach my meetings, I give myself 2 hours and decide again to take an Uber instead of a hotel car. This resulted in a bit of excitement. My driver accidentally took a wrong turn and ended up on a one-way street, it was difficult for him to know it was a one-way street as Google Maps took him down this direction. There was heavy traffic coming towards us and unfortunately police came by and forced my driver to pull over requesting him to hand over his ID card. After around 30 minutes the driver paid a fine and then given back his card. We were then permitted to be back on our way. The police stopped everyone going the wrong direction.
My meetings end and after being warned it may take a couple of hours to reach BLR, I decide to head straight to the airport for what potentially could get me in time for when check-in opens or a couple of hours early. Better to be early than late! Along the way, I spot one of many motorcycles and auto rickshaws (tuk-tuk) on the road.
With little traffic and less than an hour on the road, I spot the ATC for BLR.
As you can see, there's still plenty of light outside and with my flight being a red eye, it was going to be a long wait inside the terminal before I could check in. Only ticketed passengers are allowed inside the terminal so there's not much happening inside with most of the café's and eateries situated outside. Also, once you enter the terminal you are not permitted to leave so for smokers, be prepared as after this you only be able to smoke once you are past immigration / security.
I grab myself a spot and stay here for a few hours watching a movie on my iPad.
3 hours before my flight, check-in opens with the normal channels of separate desks based on travel class. All check-in desks were empty.
After checking in I head for the departure area and again experience the joys of being pushed around during security. Not to worry, this adds 10 minutes only and eventually I reach the lounge. With the day being more than 12 hours already, it's time to grab a shower and slip into travel gear for a red eye flight.
Shower was nothing special but comfortable enough to freshen up for your flight.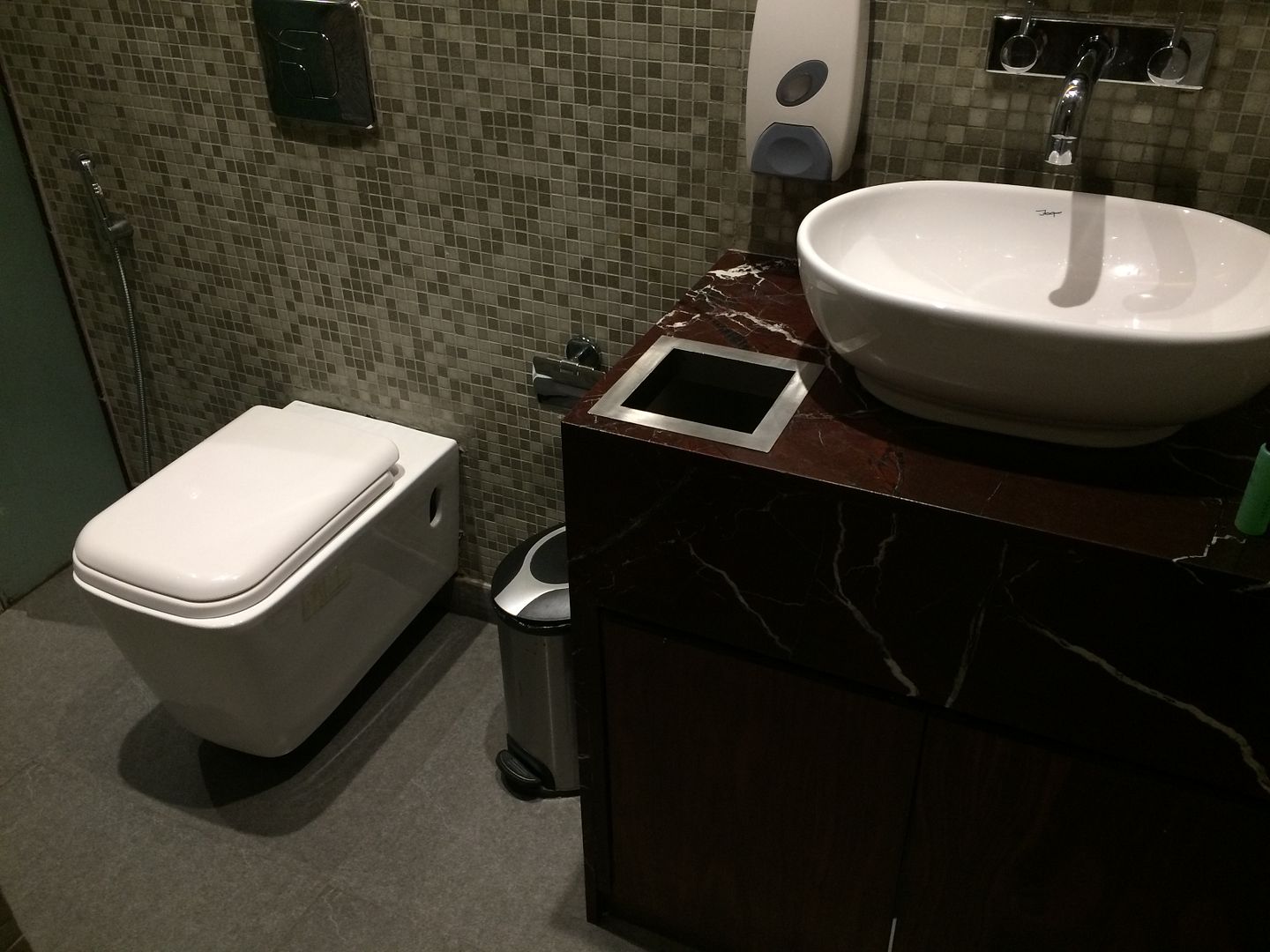 Inside the shower room was also a massage table in case you wanted one on offer. The sign asks you to Respect the Masseuse.
Back to the lounge itself, there was a bar, cooking station with plenty of items on offer.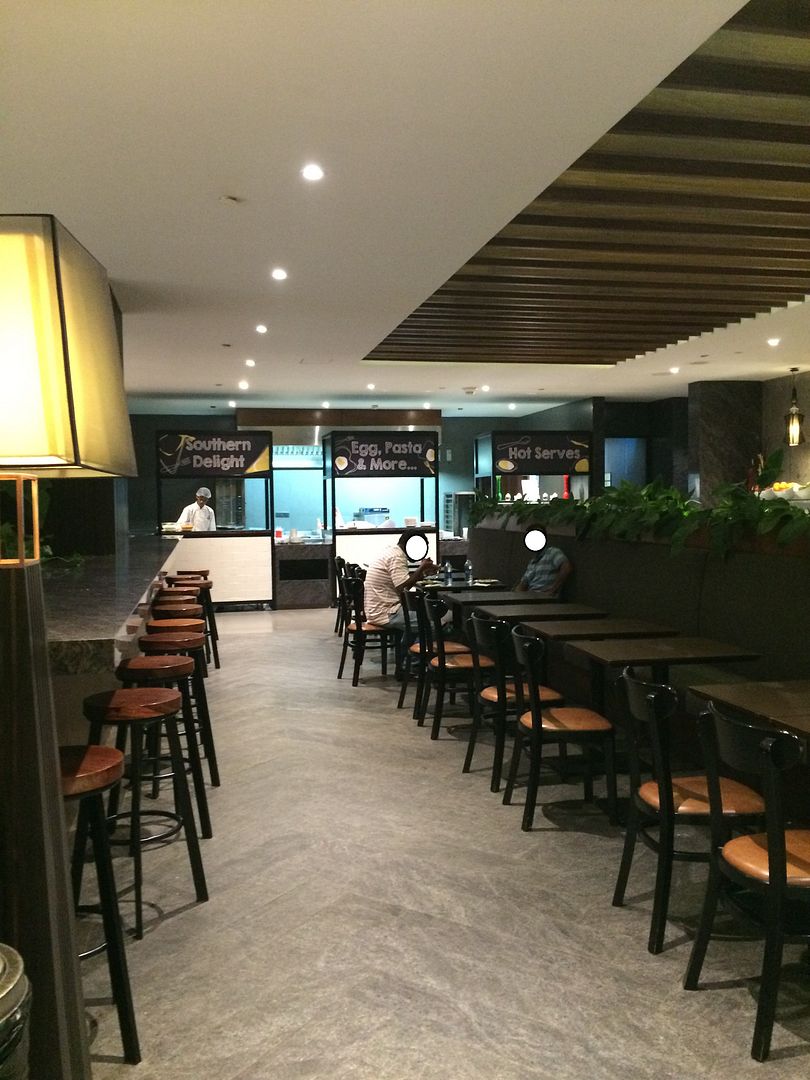 Seating area was a plenty but it did get full pretty quick.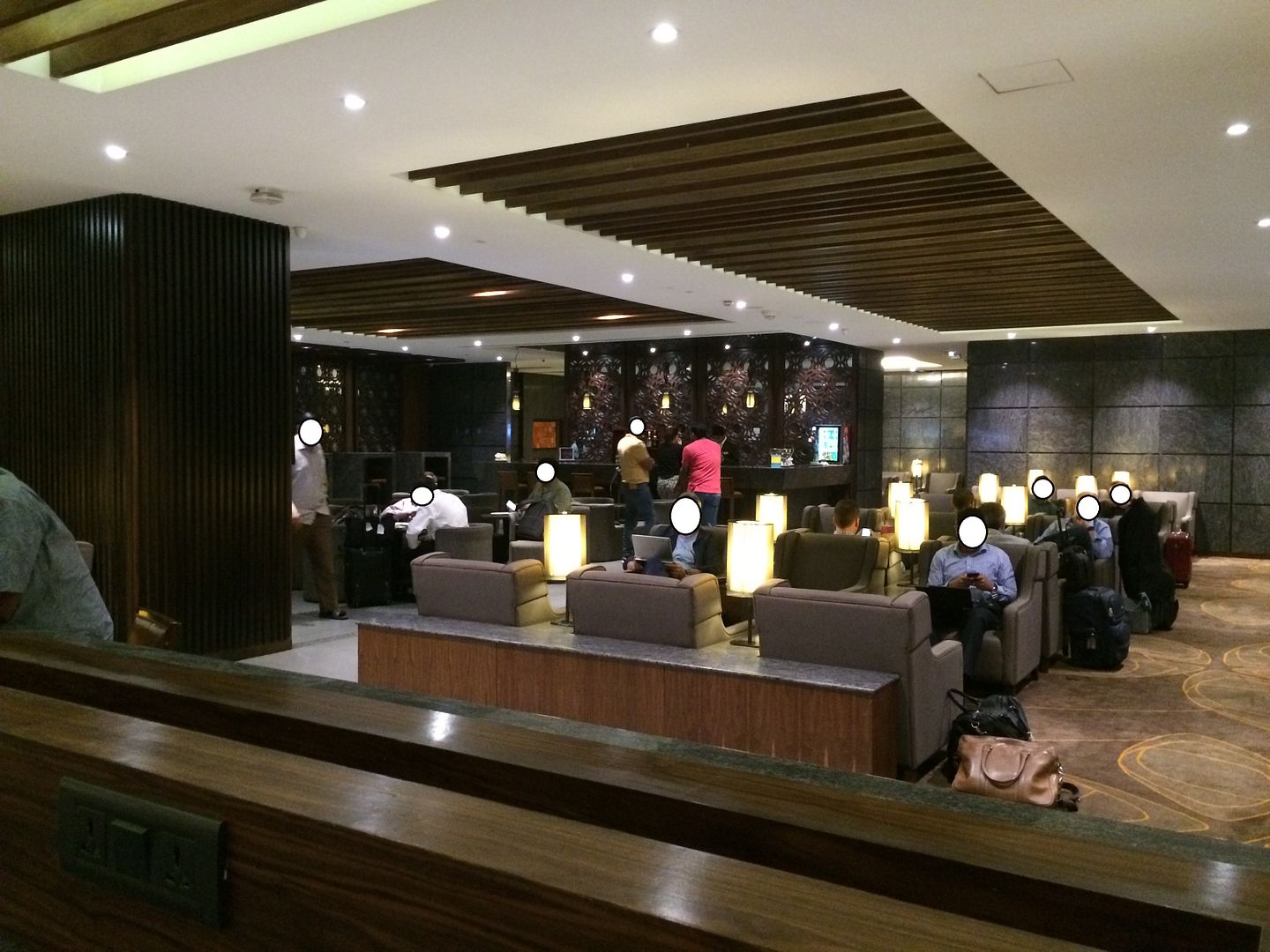 View from inside the lounge is of the shopping area after immigration.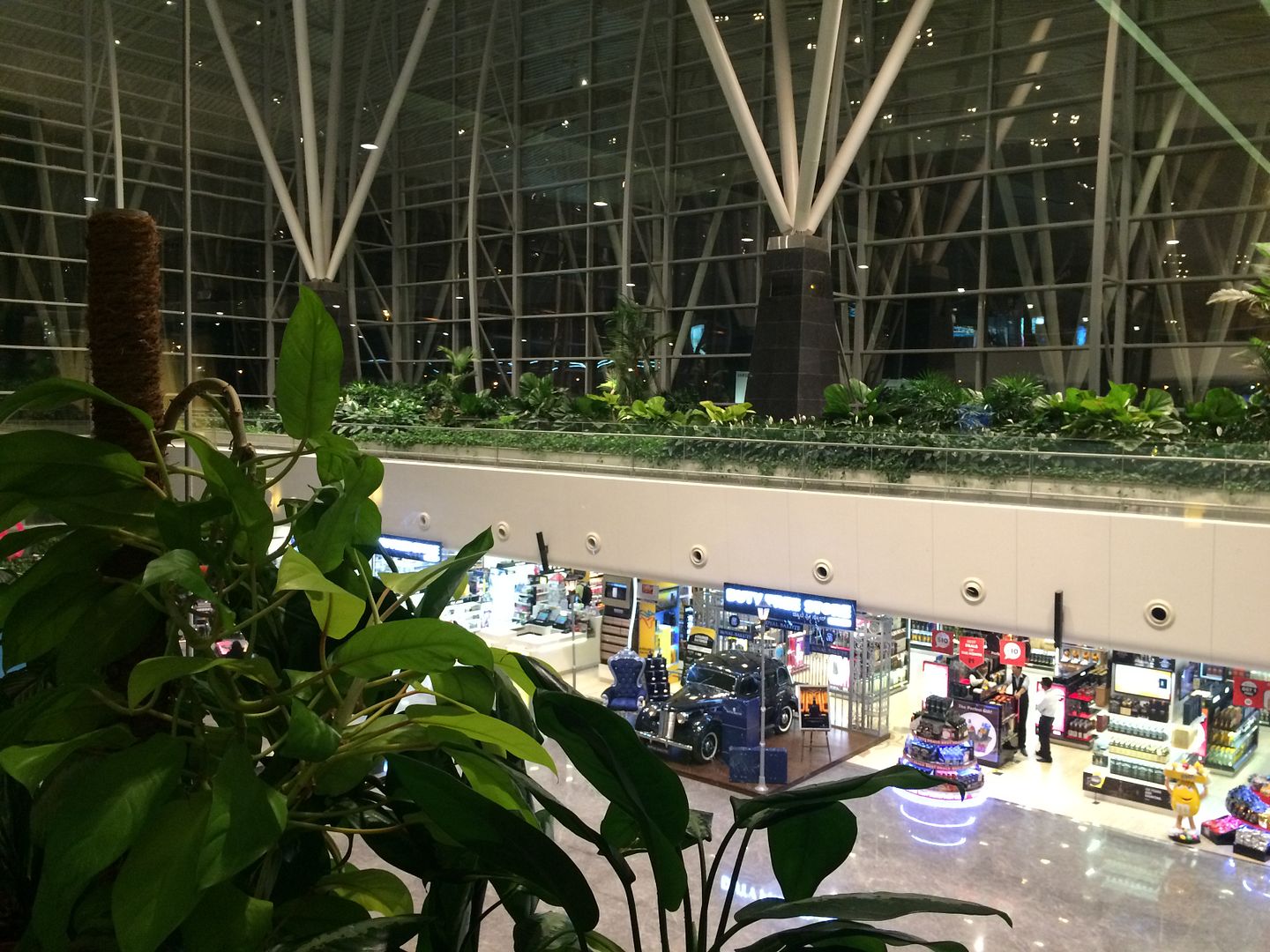 For food, I go for a cooked to order pasta with a chocolate pancake for dessert. This washed down with a local IPA and a can of Pepsi.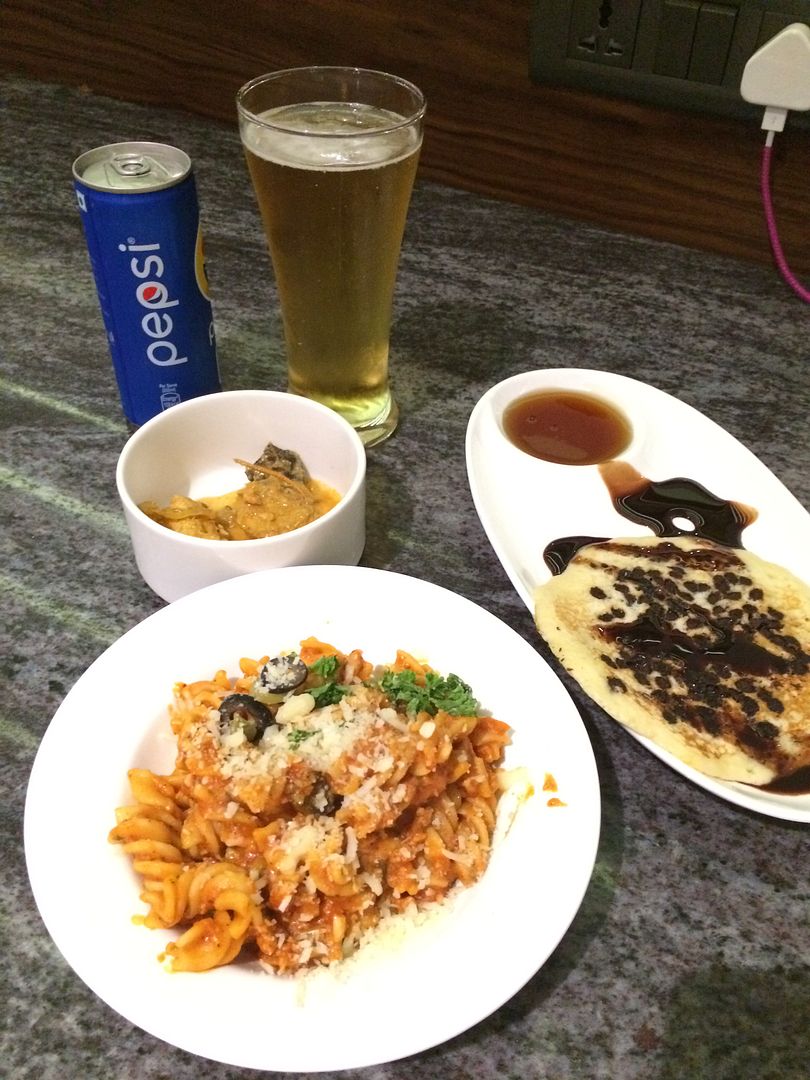 I was quite hungry so this went down pretty quick and I have to admit, it tasted quite good. After catching up on some emails, I head to the gate with around 10 minutes to go before boarding. The terminal is very nice, with a nice ambient feel to it.
Next time, I think I will come here for a drink before my flight. Looks pretty chilled out and relaxing.
The gate had security personnel dressed up in army gear. After your boarding pass is checked, the guards check to see if your carry-on luggage has been stamped by security otherwise they will rummage through your stuff before you are permitted to board. Separate boarding channels as expected.
With this being a 777-200, tonight's red eye in J class will be on the regional 2x2x2 layout.
Entertainment is on the old set up. This didn't concern me as the flight would be 4 hours 30 minutes only and after supper I planned to grab some sleep.
Tonight's supper menu….
Not long after take-off, the crew begin to serve the meals. To ensure maximum sleeping time I guess.
Chicken for main….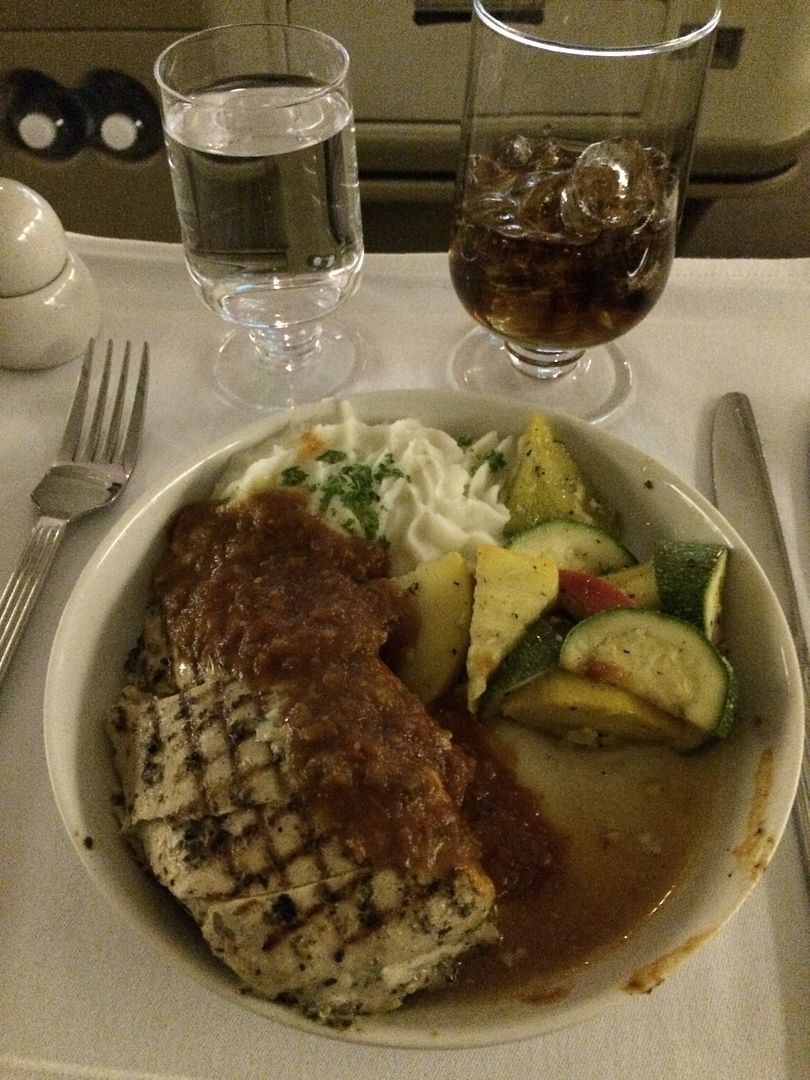 Food so far was OK but nothing special. This on the other hand was delicious.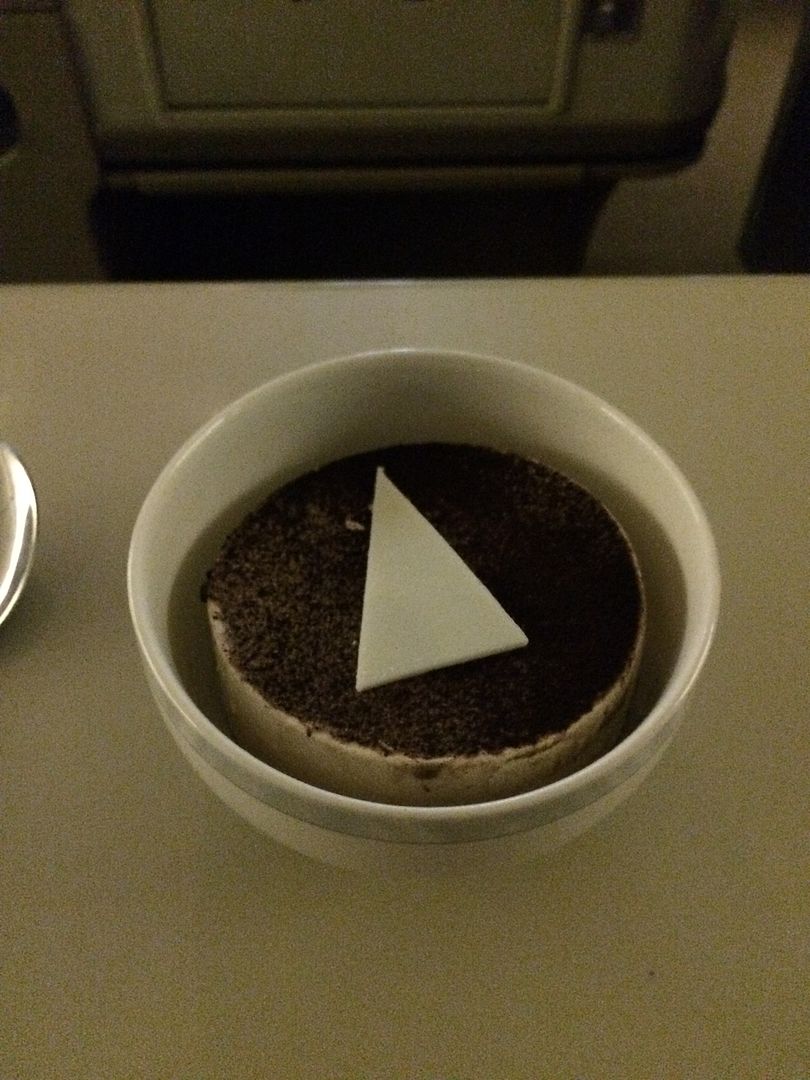 With almost 3 hours to go on the flight, I decide to settle in and grab a few hours' sleep before arriving back in Singapore at 6am.
Overall, the slight out to Mumbai was excellent with the new J product. Loved it! Looking forward to one day trying this on the long haul routes to SFO and LAX.
The regional product is still good but I prefer to take this on a day time flight as the flat beds are slightly angled and not as comfortable for a long sleep (I did get the opportunity to try this not so long after fortunately).
Thanks for reading, please do look out for my future trip reports on recent trips I took to Tokyo via SQ, a week-long trip at the Singapore F1 and Hong Kong, and a trip to San Francisco via NRT on ANA J.