Heading to HKG, the wrong way - BA J, AA J, CX F
Aug 20, 16, 6:32 pm
Join Date: Aug 2015
Location: Somewhere around Europe...
Programs: BA Gold; MR Ti; HH Diamond; IHG Spire; RR Gold
Posts: 489
Heading to HKG, the wrong way - BA J, AA J, CX F
---
Been looking forward to this trip for some time, figured it might make a good candidate for my first TR. I'll be posting near-live updates as I go, hope you all enjoy!
Months in the planning…
Planning for this started back in November, with a view to capitalising on the CPH fare sale. At the time I didn't have any idea where I wanted to go, apart from a desire to tick off flying on the 787-9. After several late nights crunching various options in ITA Matrix, I came up with the following, all J, routing:
CPH - LHR - AUS - ORD - DFW - JFK - LHR - CPH
Image Credit: Great Circle Mapper ©Karl L. Swartz
This fits in my desired 789 sector, in the form of BA's LHR-AUS service, along with a healthy bit of mileage running AUS-JFK… and some good Texan BBQ!
A few weeks I came up with the bright idea to cash in some AA miles for a CX redemption between JFK and HKG… preferably in F, and on the JFK-HKG route so I could maximise my time in CX F and make best value of my miles. No mean feat, given CX's stingy award availability.
Indeed the best routing available at the time was AA/CX J via either ORD or LAX. I settled on routing via ORD and sent it off for ticketing. Not one to be so easily defeated, I then slightly abused my wandr.me membership by setting up ~40 flight alerts for every CX F route between North America and Hong Kong on/around my chosen dates.
It wasn't until the new year that I finally got a hit: CX opened up F award seats on their ORD-HKG service, and AA even had availability JFK-CLT-ORD.
Result
! I called the AA Plat desk as fast as my fingers would dial, and locked it in. I would get my CX F experience after all!
Two small problems remained however… I was "stuck" in CX J on the return leg and the availability was for the day after I'd booked to leave JFK. I figured there wasn't any harm in continuing to monitor the routes (since BA only wanted €300 to change my inbound flights). Thankfully AA & BA's systems don't communicate all that well, or AA probably would've cancelled my ticket on the basis it was impossible to achieve…
With the AAdvantage devaluation looming I was becoming more and more concerned with locking in an F award for the return. I didn't have to wait too long, and a few weeks before there was a sudden flurry of availability. It seemed that alternates were opening up every couple of days, and over a fortnight I must have made at least 6 changes as I refined my routing. If anyone from the AA Plat desk is reading this, sorry… I admit it got a little out of hand!
However by the end of it I'd got what I had set out to achieve … CX F, BOS-HKG-BOS, with AA connections to suit… still on the wrong dates, but hey I'd got my F awards in a week before the devaluation. Three weeks later, I improved it yet further… CX opened a seat on their flagship JFK-HKG route!
Fast forward to June, some seven months after I'd started, and I
finally
had the alert I'd been waiting for. A seat in CX F, HKG-JFK, on the right day! I finally had the itinerary I wanted, after what must've been at least a dozen changes. Add a couple of positioning sectors, and I was done. Here's what I ended up with:
LHR - CPH - LHR - AUS - ORD - DFW - JFK - HKG - JFK - LHR - CPH - LHR
Image Credit: Great Circle Mapper ©Karl L. Swartz
So all told... a sector on the BA 789, 32hrs in CX F, AA's new 772 J… along with 3 days to explore HKG, 18 hours in AUS and 2 days in NYC. I just had to work out what I actually wanted to do… the easy bit, compared to the dramas of getting there!
Aug 20, 16, 8:25 pm
Join Date: Aug 2015
Location: Somewhere around Europe...
Programs: BA Gold; MR Ti; HH Diamond; IHG Spire; RR Gold
Posts: 489
Day 1: Positioning, a CPH B2B in CE/J
Having been away most of the week I started the day with a lazy morning around the house. Before I knew it it was only 3 hours before I was due to depart; cue a frantic half hour's packing and I was on my way to LHR at last. I'm already running late, not a good start!
Thankfully the roads were in my favour and soon I was at LHR; with a few minutes to spare I decided to risk checking in to my night-stop at the Sheraton Heathrow. Surprisingly they had a room ready, I was able to drop my checked bag and hot foot it over to T5 for my B2B.
I arrived at LHR in a bit of a fluster, with only an hour to spare and having not had anything to eat all day.
I made a beeline for the Flounge, to feast upon it's delights (read: avoid CE afternoon tea). Given the throngs of families around T5A, the Flounge was pleasantly quiet.
Offerings at the buffet were as visibly unappealing as ever, I mean seriously "asparagus penne with pesto"? I risked the BBQ beef with rice, which I must admit was actually quite tasty.
After swiftly polishing that off I treated myself to one of the promotional pots of Jude's ice cream from the little freezer next to the buffet. This seemed to start a bit of a trend, because no sooner had I picked up a tub than 7 people ran over to grab their own. Its a nice touch for the summer, and while I doubt it'll stick around I hope it does - they're dangerously moreish!
Flight 1
: BA820 (A319) LHR-CPH J 1A
Boarding started about 20 minutes late, due to the late inbound. Soon enough our boarding passes were scanned and we were on our way.
As usual, plenty of spotting to be done from the window: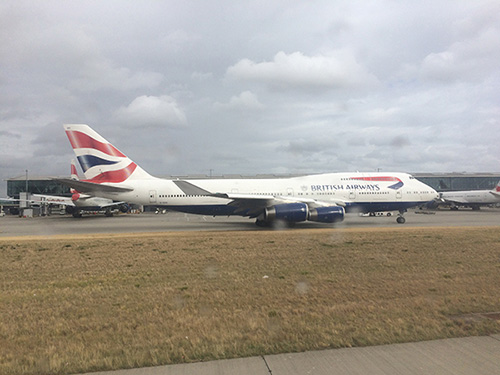 Young upstart meets old timer…
Traffic around T3/T2
Holding for the YVR-bound Canucks
Views were nice over West London on climb out
Crew were very pleasant, service was swift. Since the CE afternoon tea offering has been well reviewed on FT, I shan't discuss it further here. Only criticism I would make is that they did go a bit OTT with the announcements, for example:
"The information in this video is
so vital
, we would ask you to pause your conversations, so as not to disturb those around you, as you give it your full attention".
Soon we were making our approach into Copenhagen, which was particularly bumpy through 9,000ft. It was also quite misty, which ruined the views somewhat…
Landing on runway 22 was smooth, and we were quickly parked up on C27.
With the positioning done, it was time to say goodbye to the crew and disembark. Since I'd booked onto the same aircraft as my return, a straight forward B2B was in order. This is dead easy at CPH, since you stay airside when you disembark, and only need to turn left back into the gate to re-board the same aircraft!
Flight 2
: BA821 (A319) CPH-LHR J 1A
The crew were particularly perplexed when I reboarded, with several confused looks exchanged between them, and comments of "Didn't you just get off?!" "That was a flying visit!" etc. All good fun.
The CPH ground crew completed a swift turnaround, and no sooner than the door was closed were we pushing back. With a short taxi to the runway, so much so that the CSD was still pottering about as we were lining up. Then the IAE turbofans spooled up and we thundered down the runway, on our way again… and all were treated to some gorgeous views of Denmark as we climbed out, set against the sunset.
We hit a bit more chop on the climb out, which delayed the service by a few minutes. Once the service began we were offered dinner, either "Chicken and Potato" or "BBQ Pork Salad". I selected the former… which was a mistake. It turned out to be a chicken breast, stuffed with potato and served with leeks. The chicken was moist, but totally lacking in flavour, and the whole thing desperately needed a sauce. The raspberry & lemon mousse was very tasty though, credit where it's due.
The remainder of the flight passed swiftly and soon we were descending into London, albeit with a few mins holding at Lambourne. While I'm biased, I don't think there is anything better than a westerly approach to Heathrow on a clear(ish) night. All eyes were glued to the windows.
After a short taxi we, ironically, pulled in on the same stand where we left 5 hours before; A13. The jet bridge was quickly attached, and with a warm sendoff from the crew we only had a short walk to passport control. As usual the e-Passport queue was small, with only 8-10 people waiting, whereas the regular EU queue was HUGE. Border Farce appeared to only have 4 desks open, and much wailing from the children could be heard.
I was soon through the gates and headed onwards to the Sheraton, the day's flying done. Not before I spotted this special welcome though…
---
Last edited by dakaix; Aug 22, 16 at

7:16 am

Reason: Typo's
Aug 21, 16, 9:42 am
Join Date: Jul 2014
Location: NCL
Programs: FB Plat; BAEC Gold
Posts: 791
Looking forward to this one, nice routing.

I'm heading to HKG in November, all be it on a more conventional routing. I look forward to some recommendations.

For NYC I would strongly recommend the 9/11 museum if you have not already visited, High Line and a walk and lunch in Greenwich Village.
Aug 21, 16, 12:58 pm
Join Date: Jul 2009
Programs: BAEC Gold, IHG Spire Elite, HHonors Diamond
Posts: 5,883
I've got a JFK-YVR-HKG flight in November. Nice 21hrs according to the BA app/website. Prefer flying west as well - takes longer and you can enjoy CX F for longer.
Was originally trying for LAX-HKG or JFK-HKG but grabbed the YVR flight when it appeared. Quite happy with the extra time on board as more time for Krug
Aug 24, 16, 11:43 am
Join Date: Aug 2015
Location: Somewhere around Europe...
Programs: BA Gold; MR Ti; HH Diamond; IHG Spire; RR Gold
Posts: 489
Thanks for your comments so far; apologies for the lull, however here's the next instalment!
Day 2: The Lone Star State
After a pleasant night's stay at the Sheraton Heathrow it was time to make tracks back to Heathrow. The last time I'd stayed at the Sheraton was back in February, I'd been assigned one of the old rooms, which seemed to be decorated largely with crushed red velvet and stained carpet. This time though they'd assigned me one of their remodelled rooms and I must say it was a substantial improvement.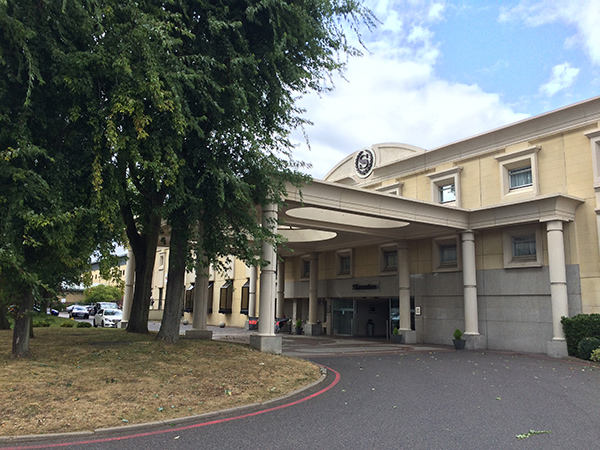 Now decorated in a neutral white, with grey furnishings, the rooms look a lot less like a flashback to the 80s. The bed was very comfortable and I had a good night's sleep. Amenities in the bathroom are sparse, with just a basic set of towels, in keeping with much of the Sheraton brand.
After checking out I took the short walk from the hotel to the bus stop opposite. This is the penultimate stop for the local No. 350 bus heading to T5, and takes less than 5 mins. It's just as quick as the Hotel Hoppa, but at half the cost (just £2.20 each way). Be aware though, London buses no longer accept cash, so you must already have a valid ticket, an in-credit Oyster card, Apple Pay or a contactless debit/credit card. In fact the driver on mine was waiving at me to say I needn't pay, though I only established that after swiping my Oyster card...
I arrived at Heathrow around 90 mins prior to departure, giving me enough time to sample the Flounge breakfast. It was even busier around the terminal than it was on Saturday afternoon, with queues on every check-in section at least two deep. Thankfully I could pop through the First check in (an OW Emerald benefit) where there was no queue and I was seen immediately. As I dropped off my suitcase the agent was somewhat surprised by my itinerary, and even more so when he printed two bag tags, with ALL of my sectors on. It took him a couple of moments before he could force FLY to only issue one for my LHR-AUS sector.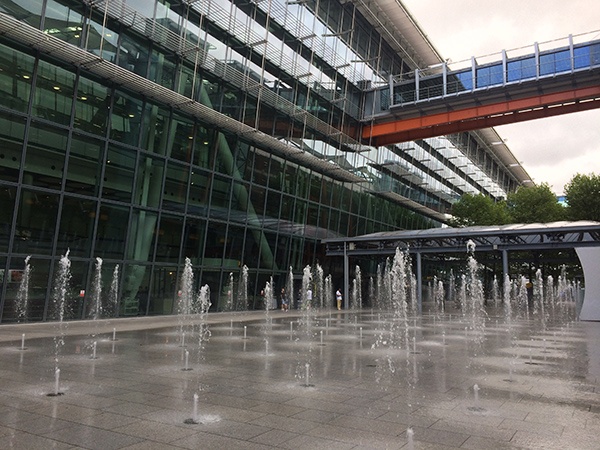 All told it only took a few minutes and I was headed for South security where, as usual, the Fast Track queue was substantial. I opted for the regular queue, which was even busier, thankfully though I managed to slip onto a quiet lane (which then closed immediately afterwards). Apparently they were relocating further down the concourse, though even the staff didn't understand why!
Now suitably secured I headed for the Flounge, dodging the myriad of oblivious casual travellers wandering/standing/running about. The Flounge was also fairly busy, however I still had no trouble finding a seat and settling down for Breakfast. I opted for the legendary Eggs Benedict that, dare I say it, is actually better than the one served in Plane Food. Larger egg, crusty bread, shredded ham... yum. Here's hoping it's not "enhanced" anytime soon.
After a spot of people watching I headed for the transit, and satellite C. I didn't have a long wait and was standing at C43 about 30 seconds prior to boarding being First/CW boarding being called. Perfect. Sadly, it did mean I forgot to actually snap a pic of our aircraft especially since the jet bridge on C43 is entirely enclosed, sigh.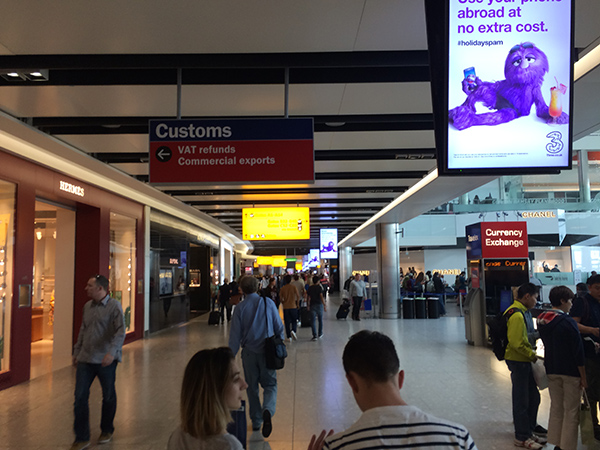 Flight 3
: BA191 (B789) LHR-AUS J 7A
Boarding was conducted via 2L, at which I was greeted by the CSD who directed me left into the CW mini cabin immediately behind F.
I was seated in one of the few window seats in CW with unobstructed aisle access, 7A. This is a slightly poorer seat than say
c-w-s's
preferred 7K, in that you're just in front of the bathroom, but you only notice the occasional noises from the sink (and then only when not wearing headphones). It's still a marked improvement over the other CW seats on this aircraft, and as 7K was already occupied I was happy to have secured it.
After depositing my carry-on in the overhead bin, I settled into my seat. The first thing I noticed was how snug it was, even in the upright position. You have no elbow room at all on one side, and if you're larger than average, you'll also notice that the curve in the side of the seat presses into your thigh. It's not actively uncomfortable, but equally you're very aware of that you're restricted it all times. A side effect of this tight layout though is that there is no at seat storage, apart from the 'shoe drawer'. I'm sure this is a result of the relatively narrower fuselage of the 787 than anything else, but for me it would be a factor to consider on any future routings.
The current BA CW seats are organised as alternating forward/rear-facing pairs. This means that when seated, with the dividing screen down, you look directly at the passenger next to you. It can make for an awkward first few mins if you're not travelling with that person. Thankfully my seatmate went to sleep almost as soon as he sat down, thereby allowing me to dodge the awkward "when can I put up the divider without being rude" dilemma.
Once boarding was complete the cabin crew came through distributing customs forms, menus, PDB's and amenity kits.
Just as they were finishing that up in the mini cabin all of the lighting in the cabin suddenly went out, replaced by the emergency lights a moment later. It occurred to me at the time that maybe someone had removed the ground power early/accidentally... and that without the APU the crew would now have to re-enter the flight data into the FMC, and we'd have a delay. Sure enough a few minutes later, the captain came over the PA to announce that they "... have a technical fault with the aircraft systems, and need to reset a few things. We have an engineer on the way to assist with this, but we expect it'll take about 30 mins to resolve". Seemed a long time just to reprogram the FMC, but I gave it no further thought and popped a film on in the meantime.
While we were waiting the CSD asked the CW FA's to start taking lunch orders. According to the menu we had:
The all-new "enhanced" Tomato, Mozzarella and Avocado
---
Seasonal Salad
---
Beef Tenderloin, with Dauphinoise Potatoes, Green Beans and Carrots
Chicken Tikka Masala, with Dal Makhani and Pilau Rice
Macaroni Cheese & Cauliflower
---
Strawberry & Mascarpone Torte
Cheddar, Brie and Crackers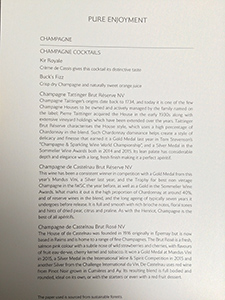 About 20 minutes later the captain came back on to apologise again for the delay, "... and also for the high temperatures at the back of the aircraft. I can see its up over 30C at the moment, and this is part of the issue we are trying to fix. We'll hopefully have it running again here shortly". It didn't feel anywhere near as bad up front, but I will admit feeling guilty for those back in WT. It's bad enough BA are starving them, without also seeing fit to boil them alive as well... all good preparation for the Texas heat though!
Shortly after that familiar whistle returned and the engineers deboarded, presumably after playing with the circuit breakers. First time I've ever seen a power outage cause a packs failure, but hey at least it was fixed. Soon after the CSD closed up and announced boarding was complete. Pushback was swift and we taxied out to 27R.
After a few minutes holding we lined up and roared skywards. Climb out was smooth and there were again some lovely views over London and Berkshire.
Service began about 25 minutes after departure with a hot towel; followed by offers of drinks and nuts, not having quite yet been driven to drink I opted for juice.
The lunch service followed on about a half hour later; as usual the first two courses were served together on the same tray along with a choice of warm bread from the basket. I selected the cheese roll, and while on the small side it was quite good. Sadly I can't say the same for the tomato and mozzarella starter, mozzarella itself has very little taste and the pesto dressing didn't improve on that, I also can't fathom BA's decision to use purple tomatoes (style over substance?). I passed on the salad so can't offer comment there! Following behind the meal cart was the second FA working our aisle who was distributing drinks, I opted for a top up on my juice along with a Kir Royale offered by the CSD.
It was quite a while before the main course arrived, around 25 mins, but once it did I was pleasantly surprised. I'd opted for the Macaroni Cheese (based on
CIHY's
recommendation), and with a bit of seasoning, it was scrumptious.
There was another half hour gap before the dessert arrived, I took one for the team and ordered both the Torte and the Cheese. Just for the TR, obviously.
With that the service was finished and the cabin lights were turned out; unfortunately they'd forgotten to collect my tray and so I had to return it to the galley myself. Overall the service though was good, but could've been a bit quicker (90 mins start to finish).
I passed the time with a few more films from the IFE, Dad's Army (Rubbish), Money Monster (Excellent), Sing Street (Foot-tappingly Good). It's probably an indicator of how long its been since I last used the BA IFE, but I had no idea they were now showing compulsory adverts – thankfully you can fast forward through them. iPad FTW.
Midway through my movie marathon I dropped by the Club Kitchen and picked up a few things. Seems that the supply chain preparations for BoB are well underway, with both Waitrose food and fun-size chocolate now present.
Once we were about 90 minutes out the cabin lights were brought up and the FA's started the afternoon tea service. As usual the sandwich selection was pretty poor, it amazes me that BA can actually manage the ratio of bread/filling as they do (~9:1). The warm scones were OK, though lacking in sultanas for my liking!
Before long we started our descent into Austin, the Caprtain came back over the PA to advise that we had been given a slight detour to avoid some weather, which by all accounts had added about 15 mins to our arrival time. All told we touched down in Austin just over an hour late.
The taxi onto the international stands was quick, and before long we were deplaning and on our way to the clearance area (after some confusion over which door the bridge was coming to). Austin is I believe unique in that they only have two stands for international traffic, with a single baggage belt in the CBP area. You first use the APC terminals, then collect your bag from the carousel before exiting via one of the manned desks. As usual since I have GE I spent several times longer waiting for my bag than it took to clear the formalities!
Once out of the terminal I met up with my Wingz driver who sped me onwards to my night stop, the Capitol Hill Sheraton. Overall it was a pleasant flight, bar the delay, and with a decent crew (and excellent CSD). I wouldn't rush to use the 789 J service again with the current CW seat, there are better alternatives, but it's comfortable enough if you're on a promo fare. Would I pay the standard price for it? No, certainly not.
Sep 7, 16, 11:50 am
Join Date: Mar 2013
Programs: DL PM, MR Titanium/LTP, Hilton Diamond
Posts: 7,982
Great TR so far - looking forward to the rest!

Had something similar happen with the APU on a UA flight last week which the pilot attributed to a trainee on the ramp who pulled the power too early. Thankfully it didn't take 30 minutes to get back up and running since it was a hot 90F+ at IAD that day.