Aer Lingus Transatlantic Business Class: Nice alternative to BA
Aug 11, 16, 5:58 pm
Join Date: Oct 1999
Location: New York
Posts: 6,572
Aer Lingus Transatlantic Business Class: Nice alternative to BA
---
Aer Lingus Business Class: Not Perfect, but a nice alternative to BA to Ireland/UK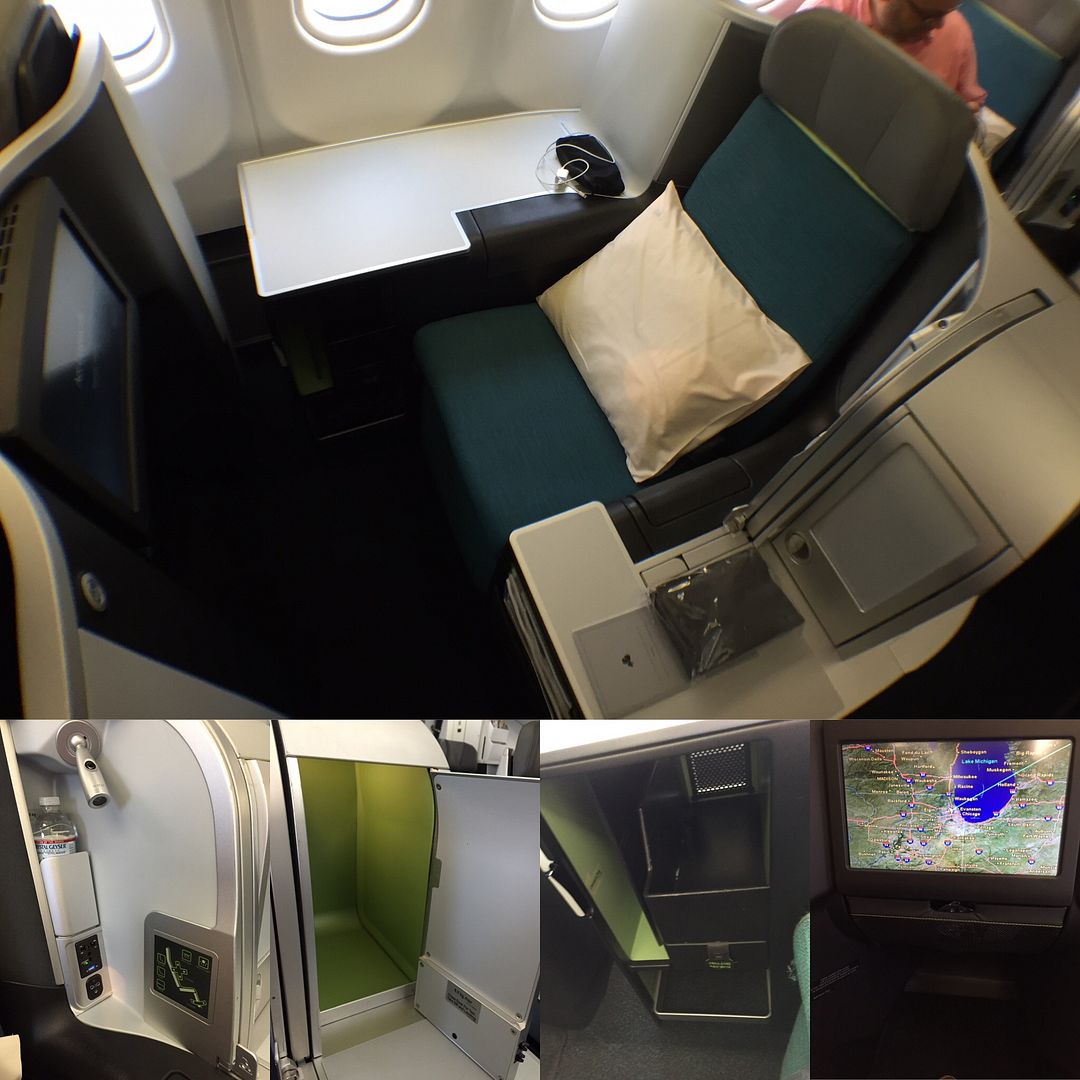 I had a last minute trip to the UK to see a friend and with BA's fare sale and the AARP discount, I settle on a BA code-share but Aer Lingus operated flights from Chicago O'Hare to Dublin, and then BA between Dublin and London Heathrow, and then once again BA code but EI operated nonstop from Dublin to Los Angeles. There were a few mishaps during the trip, and the transit at Dublin was not as straightforward as I have originally imagined. However, I prefer Aer Lingus to British Airways, especially most of the seats have direct aisle access. I love the throne seats that I have familiar with on JetBlue Mint. There are still things that Aer Lingus needs to work on especially on baggage delivery (actually delivering the bag) plus the long wait. Catering in general is stronger than BA, but I miss the Club World kitchen especially on the return segment. Aer Lingus somehow finds it acceptable to serve the same main meal and afternoon tea routine on the West Coast flights; despite they are longer than ten hours. There will be more pictures than commentary on this trip report.
Full Album:
http://s1213.photobucket.com/user/Ca...0Summer%202016
July 26, 2016; Tuesday
EI 124 Chicago O'Hare to Dublin Lv2020 Arr0935+1 Airbus A330-300 EI-ELA "St. Patrick"
Booking:
I used ba.com to book the flight and despite my ability to pull up the Aer Lingus' record at EI's website, I had to call Aer Lingus to get a seat assignment.
Check-in:
Lots of advertisement on Aer Lingus' arrival lounges at DUB and JFK
Aer Lingus used terminal five at O'Hare, which had gone through some changes from my last visit years ago. The check-in area was not busy at all and there was a business check-in line. The agent was efficient but was rather cordial and cold, than personal. I received both my boarding passes and the agent told me that I had access to the BA Galleries Lounge.
I did not want to say much about the BA Galleries lounge, but it was a bit underwhelming as most BA lounges were around the world. I had some beef barley soup, which was nice. The lounge was busy but I found seats in the back area, and avoided that FOX News channel blaring in the main room. EI passengers had no access to pre-flight dining, and perhaps that would change once BA and EI got a bit closer in their relationship.
St. Patrick arriving from Dublin
Boarding:
Priority boarding
Boarding began at 7:32pm and business class cabin was already filled with pre-boarding families and passengers, who needed extra assistance. Not many pictures of the cabin on this segment, due to the late nature of the flight.
My seat 5K
Side storage bin
More literature pockets and storage for shoes
Side panel with personal light and power outlet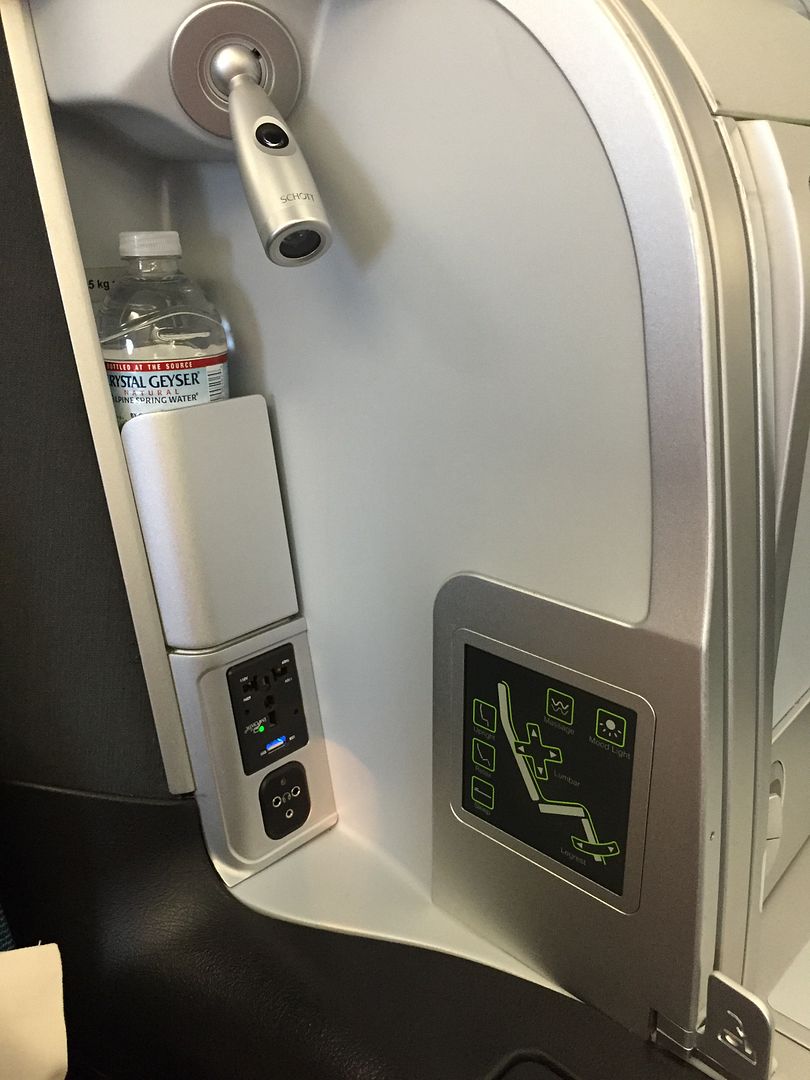 Remote control
Seat Control
Legroom
A friendly F/A immediately offered passengers choice of orange juice or champagne. Bottled waters were already pre-placed at each seat along with menu and amenity kit.
Due to the short nature of these eastbound flights, the F/A took our dinner order before takeoff as well.
We took off from R/W10L at 8:42pm for our six hours and thirty-seven minutes flight across the Atlantic Ocean. We stayed at 37,000ft as we headed towards Waukegan, McBain, and Houghton Lake climbing to 39,000ft. Then we passed Georgian Bay, Anticosti Island, Barr d'Harbour, and crossing the Atlantic Ocean and headed towards Dublin.
Since President Obama was making his speech at DNC, I was a bit anxious to get online. Despite free wifi was offered (but the card was not passed out till after dinner), I just paid $19 for the unlimited flight pass. The speed test result was good, but in the end, streaming the speech was just too difficult.
There was an audio-video on demand personal entertainment system, and everything is touch screen. There is some kind of noise-cancelling headsets, but the contents are fairly small with insufficient amount of videos.
One of the greatest aspects of Aer Lingus' dining was the canapés course… Here is the wine list as well! I stuck with the French white wine for both segments.
White Wines
La Pettegola Vermention IGT Toscana, Castello Banfi, Tuscany, Italy
Pouilly-Fume "Bois Fleury", Domaine Alain Cailbourdin, Loire Valley, France
Champagne
Jean Pernet Tradition Brut NV, Champagne France
Red Wines
Black Magic Merlot, Jordan Estates, Stellenbosch, South Africa
Saint-Joseph "Les Challeys" Delas Freres – Rhone Valley, France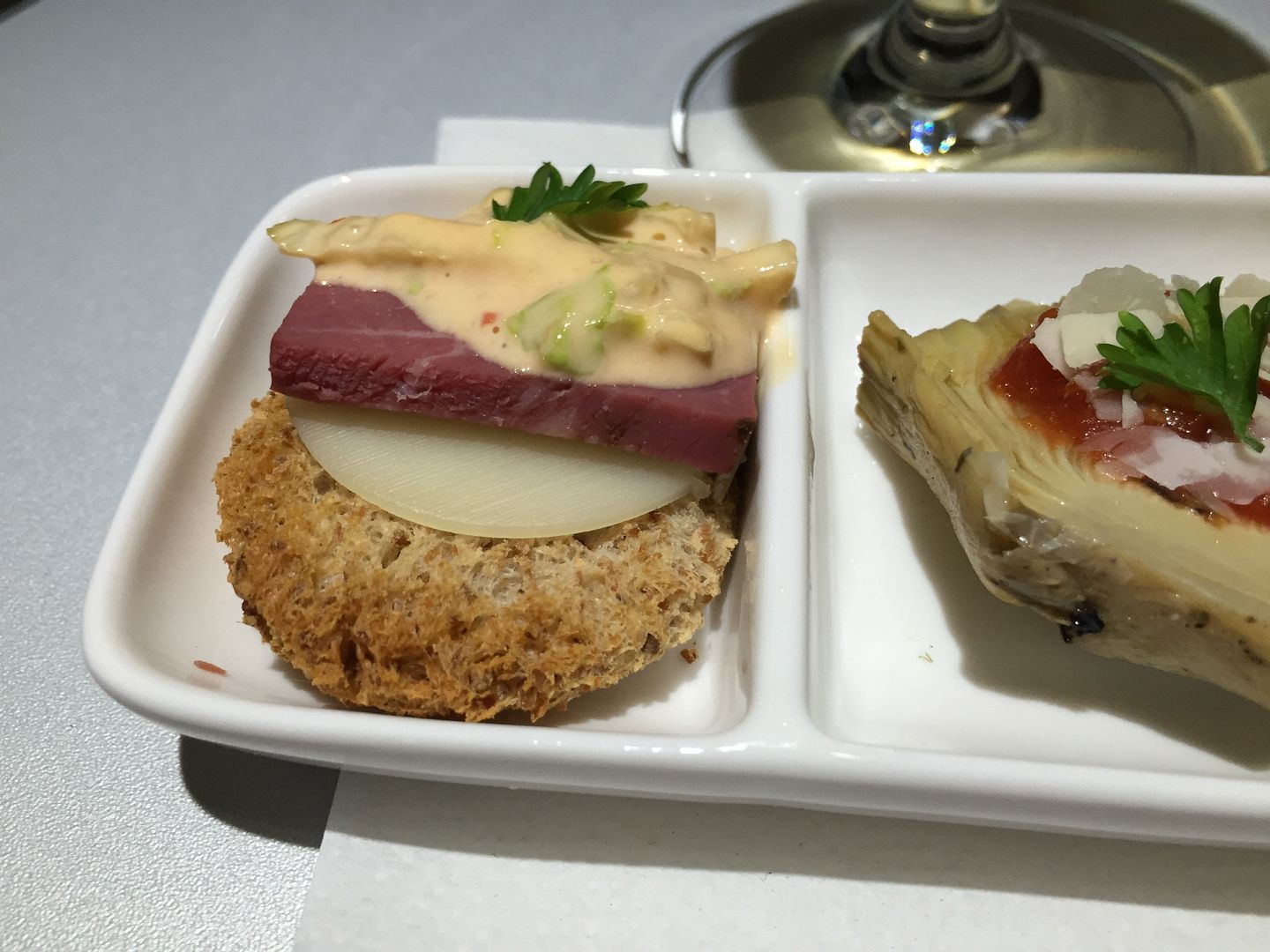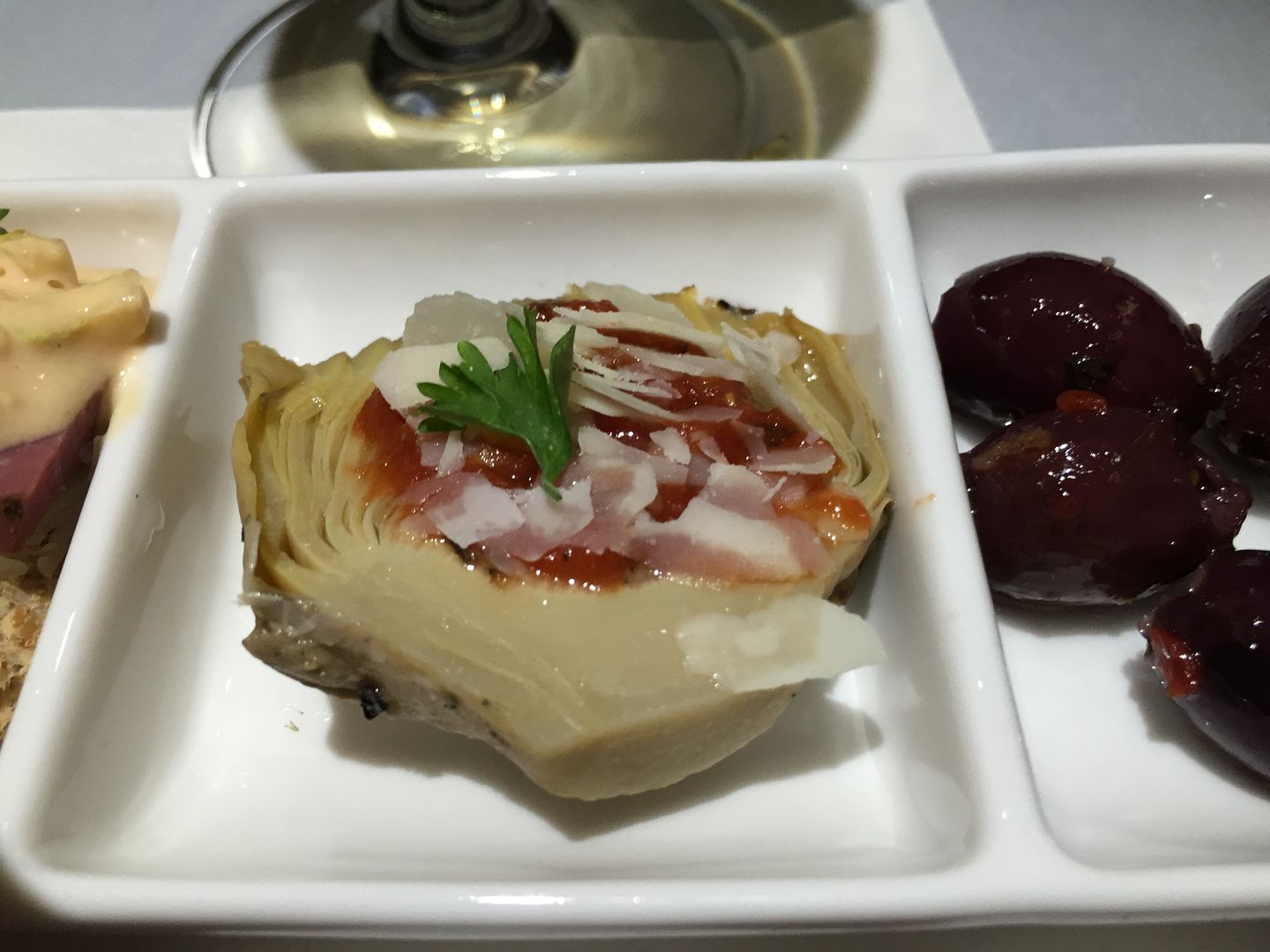 Here is the supper menu – the meal was served in two courses – first salad, entrée and bread, followed by a dessert cart – cheese or dessert!
Welcome
A selection of canapés
The Express option
If you would like a single tray so you can get to sleep quickly we will be serving poached lemon sole, sautéed potatoes, tomato, brown butter, parsley and capers
Dinner
Salad
Bread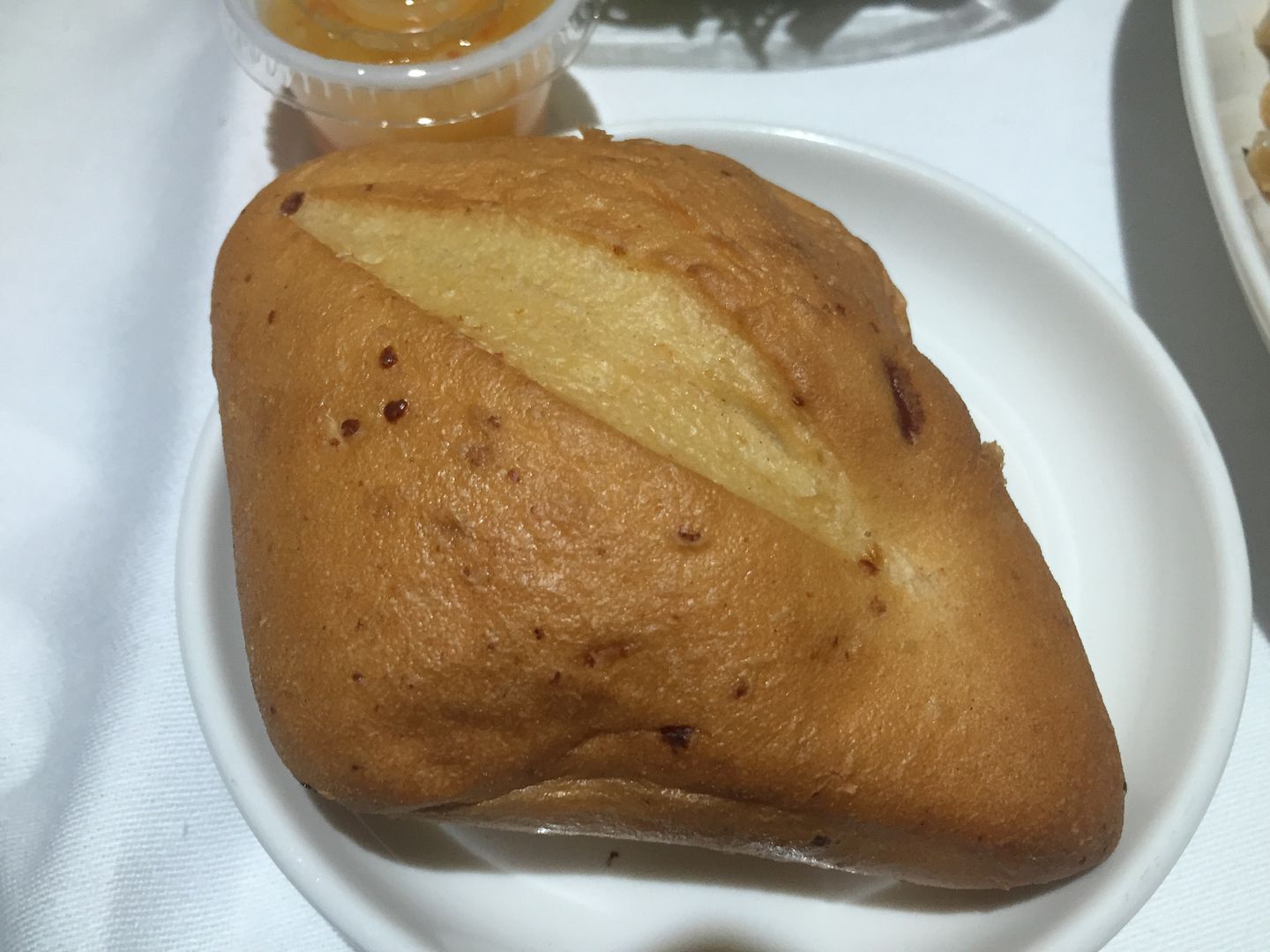 Mains
Seared fillet of beef
Dauphinoise potatoes, braised carrots, snow peas, jus
Or
Seared Breast of Chicken with spinach and cheese stuffing, barley risotto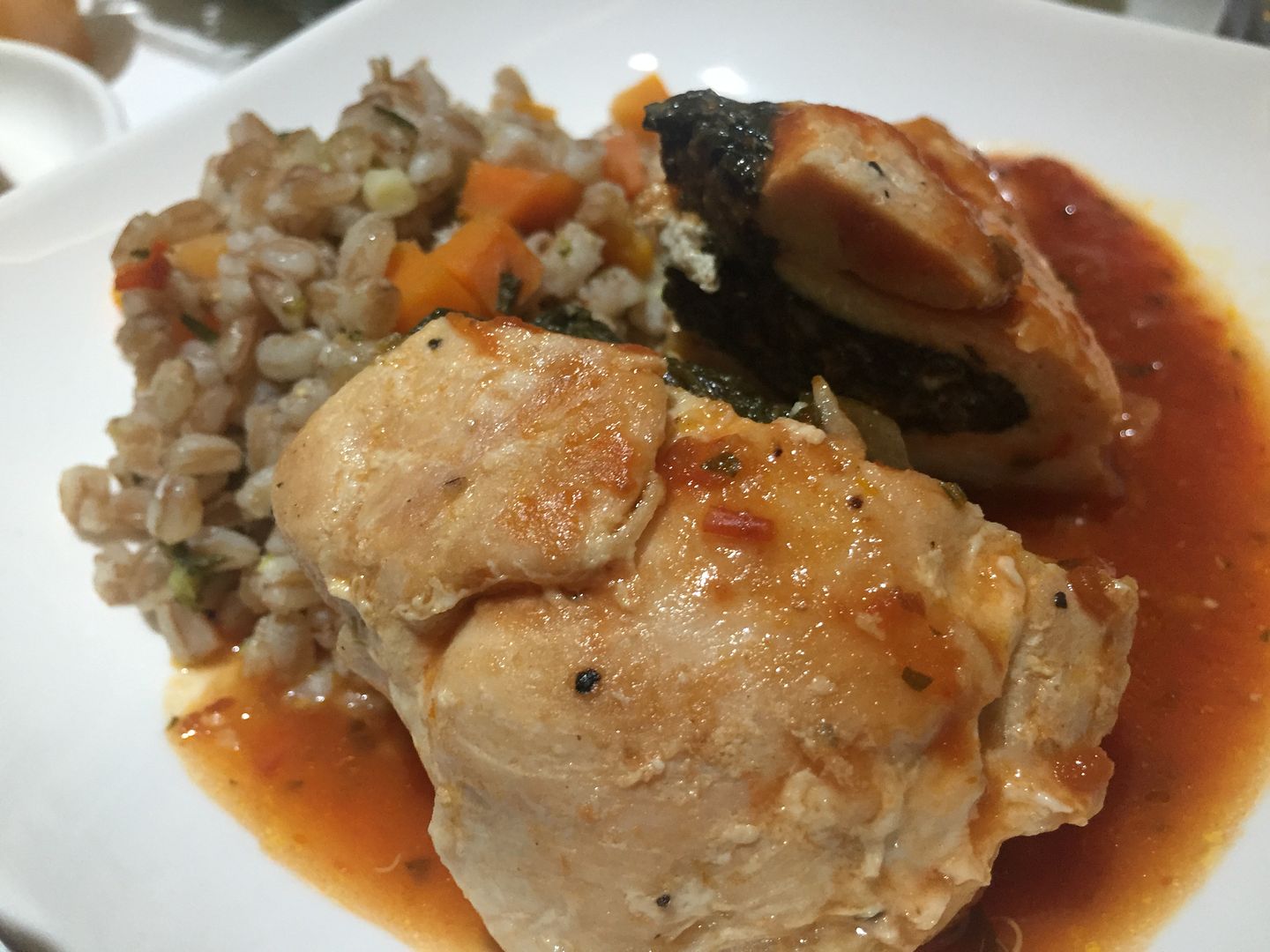 Or
Poached lemon sole
Sautéed potatoes, tomato, brown butter, parsley and capers
Dessert
Raspberry tart
Or
Cheese Board
A selection of cheese
Plum and apple chutney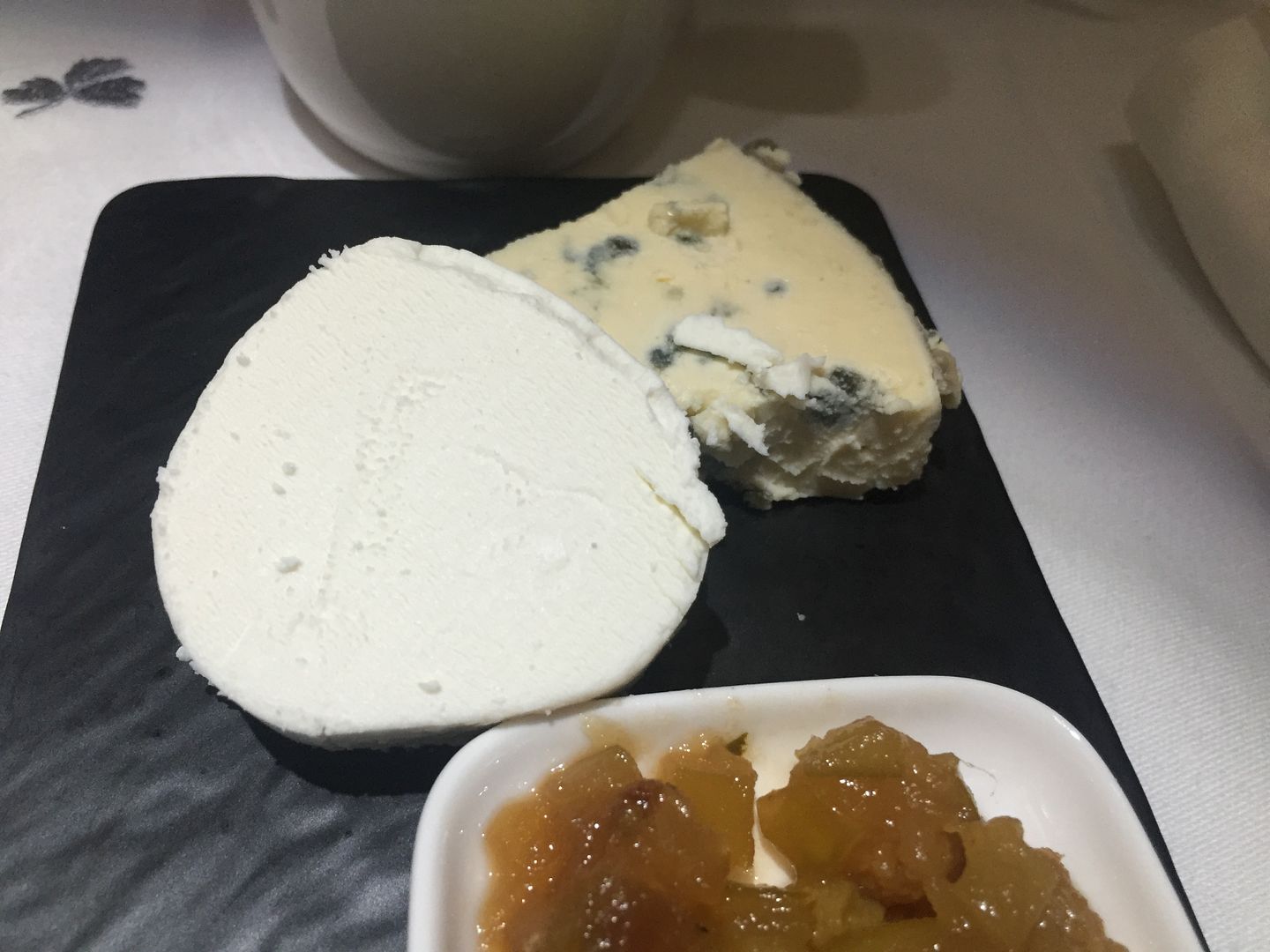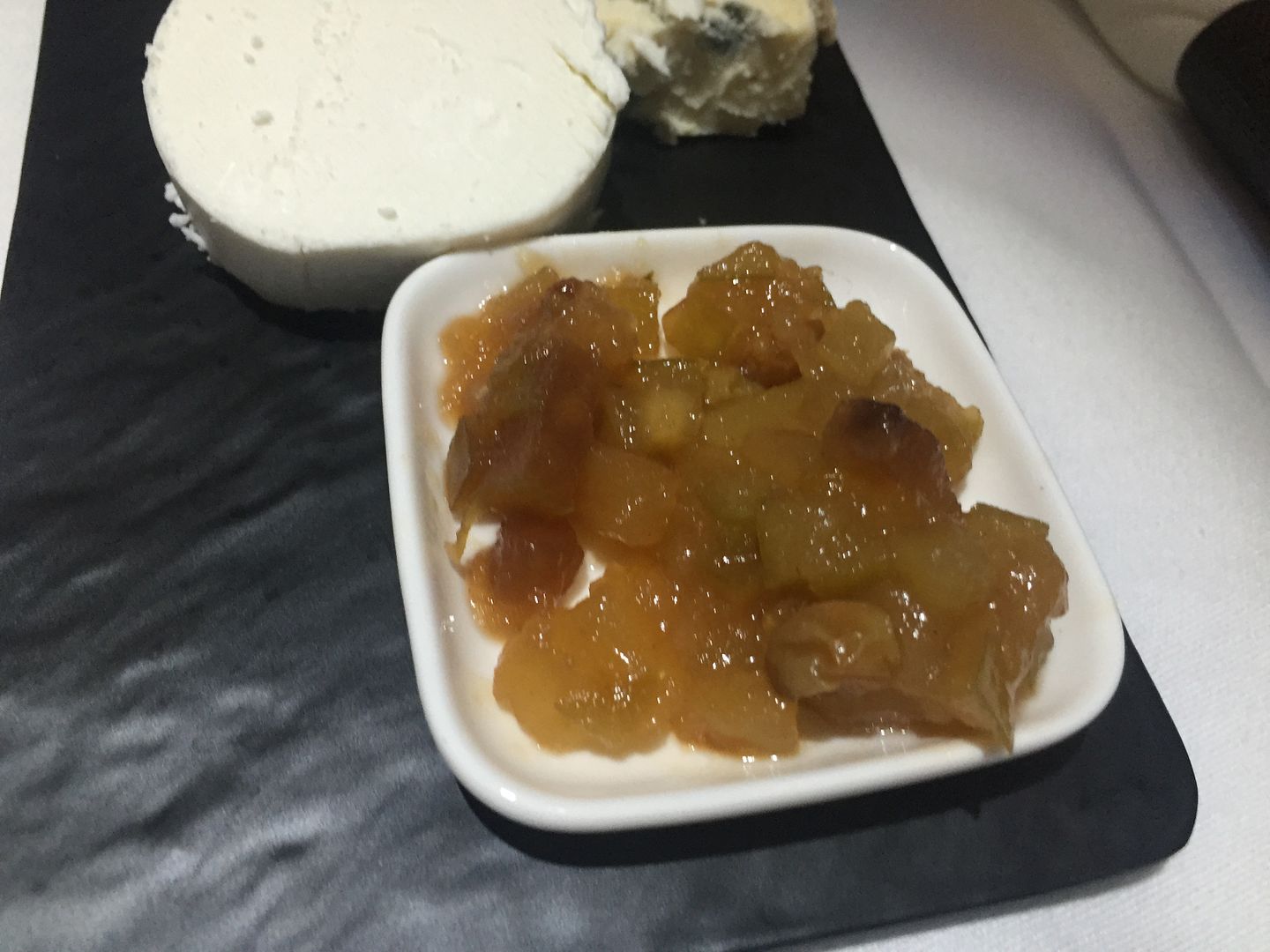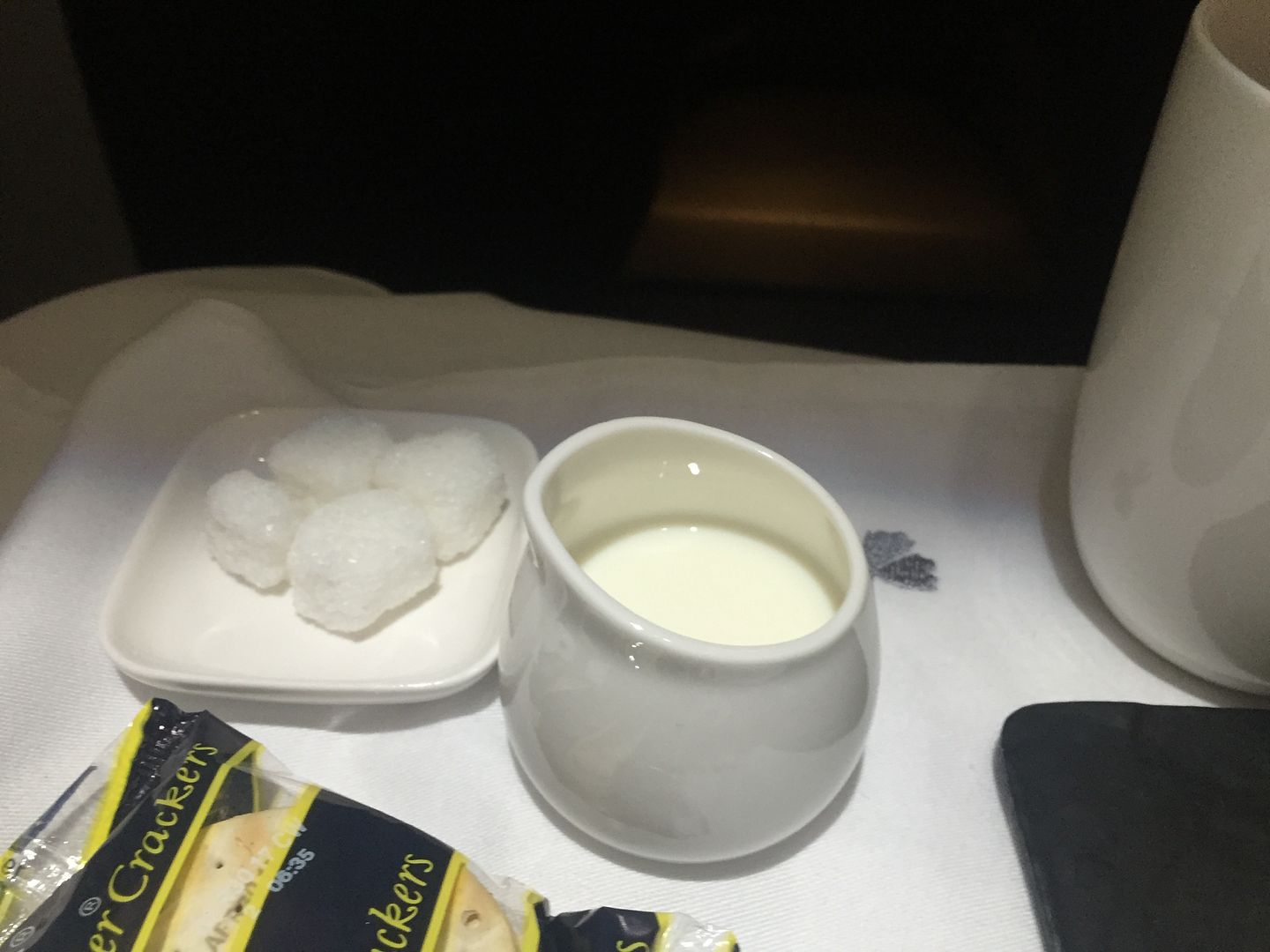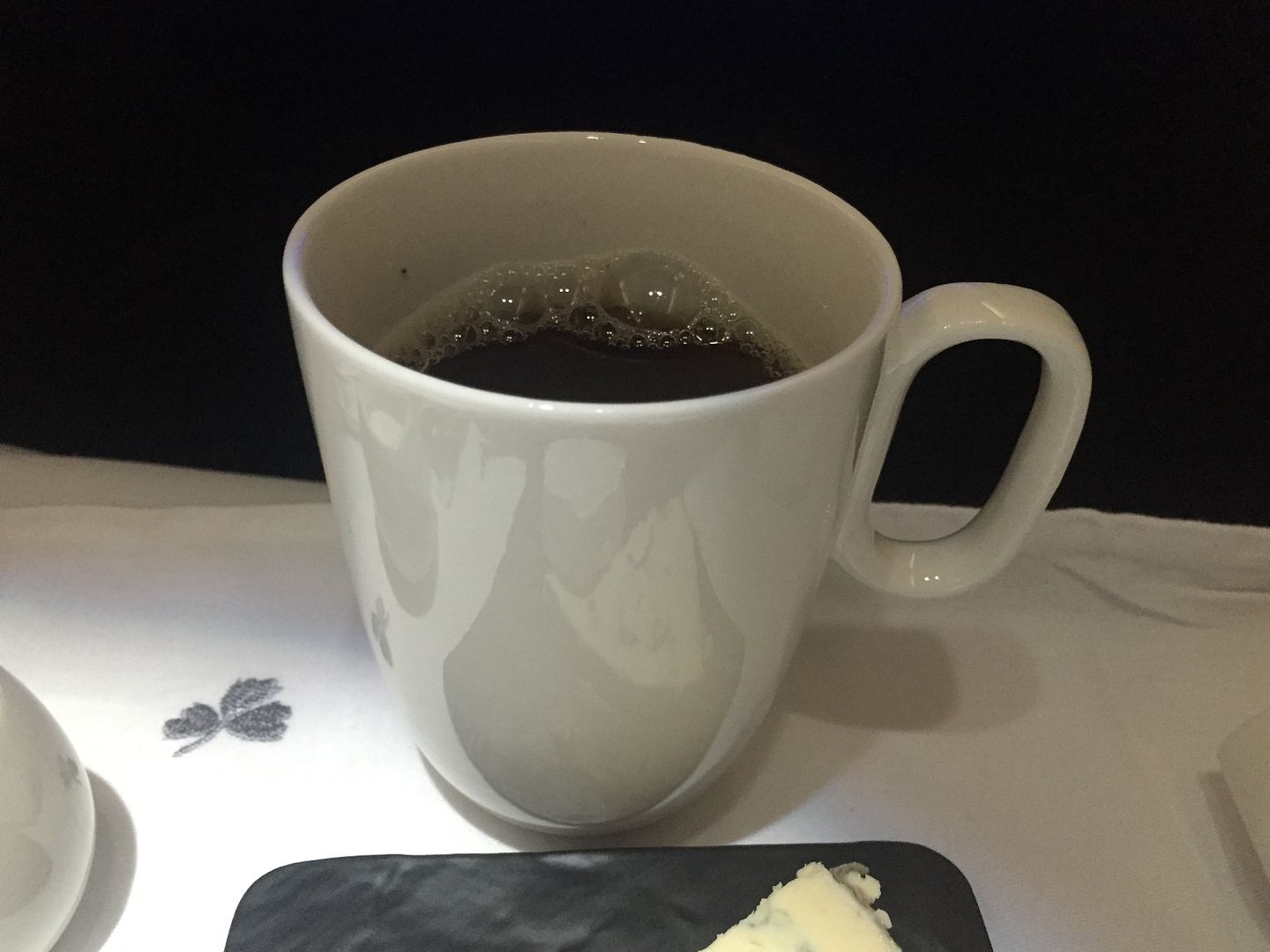 The chicken entrée was average and the meal was pretty good, given how European airlines tend to serve supper, rather than a more spread out dinner. Of course, there is no pre-flight dining option. Anyway, I also tend to dislike the "cheese or dessert" course and I usually define a premium from a good airline by the fact if they offered "cheese and dessert" or "cheese or dessert". The F/As were pretty friendly throughout the meal service and got everything served quickly. They finished the whole service within an hour and fifty minutes after takeoff.
There was no mid-flight snack bar, but for these short crossings, I did not expect EI to offer them. I went straight to sleep but only managed a few hours before my body clock was still in west coast time. The F/As were friendly, but mid-flight service was just inexistence and no one checked on passengers between meals. EI definitely needs to work on these aspects.
Good morning
A light breakfast of fruit skewer (just one skewer) and a pastry was offered at 8:15am Dublin local time – about an hour prior to arrival.
Cheese Danish – no choice, or rather the F/A picked for you. No seconds were offered!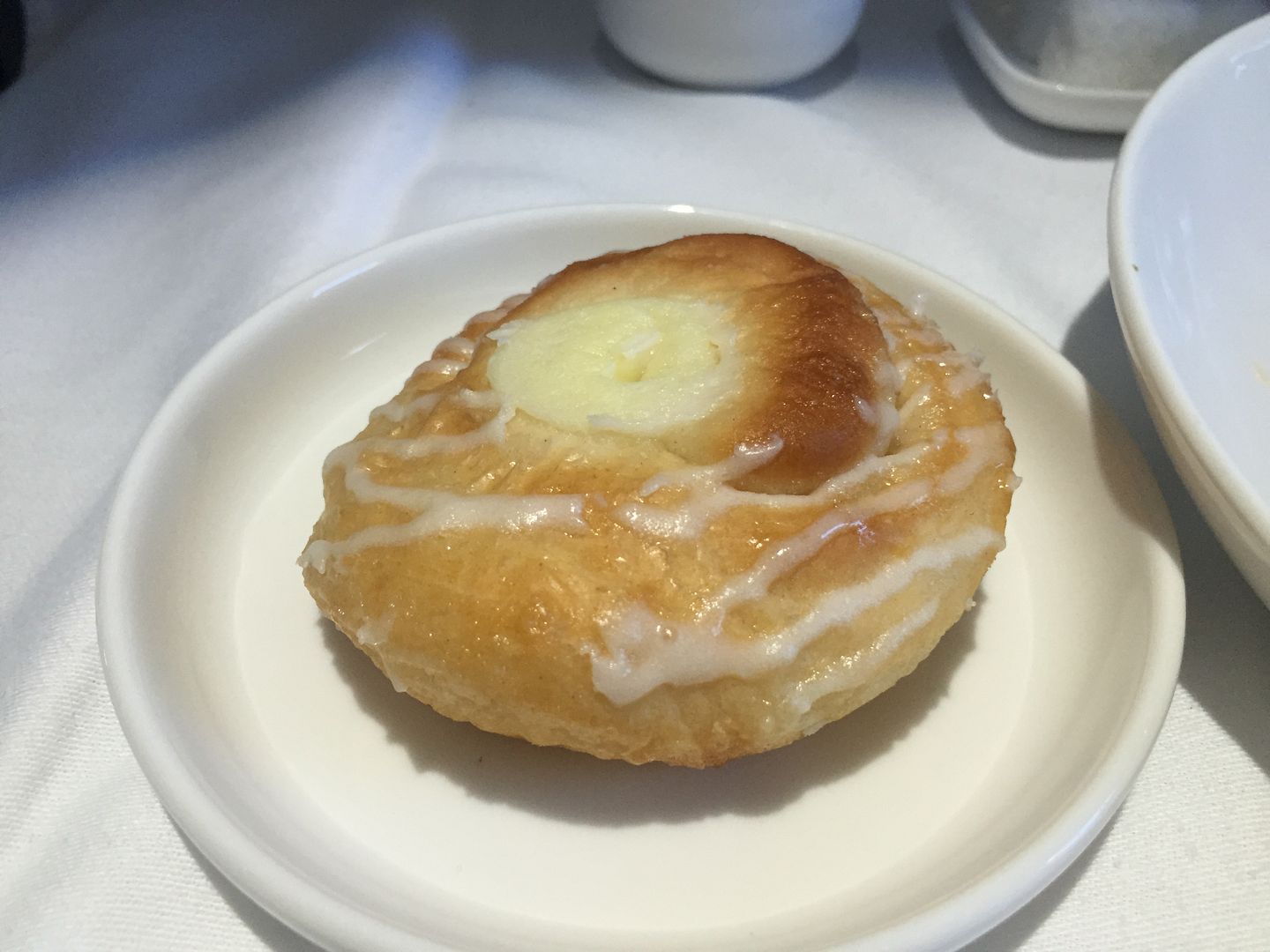 Descent began at 8:48am and we landed on a cloudy Dublin's R/W28 at 9:19am and parked at gate 302 seven minutes later.
Transit to London flight was easy on outbound, as I followed the transit sign. There was lots of walking, but it was okay after a long transatlantic flight. I went through immigration here in Dublin and when I arrived in London, it was just treated as a domestic flight. As we all knew, immigration lane in London can be long, and I am more than happy that I manage to skip it. Unfortunately, despite a comfortable two hours layover with early arrival and late departure, my baggage could not make it on this flight. Despite the frequent shuttle style flights between DUB and LHR, I was not reunited with my bag till the next morning. I recommend at least three hours for transit on USA-DUB and DUB to UK flights in the future. It was pretty bizarre given how small Dublin Airport was.
Aug 11, 16, 5:59 pm
Join Date: Oct 1999
Location: New York
Posts: 6,572
August 5, 2016
EI 145 Dublin to Los Angeles Lv1500 Arr1800 EI-DAA "St. Keeva"
Transit on the return flights was more complicated. BA was unable to print my onward boarding pass, but my bag was checked through to LAX. When I arrived at Dublin, I had to clear immigration first. Since BA used terminal one, I had to walk over to terminal two. I had to check in again with Aer Lingus, and thankfully there was a premier check in area.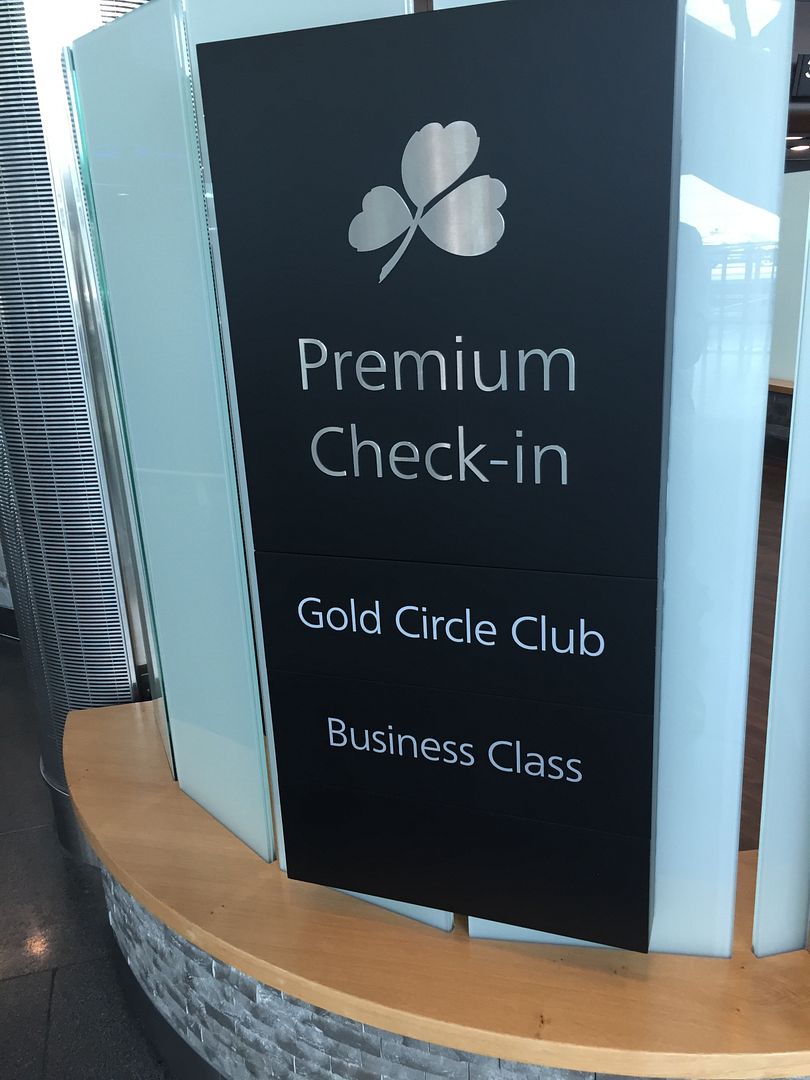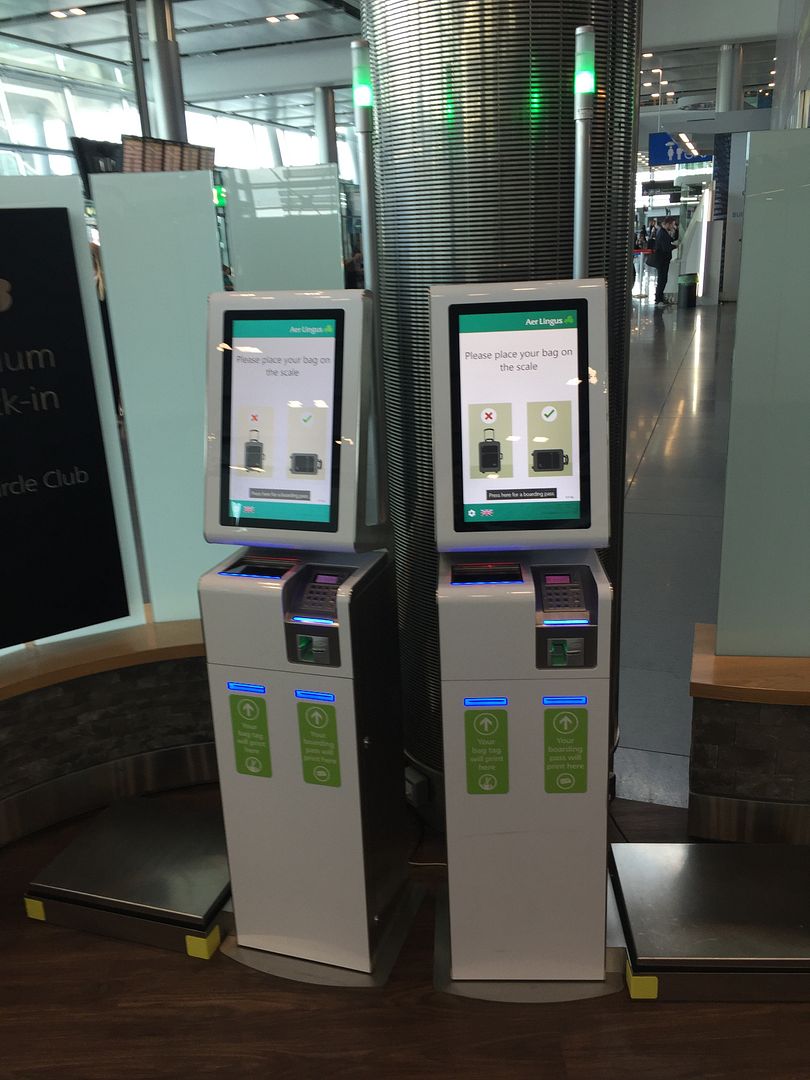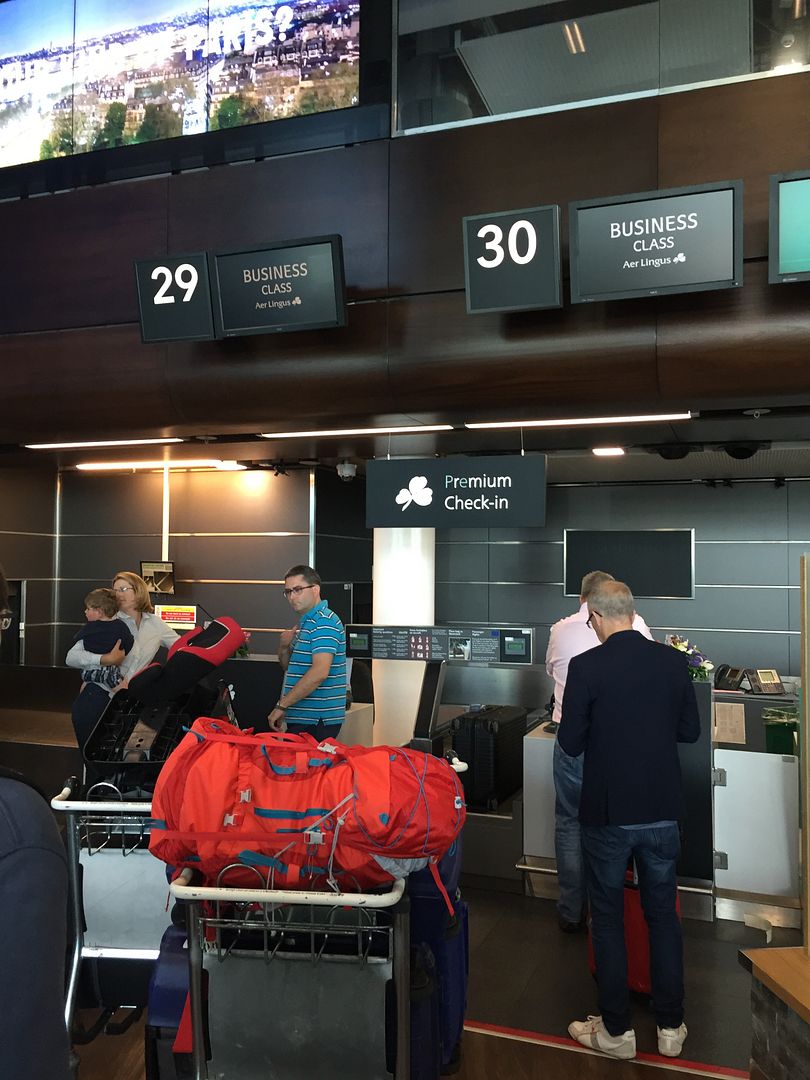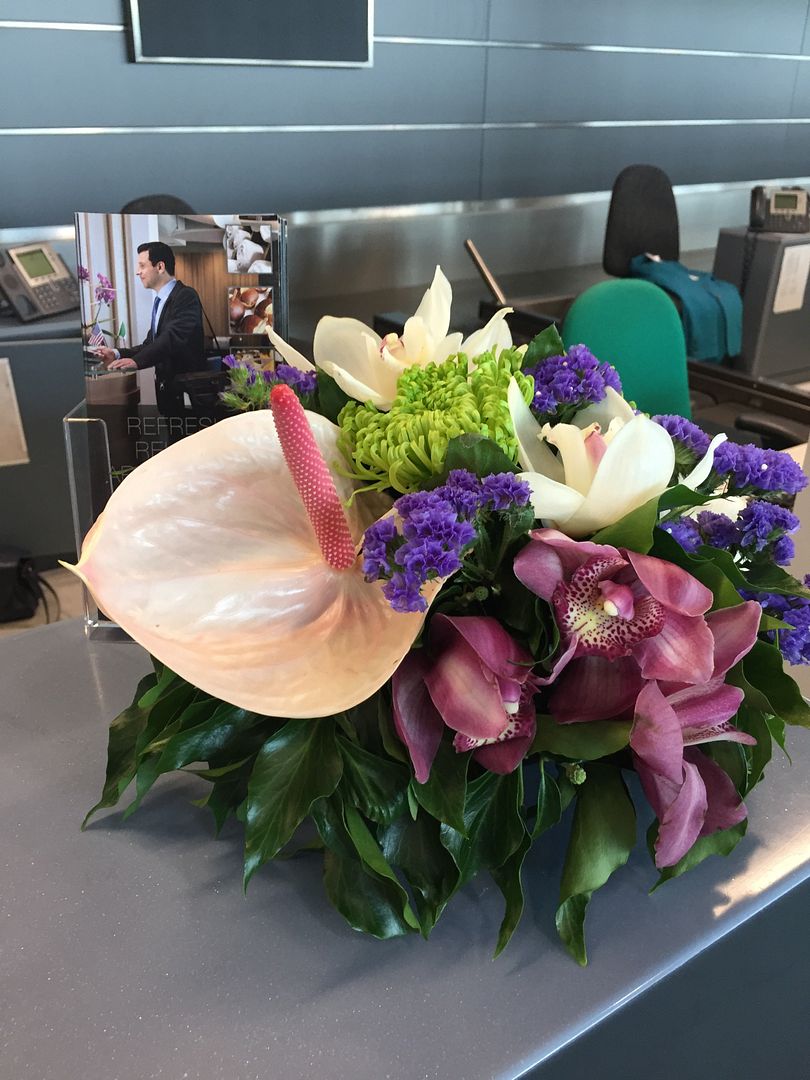 The agent made sure my bag was transferred because of the pre-clearance requirement here in Dublin. I also received my boarding pass for my onward flight to LAX. I went through my second security check here in Dublin, and then did a bit of shopping before heading the Golden Circle Lounge at Dublin. The lounge agent advice me that there was a lounge after clearance, but I was welcomed to stay. I like the lounge design, as well as hot soup service.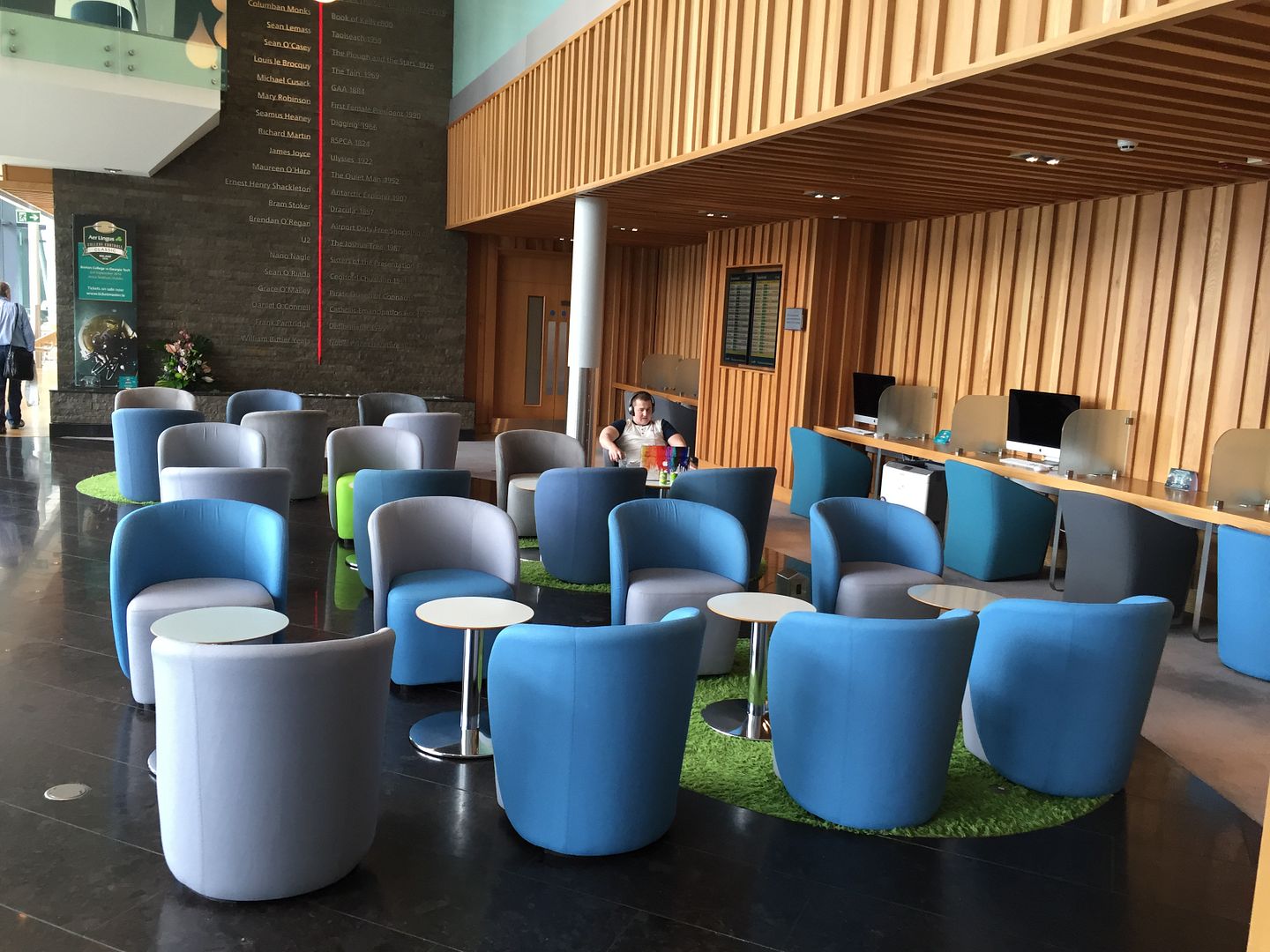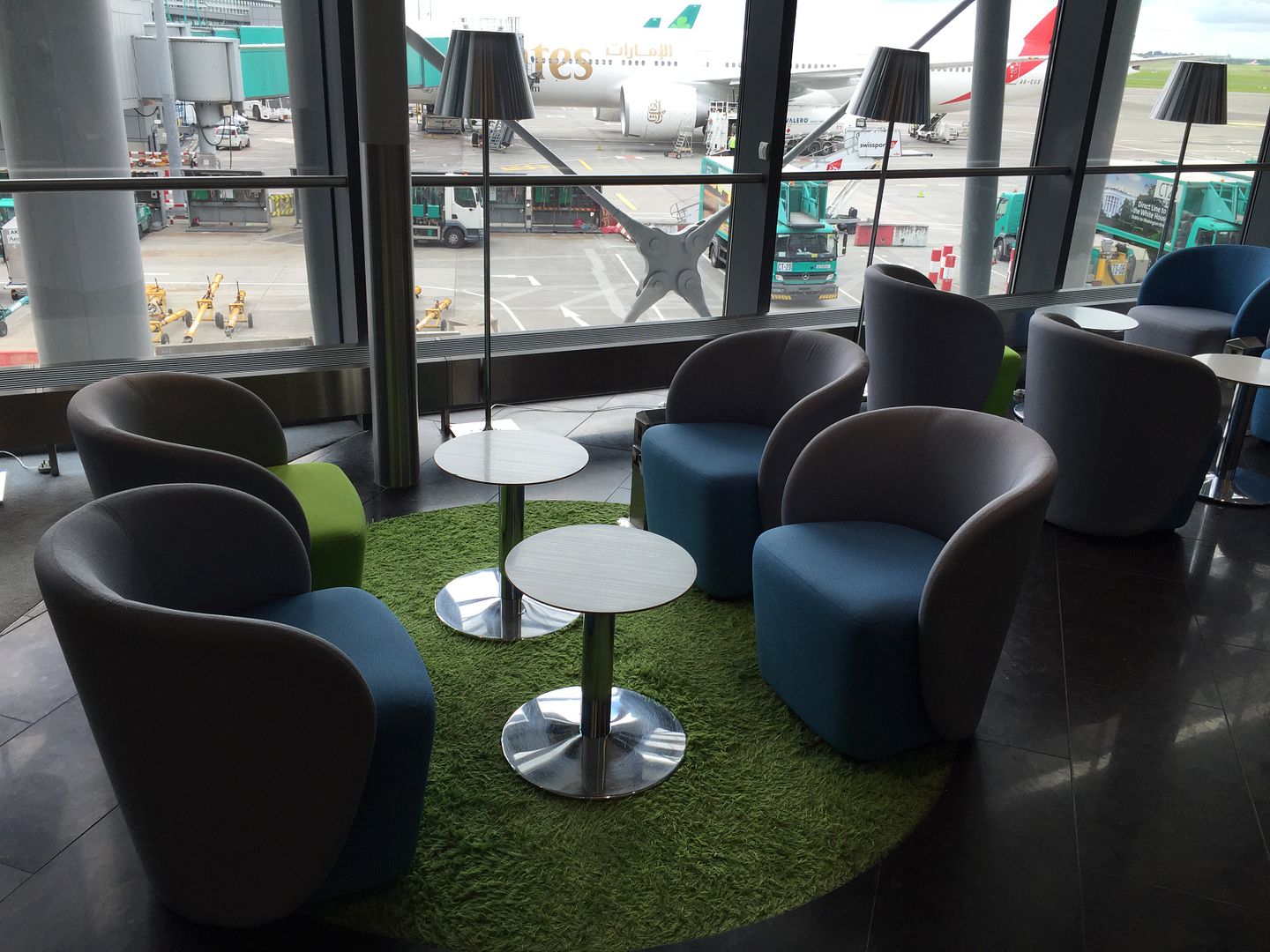 Upper Level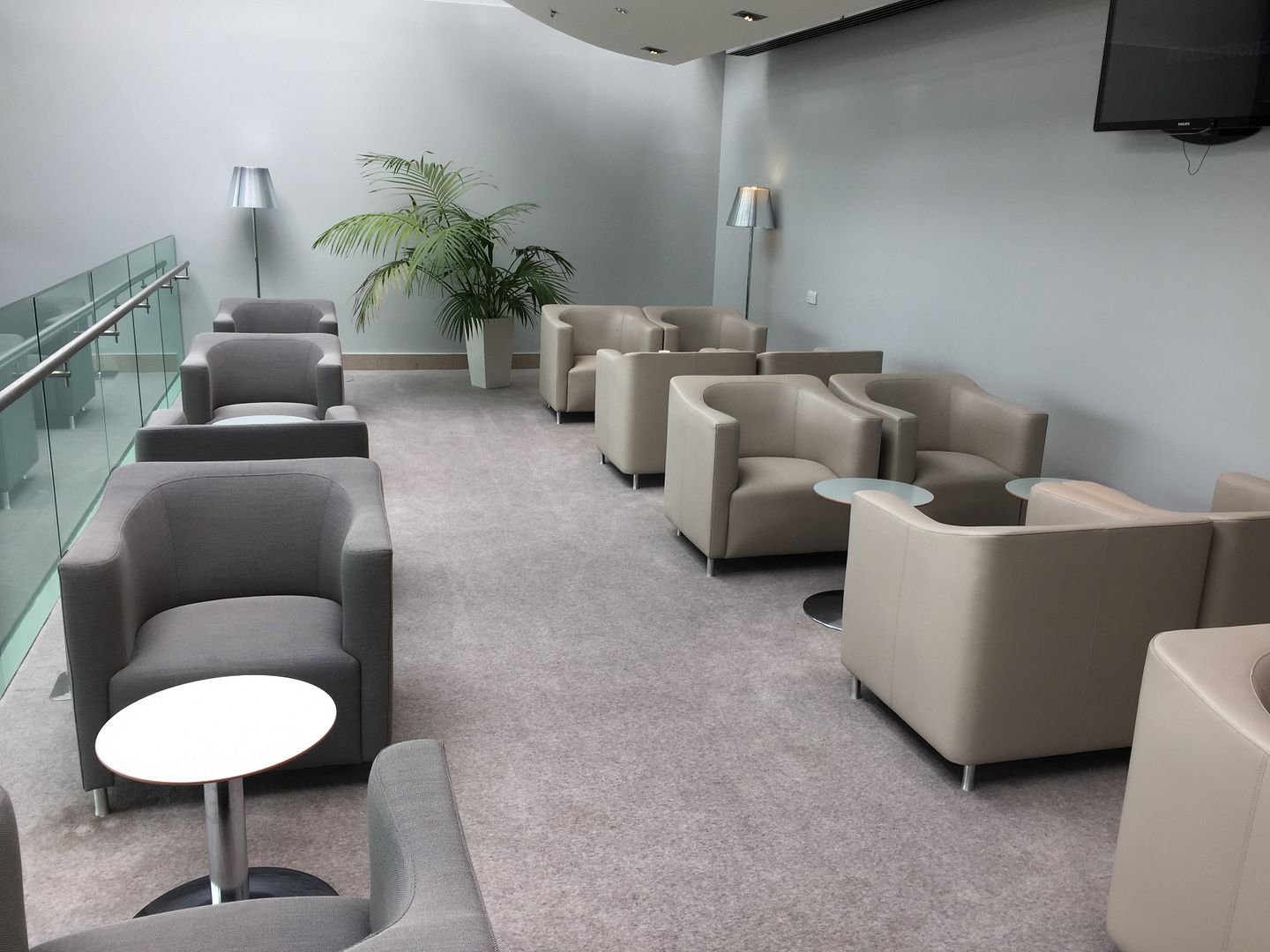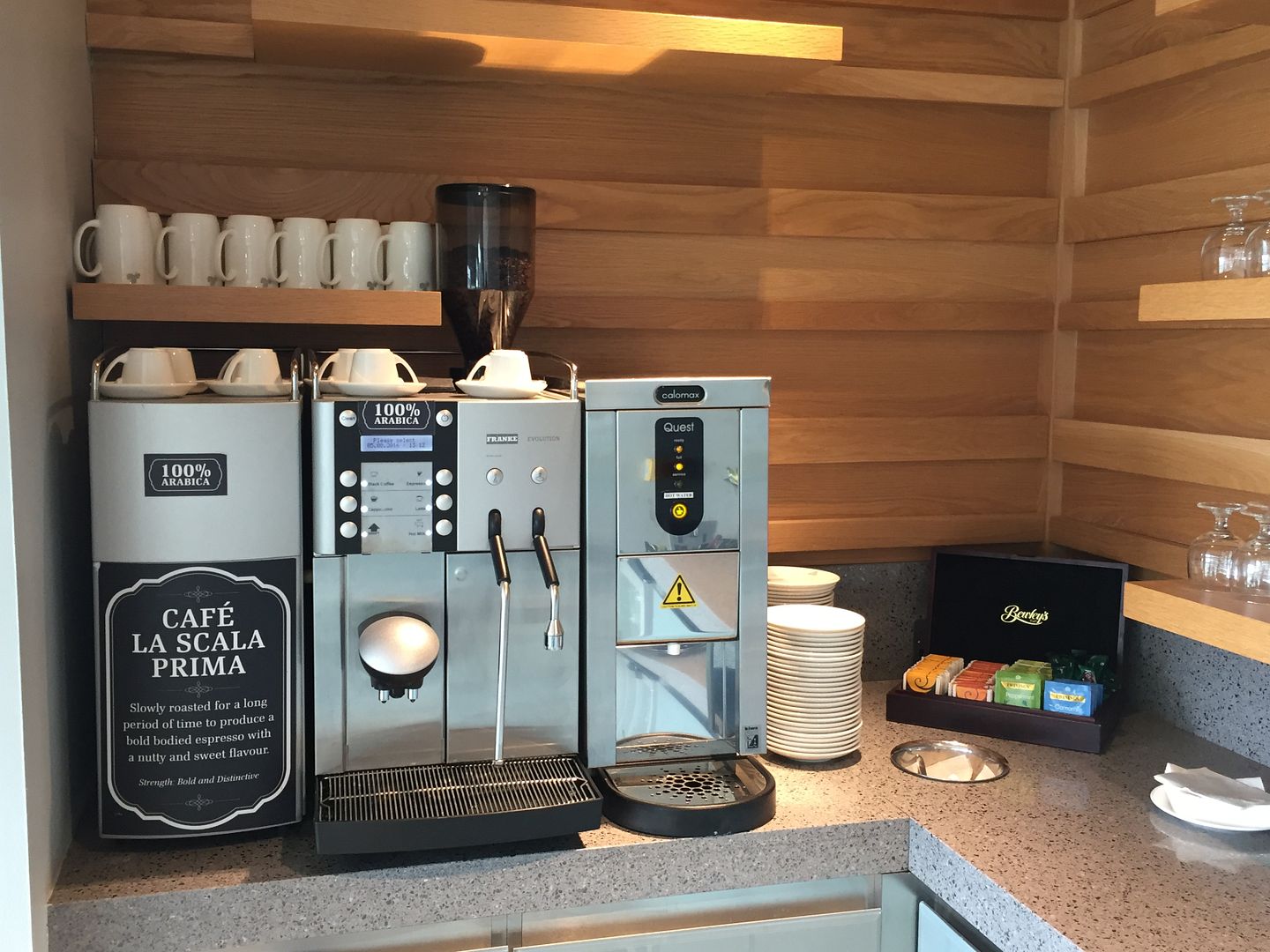 Buffet – not overly impressive but at least there was a hot soup station.
US Pre-clearance requires another security check again, but there is no metal detector.
There is a Global Entry line, but things are slow because the families and special assistance line was next to it.
By the time I got to gate 403, boarding was about to start. St. Keeva again: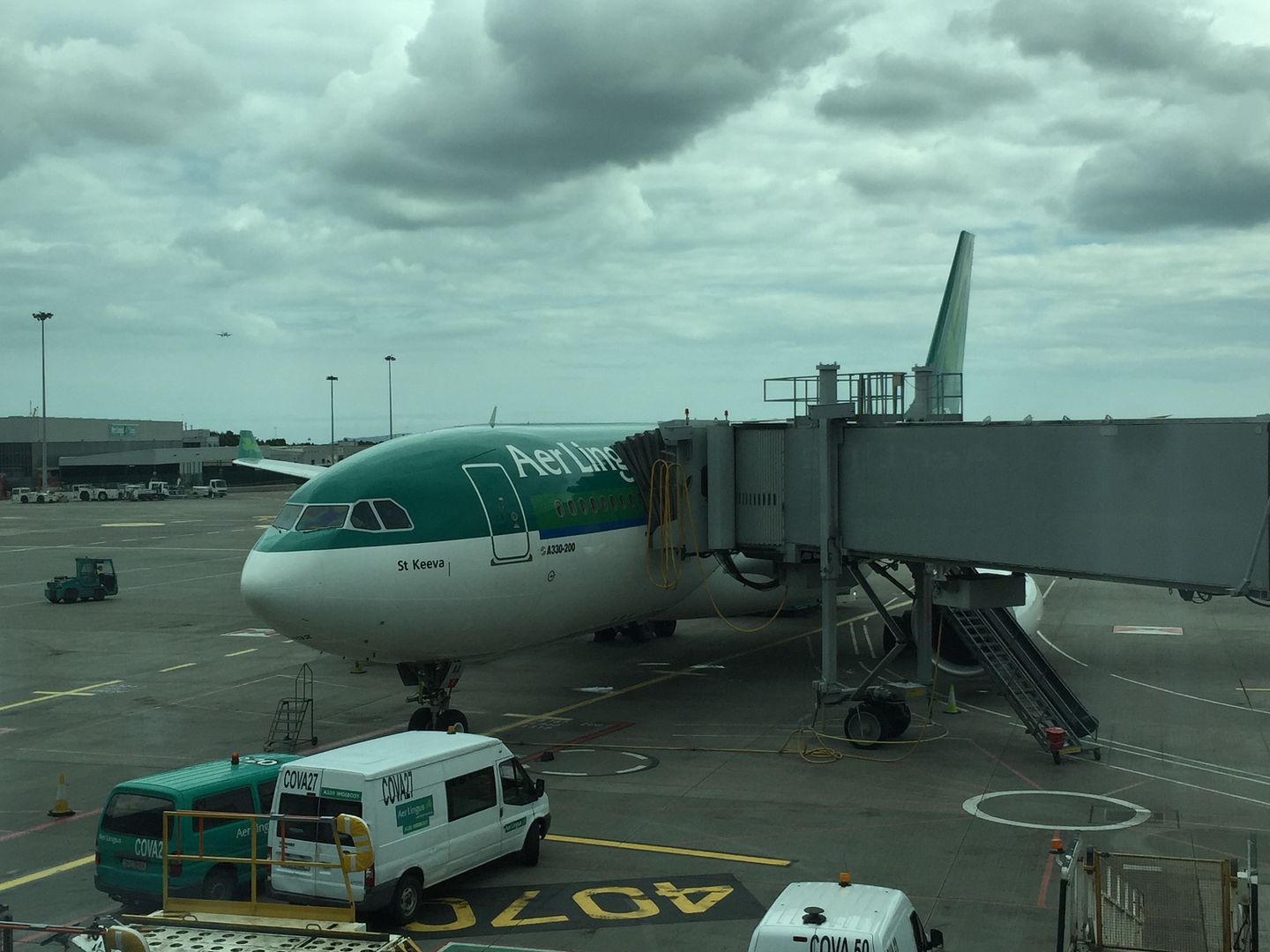 Boarding began at 2:20pm.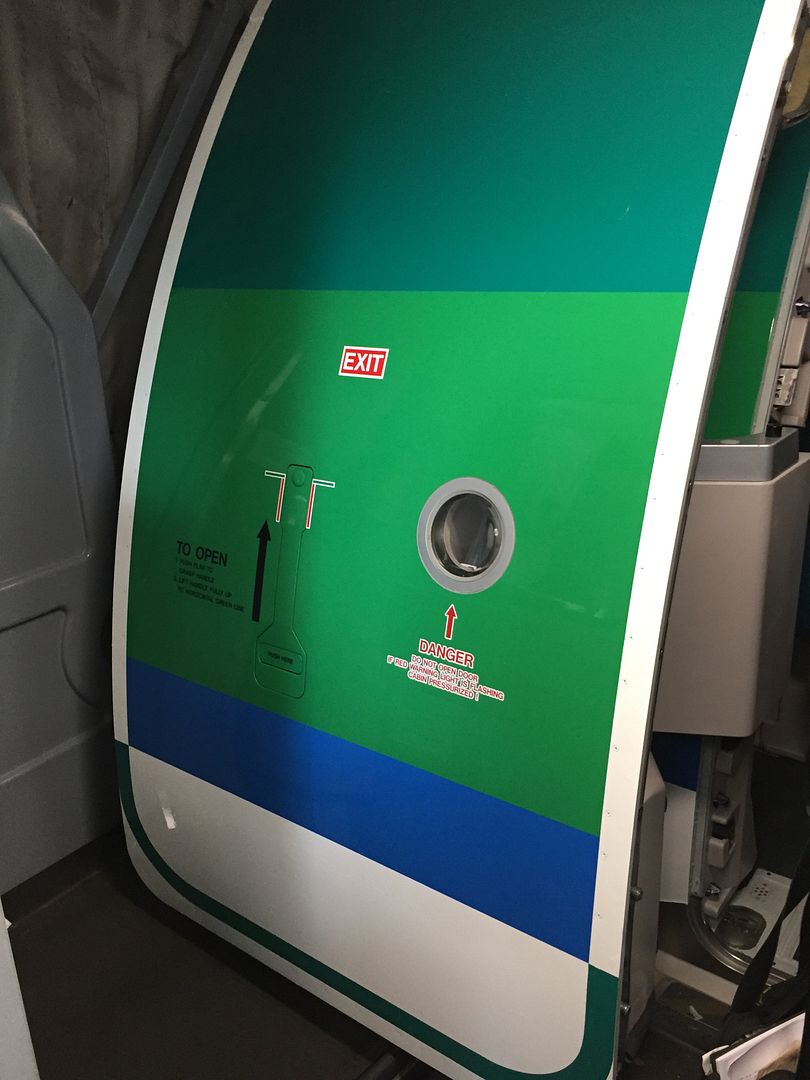 Business Class cabin: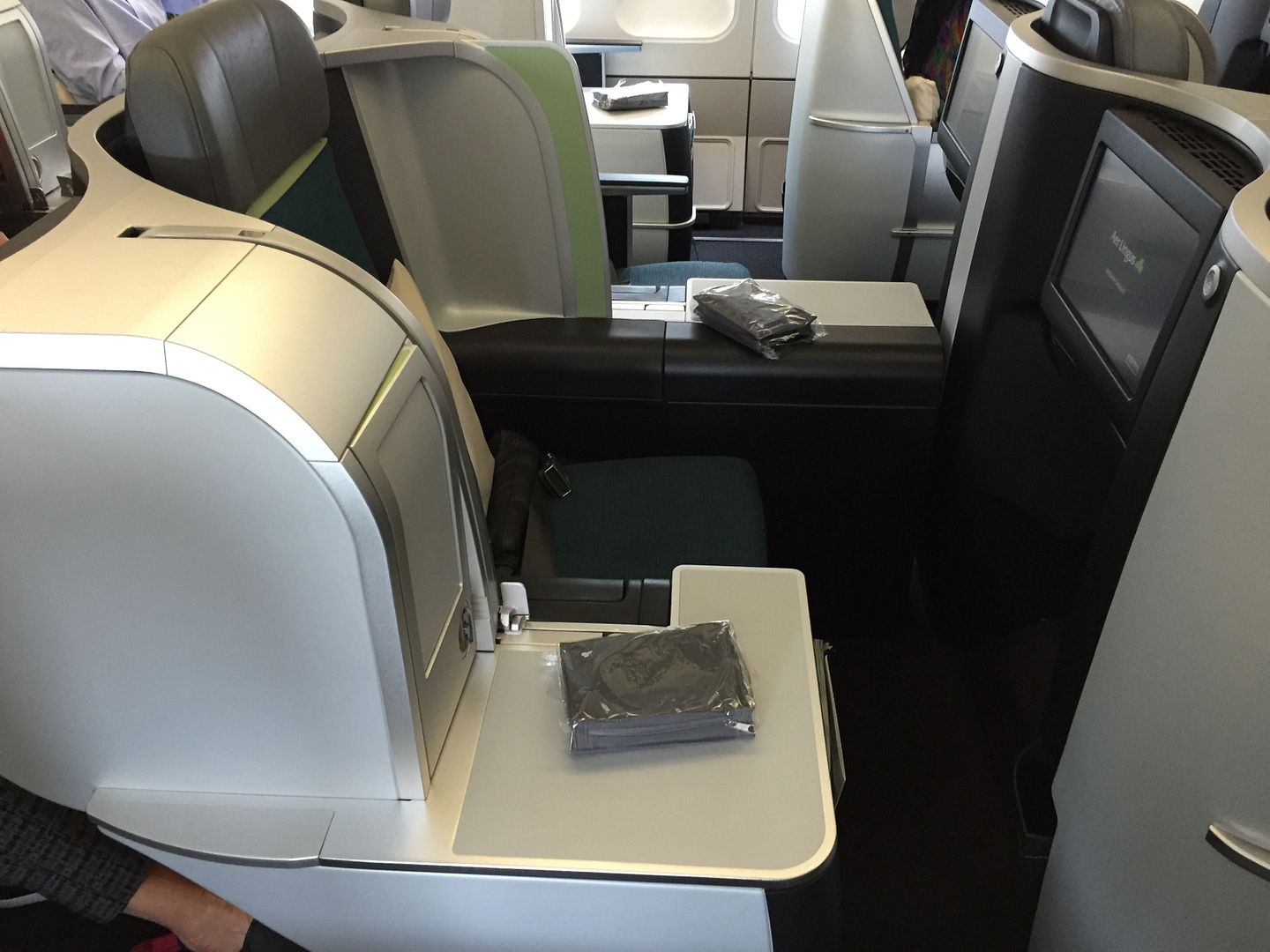 My seat 3K
Personal lamp and bottled water
We all an all-men team today, and the two Irish male F/As were friendly in chatting with passengers. Service was quite good.
OJ again
Menus were individually passed out on this flight after most business class passengers had settled into their seats.
Busy EI Apron
We took off from R/W28 at 3:32pm.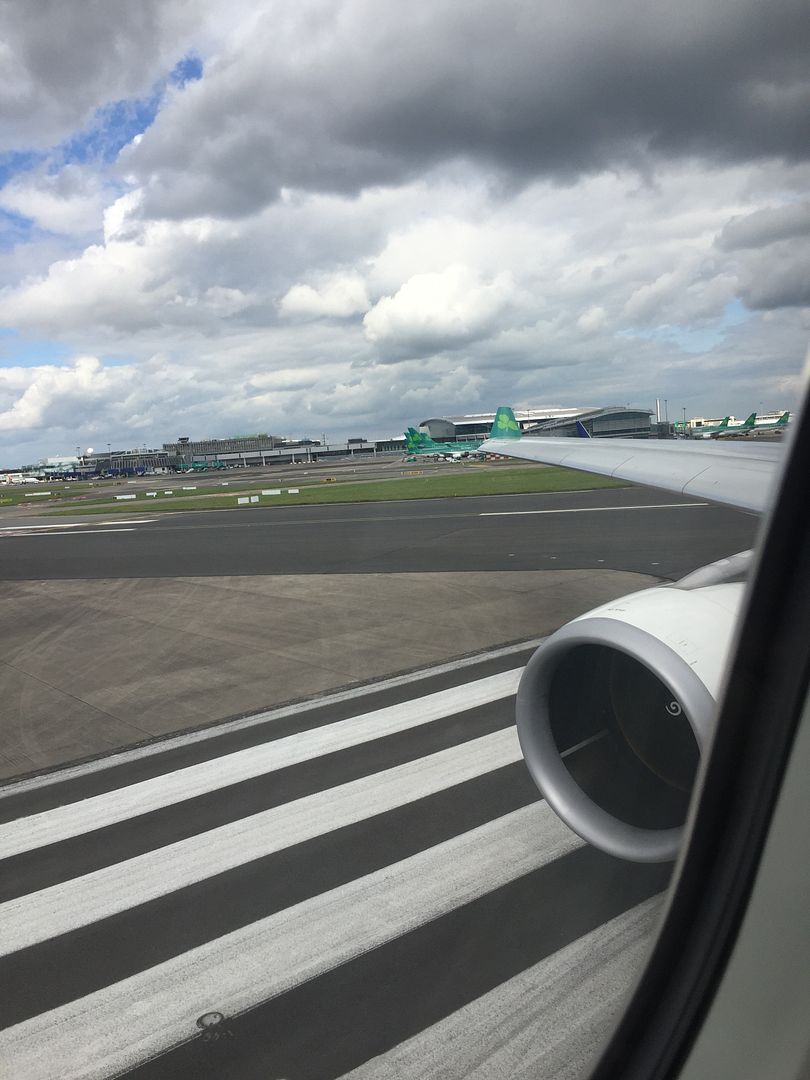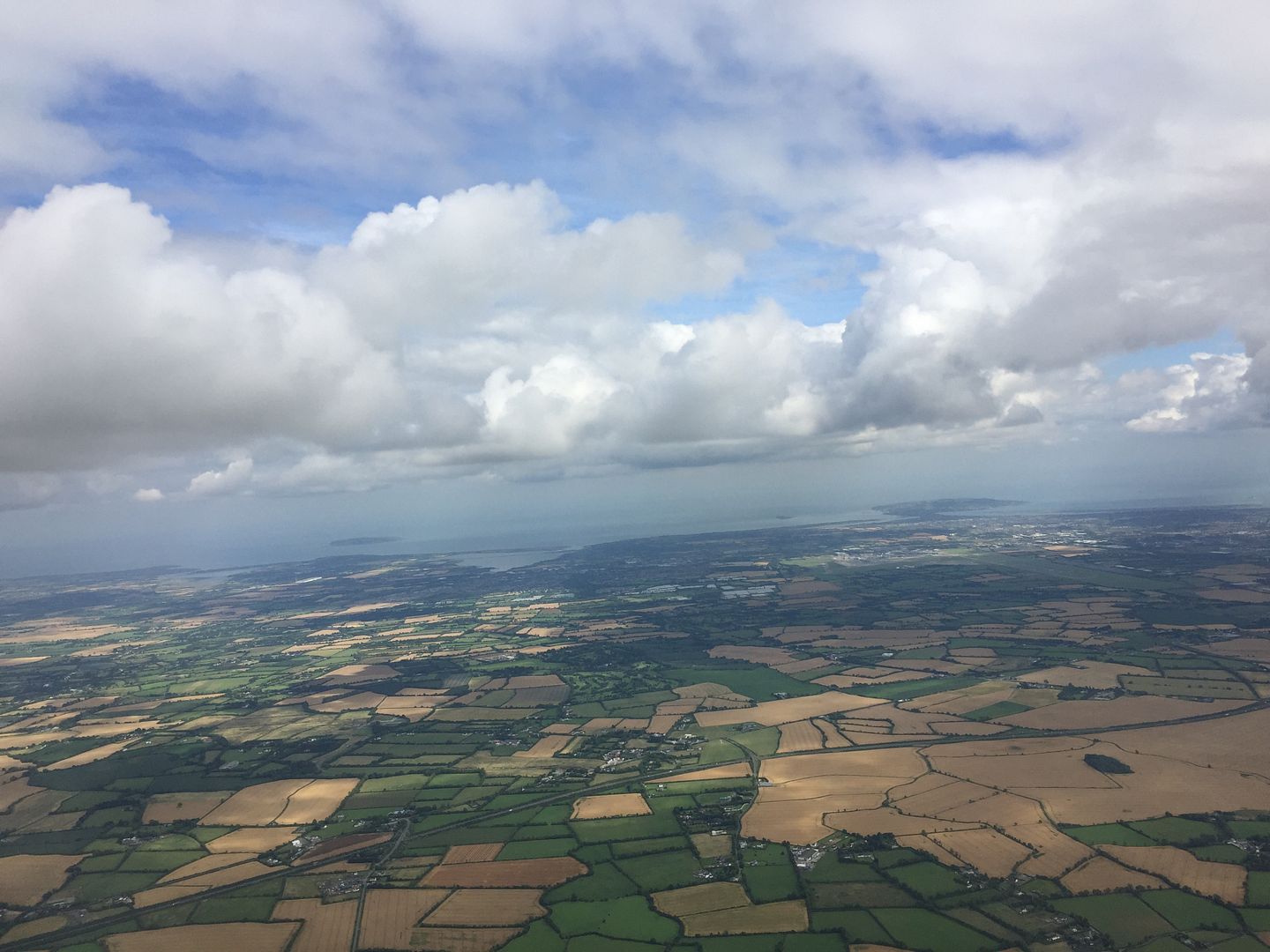 Flying time was ten hours and thirty four minutes. We took a northerly course today, as we headed towards Barra at 33,000ft and then crossed Paamiut/JFR. We then climbed to 34,000ft and then 36,000ft, as we crossed Greenland and climbed further to 38,000ft. We then entered the Canadian cost, passed cities of Kangirsuk, Hudson Bay, Reindeer Island, Rorketon, Dauphin, Manson, Noonan, Corinth, Wolf, Eccles, Morton, Levan, Holden, Fillmore, Boulder City, and then into the LA Basin.
Same wine list and here is the menu:
As I mentioned earlier, all North America flights, regardless of the length of the flights, feature this same daytime menu.
Welcome
A selection of canapés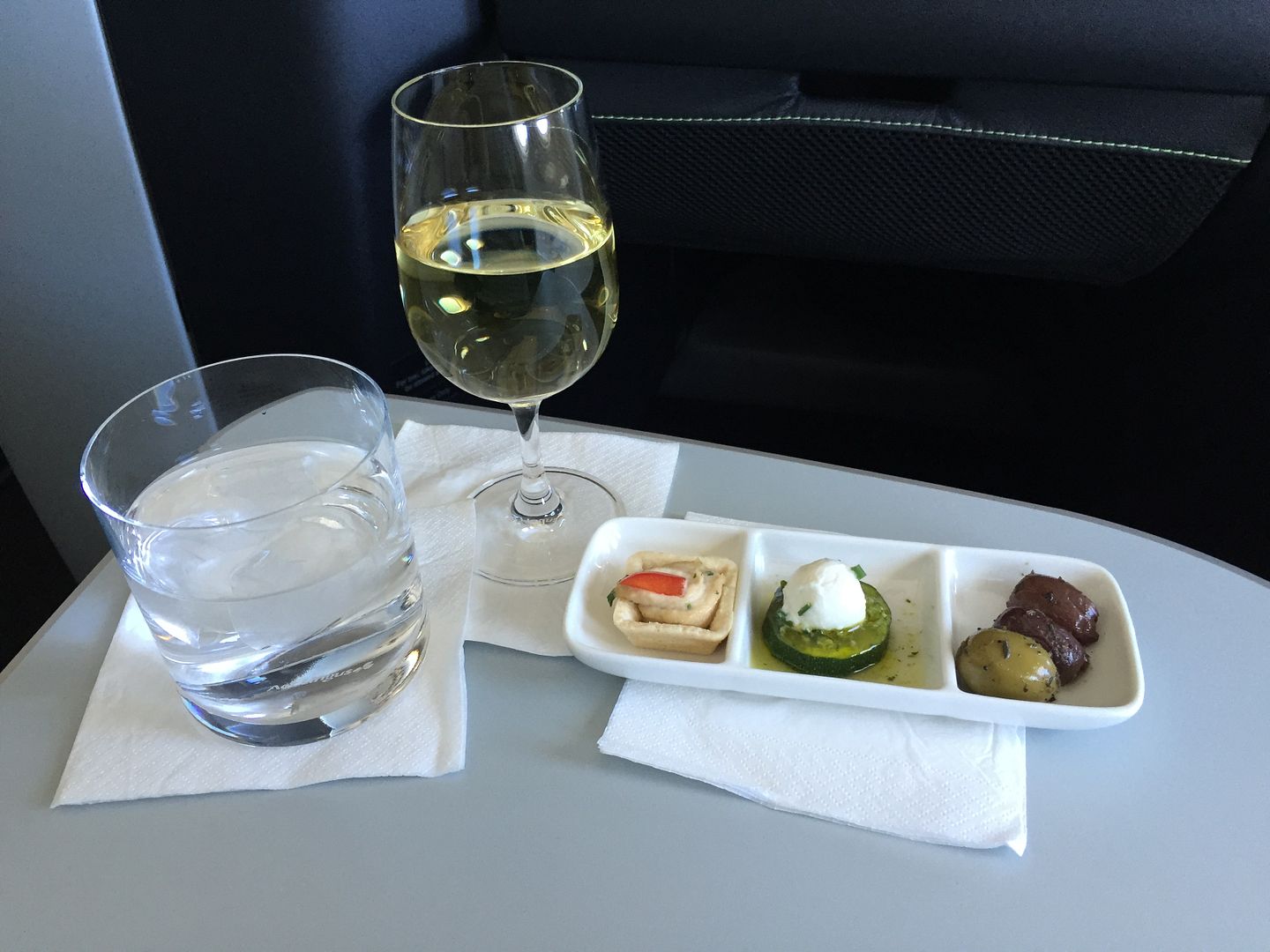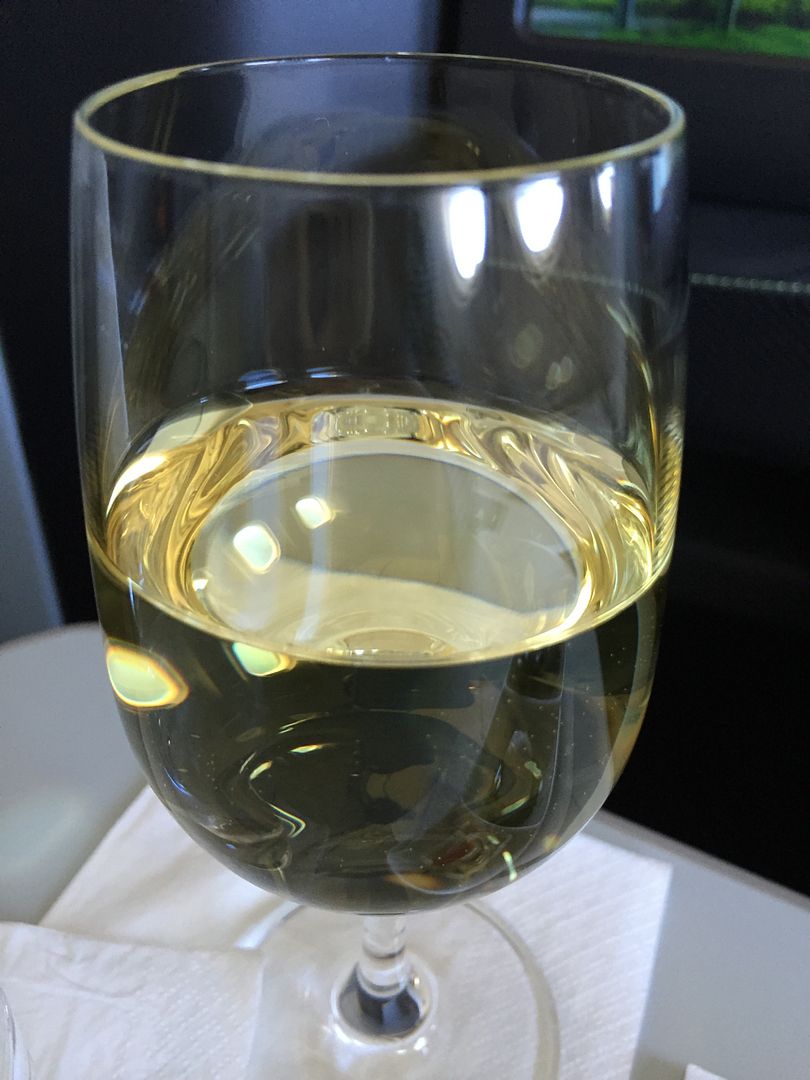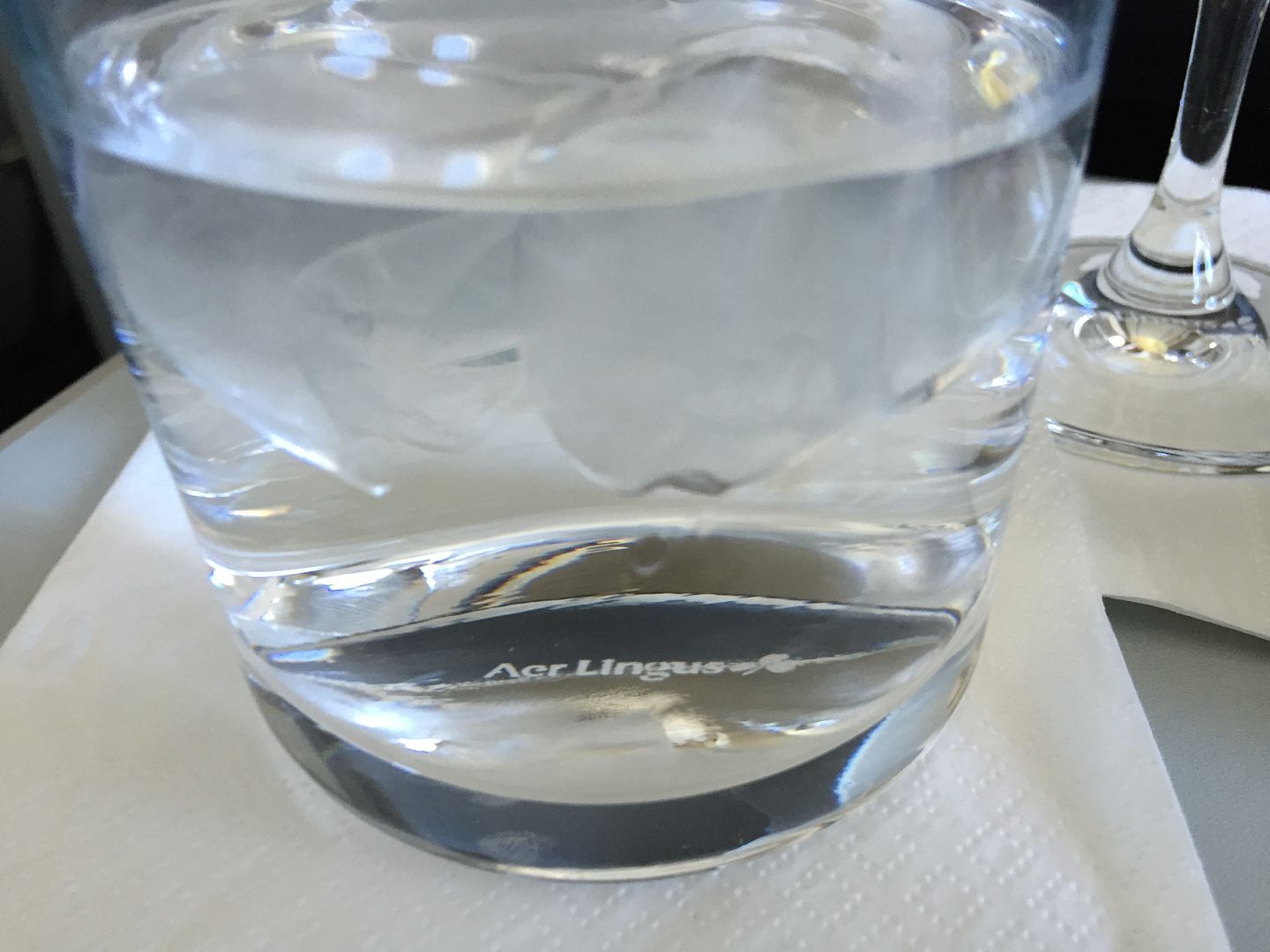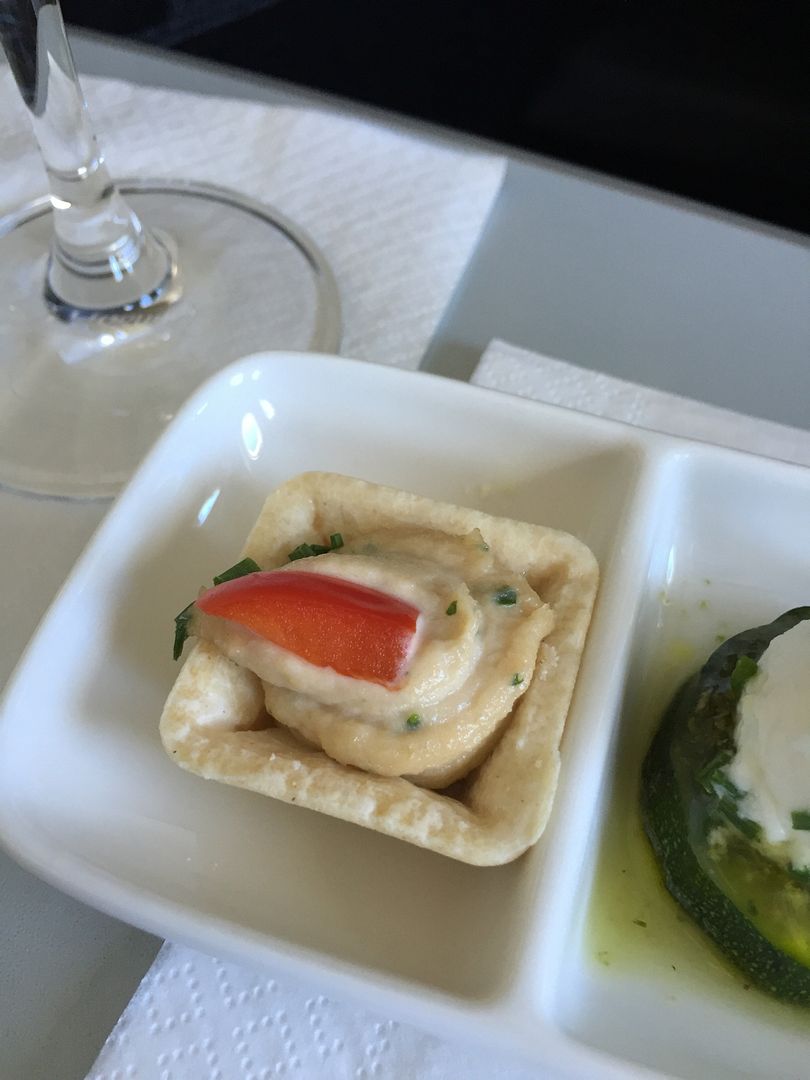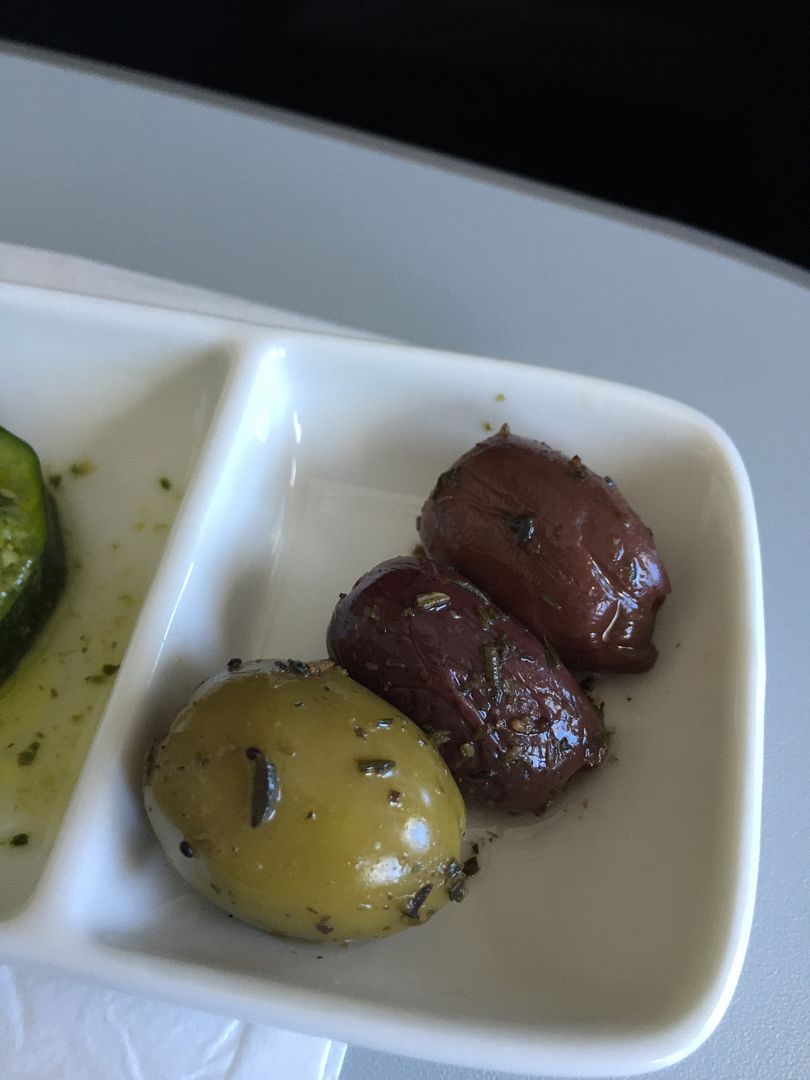 I love the branding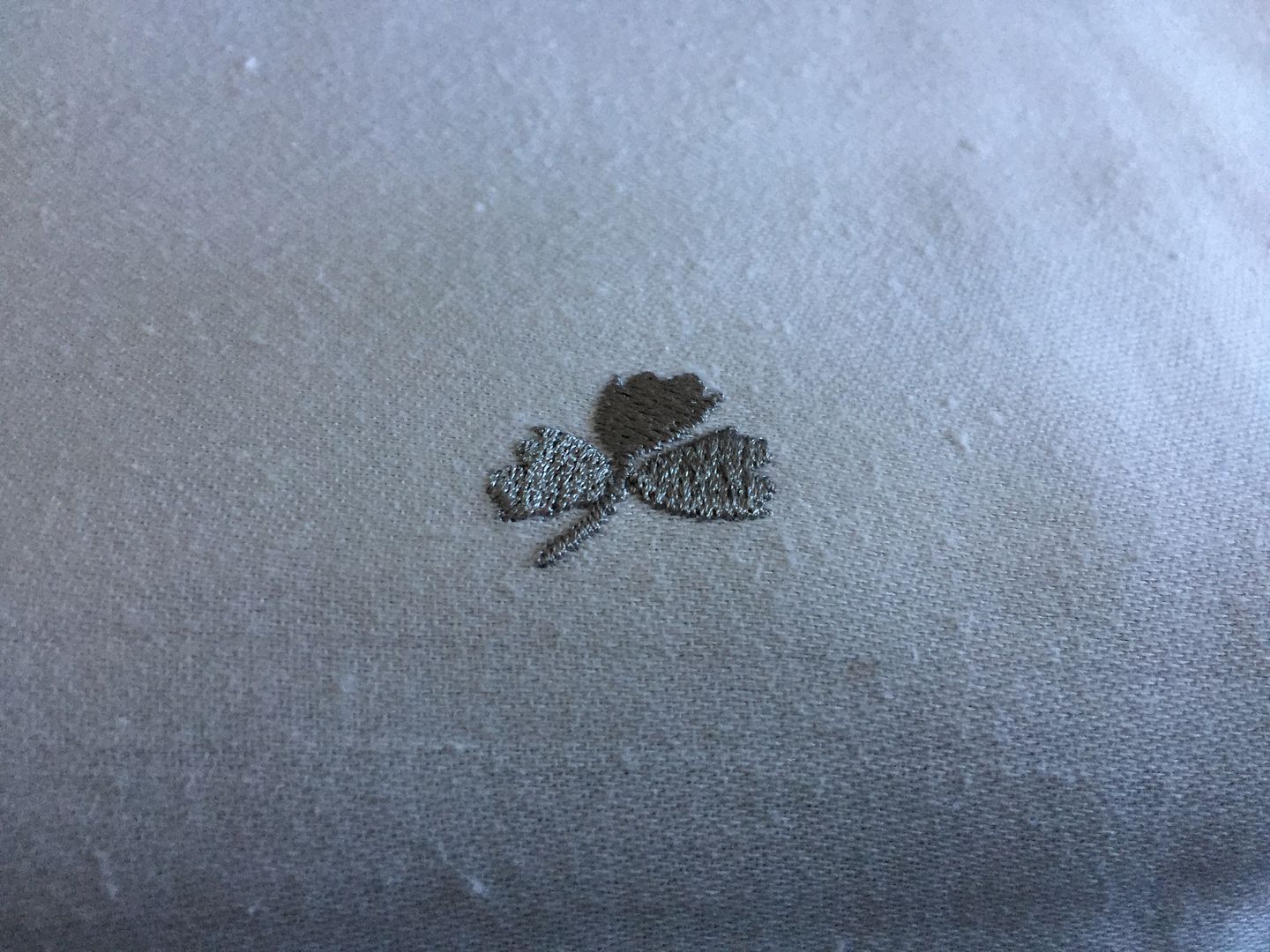 To start
I chose the chicken pate option, which was heartier, and tasted very good.
Burren Smokehouse hot and cold-smoked salmon
Or
James Whelan chicken liver pate
Sheridan's Irish brown-bread crackers, with cornichons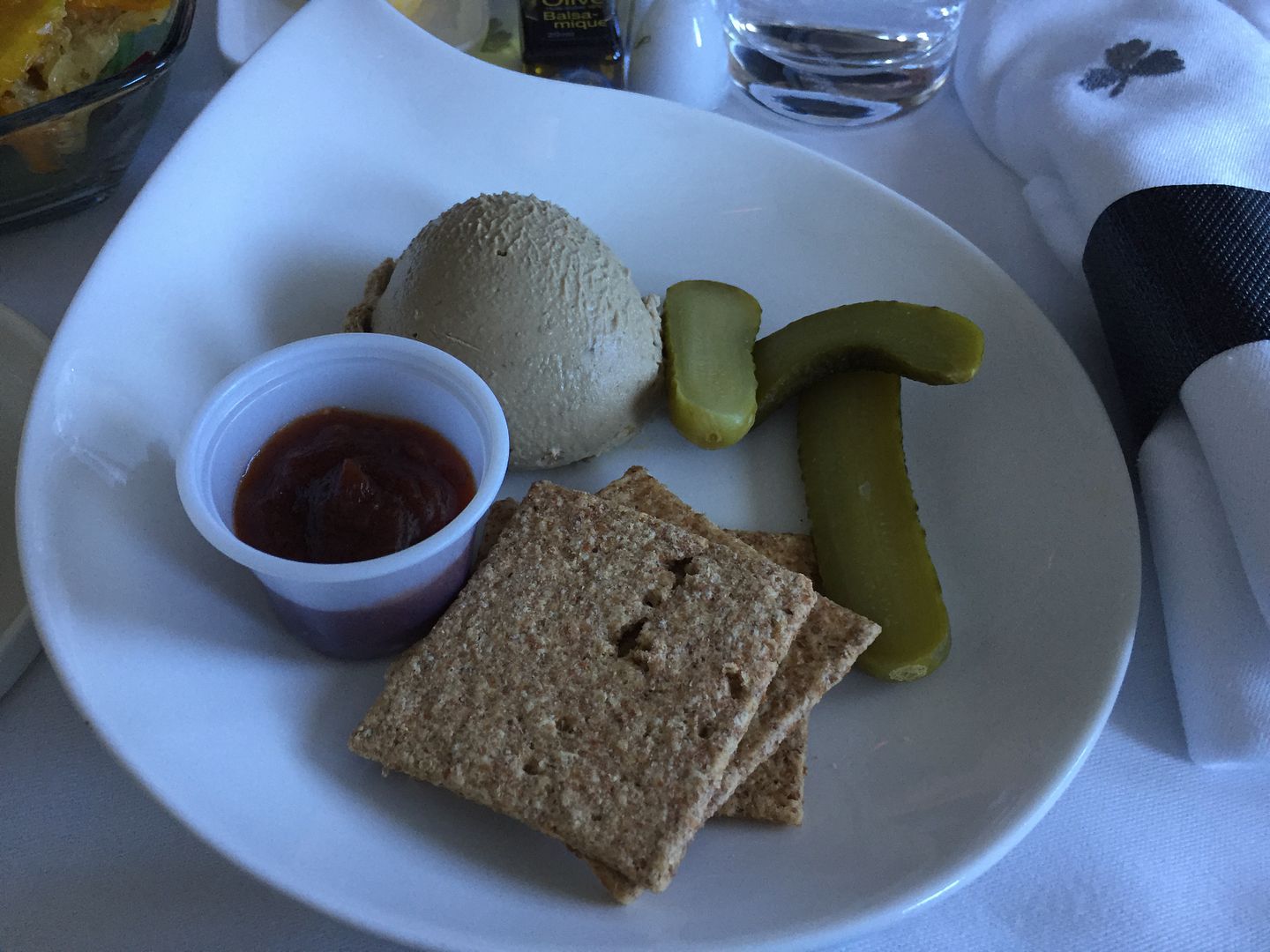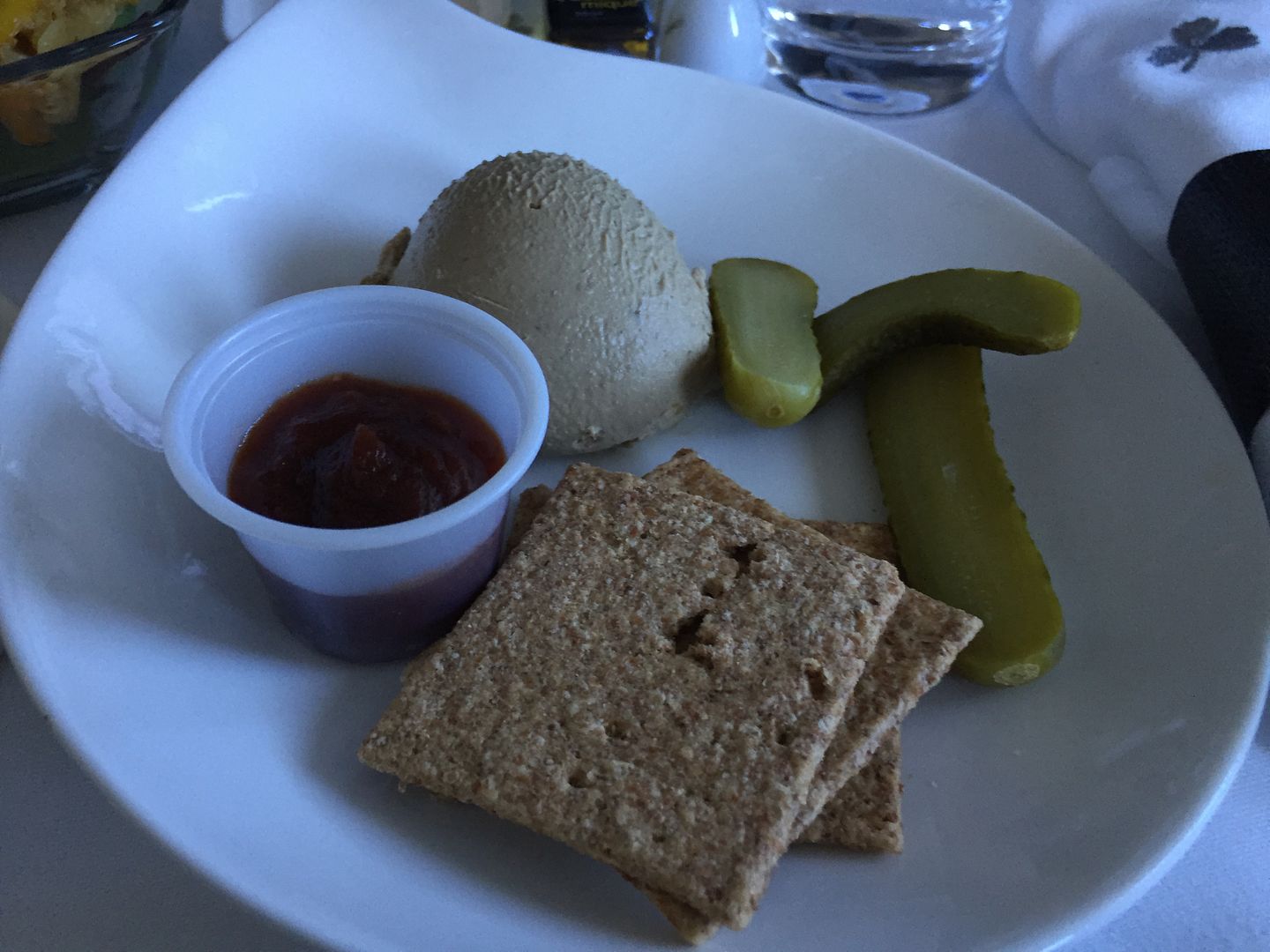 A Mesclun salad with yellow pepper strips, sundried tomato, olives, cucumbers and olive oil & balsamic vinaigrette dressing was also offered. Please note that the salad course was not listed in the menu.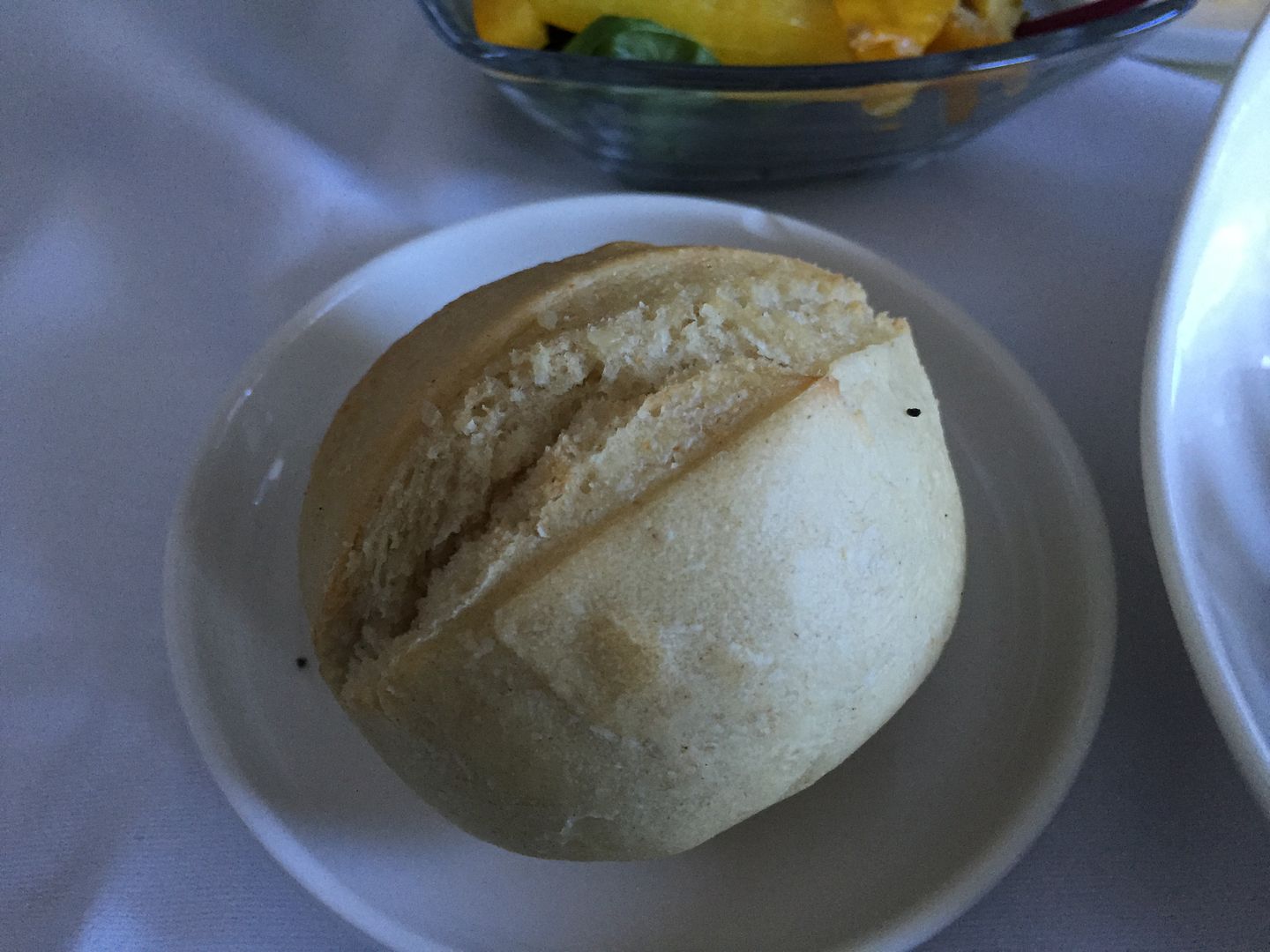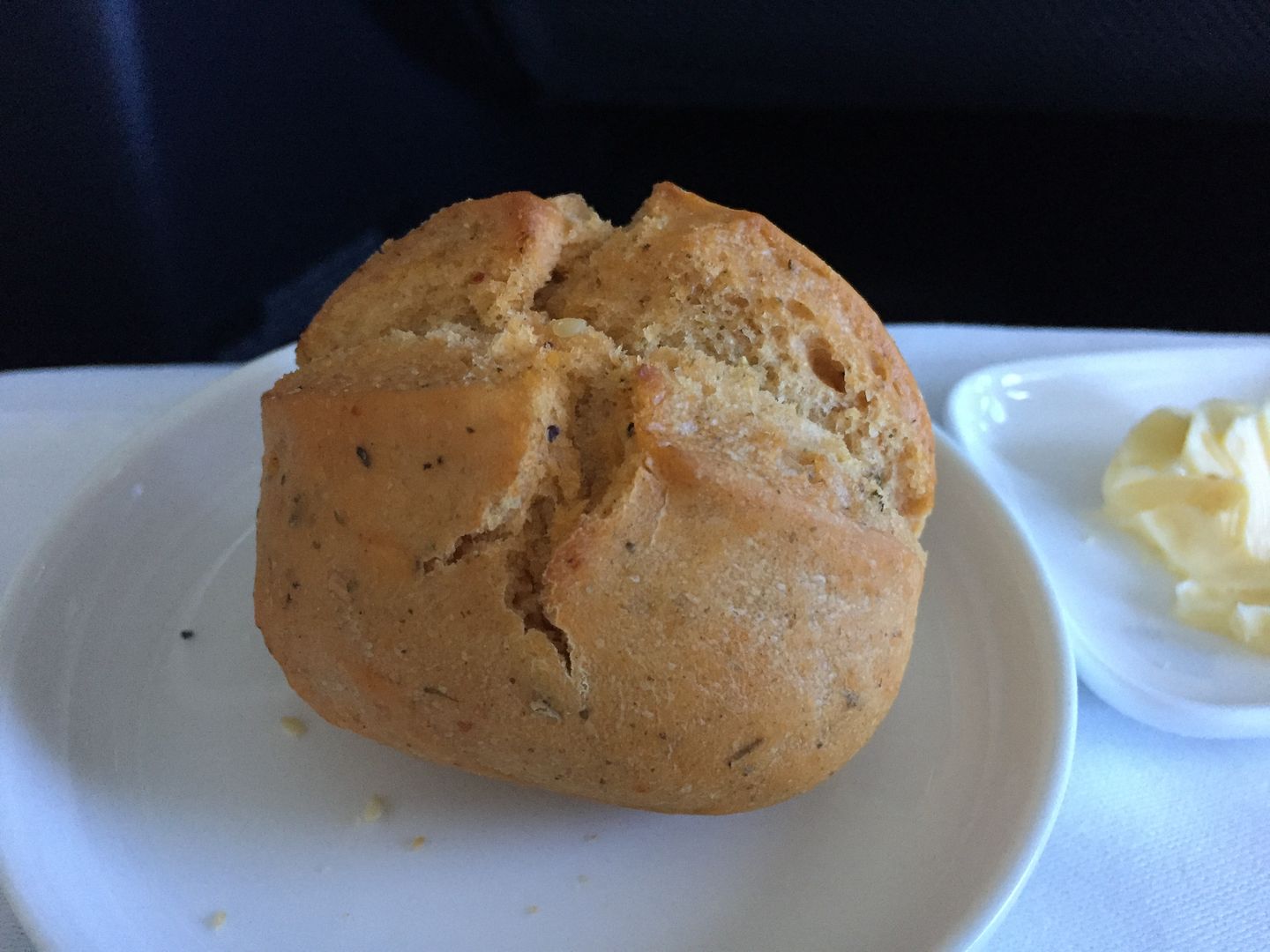 Lunch
Mains
I chose the Irish classic dish listed first in the main course, and it was really nice. I like the cabbage and mashed potato component. Please note that all entrées are individually plated in the galley.
Collar of Irish bacon with spring cabbage, butter-rich mashed potatoes, parsley sauce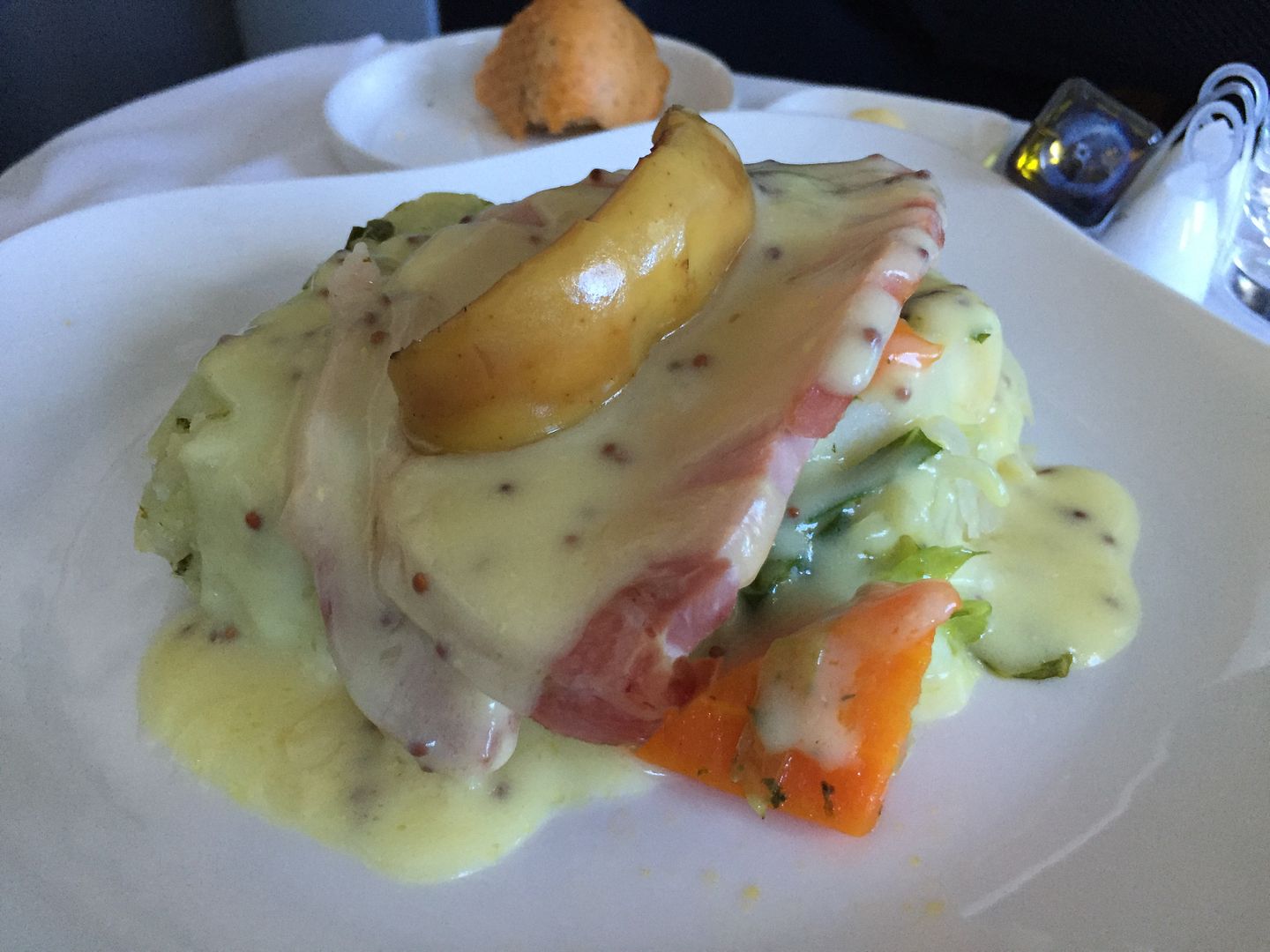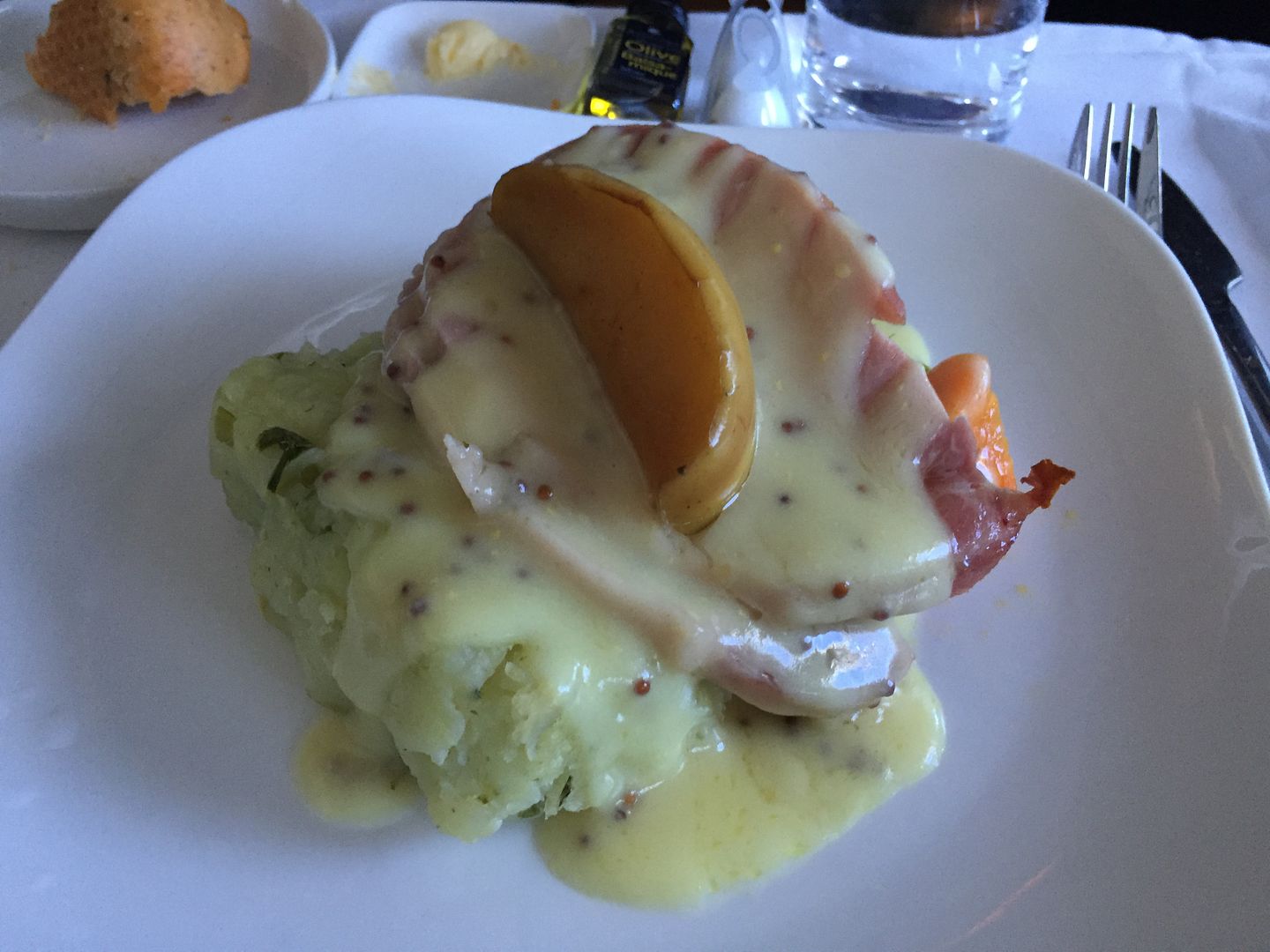 Or
Lambay Island Irish lamb stew, root vegetables and potatoes
Or
Crisp luxury fish pie with Irish salmon, cod and prawns in a lemon butter and dill sauce
Dessert
Marbled orange chocolate torte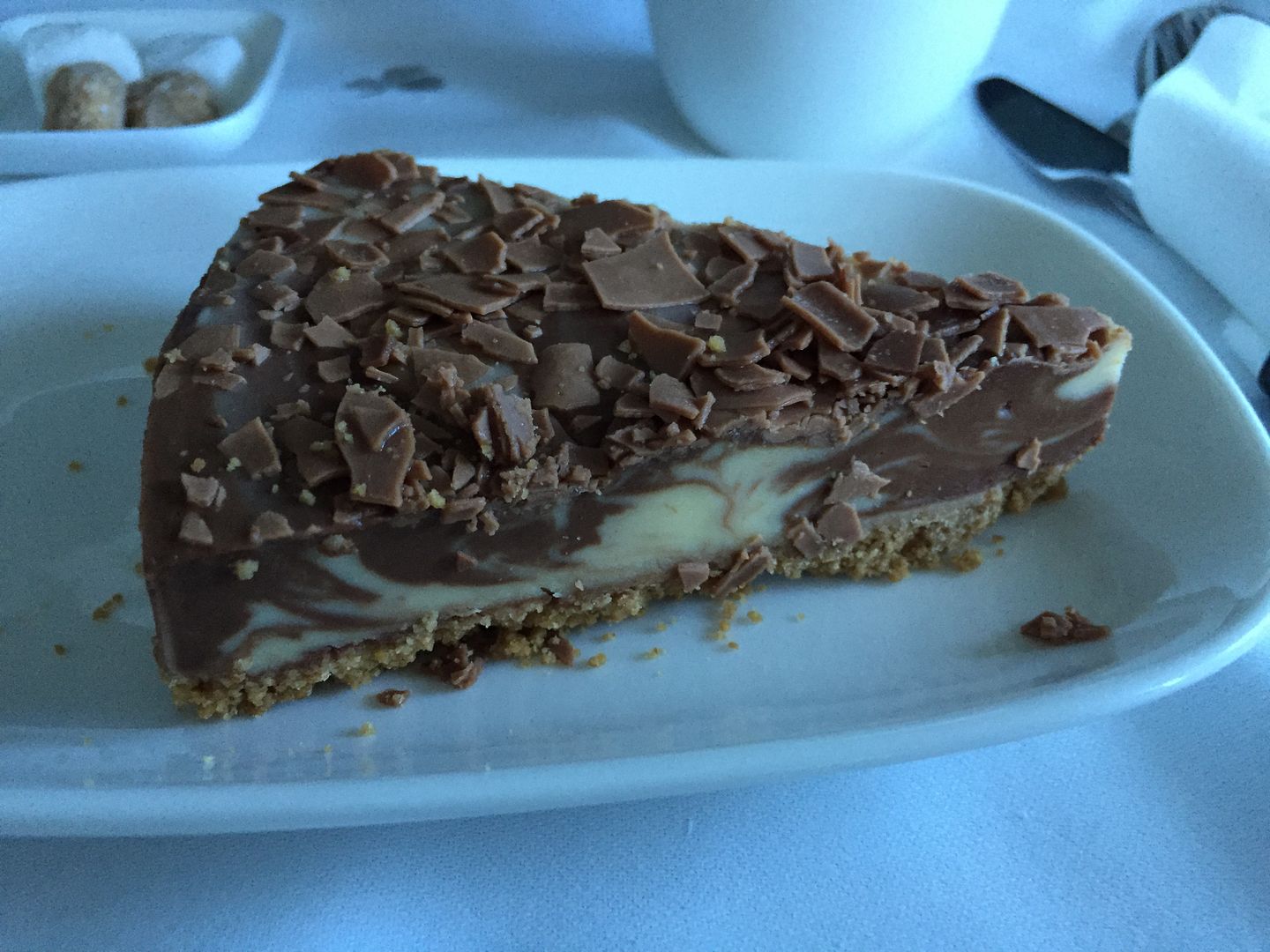 Or
Cheese Board
A selection of Irish cheese
Plum and apple chutney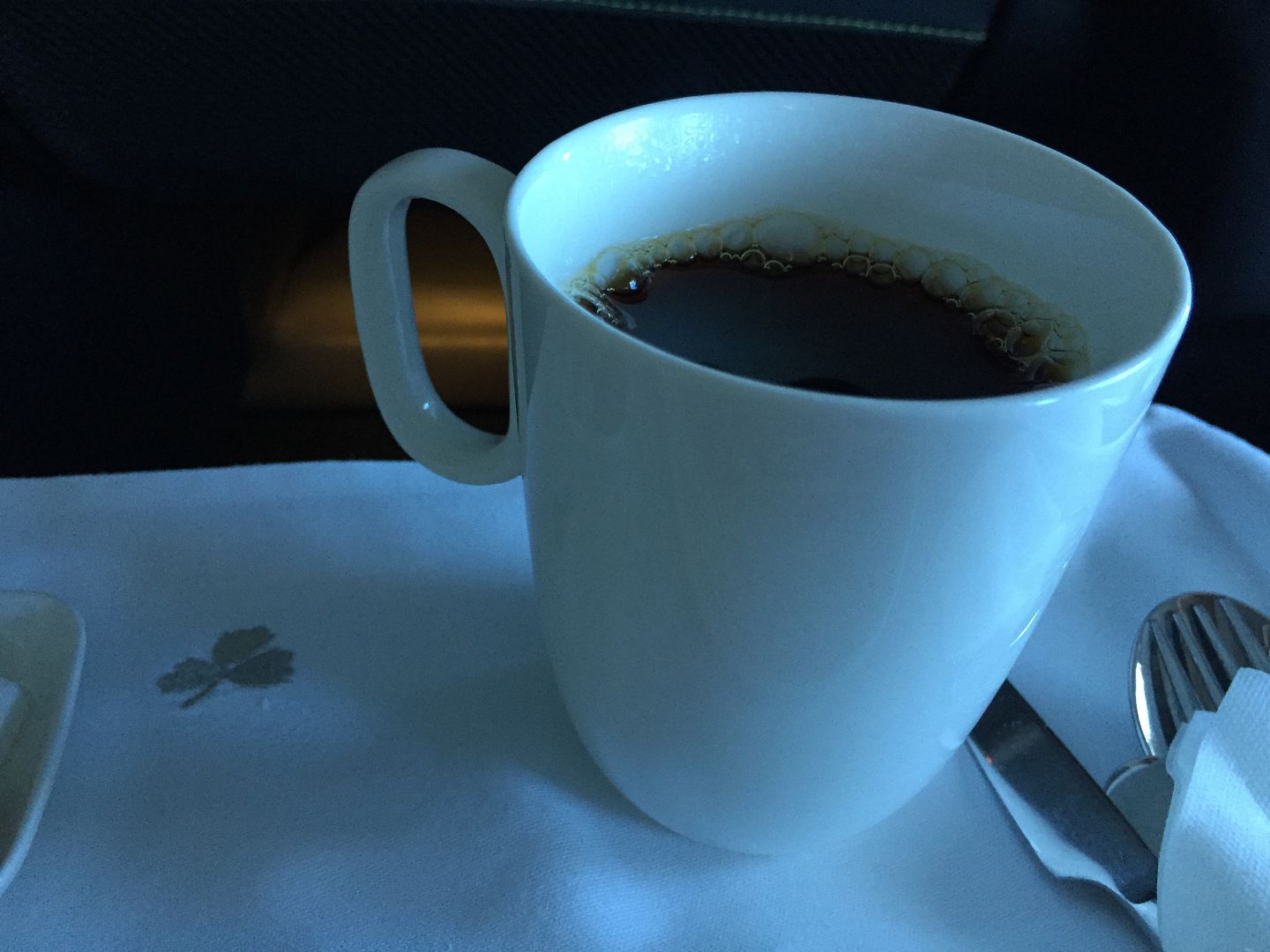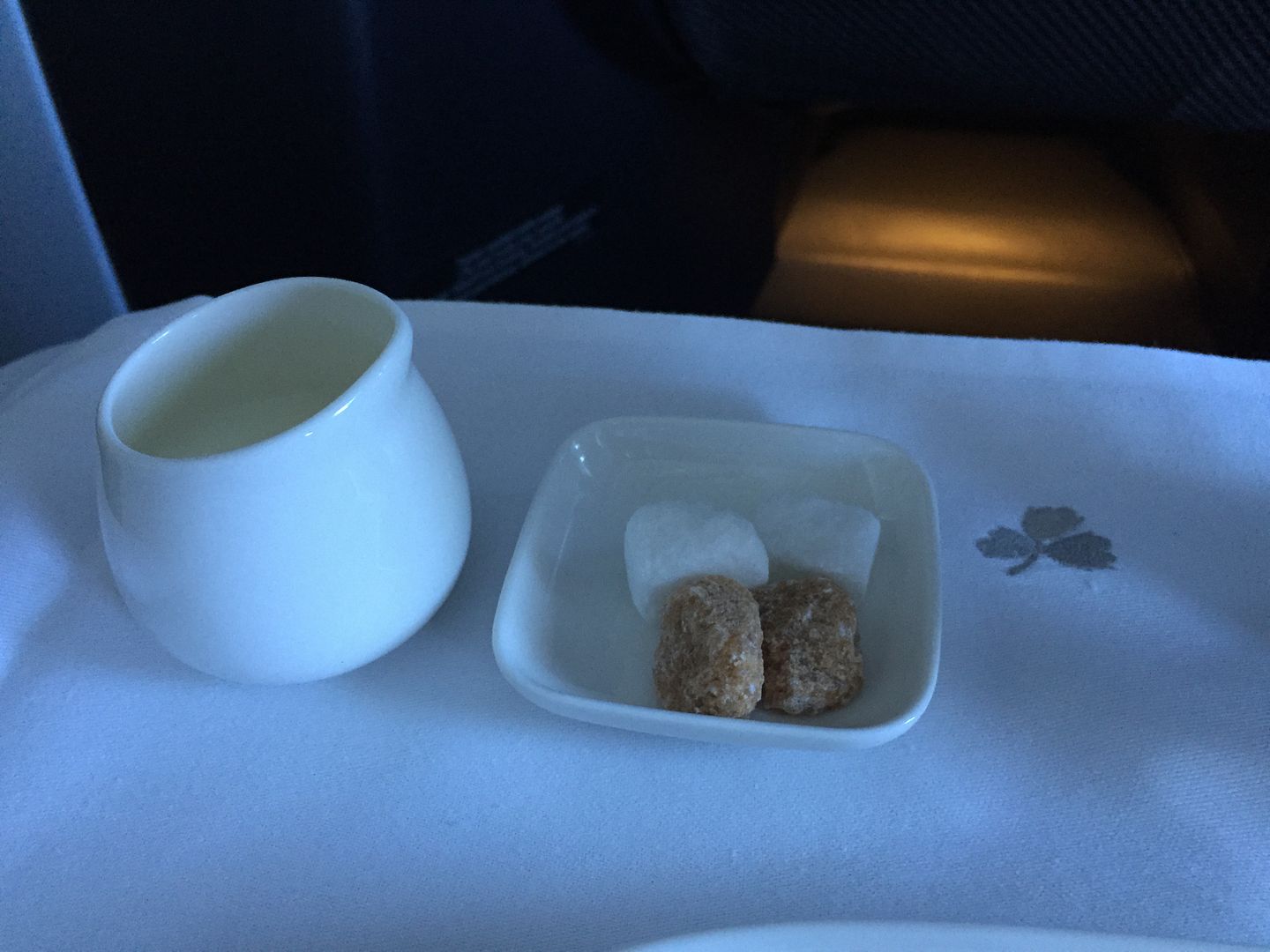 As we approached Greenland, it was just a beautiful day.
After lunch, I took a few pictures of the seats in their pre-designed recline position and full flat position.
I used the ollo clips.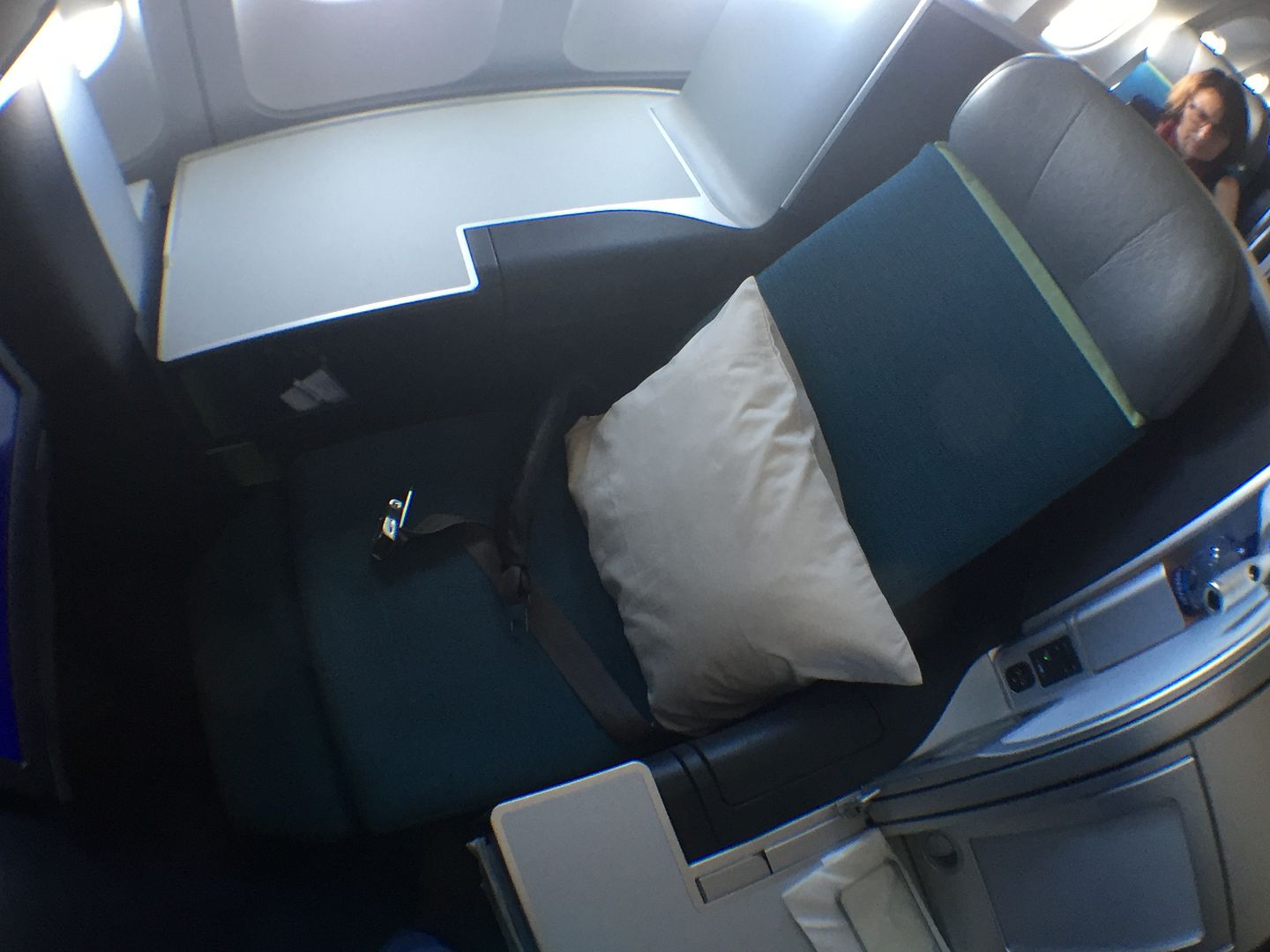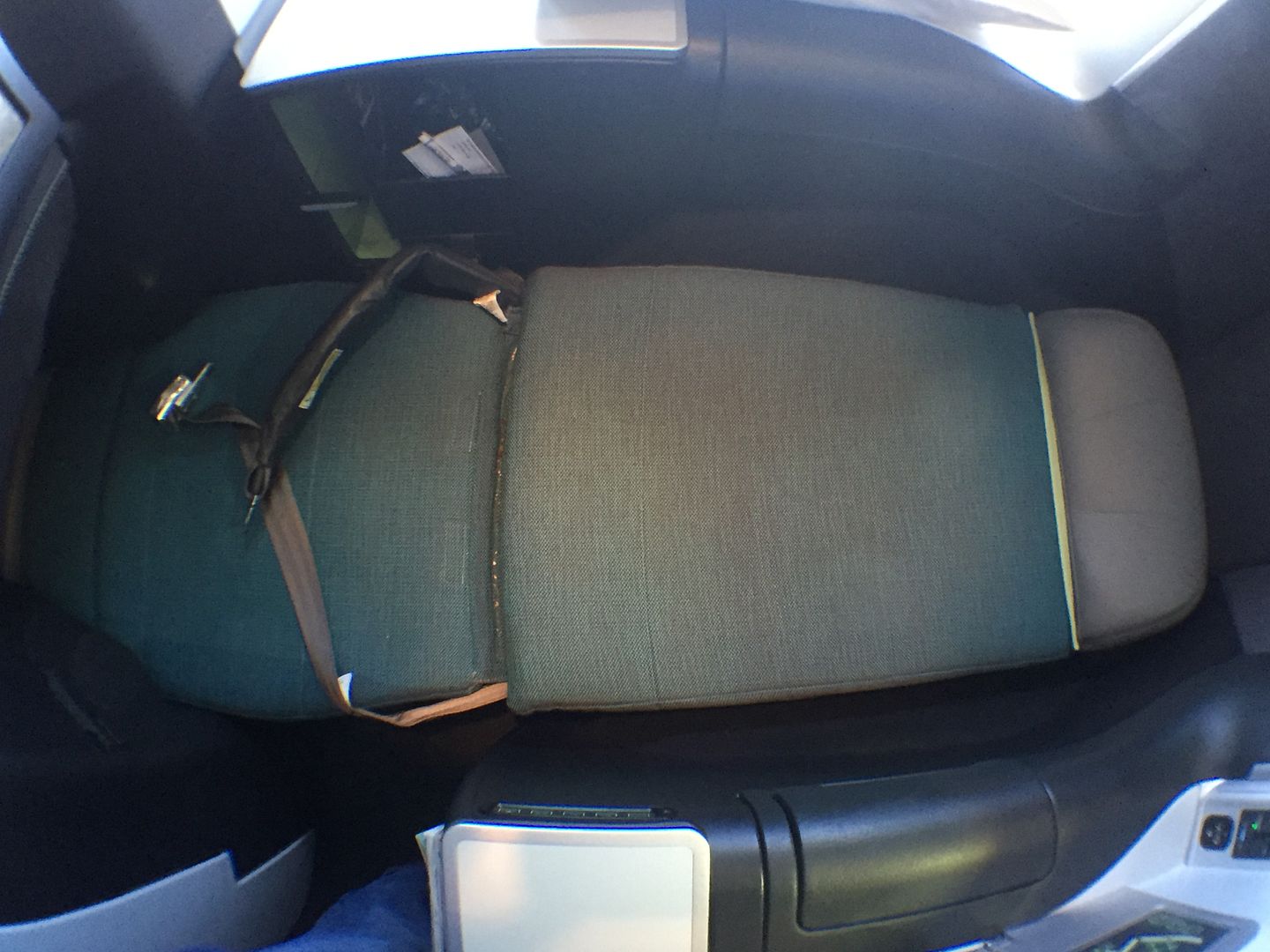 Leg space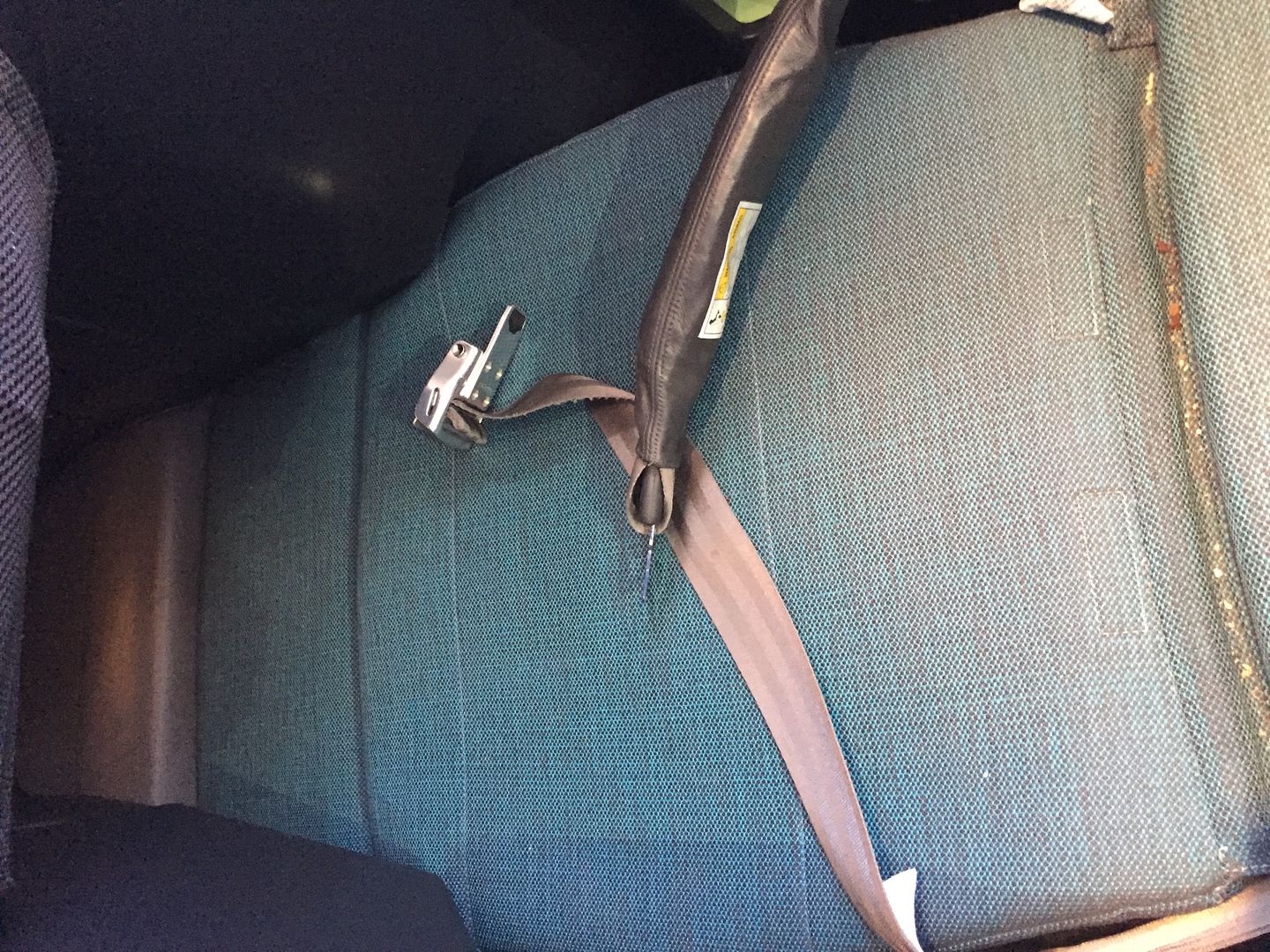 With bedding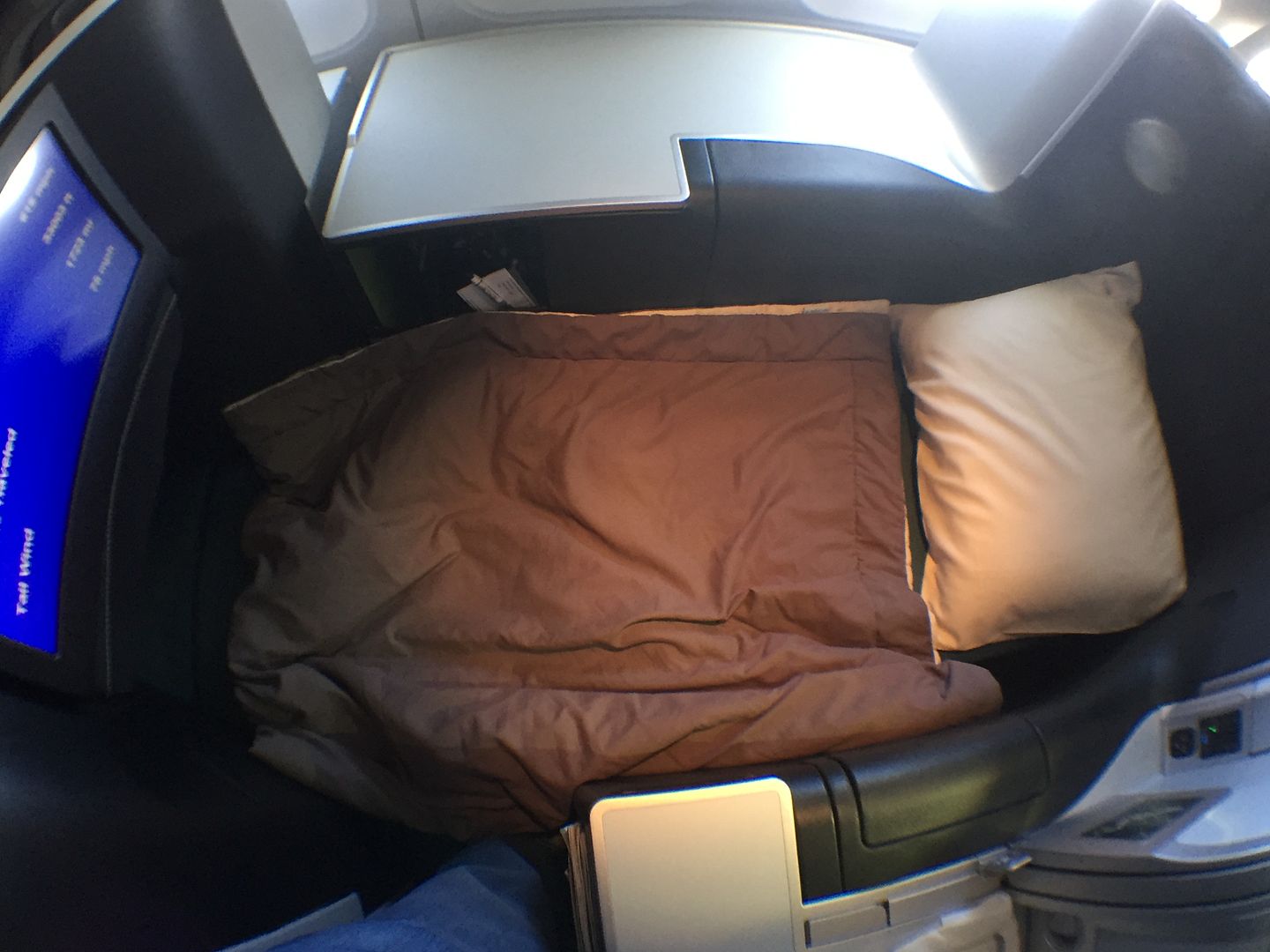 I slept for the first half of the flight, and then woke up and worked on my laptop till afternoon tea. Once again, the F/As were not actively checking on passengers between meals, and no snack and beverages were offered. I only noticed that there were packaged sandwiches, muffins and snacks in the galley, shortly before afternoon tea service. Aer Lingus, please note the consumption level is low because no one knows about the existence of these snacks. They are not listed in the menu too.
Afternoon tea service was offered at 4:35pm Los Angeles time, and I appreciate that fresh milk was offered for tea/coffee.
Afternoon Tea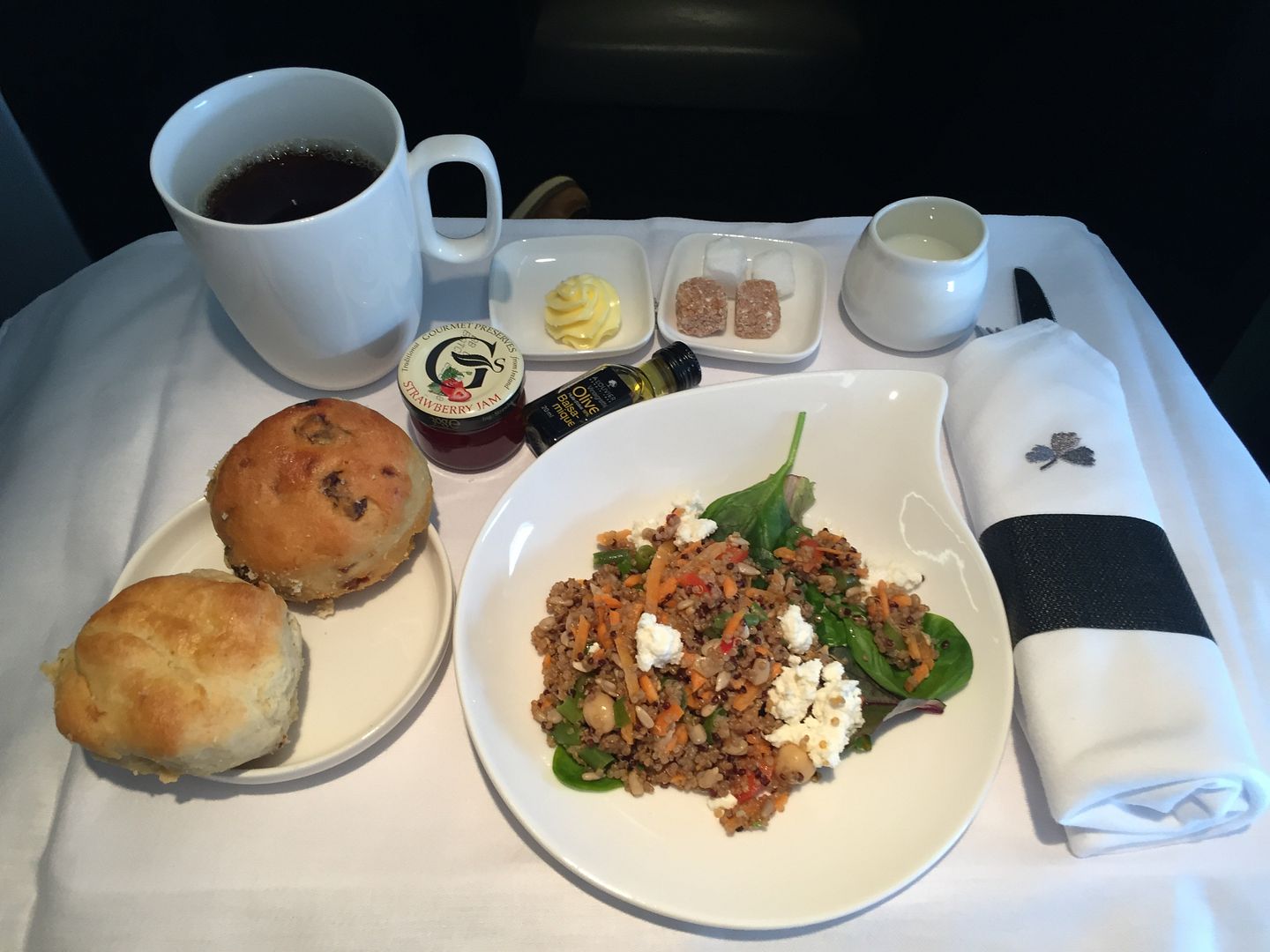 Super Power Salad
Courgette, quinoa, broccoli and feta
Balsamic vinaigrette
Warm Scones
Fresh warm scones
Kerrygold Irish butter, Helen Gee's strawberry jam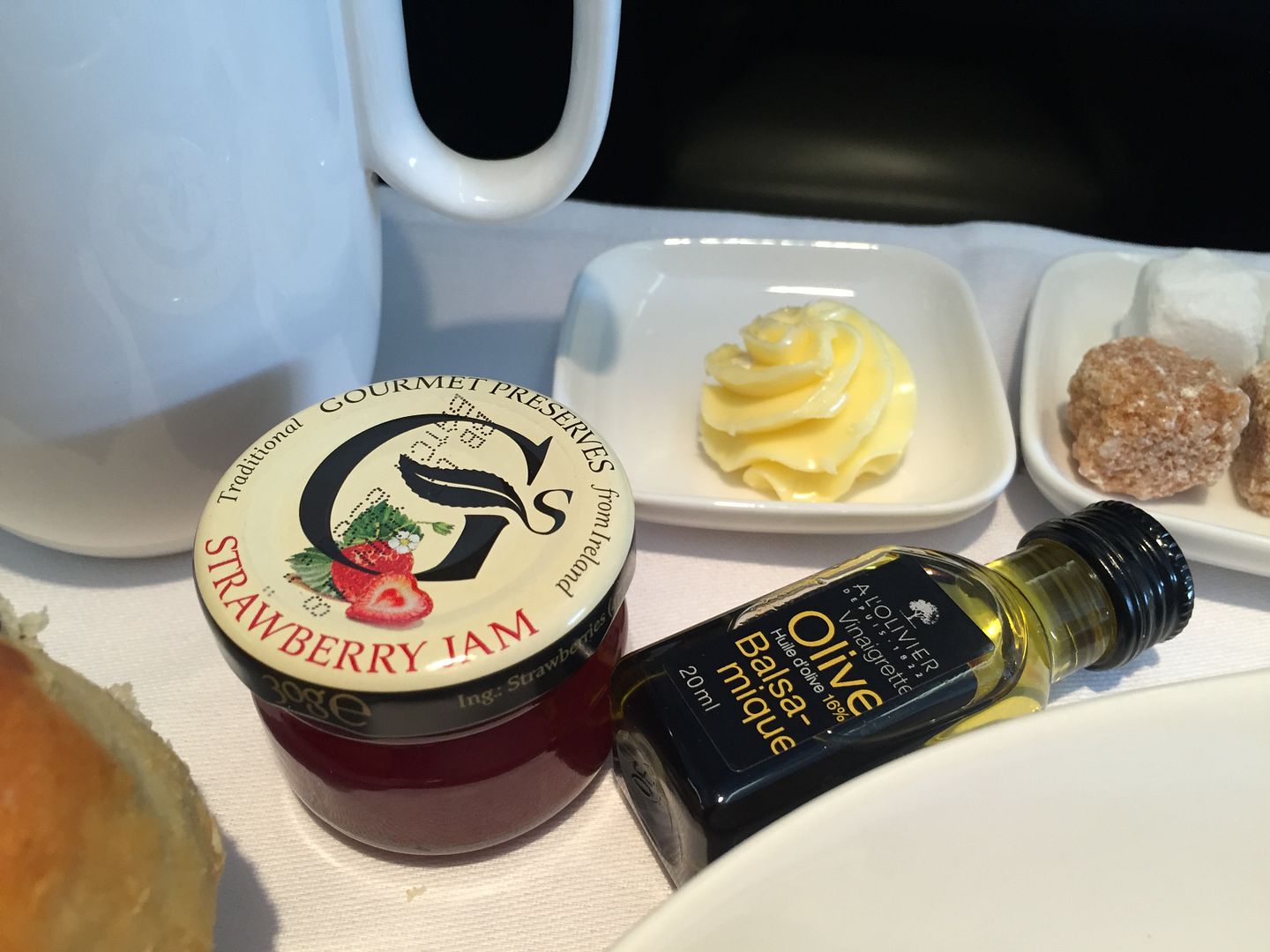 Tea or Coffee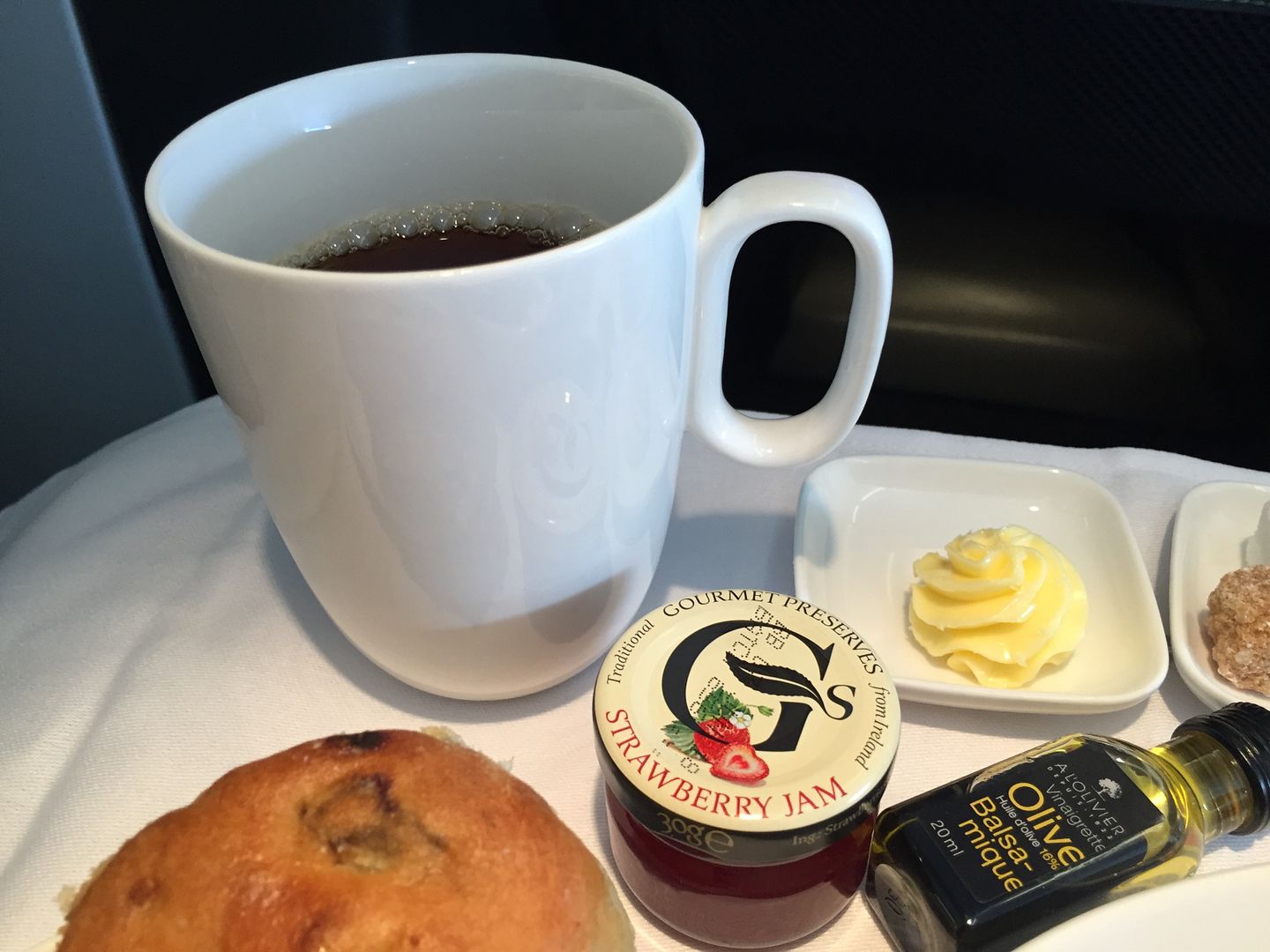 This afternoon tea service was underwhelming and the superpower salad, IMHO, was simply nasty and tasteless. It is not an afternoon tea without finger sandwiches. The scones were nice, but for a ten-hours plus flight, this meal was underwhelming at best. There are so many things that Aer Lingus can do, but maybe a second heartier hot meal should be offered, or simply a hot sandwich or even a pasta dish. The pre-arrival meal on my LOT Polish WAW to JFK flight last month was better.
We landed on R/W24R at 6:06pm and parked at 6:13pm at gate 26 in Terminal Two.
Since we cleared immigration and custom in Dublin, the flight was treated as a domestic arrival. In theory, it is very time saving, especially how immigration and custom can be busy here in LAX at these evening rush hours. Unfortunately Aer Lingus felt short again with baggage delivery. The first bag showed up at 6:30pm, but after a few bags releasing, the baggage claim stopped and nothing came out till 6:55pm. Since the priority tag in my bag was ripped off, my bag did not arrive till 7:15pm. In reality, I would save more time if the plane was not pre-cleared and used Tom Bradley International Terminal.
Aer Lingus was a nice alternative to British Airways' dated Club World seats. The new seats are nicely designed. However, it still felt short in terms of catering, baggage handling and mid-flight service. Those items can easily be tweaked and I hope my next flight on Aer Lingus will be better.
Thanks for reading!
Carfield
Aug 11, 16, 6:23 pm
Join Date: Aug 2001
Location: NYC
Programs: AA 1mm; SPG Gold
Posts: 672
Thanks for the TR -- reports of EI's new business service are in short supply. Doing USA-DUB return for the first time in a few weeks; excited to see how my experience compares to yours. Thus far, it seems that if you like Mint (which I do) then you're very likely to enjoy the EI hard product. Thanks again for the great photos.
Aug 11, 16, 8:29 pm
FlyerTalk Evangelist
Join Date: Nov 2003
Location: Frisco, TX
Programs: The Airline Run by Doug P
Posts: 17,970
Thanks for the report Carfield. It was great as usual. How was the mushroom soup at the EI lounge?
I have to say the "power salad" or whatever they called it looks like someone upchucked on a plate.
What other options were there?
What is the legroom of those seats when fully flat?
Aug 12, 16, 2:44 am
Join Date: Apr 2014
Location: Aberdeen, Scotland
Programs: BA Bronze, Emirates Silver, Virgin Silver, Marriott Titanium
Posts: 982
Thanks for the trip report and especially the pictures. We can't decide who to fly with when going to DC next year as we were unimpressed with BA's Club World but unless you go via another airport, there isn't much options into IAD.
Aug 12, 16, 3:36 am
Join Date: Apr 2009
Programs: BA Gold, AF Gold, IHG Spire Ambassador, Hilton Honors Diamond, Mucci de buveur de gin
Posts: 2,898
Nice report Carfield. The food on EI looks not too bad at all although the breakfast on the way into DUB is horrendous for a J class offering!
Aug 12, 16, 9:11 am
Join Date: Jun 2008
Programs: TK*G (E+), AA OWE (EXP), IHG Plat
Posts: 6,433
Aug 12, 16, 10:37 am
Join Date: Oct 1999
Location: New York
Posts: 6,572
Thanks for all your kind comments!

I actually missed the old days when EI actually served hot savories too in the canapés course on these daytime flights from Ireland to USA.

I love the Cream of Mushroom soup in the Golden Circle lounge and had three bowls of them.

About legroom on the full flat position, I am about 5 feet 11 inches tall and am able to sleep well without bending my legs.

While it was a short flight, I really don't like the presentation of the fruit in a skewer. I had this same fruit skewer almost a decade ago on a transatlantic flight from ORD to DUB. How about just presenting it in a bowl?

There is no entree option on the pre-arrival afternoon tea!

Thanks again!
Carfield
---
Last edited by Carfield; Aug 12, 16 at

10:49 am
Aug 12, 16, 8:32 pm
FlyerTalk Evangelist
Join Date: Sep 1999
Location: Toronto, Ontario, Canada
Programs: OWEmerald; STARGold; SPGPlat; PCPlat/Amb; HiltonDiamond; CarlsonGold; A|ClubPat; AirMilesGold
Posts: 38,067
Lots of pictures, duplicates it seems too. Though why nothing to show us the contents of the amenity kit? How does it stack up against others on transAt routes?
Aug 13, 16, 5:55 pm
Join Date: Dec 2004
Location: East Coast
Programs: AA CONCIERGE KEY, HILTON DIAMOND
Posts: 8,288