New Years in Spain: A Gaudí engagement, rainy Madrid, Tapas, Zambra, and Cochinillo
Jul 25, 16, 5:43 pm
Join Date: May 2014
Location: DFW
Programs: AA EXP (probably nothing w/ AA next year :)), Delta Platinum, Marriott Titanium, Hilton Gold
Posts: 404
New Years in Spain: A Gaudí engagement, rainy Madrid, Tapas, Zambra, and Cochinillo
---
Intro
I've been wanting to write this one for awhile.
A little over a year ago, I started the planning process of proposing to my girlfriend. We met back in college (almost 6 years ago) and started dating the semester before she decided to study abroad in Madrid.
I'll try not to get too sappy in this trip report. Long story short, while neither of us would typically do a long distance relationship in the peak of our college years...there was something about the relationship that clearly kept us together, despite the frustrating 5 months of being separated.
When she came back, she told me we had to visit Spain together. After graduating and becoming gainfully employed, we took a trip to France, Portugal and Lebanon, then another to Ireland, and many more throughout the US. It was time to go to Spain, and what better than to propose to her at her favorite Cathedral, La Sagrada Familia.
I also wanted to make it a point to spend time in the Prado checking out their incredible collection of Spanish art, along with the wonderful and unique architecture (heavily in southern Spain) with Moorish and Gothic influences, often piled on top of each other.
My "booze money" job in college was working at Meadows Museum on SMU's beautiful campus in Dallas (attended SMU); I was constantly surrounded by the largest collection of Spanish art outside of Spain, and combine that with my focused studies on Western Europe for my second major, it all really fell together.
We also like food and wine, so that works.
Here was the plan, including how I managed to get us there:
December 30
Day 1: DFW-MIA, AA1462, A32B, F
Day 1: MIA-MAD, IB6124, A333, J, +1 day
Day 2: MAD-BCN, IB2704, A320, F
Day 2:
Barcelona
, dinner and celebrate NYE
Day 3:
Barcelona
, Sagrada familia, marriage proposal
Day 4:
Barcelona
, then Barcelona-Madrid on Renfe high speed train in Preferente.
Day 5:
Madrid
Day 6:
Madrid
Day 7: Drive to Granada
Day 8:
Granada
, drive to Cordoba
Day 9:
Cordoba
, drive to Toledo
Day 10:
Toledo
, drive to
Segovia
, drive to Madrid
Day 11: MAD-ORD, IB6275, A333, Y
Day 11: ORD-DFW, AA2375, A319, Y
I used AA miles both ways, snagged J for the trip there, and routed through Miami because I wanted to try Iberia's "newer" J. Couldn't find J award availability on a reasonable route for the way back, even T-1 week out...I could have routed through LHR but those fees are silly.

Amateur TATL award booking advice for AA (seasoned travelers can skip):
My advice for anyone looking to use TATL AA miles: 1. Avoid LHR. 2. If you find something that works, book it, if you have a preferred route/airline/aircraft, keep looking after booking. Changing is painless; my itinerary changed several times after I booked and I ultimately got what I wanted, including getting into BCN in the AM. 3. Focus on your TATL leg...AA will open award space if there is any space on flights to make your connection domestically, at least they have done so for me numerous times.

Feel free to PM me with questions. FT provided me with tons of info and I would love to return the favor to someone.

Three more quick notes before I start this TR:
First, I'm taking my mom to Spain in November (she has always wanted to go and never takes the plunge, so I did it for her). I may not do an in depth TR for that, but we will be on the new AA 789, possibly in J. If so, I'll at least post the flight here.
Also, I am planning the honeymoon now, it'll include the new SQ A350 J SFO-SIN, stops in SFO, SIN, then onto a couple weeks in Thailand, then back thru Dubai via QR F and EY F. That trip report is a little under a year away, but man I am excited for it. Any Thailand suggestions are appreciated, but plenty of resources on FT so far
Lastly, shameless plug for a previous TR I did, I'll try to make this one better. Still trying to figure out a "style" that's easy for everyone to read.
DFW-AUH, DXB-LHR-DFW with a diversion to Iceland: EY F, BA F
Ok, now onto the trip report!
---
Last edited by shgroamer; Jul 25, 16 at

6:00 pm
Jul 25, 16, 9:18 pm
Join Date: May 2014
Location: DFW
Programs: AA EXP (probably nothing w/ AA next year :)), Delta Platinum, Marriott Titanium, Hilton Gold
Posts: 404
That wasn't the case when I was browsing at least, plus I have tons of miles with AA and 140k round trip for two people with one way in J was pennies. Why hoard miles when devaluations happen every 6 months?
I agree TATL is not the best use of miles w/ OW though, but if you have an abundance of them, use them.
Jul 25, 16, 11:11 pm
Join Date: May 2014
Location: DFW
Programs: AA EXP (probably nothing w/ AA next year :)), Delta Platinum, Marriott Titanium, Hilton Gold
Posts: 404
Dfw-mia-mad-bcn aa f/ib j
---
DFW-MIA-MAD-BCN
The plan was to fly out of DFW mid/late morning and connect in MIA for our Iberia TATL flight. It was December 30 and we were slated to land in BCN late morning, just in time for a bit of rest before NYE shenanigans.
As any work trip and most leisure trips start, we found ourselves in one of the DFW AC's (I don't remember which terminal but it was A or C). Had a few drinks in anticipation of skipping the gate lice epidemic plaguing our boarding processes across the nation.
I think this was supposed to be a screwdriver. Hey, it was early.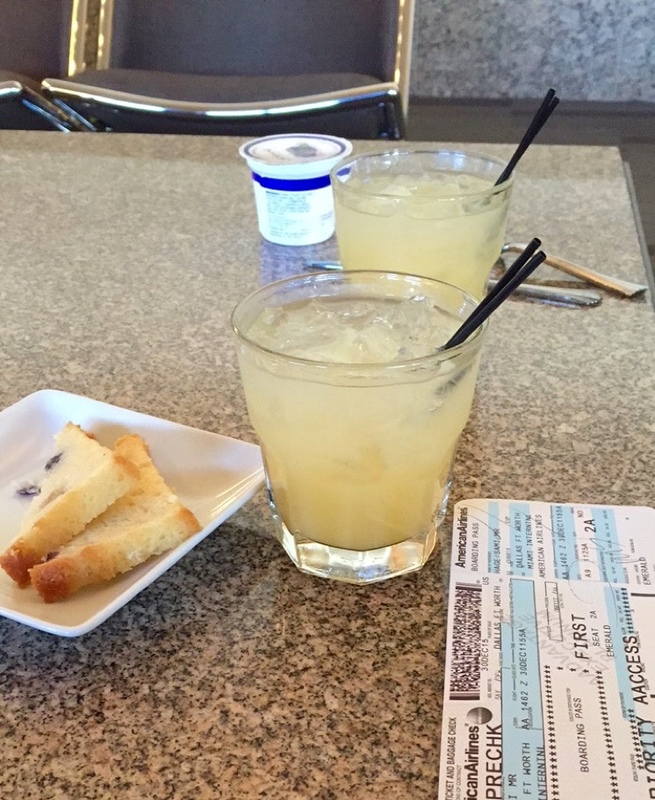 Nothing special about this flight, it was one of the new 321's with the IFE and bells & whistles. We landed in MIA a bit late but nothing detrimental to our upcoming flight. One note, they weren't able to print our BP's at DFW and mobile wasn't working, probably something to do with it being an IB flight.
Sup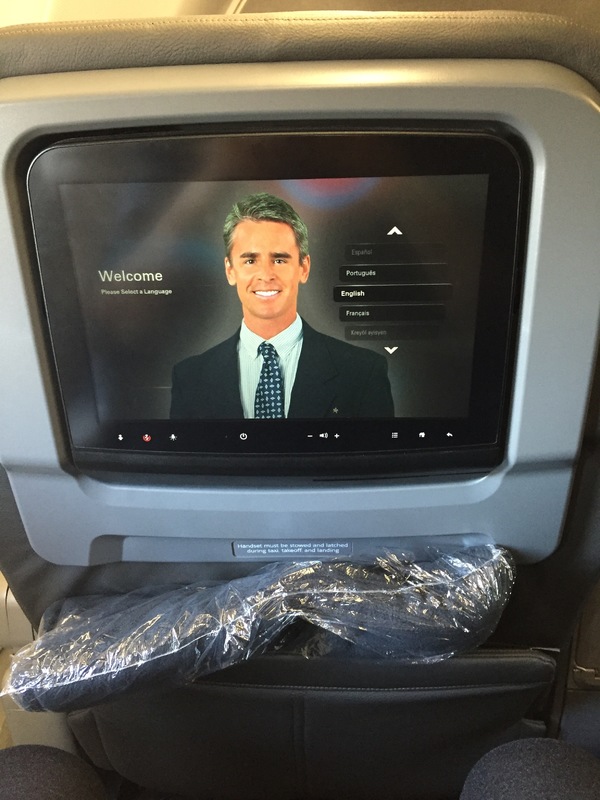 Unmemorable feAAst
"Don't put this on your little flyer website"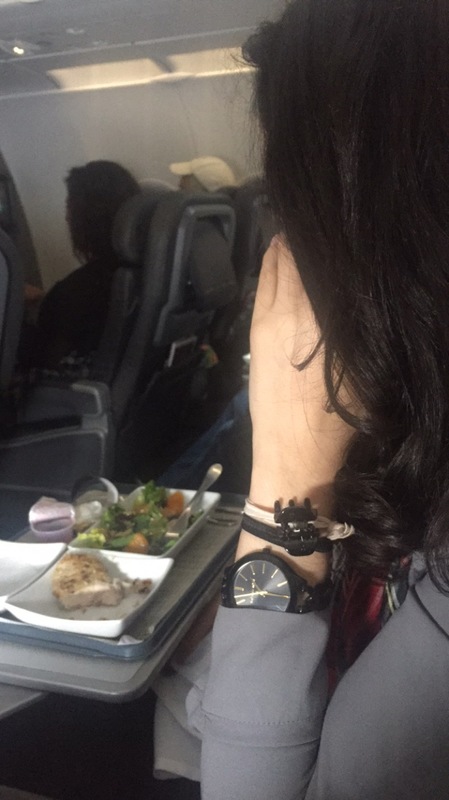 We wanted to check out the OW lounge located in the international departures area at MIA, which is a dump. When trying to check in, the agent at the desk was not able to grant access without a BP (I thought I'd be able to get it in the lounge), but apparently they aren't able to print them.
Went to the gate as directed, about 15 mins before boarding was supposed to begin. The gate agent printed BP's, and we decided to just wait it out in what seemed to be a departure area with no A/C and way too little seating. This part sucked and I probably won't connect in MIA for an international flight if I can help it in the future.
We boarded 2L, turned left, had the last row in the larger front J cabin on Iberia's A330-300. The seats are set up in a staggered 1-2-1, meaning every other row in the middle section, you're right next to your seat mate. This can be awkward if you don't know the person next to you as there is nothing dividing you but an average arm rest. If you're traveling alone, sit in a "true" window seat, again, every other row.
Our seats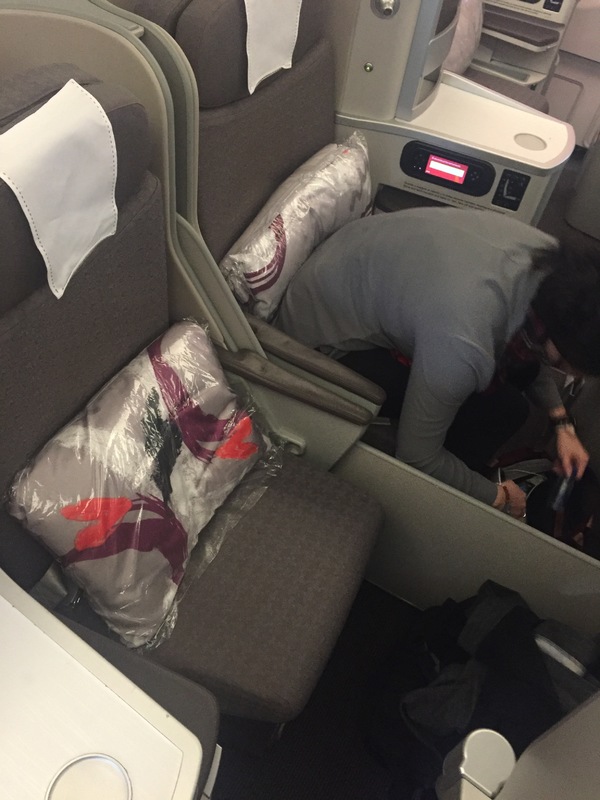 Holaaa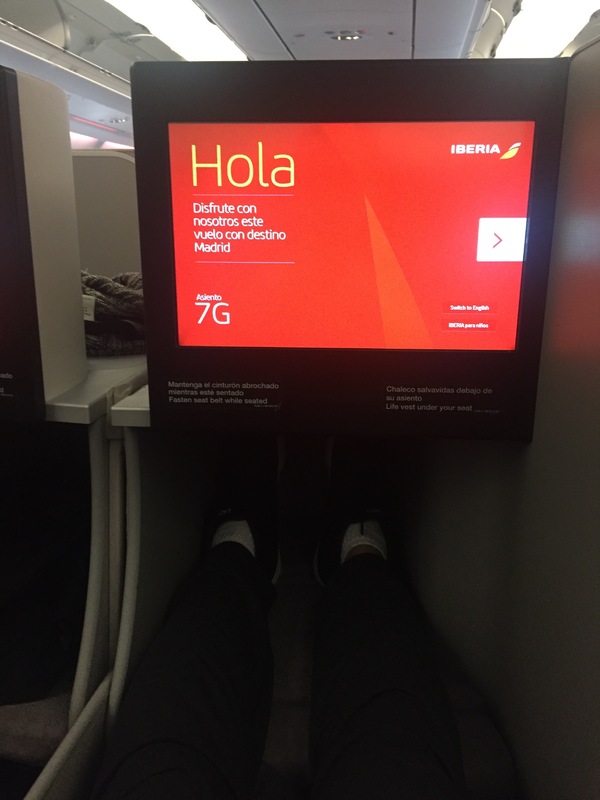 L'Occitaine amenity kit in an iPad mini case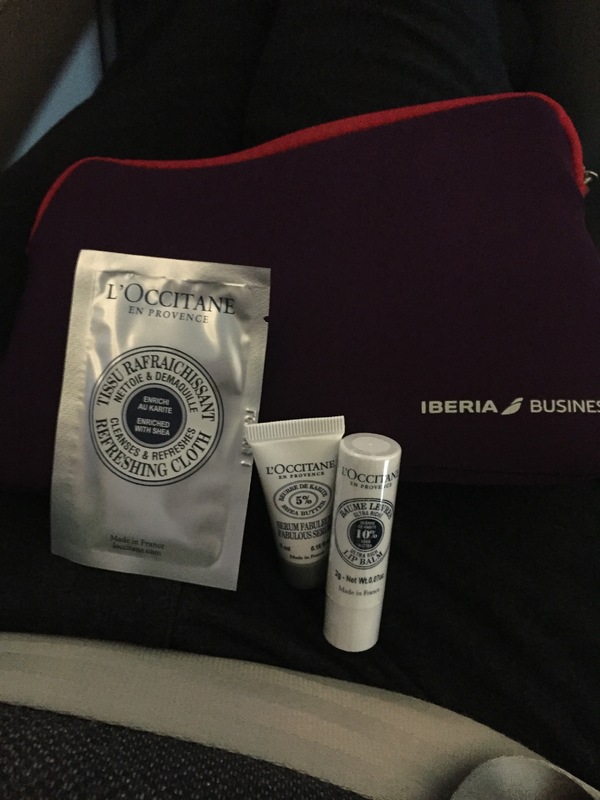 Don't even bother
I wanted to sleep a bit so I was hoping for a quick dinner service/drinks, and then some zzz's. I would say IB's hard product is right behind AA and Finnair's new products for TATL OW options. Aisle Access, lie flats, better than average IFE.
The crew and meal service were nothing to write home about. Pics are below; all the catering was ok, but I would say the main dish was least impressive and frankly probably just a Y meal presented in something other than plastic. Little did I know how bad Y meals on IB are (more on that later). Some nice touches with the service overall though, including Marcona almonds, turrón, cava, and some manchego got us in the mood for some real Spanish food we would indulge in once on the ground. Now it was time for a wine-induced sleep.
Keep it simple stupid (and edible?)
I love olives and I love almonds and I love gin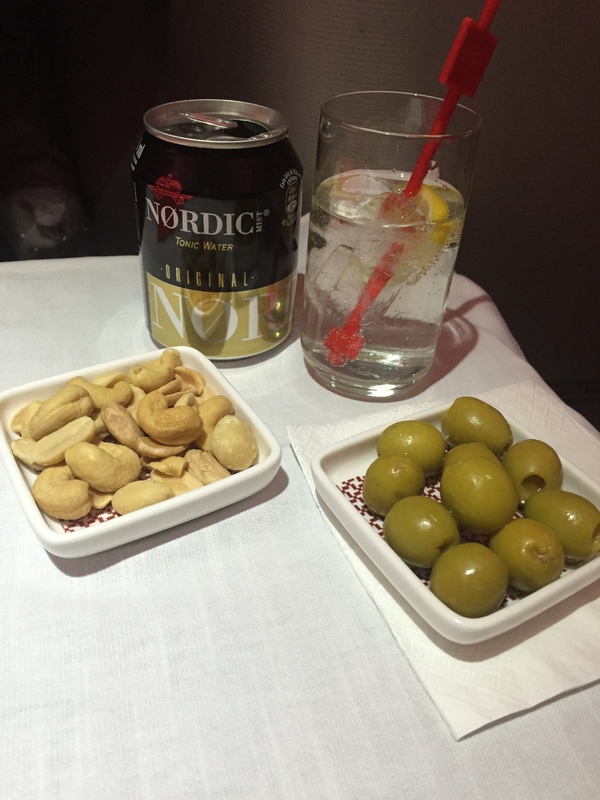 Wine not pictured. This starter actually wasn't bad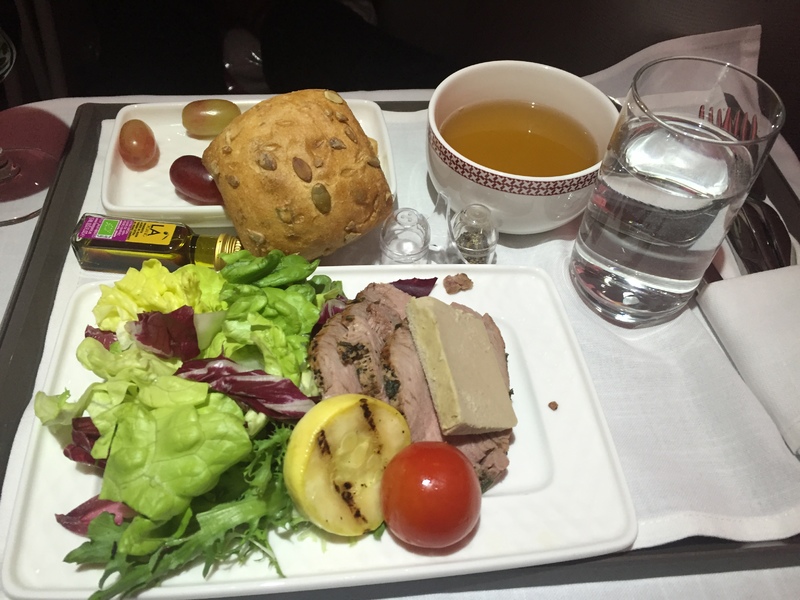 This on the other hand...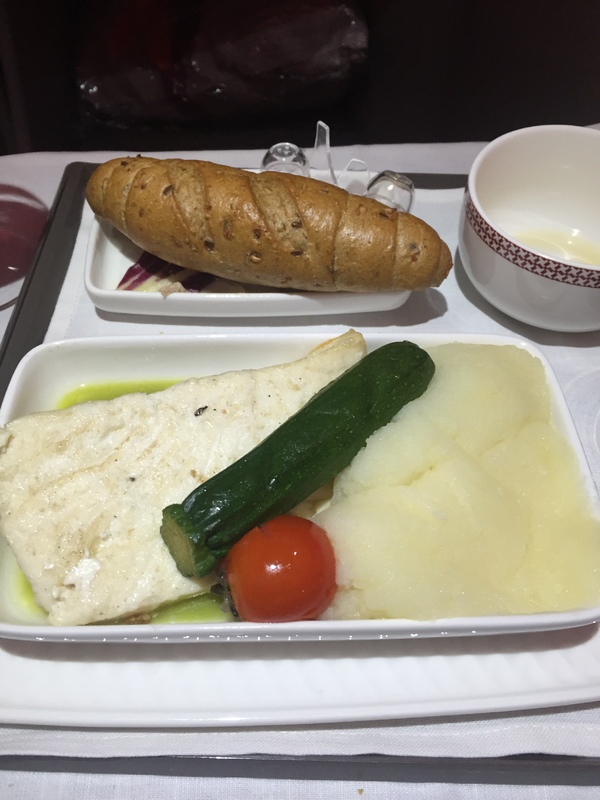 Probably best part of the meal, and that's not saying a lot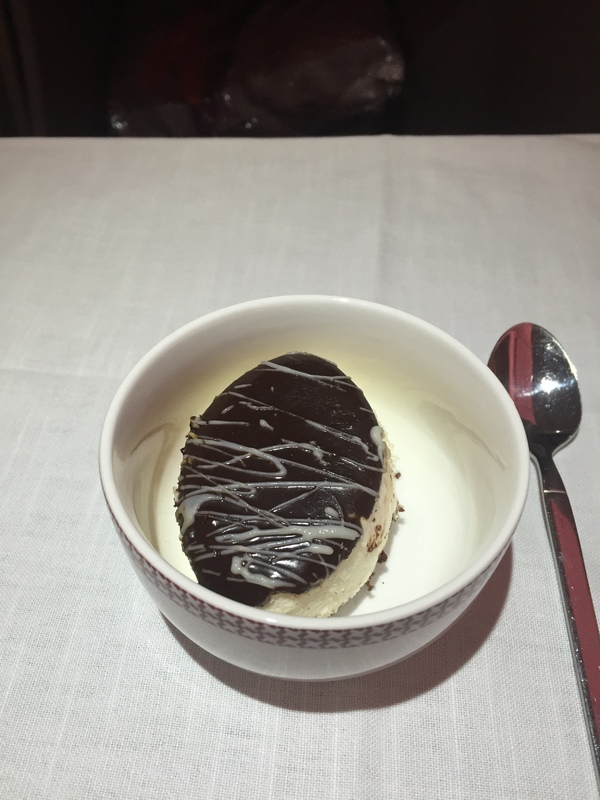 I probably got about 3-4 solid hours of sleep. The cabin was a bit hot, I'm sure partly due to the amount I drank on this flight, so my strategy to drink and sleep didn't work too well (it never does). I typically don't consume alcohol in transit when traveling for work, so I thought I would indulge.
This is how close these seats are when fully flat. SQ double bed's got nothing on this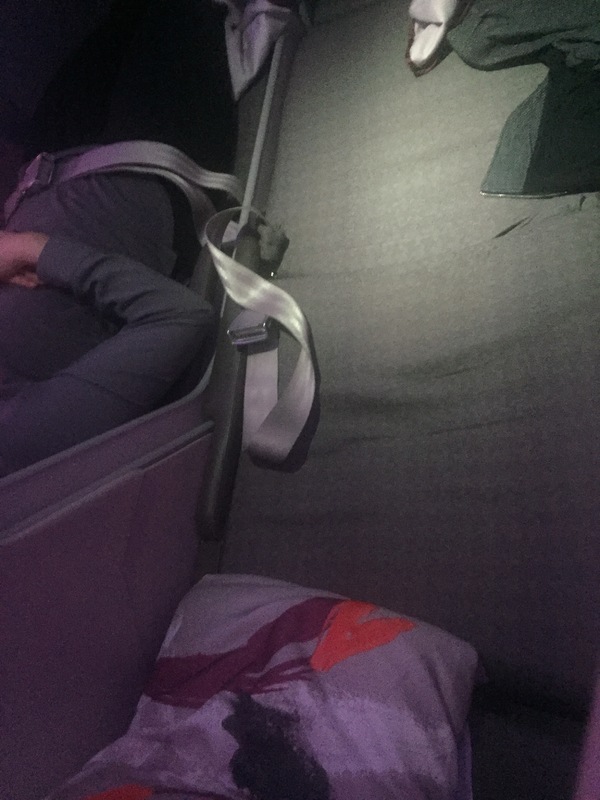 Quasi-cabin shot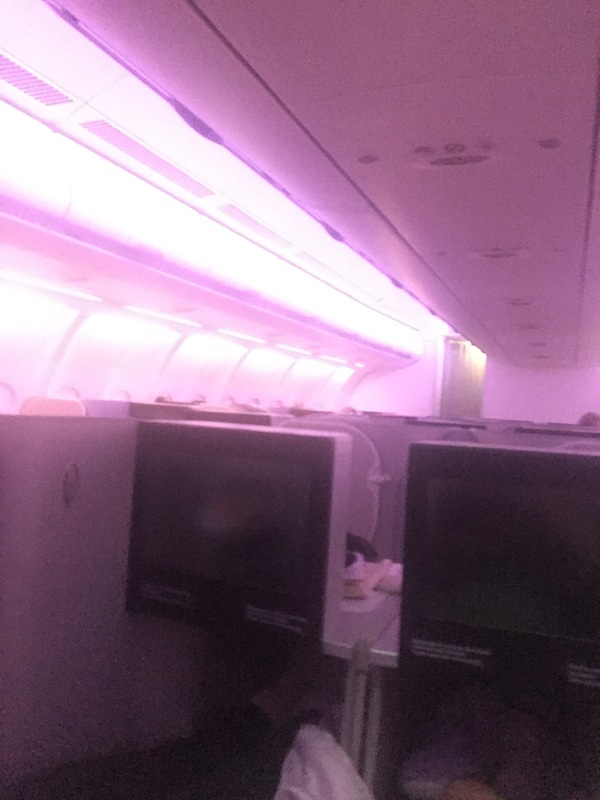 Mood lighting w/ IFE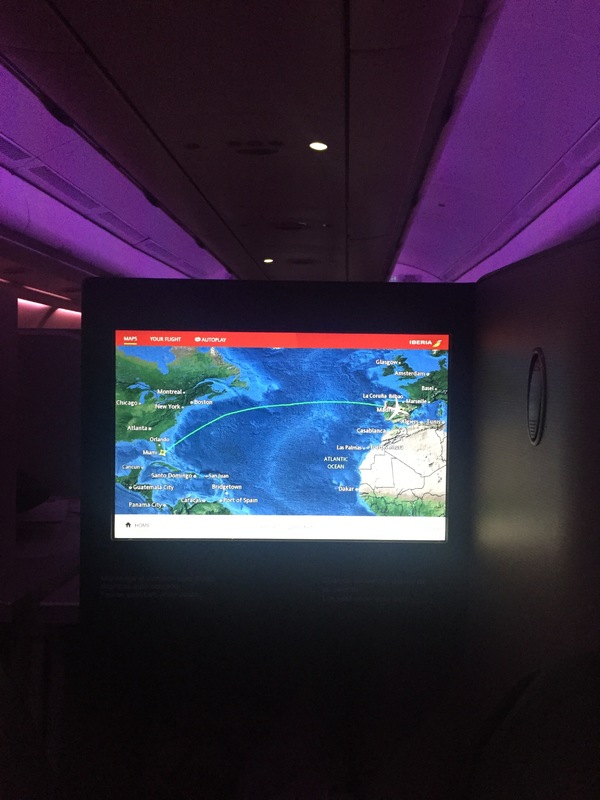 Brekkie...carb city, bro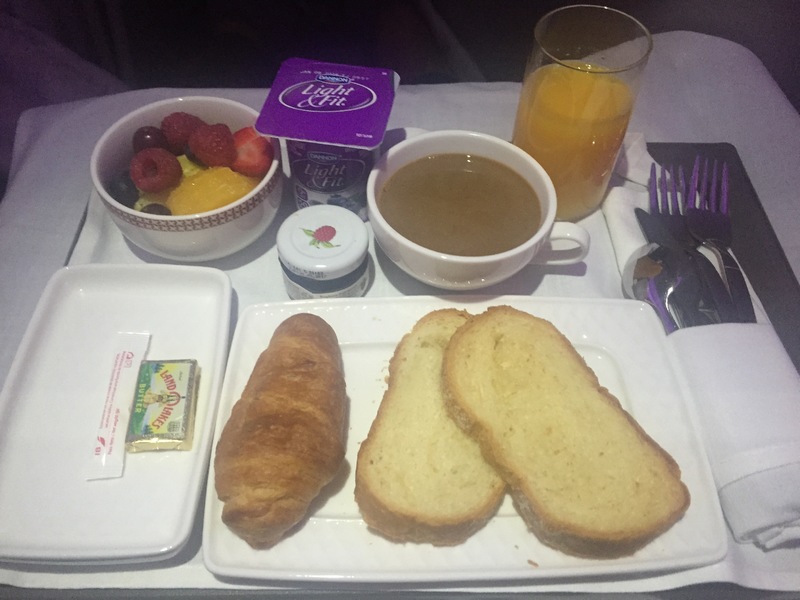 Overall, soft and hard product considered, IB is nothing special, as many of you probably know. They wouldn't be my first choice next time around, especially with AA bringing their 787-9 on the DFW-MAD route. Probably ahead of BA though.
We deplaned out of 1L and began the long trek through MAD (it's quite the hike) to connect for our quick flight to BCN. The IB lounge in the domestic EU terminal was a good spot to quickly refresh. After some time there, we headed to the gate and were off to Barcelona fairly quickly. Not sure how full the flight was but boarding was seamless with absolutely nobody crowding the gate. We were 2 of 3 people in F for this flight, which is just Y with a meal and a blocked off seat between you and the other person in your row (3-3 config).
F cabin from MAD-BCN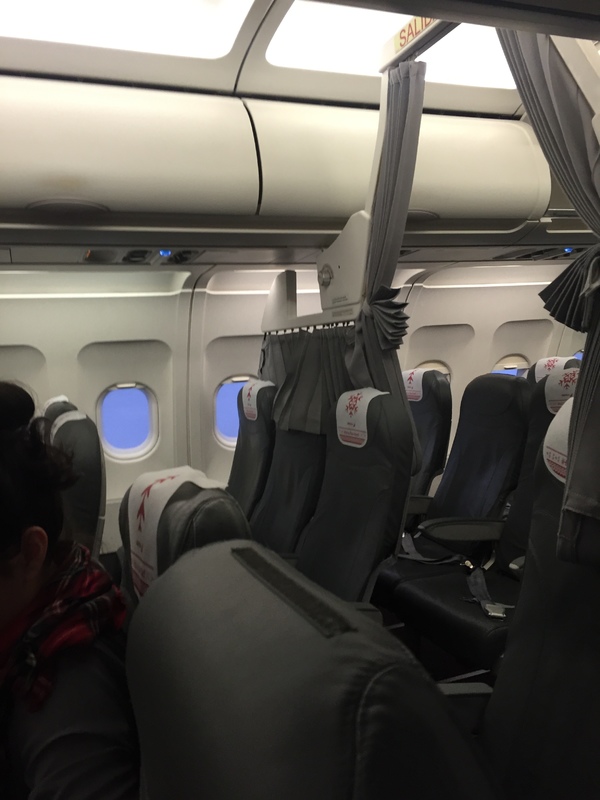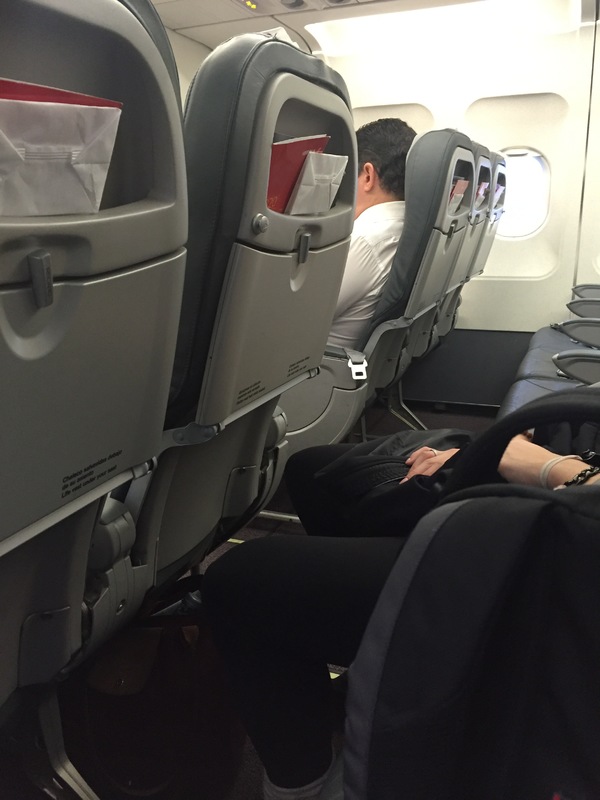 Rainy/foggy day in Madrid, sorry for the especially poor quality, but I like pictures of planes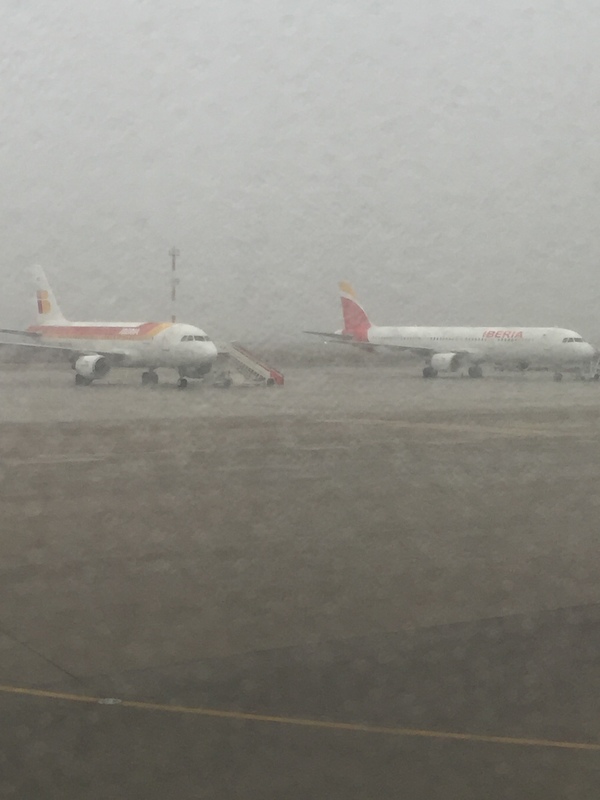 CLT or PHL bound? Still getting used to the AA livery LUS A330s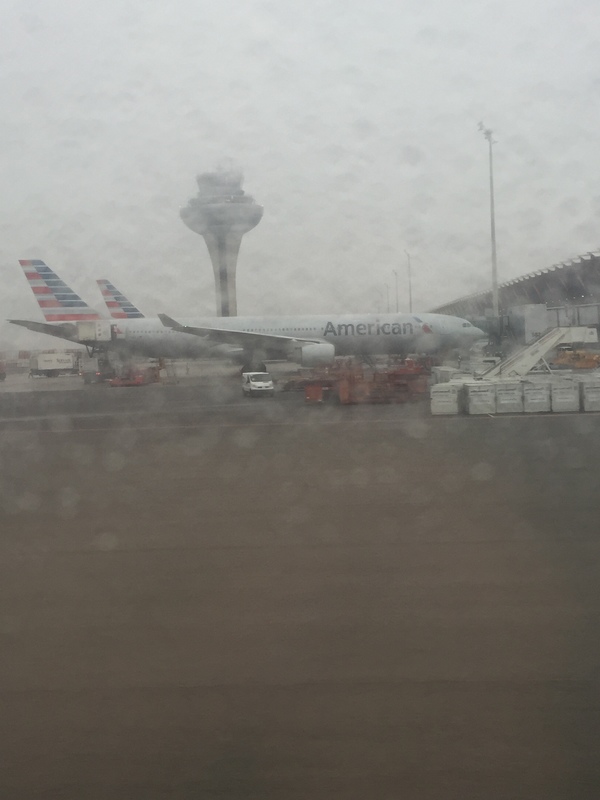 Breakfast on this short hop--it actually was better than what was served on the TATL leg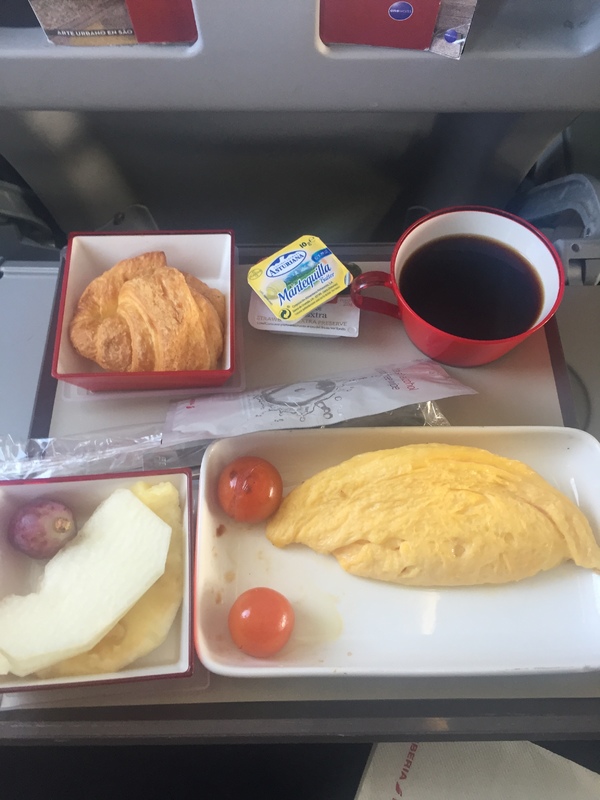 Turrón
Getting close to BCN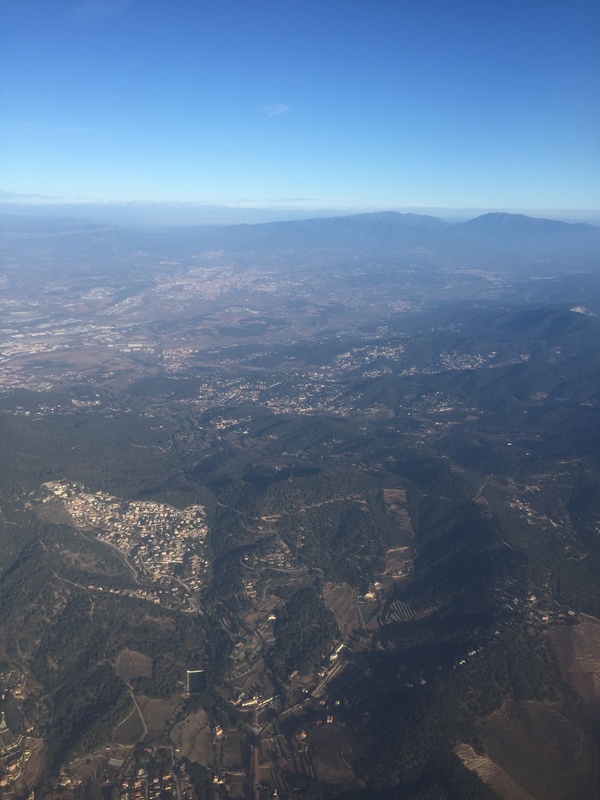 Mediterranean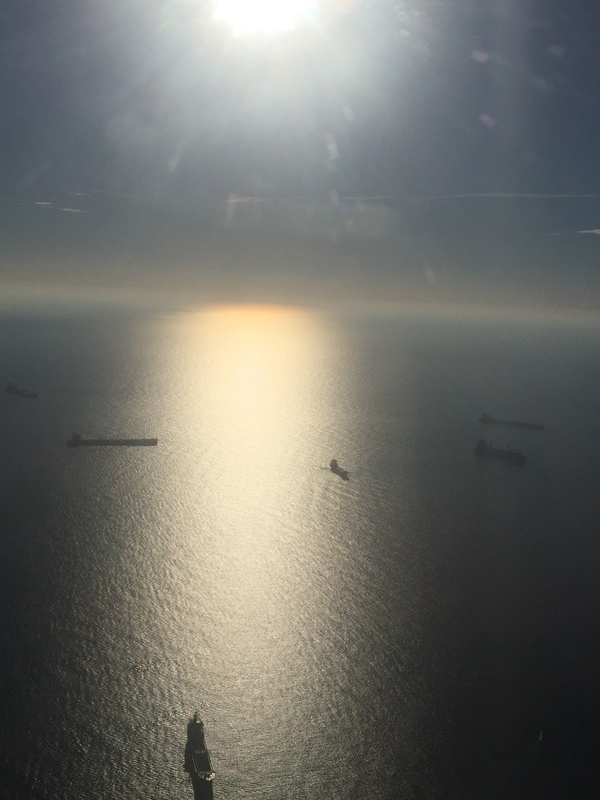 Vueling at BCN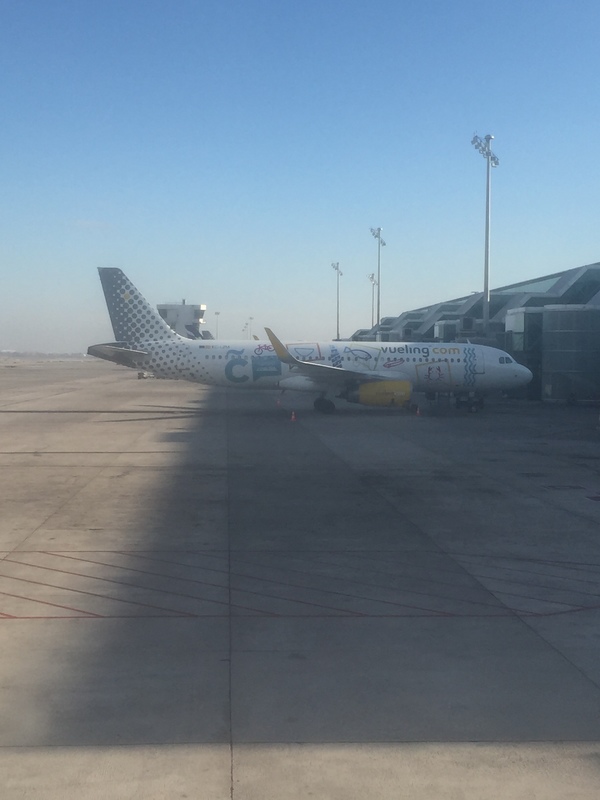 We got to BCN, grabbed a cab to our hotel, which was Le Méridien off Las Ramblas.
Up next, Barcelona + Renfe to Madrid
Jul 26, 16, 12:42 am
Join Date: Jan 2012
Location: NYC, SFO
Programs: AY+ Plat, AA Plat, Marriott Titanium, Hyatt Discoverist
Posts: 2,840
Congratulations!

I think your impressions of IB and MIA are pretty spot on.

Sort of looking forward to your IB Y segment. I had the pleasure of flying MAD-JFK in IB Y a few years ago on one of their old A340s. It felt like the longest flight ever.
Jul 26, 16, 11:14 am
Join Date: May 2014
Location: DFW
Programs: AA EXP (probably nothing w/ AA next year :)), Delta Platinum, Marriott Titanium, Hilton Gold
Posts: 404
Jul 26, 16, 11:30 am
Moderator, Trip Reports
Join Date: Nov 2009
Location: 6km East of EPAYE
Programs: UA Silver, AA Platinum, AS & DL GM Marriott TE, Hilton Gold
Posts: 9,576
Jul 26, 16, 2:16 pm
Join Date: Apr 2009
Programs: BA Gold, Hilton Honors Diamond, Mucci de buveur de gin
Posts: 2,986
Nice report although IB international J looks a bit dodgy. Although the MAD - BCN flight looks like American F, it's sold as business class in Europe - basically Y with a spare seat in the middle!
Jul 26, 16, 2:34 pm
Join Date: May 2014
Location: DFW
Programs: AA EXP (probably nothing w/ AA next year :)), Delta Platinum, Marriott Titanium, Hilton Gold
Posts: 404
Jul 27, 16, 1:50 pm
Join Date: Oct 2013
Programs: AA EXP, Alaska MVP 75k, SPG Platinum, Hilton Gold
Posts: 34


I would recommend buying at B&H Photo where they usually have the best deals on these.