Finnair Business Class inc. A350 AMS-HEL-PVG
Jul 6, 16, 1:31 pm
Join Date: Jan 2007
Location: RTM
Programs: DiamondClub (rip), Currently an Alliance Treble Champion (BA, A3, AZ)
Posts: 1,688
Finnair Business Class inc. A350 AMS-HEL-PVG
---
Welcome to my trip report of my recent trip with Finnair and their A350 flagship.
Recently, Finnair has been promoting some very aggressive business class fares to Asia from Europe. This particular trip was €1,808 in Business Class from Amsterdam to Shanghai, which was about 40-50% cheaper than KLM or Cathay Pacific direct or British Airways connecting in LHR. The flight times with a connection are very favourable as HEL is kind of 'on the way' with a total journey time of about 12-13 hours.
AMS - HEL
AY 842 / A321
11:55 - 15:15 (2h20m)
AY operates a very typical intra-EU J config with regular seating and a middle seat free. Nothing special. Compared to BA I thought the seats (cloth type) were actually very comfortable and the legroom appeared to be marginally better. It didn't feel too cramped. SeatGuru would appear to concur at 31" vs. 29-30"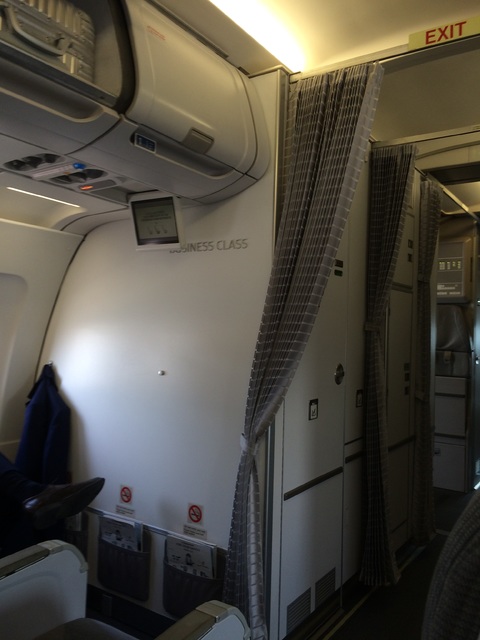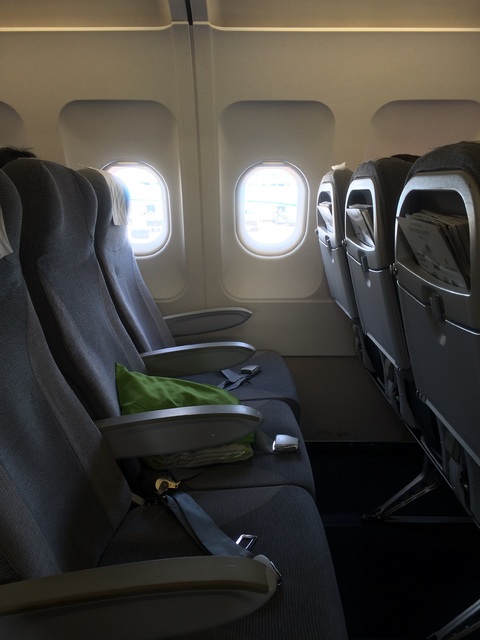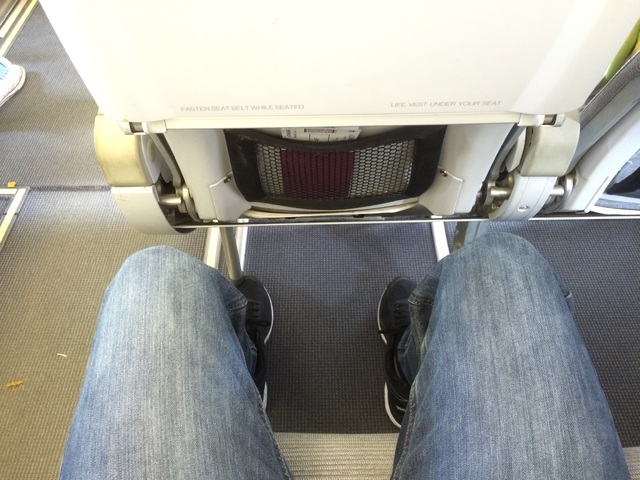 Although we were all on board in good time, pushback was delayed for 20min due to "a technical issue" and then we trundled out for a departure from a busy Polderbahn which took another 20 min as its half-way to Belgium, meaning airborne about 40 min after scheduled departure.
The inflight service was particularly slow. After what seemed like an age, somewhere over the Danish coastline, finally a drinks service was done from the trolley. (Probably only 25 min in reality, though having been on board for over an hour by now I was particularly parched...)
While the wait wasn't appreciated, I was pleased to see that they actually serve Nicholas Feuillatte Brut Grande Réserve, which is good champagne, especially for intra-EU J! Compared to BA's recent "enhancement" to Castlenau Brut, this was really quite impressive. The 'Cloud Hoppers' reminded me of those Fish'n'Chips from my childhood, though not exactly refined, they went pretty well with the fizz.
Refills (replacements) were plentiful with a second round with the meal tray and third after it was cleared.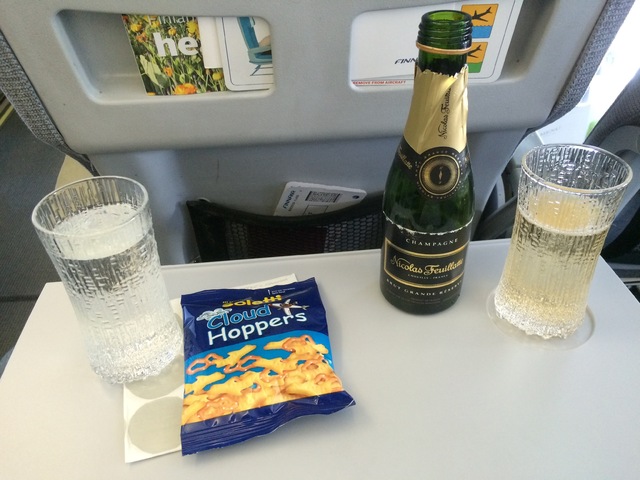 A menu card was presented just before or with the first drinks service:
Starter
Smoked vendace and smoked fish salad with organic rye crisp

Main
Pork patty with red wine sauce, potato gratin and vegetables

Dessert
Chocolate brownie and vanilla mousse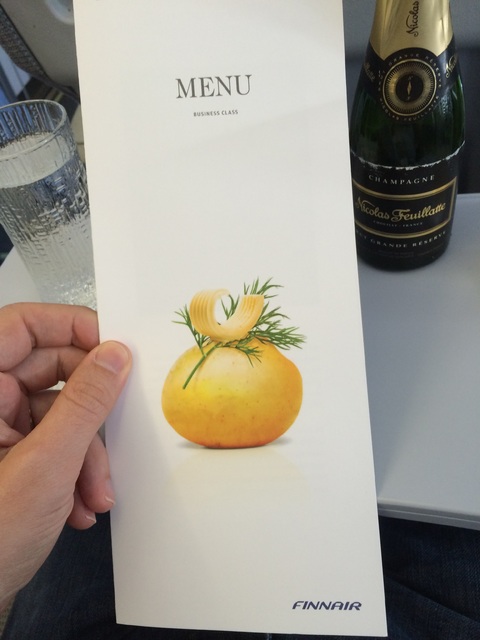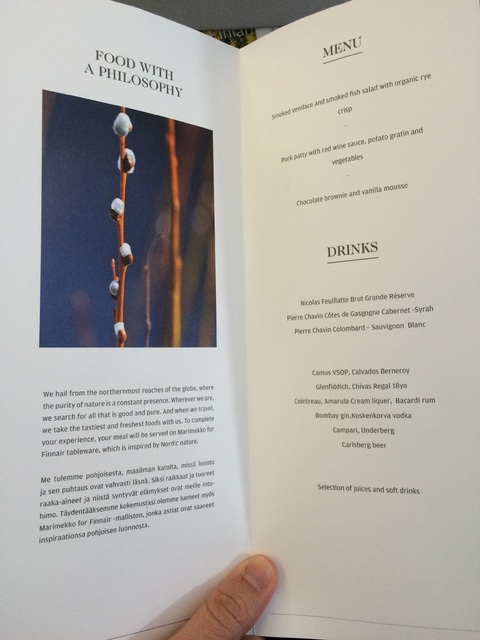 Presentation of the tray with lids and foil on from the trolley. Not to detract from what was overall quite good for the flight duration, would it really hurt to remove these, at least the starter and main, at service?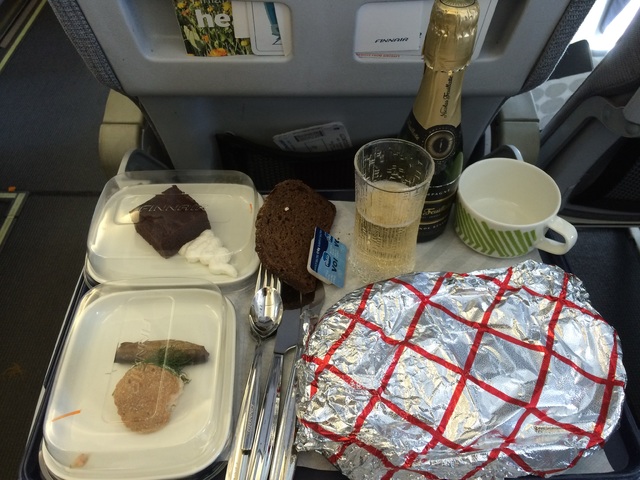 The smoked fish starter was superb. Smokey, sweet and sharp with nice texture from the crisp.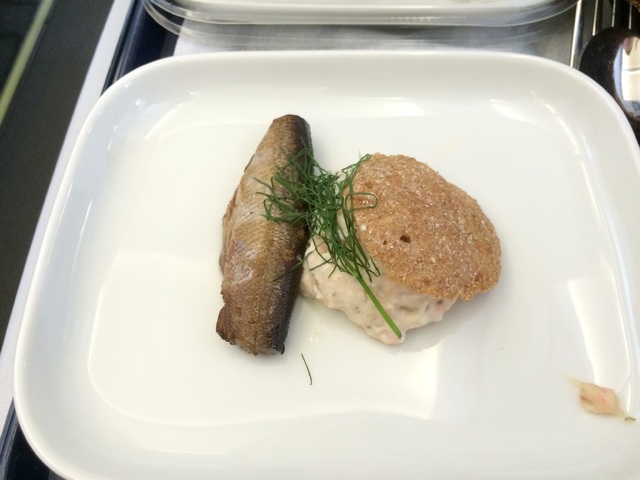 While giving the appearance of a school dinner, it was actually quite tasty and moist.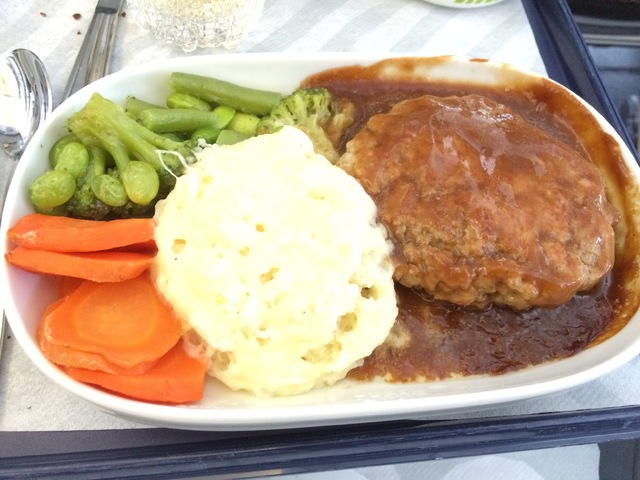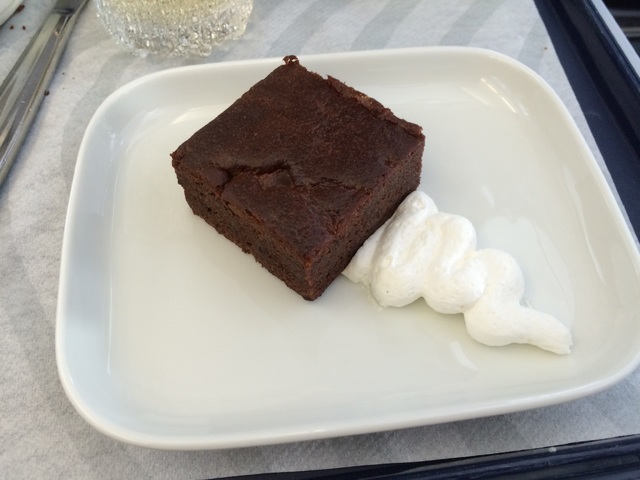 Finnair Premium Lounge – Helsinki
We arrived about 30 min behind schedule, but I had ample connection time. Helsinki is quite a big airport as we must've parked as far as possible from the Schengen border. It felt like a mile, but that may be more to do with the three bottles of NF than the actual A-B distance ;-)
The lounge was packed, I had to look around to find a seat that was available. As others have posted, it is very small, but the furniture and offerings are very nice. It would be a lovely place to be outside of the evening Asia wide body departure rush.
Attended Champagne and wine bar and self-service nibbles/canapés.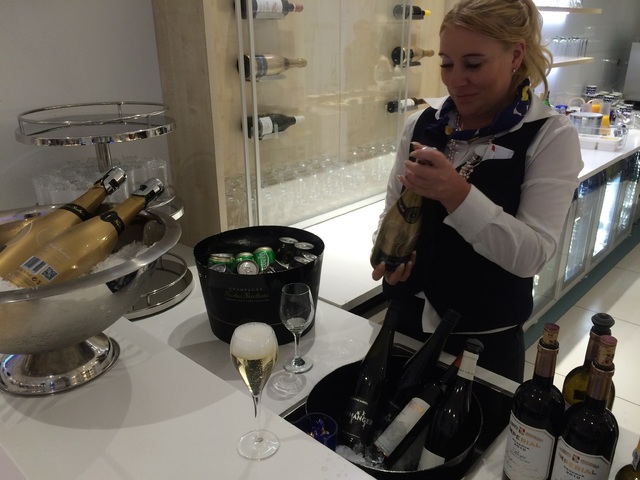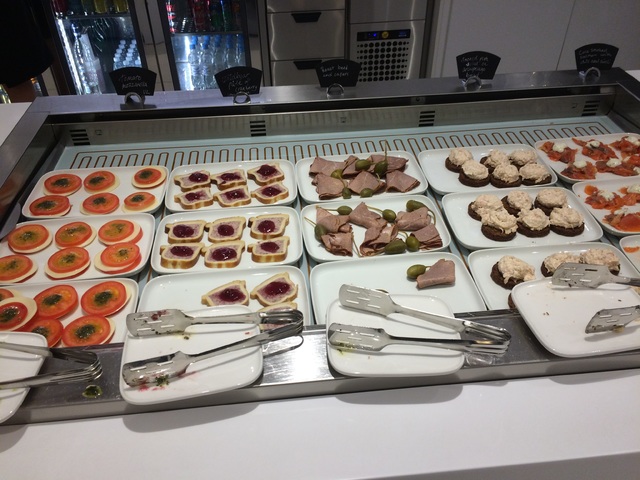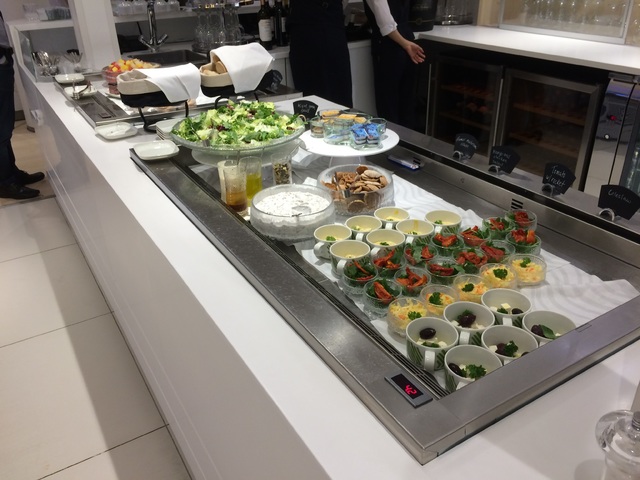 HEL - PVG
AY 57 / A350
17:20 - 07:10 +1 (8h50)
Boarding was via buses to a remote stand. It seems like AY have completely outgrown Helsinki as there must've been 2-3 widebody jets at remote stands. The first impressions (unfortunately I didn't get a picture) are of a very beautiful airframe. Quite a few folks were taking pictures and selfies.
First impressions: The colour scheme is quite, uhm.. grey.. but the company greens and blues on pillows and blankets gives a splattering of colour. The seat is the Cirrus 1-2-1 layout, though there was a slight difference to CX in that the armrest was narrower and the space saved has become a stowage bin, which is very useful. The lack of a CX-type cupboard by the console means there is nowhere effective to stow phones etc..
Headphones are genuine Bose QC type. They are at the seat already (and not collected at the end!!) very honest and trusting people, these Scandinavians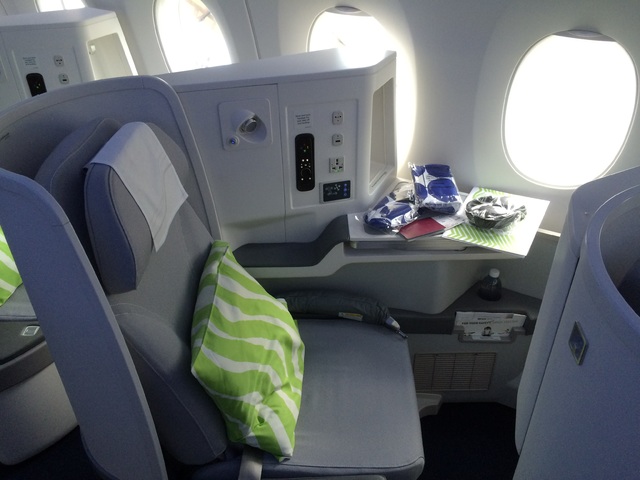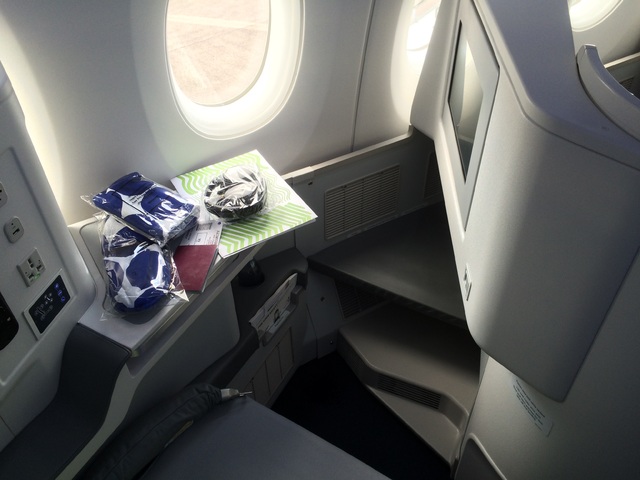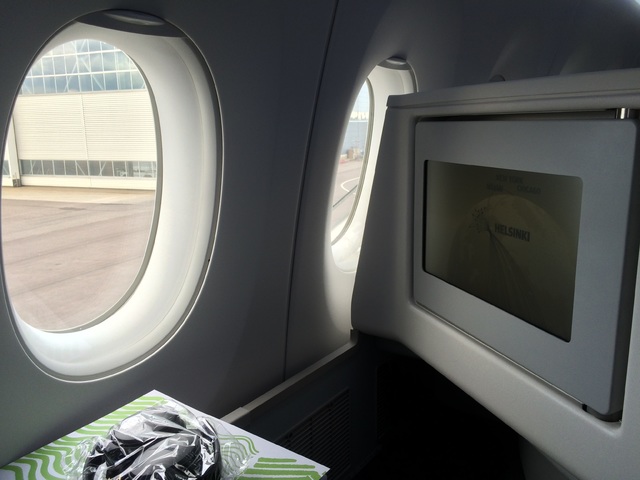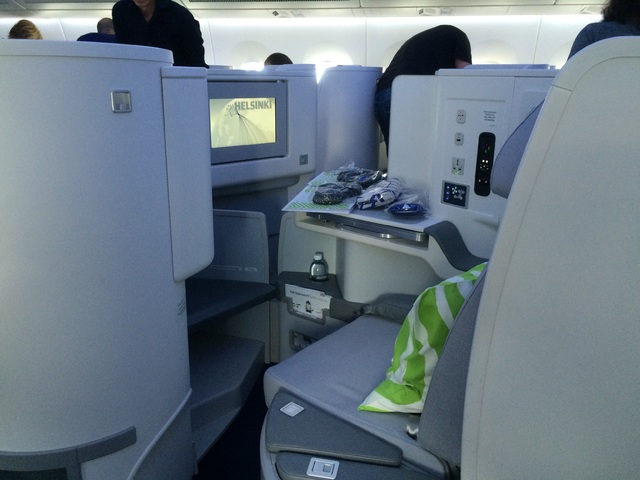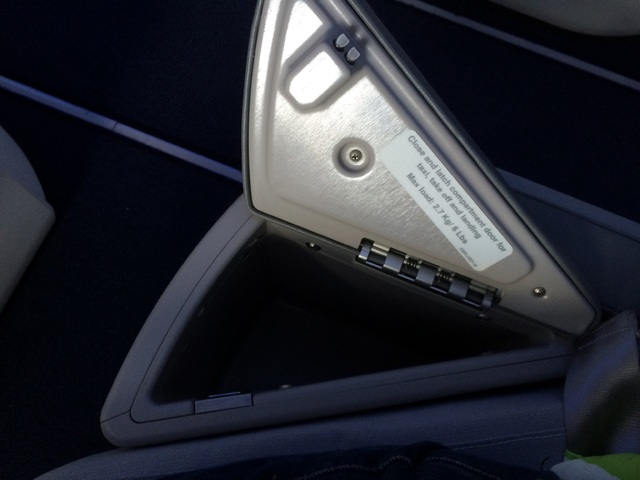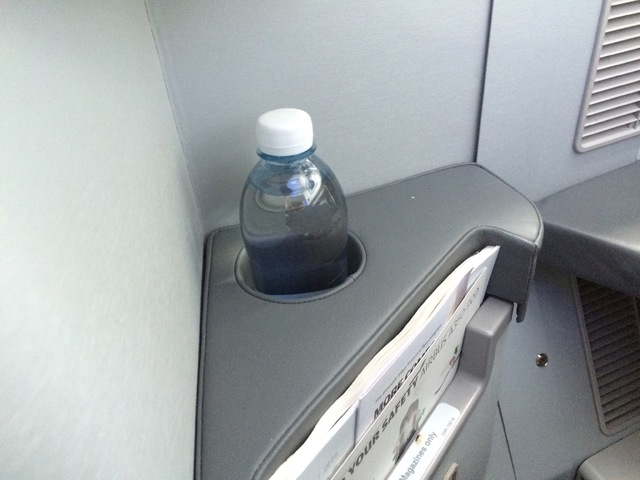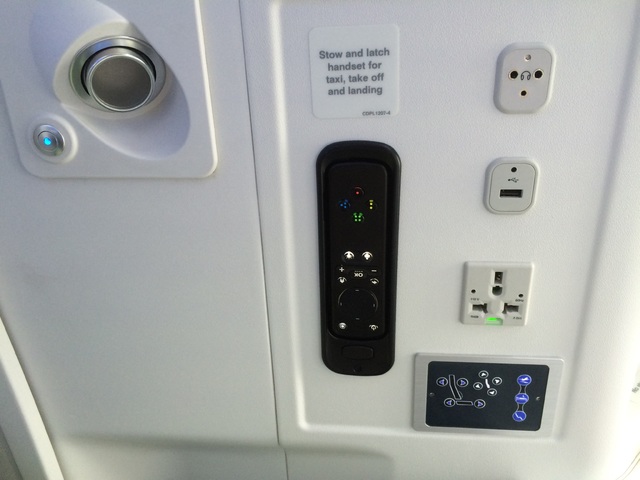 A nice folder was presented which had menu cards, a tax free flyer, landing cards and a breakfast / wake-up pre-order form. I thought this was a particularly good idea, especially as the flight was quite short. You can be woken up or left to sleep and have a full or light breakfast option.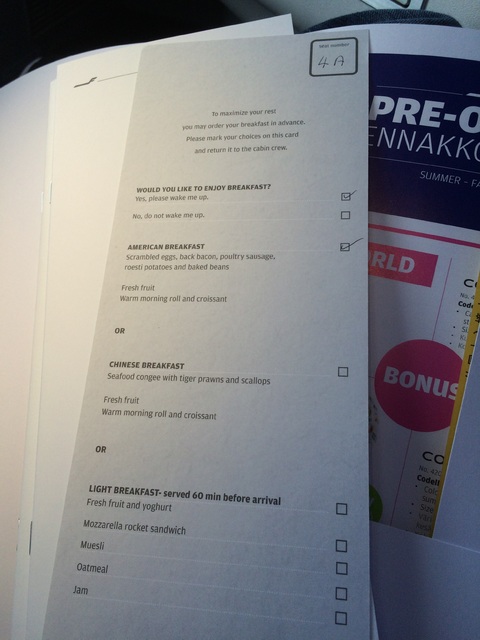 Champagne
Nicholas Feuillatte Brut Grand Réserve NV

White
Cliffhanger Mosel Reisling 2013 (€13)
Saint Veran Champs Rond 2012 Domaine Thibert Père Et Fils (€17)

Red
Cantina Di Montalcino Brunello Di Montalcino 2010 DOCG (€32)
Château De Montfaucon 2012 Baron Louis (€17)

Port
Maynard's 20 Years ld Tawny Port Barao De Vilar, DOC Douro

Sauternes
Château Liot 2010 (€21)
While not exactly bank-breaking stuff, I thought this was a perfectly reasonable wine list in Business Class. The addition of Sauternes is impressive and I thought quite special, compared to my mainstay BA where this is usually only available in F. I have a flight in BA F coming up in mid-Aug and will compare this and the J offer.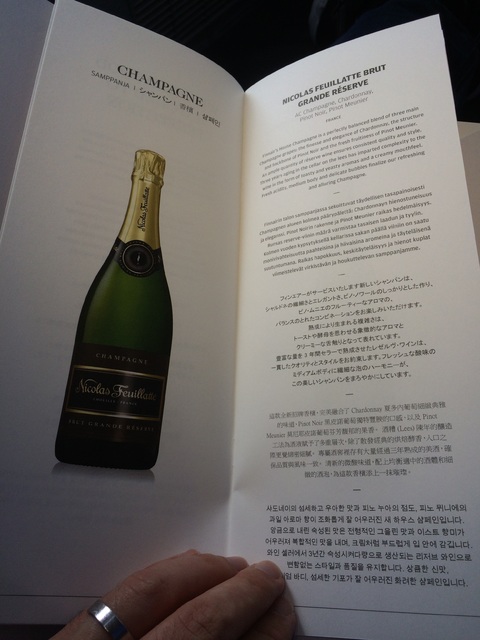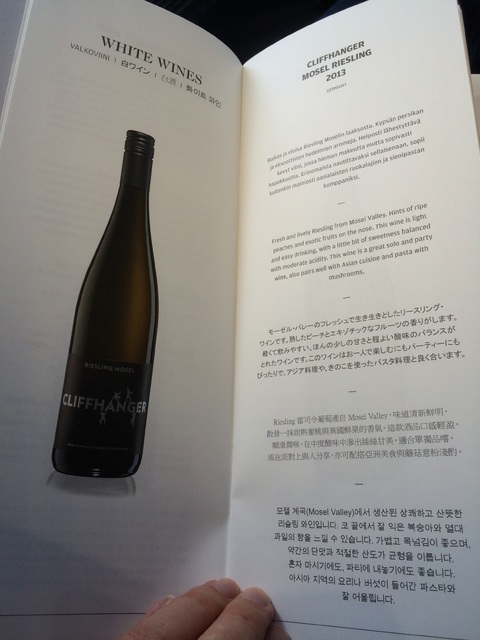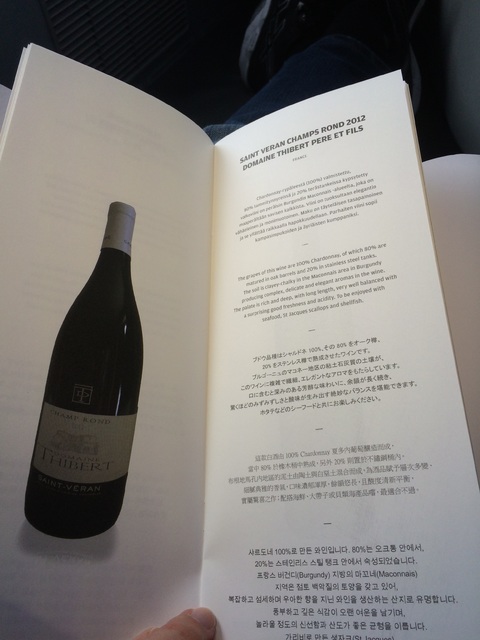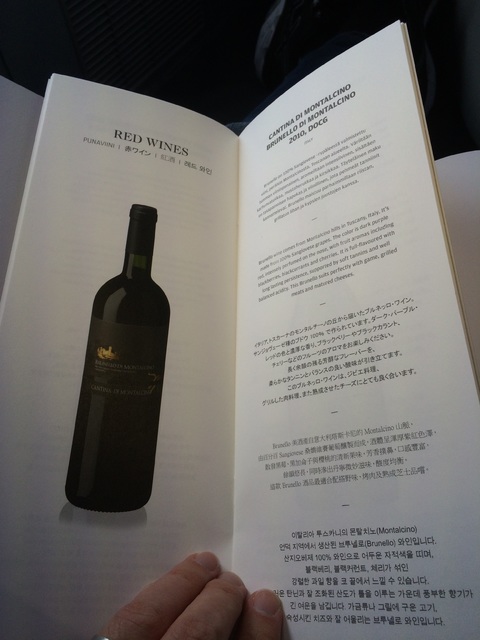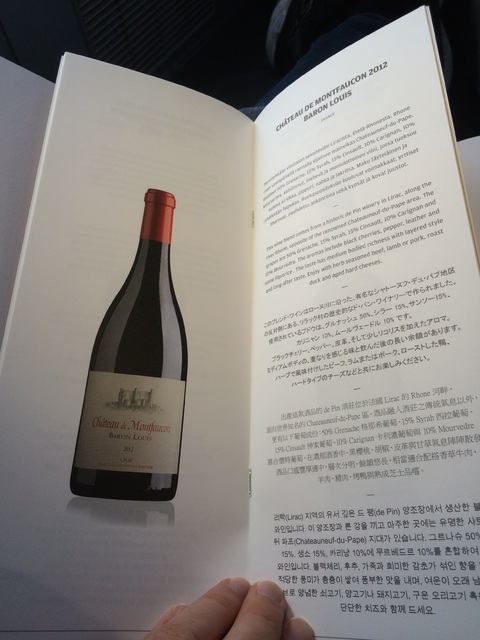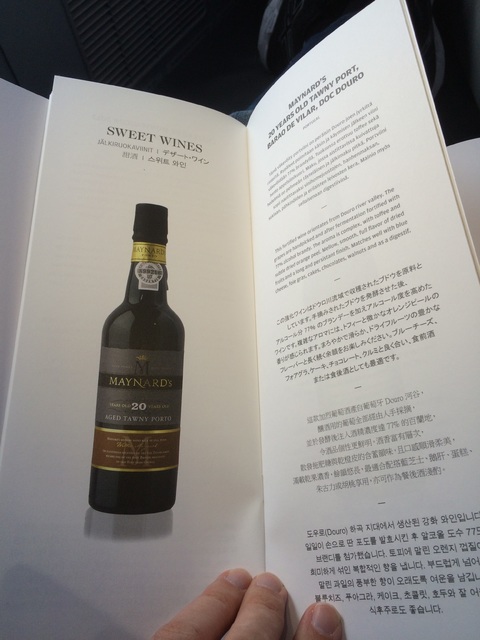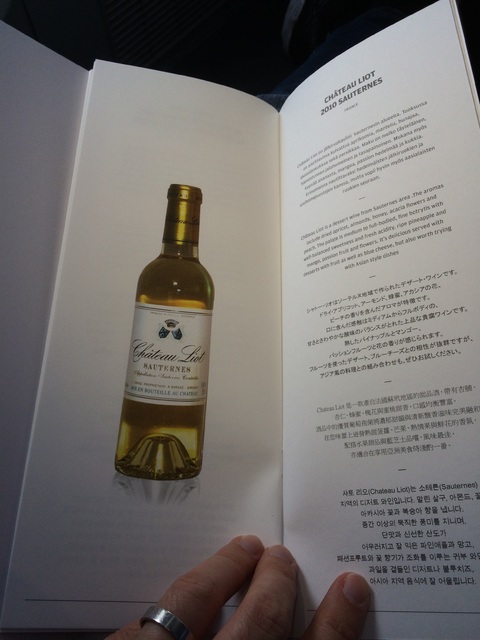 The menu card is impressive. AY has a celebrity chef endorsement from Sasu Laukkonen for this sector. I discovered on the return that they also have a celebrity chef from Shanghai for the PVG-HEL menu. I thought this was a great touch.
Amuse bouche
Salad with whitefish roe, fennel, apple and peas

Starters
Roast beef and tartar sauce, spinach and nutmeg
Or
Cucumber and dill soup, yogurt and tartar of cold smoked salmon

Main courses
Pike-perch terrine, chanterelle sauce and potato with lemon
Or
Pressed beef nenck, celeriac puree, herb butter and spring vegetables
Or
Sweet and sour pork with bok choy and rice

Finnish cheeses
Peltolan Blue and Viinitarhuri, strong matured milk cheese, rhubarb jam

Desserts
Cup cake assortment
Finnish organic JYMY ice cream, vanilla or liquorice
Coffee or tea, avec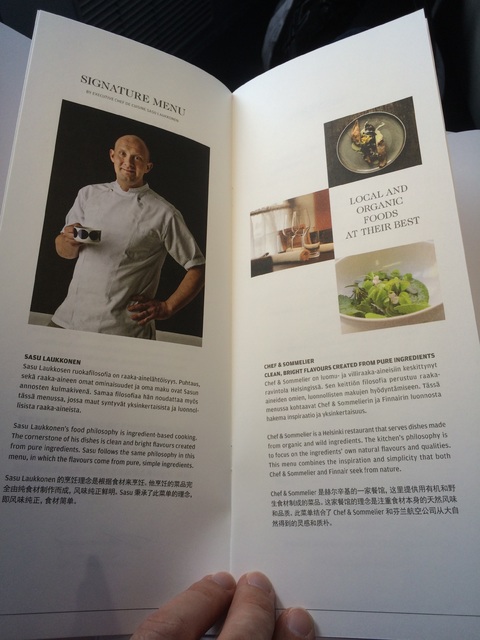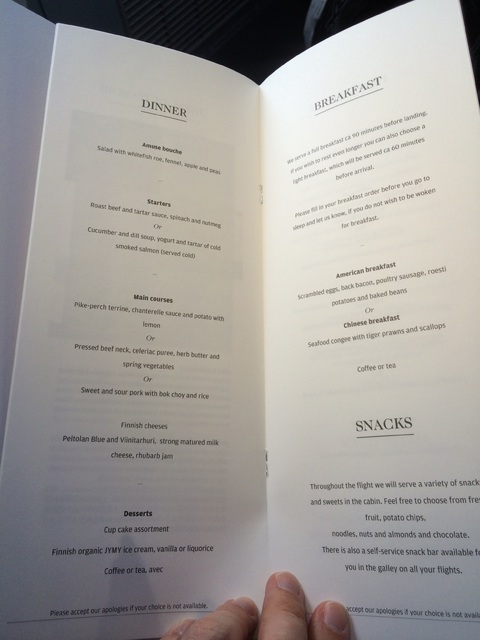 After quite a while the captain came on to say that pushback was delayed by over an hour due to a "technical issue" and good weather expected on route. The Purser came to my seat for a quick chit chat. I suspect this was as I am OneWorld Emerald. I saw she visited one or two others too after tapping on the iPad. It was genuinely warm and not forced, we had a quick chat about Finnair and the A350 as I said I hadn't flown with the company before.
I really like the heads up or nose down camera views. The good thing about this Cirrus seat is that the screen doesn't have to be stowed for taxi, takeoff or landing
Takeoff roll was very smooth. The wing is really a beautiful sight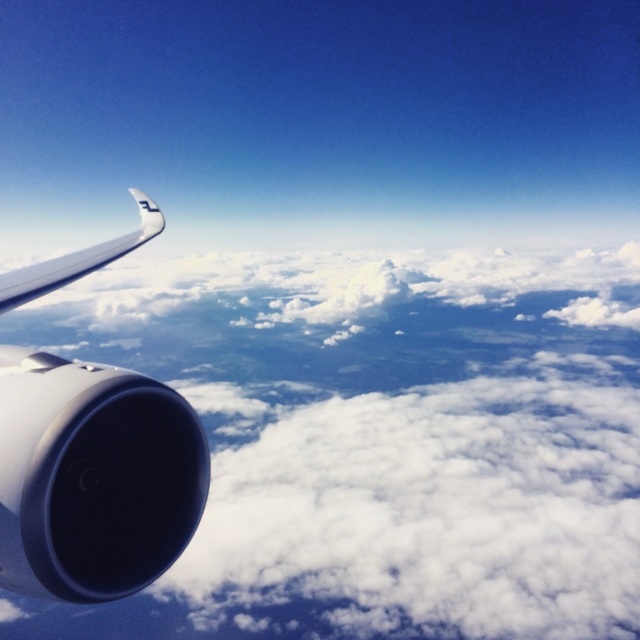 Amuse bouche was really nicely presented in the signature AY glassware. This made me chuckle as we had just heard the news on FT that BA is "enhancing" away their Amuse Bouche in First and Finnair are rolling out a pretty good one in Business, on a flight 30-40% lower in price.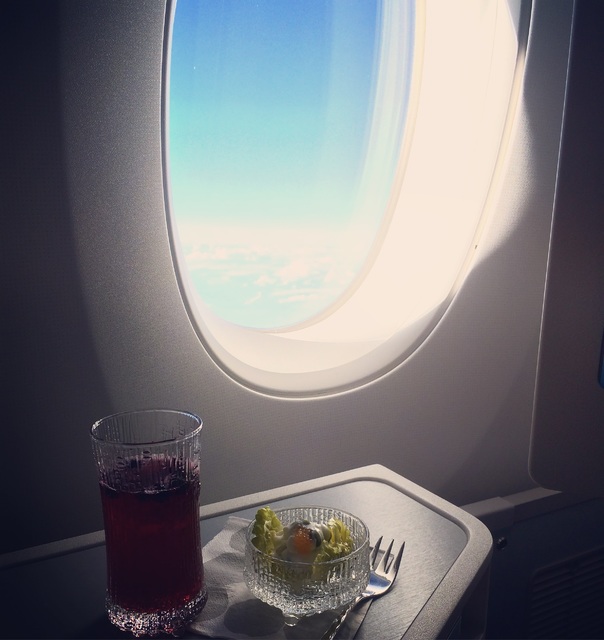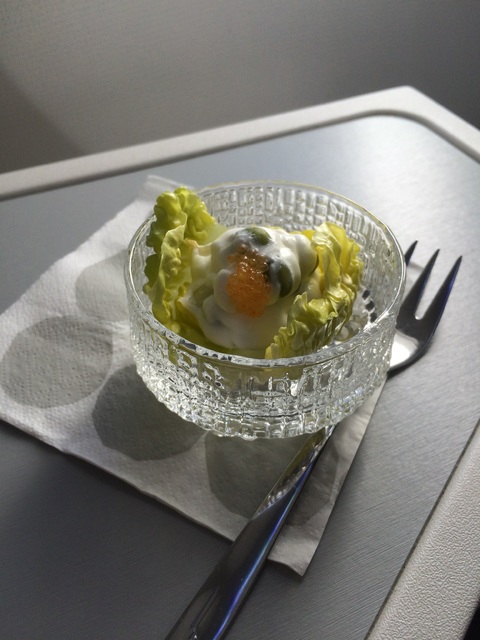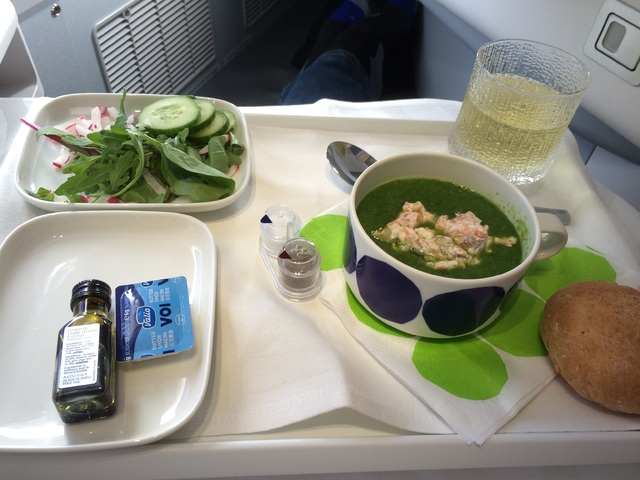 Although it clearly wasn't going to win a beauty contest, it was actually very tasty. I think it might have been something to do with the butter content!! The Cantina De Montalcino 2010 was excellent!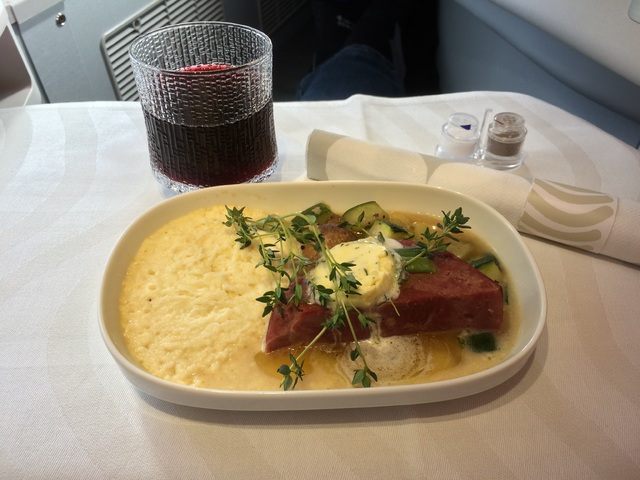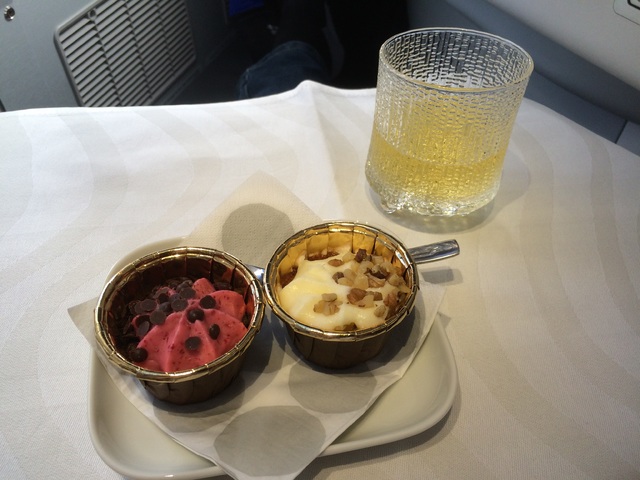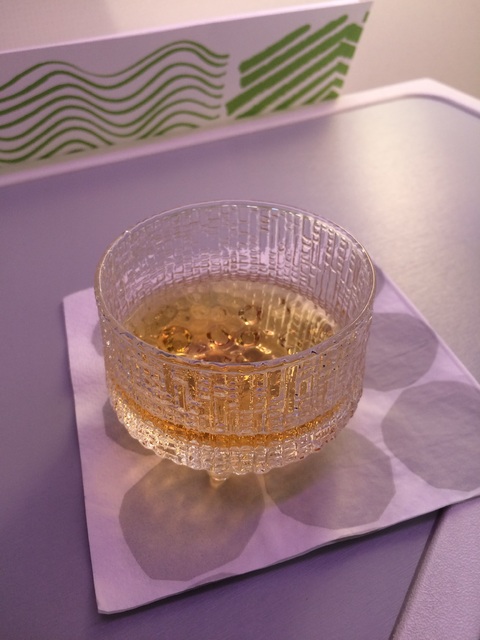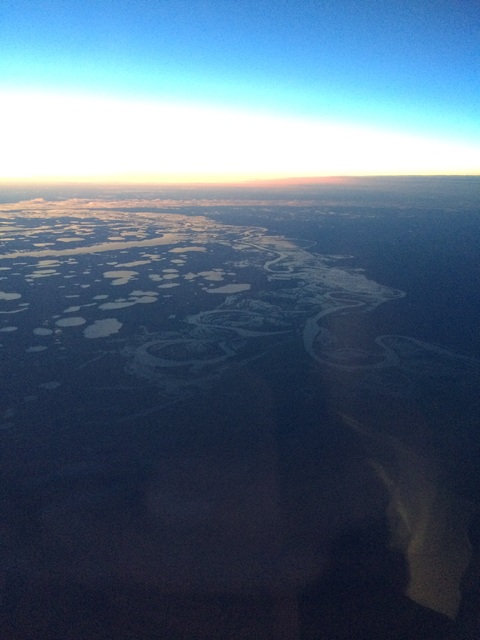 I managed to get a few hours sleep and woke up as the lights started to come on and I could sense some movement around the cabin. A FA came over in what seemed like 2 seconds to ask if I was ready for my breakfast choice. I was still quite full so asked if I could switch to the light option and this was no problem at all.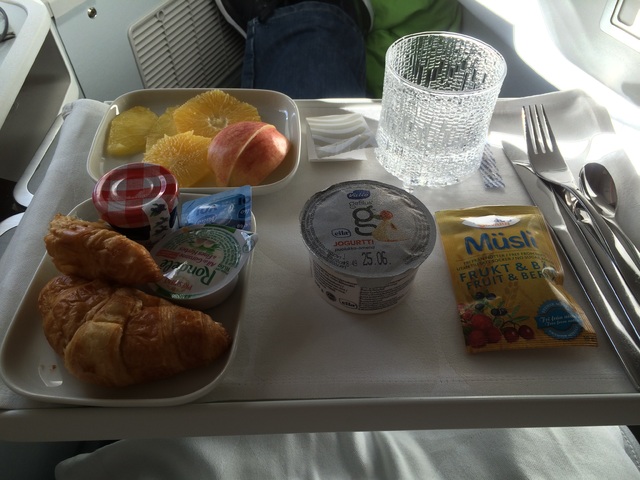 Jul 6, 16, 1:32 pm
Join Date: Jan 2007
Location: RTM
Programs: DiamondClub (rip), Currently an Alliance Treble Champion (BA, A3, AZ)
Posts: 1,688
Part II: PVG-HEL-AMS
Maglev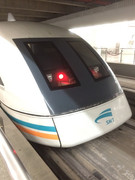 I was staying at the Intercontinental Pudong so thought that I would try the Maglev to the airport the morning of the flight as a bit of an experience. In theory, this is a 8m10s ride from LongYang Road to Pudong Airport which is highly preferable to a 45m-1h30m taxi ride.
In reality, it wasn't quite as practical as I had hoped, but I'm glad I got to experience it once. The problem was that I needed to get the first Maglev of the day at 6.45am for a 9.20am departure with a safety factor. A few days before somebody had detonated a bomb (ok, firecrackers in a bottle) but security was heightened and I was expecting a bit of faff at immigration and security.
In order to get the 6.45am Maglev, I estimated I would need to get to Longyang by 6.15am to be sure, collect tickets and allow for any unforeseen issues. This meant a 6am departure from the IC and either a 600m walk plus 4-5 stops on the subway or a taxi ride to LongYang Rd. I like walking, but I had bags and it was already 27C/80F and 80-90% humidity so I opted for a taxi. I made it to LongYang in about 15minutes, bang on time (Chinese Nigel Mansell was at the wheel) however I arrived to a closed station – it doesn't open until 6.30am! I thought this was cutting it a bit fine, and it was. I had to buy a ticket (40RMB with proof of flight) and then queue for security and then boarding – I made the 6.45am but only with 2-3 minutes to spare – which was a bit of unnecessary stress at that time in the morning.
Once on board in the air conditioning it was comfortable enough, though I was surprised how much noise and vibration there is – I was kind of expecting it to be like air hockey. It was very quick and it was nice to view the route from the elevated tracks. I was in Pudong Airport before 7. Ironically, I would've been there about the same time had I told the taxi driver to keep driving east, but that's not in the spirit of adventure now, is it??
I rewarded myself for my mini ordeal with Wonton Soup and XiongLongBao dim sum for breakfast – thoroughly civilized fast food!
PVG - HEL
AY 58 / A350
09:20 – 14.20 (10h00m)
In-Flight Wifi – Free for J passengers
Perhaps one of the major benefits of the Finnair A350 is the inflight wifi. It had slipped my mind to report on this for the outbound. A single code is provided as part of the IFE in business class but as I found out on the return, the crew have a list of passwords for multiple devices or any log in problems.
It is available at 10,000 ft and above, except in Chinese airspace. Luckily on the return we were in to Russia shortly after the lunch service.
It was a bit of a pain to connect to initially as it involves the creation of an account but once online, it was really quick, much faster than the free wifi on DY (Norwegian.no) What'sApp and Facebook were quick to load, including Facebook videos. I'm sure you could probably stream reasonably on it (though I didn't try.) I tried to make a data call just to see if it was feasible but it wouldn't connect. I didn't try it on the laptop but on the phone it was really good.
Major plus points for AY in this respect. The ability to be connected, for free, is a real benefit relative to other competitors.
In-Flight Entertainment
Unfortunately I forgot to take notes on the IFE content. Though nothing that is particularly memorable (I think I may have been too busy with the food, drink and wifi!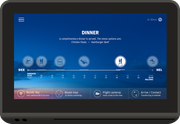 I did find this chap quite… well… interesting hairdo!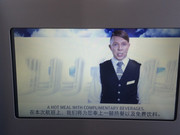 PVG Lounge - Cathay Pacific - Business / Sapphire / Emerald
The lounge at PVG is the Cathay Pacific Lounge. It was nice enough, though the food options were very limited. Unfortuately I didn't get a chance to take any pictures, though there is a good report here:
http://efficientasianman.boardingare...g-airport-pvg/
I decided to make my way to the gate a little early and was surprised to see that boarding was already underway for business class passengers. I walked straight up and on-board.
Once on board we were informed of a 1 hour ATC delay, though they hoped to make time up en route. Lots of people milling around on the phone but at least there was plenty of champagne and top ups offered. It was barely 10am! Animal!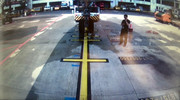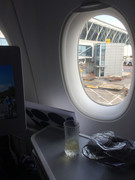 Shortly after departure a drinks round and amuse bouche was offered. It was a simple caprese thing but nice enough. I had one of the Nordic Sky cocktails again, which are actually pretty good.
Wine List
Champagne
Nicholas Feuillatte Brut Grand Réserve NV

White
Hattenheim Wisselbrunnen Reisling Kabinett 2014 (€13.50)
Fairview Darling Sauvignon Blanc 2015 (€9
)

Red
Château Tour Sieujean 2011 (€21)
La Roncaja Merlot 2012 (€24)

Ice Wine
Meinklang Traminer Icewine 2012 (€24)

Port
Barao De Vilar Colheita Port 1997 (€32)

Food Menu - Lunch
Amuse bouche
Cherry tomato and mozzarella skewer

Starters
Smoked salmon, zucchini, caper and red onion salsa
Or
Sweet corn and chicken soup with coriander oil
(by Chef Steven Liu)

Main courses
Fried beef steak with breadcrumbs and mushroom
Demi-glace sauce, roased zucchini and mashed potatoes
With garlic
Or
Corn fed pot braised beef short rib,
Carrot mousseline and Shanghai style rice
(by Chef Steven Liu)
Or
Mushroom ravioli, roased cherry tomatoes and zucchini

Cheeses
Gruyére and Camembert

Desserts
Vanilla ice cream
Petit fours
(Cup cake assortment – clearly an off menu choice
)
Coffee or tea, avec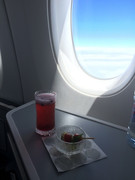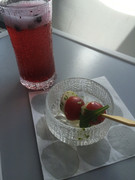 Menus were already in the seat pocket on boarding. It was interesting, and a pleasant surprise to see that the wine list, and celebrity chef, were different for the return than they were for the outbound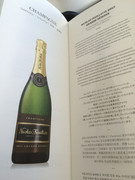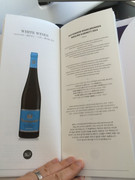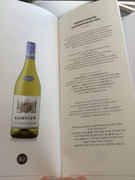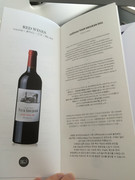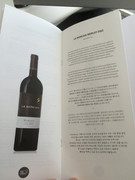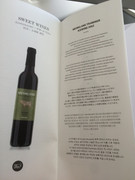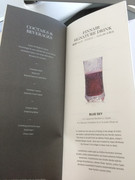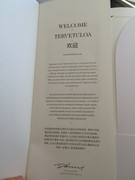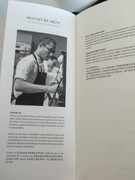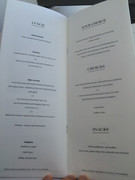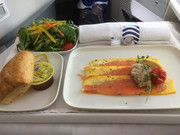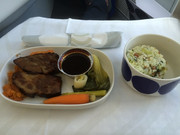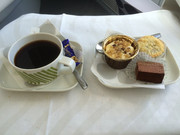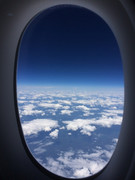 HEL - AMS
AY 842 / A321
16:15 – 17:45 (2h30m)
The flight from HEL to AMS was on time. Nothing really more to report from the outbound, except to say that I was practically force fed more champagne. I was pretty much sozzled by now and was even given a bottle to take with me!!
Starter
Sea buckhorn marinated Baltic herring and dill potatoes

Main
Beef meatballs with turkey chorizo, potato gratin, red
wine sauce and vegetables

Dessert
Chocolate brownie and strawberry coulis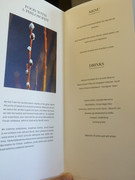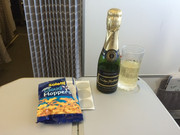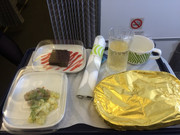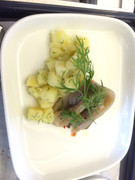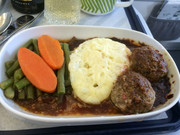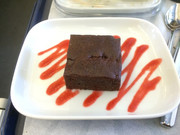 Conclusion
Really good value for money, convenient transfer and connection times. Good hard product, pretty good food and drink. Wifi EXCELLENT! Would definitely use again.
---
Last edited by OttoMH; Jul 14, 16 at

1:20 pm
Jul 8, 16, 3:40 pm
Join Date: Jul 2014
Location: Wedged somewhere between BTS and VIE ✈
Programs: Star Alliance Gold (A3 Gold)
Posts: 5,594
Thanks for posting OttoMH

I flew Finnair for the first time a couple of months ago and was quite impressed. The Premium Lounge at HEL is wonderful and after a quick sauna I headed for the food! The presentation is really nice and the ladies are really attentive.

The flight was also good and as OWE I was able to choose economy plus for free. The crew were fantastic and free champagne was offered for me and my travelling partner. All very nice indeed.
Jul 8, 16, 6:44 pm
FlyerTalk Evangelist
Join Date: Apr 2000
Location: FLL -> Where The Boyars Are
Programs: AA EXP 1.7 M, Hilton Gold, Hertz 5*, AARP Sophomore, 14-time Croix de Candlestick
Posts: 18,669
Enjoyed the report and the visuals.

Excellent point about the amuse bouche being dropped by BA - it lends a graceful touch at minimal cost, and its eliminailtion is unfortunately representative of bean counter thinking at its cynical worst.
Jul 14, 16, 1:25 pm
Join Date: Jan 2007
Location: RTM
Programs: DiamondClub (rip), Currently an Alliance Treble Champion (BA, A3, AZ)
Posts: 1,688
Return posted finally...!
Originally Posted by
headingwest
Thanks for posting OttoMH

I flew Finnair for the first time a couple of months ago and was quite impressed. The Premium Lounge at HEL is wonderful and after a quick sauna I headed for the food! The presentation is really nice and the ladies are really attentive.

The flight was also good and as OWE I was able to choose economy plus for free. The crew were fantastic and free champagne was offered for me and my travelling partner. All very nice indeed.
I completely agree on the Premium Lounge - it is nice. I would like to try it when less busy, but the food and drink selection were impressive. I didn't have time for the sauna though.. maybe not scandinavian enough
Thanks - yes, BA have been very disappointing recently.
Part of the problem is that their heritage, legacy and all of the 90's Saachi & Saachi stuff has left me with this idea of aspirational luxury Britishness which can no longer be delivered.
Instead, while turning pretty monumental sums of profit money, they are penny pinching at every turn in order to maximise profit.
I do feel a little miffed. The reality is not congruent with the brand that has been built up, in my case over the last 16 years.
A Tesco moment, maybe?