Iceland Air Saga Class – Affordable way to fly transatlantic in business class
Mar 17, 16, 6:10 pm
Join Date: Oct 1999
Location: New York
Posts: 6,661
Iceland Air Saga Class – Affordable way to fly transatlantic in business class
---
Trip Report: Iceland Air Saga Class – Affordable way to fly transatlantic in business class
Photo album to my complete European trip in February 2016:
http://s1213.photobucket.com/user/Ca...ebruary%202016
As I was planning this round the world trip, I had thought about using my American Airlines miles for a transatlantic flight, but given how high the fuel surcharge was on BA, I really think I didn't want to waste any miles on these rather typical transatlantic flights. In terms of paid fares, one way trip is rather expensive especially ex-USA, so I narrow my choice to Iceland Air and Norwegian Air International, which both offer a more premium economy than business class product, but they are both affordable. Norwegian is $200 cheaper than Iceland Air, but I choose Iceland Air in the end because of its better on time performance and I can earn Alaska Airlines miles. I settle on a one-way $830 ticket from JFK to Copenhagen via Keflavik. Iceland Air definitely has some nice branding and I love all those small quotes in various products, everything from blanket to the sugar packet. Given the price, I don't expect much, but in the end, I am rather disappointed because the planes are very tired-looking with tiny issues with various functions of the seats, such as broken reading light to power port. For both flights, there is something wrong with either the seat or the personal TV. The catering on the overnight flight from the USA to Iceland was really disappointing, not to mention the lack of choices. Pre-order is definitely recommended. The only saving grace is its on time performance and the easy transit at Keflavik International Airport.
February 19, 2016
FI 614 JFK-CPH Lv2000 Arr0645+1 Boeing 757-300 Winglet TF-FIX "Hengill"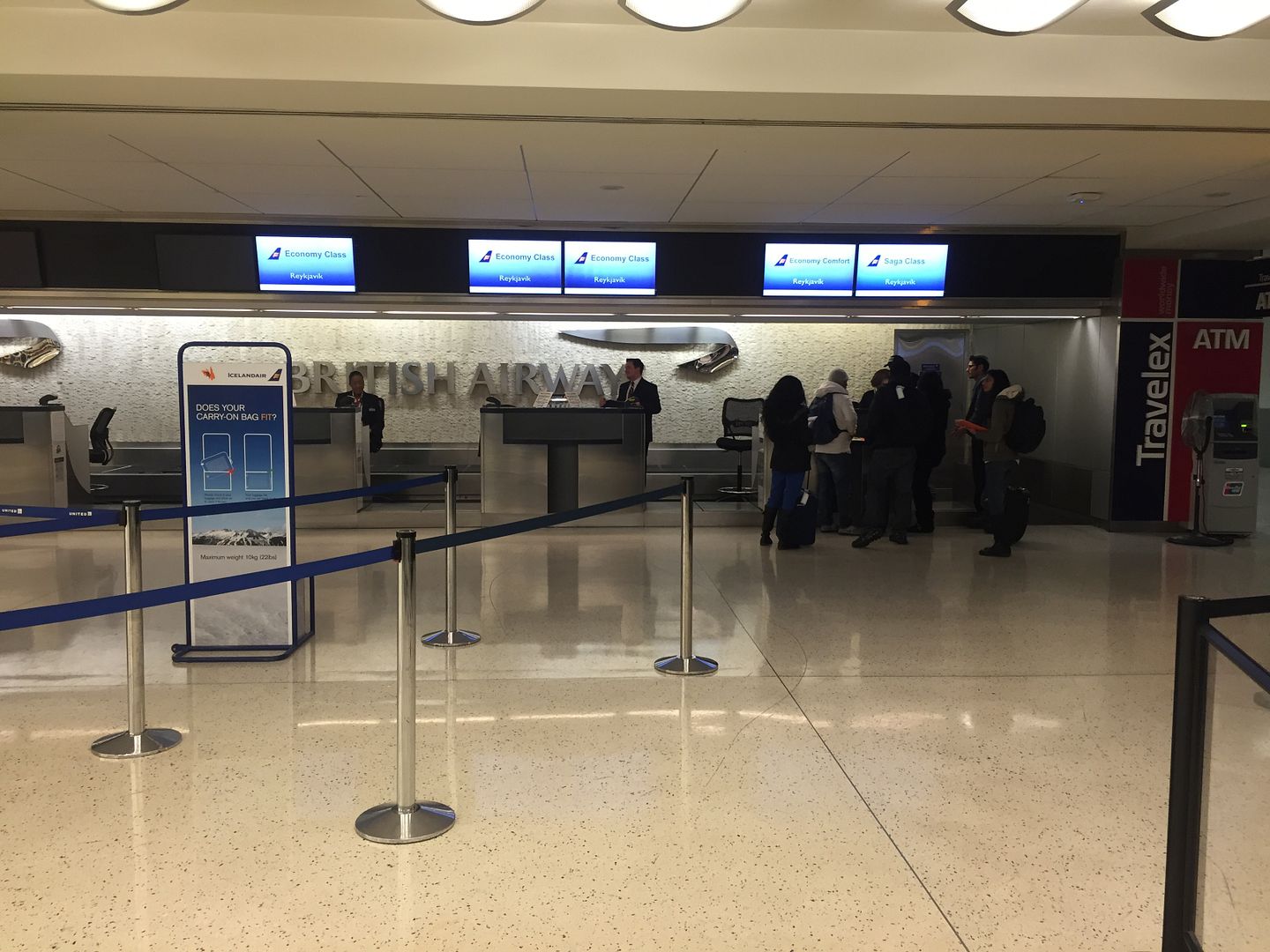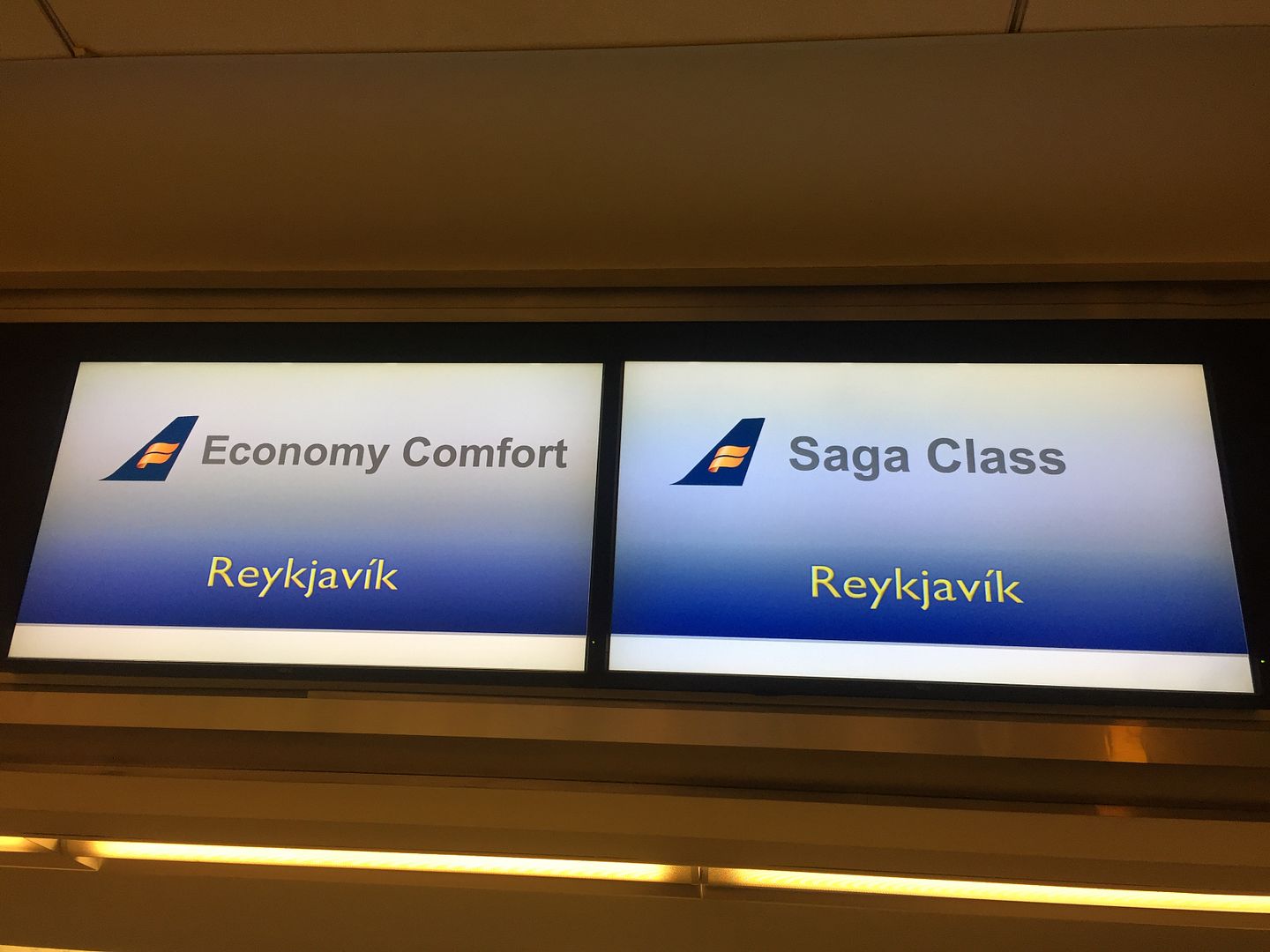 British Airways' staffs conducted check-in for Iceland Air, and there are separate lanes for Saga Class, Economy Comfort, Economy, and Baggage Drop. The agent was very cheerful and efficient, and my inquiry about the load returned with a full flight in both Saga and Business Comfort, but economy class is not too full. I was given a written paper pass for the British Airways Galleries lounge, and TSA security lanes were busy, but not too bad.
No pictures of the BA Galleries lounge at JFK, as it is widely discussed in various aviation forums. The lounge was busy as usual, but I manage to find a seat. Clam Chowder and Tomato Basil were the soups of the day, along with the usual sandwiches, and light snacks. Iceland Air Saga Class passengers are not invited to the pre-flight supper, which is really not a surprise, and IMHO, you also do not miss much!
Iceland Air currently owns one Boeing 757-300 Winglet and TF-FIX was in maintenance for the past month or so. It had only been returned to duty for a week when I took the flight. The plane basically served the JFK flights along with European duties in between the JFK runs – Copenhagen, Amsterdam and Brussels will feature this long 757. As most of you know, JFK Terminal Seven is really not good for photography, so no pictures of the plane at all.
But each Iceland Air plane has a name, and TF-FIX is named "Hengill".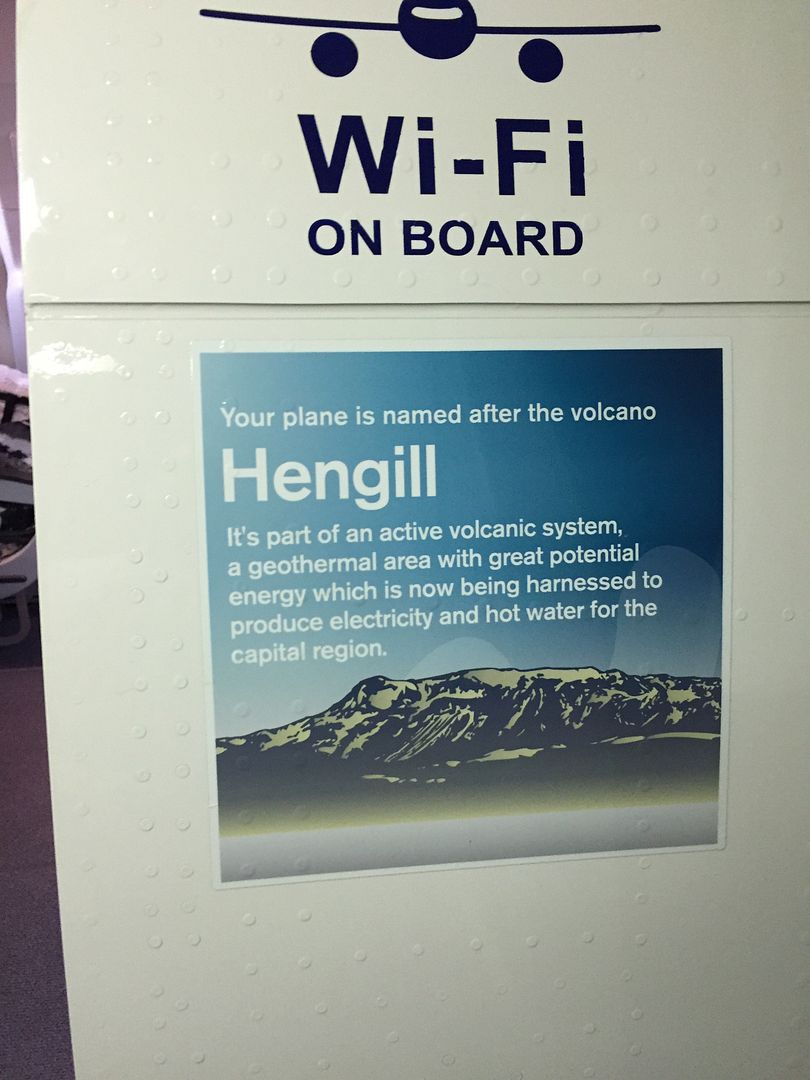 Boarding began early at 7:10pm, and business class, along with economy comfort, passengers got to board first. Unlike in Keflavik, priority boarding was enforced, and passengers from economy were kindly asked to step aside. I managed a few cabin shots of the business class cabin before the crowd arrived.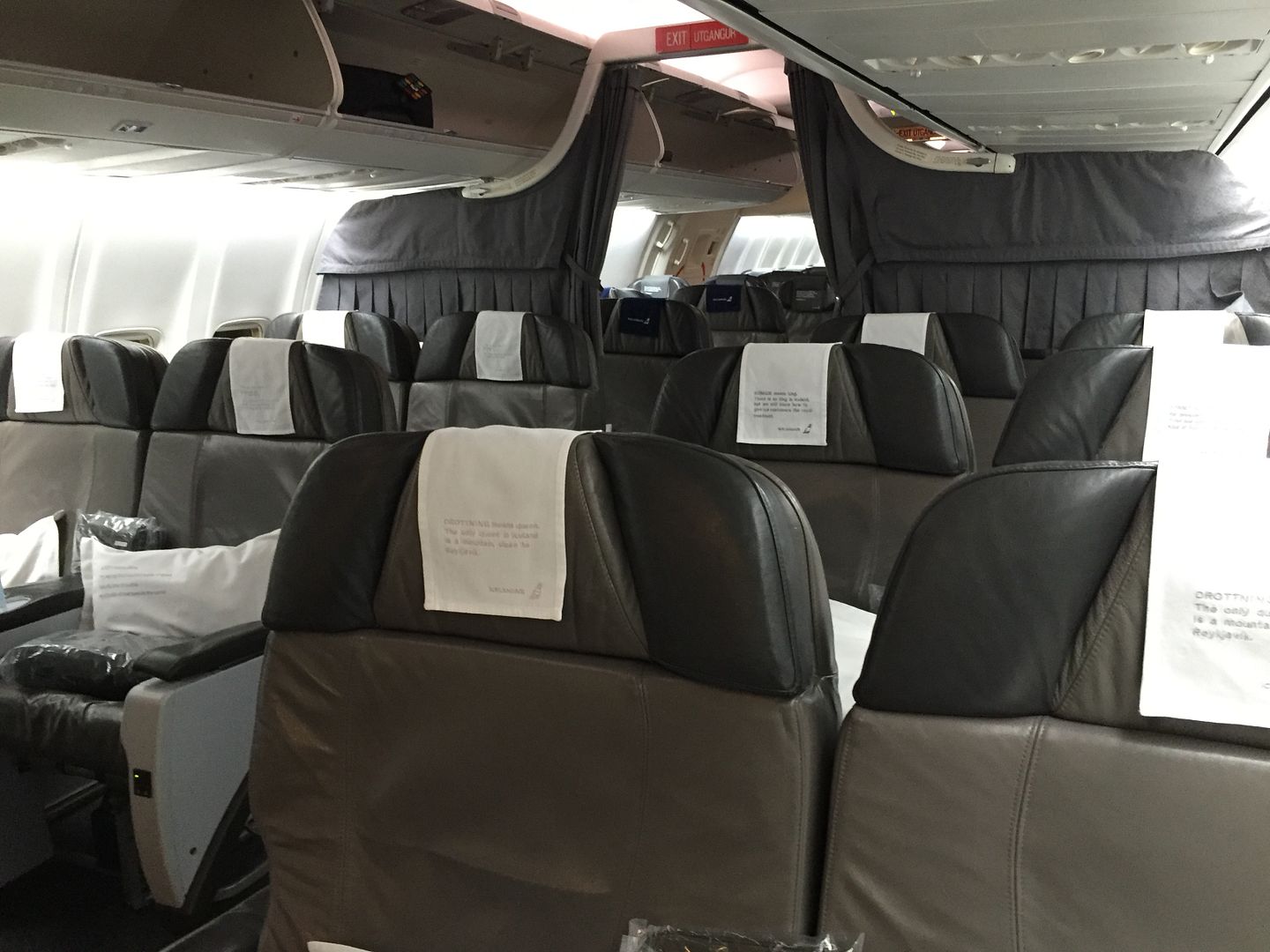 As you can note, Iceland Air's Saga class seats are similar to North American domestic first class seats on narrowbody planes, but with tiny bit of more legroom and recline. As you have noticed that there is a movable curtain in the Saga business class cabin. In order to maximize profits, Iceland Air will place economy comfort (premium economy) passengers on extra Saga Class seats, and then I presume that they can free up some economy class seats. For the airline, it is definitely a smart move, but from a Saga Class passengers' point of view, I am not sure if Saga Class is worth that extra money if I can get the same seats when I fly economy comfort. Sure, I will not get a hot meal, but catering in Saga class especially on the overnight flights are pretty unimpressive. Given how economy class is rather light in loading on my flight, I see little reason for Iceland Air to use part of the Saga Class cabin for economy comfort. Saga Class is full with 14 passengers, but if we have the whole cabin, we can spread out comfortably.
The seat itself is rather comfortable for a short four to five hours flight. Recline was sufficient and I was able to sleep through the flight. There is a power outlet at each seat, but unfortunately, my iPhone power plug will not stay plugged into the outlet. Given how this plane is fresh from the maintenance, it was disappointing.
Legroom shot for bulkhead seats – not very good at 1AC – I recommend 2DF!
Cute Disposal Bag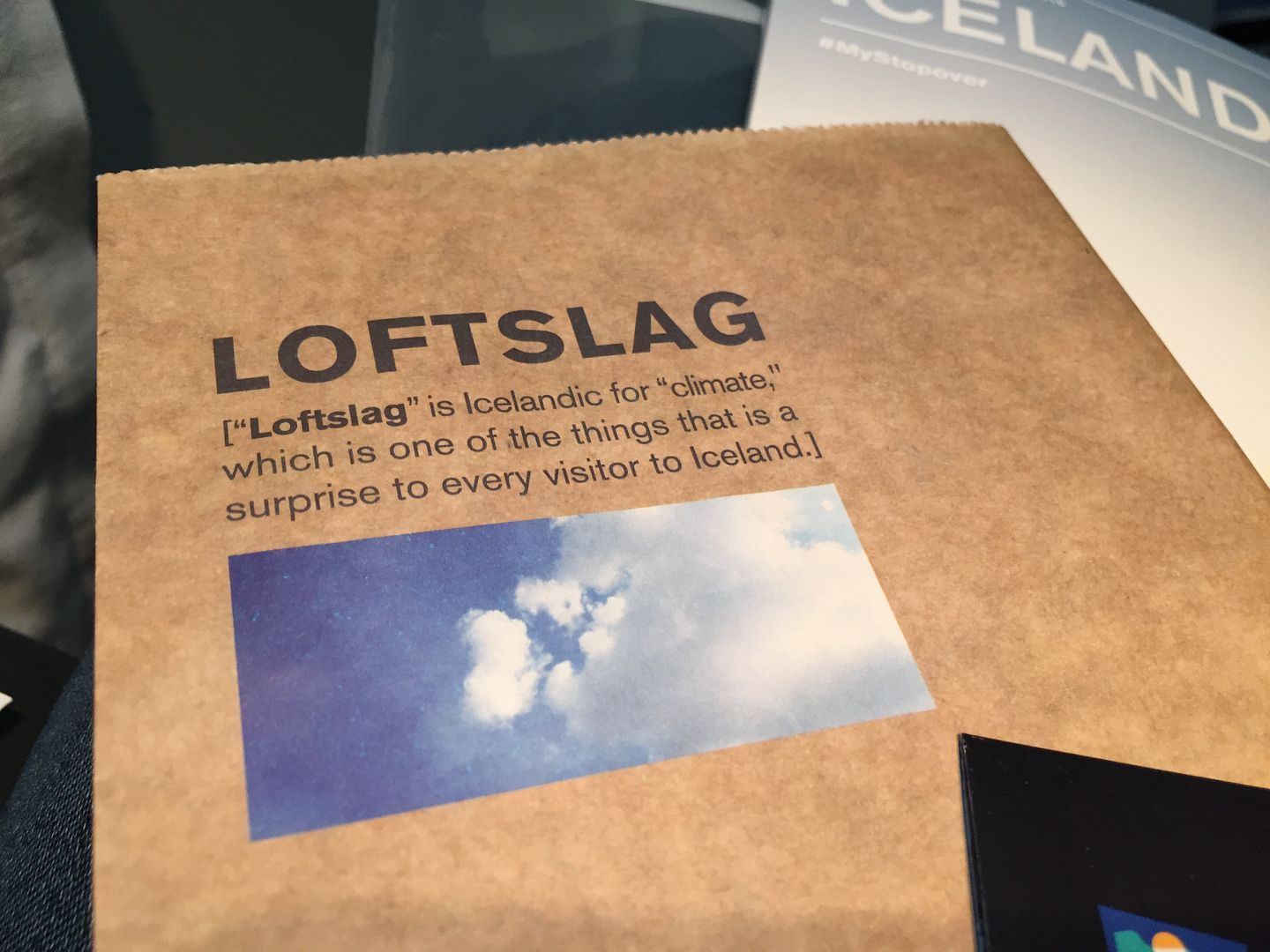 Cute branding:
WIFI was available and was supposed to be free for all business class passengers. Unfortunately I was not able to login to the Internet at all, and my iPhone kept on rejecting the WIFI signal. I did not use my laptop, as the flight was full and I did not want to disturb my neighbor.
Door was closed super early at 7:40pm, twenty minutes ahead of schedule. We pushed back six minutes later, and the evening queue was quite long, but we managed to take off from R/W13R at 8:26pm for our short four hours and fifty-one minutes crossing to Iceland. Our routing took us North towards Northwalk, and we reached 33,000feet before passing the Carrabassen Valley, Caribou, Grand Falls, and Dalhousie. We climbed to 35,000ft before leaving land and into the Atlantic Ocean.
Amenity Kit – a basic amenity kit was passed out on flights to North America.
Inflight entertainment – noise-cancelling headsets are available for free in business class, and the selection is okay especially given most Iceland Air flights are rather short
Failed moving map – very disappointing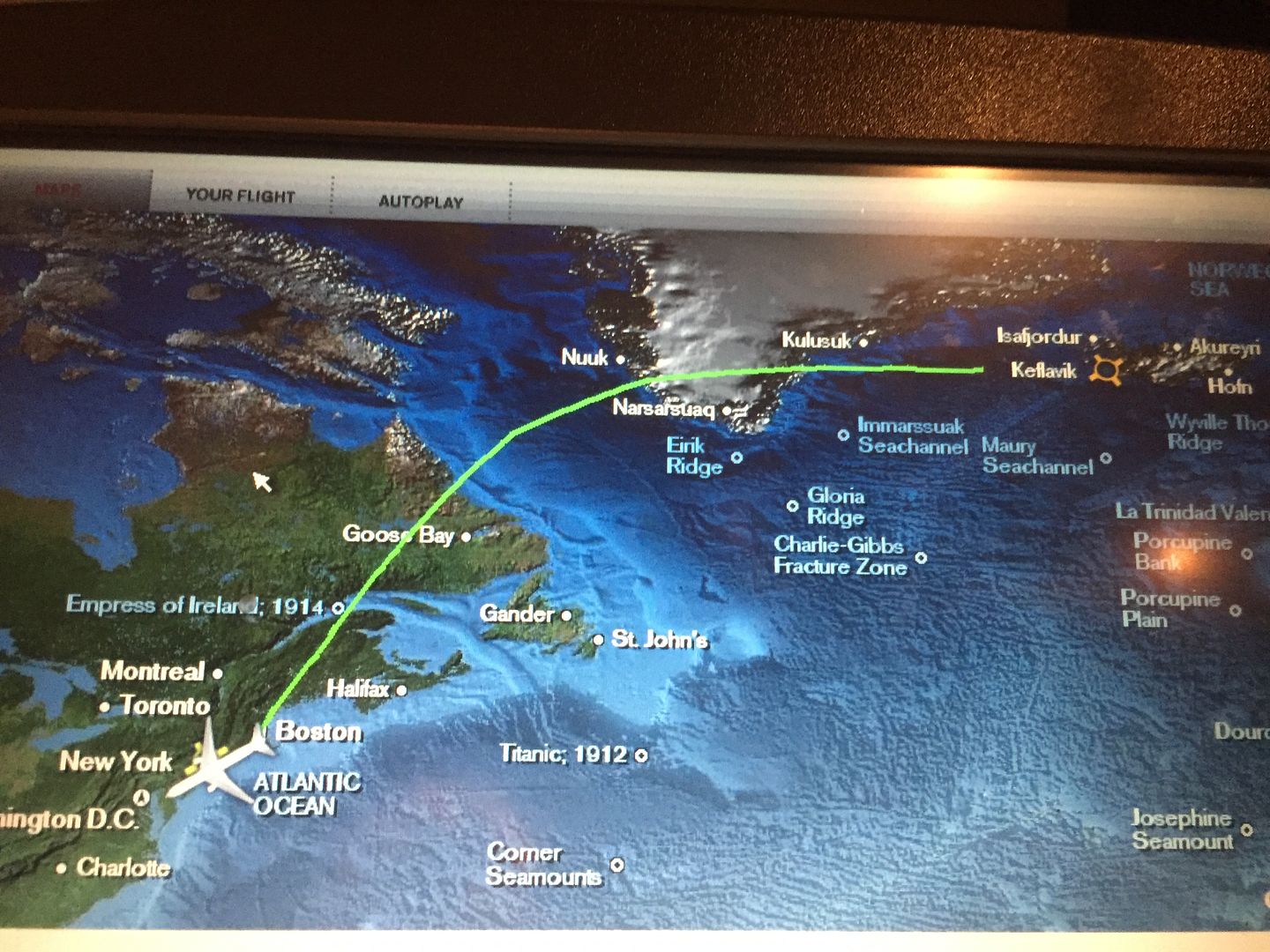 Nice wine list and menu card – just a note that Iceland Air reuses the menus and wine lists, but if you want to keep them, the F/A are fine with it. Only North American flights feature these new printed menus and wine lists.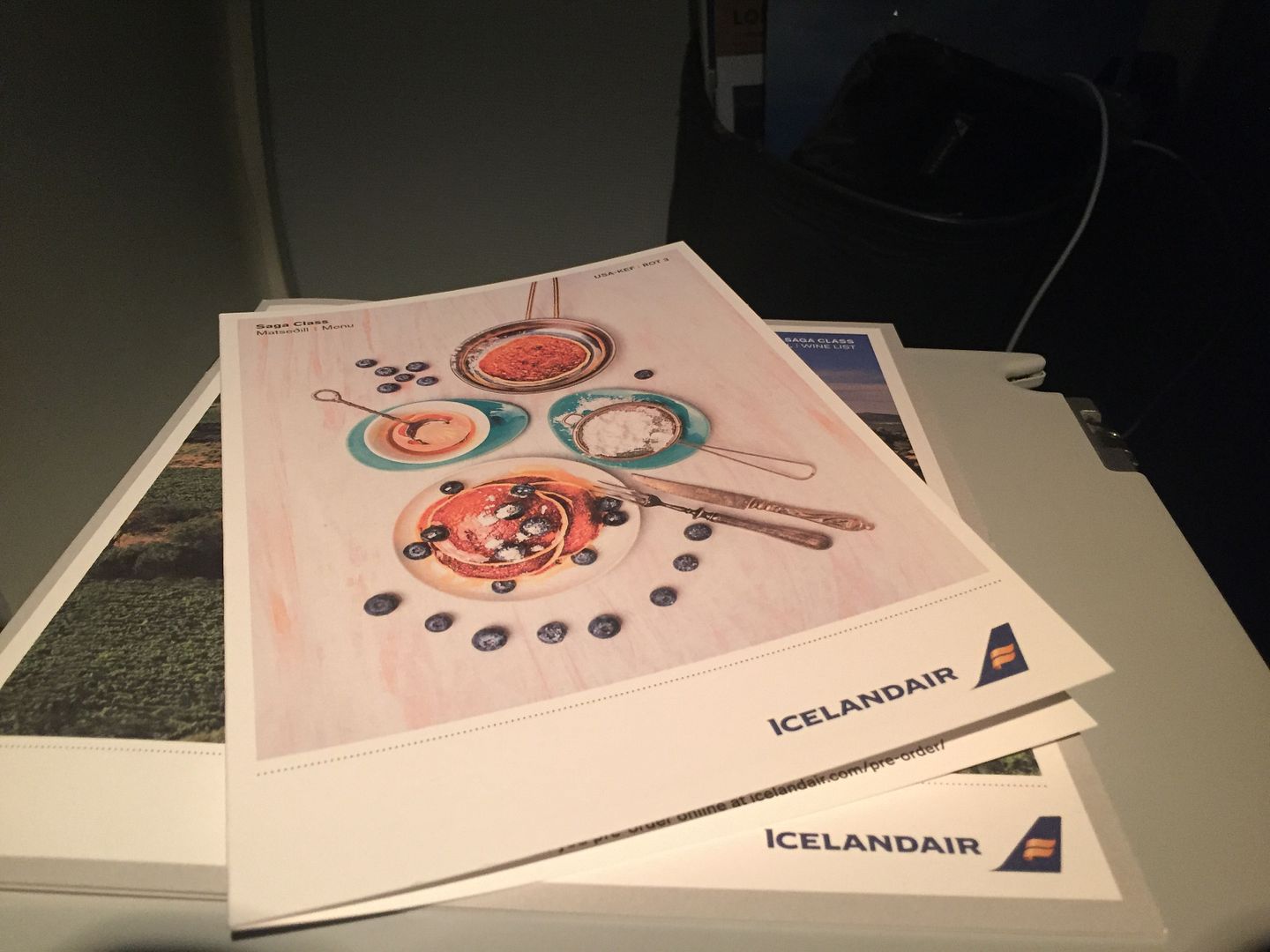 The menu looks rather sad but I have read about previous reports. But nothing prepared me for the options – one choice is a cold salad – I think business class meals should always feature two hot entrées, so I highly recommend anyone to use their online pre-order systems, especially on those night departures from East Coast. The pre-order systems feature more choices, including steak and fish.
The meal began with a beverage service with honey-roasted almonds. I stick with hot tea, and Iceland Air has a nice selection of teas.
Wine List
Sparkling Wine
Mont Marcal Cava Reserva
White Wine
Laurent Miquel Nord Sud Viognier, France, Cazal Viel
Hardy's Nottage Hill Chardonnay, South Australia, Australia
Red Wine
Santi Solane Valpolicella Classico Superiore, Veneto, Italy
Cune Reserva, Rioja, Spain
This supper service is basically a one-tray service with appetizer, entrée, and dessert. Warmed breads were offered separately. The meal actually tasted fine and the Indian style chicken was not as bad as I thought. The meal was a bit on the small side, but since my body clock was all messed up, I was not particularly hungry.
Starter
Parma ham and the blue cheese "Ugly"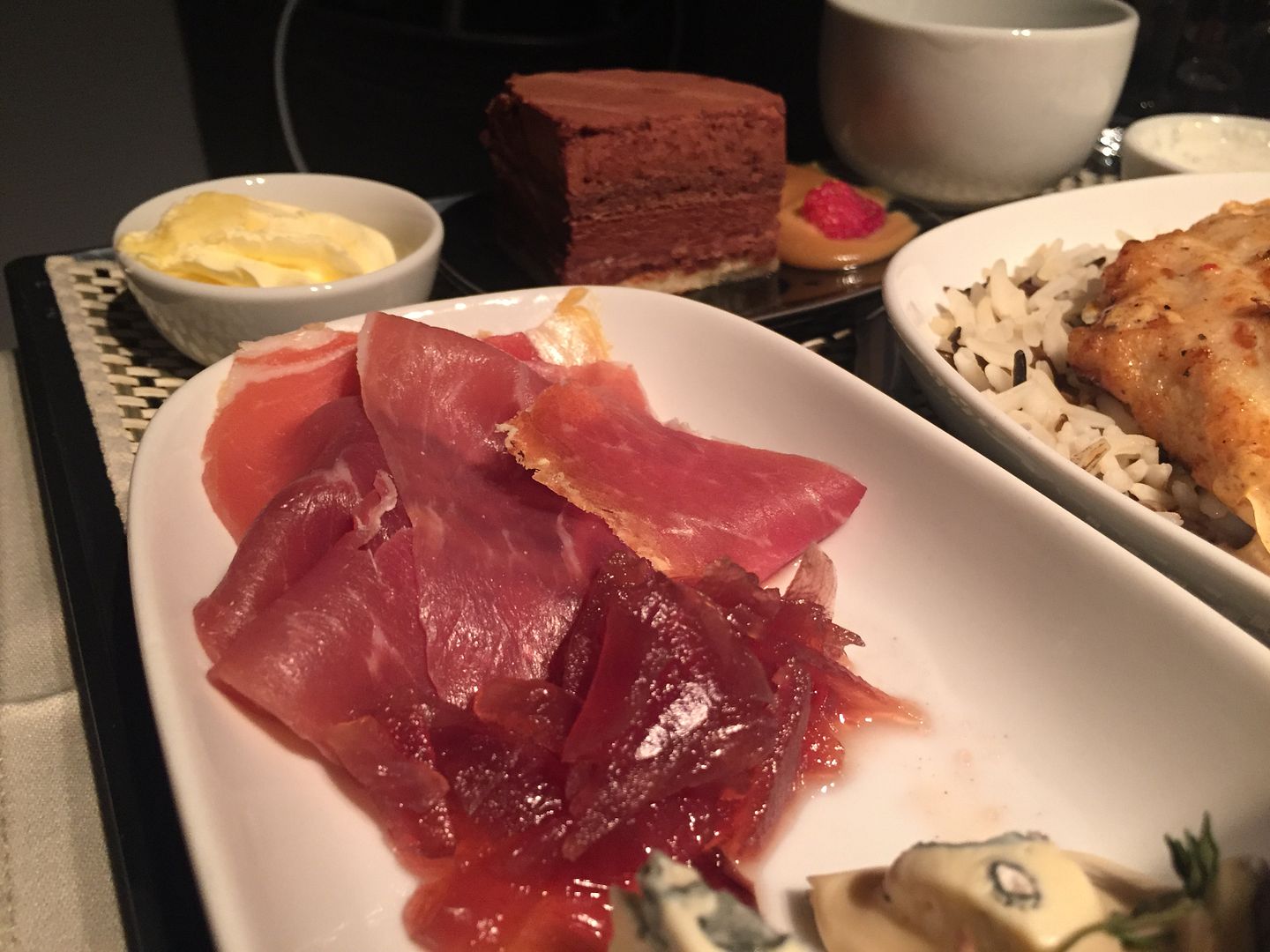 Main Course
Saga Class Salad
Romaine and Iceberg salad with candied nuts, cucumbers and carrots, julienne, and slices of beef with BBQ sauce and an oriental dressing
Or
Indian Chicken Breast
Chicken breast, marinated in yogurt and Indian spices, served with fried rice, haricots verts and yogurt sauce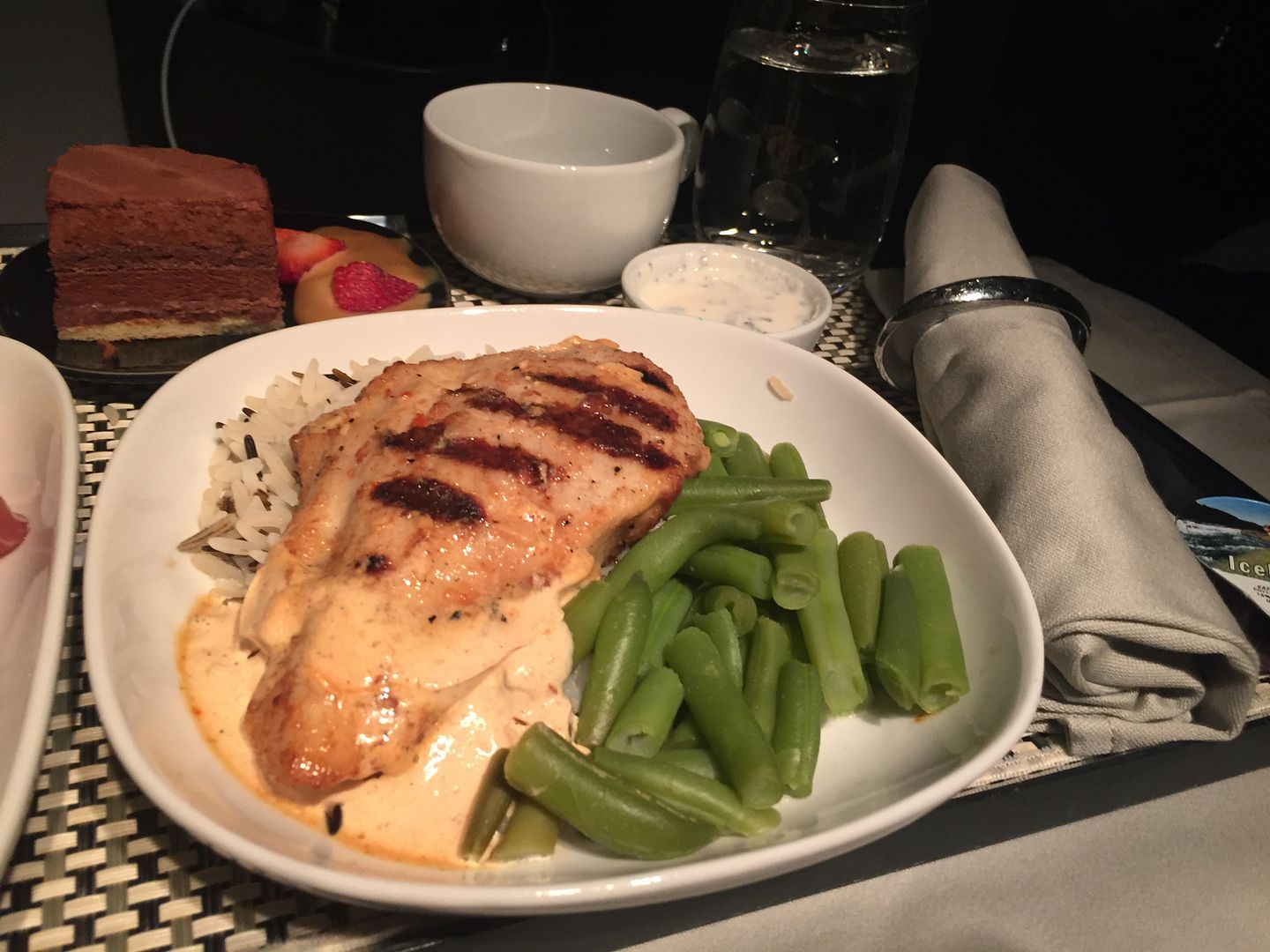 Dessert
Chocolate Cake with strawberries and caramel
More selection when you pre-order online at icelandair.com/pre-order
After dinner chocolate
USA-KEF ROT 3
Utensils
Dinner was completed within 90 minutes after takeoff, and I went straight to sleep. Freshly warmed croissants were offered about forty-five minutes prior to arrival. The F/As kept on offering them to waking passengers, and freshly squeezed orange juice was offered after descent has commenced.
We landed on a very dark Keflavik International airport's R/W11 at 6:17am local time. We were parked at gate 9 seven minutes later. Transit was relatively simple and I went through immigration (EU) quickly.
Attempt to take a photo of TF-FIX
I headed straight to Saga Class Lounge, as photography was not possible at these dark hours. Sun did not come up till 9am in the winter. The lounge was surprisingly pleasant with a good spread of breakfast foods, lots of seating options, and free and fast WIFI. I took some pictures this time.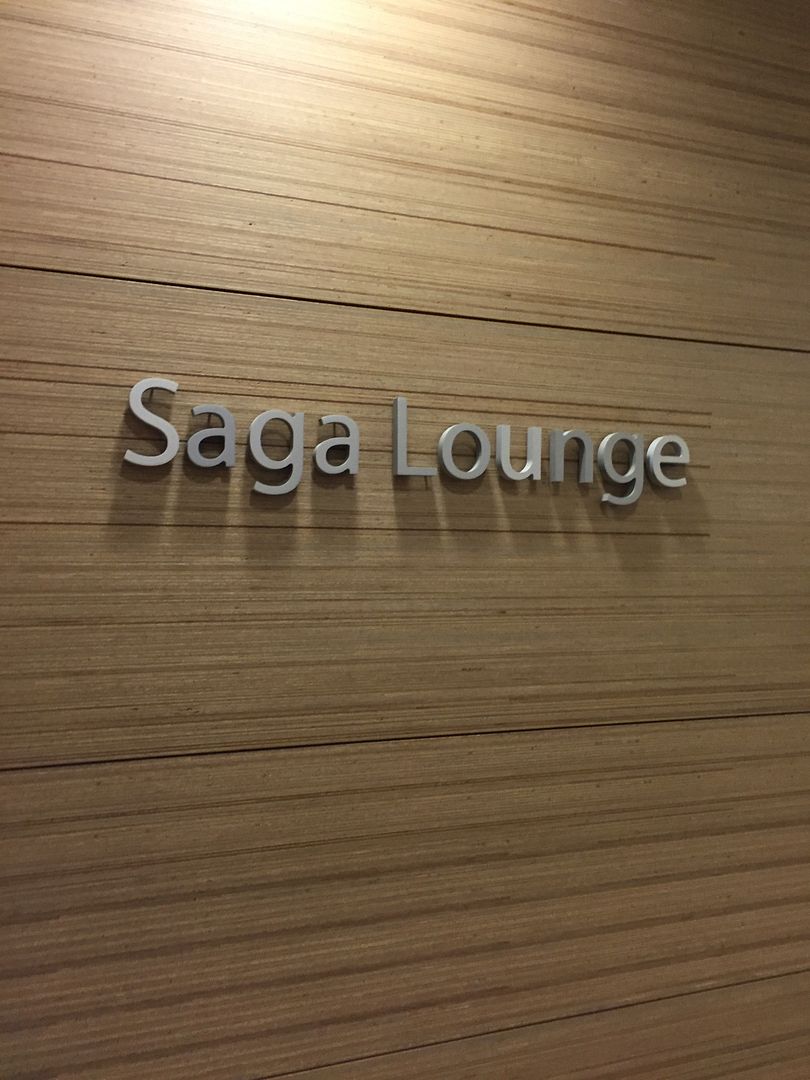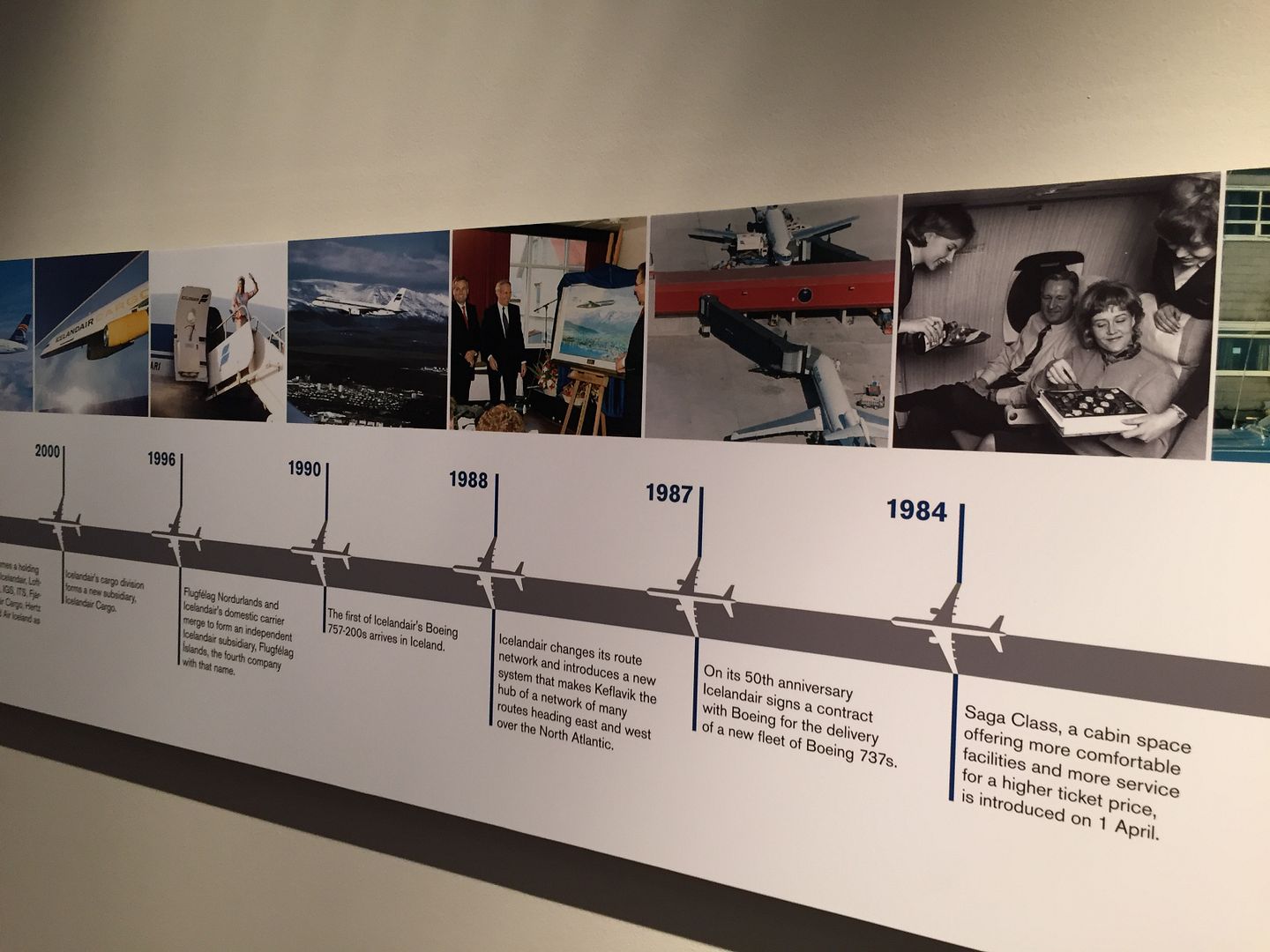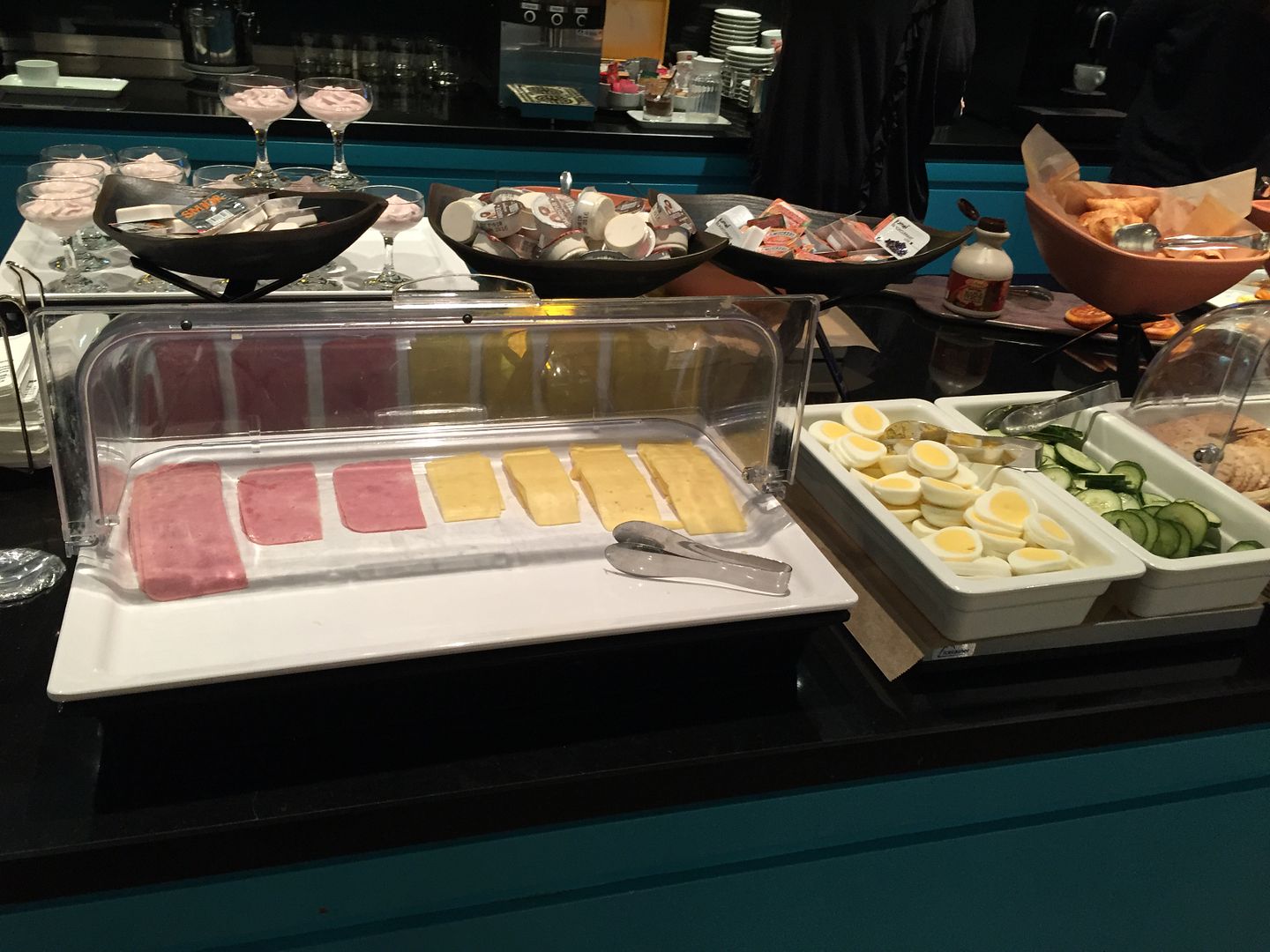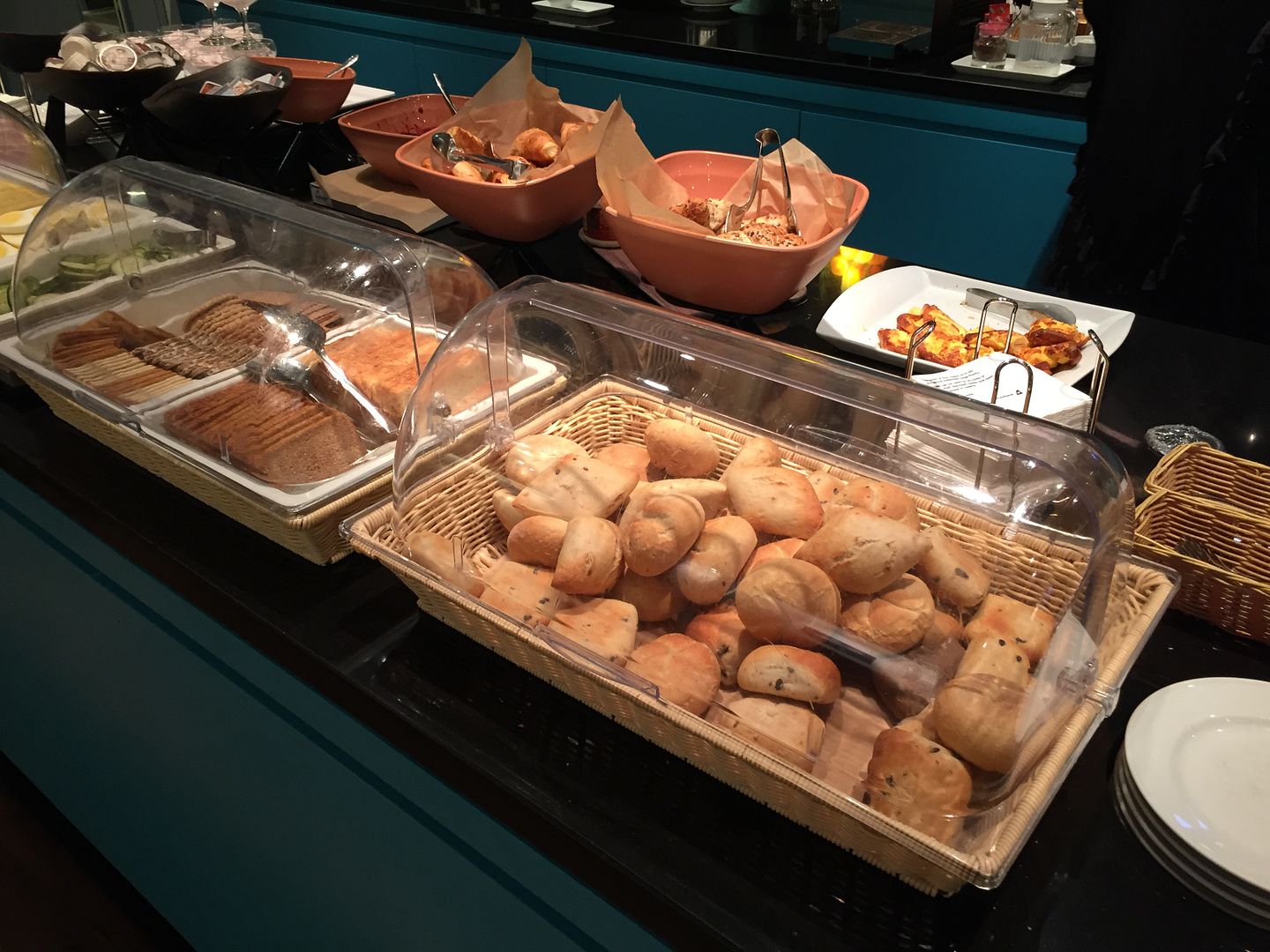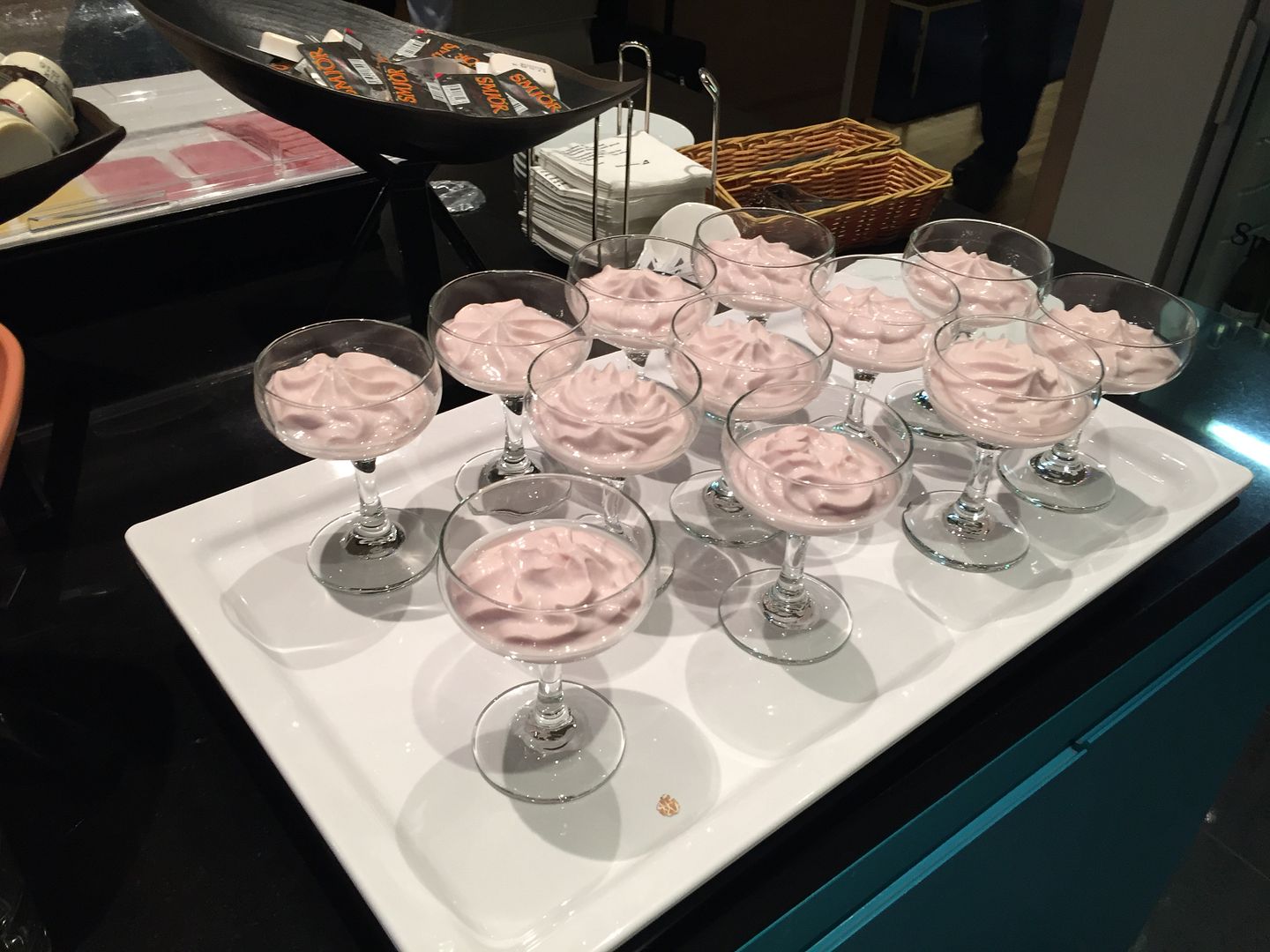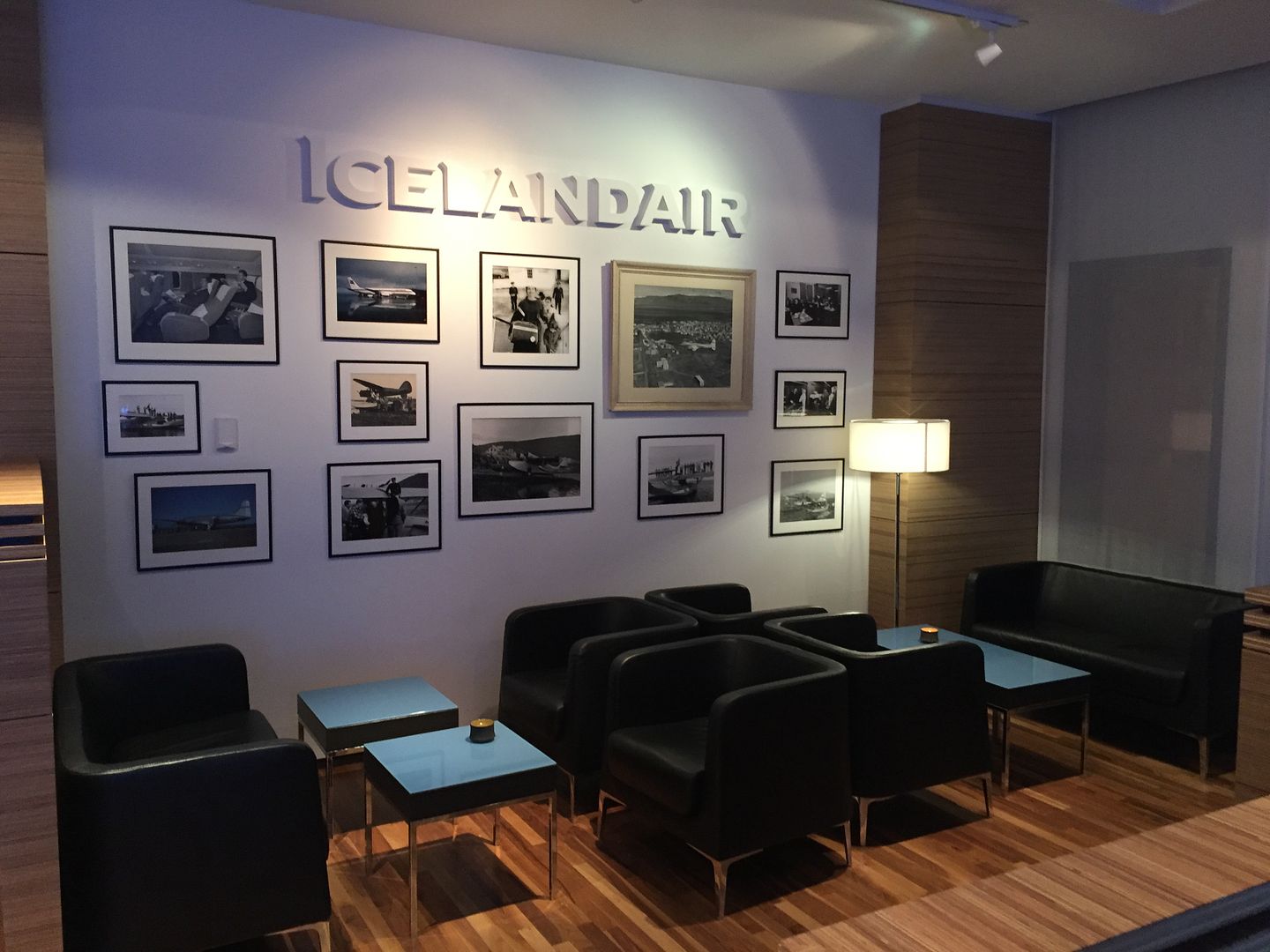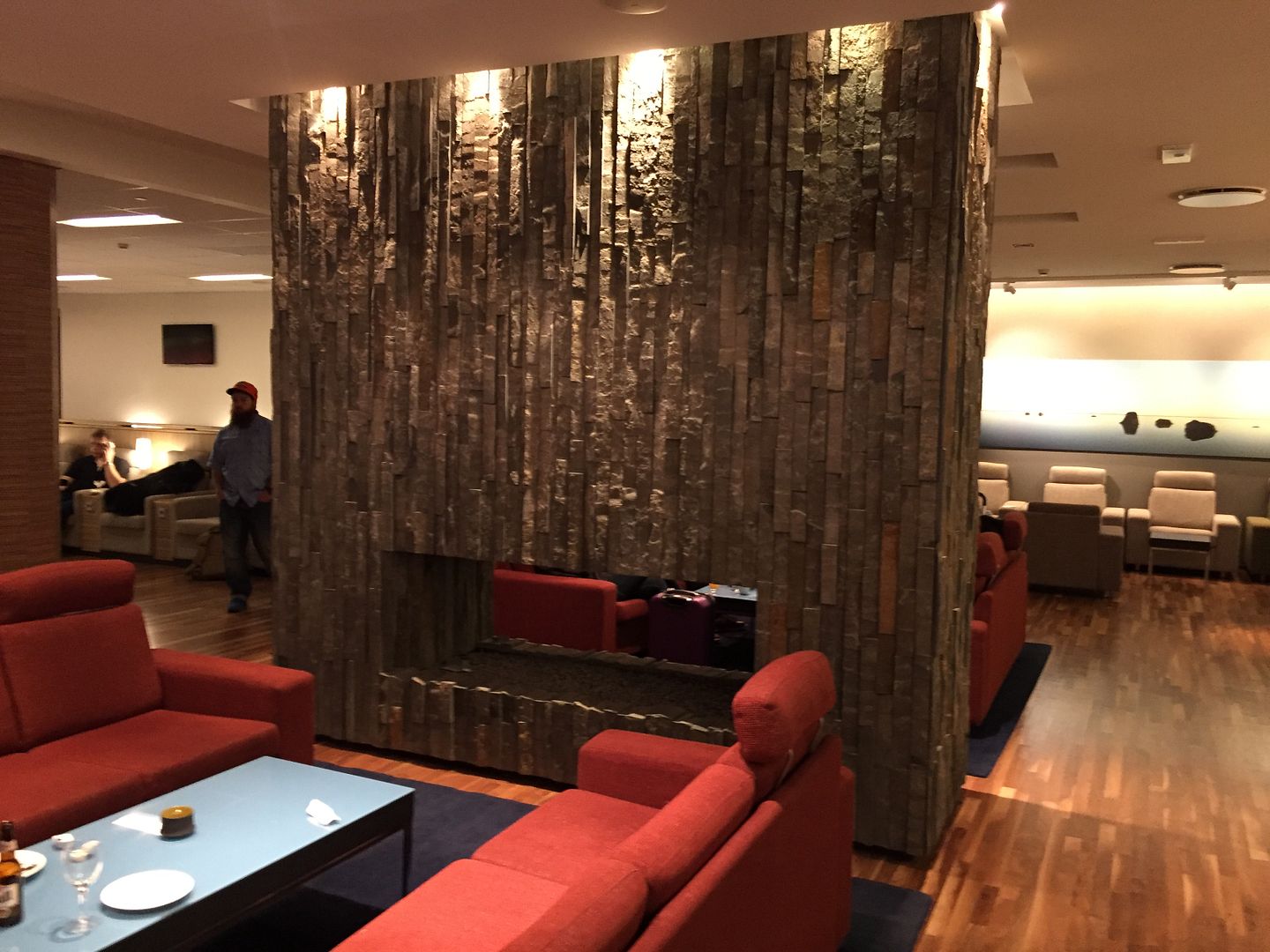 Lounge chair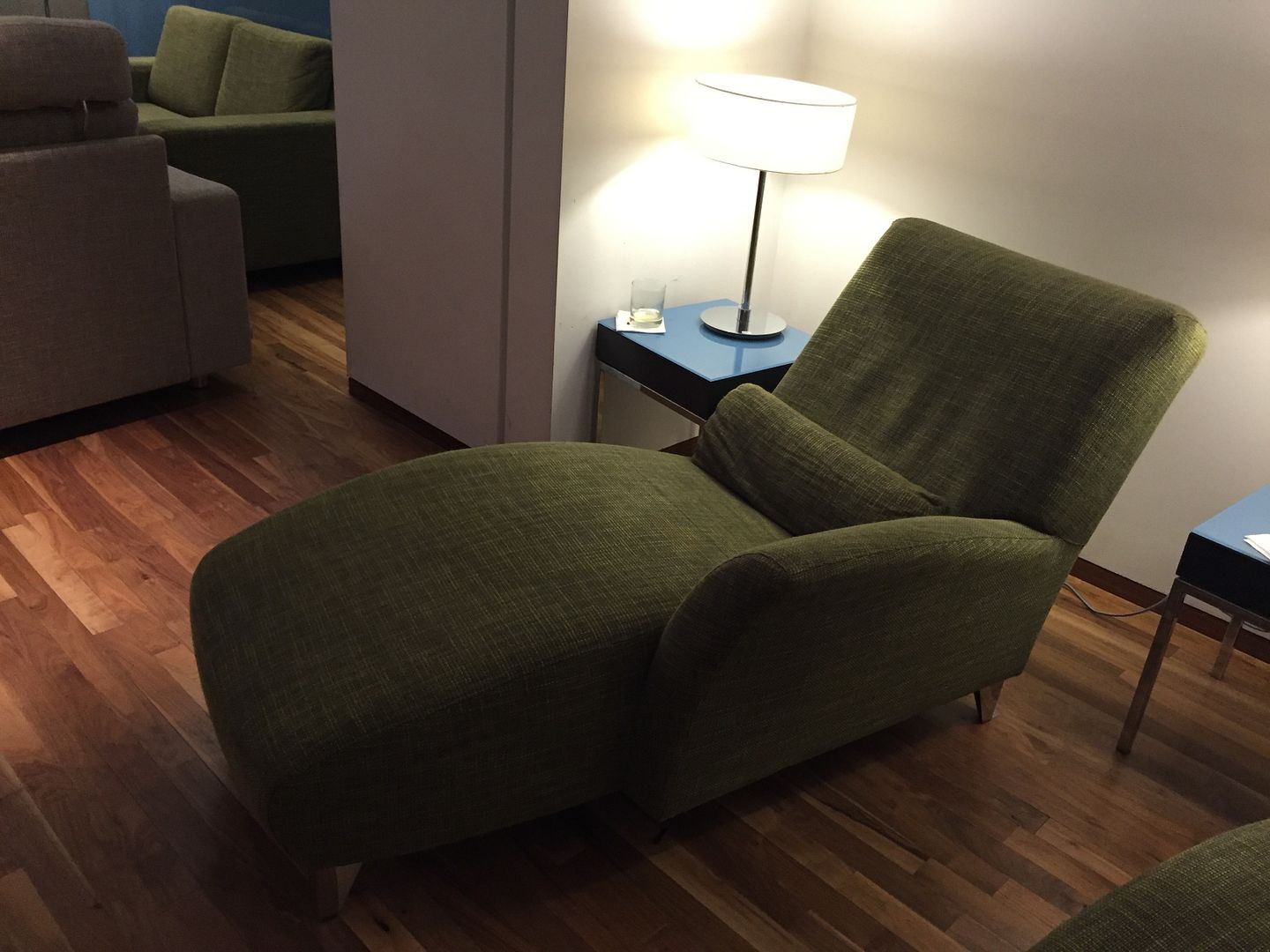 Toys for children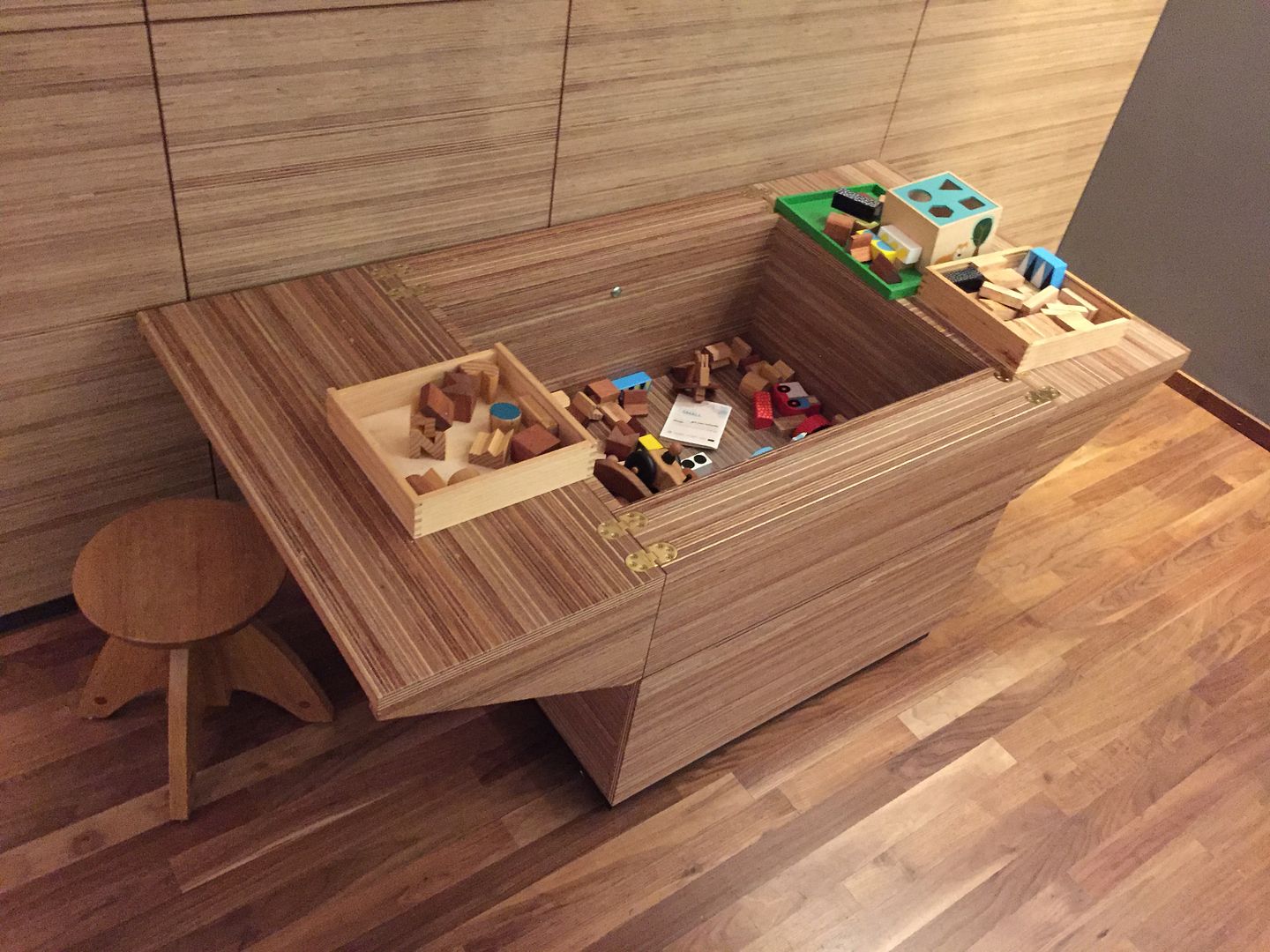 Mar 17, 16, 6:13 pm
Join Date: Oct 1999
Location: New York
Posts: 6,661
February 20, 2016
FI 206 CPH-KEF Lv0815 Arr1215 Boeing 757-200 Winglet TF-ISL "Öræfajökull"
Unfortunately the gate area at Keflavik's concourse is rather crowded, and since the flights depart at banks, there are crowds everywhere. Copenhagen is definitely a popular destination for Iceland, and there are two flights departing within fifteen minutes. The earlier flight was departing from a bus gate next door, and there were just lines everywhere with confusing passengers. There were insufficient staffs to help passengers out, and people relied on each other for help. There was no priority boarding because it was simply impossible to find space. I just stood in line, as there was nowhere to sit anyway. I had two carry on bags, so wanted to board early too.
Boarding finally began at 7:53am from gate 9, and as I mentioned, it was one line for all passengers.
Sneak peak into coach cabin
Once again split Saga/Economy comfort cabin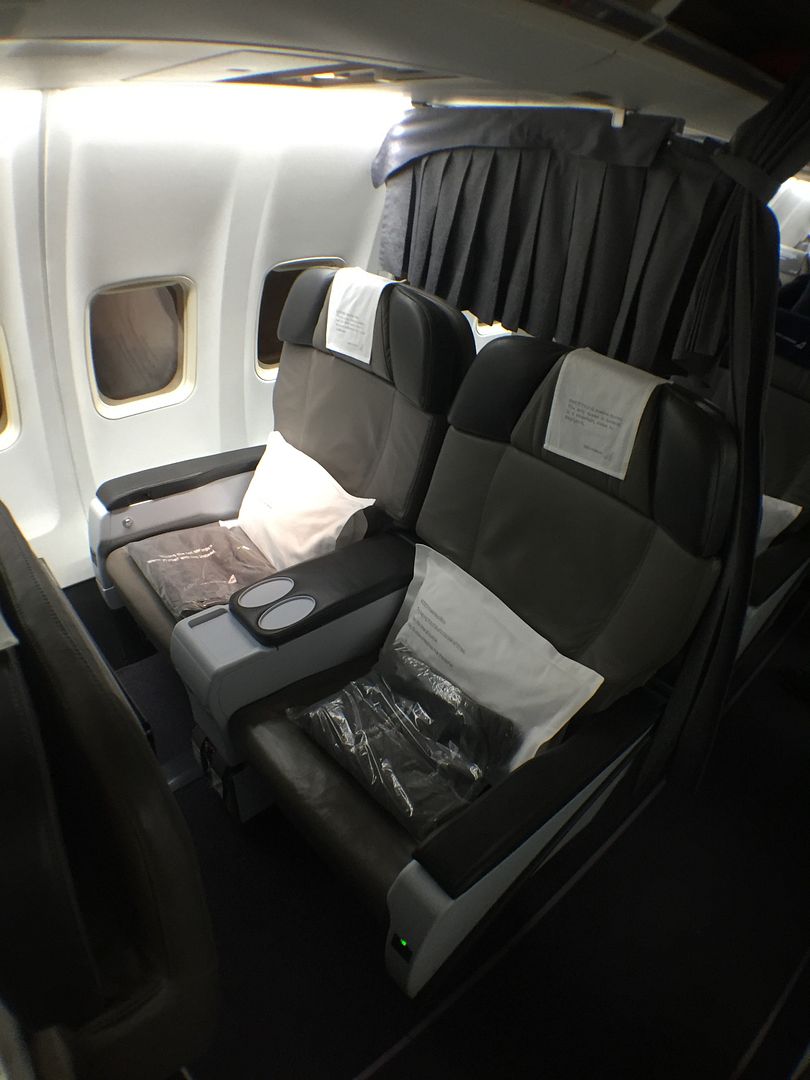 My seat
Power outlet – works this time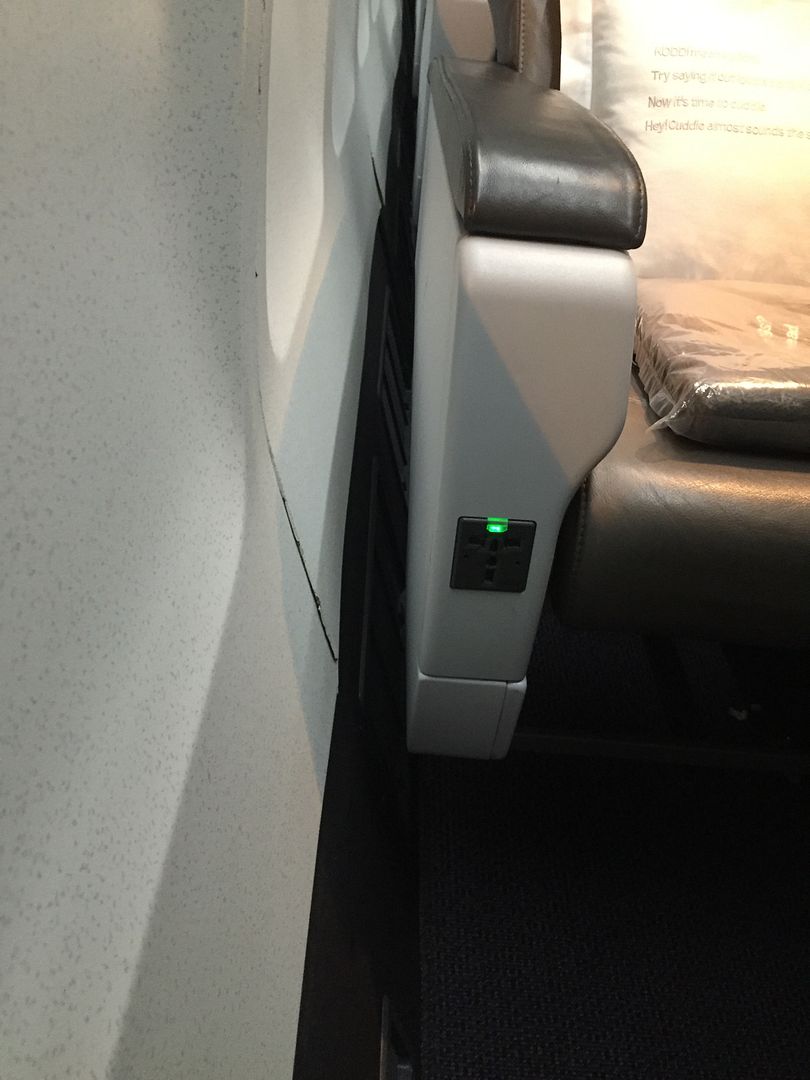 Seat in recline position – I felt that the seats reclined less on this particular 757-200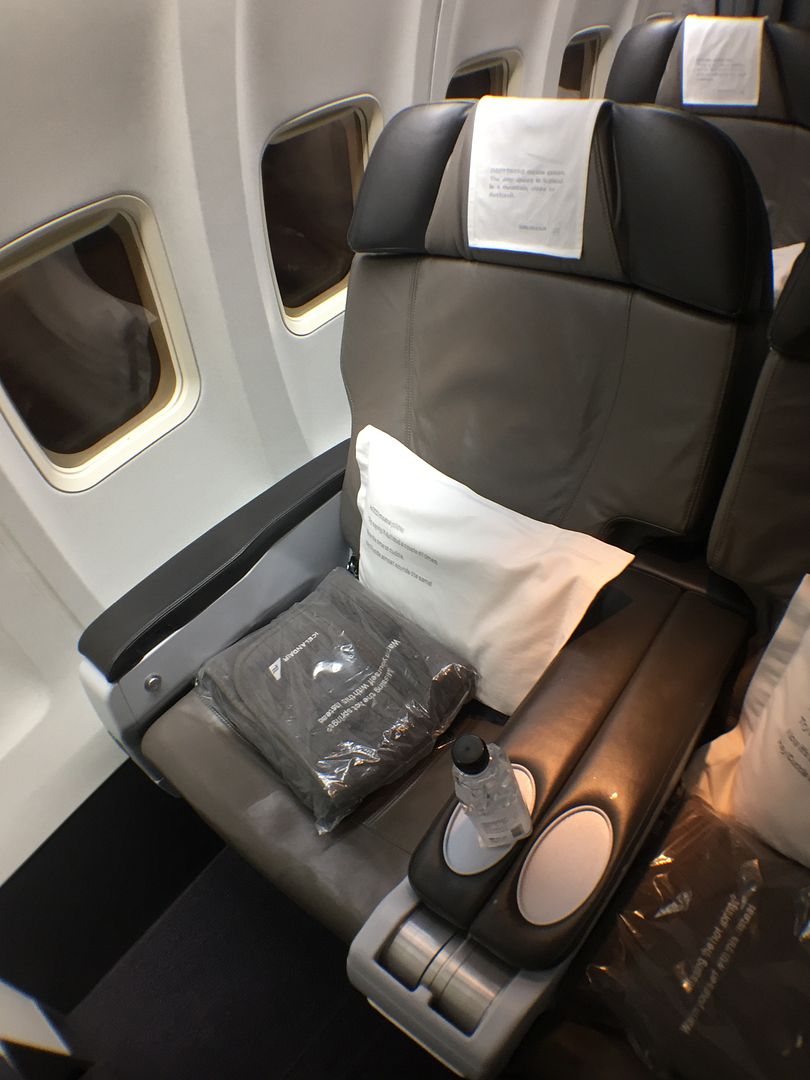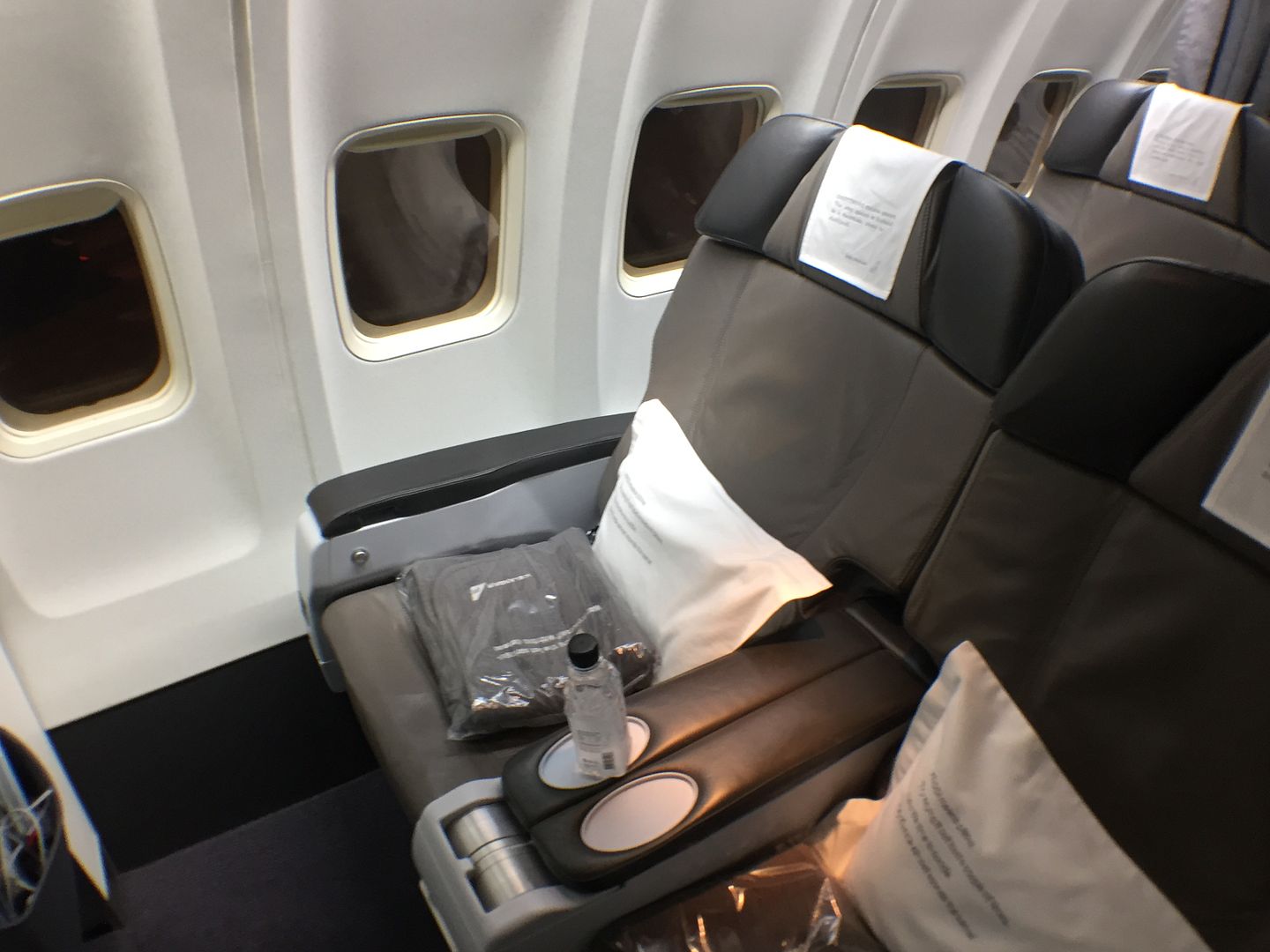 Additional beverage tray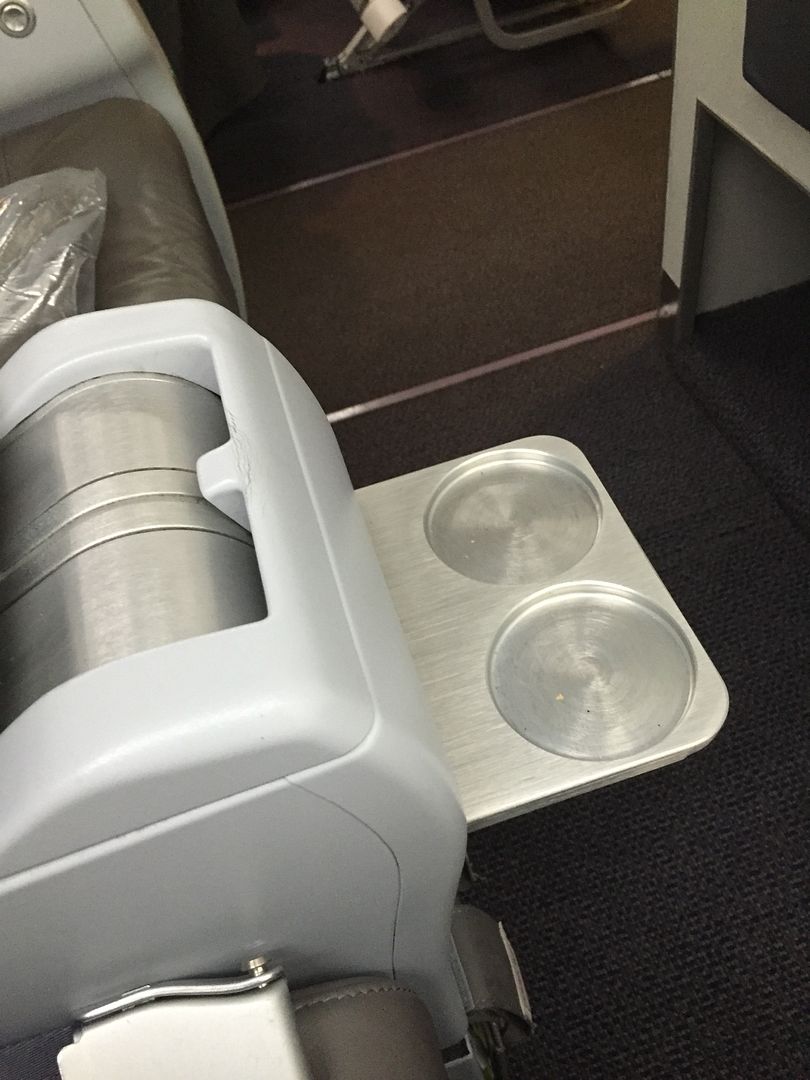 Little cutoff for bulkhead seats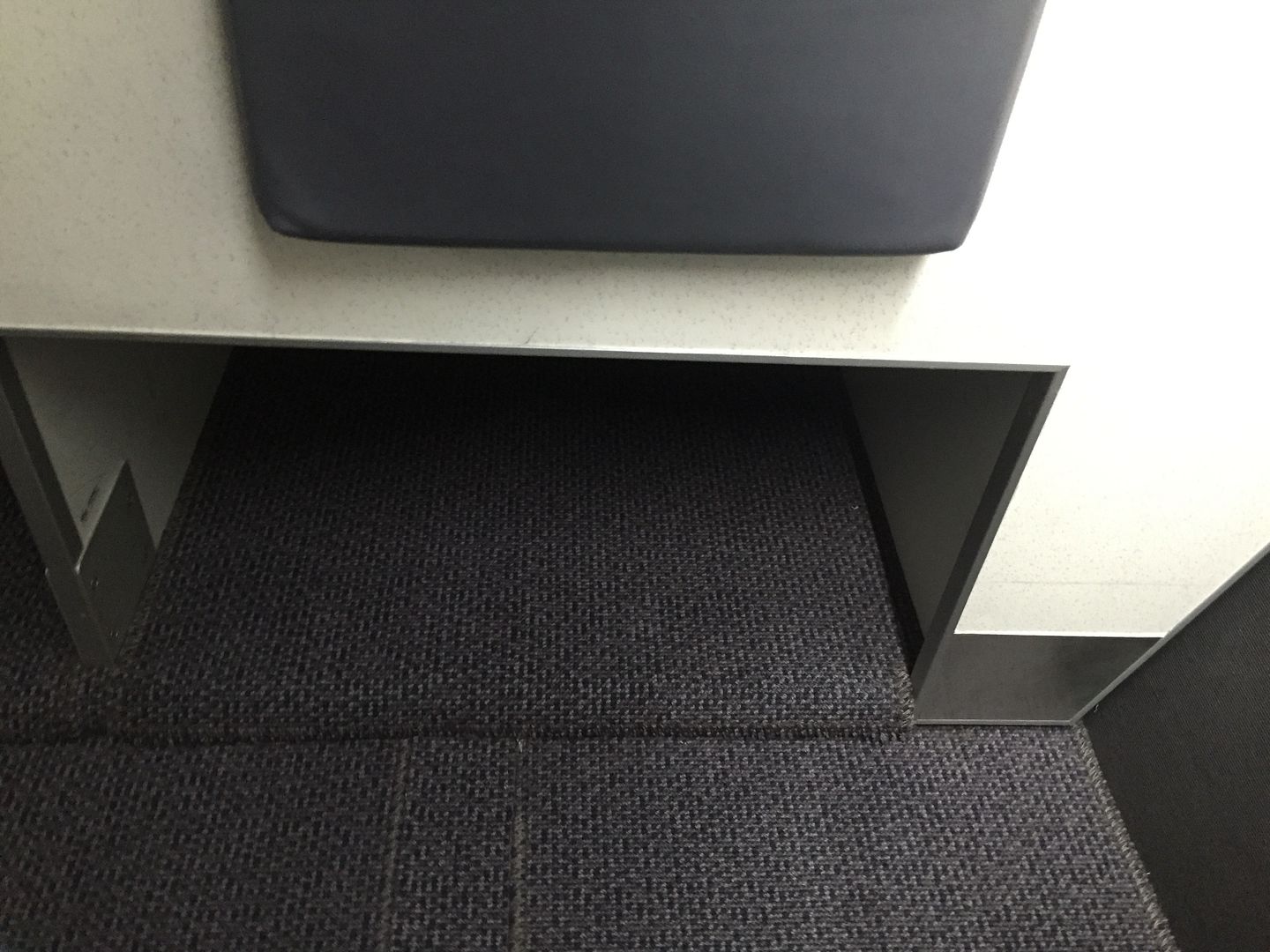 Legrest for non-bulkhead seats
Pre-takeoff beverage:
Morning shot – orange and carrot juice with ginger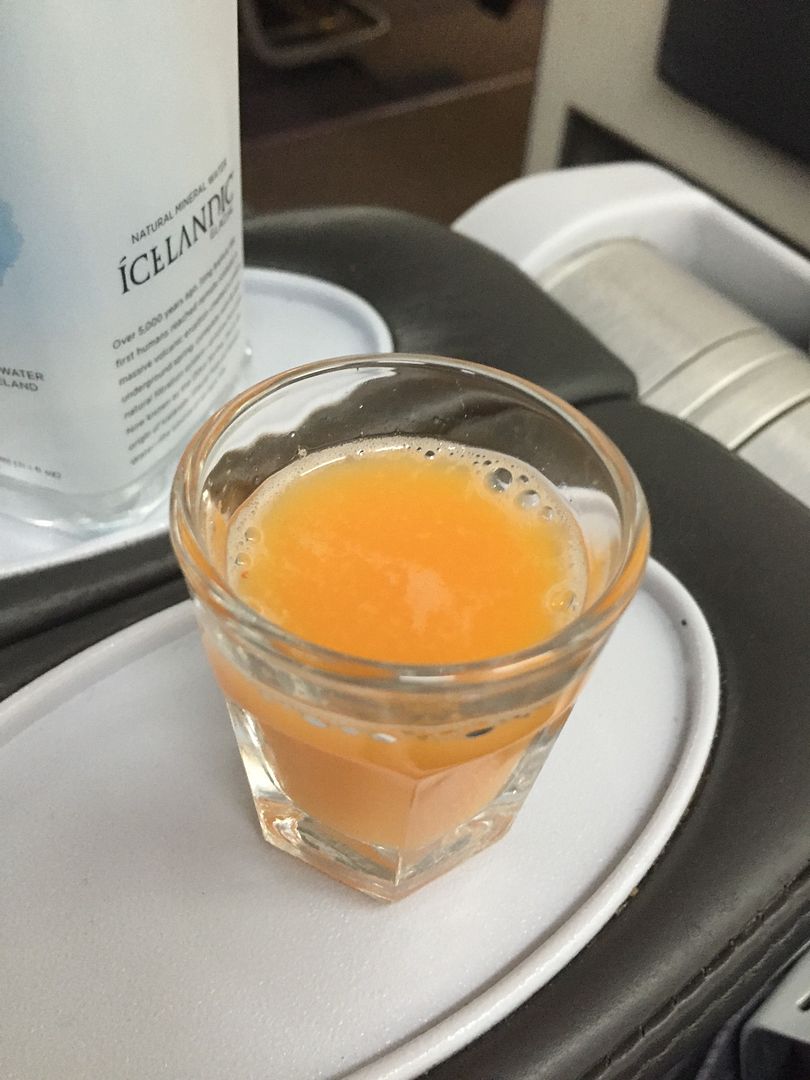 Bottled water
Business class cabin was actually quite empty with only me and another pair of Japanese passengers, but around 5 minutes prior to closing, a group of passengers just rushed into the business class cabin, and filled up the cabin. The Saga Class F/A was caught in surprise, as he was scrambling to accommodate everyone's bags. I was not sure if they are operational upgrades, as I also saw a few people moving up from economy comfort. They all spoke the local language. The flight was 100% full in front and back.
Door was closed at 8:19am and we taxied to R/W11 a few minutes later. We took off at 8:32am.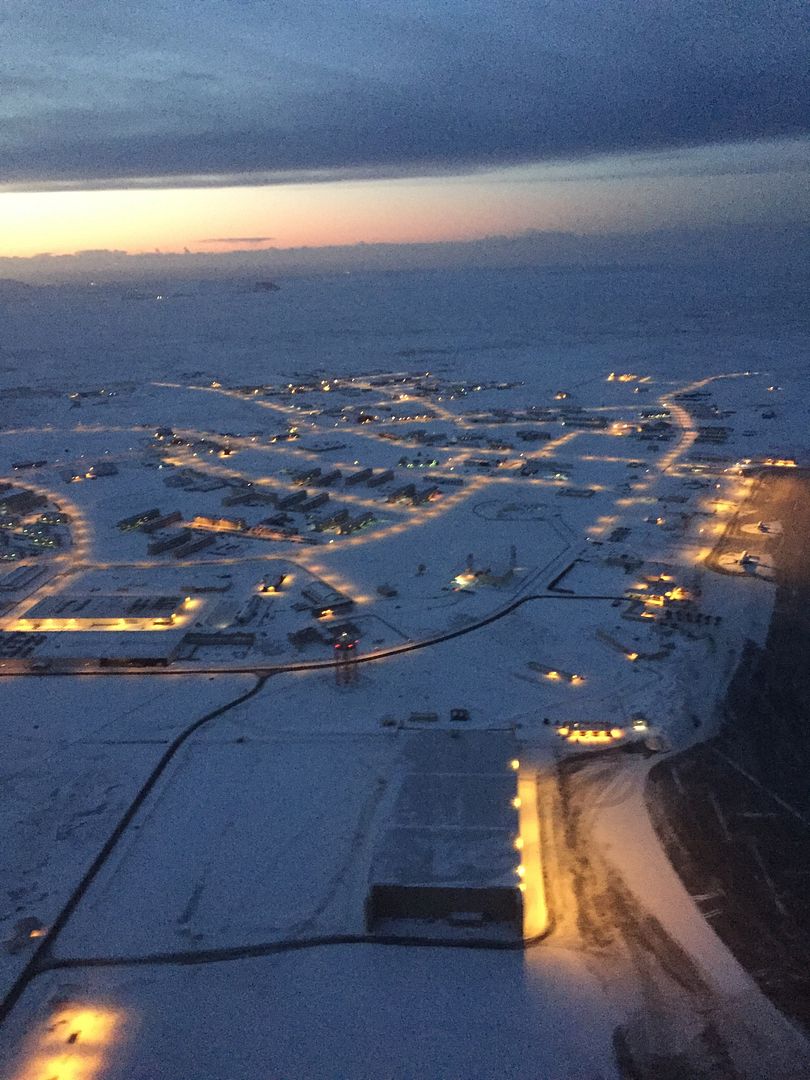 Skymap worked this time, but the overhead light for my seat did not work. Unlike the new generation of Boeing airplanes, they could not replace the bulbs right the way. Thankfully sunlight came out soon, but the planes looked very warned down and poorly maintained.
Flying time was two hours and thirty-two minutes with a cruising altitude of 37,000ft. We flew pass Faroe Islands, Bryne, Fleklefjord, Aarhus, and then into CPH.
Breakfast with no choice began shortly after takeoff. There was hot towel service, but no separate beverage service. They just served you OJ during meals, and then tea and coffee afterward. Of course I presume you can order other items on demand.
Menu
Meals came like that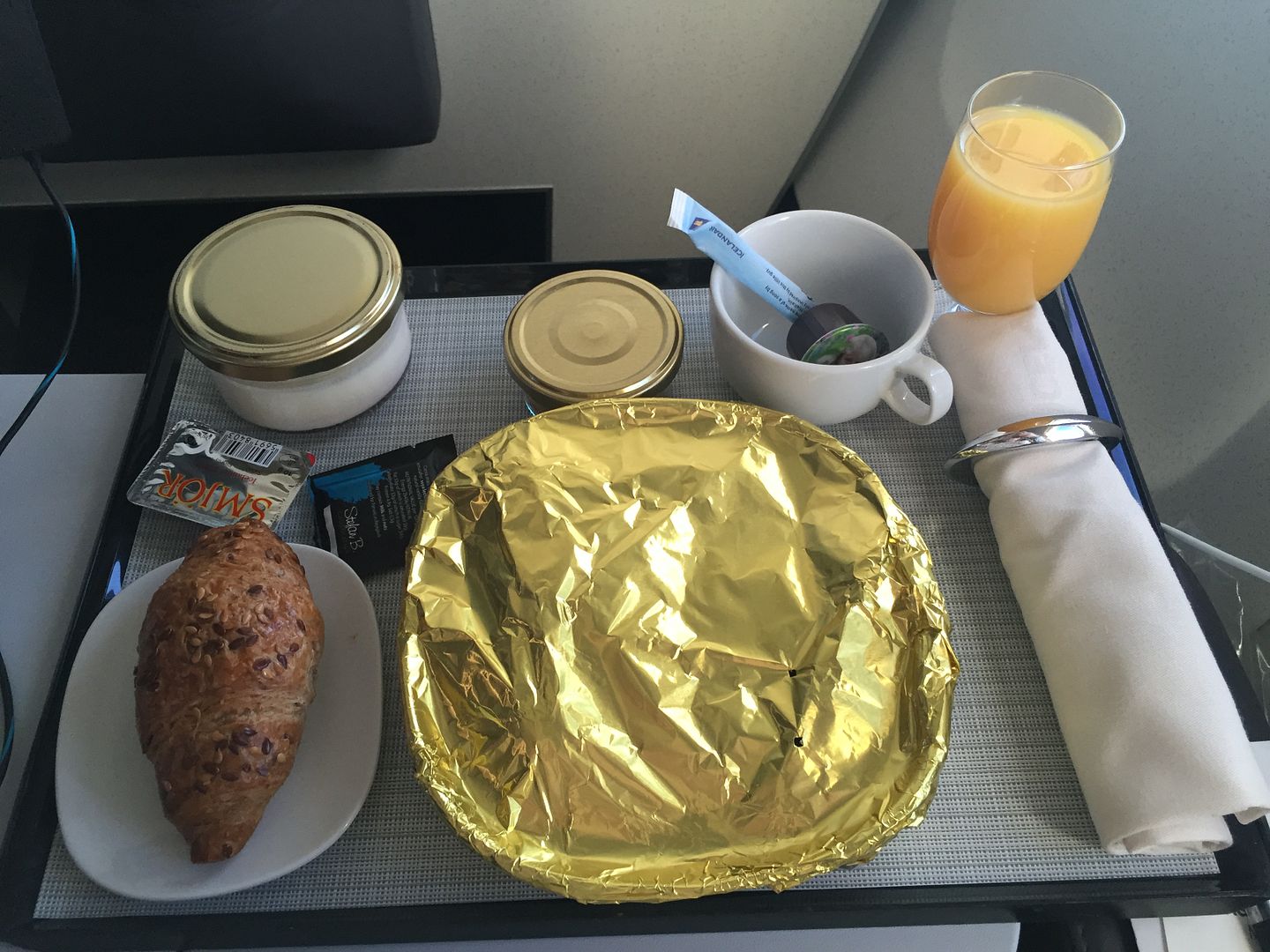 Good Morning shot
Orange and carrot juice with ginger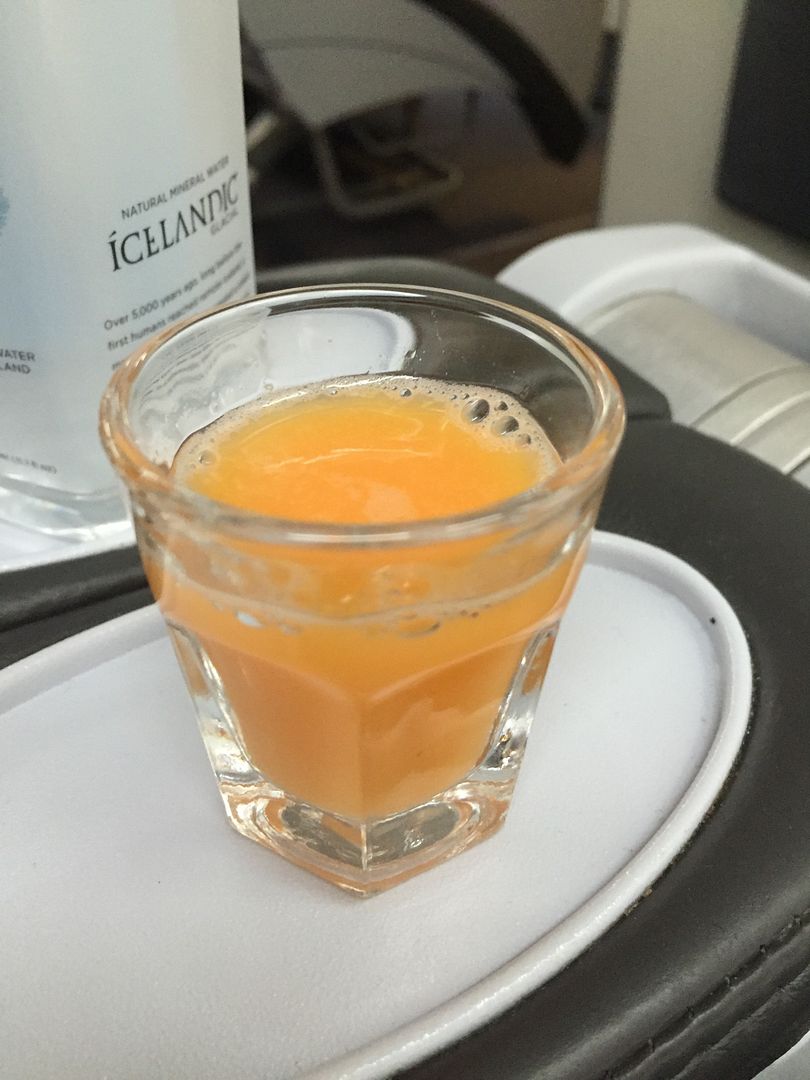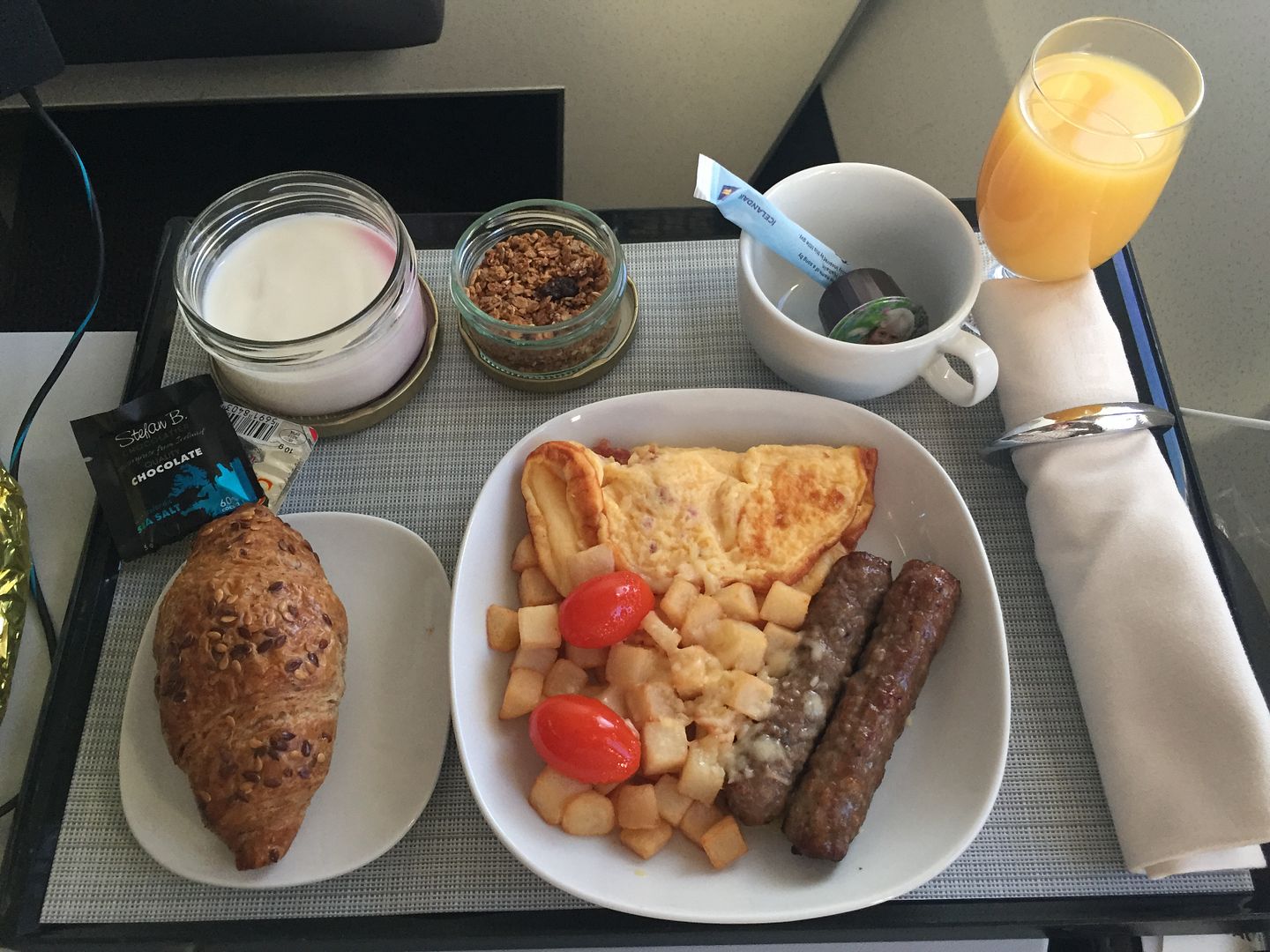 Yogurt
Bio-yogurt with raspberries and granola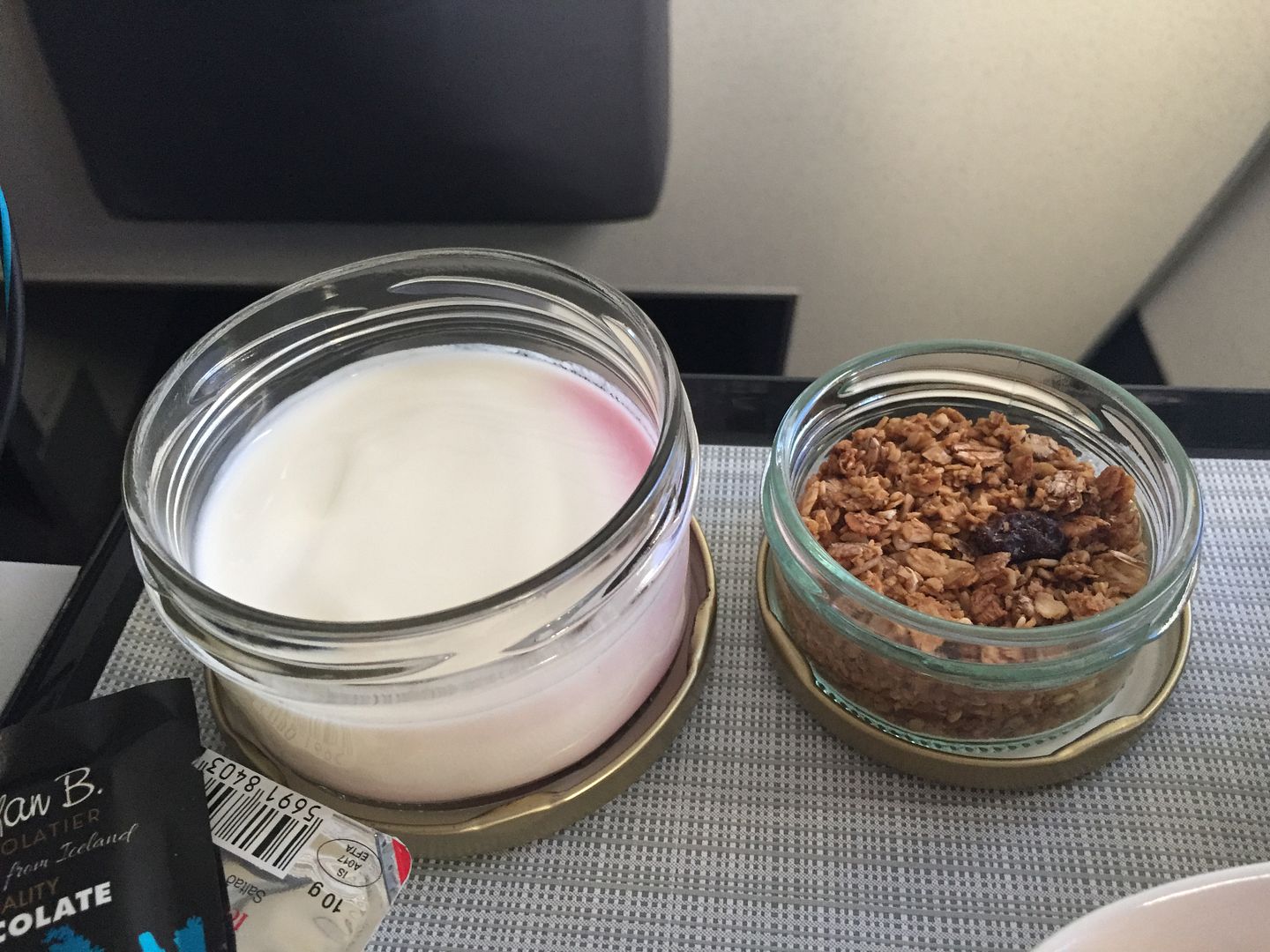 Breakfast
Omelette, Served with sausages, baked cherry tomatoes, potato cubes and cheese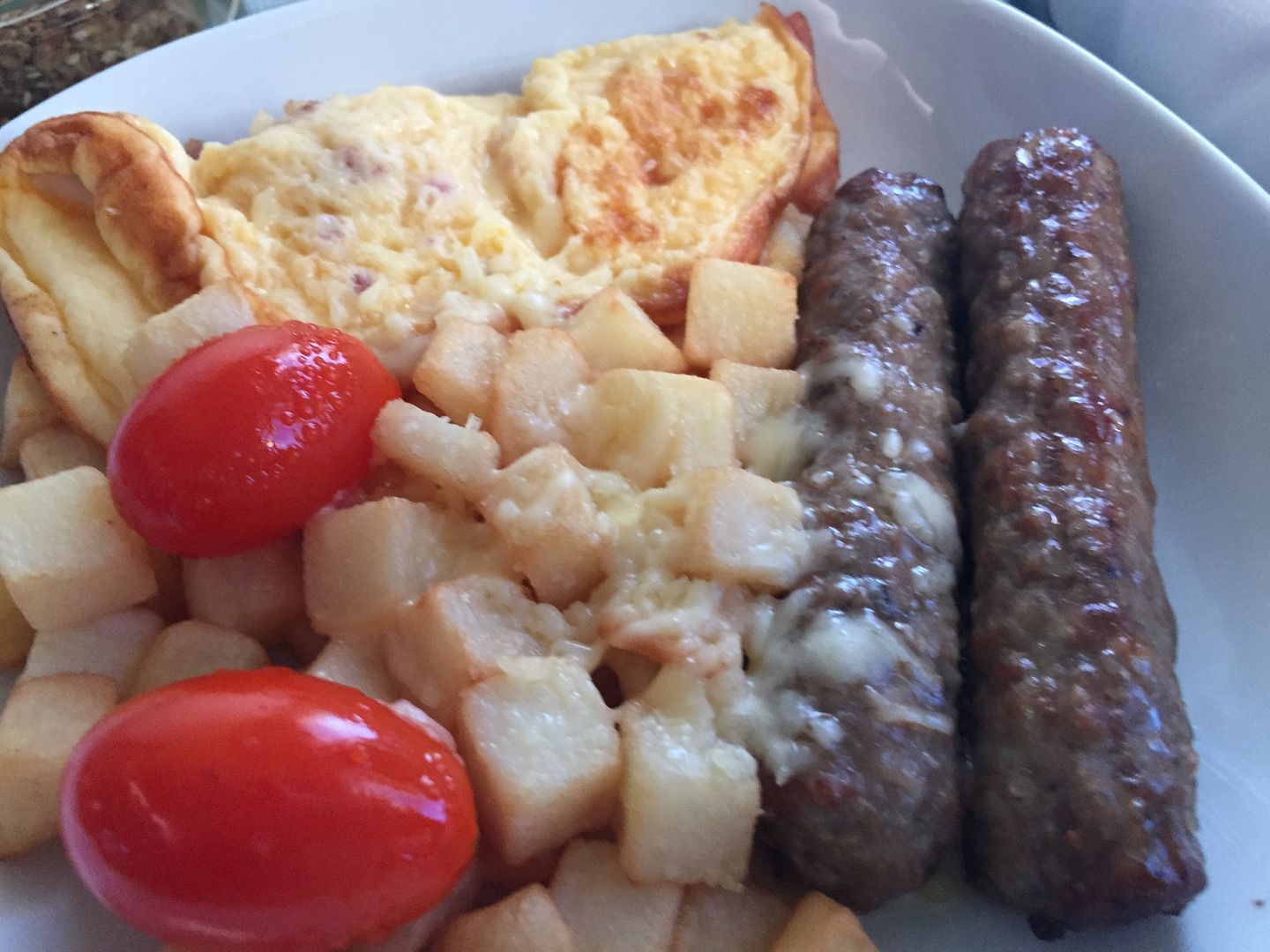 Bread
Croissant and sourdough bread
Chocolate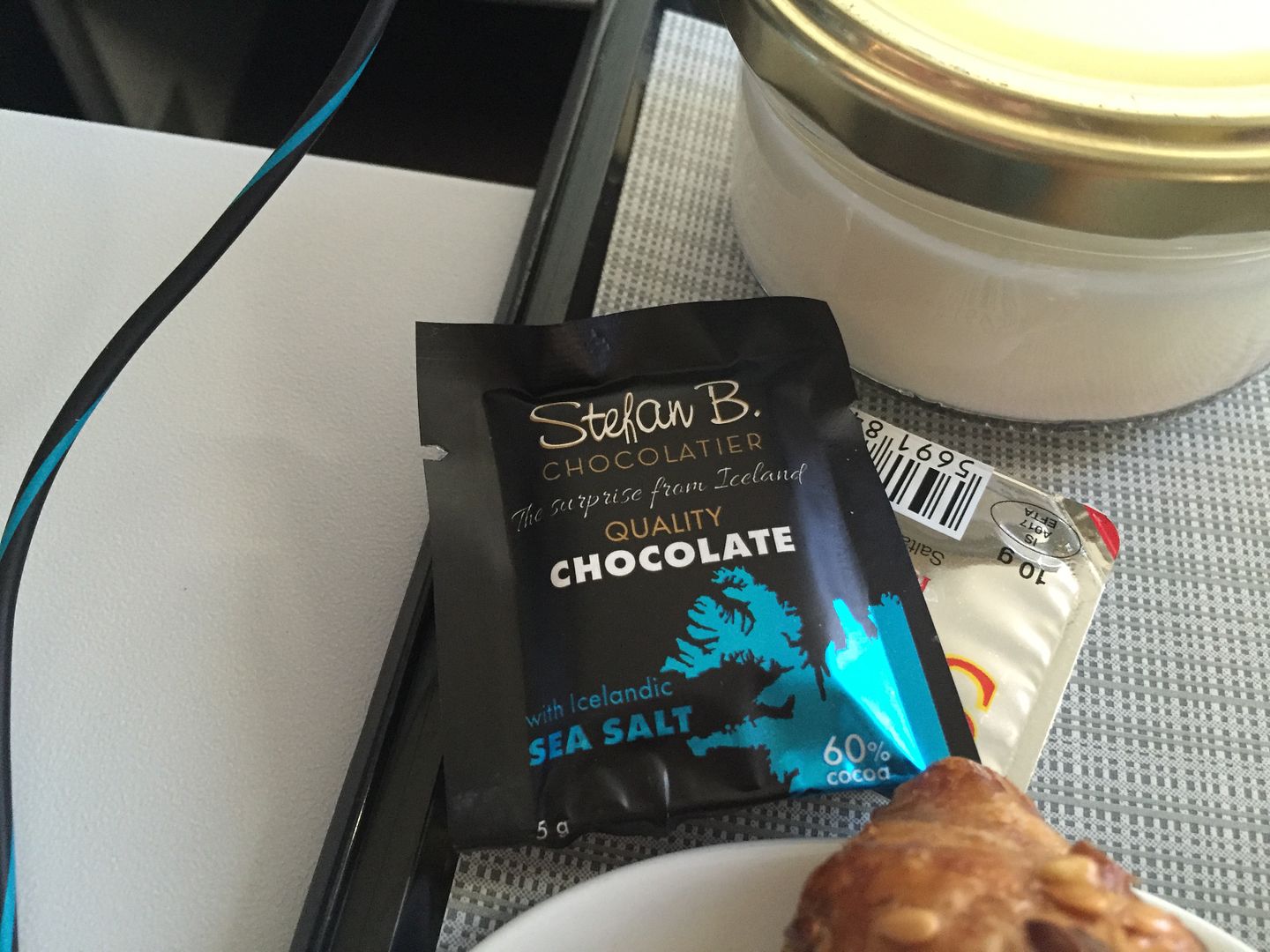 Thankfully the food was much better on this flight. At least it was filling and I particularly love the yogurt with granola. It was served in a real glass container.
Sugar packet
Tea and coffee served in paper cup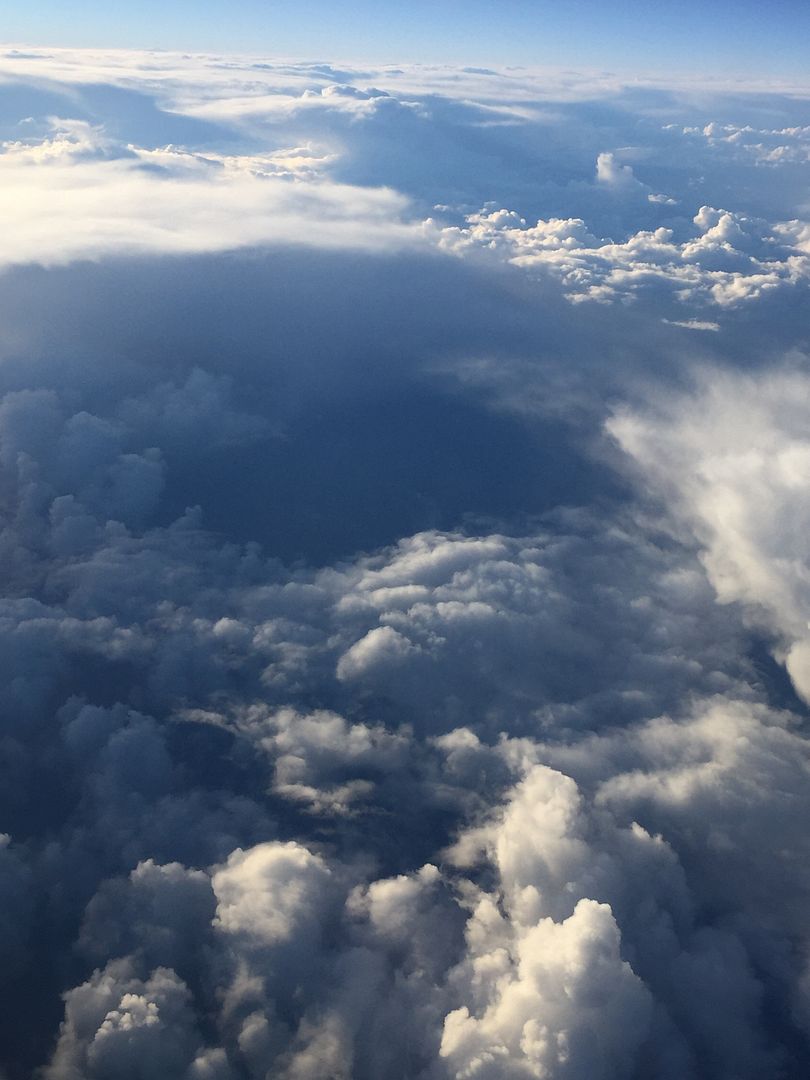 Duty free was available and I pre-order this special plane model: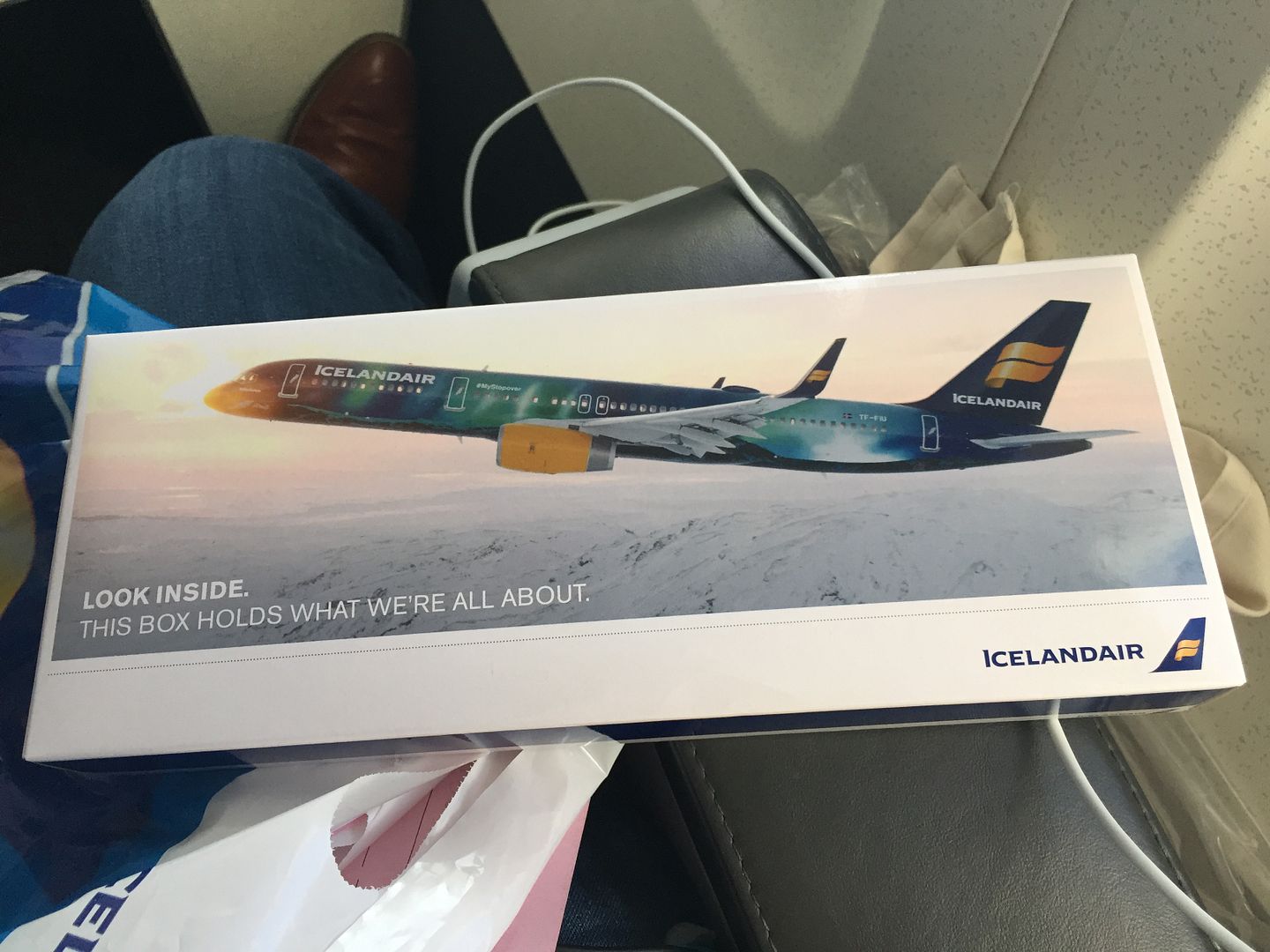 Sky map working
Descent began at 11:39am Copenhagen's local time, which is an hour ahead of Iceland.
We landed on R/W22L at 12:04pm and parked at gate B9 five minutes later.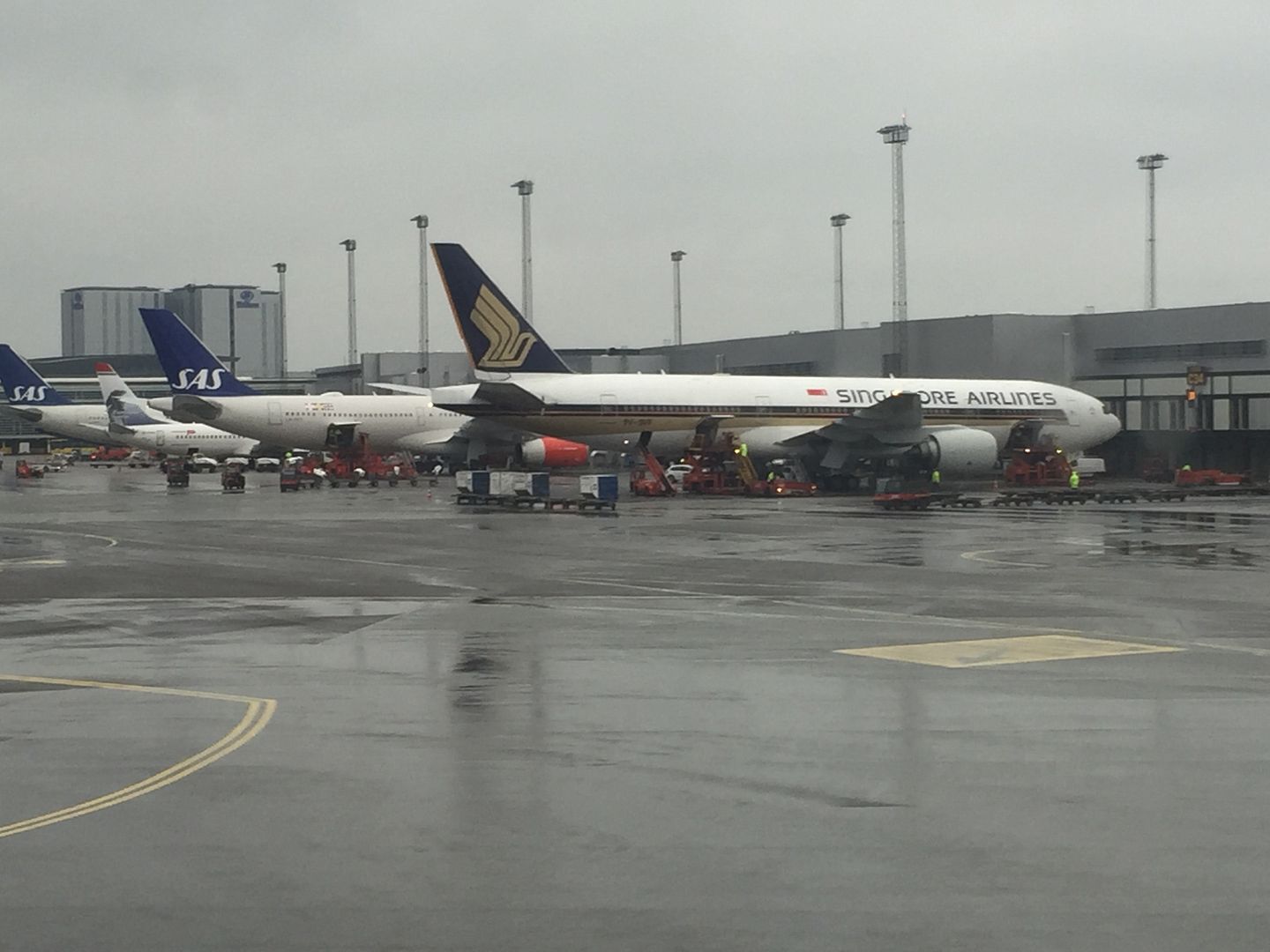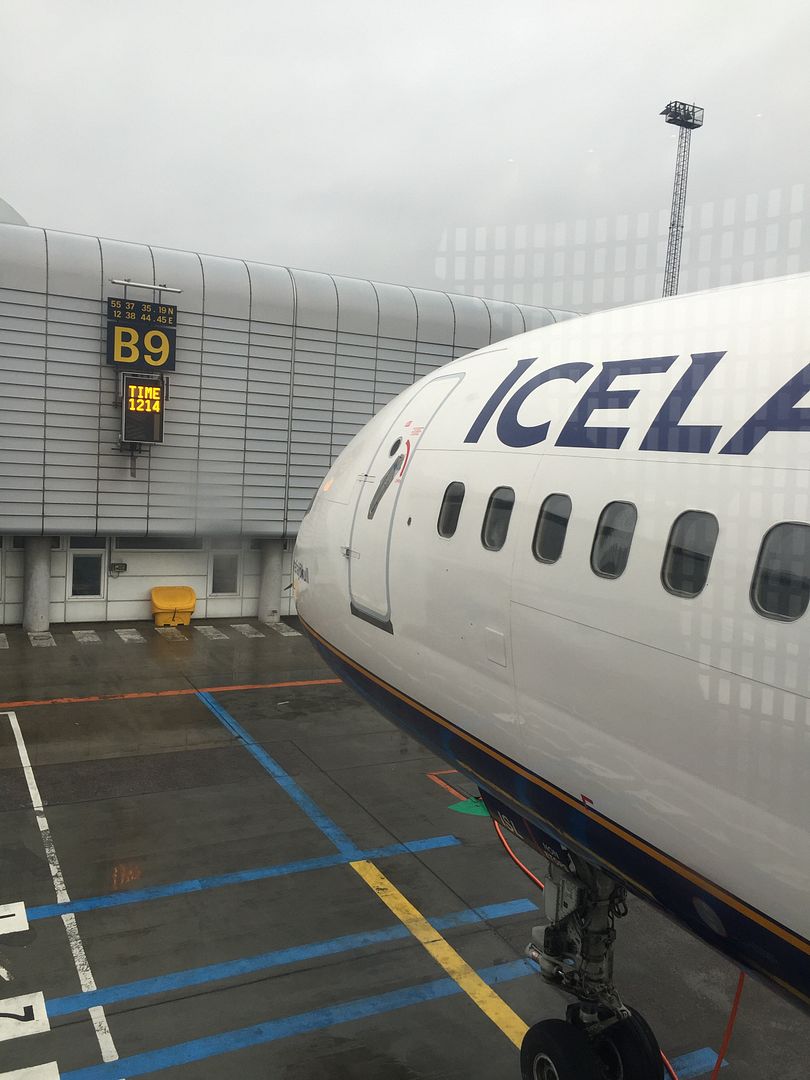 Flying Iceland Air Saga Class is an interesting experience, and the stopover at Keflavik is pretty painful, but is convenient. No wonder it is a success among cost-conscious passengers. I am a bit turned off by the split cabin operation, which really devalues the Saga Class, but makes flying Economy Comfort a tempting option. I am glad that I flew it, but next time, I might give Norwegian my vote.
Next part is onto some intra-European flying!
Carfield
Mar 17, 16, 8:04 pm
Join Date: Dec 2004
Location: East Coast
Programs: AA CONCIERGE KEY, HILTON DIAMOND
Posts: 8,294
Fantastic report! Quick question, do the Icelandair 757s have individual air conditioning vents over each seat? There are reports that Icelandair keeps the cabin temperature very hot.
Mar 17, 16, 10:51 pm
Join Date: Oct 2010
Location: YVR - Vancouver, with most winter weekends in Whistler.
Programs: Aeroplan 35K, Marriott Titanium / Lifetime Gold, Hertz President's Circle
Posts: 4,428
Carfield, thanks' for that very detailed report.

I don't know that I'd feel about a flight that long in the older style recliner seats. I think it would be better if there was a stop over involved in Iceland, but it might be a "once and done" situation.

Thanks for the information on the pre-order service. I think I'd be taking Iceland Air up on that offer.
Mar 18, 16, 2:11 am
Join Date: Feb 2008
Location: Stockholm
Programs: Various
Posts: 2,635
Thanks for the report. I think it may be a mistake to consider Saga Class business class whatever Icelandair wants to say about it.

Btw, did you go through security in Keflavik or was it only immigration?
Mar 18, 16, 6:55 am
Join Date: Feb 2005
Location: MD/DC
Programs: Hilton Diamond, PC Platinum, Club Carlson Silver, Marriott Platinum, TK Gold
Posts: 1,329
A more affordable way to get a Saga seat (but not Saga service) will be to book premium economy. If Saga is not sold out, the last row(s) of the business seats will be available to the premium economy passengers.

On my recent trip, 3 out of the 4 legs were available and per-assigned.

I could not justify the cost for the Saga class, but could for the premium economy one. Considering you can pre-order your BOB (which is free and unlimited - you can get as much as you want), it was a decent deal.
Mar 18, 16, 7:09 am
Join Date: Feb 2013
Location: DCA
Posts: 6,891
I think that there is an interesting discussion to be had here. On one hand, yes, this is technically a product going across the Atlantic, and as such, the comparison that one would tend to make would be to AA 77W J, BA CW, etc. etc. But in actuality, look at the flight mileages - JFK-KEF is 2590 mi. and KEF-CPH is 1330 mi. So that first one is about the length of LAX-PHL and the second about the length of DFW-PHL. On those flights, you're going to get a ratty old pmUS 320/321 with no legroom, no power, no IFE. Depending on time of day, you're not going to get a meal (nuts and a cookie for that LAX redeye). You're not going to get lounge access. And either of those flights could easily cost the $800 that the OP paid for both of his legs. He got what looks to be a pretty comfy recliner, a darn good biz lounge at JFK (BA Galleries), pretty tasty looking meals, IFE, power, and a chance to stretch his legs and hit another lounge with real food and drink in the middle. This is, in my humble opinion, not a bad way to travel, all things considered.
If you ask the question "Is this the best transatlantic business class product?" you're going to get one very obvious answer. If you ask the question "If this a good way to get to Copenhagen for $800?", then in my mind that's a completely different calculus. Barring huge sales, mistakes, or odd stackable discounts (BA + AARP, etc.), there aren't many non-economy options that exist at that price point. Having choices is, in my opinion, a good thing, and if I were spending my own dime and were not in a hurry, I'd totally consider this.
Mar 18, 16, 9:45 am
FlyerTalk Evangelist
Join Date: Jul 1999
Location: Over the Bay Bridge, CA
Programs: Jumbo mas
Posts: 31,375
On the one hand, this is technically a product going partway across the Atlantic,
If you ask the question "Is this the best not-quite-transatlantic business class product?"
If I had that seat and service from home to Hawaii or the East Coast (other than a couple of premium routes), I'd be all over it.
OP, thanks for the report, and I know that with the connection, it does become a transatlantic trip
Mar 18, 16, 10:21 am
Join Date: Apr 2012
Location: BOS
Programs: AA EXP (AC), DL/UA G (SC/UC), Marriott LTP, Hyatt Exp, Uber Diamond
Posts: 1,789
Carfield, very detailed report; thank you!

We're actually going to KEF this summer for a long week-end, just to check it out, and were deciding between DL and these guys. Ended up going with DL because F was < $2K; although I suspect the service will be very similar.