Trip Report: Torres del Paine, Patagonia (Chile)
Jan 26, 16, 12:21 pm
Community Director
Join Date: Oct 2000
Location: Anywhere warm
Posts: 29,776
I always know to open any trip report you write because you take spectacular pictures. These show the extraordinary beauty of the area. We have been here, and your pictures bring back memories of a lovely trip.
Feb 1, 16, 10:58 pm
Join Date: Oct 2012
Posts: 728
Thanks everyone! Sorry for the delay, i am having technical difficulties copy/pasting the image URLs into the forum and only limited time here in Sri Lanka to fix it
But the new part is already online in my
blog
, if you wanna check it out now. Otherwise, I will hopefully get the proper update here done in the next days!!
Greetings from Sri Lanka,
Chris
Feb 5, 16, 6:09 am
Join Date: Oct 2012
Posts: 728
The second part is ready!
Day 2, Grey Glacier
13/04/2015 I was happy to leave the rat-infested camp of the first night behind and fixed the holes in my new tent. Happy for the sun to provide warmth after a cold morning, I soon got to see the first splendid views on Glaciar Grey in the distance. My plan was to hike up to Paso John Gardner, but I knew that the circuit was officially closed and when two french hikers passed me on the way down after being sent back from a ranger, I had to come up with a damn good first impression in order to convince him to let me pass…
I was not particularity pleased with the first night. Rats were attracted to my new tent, trying desperately to give me some company inside and they would even climb up the trees and then jump on top of my little home!! I did not get a lot of sleep since I was either annoyed by the noise they made or busy hitting their little noses poking through the tent. After fixing it with duct tape in the morning, I started to hike at 09:30 while everyone else was still having their breakfast. The sun showcased the grass in a beautiful golden color on the ground while the horizon was filled by blue sky and the majestic mountains – such a delight for the eye!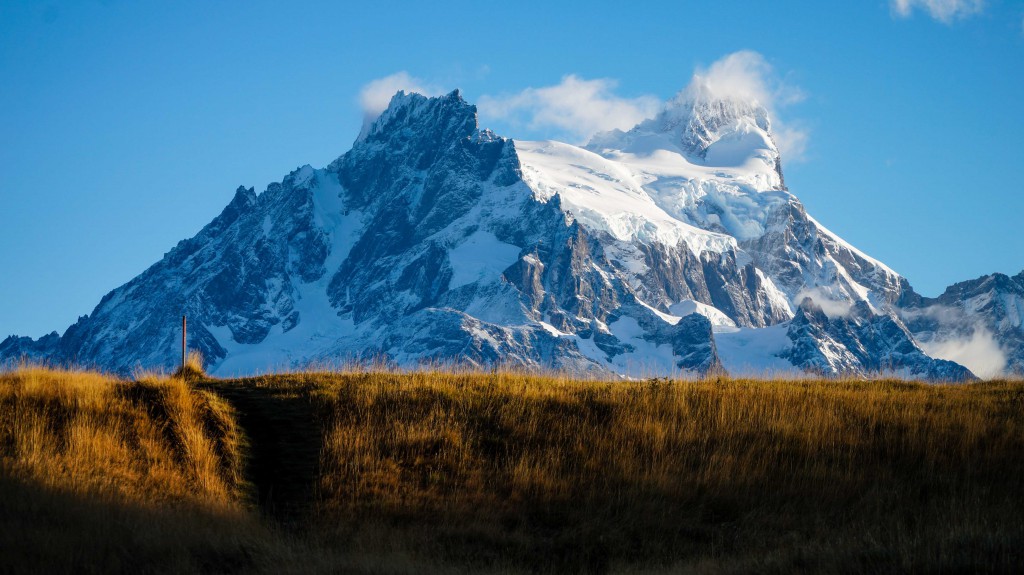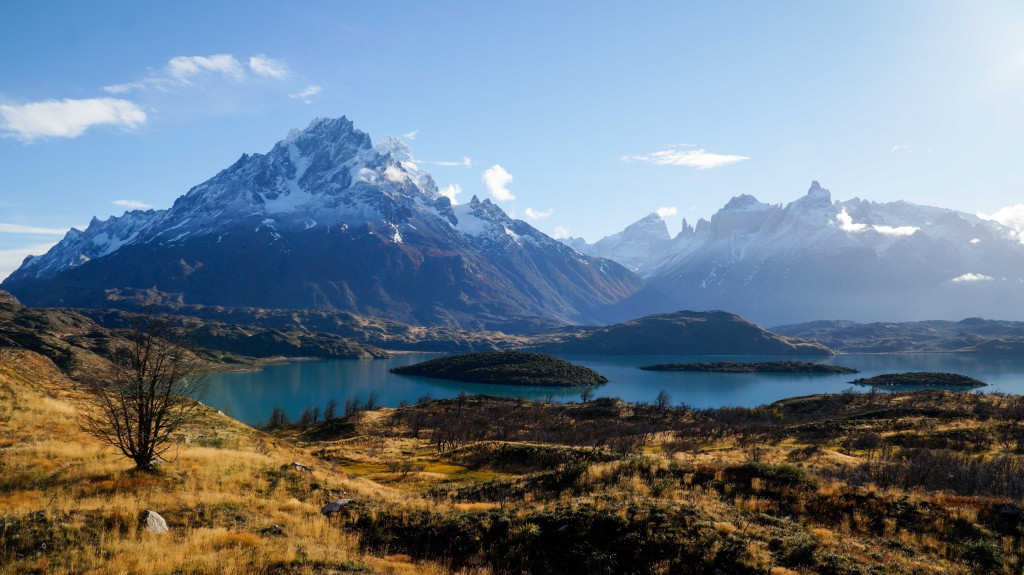 I reached a good spot with a view on the lake and unwrapped all my wet equipment from the morning temperatures while having lunch and waited for the others to arrive. They turned up about 90 minutes later, just when I was about to leave. We walked together for a bit along the picture perfect lake, reflecting mirror images from the peaks inside of it. The couples needed another break and I was heading towards Camp Grey on my own again. Walking up a gentle slope, I could finally see the ice cap of the Grey Glacier for the first time. The view was just incredible and I could not wait to get closer to it!
Approaching Camp Grey, I was not sure if anybody would try to stop me to move forward toward Paso John Gardner, which I knew was closed off. I just walked right through the camp and nobody tried to stop me, so my hopes were high to actually make it to a smaller camp called Las Guardas up the hills for the night before heading to the pass the next morning. The path led me close to the glacier for some great views before entering a forest again, containing a lot of hard-working woodpeckers that were not disturbed at all by my presence.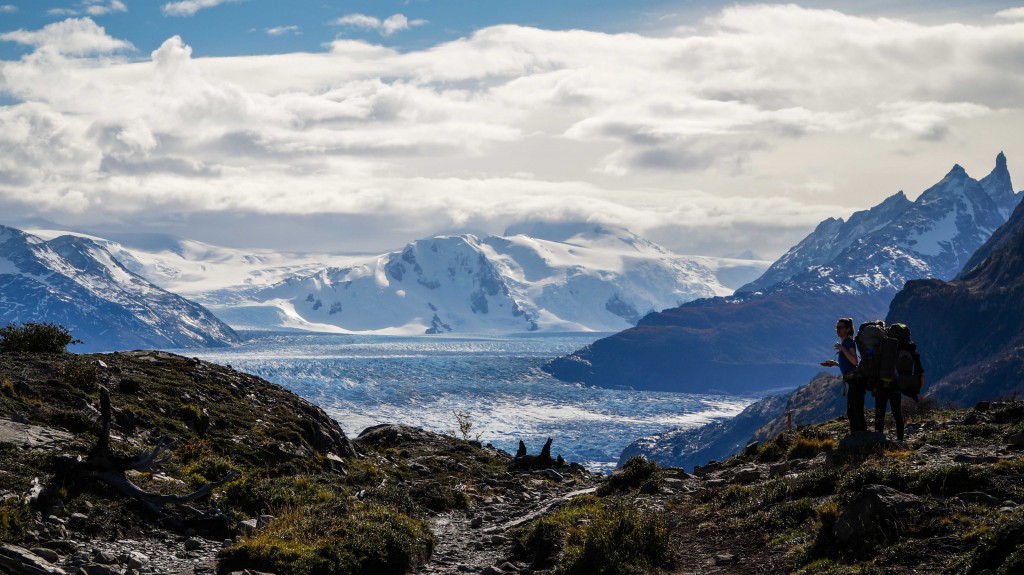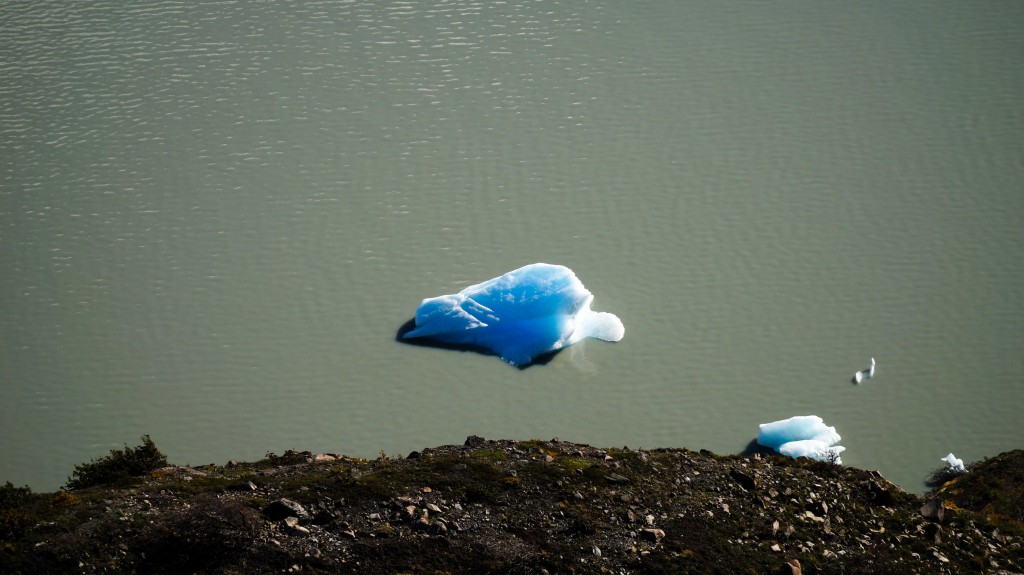 Further along the trek, I met two french hikers that were just sent down by a ranger patrolling high up to the entry of the John Gardner pass. I was not happy to hear the news and hoping to make friends and convince with him to let me pass. Crossing a huge hanging bridge over a big gorge, I actually ran into the ranger just 20 minutes after. My plan to leave a good first impression worked out perfectly and I could actually continue my trek!
He judged me as an experienced hiker and allowed me to continue my trek up until the pass, even telling me about hidden food supplies near the old camp. I promised him to report back the next day at his ranger house close to the lake and set up my tent on top of a thick layer of moss, making sure I would have a much more comfortable night compared to the first! I even had time to trek through the forest for about five minutes to get a good view on the glacier and the last minutes of sunshine, before the sun disappeared behind the mountains. No rats should be around in this altitude either, so I was looking forward to a good night's sleep finally…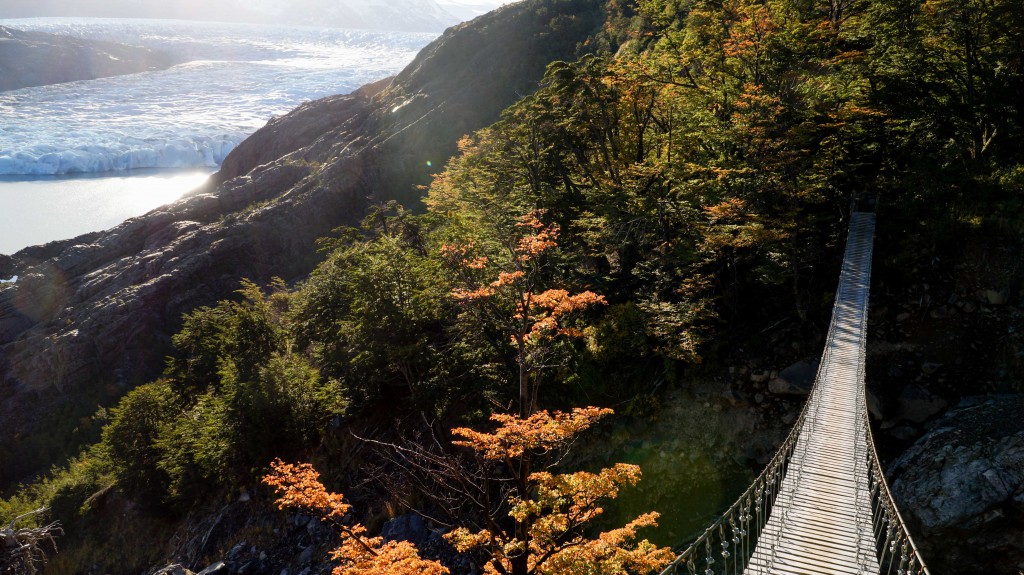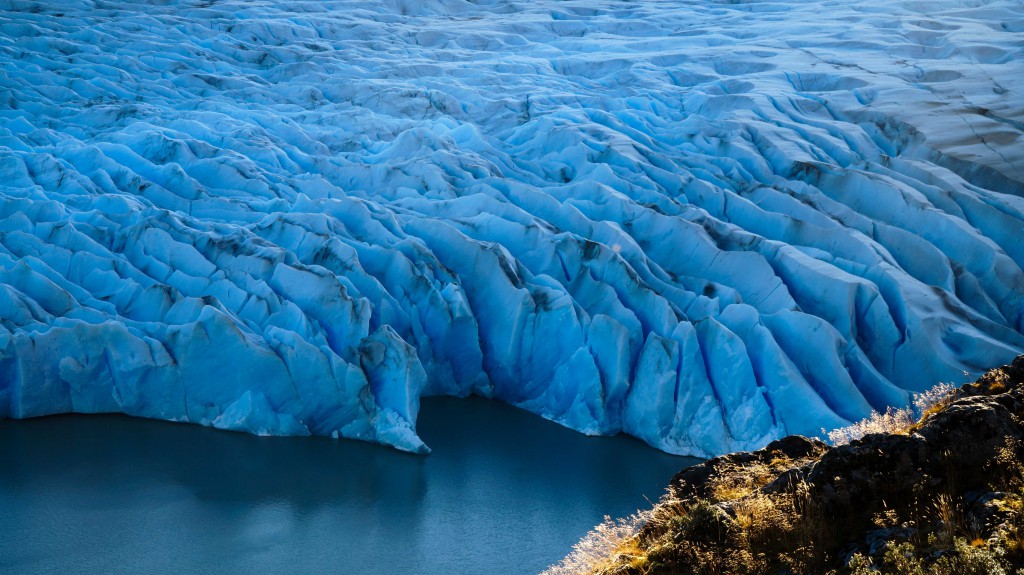 Day 2 Statistics:
Distance hiked: 24km
Time spent: 6h 20m
>> All Pictures
---
Last edited by Chris1984; Feb 15, 16 at

5:45 am
Feb 7, 16, 5:19 am
While I visited during mid-September last year, I did not hike there as I only had limited time to visit, and it was still really cold. What is the weather like over there during the summer and with the strong winds, how easy/difficult is it to set up camp?
Feb 7, 16, 2:06 pm
Join Date: Oct 2012
Posts: 728
Well I had pretty good weather actually, mostly sunny during the days but below 0 degree celcius in the night, so you would have frost in the morning on your tent. But perfect hiking conditions in general! No problems with the wind at all, Greenland was much worse in that regard
Feb 15, 16, 5:43 am
Join Date: Oct 2012
Posts: 728
Hey! The report of day 3 is out, hope you enjoy it as well
Oh and I just quit my job again today, flights to Africa are now booked to travel full time again with a quick trip to the balkans first in a week from now
Happy times!
Day 3, John Gardner Pass

14/04/2015 The third day of my trek in Torres del Paine National Park would finally lead me to one of the highlights: Paso John Gardner. I was happy to wake up full of energy after a very comfortable night without any rats around this time and had to cross a second hanging bridge, spanned high above the valley at an awesome viewpoint of the glacier. Taking pictures in that situation turned out to be pretty difficult because of the bridge's movement..
A very unstable ladder helped me to climb down a cliff face and reach the second hanging bridge. Compared to the first one from yesterday, it was even longer and higher, resulting in even more vibrations as soon as you start walking on it. Throw in a tiny handrail and you got your self into a pretty shacky situation! Nevertheless, the view on the glacier from the middle of the bridge was just too amazing to not take any pictures, so I reached for my camera and carefully took some pictures while the bridge was still swinging. I'm usually not that afraid of heights, but in this situation I was just worried about dropping my camera and really relieved to have made it to the other side! I just wonder how people suffering from fear of heights are supposed to cross this stage of the trek…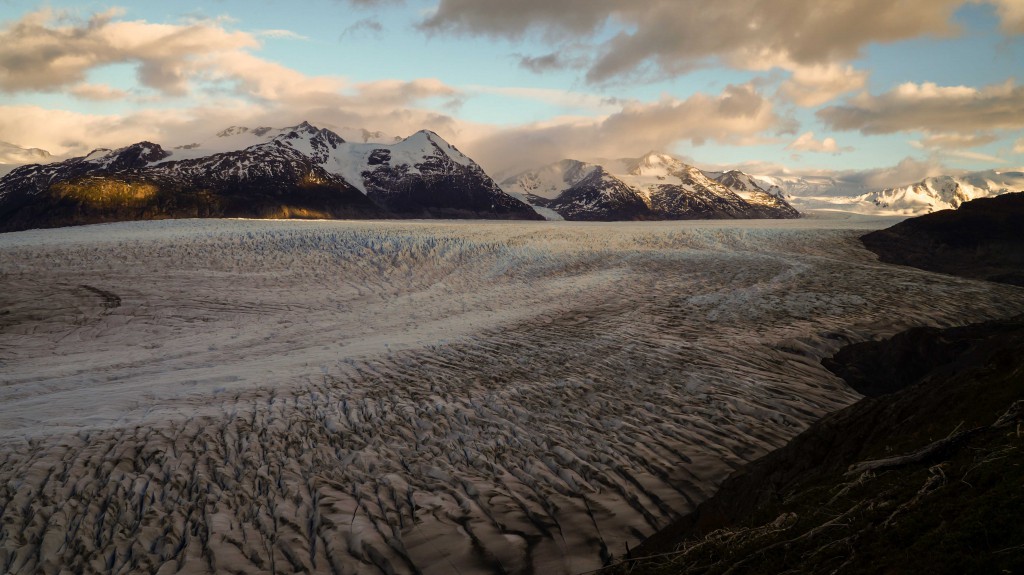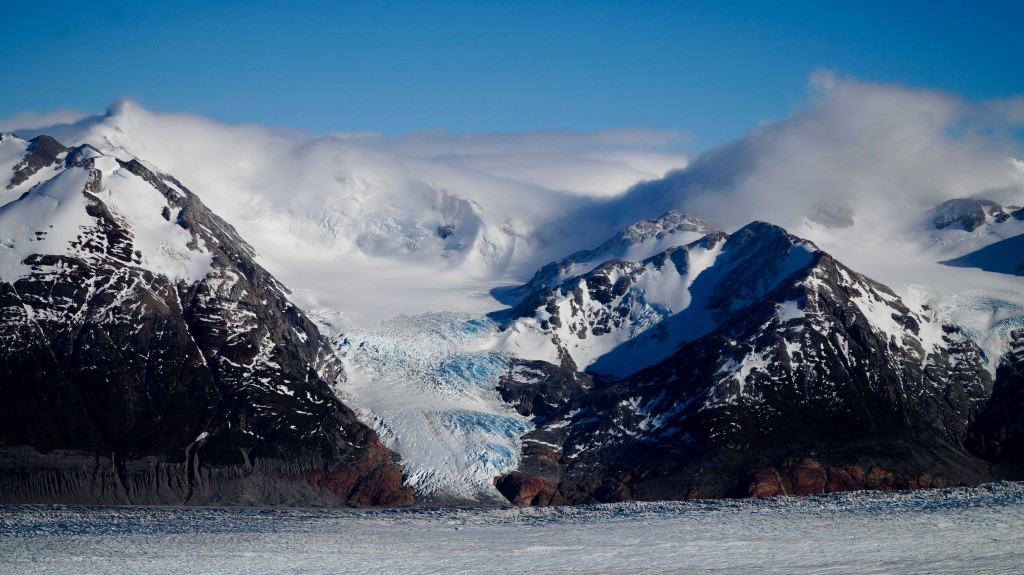 The trek would lead me higher and higher, crossing several forest until I finally reached the wide open last bit towards Paso John Gardner. From here on, the complete ice field presented itself in front of me in an amazing panorama. Having seen multiple glaciers in my life already, I was familiar with the view but nevertheless still amazed about the visual effects it had on me. Staring at the immense collecting of moving ices for a while, I eventually started the last twenty minute ascent towards the pass.
Once I got to the top at 11:45, all I could see was a little pole with some flags on it. The view on the glacier from here was not as good as on the way anymore and the other side showcased a deep valley that is usually crossed to complete the O trek. The view towards that side was not too amazing though and I had no problems leaving it behind, instead going back the same way I came to reach the camp site and my backpack again – and a long overdue lunch!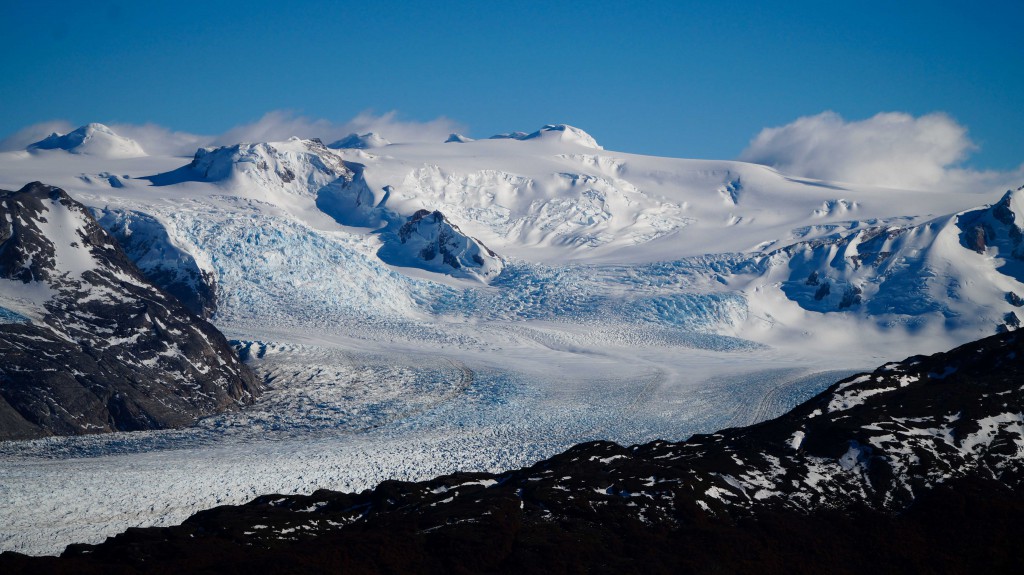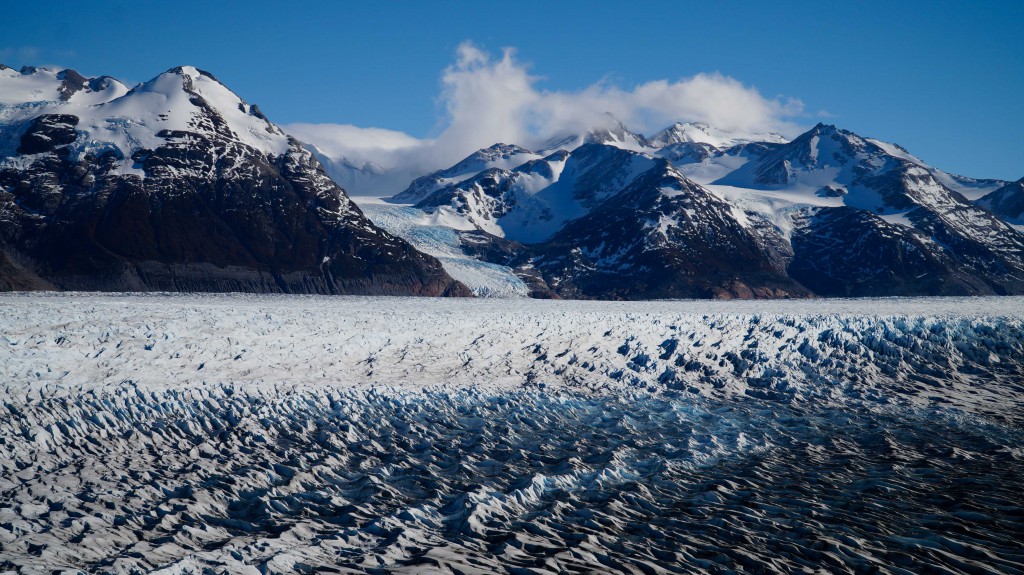 After passing Camp Grey again around 16:30, I still had one thing left to do: Report to Esteban, the friendly ranger that let me pass yesterday! It was really easy to find his house and he seemed happy to see me again, even offering me to put up my tent next to his house at the beach instead of spending the 4300 pesos at the camp site. I went out to check the nearby viewpoint of the glacier and enjoyed the silence and cold evening of Patagonia's autumn, without too many people around.
Heading back to Esteban, I was introduced to two of his friends and we spent the evening together watching some of my climbing movies, eating delicious freshly baked bread and having nice conversations. A situation I was certainly not expecting to end up in, but I was very happy that I did. After a rather cold shower, I crawled into my tent at the beach and woke up cold early morning. My tent was covered in frost and I witnessed the slow change of colors in the black night sky, before getting some more sleep and waiting for the sun to rise up behind the mountains in the distance..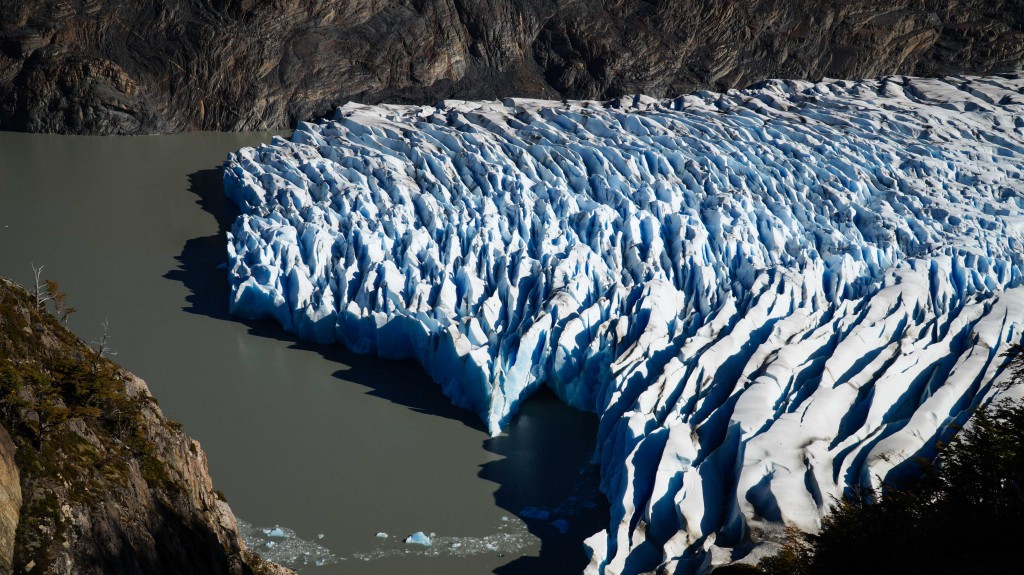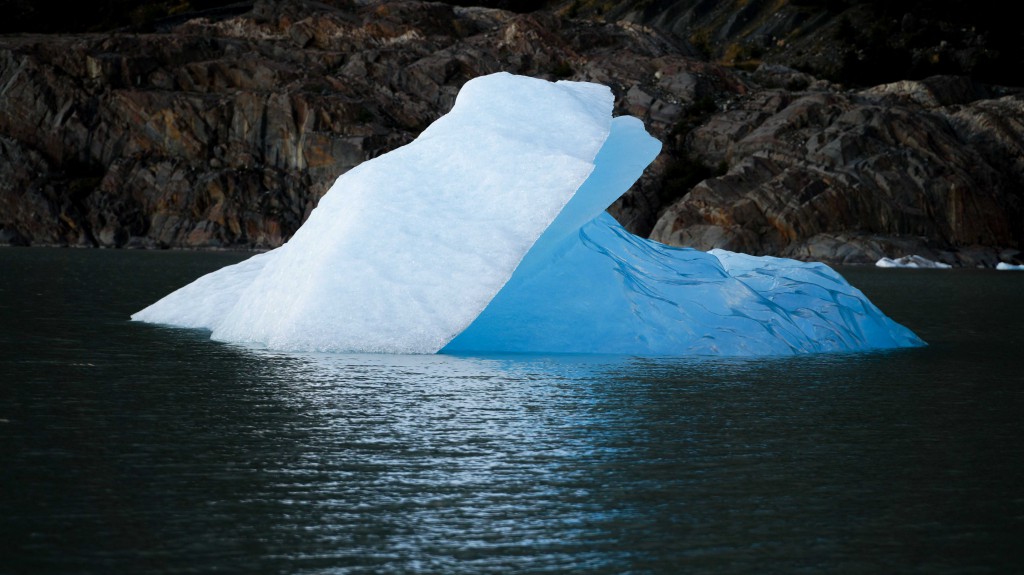 Day 3 Statistics:
Distance hiked: 20km
Time spent: 8h 00m
>> All Pictures
Feb 18, 16, 12:08 am
Join Date: Feb 2016
Location: Moscow, Russia
Programs: AR, LA, A3, UT, 6R, U6, PS, SU, and many more
Posts: 132
Feb 22, 16, 11:42 am
Join Date: Oct 2012
Posts: 728
I heard that the fire was started by french people. at least that was the word when i did the trek...
Got the next part ready
Cheers,
Chris
Day 4, Vallé Frances
15/04/2015 The ice on my tent was a remnant of the bitter cold night and I had to start walking in my shorts after falling to the ground and opening up a wound on my knee. I couldn't help but smile when I was asked if I would be heading to the beach! My final destination for the day would be Mirador of Vallé Frances though, offering a first close-up view on the famous Torres.
After my little accident on the ice, I made quick progress towards Campo Italiano and arrived there at 2PM for lunch. The route until that point was just backtracking from the previous day, allowing me to focus on the walking rather than taking pictures
I then quickly did the check in and set up of my tent before heading out towards Vallé Frances at 3PM. The trail led me through a big boulder field and a lot of people had just returned from the 3-hour hike, making me realise that I was actually pretty late and the last person to head towards the viewpoint! The following uphill path with trees on each side was really beautiful thanks to the warm and soft sunlight peaking through the leaves as I was slowly entering the golden hour.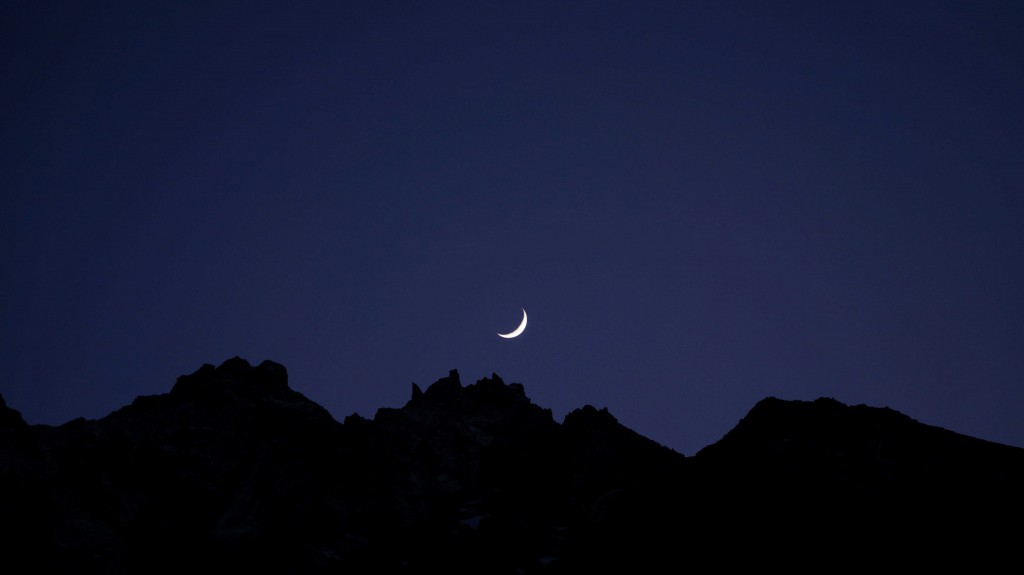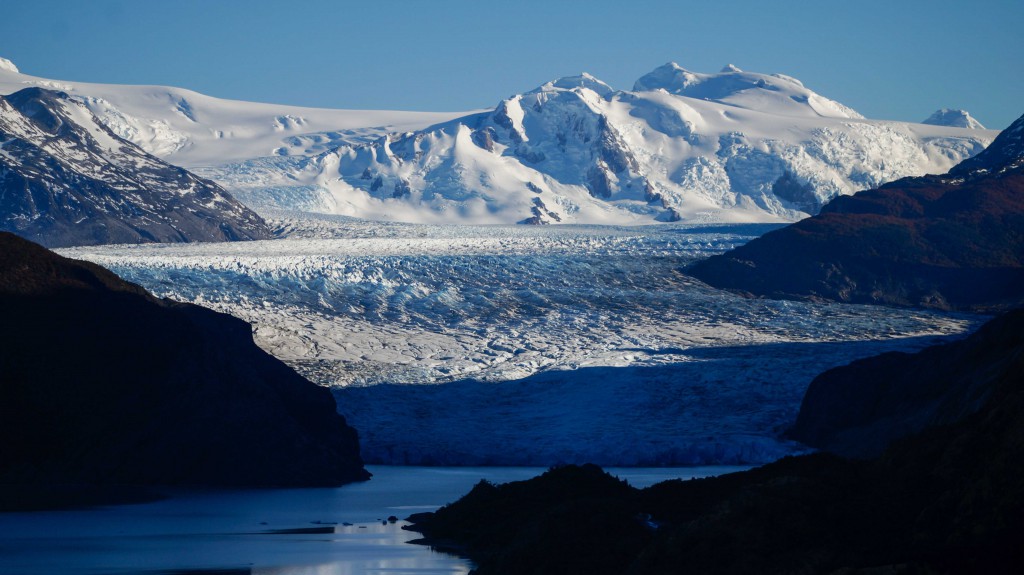 I was told that the end of the trail will offer a 360° Panoramic view – however, looking at the landscape and taking into account that I should not have much more than an hour to walk from the Glacier View point, I was starting to doubt that. After some time walking through yet another forest section and drinking from the streams (which actually made me even more thirsty!), I eventually had the first good view on the back side of the Torres.
The last remaining hikers told me that I was very close to the viewpoint and when I finally arrived, completely alone and enjoying the last moments of day light and the more or less 130° "Panorama" view, I could give my hurting toes a well deserved break of all the hiking today. I was making it back to the camp in complete darkness, had a quick dinner and fell asleep really fast after an exhausting day with nearly 30km distance covered.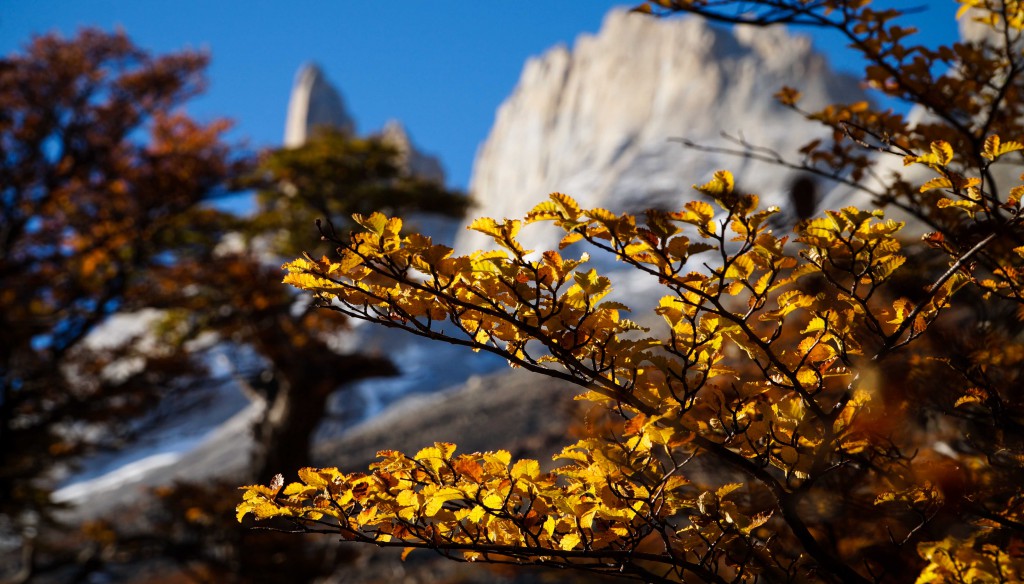 Day 4 Statistics:
Distance hiked: 28,35km
Time spent: 6h 22m
>> All Pictures
Feb 23, 16, 3:45 pm
Join Date: Oct 2012
Posts: 728
I'll start my next
trip to the balkans
in a few hours, so not sure how quickly I will be able to deliver the last update! Hope it will not take me too long though