A Trip To Bali & Dili
Nov 1, 14, 4:16 am
Moderator: Trip Reports
Join Date: Jul 2013
Location: Dubai
Posts: 3,057
Nov 1, 14, 4:17 am
Moderator: Trip Reports
Join Date: Jul 2013
Location: Dubai
Posts: 3,057
When Qatar Airways had a sale back in January I managed to get return tickets for ~$450 from DXB to DPS via DOH. I also decided to add a quick trip to Dili, Timor-Leste by booking a return flight on Indonesian airline, Sriwijaya Air.
Day 0.
Arriving outside Dubai Airport Terminal 1 after the catching the metro from my apartment.
About to board the 12:30am flight to Doha and my first time on a 787.
Quick photo of the front of the plane while on my way to the back.
Hot chicken sandwich and juice for the 45 minute flight.
My first trip to Doha's new Hamad International Airport. The $6.8m giant yellow teddy bear melded together with a black lamp was a very trippy!
The QR A330 for the 9+ hour flight to Bali. Like the old airport, I had to take a bus out on the tarmac to board the plane. Much better photo opportunites than using a jet bridge though
.
Beef and rice for dinner shortly take-off.
At Ngurah Rai International Airport in Bali just after 5pm local time with my visa on arrival after the flight from Doha.
I then caught a cab into Kuta for 100,000 rupiah (~$8).
As it was close to sunset, I asked the taxi driver to drop me off at Kuta beach so I watch the sun go down at the beach. Great way to relax after finally getting to my destination after ~12 hours of travelling.
I then walked the ~200 meters from the beach to my hotel to check in. For $27 a night including breakfast I was pleasantly surprised.
And the view of the pool and hotel restaurant from my front door.
I then went out for a walk in the evening around Kuta on the beach.
I then went to a restaurant for dinner and ordered the Indonesian set menu for a taste of local cuisine, with 11 different dishes. All very tasty and was a great first meal in Bali:
- Sambal chili sauce.
- Sambal matah onions.
- Soto ayam soup.
- Peanut satay sauce.
- Choklat cake.
- Chicken satay.
- Fish satay (sate lilit).
- Ikon pepes fish.
- Beef with sweet sauce.
- White rice.
- Yellow rice.
Day 1.
I slept in for abit then went out for a run up the road to Legian beach, and then ran back on the beack back to Kuta and had a swim in the sea to cool off. I then headed back to the hotel for breakfast.
After breakfast I went for a walk to the Bali Memorial, from the 2002 nightclub bombing when 202 people were killed.
Some Canang sari, one of the daily offerings made by Balinese Hindus to thank the Sang Hyang Widhi Wasa (the supreme Indonesian Hindu god).
Some Balinese men in traditional dress outside a temple. Apparently today was an auspicious day for weddings so saw quite a few people dressed up for them.
At Candi Bentar Pentai Kuta, or Kuta beach main gate.
A hindu statue at Kuta beach.
And the Indonesian flag flapping in the sea breeze.
Bamie Goren Jawa and ice tea at a restaurant in Kuta for lunch.
For the afternoon I had booked a private car to see some of the temples in Southern Bali. Jason (aka.
ironmanjt
), was flying into Bali today as well, so we organised to meet up and do some temple touring together. First stop of the tour was Taman Ayun Temple, built in the 16th century by King Mengwi.
Next stop was Alas Kedaton Monkey Temple. After paying a few rupiah I got to feed some peanuts to the monkeys, they definitely weren't shy! Unfortunately while Jason was taking this photo a monkey on his shoulder decided to do his business on him! The lady who sold us the peanuts said she could give him a good deal later on a shirt back at her shop. Was hard not to think that the monkey and the lady were in cahoots with each other
.
Two ugly mugs
.
Munching on some rice.
Some large fruit bats hanging out.
Jason trying out his new Balinese shirt
.
Last stop was the Tanah Lot Temple. Amongst the hordes of tourists was a newly-wed couple getting wedding photo's.
The Tanah Lot Temple was right by the sea, with the high tide turning it into a small island. There was however a fresh water spring at the base of the temple, where you could get blessed with some holy water.
Me and Jason with some local Bintang beer at a clifftop bar overlooking Tanah Lot.
Was also a great place to enjoy the sunset over Tanah Lot.
With it being Diwali and a Friday night, it took us a while to drive back to Kuta.
At the Hard Rock Cafe back in Kuta where we grabbed some burgers for dinner.
Day 2.
My dive guide, Wisnu. My plan for today was to head up to the north of Bali to Tulamben to go for a dive at the shipwreck of the USAT Liberty.
Sussing out some dive gear.
The drive up to Tulamben took ~2 hours, but was great to see of the Bali countryside on the way.
The dive resort where we were based for the day in Tulamben.
The local porters unloading our gear for us.
Diver Dan. My first dive in a while, but quickly got back into the hang of it. I had a problem with my BCD inflator becoming stuck, causing me to spring up to the surface, so Wisnu had me do a gear swap with him 15 meters down. My first time doing a total gear swap underwater, but kept calm and had no problems.
A school of fish swimming amongst the wreck. I unfortunately don't have an underwater camera, but the dive company had an option for one of the guides to take their own camera with them for a few extra rupiah.
Having lunch after the end of the first dive. As it was my first dive in a while, I managed to suck through my tank in ~35 minutes. We went down to ~24 meters, so not too bad though.
Another group of divers heading out. As the wreck was quite close to shore, it was easy to access.
Wisnu with the underwater camera, a Canon G12 in an OEM enclosure. For the second dive I managed to convince him to let me take the photo's
.
My first time shooting underwater, so a bit of a learning curve, but a lot of fun
.
Looking through the wreck with all the coral and plant and fish life.
Some cool looking coral.
For the second dive we had a bit more time to explore the wreck. The USAT Liberty was beached at Tulamben after being torpedoed by a Japanese submarine in 1942.
Coral and lots of fish on the side of the wreck.
Some yellow-tail fish.
In 1963 the tremors associated with the eruption of Mount Agung caused the vessel to slip off the beach, and she now lies on a sand slope in 9 to 30 m of water, and has been rated the #3 top wreck dive in the world.
More fish down by the wreck.
A turtle looking for some lunch
.
Into the blue.
A pink anemone fish peeking out.
Getting up close to check me out
.
My first wreck dive and had a great time.
White-tailed damselfish hovering over some coral.
More colourful coral.
Scouring the bottom.
From a distance this looks like seaweed, but as you get closer you realise they are all eels!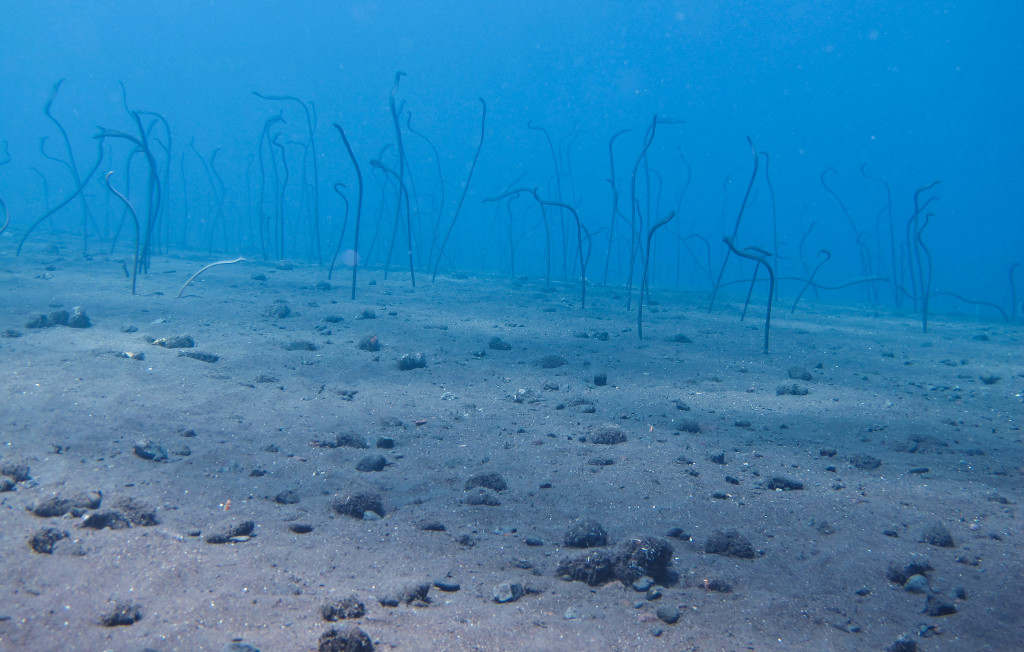 A well camouflaged speckled sanddab.
Back on land after a great day diving.
Back in the car for the ~2 hour drive back to Sanur.
Topping up with a sugar and caffeine fix back in Kuta.
Enjoying one last sunset at Kuta beach.
Locals performing a Hindu beach offering.
Ladies posing outside a wedding ceremony.
Dinner at the Gabah Terrace restaurant in Kuta, tasty chicken satay.
Every Saturday night the restaurant has traditional Indonesian dancing.
And got to see this scary guy too
.
Nov 1, 14, 4:19 am
Moderator: Trip Reports
Join Date: Jul 2013
Location: Dubai
Posts: 3,057
Day 3.
Up early at 6am in the hotel lobby for my taxi for the ride to the airport.
Back at Ngurah Rai International Airport for the flight to Dili, Timor-Leste.
Mexican chicken sandwich for breakfast at one of the air-side eateries.
The Sriwijaya Air 737 being prepped for the 8am flight to Dili.
Climbing out soon after take-off.
The flight was just under two hours, and got crumbed chicken, fried noodles and some kind of jelly for dessert.
Clear blue skies after landing in Dili, Timor-Leste.
After paying for my $30 visa on arrival, was through immigration in no time.
Catching a taxi into Dili to my hotel. My driver was a big Barça and Brazil fan
.
The Dili Beach Hotel on the right for my short stay in Timor-Leste.
For $45 the room was pretty basic, but was fine for just one night.
After checking into my hotel, I headed down the beach for a walk.
Jason had arrived the previous day to do some diving, and wasn't leaving until 5pm today for the flight for Darwin, so caught up with him and Jennifer, another diver from D.C., for some lunch.
Some tasty smoked salmon and pasta.
I then went to check out the Kampung Alor Mosque with Jason, and then said my farewells and wished him well on his upcoming travels throughout the South Pacific, including diving in Vanuatu, Solomon Islands, Samoa and Tonga as well as Timor-Leste!
I then headed out to see some of the sights of Dili.
Restaurant.
The Presidiential Palace.
Hanging out on a Sunday afternoon.
Damsel.
Porto de Dili.
In the shade.
A mural of the Tour de Timor, a 5 day, 450 km mountain bike race that is held annually.
One of the local pastimes, cockfighting!
Battling it out in the ring.
Some post-match first aid.
All ready to fight another day.
At the Santa Cruz cemetery, site of the 1991 Dili massacre where over 250 people were shot and killed by Indonesian soldiers during the Indonesian occupation of Timor-Leste.
Mini market.
I then visited the local Tais (traditional weaving created by the women of Timor-Leste) market and picked up a couple of souvenirs.
Stringing up the day's catch.
Back at the hotel for a burger for dinner at dusk.
Day 4.
Poached eggs and toast for breakfast.
I then caught a taxi out to the Cristo Rei of Dili (Christ the King of Dili), and climbed up the 500+ steps.
The 27 metre tall statue was a gift from the Indonesian government in 1996 to the people of Timor-Leste, which was at the time still a province.
Looking out to Dili.
The statue is made out of 27 separate copper sections.
Looking out to one of the beaches to the east.
I then caught the taxi to the airport for the flight back to Bali.
Roast chicken and vege's this time for the in-flight lunch. Plenty of legroom too in the exit row seat
.
Deep blue sky on the flight west.
After landing at Ngurah Rai International Airport, I took a taxi for the 80 minute ride up to my hotel in Ubud, the town famous for being in the book / movie 'Eat, pray, love'.
The hotel was quite small, with only 12 units/room, but was almost brand new, clean and great, especially given the price of $47 a night including breakfast.
Almost the same price for what I paid for the hotel in Dili the night before
.
An infinity pool just outside my room looking out into the Balinese jungle.
For the rest of the day I just relaxed at the hotel, went for a swim in the pool, and enjoyed the chilled out atmosphere.
Although it was only a small hotel, they had their own restaurant and I had dinner there. I was the only one there and the lady working in the kitchen did all the serving too, so was abit like having a personal chef
. For the starter I had the Lumpia - fried springrolls with vegetables, glass noodles and sweet & sour dip.
For the main, Peps Ikan Kermangi - steamed fish in banana leaf with local basil, sautéed vegetables and steamed rice.
And for dessert, Pisang Goreng - banana fritter with palm sugar syrup and ice cream. The three course meal was $12 total, great value!
Day 5.
Breakfast at the hotel, with the some fresh pineappple, banana and watermelon.
And eggs benedict with hollandaise sauce.
I then got picked up at my hotel at 8am for a cycle tour through the Balinese countryside.
The first stop of the tour, Mount Batur. The dark patches are solidifed lava from the last eruption in 1999.
Next we stopped off at a cacao and coffee plantation.
Roasting the beans.
The finished product.
We then got to try the different drinks, including hot chocolate made from the locally grown cacao.
Back on the road again and checking out the local wildlife
.
Cycling through the countryside and through the rice paddies.
Shaking out the rice grains.
Terraces.
Farmer.
Blessings.
Group photo at the end.
Statue of the Hindi god, Ganesh, back at the cycle tour operators house.
And where we got treated to a delicious lunch. Perfect after a good bike ride
.
I had some time before my flight back home, so just went for a swim back at the hotel and just chilled out for a bit.
Some unexpected oncoming traffic while driving from Ubud to the airport.
Back at Ngurah Rai International Airport for the flight back home.
The QR A330 at dusk for the flight to Doha.
At dawn the next morning for the A320 flight from Doha to Dubai after a great five days in Bali and Dili
.
---
Last edited by DanielW; Nov 1, 14 at

9:57 pm
Nov 1, 14, 7:34 am
Join Date: Feb 2008
Location: Stockholm
Programs: Various
Posts: 2,325
Very interesting report with great photos. I have hesitated going to Bali thinking it's only partying going on but clearly there's more to it.
Nov 1, 14, 9:04 am
Moderator: Trip Reports
Join Date: Jul 2013
Location: Dubai
Posts: 3,057
Thank you,
Fredrik74
. One of the Aussies on the bike tour was in Bali for the first time, and was glad too that there was more than the partying etc. normally associated with Bali. Kuta was pretty touristy, but not excessively so, and the area around Ubud was really amazing, the hype from the 'Eat, pray, love' movie is some what justified.
Nov 1, 14, 10:00 am
Join Date: May 2008
Location: Overijse( location 50.75 °N, 4.52 °E ) ; Belgium
Programs: HH diamond(yr 13, >999 nights ), AA Gld for life (1MM),M&M FTL , Sixt platinum; IATA DTTF
Posts: 143
great TR
---
nice TR ,
just back ourselves from 17 nights in Bali and it is so nice to see a lot of your pictures showing what we missed hanging around Nusa Dua and the west+south side of the island .
We flew with QR too but were promised brandnew 787's all the way to DPS ; in the end only 1 of our 4 flights were 787 and the rest with QR was like you on 333 ( DOH-DPS-DOH) and 332 (BRU-DOH). seems QR is big on promises but J- service on board was very variable .
ps: your "coffee-tree" picture is very nice but realy showing a tree with cacao-bean pods ripe for picking ; normal coffee beans are like little ripe cherries when they are ripe ...you saw them roasting those
Nov 1, 14, 7:45 pm
Join Date: Sep 2012
Posts: 220
Nice trip report!
Now I've also slept in some bad places before when I was young(er) but that $45 room looks really depressing. The only way I would be able to sleep in there is after passing out from too much Bintang.
That hotel in Ubud looks much better
Nov 1, 14, 10:01 pm
Join Date: Mar 2007
Location: Sydney Australia
Programs: VA,GA, SQ, IHG, HH, Europcar
Posts: 1,453
Great read and some awesome pics.

Bali is a much maligned destination, people associate it with the party central on steroids reputation which is certainly true for the Kuta Legian area.

But there is so much more to Bali than partying, There are some really nice resorts and spas in quieter areas, where you can mix with the locals and really get a feel of the community.

The Bike ride is great for that - as you will get to go down little lanes and streets away from the main tourist drives.

Bali has something for everyone, you just need to find what you are looking for.

Been going to Bali since 2000 and after at least 20 trips more than happy to offer advice to anyone on this forum who has a Bali question.
Nov 1, 14, 10:31 pm
Join Date: Oct 2010
Location: YVR - Vancouver, with most winter weekends in Whistler.
Programs: Aeroplan, Alaska MVP, Marriott Platinum / Lifetime Gold
Posts: 4,148
DanielW - some great photos as always. You've got a terrific eye for it.
Bali, despite all the knocks to it amongst this forum, is still a fascinating place for me. I've visited several times and will be headed back there this summer with my son.
Thanks again for posting. Glad you got to meet up with some members from the FT community as well.
Nov 1, 14, 11:20 pm
Moderator: Trip Reports
Join Date: Jul 2013
Location: Dubai
Posts: 3,057
kahuna1993
, the Cacao photo is now fixed
.
My original flights to / from DPS where in the A330, I got excited when they switched to the 787, but they then switched back to the A330
.
The QR service back in economy had its moments too; a poor lady across the aisle from me had half a litre of OJ emptied into her lap from the clumsy FA
!
HangukStyle
. Yes the room in Dili was a bit of a dump. Aircon worked ok and a great view from the hotel restaurant though
.
adampenrith
. Yes, I was pleasantly surprised with Bali and would love to head back there. Kuta seemed fine to me, busy and touristy but not in a bad way.
worldtraveller73
. Yes, Bali seems to cater well if you want to just take it easy on the beach, relax in the countryside, get out and do some exciting things or get a dose of a new interesting culture.
Was great to meet up with
ironmanjt
too, not every day you get to meet someone who has been to 160+ countries
!
Nov 2, 14, 12:10 am
Join Date: Mar 2003
Location: DCA, HNL, SYD
Programs: UA 1K 2MM, AA EXP, DL Diamond, AS MVP75, AmEx Cent, Misc Hotel Bling, Moms love me
Posts: 4,814
Nov 2, 14, 3:38 am
Join Date: Aug 2009
Location: SIN / MIA
Programs: VA Platinum, AZ Platinum, Shangri-La Jade, HHonors Gold
Posts: 37
Great TR! Did you stay at the Satriya cottages on Jalan Poppies 2? I recognize the place from the courtyard and the prices. I can't believe the prices haven't changed in 8 years.


Nov 2, 14, 4:20 am
Join Date: Jan 2013
Location: Duchy of Milan
Programs: BA Gold, TK Elite, AZ CFP
Posts: 1,857
Amazing trip report as always! I think it's the first one about Timor Leste I read on here. I hope I'll be able to meet you somewhere around the world and be part of one of your fantastic trips.
Nov 2, 14, 9:10 am
Join Date: Nov 2008
Programs: AA EXP/LTP 4MM, BA GGL/CCR/GfL, HH Dia, SPG Plat/LTP
Posts: 9,319
Nice TR with many great pics. Thanks for sharing!
Nov 2, 14, 9:52 am
Join Date: Dec 2001
Posts: 3,115
I like your shirt.

Fascinating. However I now know that I will never bother going to Timor.
However Bali / Ubud yes.