EVA Air Hello Kitty Transpacific Royal Laurel Class 2014
Oct 22, 14, 10:23 pm
EVA Air Hello Kitty Transpacific Royal Laurel Class 2014
---
EVA Air Hello Kitty Transpacific Royal Laurel Class 2014
I guess Hello Kitty can be a controversial subject on various travel forums, especially for travelers flying in Business or premium economy class. I decide just to write a short report on EVA Air's soon-to-discontinued Hello Kitty transpacific flight from Taipei to Los Angeles, as B-16703 "Sanrio Family Hand in Hand" will begin to serve the nonstop flights between Taipei and Paris three times a week. For those in business class, I think the Hello Kitty element is rather subtle, especially compared to some of the earlier trip reports on Hello Kitty flights, and even compared towards regional Hello Kitty flights. However I also have to say that I am very impressed with EVA Air's Royal Laurel Class and its upgraded amenities and service. The service is yet to be as polished as Cathay Pacific and Singapore Airlines, but you can feel that the F/As are trying their best. The catering is impressive, especially some of the pre-booked meals and Taiwanese-inspired meals. Compared to Cathay Pacific's business class catering, EVA Air is definitely better with fancier presentation and heartier meals, not to mention better quality. However, I find it surprising that a proper midflight snack, like noodles or sandwiches, is not offered on the Taipei to LA segment, despite being offered on the return LAX to TPE flight.
October 12, 2014; Sunday
BR 870 HKG-TPE lv1525 Arr1710 Boeing 777-300ER B-16703 "Sanrio Family Hand in Hand"
I arrived at the airport a bit earlier than usual, as I decided to use a car service. EVA Air uses Aisle E at Terminal One, and the counters were fairly quiet at this noon hour. The agent was efficient and polite, but no Hello Kitty boarding pass for the onward flight from Taipei to Los Angeles. Just printed on a regular boarding pass stock!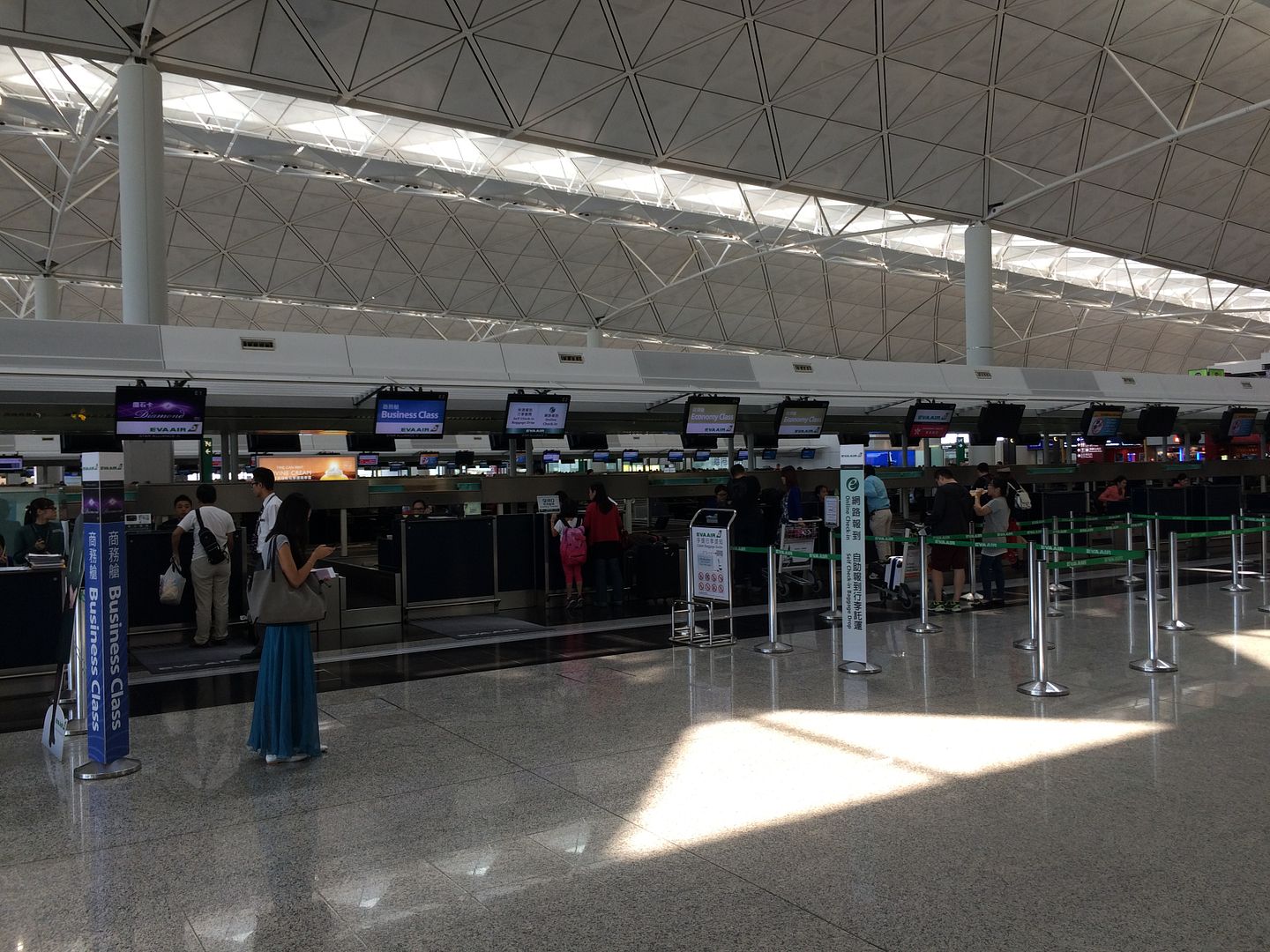 EVA Air shares Virgin Atlantic Clubhouse, and the lounge was fairly quiet. An attendant immediately offered me a menu, and asked for my beverage and food order!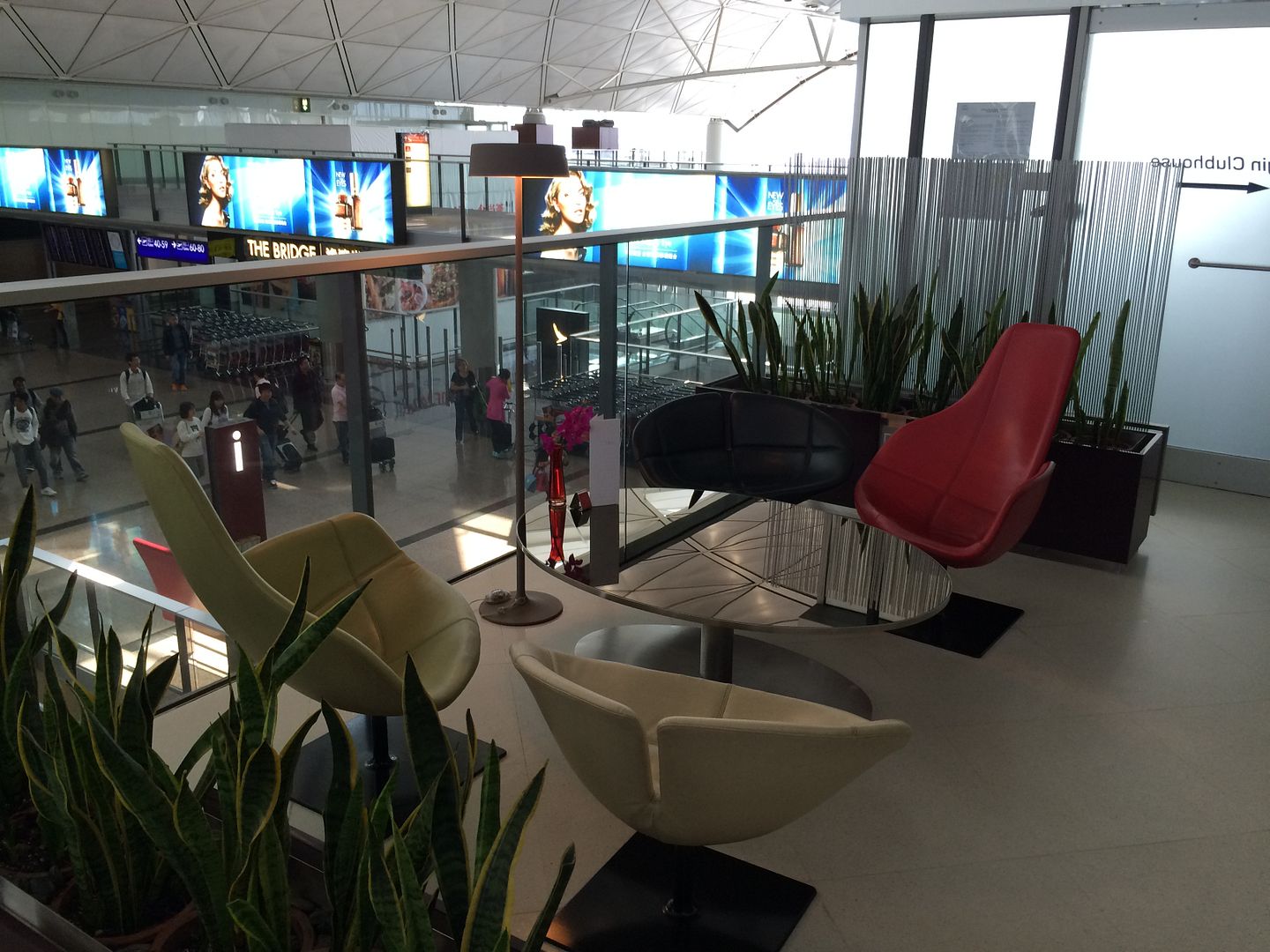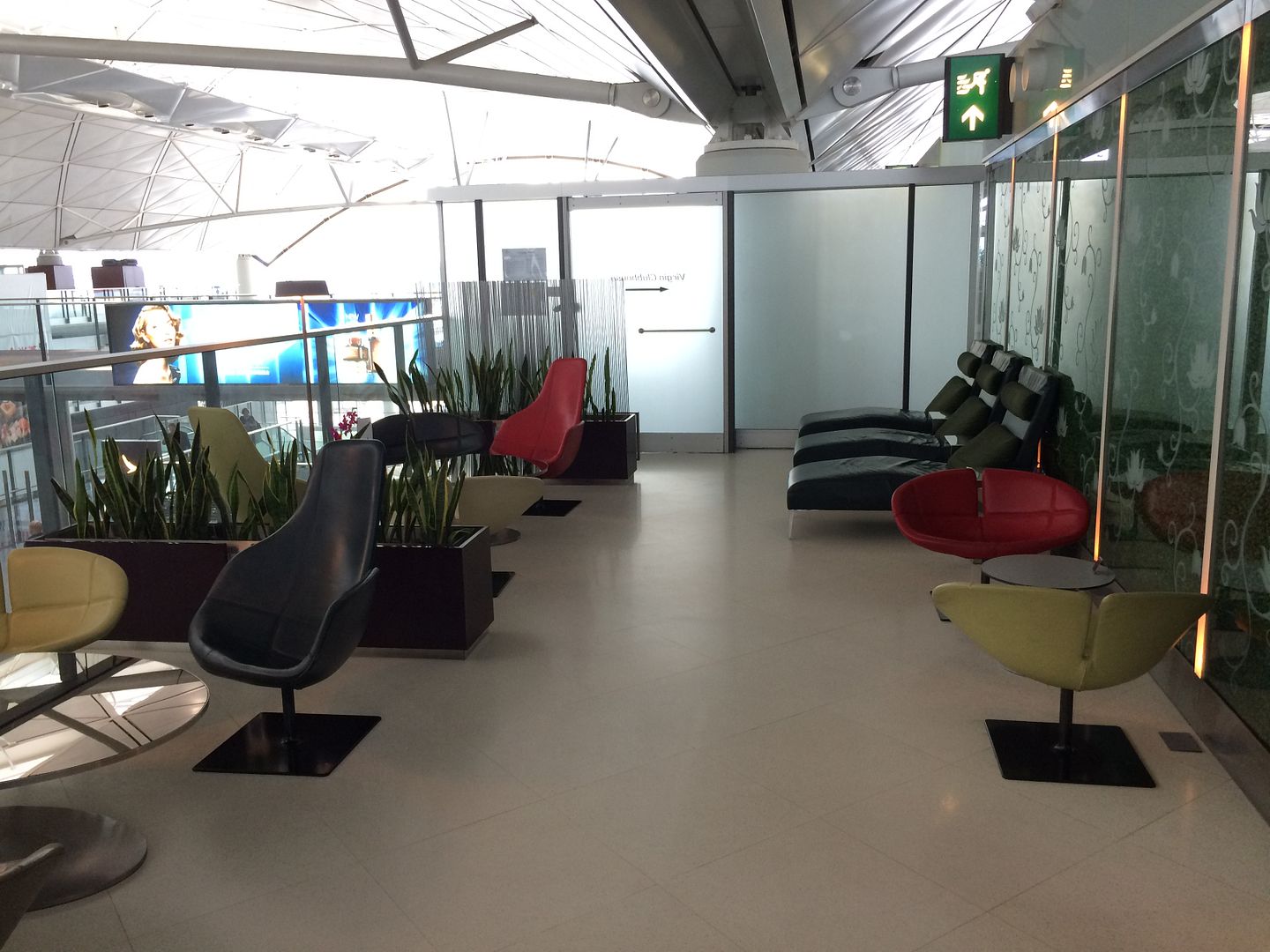 The menu definitely had suffered some cutbacks!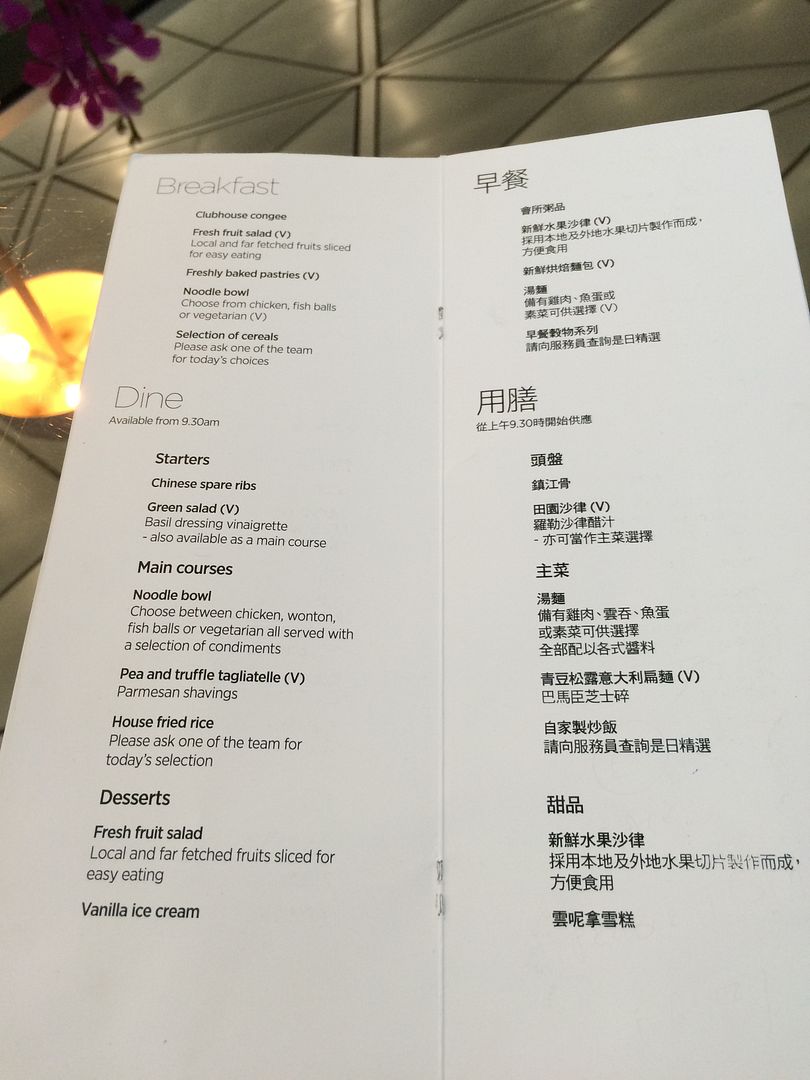 I went with a diet coke, pasta, and a fruit salad! The lounge staffs were very efficient and friendly. However the food was a bit on the small side.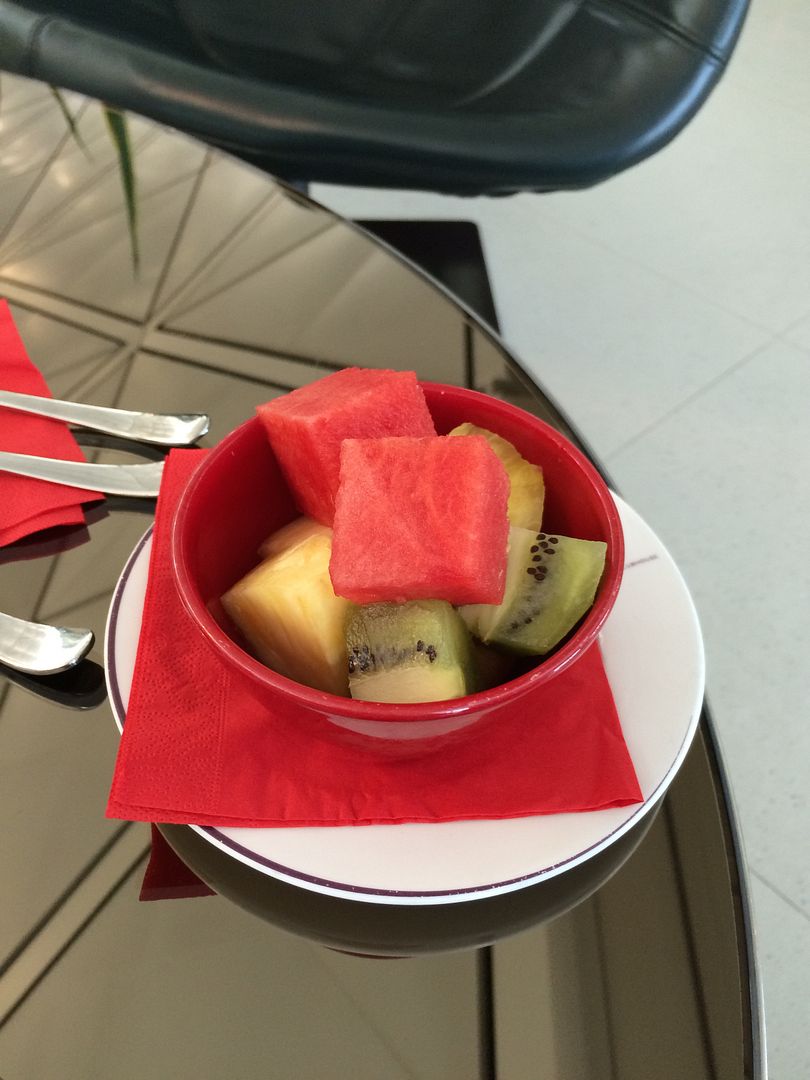 I never noticed these reclining lounge chairs before!
Once I logged into the free wifi, I found out that the Hello Kitty 777 was on its way to Hong Kong, and I got to fly this Hello Kitty all the way from HKG to LAX! Of course, Hello Kitty amenities were not offered on the Hong Kong to Taipei flight, as it was a last minute aircraft change. Nonetheless, I decided to head over to gate 28 early, so I could take some good shots of B-16703. Both TPE and LAX were not particularly photo-friendly, and I was glad to have this chance here in HKG. Due to the ongoing single runway operation in Taoyuan, delay was a major problem and today was no exception! Our scheduled departure time was moved to 3:40pm, but since this plane would continue to LAX, I was not overly concerned.
Gate 28
B-16703 arriving from Taipei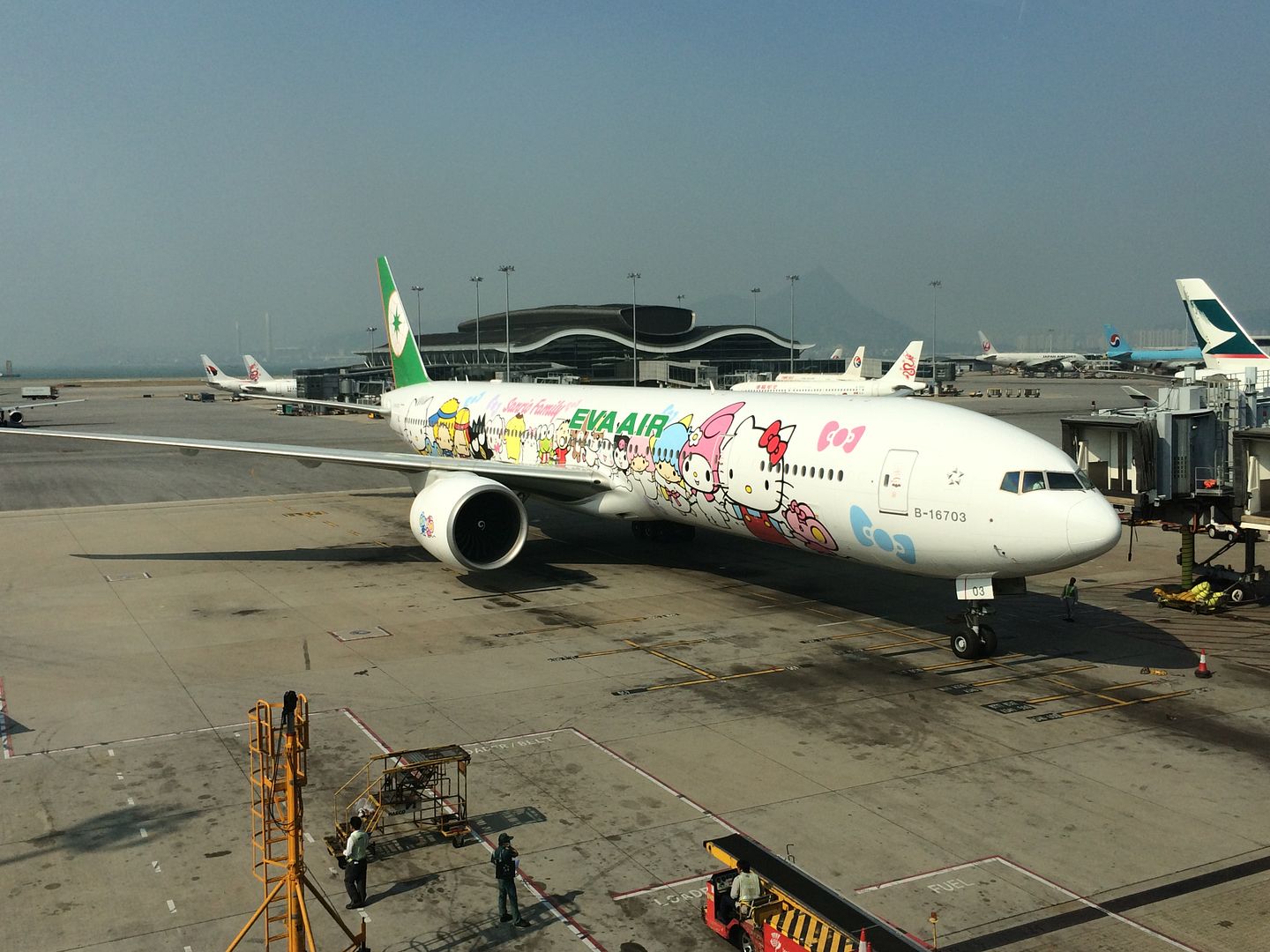 B-16703 at gate – what a beautiful plane!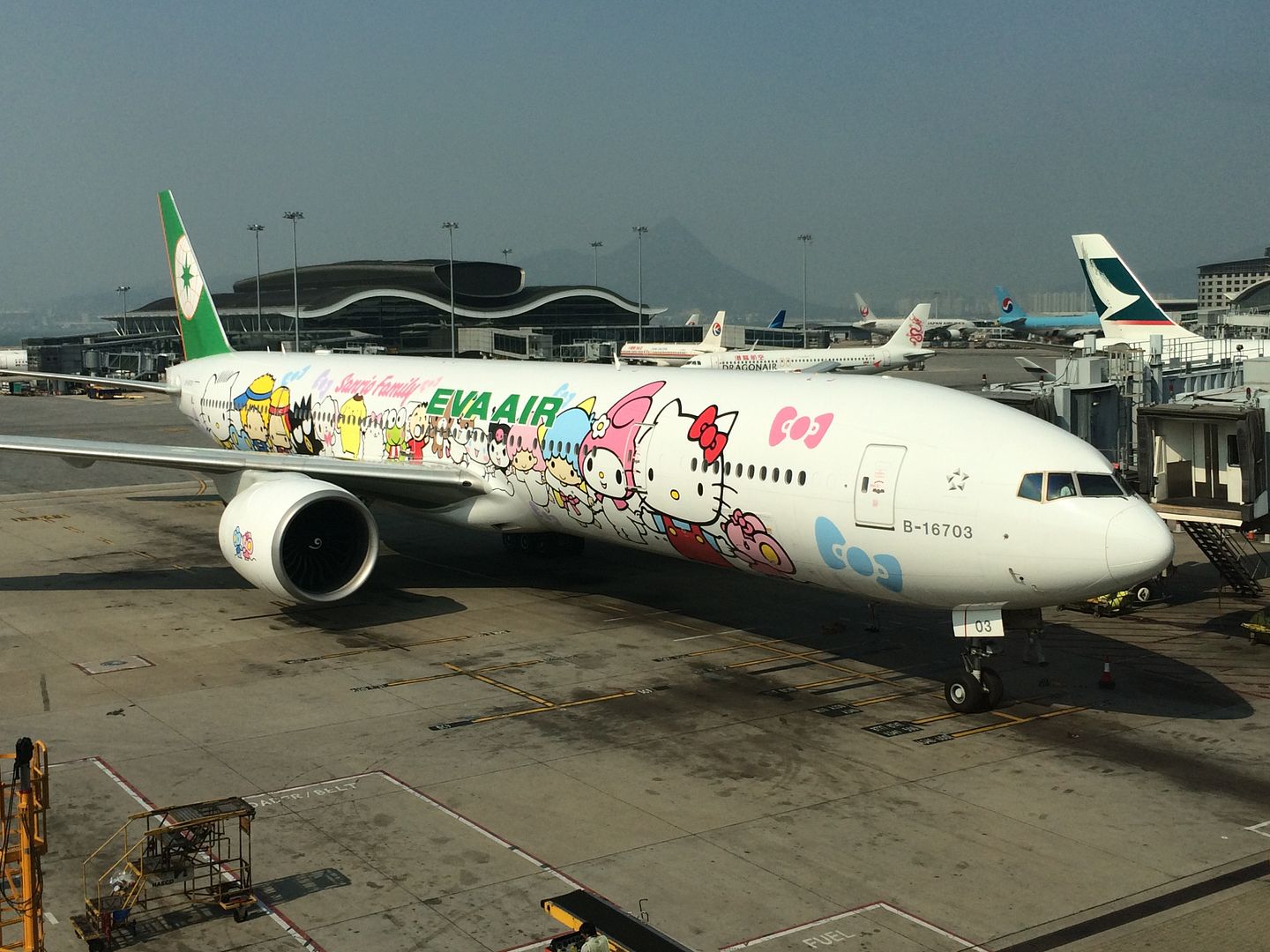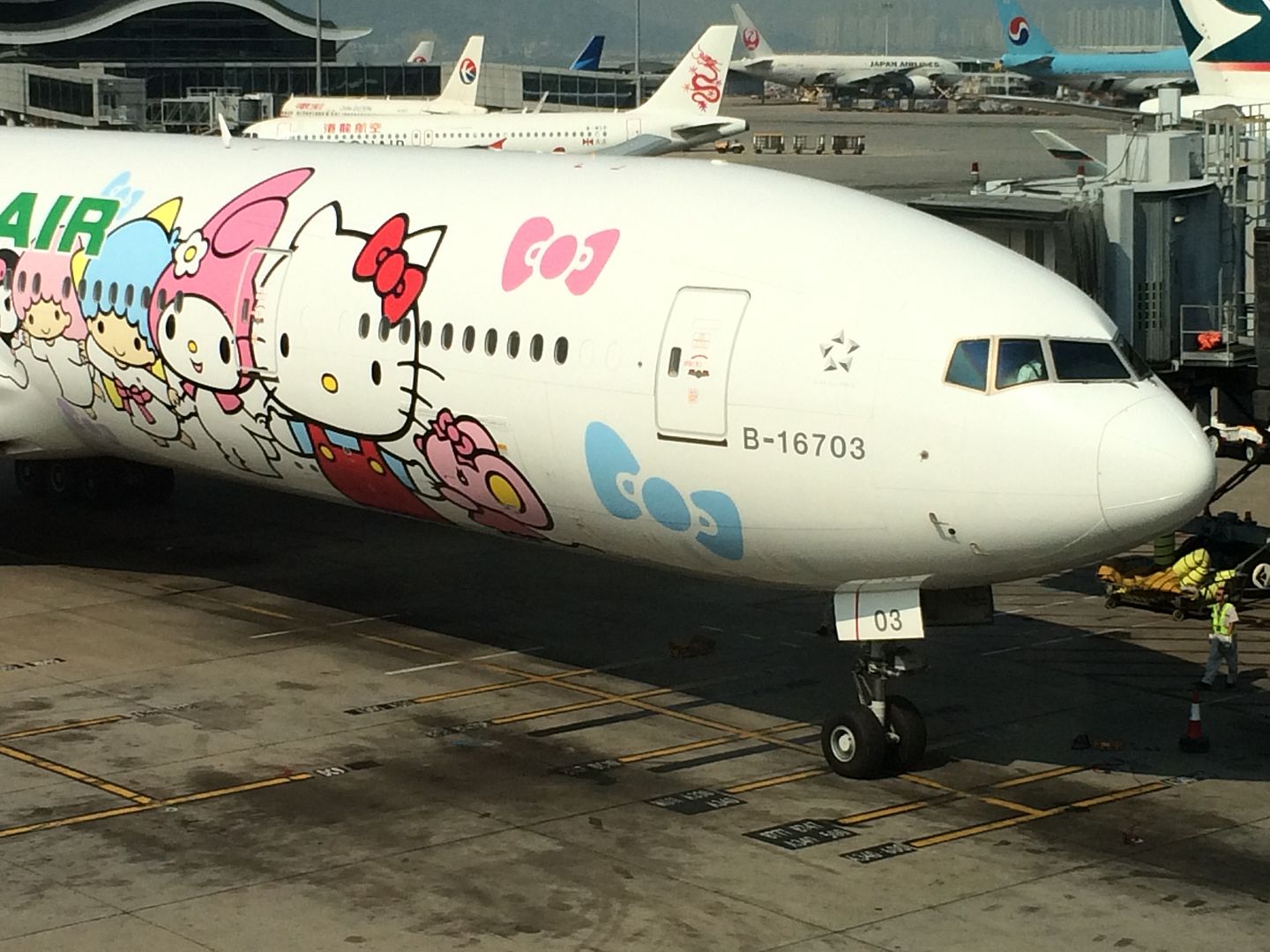 Boarding finally began at 3:20pm and I managed to snap a few cabin shots. The F/As took my boarding pass and brought me to my seats. All the seat covers are the normal Royal Laurel Class stuffs, not the Hello Kitty branded ones. However the painting was there!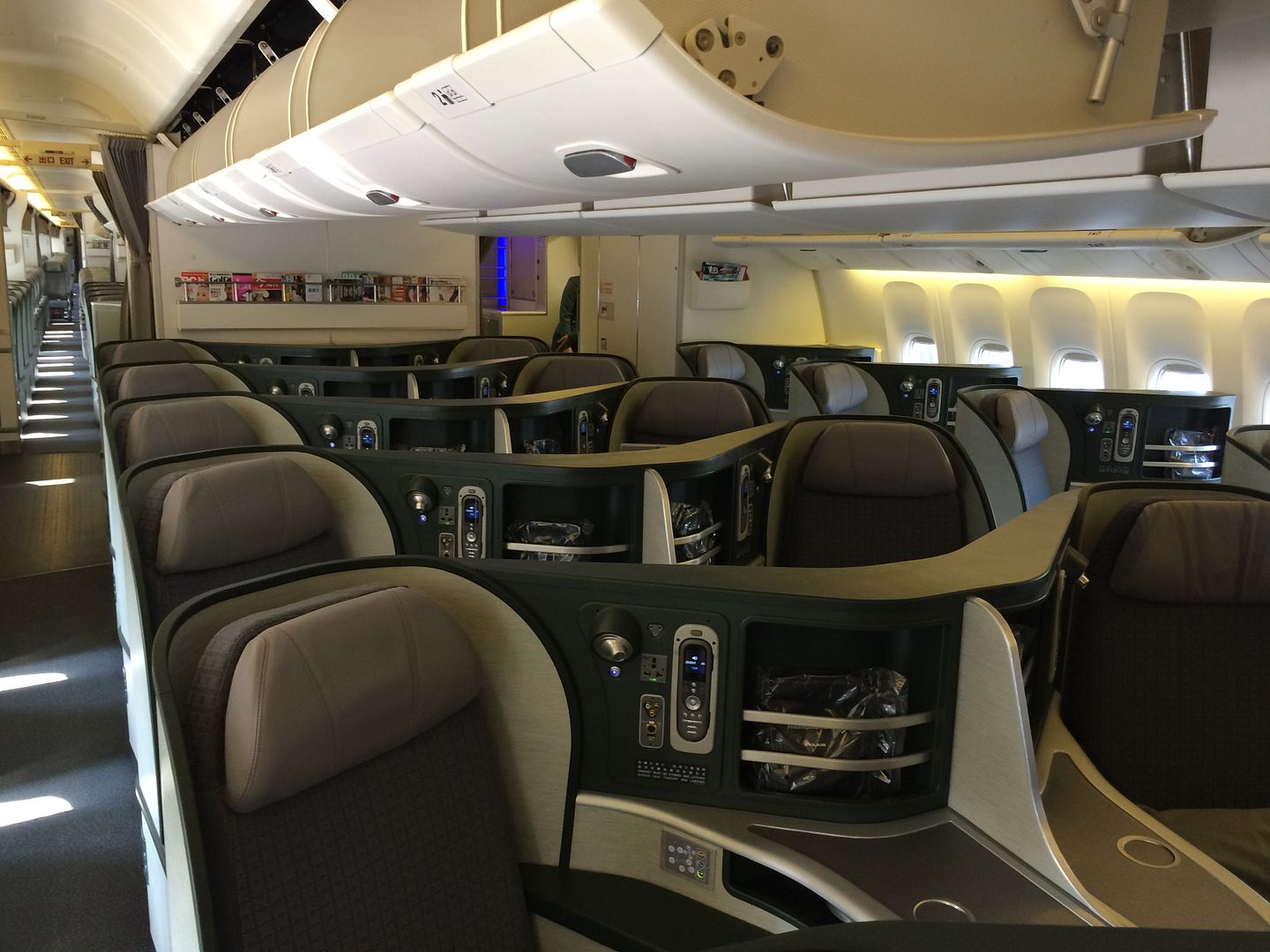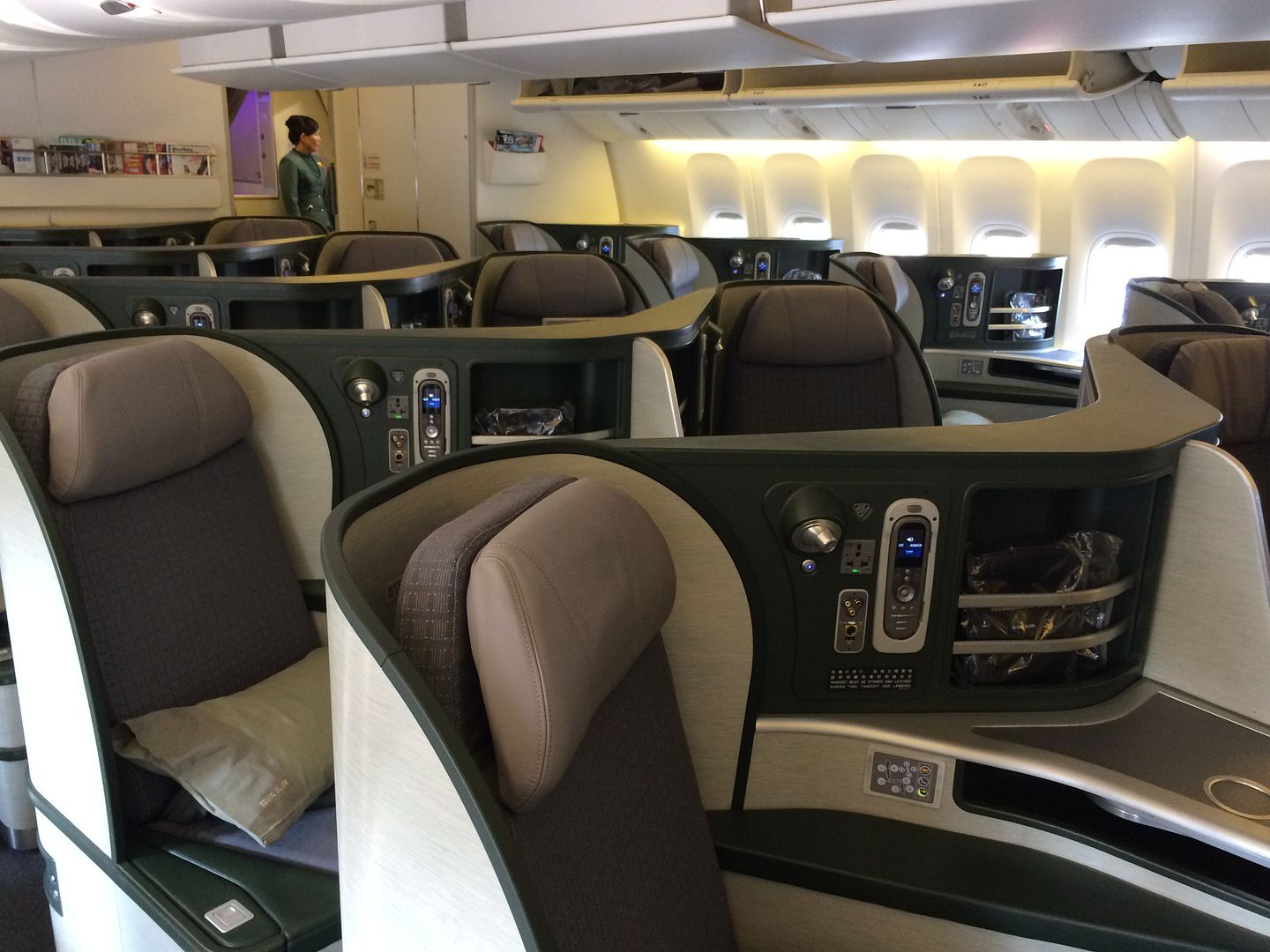 The flight was pretty full in all cabins this afternoon.
Royal Laurel seat
New updated headrest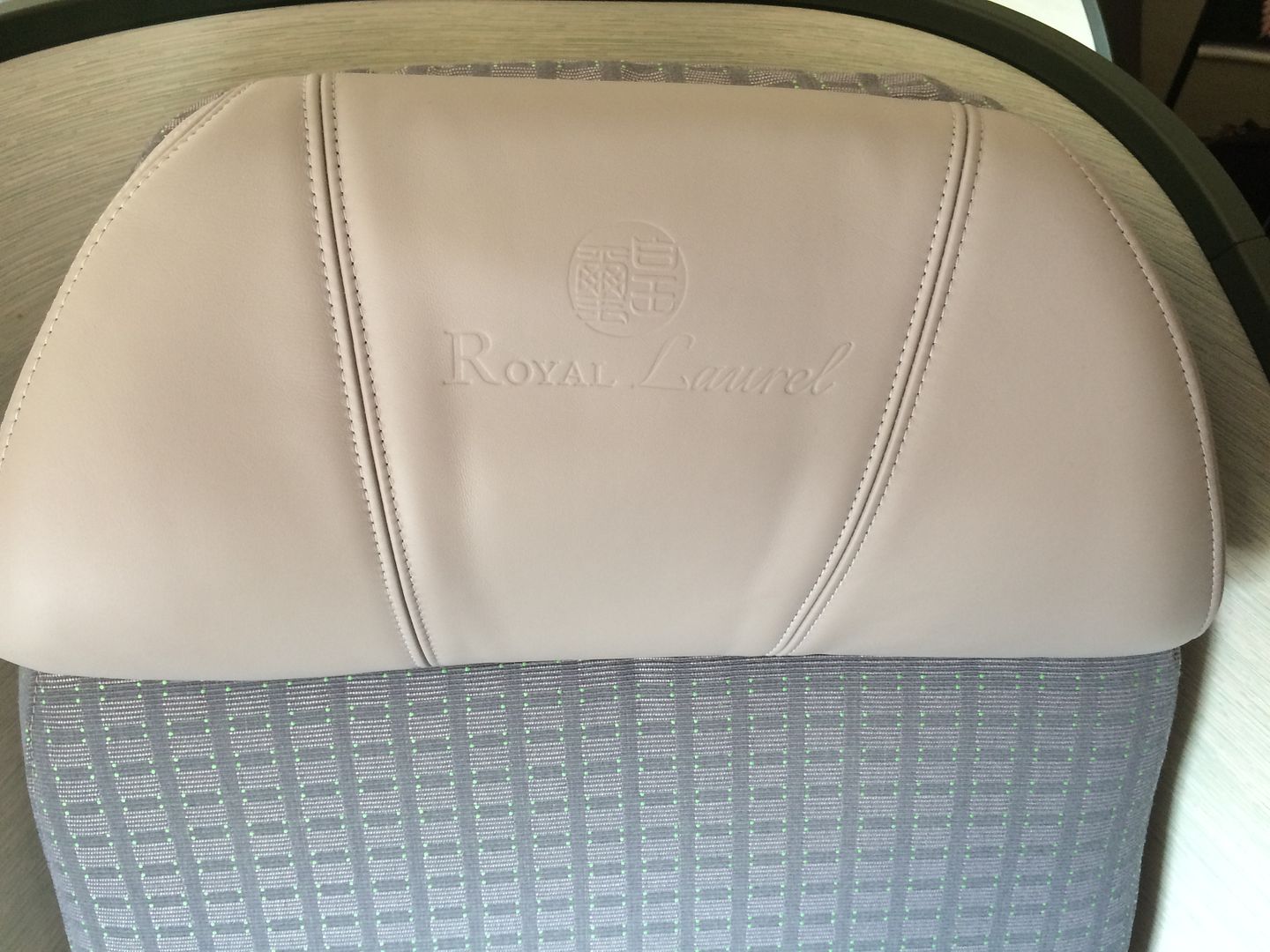 There was a choice of water or orange juice, as pre-takeoff beverage. No champagne was offered, but some passengers requested tea, and were honored.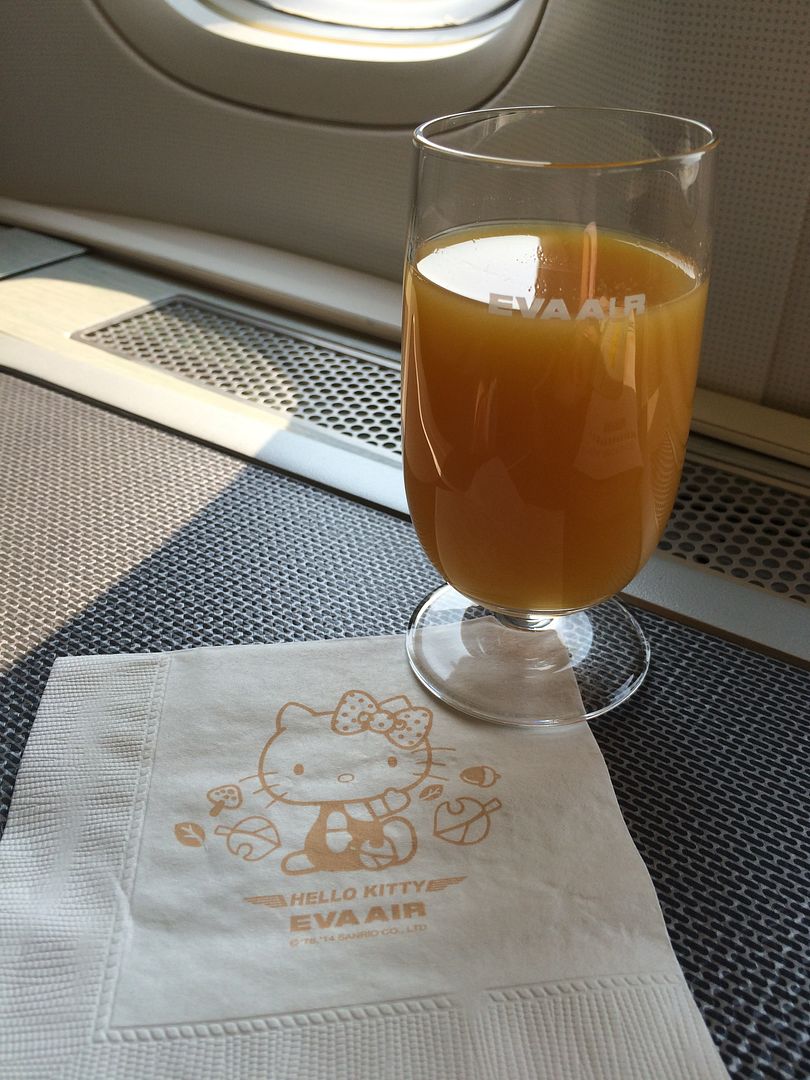 Headsets were already placed at the seat, and the F/As came by with these packaged refreshing towels. No real towels were offered on any EVA Air flight, short or long haul!
Newspapers were offered and Hong Kong newspapers are limited to Ming Pao, a Chinese one, and South China Morning Post, the English paper.
Hello Kitty safety card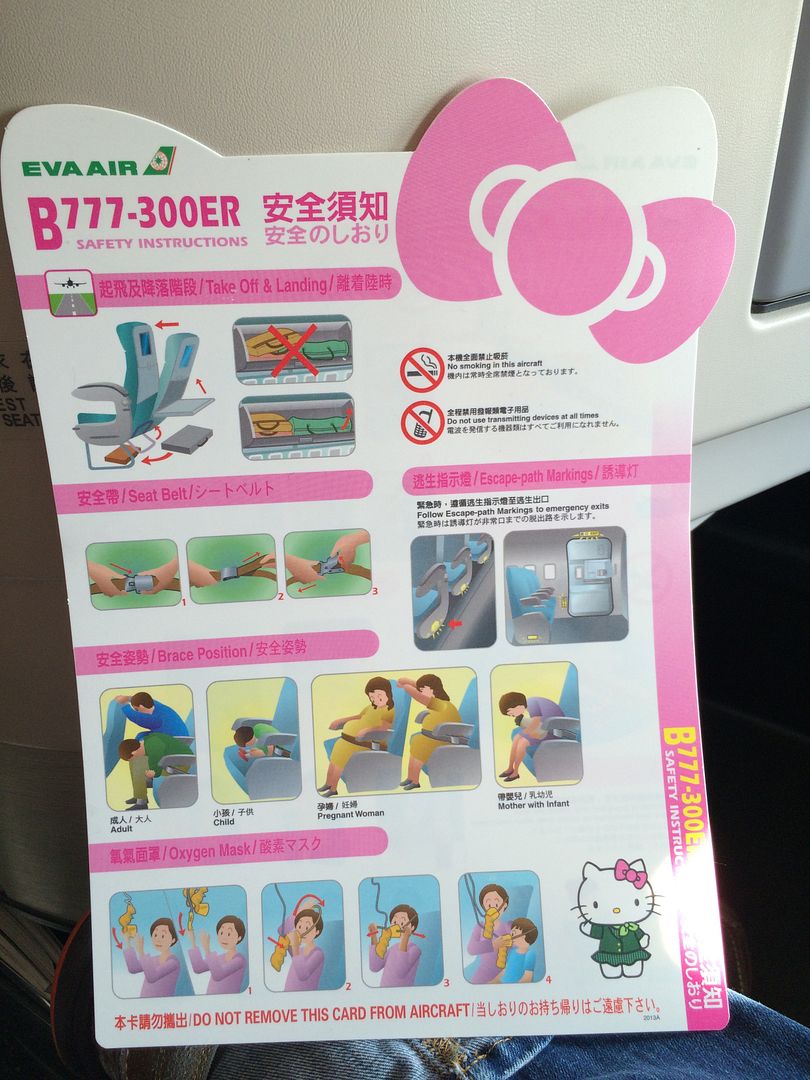 Door was finally closed at 3:42pm and the flying time was about an hour and twenty-seven minutes, with a cruising attitude of 37,000feet.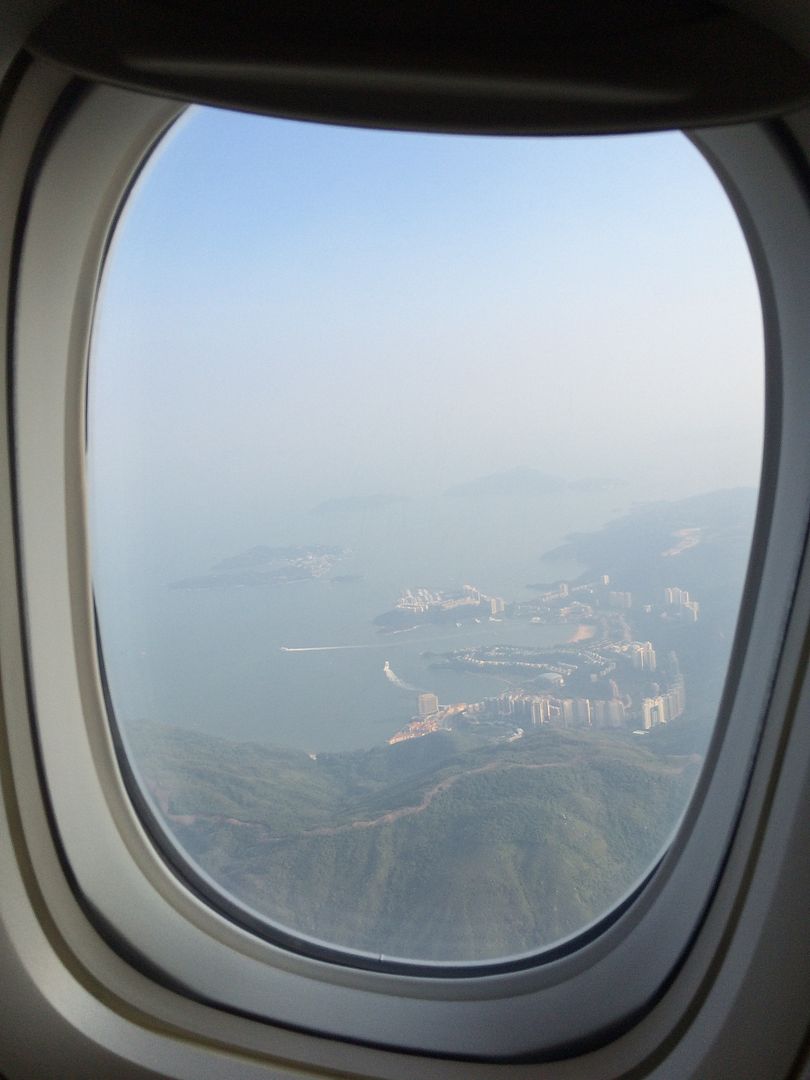 A hot light meal was offered on this short flight, and here is the wine list and menu! EVA Air has updated the service on these short regional flights, which was fairly impressive. Fresh linen was first passed out covering the table, followed by a starter tray along with beverages and wines. Then the F/As rolled down the entrée trolley, which allowed passengers to pick after seeing the entrée, sort of like CX. Then there was a tea and coffee service.
Wine List (regional flights)
Champagne Castelnau, Blanc de Blancs 2002
French Red Wine
Chateau Villa Bel-Air 2010
South Africa Red Wine
La Cave Pinotage 2013
Chile White Wine
Casas del Toqui Chardonnay Barrel Series 2013
German White Wine
Monchhof Riesling 2012
Fortified Wine
Burdon Dry Fino Sherry
Taylor's LBV Port
Light Meal
Main Course
Braised Chicken with Taro in Coconut Cream Sauce
Mixed Vegetables
Steamed Rice with Chopped Pak choy
Or
Pan Fried Pork Fillet Steak and Button Mushroom in Creamy Brown Sauce
Mixed Vegetables
Roasted Potato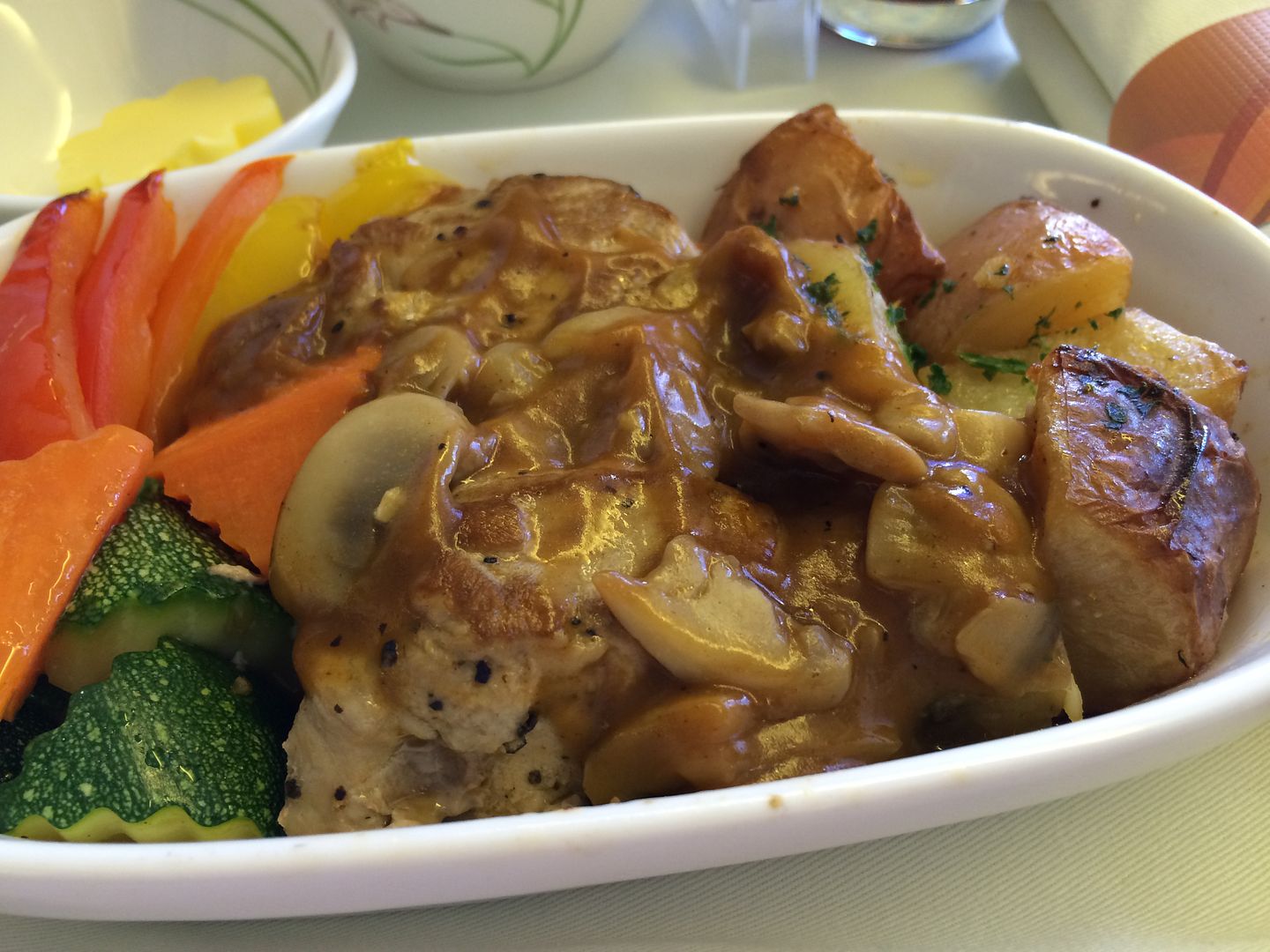 The spicy chili sauce is available on request for serving with meal.
Fruit
Sweet
(Chocolate Bread Budding with Raisin cream)
Coffee Tea
15-20140901-TPE-HKG.MFM-TPE-PL
Honestly the pork entrée was on the disappointing side, but the bread selection was excellent with a choice of garlic bread, wheat or Foccacia rolls, which were delicious. The fruit bowl features guava, apple, kiwi, and pineapple, and the sweet of the day was a Chocolate bread pudding with raisin cream.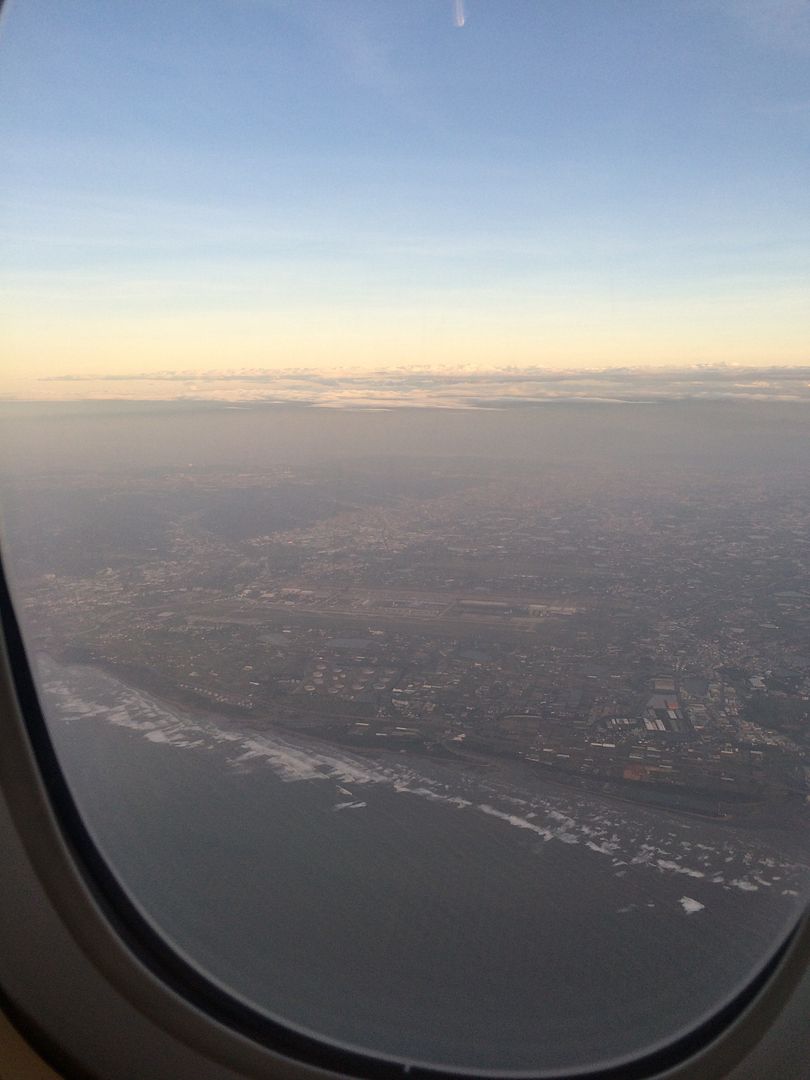 Descent began at 4:51pm, but we spent some time circling around Taipei, before finally landed on R/W23R at 5:33pm. Then we sat at the tarmac for about fifteen minutes waiting for gate. We parked at gate C4 at 5:52pm with many connection passengers heading to JFK, LAX, and SFO.
Transit information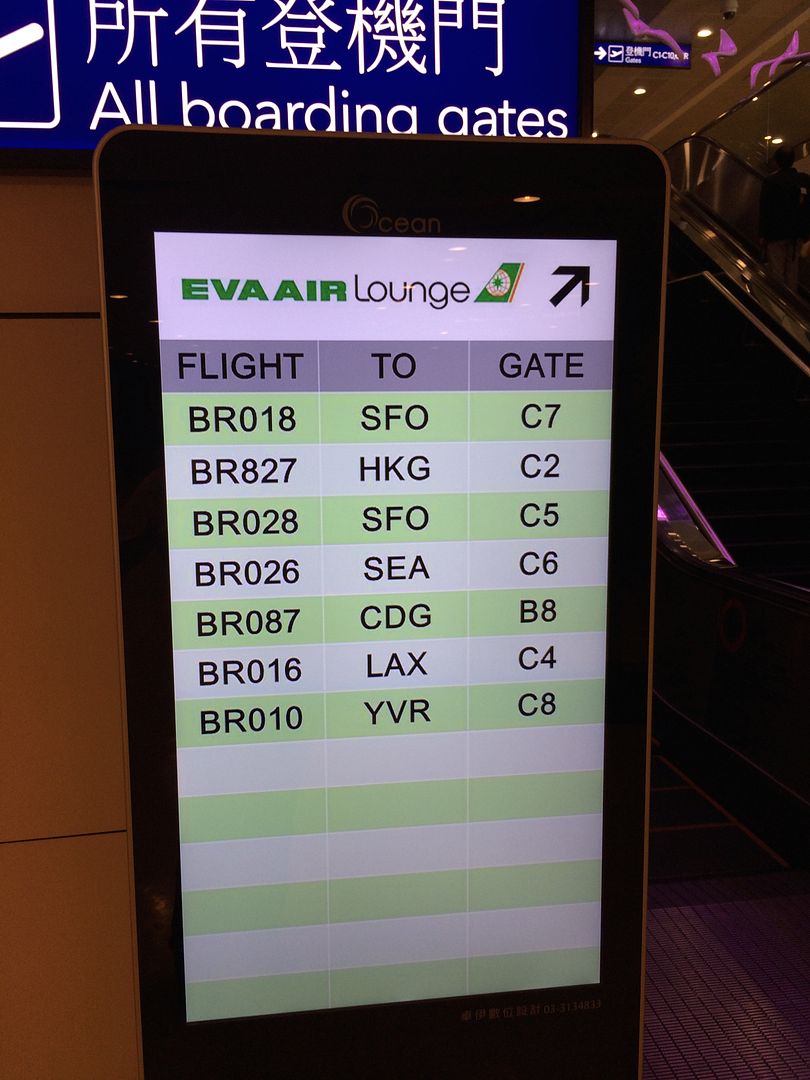 October 12, 2014; Sunday
BR 12 TPE-LAX Lv1840 Arr1525 Boeing 777-300ER B-16703 "Sanrio Family Hand in Hand"
I did not go to the lounge, as I was never a fan and was not hungry. I decided to hang out around terminal two and spent my time visiting bookstores.
Our gate was C4 today, not the Hello Kitty decorated gate at C3
Hello Kitty theme
B-16703 in the dark
Many wheelchair passengers
Boarding began at 6:51pm – ten minutes behind our scheduled departure time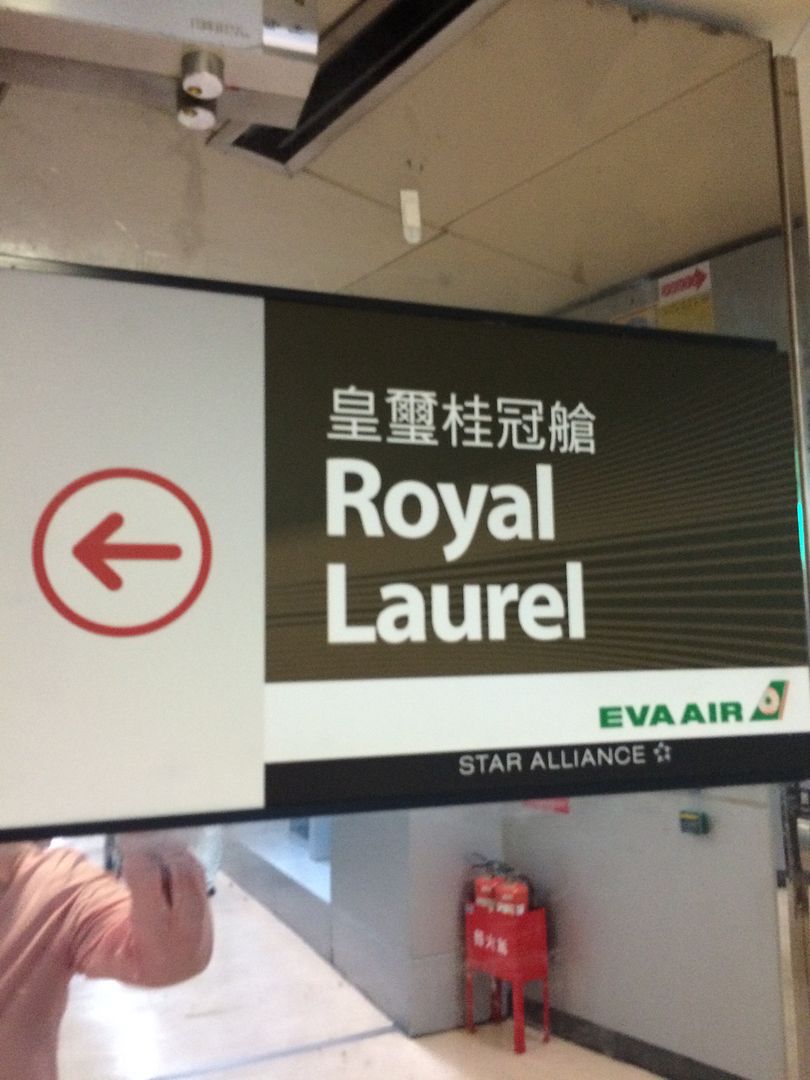 Royal Laurel seat – only different is the addition Hello Kitty themed pillow and the new thick Royal Laurel blanket/duvet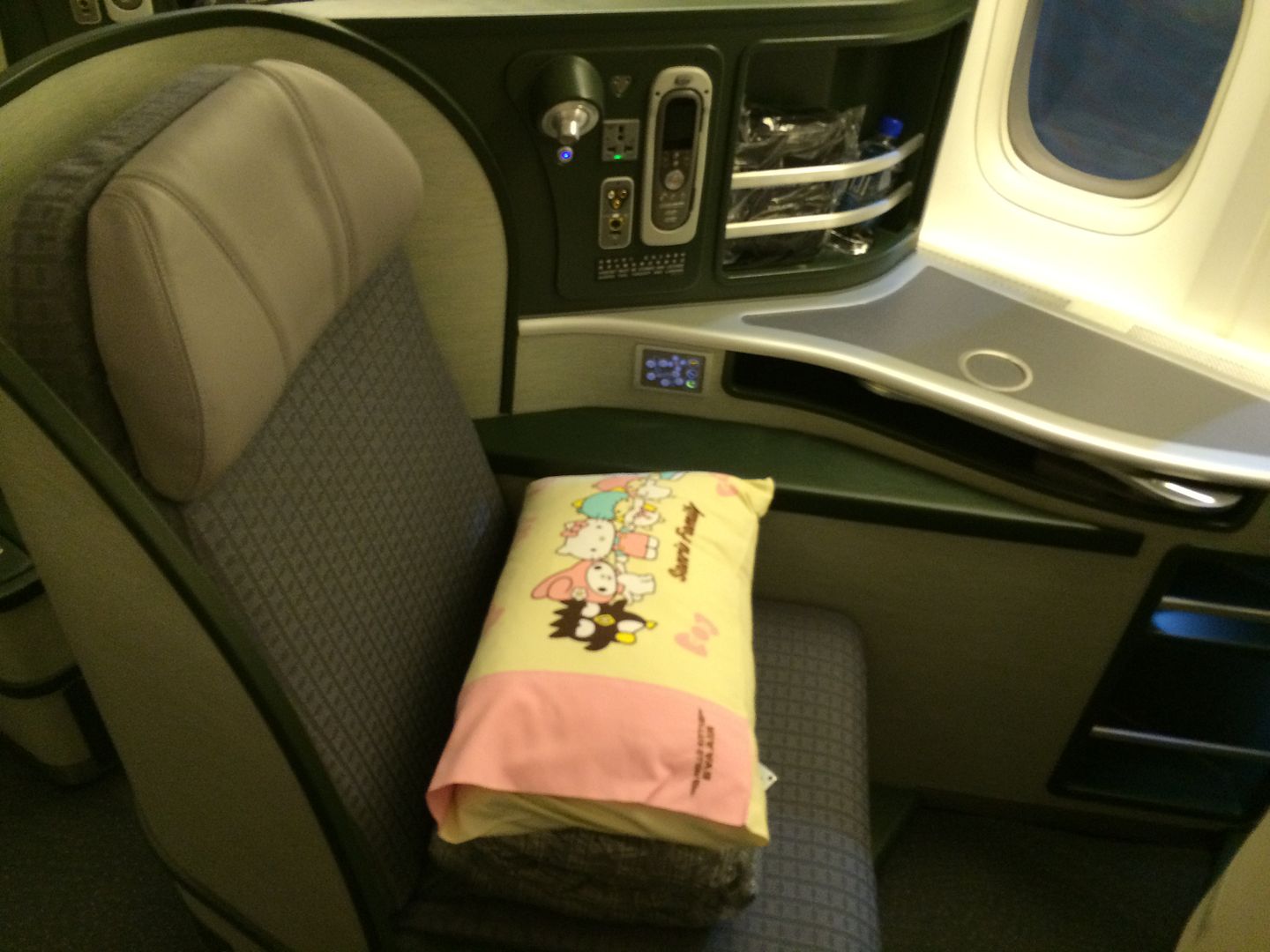 Pre-takeoff beverage – OJ or water, refreshing towel, and Fiji bottled water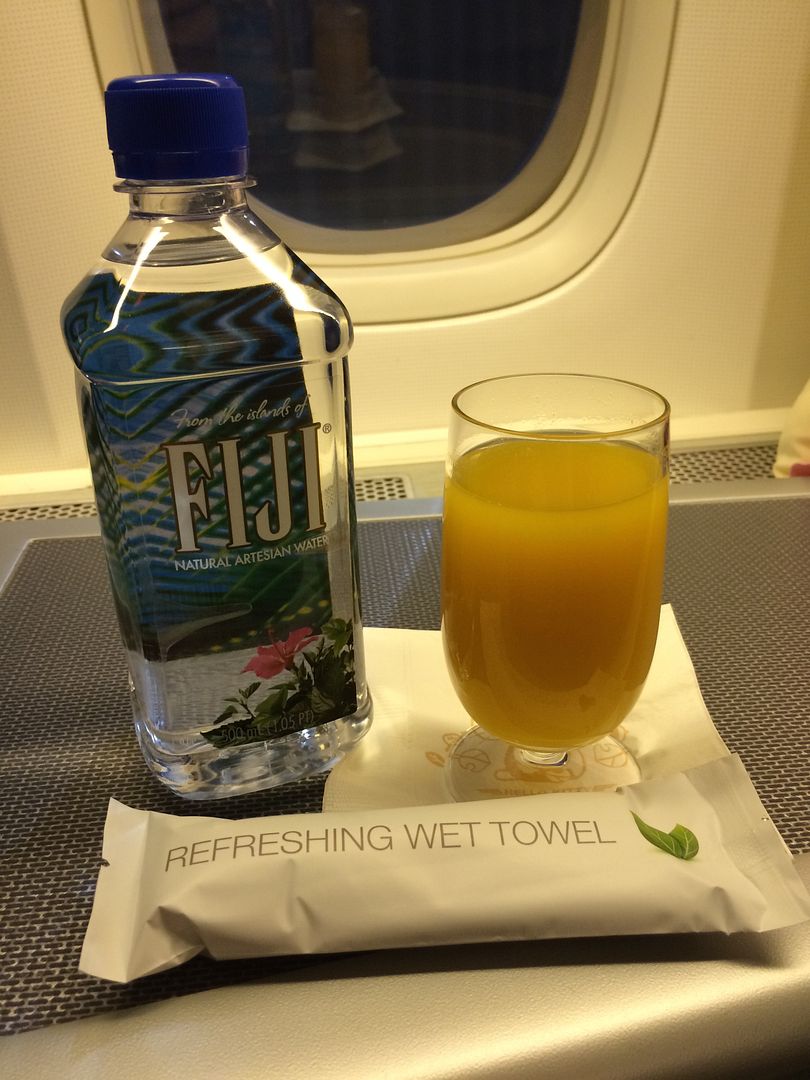 Hello Kitty themed menu – Fall/Autumn Edition
No more Dom Perignon – Veuve Clicquot La Grande Dame 2004 is now served! Still a $150 bottle!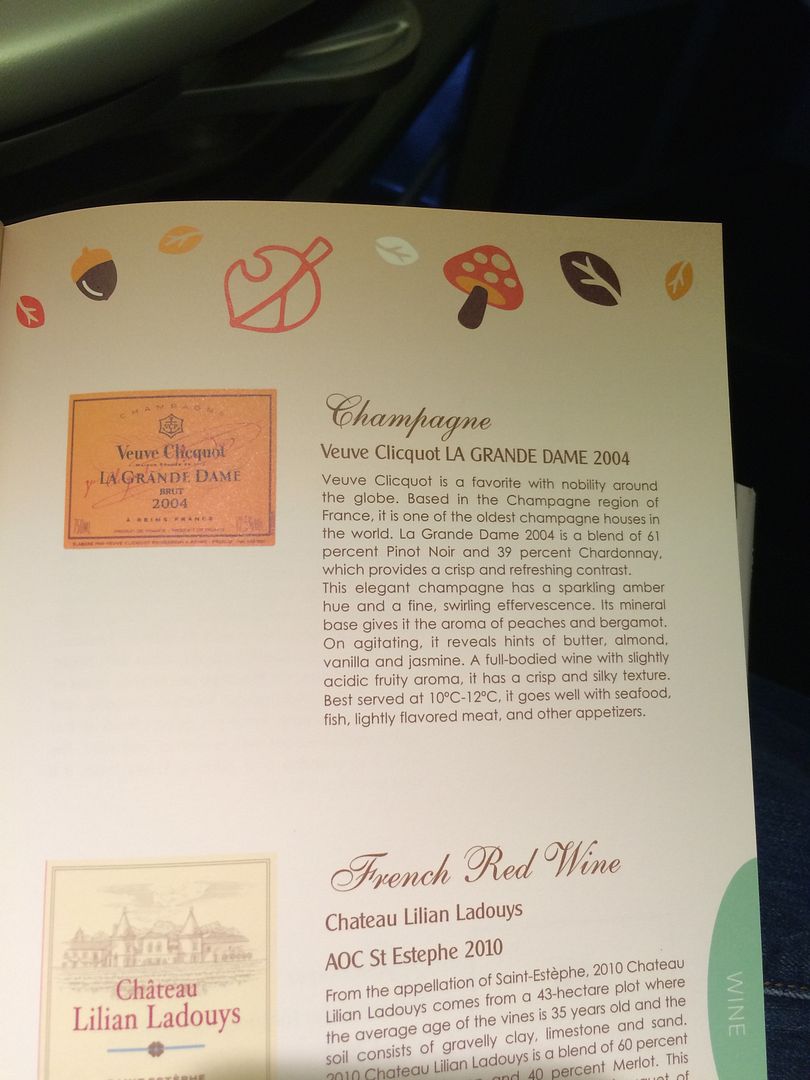 Door was closed at 7:14pm, but we did not push back till 7:35pm. Traffic was very heavy at Taoyuan airport and many planes were held at the gate. The taxi to R/W23R was extremely slow, and here was a list of planes taking off and arrival before our turn!
BR 77W B-16719 BR 32 to JFK → TG A330 HS-TBA arriving from ICN → CI 744 B-18203 to Pudong → Air Macau A321 B-MBA arriving from MFM → CX 744 B-HUG to HKG as CX 473 → Jetstar A320 9V-JSV arrving from Kansai → China Eastern A330 B-6507 to Pudong → EVA Air A321 B-16212 arriving → Peach A320 JA811P to Kansai → BR 77W B-16717 arriving from BKK → Korean Air Boeing 737 HL8247 to ICN → Hong Kong Airlines A330 B-LNO arriving from Hong Kong
We finally departed from R/W23R at 8:05pm. Flying time was eleven hours and twenty-eight minutes. Our routing was pretty much over the Pacific Ocean till we reached Monterrey. We slowly climbed from 29,000feet to 37,000feet. It was pretty choppy throughout the night.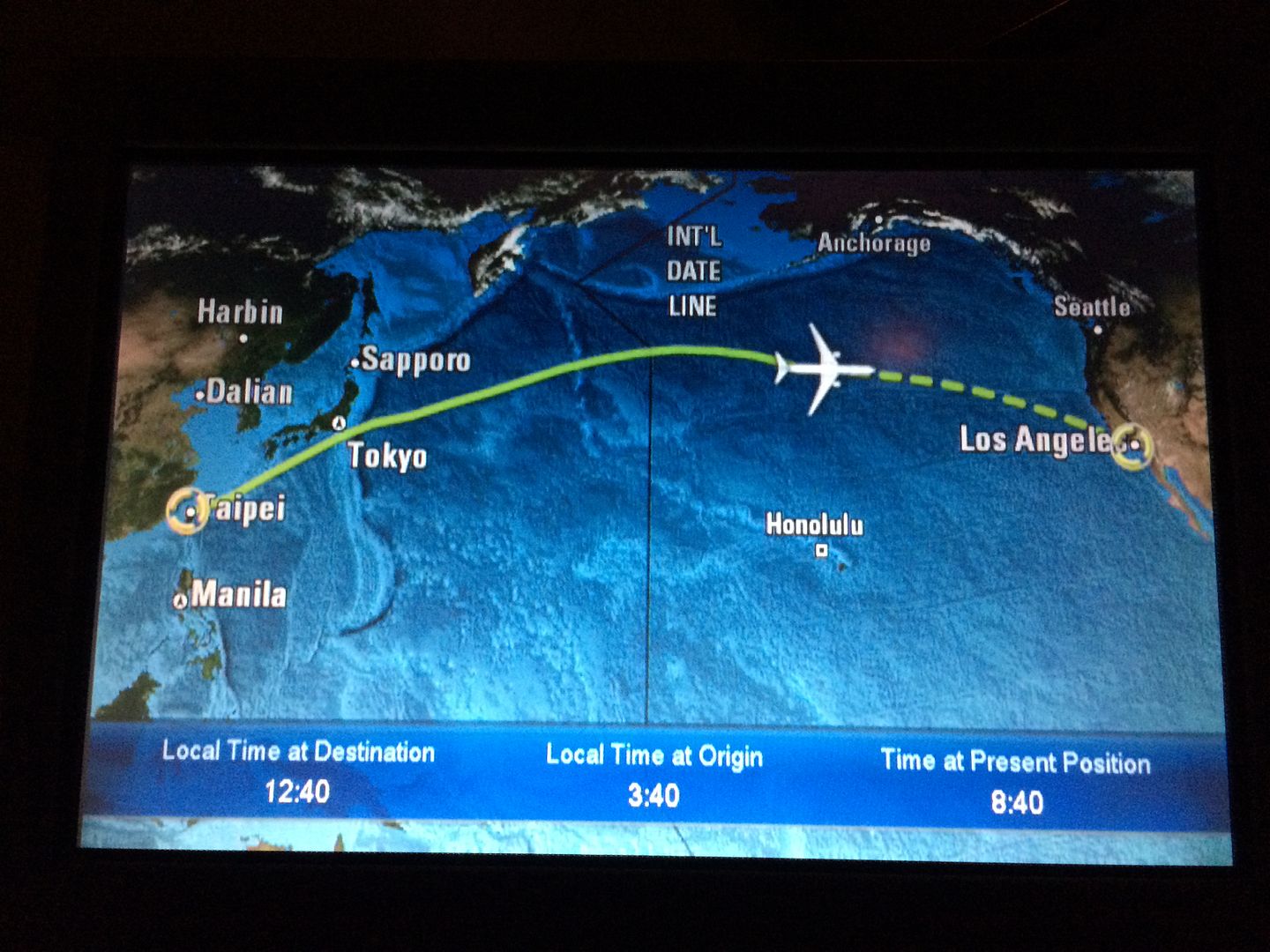 After we reached 10,000feet, the F/As immediately sing into action with the amenity kit and pajama trolley. The F/A even offered to cut open the plastic for the amenity kits.
New Rimowa amenity kit
Pajama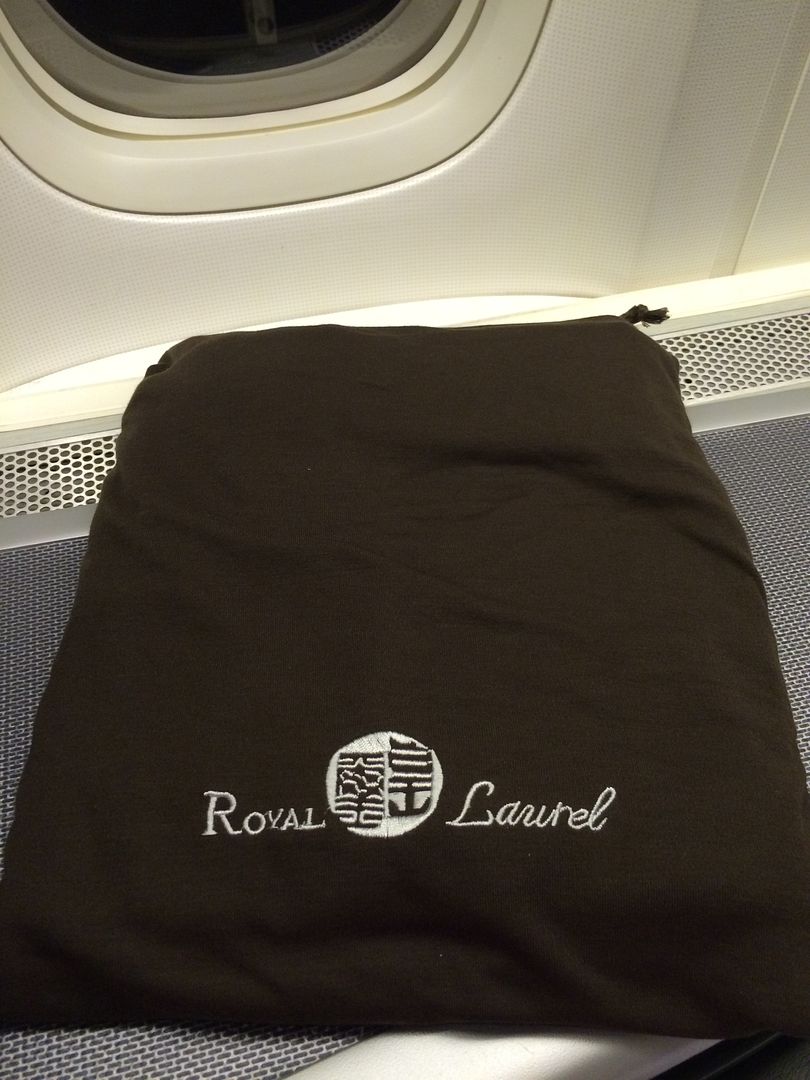 Afterward, there was the familiar linen service, followed by beverage and a bowl of Japanese crackers.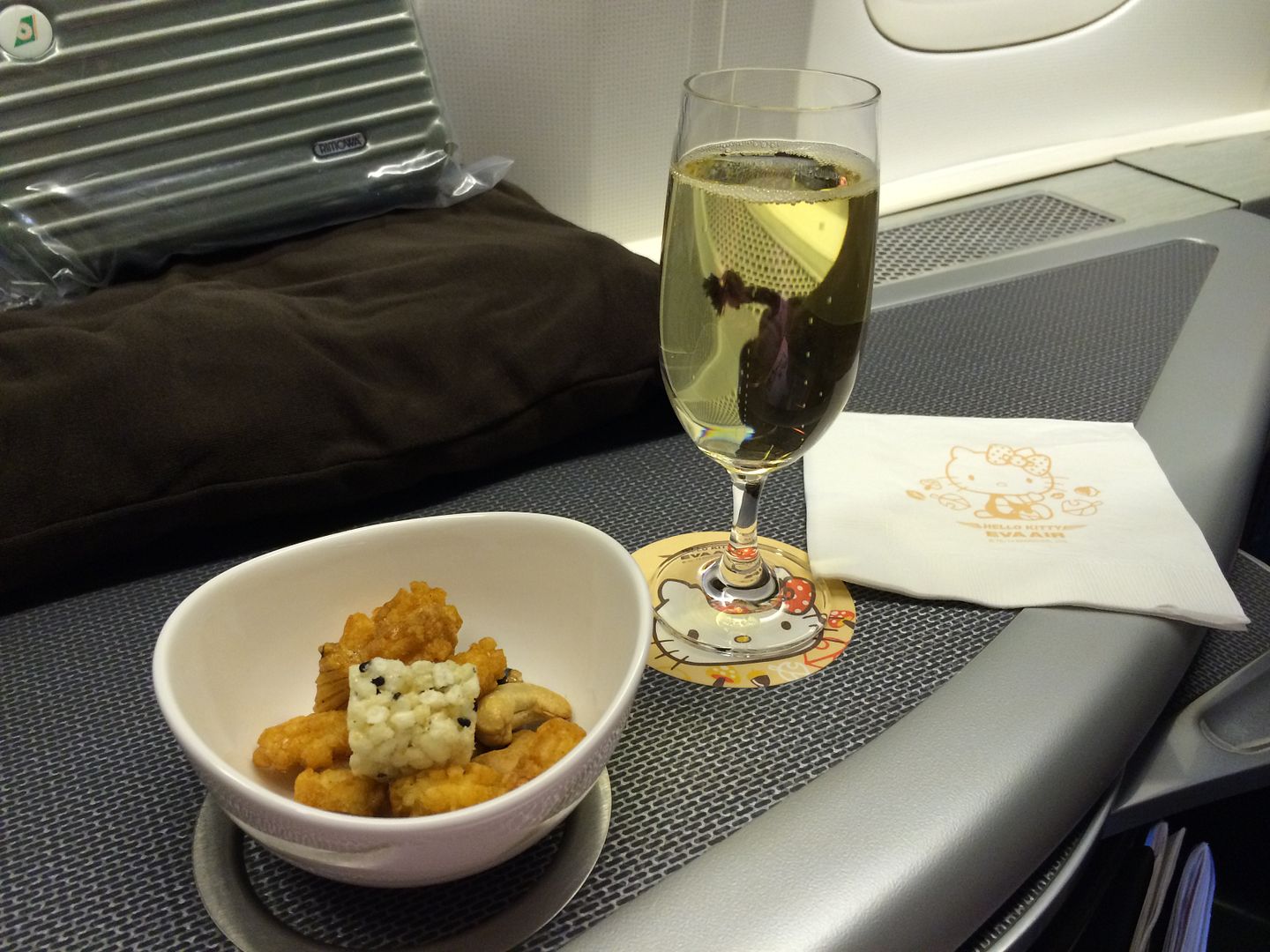 Hello Kitty autumn themed products
Here is the wine list:
Champagne
Veuve Clicquot La Grande Dame 2004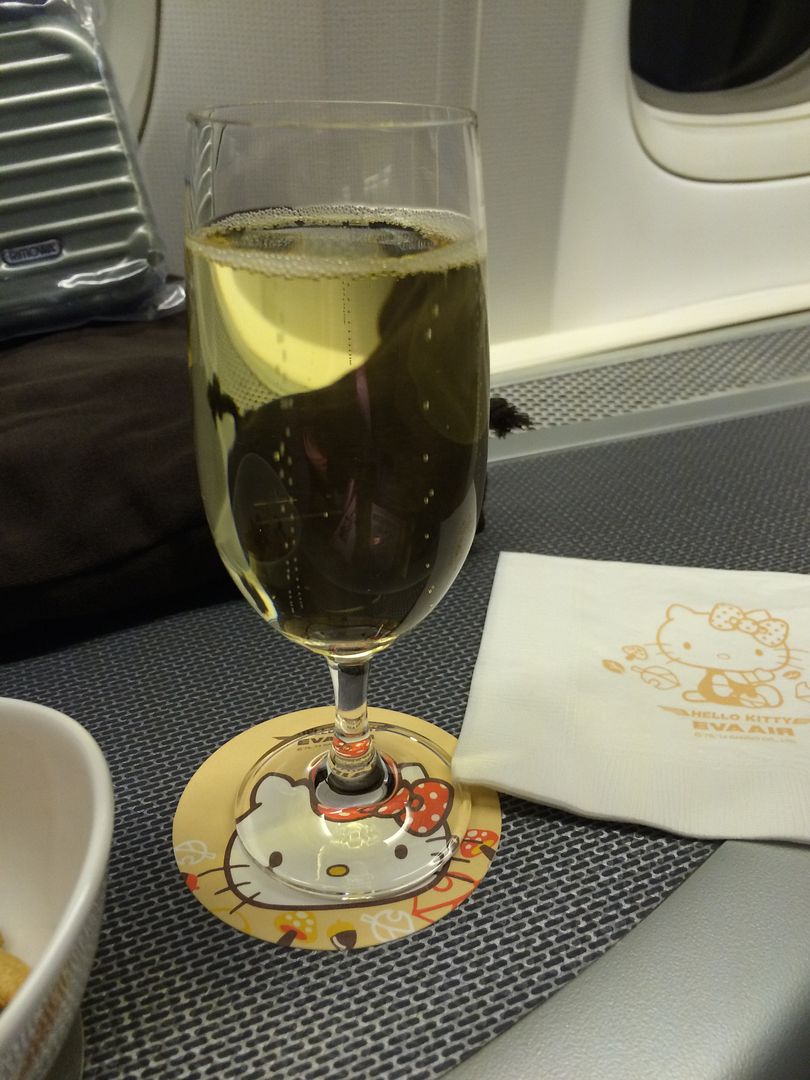 French Red Wine
Chateau Lilian Ladouys AOC St Estephe 2000
Spanish Red Wine
Veraton 2011
French White Wine
Chateau Chantegrive Cuvee Caroline Graves 2012
German White Wine
Selbach-Oster Riesling Kabinett Mosel 2012
Fortified Wine
Burdon Dry Fino Sherry
Taylor's LBV Port
Oct 22, 14, 10:25 pm
After a few beverage refills, dinner was served. Unlike late night flights, a full dinner service was offered, and each course was served individually. No tray was used. There were a few Hello Kitty elements, but not too overwhelming.
Here is the menu transcript:
Royal Laurel Dining
Hors D'Oeuvre
Goose Liver Terrine
Grape Champagne Jelly
Red Wine Baby Pear
Hello Kitty Foie Gras Terrine – my personal first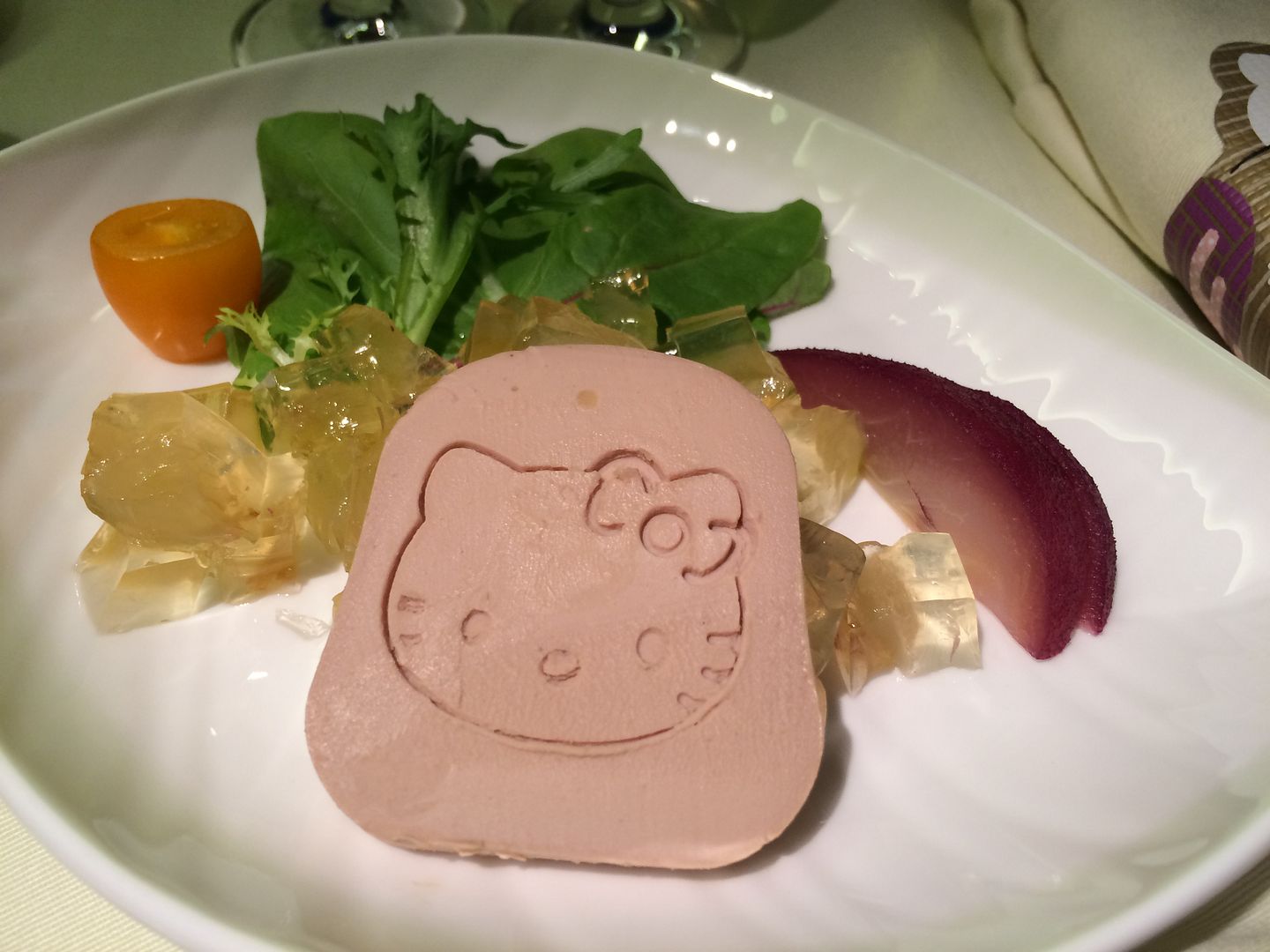 Hello Kitty napkin ring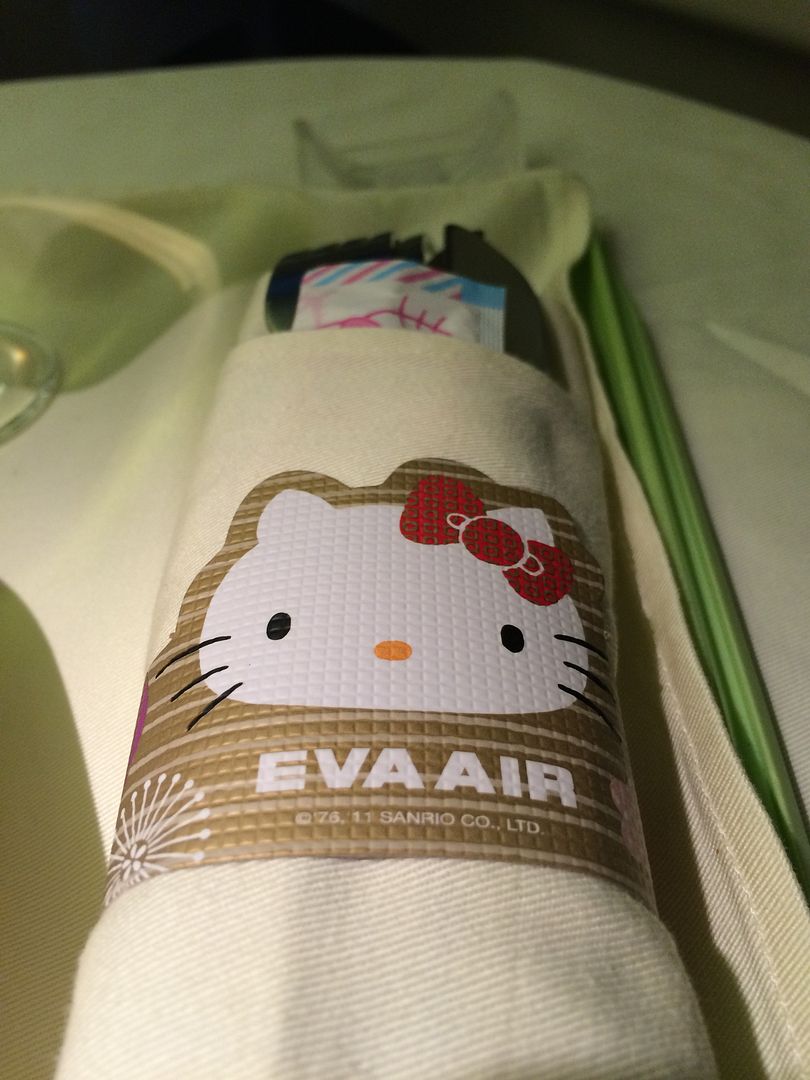 New salt and pepper shakers – too similar to CX
Assorted Bread and Echire Butter
I really enjoyed EVA Air's bread selection! These mini French baguettes were delicious. Other bread selection includes garlic bread, soft twist rolls, and whole wheat rolls.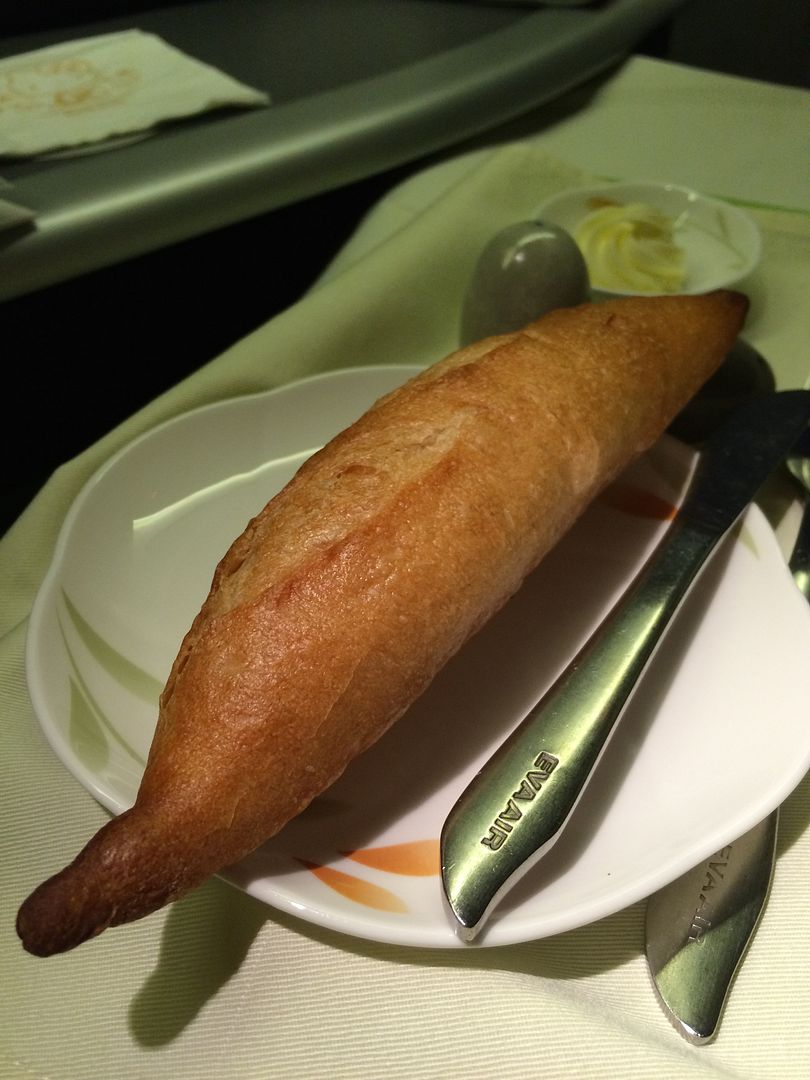 Creamy Apple and White Turnip Soup
I always love soup at 31,000feet.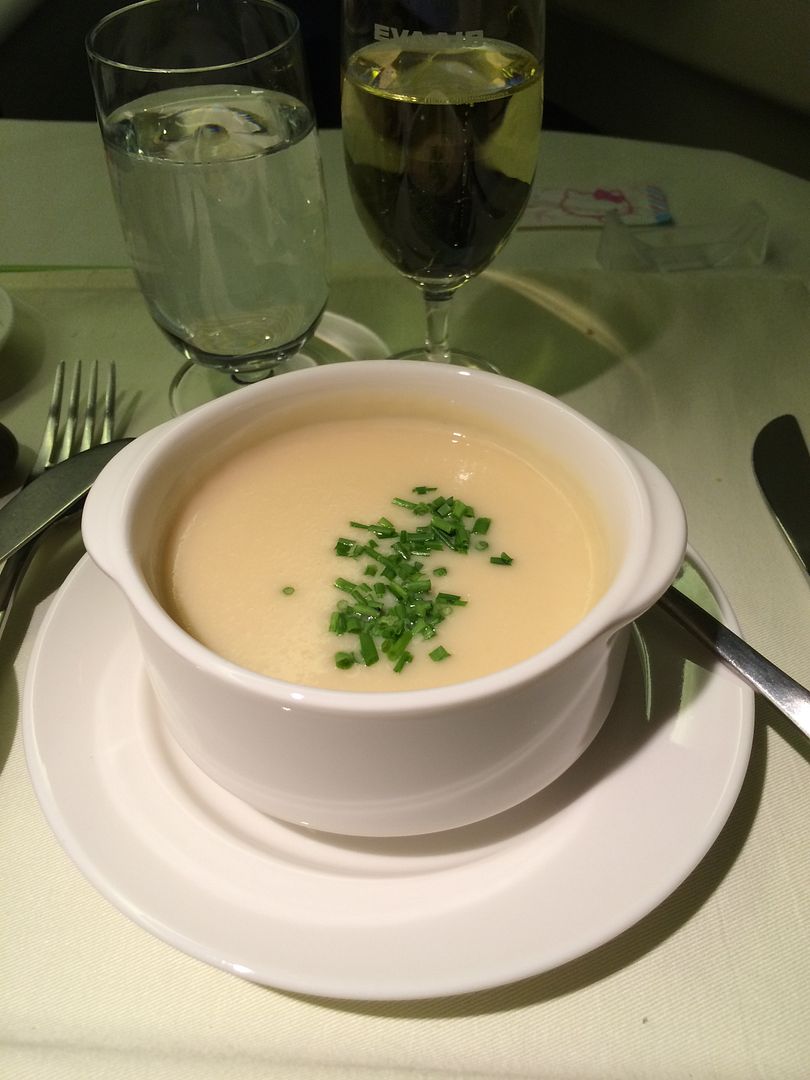 Fine Meslun with Vegetable Salad
Main Course
Prime Beef Fillet Steak with Balsamic Brown Sauce
Mixed Vegetables Gratin Red Skin Potato
Or
Pan Fried Cod Fillet with Superior Crab roe Egg White Sauce
Mixed Vegetables Egg Yolk Noodle
Or
Braised Pork Spare Ribs Wu Shi Style
Mixed Vegetables Egg Fried Rice
The spicy chili sauce is available on request for serving with meal.
For entrée, I had one of the special Internet pre-booked selections, which was a Shrimp and Scallop with cream sauce, along with Charcoal noodles. It was delicious.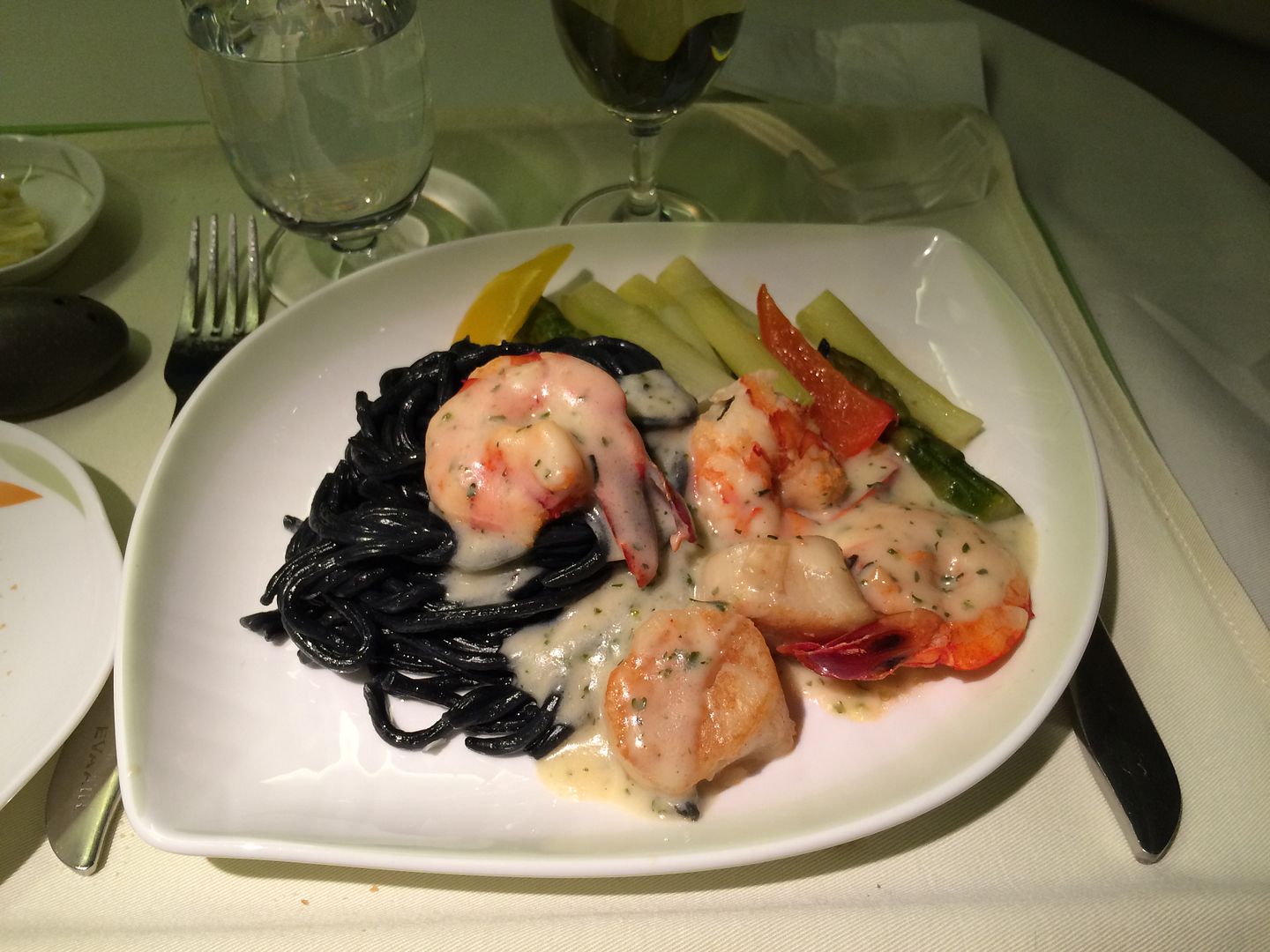 Cheese Fruit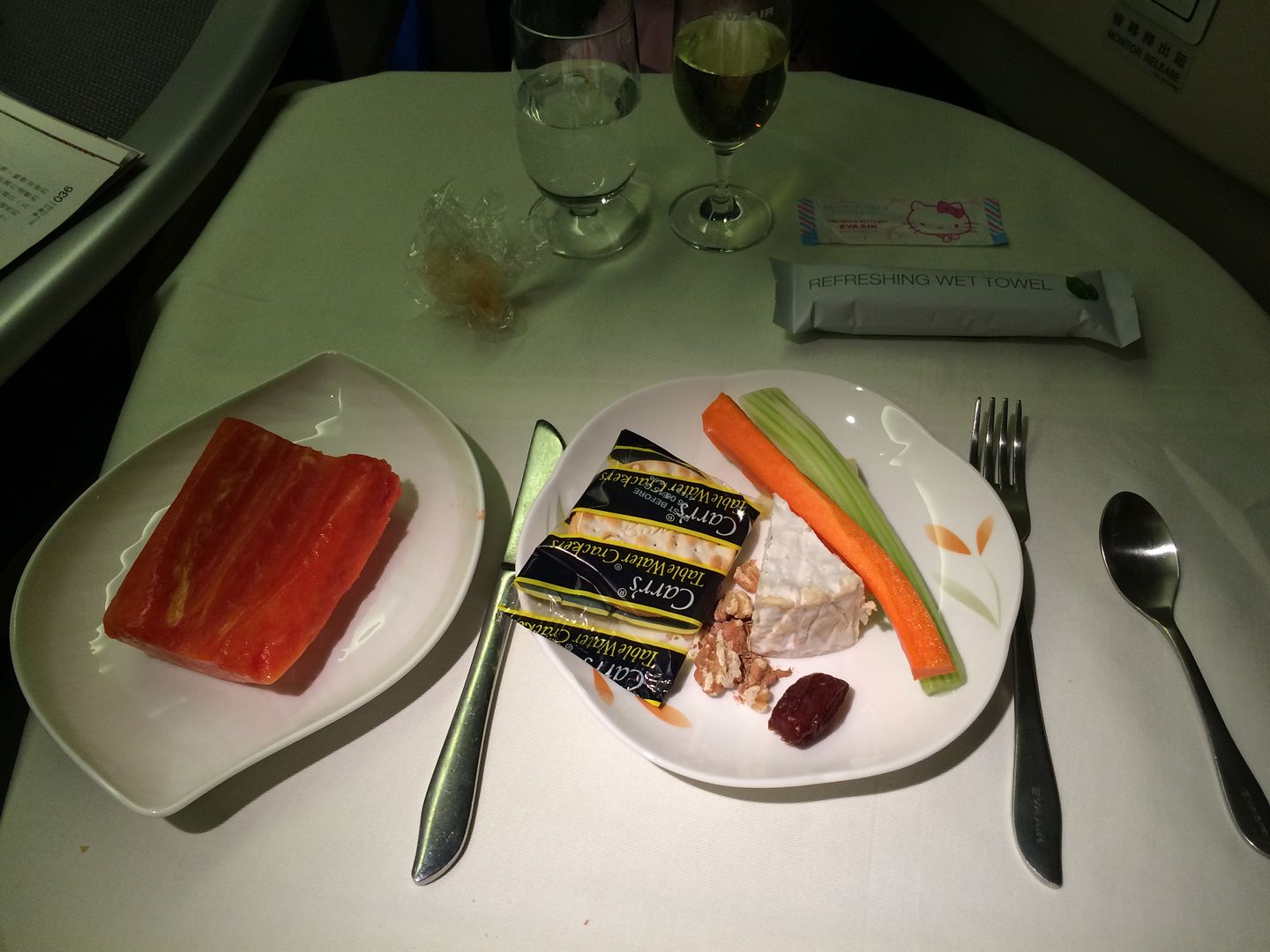 There was a full cheese board – Brie, Blue, Adam, and Cheddar with dried fruit, carrot, celery, and nuts.
The fruit basket was filled with local delicacies – grapes, papaya, dragon fruit, guava, apple, plums and bananas.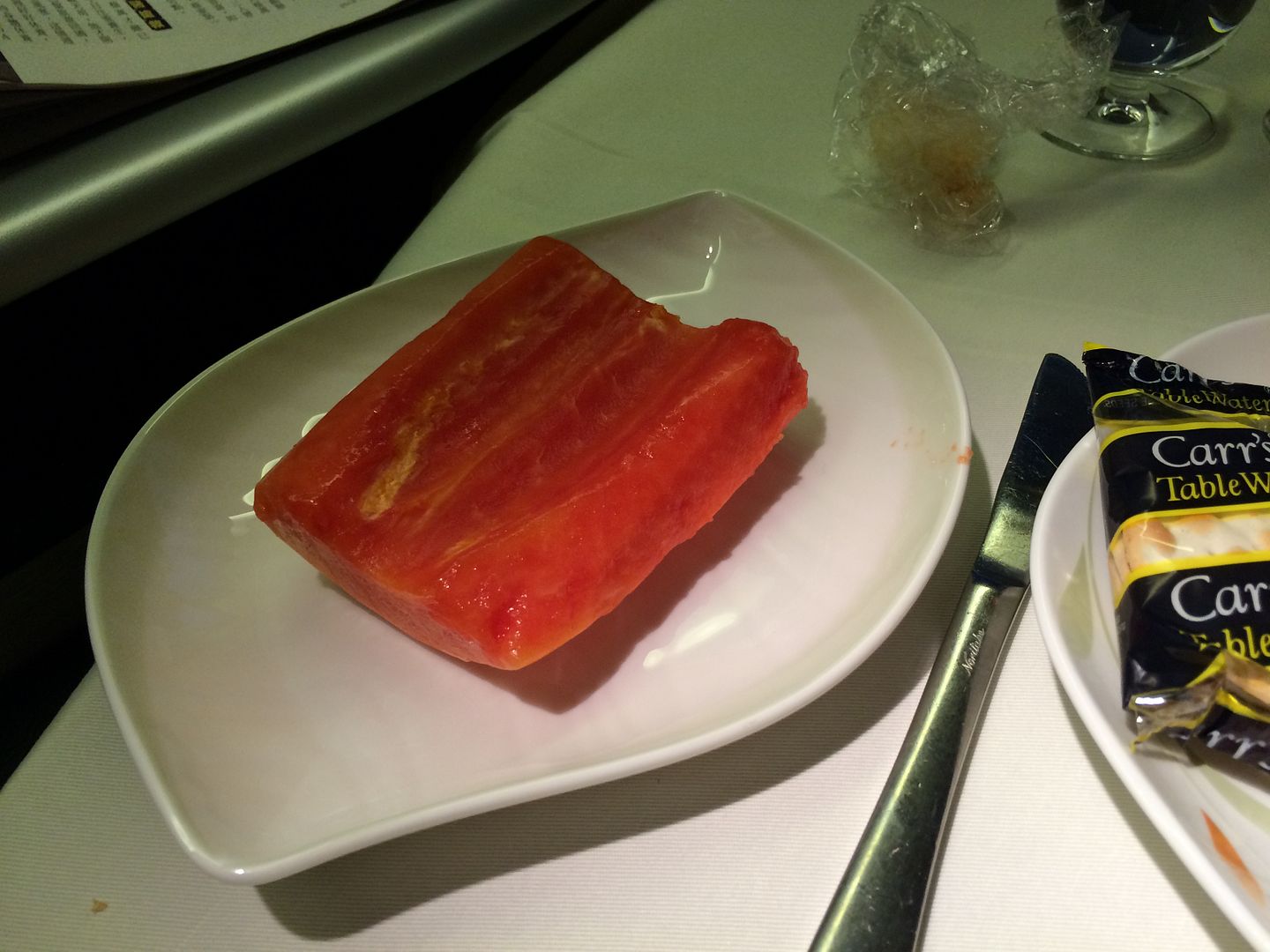 Sweet
Haagen-Dazs Ice Cream
Or
Pearl Chocolate Yogurt Mousse on Glazed Pineapple Tart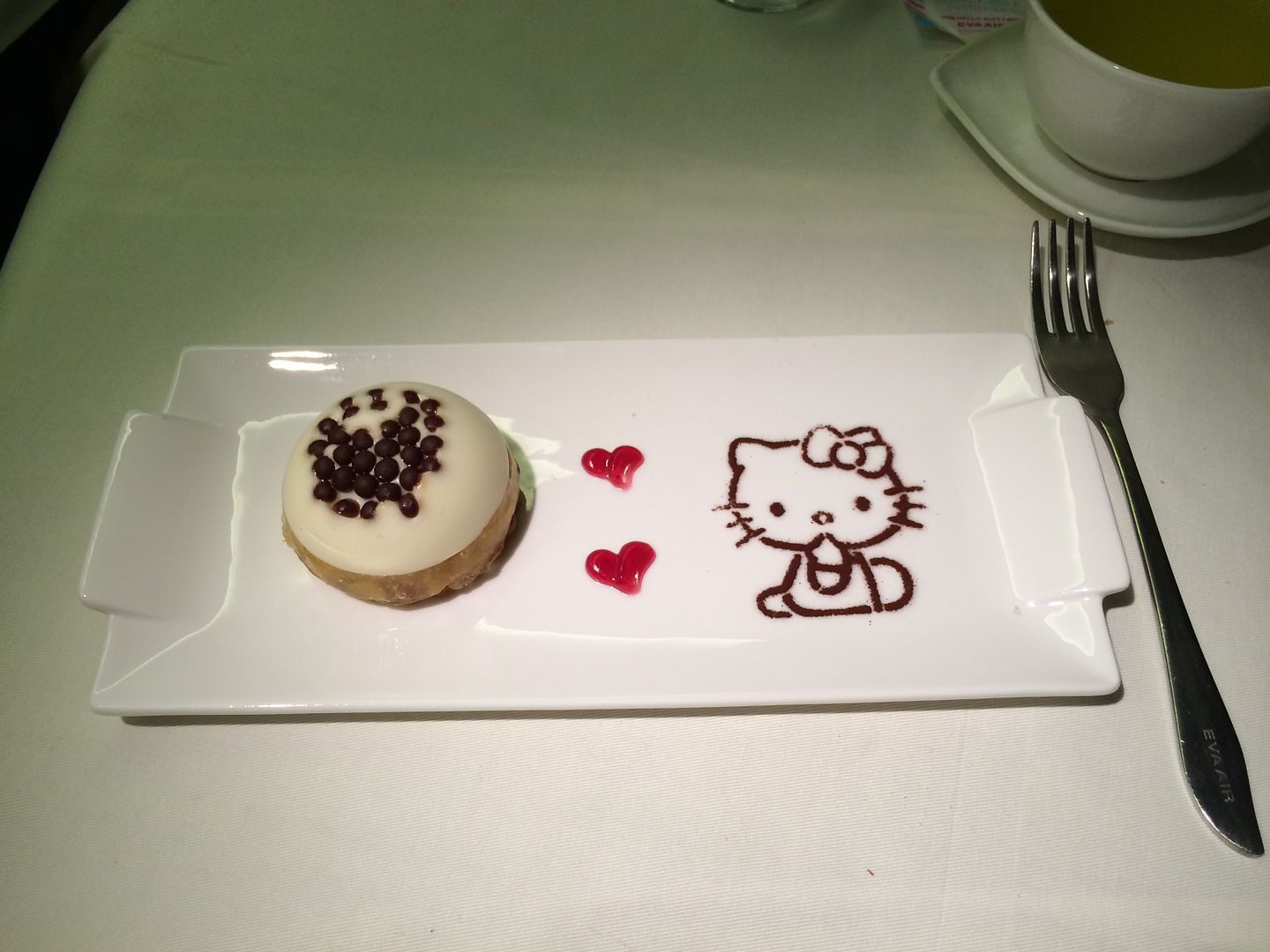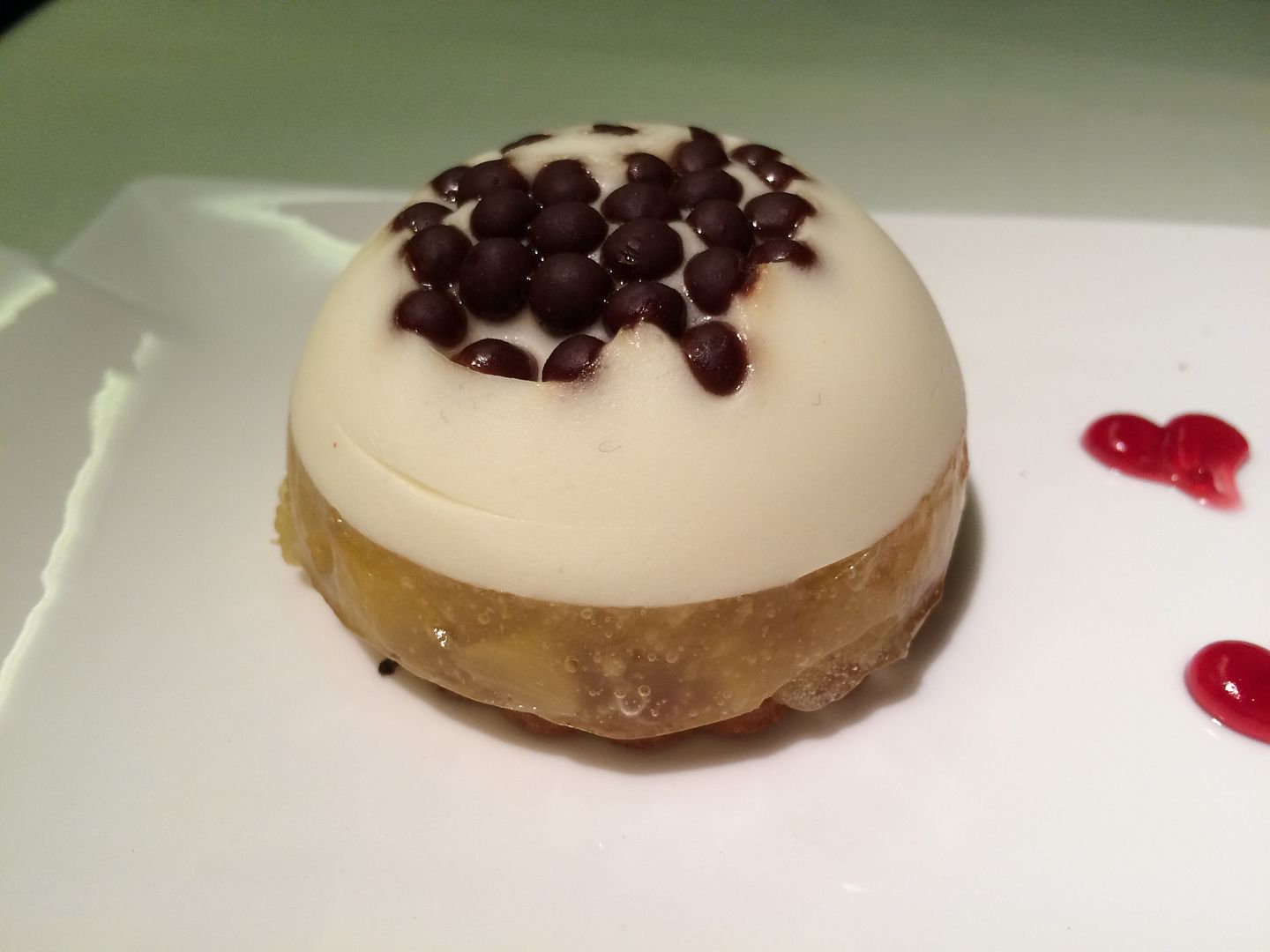 Coffee Tea
Seat in preset recline position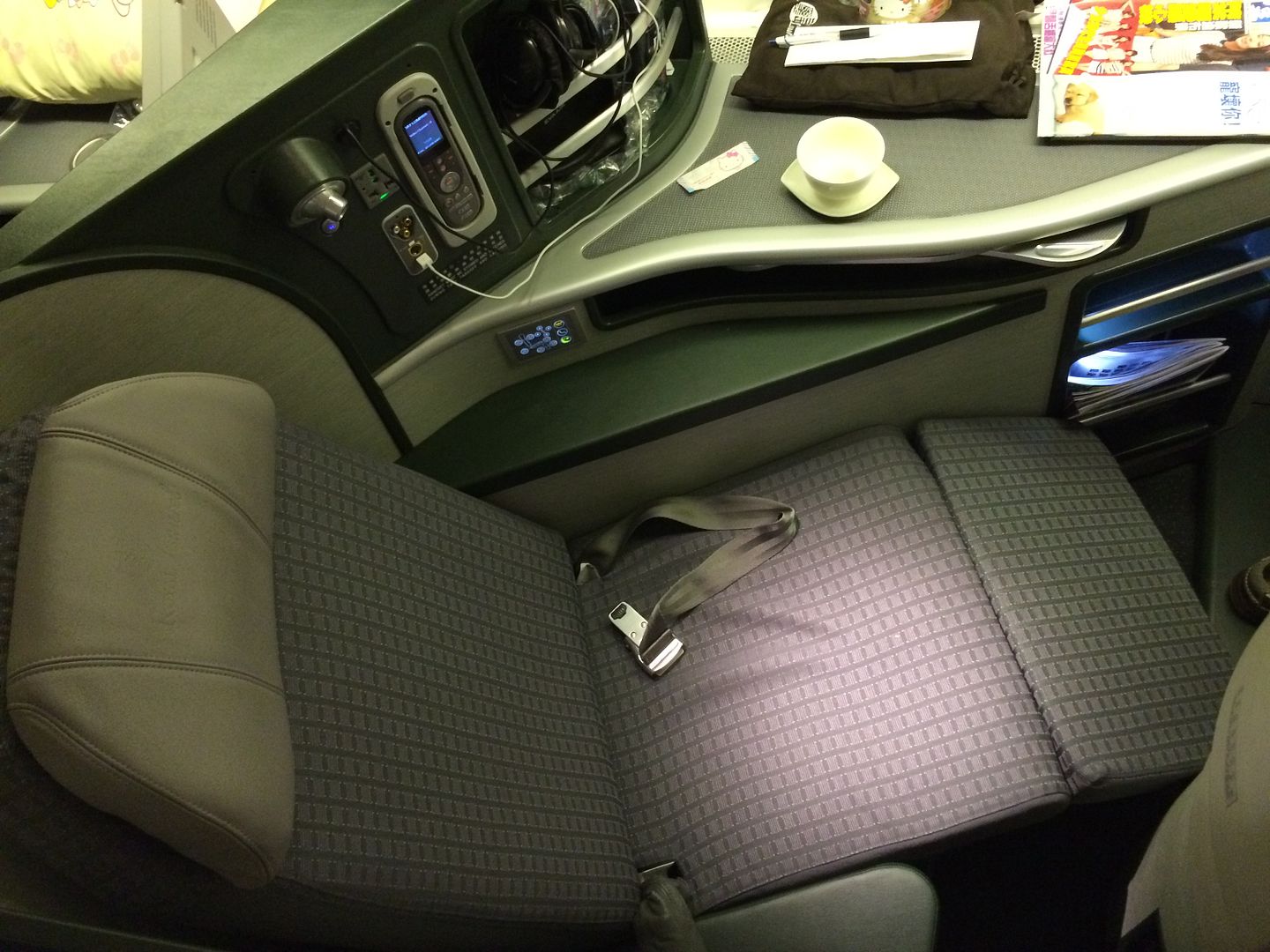 Seat in full flat position with new bedding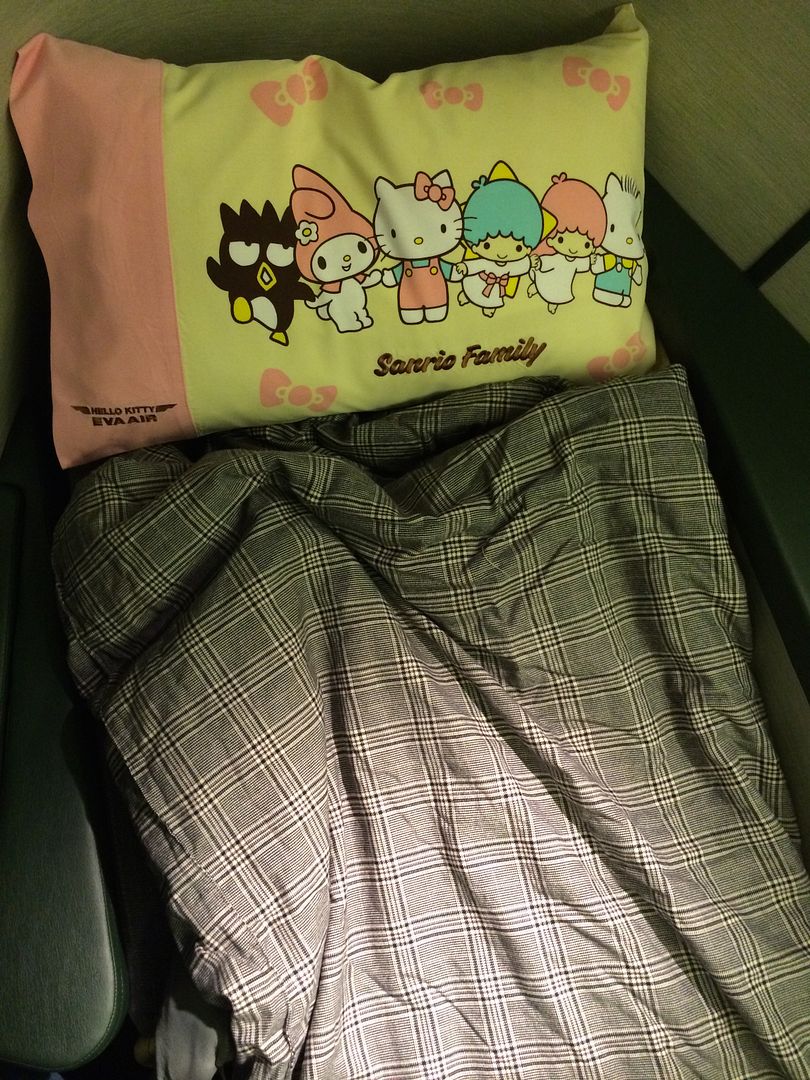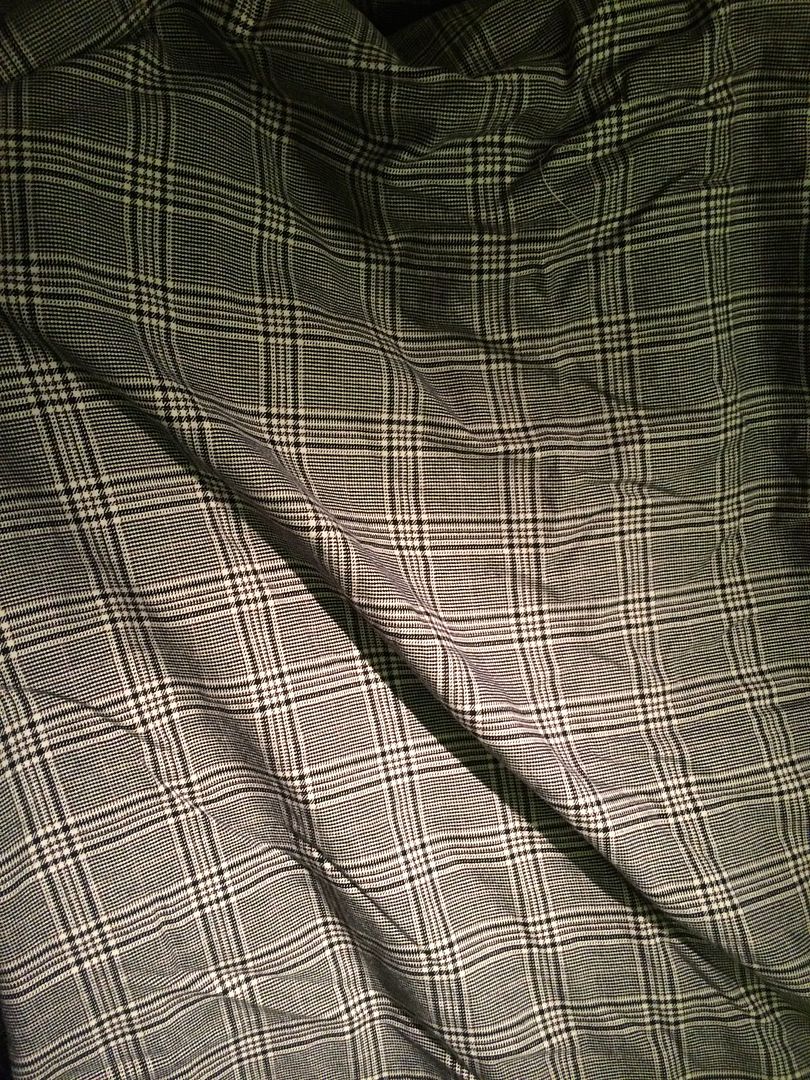 Feature of the Royal Laurel seats
Entertainment console/headset/usb Drive/power outlet/Personal Light
Seat Control Panel
Side Storage bin – bottled waters and small items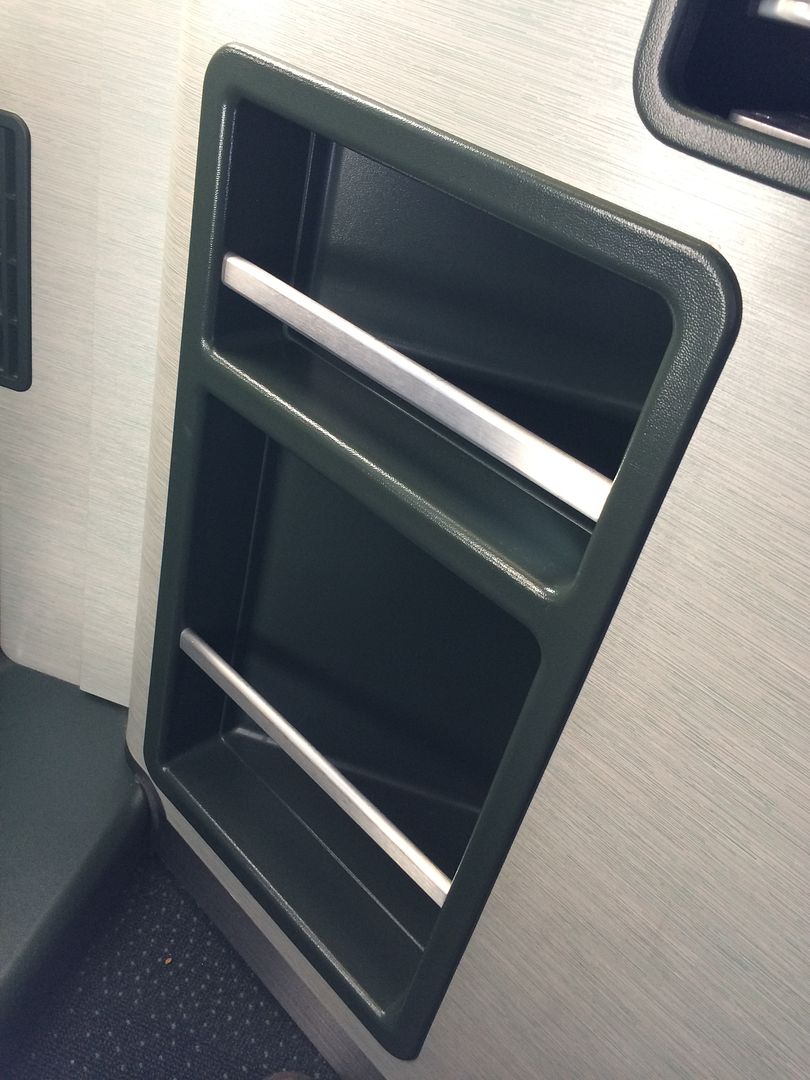 Footrest
After dinner, there was a snack bar setup in the back with extra bottled waters, and a basket of snacks including Buckwheat laver, cheddar cheese crackers, otsumami, fresh dried pineapple, Lay's Chips, Milano cookies, Walker's shortbread cookies, and Nature Valley's Granola bars. As I mentioned in the introduction, there was no proper mid-flight snack service like noodles, sandwiches, burger, and instant noodles. I found it strange, but for all Taipei to West Coast flights, EVA Air does not offer a real mid-flight snack. Only on the return flights or flights beyond fourteen hours, a proper mid-flight snack is offered.
Duty free was offered twice and just a warning, many Hello Kitty products were not available without pre-ordering. There are discounts if you purchase more than one product.
Entertainment – the system was fine with full touchscreen functions, but the problem is the lack of contents. The movie selection is fine, but the television selection is just plain sad. I expect a Taiwanese carrier will have a nice array of Taiwanese variety shows like "Kung Xi is Coming." The television section is just plain sad. Compared to Cathay Pacific and Singapore Airlines, this selection is just plain sad, and even CX and SQ have more Taiwanese television shows on its system.
I slept pretty well throughout the flight, despite intermittent turbulence. The F/As were fairly attentive and they all offered me beverages when they saw me leaving the bathroom. There was an elderly lady that required assistant throughout the night, and the F/As were not bothered by her frequent use of call buttons.
Breakfast service began around 5:22am Taipei time/2:22pm LA time. Juices and refreshing towels were first offered.
Breakfast
Wake Up Drink
Vigor Dong Shih 100% Nature Carrot Juice
Orange Juice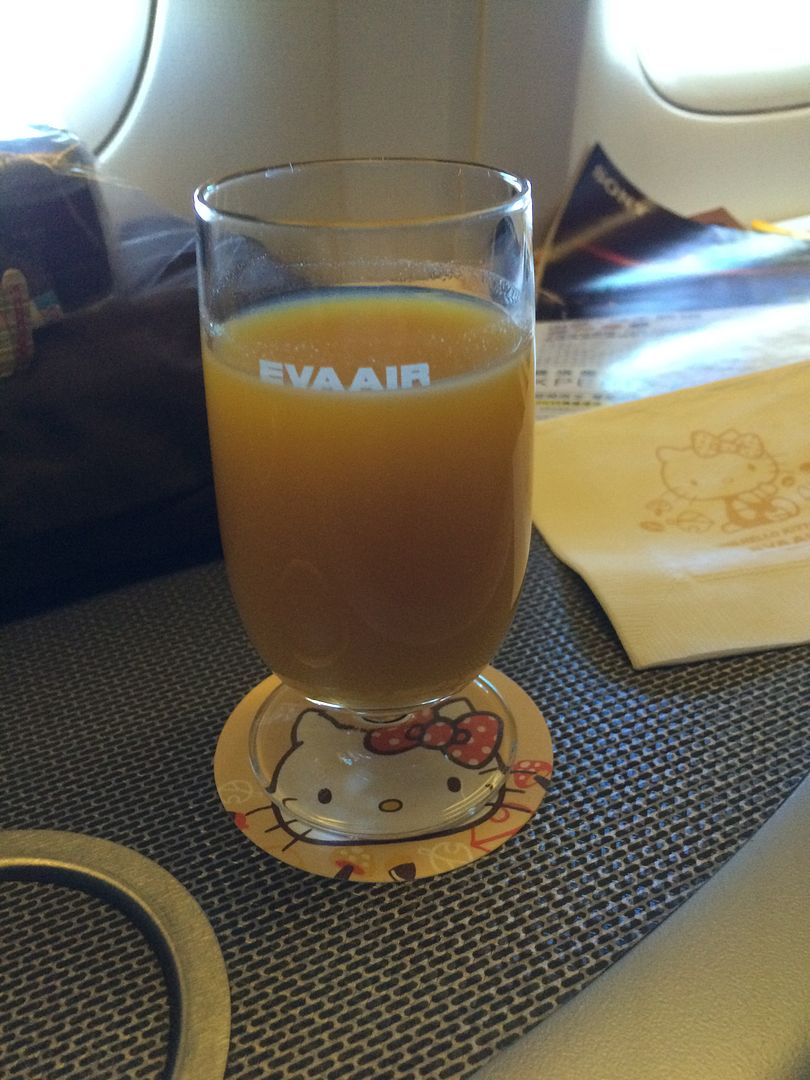 Apple Juice
Tomato Juice
Coffee Tea
Taiwanese Plain Porridge
Traditional Delicatessens
Wok Fried Shredded Chicken with Green Sprout
Braised Shiitake Mushroom with Egg Tofu
Fruit
Or
Western Breakfast
Fruit
Assorted Bread and Echire Butter
Museli Yogurt
Main Course
Asparagus Omelette with Pan Fried Chicken Patty
Or
Royal Laurel Special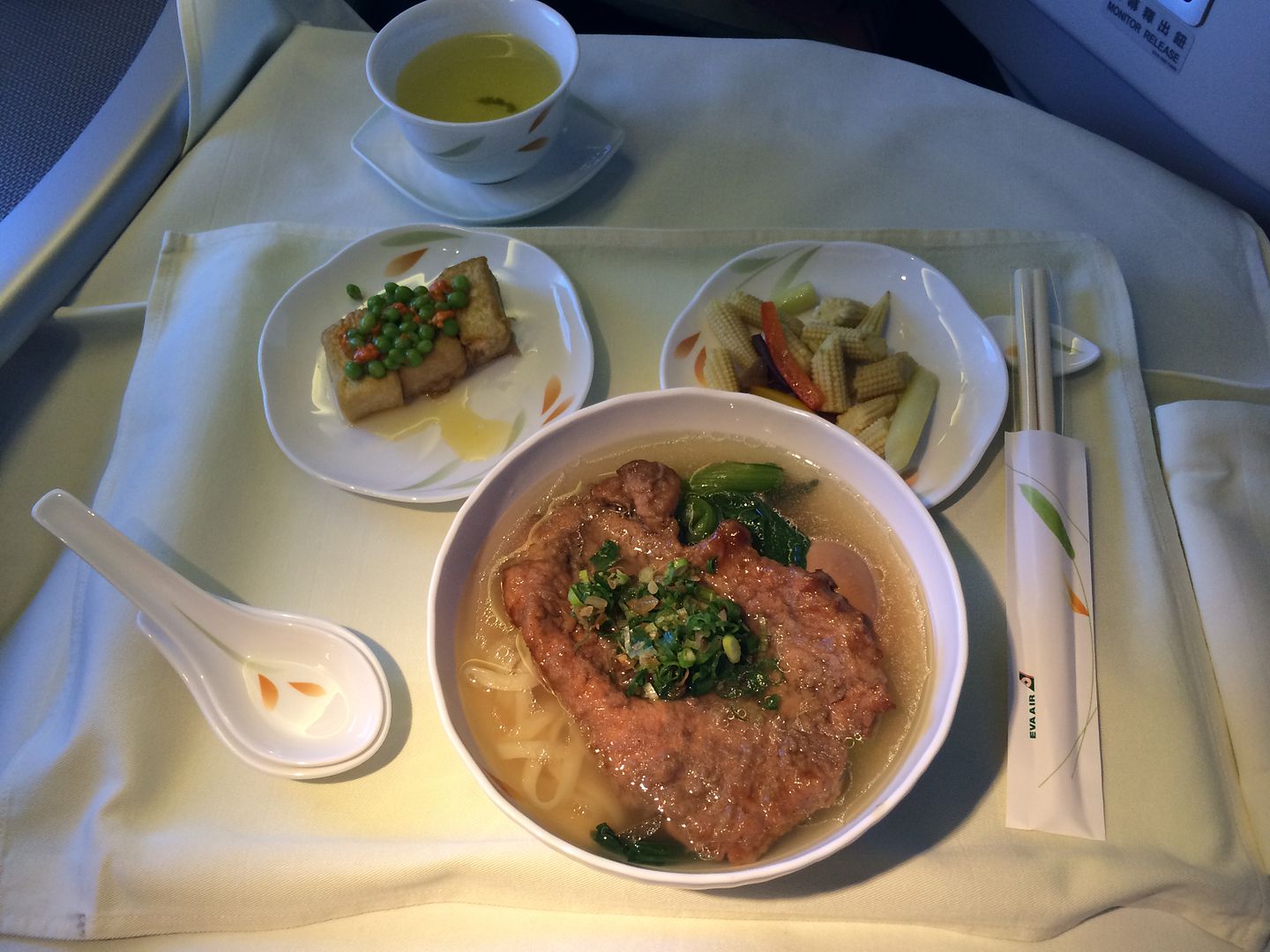 Traditional Delicatessens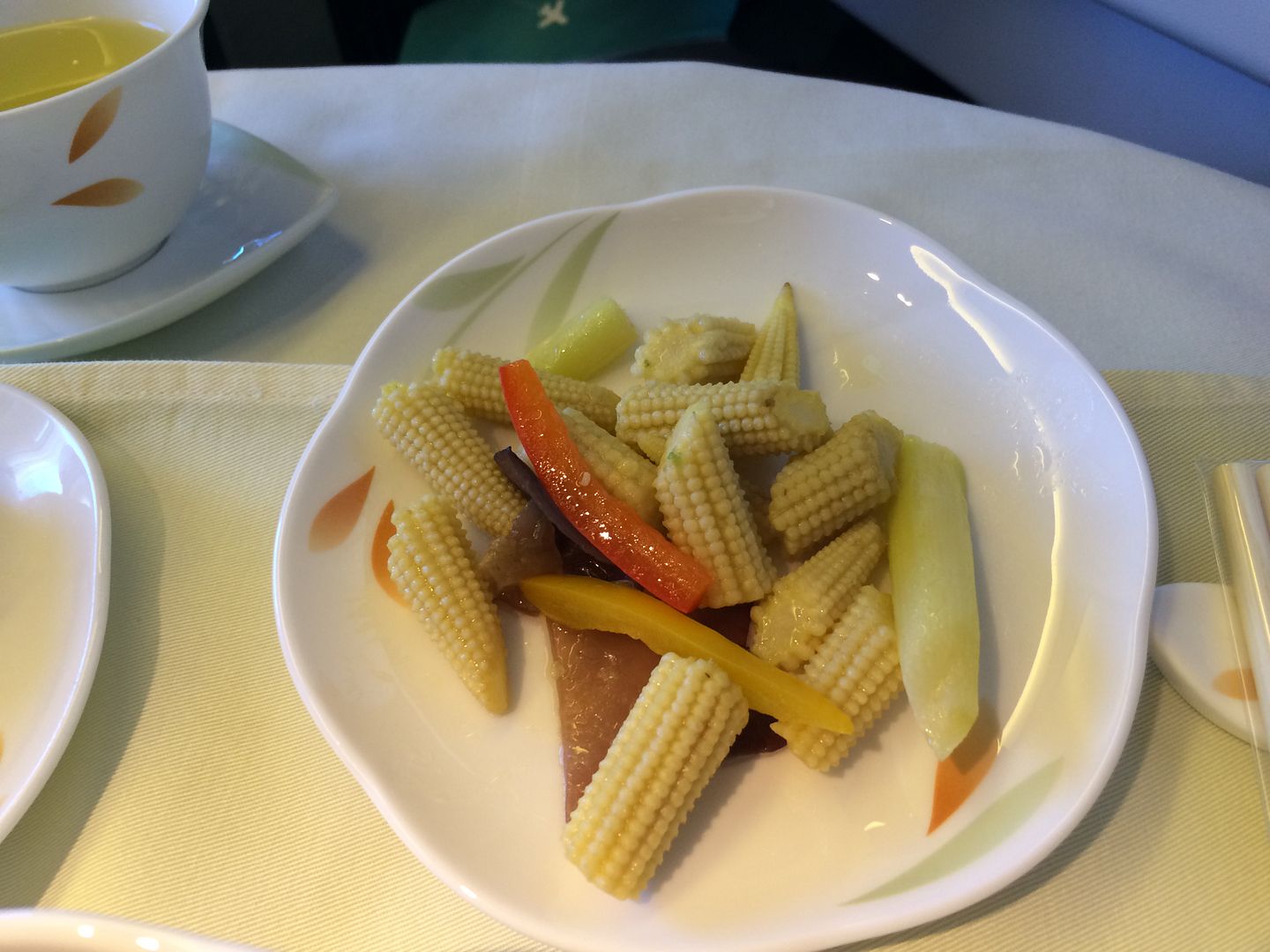 Noodle Soup with Stewed Pork Cutlet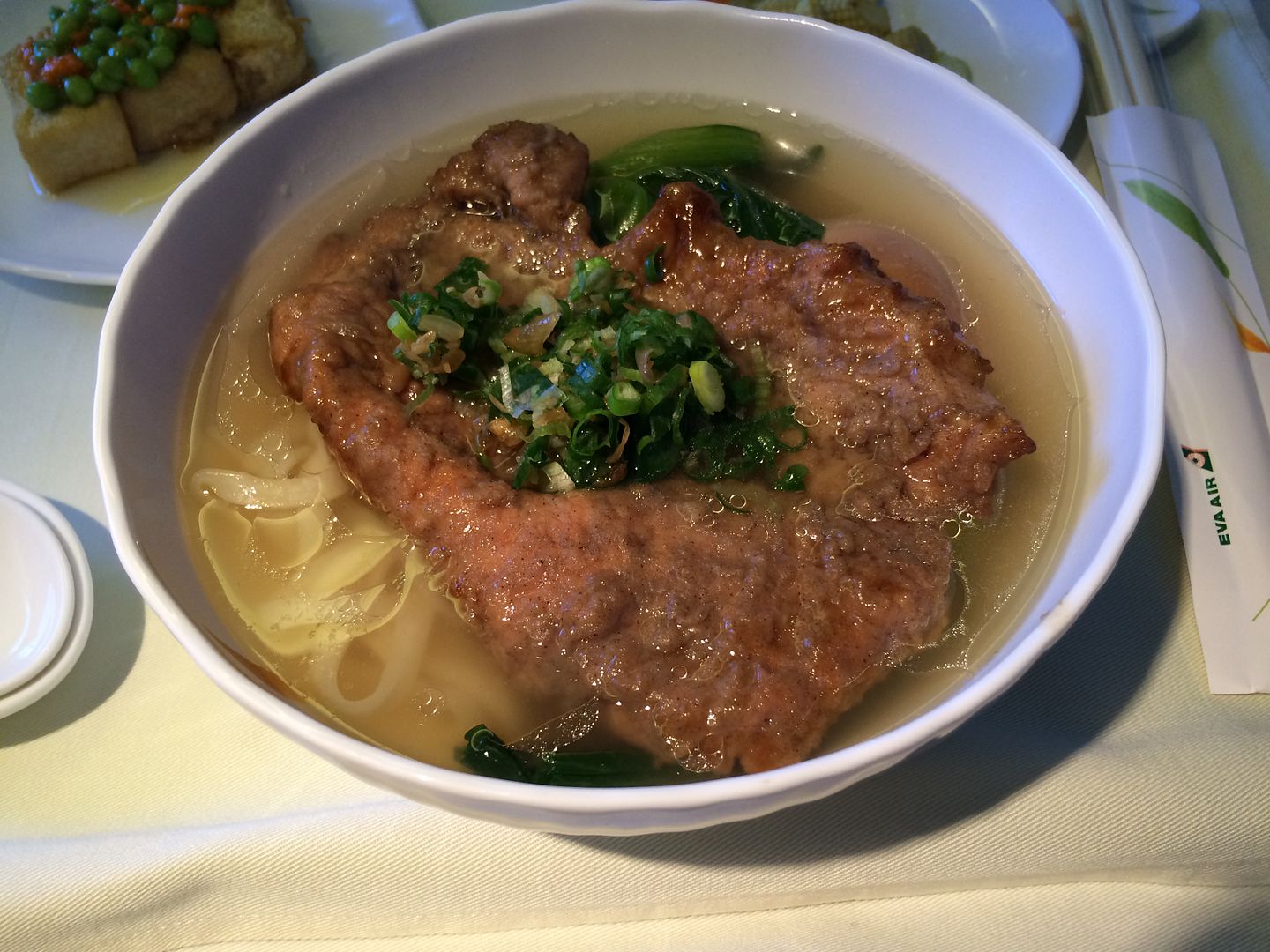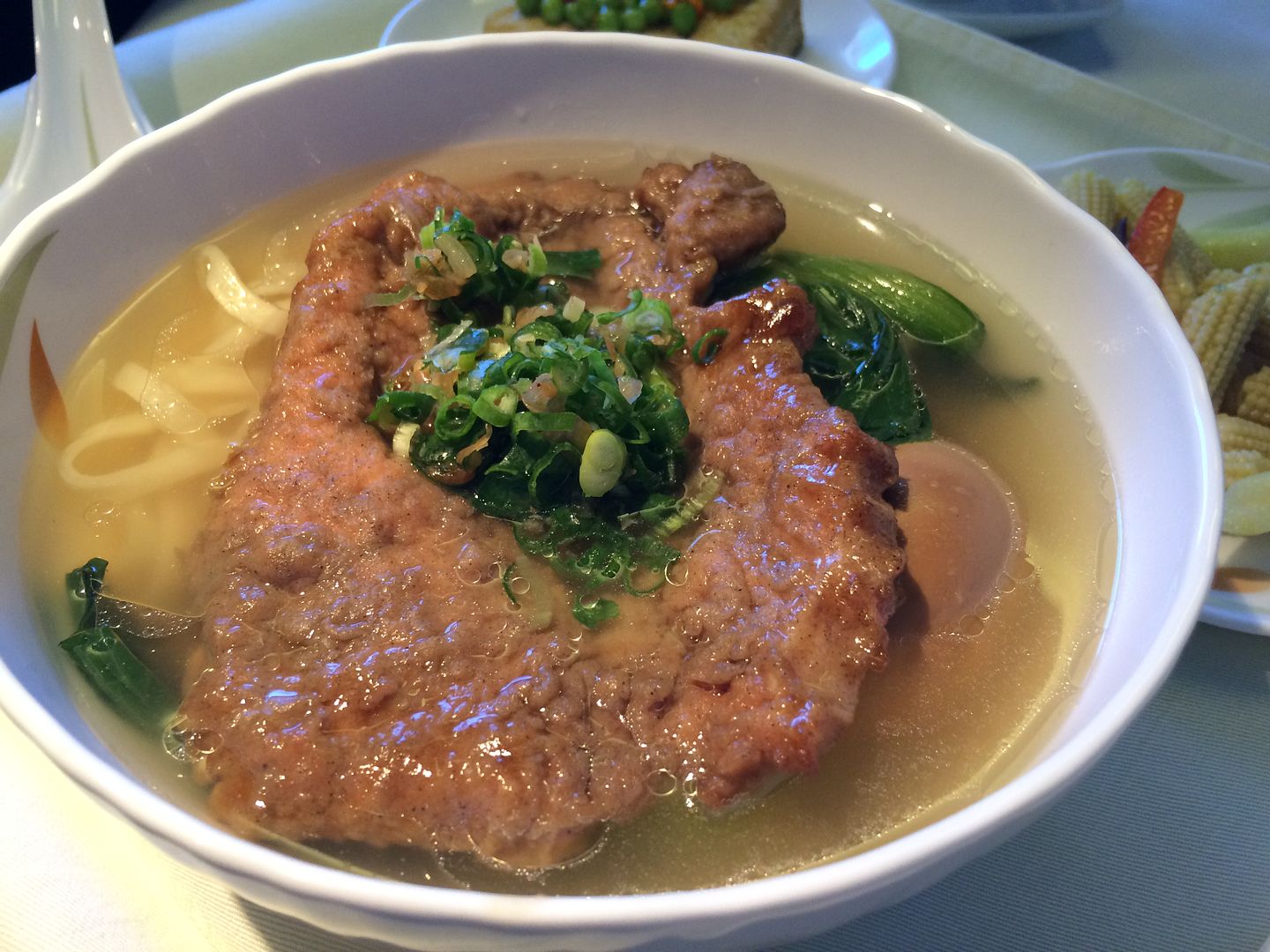 Fruit
Breakfast service was completed within an hour, and sometimes I wondered why Asian airlines were in such a rush to start the breakfast service so early. They could easily wait for another 15 or even 30 minutes. Descent soon began at 4:02pm local time.
View of California coast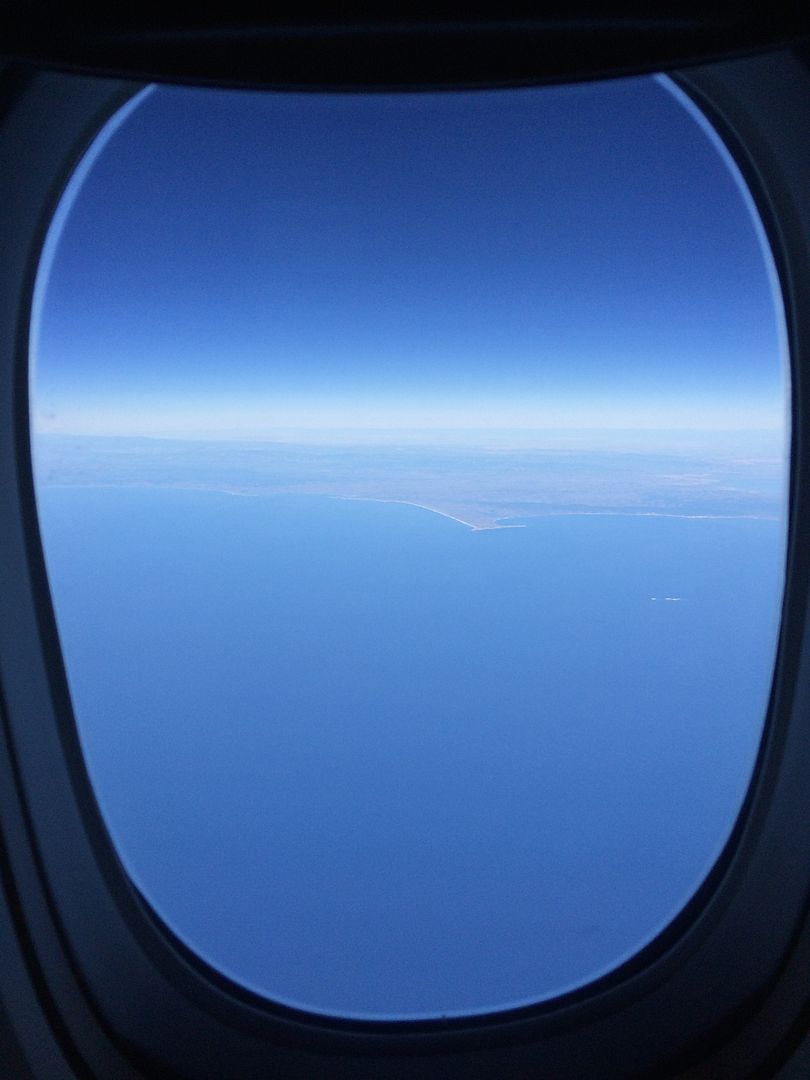 We landed on R/W24R at 4:33pm, and parked at gate 148 at 4:42pm.
We got one of the good gates at TBIT and the walk to immigration was minimal.
Global entry was a breeze and the agent was friendly and in a good mood.
Priority tagged bags first came out at 4:59pm, and mine were among the first batch.
In conclusion, EVA Air has definitely stepped up its game with Royal Laurel Class/Business Class, with a new suite style seat, accompanied by excellent amenity kit, nice champagne, pajama, and improved catering. I think there are still areas that they need to work on, such as the entertainment system. Anyway, it is definitely a competitive product, and no wonder China Airlines has to step up its game with the new Boeing 777-300ERs. This is possibly not an overly interesting trip report, but I hope you will enjoy it nonetheless!
Carfield
Oct 24, 14, 1:06 pm
Join Date: Sep 2004
Location: Portland, OR, United States
Programs: CX Marco Polo Green (hahaha)
Posts: 1,317
A fine report as always, Carfield. Just a few points:

1) I'm still somewhat surprised that the Virgin Clubhouse still exists for just one daily HKG - LHR flight and that BR hasn't moved their lounge access to a fellow *A carrier. I actually showed up earlier than usual for my last flight out of HKG (BR HKG - TPE, then onwards to SFO) just to try the lounge as I suspect BR passengers in C will lose their access to the Virgin Clubhouse sooner rather than later.

2) Nice to see that the post-security connections board in TPE is now a fancy electronic monitor instead of just a board.

3) I found the selections to be fine on BR's IFE but yes, SQ and CX outshine it. That being said, there was a decent selection of Taiwanese films/shows the last time I flew them and they did indeed have an episode of Kangxi is Coming, FWIW.
Oct 24, 14, 8:45 pm
Join Date: Oct 2007
Location: Left
Programs: FT
Posts: 7,285
Excellent tr as is tradition. I booked BR for my flight from yyz to sin to save my company 2000$cad at the time of booking to not fly AC/sq. wow. Was that a great choice. I honestly had been in the dark about bR. Grande dame. Wow. Even better than Dom IMO.
Oct 25, 14, 5:06 am
Join Date: Oct 2004
Location: Anywhere but home
Programs: UA 1K/MM; AA EXP; DL SM/MM; HH DIA; AClub, PC Plat; MR Gold
Posts: 4,258
Nice report with great photos. I'm about to board the same flight to LAX and now have a better idea of what's in store. I admit I'm disappointed they are no longer serving Dom Perignon, but at the same time, look forward to my first tasting of VC La Grande Dame.
Oct 25, 14, 12:35 pm
Join Date: Aug 2002
Location: WAS
Programs: AA EXP (3MM), UA 1K, DL PM, BONVOY TITANIUM, HH DIAMOND, IHG SPIRE AMB, OTHERS
Posts: 3,798
Another fantastic trip report,
Carfield
! Thanks for posting. EVA's Hello Kitty flights are definitely on my bucket list.
Don't let the Champagne selection disappoint. La Grande Dame is a phenomenal Champagne (I actually prefer many past vintages to Dom) and, in my opinion, it's still the best J-class Champagne offering of any airline. Heck, I'd be happy to get it in F. Enjoy!
-FlyerBeek
Oct 25, 14, 3:13 pm
Join Date: Oct 2007
Location: Left
Programs: FT
Posts: 7,285
Originally Posted by
FlyerBeek
Another fantastic trip report, Carfield! Thanks for posting. EVA's Hello Kitty flights are definitely on my bucket list.



Don't let the Champagne selection disappoint. La Grande Dame is a phenomenal Champagne (I actually prefer many past vintages to Dom) and, in my opinion, it's still the best J-class Champagne offering of any airline. Heck, I'd be happy to get it in F. Enjoy!

-FlyerBeek
I agree. Dom is about as overrated as Krug NV. I'd take the GD any day over both.