A Trip Around The Mediterranean
Jun 4, 14, 8:24 am
Moderator: Trip Reports
Join Date: Jul 2013
Location: Dubai
Posts: 3,060
A Trip Around The Mediterranean
---
Jun 4, 14, 8:25 am
Moderator: Trip Reports
Join Date: Jul 2013
Location: Dubai
Posts: 3,060
Day 1.
The trip originally included a visit to Libya, but 2 weeks before I was due to go, the Libyan government suspended visa's for tourists after militamen loyal to General Khalifa Haftar attacked parliament and set off the latest bout of instability. I quickly made alternative plans to visit Rome instead for my first trip to Italy.
The early morning sun at DXB Terminal 3 as I arrived at 6am for the start of the trip
.
Breakfast in economy. The flight from Dubai to Cyprus took ~30 minutes longer than scheduled and flew via Cairo and avoided Israeli, North Sinai & Syrian airspace.
The EK777 after arrival at Larnaca airport. About half the passengers stayed aboard for the subsequent flight to Malta.
After catching the shuttle bus and checking into my hotel, I went out to explore Nicosia.
I then headed up
Ledra St.
to the crossing to the Turkish side of Nicosia (Lefkoşa). Apparently the Cypriots are not too keen on TRNC stamps in your passport so the TRNC visa is stamped onto a separate piece of paper.
Selimiye Mosque (St. Sophia Cathedral). Originally built in 1228, it was converted into a mosque in 1570 during the Ottoman era.
Afternoon tea.
A statue of Ataturk at Kyrenia gate.
Catching a ride on a dolmuş/shared taxi for the 25 minute ride to Girne/Kyrenia.
At Kyrenia Castle overlooking the main port.
Kyrenia is the most popular destination in Northern Cyprus, and is surrounded by the hills of the Beşparmak Mountains.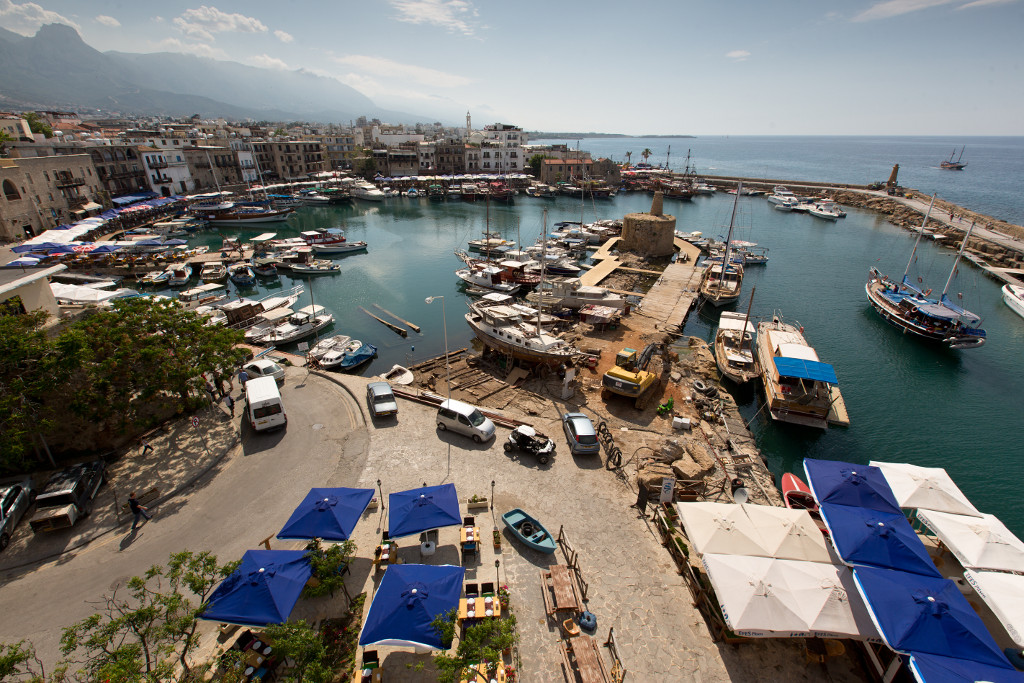 Apple pie and cappacino for 10 lira
.
After exploring Kyrenia for a bit I then caught the dolmuş back to Nicosia, and bought a 'Koka-kola' with my last remaining lira
.
After relaxing at my hotel for a while, I walked along Ledra St for dinner and had some bacon-wrapped chicken kebabs, greek salad & fries for a very reasonable 8 euro's
.
Some more of the local cuisine on offer
.
Day 2.
I got up early the next morning and went for a run around the old city walls of Nicosia. Fascinating with all the barbed wire and UN guard posts that keep the city divided into two, almost seems like from a different era. Unfortunately lots of 'no photography' signs though
. After breakfast I visited the Agios Ioannis Church, built in 1662.
The Liberty Monument, to commemorate the release of Cyprus EOKA independence fighters from prison by the British in 1959.
A bust of Archbishop Makarios III, the first President of Cyprus, outside St. John's Cathedral.
Departing Larnaca airport after my short stay in Cyprus. US VP Joe Biden was visiting Cyprus at the same time, and two USAF C-17's and two 757's (Air Force Two) can be seen on the apron.
Flying over the Cyprus Troodos Mountains.
And over Xemxija bay on the approach to Malta airport. Malta is a relatively small country, and you can see the entire extent of the main island as you fly in.
After catching a bus from the airport, I checked into my hotel apartment in Gzira. Very spacious, decent view and great value for $60 a night including breakfast
. Valletta, the capital, is just over the water on the top right.
I then went for a walk along the waterfront and grabbed some strawberry gelato
.
The capital, Valleta from across the water in Sliema.
Summer.
Business.
High Street.
Laugh.
Sundae.
Pizza di pollo for dinner looking out over the Mediterranean
.
Day 3.
Up early the next morning to catch the ferry over to Valetta.
Valletta was a very picturesque and beautiful city
.
In Blue.
Character.
The very ornate interior of
St. John's Co-Cathedral
.
Back at Malta airport for the Alitalia flight to Rome.
Red orange juice & snack for the short flight.
At Fiumicino Airport with the weather looking quite overcast.
After catching the airport train into central Rome, I jumped on the metro to Barberini station to get to my hotel.
Hotel King for my 3 nights in Rome.
After checking in I did a bit of exploring. The crowds at the popular Fontana di Trevi
.
Red.
Altare della Patria.
Square.
Polizia.
Puff.
Daughter.
Panino on the Spanish Steps for dinner
.
---
Last edited by DanielW; Jun 4, 14 at

10:26 am
Jun 4, 14, 8:26 am
Moderator: Trip Reports
Join Date: Jul 2013
Location: Dubai
Posts: 3,060
Day 4.
At the Vatican Museums for my first full day in Rome. The statue of '
Laocoön and His Sons
'.
The 120 metre long Galleria delle carte geografiche, or
Gallery of Maps
.
One of the
Raphael Rooms
.
Three Nuns.
The Sistine Chapel.
Michelangelo's '
The Creation of Adam
' (by God), one of the most famous works of art in the western world.
The view from the top of dome of St. Peter's Basilica. Well worth the arduous climb
.
And inside St. Peters Basilica itself.
After my visit to the Vatican, I headed east over the Tiber River to Piazza Navona.
Adagiarsi.
Cannoli & espresso to 'recharge'
.
At the Panthenon.
The oculus at top inside the Panthenon to let in the sunlight.
Ristorante.
Piazza della Repubblica.
Frutteria.
Spaghetti & meatballs for dinner.
At the Fontana di Trevi again, at dusk.
And enjoying some delicious gelato
.
Day 5.
The guards at Altare della Patria.
And the panorama view from the top of the Altare della Patria.
At the Colosseum. If you squint your eye's you might be able to see Russell Crowe battling it out with Commodus
.
The
Arch of Titus
at the Roman Forum.
Another mid-afternoon recharge
.
At Fondazione Roma Museo Palazzo Cipolla, an Andy Warhol exhibition. This is one of the four '
Shot Marilyns
'. In 1964, Dorothy Podber turned up at Andy Warhol's studio and put a bullet through a stack (apparently when she asked if she could shoot them, he thought she meant to photograph them
) of his silk-screen paintings of Marilyn Monroe. The faint patch between the eyes shows where the painting was repaired.
There was also an exhibition of photographs from the British photographer Terry O'Neill. Some great photographs of famous people from yesteryear.
Piazza del Popolo.
The 'Pied Piper'
.
Distinguished.
Four Seasons Pizza for dinner
.
Day 6.
I had a bit of time before my flight to Tunis, so went for a bit of a walkabout in Rome. Quirinal Palace, the official residence of the President of Italy.
Palazzo delle Esposizioni.
Mercato di Campo de Fiori.
My 'biglietto' to catch the metro to Rome Central Station.
Arriving at FCO on the airport train.
About to board an Alitalia A321 for the flight to Tunis.
On the approach to Tunis Airport. The white specs in the water below are hundreds of flamingoes
.
Catching a taxi into central Tunis during rush hour.
After checking into my hotel, I went for a walk into the city and got a chicken pita bread & fries for dinner a very reasonable $2
.
---
Last edited by DanielW; Jun 4, 14 at

10:34 am
Jun 4, 14, 8:26 am
Moderator: Trip Reports
Join Date: Jul 2013
Location: Dubai
Posts: 3,060
Day 7.
Catching the tram to the Bardo Museum.
The museum has the worlds largest collection of Roman mosaics and also has antiquities from Ancient Greece, Tunisia, and the Islamic period.
In the older part of the museum, which used to be a Husseinite Palace from the 13th century.
Men & Women.
A 3rd-century Tunisian mosaic of
Virgil
seated between
Clio
and
Melpomene
.
Back at Station Republique.
I then went for a walk through the streets in Tunis.
Tropical.
At the TGM train atation for the 40 minute trip to the town of Sidi Bou Said.
At a mosque in central Sidi Bou Said.
The town was very picturesque, with most of the buildings painted in blue & white.
Late lunch at a Sidi Bou Said restaurant.
With delicous Tunisian dish of fresh fish & couscous for the main
.
At
Avenue Habib Bourguiba
after catching the TGM train back into Tunis, where protests occurred during the Arab spring.
The Cathedral of St Vincent de Paul at Place de l'Indépendence.
A beautiful and well kept church.
The Port de France at the Place de la Victoire.
Women busy shopping at the medina.
And the men at a more relaxed pace
.
The main entrance to Ezzitouna Mosque, the oldest mosque in Tunis (8th century).
Shelter.
Enjoying a cup of tea after a busy day of sightseeing
.
Day 8.
I had a few hours before my flight to Algiers, so went for a walkabout in Tunis again.
Fresh fruit & vegetables.
Above the Patisserie.
Ezzitouna Mosque again, this time from the inside when non-muslims were allowed to enter.
At the Tunisair lounge at the airport. It was $20 extra for the upgrade to business class for my short flight so figured I would 'splurge'
.
The Tunisair A320 getting readied for the flight to Algiers.
Pretty decent meal for an 80 minute flight
.
Flying over northern Algeria. Definitely very green
.
After catching a taxi into central Algiers and checking into my hotel, I went for a walk downtown.
The French influence on the local architecture was very obvious, and definitely reminded me of Paris.
The Grande Poste building.
Pita burger for dinner
.
---
Last edited by DanielW; Jun 4, 14 at

8:41 am
Jun 4, 14, 8:27 am
Moderator: Trip Reports
Join Date: Jul 2013
Location: Dubai
Posts: 3,060
Day 9.
Out for a walk to see some of the sights in Algiers.
Market.
Drapeau de l'Algérie.
Maqam Echahid, a monument commemorating the Algerian war for Independence.
Panoramic view by the monument over Algiers, with downtown on the left and the botanic gardens on the right.
I then caught the metro to Tafourah. The metro was opened in 2011 with one line of 10 stops, and was very clean and cheap at ~50 cents a ride.
At Tafourah with the Grande Poste on the far right.
Exchanging some dollars for Algerian dinars. Dinars were available from ATM's but at the rate of ~80 per US dollar. Like Iran you can get a better unoffical 'black market' rate though. In Iran you can just go to a currency exchange shop to get the unoffical rate, in Algiers though, you need to talk to the 'right guy' on the street
. I managed to sus it out though and changed some money at 110 dinars per US dollar.
At markets at the Casbah.
The Casbah was the epicenter of the insurgency planning during the war of independence.
At an eatery in the Casbah for lunch. 1/4 chicken & bread for $1.50
.
Unfortunately alot of the buildings in the Casbah were showing various signs of neglect and decay.
Gallery.
Outdoor sports
.
After relaxing at the hotel, I went for a walk through downtown Algiers in the evening and had some tasty licorice, strawberry & banana gelato
.
Day 10.
For the second day in Algeria, I hired a taxi for the day for a trip out to see the Roman ruins at Tipaza.
It was a Friday (i.e. weekend) so there were plenty of locals visiting also.
Tipaza was an ancient Punic trading-post conquered by Ancient Rome and turned into a military colony by the emperor Claudius for the conquest of the kingdoms of Mauretania.
And later became a Roman Town.
Filling up with petrol on the drive back to Algiers. Only 24 dinars a litre
.
Some of the waiters at a restaurant for lunch who were keen to get a photo from the 'Anglais'
.
Kids playing outside at dusk.
An Algerian dinner
.
Day 11.
At some nearby markets on my last day before the flight home.
Tram.
About to board the EK777 for the flight back to Dubai
.
Jun 4, 14, 4:37 pm
Join Date: Mar 2010
Posts: 565
Great trip report. Interesting mix. The food looked great at each location. Thanks for sharing.
Jun 4, 14, 8:13 pm
Join Date: Jan 2006
Location: BOS
Programs: DL Gold, Marriott Rewards Silver, Hilton HHonors Gold
Posts: 378
Great report! I'm impressed by how much you pack into each day and each trip.
Jun 4, 14, 9:26 pm
Join Date: Mar 2001
Location: Austin, TX -- AA PLT 2.8MM+ (life PLT); IHG PLT Ambassador; UA Gold
Posts: 5,433
Great photos as always!!! Tunis and Algiers seem very familiar, was just there back in January.. I could see my hotel in one of your photos.
Heading to South Pacific on Saturday for a few weeks then to Malta in early July...
Jun 4, 14, 10:27 pm
Moderator: Trip Reports
Join Date: Jul 2013
Location: Dubai
Posts: 3,060
halfcape
. Yes, a great range of food, everything from kebabs, to pizza & couscous
.
Malta was great too, weather was perfect, and everything was reasonably priced, and a great place to relax as well as see some sights.
rts123
. Yes, I tend to overplan my trips. Makes things less stressful though and helps to make to most of precious limited time.
hauteboy
. Yes, I shamelessly used your Tunisia & Algeria TR as a template. Should have have used the same tour company as you though for Algeria, as the one I used (myuniqueholiday) effectively abandoned me
!
Hope the South Pacific trip goes well.
Jun 4, 14, 11:04 pm
FlyerTalk Evangelist
Join Date: Feb 2007
Location: Los Angeles / Basel
Posts: 24,665
Another amazing trip! Incredible pictures as usual.
Jun 4, 14, 11:29 pm
Join Date: Nov 2013
Location: India
Programs: Shangri-La Jade, Best Western Diamond, Hilton Gold
Posts: 875
I simply loved your pictures more than anything ! You have a real knack for them (and an obsession with gelato :P)
Jun 5, 14, 3:22 am
Join Date: Mar 2010
Location: UK
Programs: Virgin Flying Club Red, Emirates Skywards Blue, BA Executive Club Blue, Amex BA
Posts: 1,811
Wow amazing, What entrance where the Italian police standing in front of in Rome?
Jun 5, 14, 4:49 am
Join Date: Jun 2012
Posts: 4,709
Amazing, thank you very much for sharing! I hope to visit the Mediterranean one day, probably after miles become useless and I have to pay for airfare
---
Last edited by TOMFORD; Jun 5, 14 at

5:32 am
Jun 5, 14, 5:03 am
Join Date: Jul 2008
Location: Hamburg
Programs: LH SEN, HH Diamond
Posts: 185
Nice report! May I ask you what camera you're using?