The Khors of Oman- via Japan, Poland & the UAE. RTW in Biz (NH787,OZ,TG,EY,TK,LH)
May 9, 14, 9:56 am
Join Date: Oct 2010
Location: YVR - Vancouver, with most winter weekends in Whistler.
Programs: Aeroplan, Alaska MVP, Marriott Platinum / Lifetime Gold
Posts: 4,161
The Khors of Oman- via Japan, Poland & the UAE. RTW in Biz (NH787,OZ,TG,EY,TK,LH)
---
The Khors of Oman- via Japan, Poland & the UAE. RTW in Biz (NH 787, OZ, TG, EY, TK, LH)

YVR-SEA-NRT, NRT-ICN-BKK-DXB, AUH-MCT-AUH, DXB-IST-ZRH-WAW, WAW-MUC-YVR
Introduction:

Trip Planning / Preparation:

With another year, another frequent flier de-valuation came and went. Thankfully, Aeroplan had the courtesy to announce the changes with several months in advance, unlike some other recent frequent flier program devaluations. It seemed like the logical time to burn more miles. I've pretty much given up on maintaining status after 8 years, since the miles are easier to obtain through other forms of accumulation.
We had our eyes set on another Africa redemption with our eyes on the Seychelles. But two days before the de-valuation booking deadline, I learned that Ethiopian had outright cancelled their Seychelles flights, leaving Star Alliance without a means of getting to the Seychelles. We had to put together a new plan quickly if we wanted to get in on the lower ticket prices prior to the increase. In 48 hours, I managed to put together an "Middle East" Around the World Redemption with the Aeroplan permitted two stops, calling in on in Tokyo, Japan, Dubai United Arab Emirates, Warsaw Poland booked at about 4 months out.
Since we had already been to the United Arab Emirates, we decided to add on a short side trip to Oman, courtesy of Etihad Guest frequent flier program miles.
For the first time, I signed up for ExpertFlyer (instead of using the "Guess and Check" method that I learned in high school math) which made for a much easier Aeroplan booking experience as I had the Maximum Permitted Mileage in hand when designing the routing.
Taxes, fees and fuel surcharges came to $1,035 per ticket, in addition to 135,000 Aeroplan miles (now 165,000 miles) per passenger.

In this report:
Air Canada Transborder Maple Leaf Lounge: Vancouver Airport
Air Canada Jazz: Vancouver - Seattle
United Club Terminal A / Club International Lounges: Sea Tac Airport
All Nippon Airways Staggered Business B787-8: Seattle - Narita
ANA Arrivals Lounge: Tokyo Narita
Westin Tokyo
Tokyo, Japan
&
Cherry Blossom viewing
All Nippon Airways Lounge Narita Terminal 1
Asiana First / Business Class: Narita - Incheon
Hyatt Regency Incheon
Asiana Business Lounge - International Concourse, Incheon
Thai Airways Royal Silk Business Class: Incheon - Bangkok
Thai Royal Orchid Spa
&
Thai Royal Silk Lounge - Bangkok
Thai Airways Royal Silk Business Class: Bangkok - Dubai
Grosvenor House, Dubai
Dubai
Afternoon Tea at the Burj Al Arab
Etihad Chauffeur Drive and Abu Dhabi Terminal 3 Pearl Business Lounge
Etihad Pearl Business Class: Abu Dhabi - Muscat
Shangri La Barr Al Jissah Resort, Sultanate of Oman
Mutrah Souq & Oman
The Khors of Oman at Turtle Bay, Oman
Etihad Pearl Business Class; Muscat - Abu Dhabi
Four Points Sheraton Sheikh Zayed Road, Dubai
Lufthansa Senator Lounge Dubai & Dubai International Business Class Contract Lounge
Turkish Airlines Business Class: Dubai - Istanbul
Turkish Airlines Istanbul Ataturk Airport Business Lounge
Swiss Air Business Class: Istanbul - Zurich
Swiss Air Lounge Terminal A - Zurich
Swiss Air Business (operated by Helvetic Airways): Zurich - Warsaw
Hotel Bristol, Warsaw
Warsaw
LOT Business Lounge - Warsaw
Lufthansa Business Class: Warsaw - Munich
Lufthansa "New" Business Class: Munich - Vancouver

Links to my previous trip reports:
South Africa, Safari in Maasai Mara Kenya, & Mauritius (UA J, SA J, XAK, LX J, AC J) Nov 2013
A family trip to Westin Playa Conchal, Liberia Costa Rica, Aug 2013
Buried Treasure: UAE Empty Quarter and Beyond to Huvadhoo Atoll, Maldives (UA Y, EY J/Y, Q2 Y), Nov 2012
The Time Share Presentation, F RTW, Spain, China, Thailand, May 2012.
A visit to Macchu Picchu and Valle Nevado, Peru and Chile. Sept 2011
Travel after the Revolution of January 25, 2011. Egypt. May 2011
A Step Back in Time: The Twilight of Burma, a visit to Myanmar Sept 2010
---
Last edited by worldtraveller73; Jul 1, 14 at

9:51 pm
May 9, 14, 10:04 am
Join Date: Oct 2010
Location: YVR - Vancouver, with most winter weekends in Whistler.
Programs: Aeroplan, Alaska MVP, Marriott Platinum / Lifetime Gold
Posts: 4,161
Air Canada Transborder Maple Leaf Lounge
Vancouver International Airport.
After a gross 4:30 AM wake up, we opted for the always-pleasant
Aerocar
to the Vancouver Airport. Our driver picked us up in a spacious Lincoln Towncar, dropping us off at the Vancouver International Transborder Departure within 30 minutes from the house. The blurriness of this first photo is representative of my eyesight and alertness at this hour:
We checked in at the lonely Air Canada podiums, dropped the bags and headed to the deserted Air Canada Maple Leaf Transborder Lounge. I could barely keep up with MrsWT73- now powering through the USA Pre-Clearance area past all the grandpa & grandma kettles and the slow walking families spread out six wide across the concourse. As some of you may know, I used to be on the Air Canada Jazz circuit as an HR Recruiter. With a change in job assignments, came a change in travel habits. MrsWT73 is earning more status miles than me these days on the consulting circuit with frequent trans-border and international trips while I stay at home and have the fortune (or mis-fortune) of tending to her fat cat.
The Air Canada Maple Leaf Lounge Transborder is shortly after US Pre-Clearance Customs. It remains my favorite lounge to visit in Vancouver as it's quite spacious, has bright airy windows and has a decent drink selection. Access was granted today by MrsWT73's Aeroplan Star Gold card as our flight out of Vancouver today was on a single class of service economy cabin ticket. I've never seen the lounge so empty.
A small selection of food out for breakfast today, with hardly anyone around in the lounge to enjoy it.
May 9, 14, 10:06 am
Join Date: Sep 2012
Posts: 220
Nice, looking forward to the rest of the trip report
May 9, 14, 10:08 am
Join Date: Oct 2010
Location: YVR - Vancouver, with most winter weekends in Whistler.
Programs: Aeroplan, Alaska MVP, Marriott Platinum / Lifetime Gold
Posts: 4,161
Economy Class (single class of service)
YVR-SEA (Vancouver International Airport – Sea Tac International, Seattle)
AC 8089 – Economy Class (V)
08:05 AM – 8:54 AM
April 13, 2014
Booked: Dash 8-300
Flown: Dash 8-300

We left the lounge and headed to the short commuter flight area. It was off from the main terminal through a ground level walkway.
It was a non-eventful Dash 8 flight down to Seattle, departing from Gate E95 at the quiet end of the commuter prop concourse. A quick 35 minutes of flight time with a water or juice service offered.
The age of these aircraft that initially joined the Air Canada fleet in 1989 are starting to show. The wear and tear is off set by some beautiful scenery over the San Juan islands off the right side of the aircraft on the way down.
We had a 5 hour layover in Seattle and instead of hanging out aimlessly at the airport, we followed
Seat 2A's
great idea and headed over to have Sunday Brunch at
13 Coins
restaurant which is a short paved 5 minute walk immediately off the airport property at the south end. It's closer than most off airport parking lots and it made for a hearty way to spend some time filling up with a generous breakfast portion. It's open 24 hours for those that happen to be stuck at SEA TAC airport at odd hours.
May 9, 14, 10:22 am
Join Date: Oct 2010
Location: YVR - Vancouver, with most winter weekends in Whistler.
Programs: Aeroplan, Alaska MVP, Marriott Platinum / Lifetime Gold
Posts: 4,161
United Club Terminal A / Club International Lounges
Sea Tac International Airport
After breakfast, we stopped by the ANA check in to see if we needed a lounge voucher for the contract lounge at the Seattle S Terminal. The counters opened at 10:15 AM, three hours and fifteen minutes prior to departure. It became apparent starting from here how far North American carriers have fallen behind in the service industry as compared to their Asian counterparts. A whole army of staff was available to attend to passengers needs and prepared to start the shift all at once. We managed to see the start of shift ritual, which included the manager welcoming us all ten of us in line "irrashmasai" and a bow with the staff lined up. MrsWT73 was very impressed with this introduction to Japanese culture.
As it turns out, no lounge voucher was needed and we headed off to Lounge Hop at Sea-Tac for 2 hours prior to our flight.
United Club
Concourse A, Sea Tac International Airport
First up was the newly redesigned United Club in the "A" Terminal. Things have gotten much brighter at Seattle ever since the United flights moved out of the dinghy North Satellite Terminal and now leave from the main concourse "A Terminal". Our ANA flight was leaving from the South Satellite Terminal, so we stopped in here behind the low key entrance to divide up the time.
The new United Club is a much brighter place to be than the previous dungeon in the old North Satellite Concourse. This version has full glass windows, a split table and bar area and some comfortable loungers. On our visit, they were also stocking copies of the New York Times newspaper and the Financial Times.
Some decent premium American wines on offer for a price.
Catering was pretty par for the course for a United Club:

Club International
South Satellite Concourse, Sea Tac International
We followed up this visit with the contract lounge assigned to handle ANA's business class passengers. The Sea Tac South Satellite Terminal handles the majority of Seattle's international departures and flights and is host to several airlines including Lufthansa / Condor, IcelandAir, Emirates and British Airways. Unfortunately, this means that there is no great selection of lounges in this building with many international carriers only operating one frequency per day.
The Club International Lounge is pretty small and we spent a bit of time looking for a place to sit since all the seats were occupied.
There were some basics here for food, but only of the snacks variety. If you are looking for a meal, you'll likely do better in the terminal.
The lounge also contained a small first class section behind the velvet ropes, or in today's case, glass doors.
It's a bit of a toss up here between the United Club and the Club International. The United Club was newer and a more comfortable space to be on our particular visit. However, the beverages were better at the Club international. We settled into a few glasses of Piper Heidsieck champagne while we waited for our flight. Also on offer were several local Chateau Ste Michelle wines of Washington.
All in all a very pleasant layover. . .
May 9, 14, 10:52 am
Join Date: Oct 2010
Location: YVR - Vancouver, with most winter weekends in Whistler.
Programs: Aeroplan, Alaska MVP, Marriott Platinum / Lifetime Gold
Posts: 4,161
Business Class (ANA Staggered Business)
SEA-NRT (Sea Tac International, Seattle – Narita International Airport, Tokyo)
NH 1077 – Business Class (I)
1:15 PM – 3:40 PM
April 13, 2014
Booked: Boeing 787-800
Flown: Boeing 787-800
Before we knew it, it came time for a most anticipated flight. This would be our first experience on a Boeing 787 and we had intentionally flown and re-positioned to Seattle to fly this particular aircraft.
We were welcomed on board with efficiency at its best. On time boarding exactly at the time announced with the aircraft door closed well ahead of schedule.
This new flight on the Boeing 787 featured ANA's "Staggered Business" configuration. It's great for personal space and privacy as you have to maze your way into the private seat or suite assigned to you. Every seat has aisle access so there is no stepping over anyone. Some snaps of seats 7A (window) and 6C (aisle)
Of note to the aviation geeks are the size and shadings of the windows. The windows extend well above the suites, making for a much brighter cabin. These photographs also show the electronically dimmed window shades.
The suite featured a large television sets with a touch screen function that made the entertainment system easier to operate than with the remote. The entertainment system also had a seat to seat messaging feature where you could annoy your spouse or other travelers.
The space is not super spacious – you definitely trade up some spaciousness for greater privacy. The space is also not so great for carrying on a conversation with someone. I found it to be the most personally private business class cabin of a dozen carriers that I've had the pleasure of experiencing. During the flight, we discovered that it was pretty much impossible to have a conversation seated across aisle or behind one another like we were. Rate this configuration as not a plane for the sharing of experiences.
An amenity kit, blanket, sleeping pad, slippers were on our seat on arrival. The amenity kit was a weak Occatine branded kit but it did the trick. We were further welcomed on board with a glass of white wine or orange juice in a plastic cup.
"Please feel free to take these slippers home with you". I'm sure that the used slipper market in Japan isn't too popular (laughing).
The 787 cabins was very bright cabin with windows that extended well above the seat lines compared to other carriers, leading for a brighter inside cabin experience. The plane also featured the electronic dimming windows. The windows dim when you hold the dimmer button. They take a little extra time to react.
I asked for a pajama (supplied on request) and was given a grey ANA "cardigan" top. They seemed to have lots of stock and I didn't see anyone else ask for one. The cardigan was one sized and was a little tight for my 6ft tall frame. They did not ask for it back at the end of the flight and I did not volunteer it.
On departure taxi, there was a nice send off from the ground staff. A little tear to my eye to be lucky enough to experience one of the finest business class cabins in the sky.
Beautiful views on take off from Sea Tac today.
On board, the service continued to impress with attentiveness and discretion, starting with a towel service.
Menus were promptly dropped off. The menu size was a little large as it contained print for both the inbound NRT-SEA flight and the outbound SEA-NRT flight. MrsWT73 pronounced her dis-satisfaction of the Bogle red wines: "Are you kidding: That's like a $10 bottle??" She was not overly impressed. I'd have to concur, the wine list was a little lacking. During the service, wine bottles were presented for inspection prior to each pour.
I went with the Japanese Set-o and was not disappointed. I could personally eat food of this type every flight. I enjoyed every morsel. The service was topped up with regular, but not First Class attentive refills of Champagne.
My, the catering is a along way from United Business… started with an amuse bouche of smoked salmon and scallop tarter in a pie cup, risotto wrapped in roasted beef with ponzo soy gellee and a marinated mushroom in sherry vinagar.
The Zensai "selection of morsels" was a simmered ivory shell in a soy based sauce, with asparagus of smoked salmon vegetable rolled with grilled beef, served with a sunomono of assortment of regional pickles, with a deep fried salmon in marinated in piquant vinegared sauce.
The Shusai main course was a grilled yellow tail with a soy based sauce, along with steamed rice, miso soup and assorted Japenese pickles.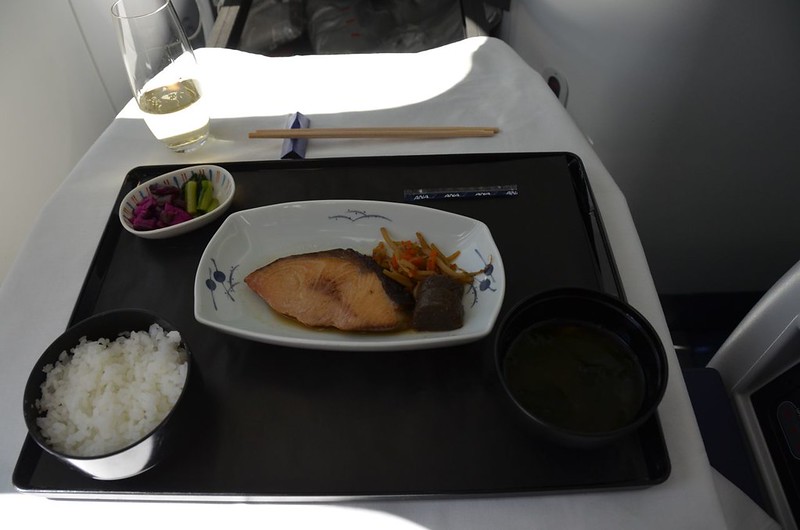 Desserts, chocolate mouse cake and a yuzu and lemon tart, served off the cart.
After dinner, I was tired from the early wake up this morning. I was asked by cabin staff what the breakfast order would be and if I wanted to be woken up? I tried to get into the movie American Hustle but only made it about 30 minutes before I lost interest over The Sandman. I self made up the bed with the mattress pad. A tatiami style mattress pad was provided along with a nice blanket. The seats are again compact for sleeping but I found the tatiami mat quite comfortable for a side sleeper like myself. The cabin went dark and I slept for a good portion of the flight.
Shortly after wake up, the second service was presented. Again, I went for the Japanese Set. The Kuchidori- Mozuku seaweed in vinegared sauce with Japanese savory omelet, presented with Shausai salt grilled mackerel, served with steamed rice, miso soup and assorted Japanese pickles. MrsWT73 found the Ramen Noodles snack, which was a first taste experience for her while onboard. She was fully converted to loving Ramen Noodles by the end of the flight.
Paying tribute to Bill Murray, I finished off the flight paying memory to the film Lost in Translation: "for relaxing times, make it Suntory times" with a glass of Suntory Whisky Hibiki 17 Years old. Indeed it was a super smooth whisky. It was served with a bit of overfill on the ice but I was probably dehydrated by now anyway. It was so good, I followed it up with a second one.
A quick shot of the economy cabin at the rear of the plane. The internationally configured ANA 787 has a very small economy class cabin consisting of only 10 rows in a 3 - 3 - 3 configuration with a mini cabin of 3 rows for a total of 13 rows. In comparison the ANA Staggered Business configuration takes up 13 large rows, or the majority of the aircraft.
My Boeing 787 impressions: it's always great to ride in a nice clean aircraft that hasn't had the usual wear and tear that some others have had over the years. Does the air feel better in a 787? Maybe. If I was presented with the Pepsi Challenge and asked to compare the two, I doubt I would be able to tell the difference. MrsWT73, whom has spent a fair amount of time recently on the Boeing 737-800 commuting route felt that there wasn't the usual recycled stale air smell. The plane was also well put together – the usual bumps and rattles from the older Boeing equipment was completely absent. The larger windows made for a more pleasant, brighter, cabin environment. Would I choose this plane over a tired Boeing 767 product on the same route? Absolutely.
MrsWT73's of course had her usual impressions: "Not my first choice for business." I asked her about this, she called it the experience nothing to write home about. I took this opportunity to explain and highlight some of the intricate details of Japanese culture, the bow-ing, the social hierarchy, the respectful little touches that might go unnoticed by others. With some explaining, I finally got her to admit that there were some cultural service differences between ANA and other carriers. MrsWT73 preferred her experiences on South African Airways last year and found ANA to be better than AC, UA, Thai Airways and Swiss.
Overall, ANA provided a terrific flight experience. I'd be happy to fly them again in a heartbeat. I felt like I was taken care of by attentive and actually interested staff. The service was on par with Asiana and was quite polished and attentive as with many other Asian carriers.
Not to mention those 787 cowling fans on the ground at Narita are pretty cool. . .
May 9, 14, 11:06 am
Join Date: Oct 2010
Location: YVR - Vancouver, with most winter weekends in Whistler.
Programs: Aeroplan, Alaska MVP, Marriott Platinum / Lifetime Gold
Posts: 4,161
ANA Arrival Lounge.
Narita Terminal 1, Tokyo Japan.
On our way through Narita, we decided to check out the ANA Arrivals Lounge. It's located in the public Narita Terminal 1 arrival hall, after baggage collection and customs, tucked away in the corner by the Domestic Connections Desk. We were admitted thanks to the ANA Business Class boarding pass.
We've been lucky enough to visit nice several arrivals lounges in the world. Unfortunately, this was not one of them. It was a pretty plain, featureless room verging on boring and unexciting.
The lounge was quite full. Initially I couldn't really understand why. I figured it must be a few people waiting to catch later connections to JR trains or something. I later learned that the ANA Arrivals Lounge also doubles as a ANA Domestic Departure Lounge. This would explain why it was so busy.
Although the décor was pleasant, the food and catering was minimal. Small finger sandwiches. No noodle bar (like upstairs in the ANA International Departure Lounge), and the only drinks on offer were fountain pop and the Kirin Lager Beer machine. It was nothing like our terrific
Swiss Air Arrivals Lounge
experience in November.
Obligatory shot of the automatic self tipping Kirin beer machine…
We didn't stick around here too long, having quick snack as we headed for the Narita Express train into Tokyo.
May 9, 14, 11:43 am
Join Date: Jul 2006
Location: YVR
Programs: A3*G, AC
Posts: 1,575
Looks like the start of a great TR! I think I slightly prefer the NH 787 over the LO 787 in terms of Y cabin, and by a great deal in terms of J. And the pictures are excellent, keep it coming!
May 9, 14, 11:50 am
Join Date: Oct 2007
Location: Left
Programs: FT
Posts: 7,285
Great start. I believe you are supposed to return the cardigans… ;-) The SEA-NRT flight times really suck. Leave mid aft and arrive mid aft. Yuk. Love the booze in the arrival lounge. Never seen that before.

Whats wrong with Bogle? In BC, is probably about 25 or so a bottle. Their organic and sustainable. Sure, they are no Harlan Estate but not horrible. That said, they certainly make up for it by serving the Hibiki and the Sake's they list along with two different types of Sochu. I would have said sayonara to the wine on that flight hello…."more…intensity"….
May 9, 14, 12:17 pm
Join Date: Oct 2010
Location: YVR - Vancouver, with most winter weekends in Whistler.
Programs: Aeroplan, Alaska MVP, Marriott Platinum / Lifetime Gold
Posts: 4,161
Westin Tokyo
Executive Club Room
Ebisu, Tokyo
Tokyo must be the choice of hotel mileage redeemers. If Starwood Preferred Guest rates their hotels based on levels of redemptions, Tokyo rated high as a Category 6 (out of 7). Is it high demand, or extortion over hotel room rates? Probably a bit of both… There are lots of rooms for sale all over the city, but all rooms were wanting top rates for their properties. Twenty thousand SPG points per night for a room as an SPG Category 6 initially priced at $300 USD per night? The Hyatt's were no better. The Park Hyatt Tokyo commanding 25,000 points for a $450 a night room. Marriott didn't really seem to have much of a presence with only 2 hotels that didn't really look too interesting. We stuck with the paid rates and booked in at the Westin Tokyo four months out. The rates did indeed climb to almost double what we paid and did occupancy did eventually sell out at the Westin Tokyo doing our stay.
To get to the hotel, we took the JR Narita Express from Narita Terminal 1 to Shibuya Station, then transferred to the JR Yanamote line train one stop to Ebisu Station. We took advantage of the discounted ¥1,500 yen pricing for tourists for the inbound (regular rate ¥3,000).
On arrival at Ebisu station, we walked the 10 minutes from the station on the travelator sky walk with our rollies to the hotel through the Yebisu Office complex. It was very easy to locate. Even though the train is supposed to be quicker, it took us about 2 hours door to door from the airport, cutting any time savings instead of taking the bus. (The bus takes two hours, and the train is supposed to take 90 minutes from Narita to Shibuya station)
We checked in without any issues. The lobby features a very Italian era type of décor that seems from an era past. The property also recently celebrated it's 20 year anniversary. The property was well maintained given its age.
We received a Executive Club Room on 17th floor as booked. The room was quite large for Tokyo standards and in better than average condition compared to other Westins that I've stayed in.
An unusual Westin Amenity: Westin Kimonos.
The room had a fabulous East facing view of the Tokyo skyline, spectatular at sunrise, sunset and night time.
With our room rate, we had access to the very comfortable Executive Club lounge on the 17th floor. The lounge offered an open self pour bar between 530-730 PM. It also offered a continental breakfast with some hot items in the morning between 0630-1030, along with free wifi. I found that the breakfast was sufficient enough to substitute for an actual meal as long as you were willing to eat from the various small containers.
Around the hotel,
La Table de Joel Robuchon
is immediately across the street in a faux French manor which looks very kitschy in this neighborhood of high tech monolithic sky scrapers. There is also a Starbucks 2 minutes from the hotel towards the Ebisu Yanamote station, along with a pharmacy and department store in the Yebisu Gardens. There is also a 5 km running route available from the hotel that runs along the river. Maps were available at the concierge desk.
The Westin Tokyo was nicely located for exploring Tokyo. The Shibuya and Shinjuku areas were a few direct stops away on the Yanamote line and Roppongi was also closeby. It's not the newest or the most chic property in Tokyo, but it nicely suited our needs and made for a very comfortable stay. I would easily stay here again.
May 9, 14, 1:44 pm
Join Date: Oct 2010
Location: YVR - Vancouver, with most winter weekends in Whistler.
Programs: Aeroplan, Alaska MVP, Marriott Platinum / Lifetime Gold
Posts: 4,161
Tokyo.
We had 4 days in Tokyo on this visit. It was my fourth visit to the city over a twenty-year period and MrsWT73 first visit. Everytime I've visited, there has always been something new to discover.
We started off at the Meiji-Jingu shrine, which is a lovely park in the middle of Tokyo. We were able to catch the start of a religious cermimony here with the entrances punctuated by beautiful toji shrines.
We walked down Omote – Sando- the new Champs Elysees of Tokyo (less the exotic cafes), and around to Shibuya and the Shibuya Crossing. As most of you likely know, the Shibuya Crossing is a scramble crossing that is likely one of the busiest intersections in the world with several thousand crossing at every cycle.
We arrived prior to most of the Shibuya shops opening, then MrsWT73 located her first
UNI QLO
which promptly cost the day an hour. Then it was onto shoe stores for a bit prior to heading up to Shinjuku, ICI sports (my favorite ski equipment store in Japan).
Our travels also took us through Roppongi, then over by train to the Imperial Palace. Not much has changed here between my last visits but it's still a beautiful place to see in Tokyo.
After lunch in the basement of the Tokyo train station, we headed over to Jimbocho "the sports equipment area" for ski stuff, then an evening walk over to Akihabara "the electronic district". Akihabara is under several train viaducts and is a noisy experience. We enjoyed a Doutor coffee along the way, from Japan's original coffee shop.
May 9, 14, 1:53 pm
Join Date: Oct 2010
Location: YVR - Vancouver, with most winter weekends in Whistler.
Programs: Aeroplan, Alaska MVP, Marriott Platinum / Lifetime Gold
Posts: 4,161
Tokyo continued...
Our travels also took us through the Tsijuki fish market and Ginza. Tsijuki remains the largest fish wholesale market in the world. Tsijuki Fish market is planning on moving locations shortly to another area in late 2014 so I was keen to see it in the original location. Tsijuki Fish Market was pretty packed up by 10 AM at the time of our visit. We didn't bother getting up for the auction, which probably required a 3:30 AM arrival. There were reports of banning visitors to the inner market (pictured here) but we pretty much walked around unchallenged.
Of course, there are also several wonderful sushi places around Tsijuki. This is believed to be the sushi bar that has been operating for 50+ years and always has a wait, among others in the area.
We continued onto Ginza, a short walk away, for more shopping, and a visit to the country' flagship twelve story Uni Qlo store. Ginza is the main shopping district of Tokyo and has many department stores here.
May 9, 14, 2:27 pm
Join Date: Oct 2010
Location: YVR - Vancouver, with most winter weekends in Whistler.
Programs: Aeroplan, Alaska MVP, Marriott Platinum / Lifetime Gold
Posts: 4,161
Cherry blossoms in Shinjuku-gyoen (Shinjuku Park).
Shinjuku, Tokyo
Date of Visit: April 15, 2014

Tokyo is full of wonderful, spacious parks. No trip to Tokyo in April is complete without a visit to see the cherry blossoms in Shinjuku-gyoen. The park has more than 20,000 trees, with over 1,500 varieties of cherry trees. It is a short 15 minute walk from Shinjuku-ku station.
Although we were seven to nine days off the peak blooming period, it remained an absolutely beautiful visit. The park was full of many different varieties, including many people simply enjoying their beauty. Needless to say, it was a photographers dream to capture all the different colours and types.
If you have ever wanted to visit Japan, plan early and time it to enjoy the cherry blossom season. With a little planning, it's perfectly possible to enjoy this experience which is once in a lifetime experience for many people. We were certainly glad that we did. The blossoms were beautiful and it was a pleasant way to spend the afternoon. The visit to Shinjuku-gyoen was easily the highlight of our Tokyo trip.
May 10, 14, 12:45 am
Very nice trip report so far!

It's a shame that the ANA service to YVR is on a 767... I sure hope they upgrade that to a 787 in the future!
May 10, 14, 7:36 am
Moderator, Trip Reports
Join Date: Nov 2009
Location: 6km East of EPAYE
Programs: UA Silver, AS & AA GM, Marriott Platinum, Hilton Gold
Posts: 9,291
What a great TR, and route. I am really looking forward to the rest. Thank's for sharing