ANA J & First Square, United Y & p.s., The Tokyo Station Hotel
Mar 3, 14, 3:54 pm
Join Date: Jul 2013
Location: MRY - CNX - TXL
Programs: UA 1K / *G / Marriott PE / Expedia Gold+ / Hertz PC
Posts: 7,054
ANA J & First Square, United Y & p.s., The Tokyo Station Hotel
---
So it's about 5:30am in Tokyo, a little restless in bed so figure a good time to start this before breakfast and planning my first day in Tokyo.
This has been a MUCH anticipated trip, part in due to FlyerTalk. I didn't really realize the capabilities of award travel. I thought for the most part you got FF status for some perks and using miles as part of an existing ticket to upgrade. I didn't think I could plug in dates, book across partner airlines and get $14,000+ in airline tickets for $121 (as is the case here). I had booked this trip last July...I wanted to go as far as I could & where I've never been and in as nice of a luxury I could find. That would end up being this 12 day trip to Tokyo. I also then decided that since I had the time after it I wanted to surprise my Mom so that's where the United stuff comes in.
As with my other TRs if you've read them there is a mix of haphazard cellphone shots and then things a bit more thought out & higher quality that I've shot with any of my several cameras I have on me. In this case I packed "light" as I don't have a specific job I am shooting here it's my Leica X2 point & shoot, Canon 5D with Zeiss 85mm & medium format Fuji 6x9 (those photos I'll post when I'm back in NY & have developed them).
Run of show:
1) British Airways Terraces Lounge JFK
2) ANA Business Staggered JFK-NRT
3) The Tokyo Station Hotel
4) Tokyo & Misc
5) ANA Suite Lounge NRT
6) ANA First Square NRT-ORD
7) United ORD-LAX-MRY Y
8) Monterey Bay & Misc
9) United MRY-SFO-JFK p.s. Business
I had been biting my nails all week watching the weather hoping that any snow and things would get pushed back a day...earlier in the week it was showing snow on Sunday but as it progressed it got later and later. Very happy to have got out! Quicker trip than I thought getting to JFK...left the East Village at 1:15 and upon arrival the check-in doesn't open until 3 hours before the flight. So at 1:52 all the agents were sitting and waiting until 1:55.
The premium line (and for that matter PreCheck line) at Terminal 7 is a joke. I had watched someone go in the standard line at the same time as I did and I noticed I was putting my stuff on the belt as I saw them walking up the steps through and done with screening.
Here's Hillary Swank being escorted by a UA rep to cut the line...is she carrying her Oscar's dress?? That plane better fly fast!
As you circle back through security and up the stairs as a Business or First passenger you are invited to use the British Airways Lounge...if you keep walking down the hall past that you arrive at the United Club. What a difference 100 feet makes!
The times I've used the United Club before p.s. flights and now seeing this I am going to cry next trip when I have to bypass the BA lounge for the UC. As you walk in there is an ANA rep who takes your invitation, gives you the WiFi password and says she'll make announcements for boarding. To the right is the Terraces lounge & to the left is First Class.
As I was in pretty early there were plenty of seats, soon it began filling up closer to departure times but still was never crowded, plenty of places for a single or double group to sit without having to share a seating area. A fair selection of drinks, beer, wine. Rotating options of sandwiches put out (ham, cheese, garlic mayo / salmon, creme fraice, onions / vegetable wrap), there was a soup station but I never saw anything in there. There is also another glass door with podium section for Supper but that is restricted to BA pax and even then it wasn't open by the time I left the lounge at 4:40.
At check-in I was told the flight would be a little delayed and that boarding would be at 4:55 (whereas that was the original flight time). With a few Japanese announcements in the lounge close to that time I was getting anxious and wanted to stretch my legs. I saw plenty of Japanese pax who I saw at check-in still in the lounge so I wasn't too worried about the lounge agent having told everyone to get their butts on board we were taking off early.
Eventually they started having F & J pax line up and announced we may board at 5:00...then a bit after that they made an announcement saying another 10 min and 20 sec later on the walkie talkie you could hear the plane say to let us on and we were on our way in.
I was giddy beyond belief! After plenty of bows and welcome on board I got to my seat, sat down, worked all the controls and headphone jack to make sure everything worked and at once point I caught myself sort of bouncing up and down sitting in the seat.
Good thing I had a drink to calm me down a bit.
The FAs were all smiling and very gracious and came around and picked up the plastic wrap from everyone's slippers, amenity kit and mattress pad. While several worked each aisle and section (split in half) the main FA for my section came and introduced herself.
The view from a K seat.
I was excited for the Business Staggered product as I like aisle access (I get up a lot to pee from all the drinks) and it's always nice resting when you know someone may not be straddling you in the middle of the night to get out. This was taken pretty much at eye level sitting back in the seat, great privacy. The seat itself was pretty comfortable sitting up right, as I'm fairly tall I could comfortably sit with my arm on the blue table as well. The seat cushions you really don't sink into, they are a bit firm...for the times sitting it was fine, sleeping I see why they give you the mattress pad. The pillow was a bit on the small side and when I eventually laid down (got 6.5 hours total) it was a bit small so I ended up squishing up the blanket as well for a pillow and draped my cardigan over me.
So cool! As we were pushed back there was a small ANA car that drove out, someone got out, bowed to the plane as it started to move and then continued waving us off. I actually was surprised how fast we boarded, I was shocked when I saw we were moving...surely they couldn't have loaded the entire plane! They informed us with the late departure that we should land at NRT by 10:10...looking at the flight time that seemed a bit off, were we going around some weather, lots of wind? 1 minute later the FA came back on and said she made a mistake and it was going to be around 9:10 more or less our scheduled arrival as it originally was. Could I make the 9:44 Narita Express? Nail Biter Pt. 2!
This little tucker is a long way from home! (fitting the plane was named "Longreach"
Once we got above the cloud cover at JFK we had quite the treat.
The FA came around and then distributed menus...which is rather extensive not only having everything listed in dual languages but also it includes both legs of the IOJ flight...so from Japan & to Japan listings. I didn't realize that at first, and I thought they had switched up what we were getting because I had previously checked it out online:
Food
Drinks
But as I was flipping through I noticed my mistake.
Throughout the flight I enjoyed several glasses of the Saika Junmai Gingo...it was also nice that each time she brought me a new glass it was a bit more full than the previous.
You can check out the links to the menu but I went with the steak over the fish. The amuse bouche were great, the appetizer while good was a bit mixed and left me neither here nor there, the steak was great (not dry) but I didn't understand the need for the butter so moved it aside to save on the calroies, the yuzu lemon tart was great!
Others have stated that IFE isn't that extensive or great, I can see that. But, it's enough to get you through the flight...since I knew I'd be back on one I didn't want to stay up all night watching movies so after Brave & half of The Hobbit I went to bed and got about 6.5 hours.
I woke up with a few hours left in the flight and decided I wanted to try the Ippudo ramen. I live a few streets away from it in NY but I have never had it...so why not try it somewhere between Alaska and Russia? Woke me up nicely with some green tea, still a bit hungry I asked for some fruit and another tea to finish The Hobbit. The first meal doesn't leave you stuffed which is a nice feeling but as you can see from all the snacks offered you aren't going to starve to death on an ANA flight.
I decided to peek out the window and could catch some of the last sunlight as it was starting to set far off over Russia. Before going to sleep one of the FAs came by and mentioned to look out the window and we could see the aurora. Something I couldn't capture on the camera but that was AMAZING. Seeing this far off whisps of polar lights with the wing partially in view bordered on a surreal experience.
In lieu of the seafood lasagna on the Western side I opted for the Japanese arrival meal. I can't say I have the most keen sense of taste of evaluate the dishes but I liked everything and was great to get me in the mood for the next week & a half. Also more sake!
Overall the flight was great. I had read that some ANA FAs were not that confident with English but I had no trouble. To take orders they also bring a menu with the page open and you can point things out. They were all very attentive when you needed it, ring the call button and within 10-12 seconds they were at your seat. They had some orchids set up around the cabin and in the bathroom. The bar area was set up with water, crackers and cookies and then an open menu indicating to order food/drinks at your seat. Bathrooms also had some nice moisturizing products in them.
We touched down close to 9...I started counting the minutes. I didn't want to end up missing the NEX and then have to head back and figure out the Airport Limo Bus (and for that matter have to take the bus). We got to the gate after 7 or so minutes of taxing (and what a plane parking lot with lots of 747 cargo, A380s from Air France & Singapore). Off it very quick, started heading to CBP...past quarantine where they have a body temp thermometer you pass by. Through passport control in about 10 min and at the baggage claim at about 9:20...okay here we go come on bag come on. Plenty of *A "Priority" bags on this flight. There's mine...15 min to spare! Through customs and out in the terminal found the railway signs headed down. Tried to use an automated machine...FAIL! Bought my ticket from the counter agent and was on the train at 9:37 which pulled out at 9:44. Success!
Got out at Tokyo Station, found the Marunouchi exit and no double finding my way along the beautiful facade to The Tokyo Station Hotel where I was quickly checked in and shown to my room. Going to give it a few days of eating/drinking/using facilities at the hotel before I make any comments. But can't complain about the room!
Mar 3, 14, 8:15 pm
Join Date: Nov 2012
Location: MCO/TPA
Posts: 33
I am on the edge of my seat for pt. 2! (haha)

Onto a more serious note...Why did you reserve your spot on the Narita Express? Why didn't you pay for the ticket when you landed?
Mar 3, 14, 10:38 pm
A FlyerTalk Posting Legend and Moderator: Air Canada Aeroplan & Manufactured Spending
Join Date: May 2002
Location: YEG
Posts: 47,964
Great photo's that brought back some memories of the staggered biz flight SFO-NRT a year ago that I very much enjoyed. I also very much liked the privacy of the staggered biz class set-up and found the seat okay as I was able to get the same amount of sleep but have been in more comfortable biz seats. The gracious service and nice meals were also big plusses to me.
Nice report and thanks for sharing.
Mar 4, 14, 1:00 am
Join Date: Jul 2013
Location: MRY - CNX - TXL
Programs: UA 1K / *G / Marriott PE / Expedia Gold+ / Hertz PC
Posts: 7,054
Mar 5, 14, 2:53 pm


Nice report thus far, and nice choice of hotel, wondering if you have more photos of the Tokyo Station Hotel? At one point in time considered staying there but the prices went up before I booked...
Mar 5, 14, 3:48 pm
Join Date: Sep 1999
Location: SF Bay Area
Programs: UA 1.4KMM, Htz PC, Natl ExEm, SPG G, Hyatt Plat, Hilton G "What's that make us? Absolutely nothing."
Posts: 2,774
Mar 5, 14, 4:24 pm
Join Date: Jul 2013
Location: MRY - CNX - TXL
Programs: UA 1K / *G / Marriott PE / Expedia Gold+ / Hertz PC
Posts: 7,054
Haha I know! The original plan was from ORD-LGA in a RJ F but I wanted to change my schedule and surprise my Mom for a few days so instead of trying to change the award ticket from NRT-SFO/LAX I just kept it to ORD so I can still fly the F Square. If I don't get an upgrade from ORD-LAX it won't be the worst thing in the world, I can deal with my 3 episodes of Game of Thrones for the time being. I should make a size comparison chart going from 777 to 737 to RJ to turbo prop.
I have some more stuff of the hotel...I'm waiting another day or two so I can check out another one of the restaurant and bars here to make it a bit more robust post. But I can say now the rooms and service I am LOVING.
Mar 6, 14, 1:54 am
Join Date: Dec 2009
Location: Bedfordshire, UK
Programs: BA Gold, Geek platinum
Posts: 1,917
Originally Posted by
JVPhoto
The times I've used the United Club before p.s. flights and now seeing this I am going to cry next trip when I have to bypass the BA lounge for the UC. As you walk in there is an ANA rep who takes your invitation, gives you the WiFi password and says she'll make announcements for boarding. To the right is the Terraces lounge & to the left is First Class.
It does make you realise just how bad american carrier's lounges are when you go into other lounges. Given that on board service seems to be improving (in business at least) with better seats and food, you would have thought they would try to up their game on the ground as well, for international flights at least.
Mar 6, 14, 11:25 am
Join Date: Jan 2013
Location: Reston, Virginia
Posts: 179
I am looking forward to hearing more about your hotel stay and the rest of your trip!
Mar 7, 14, 11:03 am
Join Date: Aug 2005
Location: HPN
Programs: not anymore! I'm FREE!
Posts: 3,165
Nice report!
So it seems you didn't find the cushions to hard for sleeping. That's the one thing I'm worried about for my upcoming trip, as others have complained about the cushions. Don't know if you've been on LX J, but I found the seat rock hard and I could barely sleep a wink. But apparently the mattress pad helped? How does it work - do they make the bed up for you when you want to sleep?
Mar 7, 14, 8:28 pm
Join Date: Jul 2013
Location: MRY - CNX - TXL
Programs: UA 1K / *G / Marriott PE / Expedia Gold+ / Hertz PC
Posts: 7,054
Originally Posted by
snic
Nice report!
So it seems you didn't find the cushions to hard for sleeping. That's the one thing I'm worried about for my upcoming trip, as others have complained about the cushions. Don't know if you've been on LX J, but I found the seat rock hard and I could barely sleep a wink. But apparently the mattress pad helped? How does it work - do they make the bed up for you when you want to sleep?
I haven't flown LX J so I can't compare. The cushion on NH J isn't like a duvet or down it's almost like a more firm egg crate (but with long horizontal ridges) that's covered in some like synthetic mesh. It says to place the ridges face up to help with circulation and maintaining body heat...it may have helped because I didn't wake up hot or sweaty like I have in the past. My biggest concern wasn't the padding and softness but the size of the pillow and thickness (like I said I folded up the blanket too). I think with the nice serviced, privacy and relaxed atmosphere you shouldn't have trouble getting to sleep. Wasn't a "turn down service" per se...as the pad is folded up in the footrest when you board. I flattened the seat and put down the pad and went to brush my teeth, when I came back the blanket was folded over neatly on top with the pillow a bit fluffed. I'll report back with what they do in F.
Going to also give some hotel pics and rundown this afternoon...plus lots of Tokyo photos!
Mar 8, 14, 2:05 am
Join Date: Jul 2013
Location: MRY - CNX - TXL
Programs: UA 1K / *G / Marriott PE / Expedia Gold+ / Hertz PC
Posts: 7,054
The Tokyo Station Hotel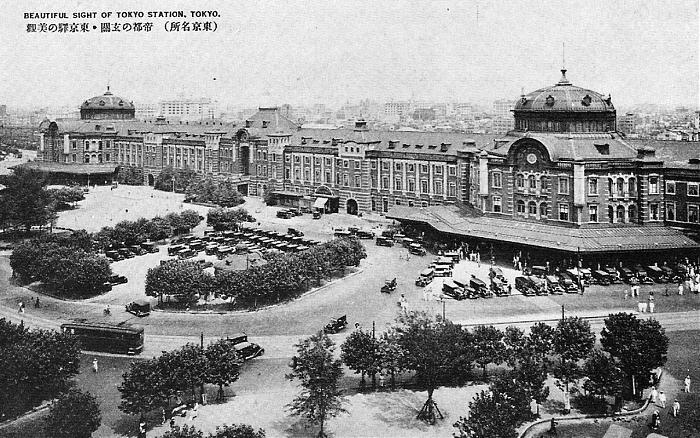 (photos courtesy Wikimapia & JapanHotels)
I really really like the hotel! Check in was quick and painless. I got off the Narita Express around 10:30 and navigated towards the Marunouchi exit. Can't miss the hotel with the beautiful facade, the actual hotel entrance is closer to the southern exit. You'll notice in the photos above not much has changed! There is still some construction and things out front which and a big giant switch back for taxis.
Check in was quick and painless, friendly and courteous staff. I was taken up to the room by two porters who showed me EVERY function of the room (arigato but I want to get in the bath I know how to use a safe and fridge door!). I had to remind myself that the bowing and smiles were not them stalling to wait for a tip but actual enthusiasm.
The hotel takes up the entire length that you see in the photos. I timed it from the north atrium to the south and being 6'2" and talking a normal pace it took me 2min 55 sec to get to the other side. There are many tables in between the rooms along the hallways that have flowers on them, access to the floors past the elevator have big clear sliding glass doors that open with the room key. You can look out and view people coming and going from the ends of the halls into the northern and southern atriums of the station.
If I am going to mention one of the downsides to it I would say that it's the views, because really...there are none. I knew that I wasn't getting some 30+ story highrise where you have a skyline view. However, my room pretty much looks at the backwall of part of the station. They Imperial sides I didn't realize how it's still a few blocks away from the Palace and park so even on that side you don't really get to see much. I would say the most interesting room/views would be the ones that circle the atriums and look out into the dome and below.
The room is bigger than I imagined, I feel in New York or Paris it would be 25% less in size. Has a nice tub, minibar that mostly has beer/soft drinks and then a few little bottles of booze. Heated toilet with all the functions, has a air purifier/humidifier in addition to the a/c. One thing that is annoying is at the desk (at least in my room) there is no access to a power outlet to plug in my laptop. One of the details of the hotel that I think is quite nice is the newspaper holder that is outside of each room.
Next to the nightstand there is a little control panel that is the clock/alarm but also let's you adjust the light in the room, put on the DND sign and if you want at night the floor lights if you get up and use the loo.
Housekeeping must have a notification when you put on the Make Up Room button because sure enough as I am walking out and down the hall just a few doors down one o f the maids comes out as I leave and heads to the room. Also very nice in the little ways they organize things (i.e. my tooth brush) or some loose change on the desk, slippers, shoes etc.
I went to check out the fitness center/spa area but for Y1,000 per use I didn't feel it was worth it. For Y2,000 you can use the spas baths, sauna, relaxation areas without doing a full treatment.
Breakfast is available on the 4th floor in a big bright and beautiful room...the food is great and so much variety! When I was booking the room I think there was the option to add breakfast but that rate would have added I think it was Y5,000-5,500/night to include breakfast for 2. However, since I am usually alone that's never really a good deal for me (plus I don't eat (a big) breakfast everyday). So about every other day I have just been adding it to the room charge which is Y3,800. Has lots of East & West options.
The hotel has quite a few restaurants (French, Italian, Sushi, Yakatori, Japanese, Lobby Bar, Camellia Bar). A few of them are located on the upper level past one of the atriums (you would thought it at the 2nd level which is open air above the station) and through some more doors. The first real night here I went to the Camellia Bar since I was still tired and getting my bearings. I had a Sidecar which was served in a glass half the size as I expected. I tried some red wine which was the weekly "Sommelier's Suggestion" that quite frankly was some of the worst swill I've ever tasted. I got a Japanese stew with some vegetables and noodles on the side...filling but not too flavorful which surprised me. The ambience of the bar was great.
That's really all I have for the hotel, check out their site if you are looking for any other info or ask away! I am going to try to check out and have dinner at the Yakatori place in it before I leave. All in all I am happy with my choice, I wouldn't mind coming back here again...it has a certain elegance to it with hints of nostalgia (being above the train station, the Queen Anne facade) that makes it seem like it is a Grand Old Dame. However, if...WHEN I do come back to Tokyo again I think I would mix it up and stay in something that is up up up in floor count to experience the cities views and that type of thing.
Multi-part Tokyo photo adventure diary coming soon!
---
Last edited by JVPhoto; Mar 8, 14 at

2:12 am
Mar 8, 14, 9:37 am
FlyerTalk Evangelist
Join Date: Apr 2003
Location: DCA/IAD/MIA/FLL/PBI
Programs: UA Lifetime GS, SQ*PPS
Posts: 10,176
Thanks for doing this trip report. Enjoy the photo collection here.

I am looking forward to the Tokyo photos.
Mar 8, 14, 1:03 pm
Join Date: Oct 2010
Location: YVR - Vancouver, with most winter weekends in Whistler.
Programs: Aeroplan, Alaska MVP, AAdvantage, Etihad Guest, SPG Plat 75
Posts: 4,054
Love the printing on the bag of the slippers in the ANA J amenity kit.
"Please feel free to take these slippers home with you"
It seems as though ANA has some pretty standard wines for business class, following UA and AC instead of some more expensive brands.
Mar 9, 14, 3:50 am
Join Date: Jul 2013
Location: MRY - CNX - TXL
Programs: UA 1K / *G / Marriott PE / Expedia Gold+ / Hertz PC
Posts: 7,054
So just some photos and impressions of Tokyo as someone who has never been before (but thinks they live in the great city on earth - NYC). Some places I can't reccomend because frankly...I have no idea what the name of them are haha.
So first enjoy some photos.
Day 1 I was going to stay on foot within walking distance of the hotel. First stop would be Takashimaya and Ginza. For a few years I have lamented that the Takashimaya on 5th Avenue closed and was turned into a Forever 21 store. Loved the elevator attendants/operators, had a cappuccino at the top floor choose your own (tea cup) adventure cafe and then went downstairs to the lower level food area which needless to say is amazing...but it was still early and I had just finished a big breakfast at the hotel.
Dover Street Market further down in Ginza is phenomenal and definitely beats the new one in NYC, can't compare to London though. Nice rooftop space (attached to Uniqlo across the street) that on a nice day you could enjoy your lunch.
Love love love Itoen green tea and drink at least 1-2 bottles a day in NY so the fact that they are on virtually every corner or station is amazing!
Brought back my childhood and almost shed a nostalgic tear when I saw the display case of models going back to 1996.