A Southern African Adventure
Feb 14, 14, 6:31 am
Moderator: Trip Reports
Join Date: Jul 2013
Location: Dubai
Posts: 3,211
A Southern African Adventure
---
Feb 14, 14, 6:32 am
Moderator: Trip Reports
Join Date: Jul 2013
Location: Dubai
Posts: 3,211
Day 1
My flight to Joburg wasn't until 4:40am, but decided to catch the last train to the airport at 12:30am to avoid having to take a taxi a bit later. After checking in, grabbed some Macca's then crashed on the one of the reclining chairs at the airport. Plane left on time and got into OR Tambo airport at 10:40am. Got a 3 month visa on arrival, although am off to Botswana tomorrow though
. After an unsuccessful hunt for an ATM, managed to change $US100 for some rand, although they charged an extortionate $17 for the privilege
. After dodging the taxi touts, managed to find the Gautrain for the 30 minute ride into town. Only $12 and much better than the $50 for a taxi.
After a 10 minute walk from the train station, made it to the hotel for the first night of the trip. Very new and modern, makes preparation for camping for the next 13 nights all the more harder though
. After a bit of a rest, went for a run through the city. The combination of the jet lag and the elevation (6000ft above sea level) made it a bit tough, but the cooler weather was welcome after the Dubai summer
. Got back and had a shower, and then went for a walk into town. Quite a modern, clean city, definitely closer to Auckland than Nairobi
. Went to Nelson Mandela square where they had a big statue of Madeba.
Had a big mall too which was very Dubai-esque
. Found an ATM and got some south african rand for the trip kitty. Went back to the hotel and crashed for a bit before the trip meeting at 6pm. Watched some South African TV too and was disappointed they only spoke English and not Afrikaans
.
I booked my trip through Intrepid (
www.intrepidtravel.com
) and we had the trip meeting at 6pm and got meet everyone. 16 people on the trip with Aussies, Americans, Germans, Canadians, UK and 6 Kiwi's
. The guide and driver are a husband and wife team, Alfred and Emma. After sussing out the paperwork, had a quick burger for dinner and hit the sack for the early start tomorrow morning.
Day 2
Big travel day today so got up at 4:20am and had a shower before meeting up with everyone ready to head off for to Botswana.The truck is about 6 years old but has done 1.5 million kilometres
!
Alfred at the wheel heading north at sunrise.
Morning coffee stop
.
At the lights.
Me helping swap out a flat tyre with Alfred at the Botswanan border
.
Made it to Khama Rhino Sanctuary at 4pm and jumped in the 4WD's for some Rhino spotting. First animal snapped was this warthog though
.
Wildebeest.
Some Impala in the bush.
With the light starting to fade, we finally spotted some Rhino, and a couple of ostriches.
Having a drink. Unfortunately it was overcast, but was still great to see these big creatures up close.
One of the males having a strut.
Another male.
Only about 20 metres away for this shot.
And even closer in this one
. One of the photo's I got printed and framed from this trip.
With the fading light, we spotted a jackal as we were heading back.
And spotted some Zebra heading off in the distance.
And some more Impala.
The sun now well below the horizon.
And back to the campsite for a good feed from Chef-de-cuisine Alfred
.
Feb 14, 14, 6:42 am
Moderator: Trip Reports
Join Date: Jul 2013
Location: Dubai
Posts: 3,211
Day 3.
Got up at 5:30am for a (thankfully warm) shower, packed up and had some muesli and toast for breakfast. Managed to get everything packed up and back on the road again by 7am. Another big travel day, but Botswana is pretty flat so the truck managed to cruise along on the straight roads. We driving on the edge of the Kalahari Desert, so the terrain gradually got drier and more arid, and then we finally stopped at a petrol station for a break. Saw some local kids pushing homemade toy trucks made out of old coke cans.
Had some leftover macaroni from the previous night and some local maize snacks from the shop. Back on the road again and arrived at our destination of Maun at 3pm. Went to the airport to pickup some luggage, and then went to the local shops for supplies. Abit more developed than Kenya & Tanzania, actually had not one but two supermarkets. We then cruised to our campsite on the edge of town. Part of a hotel complex, so quite flash with a bar, pool and wi-fi. After setting up the tents, put on the running shorts and went for a jog down the road. Got called a 'Bloemfurt' (spelling?) by a local, i.e. white guy
. For dinner we had roast beef cooked in foil over the camp fire, with some chakalaka, a South African spicy sauce. Alfred the driver is also a pretty good cook
.
Day 4.
Got up at 6am and packed up a small daypack for the 2 nights in the Okavango Delta. Jumped in a couple of 4WD's and headed out to the delta after breakfast. We then loaded up the Makoro's, small canoes with 2 passengers and a local standing up at the back with a local pole to push it forward.
Our very capable Poler crew navigating through the reeds.
Close together in convoy to ward off any errant hippo's
.
Our poler, Odie, managed to get us ashore without getting too wet
.
The ladies after reaching base camp.
Making lunch using an unpside-down Makoro for a kitchen bench
.
Some afternoon Uno
.
Spotting some Zebra during the late afternoon trek on the island.
Managed to track them down again after our initial encounter.
And some more
.
Another amazing African sunset.
Back at base around the campfire.
Feb 14, 14, 7:04 am
Moderator: Trip Reports
Join Date: Jul 2013
Location: Dubai
Posts: 3,211
Feb 14, 14, 7:06 am
Moderator: Trip Reports
Join Date: Jul 2013
Location: Dubai
Posts: 3,211
Day 5.
Off in the Makoro's at the crack of dawn for some Hippo spotting.
Although no Hippo's, managed to see an African Fish Eagle.
Off in the Makoro's to try and find the Hippo's again in the late-afternoon.
Success
!
Opening his big mouth to remind us who's boss
.
And again from the safety of land
.
One of our Poler's looking abit worried about how we would get past the now very close pod of hippo's.
A shot taken while we were departing in our Makoro's.
And another beautiful African sunset
.
Back around the campfire after a successful hippo hunt
.
Our Poler team giving a bit of a show for the last night
.
Day 6.
Back in the Makoro's the next day back to the mainland.
After docking our Makoro's, off for a sightsee from above
.
Up front for the optimum animal spotting
.
With pilot Shane from the US.
Switching from the 17-40 to the 300 lens for some wildlife shots.
Zebra munching on some breakfast.
Another one from above.
Some Impala our for a bit of a wade.
More Hippo's
.
A Black Heron keeping a safe distance from a rather large croc
.
More Impala.
A couple of Elephants.
Luckily not too shy
.
White Heron from above.
And a group photo in front of the R44
.
We all got back in the 4WD's and headed back into Maun, set up the tents again and had a much needed shower. Had a Botswana beef burger for lunch, went for a swim in the pool and then a run in the afternoon.
Up early again for the 400k drive to Elephant Sands tomorrow in northern Botswana to hopefully see some more wildlife
.
Feb 14, 14, 7:36 am
Moderator: Trip Reports
Join Date: Jul 2013
Location: Dubai
Posts: 3,211
Day 7.
Alfred cooked up some eggs, beans & bacon for breakfast and then we left Maun for the drive north to Elephants Sands. The road was flat and straight so the 400k's went pretty quickly. Saw a few ostriches from the road and stopped to take a few pic's on the way.
Arrived at Elephant Sands at about 2pm, had some salami and cheese sandwiches for lunch, set up the tents, then headed down to the elephant watering hole. Was quite a surreal experience, with the elephants coming in from the bush over the afternoon and getting a drink while keeping a close eye on us. At one stage there was about 20 elephants in the watering hole, and a couple started throwing mud onto their backs, and almost splattered us as well
! The campsite was open to the elephants and apparently they came through a couple of years ago and demolished half the wooden buildings after a baby elephant got stuck in the swimming pool, so rebuilt with more sturdier concrete.
Anyway, some photo's from an amazing afternoon:
Down at the watering hole.
Up close and personal
.
And even closer
.
Nose up
.
Having a flap
.
Good sniff
.
A Southern Yellow-billed Hornbill, a.k.a. the flying banana ccording to the locals
.
Appetite for destruction
.
Mud facial
.
Little guy.
1.5 tusks.
Late to the party.
Convocation.
Stroll at dusk.
Greater Blue-eared Starlings.
Filling up
.
Bath time.
Battle worn.
No need for a tele-photo for this shot
.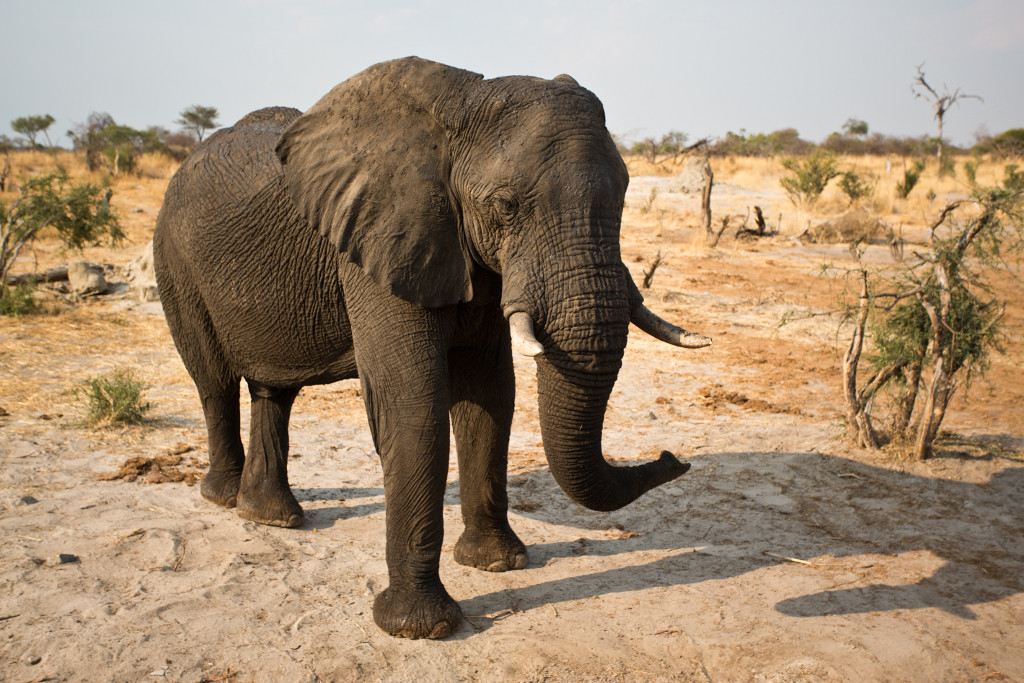 Baby Ostriches.
Feels good
!
Bit of a splash
.
Straight Up.
Kudus getting a drink.
A couple more banana's
.
Later in the evening we had a buffet dinner in the open air restaurant, with the waterhole and the elephants just over our shoulder
!
Day 8.
After breakfast and packing up the tents, we headed off in the truck again to the Zimbabwe border. Saw some more elephants, giraffe's & 'painted' wild dogs (they have a cool pattern on their coats) on the way.
Was a bit of a treat to see these guys. Quite rare to see them in the wild, with only ~4000 spread across 13 countries.
Got to the border at about 11:30am and joined the queue to get our Zimbabwean visa. I paid extra for a double entry so I could hopefully crossover into Zambia while at Vic falls. After a lot of queuing we were finally on the road again to the of Victoria falls in Zimbabwe. Got their at about 2pm, and booked our activities for the next day. Everything is priced in US dollars, but no US coins so anything below a dollar is in South African Rand. Bought a burger for lunch for $6.50 so got $3 and 5 rand change
. A local tried to sell me a bunch of old zimdollars so I bought a stack of the old notes including a 20 trillion dollar one for $5
. After setting up the tents, we were picked up for the river cruise on the Zambezi. Was more of social cruise, as some of the guys were finishing the trip early, but got to see some wildlife too, like crocodiles, vultures, hippo's & elephants.
Got back to the campsite at 7pm and we went to the local restaurant for dinner. Had a local speciality, wild Warthog steak
. Tasted more like beef then pork, and was actually pretty good.
Feb 14, 14, 8:23 am
Moderator: Trip Reports
Join Date: Jul 2013
Location: Dubai
Posts: 3,211
Day 9.
Had an early start and 7 of us got picked up at 7am to do some white water rafting on the Zambezi river. After getting suited up in life jackets, wetsuit shirt, helmet and a paddle each, we made the decent down into the gorge. A 120 meter drop from top to bottom, and some of the stairs felt more like ladders than stairs. After walking along the gorge, we jumped in the rafts for a bit of a briefing, including the commands to paddle right, left, backpedal, and then got to jump in the cold water to make sure we could scramble back into the raft ok. I got put in the right front position, so had to make sure we kept cadence properly with the guide on the front left.
After we set off, we successfully made it through the first rapid without anyone going overboard, the raft on front of us wiped out though, so had to help out a few of them to get back in. They also had 5-6 safety guys in small canoes each to make sure no one got swept away. Managed a few more rapids ok, but was really surprised at the size of them. About 3 times harder than when I did whitewater rafting years ago on Queenstown.
We got to rapid #8, which had the option to go down the hard or easy way. They transferred the guys to one raft for the hard route, so had a new guide. We lasted about 2 seconds before the whole raft flipped and I ended under the raft. I was under the water for about 10 seconds but felt like an eternity! I finally bobbed up and after getting tossed about in the rapids and drinking too much river water, and got rescued by the one of the guys in the canoes. The next rapid was super hard, so everyone came ashore and walked around it. Was pretty scary, apparently an Aussie girl fell out of her life jacket and drowned there a couple of years ago. After a few more capsizes in the raft and people overboard, we made through 19 rapids over 26 kilometres in 3.5 hours
.
Here's the 'crash/spill' reel from our trip down the Zambezi. I was in spills #2 & #3 (the guy wearing a baseball cap under the helmet).
http://youtu.be/9CrbdJXUrRM
After docking and coming ashore, we then had to walk back up the gorge. A 120 meter ascent up a rocky goat track in the hot sun. They had a chilly bin of cool drinks and chicken and salad for lunch, great way to finish
. After a 30 minute drive to town, we met up with the rest of the group for a trip down to see Victoria falls. Spent 1.5 hours taking in the magnificent sights. The afternoon sun meant a lot of the photo's had a nice big rainbow. The track near the edge of the gorge had no fencing so you could get really close, and some great photo's, although I probably got a bit too close
.
We met up again at 7:30pm for a buffet dinner at the camp restaurant. 22 of us now, with 6 people leaving tonight, and 6 people joined this morning. A father and daughter from Norway, a couple from San Francisco, and a young Canadian guy who has just spent the 3 months travelling to 24 countries after finishing uni. The buffet for dinner was $15, and was pretty good, with tasty sausages, roast chicken and crocodile kebabs
.
Day 10.
Got up before dawn, packed up and walked down by myself to the Border post between Zimbabwe & Zambia at Victoria falls. Got my passport stamped at the Zimbabwe border post, and walked across the bridge over the Zambezi where they do all the bungee jumping, and got some good photo's of the gorge where we went white water rafting. Then walked down to the Zambia border and got a visa and my passport stamped, and caught a taxi for the 10k trip to the town of Livingstone.
Quite a bit bigger than the Victoria falls township. Spent a couple of hours walking around, taking photo's and bought a souvenir giraffe rock carving.
Breakfast at Shamba's.
On the go.
The Gardener.
Waiting to open.
Beneath the arches.
6. ZFC
.
I then caught a taxi back to Victoria falls and back over the border to Zimbabwe. Got back to the campsite to get ready for the drove back to Botswana. While we were waiting, some big Baboons jumped the fence, managed to sneak up behind some others campers, and pinched a big loaf of bread
. They then sat about 5 meters away happily munching on the bread
.
We then headed off at 10am back to Botswana, and went through the Zimbabwe and Botswana immigration, and got my sixth stamp in my passport for the morning
. After getting our shoes washed for foot and mouth, we drove onto Chobe, went shopping for supplies, then headed to the campsite. Had some ham, tomato and cheese sandwiches after setting up the tents, then headed out at 2:30pm for a river safari cruise.
The river separates the Botswana and Namibia, and has a few islands in the middle. Got to see Hippo's out of the water for the first time on the trip, lots more elephants, giraffes, crocodiles and lots of birds. Spent about 3 hours cruising around taking in the wildlife and got back just after sunset.
Some photo's from the cruise:
Fearless Yellow-billed Stork
.
A Hippo and a couple of curious ducks
.
Lazing in the grass.
Elephants on the horizon.
Swallow-tailed Bee-eater.
Marabou Stork.
Kudu's.
More Hippo's.
Grazing elephants.
African Sacred Ibis.
Buffalo.
And more Hippo's
.
Elephants at dusk.
For dinner we had really nice fillet steak cooked over the campfire for dinner. Fortunately 3 vegetarians and 1 vegan on the trip now so plenty to go around
.
Feb 14, 14, 8:43 am
Moderator: Trip Reports
Join Date: Jul 2013
Location: Dubai
Posts: 3,211
Day 11.
Got a bit of a surprise in the night when someone climbed into my tent and woke me up, apologised for the mistake and promptly left
. Her husband then came back again 5 minutes later, apologised and asked if she had left a hand towel behind. Managed to find it in the dark and managed to get back to sleep
.
Got up at 4:45am in the morning, packed up the tents, and got ready for an early morning game drive. Unfortunately we had to wait 30 minutes when some French people threw a hissy fit when they learnt they had to share a truck with us, and demanded a truck by themselves. After they realised they had no choice, they finally joined us and we were able to go. Was an open air cabin, so really cold, but luckily a few of us brought sleeping bags to use as blankets.
We were told beforehand it wouldn't be as good as the river cruise the day before, but still glad I went as was good to see some of the animals in the bush, and the small chance to see a lion or two. Unfortunately didn't get to see any cats, but still got some good shots of the other animals:
Warthog on the run
.
Sable.
Giraffe in the early morning light.
Swallow-tailed Bee-eater.
Yellow-billed Stork.
African Spoonbill.
Got back to the campsite at 9:30am, had a quick breakfast, then hit the road for the 300k drive to Nata. Stopped for lunch by the side of the road and had tuna and tomato sandwiches before arriving at Nata at 3pm. Last night in Botswana so bought a souvenir zebra made out of wire and beads. Another flat tyre on the truck so helped Alfred the driver to swap it for the spare. Abit harder this time since we were parked in the soft sand
.
At 4pm we headed out in 4WD's to the Makgadikgadi salt pans. They normally have flamingoes when it gets wetter but we got to see some pelicans and wildebeest instead.
Watched the sunset over the lake where we had some popcorn and drinks
. Headed back to the camp afterwards and had chicken cooked over the campfire, spicy chakalava and mashed maize for dinner.
Day 12.
Another early start and got up at 5:15am for a hot shower, packed up the tents again and were on the road again to Blouberg across the border in South Africa. A big day with 600k's of bumpy roads to cover. We made our way to the South African border at about 1pm, had chicken burgers again at the same place where we had lunch on the second day of the trip, and then crossed over into South Africa.
Continued driving throughout the afternoon, with landscape changing from dead flat to quite mountainous as we got closer to our destination, Blouberg. As we got closer, we drove through a few small villages. Apparently the locals don't see many white people, and the kids and some of the adults were all waving to us as we drove past. Finally got to our destination at about 5pm, put up the tents and put on some warmer clothes, and headed down to the village for dinner at a locals house. About 1000 people living in the town, none of the roads were sealed, and the houses looked ok, definitely not shacks anyway. As our truck pulled up the house, we were mobbed by school kids, waving and laughing
.
We made our way inside and our host gave us a rundown on the different dishes for dinner.
They included mango pap (mashed maize) and mopani worms which looked like black huhu grubs
.
Tasted a few, not too bad
.
After dinner talk with our hosts, we headed off in the truck to a local shebeen, or pub. Pretty basic, but everyone was happy with the beer
.
Then we went back to the campsite and talked around the camp fire before calling it a day.
Feb 14, 14, 9:42 am
Moderator: Trip Reports
Join Date: Jul 2013
Location: Dubai
Posts: 3,211
Day 13.
After packing up the tents and having breakfast, we headed off in the truck again at 6:30am. Got to a city called Pietersberg, and went to a local mall for supplies. Very modern and clean and felt weird to be back in civilisation. After stocking up the truck with vege's, meat & bread etc. we drove on to Kruger Park at about 10:30am.
After having lunch on the way, we made to the park entrance at about 2pm. After checking in, we headed off for a game drive to our campsite. The roads in the park were pretty good, mostly sealed, and a big difference to the rutted gravel roads in the Serengeti. During our game drive we saw quite a few animals, including a couple of lionesses resting in the shade under a tree:
A couple of Cape Buffalo.
Two lionesses keeping a close eye on some Zebra's.
Grazing Impala.
Giraffe.
A trio of photogenic Zebra
.
Munch, munch
!
A male Waterbuck in the bushes.
Got to the campsite at 5pm, put up the tents, and went for a jog around the site. Again, a big difference with the Serengeti where the campsite was a flat piece of ground with a couple of loo's with no power. The Kruger campsite was almost like a resort in comparison. It was fenced with rangers guarding the main gate, had paved roads, had chalets as well as camp and caravan sites, even had its own restaurant, museum and petrol station
! Apparently the govt had invested a lot into the national parks during the Apartheit era as it wasn't so easy to travel overseas.
Apart from the black rangers, all the people camping and staying at the lodges were white, and mostly South African. Apparently the black South Africans don't understand why the whites want to sleep in tents and cook over a fire for a holiday
.
After a shower, checked out the museum, which had on display the seven biggest elephant tusks in the park from elephants who had died. Then had dinner of tasty lamb chops cooked over the BBQ at 8pm, before talking around the camp fire for the night.
Day 14.
Got up early (again
), had some biscuits after packing up the tents, and then headed off for a game drove across the park. Saw plenty of animals including hippo's, crocodiles, impala's & giraffes. Stopped at a lookout spot, and viewed the valley below with the hippo's & elephants wading in the river.
Two Egyptian Geese going for a run
.
Hippo in the early morning light.
A Vervet monkey up a tree above the Olifants river.
Cape Glossy Starling in the mid-morning sun.
Having a wade
.
Squirrel in the sticks.
Then had cooked breakfast of eggs, beans & bacon to help fuel us for the days gamespotting
. Headed back in truck got more gamespotting and soon found a pride of about 6 lions under a tree.
Pride of Lions sheltering from the afternoon sun.
Pair of Crocs.
A couple more well fed crocs
.
I managed to spot a rhino in the bush, who soon had a bit of confrontation with a large make elephant before scurrying off.
White Rhino kicking up a dust for the approaching...
...Five-legged Elephant
.
After a stop for salami and cheese sandwiches and more animal spotting, made it to the new camp site in the middle of the park at 3pm. After putting up the tents for the last time, we met up for a sunset game drive in an open 4WD. Got some good shots of Hyena's, zebra and kudos in the warm evening light.
Male Kudu in the late afternoon light
.
Natal Spurfowl.
Male Spotted Hyena out for a stroll at dusk.
My favourite Zebra shot from the trip
.
Spotted Hyena with her puppies
.
Southern Yellow-Billed Hornbill, a.k.a. the flying banana
.
After sunset, we got out the spotlights and drove along looking for animal eyes in the dark. Saw some of the nocturnal animals.
A nocturnal Civet during our night game drive.
After about an hour into the night drive, we came across a pride of 10 lions on the road. They then walked along the road right next to the truck. Quite a surreal experience given the open air truck had no windows and the lions got as close a 1 metre from the truck
!
Roadblock ahead...
...and ambush from behind when we stopped
.
Luckily they let us pass
.
Got back from the game drive at 8pm and had our final dinner, South African sausage & pork ribs.
Day 15.
Got up at early again, packed up the tents one last time, had breakfast, then hit the road at 6am for a game drive out if the park. Wore my trip t-shirt I bought in Zimbabwe for the last day, with 'Africa' and animals on the front, 'passport stamps' of Botswana, Zimbabwe & South Africa on the sleeves, and a big map of our route and stops for the 2 weeks on the back, great souvenir
! On our game drive, saw some more Zebra's, giraffes, hippo's & some colourful birds.
Snacking on some fresh foliage at dawn.
Having a snooze on the riverbank.
Trying to warm up
.
Hippo's on the river sand bank.
Southern Ground Hornbill trying to crack open a tasty snail.
Morning drink
.
Got some shots of a couple of elephants walking close to the truck in the early morning light. One of them was quite old, with one tusk much shorter than the other. He would wander along slowly abit. Hug a tree with his trunk for a rest, and then walk to the next tree. Quite a character
.
Tree hugger
.
Old guy
.
Morning stroll.
We then stopped off at a rest stop, and saw some game wardens armed with assault rifles to shoot rhino poachers. Had a dog too which understood commands by hand signals for stealth. We then drove out of the park and further south, stopped for some diesel then drove the truck up the top of a lookout over a big gorge. On the way to the top and went past a waterfall literally coming out of the middle of a cliff, looked pretty cool
. We then went to Blyde River Canyon, very different to NZ scenery, lots of red rock and cliffs, as well as plenty of green stuff. Managed to get a great photo of the Canyon with me in it
.
Unfortunately we discovered though that the truck had another flat tyre, the third one in 2 weeks
. However when Alfred went to change it, 3 of the studs had a different size nut to the rest! With no way to take off the wheel, we drove at 50kph to the nearest town which was 50k's away (3 of the 4 rear tyres seemed to be ok). While Alfred went off in search of a workshop to help change the tyre we went to a cafe in town for lunch, and had a bacon & egg burger. After an hour Alfred came back with the tyre replaced with the spare. We then headed on the road to Joburg. The diversion and delay to fix the tyre added 4 hours, and there was a bit of stress since I had to catch my flight at 10:30 pm tonight.
Luckily Alfred managed to keep us on time despite the trucks maximum speed being only 100kph. With the big cab on the back, max speed reduced to only 90kph with a head wind
. We gradually cruised down to Joburg. The scenery was a bit hilly and greener than up north, and actually reminded me of NZ, albeit a bit drier. Finally got to Joburg and arrived at the airport at 8pm. Said goodbye to everyone, and trudged into the airport for the flight back to Dubai. Was an awesome 2 weeks, seeing 4 new countries and driving 4,512 kilometres!
Feb 14, 14, 11:25 am
Moderator: Trip Reports
Join Date: Jul 2013
Location: Dubai
Posts: 3,211
Thank you,
agp423
. I can't compete with the F/J TR's, but hopefully make up with the non-flying part of travelling.
DL17
.
Feb 14, 14, 5:25 pm
Join Date: Mar 2001
Location: Austin, TX -- AA PLT 2.8MM+ (life PLT); IHG PLT Ambassador; UA Gold
Posts: 5,448
that's quite some gear setup you have.. that explains the gorgeous photos! Half of my P&S POS camera photos come out blurry
Even Jason's iphone outperformed my camera this past trip, heh.