Going home - a final upgrade (for now) on Emirates
Dec 25, 13, 10:25 pm
Join Date: Feb 2013
Location: Singapore
Posts: 41
Going home - a final upgrade (for now) on Emirates
---
Hi everyone!
I just graduated from university last week, and after the last 3 wonderful years in Melbourne, it was finally time to move home to Singapore.
As I've mentioned in my previous Emirates report, I have flown Emirates for most medium to long haul flights since 2010, and have actually developed a strong liking for this airline. The main reason for this is my frankly absurd operational upgrade record on this city pair. This itinerary was booked as a Flex fare economy ticket for the roundtrip, but I upgraded the first leg SIN-MEL to Business with miles. However, there was no upgrade availability for this return leg, so I knew that there was a chance I would be stuck in Economy.
For the last 3 years, I've booked 2 roundtrips between Singapore and Melbourne every year, flying SIN-MEL in February and July, and MEL-SIN in June and November/December, all being Flex Economy tickets.
Of 6 flights between Singapore and Melbourne, I've only ever flown in Economy once, which was the first time I flew to Melbourne before the start of university, and before I had achieved my Skywards Silver status. The subsequent 5 flights were a mix of 3 operational upgrades, 1 email cash upgrade (SGD385 IIRC) and 1 mileage upgrade, with 4 flights in J and 1 in F (as chronicled in my earlier trip report)
EK First Class MEL-SIN-MEL - The upgrade god strikes twice!
Of the 5 return flights from Melbourne to Singapore prior to this flight, 3 were flown in Economy (most recently in June), 1 in Business (a mileage upgrade), and 1 in F (a combination of an email cash upgrade (AUD219) to Business and an operational upgrade to First). Based on this statistics alone, it would seem that getting an upgrade out of Singapore is more likely than out of Melbourne.
With over 3 years of stuff accumulated in Melbourne, I was hoping to maximise my baggage allowance. My family who had travelled to Melbourne to attend my graduation had left the day before, carrying close to 50kg of my university notes, textbooks and other miscellaneous items, and I myself was left with the remainder. Thankfully, I was able to pack up all my remaining things and squeeze them into my 2 trusty suitcases, which just met my 42kg baggage allowance (30kg in Y + 12kg as a Skywards Silver member).
I had completed my online check-in formalities 24 hours prior to the flight, and the system still showed my seat in Economy (18A), whilst there were about 4-5 seats still showing as unselected at that juncture. Getting to Melbourne Airport is always a pain, made less so on this occasion by the fact that my cousin was giving me a lift to the airport in his car. Getting dropped off at the kerb and grabbing a trolley (which cost AUD4 – biggest damn rip-off at the airport aside from parking, but beggars can't be choosers), I load my bags on it and head into the check-in area. Emirates has a dedicated set of check-in desks at the back of the departure floor due to the airline having 4 daily departures out of Melbourne. I queue at the Business Class line due to my Skywards status, and am almost immediately called forward to the counter. Tagging my bags (with Priority Business tags – they make such a difference) takes a short while, during which I start filling out the departure card for immigration. I enquire about the loads on the flight, and am informed that Economy is overbooked, following which the agent hands me my boarding pass, passport, express path card and luggage tags, and says the magic words – Sir, you've received a complimentary upgrade to Business Class today, you'll be in seat 8A tonight. Merry Christmas!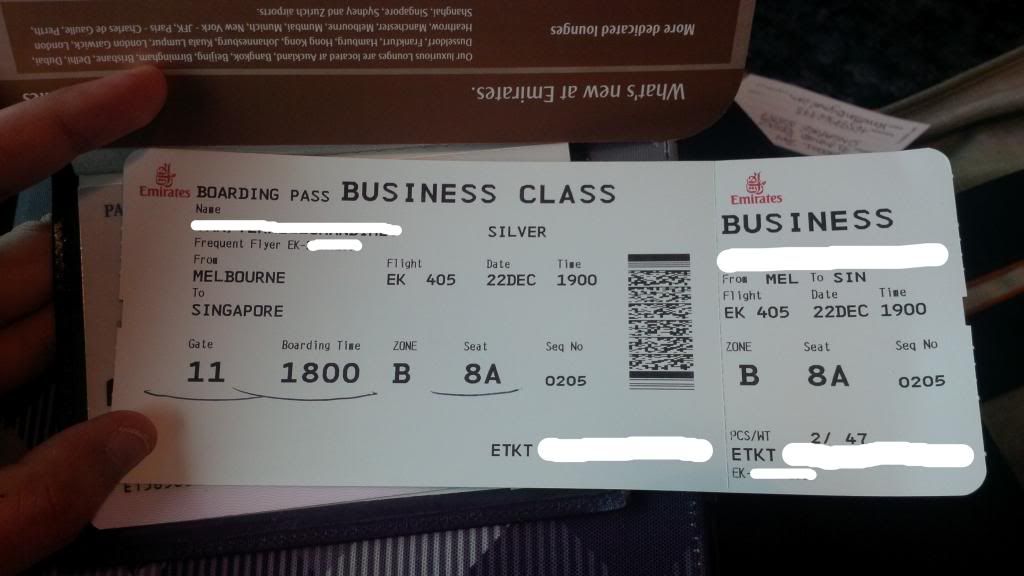 I must say that the check-in experience with Emirates in Melbourne has improved greatly over the last year or so. My previous experiences at the counters from 2010 - 2012 were typically that of absolute indifference with a sprinkling of rudeness and usually not a smile in sight. Nowadays, the experience at check-in is extremely friendly, and the agents are generally quite chatty – sometimes this can make all the difference, especially at the start of a long travel day. I guess it must be something in the water they are drinking these days.
After the check-in formalities are completed, I head airside through security and immigration, thankfully the Express Path card spares me from scrutiny by the security guard (who have been known to give trouble over the size of handcarry bags) Security was quick and immigration had a short line, so I just bypassed it using the Express Path, which I didn't mind using since I have a stack of unused ones with me.
Being a complimentary upgrade, lounge access is not provided, and the dearth of Priority Pass lounges in Australia means I'm left to wait at the regular gate lounges for my flight. WIFI at Melbourne Airport is the next thing that pisses me off about the airport, with pricing packages for different time periods being completely extortionate in nature. Being used to the free WIFI in Singapore, there's no way I'm paying for WIFI here, and I instead choose to tether my iPad to my Blackberry to get all my goodbyes and farewells in before I leave Melbourne.
The flight was initially assigned to Gate 11, which at that time had just closed for an earlier flight, QF9 to London Heathrow via Dubai, and the A380 VH-OQB sat there with both jetways connected awaiting its 4.15pm departure time. The 777 operating my flight sat across the tarmac at a remote stand where it was parked after arrival in the morning, where there were several catering trucks servicing the aircraft. As the time for my flight neared, QF9 still sat at the gate more than an hour past its scheduled departure time. It was only then that an announcement was made to inform us of a gate change, this time to Gate 16, which is in the new wing of the international terminal, quite a walk away from Gate 11. The aircraft was also towed from the remote stand to the new gate at this point, whilst the ground staff hastily relocated their barriers and placards as well. QF9 finally departed for Dubai at 5.45pm, an hour and a half after scheduled departure.
The gate area in the new wing is very spacious, and has a much larger seating area to accommodate passengers, which was essential because of simultaneous departures from the neighbouring Gate 12 being a Jetstar 787 (JQ35) to Bali, and a Singapore Airlines A330 (SQ208) to Singapore from Gate 14. Departing from Gate 16 also removed the need to have to take the escalator to a lower floor for boarding unlike Gate 11, where a chokepoint forms at the escalator during boarding, which then usually devolves into a huge clusterf***.
Gate 16 is a lot more civilised, though the agent making boarding announcements was almost unintelligible with the amount of people talking over the sound of the speakers. Boarding was first called for people requiring assistance and families travelling with young children, with the subsequent boarding call being made to start boarding by zones. Holding a Business Class BP, I chose to board early and made my way to have it scanned and then walked down the aerobridge to the aircraft.
---
Last edited by lammified; Dec 25, 13 at

10:32 pm
Dec 25, 13, 10:26 pm
Join Date: Feb 2013
Location: Singapore
Posts: 41
Date: 22/12/13
Route: MEL-SIN
Flight: EK405
Reg: A6-EGF (Boeing 777-31H/ER)
Seat No: 8A
The 77Ws operating EK404/405 are configured 8F (Suites) 42J (Angled-Flat) 304Y and are fitted with crew rests. These aircraft are usually assigned to the longest 77W flights in the Emirates network. The aircraft operating this flight was A6-EGF, one of the newer long-haul configured 777-300ERs in the fleet, and thus fitted with the abovementioned cabin products as well as the Panasonic eX2 IFE system.
I was welcomed onboard by 2 female flight attendants, and headed straight to my seat seeing that it was just around the corner from Door 2L. I turned right and was at my seat immediately, it being directly behind the lavatory that was immediately adjacent to Door 2L. I stowed my bags in the overhead bin, and quickly stepped out of the aisle in order not to block the passengers who were passing through into Economy.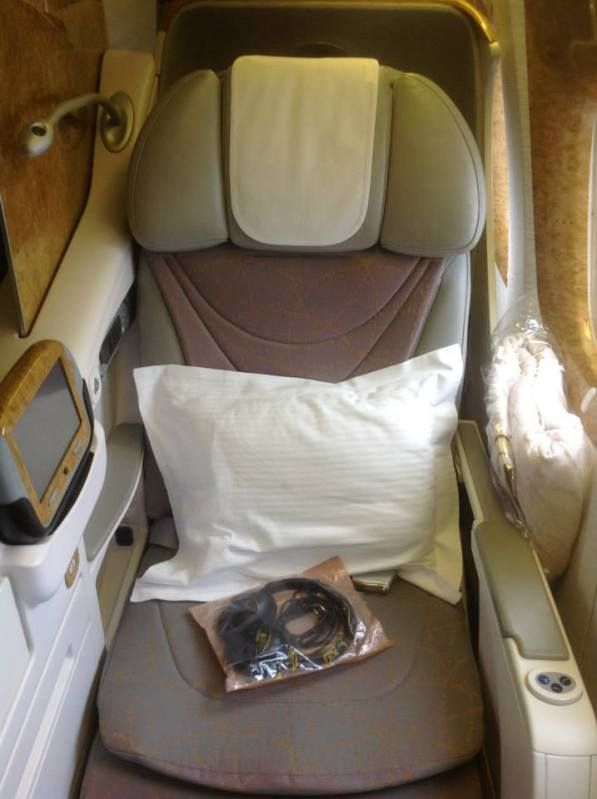 The IFE screen for 8A is affixed to the bulkhead in front, with the screen for 8B stowed in the partition between the seats as seen below. Screen placement in Business Class on the 77Ws varies depending on when the aircraft were first delivered to Emirates or their last date of refurbishment. Some aircraft have both screens stowed in the seat partition, others have both affixed to the bulkhead, whilst this configuration also exists. Each configuration is influenced by the bassinet placement within the cabin. It should be noted that the screen itself is a touchscreen.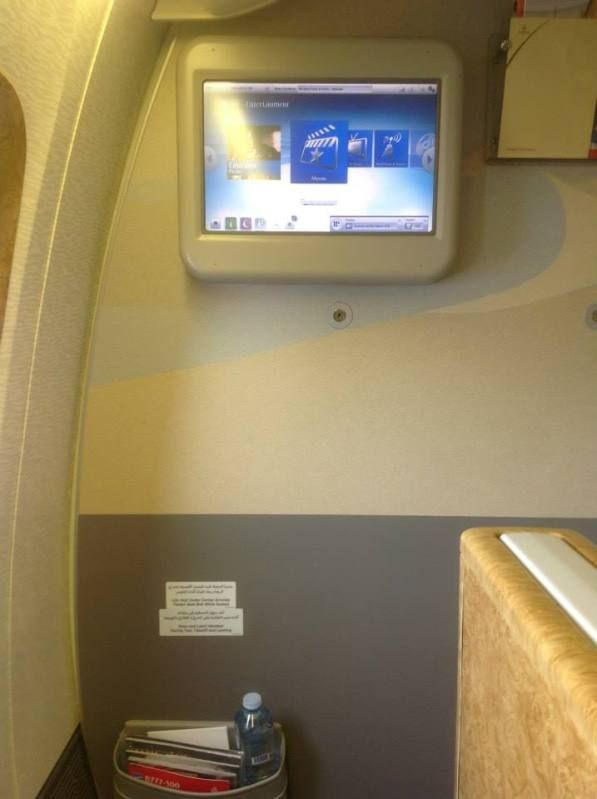 Touchscreen Mode Controller, Headphone Jack and IFE Controller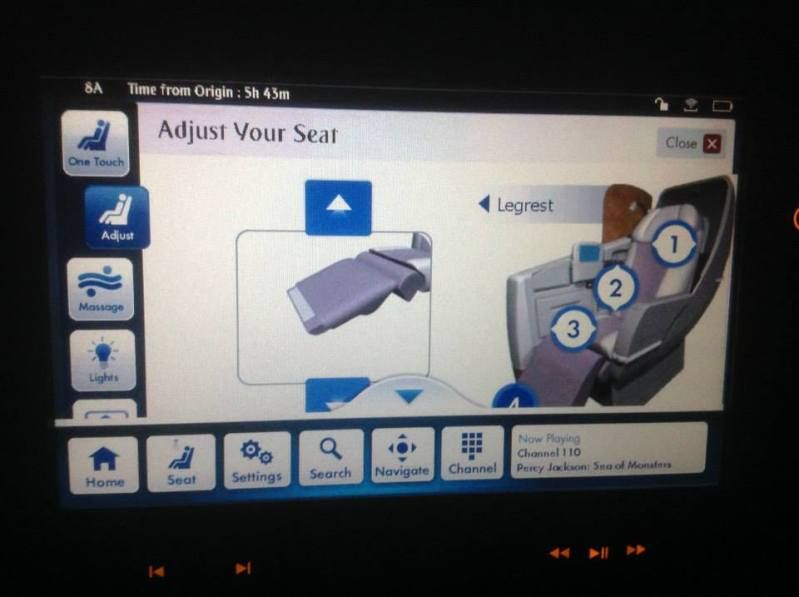 I selected the Flight Information channel for a start, selecting the nose camera view
The seat has 3 windows, and since this aircraft is a newer delivery, it is fitted with electronic window shades in First and Business class which are raised and lowered by the touch of a button. This was the view out of the window immediately next to the seat.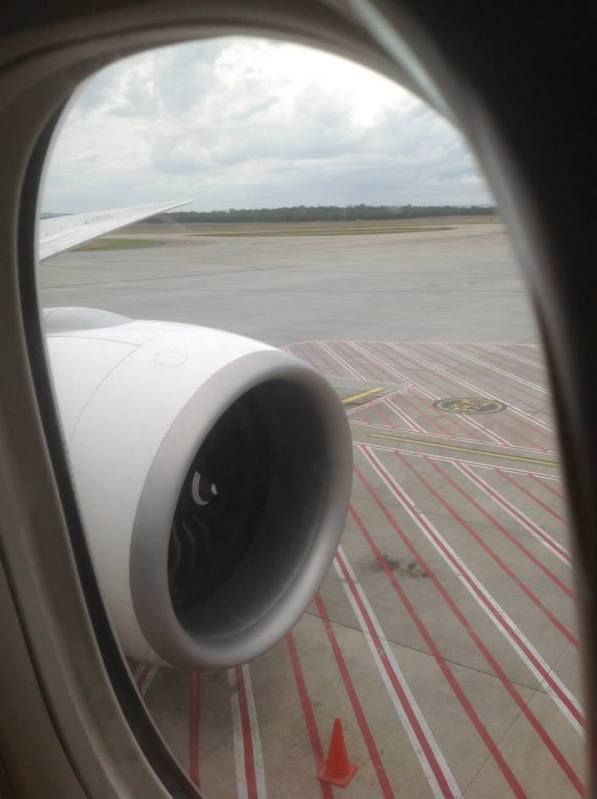 At this point, a flight steward of Middle Eastern origin welcomes me onboard and offers to introduce the various features of the seat after seeing me snapping photos on my iPad for the purpose of this report, but I tell him that I am familiar with the seat and therefore require no introduction. Welcome drinks were offered, and I chose the champagne, which was Moet & Chandon NV Brut Imperial. I also perused the menu and wine list whilst boarding continued.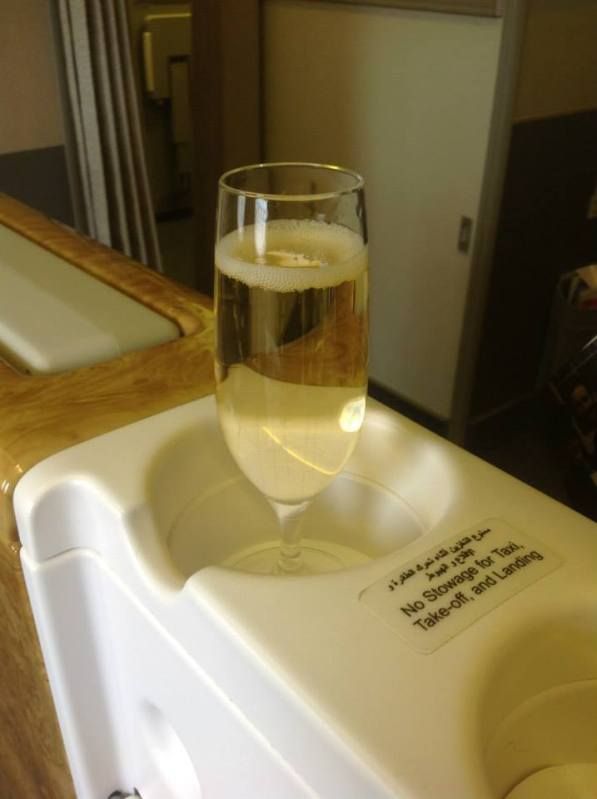 Boarding was soon completed with the aircraft 100% full in Economy and 90% in Business – I was not able to ascertain the load in First. The Malaysian captain came on over the PA and made an extremely detailed introduction of the crew by name, including the Dutch senior First Officer and the Singaporean purser, and informed us of a northbound departure off Runway 34 to an initial cruise altitude of FL320. The aircraft sat at the gate for another 10 minutes before the doors were closed and the aircraft was pushed back. The safety video was played on the IFE, followed by the ICE welcome video. It was a short taxi to runway 34 and the aircraft lined up on the runway without stopping. The cabin lights were dimmed for departure, and the starry sky effect in the ceiling was also activated – which I found a little odd since it was broad daylight outside the aircraft.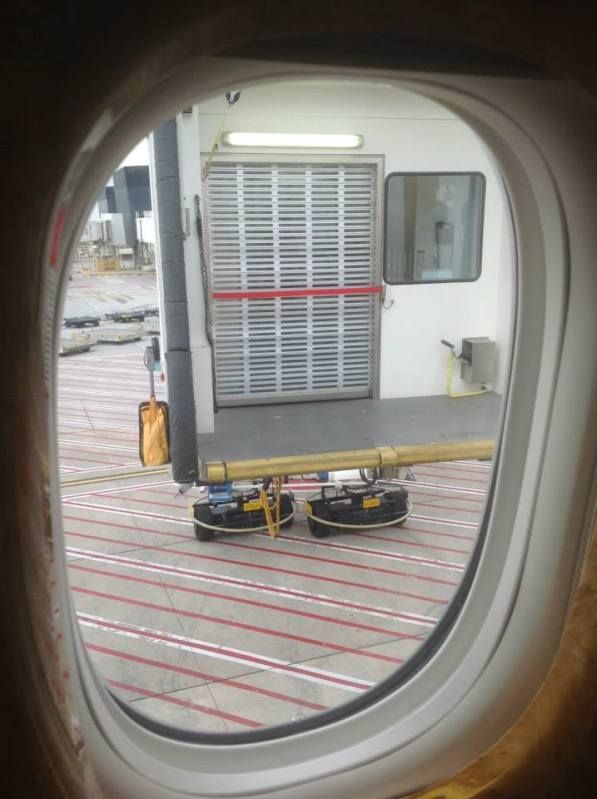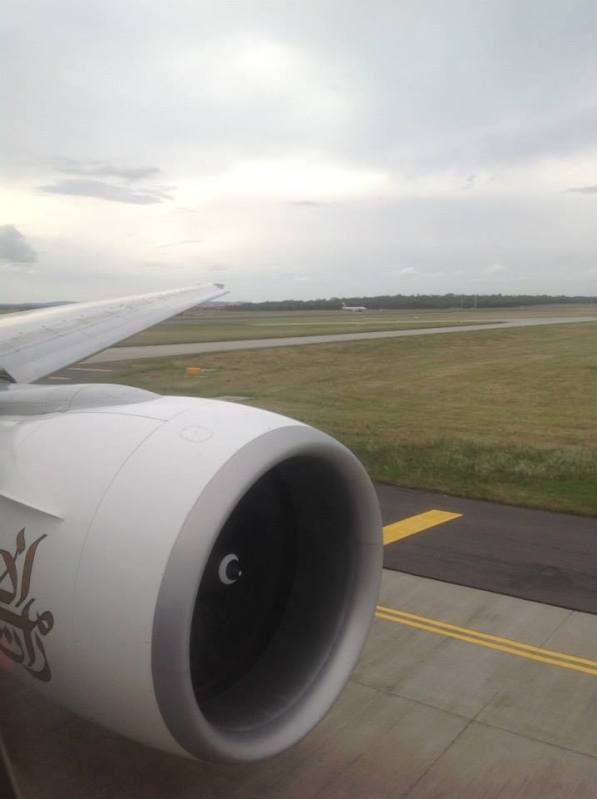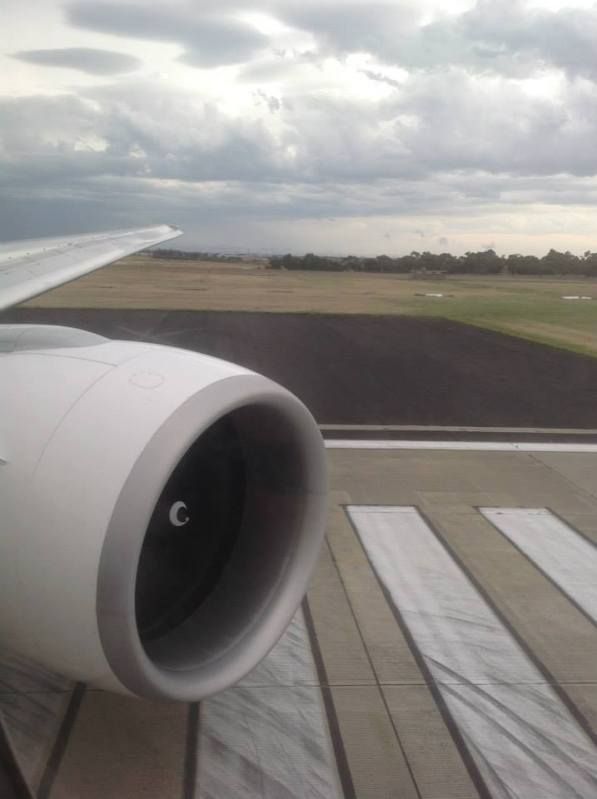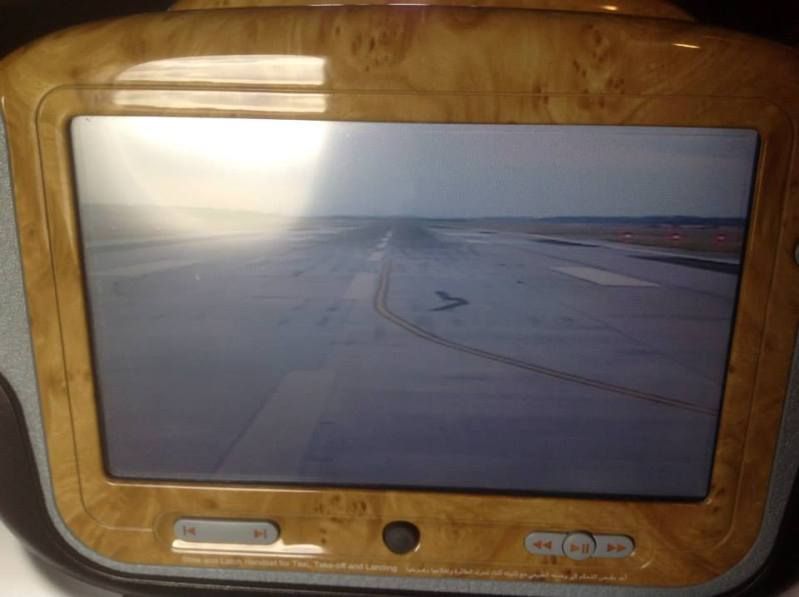 The aircraft held on the runway for a few minutes whilst an Air New Zealand 767 departed off the crosswind runway, after which the engines spooled to full power and the aircraft started rolling. We rotated just prior to the intersection of both runways. The aircraft maintained the runway heading for a minute or so before turning left to head northwest toward Singapore. Shortly after takeoff, the standard announcement of the languages spoken by the crew was made in Arabic followed by English.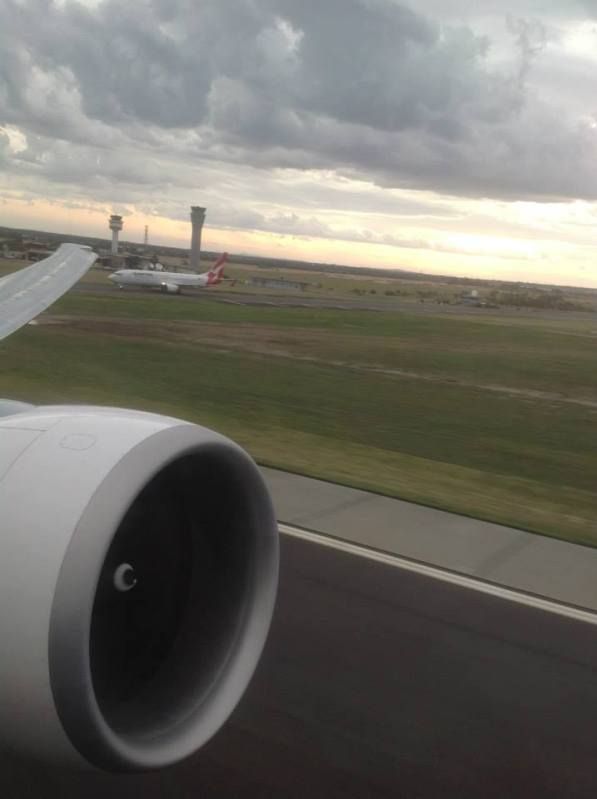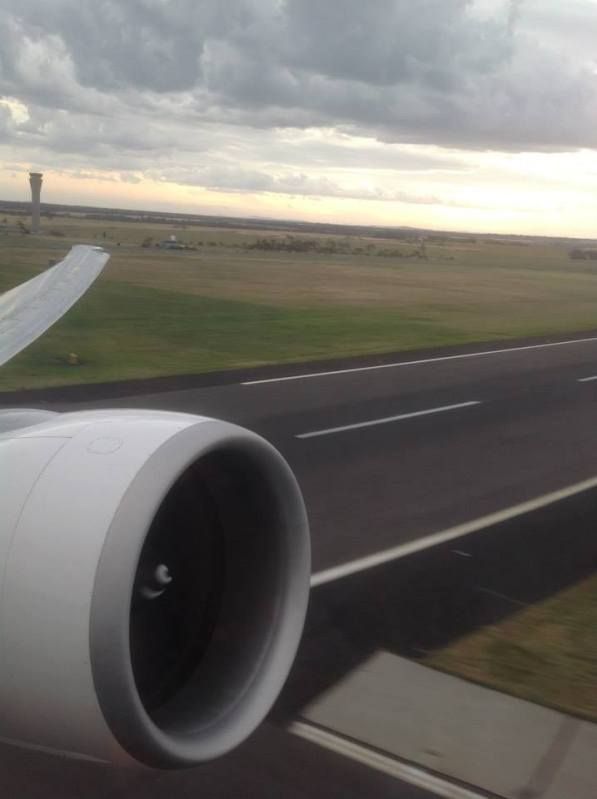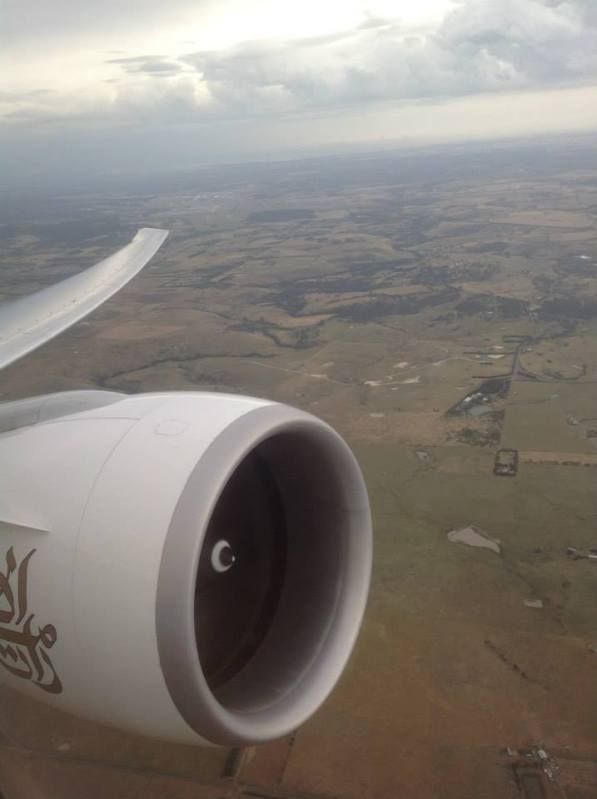 ---
Last edited by lammified; Dec 25, 13 at

10:50 pm
Dec 25, 13, 10:27 pm
Join Date: Feb 2013
Location: Singapore
Posts: 41
During the climb, the pilot announced over the PA that there was an area of turbulent air and that the crew were to remain in their seats until advised otherwise. It was only at this point that I realised that the crew had already missed several key actions up to that point – They had yet to serve hot towels, something that is normally done on the ground once the doors are closed, and had also neglected to take orders for post takeoff drinks. At this point, I had thought that they were probably rushed and therefore forgotten to carry out these actions, but this was merely a sign of things to come.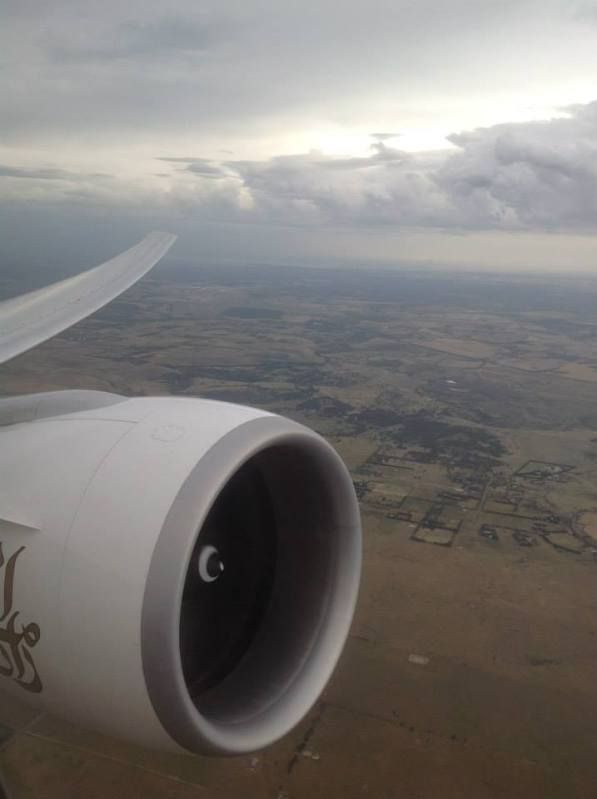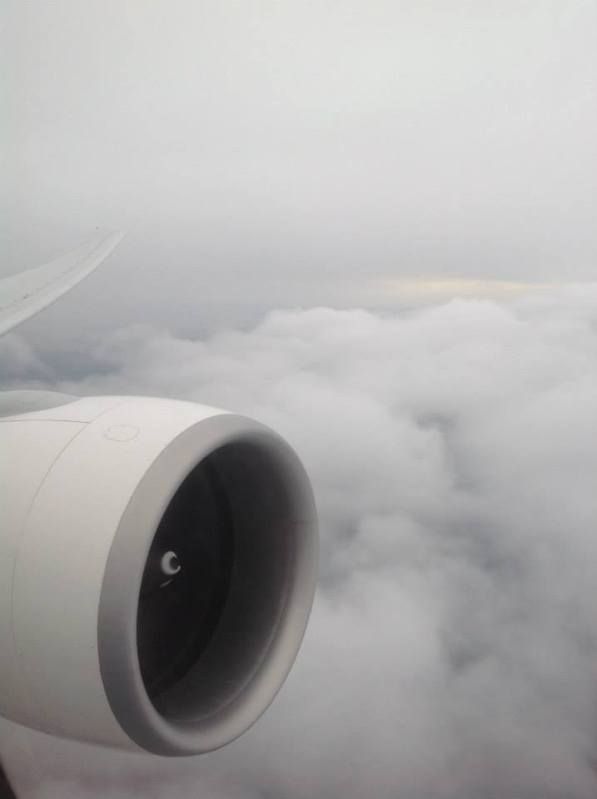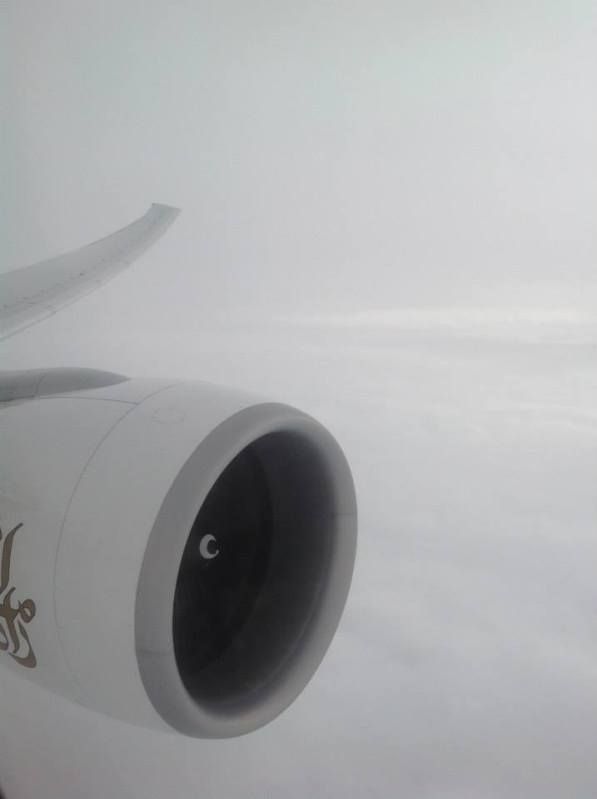 Shortly after passing through this turbulent patch, the crew were finally able to resume their duties, quickly giving out the hot towels, followed by amenity kits and then taking orders for dinner, without taking any orders for drinks – which led to many people personally requesting for specific drinks, delaying the dinner service as the crew scurried about meeting the requests individually.
The menu and wine list were as follows:
Bar Service
Aperitifs
Campari Bitter
Martini Vermouth – Dry/Sweet
Sake – Nanbu Bijin (Japan routes)
Beers
A selection of international beers including Heineken, Budweiser, Amstel Light and Asahi (Japan routes)
Cocktails
Black Russian, Bloody Mary, Bucks Fizz, Champagne Cocktail, Cosmopolitan (US routes), Fantasy Island, Kir Royal, Manhattan, Martini Cocktail Classic, Screwdriver, Vodka Martini
Spirits
Premium Scotch Whiskey
Chivas Regal 18 Years Old
As the world's leading 'super premium' Scotch Whisky, Chivas Regal 18 years old is enjoyed by many of the world's most discerning connoisseurs as each cask is hand selected by master blender Colin Scott
Single Malt Whisky
Glenfiddich 15 Years Old
A solera matured expression of the world's best-selling single malt. Aged in Scotland for a minimum of 15 years in a selection of three distinctive casks; American Bourbon, Spanish Sherry and new oak
Tennessee Whiskey
Jack Daniel's Old No. 7
A genuinely iconic brand, enjoyed in over 200 countries worldwide. A vanilla and toffee nose gives way to a balanced rich and honeyed palate
Irish Whiskey
Jameson
Established by John Jameson in 1780, Jameson is a single distillery blended, triple distilled, smooth Irish Whiskey
Cognac
Hennessy XO
Originally created in 1870 for the personal use of the Hennessy family, Hennessy XO is the result of more than 100 eaux-de-vie crafted together having been aged for up to 30 years
Vodka
Grey Goose
Officially known as the 'world's best tasting vodka', Grey Goose is the result of the finest ingredients, distilled to perfection by maître de chai, Francois Thibault
Gin
Bombay Sapphire
As the world's leading premium gin, Bombay Sapphire is crafted from an ancient recipe dating back to 1761. It is made using a blend of ten distinct botanicals giving a unique flavour
Rum
Bacardi Superior
Another icon, the perfect cocktail ingredient and a favourite of Hemmingway during his time in Cuba, Bacardi Superior has been one of the world's most popular spirits for decades
Liqueurs
Bailey's Irish Cream
An award-winning definitive blend of smooth Irish cream with quality spirits and whiskey
Tia Maria
Dating back to a mid-17th century recipe, Tia Maria is an exotic infusion of natural vanilla and the finest fresh coffee roasted to perfection, complemented with a touch of Jamaican rum
Drambuie
This luxury expression of Scotland's defining whisky liqueur is crafted using malts from the Speyside
Cointreau
A wonderful combination of sweet, zesty and bitter orange entwined with smooth alcohol. Drunk either with ice to finish a meal or mixed with fresh juice to quench your thirst
Champagnes, Wines & Port
Champagne
Moet & Chandon NV Brut Imperial
A harmonious blend of the three Champagne grape varieties – Chardonnay, Pinot Noir and Pinot Meunier, from the most expressive crus of the Champagne region. Brut Imperial embodies the Moet & Chandon style. It is a complete, generous and dynamic champagne. The wine has matured on the lees for several years until considered ready for drinking by the Chef de Cave
White
Chateau La Nerthe Chateauneuf-du-Pape Blanc 2012 Rhone
The La Nerthe estate is one of the stars of the Chateauneuf-du-Pape region. This is a delicious blend of classic white Rhone varieties including Roussanne, Clairette and Grenache Blanc. Rosewater, licorice and citrus notes on the nose, a broad palate with exotic fruit, marmalade and notes of honey. Excellent with seafood, light pasta and poultry dishes
Vasse Felix Sauvignon Blanc – Semillon 2012 Margaret River
Three hours south of Perth the Margaret River is fast becoming one of Australia's key white wine regions, well known for its expressive Sauvignon and Semillon blends. The Vasse Felix 2012 Sauvignon Semillon is predominantly Sauvignon Blanc giving it freshness and flavours of gooseberry, grapefruit and red apple with around 30% Semillon which overlays a waxy and creamy texture. A perfect aperitif which also drinks well with seafood and salads
Red
Chateau Siaurac 2005 Lalande de Pomerol
Lalande de Pomerol lies to the north of the Pomerol appellation but good examples such as Chateau Siaurac produce wines as good as those from the better known neighbour. The 2005 is a blend of 80% merlot and 20% Cabernet Franc. The nose is dominated by cedar, spice and black olives leading to a rich palate of red berries and chocolate
Tournon Pyrenees Shays Flat Shiraz 2010 Victoria
The Shays Flat vineyard is ironically in the foothills of the mountains, producing a cool climate Shiraz, very unlike many of the blockbuster wines seen from Australia and actually more like those of the Rhone from where winemaker Michel Chapoutier hails. The result is a rich, meaty Shiraz with blackcurrant fruit, white and black pepper notes, licorice and a very fine, long finish. Excellent with meat dishes and soft enough for casual quaffing
Port
Cruz LBV Port 2001 Douro
Late Bottled Vintage Port (LBV) is produced entirely from a single harvest, and aged in large wooden barrels for 4 years, after which it is bottled. In this case the Cruz 2001 has been aged for a further 8 years for greater integration of flavours and ultimately more enjoyment. Blackberry, cassis and hints of mint on the nose. The palate is full bodied and sweet with delicious blueberry and damson fruit, exotic spice with great balance and poise. Excellent with salty cheese and chocolate desserts
Dinner
Appetiser
Lobster and prawn cocktail
Served with grilled asparagus spears, a chunky cherry tomato and salted caper vinaigrette and fresh lemon
Confit chicken terrine
Wrapped in fresh spinach leaves, with a tangy aubergine caviar, sun-blushed cherry tomatoes and a balsamic reduction
Soup
Roast tomato and garlic soup
A warming soup made of slow-roasted tomatoes with fresh basil leaves and garnished with lemon flavoured crème fraiche
Salad
Seasonal Salad
Crisp fresh garden salad leaves and vegetables, with balsamic and olive oil dressing
Main Course
Grilled tenderloin steak
With creamy mashed potatoes, slow-roasted seasonal vegetables, and a light herb and chilli butter
Thai chicken curry
Classic coconut based curry served with steamed jasmine rice, fresh pak choy, and spiced yams, garnished with fresh coriander and chilli
Prawn biryani
Prawns marinated in aromatic spices and slow cooked with rice, garnished with fried cashew nuts, raisins and onions
Bread
Bread basket
Choose from our range of freshly baked rolls and breads
Dessert, Cheese and Fruit
Delicate strawberry tart
Filled with a rich pastry cream, topped with roasted sliced almonds, served with chocolate sauce
Chocolate and spearmint layered gateaux
Served with a raspberry coulis and chocolate garnish
Cheese board
A carefully chosen assortment of the finest boutique cheeses
Selection of fruits
A seasonal assortment of the finest fresh cut fruits
Hot Beverages
Tea
Black and herbal teas from around the world
Coffee
Brewed to order, your choice of decaffeinated, espresso and cappuccino
Chocolates
Fine luxury chocolates
Light Bites
Cold Snacks
Panini sandwich
Filled with tomato and cucumber slices, shredded chicken and cheese with mayonnaise and hard boiled egg, served with crunchy coleslaw salad
Hot Snacks
Stir-fried egg noodles
Topped with five-spice marinated duck and a rich hoisin sauce
Crab cakes
Made with a blend of crab and fish served with seasonal grilled vegetables
Mushroom, leek and feta cheese parcels
Light flaky filo pastry filled with delicious combination of sautéed woodland mushroom, leek and feta cheese, served with tangy tomato relish
Sweets
Chocolate and walnut fudge brownie
Served with caramel sauce and whipped vanilla cream
Hot Beverages
Tea
Black and herbal teas from around the world
Coffee
Brewed to order, your choice of decaffeinated, espresso and cappuccino
Dec 25, 13, 10:27 pm
Join Date: Feb 2013
Location: Singapore
Posts: 41
The crew first came around to lay the tablecloths, which are just generic white tablecloths with no logo, unlike in First Class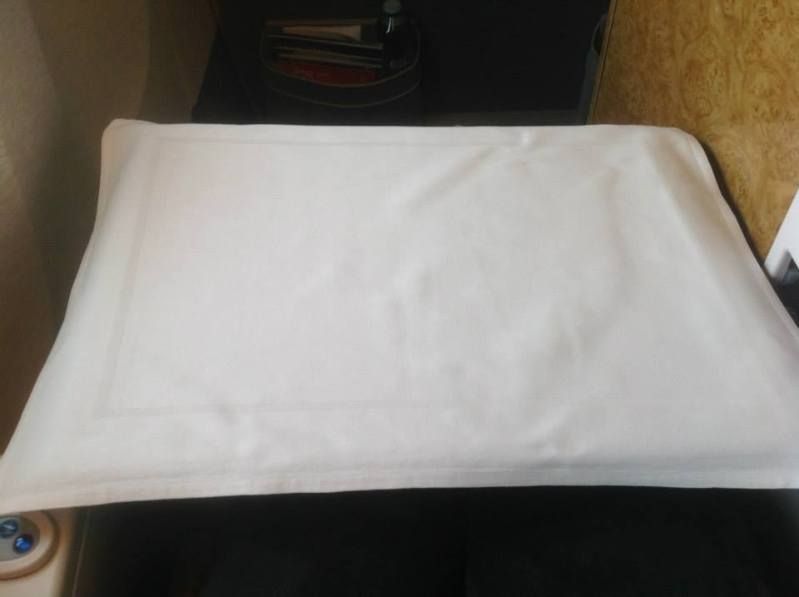 Next, a tray with the appetiser, salad, bread and seasonings (Salt, Pepper, Butter and Salad Dressing) along with the cutlery and a glass of water is set down on the table
Lobster and prawn cocktail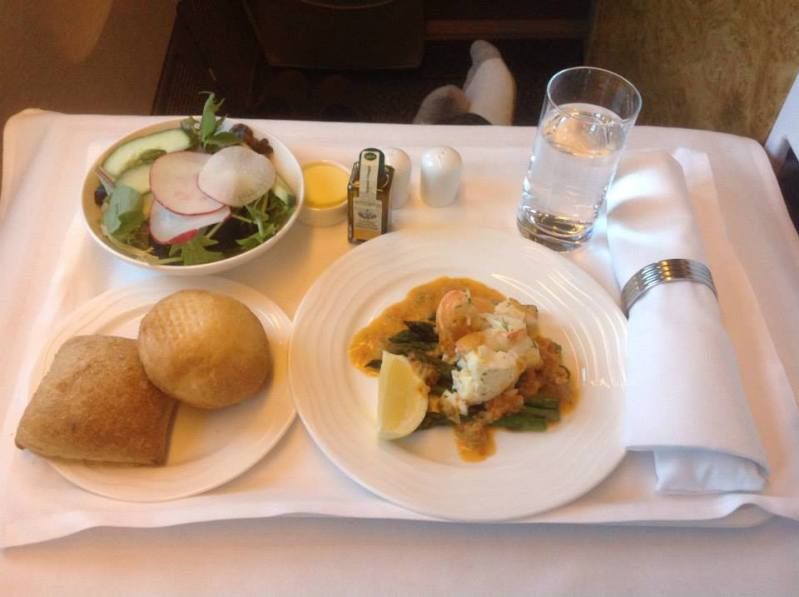 The main course is served shortly after
Thai chicken curry
It is at this point that the crew completely lose the plot – I don't expect much of them, just that they do their job efficiently. I certainly don't make special requests or make their life hell, so the next part really baffles me
A female flight attendant starts clearing the trays of my seatmate and also that of the passengers across the aisle after we finish our mains. She is clearly aware that my plate is empty at this point. Keep in mind that being in Row 8, this is the first row next to the galley, and even though I'm in the window seat, the crew can clearly see that I'm done eating. She clears their trays, and then takes their dessert order. She then returns with their desserts, and then walks off into the galley, again ignoring my empty tray. The next time she passes through the cabin, I ask her to top up my water glass, which she does, and despite seeing that my tray is empty and sitting there, she still fails to clear my tray. At this point, my tray has been sitting empty on the table for more than 20 minutes. It falls to the male flight attendant, who I had to ask 3 times to clear my tray, to finally get it cleared from my table, whilst the same female flight attendant has cleared every other tray in my row and in the 3 rows behind me. By the time my dessert order was taken, there was only the strawberry tart left
Delicate strawberry tart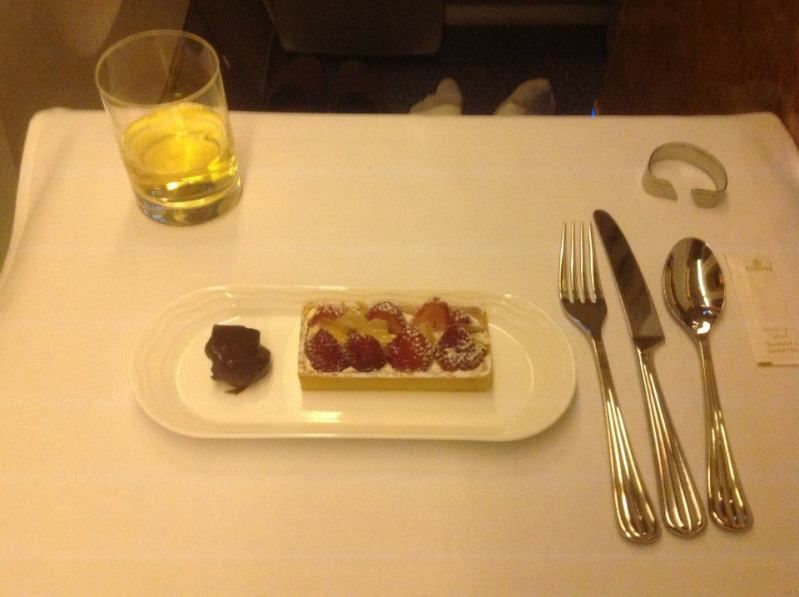 After dessert is cleared (thankfully without me having to ask), I request a cup of black tea to end off the meal. The hot drink at the end of the meal is typically served along with a small box of Godiva chocolates, but the female flight attendant fails to serve it, despite every other passenger getting theirs. I'm not picking at straws here, but at this point I'm seriously beginning to think I'm invisible sitting in the bulkhead window seat, or maybe I'm just not in their peripheral vision. I actually have to request for the chocolates before the male flight attendant brings it to me. It is the small things that set airlines apart, and in this instance, this crew is seriously lacking in attention to detail.
The male flight attendant then comes around offering the mattress pad to passengers wanting to get some rest, which I accept and place on the seat. I then recline the seat into its fully reclined position, even though I have absolutely no intention of sleeping, instead choosing to watch We're the Millers, Elysium and Season 20 of Top Gear. The cabin lights are dimmed, with the starry sky lighting at full intensity.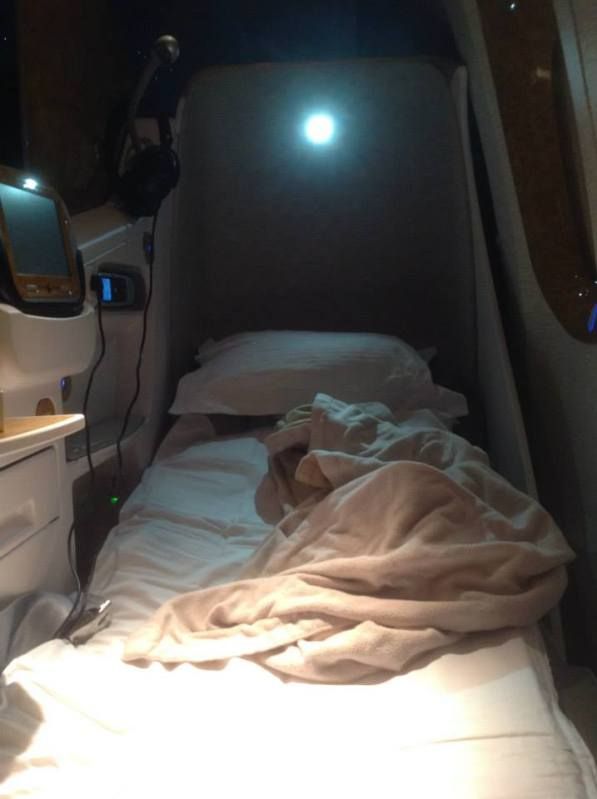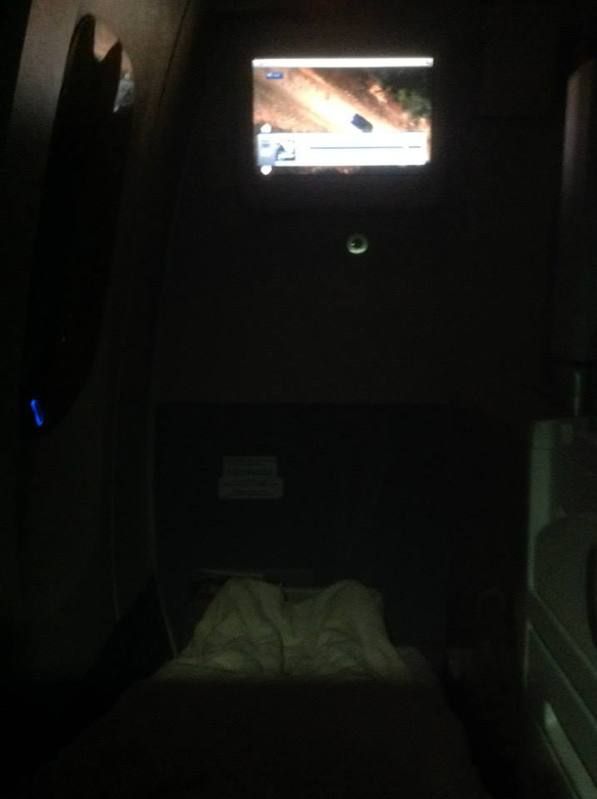 A light meal is served about 90 minutes before arrival into Singapore. I'm still feeling a little peckish at this point so I order two dishes, which are quickly served by the male flight attendant
Stir-fried egg noodles
Chocolate and walnut fudge brownie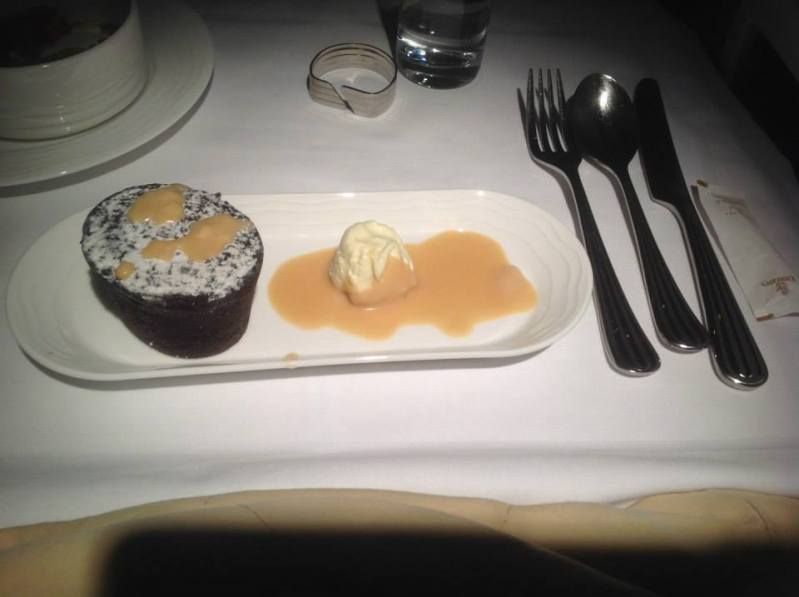 Once the meal is done, the First Officer announces that we are about to commence our descent into Singapore
The cabin lights are turned on, causing most people to rise from their slumber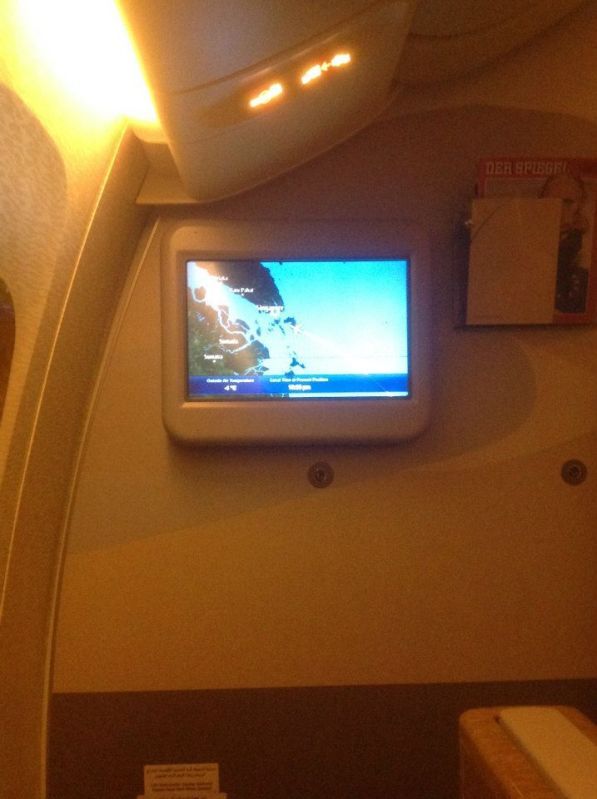 Dec 25, 13, 10:28 pm
Join Date: Feb 2013
Location: Singapore
Posts: 41
We approach Singapore from the South, skirting some thunderstorms over the Riau archipelago before turning right for a straight in approach to Runway 02L, flying over Singapore's eastern anchorage, providing those seated on the left with a beautiful view of Singapore at night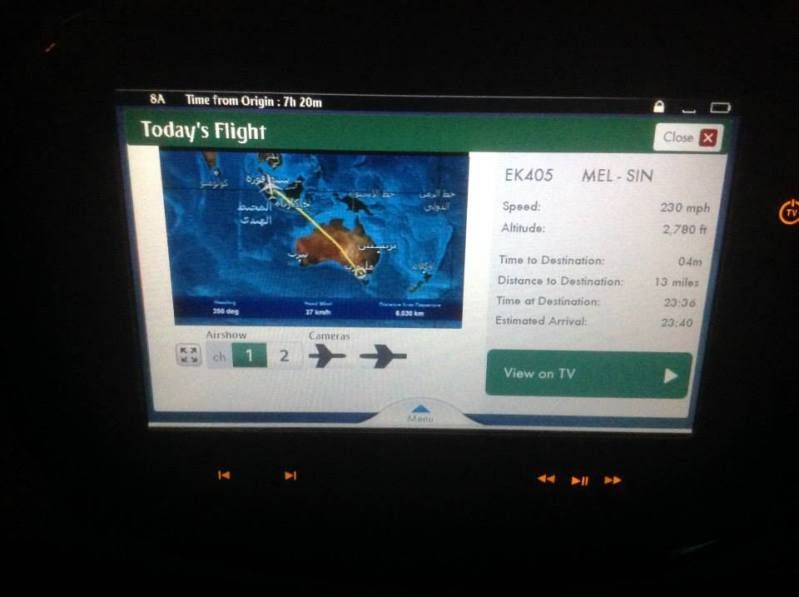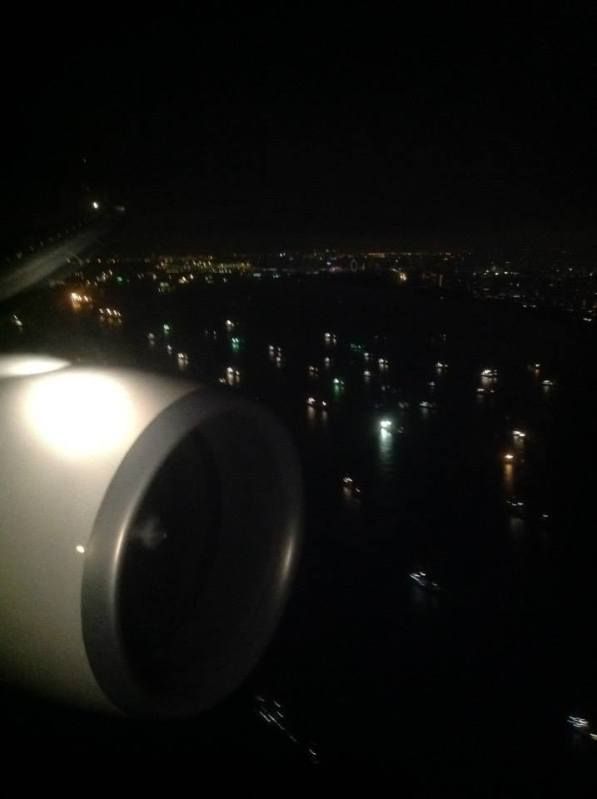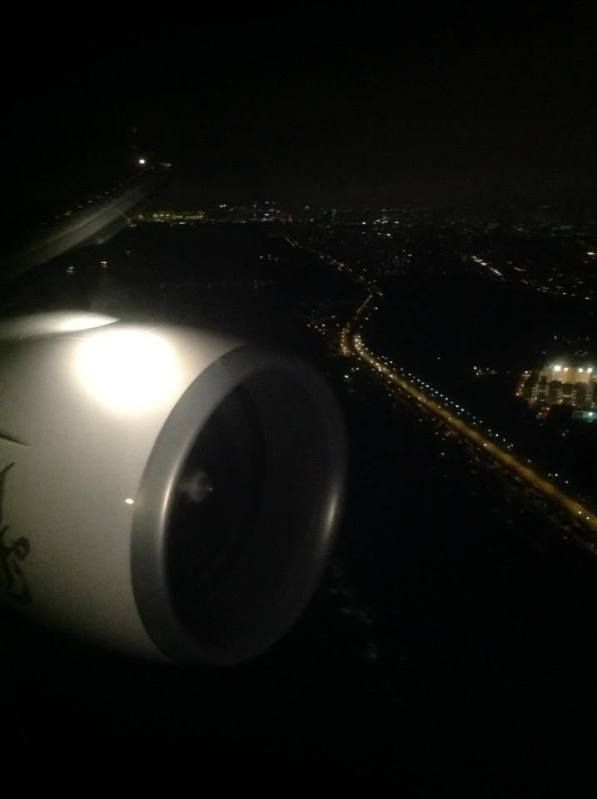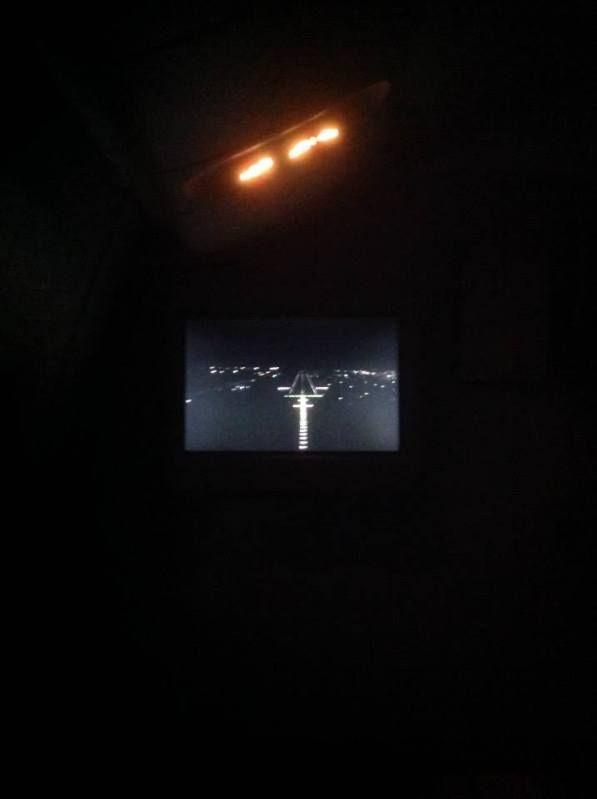 Once the aircraft touches down, reverse thrust is engaged and the spoilers deploy. Singapore's oppressive humidity causes the windows to fog up almost instantly, preventing any further photos from being taken. We taxi on the greens to Gate C1, where the aerobridges are quickly connected and I bid the crew goodbye before heading into the terminal building. Gate C1 is right next to the escalators heading to immigration and being Singaporean, I whisk through automated clearance in less than a minute. A quick jaunt through duty free to pick up some liquor for Christmas and then its to the belt, where my bag is among the first out the gate, and then it's a painless exit past Customs and 15 minutes after getting off the plane, I'm heading home, something that's only possible in Singapore.
Over the last 3 years, I've travelled mainly for school, with the exception of my annual sojourn to Europe, and I've been extremely fortunate to have had the experience of travelling on international First and Business class, especially on a student travel budget. My experiences flying with Emirates have been extremely inconsistent, ranging from perfection to mediocrity – this flight ranks in the middle – which are more a sign of growing pains at the one of the world's fastest growing airlines than anything else, as maintaining a uniform experience across thousands of flights becomes a challenge.
I've personally found that the crews are heavily influenced by the attitude of the purser. The flights where I've had good service have typically had proactive pursers, who were regularly seen in the cabin and were walking around making sure everything was fine. Those where service was bad were completely anonymous and for some reason, this is reflected in the attitude and service delivered by the crew. The purser on this flight was more the latter than the former. The crew were friendly and engaging, but their service lapses were inexcusable, considering that this is a premium cabin, and that Emirates was Skytrax Airline of the Year (though I tend to take Skytrax rankings with a big pinch of salt)
That being said, I will continue to fly Emirates for the bulk of my medium – long haul travel as their pricing and service offering is typically better value than Singapore Airlines with a wider range of destinations, with the exception of intra-Asia travel.
Thanks for reading this report. Comments and questions are most welcome.
Wishing all a very Happy New Year! Safe travels and upgrades galore!
V
See my previous trip reports here:
Chasing the Dream - Jetstar's new 787 in Business from Melbourne to the Gold Coast
EK First Class MEL-SIN-MEL - The upgrade god strikes twice!
Dec 25, 13, 11:00 pm
Join Date: Jan 2010
Posts: 7,297
Thanks for the report - I always look out for the EK write ups.

Regarding the newer equipment, A6-EGF does not have the latest spec. despite only being a couple of years old.

The easiest way to tell for me is the touchscreen controller pictured is big and bulky whereas the new ones are iPad style gadgets.

A6-EGP onwards were fitted with the larger screens etc although I don't know if the newer systems are being retrofitted to older planes.
Dec 25, 13, 11:38 pm
Join Date: Feb 2013
Location: Singapore
Posts: 41
Originally Posted by
ft101
Thanks for the report - I always look out for the EK write ups.

Regarding the newer equipment, A6-EGF does not have the latest spec. despite only being a couple of years old.

The easiest way to tell for me is the touchscreen controller pictured is big and bulky whereas the new ones are iPad style gadgets.

A6-EGP onwards were fitted with the larger screens etc although I don't know if the newer systems are being retrofitted to older planes.
A6-EGP onwards including the A6-EN* series use the new spec hybrid eX2 system with eX3 hardware with those iPad touch controllers and touchscreen handsets, but they lack crew rests and are used on medium haul routes typically.
What I meant was that of the long haul configured 77Ws (A6-EBQ/R/U/W/Y + A6-ECA, A6-ECC to ECX, A6-EGA to EGC, A6-EGE to EGI) EGF is one of the newer birds of this series, as opposed to my previous flights where I've gotten EBR and EBY, which still use the old S3000 ICE system.
Thanks for the comment! Happy holidays!
Dec 27, 13, 11:32 am
Join Date: Mar 2007
Location: Sydney Australia
Programs: VA,GA, SQ, IHG, HH, Europcar
Posts: 1,466
I have always found that EK both in Y and J is inconsistent with its service.

A fault I think of the rapid growth and the huge numbers of FA they have to hire.

This may be shocking to some but I prefer the comfort of the GA J seats and I find the GA service to be more consistent and sincere
Jan 21, 14, 8:50 pm
Join Date: Feb 2013
Location: Singapore
Posts: 41
Jan 22, 14, 8:24 am
Join Date: Feb 2013
Location: Singapore
Posts: 41
Possibly, but I've flown with EK as an op-up so many times before and this situation had never happened prior to this flight. It may appear on their pax manifest I suppose.
Jan 23, 14, 8:57 am
FlyerTalk Evangelist
Join Date: Aug 2005
Location: PERMANENTLY TERMINATED ACCOUNT
Posts: 13,905
Originally Posted by
lammified
To reply diplomatically, they aren't the tiniest J seats you'll find in the air, but they come close. Then again, I'm not particularly wide, so I fit quite easily into the space. More importantly, the seat provides good sleeping room even if it is only an angled flat bed.
I'm 6'2"