JNB-DUR on SAA J + BA J and the magnificent Oyster Box Hotel
Jul 19, 13, 1:17 pm
Join Date: Jan 2013
Location: Johannesburg
Programs: BA, QR
Posts: 298
JNB-DUR on SAA J + BA J and the magnificent Oyster Box Hotel
---
Introduction
We decided to go away for a week, and not to travel too far. As people who live in the city of Johannesburg, miles from any visible ocean, our first instinct it to find ocean whenever we have the opportunity. This time we headed off to Durban, which is a comfortable one hour flight away.
I am fully aware that there is an SFO777 trip report in the region, and that tends to make everything else on the planet seem mundane, but luckily this is a small domestic trip with some fun highlights, that should pose no risk to the aforementioned delightful poster.
The first thing to do was to get hold of two business class tickets down to Durban using my SAA Voyager Miles. Normally I'm not a great fan of SAA (their indifferent service can be quite flustering), but these miles have been lying around for ages. So 31,000 miles + taxes later, and we were set. We got our BA flight for 9,000 Avios, showing once again that Avios go further than Voyager miles. We decided to make the best of our week away and booked the 08:00 flight, meaning that it was an early rise and trip to the airport.
There are some great benefits to living in South Africa - we are far from everything, so a lot of heavies fly here, and the views are great. You never have to worry about booking a flight to LHR and landing up on an A320.
We checked our bags in at the Premium counter, and as usual it was an underwhelming experience. The ground staff of SAA are abysmal, and have been so for years. Their apathy is almost legendary. Next up we entered the Premium Lounge, and as the sun started to rise we started to see some of the morning flights start to arrive.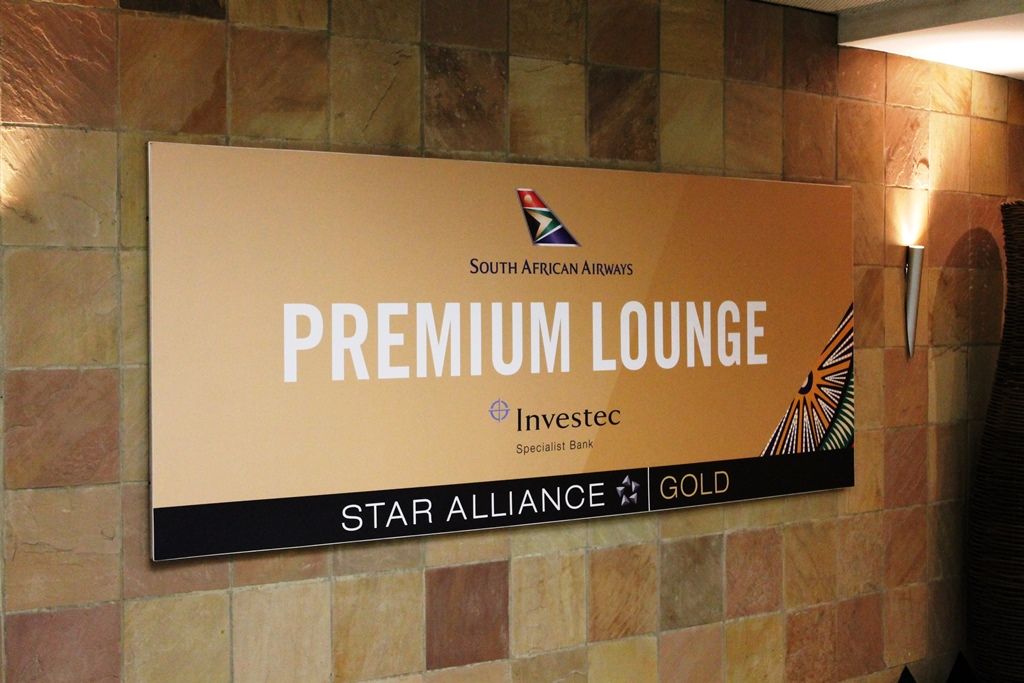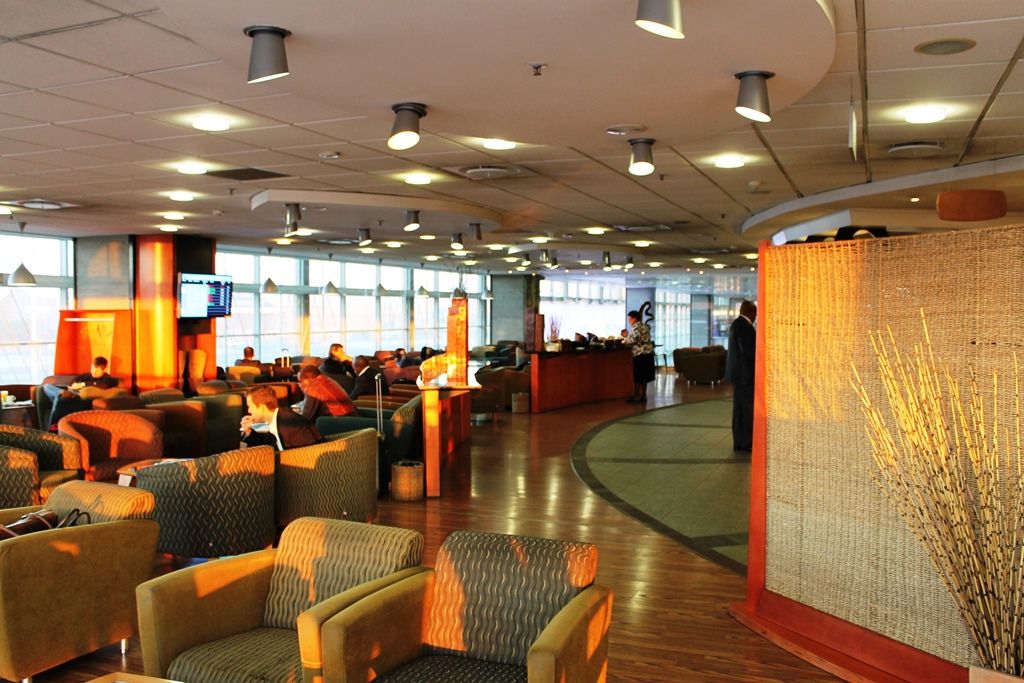 The lounge is comfortable with some great views. The snacks are average but the beverage service is good. There is free Wifi, as you might expect. It's a good place for planespotting.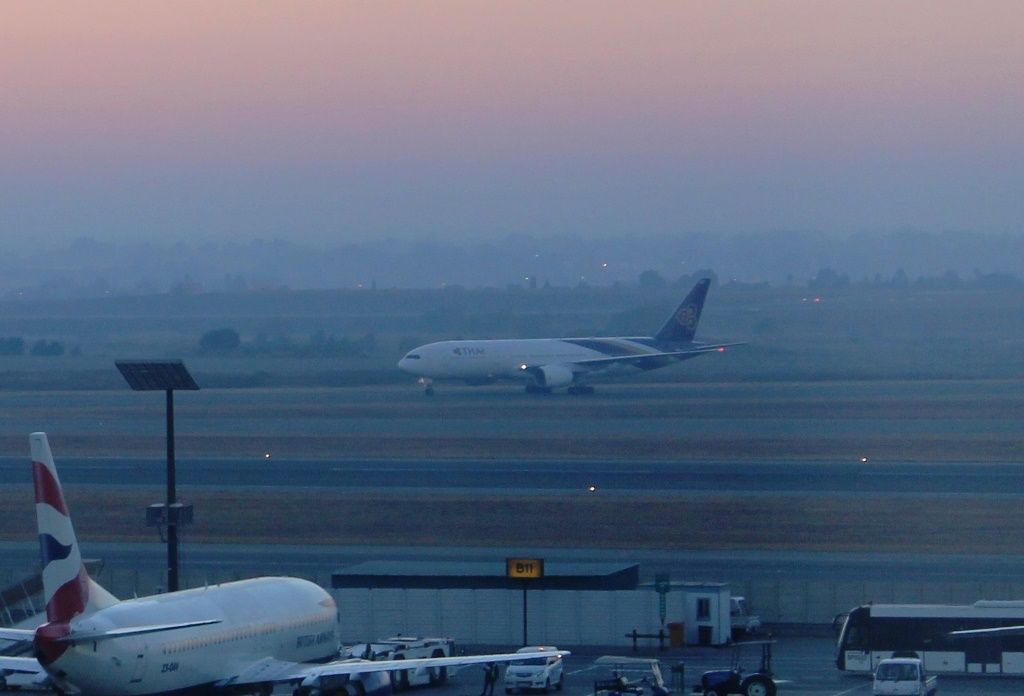 Thai 777
Egyptair A330
BA 737-400.... our ride home.
BA 747-400 from LHR... soon to be followed later in the morning by another one, and then a 772.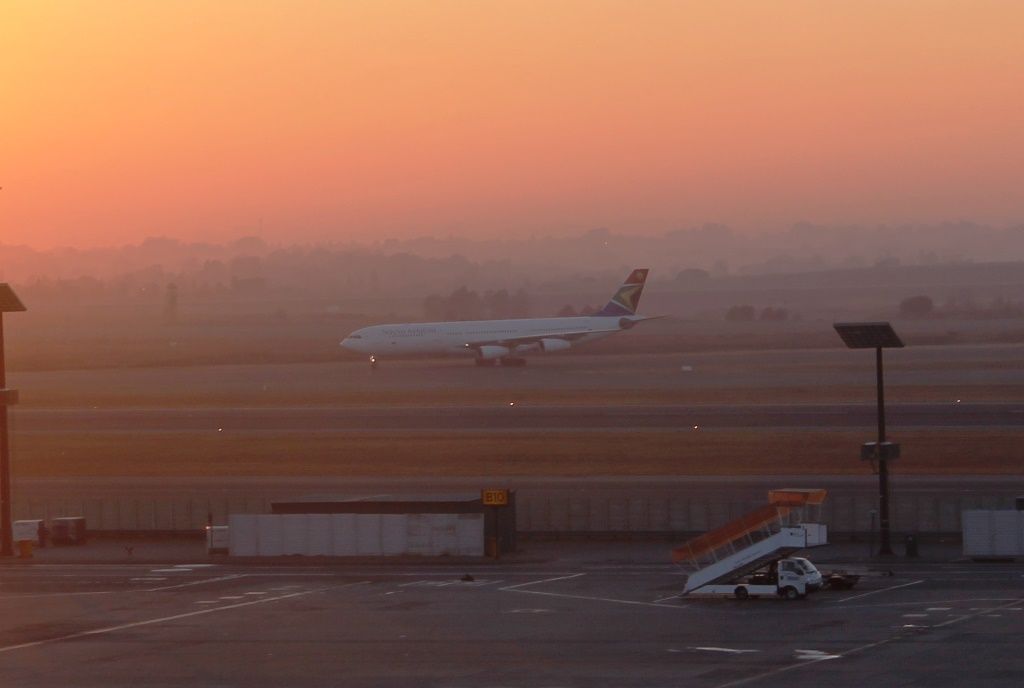 SAA A340-300
SAA 737-800 leaving for Cape Town
After malingering in the Premium Lounge for half an hour we made our way to the plane, which has already started boarding, so we didn't use the priority boarding they offer.
SAA JNB-DUR
Airbus A320
08:00 - 09:10
Business Class
Seats 3A + 3C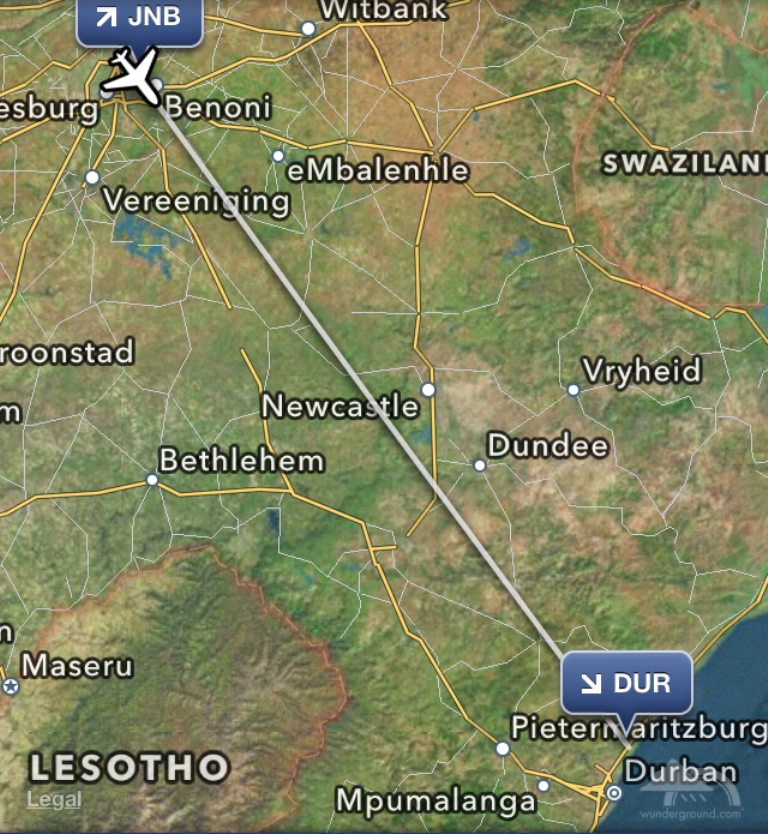 This A320 really perplexed me. I might need to be corrected on this but I think it is the only type in the fleet that uses the classic 'European Business Class' seating layout i.e. 3-3 but with the middle seat blocked out. The 737 fleet certainly has different and larger seats than in economy, and the A330/A340 fleet has fully lie flat beds in business. Not so sure about A319 - I flew it quite some time ago.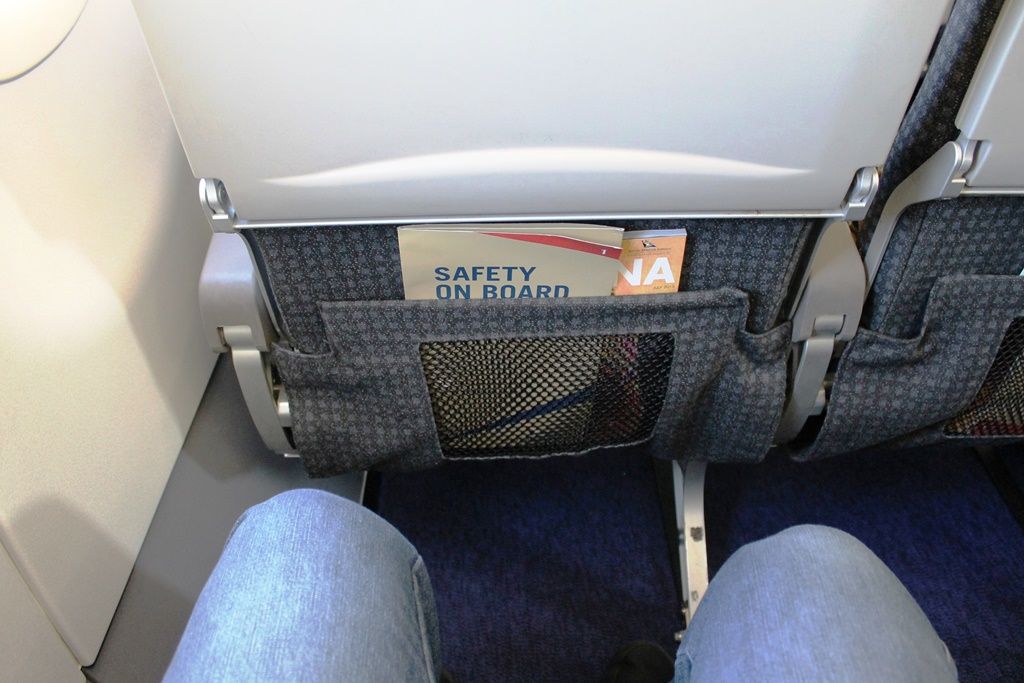 Good leg room... more than BA I believe.
On our way.
Screaming along 3L
Singapore 772 just landed... waiting for the A388's that normally land from Paris and Frankfurt later in the day and park there.
Take-off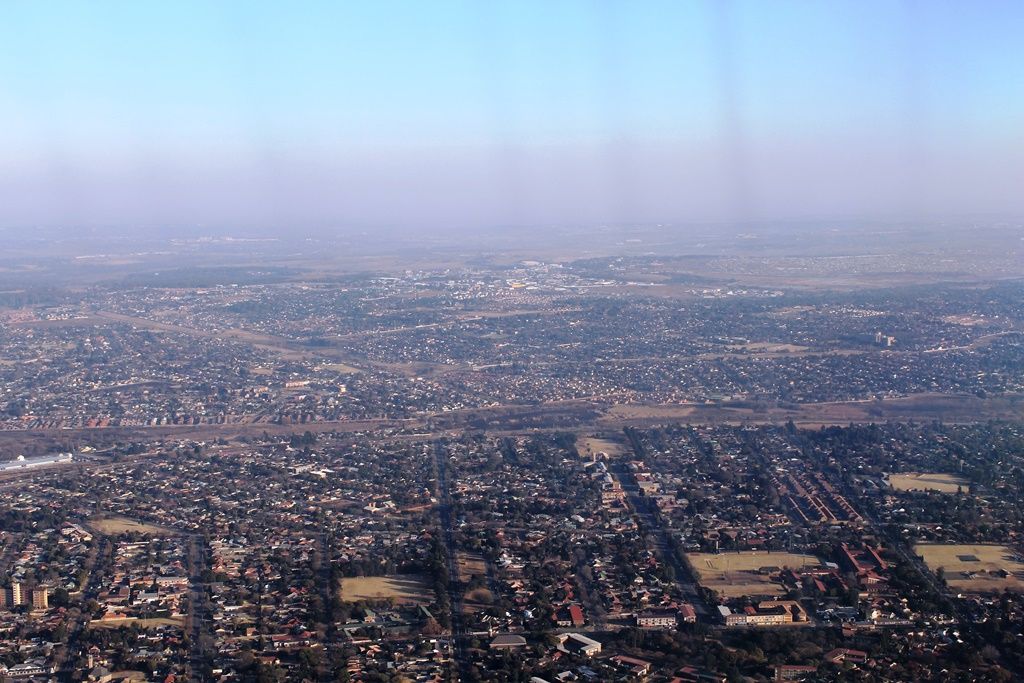 Some views of Johannesburg
Getting a bit higher now. The clouds were so low that day... note the the pylons of the factories breaking through the cloud layer, as well as how the clouds are hugging the mountains.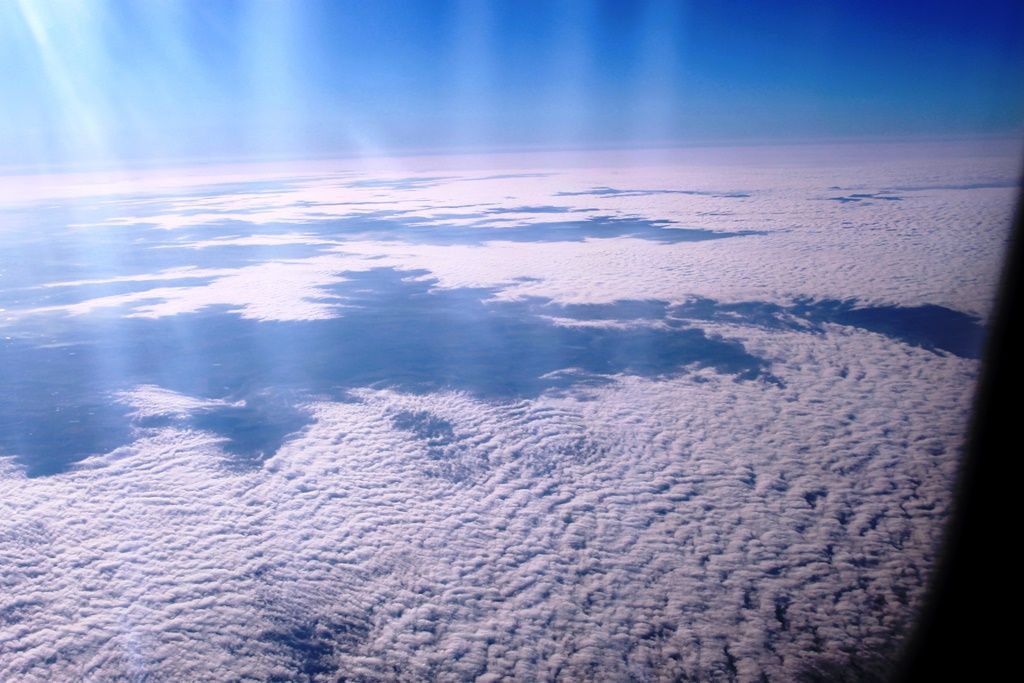 The beautiful African sky after settling in at FL320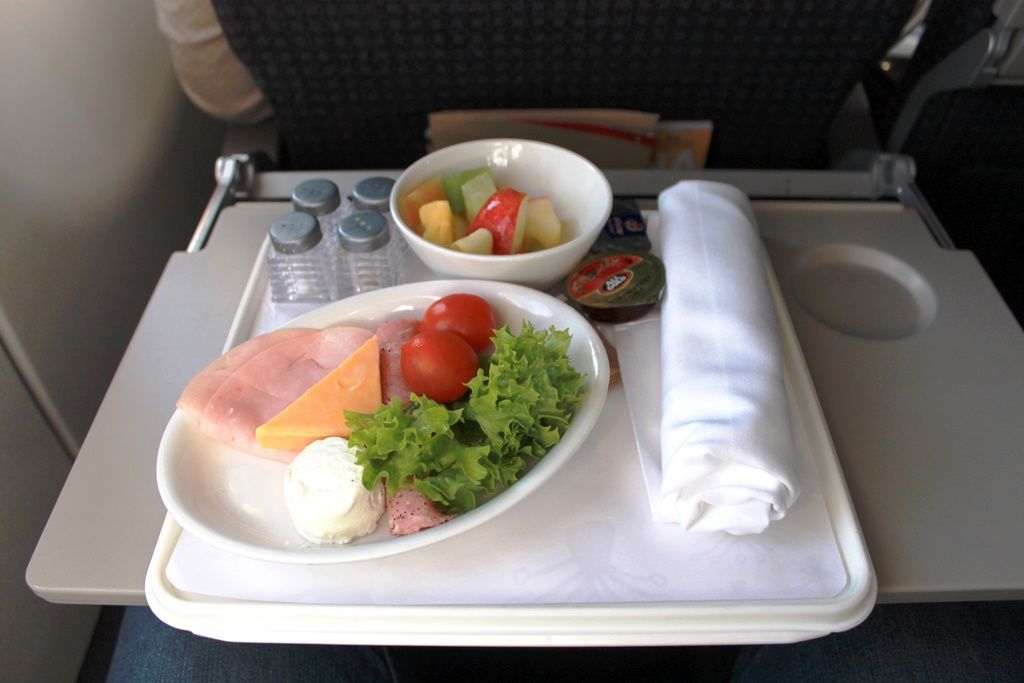 Breakfast is served! We had a choice between cold meats/fruit and Belgian yoghurt + fruit. I chose the former, and it was enjoyable for the time of day. I'm not one of your big breakfast eaters. (Four salt and pepper shakers for me...!)
The service was fantastic, though if you want to call me a cynic, I spoke to the excellent flight attendant and he used to work for CX. Still, I wrote an email of thanks to SAA customer service after the flight to thank them for the good onboard facilities, and they responded graciously.
---
Last edited by SAtraveller; Mar 17, 15 at

4:43 am
Jul 19, 13, 1:18 pm
Join Date: Jan 2013
Location: Johannesburg
Programs: BA, QR
Posts: 298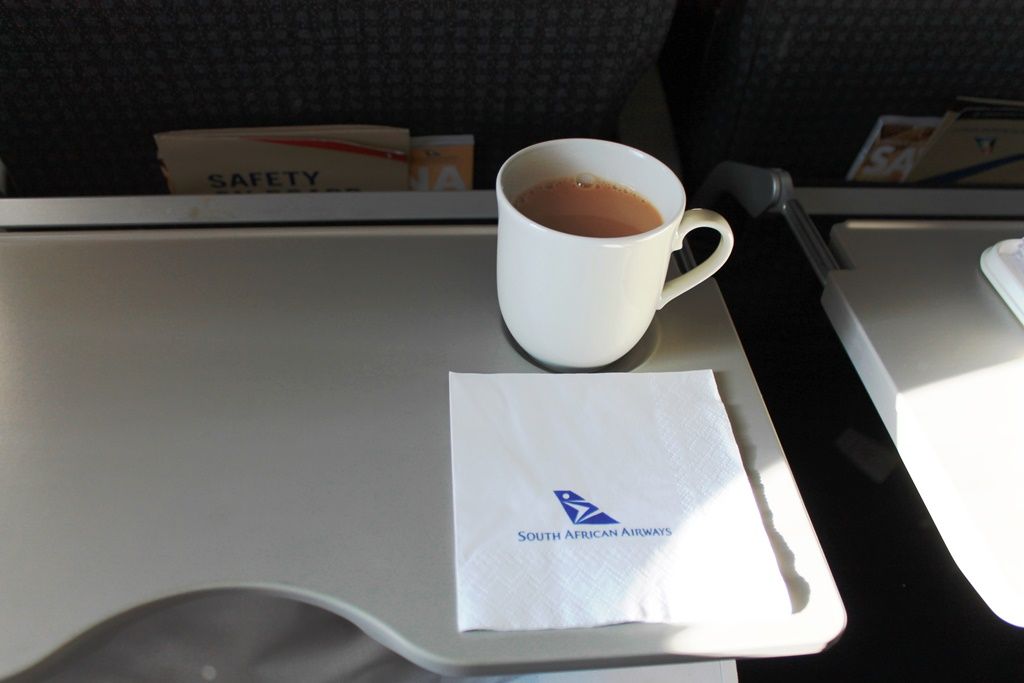 Time for some tea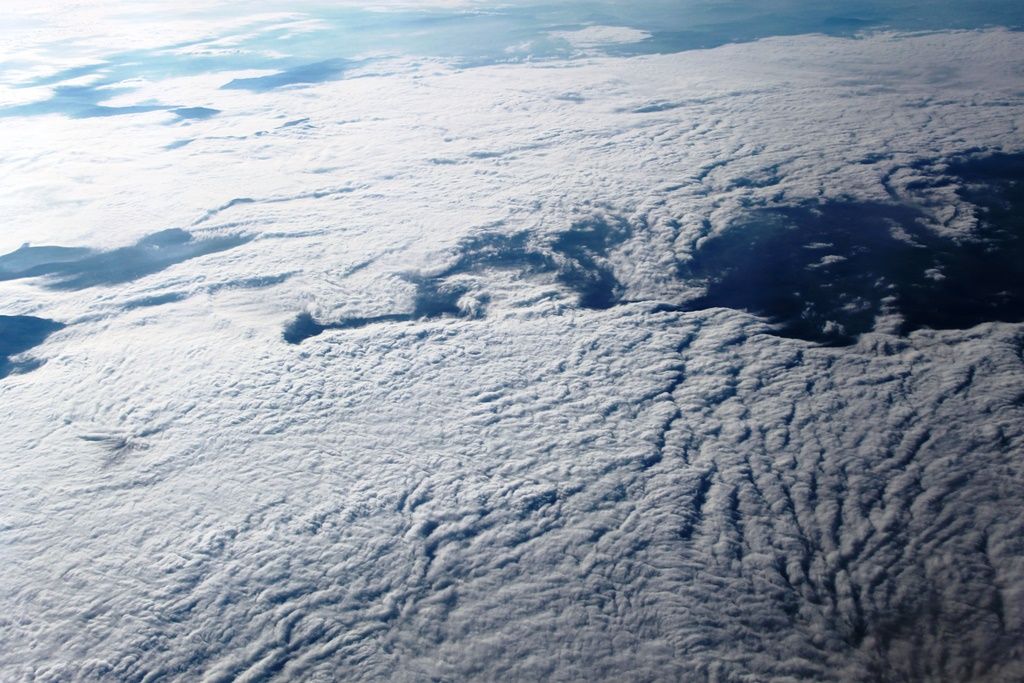 Starting our descent... some views of the Drakensberg mountains
Clusters of huts... people who live in the mountains
Farm Land
Views of Durban
on Finals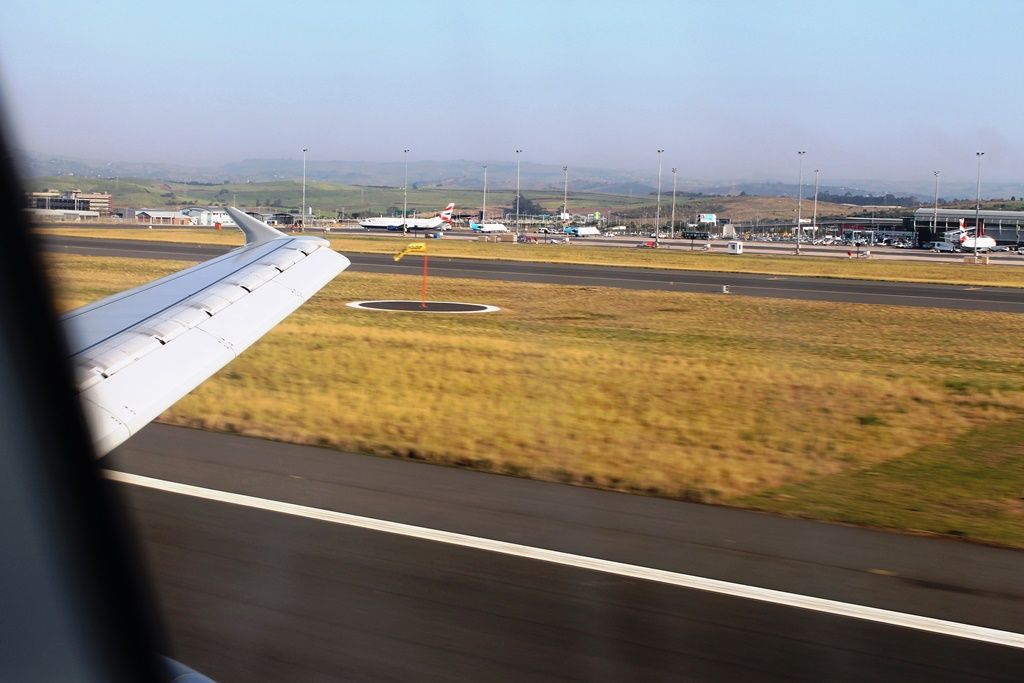 Touching down on 24L
Overall I found the flight rather enjoyable. It was pretty smooth, the service was good and the catering more than acceptable.
Our chariot awaits!
---
Last edited by SAtraveller; Jul 19, 13 at

2:01 pm
Jul 19, 13, 1:20 pm
Join Date: Jan 2013
Location: Johannesburg
Programs: BA, QR
Posts: 298
The Oyster Box Hotel
The Oyster Box was originally opened as a guest house in the 1890's and soon after went through several decades of decay. It was only recently resurrected and refurbished. It's part of the Red Carnations Hotel group, as well as Leading Hotels of the World. I found this 5* hotel to be among the finest of any hotels I've ever stayed at in the world.
The front entrance... the valets are always ready to help out with even the smallest detail, including walking you to your car with an umbrella in the rain.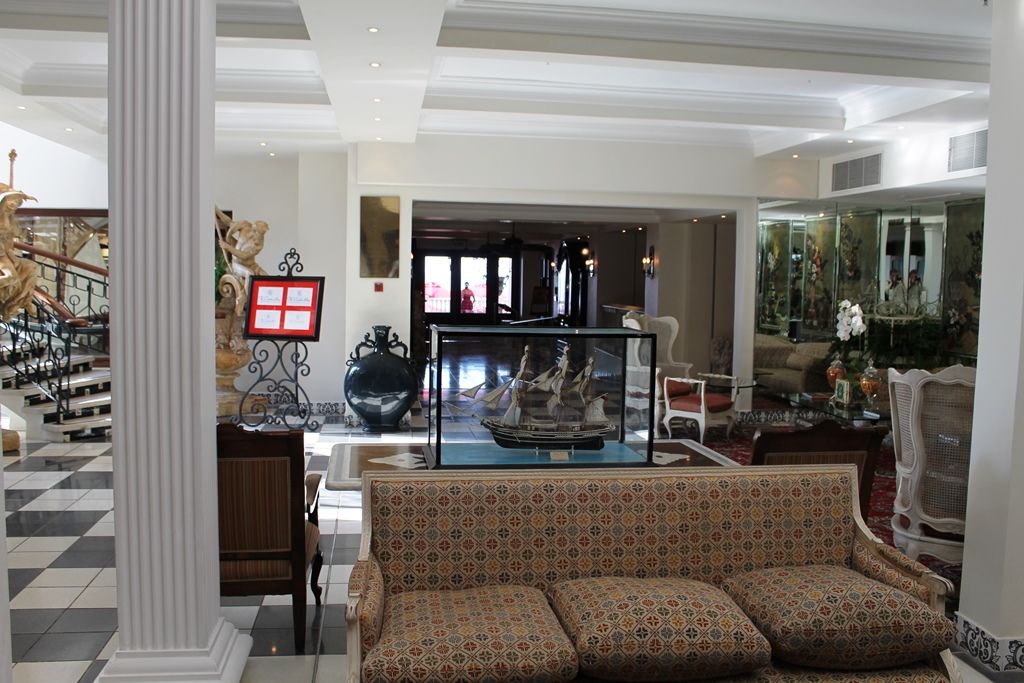 The Lobby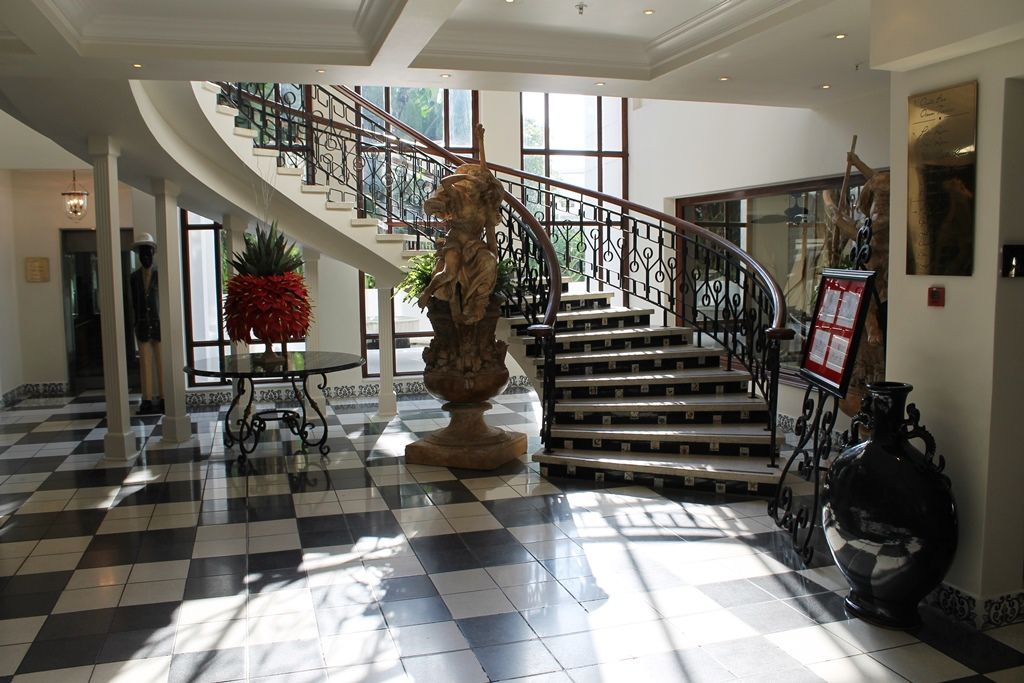 The Main Staircase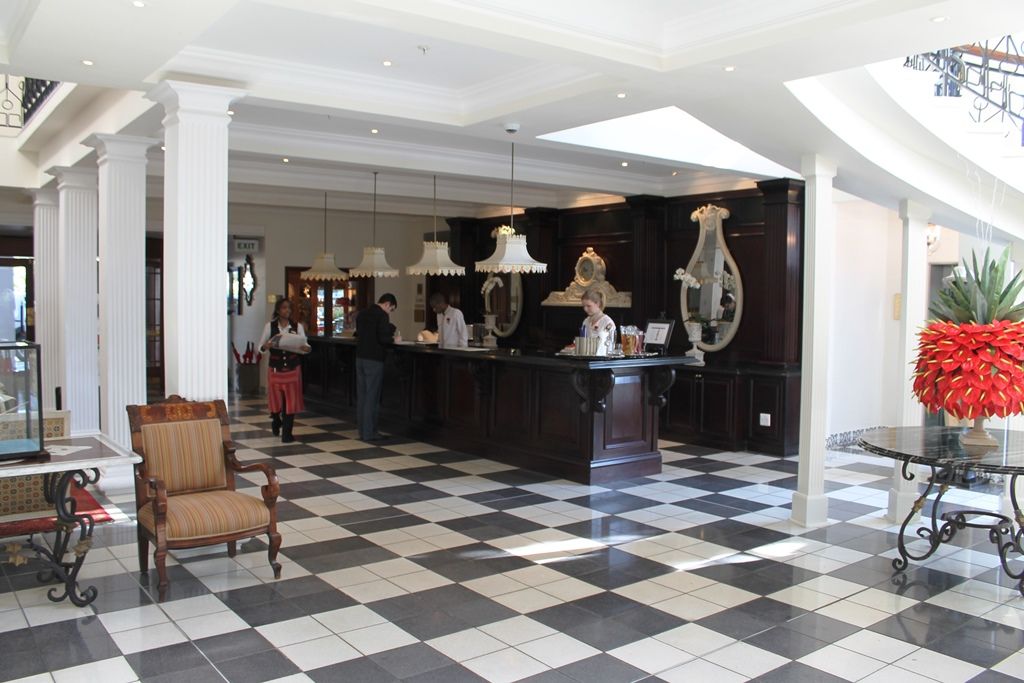 The reception area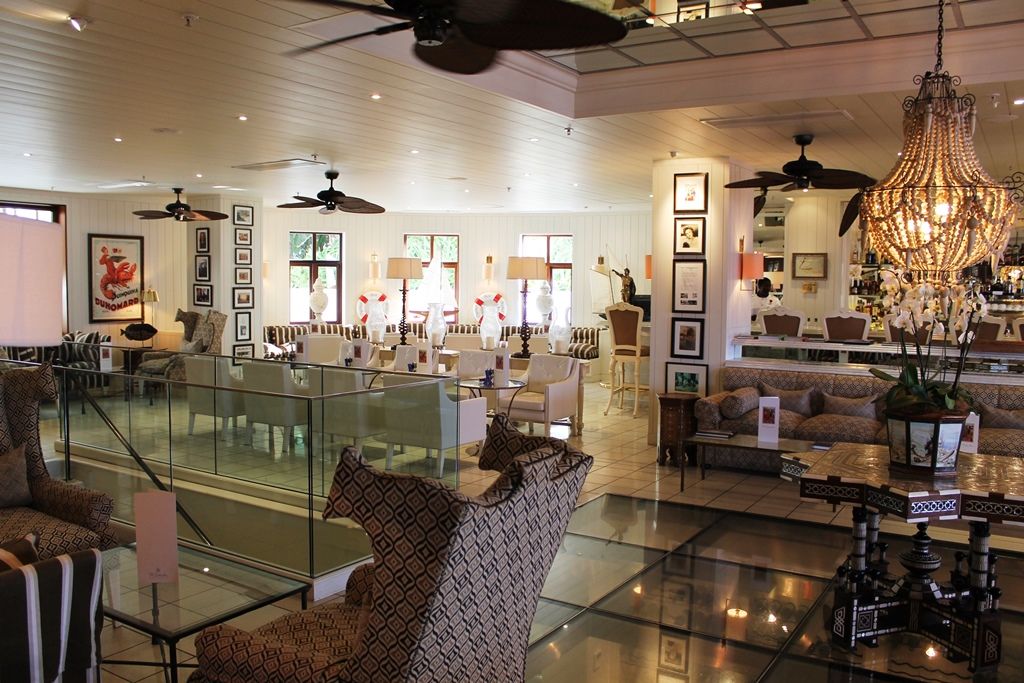 The Oyster Bar... a great place to have tea and cake. Or stronger cocktails...
The restaurant where breakfast is served.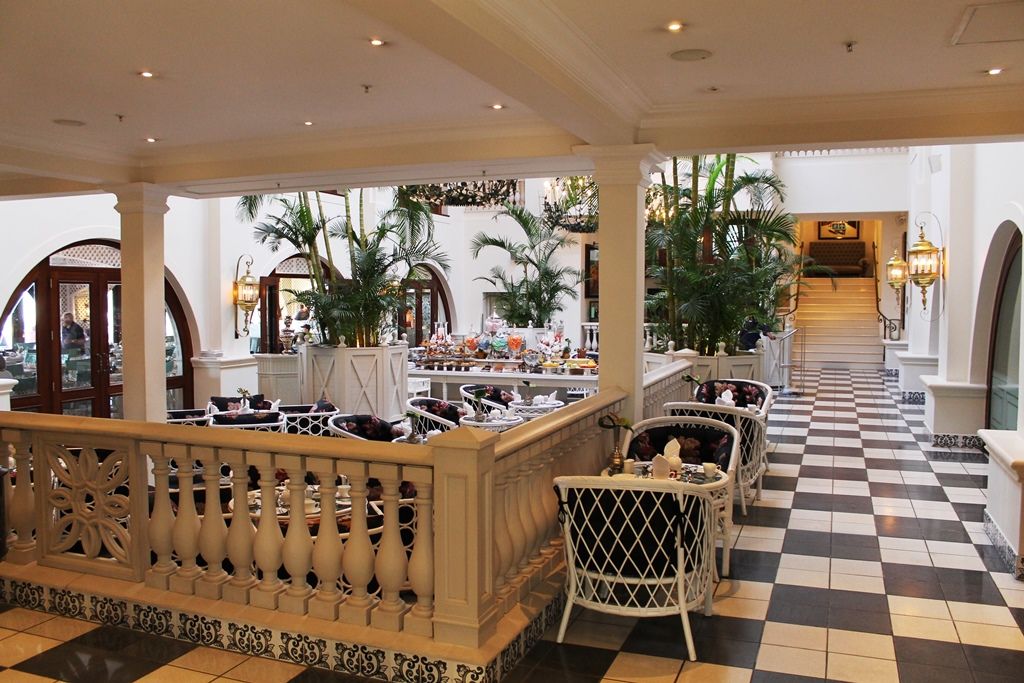 Another area where High Tea is served, with a good tea and vast assortment of cakes and treats.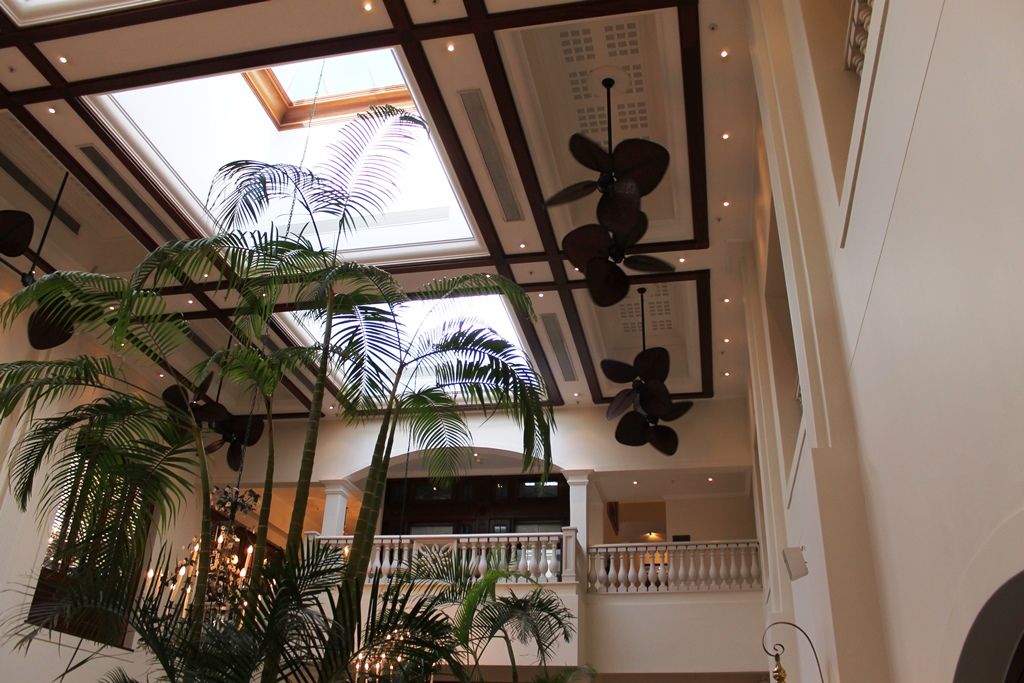 One of the atriums... I loved the fans.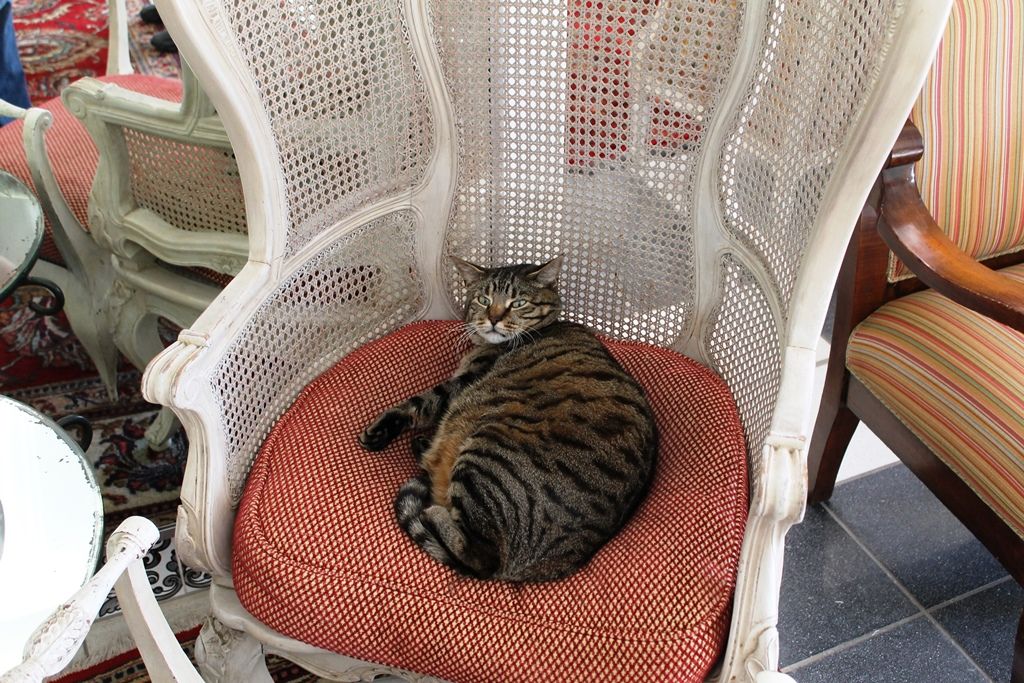 Sengeta the resident cat... you usually saw him walking around in the hotel during the day, but one cool evening I was very amused to see him sitting on a recently arrived (and warm) hood of a red ferrari. I doubt the owner would have approved, but we all found it very amusing.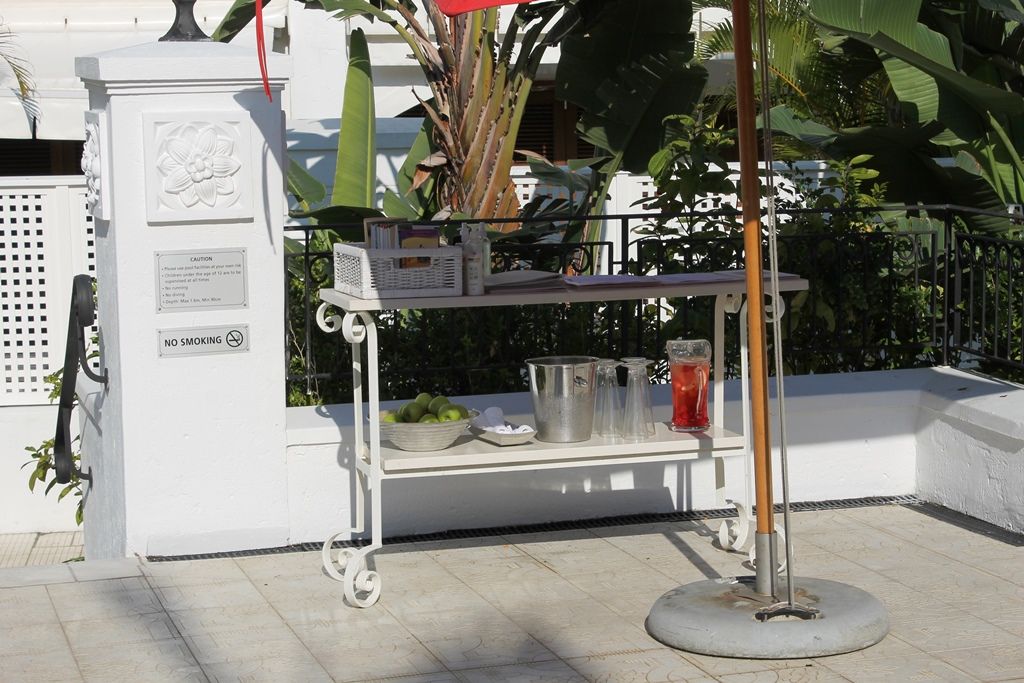 Beverage cart alongside the pool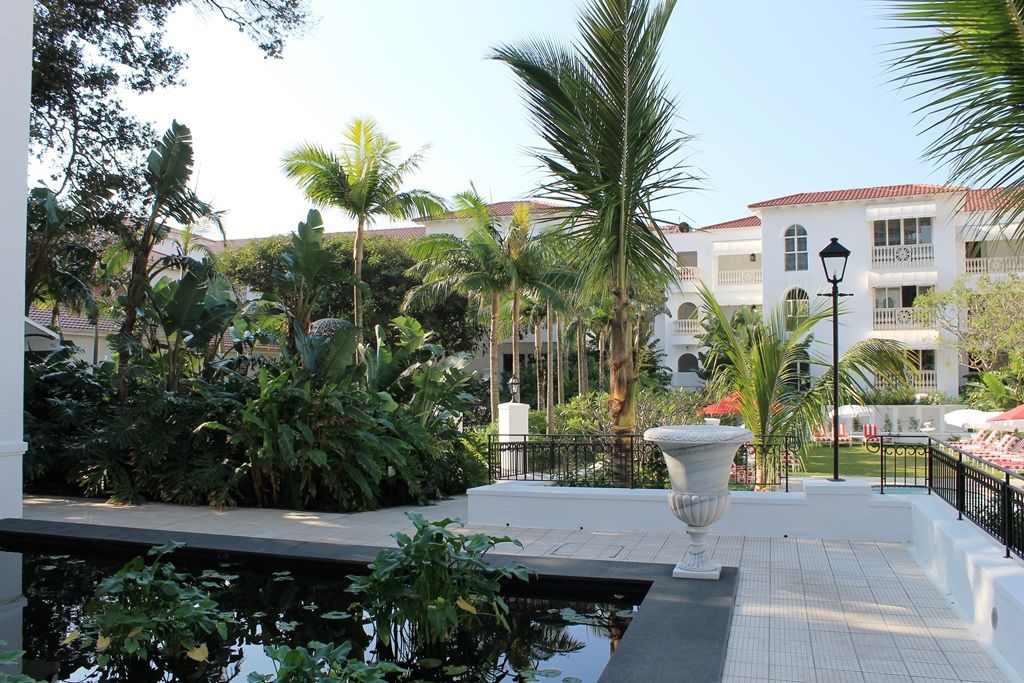 The Gardens
The beach facing facade of the hotel
The Main Pool area and pool bar
And of course... a creative marriage proposal made on the beach that day (it worked well on the victim hehe...)
---
Last edited by SAtraveller; Mar 17, 15 at

4:44 am
Jul 19, 13, 1:22 pm
Join Date: Jan 2013
Location: Johannesburg
Programs: BA, QR
Posts: 298
After a short delay we booked into our room. We had booked the Classic Sea View room aka.. a normal room with a sea view. There are several categories higher than this - luxury rooms, suites, family rooms, garden villas and the presidential suite.
Many people would perhaps find the room small, but we loved it.
Daily fruit... apples are great for a walk along the beach.
Toiletries provided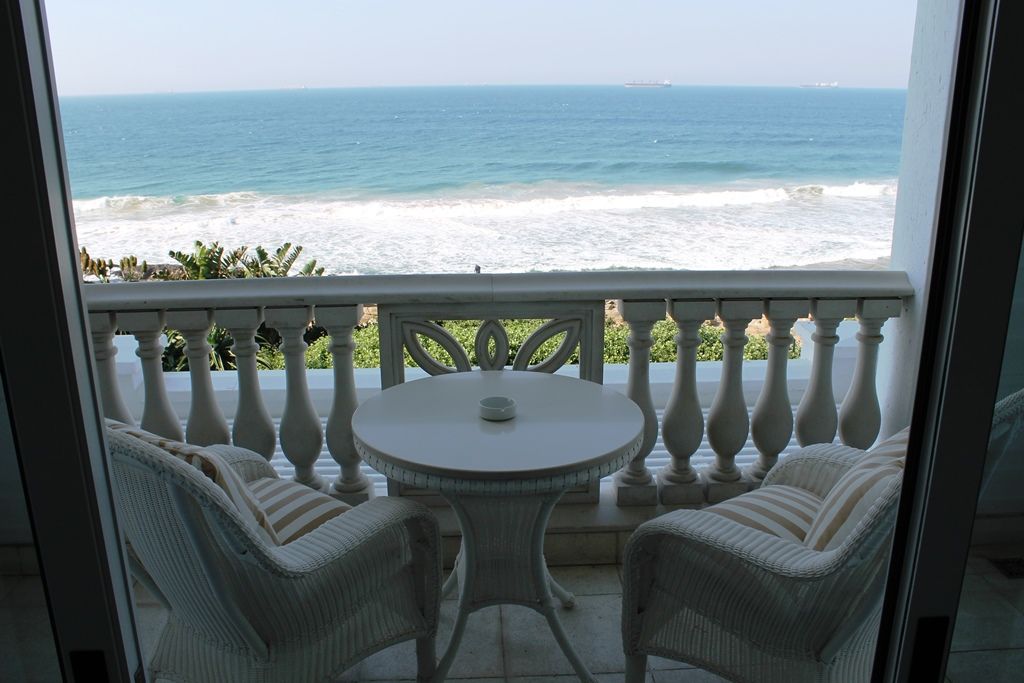 View from the balcony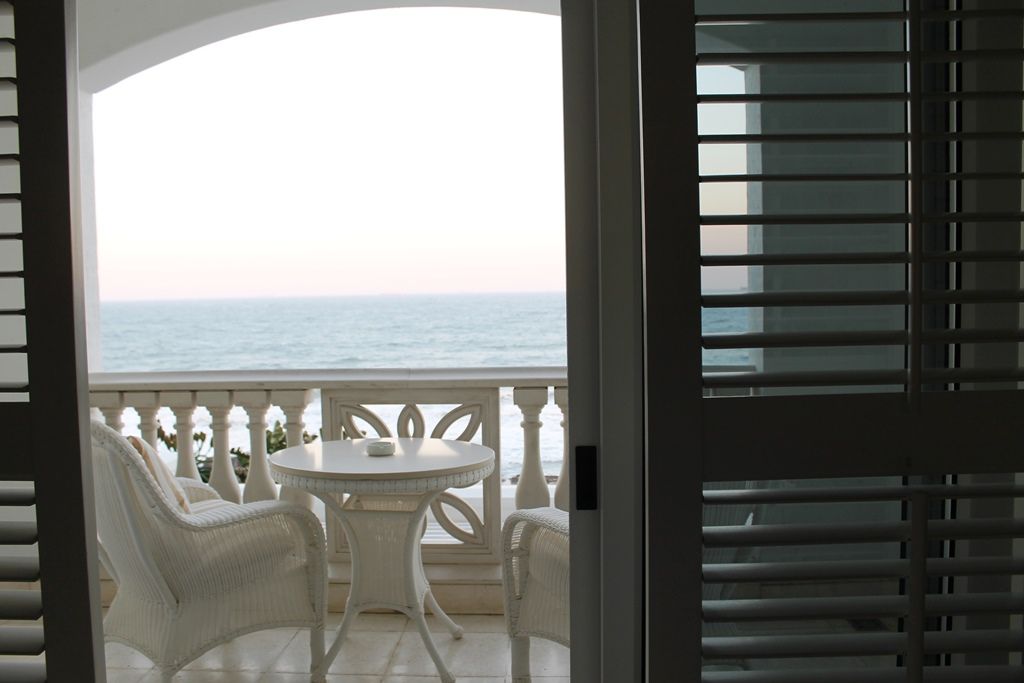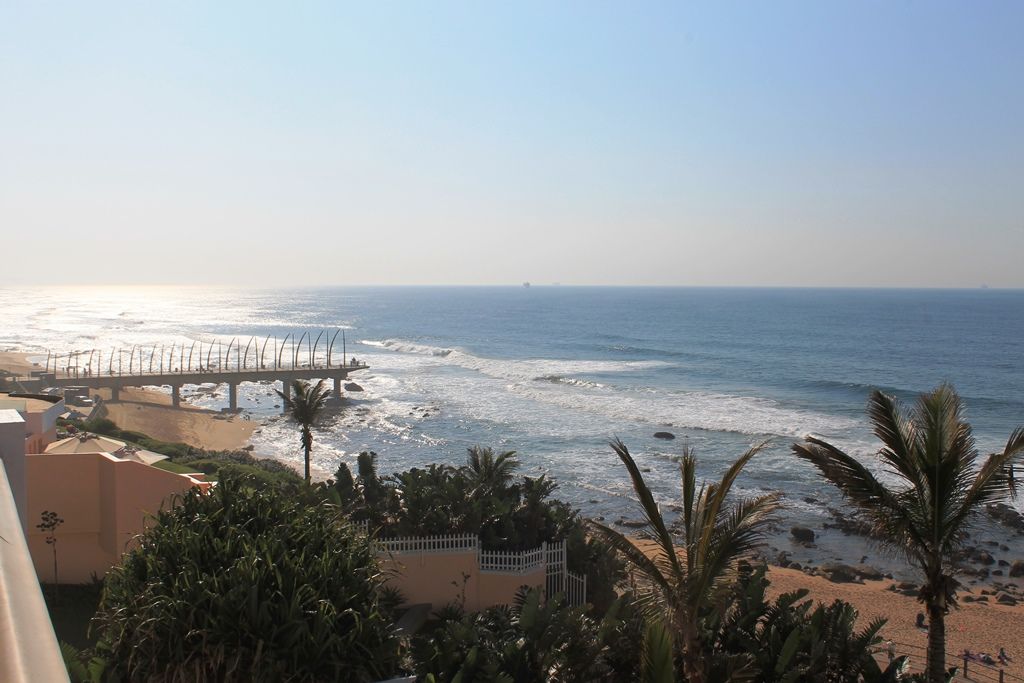 More views from the balcony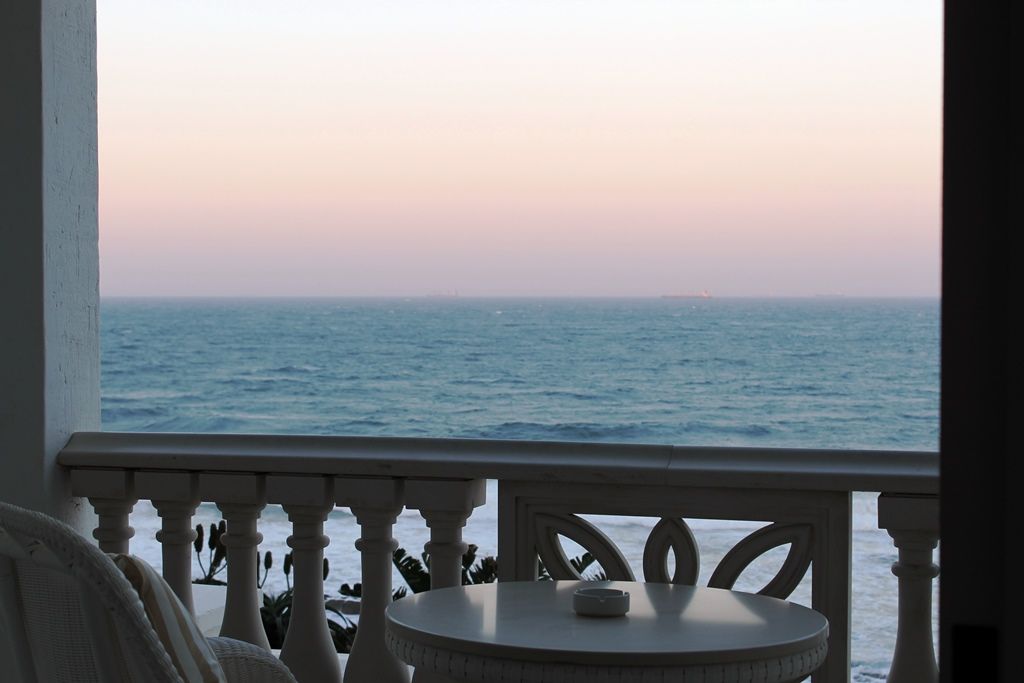 A great place for a sunset drink
After unpacking we headed up to another bar to have some cocktails...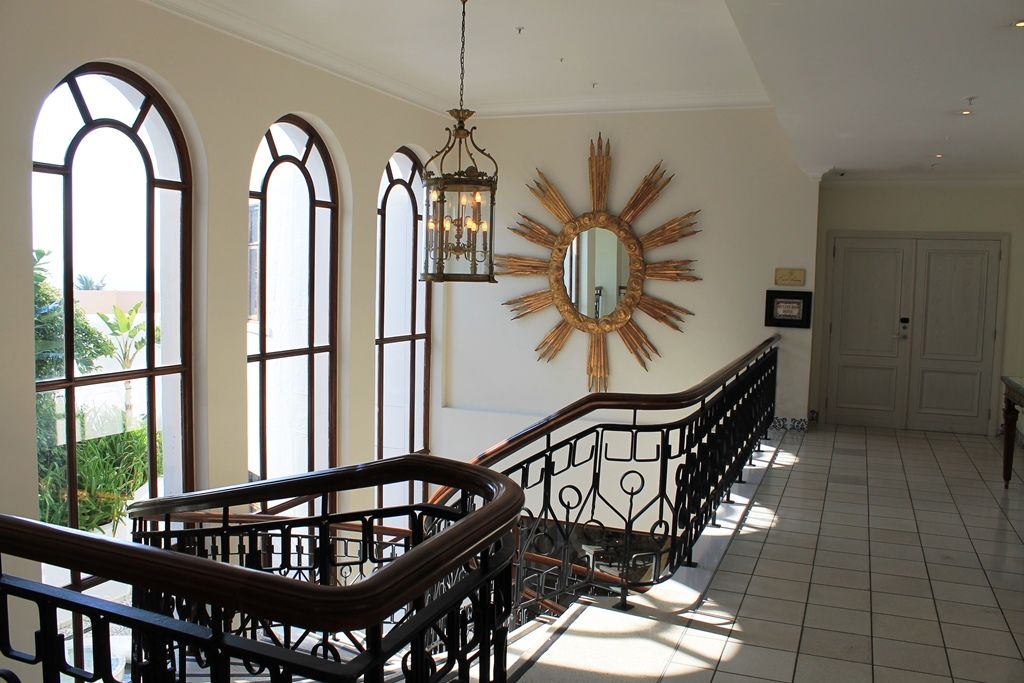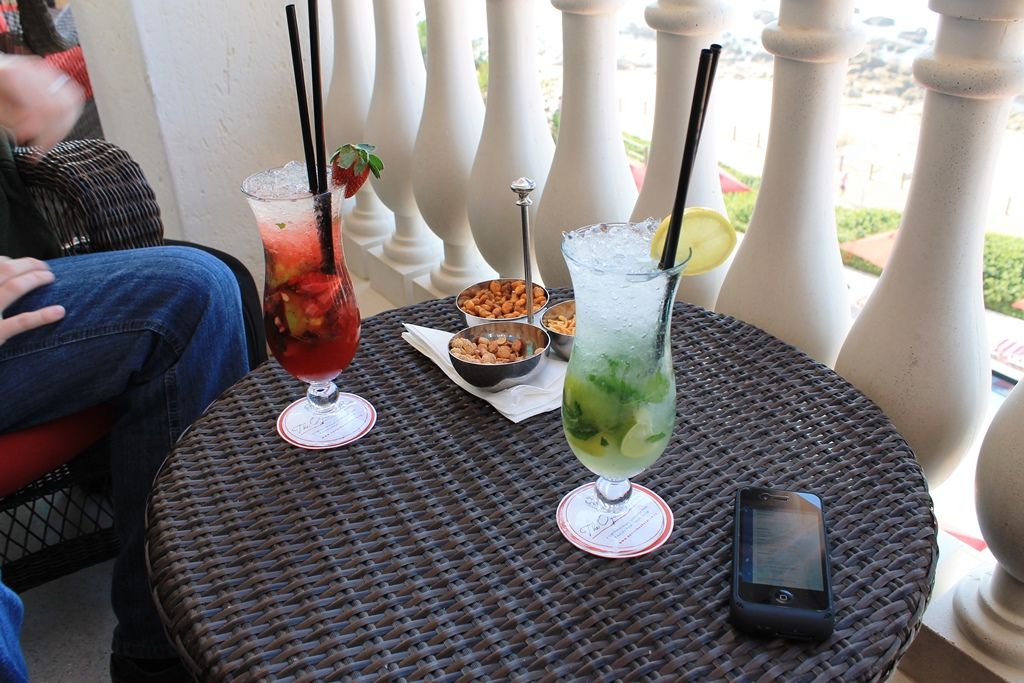 Time for a mojito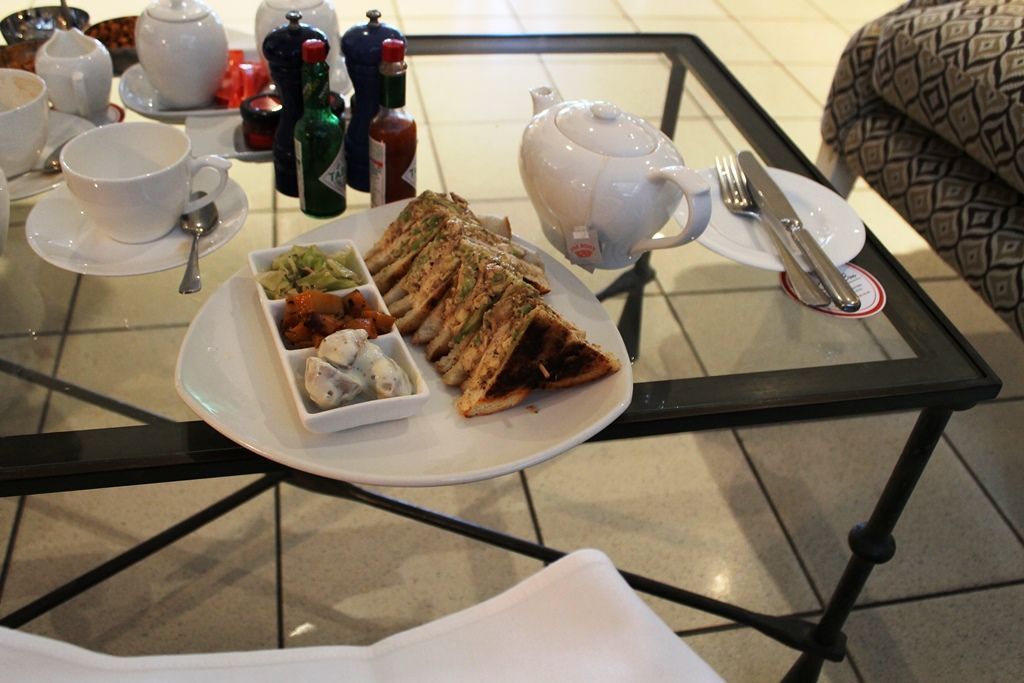 And a chicken sandwich
View of the pool from the bar
It was at this time that the local wildlife became interested in our peanuts...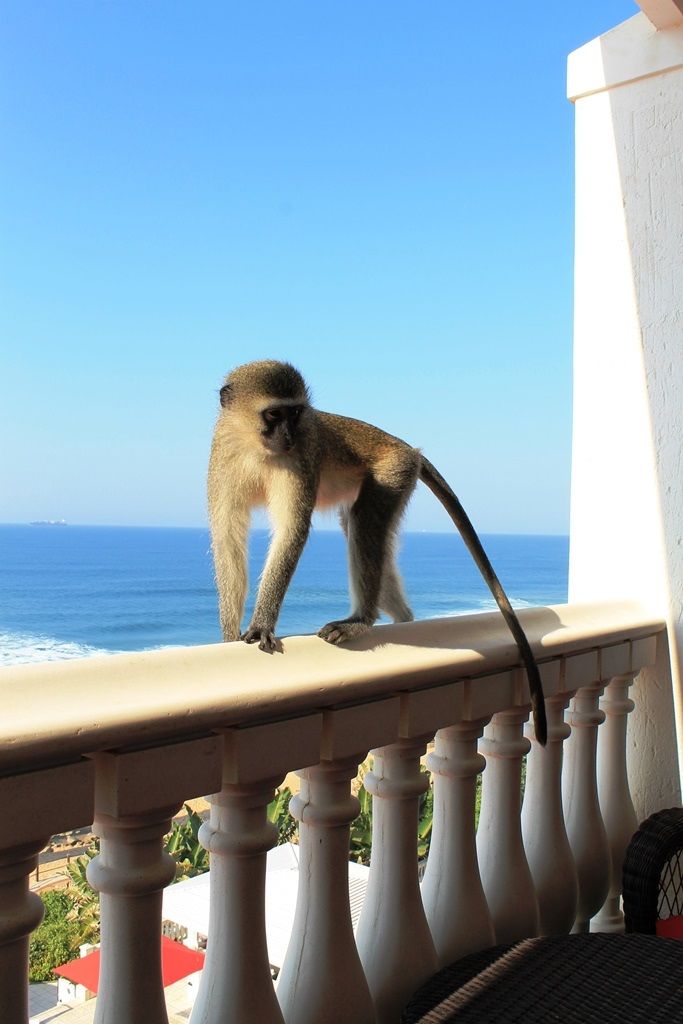 I've always found vervet monkeys are up for a fight... and I was right. If you try shoo them away they tend to growl and do all sorts of terrifying things with their hands... sort of like some sort of macabre scene out of Ace Ventura. That said, I've found that they're not particularly fond of pillows, perhaps because they don't look like hands... so a few aggressive movements with the bar pillow and the monkey ran way and didn't come back. Of course, he did sit in the nearby tree sulking for the rest of the time.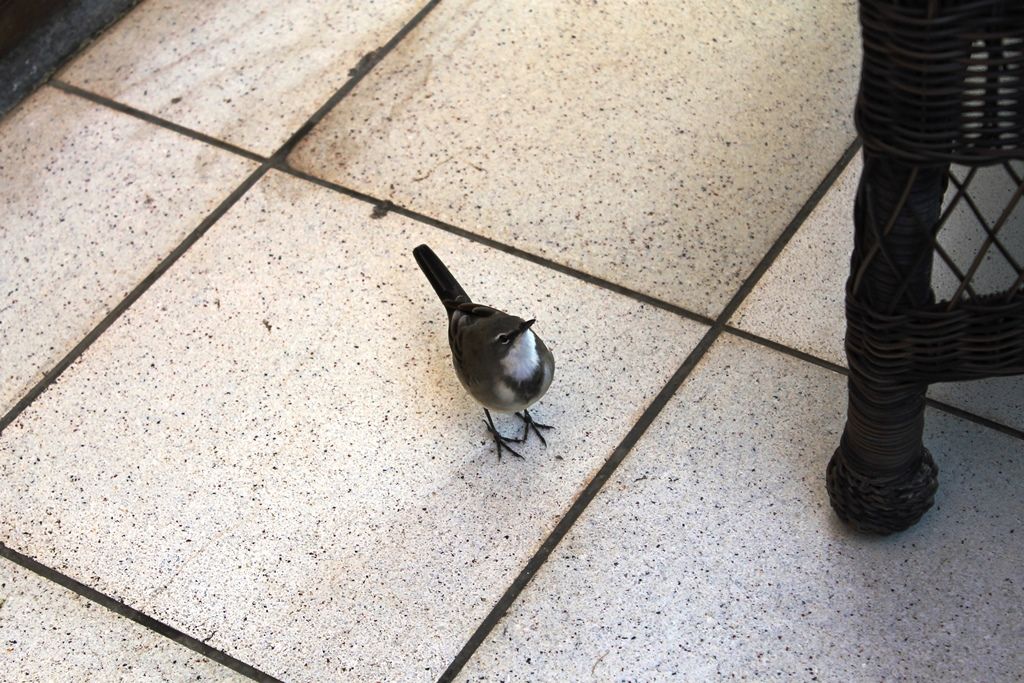 This fellow was a lot more friendly and we ended up feeding him a great deal of things, which he accepted graciously.
We then went for a short walk along the beach before retiring for the night...
Kite-surfers doing their thing... it really is a remarkable sport
---
Last edited by SAtraveller; Mar 17, 15 at

4:45 am
Jul 19, 13, 1:22 pm
Join Date: Jan 2013
Location: Johannesburg
Programs: BA, QR
Posts: 298
Dusk
Turndown service... room service is twice daily.
The next day we decided to have breakfast on our balcony. You can do this for a small fee ($3) for the tray charge, and you can pretty much ask for anything you want. We enjoyed having Oysters and salmon most days, though the menu is extensive and varied.
The Clock Library... a great place for a good read if you are tired of the sun.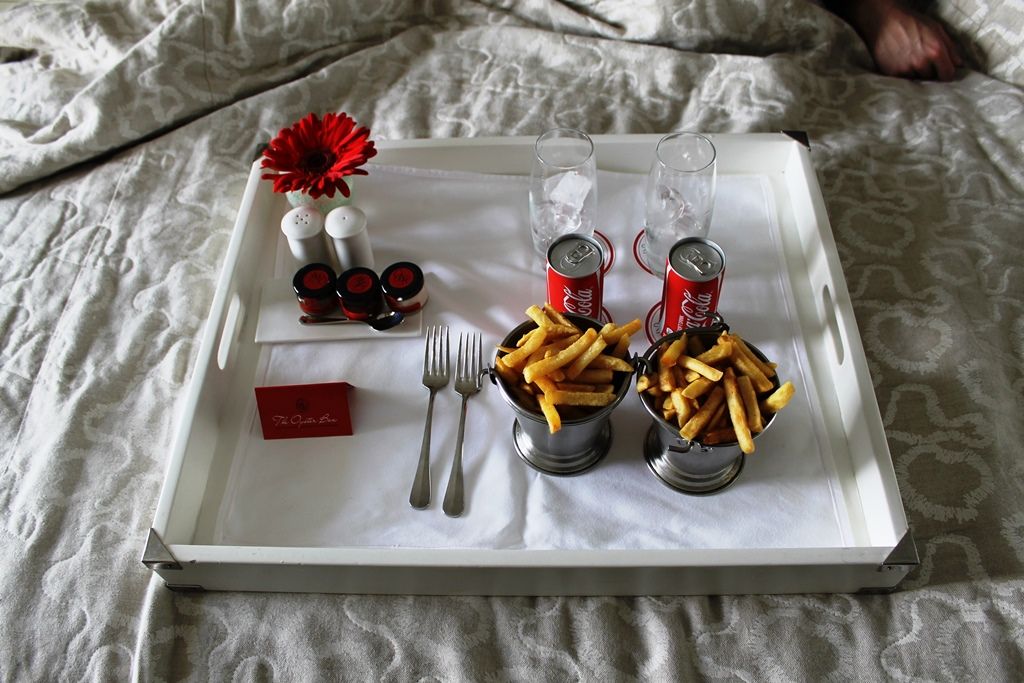 French fries and coca cola room service
Chilled champagne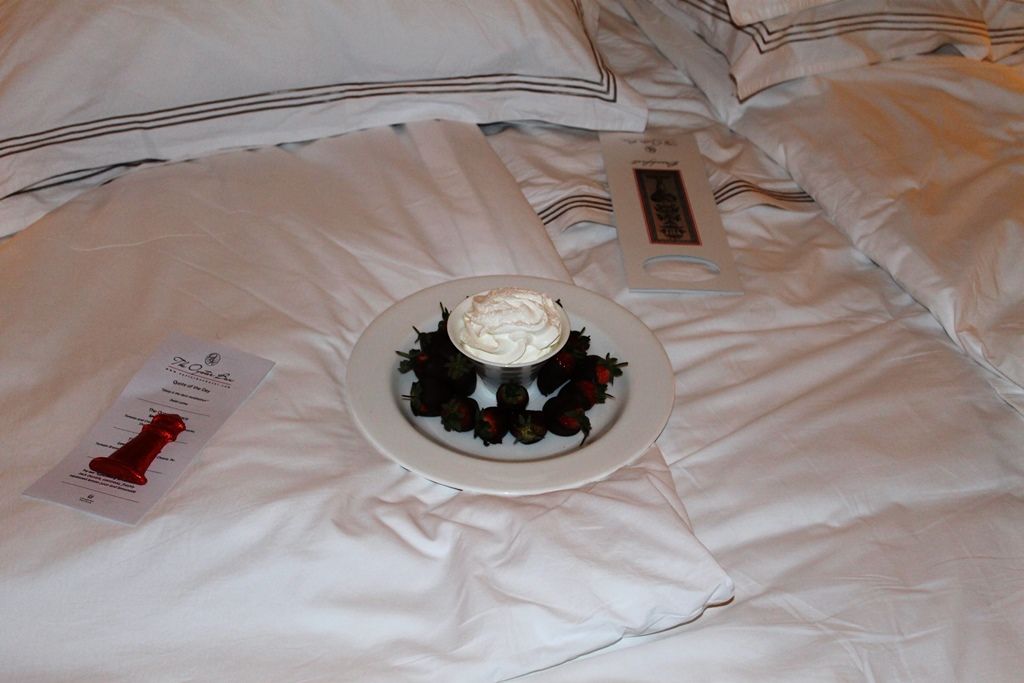 Chocolate coated strawberries and cream
On our final night we ate at their signature restaurant, the Grill Room, which turned out to be a culinary feast. The service and food was out of this world.
(Apologies for the dark pics... the lighting in the restaurant was poor)
Snails
Duck a la 'peach'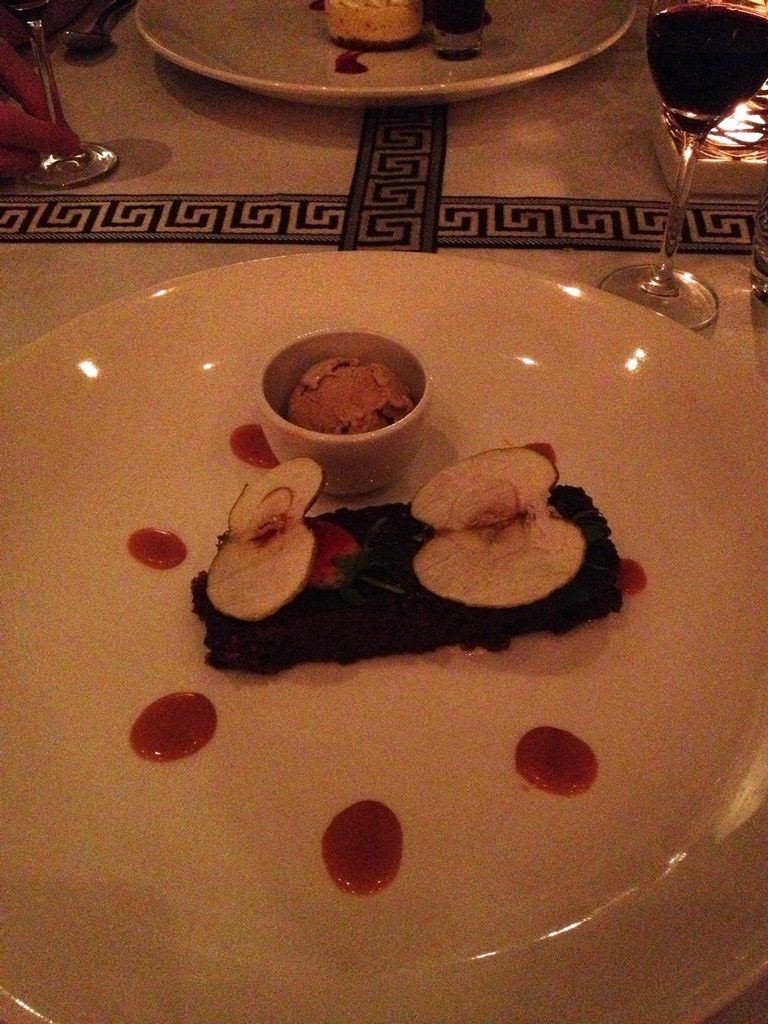 Cinnamon brownie & caramalized apple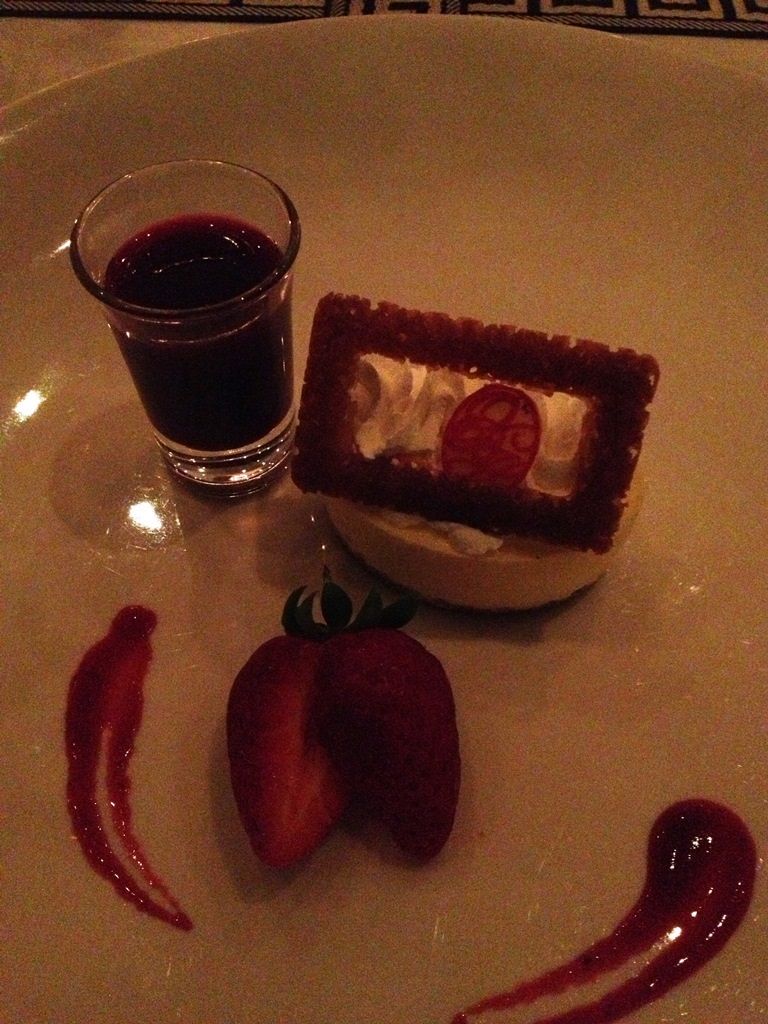 Aunt Bea's cheese cake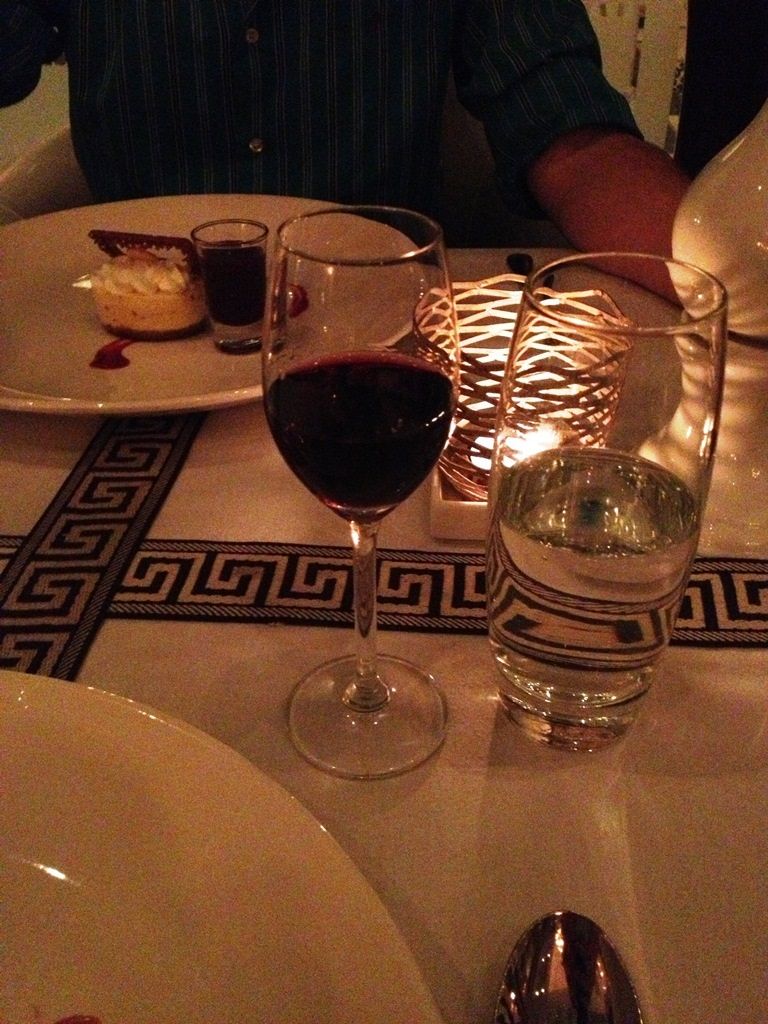 A decent Vergelegen port
We were sad to leave the Oyster Box. It had been a week of fantastic rest and indulgence. The staff are the friendliest we have ever encountered, and the facilities are beyond reproach. The hotel is also well priced, at under $300 per night for what I consider to be a great product. There is very little to criticize at this hotel, and I would recommend it to anybody who visits Durban.
---
Last edited by SAtraveller; Mar 17, 15 at

4:46 am
Jul 19, 13, 1:23 pm
Join Date: Jan 2013
Location: Johannesburg
Programs: BA, QR
Posts: 298
British Airways DUR-JNB
Boeing 737-400
13:00 - 14:00
Business Class
Seats 2A & 2C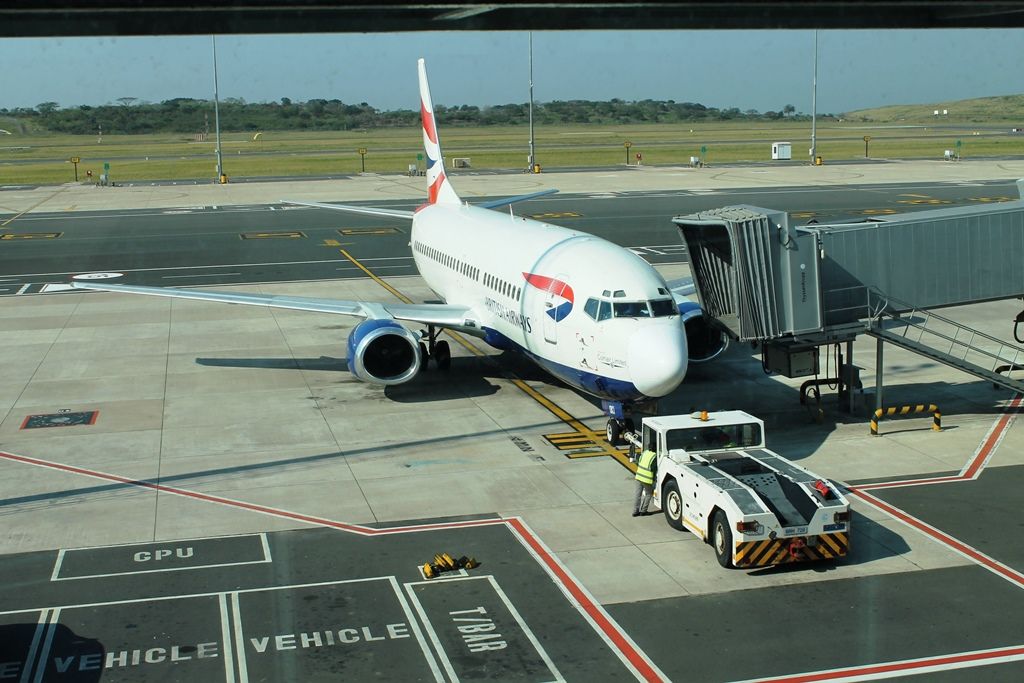 After checking in at the friendly Club Desk, we passed security and went to the SLOW lounge, BA's domestic business class lounge in South Africa. The lounge had no view of the runway, but that was not unexpected (as I mentioned before, SAA gets all the best views). The lounge was comfortable and extremely well catered for, with a large variety of snacks, alcoholic and non-alcoholic beverages. The bathrooms were clean and stocked with Molton Brown products.
Eventually we made our way down to the gate only to be told that the flight had been delayed for an hour due to a technical issue. After peering through the window I noticed that an oil spill team was busy at work beneath the nosewheel of our plane. Not a good start for BA!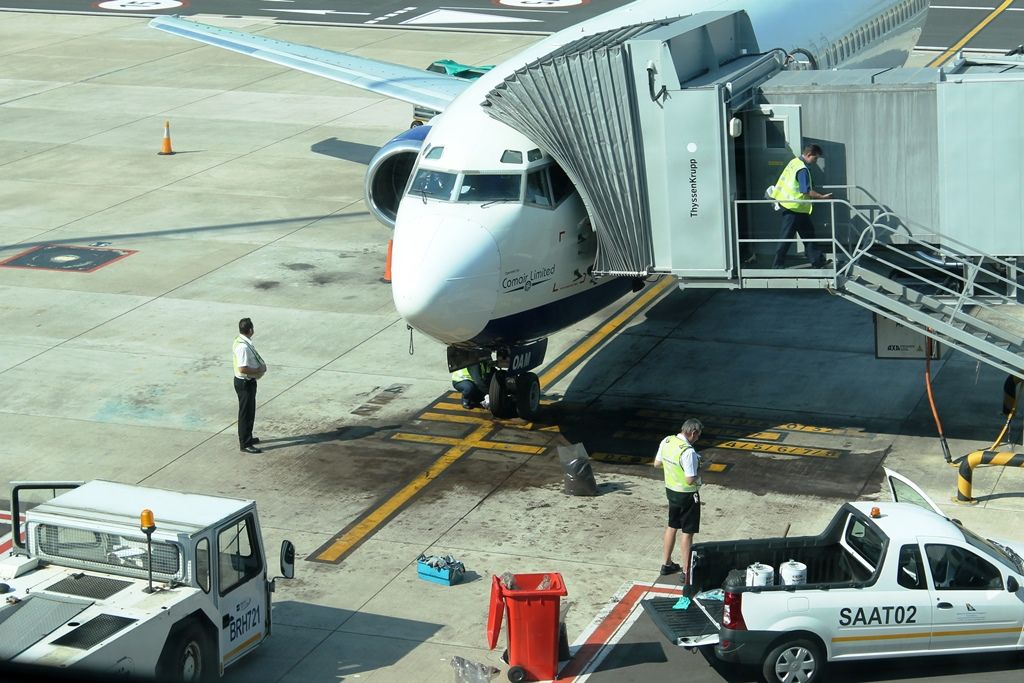 That's the one thing I don't like about BA here in South Africa - the fleet is old. Averaging 24 years, they only fly 734's... unlike SAA's much more modern fleet. Even the budget carriers here have 738's. Boarding eventually commenced, and the captain apologized profusely, saying that there was a hydraulic fluid leak that needed to be repaired.
The Club cabin is arranged in a 2-3 configuration, in three rows. The seats on the left have a small gap in between for valuables, and an extra tray for drinks/books etc. The set-up is comfortable, though the leg room is not as generous as SAA's. The three seats to the right are not optimal, and there is no guarantee that the middle seat will be open on a flight, which I think is rather weak for any business class product. So if you fly BA, always sit in A/C!
Pre-flight drinks... Orange juice/Water/Apple juice. No bubbly unfortunately (though this changed after take-off)
On our way
Speeding along
Gear up!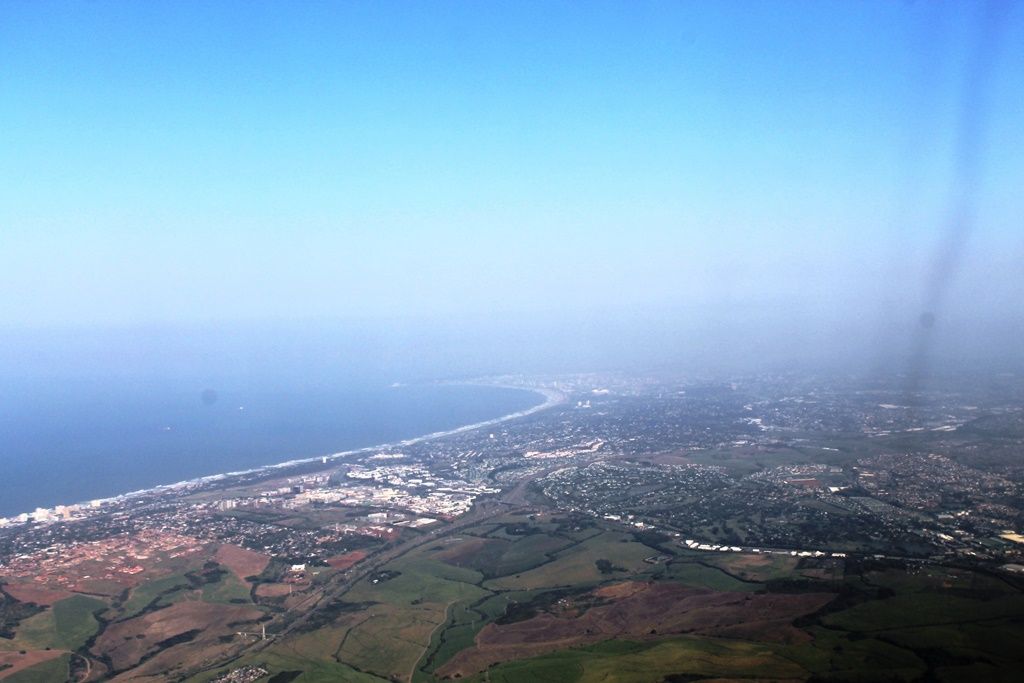 Views of Durban and Umhlanga
Some greats views of the Drakensberg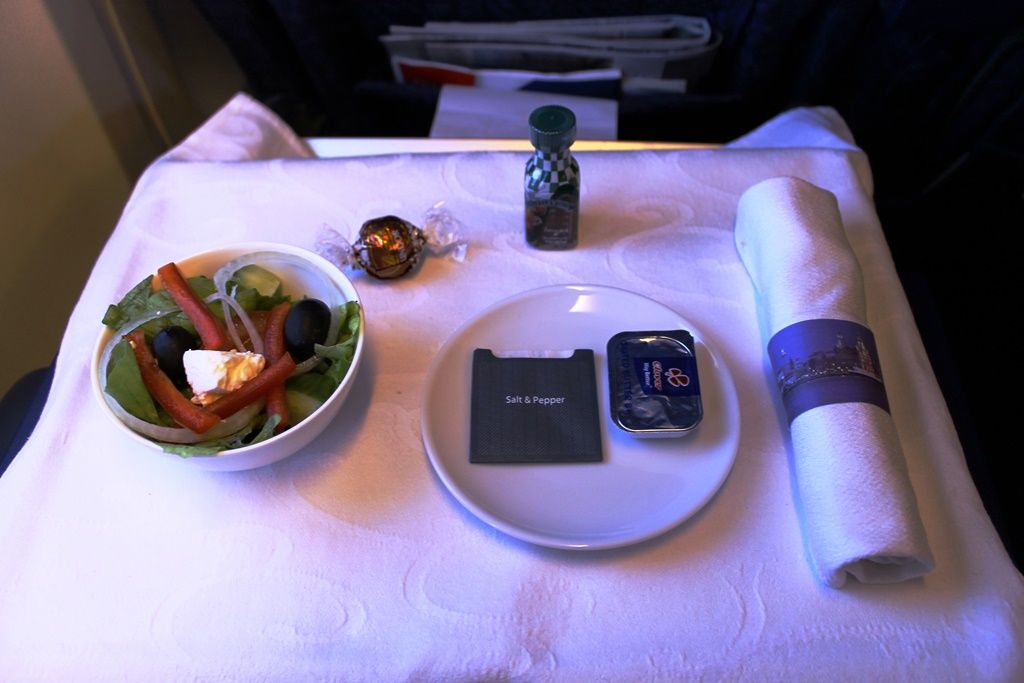 Salad Starter
Chicken curry was delicious (four selections : chicken curry/vegetarian/beef fillet/fish)
Desert turned out to be the Lindt Chocolate ball, but I couldn't complain too much... I finished my main during the descent. BA usually provides some great Haagen-Dazs to finish off the meal, but this flight is very short.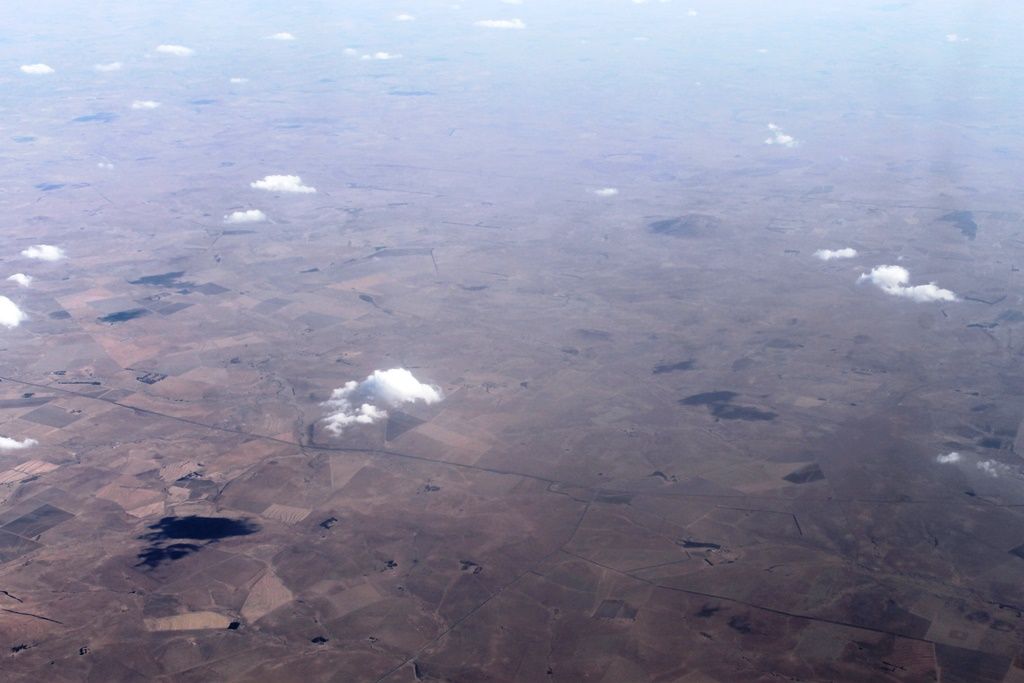 Terrain changing as we approach home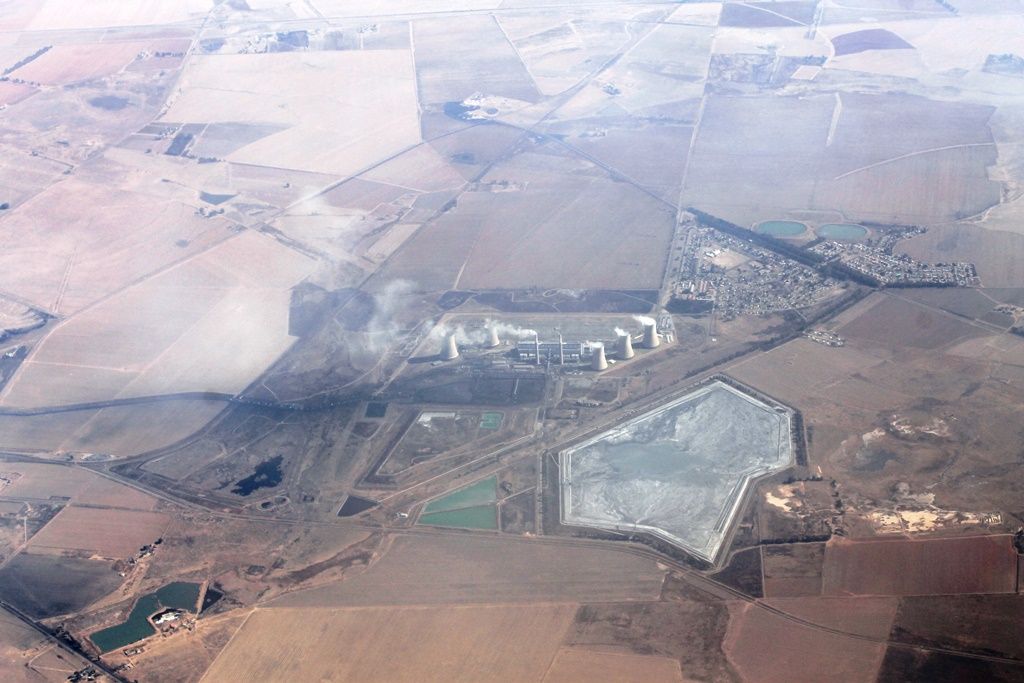 Although I was initially irritated by the delay, BA once again showed that they provide a superior product to SAA domestically. Our one-week holiday was finally over, and we had sampled the best of BA and SAA locally, as well as having the privilege of staying at the Oyster Box.
Thanks for reading! Comments are most welcome...
---
Last edited by SAtraveller; Mar 17, 15 at

4:47 am
Jul 19, 13, 7:12 pm
FlyerTalk Evangelist
Join Date: Nov 2007
Location: LAX-SNA-VNY
Programs: UA 1K, AA EXP
Posts: 17,894
SAtraveller
, what a great report with beautiful pcs.
We don't see many SA trip reports so this is a treat.
Beautiful hotel and view from your room. Loved the monkey.
Thanks for posting.
Jul 19, 13, 8:04 pm
Join Date: Feb 2007
Location: SFO/STS
Programs: UA Plat-1MM, Hhonors Gold, Marriott/SPG Gold
Posts: 1,055
SATraveller

Wonderful report, great photo's. I had heard that Durban was not great, but your photo's of the hotel, beach, ect were fabulous. The hotel looks lovely.

Thanks so much for sharing.
Jul 19, 13, 8:12 pm
Delightful report with wonderful pictures. I love a water view. And it was certainly nicer than the Durban Hilton where we stayed some years ago.

I particularly enjoyed the pictures of the hotel cat and the marriage proposal.
Jul 19, 13, 11:40 pm
Join Date: Jun 2013
Location: MEL
Programs: OZ Diamond, QF, VA
Posts: 234
Thanks for sharing SAtraveller

This just makes me want to visit SA even more.
Jul 20, 13, 6:54 am
Join Date: Mar 2001
Location: SYD
Programs: OZ*G, QF QPPS, VA gold, NZ*roach, Former 'bottom-feeder' AC*G, AB gold, DL plat
Posts: 4,768
Nice report, thanks for posting. Loved the monkey!
On a random side note, it was great to see a photo or two of the airport at La Mercy. Many years ago - around '97 I think - while working in London I spent months working on a very long and involved (and ultimately futile) bid for the contract to build that airport. I remember the politics involved were horrendous, and concluded at the time that it would probably never get built. Having not given it a thought for years, I'm glad to see that it did finally materialise (though judging by
this wikipedia entry
it took its sweet time).
Jul 20, 13, 8:33 am
Join Date: Jan 2013
Location: Johannesburg
Programs: BA, QR
Posts: 298
SFO777
. I'm sure you and your wife will have a great time when you fly to JNB in October. I see you're flying Emirates First... just be wary, one of the three daily flights has the old First, and you don't want to be stuck with that!
LongingForORD
. I consider this to be the best of Durban. If you ever come to SA, I would recommend Cape Town and the Kruger National Park. The rest you can skip by
SanDiego1k
... I'll bet. I don't think Durban is close to Cape Town in general quality and staying there can be a real hit and miss.
TomVexille
... we have a lovely country that is fantastic for tourists
Mad_atta
... I also enjoyed the monkey experience. I'm sure trying to obtain the tender for the Airport was a nightmare... anything that like here is about who you know, and less about what you can provide. I'm sure it couldn't have been nice. The airport did turn out really well, and they are expanding it soon to accommodate more international fare.
Jul 20, 13, 12:07 pm
Join Date: Feb 2007
Location: SFO/STS
Programs: UA Plat-1MM, Hhonors Gold, Marriott/SPG Gold
Posts: 1,055
SAtraveller
--- I have been to SA many times and always enjoy Cape Town, also much enjoyed the trip to Kruger NP, additionally I love the beauty of the Drakensburg Mountains.
Can't wait for my next trip to SA in September, will be transiting thru JNB (with a couple of stops to re-group at the Sandton Hilton). I have never been to the Cradle of Humankind, is it worth a tour??
Your lovely photo's have made me re-think Durban.
Jul 20, 13, 12:27 pm
Formerly known as I_Hate_US_Airways
Join Date: Oct 2008
Location: Just South Of North
Programs: My Loyalty Programs? I now VOTE with my wallet!!!
Posts: 2,549
GREAT TR!
---
Thank so much for your trip report. Really enjoyed it...
Jul 20, 13, 3:02 pm
Join Date: Jul 2009
Programs: DE,UN,StarwoodGold
Posts: 522
That's really great -- never saw a more alluring hotel report than yours. And as you say: really NOTHING visible to raise any objection. Thanks for your efforts in showing it in such warm detail, it provides a lovely daydream for those of us who have never been there.
Posting Rules
You may not post new threads
You may not post replies
You may not post attachments
You may not edit your posts
---
HTML code is Off
---