Dubai, Oman: EY F, WY Y, QR J, and some hotels
Feb 11, 13, 1:41 pm
Join Date: Jul 2010
Posts: 327
Dubai, Oman: EY F, WY Y, QR J, and some hotels
---
My wife and I decided to visit the middle east for a week. It's an area of the world we've never experienced, for one, and because I had a stash of Chase UR points I wanted to use. Qatar Air (QR) was coming off of being a United codeshare partner so it was a perfect excuse to redeem.

The trip went as:
First we traded AA miles for EY F from JFK-AUH.
Then we stayed two nights at the Radisson Royal Dubai, and two nights at the Hilton Diera Dubai Creek.
Then we took a short, cheap flight DXB-MCT on Oman Air (WY). In Muscat we had one unplanned night at the Intercontinental, and two nights at the Hyatt.
Our return was long: MCT-DOH-YUL on QR then YUL-DCA-CHS on US. This ticket on a points redemption from UA (via Chase UR).

If anything this trip proved to me the amazing versatility of UR, and I have new faith in that program.
Feb 11, 13, 1:56 pm
Join Date: Jul 2010
Posts: 327
Ey f jfk-auh
---
Our first segment on UA was CHS-IAD-JFK. CHS is a tough airport to get direct connections to a lot of gateway cities, so we have always ended up with one or even two connections. Thanks to some snow, our 4 hour layover in JFK turned to 1.5 hours. We used a UA one way award for this hop--a separate award than the Etihad redemption on AA.
Check in at the Etihad counter at JFK was efficient if not overly friendly. I thought it was just New York, but it really set the tone for our entire Etihad experience: efficient if aloof and reserved.
Etihad uses The Oasis contract lounge. Nothing special here: a nice place to spend an hour drinking a beer, but I would not have wanted to stay longer. I did use the shower facilities for a pre-flight refresher. I felt like I was bathing in my local gym. Kind of gross.
We boarded about 45 minutes before departure. The cabin on EY is fantastic, and was a real wow factor. Leather seats, and big tvs in each of the mini suites. We had row 2, the interior seats, which had a movable partition. Here is a view from out seat. Of the 12 F seat, 6 were used.
The seats themselves are really nice. We've had the chance to fly F on TG, UA, LH, LX, NH, AA, and BA and but the EY hard product at the top of the list.
This is a view from my seat. Nice TV screens, and I really like all the hidden storage areas. I was a kid on Christmas, opening every door to see the treasures therein!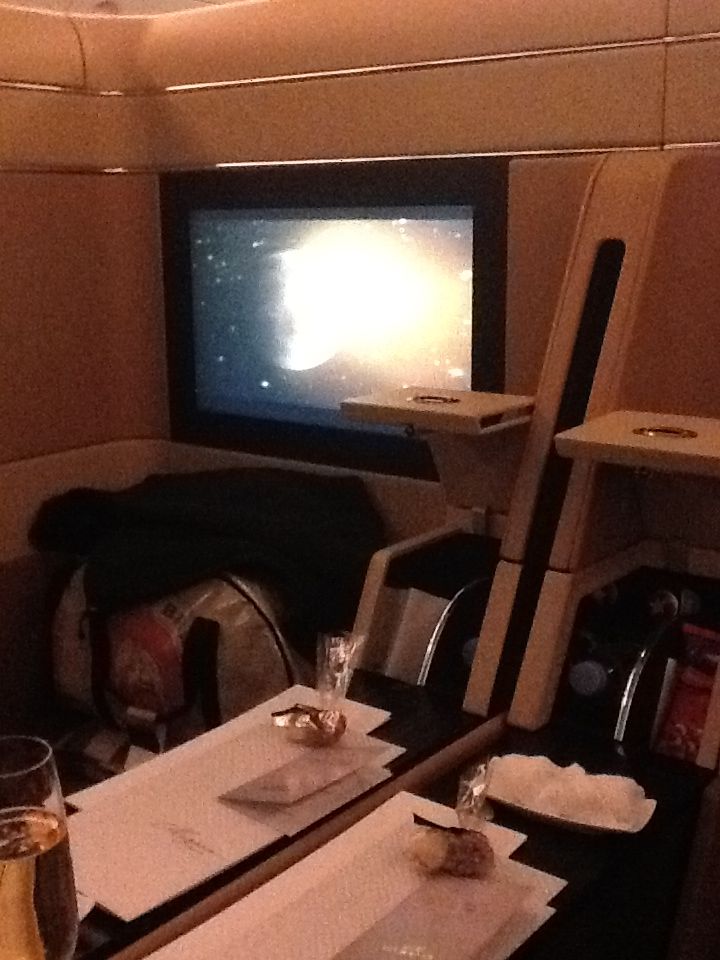 Fortunately the window seat next to me was unoccupied. I asked the FA to turn this into a bed, and it was the most comfortable airline bed I've slept in. Honestly, I got a solid 6 hours of sleep, which is a lot for me on an airplane.
---
Last edited by CHSDOC; Feb 11, 13 at

2:21 pm
Feb 11, 13, 3:07 pm
Join Date: Jul 2010
Posts: 327
EY service and food
---
The EY service was efficient, but I really felt that the F cabin was missing an extra FA. We had one FA and one onboard "chef" to serve the 6 passengers. It usually translated to long waits for some reason. I timed one wait: 10 minutes to get a glass of Coke.
Our FA was from Thailand. She was pretty, attentive, and all the things I'd imagined an EY FA would be. But she just didn't talk to us. Never asked if we needed anything, etc. I engaged her in conversation a little bit, and there was no language barrier: she spoke english well.
The onboard chef concept really didn't work. Honestly, the chef was just another FA; he was the one that made up my bed.
Some menu shots:
I order the Arabic Mezze to start. Decent enough:
The chef concept worked like this: He took our order. I asked "what is the chef special of the day?" (see menu above). His answer: "I have some prawns, I can add them to a steak." Wow. That's special. So I took the bait, and order the tenderloin "surf and turf style" medium.
Here is what I got, a very well done steak with three very well done shrimp:
The rest of the meal was about the same. Etihad has a great hard product, but the food was just average.
Feb 11, 13, 5:59 pm
Join Date: Jul 2010
Posts: 327
Radisson Royal, Hilton Diera Dubai
---
Landinging AUH, we took the free car into Dubai. This went absolutely smoothly. On the way out we bought 5 bottles of wine for a very reasonable price. Hands down the best move we made for the UAE considering the costs of a drink at a hotel--they'll allow five bottles a person through customs.
I turned in 100K Carlson points for two nights at the Radisson Royal Dubai. This was a high points cost hotel, considering that some marquis Radisson's in Europe go for about the same per night. Overall, the room was small, the service average, and the location "OK". I didn't take any photos worth posting of this hotel, because frankly, there was nothing worth taking a photo of. Just an absolutely average business hotel.
The next two nights we spent at the Hilton Dubai Creek. What a great hotel, and a fabulous room:
We arrived at the hotel at 930, and they promptly checked us in. We had access to the executive lounge which put out a nice spread for breakfast, tea, and dinner.
The mostly Filipino staff here were great. Always smiling and friendly--this was a great HH points value. If your into sitting at the beach, though, this is not in the right location.
Feb 11, 13, 6:17 pm
Join Date: Jul 2010
Posts: 327
Things to do in Dubai
---
We filled our time in Dubai trying to hit the highlights.
We spent a boring 2 hours at Dubai Mall, watching the aquarium, the women in abaya's passing by the women in the lingerie stores, and the water show behind the Burj Khalifa.
We splurged on tea at the Burj al-Arab. What?! Seriously, what is the draw to this hotel?!?
We did spend a wonderful afternoon walking through the older parts of Dubai and having lunch at the Sheikh Mohammed Cultural Center. Here we had emerati food served "emerati" style: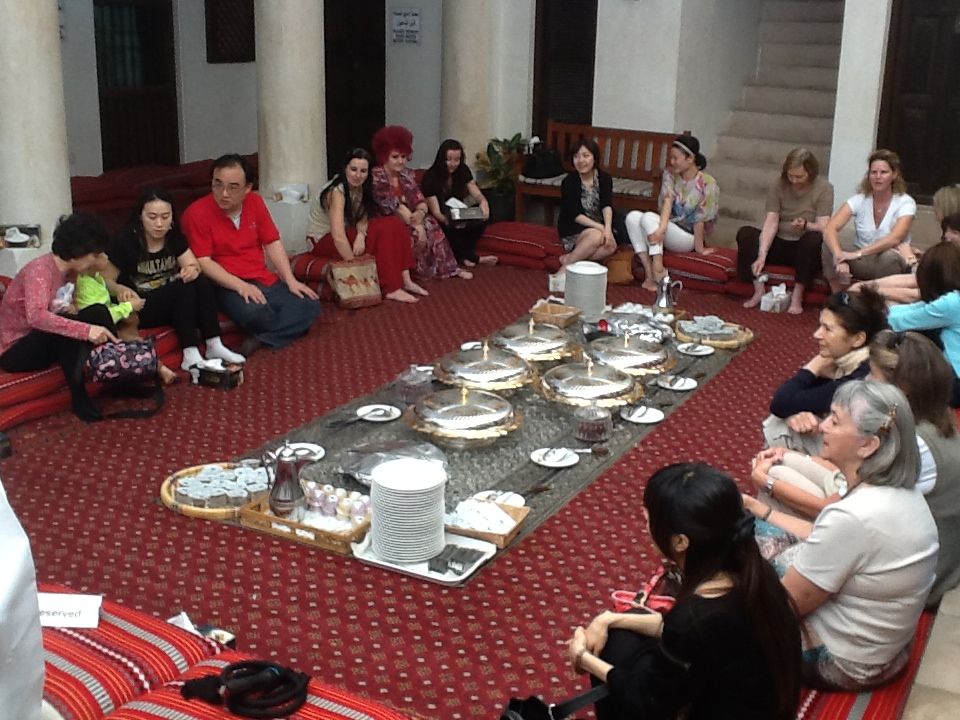 Lunch was followed by a presentation by a lovely young emerati lady. The floor was open to Q&A, and absolutely no question was off limits. There were about 25 of us, mostly European, and we peppered the guide with questions about dating, love life, marriage, divorce, and dress. She answered the questions frankly, and with a spirited embrace of her traditions. I found the answers really well grounded: the abaya as liberating for women as they don't have to dress to be judged, the hajib as liberating as women no longer have to spend hours at the salon...etc.
My wife bought none of it. She, who took the liberal gender studies classes at liberal university, told me afterwards "she suffers from cultural oppression and doesn't even know it. She must transcend her cultural confines to recognize her oppression." What?!? "Sure thing, tootsie. How did you like the briyani?" That's just what the UAE needs--overfed women's studies professors strutting around re-educating the oppressed masses.
Feb 11, 13, 6:29 pm
Join Date: Jul 2010
Posts: 327
A day in Musandam
---
We booked a day dhow cruise in Musandam, Oman. This company owner personally picked us up, along with two others, in Dubai and drove us up to Khasab, where we boarded a dhow for a several hours cruise through the fjords of Musandam. The Omani owner Abdul was a real joy: friendly, chatty, informative, and I'm happy to put a plug in for him (Musandam Sea Tours and Adventures)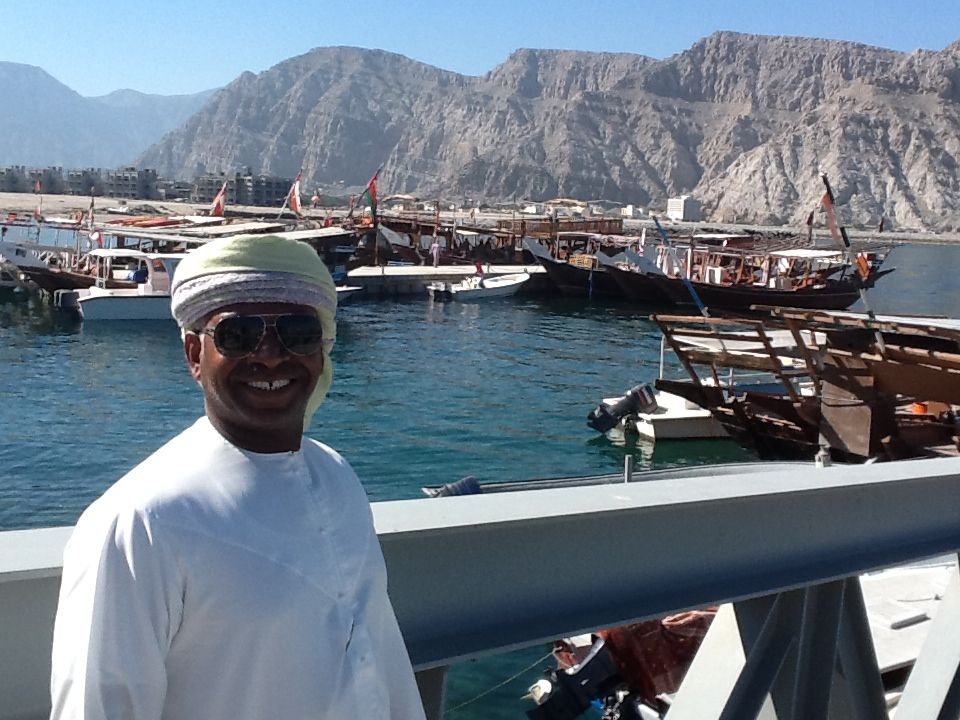 Musandam itself was very pretty with rocky, lifeless mountain plunging to the sea.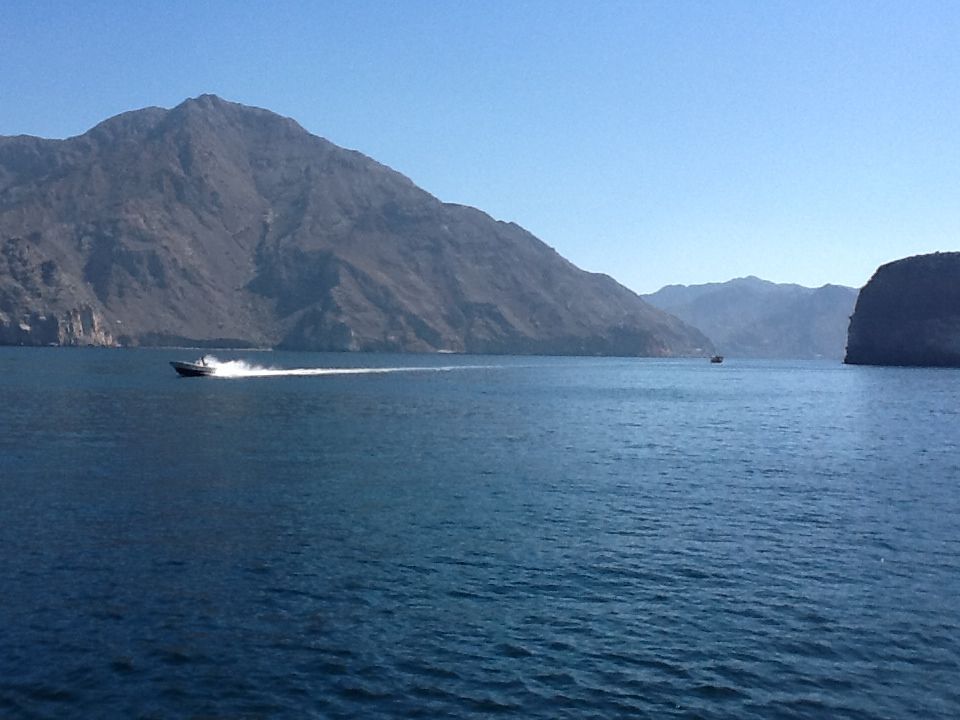 We went snorkeling and had a good lunch on board. There were only 12 of us on the tour, with 4 Australian soldiers on leave from Afghanistan. They were a great bunch, and a bit hungover. It seems like every group tour I take there are always a handful of hung-over Ozzies around for laughs.
On the drive back, we got caught in Dubai traffic, so our two hour return turned into four hours. The driver took the "back roads" through the other emirates (Adjman, Sarjah, etc.). It was an interesting comparison to glitzy Dubai. In all a very long day, but much better than another day in some anonymous mall.
---
Last edited by CHSDOC; Feb 11, 13 at

6:44 pm
Feb 12, 13, 12:34 pm
Join Date: Jul 2010
Posts: 327
Oman Air to Muscat
---
The next morning we left the Hilton for Dubai airport. From the front door of the hotel to the gate at DXB took 45 minutes. Smooth as silk.
The WY flight was about 35% full in a spotlessly cleaned aircraft. It must have been chartered from Czech Air. Why? Because the IFE maps were all in Czech, the two (very cute) FA were spoke Czech, and the aircraft registration was OK-XXX, Czech. The 48 minute flight was smooth, and we were served a small sandwich and juice. Not bad for a $87 flight!
Some views from high above the UAE/Oman border: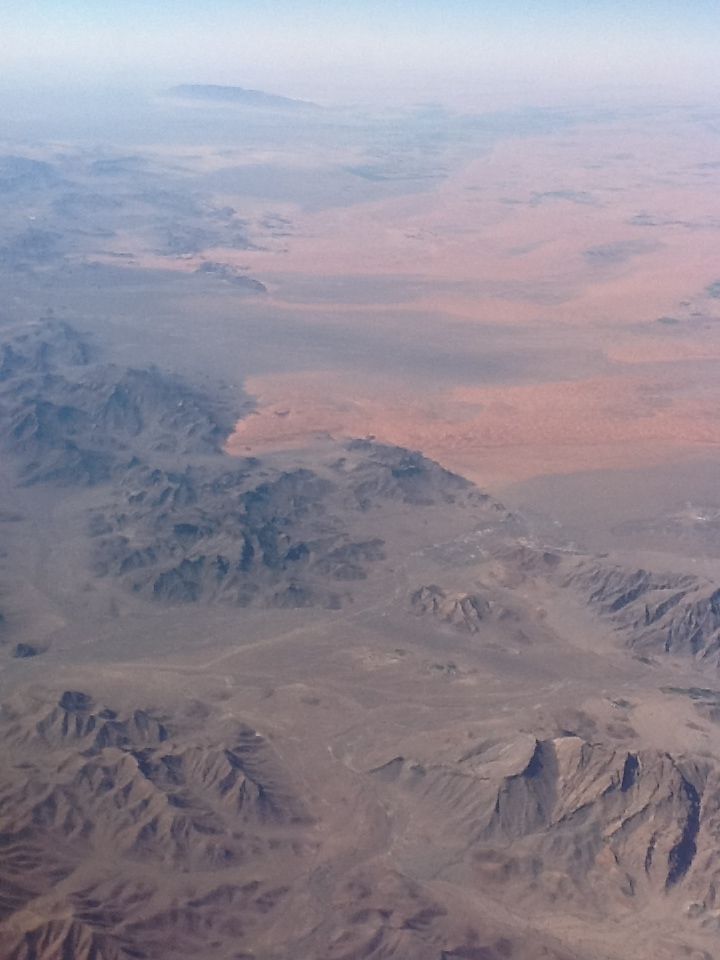 Feb 12, 13, 1:07 pm
Join Date: Jul 2010
Posts: 327
Muscat and a strategic mistake.
---
Muscat airport is much different than Dubai. Less glitz, less new, more chaotic. As far as I can tell there are no jetways, and all planes are remote parked.
My plan in Oman was to "wing-it", and rent a car on site and drive to Nizwa to find a hotel. Once through the long immigration line, I realized my plan was a disaster. All of the major rental companies had no cars, so I signed on with a local company. This took about an hour. I bought a SIM card for Oman and called a few (well, all) of the hotels in Nizwa to find out they were booked. I was forced to improvise, and called a few of the major western chains in Muscat. I found the Intercontinental to have the cheapest rate at RO100 (about $250++) for the night!
Our Intercontinental room was very dated and ours had a musty smell. The lobby was attractive, even if it had this 80s style about it: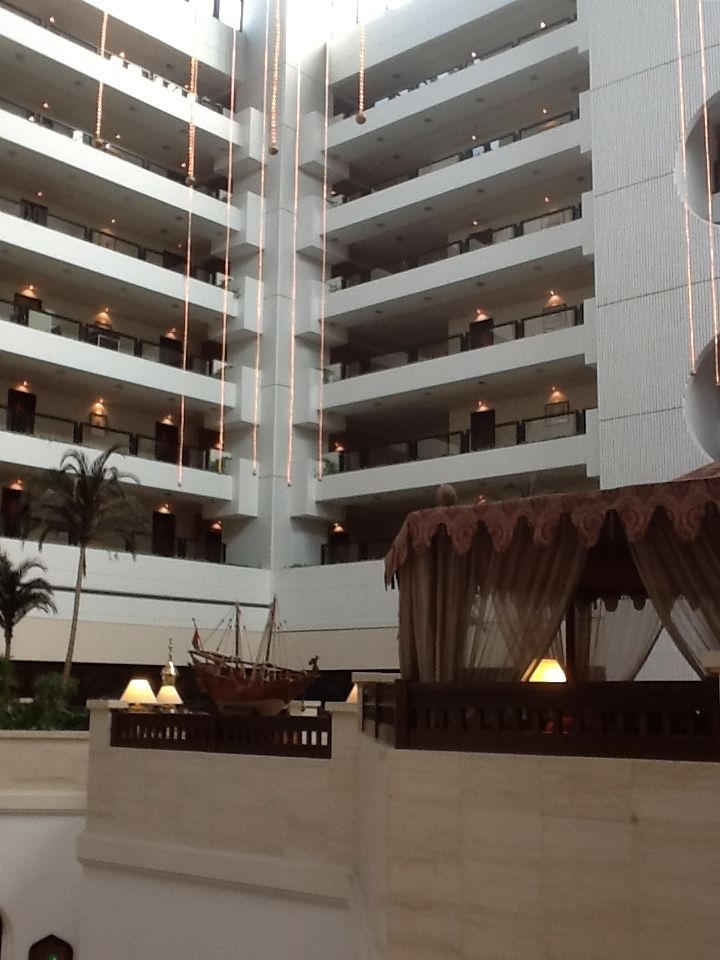 The location, however was very good and walking distance to the beach and some decent restaurants.
The next two nights we stayed at the Grand Hyatt in Muscat. Wow! What a hotel. The lobby was really spectacular:
Our standard room was very large and looked out over the pool and beach. The Hyatt redemption on this hotel is 15,000 points. This is an unbelievable value, IMO. Chase UR transfer to Hyatt at a 1:1 ratio. Consider that the Hilton in Dubai cost me 50,000 points per night--I think the Muscat Hyatt was a much more attractive hotel.
The hotel fronted a pleasant beach with a long walkway that extended about 4 miles to the Quorm area (near the Intercontinental). This great place for jogging, people watching and walking to restaurants.
---
Last edited by CHSDOC; Feb 12, 13 at

1:13 pm
Feb 12, 13, 1:29 pm
Join Date: Jul 2010
Posts: 327
Touring around Oman
---
Renting a car in Oman is expensive--about RO50 ($125) for three days, but the real kicker is the kilometer limitations. All of the rental car agencies at MCT had a limit of 200km/day. And most of the sites the average tourist will probably want to visit are a good 100km+ drive away. My contract charged me RO1 for every 2km over my limit--about $1.25/km. Yikes!
The result was that I rented a car for three days and promptly burned 100km driving to the hotel, getting lost, and just fumbling through Muscat. The next day we drove to Wadi Tiwi, and burned another 400km. I had to park the car for the last day just to save my kilometers for the drive to the airport.
We did drive out to visit Wadi Shab, a spring fed river running out of the bone dry desert. On the floor of the Wadi were date palms and a few pools that are nice for swimming. Really very pretty.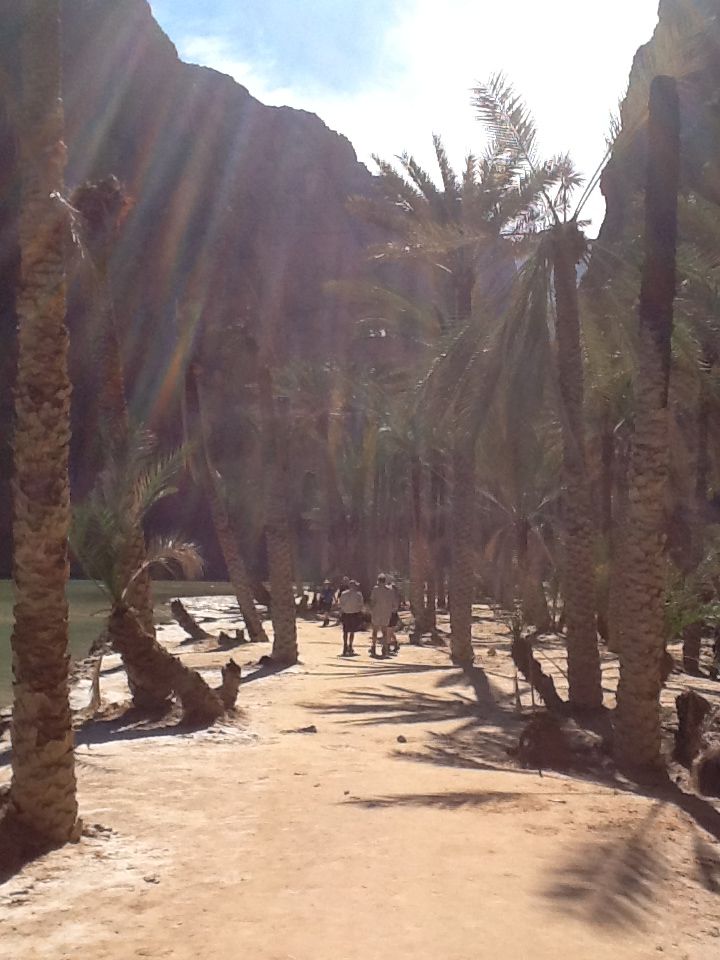 Wadi Tiwi is larger with a paved road running through some of it. Locals were using the Wadi as a car wash.
Muscat proper has a very pretty harbor and corniche and a busy covered souk. It also has the Sultan Qaboos mosque with the second largest chandelier in the world:
The next day I had to hire a car and driver--my car kilometers were maxed out--and he took us to Nizwa and Jebel Shams, the highest mountain in Oman.
Nizwa is a neat town with a cool old fort in the center of town. It's worth an hour of time.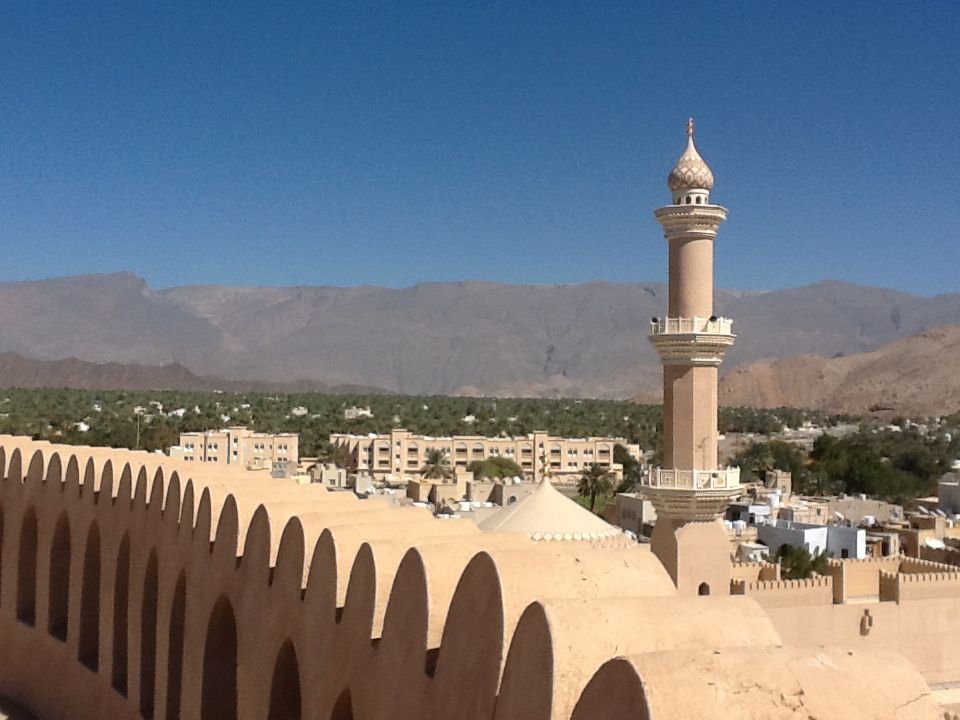 The drive up to Jebel Shams is pretty but long. At the top (about 3000m)the air was flat-out cold!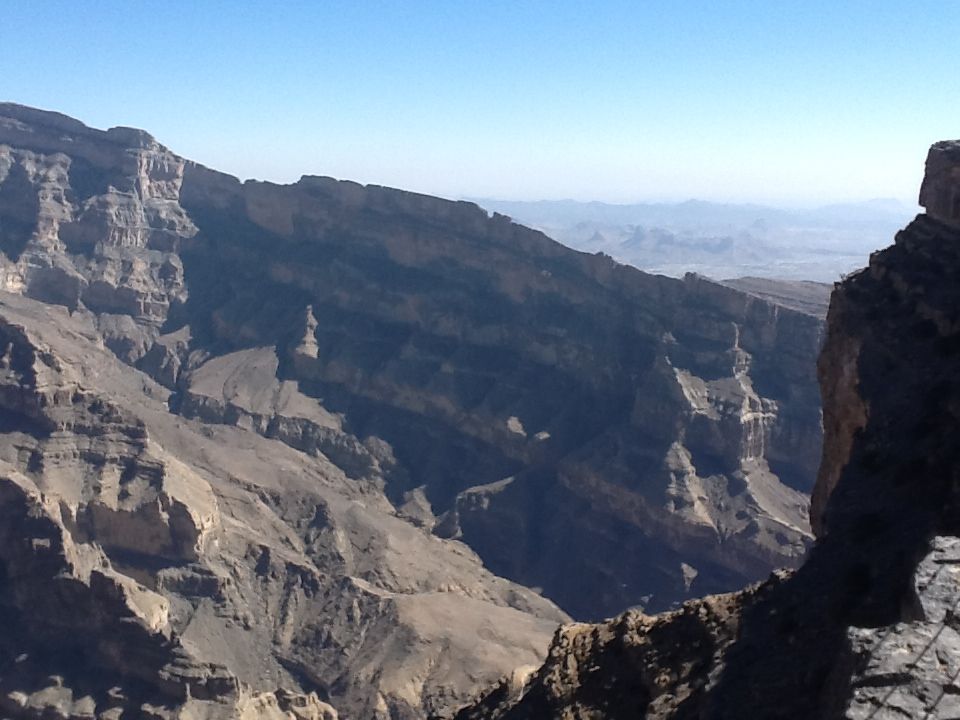 Feb 12, 13, 2:25 pm
Join Date: Jul 2008
Location: Lincoln
Programs: BA GGL, IHG Diamond Ambassador, Hilton Diamond, Hyatt Explorist, Mucci des Salons Ouvrants
Posts: 2,322
Funnily enough, the IC Muscat was my first ever IC a long time ago and was the reason I stay at IC all over the world now. It may not be as fancy but it held my heart with my first walk into it's lobby - now surpassed by other beautiful hotels but it still holds a place dear in my heart!

Great Trip Report.

Regards

aks120
Feb 12, 13, 2:50 pm
Join Date: Jul 2010
Posts: 327
Eating in Dubai and Oman
---
I was braced for pricey meals in both Dubai and Oman. Yes, in the hotels meals and drinks were expensive. But outside the hotels I did not find this to be the case. In Dubai we found tasty shawerma and hummos for around $9 total for the both of us. In Oman, Al-Diyar restaurant was walking distance from the Hyatt and there we ate huge plates of grilled meats, salad, and tea for about $24 total. Recommended restaurant Kargeen in Muscat was good too, but definitely catered to ex-pats and was more expensive.
Feb 12, 13, 4:00 pm
Join Date: Jul 2010
Posts: 327
Leaving MCT on QR!
---
Up early to catch the 0515 flight from MCT-DOH on QR. Up way to early. From the Hyatt to the gate took no more than 45 minutes with a rental car return. What fascinates me about MCT, and DXB is the cross section of people I spotted: Pakistan, India, Oman, UK, Germany, Indonesia, Thailand...amazing variety of people, of shapes and colors of people in this one corner of the world.
Our first segment on QR was in Y, as there was no listed award space in J. However J had one passenger, so I don't know why there would be no award space. The flight was short, but we were given a sandwich and juice: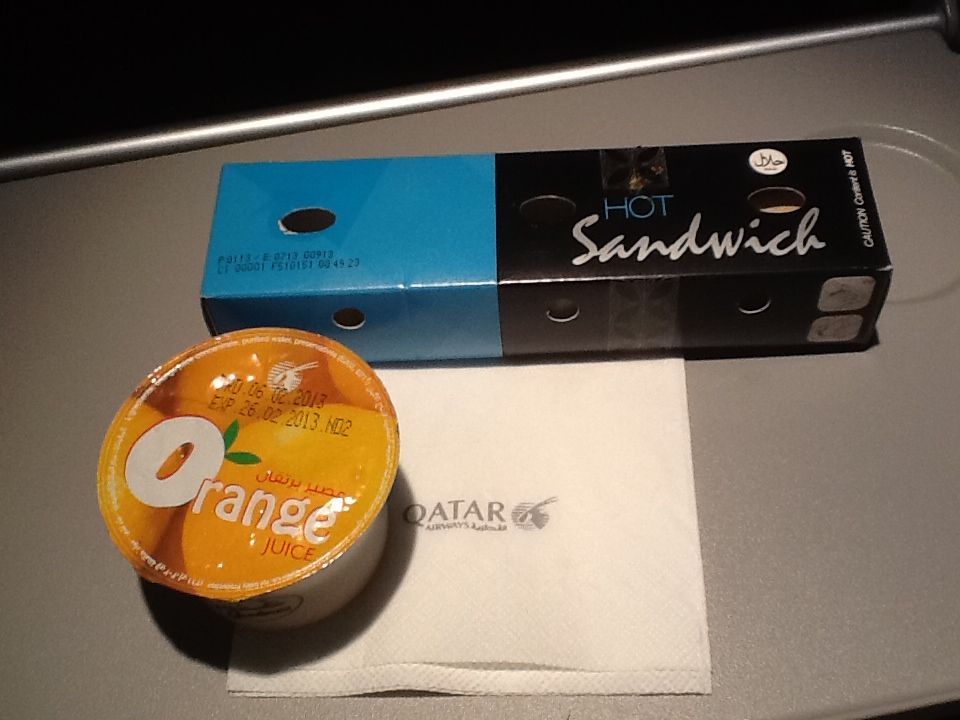 Once in MCT I was shuttled to the Premier Transfer terminal, used for business and first class passengers. This was a very nice, large space, and was quite crowded. I thought it neat that there was a separate play area for kids with video games, and even a nursery. A view across the business lounge: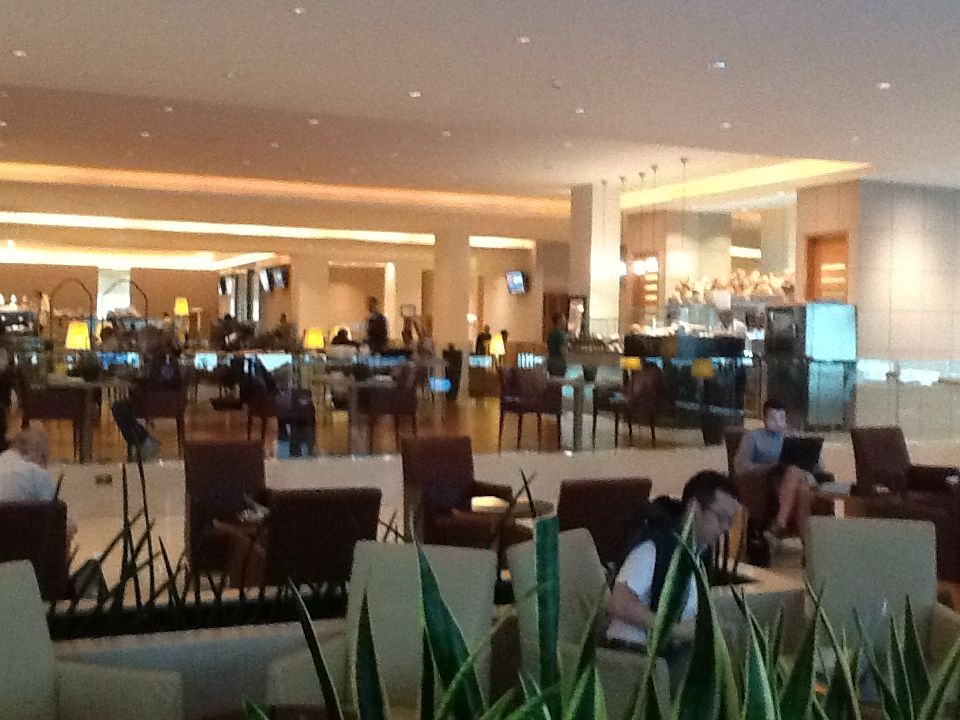 Inside there was an "average" selection of hot breakfast, but frankly I found the food offerings lacking. The biggest issue was the bathroom design. Three toilets for such a big space. We were in the lounge for about 90 minutes and there was always a line for the bathroom. Attendants tried to keep the place clean, but it was way too small a facility for so many people.