For Family, Football and First Class by Train
Jan 24, 13, 11:37 am
Join Date: Sep 2010
Location: London
Posts: 274
For Family, Football and First Class by Train
---
This trip report started with the mess the government made over the running of the West Coast Main Line, the train that takes me to visit my Dad, Step Mum and half Brothers. After a trip last year I felt like giving it a bit of a FT style write up to say good-bye to Virgin Trains and the great value 1st Class upgrades that I would most likely be saying farewell to. Whilst the UK is rightly known for some of the most expensive train fares in the world it also has some of the best bargains, one of which I thought I'd share with you in this simple trip report.
No Family trip for me would be complete without the customary banter of football, food or music that we engage in.
With all bar one of the men in the family Chelsea supporters what better way to start my trip than spending some time at Stamford Bridge watching the boys in blue demolish another set of willing victims, after all we'd just beaten the same team 5-1 barely a week ago, what could possibly go wrong…
Unfortunately quite a bit did and for the 2nd Wednesday in a row rather than a night it remember it was a night of frustration, disbelief and the long, silent walk to the bus stop after another disappointing result.
At least tomorrow I'd be sitting in a comfy first class seat whizzing northwards for a couple of days of family bonding over food, football and the PS3.
I set out around lunch time on a cold and sunny West London day where even the transit vans somehow had an ethereal beauty about them, especially when my headphones masking the sounds of the street.
With snow, the threat of snow and even the just the word snow ready to play havoc with the UK, the tube station was already gritted, or perhaps just very, very dirty in anticipation for the snow.
Without the rush hour crowds the tube journey from Ladbroke Grove to Euston Square is actually pretty pleasant, you have a seat, or even a couple of seats to yourself, plenty of leg room and there's nobody falling into you, stepping on your toes or enfolding a newspaper into your face as if you didn't exist.
We trundled along and in no time at all we arrived at Euston Square. The good thing about Euston Square station is that it prepares you for what to expect by the time you arrive at Euston station for the "big" trains! There are many historic and beautifully restored stations in London, Euston Square is not one of these. It always looks grey, dirty and badly lit, a bit like the RER stations in Paris. Anyway, trudging up the stairs, through the slam of the ticket gates looking in vain for some sunlight I stagger out on to the Euston Road past the Welcome Building and on towards Euston station.
---
Last edited by Spymon; Jan 24, 13 at

11:50 am

Reason: Fixes
Jan 24, 13, 11:49 am
Join Date: Sep 2010
Location: London
Posts: 274
London To Macclesfield
---
Unfortunately I am not blessed with quite the same writing skills as the legendary eightblack, so instead of my own description of the beauty of Euston Station I will quote from the great Wikipedia who generously describe the station under the heading "Architectural Controversy",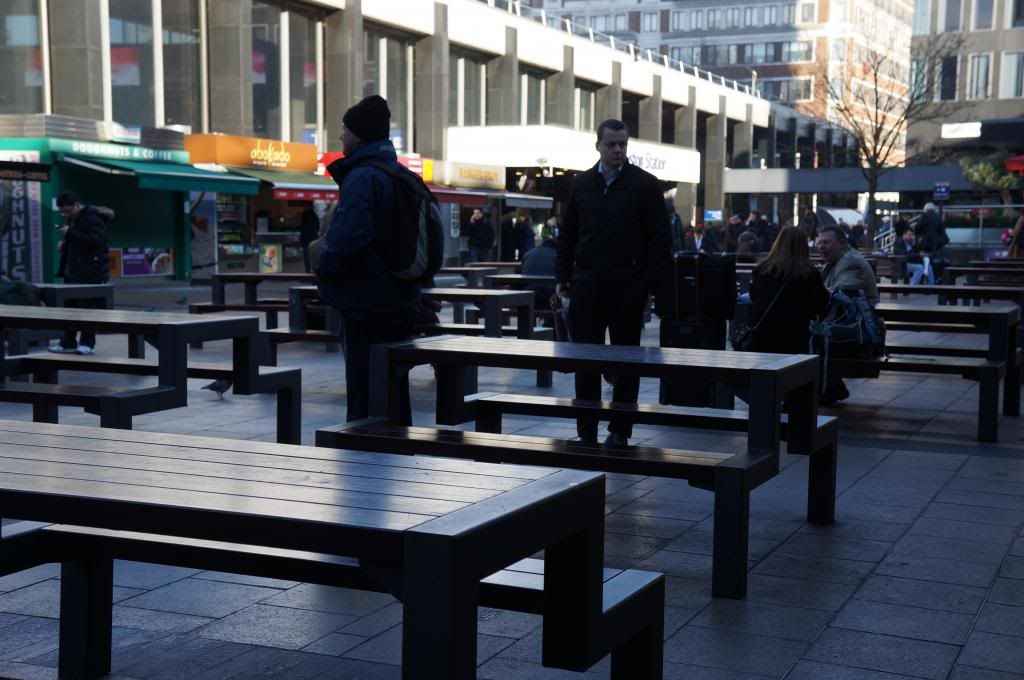 "
Euston's 1960s style of architecture has been variously described as "hideous", "a dingy, grey, horizontal nothingness" and a reflection of "the tawdry glamour of its time" entirely lacking in "the sense of occasion, of adventure, that the great Victorian termini gave to the traveller". Writing in The Times, Richard Morrison stated that "even by the bleak standards of Sixties architecture, Euston is one of the nastiest concrete boxes in London: devoid of any decorative merit; seemingly concocted to induce maximum angst among passengers; and a blight on surrounding streets. The design should never have left the drawing-board — if, indeed, it was ever on a drawing-board. It gives the impression of having been scribbled on the back of a soiled paper bag by a thuggish android with a grudge against humanity and a vampiric loathing of sunlight
".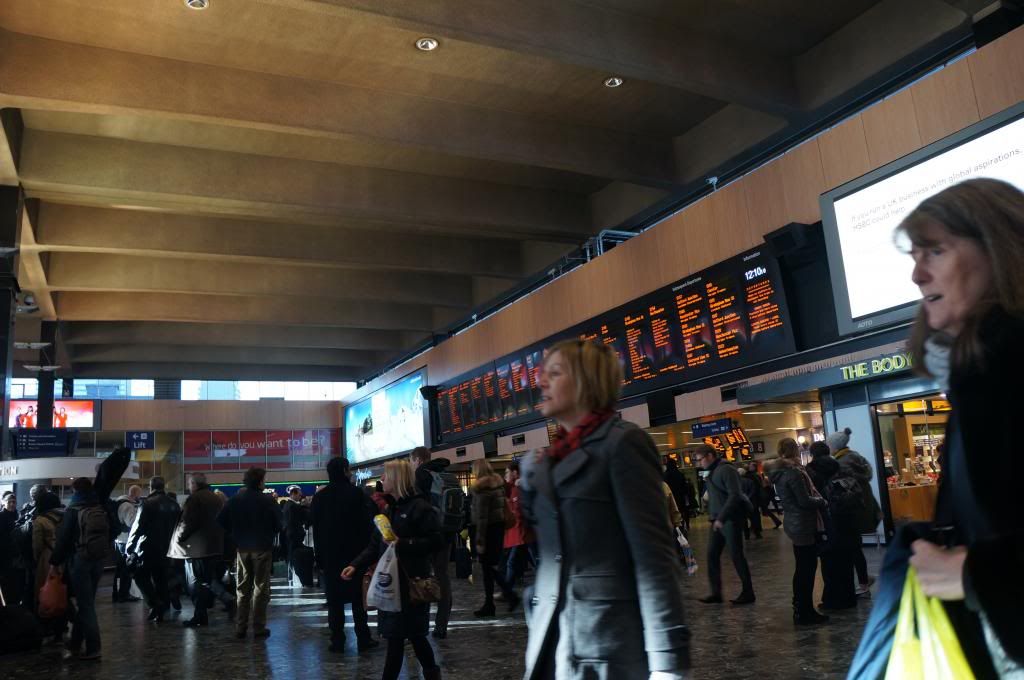 But at least there's a First Class Lounge!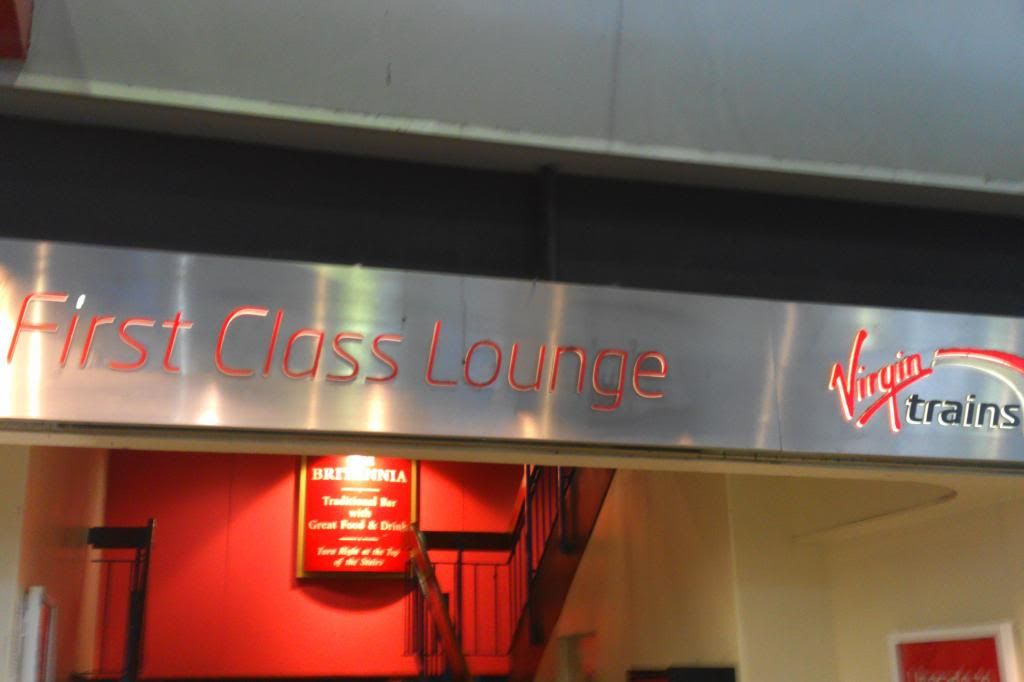 So it was off to the First Class Lounge to enjoy some peace and quiet over a cup of coffee and have a quick catch up with the world via the free Wi-Fi on my iPad.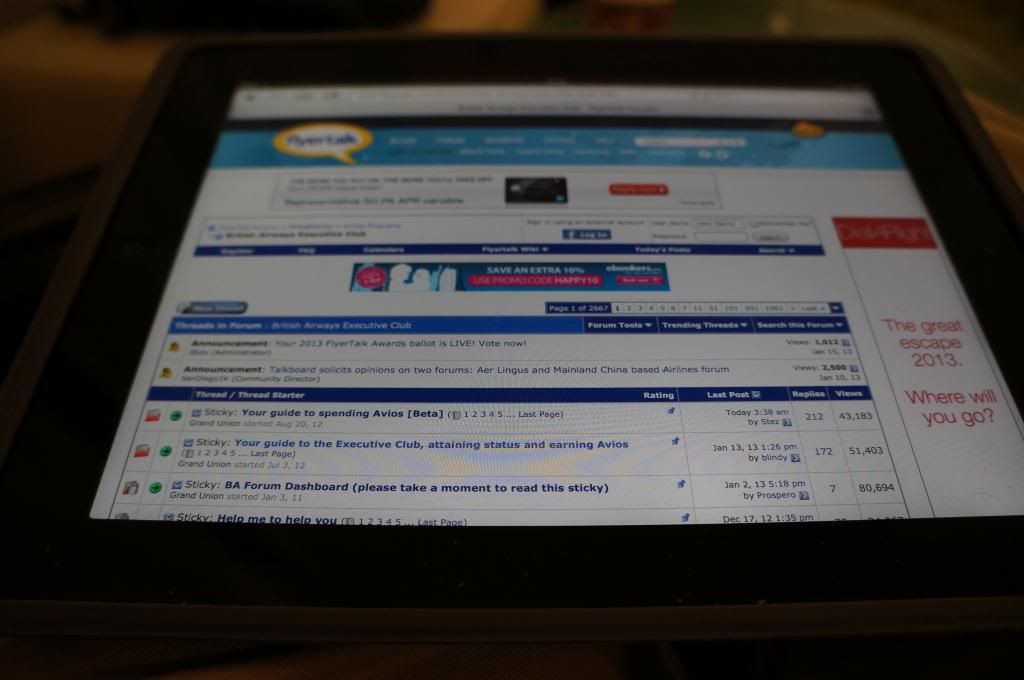 However, the lounge was pretty packed out which is rarely the case and I actually had to suffer the pain of walking right the way to the back where I find a seat with a view, okay it was a view of the station but it was better than that of the business types that populated the lounge. Anyway, the Wi-Fi was pretty fast, the coffee surprisingly drinkable and the 20mins or so in the lounge was soon over and it was time to get my train.
After exiting the lounge I made my way through the "dingy, grey, horizontal nothingness" to my seat in Coach J near the back of the train.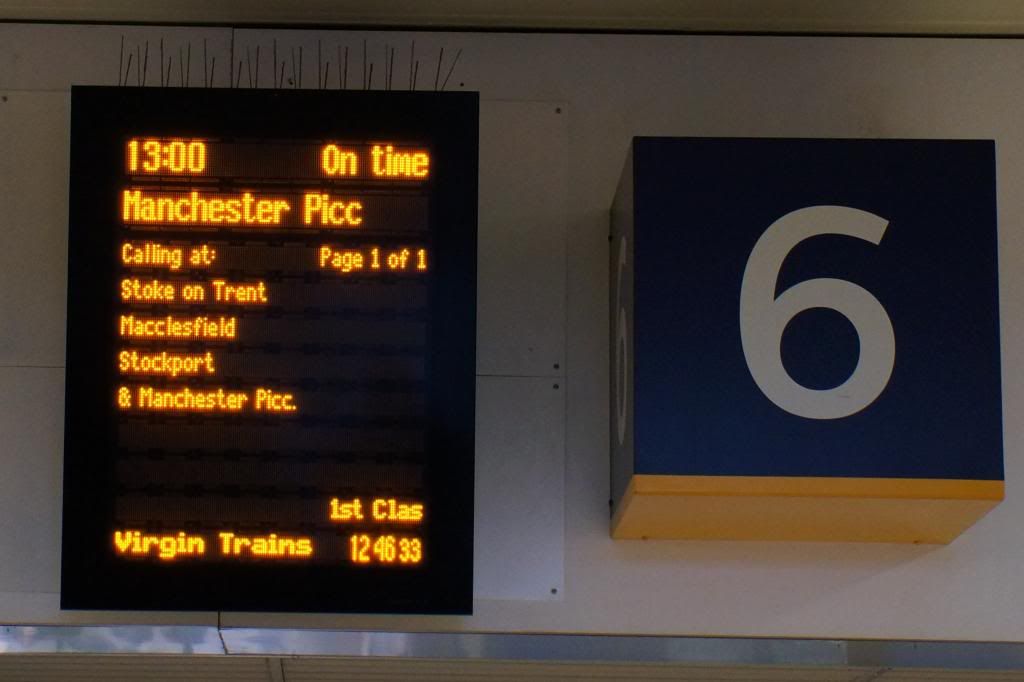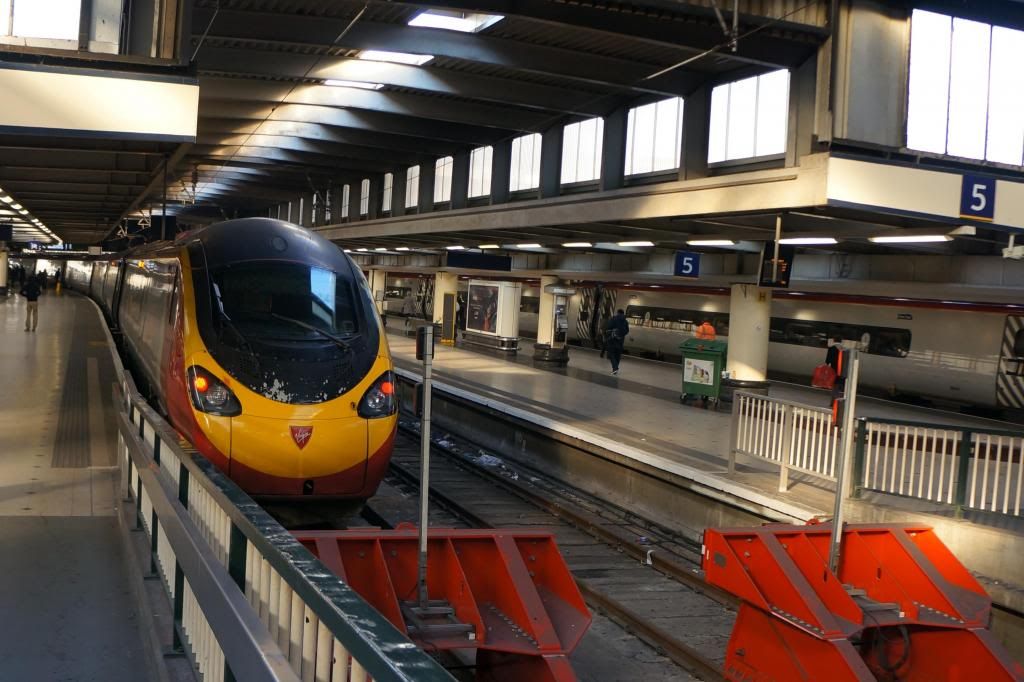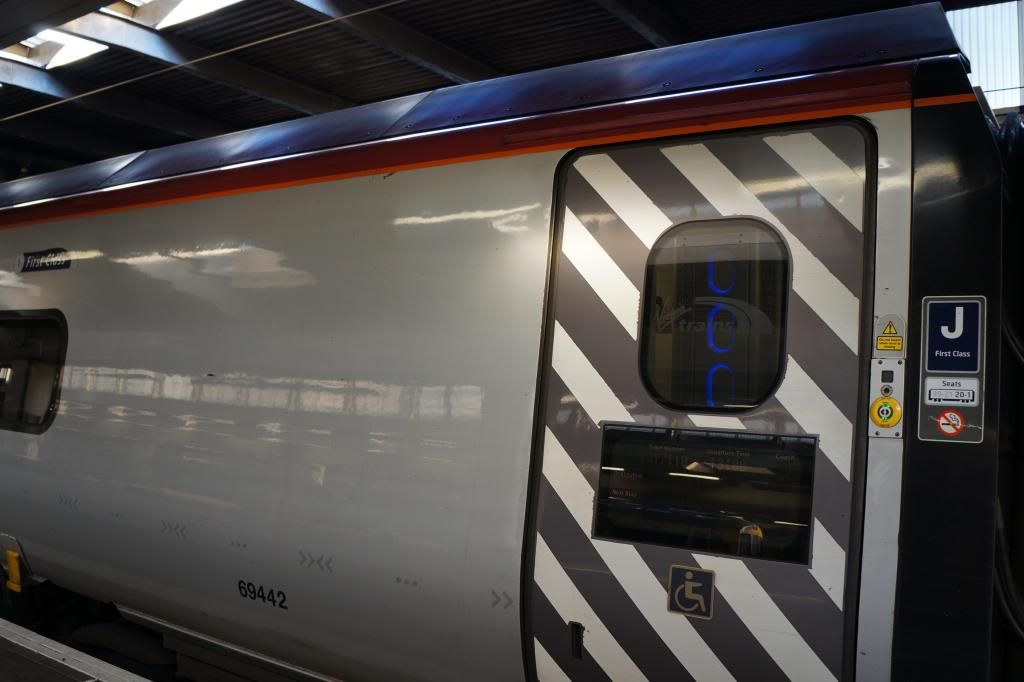 Virgin First Class operates in a 2-1 seating plan with a mix of face to face seats with a table in between them or a table attached to the seat in front. Luckily I was on the 1 side facing forwards, unluckily I had a seat mate which meant my picture taking would be kept to a minimum.
Rolling slowly out of the station First Class service begins with a tea and coffee run, followed by a ticket check.
I'm not sure what happens if you get caught with the wrong ticket after having taken the free coffee but I can't imagine it ends well. Food service is a choice of wraps, Sandwiches or salads, served with crisps, pre-packed cakes and muffins. Soft and slightly harder drinks were available. This trip I settled down with a beer, a spicy bean wrap, a piece of cake and a nice bag of crisps.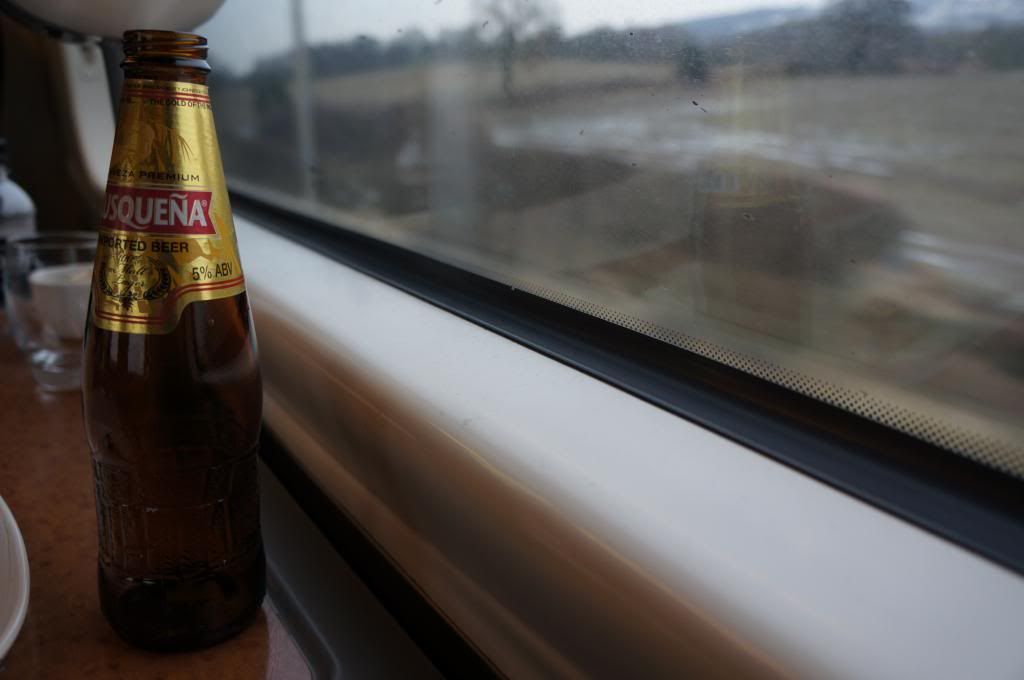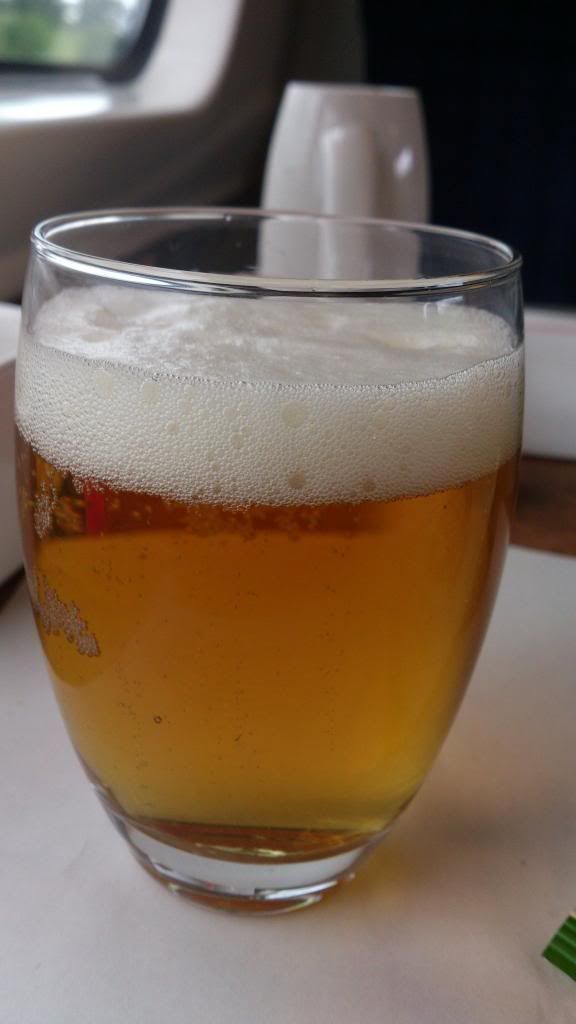 The pictures here are from my last trip, a tasty Greek Salad. A little while later a follow up drinks run took place and suddenly I was half way there. Flying through the countryside of Northern England, from my comfy seat, beer at my side what could be better.
Jan 24, 13, 11:59 am
Join Date: Sep 2010
Location: London
Posts: 274
The Return Home
---
Soon enough I arrived at Macclesfield where my car, sorry step mum was waiting to drive me back to the house. After a quick catch up we were home, strangely it felt colder in London today. Soon the quiet in the house was interrupted as my Dad came home, followed by my 3 half-brothers. The pattern for the next few days was now established, PS3, eat, PS3, dodgy US crime/detective show my step mum likes, sleep. Sure enough the threat of snow was in full effect. Of my 3 brothers, the oldest had his school closed, the middle one was sent home at lunchtime due to snow and unluckily for him the youngest had to see it thought till the end of the day. Due to the lack of school that just meant more time for PS3, so rather than just playing FIFA 13, where my form was much the same as Chelsea's recent home record, we played Twisted Metal, where you chose your vehicle and then shoot the seven shades of **** out of each other, or in my case, one brother picks a fast car, his friend picks a helicopter and proceed to gang up on me from all angles and after getting bored with this would take each other out allowing me a little respite.
Soon enough the beatings (on the PS3 that is) came to an end, along with the amazing home cooked food and fresh coffee. Sometimes the simple things in life are the best. Despite the best of attempts of the S word, my train home was unaffected and it was time to enjoy the excellent facilities enjoyed by First Class passengers between Macclesfield and London.
I did manage to get a few snaps of the passing trains before I found myself back in carriage J but this time on the 2 side of the train.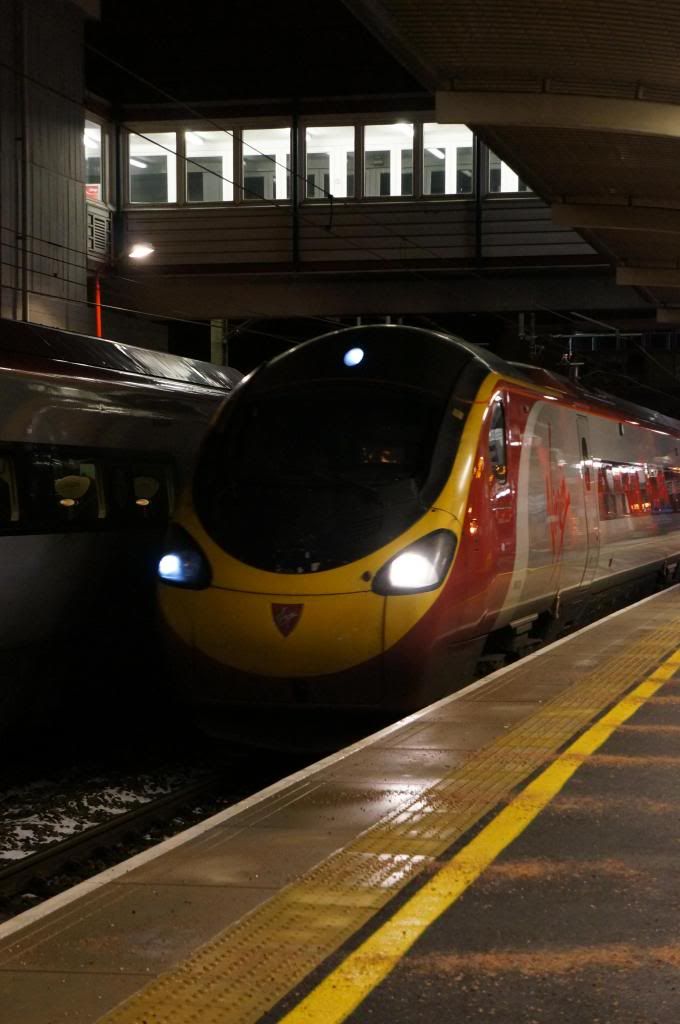 I settled down with the iPad and awaited the meal service, though being a Saturday night the scaled back service was in operation, no table settings or real food.
Instead we had Virgin Train's version of the BA extended breakfast/afternoon tea, the delightful snack box.
Despite the poor quality food and beverage option on the return journey the member of staff was typically friendly and polite making a number of runs during the 2 hour trip back to London. In fact the onboard service on Virgin Trains has been second to none for as long as I can remember. After a small delay just outside of London due to snow I was back at Euston and skating my way through the slush towards the tube and my journey home. Another trip was over, for family, for football for first class.
If you enjoyed this you can also read my other reports
Experiencing BA Club Europe (LHR-LYS-LHR) As Family Matters
Adventure: San Francisco, Las Vegas and the Grand Canyon with VX and BA (2012)
Three Ways From A to B a Statusless Persons Guide: BA vs. Eurostar vs. Easyjet (2012) A West Coast
Voyage To India: Delhi, Agra, Orchha, Khajuraho, Varanasi (EK, SG, IT and Indian Railways, 2010)
Jan 25, 13, 2:57 am
Ambassador: Finnair Plus
Join Date: Apr 2011
Location: HEL
Programs: AY+ Plat, HHonors Gold, Hyatt Explorist, Priority Club Plat Amb, Miles and Smiles Elite
Posts: 2,544
Very nice TR (=train report)!
Jan 25, 13, 8:00 pm
Join Date: Feb 2012
Location: Frankfurt am Main
Programs: A3, AC, SQ, BA, OZ, LX, TK
Posts: 645
My favourite thing about Virgin Trains First Class is the Rekorderlig. I have sometimes taken day trips to Birmingham for partially that reason.
Jan 26, 13, 6:30 pm
Jan 26, 13, 10:28 pm
Join Date: Mar 2005
Location: HEF
Programs: Delta DM/2.6 MM; Hertz PC; Amtrak Guest Rewards; Marriott Rewards Silver
Posts: 3,661
Great Report
---
Really enjoyed your report.

I'm doing my annual sports trip to the UK starting on Tuesday the 29th; I intend to do a full trip report, including an account of my time on Delta DCA-ATL-LHR-ATL-DCA on a rare 100,000 skymile BE ticket redemption, which will include visiting 10 SkyClubs in one day if everything works out. I bought a first-class 8 consecutive day low season Britrailpass for $465 (including shipping), so I will be traveling on Virgin Trains too.

My UK itinerary is shaping up like this (the weather is expected to change my plans further, but here goes):

Wednesday, 30 January--Heathrow Express to Paddington, tube to Euston, Virgin Trains Euston-Glasgow Central, to attend Celtic v. Kilmarnock.

Thursday, 31 January--Glasgow Queen Street-Edinburgh Waverley-Sheffield, to attend greyhound races at Sheffield's Owlerton Stadium, then train to Leicester to attend Leicester City v. Wolverhampton Wanderers, then overnight in Sheffield.

Friday, 1 February--was going to attend Catterick national hunt races, but track is under 6 inches of snow presently. As Chepstow in Monmouthshire, Wales, looks like they have a decent chance of racing with temperatures near 50F the next few days, train from Sheffield-Bristol Parkway-Newport; check into hotel in Newport; then train to Chepstow (15 minutes away). After the races, train to Cardiff to attend rugby union, Cardiff Blues v. London Irish.

Saturday, 2 February--this day is up for grabs, except I need to overnight no further south than Newcastle to make the rest of the trip work. Currently plan to take train Newport-Bristol Parkway-Leeds, use left luggage facility at Leeds Station, then bus to Wetherby Races, then bus back to Leeds Station, then onward to Newcastle, arriving there in the 1900 hour. If plans workout, will attend Newcastle's Brough Park greyhound track. If Wetherby is not racing, will stay on train and go to Newcastle early, and try to get a ticket for Newcastle United v. Chelsea. If ticket prospects look bleak, might try to go to Hartlepool (30 minute train ride from Newcastle), who are also home that afternoon.

Sunday, 3 February--early morning Mass, followed by 0915 train Newcastle-Edinburgh-Kirkcaldy. Attend Raith Rovers v. Celtic in the Scottish Cup (starts around 1245). Either find a friendly pub in Kirkcaldy or train back to Edinburgh and would like to have a Sunday roast dinner at a decent place (have a tip on the "Sheep's Heid Inn", which is near Arthur's Seat). Train back to Newcastle.

Monday, 4 February--day wide open; thinking about taking the East Coast service to London King's Cross, and just spend the day touring London and taking pictures. The only league soccer match of the day in the UK takes place in Gillingham, in Kent, about an hour out of London Victoria.

Tuesday, 5 February--fly home.
Jan 27, 13, 2:20 am
Join Date: Jun 2011
Location: CGN
Programs: A* Gold, OW Sapphire, Thalys Platinum, Accor Gold
Posts: 150
Nice trip - I just had some shorter rides on Virgin when I visited the UK, all our longer train rides have been on Scotrail (Class 156 trains are not really made for long journeys) or West Coast (Aberdeen - Edinburgh or London - Glasgow) which was nice in first.
I´d like to recommand the
Dubh Prais Restaurant
on High Street, which I visited three times now. A very small restaurant with (imo) a very good meal choice and service.
Or, near Arthur´s Seat, the
Sailsbury Arms
- a nice pub with good ales and good food choice.
Also, as a suggestion: If you would like to take a nice night train, why not user the Caledonian Sleeper (
Infos at seat61
) from Edinburgh to London.
Jan 27, 13, 4:52 pm
Join Date: Jul 2011
Location: LHR- ish
Programs: MUCCI, BA Blue
Posts: 4,300
Fun TR, makes a nice change. Euston really is an absolute hole.

I wouldn't be over-optimistic about Chepstow, it's liable to get water-logged.
Jan 30, 13, 3:26 am
Join Date: Mar 2007
Location: PVG, China
Programs: Platinum Ambassador, SPG Gold, Krisflyer, Accor A-Card Platinum, Hilton Honours Gold, QF Bronze
Posts: 2,184
Interesting trip report. Thanks for posting.
There is no such thing as first class on trains for such short journeys in Australia. Be cool if we did
Posting Rules
You may not post new threads
You may not post replies
You may not post attachments
You may not edit your posts
---
HTML code is Off
---