Air China in C is awesome! (PEK-CDG; pro photos, too!)
Jan 18, 13, 5:19 pm
Join Date: Sep 2006
Location: PHL
Programs: Former long-time US GP; now AA dirt
Posts: 4,903
Air China in C is awesome! (PEK-CDG; pro photos, too!)
---
This was the 8th segment of an epic nine-segment, 17-day, six-country trip that went like this:
PHL-MUC-BKK-SGN-SIN-DPS-BKK-PEK-CDG-PHL
. All in C. (Click on the link to view the routing!)
OK, gang, Air China (CA) is not messing around. Overall, this was the best long-haul C I've experienced -- even
slightly
better than OZ C with its fantastic Quadra Smartium seats. I have also flown long-haul C on LH, TG, UA, US, and NZ. (I have only flown SQ in short-haul C.)
OK, let's go!
At PEK, there is a dedicated area for C and F...
I did not have a lot of time to get photos at the Air China lounge, but it is a wide-open space and huge. That entire second level is the lounge!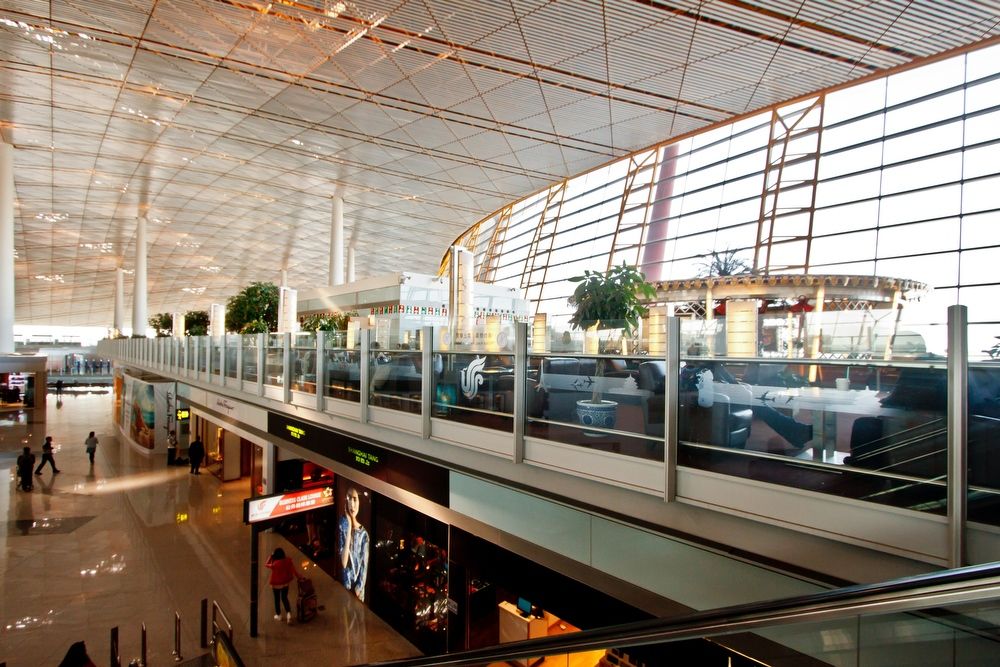 Here's one more photo of the lounge. There is a large selection of hot and cold foods, drinks, etc. The showers are small, but quite functional.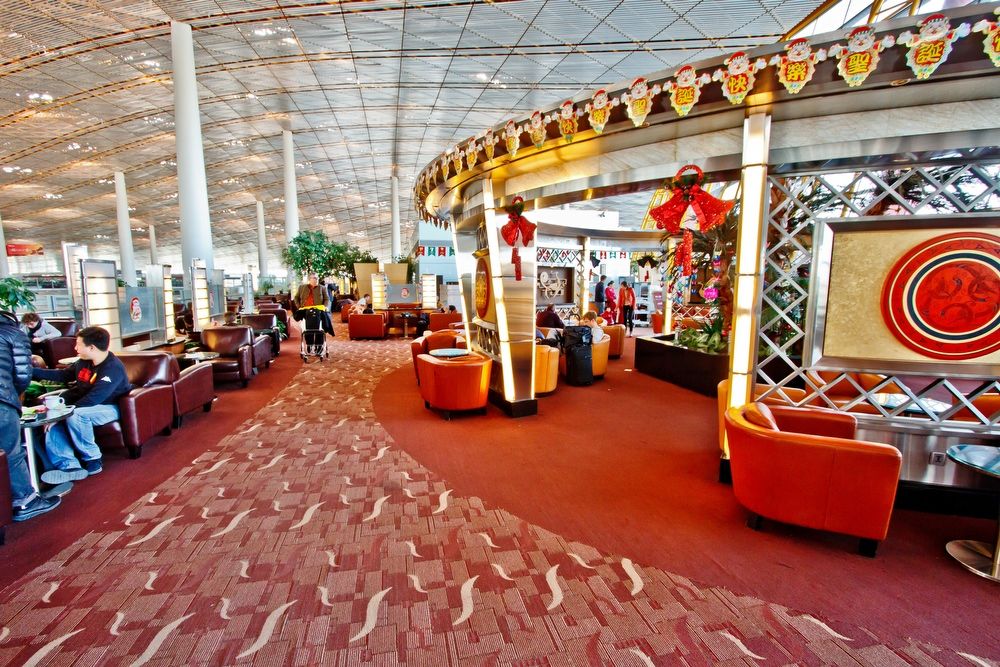 Now we are onboard the 777-300. A front view of the C cabin...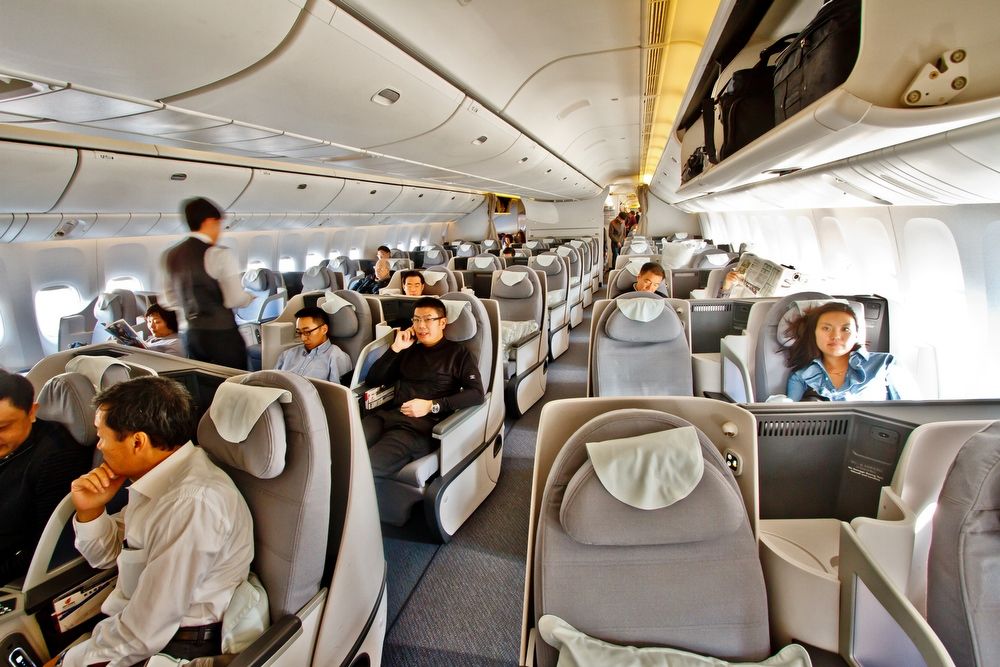 Rear view. Note the large TV screens. They are also touch screens!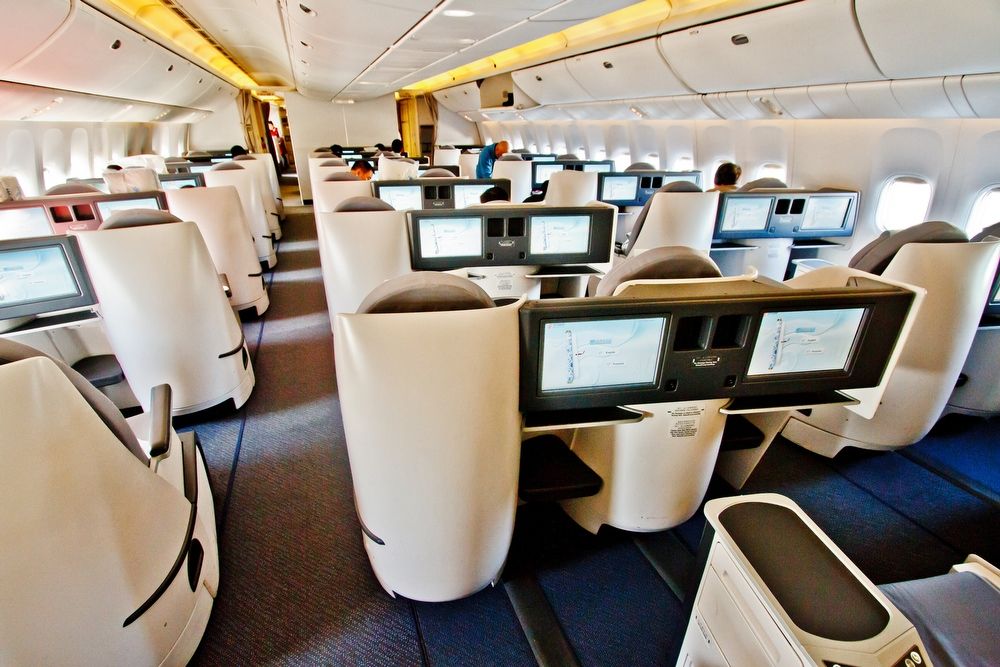 A closer-up view of the seats, which also went fully flat and parallel to the ground. I was able to sleep easily.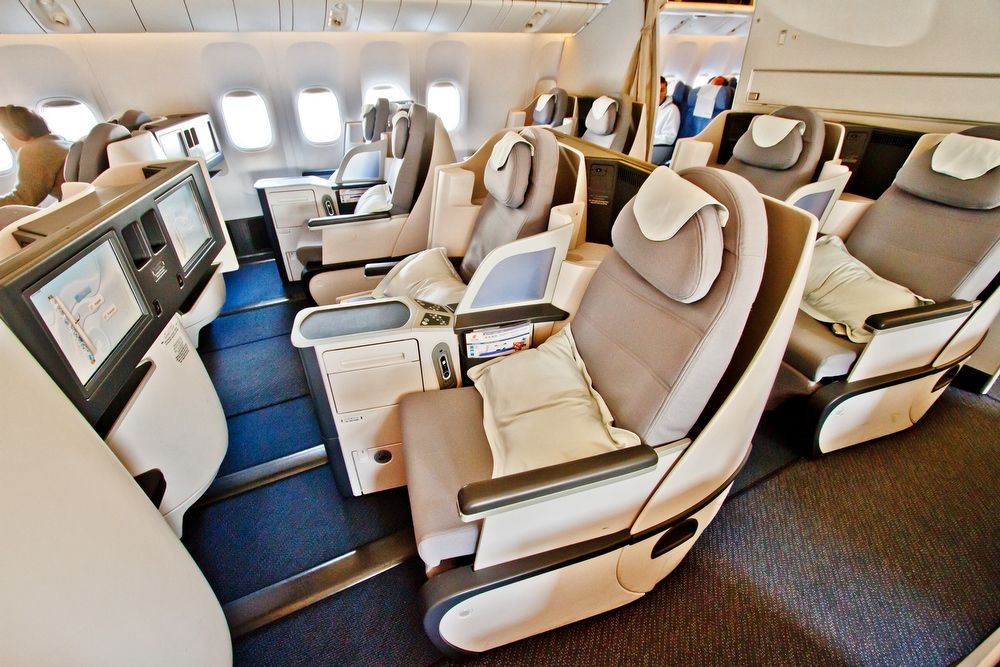 The excellent AVOD is really worth examining. I love Chinese scroll motif. It's a nice touch...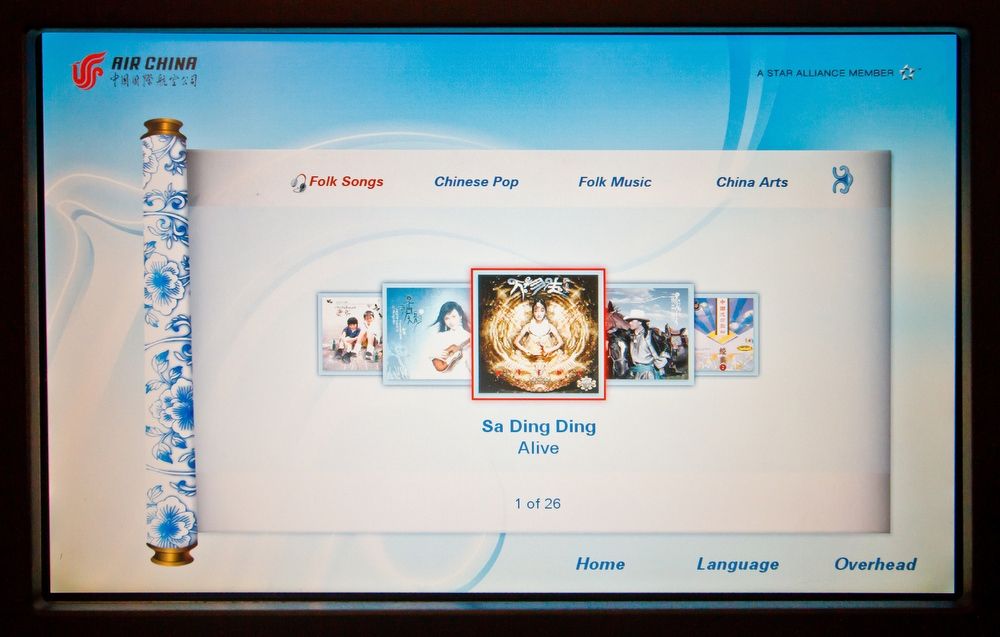 The navigation function had a high "WOW" factor. Aside from providing high detail and a touch screen...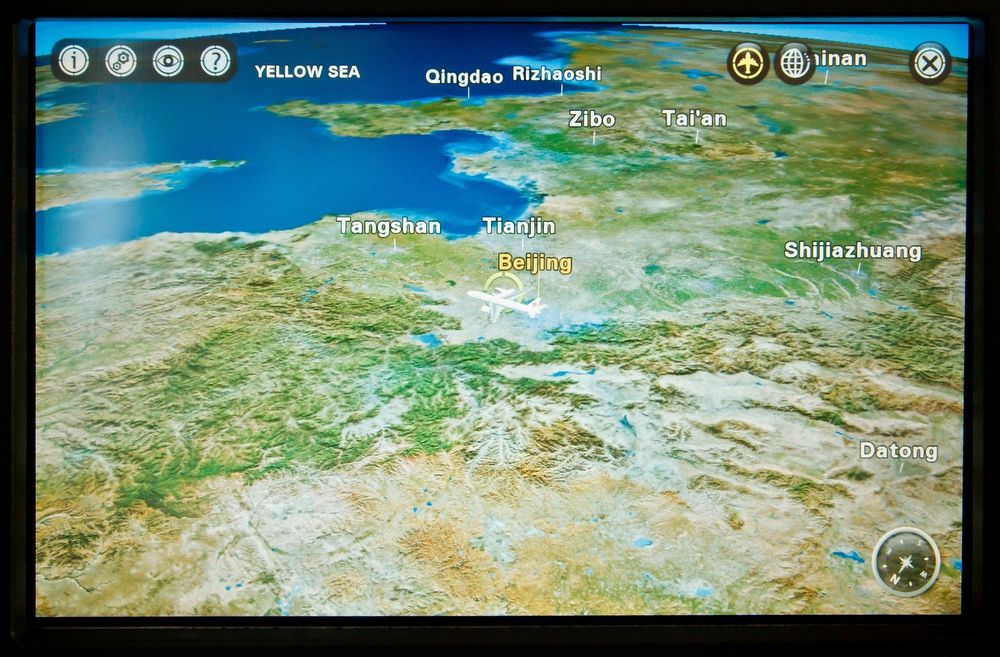 ...it's fully customizable. You can really "geek out" with this!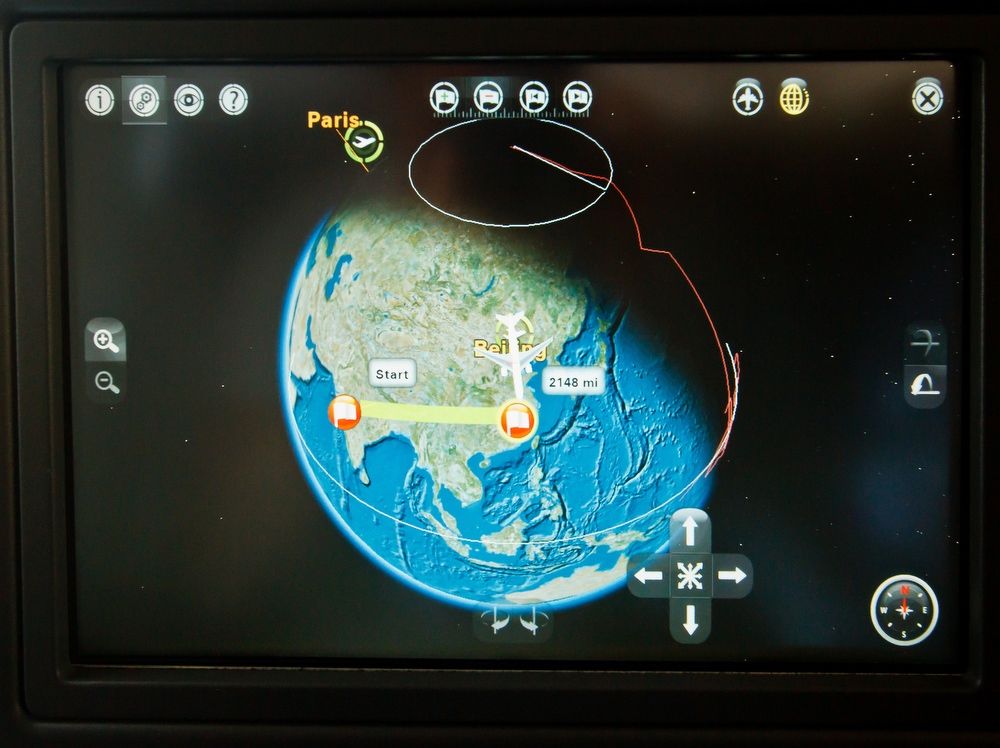 OK, the service. Top notch. The attention to every passenger was phenomenal. Always pleasant, always wanting to help. Personally, I pressed the call button three different times, and each time the FA was at my seat within 3-5 seconds!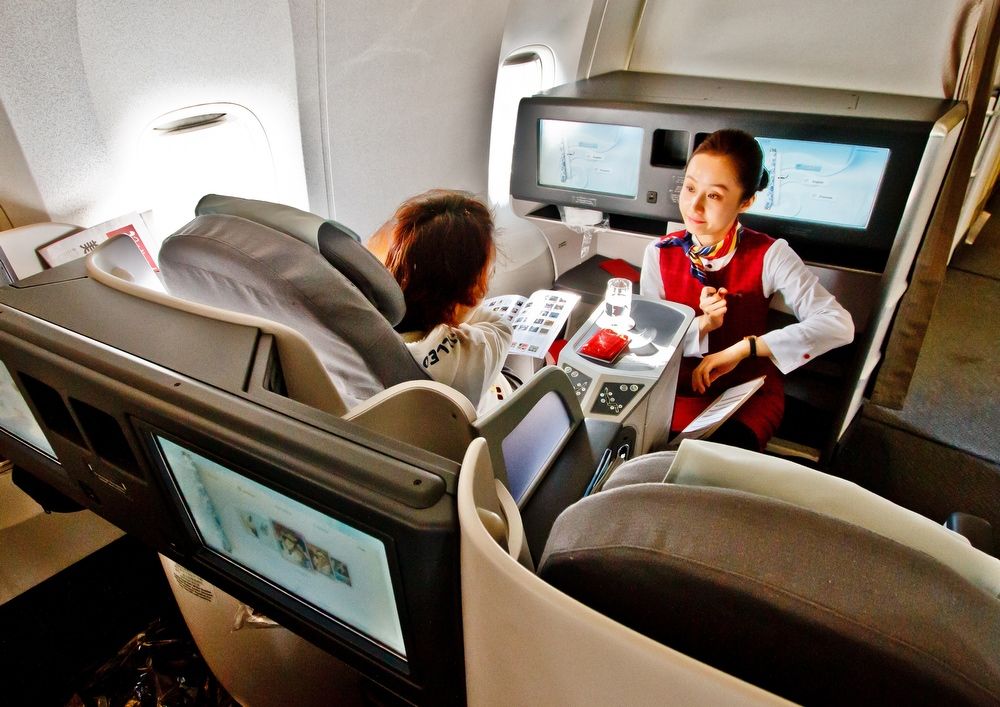 Let's look at the menu before we examine the food...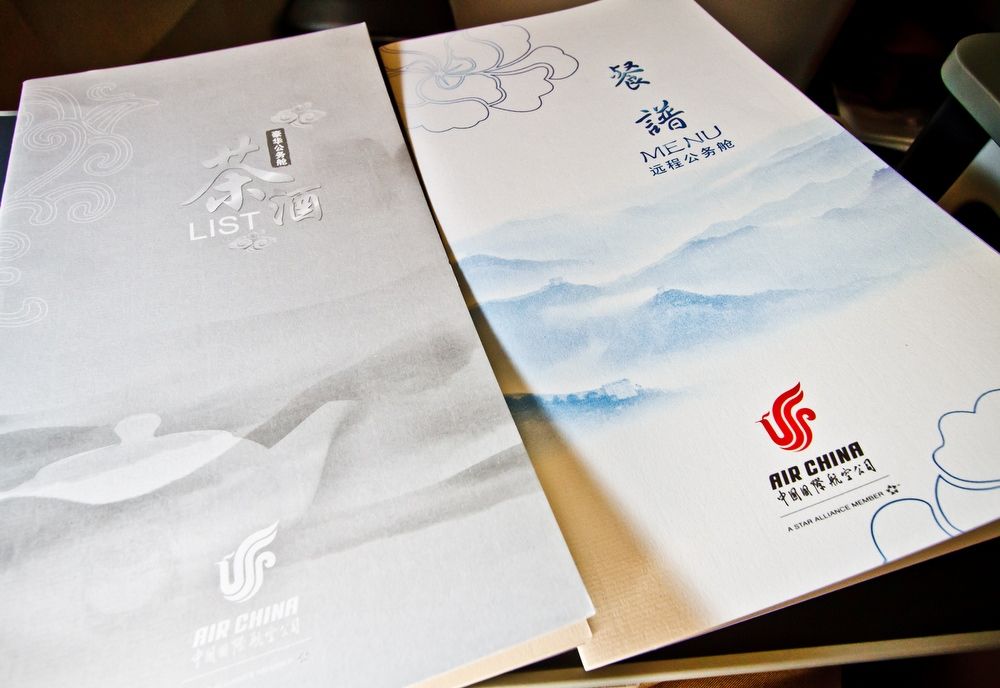 Chinese selection...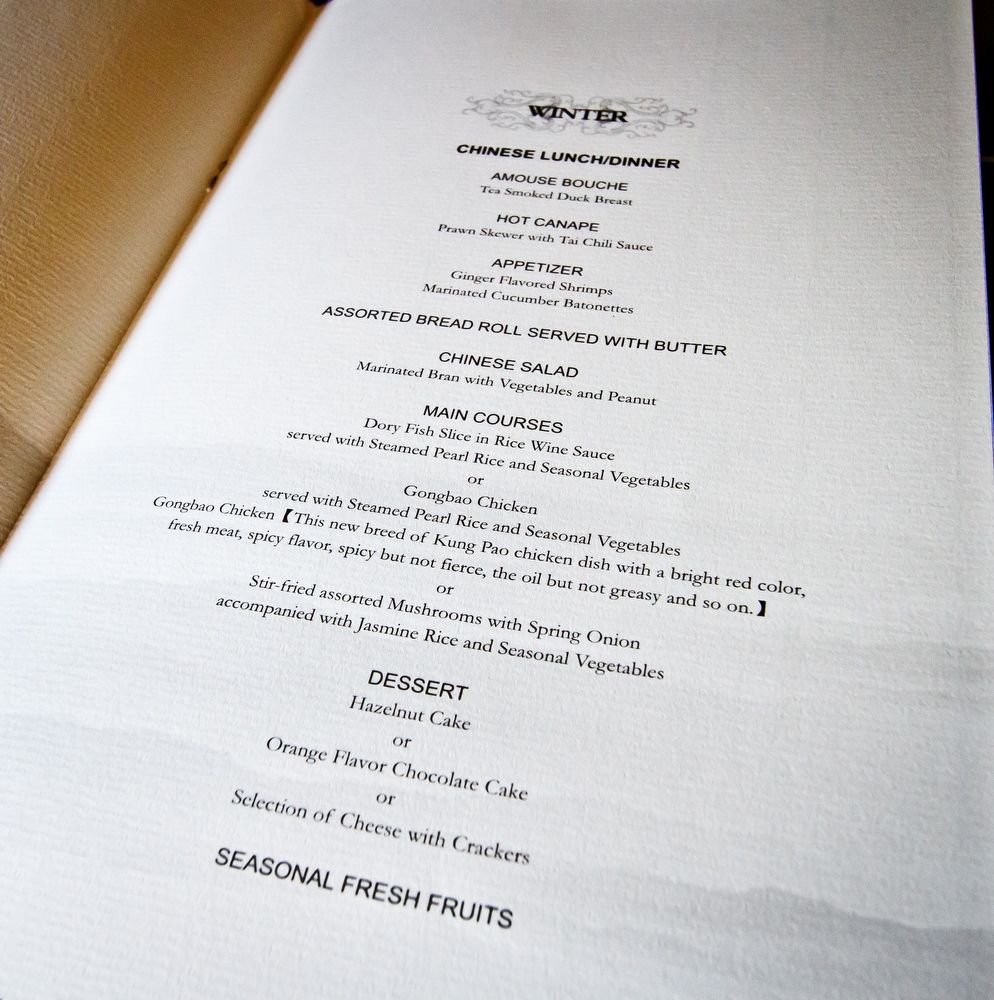 Western collection...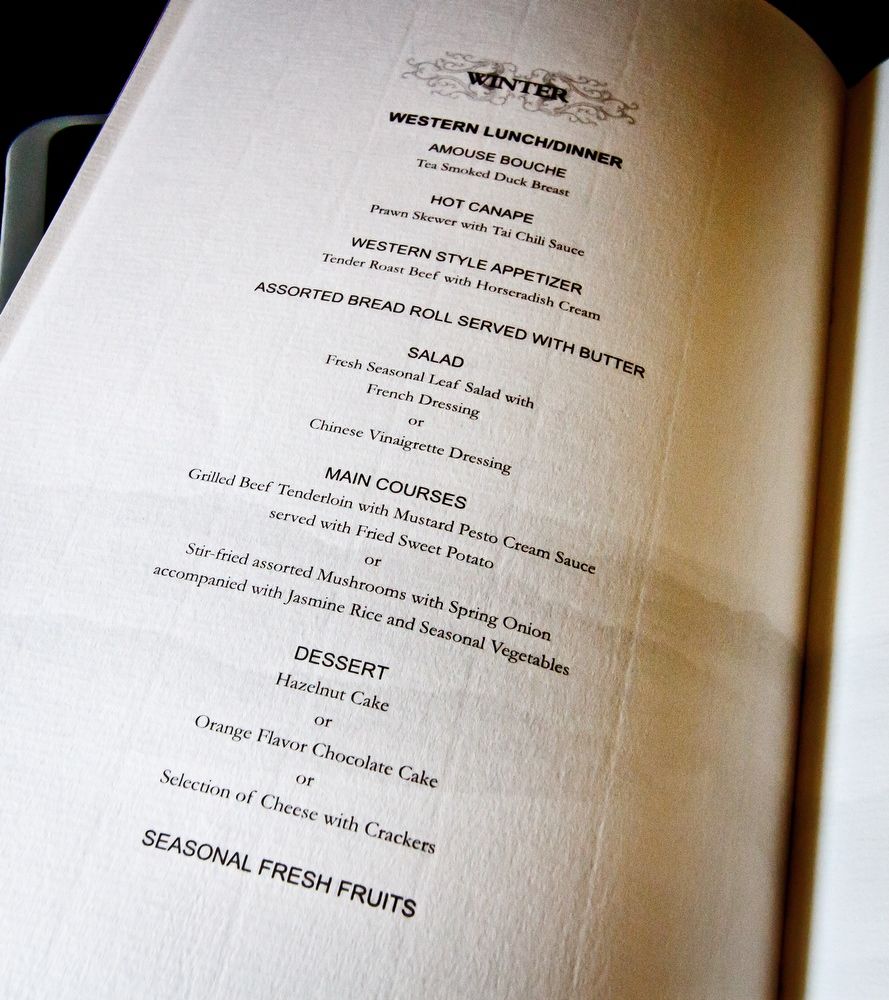 The second "light" meal, served later in the flight...
And other goodies...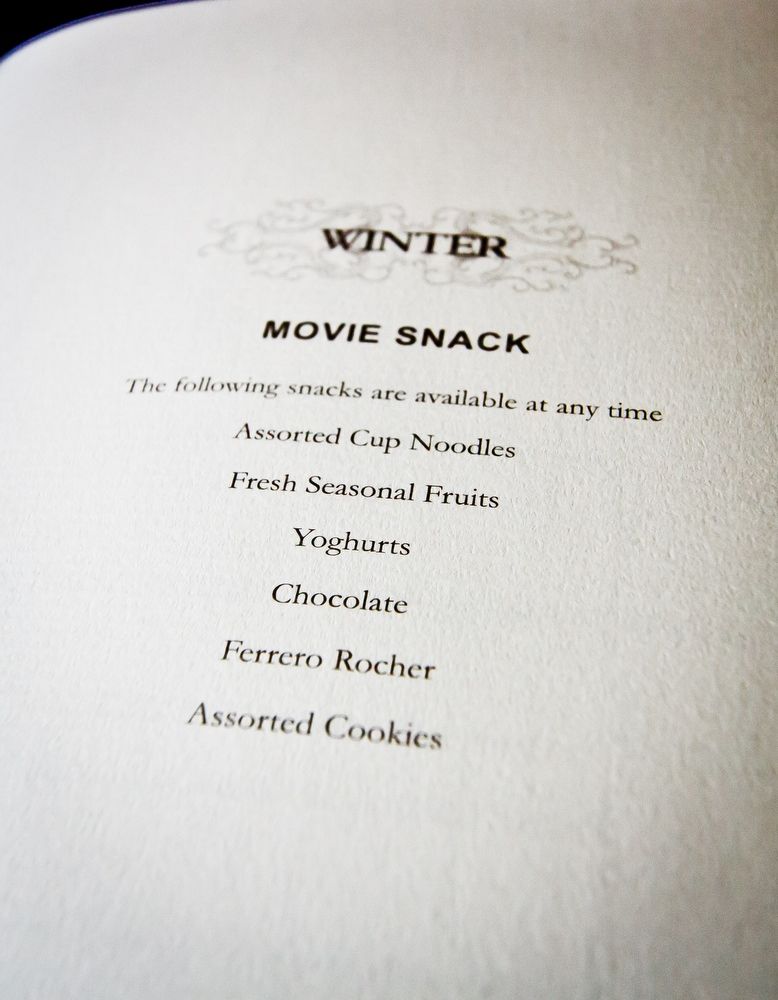 I don't drink much alcohol, but I did have some Chinese wine -- which was fantastic. As for the food, I was skeptical. How could could Chinese food be on a plane? Well, let's see. It started simply, with some nuts...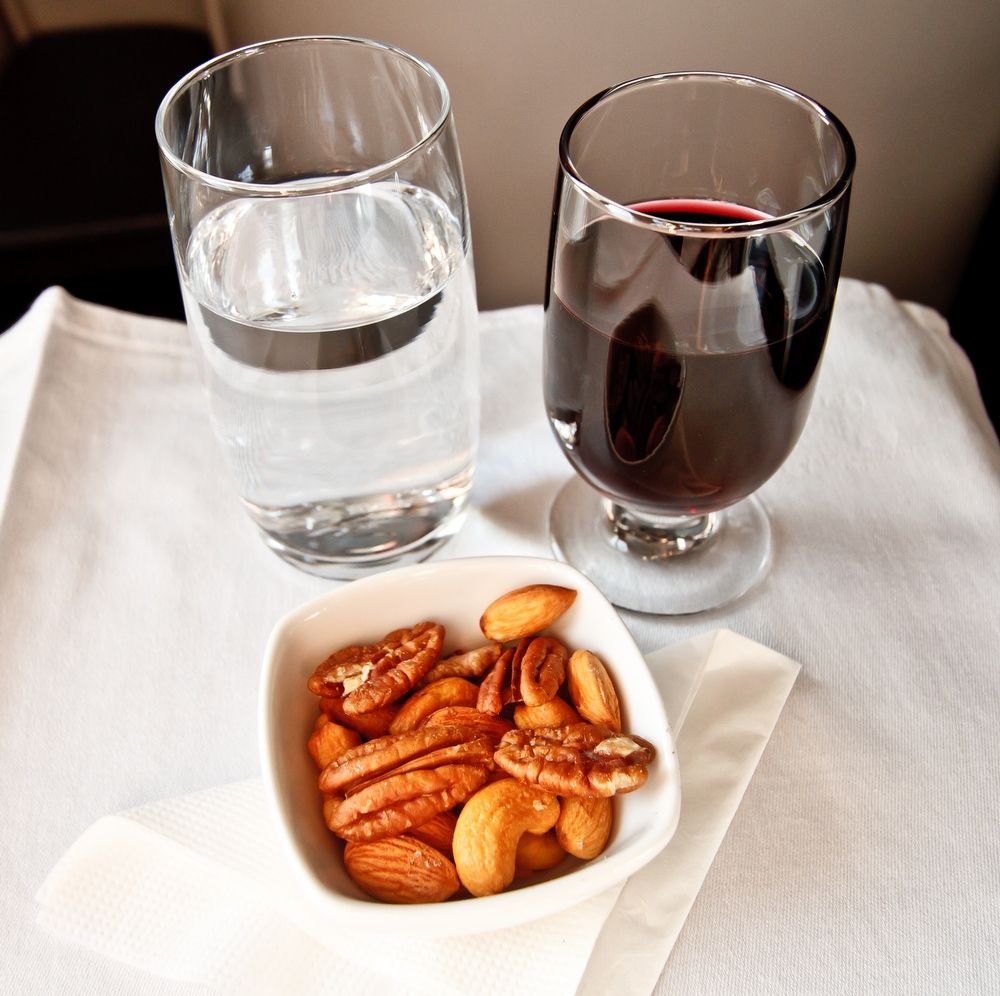 The Prawn Skewer and the Tea Smoked Duck were fresh and delicious...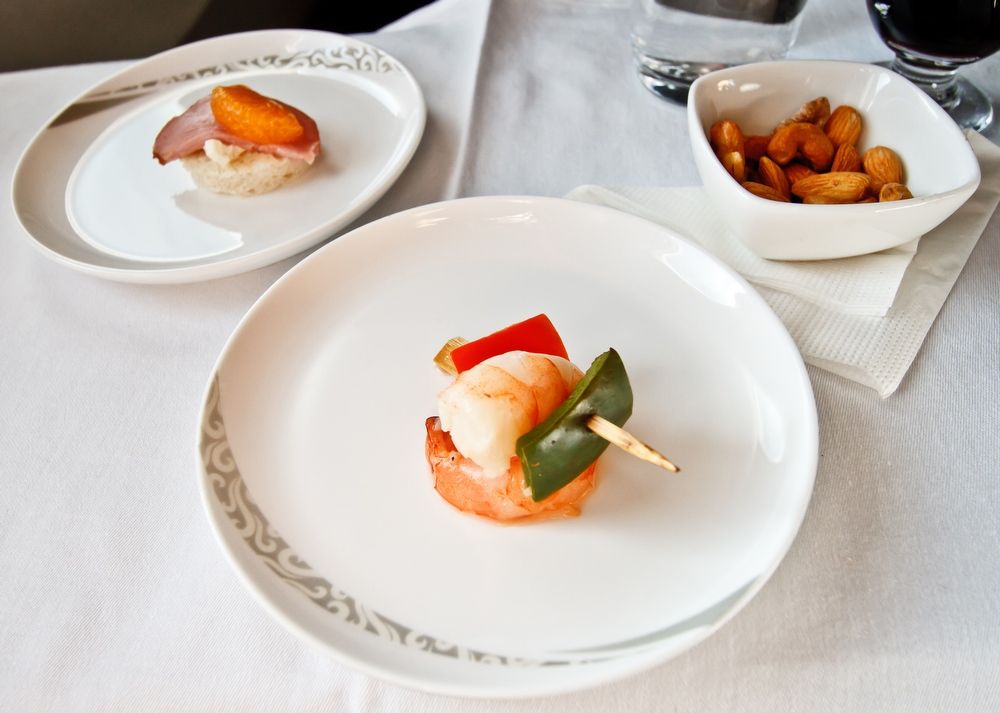 The rest of the appetizers, salad, and main course were served together. My main course was the Dory Fish Slice in Rice Wine Sauce.
Every single offering
you see in this photo was delicious. This was not the kind of Chinese food you'd get in a typical Chinese restaurant either. Rather, it was gourmet, hi-end Chinese food: much more refined and delicate -- yet still very flavorful. Also, I am very intolerant to MSG. I had no reaction at all to this meal.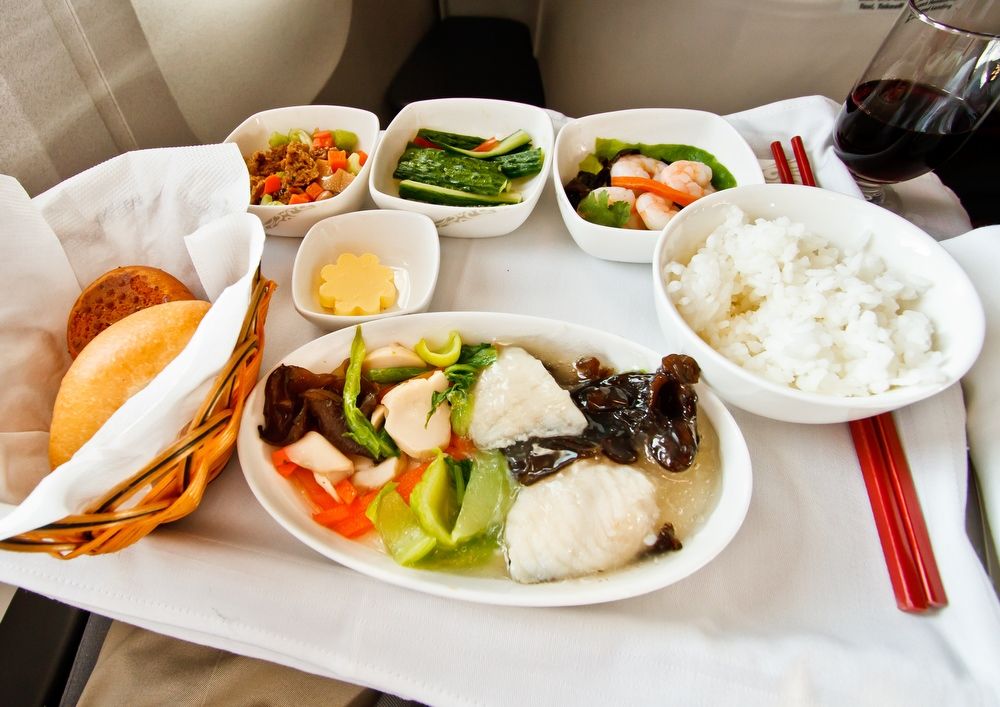 Another example of the wonderful service!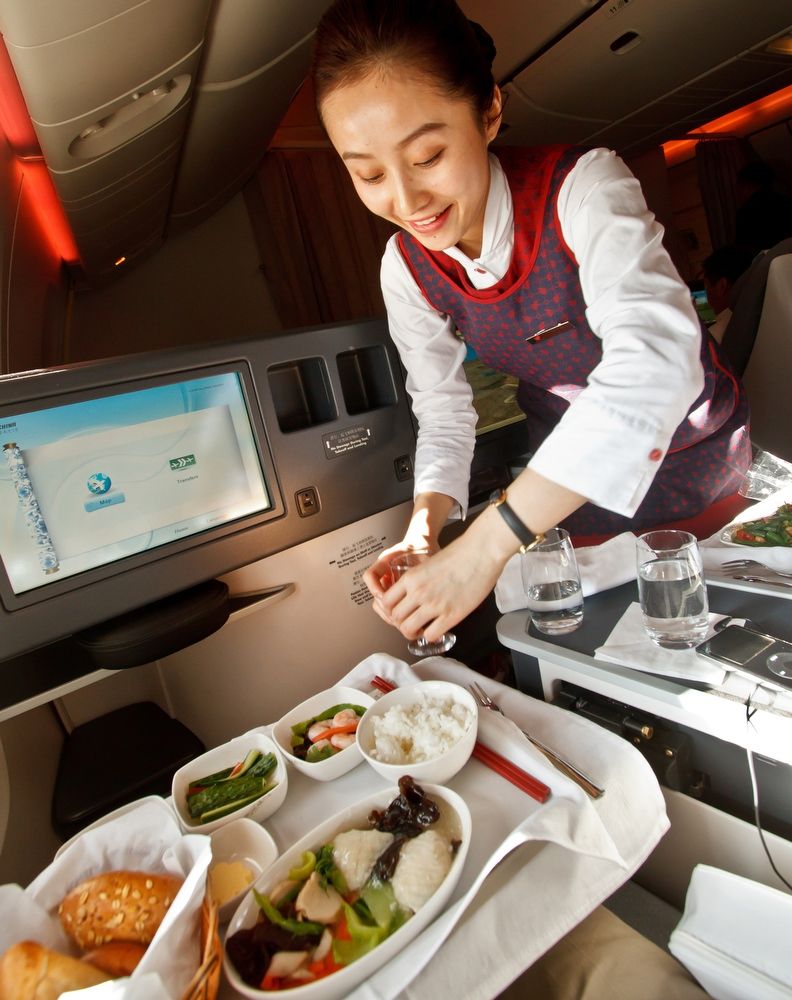 Here is my gf's vegan meal. Unlike many vegan meals which are typically barely flavored steamed vegetables, real thought was put into her selections. Everything was very tasty.
Part 2 below...
---
Last edited by tommyleo; Jan 18, 13 at

6:11 pm
Jan 18, 13, 5:37 pm
Join Date: Sep 2006
Location: PHL
Programs: Former long-time US GP; now AA dirt
Posts: 4,903
Part 2
For dessert, I had the Hazelnut Cake, which was moist and fresh and tasty...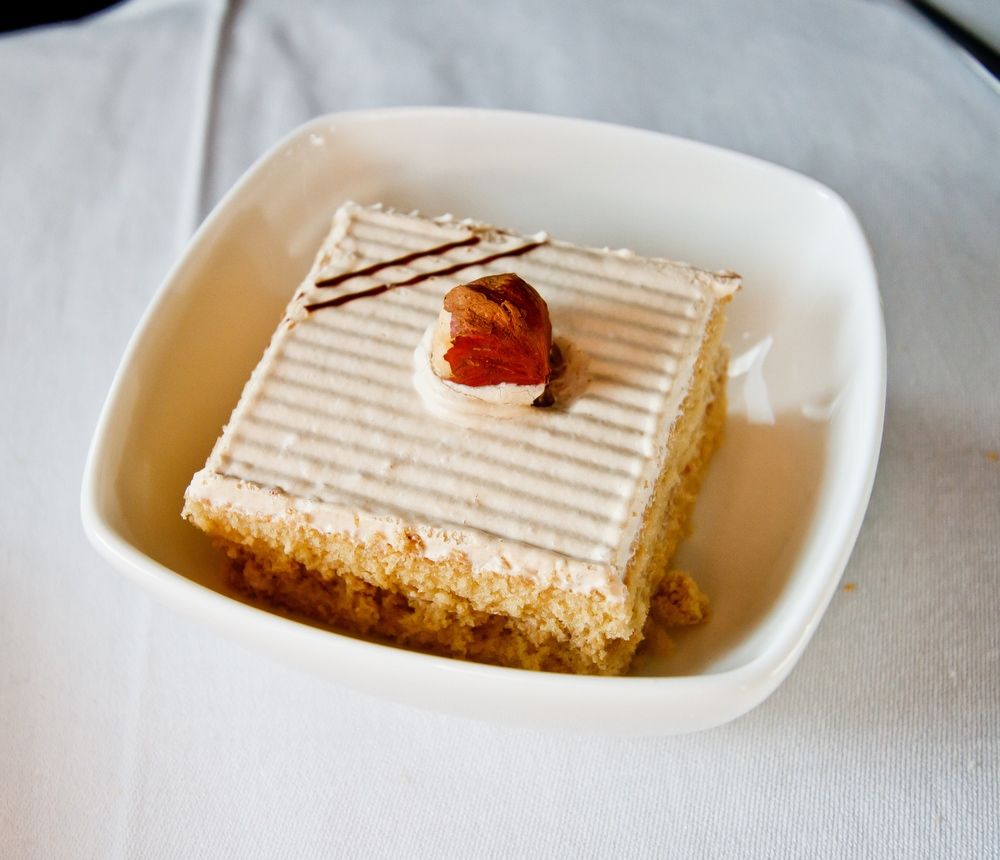 The friendly FA's pose in the well decorated galley...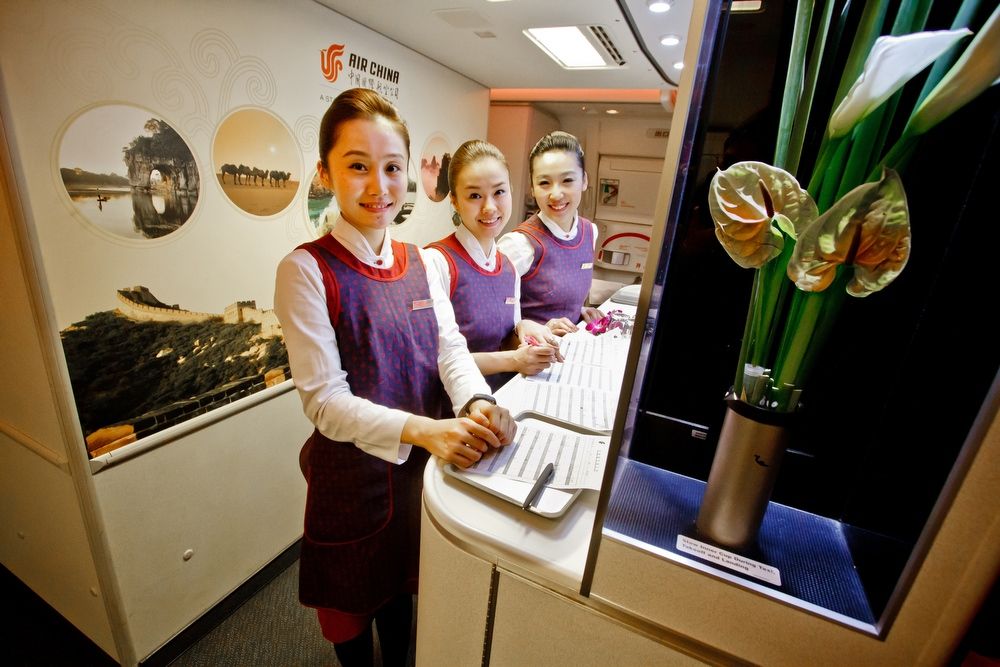 In that galley, here are the snack items available throughout the entire flight...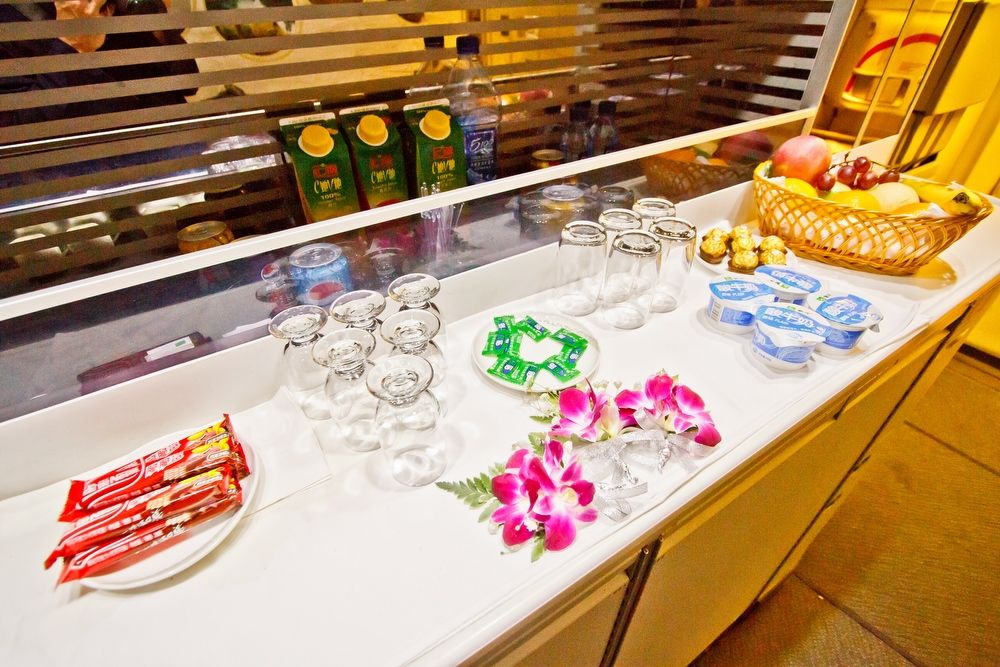 Take a close look at these two publications. On the right is Air China's THICK in-flight magazine. It was packed with fabulous photographs and stories. On the left is a publication dedicated
entirely
to the history of Chinese embroidery!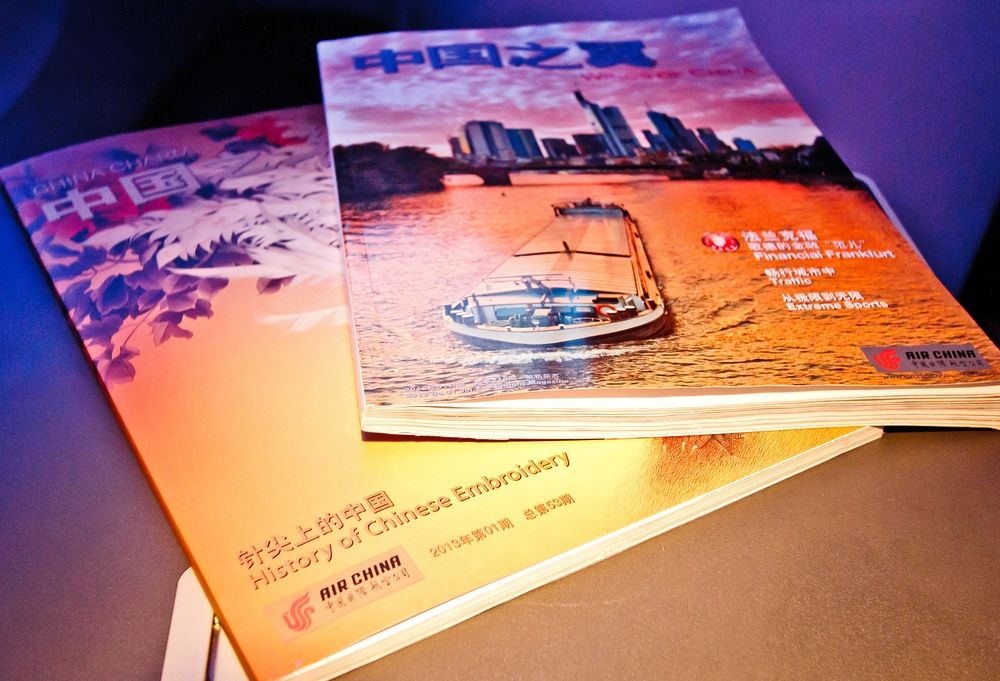 OK, time for some sleep. I'm handed pajamas -- in Size XL??? I'm a size Small to Medium in the United States. Hmmm...
Of course, the FA nailed it! It fits perfectly...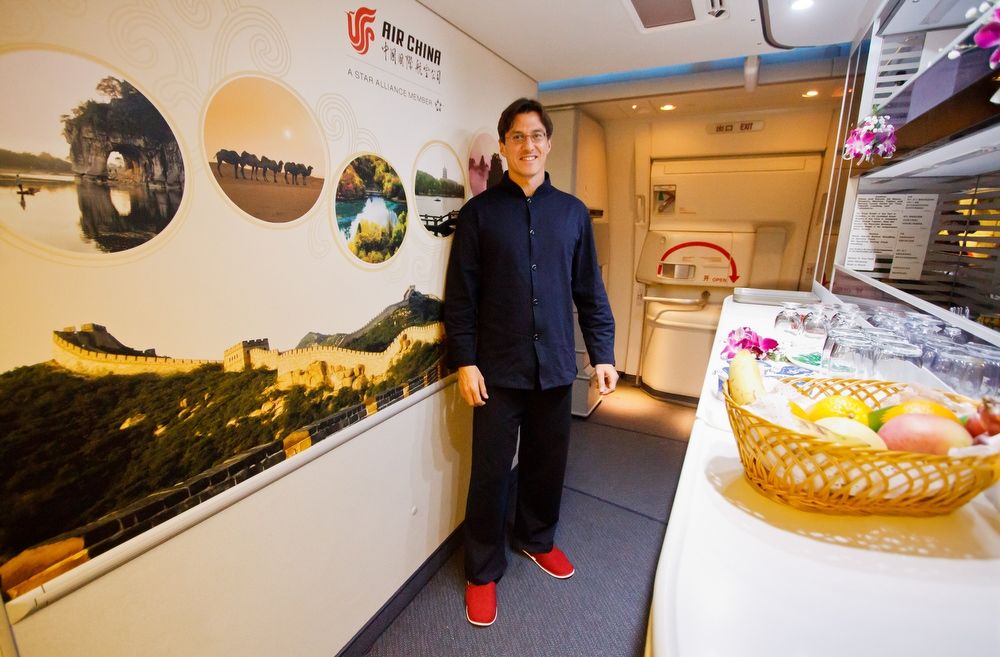 After a peaceful sleep of many hours, I'm served the so-called "Light Meal"! Ha! But I'm not complaining. The noodle soup was packed with fresh and plump shrimp and scallops, with fresh veggies. Delicious!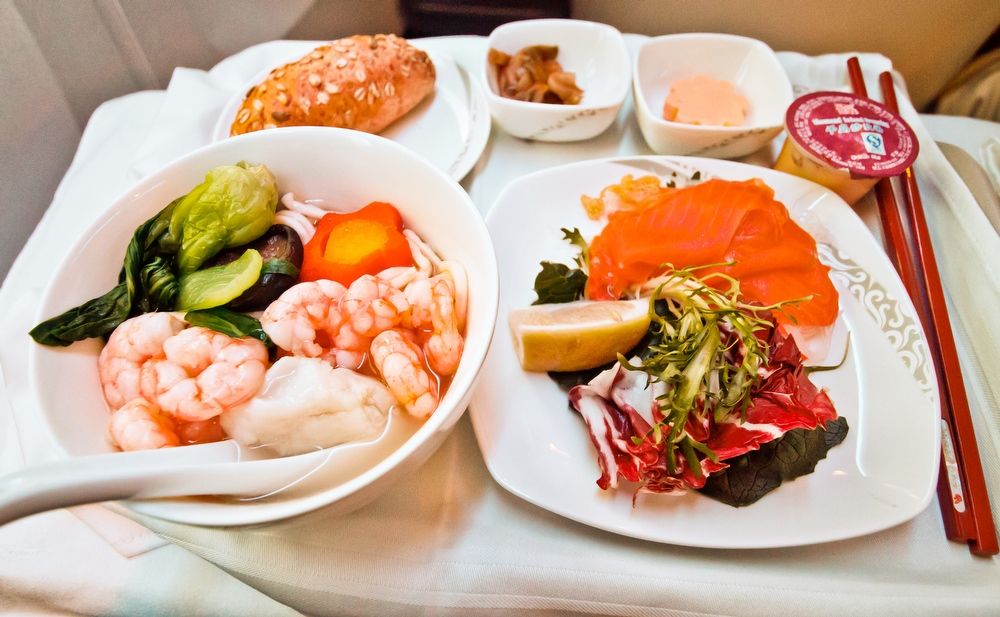 The kit was well appointed...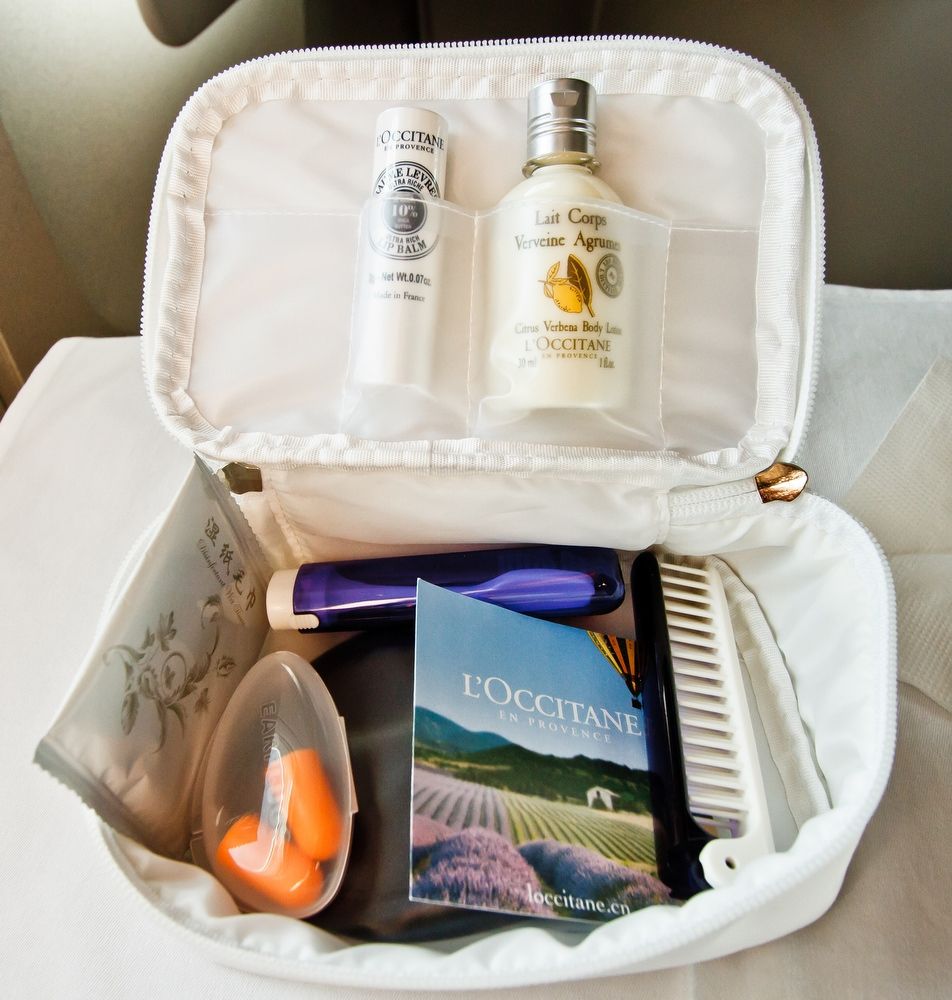 As we approached CDG, we were handed this excellent surprise: fast-track passes for immigration and security. The passes worked for our departing flight the following day as well. A perfect end to a perfect flight on Air China!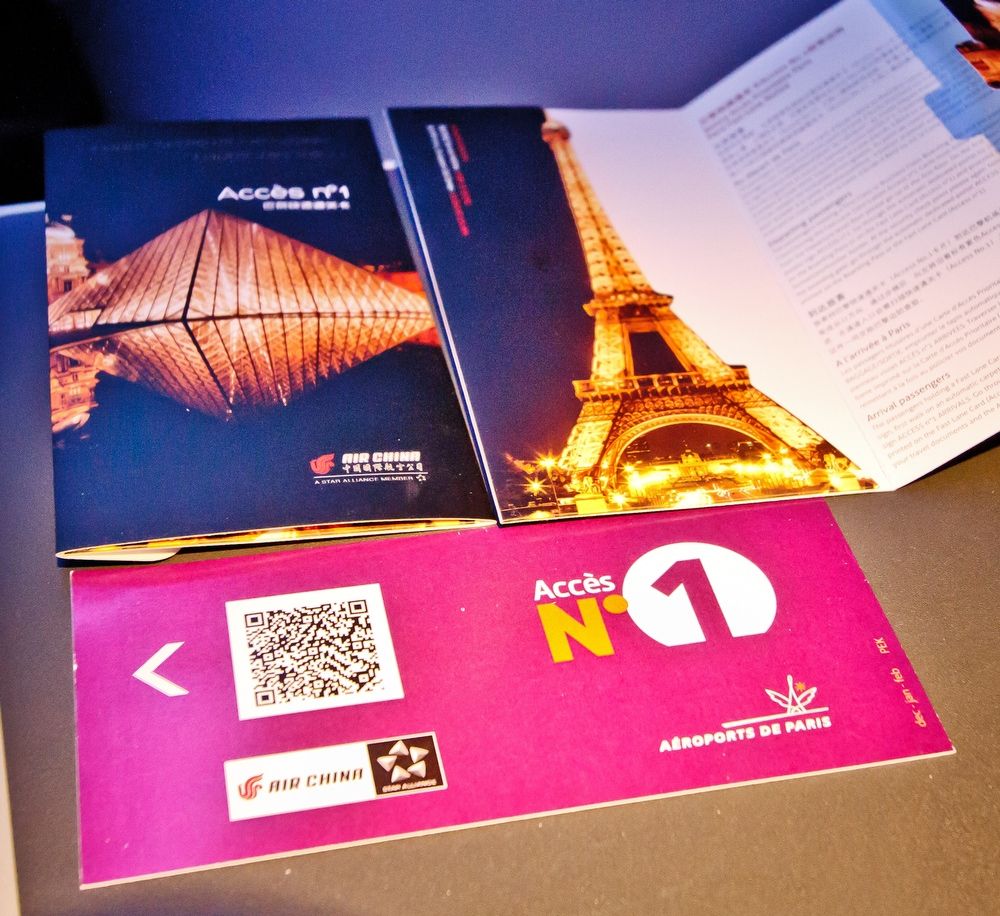 Jan 18, 13, 5:52 pm
Very nice trip report - This certainly raises my view of Air China in C.
Looks like you had a great flight
.
/AE
Jan 18, 13, 5:58 pm
Join Date: Sep 2006
Location: PHL
Programs: Former long-time US GP; now AA dirt
Posts: 4,903
Thanks! My take is that CA decided to copy OZ's C service, except the CA FA's were told to smile more!
Jan 18, 13, 6:00 pm
Join Date: Dec 2010
Location: LHR
Programs: Accor PLT,Thai Silver, HH Dia, SPG PLT, TK Gold, M&M S, BA Silver, Hyatt Dia
Posts: 3,757
Thanks for the report. What was the aircraft?
Jan 18, 13, 6:11 pm
Join Date: Sep 2006
Location: PHL
Programs: Former long-time US GP; now AA dirt
Posts: 4,903
Jan 18, 13, 6:40 pm
Join Date: May 2009
Location: DFW
Programs: AAdvantage Platinum, Hilton HHonors Gold
Posts: 2,652
C and F product on the 777-300 is reportedly of very good quality. Can't wait to try it (soon)!
Jan 18, 13, 6:48 pm
Join Date: Sep 2006
Location: PHL
Programs: Former long-time US GP; now AA dirt
Posts: 4,903
Jan 18, 13, 6:56 pm
Join Date: Dec 2010
Location: Indianapolis
Programs: Hilton-Diamond Lifetime Platinum AA UA, WN-CP, SPG Gold.
Posts: 3,900
AA shares the lounge at PEK with Air China..nice feeling being above it all...
Jan 18, 13, 7:33 pm
Nice report..
that vegan meal actually looks tasty...
and I tend to hate anything related to vegan....

FDw
Jan 18, 13, 7:38 pm
Join Date: Aug 2011
Location: WAS
Programs: SPG Plat75, HH Gold, Kayaker/Freeloader on UA, AA, US, DL, BA
Posts: 1,628
Very nice report. I just advised a friend to avoid CA based on some older trip reports I'd read, but this certainly changes my view of them.

Glad to hear you had a great trip!
Jan 18, 13, 7:44 pm
Join Date: Jan 2013
Location: Hong Kong
Programs: AsiaMiles
Posts: 1
Of course, pal, it is CA flying international route. They charge top dollars. You should fly CA within the Asia Region or domestic within the country, have your comparison. Anyway, it is always encouraging to see services being appreciated.
Jan 18, 13, 9:21 pm
Join Date: Sep 2012
Location: Portland, OR
Programs: Hertz #1 Platinum, SW A-List + CP, Marriott Gold, Hilton Diamond, Best Western Diamond
Posts: 57
Beautiful photography. If only Oyster did reviews of airlines! You'd be hired in a second.
Jan 18, 13, 9:45 pm
Join Date: Apr 2001
Location: Indianapolis, IN USA
Posts: 1,968
Jan 18, 13, 9:53 pm
Join Date: Dec 2003
Location: Oakland, California, USA
Programs: AA EXP,AL MVPG,UA Pr Plat,LH,SQ,SPG Plat,HH Gold,Hyatt Expl,Marriott Plat,IHG Plat,Fairmont
Posts: 9,806
Very nice TR. I've read mixed things about Air China. This nudges my opinion in a positive direction. Thanks for posting the shots and comments.
Posting Rules
You may not post new threads
You may not post replies
You may not post attachments
You may not edit your posts
---
HTML code is Off
---