From Mountains to Beaches: Canada - Korea - Japan - Singapore - Indonesia - Maldives
Jan 5, 13, 4:11 am
Join Date: Apr 2010
Location: CGK
Programs: FlyingBlue | Krisflyer | SPG | HHonors
Posts: 1,093
From Mountains to Beaches: Canada - Korea - Japan - Singapore - Indonesia - Maldives
---
Trip Report Introduction and Index
Vancouver to Chicago on United First
Hyatt Regency O'Hare and the Purple Pig
Asiana First Suite Class Part 1
Asiana First Suite Class Part 2
Asiana First Suite Class Part 3
Asiana First Suite Class Part 4
Asiana Domestic Economy to Jeju
Hyatt Regency Jeju and the Island
Park Hyatt Seoul
Sheraton Seoul D-Cube
Sights in Seoul and the Gyeongbokgung
Asiana First Class on 747 from Incheon to Narita Part 1
Asiana First Class on 747 from Incheon to Narita Part 2
Sheraton Miyako and Westin Tokyo
Sightseeing in Tokyo
Yokohama and the Sheraton by the Bay
Westin Nagoya and a meal of Hitsumabushi
Sheraton Miyako and sights around Osaka
St Regis and Nightlife at Osaka with a Sojourn to Nara
Hyatt Regency Kyoto and the Ancient Capital
Hyatt Regency Hakone
All Nippon Airways HND-CTS
Kimamaya at Niseko
Jozankei Daiichi Hotel Suizantei
Hotel Gracery Sapporo
All Nippon Airways CTS-HND
Grand Hyatt Tokyo
Air China Business Class HND-PEK
Air China Business Class PEK-SIN
Keraton at the Plaza
SQ Business Class CGK-SIN-MLE
Park Hyatt Maldives Part 1
Park Hyatt Maldives Part 2
SQ Business Class MLE-SIN
What started out as a plan for a ski trip with friends grew larger after I decided to take advantage of a certain airline mileage promotion to obtain Suites class for a fraction of the price. Starting out as maybe a 2 week holiday getaway to Niseko turned into a multi-journey itinerary covering some of the most dynamic economies in Asia. The reason for this was because there was a promotion where I could purchase miles and I knew there was a First Suite class availability for an Asiana Transpacific flight. But they only had one date availability to allow me to meet up with my friends in time at Niseko. This meant that I have to depart earlier than I would have liked to and resulted in an extra 2 weeks of venturing South Korea and Japan. I've been to both countries in the past, and I decided to visit Jeju in South Korea since it was a highly rated tourism destination and there is a Hyatt Regency resort there. In Seoul I decided to split my stays between Sheraton Seoul D-Cube City which is cheaper and closer to Incheon and Gimpo, and of course a stay at the Park Hyatt Seoul, one property that I have seen reviews on and have put on my list of places to stay in. For a Park Hyatt, the rates in Seoul was acceptable since it coincided with a weekend stay.
After scheduling a week for South Korea, and I still had a week of exploring to do in Japan on my own before my sister joins me. My flight to Tokyo from Seoul will be on Asiana First on the 747. And I decided to hotel-hop in Tokyo staying at the Sheraton Miyako which is cheap for a hotel in Tokyo, and Westin Tokyo which is much better and a night I got at a cheap rate through Starpicks, a promotional prepaid rate for a stay in the next 6 weeks that Starwood has for selected properties throughout the world. I had originally planned for a countdown in Tokyo but changed plans halfway, though I would be returning for another stay in Tokyo before leaving Japan. Hotels in Tokyo can be quite expensive so I moved to Yokohama next, which has hotels for half the price of Tokyo and the fact that the Sheraton Yokohama Bay is right opposite Yokohama station, it made perfect sense to stay overnight there. Yokohama is also famous for having the largest Chinatown in Japan.
My destination towards Osaka allows me to route through Nagoya, a city famous for its castle and the biggest city closest to Toyota's Global HQ and Factories. I booked a Toyota Kaikan tour which is free and this was one of the places I yearned to visit in Japan anyway. With this itinerary I was also able to visit my first automobile factory. The stay in Nagoya was at the Westin Nagoya Castle, a hotel just opposite Nagoya Castle which is a replica of the original castle destroyed in WW2. The hotel has a shuttle service from the JR Nagoya station which is pretty good as well and I know that my SPG Platinum status will provide me with a room facing the castle even at the lowest room rate which is still cheaper than a night in Tokyo.
From Nagoya, the journey brings me to Osaka, and since I envision arriving late night on Osaka, I chose a cheap hotel to stay overnight in the Sheraton Miyako Osaka, which is above the Uehonmachi subway station, and easy to access from either Osaka or Shin-Osaka station. The next 2 nights in Osaka was spent in the St. Regis Osaka which is one of the cheapest St. Regis worldwide and a good value with Starpicks availability as well. Having knew a friend working studying in Osaka, I had wanted to meet up with her, and I planned to do a day trip to Nara. The next destination was to explore Kyoto and I scheduled 2 nights in Kyoto at the Hyatt Regency Kyoto, a hotel that deserves a higher status in the Hyatt chain, though I am glad it remains a Regency as that means lower rates than a Grand or a Park. After Kyoto, it was the longest Shinkansen ride to Hakone, a town famous for its onsens or hot springs and close by to Mount Fuji. My choice was also a Hyatt Regency Hakone Resort. Having gotten Hyatt to match my SPG Platinum status, I would be getting complimentary breakfasts in these hotels and managed to upgrade some of the stays to suites with the free suite upgrade vouchers. That was one motivation to choose Hyatt as my preferred hotel chain actually.
From Hakone, I made another one night stopover in Tokyo to collect my snowboard, and this would mean a stay at Sheraton Miyako Tokyo again which was good value for the money in Tokyo. The numerous one-night stays in SPG properties also allowed me to re-qualify as SPG Platinum for the next year which gives me breakfast and club access as well as complimentary internet and standard suite upgrades on availability upon check-in. I had booked a flight from Tokyo Haneda to Sapporo New Chitose with one of the leg being designated to be flown on a 787, all in economy as there was no point in paying more for a slightly better seat in a 80 minute plane ride.
In Hokkaido, I had booked a reservation with my friend, staying at two different places in Niseko for a total of 7 nights with 4 nights at Kimamaya by Odin and 3 nights at M Lodge. The main activity in winter for the whole of 6 days was obviously snowboarding, and that meant sore muscles at the end. This led to a Ryokan stay with breakfast and dinner included at Jyozankei Dai-ichi Hotel Suizantei. From Jyozankei, I would proceed to Sapporo where I had 2 nights booked at the Hotel Gracery Sapporo just opposite the JR Sapporo Station. Due to the late booking of the Sapporo hotel, I had to pay more for a double room used in single occupancy. I figured the extra space is worthwhile since I am travelling with my snowboard gear. But my redemption of miles only brought me to Japan, and I had to book another itinerary to bring me to Indonesia.
This was where I was lucky once again since the same airline company brought back the 'puchase of miles' promotion. I purchased more miles and got myself a ride back to Singapore on Air China via Beijing. The redemption for a North Asia to South Asia routing also had the same rules - one stopover allowed in addition to your final destination. My intended destination was Jakarta, but instead it became my 'stopover' to maximize the redemption value. South Asia included most of South East Asia as well as India, Pakistan, and the Maldives. India and Pakistan necessitated the application of more Visas, otherwise Delhi would sound like a good destination. Thus I managed a routing that includes a visit to visa-free Maldives. The flight out of Japan left 2 days later after my flight from Sapporo and this means I had to stay 2 more nights in Tokyo, where I chose another Hyatt - the Grand Hyatt Tokyo in Roppongi.
The flights to Maldives will be on Singapore Airline Business Class routing from Jakarta-Singapore-Male-Singapore, and my stay in the Maldives will be in the Park Hyatt. In between I will get to enjoy Singapore and Indonesia, meeting up with friends that I grew up with, as well as enjoy the local delicacy in these 2 countries. This trip report has been completed with the last instalment posted and I hope readers will enjoy this report!
---
Last edited by quirrow; Mar 17, 13 at

12:37 am
Jan 5, 13, 4:15 am
Join Date: Apr 2010
Location: CGK
Programs: FlyingBlue | Krisflyer | SPG | HHonors
Posts: 1,093
From Mountains to Beaches - Vancouver to Chicago on United First
---
My first encounter with United was for my second trip to the United States, and it brought me to the 'happiest destination on Earth' - Disneyworld in Orlando, so they were always somewhat memorable even when I was in Economy last time. Today this journal post is on the Domestic First Class which will position me for my First Class flight across the Pacific. It might sound weird for some to travel East from the West Coast for a flight to Asia, but for the Asiana Suites I believe it was all worth it and it gave me a free night in Chicago - the city of skyscrapers (or the city that built America according to the magazine in the SAS lounge).
UA1732 Vancouver International YVR - Chicago O'Hare ORD
STD-STA: 11:00-17:02
Actual: 11:16-16:48
Boeing 737-800 N33294
Seat 2A
US Departures at YVR
When it is my day to depart for the intensely awaited trip, the sky in Vancouver turned a beautiful blue, which is a rare yet nice occurence on a Winter day. Somehow the beautiful drive to the airport courtesy of my brother made me want to stay in Vancouver. But off it is to a quiet street on a Sunday morning for the drive to the airport. Blue skies greeted me at Vancouver's International Airport and also my favourite in North America. The check-in with just me travelling alone was fast and the agent did point out to not being able to print out the Asiana boarding pass which I have to collect at the airport. I had originally not planned to extract my luggage in Chicago and prepared some clothes for the one-night layover but turns out I could not check my luggage all the way through even on the same itinerary. That was a disappointment really. And the US air transport rules also meant I had to bring the luggage myself to the carousel for security reasons. One thing I noticed was how the agent never mentioned the lounge access or showed me the location of the lounges in Vancouver.
Next stop after dropping off my luggage is always the dreaded security check. Travelling to the US from Canada meant that customs and immigration were processed in Vancouver so that when arriving at Chicago, I am treated like any other domestic passenger. Both queues for security and immigration was thankfully short and I passed through in about 15 minutes. That must have been a record, but it just means I have more than enough time to spare before boarding. I went straight to the gate as I didn't think much of accessing the lounge since YVR is such a nice terminal in its own right already with free internet access in the public areas as well. But after say waiting at the gate for 15 minutes, I decided to just find the lounge myself or at least take a walk around. I did find the entrance to the Maple Leaf lounge managed by Air Canada. This would be my first time accessing an Air Canada lounge and it was a fair exchange too, since I headed to United's Red Carpet Lounge in SF while taking Air Canada's business class to Vancouver, now I am gaining access to an Air Canada lounge while taking United First.
Entrance to Maple Leaf Lounge
Reception area of the Lounge
The Maple Leaf lounge in Vancouver while travelling between Canada and the United States is located between gates 84 and 85 on the transborder side of the terminal while my flight is departing from gate 78. With the lounge located on the second floor, there was an elevator which led to a nice sunlit reception area. It was a nice welcoming area, and much better than United's Red Carpet Lounge in SF. Since it was early in the morning, the lounge was serving breakfast and there was muffins, cereals and fruits. Since I had a heavy breakfast of the chocolate croissant I got from Seattle the day before, I skipped on the food choices, but I did go for a healthy banana and some grapefruit juice. There was an espresso machine with a good selection of teas but I skipped on that as well. Reading choices were alright with a good range of magazines covering topics like gadgets, golf, fashion, business and travel.
Lounge Seating Area
Food and Snack Counter
Magazines and Fruits
The lounge is actually a nice place to spend the morning just to lounge and look at planes. There was also a separate dining area overlooking the terminal for those wishing to eat. It is also a fascinating morning as throughout the time I was in the lounge the weather in Vancouver changed from very sunny to cloudy then to rain. How quintessentially Vancouver!
Cloudy View of the Airport
Thus by the time I went to the gate for boarding, the weather was cloudy. There was a separate boarding for passengers by classes and boarding a plane early always have its advantages in being able to settle down and relax for the flight. Once seated in the seat, it was comfortable and wide, and the seats even had enough space to hold my DSLR on the side. Definitely more comfortable than Air Canada's short-haul Business Class on the Embraer jets. The large seat back pockets also held enough space for my Bose headphones and new iPad Mini.
United Airline Seatback Pocket
The completion of boarding indicated a full flight on Business with just one seat left unoccupied. A welcome drink order was taken and a welcome video with Jeff Smisek on the new United was shown. It was quite a nice video actually. The captain indicated through the infocomm system that we will depart from runway 08R with a flight time of 3 hour and 20 minutes.
Take-off Views from Vancouver
Though it was a cloudy day, there was still nice views on take-off. This is another reason to sit upfront since views are nicer and unobstructed. As we gained altitude I browsed through the United inflight magazine and once we attained cruising altitude, the attendant came over and took meal orders from passengers. There was a choice of beef wrap or shrimp salad for the mains. I decided for a lighter lunch and went with a shrimp salad while my seat neighbour took the beef wrap.
Flying past the British Columbian Rockies
The meal was served as we flew past the BC section of the Rockies, and maybe because it has yet to snowed when I left Vancouver, the clear skies showed just little scattered areas of snow over the mountains. Anyway the meal consisted of a cream of asparagus soup and a fruit bowl. The salad was also accompanied by a packet of croutons. A small packet of cookies came with the meal but it was weird since United does serve hot cookies later in the meal service. I got some ginger ale for my drink of choice since I don't expect to get the Canada Dry ginger ale after leaving Canada. Both the salad and soup was actually outstanding and much better than I expected. Definitely the best meal I had in any North American airline.
Shrimp Salad and Cream of Asparagus
Warm cookies was served after the meal and it was definitely the highlight. I mean, who doesn't like warm cookies? The attendant also asked for an order of coffee or tea. Sticking to my routine of trying to just have one cup of coffee I took tea instead, and it was served with a morsel of lemon.
Warm Cookies for Dessert
Tea Service with Lemon
There was also a nice selection of movies onboard the entertainment choices and I managed to watch both Ice Age and the Dark Knight Rises, though having watched the latter on the cinema previously, i skipped some of the more boring portions. The best entertainment came from the windows during the flight as the flight descended in the sunset into Chicago.
Flying past Madison, WI
It was a nice landing and the skies have turned dark by the time we landed in Chicago and it is definitely a treat to sea a stream of planes queueing for landing. I took someshots of the bulkhead seats and my own seat as we waited for the door to open. There was a long wait for luggage upon disembarkation which really negated the fact I was one of the first to reach the baggage claim area. Priority baggage handling was observed though my snowboard arrived at the other side of the baggage claim on a conveyor for odd-sized baggage.
Bulkhead Seats
United Airlines Domestic First Class
On the overall it was one of the nicest flight within North America and the whole trip was comfortable enough. The meal has definitely got to be the highlight here though!
Next up: Hyatt Regency Chicago and the Purple Pig
---
Last edited by quirrow; Mar 10, 13 at

3:47 pm
Jan 5, 13, 7:52 am
Join Date: Apr 2010
Location: CGK
Programs: FlyingBlue | Krisflyer | SPG | HHonors
Posts: 1,093
From Mountains to Beaches - Hyatt Regency O'Hare and the Purple Pig
---
For the layover in Chicago, I picked from the range of hotels near the airport for convenience. Most airport hotels in North America offers free shuttle service, something that offers easy accessibility and convenience for travellers. The fact that the Hyatt Regency O'Hare has just been recently refurbished and that I was able to get it on a cheap prepaid rate during a Hyatt Sale meant this was booked early on. The shuttle service was easy to get to from the airport and the driver was very helpful, as he also made sure I was bound for the right Hyatt since there are 2 Hyatts around O'Hare. The bell desk was helpful upon arrival into the hotel which is a short drive away from the airport.
Entrance to the Hyatt Regency O'Hare
I was ushered into the check-in desk on the second floor while the bellman took care of the luggage. The friendly check-in agent was great as it always is in most hotels. She noticed my new Diamond status and mentioned the benefits which included access to the Club Lounge on the same floor as the reception. I got a room on one of the higher floors but it was a bit of a trek from the reception desk. The room was nice and furnishings show it has been refurbished, though the bathroom is the usual like any other hotel elsewhere. And the hotel still had the awful White Ginger Portico amenities. Luckily I had brought my own shower amenities with me!
King Bedroom in Hyatt Regency O'Hare
One thing that stood out in the room was the pack of antibacterial towelette that guests are provided with to wipe down the remote for the TV. This was a nice touch for guests that not many hotels do put the effort into anymore.
Lobby Atrium
I checked out the evening snacks in the Lounge after checking in, and there was a couple of people in the lounge, though not crowded. It was a relatively small size for the large hotel. The quality of the food and beverages was not bad as far as lounges in America goes. The breakfast spread in the lounge was even better and definitely exceeds my expectations. The lounge attendant was one of the most enthusiastic I have seen and really geared towards hospitality like the check-in agent.
Regency Club Lounge
Breakfast at the Club Lounge
Since I had plans to head to town for dinner, I did not try out any of the lounge food. I did however use this time to get some beverage to refresh myself. On my return from the city, I had tried to enter the club lounge only to be rudely barked at by one of the bellman at the reception counter since he was close by the lounge. Fortunately the lounge agent was still inside and he allowed me to get another bottle of water. And even after all of that, there was no apology from that bellman. Was there even a need to be rude? Can't you politely tell your guests that the club is closed?
View from the Room
The next day when I checked out, another bellman came over to pick up my luggage and I did mention I would be taking the shuttle to the airport. However instead of helping me to load the luggage to the van, he just stood by the entrance, and when he saw I had some tips in hand, he tried to claim them indicating it was he who brought the luggage down. Yes, I can see that, but you aren't doing the whole act, and by being grumpy about it, I had half a mind of not giving any tips. I am a firm believer in being rewarded fairly for your contributions, and this was not it. However on the other hand, the bus driver was being very helpful and cheerful in helping guests with the luggage. All in all, this hotel is an excellent property only marred by the service quality of the people in the bell desk who should not even be in the hospitality line at all. It would be a hotel I would gladly stay again when I have no luggage with me so I have no encounters with the bell desk.
After reviewing the hotel, I should have to say I was also rewarded with excellent food at the Purple Pig in downtown Chicago along the Magnificent Mile. A friend had originally suggested an Italian restaurant close to where he used to stay but I think the restaurant had a change of management because it no longer goes by the same name. Thus I did a search on Yelp and picked upon the Purple Pig. It is a mediterranean bistro serving dishes made primarily from pork. One interesting note was the dishes were quite unique and they came in small portions allowing a solo diner to try up to 3 dishes.
Entrance Archway to the Purple Pig
It took me less than an hour to get to the restaurant from the Hyatt using the CTA blue line from Rosemont station. The day when I arrived, Chicago actually had much warmer weather than Vancouver and it was a pleasant 5 minute walk to the station. The restaurant itself was actually packed and it has an indoor seating area and an outdoor al-fresco seating that had lots of heaters. There was only a couple of empty table out front, so I took it and the servers quickly sprang into action laying out fresh cutleries and took my orders of water which came in a nice bottle. The service from the staff itself would be a good reason to eat here. She was also able to recommend some dishes and all the while being patient in understanding the diners' requirements. In the end I ordered two dishes - fried pig's ear and pork jowl. Out of these the one I found to be more amazing was the pig's ear. I would classify the style of cooking here to be very fusion-like and they incorporate various new ingredients resulting in fresh flavours that I didn't get elsewhere. They could also be comfort food as it was really cheers you up when you are travelling alone! The pig's ear had a mix of flavours and the addition of kelp made the whole mix more palatable. Pickled peppers added the extra kick to the whole dish.
Bottled Water with the Restaurant Logo
The second dish that arrived also had fried egg on the top and it was a dish that the server recommended. The pork jowl was really tender and very nicely done, and came in a small portion. It should be mentioned here that while the food came in small portion, the prices were reasonable, and as the server mentioned, the food was meant to be shared, and I would definitely be back here with a group of friends since I really would like to try some of the other dishes in their menu.
Pig's Ear with Crispy Kale, Pickled Cherry Peppers & Fried Egg
"JLT" Pork Jowl, Tomato, Frisee & Fried Duck Egg
After the dinner, I took the opportunity to capture some night scenes along the Magnificent Mile which is still brightly lit with lights and the skyscrapers that Chicago is famous for along the riverfront.
Magnificent Mile
Skyscrapers of Downtown Chicago
Jan 5, 13, 10:41 pm
Join Date: Apr 2010
Location: CGK
Programs: FlyingBlue | Krisflyer | SPG | HHonors
Posts: 1,093
From Mountains to Beaches - Asiana First Suite Class Part 1
---
OZ235 Chicago O'Hare ORD - Seoul Incheon ICN
STD-STA: 12:00-16:50 (+1)
Actual: 12:35-16:53 (+1)
Boeing 777-200ER HL8254
Seat 2K, moved to 2A due to electrical glitch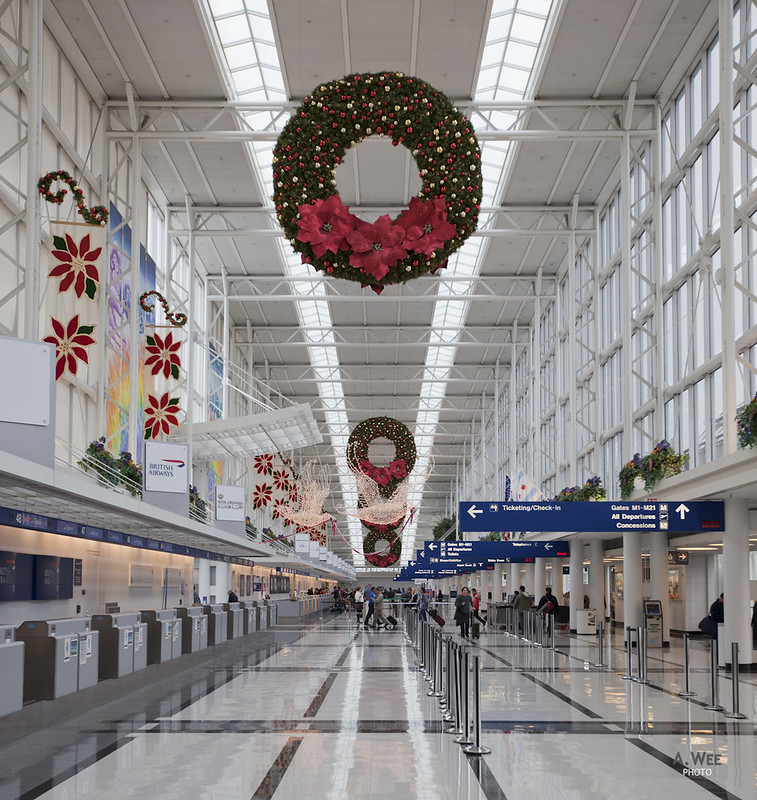 Chicago O'Hare Terminal 5
Once I arrived at Terminal 5 in O'Hare, I went on searching for the Asiana check-in counters and was greeted with a long queue. I thought it was for the Asiana flight but turns out it was for the TACA flight, and Asiana had someone to make sure no Asiana passengers were in the midst of the queue. Check in was efficient and fast, lady who checked me in was pleasant, and my my heart skipped a beat when she told me I was the only one in First Class today. 8 suites all to myself, how wonderful! The confusing part of the check in process was the depositing of my snowboard which I had to drop at the end of the terminal. However the vague instructions given by the agent left me a bit lost. When I asked another airport employee, I was given a wrong direction, so it was really some time lost.
Checking-in at O'Hare
Security had a long queue, but with the First Class boarding pass, there was no wait at the priority lane and I was through in 15 minutes. The first lounge I passed by was the Swiss lounge which is shared with Cathay Pacific. I was rejected entry into this lounge because I think it was occupied by guests on the Cathay Pacific flight and was directed to the SAS lounge beside gate M13, while my flight was departing from M12. Thus I was able to spot the beautiful Asiana 777 on the way to the lounge.
Asiana Airlines Boeing 777-200ER
The lounge had pretty basic snacks, though they had Danish biscuits, which I particularly fancy. I had some potato chips as well to go with it. The lounge itself was pretty small but was not packed. In terms of decor, the Maple Leaf Lounge in YVR was better furnished as the SAS lounge feels like the cafeteria in Ikea. Wifi in the lounge was adequate but there was no English magazines, as all are in Swedish except for the SAS magazine. In the lounge, the check in agent came over and called for my name, as it turns out I had to move to seat 2A due to an electrical glitch in seat 2K. I was half expecting an escort into the plane though, maybe all this 'First' thing is just getting into my head...
Asiana Lounge Invite
The Dining Area
iMacs in the Lounge
Lounge Snacks
Boarding was announced in the lounge around 11:30, and the boarding was nearly done when I exited at around 11:40. Only one entrance to the plane, and turning left at the jetway is always special for me! The first thing one notices is the 32 inch TV, largest in the skies I believe... Upon taking out my iPad and headphones, I was immediately helped by 2 flight attendants! All this attention is the drawback when you are the only passenger in First. The ambience is so quiet that it feels like I am ensconced in a private jet. The seat and the ottoman is so wide it takes a stretch to get the slippers, Bose headphones and the amenity kit already placed on the seat. Next up came one attendant who introduced herself as Ms Bang and the other being Ms Kim. She welcomed me to the flight. Next Kim got around to offer me magazines. All of them knelt when asking if I wanted something and it just feels awkward for me... I am pretty sure I was already red-faced at that stage... Then Ms. Bang came over with 2 sizes for pyjamas (large and medium), I think I should fit with medium. And then she came over again to ask me what drinks I would like. No alcohol is served on the ground, but they have ginseng tea with honey, and I would take that since its special! Ms Kim actually came over and poured honey to the tea while holding the tray! Amazing training! As Ms. Bang cleared my tea, I was offered another one but I declined.
First Sight of the Suites
Seat or Suite 2A
Ottoman and 32-inch TV
Ginseng Tea as Welcome Drink
After asking me about my destination, Ms. Bang came and prepared a customs and immigration form for me to fill. Great service so far as the two took care of all the details to make this flight as comfortable as possible. I checked out the rest of the plane and took more photos while waiting for the pullback. All the photo taking led to one of the stewardess volunteering to take a photo of myself in the suite, and who would say no to that? Long queues at O'Hare on a Monday afternoon meant a slow wait for take off and it wasn't until 12:34 that we took off.
Amenities onboard - Slippers, Amenity kit, Bose Headphones and Pyjamas
The Seat in the Suite
Touch Screen Suite Controls
---
Last edited by quirrow; Mar 10, 13 at

3:47 pm
Jan 5, 13, 10:44 pm
Join Date: Apr 2010
Location: CGK
Programs: FlyingBlue | Krisflyer | SPG | HHonors
Posts: 1,093
Currently all the photos posted so far are using my Canon 5d mkII with either the 16-35mm lens or the 50mm f1.4 lens, though I will post some photos at the later stage with those taken from my iPhone 5.
Jan 5, 13, 10:50 pm
Join Date: Apr 2010
Location: CGK
Programs: FlyingBlue | Krisflyer | SPG | HHonors
Posts: 1,093
From Mountains to Beaches - Asiana First Suite Class Part 2
---
Take off was pretty quick and we were off above the clouds! The cloudy day in Chicago meant that there wasn't much views to be had on take-off. Immediately after the seat belt sign was turned off, the senior purser came over to close all the windows, and the wonderful Ms. Bang came over to provide the menu and explain that first class passengers can order the meal at anytime and i went ahead for the meal to be prepared in half an hours time. I chose to mix and match the order taking the Korean course with an additional cheese cake dessert. Whilst waiting for the meal, i played around the seats and the senior purser spoke with pride of the new plane.
First Class Menus
Front Middle Seats
I also explored the first class lavatory a bit before meal service started. It was small like any other lavatory, and a far cry from the one in the 747 of Cathay's First Class. There was ample amenities stocked inside including toiletries from L'Occitane and their Green Tea fragrance. It was an ample space to freshen up I guess, though they only had one lavatory for the whole cabin of 8 in First, with a separate lavatory for crew only.
First Class Lavatory
Lavatory Amenities
Seat in Full Recline Bed Mode
One of the things I enjoy most flying is being able to watch movies while having the meal. And in Asiana Suites, this is done in full HD with their 32-inch screen. Thus I started watching The Bourne Legacy with the commencement of meal service.
HD Movie with Fine Dining on a Jet
Started the meal service with dates and pine nuts, and I had more ginseng tea with honey! Perfect combination ever! Next came the caviar service, and the generous portions with a mother of pearl spoon surpassed Cathay's caviar offerings. I ordered champagne with the caviar and Ms. Bang actually proactively offered both the Taittinger and Pol Rogers, with my taste buds preferring the latter. After the amazing caviar, the prawn appetizer with pine nuts was somewhat disappointing!
Starter of Dried Date, Ginseng and Pine Nut
Caviar service will all the Sides
Shrimp Appetizer with Pine Nut Dressing
However the next Korean starter of Pumpkin porridge is actually more like pumpkin bisque and it was delicious and served to warm the taste buds. This was a good soup to follow on to the next course of Bibimbap with Bulgogi short ribs, which was a very filling main course. The bibimbap is very tasty though the short ribs was somewhat tough and taste a bit like jerky. I've definitely had better short ribs in Vancouver!
Korean Pumpkin Porridge "Hobakjuk"
First Class Dining of Korean Bibimbap
Korean Galbi BBQ Short Ribs
The side dishes of kimchi, egg rolls, seaweed and sweet anchovies was a nice accompaniment as well. I even asked for more seaweed to snack on. I had both the Korean and western desserts and it comprised of three plates, namely fresh fruits, Korean traditional sweets and the cheesecake! Paired with the icewine, it was just heavenly!
Korean Side Dishes
Pouring Pol Roger Cuvee Sir Winston Churchill 1999 Champagne with the meal
Fruit Platter
Korean Traditional Sweets
Cheesecake with Blueberries
Jackson-Triggs Vidal VQA Icewine 2008 to end the meal
Finally, Ms. Kim came over with truffles and offered me their whole selection of teas! That is what I call great service, though being the only passenger with 2 attendants definitely helped. The whole experience till this point was flawless, and definitely better than my Cathay Pacific First experience.
Tray of Tea Selection
Pralines at the end
Jan 7, 13, 7:36 am
Join Date: Apr 2010
Location: CGK
Programs: FlyingBlue | Krisflyer | SPG | HHonors
Posts: 1,093
For sure, the Purple Pig is one place I would return to if I find myself in Chicago once again!
Thanks, I will post another flight on Asiana in their old First configuration for the ICN-NRT flight as well later, do wait for it
Jan 7, 13, 7:43 am
Join Date: Apr 2010
Location: CGK
Programs: FlyingBlue | Krisflyer | SPG | HHonors
Posts: 1,093
From Mountains to Beaches - Asiana First Suite Class Part 3
---
Finished watching The Bourne Legacy after the meal, and Ms. Bang offered to make up the bed if necessary, while I gave the idea of using 1A as the bed, so that left my seat as the lounge. After the meal, I walked around the aircraft as I felt so full, and took this opportunity to try out an empty business class seat. The business seat is definitely adequate though its quite narrow and loses out to the one by Cathay. Or maybe the First Suites just distorts my perception of reality... The flight is quite packed though there are still empty seats in certain rows. Economy is in 3-3-3 seating, and seems to be quite spacious, similar to Cathay's new economy seats.
Flight path after the meal
Turn Down Service
Asiana Business Class Cabin
I changed into pyjamas after the meal and found medium a bit small, thus ended up with a 'Large' pair of pyjamas. The drawback if I could say any was the suite was just too spacious, and the seat was a bit firm. This meant trying out the various seat functions to get the optimum seat settings, which was easy enough with the touch screen pad. The seats and suites controls are accessed easily enough from the LCD screen, and the touch screen worked well, while the entertainment touch screen controller is separately found under the left armrest.
Touch Screen Controllers
Just before I settled down in the other suite, I also asked for playing cards or postcards and Ms. Bang came back with an array of goodies including kids cutout boards too. There are lots of storage within the suites for all these goodies, and apparently there is also a pop-up minibar section beside the TV, but it wasn't filled during this flight. Another thing I liked about the suite was the ambient lighting around the suite which does make a difference for reading, lounging, snacking and sleeping. On the right side was a light screen the size of a tablet and a reading light with an air nozzle. At the back of the chair there is also another light which can be controlled to brighten up the surrounding.
Lighting and Air Nozzle of the Suite
Asiana Kids' Pack
Contents of the Amenity Kit
I took a nap in the prepared bed on seat 1A and had a nice 3 hours sleep. The new plane allowed Asiana to decorate the ceiling with LEDs to resemble a starry sky. Upon waking up, the flight was closing in on the international dateline and there was views of the ice shields near the North Pole. Wonderful scenery kept me awake.
Starry ceiling after dimming the lights
Somewhere near the North Pole
Sunset or Sunrise?
Ms. Kim seems to be on duty now as I do not see Ms. Bang around, and Ms. Kim came over offering snacks but I requested for some chips, not something that Asiana puts on the first class menu, though she went out of the way to get me some from the business class cabin. It came with the chocolates that I chose during the order. With the snacks, I continued to watch another movie, this time round choosing Diary of a Wimpy Kid 3, which was funny. I guess the value of first class is the ability to be like being in your own home while travelling halfway across the globe. I went back to catch another hour of nap time after the end of the movie. It is really difficult to sleep much with the day departure, similar during my first class flight to SF from HK on Cathay.
Snacks of Chips and Pralines
There was more beautiful tundra scenery as I looked out. It should be said at this point that on flights headed to Seoul, the K seats offer much better views.
There's still some time for a nap and I went back to the confines of my suite in 1A.
Suite Signs
Mountain Ranges of Siberia
Asiana First Insignia on the Blanket
Aisle of the Suite Cabin
A short nap later, I awoke and returned to seat 2A before Ms. Kim enquired if I would like the second meal to be served. We are now approximately 3 hours away from Seoul. I decided to order a main course from the dinner menu as i was interested in the lobster. However Ms. Kim needed to check if she could do that, I guess she was the junior attendant in the cabin. The senior purser which is a male never did introduce himself though. He was just staying in the galley reading newspapers. After checking that she could serve me the lobster for breakfast, she proceeded to take the side orders. I decided also to have Shin Ramen as I am a big fan of the Korean spicy noodles! Since the ramen was meant to be a snack, I was served that first. I slurped it down heartily while watching another movie - The Expendables 2!
Movie Options
Shin Ramen Snack