Buried Treasure: UAE Empty Quarter & Beyond to Huvadhoo Atoll, Maldives UA, EY J, Q2
Nov 16, 12, 7:45 pm
Join Date: Oct 2010
Location: YVR - Vancouver, with most winter weekends in Whistler.
Programs: Aeroplan, Alaska MVP, Marriott Platinum / Lifetime Gold
Posts: 4,161
Buried Treasure: UAE Empty Quarter & Beyond to Huvadhoo Atoll, Maldives UA, EY J, Q2
---

Buried Treasure: UAE Empty Quarter & Beyond to Huvadhoo Atoll, Maldives (UA Y, EY J/Y, Q2 Y)

YVR-SFO-IAD-DXB-DOH-AUH-MLE-KDM-GKK-MLE-AUH-DOH-DXB-IAD-LAX-YVR.
Links to my previous trip reports:
The Time Share Presentation, F RTW, Spain, China, Thailand, May 2012.
A visit to Macchu Picchu and Valle Nevado, Peru and Chile. Sept 2011
Travel after the Revolution of January 25, 2011. Egypt. May 2011
A Step Back in Time: The Twilight of Burma, a visit to Myanmar Sept 2010
Trip Planning / Preparation:
In the summer of 2012, it came time to plan the next adventure. Our last RTW in First was a terrific, but a busy experience. We were looking for something a little more relaxing. In doing so, we ended up finding some pretty neat spots – hence our title "Buried Treasure".
Ever since Ms WorldTraveller73 saw the Hollywood Movie: "Sex in the City 2", it was decided that for this indulgent experience, we would be headed to Abu Dhabi. For those not familiar with the plot line of this sequel, Samantha (Kim Cattrall) takes her girlfriends to Abu Dhabi on a free "first class" public relations trip. In the movie, the girls experienced the best of what the materialistic Middle East has to offer; champagne, complimentary massages and sunset camel rides. The trip promised glamour and excitement, if it was to be experienced anything like the Hollywood adaptation. With that, we decided on the United Arab Emirates, with a side trip to a beach-y destination.
Unfortunately, this simple goal created a world of problems.
As Canadian Passport holders, the UAE was not friendly to us as a result of an government relationship between the UAE and Canada that had gone wrong; primarily as a result of poor handling of fifth freedom rights resulting from Emirates desire to fly their aircraft between Toronto and other parts of Canada. These relations led, in part, to the expulsion of the Canadian Forces presence at Camp Mirage, a military base in the UAE in the Canadian efforts of staging toward Afghanistan. It also led to a single entry UAE Visa Fee of an outrageous $250 per single entry through the Ottawa UAE Embassy. This meant that a side trip from the UAE would have cost us 4 X $250 = $1,000 in visa fees. If we flew in and out on Emirates or Ethiad carriers, we would be eligible for a subsidized visa fee of between $80 - $100 per entry. Although there were some hotels that were willing to sponsor guests, a large ($1,200 USD per person) credit card deposit would have to be left with them, to be refunded after faxing in a UAE exit stamp. The whole process sounded unnecessarily complicated and stressful waiting for refunds.
We decided that the work around was to travel to the UAE on United (for the miles and the 50% AE tier bonus since status miles have to come from somewhere), and land 1 hr away from the UAE in Doha, Qatar. We would then purchase a ticket to the Maldives on Ethiad / Emirates, with a stopover in the UAE, making us eligible for the subsidized visa. This way, we kept $850 of the $1,000 we would have needed and saved it toward accommodation later in the trip.
I know many can suggest that there is no good reason to fly United to the Middle East when there are several fantastic air carriers that fly there; Qatar, Emirates, Ethiad. Regretfully, status miles and a 50% EQM bonus had to come from somewhere, so we ended up sucking it up on one of United's longest flights in it's network.
I've gone for lots of photos and details in this report, so you'll need to settle in for a good read to make it to the end (27 posts). I found it hard to pick resorts in the Maldives since the hotel websites aren't always truthful, and those that put up their own photos really helped with the decision making process.
In this report:
United Airlines – Vancouver – San Franciso – Washington Dulles
United Airlines – Washington Dulles – Dubai International
United Airlines – Dubai International – Doha International
Oryx Lounge – Doha International Airport
Etihad Airlines – Doha International – Abu Dhabi International
Grosevnor House, Dubai, United Arab Emirates
Dubai, United Arab Emirates
Qsar Al Sarab Resort by Anatara, Liwa Oasis. "The Empty Quarter".
Sheraton Abu Dhabi Resort, Abu Dhabi
Abu Dhabi, United Arab Emirates
Ethiad Airlines – Abu Dhabi – Male International Nasir Ibrahim Airport
Sheraton Full Moon Resort, Maldives
Moonima Domestic Lounge – Male Nasir Ibrahim Domestic Airport
Maldivian Air – Male Nasir Ibrahim Domestic Airport – Kadhdhoo - Kooddoo Airport
Park Hyatt Resort, Hadahaa Island, Maldives
Inhabited Island Tour – Gemanafushi Island, Gaaf Alifi Atoll, Maldives
Maldivian Air – Kooddoo Airport – Male Nasir Ibrahim Domestic Airport
Ethiad Airlines – Male Nasir Ibrahim International – Abu Dhabi International
Etihad Pearl Business Lounge – Abu Dhabi International Airport
Etihad Airlines – Abu Dhabi – Doha
Marriott Hotel Ras Abu Aboud & Doha, Qatar
United Airlines – Doha International – Dubai International
Marhaba Lounge, Dubai International Airport
United Airlines – Dubai - Washington Dulles – Los Angeles – Vancouver
---
Last edited by worldtraveller73; Nov 24, 12 at

3:09 pm
Nov 16, 12, 7:57 pm
Join Date: Oct 2010
Location: YVR - Vancouver, with most winter weekends in Whistler.
Programs: Aeroplan, Alaska MVP, Marriott Platinum / Lifetime Gold
Posts: 4,161

United Airlines
Economy Class
YVR-SFO (Vancouver International Airport – San Franciso International)
UA 361 – Economy Class (L)
06:05 AM – 8:23 AM
Oct 4, 2012
Booked: Airbus 320
Flown: Airbus 320
We were up at the ungodly hour of 2:00 AM to get to the airport for our 6 AM flight. Heading east from the west coast, when connections are involved, always seemed to require the first or second flight of the day.
As with most Canadian airports, Vancouver offered US Customs Pre-Clearance before you get on the plane. This allows you to land in the United States and connect seamlessly with other domestic connections.
The airport was pretty deserted when we arrived and our flight was the first flight of the day on the flight board. The Vancouver airport USA departures area has lots of windows, which made the place seem even darker at this hour. At the Premier Check in, there was no one there, but kiosks able to serve us. Eventually, at about 4:10 AM, the staff slowly plodded into their kiosks to start the baggage tagging.
As Aeroplan Star Gold holders, we talked our way into a free Economy Plus upgrade at the check in desk. Unfortunately, after we dropped our checked bags, and cleared security, US Customs didn't start clearing passengers for entry into the secure side until 4:30 AM. We were the first in the Global Entry line waiting to get screened.
To make matters worse, the Air Canada Maple Leaf Lounge was closed. The sneaky company has removed the lounge hours of operation from their website. The hours on the door read 6:00 – 21:00 hrs. But I disgress. We took solace in Tim Horton's Coffee while we waited for our first flight of the day.
There wasn't much to report about on this flight, it was pretty much like any other short haul United flights.
We stopped in at the United Club San Francisco, for me to collect Global Traveler Magazines and for MsWT73 to collect some Tillamook Cheese and carrot sticks. It seems that this lounge has been refurbished since the last time I came through. I still find the entrance to be quite grand for an airport lounge, despite the offerings inside not being super exciting.

United Airlines
Economy Class
SFO-IAD (San Franciso International – Washington Dulles)
UA 516 – Economy Class (L)
09:53 AM – 5:52 PM
Oct 4, 2012
Booked: Boeing 757-200
Flown: Boeing 757-200
Heading to the gate, Ms World Traveller 73 went to collect some Boudin Turkey Avacado Sandwiches from the SFO T3 food court, and I headed to the United Desk to see if there was any opportunity for another free Economy Plus seat.
Checking the monitor, it seems all the seats were full. However, the kind woman was able to get us a regular economy bulkhead for our long haul from Washington to Dubai.
Getting off at Washington Dulles, it was apparent that the airport was showing its age. The United Concourse was pretty uninspiring, but I guess parts of the terminal are over 50 years old.
With a 45 minute connection time, we headed directly to the gate.
---
Last edited by worldtraveller73; Nov 16, 12 at

8:27 pm
Nov 16, 12, 7:59 pm
Join Date: Oct 2010
Location: YVR - Vancouver, with most winter weekends in Whistler.
Programs: Aeroplan, Alaska MVP, Marriott Platinum / Lifetime Gold
Posts: 4,161

United Airlines
Economy Class
IAD-DXB (Washington Dulles – Dubai Internationl Airport Terminal 3)
UA 976 – Economy Class (L)
6:35 PM – 5:25 PM + 1
Oct 4, 2012
Booked: Boeing 777-200
Flown: Boeing 777-200
We made it into the gate area during Boarding Zone 6. The United Maze dragon took issue with Ms World Traveller 73 using the Premier Access lane, despite both our Star Gold Statuses. Somehow with all the boarding pass switches, the status did not carry over to the latest boarding card. Despite her Star Gold Card in hand, the United dragon started to refuse boarding Ms World Traveller 73 the priority boarding lane. "We only go by what's on the boarding pass." she squaked… And "You weren't here when boarding zone two was called" Ms WorldTraveller 73 protested, and protested enough that the gate dragon relented pretty quickly. Her skill of talking back to the carry on dragon police appeared to be easily carried over. Despite the mild embarrassment at a scene starting to develop, maybe it's been a while since I missed a boarding zone call, but strange that boarding at your convenience seemed to miss so much common sense here – especially with a Star Gold Card in hand.
Passing through the backward facing Business First product...
This had to be the longest flight that I had ever taken, at 13 hours and 20 minutes in duration. On board I was happy to see that United had upgraded their entertainment offerings to a full Advanced Video On Demand system. The system actually had a whole stack of movies, and it was actually better than the Lufthansa entertainment system in First Class on their Airbus 330 that I took in May. It made the time pass by really quickly.
Once underway, a beverage service was offered, along with a small dinner. Romaine Lettuce Salad with Tomato, Honey Dijon Dressing, Indian lamb tips with wild rice and a triple chocolate brownie. They're getting creative with the USA credit card promotions however. They snuck this one in there . . .
Duty free was offered on board, but restricted soley to Dubai bound passengers. Passengers to Doha were not permitted to buy any on board liquor due to legal restrictions of bringing in alcohol into the country.
The second service was a quick fast food snack. I didn't quite know what to make of it. Breakfast? Lunch? Either way, it went down quickly. I was pretty hungry and there wasn't a lot of choice!!
Thankfully avoiding Iranian Airspace in a US flagged carrier. . .
On arrival, we had a brief 90 minute stop in Dubai Terminal One. We proceeded through a security check and went to go find the LH Senator Lounge. Unfortunately at 4 PM, the lounge was closed (operating hours 1800-0900hrs), and there were no real alternative available to us as Star Gold. Instead, we viewed the massive duty free in Terminal One. Anywhere with a gold coloured palm tree that's indoors is a bit strange to see, but most eyes were on the shopping. At least for MsWT73...
---
Last edited by worldtraveller73; Nov 16, 12 at

9:03 pm
Nov 16, 12, 9:07 pm
Join Date: Oct 2010
Location: YVR - Vancouver, with most winter weekends in Whistler.
Programs: Aeroplan, Alaska MVP, Marriott Platinum / Lifetime Gold
Posts: 4,161

United Airlines
Economy Class
DXB-DOH (Dubai Internationl Airport Terminal 3 - Doha International Airport)
UA 976 – Economy Class (L)
Oct 5, 2012
Booked: Boeing 777-200
Flown: Boeing 777-200
This is where the scenery started to get interesting. The Dubai to Doha segment was a brief flight. The far back of the plane was almost completely empty; 11 out of 124 seats were taken. Our departure flight from Dubai path took us over "The World" land development, over the Palm Jumeriah, and past the Burj Khalifa. If you are fortunate enough to be flying through this part of the world, the scenery from the plane is pretty unforgettable. Amazing I'd even say...
The amazing thing for me seeing these was that the majority of the islands of the World and the Palm Jumeriah had no buildings on them.
Getting back to the flight, it was considered "dry", with no alcohol being served. There was a beverage service of orange juice or water from a tray, along with a serving of Lay's potato's chips and a Kit Kat chocolate bar.
Our approach into Doha was also over some pretty awesome scenery – dry desert contrasted with the waters of the Persian gulf. There was even the odd oil fire burning down there. Flying in was one of the few places in the world where you can see such a truly harsh environment.
We arrived in Doha to the first of many non gate positions and stepped into heat as the sun fell. Instantly feeling the heat, you could tell the harshness of the light in the air. Everything was grey.
We took the shuttle bus and transferred without problem to the Marriott hotel for the night.
Nov 16, 12, 9:16 pm
Join Date: Oct 2010
Location: YVR - Vancouver, with most winter weekends in Whistler.
Programs: Aeroplan, Alaska MVP, Marriott Platinum / Lifetime Gold
Posts: 4,161
Oryx Lounge
Doha International Airport.
Doha, Qatar
The next morning, our flight was on Ethiad Airways (pronounced ETT-EE-Had). Etihad uses an innovative system, called Plusgrade, to up sell passengers into business class. Ethiad Plusgrade allows passengers who have purchased tickets to bid an amount up to the next class of service. A link in an email sent to your reservation address takes you to a separate website where a sliding scale corresponding to a dollar amount allows you to bid. Each flight is a separate bid and you are notified 24 hours before your flight whether your bid was successful.
Attempting to game the system, I did a dummy booking in business class on the Ethiad main website to check against my already booked flights. The seat maps were 90% full. I pretty much resigned my hopes of getting a business class seat for my 4 segments right there.
I placed near the minimum bid for my first flight and 48 hours later, it was accepted. I received a congratulatory email, confirming me into business, but without the option to select or obtain a seat assignment. I concluded that there must have been some flights with floating upgrade availability, since other flights using plus grade were not immediately confirmed into business, but rather wait listed.
Checking into the business class airport at Doha, there was no wait in line and plenty of well dressed Ethiad attendants in suits. We were checked in within 10 minutes and assigned seats 1A and 1C. We were also presented with a lounge pass invitation for the Ethiad contracted Oryx Lounge.
We headed through security and headed to the Oryx Lounge. It was a pleasantly decorated lounge, although it was completely dry. I'd heard through other Flyertalkers that alcohol was available based on menu cards on request, however that didn't appear to be the case when we visited in the morning. There was a wide selection of canned soft drinks and soft drinks available, along with some light pasty sandwiches. We enjoyed a Nespresso here, but didn't stay too long.
We checked out the duty free in Doha, there was a small duty free section at the shops with a very limited (3-5 brands of each variety) of selection of alcohols. You really had to look hard to find the Vodka's or Gin bottles behind the Whiskies that featured prominently. After checking with counter staff that it was okay to purchase alcohol for UAE, they wrapped it up in several layers of packaging, more so than I have experienced in other airports. I felt like I had purchased something so taboo, that they hid it from any one else's gazing eyes.
Nov 16, 12, 9:37 pm
Join Date: Oct 2010
Location: YVR - Vancouver, with most winter weekends in Whistler.
Programs: Aeroplan, Alaska MVP, Marriott Platinum / Lifetime Gold
Posts: 4,161
Ethiad Airways
Pearl Business Class
DOH-AUH (Doha International Airport – Abu Dhabi International Airport)
EY 394 – Economy Class Plusgrade to Pearl Business (Q)
9:40 AM – 11:40 AM
Oct 6, 2012
Booked: Airbus 320-100
Flown: Airbus 320-200
Heading to the gate, there was no distinct business class line or announcement. Most, or what appeared to be all of the gates at Doha International appeared to be apron, or non gate positions. A new airport is being built, but at the moment, everyone is bussed to an apron position. As we entered into a holding lounge, they boarded the economy class passengers onto a transfer bus first. The business class passengers were kept back in the air conditioning, to be boarded separately and last.
Our final bus came and we had a quick drive out to the Airbus 320-200 that was waiting for us, parked close to the terminal.
On board, we were welcomed into a pleasantly decorated aircraft cabin with a comfortable seat.
We were offered the usual pre-departure drink of water or orange juice.
Our take off path took us northward over the city and into the Persian gulf. We were able to get a great view of the Doha Corniche, along with the IM PEI designed (he's the architect behind the Louvre Pyramids) Museum of Islamic art. (We'll stop by there a little later on in the report).
For such a short flight, we were also offered a breakfast menu consisting of baked goods, yogurt with jam, small pain au chocolat and other pasty items. We enjoyed this with a glass of champagne.
The seat was super comfortable. They were Recaro designed seats and were really comfy for lounging in. We were also given United Arab Emirates Ethiad Fast Track Cards for immigration.
The approach into AUH gave us a glimpse at the newly built Ferrari World, where Abu Dhabi hosts the Grand Prix.
On arrival at AUH, there was a beautifully designed holding area (arrivals and departures were on the same level). DFS duty free was also available after customs in the baggage area. According to the signs, you were allowed to import 5 bottles of wine and 2 liters of the hard stuff per person. Little did I know that this would be the last liquor available for general consumer purchase throughout our entire stay in the UAE.
We stocked up on 2 bottles of wine along with our litre of Smirnoff Red. It was a good thing that we did. I expected the alcohol situation to be limited in availability, but coming from the Americas or Europe, you tend to forget how easy it is to get alcohol until you can't find it anywhere. Aside from the hotel, in the UAE there was no alcohol to be found anywhere (even less than in Egypt in my experience). Convenience stores sold de-alcoholized Budweisers and Holstens. Bottom line: if you are visiting the UAE and want to enjoy an apperativo cocktail in your room before dinner, make sure that you bring the stuff in with you or be prepared to pay high hotel bar prices at $10-$15 a glass.
Nov 16, 12, 9:53 pm
Join Date: Oct 2010
Location: YVR - Vancouver, with most winter weekends in Whistler.
Programs: Aeroplan, Alaska MVP, Marriott Platinum / Lifetime Gold
Posts: 4,161
Grosvenor House Hotel – The Luxury Collection - Starwood Hotels
Dubai, United Arab Emirates.
We picked up a Hertz Rental car which was a lengthy 30 minute process despite being the only person at the counter, and drove the 1 hour and 10 minute drive up to Dubai. The roads in the United Arab Emirates are fantastic, even better than in the USA's Interstate highways. The highway up to Dubai was 4-6 lanes in each direction. There were lots of photo radar cameras along the route but that didn't seem to deter many of the Arab's zipping along on their Mercs. The highway signs are all in English for those of you contemplating self drive on your next trip to the UAE - it's very easy to get around by car.
After some extensive research, I had made a reservation at The Luxury Collection's Grosvenor House. Near the Dubai Marina and Jumeriah Beach, the property was set back 1 block from the beach area. The property also offered a courtesy shuttle to the Royal Meridien Jumeriah Resort and access to its beach facilities and restaurants.
On checking in as a Starwood Base Level member, we were given an upgrade to a partial sea view (with a partial view being, in between the buildings) in Tower One of the same room category. A welcome drink was offered and check in was completed on one of the lobby couches.
We were led up to our room by one of the personal assistants or butlers as they refer to them, a man well dressed in a suit with tails. He explained the features of the hotel and of the room on arrival.
The room was tastefully decorated and had wonderful amenities. Villery and Boch china for coffee and tea, proper wine stemware in the mini bar, suit garment bags available to take with you, GH monogrammed beach bags provided for the trips to the beach, full stationary. Complimentary wifi, Patchi chocolates with turn down service and Bvlgari toiletries and the list goes on.
These were the largest towels I have ever experienced. They were over 6ft in length. "Coral" a plush toy added some spice to the room. The Grosvenor House contributes to sea coral restoration and since it was a unique novelty, Ms WT73 had to have a fresh one when we left.
Being that of our honeymoon, the hotel was kind enough to offer a complimentary bottle of Wolf's Blass Chardonnay wine which was presented on a trolley about 10 minutes after our arrival. The views were also pretty neat with peek a poo views of the Palm Jumeriah.
The Dubai Metro was about 10 minutes walk from the Hotel and there was a range of restaurants in the Dubai Marina that offered "off hotel" restaurant pricing.
For those that are interested - the following are the photos from the Royal Meridien Dubai. The shuttle runs all the time and the Royal Meridien is right on the public Jumeriah beach. Fabulous sunsets daily.
Advantages:
Excellent value for money
Conveniently located.
Excellent features with a high level of fit and finishing.
Disadvantages:
No beach at the resort – 15 minute shuttle ride away.
No refrigerator in the room and the mini bar was too small to accommodate drinks without large amounts of re-arranging. (Upgrade to the apartment rooms for a full fridge)
A long way to downtown Dubai (1 hr by Metro) as with other hotels in Jumeriah / Dubai Marina area.
Nov 16, 12, 10:14 pm
Join Date: Oct 2010
Location: YVR - Vancouver, with most winter weekends in Whistler.
Programs: Aeroplan, Alaska MVP, Marriott Platinum / Lifetime Gold
Posts: 4,161
Dubai, United Arab Emirates
Dubai had some great sightseeing experiences. We didn't go up the Burj Khalifa or have breakfast at the Burj Al Arab, but we did relax.
Some describe this city as a "meh" city. Although it has an artificial flavour to it, I think with a little scratching of the surface, there's lots here to be seen and experienced. As with other hot sunny climates, it was a difficult city to shoot photos in well, without getting lots of glare. We spent a but of time in Diera - Old Dubai, which was the most interesting.
This is the early cooling systems of the older buildings. This one is likely a replica, but it was how the buildings were cooled before the air conditioning era.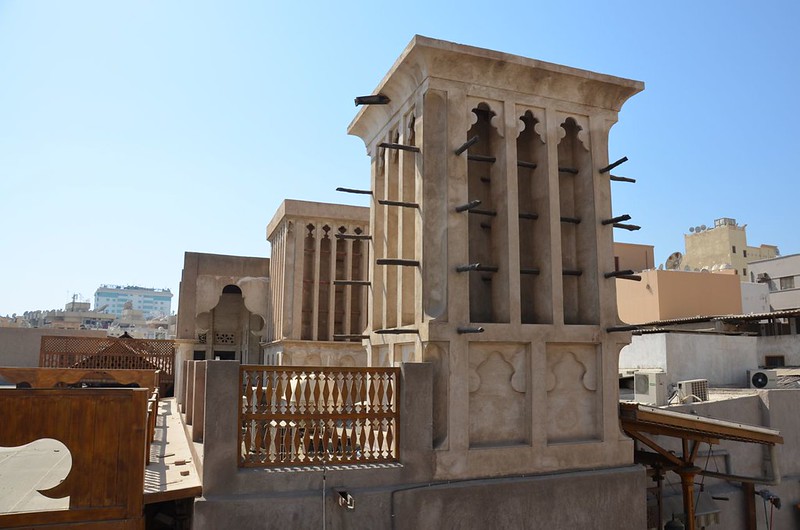 It has its own version of the Hong Kong Star Ferry - a traditional Dhow boat ride for 3 AED Dirham ($1 USD).
Of course, a visit to Dubai wouldn't be complete with out a visit to the 1,200 shop Dubai Mall. And of course, in a world of conservative opposites, they would have both no kissing / touching signs, and a fashion show on display at the same time.
After several days in Dubai sightseeing, we started our UAE road trip, heading down to the Empty Quarter and Liwa Oasis for a desert experience.
On the way, we stopped at the Sheikhs' Hamad bin Hamdam al-Nahyan's private car collection. Called the Emirates National Auto Museum, and located in the middle of nowhere in an austere pyramid, the Sheikh has a car collection of 250 cars. It was probably one of the more bizarre tourist attractions that I had ever seen. I don't know if I'd really even call it a tourist attraction, we were the only ones there on our 1 hour visit. Who keeps a brand new 1996 Ford F150 complete with the window sticker as part of a collection? There was also a custom pickup truck scaled up 70 times normal size, a new Ford Crown Victoria police cruiser with California Highway Patrol markings (parked almost next to a Rolls Royce for that matter), and 7 Mercedes 500 SEL sedans, painted rainbow colors. Surely some eclectic tastes at play here
---
Last edited by worldtraveller73; Nov 17, 12 at

12:25 am
Nov 16, 12, 10:43 pm
Join Date: Oct 2010
Location: YVR - Vancouver, with most winter weekends in Whistler.
Programs: Aeroplan, Alaska MVP, Marriott Platinum / Lifetime Gold
Posts: 4,161
Qasr al Sarab Resort by Anatara.
Desert Discovery (rate included buffet breakfast, one activity for two per day, minimum two night stay)
1300AEDQAR ($260 USD) per night
The Empty Quarter near the Liwa Oasis, United Arab Emirates
I found this place courtesy of the Lonely Planet guidebook. It advertised the ultimate desert experience. The name, Qasar al Sarab means "The Mirage" when translated into English. I booked the Desert Discovery rate, since the rate offered two activities included for almost the same price as the regular room rate.
After about a 2.5 hour drive from Abu Dhabi, we found our way to the hotel through the well marked resort entrance. The road in was about 12 km long. It was a fantastic first impression. Approaching the hotel round about, the report was discreetly designed to fit in to the landscape. I literally had shivers and goose bumps on my forearms (no small feat in the 38 degree weather) as we arrived in our Toyota Corolla. The resort looked that different, and totally cool and chic.
Arriving to the entrance, an army of 5 people rushed to meet us as our car pulled up. (How do you tip 5 people?) We were led in to the wonderful lobby, and the first impressions continued to impress. A massive lantern bar met us with a fountain that ran the length of the building. We were given a date and yoghurt smoothie as they completed the check in process, and led to a golf cart to take us to our room.
On arrival, our driver explained the features of the room and showed us the terrace, even taking the time to explain the light switches for the inside and outside lights.
Welcome dates are the traditional welcome of the Middle East. They were sure tasty!!
The resort continued to impress with most areas taking in the wonderful views of the desert. I couldn't stop taking photographs. It was absolutely surreal to be in the middle of such a natural beauty, yet surrounded by the availability of modern luxuries (like air conditioning!) This place was a wonderful retreat to visit.
Room with a view:
---
Last edited by worldtraveller73; Nov 17, 12 at

1:43 am
Nov 16, 12, 11:06 pm
Join Date: Oct 2010
Location: YVR - Vancouver, with most winter weekends in Whistler.
Programs: Aeroplan, Alaska MVP, Marriott Platinum / Lifetime Gold
Posts: 4,161
Morning camel ride
Qsar al Sarab Resort
Given the extreme heat of the desert, most of the planned activities took place in the early morning or the late evening. Indeed, the temperatures in October rose to about 38 degrees Celsius every since day of our UAE stay. It wasn't so bad when you were poolside, but when you weren't - it was another melting matter entirely!!
Our morning camel ride experience started at 5:45 AM in the lobby. We were the only ones on the camel ride with our guide, Jaleel who was from Morocco. Jaleel drove us about 15 minutes into the desert where we loaded out into 3 awaiting camels. We trekked out into the desert to an isolated dune area where breakfast was waiting for us. Jaleel explained the tracks in the sand, including the animals that were able to survive in the environment.
It was a pretty scenic and surreal experience to see the sun rise across the sand dunes in the middle of nowhere. Being interested in photography, I was able to get lots of photos of ever changing light across the dunes as the sun broke the morning sky.
An amazing experience to be in the middle of nowhere without a sound around.
Dune bashing.
Qsar al Sarab Resort
Later that evening, we went for our dune dashing adventure. Dune Bashing appears to be the thing to do in the UAE and there was no where better than to do it than here, where the dunes were huge!
At 5 PM, we hopped into a Toyota Land Cruiser that was discreetly fitted with an interior roll cage. We traveled a short distance on the main access road where we stopped briefly to lower the tire pressure to 18 PSI from 35 PSI.
We followed another Land Cruiser as we zipped across the dunes. Azmat was our guide, who was an older man from Pakistan who had been working in the UAE since 1995 and had his family back in Pakistan. He explained to us to that there was a structured process to learn how to drive, which included a complex license certification by the UAE government. I've had a lot of experience driving in snow, but I certainly wouldn't feel that I'd be able to do this on my own, without getting stuck.
Our tour included 4 stops at different view points. It included zipping diagonally up and down sand dunes, similar to a snowboarder crossing up and down the sides of a half pipe. You can see the tracks left by the trucks in this photograph.
We crossed these dunes, end to end, on our journey.
It also included zipping down a 45 degree slope. It was another very strange vertigo experience looking straight out of a windshield and seeing the other vehicle directly in front of you. The more I look at these photos, the more bizarre the whole experienced seemed.
Our last stop had juice, water, croissants and snacks available. We arrived to the same spot as the morning camel stop but thanks to the lighting, it looked totally different than it was at 7 AM.
All in all - an excellent resort experience. Definitely a gem yet to be discovered.

Advantages:
It's only 2 – 3 hours drive from Abu Dhabi.
Super luxury setting, in the middle of nowhere.
Excursions that are super cool and unique.
Scenery that is to die for.
Disadvantages:
The drive out to Liwa is pretty monotonous. 2 hours of straight in line driving at a posted 80 km/h. Speed cameras are frequently along the route, making it hard to gain any time.
---
Last edited by worldtraveller73; Nov 17, 12 at

12:26 am
Nov 16, 12, 11:16 pm
Join Date: Oct 2010
Location: YVR - Vancouver, with most winter weekends in Whistler.
Programs: Aeroplan, Alaska MVP, Marriott Platinum / Lifetime Gold
Posts: 4,161
Sheraton Abu Dhabi Hotel and Resort
Abu Dhabi, United Arab Emirates.
AAA Rate, 500 AED ($140 USD) per night
On the day that we left, we got ready for the three hour drive to Abu Dhabi. We filled up our Hertz Rental, a Toyota Corolla for 65 Dirhams ($17 USD: 0.459 cents per litre or $1.75 a gallon). After getting stuck in an evening traffic jam, and after the wonderful stay at the Qsar al Sarab, the initial presentation at the hotel was slightly less than favorable. Sometimes, you just get stuck with a bad hotel, and this was one of them. Starting with no porters at the door, a valet rushing off with your car with your luggage still inside, dated rooms with a tiny footprint, this place had all the cliché's of a disappointing stay.
You'll note a surprising lack of windows in this place!
I was tempted to change rooms, but after being in a car for three hours, all I really wanted was a drink by this point. I went out to our sea view balcony and found the door locked. In addition, our sea view that we paid extra for, was blocked by a tower under construction.
Views as advertised on the website:
Actual "sea view" from our room:
I asked the bellman who delivered the luggage to get the balcony door unlocked and he said he'd have to get housekeeping to come and look at it. Unfortunately, housekeeping never turned up and the balcony remained locked for the balance of the stay.
All in all, quite a disappointing experience. By far the worst Sheraton that I have stayed at and a major let down from the Qsar al Sarab and the Grovesnor House. I won't bother you with the details (yes - there were more let downs), but just make a note to stay elsewhere and you won't be disappointed.
---
Last edited by worldtraveller73; Nov 17, 12 at

12:31 am
Nov 16, 12, 11:34 pm
Join Date: Oct 2010
Location: YVR - Vancouver, with most winter weekends in Whistler.
Programs: Aeroplan, Alaska MVP, Marriott Platinum / Lifetime Gold
Posts: 4,161
Abu Dhabi,
United Arab Emirates.

Despite the experience at the Sheraton, we had a nice brief visit to some of the attractions in Abu Dhabi. We spent the day visiting the Emirates Palce Hotel and the Shieh Zayed bin Sultan al-Nahyan Mosque. We were happy that we had the rental car, because these places were not anywhere near each other, and would have required taxis over long distances (15-20 km) to each.
The Emirates place hotel had impressive grounds and included the strange Gold ATM where you could purchase gold bars using a credit card.
"The Gold ATM" - because the world needs more Gold to Go.
We visited the Shieh Zayed bin Sultan al-Nahyan Mosque in the afternoon and took the 5 PM tour. The mosque was absolutely fabulous, probably the nicest, more glamorous one that I had ever visited. Being newly constructed, it didn't have the history some of the other famous mosques of the world, but like many things Arab, it aimed to impress.
The mosque included several large Savarkosi chaneleiers and the largest hand made carpet in the world, which was built in Iran, bought over in 7 pieces, and sewn together on site.
It's possible to visit the Mosque on an Abu Dhabi stopover, but before you make plans, check out the
Shieh Zayed bin Sultan al-Nahyan Mosque website
to make sure that it's open and you're not here during prayer time. The public opening hours can vary and of course, you need conservative clothing (No shorts and abeyya's are provided and mandatory for women).
---
Last edited by worldtraveller73; Nov 17, 12 at

12:32 am
Nov 17, 12, 12:02 am
Join Date: Oct 2010
Location: YVR - Vancouver, with most winter weekends in Whistler.
Programs: Aeroplan, Alaska MVP, Marriott Platinum / Lifetime Gold
Posts: 4,161
Ethiad Airways
Coral Economy Class
AUH-MLE (Abu Dhabi International Airport Terminal 3– Nasir Ibrahim International Airport)
EY 278 – Economy Class (Q)
9:20 AM – 2:40 PM
Oct 13, 2012
Booked: Airbus 320-100
Flown: Airbus 320-200
Getting ready for the next adventure, we returned the rental car (another 20 minute process involving the car key carrier person, the paperwork processor person, and the person in the back doing nothing but talking on the phone). The rental car return approach was poorly marked and was on the 3rd floor of the Skypark parking garage – apparently no one self drives in this country!!
The check in to Ethiad was pleasant and quick. Our Plusgrade upgrade did not come through this time so we were in the back. Their kind email from Plus Grade that our upgrade offer ($255 USD per person) was "unable to be accepted". There was no lineup for Coral Economy. We got off at the desk with a verbal warning of our bags being 5 lbs over weight (each). :But sir, they are filled with nuts and granola bars and we're headed to the Maldives." This even prompted a knowing nod from him and a brief comment that the Maldives was an expensive place.
There were not a lot of stores on the public side of the terminal, just a lonely magazine stand. The economy check in was next to a completely separate business and first area.
The passport control was immediately after check in and was quick. Security for Ethiad also appeared to have dedicated lanes (both Business and Economy lanes) compared to another flow of lines from other carriers.
The Abu Dhabi airport, like it's cousin in Dubai, had a massive duty free area, including many high end brands like Hugo Boss, Fendi and Salvatore Ferragamo, including all the wine that we would have liked to drink had it been available on the street. Despite the wonderful innovative architecture of the Dubai and Abu Dhabi buildings, the Terminal 3 airport had a pretty boring layout with small hallways and didn't really have many exciting views of the tarmac as the concourse hallways were set back from the walled off secure gate holding areas.
Our flight was leaving from Gate 41, which was on the bottom level of Terminal 3. The gate area was a mess, over crowded with flights to Doha and Brussels leaving from the adjacent gates.
We boarded a bus out to a non gate position. The harshness of the light was apparent still in the mid of day.
On board we wandered into the back in the usual 3-3 configuration.
Etihad plays this fantastic boarding music
(and a credit to
lucky
for finding this link). Somehow Etihad has managed to create a super relaxing boarding contemporary music piece to play when it's passengers board. Like musak, it's played softly enough to be present, and has an Arabic theme that it keeps Ethiad's identity. It became a great way to look forward to our trip on our Ethiad flights. Truth be told, it's even made it to my iPod as the wake up music for my alarm clock at home. It's that groovy.
We were seated in row 8 which unfortunately did not recline as a result of being one row ahead of the emergency exit row. We had attempted to change this at the check in desk, but we were told that there were no other seats available. Indeed it appeared that there were an unusually high number of people switching seats with each other as many couples had been switched up and separated as we started to get underway. Our seat mate in the other seat of the 3 was connecting inbound from Shanghai. She was from Spain on a business trip and wanted to see the Maldives. And I thought I was the master of indirect routings, this was just backwards!
Ethiad offered a pre-departure drink service of water or juice along with a package of sweet nuts in economy. It was the first time I'd ever had a pre-departure drink service in economy before the plane started moving. A great first impression so far!
We were 30 minutes late leaving the apron. We had several aircraft in front of us before take off, including what appeared to be a Presidential Flight on one of their flagged 747's. I'm guessing this because there were many signs for the "Presidential Flight" terminal on the road approach to the Abu Dhabi Airport.
Once airborne, menus were passed out with a choice of chicken, fish or pasta. All meals were prepared to halal standards. I was happy to see a choice of wine available since we had consumed our duty free and by this time, we were in deprivation mode. The wines served economy were Jacob's Creek Chardonnay and Footstep Merlot. The drinks were served at the same time as the meal service.
After the meal service, I explored the AVOD, which was in each seat. There were at least 100 movies available, which were provided through a remote system or touch screen. The flight path was more or less straight over Oman, right down to the Maldives.
We were able to get several refills of the wine, which was brought on a tray on each occasion. Maldivian immigration cards were passed out, with a long list of prohibited items on the cards themselves. Alcohol ranks higher on the no-no list than steroids, spear guns, firearms and explosives.
Before we knew it, we were on the approach to Male. The scenery from the air was wonderful and a bonus for those who were lucky enough to have a window and seated on the left side of the aircraft.
Arriving to a non gate position, it was a quick walk to the Customs' Hall and the collection of our luggage.
The airport itself was in a bit of a shambles, under going a renovation to serve better. After a bag x-ray, we changed $20 USD into Maldivian Rufiyaa for any local expenses. We actually didn't need to have any local currency in the end, but it's always great to have some on hand.
---
Last edited by worldtraveller73; Nov 17, 12 at

1:48 am
Nov 17, 12, 12:57 am
Join Date: Oct 2010
Location: YVR - Vancouver, with most winter weekends in Whistler.
Programs: Aeroplan, Alaska MVP, Marriott Platinum / Lifetime Gold
Posts: 4,161
Sheraton Full Moon Resort
Furanafushi Island, North Male Atoll, Republic of Maldives
Cash and Points 8000 SPG Points + 150$USD per night.
Regular Rate approximately $450 USD per night
After deciding on the Maldives as a destination, I went through stacks of research trying to decide what we wanted from our Maldivian experience. In the end, we decided that we wanted a high end resort, with a fabulous house reef for snorkeling, that was away from all the crowds. We didn't have an unlimited budget either, as it became apparent that a $2,000 per night room could easily be had in this corner of the world. We considered the Four Seasons, the Hilton and the W Hotel however the resort that we ended up booking was the Park Hyatt Maldives – about 400 miles away from Male.
Doing further research on blogs and forums, I discovered that arriving to the Park Hyatt from our flight on EY 278 which arrived at 2:40 PM, meant a resort arrival at 9 PM after all the transfers. I wasn't keen on that transfer time after a 4 1/2 hour flight. We decided to use the Sheraton as a transfer hotel, and to enjoy a Cash and Points $300 discount off of the regular room rate of $450 USD per night.
Sheraton Arrival experience.
We immediately met our greeter outside the secure side of the MLE arrivals hall. After a few turns on a brief walk, we were led out to an awaiting boat tied up. Immediately you could tell that the water was a wonderful color. The hotel ride was 10 minutes away in a smooth older style 45 foot boat. There were 2 other couples on the inbound boat transfer.
On arrival at the welcome dock, we were seated and given a welcome drink while a small army of hosts processed us. Trying to make the most of our short 2 night stay here, I asked where the house reef or the best snorkeling was to be found on the resort, and was told "Err sir, we do not have a house reef or snorkeling here, but you may find some fish under the water villas". (Snorkeling Excursions were available for $50 USD PP between 10:00 –12:30 PM most days). The host took the time to explain all the restaurants and features of the resort, including which restaurants required reservations.
We were led to a golf cart and shown our room on the far side of the resort (about a 20 minute walk island end to end). With a Cash and Points rate, we had booked a basic Beachfront level room, however we appeared to be have been given an modest upgrade, since we ended up in a nice four plex town home on the second floor at the far end of the resort. These beach front rooms were perfect for families as the rooms provided almost immediate beach access.
I was very impressed that they took the time to do this. These were banana leaves that were cut and placed by hand.
The Resort itself was much nicer than our last experience at the Sheraton in Abu Dhabi. There were lots of Asian tourists here. It was a basic 5 star experience, but not an over the top 5 luxury star experience. The grounds were nicely landscaped and required raking on a daily basis to collect all the droppings from the trees.
Room with a view. Mossies: free.
The water villas were quaint, if not compact.
[
Main Pool. Not super exciting:
Lobby:
Prices for the food were reasonable. Pizzas and pastas were $24-27, meat dishes were $32-37 in the cheaper bistro style restaurants. Draft beer started at $6, wine at $11 a glass or at $50 a bottle. All prices had 10% service charge and 6% government tax added at the end. The prices for food and beverage were expensive but not outrageously so. The strategy here seemed to be a lower price point, but also a lower portion size, which actually was appreciated given the ease of over indulgence at the breakfast buffet. Pack your sunscreen though; SPF aerosol suntan spray in the hotel gift shop was $48 USD.
Despite the slightly better than discounts of food, the bills added up. Our two day stay with food and beverage and taxes, with a Cash and Points rate still totaled $850 USD by the time we checked out. The only other caution here would be that if you are here on Cash and Points there is no other breakfast option other than "Feast" buffet at $24 a person.
We did try to find some fish snorkeling. We tried under the water villas as suggested but found the current to be quite strong – in that you had to be continuously paddling in order to maintain a stationary position. We went out for an exhausting swim and over 20 minutes, had only seen 3 fish. We ended up finding more fish on the protected south side of the island. There were some fish, but nowhere near as many as you would hope to have seen for a trip to the Maldives. We perhaps saw 20- 30 fish over 3 snorkeling outings. These dismal photos reflect our snorkeling experience, poor visibility and fish picking away at plankton on the man made artificial wall of the loading dock. Unfortunately, I wouldn't expect to have a great snorkeling experience in the Maldives from the beach of this particular resort. We didn't investigate the excursion, so I can't comment if it's any better.
The Anchorage bar had a wonderful sunset (there was a thundershower the first night and we missed it). There was reef shark feeding at the bar between 5:30 – 5:45 PM, which was a thrill to see. The shore crabs also emerged after the shark feeding and spent the better part of the evening skittering up and down the shore. I personally have not had a more entertaining bar entertainment experience. Ms WT73 also enjoyed the wine tasting experience at the bar – 3 smaller pours for $15 USD – a steal compared to some of the prices we'd see in the future.
Reef Shark Feeding
Sunsets from the Anchorage Bar
In conclusion, the Sheraton was a lovely resort and completely appropriate for families. However, I didn't find it to be too Maldivian an experience. There was no real authentic Maldivian food and the resort could pass for any other resort in Malaysia or Thailand at half the price. One can see construction cranes and parked container ships from the resort itself. The city lights of Male are easily seen during all evening hours. There are hardly any snorkeling fish that the country is known for. Add in the constant flight of sea and jet planes taking off from the resort during daylight hours, and at times you feel as though you are in the middle of an air bombing raid. Having said that, if I was nearby in BKK or SIN, I wouldn't hesitate to fly the 4 hours to get here for an easy weekend break. However, I don't think I would do the same from the Americas where the trip is 25 hrs to stay here, and I don't think I would stay here unless it was on a Cash and Points or other SPG award. However, the Sheraton did make the perfect transit hotel while headed to another resort in the area.
Advantages:
Very close the city – makes for a quick arrival off the plane.
Perfect for use as a transit hotel (despite the $100 pp boat transfer fee)
Perfect for families – with close beach access for the rooms.
Cash and Points offers good value here in my opinion over a hotel stay in Male city.
The resort appears quite well run, despite being a larger volume resort.
Disadvantages:
Not a very Maldivian experience as it is so close to the city
The resort could pass for any beach front resort (Thailand, Mexico etc.)
The hotel is in the immediate flight takeoff / landing path for MLE airport. Most of your stay will have jets flying overhead.
Nov 17, 12, 11:17 am
Join Date: Oct 2010
Location: YVR - Vancouver, with most winter weekends in Whistler.
Programs: Aeroplan, Alaska MVP, Marriott Platinum / Lifetime Gold
Posts: 4,161
MLE-KDM-GKK (Nasir Ibrahim Domestic Airport – Kadhdhoo - Kooddoo Airport)
Maldivian Air
Q2 300, 302 – Economy Class (Q)
9:20 AM – 2:40 PM
Oct 13, 2012
Booked: Dash 8 – 300
Flown: Dash 8- 300
After some hunting around, as I had described earlier, we decided on the Park Hyatt Maldives. It met all the things we were looking for, remote location, excellent house reef, and a unique, isolated experience. Built in 2009, the resort was so remote and new, it had not even made it to Google Earth yet (although it did show up on Microsoft Bing). Even the airport we were to land at (GKK) hadn't even made it to the Great Circle Mapper.
Thanks to another blogger, I discovered that Hyatt offered a 50% off rate (which was an actual true 50% off) advertising on the Ethiad UK version of the website under the specials page. The Terms and Conditions were that you had to fly into the Maldives on Ethiad and credit your resort points to Ethiad Preferred Guest (instead of Park Hyatt Passport). The Park Villa came to $540 per night and Water Villa came to $820 per night. The resort featured 50 separate villa's, compared to the Sheraton's 176 rooms, making for a much quieter and exclusive experience.
I had requested a morning transfer to the Park Hyatt, looking up the flight times to the south of the Maldives on the Maldivian Air website. There was a bit of a disconnect here with Hyatt, I attempted to get the times in advance, but we didn't find out what time our transfer was until 4 PM on the day before we were to leave. Even though we left our arrival information as staying at the Sheraton the night before, I had to get Sheraton to call down to the Hyatt to get the information.
Our boat transfer from the Sheraton left at 715 AM, and we were escorted to the separate Male Domestic Terminal (5 minutes walk from the international terminal) by our Sheraton representative. Jackie, our Park Hyatt representative, met us there and, took our bags for us and escorted us into the domestic Moonimaa Lounge. We entered into a very retro looking but comfortable lounge. There was complimentary wifi, showers and bathrooms available, in addition to small snack items at a free buffet (no alcohol). Aside from some in uniform pilots, we were the first ones in, but the place ended up filling up to capacity by the time that we left.
Similar to a first class air service, Jackie checked us in from the seated comfort of the lounge and fortunately, we didn't have to present ourselves at the Maldivian Air check in counter and worry about the uncomfortable "Sir, your bags are overweight…" conversation again. I had noticed that Maldivian had a weight restriction of 20 kg / 45 lbs on their website so we managed to squeak by that issue.
The process of getting to the Park Hyatt was another adventure, but thankfully it was all arranged by the Hyatt for a transfer fee of $427 pp (now $470 pp). The transfer involved a 1 hr flight on a Maldivian Air Dash 8- 300, stopping at to KDM airport along with a continuation to the new GKK airport. From previous reports, it seems that Hyatt used to use the KDM airport (with a longer 50 minute boat transfer), but now they appear to be using the GKK airport (with a shorter 25 minute boat transfer).
Having flown a lot on the dated Dash 8 equipment type in Canada, it was a bit surprising to hop into one in the Maldives and discover new fixtures and fittings. I didn't think anyone bought new Dash 8's anymore!! I am guessing that a Dash 8 is used over a corporate jet type as it requires a shorter runway.
We had a very scenic trip down over the atolls. We ended up on the left side of the aircraft, which wasn't ideal for island spotting. But we were able to get in some pretty scenic views of some of the 1,100 islands that were in the Maldives. Of note, I think that a float plane would offer a better photographic experience, as the best photos I had were on the ascent and approach to the airports. It's something to consider if you're assessing resorts and want the photo opportunities over the atolls. However, we were still able to see almost every shade of blue that there is in the world. Like many of you, I've spent a lot of time looking down from planes, but I've never seen anything in the world that looked like this.
On arrival to GKK, we ended up in a new airport where the paint was still drying. GKK is served only twice daily by Maldivian - so when the plane comes to town, its the event of the day for this island.
The GKK runway has been freshly cut.
We met our host with the Park Hyatt sign. We were the only two arriving on the morning transfer. The bags were put out onto a counter. Yep - there was not even a conveyor belt here.
We walked with our guide for about 10 minutes along a freshly paved street, past a working Tuna fish factory and its housing compound. The area was totally desolated but serene and beautiful. We had arrived in the middle of nowhere. The locals were very interested in checking us out, as they were all out in the street watching us as we headed to the boat.
On board the boat, which was in an active dock area with commercial fishing ships, we were in for a 30 minute transfer to the resort. As we left the airport island, our luck prevailed. Our host and boat crew spotted dolphins immediately south of the airport island. I don't mean a group of three dolphins – without exaggeration, there must have been 50 or more broken into 6-8 separate pods. Our hosts stopped the boat so that we could get a look at them. There were many photo opportunities and we were even able to get a photo of some right next to the boat. It was a good omen to the start of our stay.
I've never been this close to dolphins in the wild – ever.
---
Last edited by worldtraveller73; Nov 19, 12 at

12:17 pm