Cathay Pacific Premium Economy JFK-HKG RT in October 2012
Oct 29, 12, 6:04 pm
Join Date: Oct 1999
Location: New York
Posts: 6,682
Cathay Pacific Premium Economy JFK-HKG RT in October 2012
---
Cathay Pacific Premium Economy Review
I have just completed a roundtrip between JFK and Hong Kong on Cathay Pacific's heavily promoted premium economy class. Unfortunately I am traveling with my cousin and her family including my nieces (two baby girls and one 2 years old girl), which mean that my hands are tied and I could not take as many cabin photos as I like. However, traveling with children gives me an interesting perspective on how Cathay Pacific handles young families, and these two flights give me very different perspectives, and some crew care, while some really considered you annoyance. I also finally know what infant and child meals look like. About the new PE class, my verdict remains the same – Cathay Pacific Premium Economy is an upgraded economy class product, rather than a downgraded business class product. Most of the amenities are basically upgraded from economy class and some will argue those are amenities that CX has cut previously. My experience with PE is limited to British Airways and I find the seat and the product surpass British Airways but BA seems to treat their World Traveler Plus more as a separate cabin, rather a sub-class of economy class. Before continuing, I will apologize for the lack of information about flight information and plane spotting, since I am really busy with the kids.
Check-in:
There is a separate premium economy check-in line at JFK and here is a picture of it. It is located next to the regular economy class lane, not the premium (first and business class) check-in area. I definitely see it as a big plus, and one thing that most passengers will value. However, your bags are not tagged with priority tags. You get a slightly larger allowance but a big no on priority tag, unless you are elite passengers.
Cabin:
All the JFK flights with PE are flown with these four class Boeing 777-300ERs with first, business, premium economy and economy class cabin. There are 34 seats and here are a few pictures of the cabin.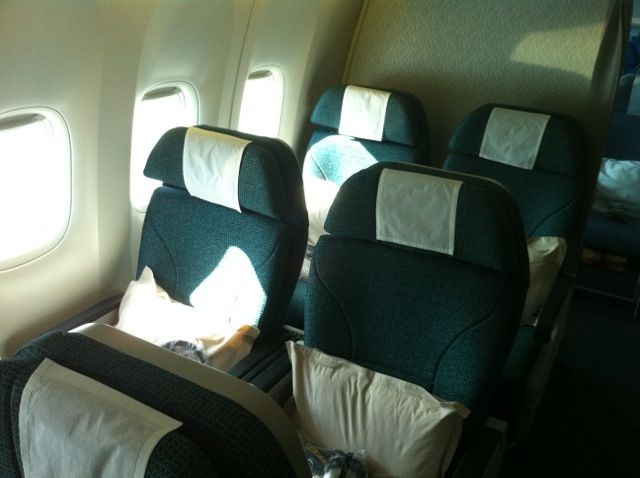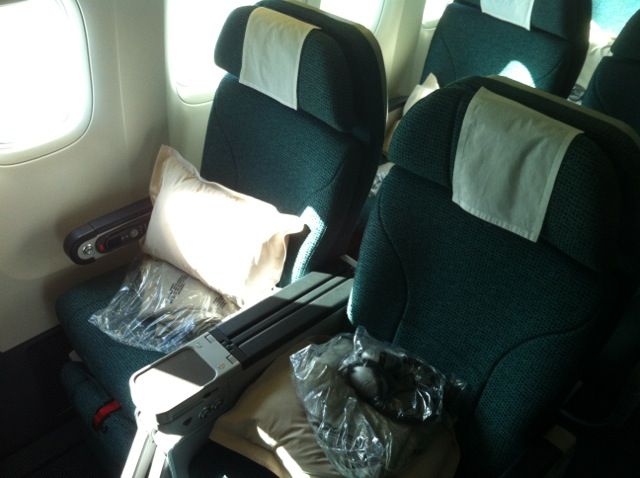 In terms of good seats, 31A and C are the bulkhead row in front of the emergency exit, but those seats have no windows, which is a big no-no. 30DEFG are the middle rows, which are also bulkhead seats. They have lots of legroom, as CX needs to maintain a clear path of exit. However there will be lot of foot traffic throughout the flight, as there is only one dedicated bathroom in PE, which is in front of 32H and 32K, and people have to cross in front of your seats to get to the bathroom, not to mention the overflow from economy class. They can get annoying and invade your space. 32H and K are the other bulkhead seats, which are also where the bassinet seats are. Those seats are surely blocked till the last minute. I sat there for obvious reason and here are pictures of the bassinets.
The legroom is not as good as Row 30 and 31, but at least you get windows and have little bit more legroom than other seats. Since the bathroom is located in front of you, you hear those annoying flush noises, but the noise-canceling headsets should do its jobs. Moreover, all those bulkhead seats have extra legroom but there are less storage rooms, since they don't have those additional seatback storages.
Seat:
Cathay Pacific's premium economy is on par with most of its competitions, except Turkish Airlines' Comfort Class. The seat pitch is 37-38 inches and its eight abreast seating on its 777s is on par with most of the PE cabin, except TK again. In some way, I am glad that CX has gone with a real premium economy product, rather than an economy plus product with just more legroom. However, its seats show really little innovation except the storage spaces for personal electronic devices. I am surprised that it goes against on real attached leg rest on non-bulkhead seats. In terms of power outlets, USD ports, and connectors for apple devices, CX is definitely on top of its game and I give CX credits. The seat recline is pretty nice and on par with some of the domestic first class seats on domestic USA flights. The seats are definitely more comfortable than regular economy class. Here are the close up of seat 32K: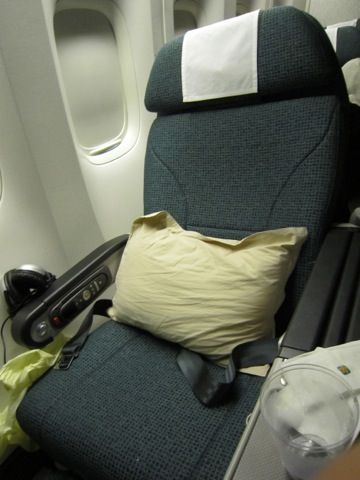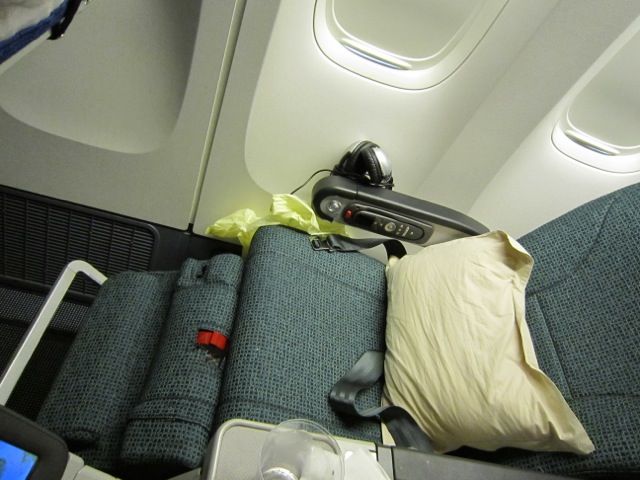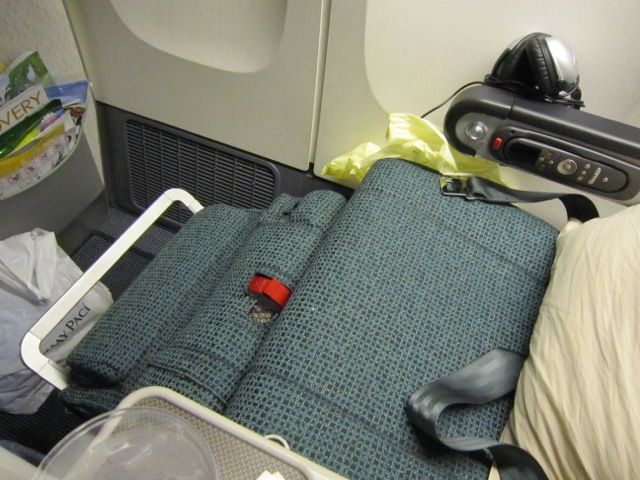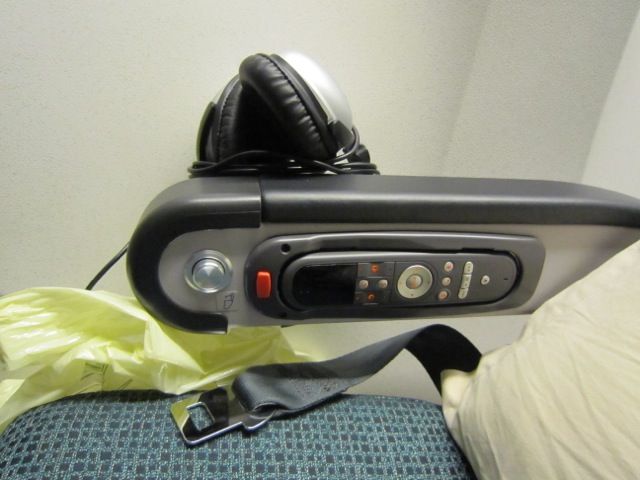 New tray table with a pretty useless cocktail table – too small for a real beverage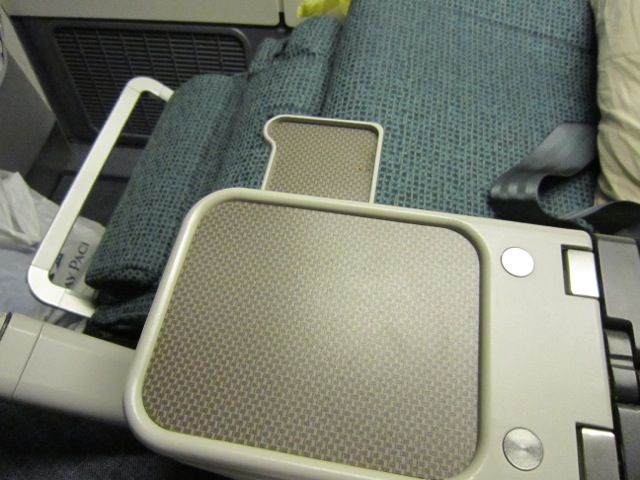 The plastic glass is the typical kind used by CX economy class
Amenities:
The pillow including the cover is the same kind used by long haul business class, and the blanket is the same kind used by current regional business class. Noise-canceling headsets are also available, which are the same kind used in first and business class.
Amenity kit & printed menu
On my return flight to JFK, the new GOD amenity kits are already available but I did not have a picture. Just refer to the press release… However the change is mostly cosmetic. The size is the same as the first generation of premium economy amenity kits. But it is a good promotional opportunity for GOD.
Oct 29, 12, 6:04 pm
Join Date: Oct 1999
Location: New York
Posts: 6,682
Catering:
Cathay Pacific really promotes the catering of the new premium economy class, which mentions that the meal services will feature certain business class elements. I honestly am not impressed and of course I never believe CX promotions. Even in the advertisement, the meals look the same as economy class except the use of metal cutlery, the so-called business class main course, and the business class chocolate boxes on ex-HKG flights. They also suppose to offer pre-takeoff beverages including champagne. Let break it down in reality.
The pre-takeoff beverage is just hard to carry out in reality, especially PE does not have a dedicated galley and there is just way too much traffic in the economy cabin. CX should just stop promoting that and instead, it should promote that there will be a welcoming drink after the plane has reached cruising attitude. Both flights offer the welcome drinks but after takeoff. Please note that PE shares the same galley as EY in the mid-galley near Door 4. The only pre-takeoff service is the pass out of hot towels (same kind used in J/C) and the printed menus.
There are definitely differentiations between PE and EY in terms of meals and snacks. PE has different kind of snacks – supposedly more premium, but they are all packaged stuffs anyway. For the first beverage service, PE passengers will get bag of almonds, instead of peanuts.
However, if you notice, PE also uses plastic glasses and cups, same as regular economy class. Only the champagne on the welcome drink uses real champagne flutes – same as business class. Even the juices and waters are served in plastic glasses. CX should stick with real glasses on the welcome drinks, just for consistent purposes.
The main meal service indeed looks the same as the promotion. The meal tray is the same half tray used by economy class and the starter is served in the same plastic bowl used in economy class, as well as the bowl for dessert and tea/coffee cup. The difference lies on the premium economy linen, as well as the real meal cutlery and the salt & peppershakers are different color from regular economy class. There is no choice of bread roll and the same choice as economy class. The entrée on the first main meal service (for CX 841, the second meal, which is lunch, will feature the J style entrée) is indeed same as business class, but the previous generation of business class casseroles, not the most updated casseroles, which is good because business class should have different meals from PE. The Chinese style entrée is served not in the new plate and bowl style now regular in CX regional and long haul business class. The entrée is definitely better in both quantity and quality than regular economy meals. Dessert is the same as EY – we got Haagen Dazs Vanilla and Almond ice cream bars from JFK to HKG, and small cups of Cookies & Cream ice cream on the flight back to JFK. The meals are served at the same time as EY, same as first beverage service and the tea/coffee service.
The arrival meals are all served two hours prior to arrival, including CX 831. The meals are basically the same served to economy class, except PE gets a different tray cover and the metal cutlery. Even the entrée casserole dishes are the same kind used in economy class. The choices are the same and the only difference is the tray setup. There is no hot towel service prior to the second meal, and the F/As on CX 831 from JFK to HKG at least have the courtesy to pass out the packaged towelettes. However the casserole dishes used on the ex-USA flights look just too much like a generic cheap supermarket microwave meals. I know airline meals are indeed that, but at least have the courtesy to make it more appealing. Quality wise – CX seems to do a bit better on the Chinese options, which I choose usually.
In terms of midflight snacks, PE does not have self-service area same as business and economy class, so if you want snacks, you need to walk back to the EY galley near door four, or ring the F/A call button. The F/As also did at least one major snack pass in PE with dedicated snack baskets featuring different items. From JFK to HKG, there are Sun Chips, granola bars, and packaged almonds, in addition to the usual CX house brand peanuts, Macadamia Nut cookie, Spring onion crackers, and apples. From HKG to JFK, the unique snacks are mini sandwiches, Ruffles' Potato chips, and Granola bars.
Bottled waters are offered as well, and Evian is offered on the ex-HKG flights. The F/As passed them out after takeoff. This feature is definitely much appreciated.
Catering is definitely weak and there needs to be more differentiation from economy class. For the main meals, the tray should be full sized and all the dishes should be PE specific. Plastic dishes should not be used. The starters and dessert should be different from economy class. Real hot beverage cups should also be used. Coffee cups are not that expensive. I don't expect more bread choices, but CX can offer some additional garlic bread or offer a second choice for PE. I don't expect fancy meals, but they should not remind me of economy class meals. The business class entrée is a nice feature and this feature should extend to the second meal service. I don't mind the half tray for the second meal services, but the entrées should be different. I also think CX should use real glasses for the wine services in PE. In terms of mid-flight snacks, the F/As need to make more runs because there are no self-service bars. Maybe CX can consider a small space for snacks and beverages in PE in the future aircraft delivery. But there is space for a small trolley to be placed in front of door three. Maybe CX can put a trolley there for dedicated beverage and snacks for the PE cabin. I agree with most people in various blogs and forums that CX should focus on improve catering rather than the amenity kits.
Here is the menu transcript and beverage list.
CX 831 JFK to Hong Kong
Lunch
Seafood Salad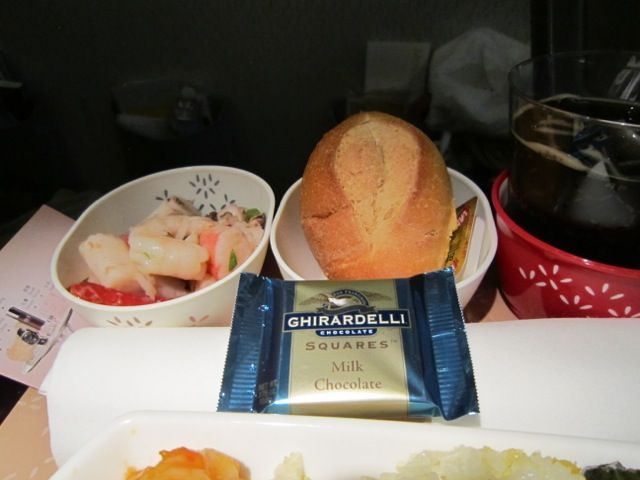 Grilled USDA Prime Beef Tenderloin with shallot sauce, potato terrine, and sautéed asparagus
Or
Wok-fried prawns in garlic chili sauce, egg fried rice, kailan and braised black mushroom
Or
Rigatoni with sage cream and toasted pumpkin seeds
Haagen Dazs Ice Cream
Tea and Coffee
Orange juice and wetnap prior to dinner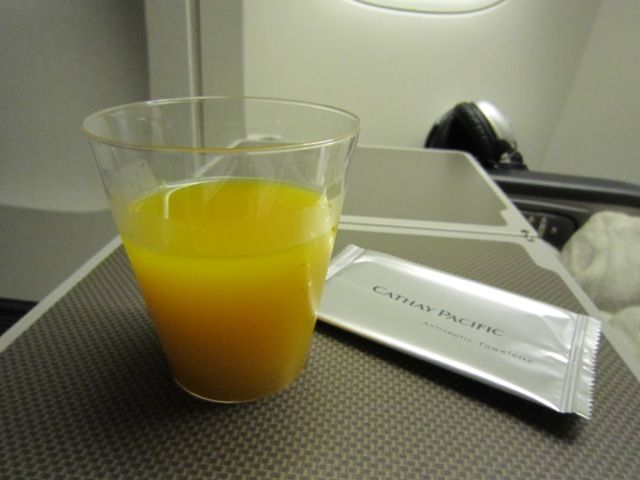 Dinner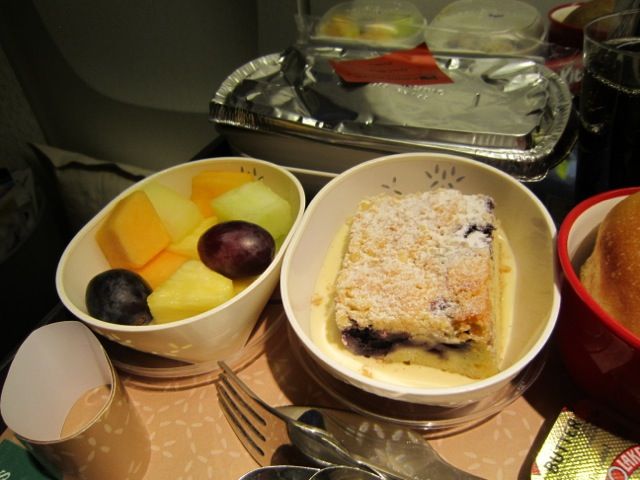 Fresh fruit salad
Sweet and sour pork with steamed Jasmine rice, baby corn and carrots
Or
Chicken with tomato herb sauce, rosemary potatoes, carrot swede mash and asparagus
Or
Penne pasta with marinara sauce and mozzarella cheese
Blueberry crumble with vanilla sauce
Tea and Coffee
Snacks
Cup Noodles and assorted snacks are available throughout the flight.
Spirits and Aperitifs
Chivas Regal 12 Years Old
Johnnie Walker Black Label
Cognac
Vodka
Gin
Rum
Campari
Wines
Germany White Wine
Mosel Riesling Feinherb 2011
Or
South African White Wine
Obikwa western Cape Sauvignon Blanc
French Red Wine
Dourthe Beau – Mayne Bordeaux 2010
Beer
Non-alcoholic beverages
Soft drinks, juices, tea/coffee
831-3162/3143/3144W<10/12>
Oct 29, 12, 6:05 pm
Join Date: Oct 1999
Location: New York
Posts: 6,682
CX 840
Hong Kong to New York JFK
Dinner
Smoked duck breast on vegetable mayonnaise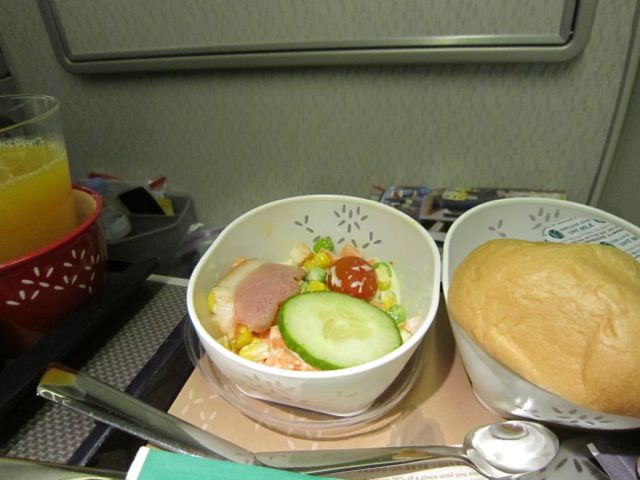 *Wok-fried chicken with black bean, steamed Jasmine rice, kailan with garlic and ginger
CX Signature Chinese dish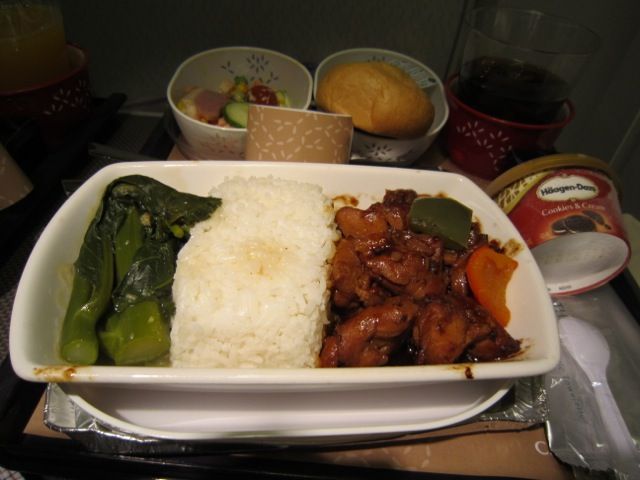 Or
Roasted salmon with Camembert rarebit and tomato concasse, potatoes with herb and asparagus
Or
Saffron fettuccini with tomato concasse and Parmesan cheese
Haagen-Dazs Ice Cream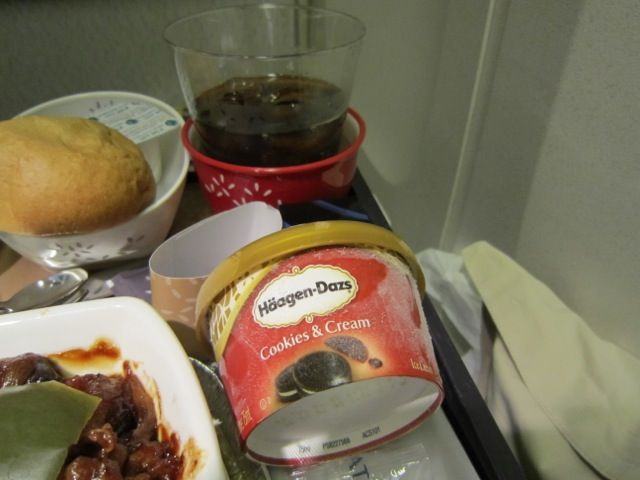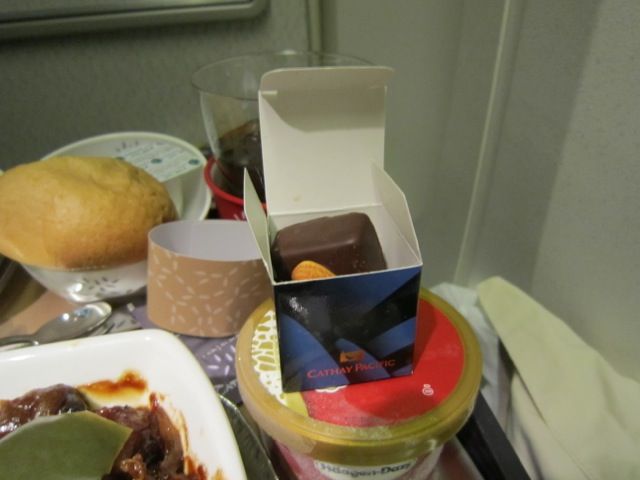 Tea and Coffee
Brunch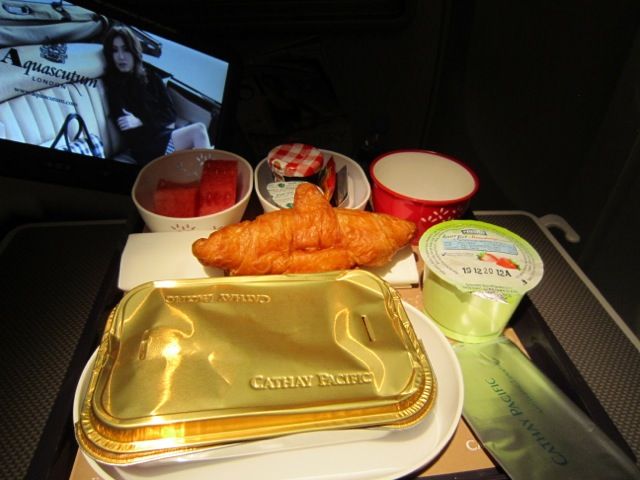 Fresh seasonal fruit
Fruit yogurt
Baked egg with ham and cheese, streaky bacon, chicken sausage, fried potatoes and herb cherry tomato
Or
Braised chicken with mixed vegetables in light soy sauce and rice vermicelli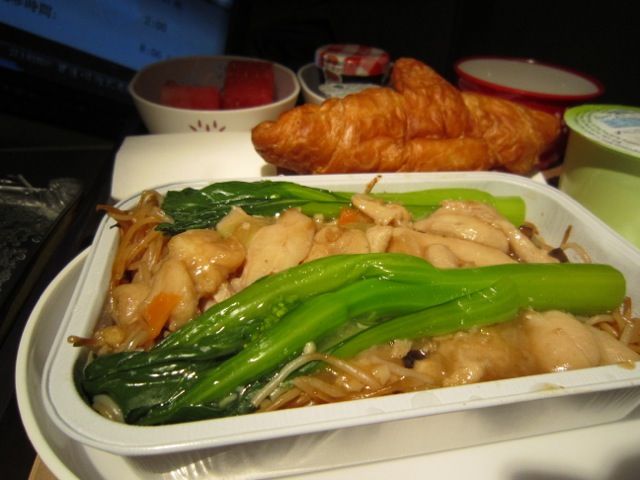 Croissant with fruit preserve and butter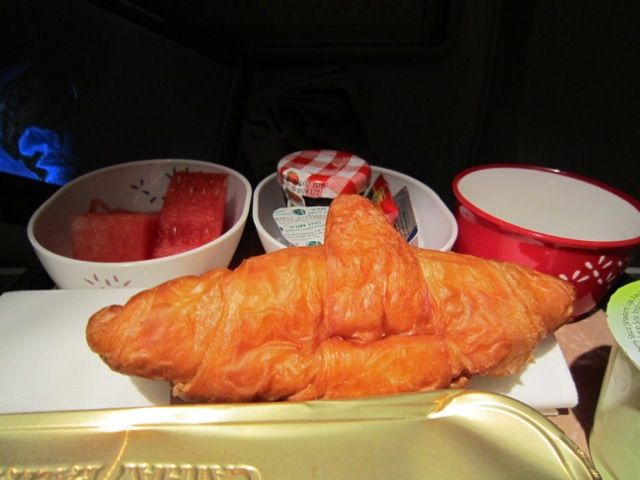 Tea and Coffee
Snacks
Cup Noodles and assorted snacks are available throughout the flight.
Spirits and Aperitifs
Chivas Regal 12 Years Old
Johnnie Walker Black Label
Cognac
Vodka
Gin
Rum
Campari
Wines
Germany White Wine
Mosel Riesling Feinherb 2011
Or
South African White Wine
Obikwa western Cape Sauvignon Blanc
French Red Wine
Dourthe Beau – Mayne Bordeaux 2010
Beer
Non-alcoholic beverages
Soft drinks, juices, tea/coffee
840-31803/31805/31798W<10/12>
Since I traveled with a child and two infants, here are their meals on CX 831 from JFK to HKG
Oct 29, 12, 6:06 pm
Join Date: Oct 1999
Location: New York
Posts: 6,682
Infant meals –
Bottled baby foods and juices for infants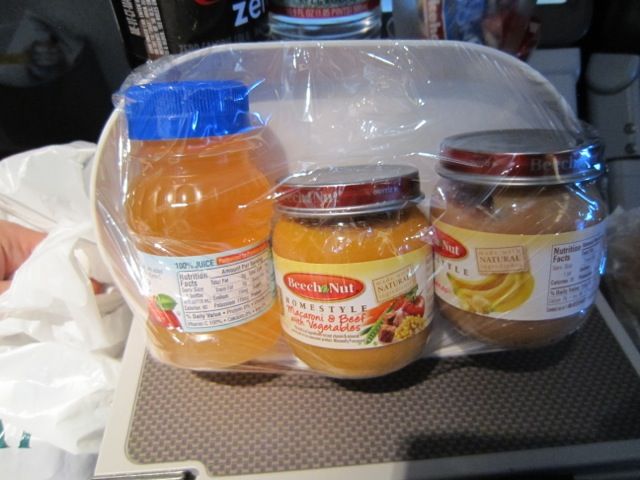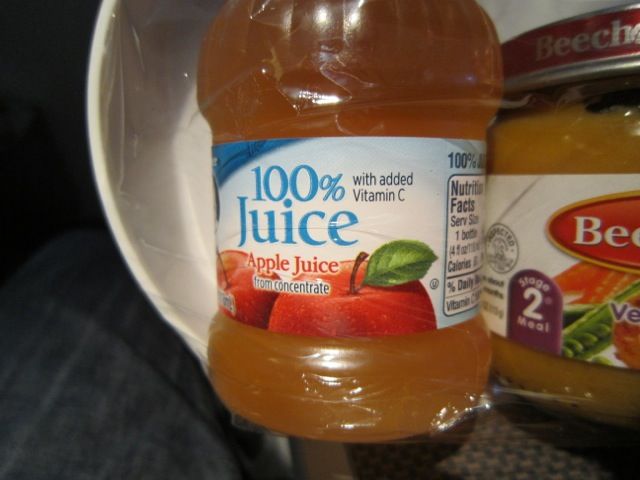 Child meal
Lunch after takeoff – entrée is a breaded chicken nuggets with peas and carrots, and potatoes – my niece barely touched it, except the cute straw and the chocolate mousse and the bread too. The entrée was pretty nasty, as we all know, fried food is a bad idea on plane.
Dinner prior to arrival – pasta dish with the same fruit bowl and dessert as regular meals. Just an additional Vita Soya Milk and cute children cutlery and straw!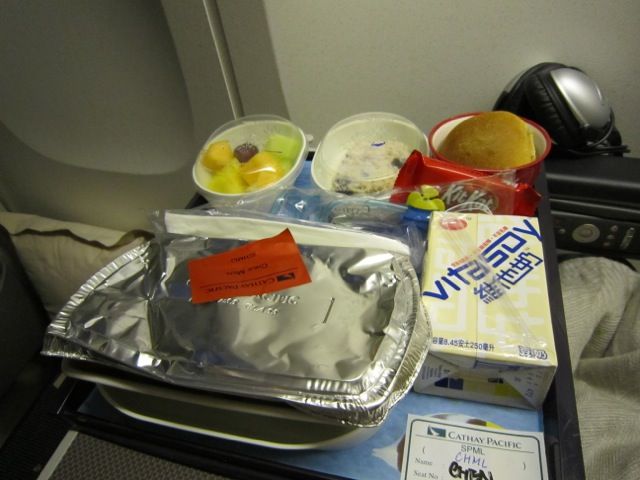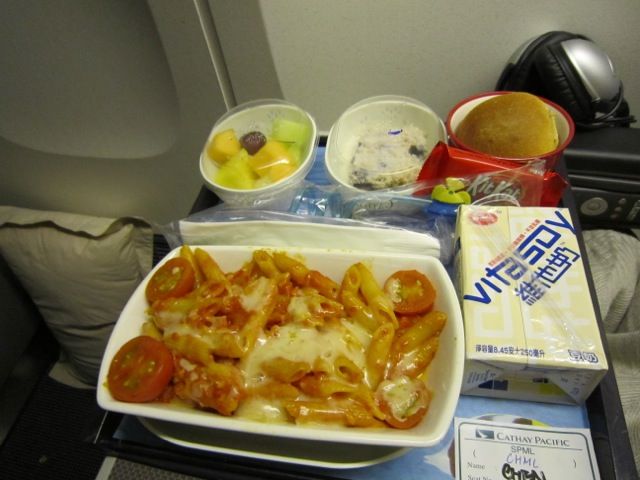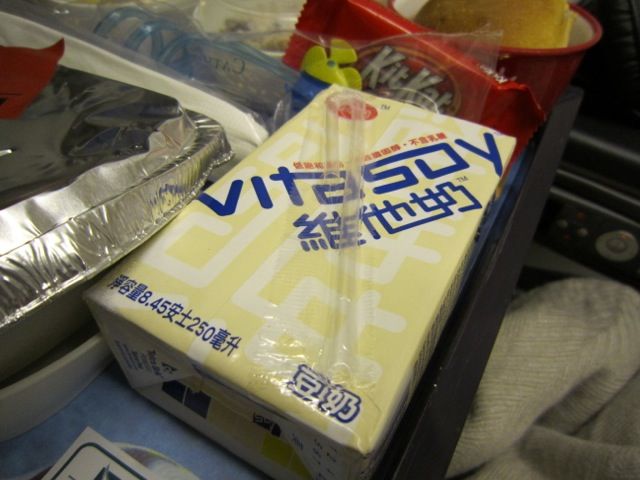 Entertainment:
Personal entertainment system is available and the PE cabin features the same extended library in first and business class (at least on the 77Hs). Power outlets, USB ports, and a multiple apple devices connector, which allows you to stream your own movies and television shows from your iPod, iPhone, and iPad to the personal TV, are all available, but the PTV is not touch screen. CX is changing it, but not on my flights. This is perhaps the best feature on the new CX aircraft, and it is trying to play catch-up with Emirates, and Singapore Airlines.
Personal TV used in the bulkhead rows, and they are not touchscreen – I flew B-KPB and KPJ.
Flight Attendants:
Both flights feature two different sets of F/As, and the crew from JFK to HKG was a delight, while I wish I could say the same to the rather disinterested group from HKG to JFK. However, both flights did not have a dedicated PE F/A, as advertised by CX. There was no additional F/A due to the introduction of PE, which was a serious problem. During all meal services, the curtain was not closed between PE and economy class. The F/A basically worked down the aisle from PE to EY, and the only difference is that PE passengers got a different tray and different entrée on the first meal. I feel that the F/As on our flight from JFK to HKG just work a bit harder, especially the Japanese F/A. She worked the last half of the flight, and basically came through with water on a hourly basis, and a bit friendlier. She also knew how to set up the bassinet correctly, and I should have taken a picture on how messed up the F/A set up the bassinet in the return flight. He basically placed the bassinet in the wrong direction and I could not imagine anyone think that to put the straps on top of the bassinet is a good idea. The infant can easily choke on the strap and I am glad that I notice how this F/A set up the bassinet on the flight from JFK to HKG, so I can do it in the return flight.
The F/As on the return are definitely disinterested except one F/A who worked in the mid galley. She was the only one, who made an effort to inquire about the child meals and to make sure she took our trays out prior to other passengers. All the other F/As were there with their fake smiles and PE passengers were just more work to them. Snack runs happened once at 10:20pm HK time and 4:30am, and water run happened once at 9:50pm. You are expected to use your call button but don't expect regular water runs!
The sentiment is clear that most F/As feel that the introduction of PE is an annoyance and some of them will let you know. I don't expect personable service like in first and business class, but the services needs to be better.
Conclusion:
My verdict for Cathay Pacific Premium Economy Class is that it is an enhanced economy class product that has a few business class elements, but mainly just an improvement from economy class. The main benefit is the seat with the much improved seat pitch from 31-32 to 37-38 especially CX really cramps its economy class cabin. The increased width is appreciated too. If the price is right, I will not hesitate to fly it again. I paid almost $2000 including tax for this ticket, and it is acceptable given the additional space. However, if the price is above $2500, I can't justify it. I also warn to make sure that everyone understands that it is really an economy class product and please don't expect too much! Keep your expectation reasonable and for those business class flyers, this PE product is nothing closed to even the worst J product out there.
Given the product is launched less than six months ago, Cathay Pacific needs to decide on how it wants to proceed. I really feel that the product is a bit underwhelming because Cathay Pacific's promotion wants you to think its PE class is out of the world and a class above other carriers' PE products. But since I keep my expectation reasonable, I am fine and my OW Emerald status makes certain areas of this trip better. The bottom line is that I can sit in PE for the longest CX flight in its network. I have a trip in January and the OW fare from LAX to HKG is $1000 in PE, which I think it is reasonable and may consider it.
In long term, CX's PE can be more successful but it needs to increase the staffing level and at least one more F/A that is dedicated to the PE cabin. The Y F/As will have to help out but one more F/A will make the morale of the F/As in general better. They all hate it, and if you can feel the sentiment as a passenger, it is not a good thing. CX really needs to explain to the F/As what PE is and why CX introduces PE. As a J passenger, the ISM always greet me as an OW Emerald member but the ISM on both flights did not bid me any greeting. Catering is weak and the meal should really be different from regular economy class and the current pre-arrival meal situation is unacceptable. PE should feature its own china, even plastic ware and casserole dishes, even if they share the same starters or dishes. F and J share same kind of entree too, but the portion and the serving ware is different. This should apply to PE too. Add a piece of packaged cheese and a pack of crackers! There are still rooms to improve and CX definitely needs to tweak the service a bit more and the soft side of the premium economy product.
Thanks for reading,
Carfield
---
Last edited by Carfield; Nov 2, 12 at

6:14 pm
Oct 30, 12, 2:15 am
Join Date: Jul 2009
Programs: BAEC Gold, IHG Spire Elite, HHonors Diamond
Posts: 5,913
Most of the food looks lovely (except maybe that pasta dish near the end).

Normally it's just first class in reports so this made a nice change. Seems to be plenty of room seat wise but, from any possible observations, do you lose a lot of space or does it affect the person behind's tray table for eating etc when reclined?
Oct 30, 12, 3:05 pm
FlyerTalk Evangelist
Join Date: Nov 2005
Location: Phoenix, AZ
Programs: AA Gold AAdvantage Elite, Rapids Reward
Posts: 35,344
Wow! What a fabulous TR!! So are you taking 2 twins baby girls to HKG? It will very difficulties time to fly a long flight. I think the baby will have stay at home and they cannot flying. It will very hard to take care with the twins baby girls.
Oct 30, 12, 3:21 pm
Join Date: Mar 2007
Posts: 4,660
Nice report, thanks

What was the regular Y price? if PE is $2000..
I recall price difference was CRAZY when PE first came out (I tested YYZ-HKG)

FYI EVA Air (BR) also has PE product and can be only $200~$500 more than Y
It's a Y product well with longer, wider seats and that's it, and you transfer via TPE (JFK-TPE-HKG), but I'd bet it's cheaper than CX
Nov 1, 12, 6:43 am
Join Date: Oct 1999
Location: New York
Posts: 6,682
Thanks for the kind comments!

When I booked, regular EY is around $1100-1200 with tax included.

I also want to add some of the seats are already showing some maintenance issue. The in-arm personal TV is not very sturdy and on B-KPB, the PTV at 32K cannot stay long in the upright position. I have to force it to stay in position. You also have to press hard to use the legrest and recline the seat.

Carfield
Nov 1, 12, 2:03 pm
Join Date: Feb 2011
Location: DFW/LAX/JFK/LHR
Programs: AAdvantage (PLT), CX MarcoPolo (GO), Aeroplan, VIPorter, HHonors Silver
Posts: 1,821
Good TR, and the food actually looks really good, and perfectly substantial.

I wonder if your expectations were too high. You have correctly identified that this is a step up from Economy rather than a step down from Business. This is exactly how CX advertise and market their PEY, so you should not except too much from it.

I have travelled on CX PEY and VS PEY and I think CX compares well to other PEY products, the only thing that would be better, is if CX had a dedicated PEY galley and FA. The problem is that this is not possible on 77W aircraft configurations.
Nov 2, 12, 6:10 pm
Join Date: Oct 1999
Location: New York
Posts: 6,682
These days I don't have any expectation about Cathay Pacific, even when I fly up front. You never know if you will get a US based or HK based F/As on these transpacific flights, and even some HK based crews are not as good as in the past. I think my expectation for CX PE is reasonable because I don't have any expectation. I know it is an upgraded economy class product and the price that I paid reaffirms my belief.

However I just feel that CX has some issues to work on especially on the soft product size. The F/As obviously resent it, and we all know about the difficult history between CX management and the F/As, and unfortunately we begin to feel the effect of it as passengers now. I honestly never expect a fancy meal in PE, but feel that CX needs to do more to differentiate it from regular EY. A different tray cover and use of metal utensils and the addition of a small piece of chocolate are not sufficient. The pre-arrival meal should be different in some aspects. Not having a dedicated F/A for PE is also a major issue.

I also feel that CX advertisement is a bit misleading, which can lead to certain disappointment.

Anyway, CX PE is okay now, but there are rooms for improvement.

Carfield
Dec 29, 12, 7:30 am
Join Date: Apr 2001
Location: HK
Programs: QF Emerald. CX Nobody
Posts: 2,849
was trying to decide if I pay 45% more than Y for PE or 85% more than Y for ex-TPE I class for my up-coming travel to SYD. Your fine verdict and rational convinced me with my long-held belief that CX Y+ is a scam and stick to Y or splurge on I-fare.

thanks or detailed report.