Air France La Premiere
Jul 6, 12, 2:05 pm
Join Date: Oct 2005
Posts: 174
Air France La Premiere
---
This is going to be a picture report, with only small comments. Not to many La Premiere reports around, so I thought I'd at least post some pictures. Any questions, feel free to ask.
OSL lounge, nothing special:
View from the lounge: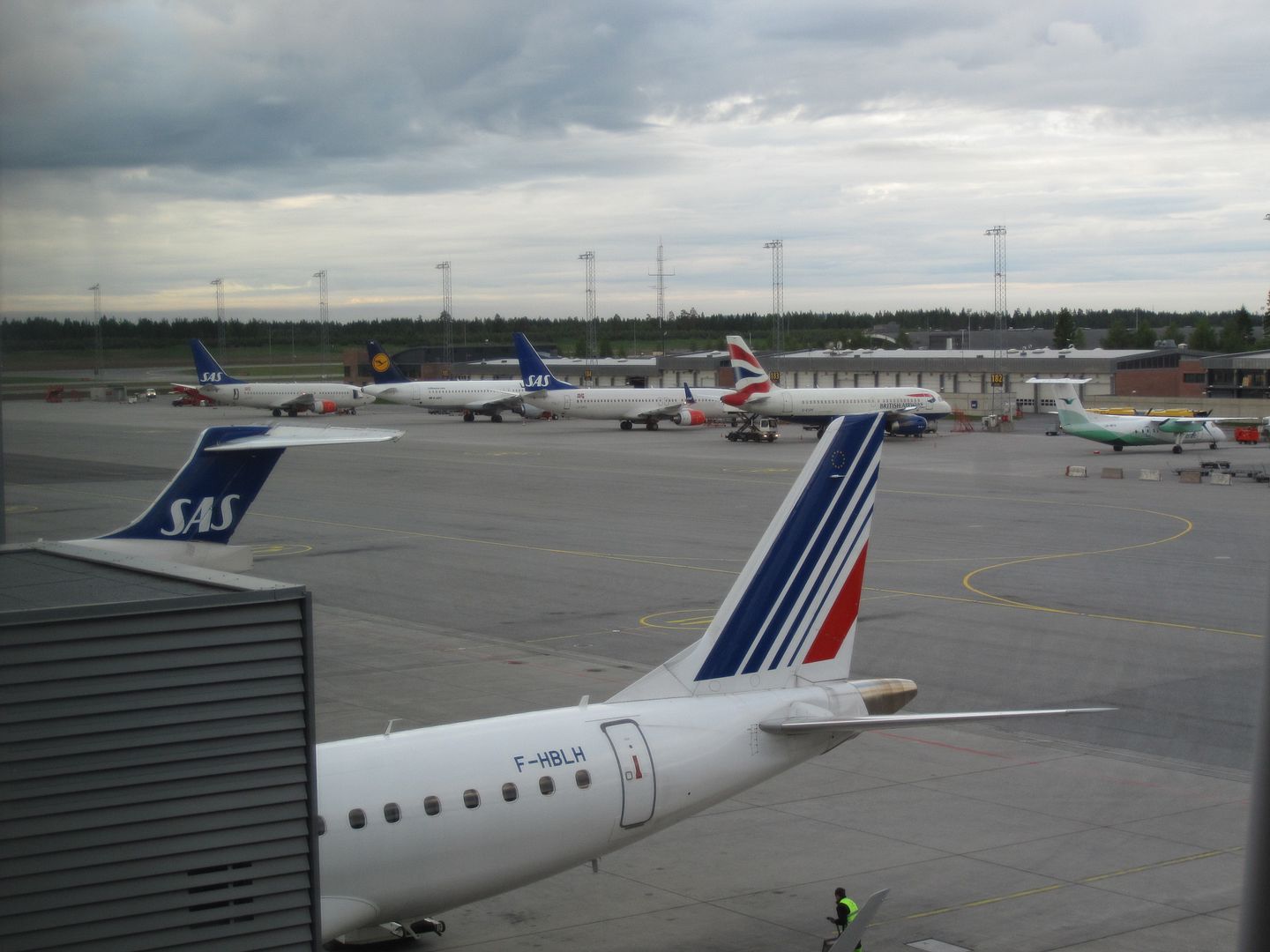 AF1275 OSL-CDG Embraer E-190
Onboard Air France Regonal Embraer 190, not to much space:
Looks like a 73H from 02A:
Not a very impressive breakfast: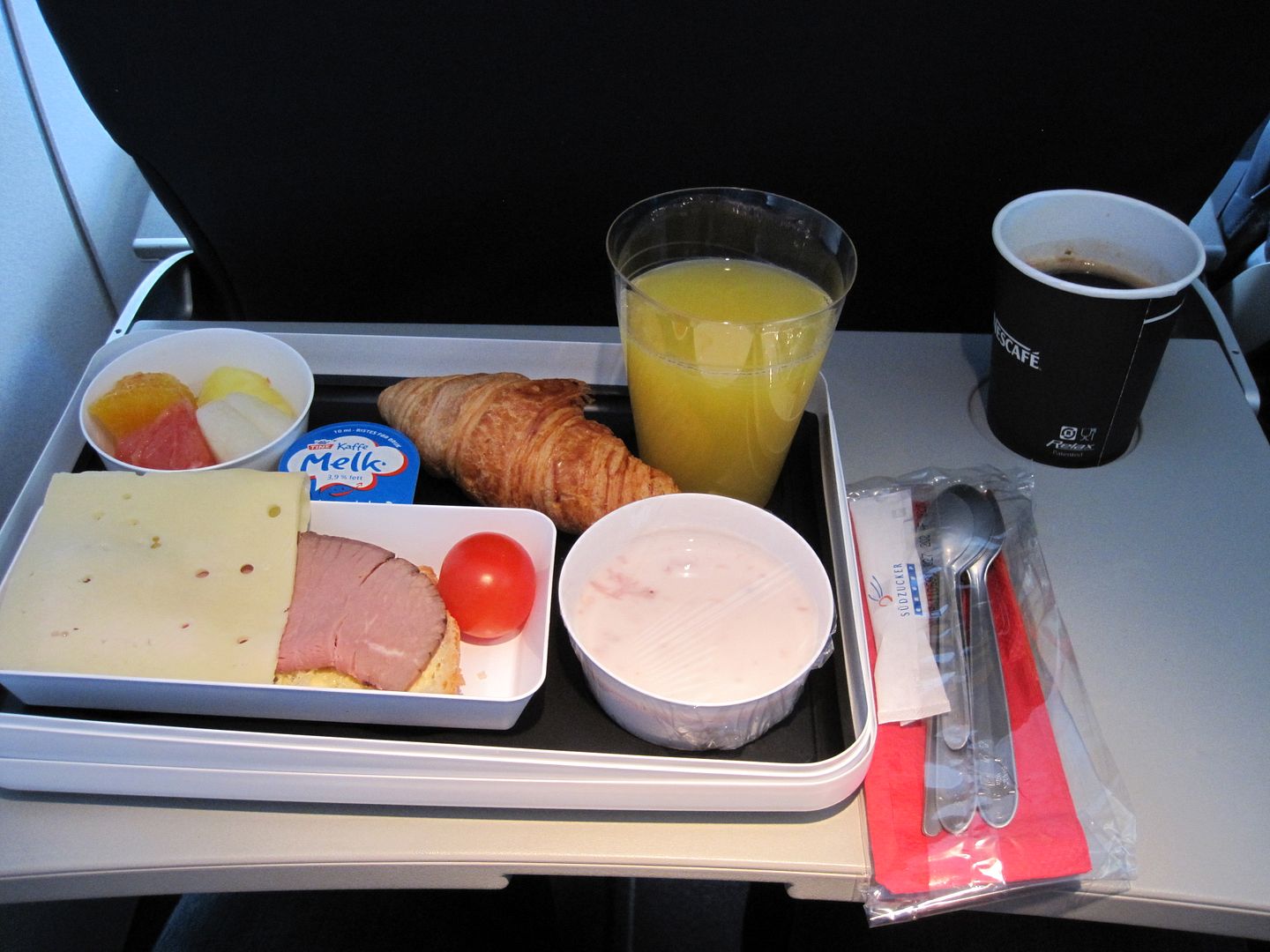 FA asked me about my final destination, and she suggested to get the pilots to check if someone would meet me at the aircraft at terminal 2G. She later confirmed that the assistant would meet me with a car. Great service. Short drive to the separate security check, and then elevator to the lounge.
---
Last edited by Dag; Jul 6, 12 at

2:34 pm
Jul 6, 12, 2:15 pm
Join Date: Oct 2005
Posts: 174
20 minutes the assistant picked me up, and walked with me to the plane. No need to drive, as it was only 3-4 minutes of walking from the lounge. He walked me onboard, and introduced me for the crew.
AF6 CDG-JFK Boeing 777-300ER (replaced the regular A388)
Lanson Noble Rose:
View from 02A:
02A: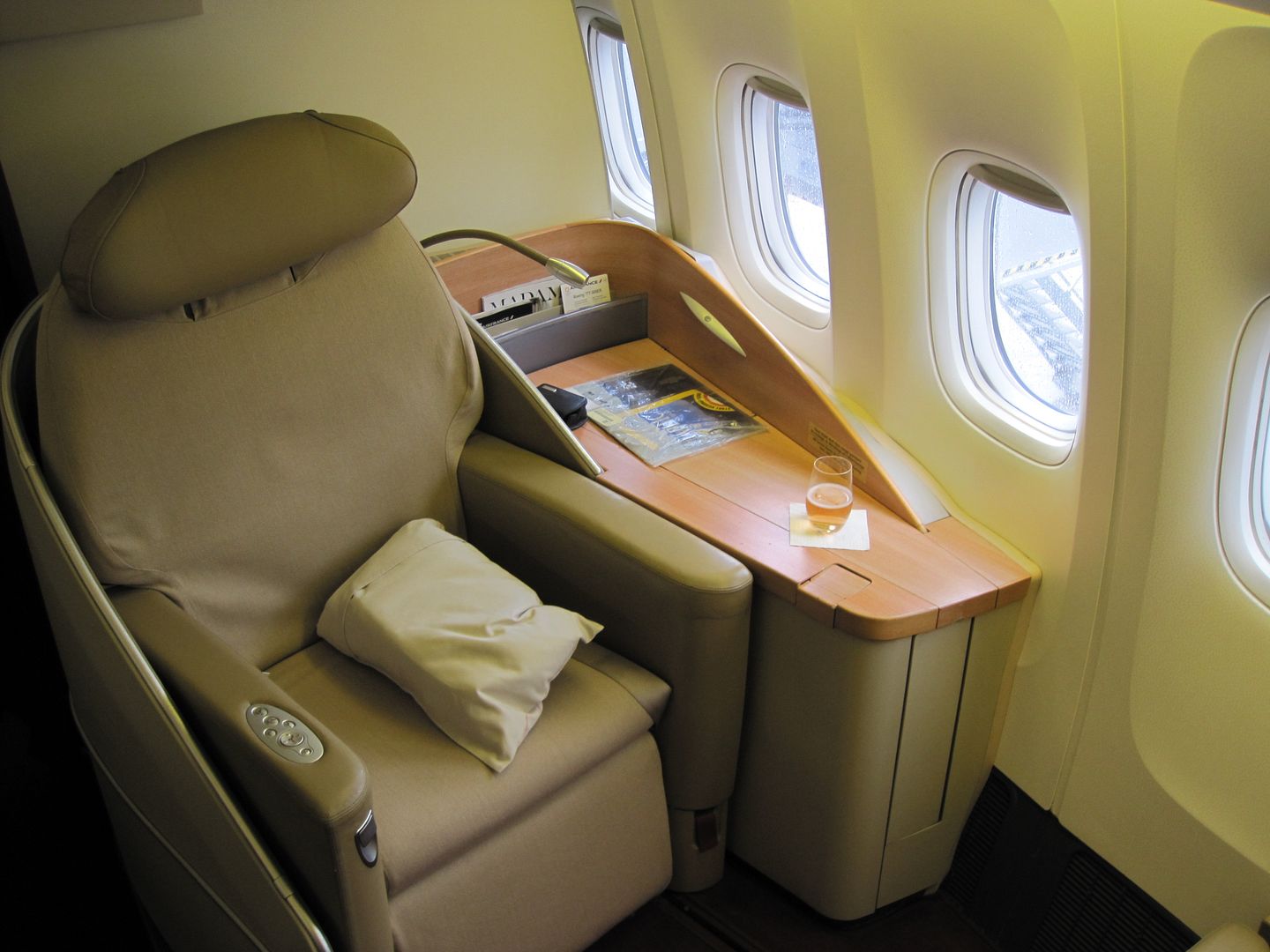 Cabin:
Pleasant view and sound from the GE90's from 02A:
Headphones and remote:
I think I prefer my own QC15 to this:
Seat controls. Seat a bit worn:
Not the biggest screen, but I only ever use the map, so it was fine: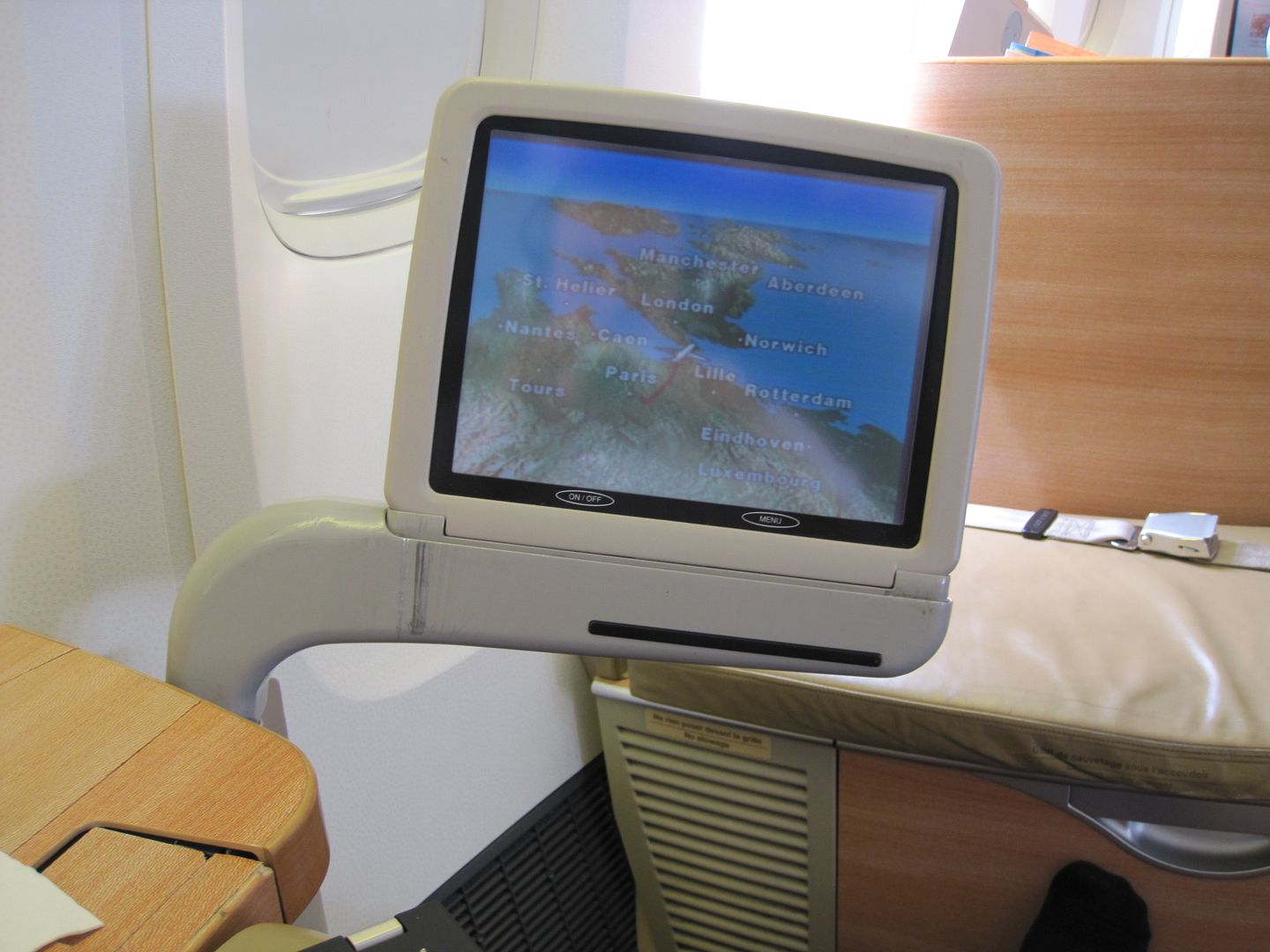 Menu:
---
Last edited by Dag; Jul 6, 12 at

2:31 pm
Jul 6, 12, 2:33 pm
Join Date: Oct 2005
Posts: 174
Just enough room for a laptop on the desk:
Amuse Bouche: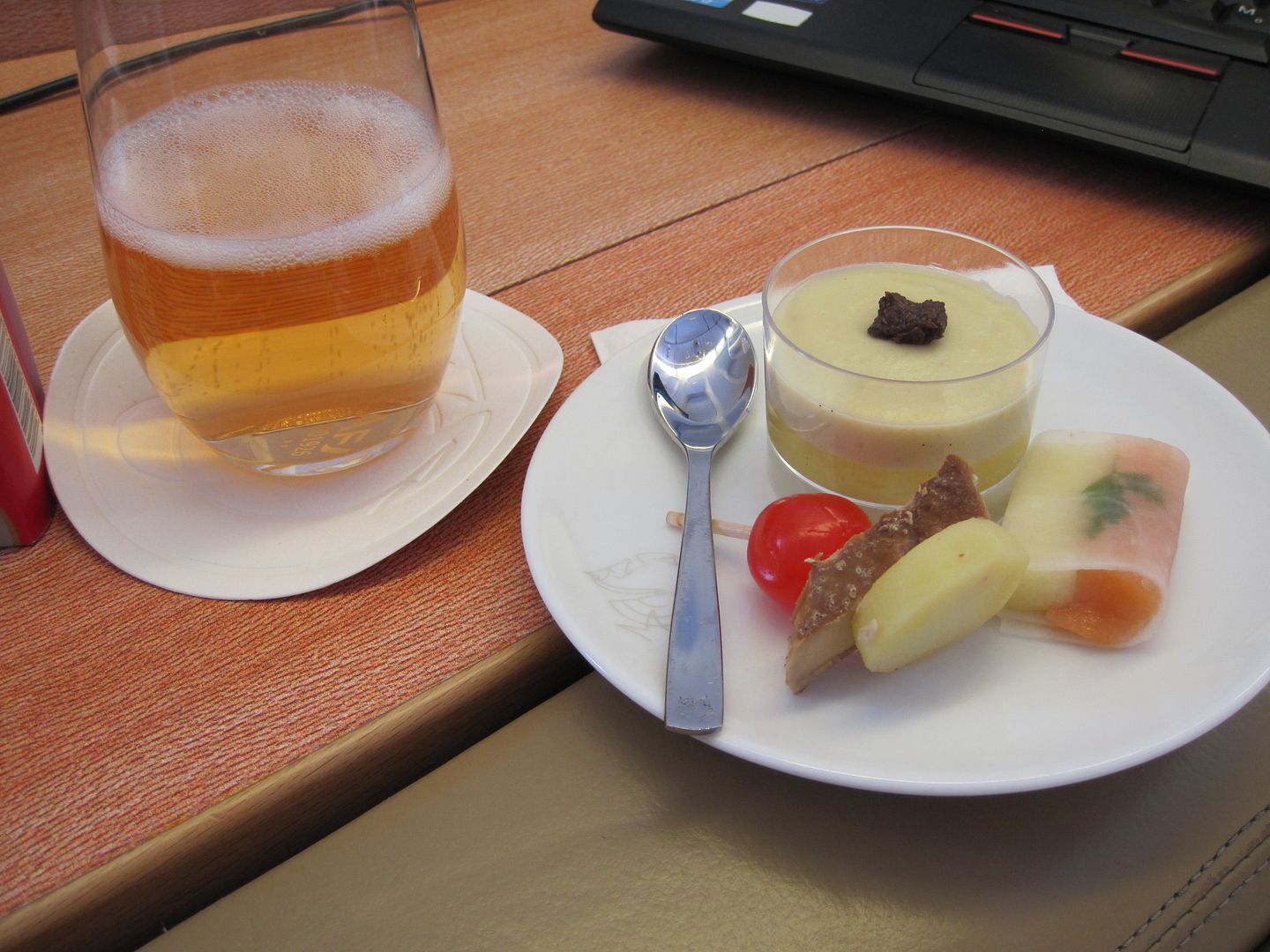 Foie Gras, Salmon and an excellent anise cream:
Starter, salmon and caviar (caviar was not on the menu). Wine was Mersault, which needed a lot of air before drinking.
Veal with Bordeaux:
Not impressed with the meat, and switched wine to the Chateauneuf-du-Pape which was much better: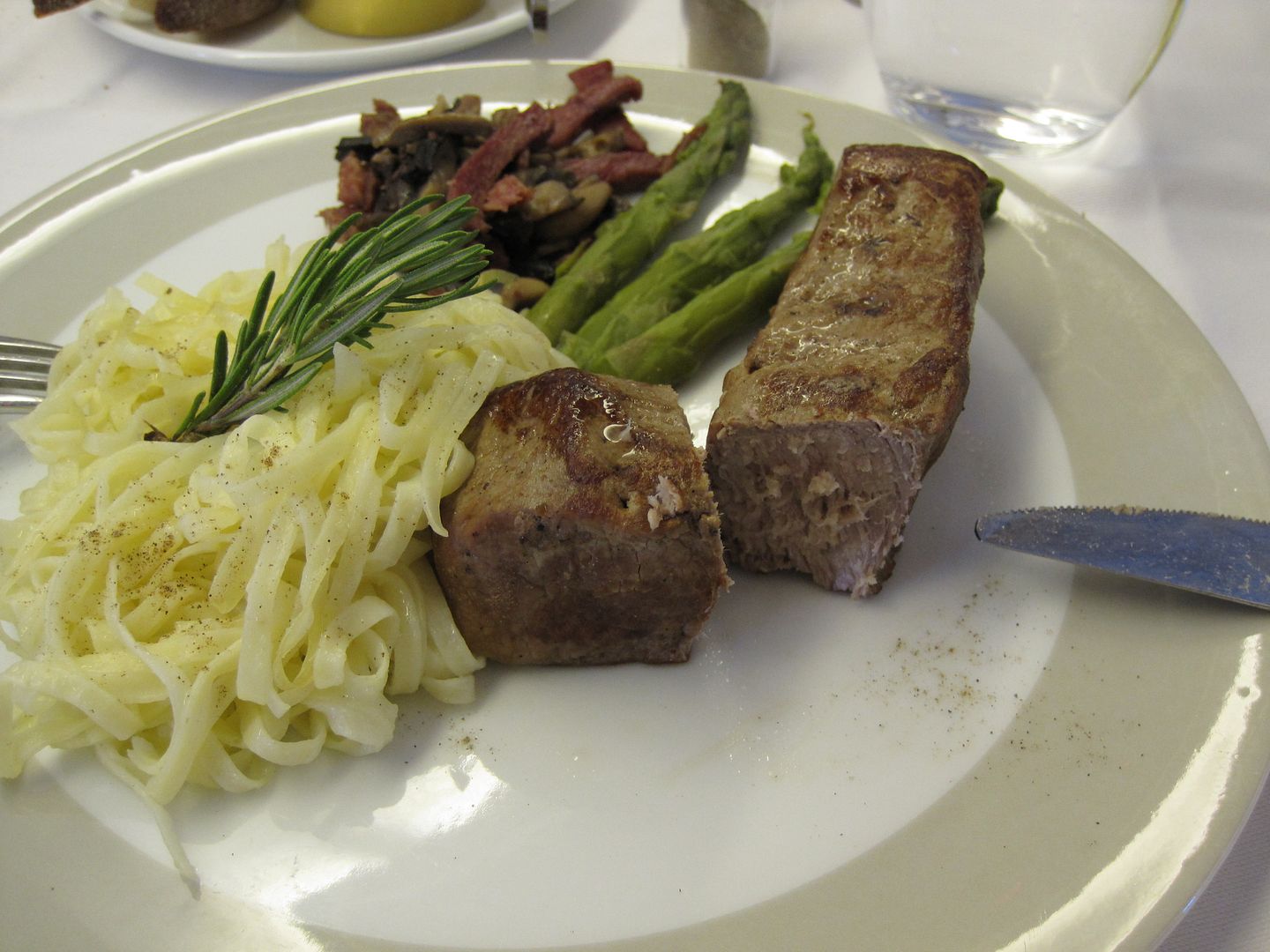 Cheese and port, very nice:
Opted for the smallest dessert they had on their trolley, as I was very full. Accompanied by sweet wine from Loire:
Time for coffe, sweets and a Glenlivet: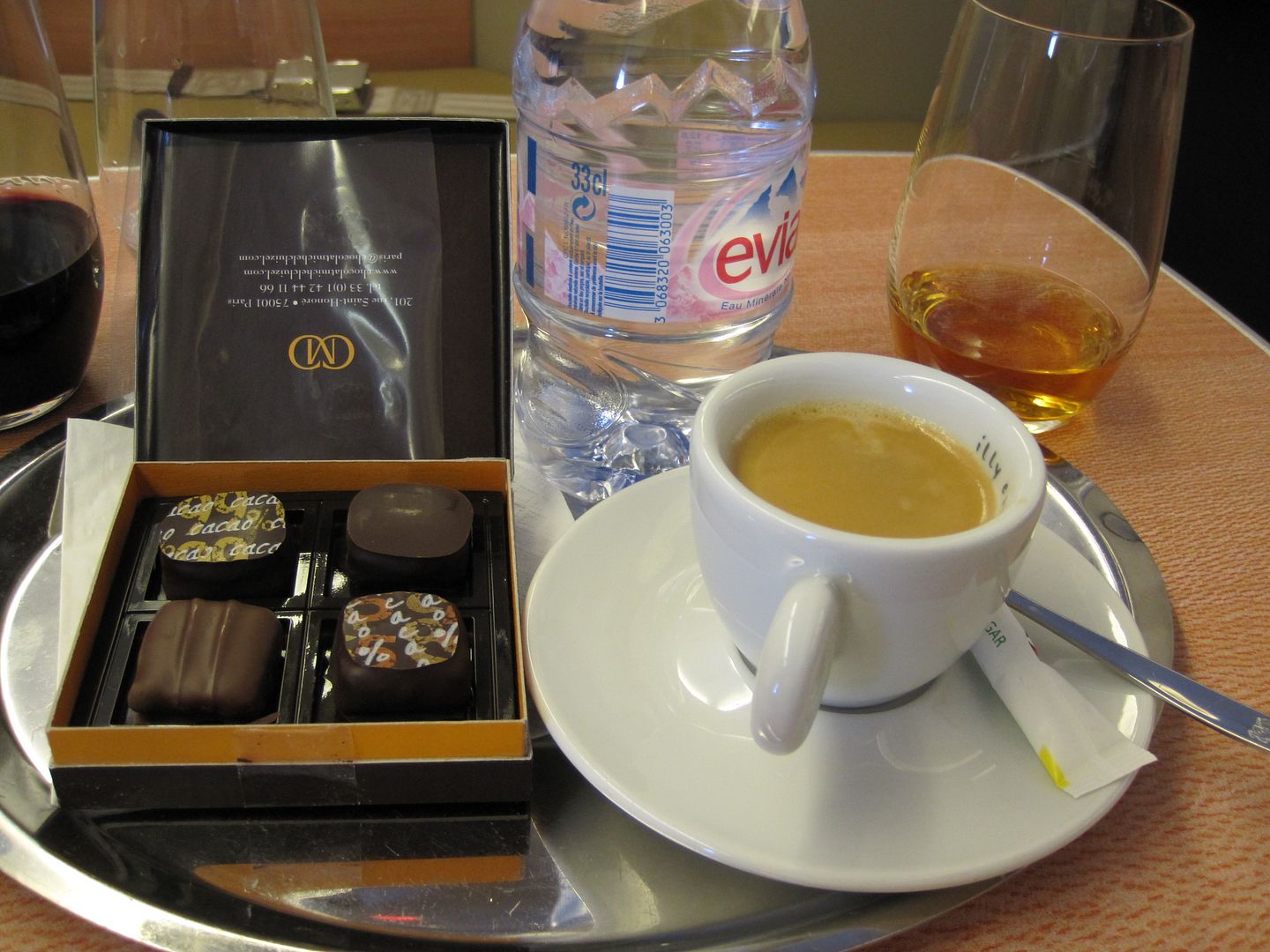 Jul 6, 12, 2:34 pm
Join Date: Oct 2005
Posts: 174
Some more pictures from the cabin: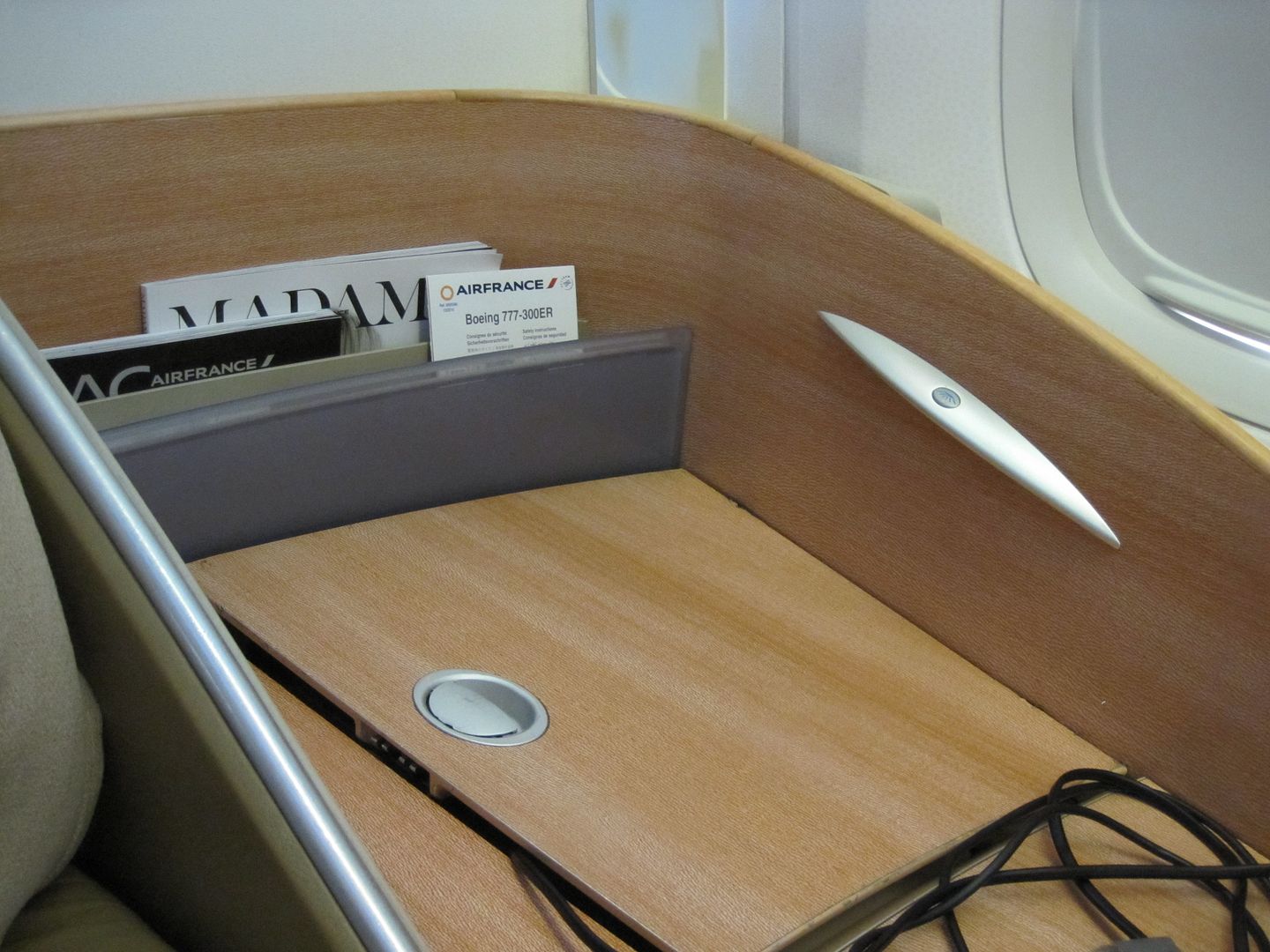 The FA made up my bed, and I had a solid nap.
Pre arrival food, and more Rhone wine: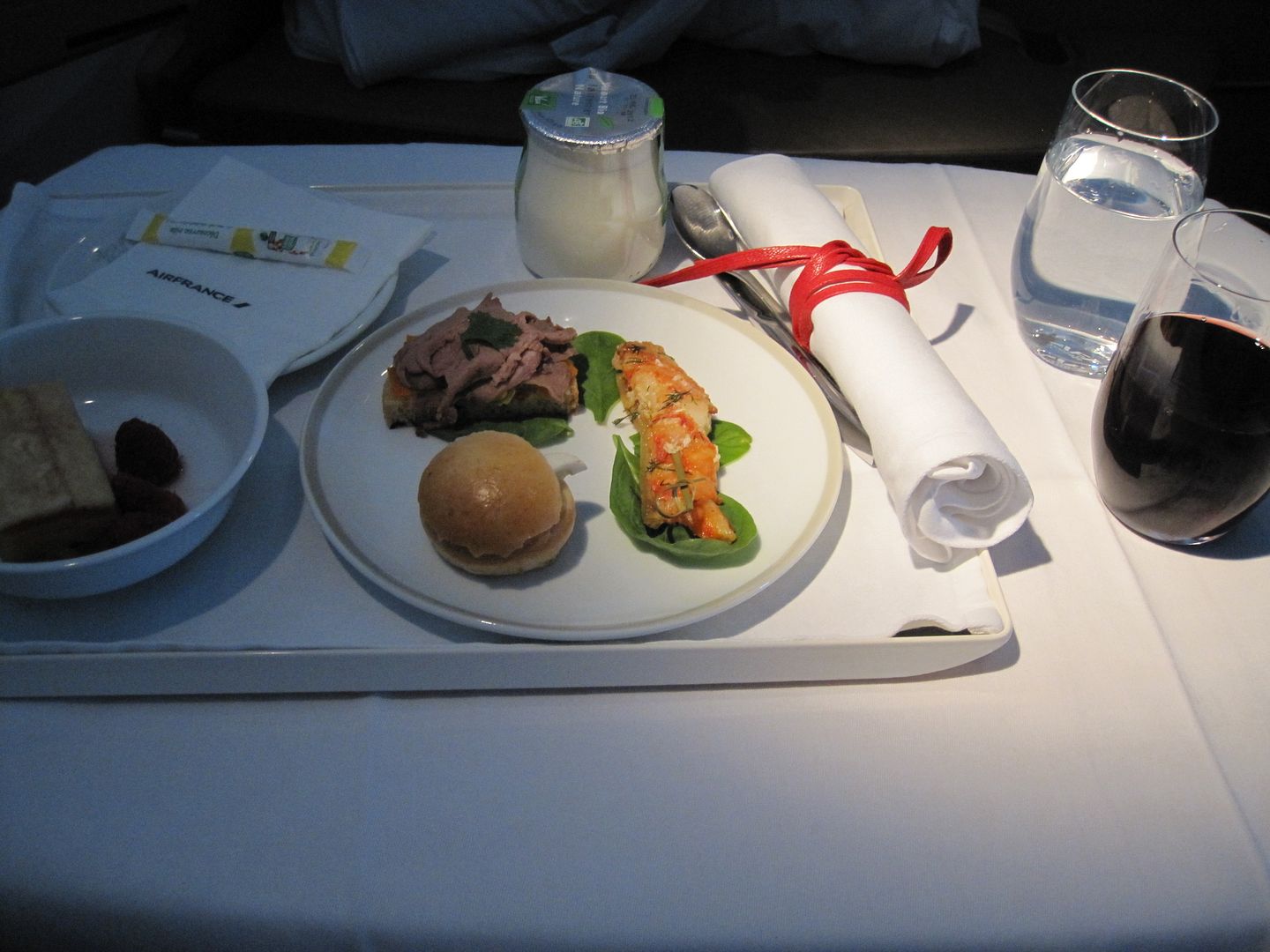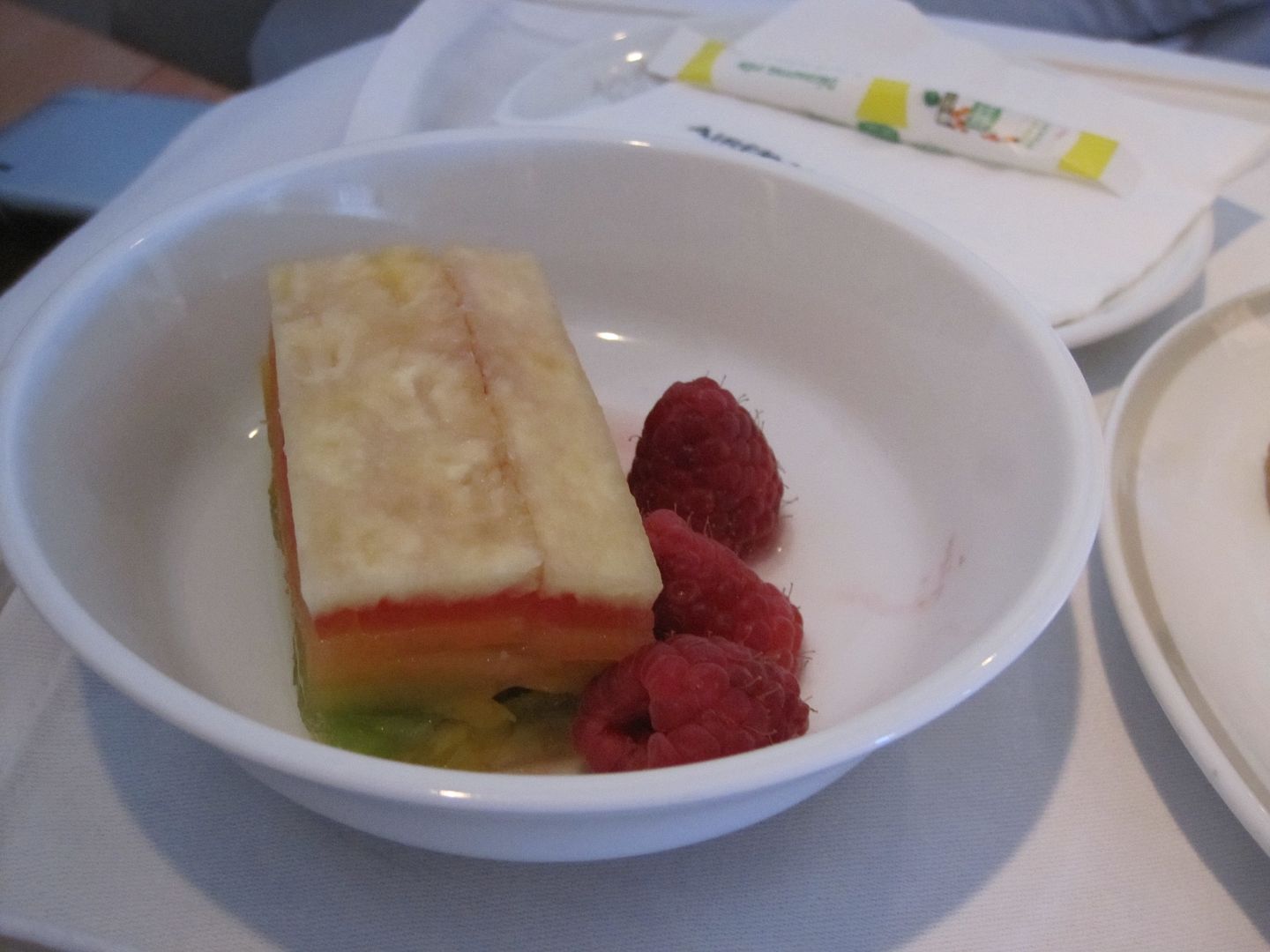 Getting close to JFK, nice weather:
Twin sister, operating AF12
Excellent arrival service with assistant meeting me in the aircraft, taking me in front of the line in immigration and following me through baggage claim and customs.
Jul 6, 12, 2:40 pm
Join Date: Feb 2012
Location: LAX
Programs: DL PM | Marriott Gold | Alaska Gold
Posts: 758
Nice pics. Have to say though, that cabin looked pretty worn down. Can't believe those old headphones are what AF offers in a premium cabin and that IFE screen looked smaller than the one I had in Y+ on my recent AZ flight.
Jul 6, 12, 3:15 pm
Join Date: Oct 2005
Posts: 174
Thanks. Camera is a Canon Ixus, 990 I think. Not a specially good camera, but it is small enough to carry around.
Jul 6, 12, 3:19 pm
FlyerTalk Evangelist
Join Date: Oct 2011
Location: Anywhere I need to be.
Programs: OW Emerald, *A Gold, NEXUS, GE, ABTC/APEC, South Korea SES, eIACS, PP, Hyatt Diamond
Posts: 16,046
I am surprised they couldn't offer better than Heineken. I would probably go for the Glenlivet anyways.
I would actually prefer AC J to this...
Not that the MLL in YUL is too much better than the AF lounge.
AS miles can be used on AA F though.
OTOH I smiled when they put the French word for breakfast in the lunch section.
Jul 6, 12, 3:27 pm
Join Date: Oct 2005
Posts: 174
AF7 JFK-CDG Airbus A380-800
Cabin
Same arrangement as 77W, but one extra seat. 1-2-1 for 2 rows, and one in front on the A side. As the first class cabin is on main deck, it is very airy. Most carriers have their first class cabin on upper deck, which is much narrower. 1-2-1 on main deck is almost comparable to 1-1-1 on upper deck.
Note the distance from the seat to the wall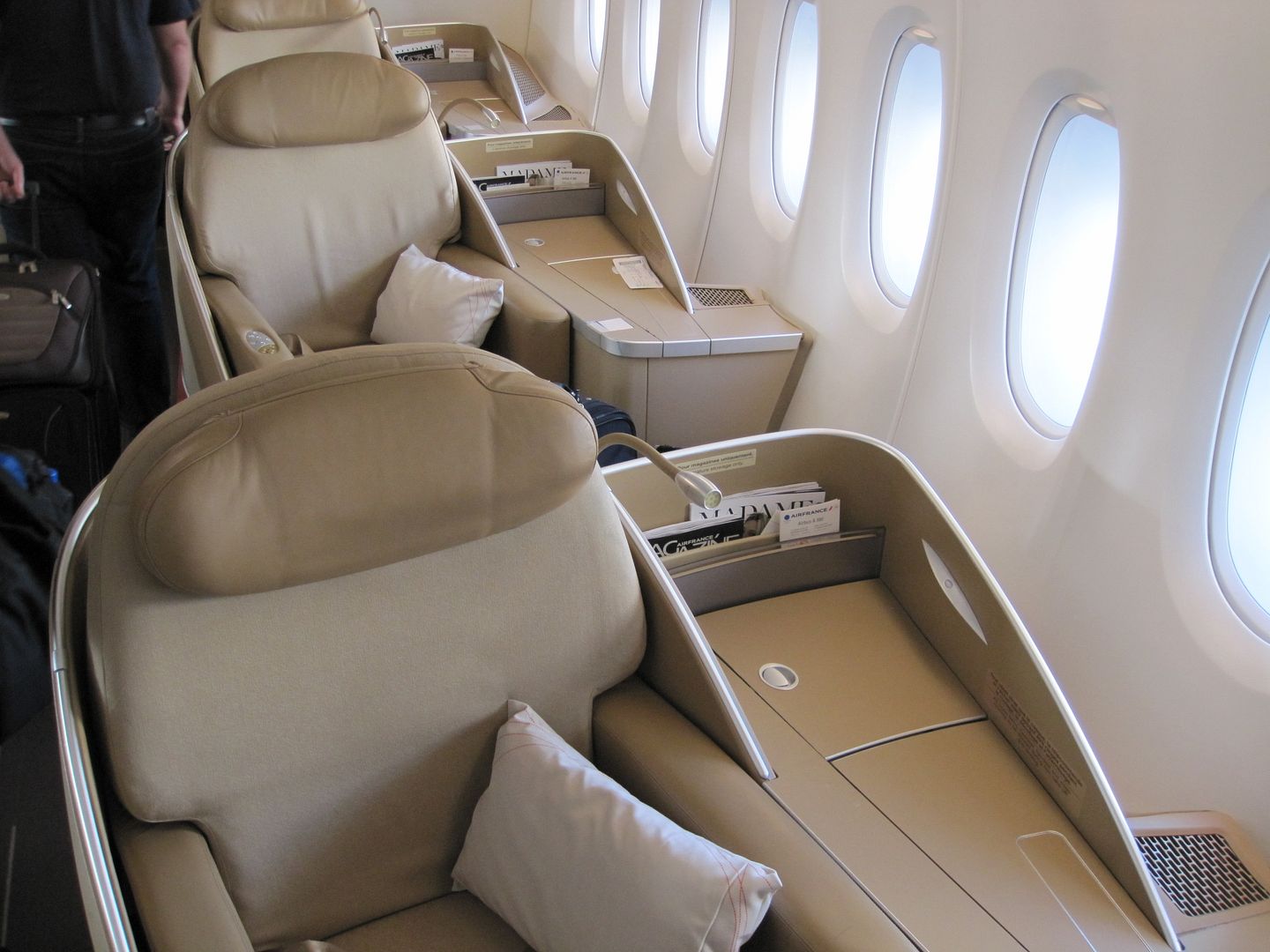 No dressing up when I travel:
Kind of hard to get a proper view out of the windows:
Seat controls:
Remote and headset, QC3. I still prefer my own: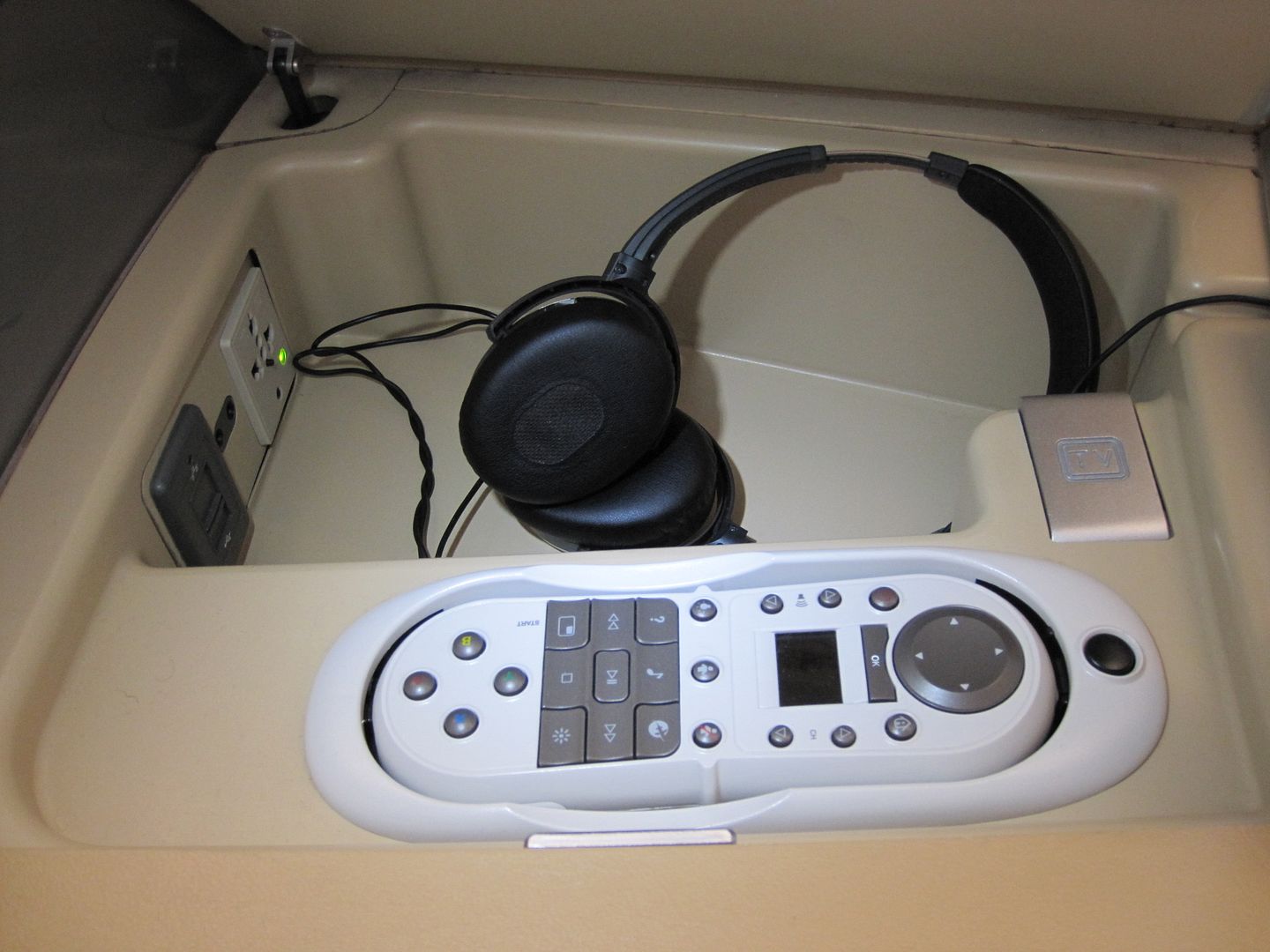 USB and power outlet: