Membership Has Its Rewards
Dec 24, 11, 3:57 pm
Join Date: Nov 2010
Location: NYC
Programs: AA EXP, Hilton GLD, Marriott Plat, NEXUS/GE
Posts: 2,873
Membership Has Its Rewards
---
Introduction
Thanks to the Aeroplan glitch (or unadvertised "promotion"), I put together a
quick trip to Sydney and Auckland in business class
for myself during Christmas and New Years. While the award is hardly maximized, it worked out reasonably considering the limited business class availability across the Atlantic and Asia between Christmas and New Years by traveling via Europe. Considering I spent 76k Membership Rewards points (and bought 4k Aeroplan miles), the itinerary is a steal compared to spending 130k United Mileage Plus miles.
When I had been looking at possible routings over the weekend before I booked, my transpacific segments were constrained by United and Air New Zealand's then award availability. United had plenty of seats from the US west coast to Australia at Christmas but none back for New Years. Air New Zealand had good availability around Christmas, some availability around New Years back to North America, and almost nothing to or from Australia. The fickleness of these award seats is represented somewhat in my routing via Vancouver. Originally, I had been considering returning from Auckland via San Francisco, picking up a United flight back to Newark. Around lunchtime, that seat disappeared, leaving me looking for new transpacific openings; I found AKL-YVR. To get back to New York, I tacked on an Air Canada segment to Los Angeles and, thanks to Aeroplan's allowance of two stopovers in addition to the destination, added a stop in Los Angeles to wait for flights with suitable transcontinental award availability.
In the intervening two weeks, Air New Zealand did open up seats to San Francisco and Los Angeles direct from Auckland, I kept the routing via Vancouver. The one upside of paying UA's normal award rates is that I can call and make changes for free as a 1K; changes to these Aeroplan awards
might
require more miles, miles that I don't have (any more because I spent them on a trip to Asia in March
). If nothing else, I'll be able to stop by to get my NEXUS iris scan done and see what Air Canada has in way to offer at its Maple Leaf Lounge. Around 2AM EST Wednesday, I noticed that UA had opened up some availability right after New Years in p.s. business class. When I got up to call Aeroplan at 7AM to adjust my outbound flight to p.s. as well to consolidate the change fee, the "promotion" had ended, but I was able to change out my Continental segments for ones on United p.s. While I've flown numerous times in both of these cabins this year, p.s. still holds its distinction for me. With these tweaked segments, my new itinerary is
New York Kennedy to San Francisco to Sydney to Auckland to Vancouver to Los Angeles to New York Kennedy
, traveling 21947 miles in 10 days.
(This trip report is mirrored between here and
my blog
.)
Dec 24, 11, 4:11 pm
Formerly known as MLW20
Join Date: Oct 2006
Location: Brooklyn, NY
Programs: AA LT GOLD, Delta, UA/Continental & many others
Posts: 635
That's a lot of flying in such a short time!!!

I have a question- how much time do you actually have in Sydney & Auckland and what do you plan to do in each city?
Dec 24, 11, 8:04 pm
Join Date: Nov 2010
Location: NYC
Programs: AA EXP, Hilton GLD, Marriott Plat, NEXUS/GE
Posts: 2,873
This itinerary gives me about 60 hours in Sydney and 72 hours in Auckland. It's not much, but it dovetailed very nicely with my schedule. Given I'm already drowning in frequent flier miles (and only expect to add more next year with EXP and 1K requalification, credit card bonuses, and sundry promotions [US Grand Slam comes to mind]), I'll have no problem going back.
Dec 30, 11, 5:05 am
Join Date: Nov 2010
Location: NYC
Programs: AA EXP, Hilton GLD, Marriott Plat, NEXUS/GE
Posts: 2,873
United Club JFK and United p.s. First Class New York to San Francisco
---
Until a few months ago, Aeroplan permitted its members to book into United's (domestic) first class cabin on two-cabin aircraft while traveling on business class awards. When it came time to piece together this award in early December, I had few options to get across the United States around Christmas. Economy seats were scarce because of the holiday and first class awards were practically unbookable due to the mileage penalty. While better than economy, United's domestic first class isn't exactly that thrilling, especially at a price of 45k additional Aeroplan miles. This left me originally booking a flight on Continental, which codes its "first class" as business class for ticketing purposes.
Two weeks later, United opened up several business class seats on its p.s. service from New York Kennedy to San Francisco. Then, a week ago, United opened up several business class seats from Los Angeles to New York for my return leg. With p.s. availability for both domestic legs available, I splurged by ponying up the $90 Aeroplan change fee to switch. p.s.' business class is on par with United's old international (non-lie-flat) business class seats and, in my experience, been a far better experience than Continental's domestic first class. The flight change left me departing New York on Friday, December 23rd, rather than Saturday, December 24th. I left work and caught the train to the airport.
Frequently flying has caused me to pick up a few quirks exhibited while traveling. The first of these is something of a fetish for boarding passes. A proper boarding pass is on crisp, clean paper stock. The boarding passes printed on 8.5 by 11 inch paper, or worse, stored entirely on a cell phone, are fare to ephemeral for me. The premium side to United's check-in desks had two agents. One was assisting another party; another was happily tapping away at his computer, leaving me to use the kiosks that offered printed boarding passes on thin, flimsy sheets of paper.
For this trip, TSA did not disappoint. I offered my boarding pass and NEXUS card to the name checker. She proceeded to look at the picture, look at me, waive the card under her UV light, mark off my boarding pass, finally handing the two back to me. As I approached the plastic bins, she summoned me back, demanding to see my ID once more. I handed my NEXUS card back to her. This time, she looked at it for a while, took a look at the back, and concluded that because she "had never seen one of these," it was an unacceptable form of ID. I tried to explain that it was a trusted traveler card, but was rebuffed by it being for "my safety" that I show proper ID if I wanted to fly that day. If it weren't interfering with my traveling experience, I would call the JFK Terminal 7 TSA staff's urge to cite "my safety" as their reason for doing anything amusing, but sadly, it isn't.
Once past the name checker, I headed off to the United Club since business (and first) class passengers have access to it.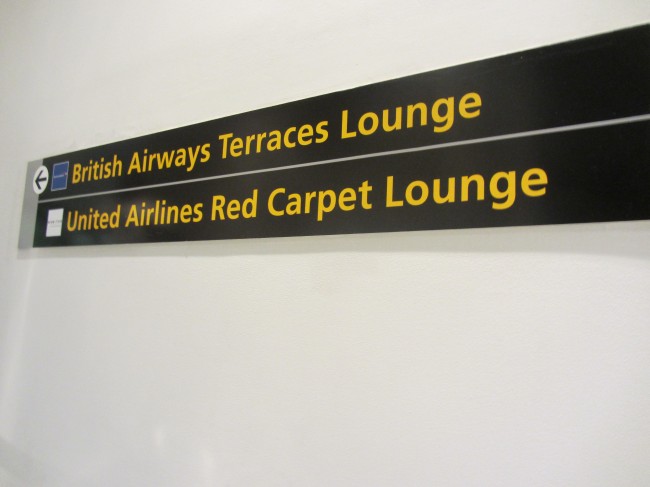 There are a few works of art just outside of the entrance to the club. The first of these is an obvious p.s. destination; the second leaves me wondering if this is a secret symbol of San Francisco.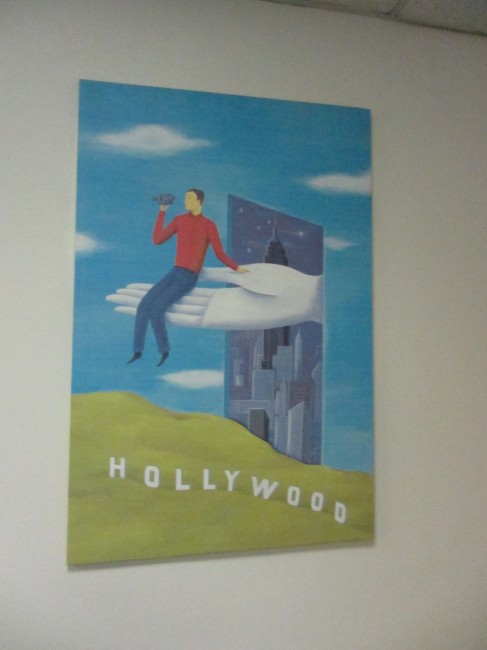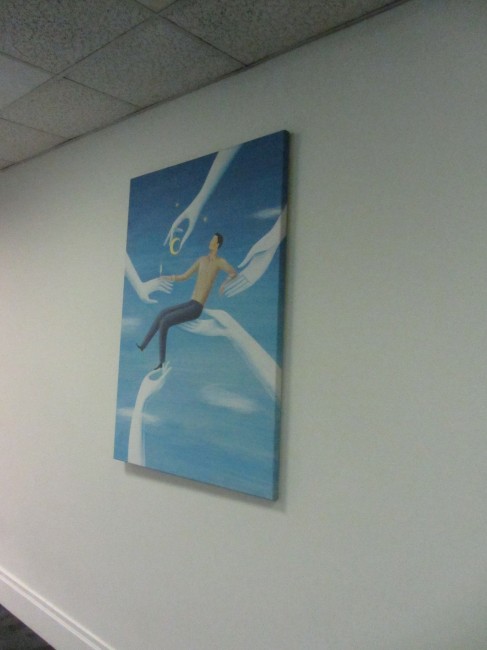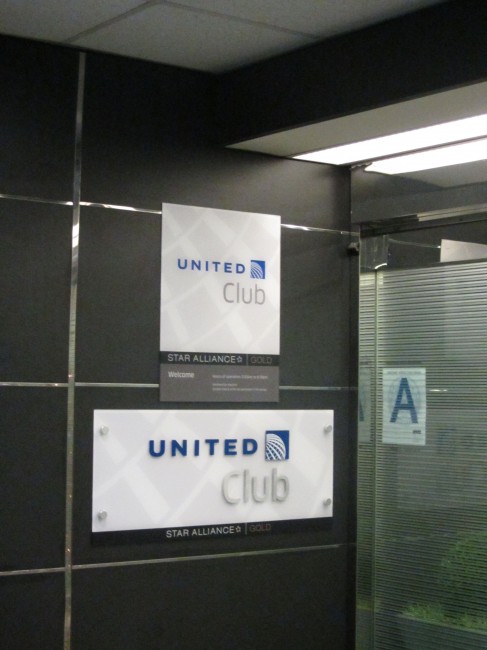 There's a longish hallway from the entrance desk out to the edge of the terminal, overlooking the tarmac.
The club had the usual United Club fare available.
The JFK Club's bar area: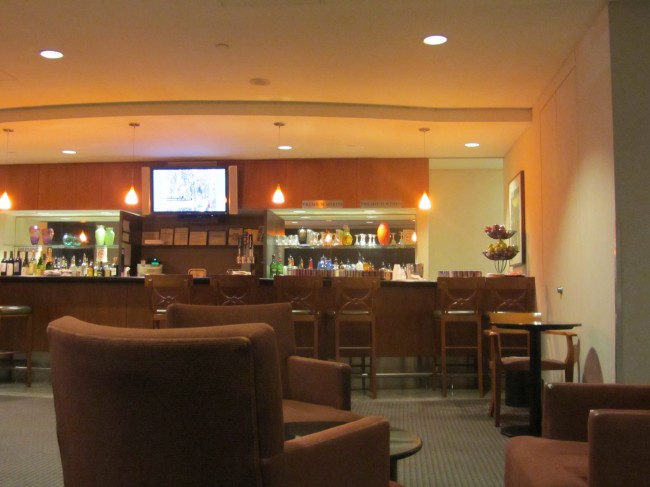 The club has nice views of the tarmac:
After spending a few minutes in the club, I realized I hadn't checked how full the flight was, mostly on an assumption that if it was oversold, United wouldn't have released a Star Alliance award seat on it. I checked with the front desk agent who told me that they would be fine. On a hunch, I left the club 50 minutes before departure and checked with the gate agent. He recognized me from all of my ex-JFK p.s. segments (and VDB voucher bookings) and told me that while they'd be "full," they wouldn't be so full as to need to bump anyone. As I was wandering back to the door to take a picture of the departure screen, he waived me back over: "Would you mind sitting in first class this evening?" As it turned out, the four people in my row in first class were op'ups. Ordinarily, I'm an aisle seat person, but I chose a window seat so I wouldn't disturb my seatmate so much if I decided to play with my seat during flight.
United 389
New York (JFK) - San Francisco (SFO)
Friday, December 23rd
Depart: 7:28PM
Arrive: 10:06PM
Duration: 5 hours, 38 minutes
Aircraft: Boeing 757-200
Seat: 3D (First Class)
Ever since United announced that p.s. would shift to a two-class, lie-flat configuration, I've been considering possible itineraries that would book me into the first class cabin. Christmas came a bit early for me.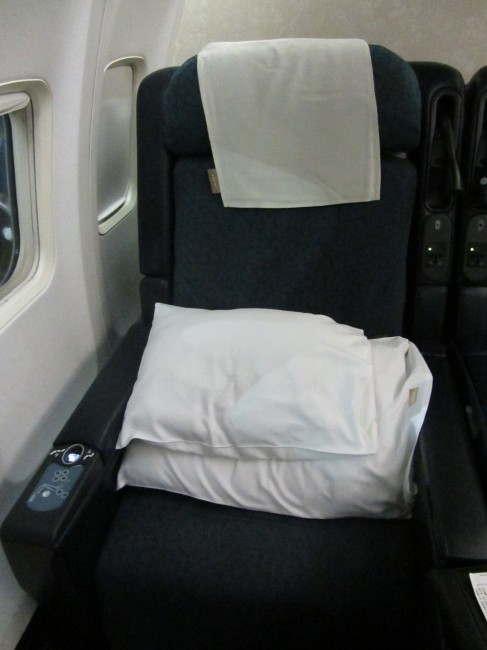 Earlier this year, I was on an oversold JFK-LAX flight that led to me being rebooked from coach into business class on this very airplane (N512UA). It was my first trip in a premium cabin and I concluded at once that I was overwhelmed by the few levers that the <em>business class</em> seats had to offer. I've since learned how to manipulate all the levers and knobs for the p.s. business class seats, but this seat offered even more options: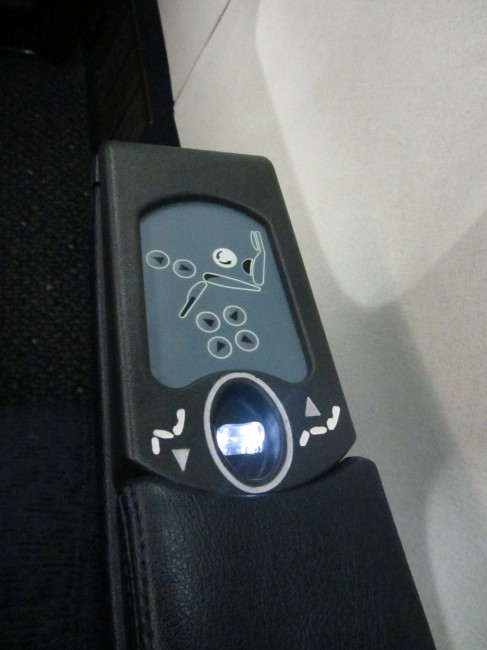 I know. I have terrible first world problems.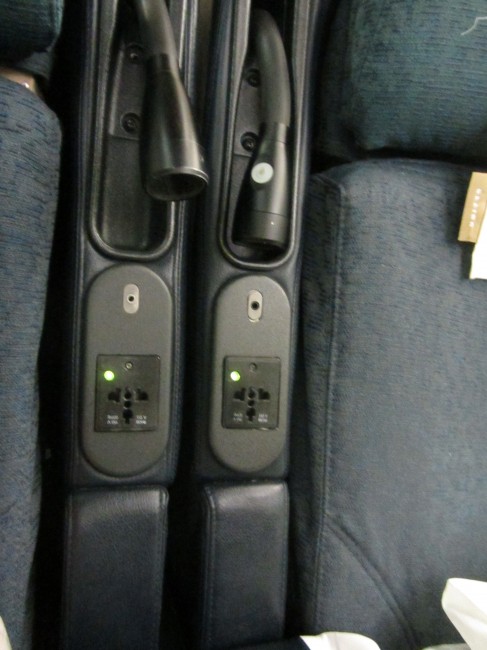 The seat has respectable legroom. Besides having so much as to make it possible to lie down on the floor in front of you (ala p.s. row 9), it's hard to ask for more.
Our purser came by before departure to offer predeparture beverages and dinner menus.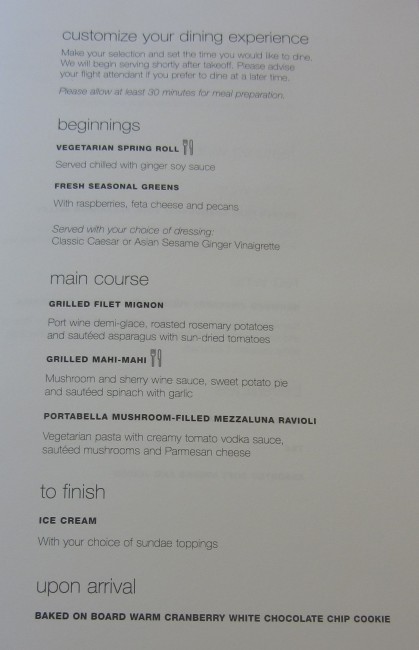 The wine list read as follows: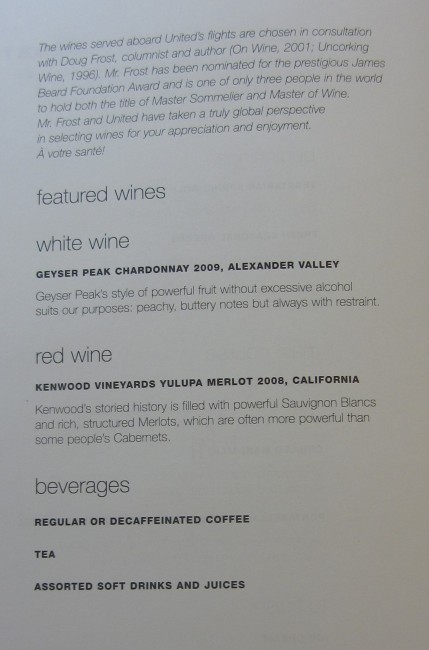 I had previously requested a vegetarian meal, so my first and second courses came from United's Asian vegetarian offerings. (Oddly, they don't offer an ovo-lacto vegetarian option on request for p.s. flights, even though their menu was provided for one.)
In between the first and second course, the purser came by to offer white and whole grain rolls (not pictured here). One thing that <em>is</em> in the picture, however, is a can of Coca-Cola. The purser provided the passengers in the cabin with poured glasses as well as the accompanying cans (for those beverages which came out of cans). While some would argue that it's not as stylish, it's far more practical when one wants a refill.
The food was far tastier than the dim lighting would make it appear to be. Dessert was an ice cream sundae, which I took with hot chocolate syrup and whipped cream.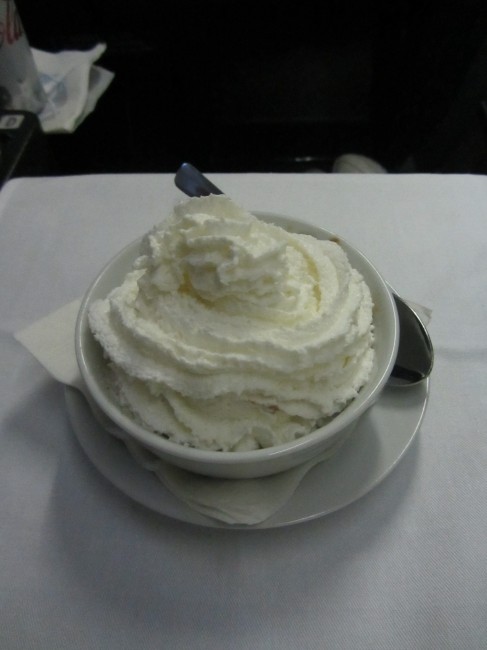 I swear there's some ice cream under there. As a follow-up to all of this food came the traditional United cookie: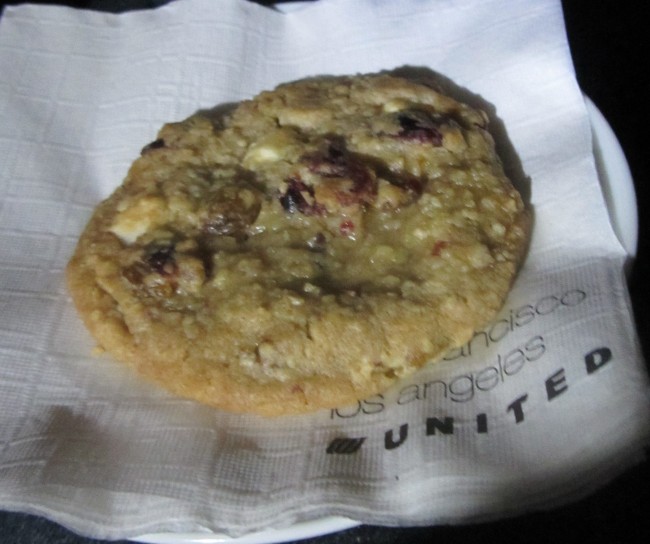 The Tulip lives! We touched down nearly an hour early to the smoothest landing I've had all year (absent hearing the thrust reversers or looking out the window, it was not apparent we had landed). As fun as it would have been to head to Sydney a day early since the flight was still boarding, I left the airport for my hotel, the Radisson San Francisco Airport Bay Front for the night.
(This trip is mirrored between here and
my blog
.)
Jan 1, 12, 2:14 pm
Join Date: Nov 2010
Location: NYC
Programs: AA EXP, Hilton GLD, Marriott Plat, NEXUS/GE
Posts: 2,873
Jan 2, 12, 2:11 am
Join Date: Nov 2010
Location: NYC
Programs: AA EXP, Hilton GLD, Marriott Plat, NEXUS/GE
Posts: 2,873
Radisson SFO Bayfront Hotel
---
With my flight from New York arriving from San Francisco a bit early, I had a 24.5 hour layover at SFO. After the Club Carlson 50k promotion went live, I registered and began looking for a chance to stop by a Radisson to participate in the promotion. Even as I plan to use the points towards a night for a substantially more expensive hotel abroad, I couldn't bring myself to mattress run locally (even with the $100/nt rate that showed up at the Radisson Lexington in December). Since I needed to overnight in the Bay Area, I chose to stay at the Radisson San Francisco Airport Bay Front hotel.
I "splurged" and spent $5 at the time of booking for a bay view room.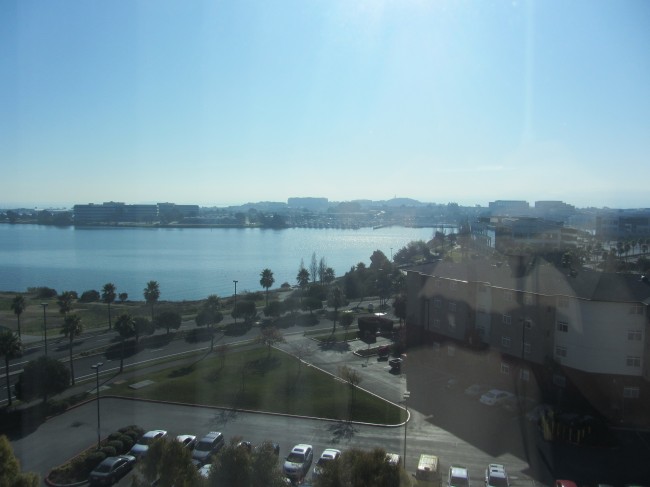 I've come to set a few minimum standards with my hotel stays. I want a comfortable bed. I want a fast internet connection. I want peace and quiet for when I'm trying to sleep. For hotels with airport shuttles, I want the shuttle service to be frequent and run during the hours posted (unlike what happened at the [url=http://traveling.to/2011/08/10/aloft-dulles-north/]aloft Dulles North[/a] to me in July).
My shuttle arrived within a few minutes of stepping out of the terminal. Check-in was fast and painless. Upon entering my room, I heard the occupants next door. Since it was 10PM and I had little intention of going to bed right away, this didn't really bother me as I wanted to catch up on my email and use the internet connection for a bit. Around 1AM PST, my neighbors were still talking and laughing. I wound up calling the front desk and was able to get moved to a new room on a quieter floor.
By the time I called, I had heard four distinct voices next door. As I was leaving, I passed another party of four going into that room carrying several cases of beer into the room. Needless to say, asking for another room was the wisest move I made all trip. With my basic priorities of hotel stays satisfied, I settled in for the night.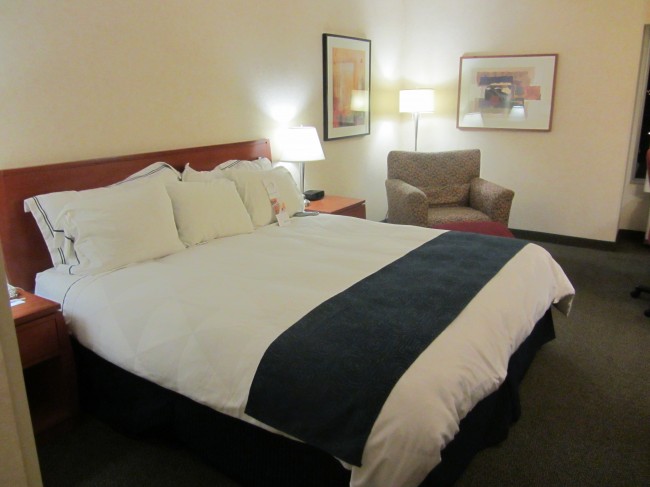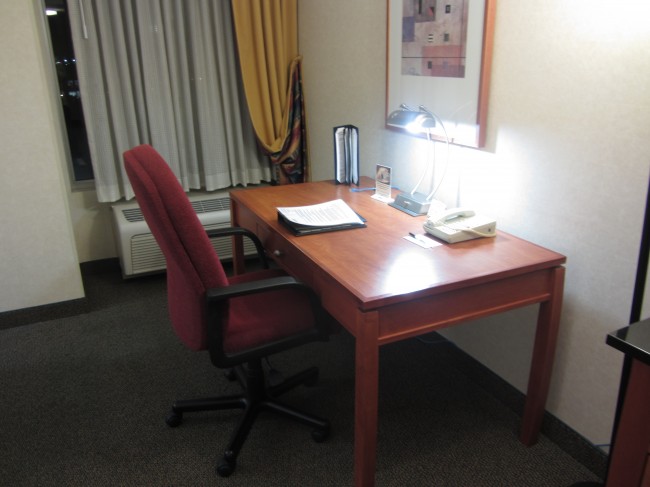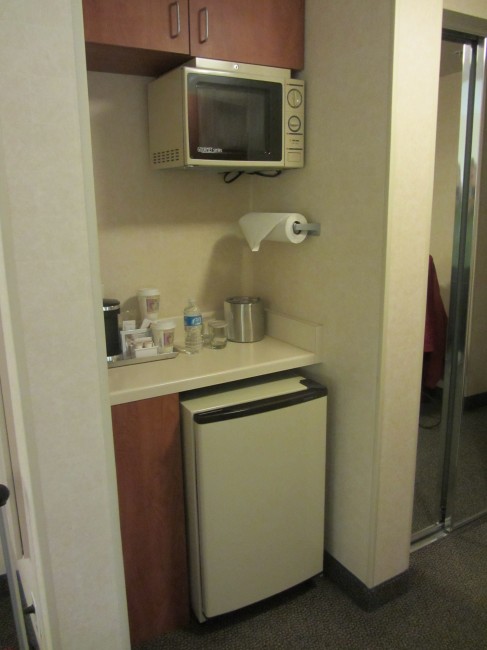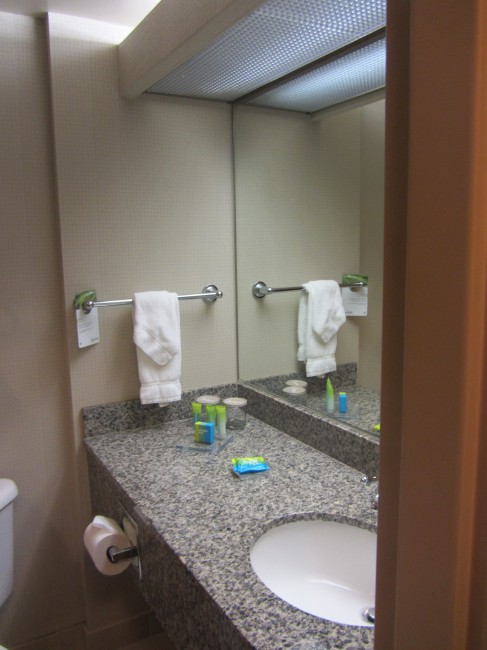 Jan 2, 12, 3:37 am
Join Date: Nov 2010
Location: NYC
Programs: AA EXP, Hilton GLD, Marriott Plat, NEXUS/GE
Posts: 2,873
United Clubs SFO and Singapore Airlines Silver Kris Lounge SFO
---
After spending the day and early evening in San Francisco, I took the BART back to reclaim my bag from the left luggage service and to head through security. With three Star Alliance lounges to choose from, I decided to visit all three.
My first stop was the United Club in the international terminal.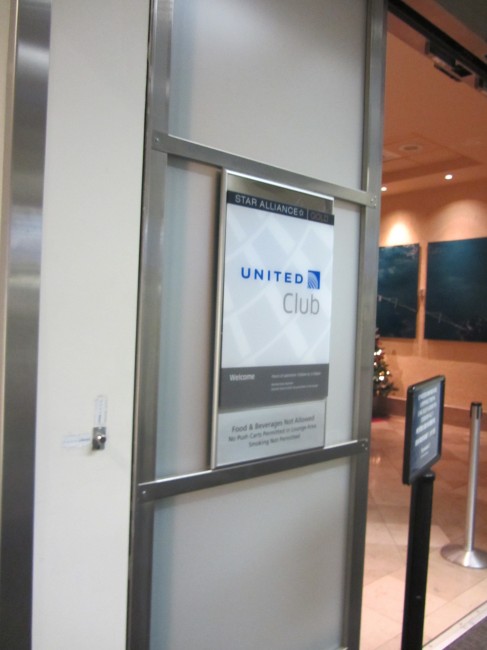 After coming up the escalator, I turned right and found a nearly empty lounge area with about four other people in it (including for a brief bit, a screaming infant).
At least the United Club food and drinks are consistent?
After a bit of time, I decided to head over to the United Club in terminal 3 to visit until the SilverKris lounge opened. The decor is essentially identical, but there's a nice mural just past the front desk of the zodiac constellations.
After checking out this lounge and opening up my laptop to purchase some
American Airlines
tickets for which my hold was about to expire on, I decided to head over to the Singapore Airlines SilverKris lounge. Since I actually had an international boarding pass departing directly from SFO, I had access to the lounge.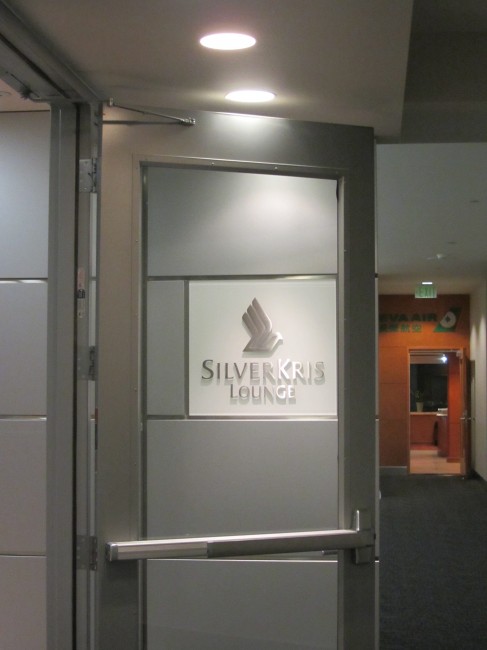 The front desk clerk had to make copious notes onto a roster at her desk with details from my boarding pass and United 1K card. It left me feeling rather glad that United is able to just scan the boarding pass to determine whether a passenger has access to the lounge.
As they had just opened for the evening shift, I was the first passenger at the the lounge. The seating area for the lounge is quite small and it's understandable why Singapore Airlines is so restrictive when it comes to letting Star Alliance Gold elites enter the lounge.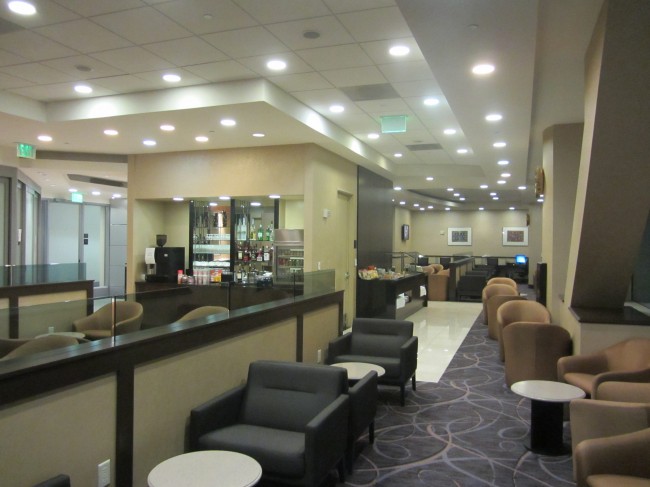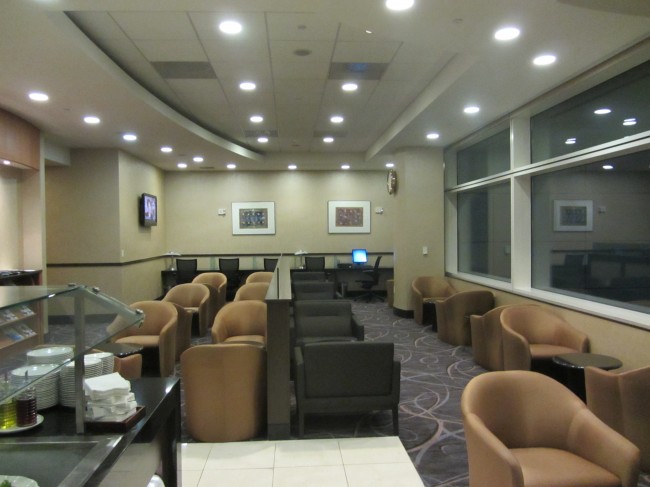 I was quite pleased by the food offerings here compared to the United Clubs, especially for such a small lounge.
I was quite surprised to see open bottles of liquor, even in a lounge, within the United States.
The window had a mix of old-new and new livery United planes.
---
Last edited by FlyerChrisK; Feb 2, 12 at

8:57 pm
Jan 4, 12, 10:15 pm
Join Date: Nov 2010
Location: NYC
Programs: AA EXP, Hilton GLD, Marriott Plat, NEXUS/GE
Posts: 2,873
United Business Class San Francisco to Sydney
---
After finishing exploring the Star Alliance lounges of SFO, I left for the gate to snap some predeparture photos of the plane in old-new livery. I was slightly foiled by the pattern in the glass.
United 863
San Francisco (SFO) - Sydney, Australia (SYD)
Saturday, December 24th
Depart: 10:39PM
Arrive: 7:51AM
Duration: 14 hours, 12 minutes
Aircraft: Boeing 747-422 (N197UA)
Seat: 14K (Business Class)
Ordinarily, I'm an aisle seat person, but I chose a forward facing window seat on the upper deck.
Extensive analysis on FlyerTalk
puts the length of the bed in this particular seat at 75 inches. My laptop bag and a book from my rollaboard suit case comfortably fit in one half of the window bins of the seat.
The overhead bins on the upper deck are quite small, however, and could not accommodate my suitcase. The flight attendant noticed me staring at the overhead bins for a moment before suggesting I remove anything I might want during flight and he would stow it in the closet.
After stowing my bag, the flight attendant returned with a tray of predeparture beverages (water, orange juice, and sparkling wine). I picked the sparkling wine and settled in.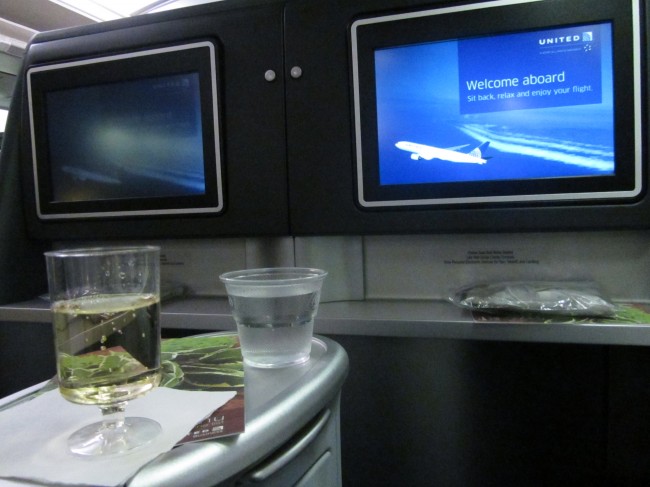 As the third passenger to board the plane, I had some time to kill before boarding finished. I started by reading the menu before turning to a book I had with me.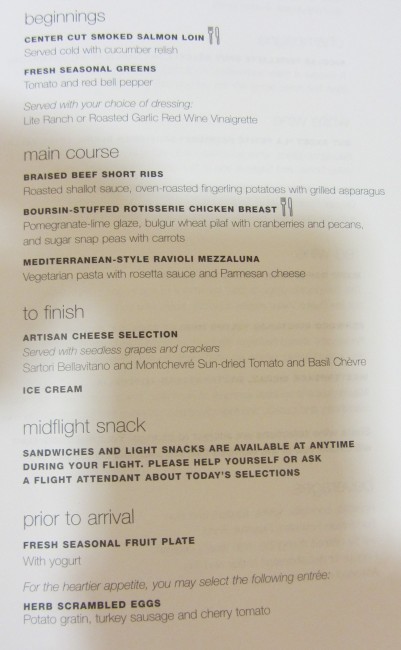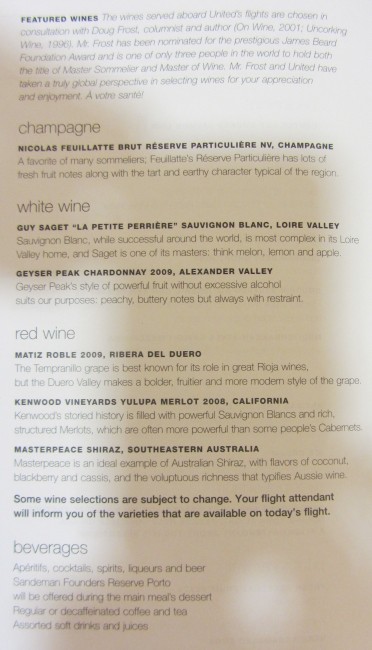 As I had requested a vegetarian meal, I was served an off-menu first course with the on-menu vegetarian ravoli.
For dessert, I chose the ice cream.
I played with my laptop for a bit prior to going to bed. The amenity kit was simple yet practical. Honestly, with my suitcase in the upper deck closet, the only essential I needed was a toothbrush.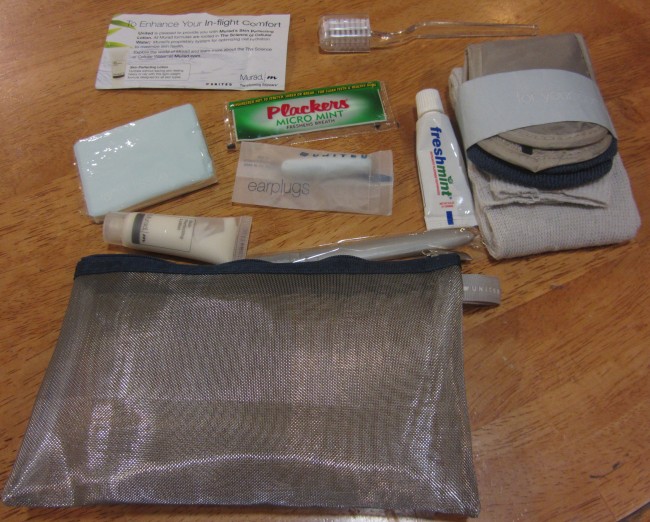 I woke up around 6AM Sydney time from a combination of the sun and a crying baby. Both of these are largely my own fault as I left my window shade up and chose not to use an eye mask nor ear plugs. Nonetheless, it was a reasonably high quality six hours of sleep as I made it through the next day and evening without feeling prematurely tired. I prefer to sleep on my side, so my only complaint with the lie-flat bed is that there's a smallish headrest that sticks out near the very top of the bed.
A flight attendant was by soon after to offer a hot towel and to start serving breakfast. The vegetarian breakfast omits the yogurt listed on the menu for some reason.
Just prior to landing, it was time to checkout the air show.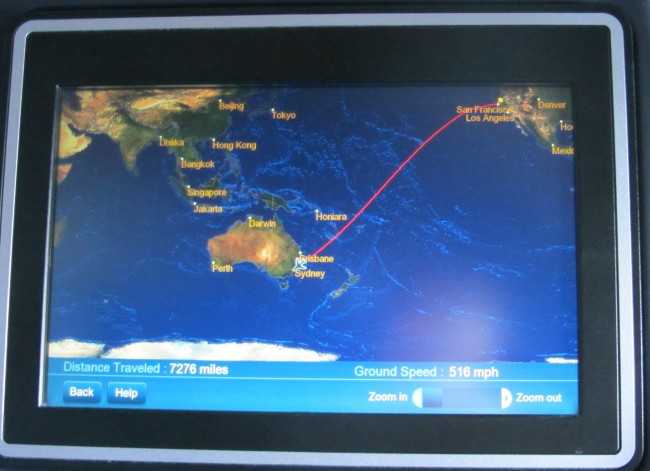 Customs was quick thanks to the Express Path cards handed out to business and first class passengers. Of the fifteen or so minutes I spent getting landside, most of it was walking from the plane, through the duty-free store, and then ultimately out of the customs/immigration area.
Jan 6, 12, 12:20 am
Join Date: Nov 2010
Location: NYC
Programs: AA EXP, Hilton GLD, Marriott Plat, NEXUS/GE
Posts: 2,873
Four Points by Sheraton Sydney Darling Habour
---
For my three days, two nights in Sydney, I booked a revenue stay at the Four Points by Sheraton Sydney Darling Harbour.
I was quite pleased by the location, as it was a short walk from the restaurants and shops of Darling Harbour while still remaining close to the central business district of Sydney.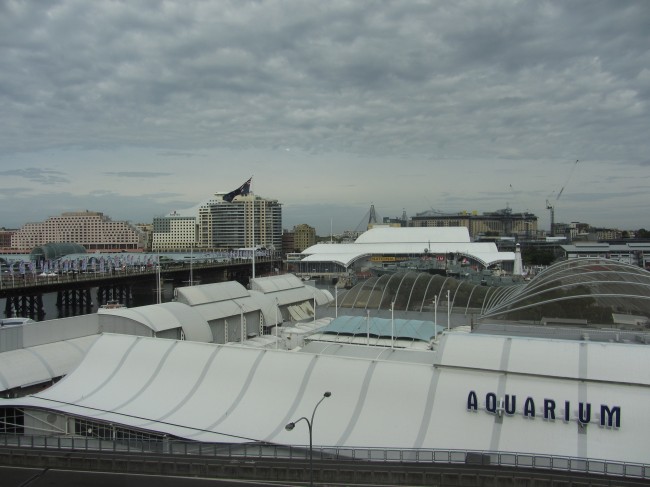 From exiting customs at the airport, I took the train and immediately headed to my hotel. I was able to check-in at 10AM, but the best room available was on the third floor. I took it, happy to be able to take a shower.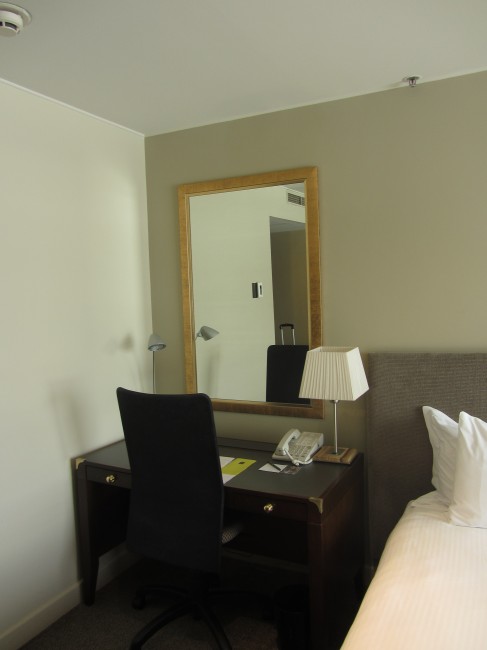 LCD TV notwithstanding, the room was showing its age. In terms of upkeep (or simply an oversight in design), the door bar had made a small, but sizeable dent in the plaster of the wall. In more practical areas, I was most disappointed by the internet access, especially at 24.50 AUD per day. The connection in the room was wired and was rather slow. The experience reminded me of the present state of wifi on airplanes within the United States, except that the wifi on airplanes is cheaper (order $12.95 for a transcontinental flight) and faster.
Jan 14, 12, 1:46 pm
Join Date: Nov 2010
Location: NYC
Programs: AA EXP, Hilton GLD, Marriott Plat, NEXUS/GE
Posts: 2,873
Membership has its Rewards: SQ and NZ SYD Lounges and NZ J SYD-AKL
---
Having finished lunch in Sydney and quickly growing tired of dragging my bag with me, I decided to head to the airport a bit early. Air New Zealand doesn't support online check-in on its international routes, so I was left to check-in at the airport to obtain a boarding pass. Rather unfortunately (and unknown to me when I was deciding to head to the airport), I couldn't obtain a boarding pass until three hours before departure, leaving me with 30 minutes or so to kill waiting near the ticket desks.
Rather surprisingly for me, the Qantas employee staffing the Air New Zealand desk needed to see a printed itinerary showing that I had a ticket out of New Zealand. Given Air New Zealand was to fly me in and out of New Zealand, they were privy to both ticket numbers of my Aeroplan award and should have had this accessible to them (or so I would have believed).
After walking through the mall that is the Sydney Airport international terminal, I reached the two Star Alliance lounges, one run by Singapore Airlines and the other Air New Zealand. I chose to go to the Singapore lounge first. Upon entering, the desk clerk suggested that since I was flying on Air New Zealand, I go to their lounge and come back if I decided that the Singapore lounge "was nicer." Having been to neither lounge, deciding which lounge would be nicer in advance would be difficult. As a business class passenger with Star Alliance Gold status by virtue of being a United 1K, I was directed to the empty business class lounge.
Besides two staff members who kept checking on the food and drink supply, I was the only person in the lounge.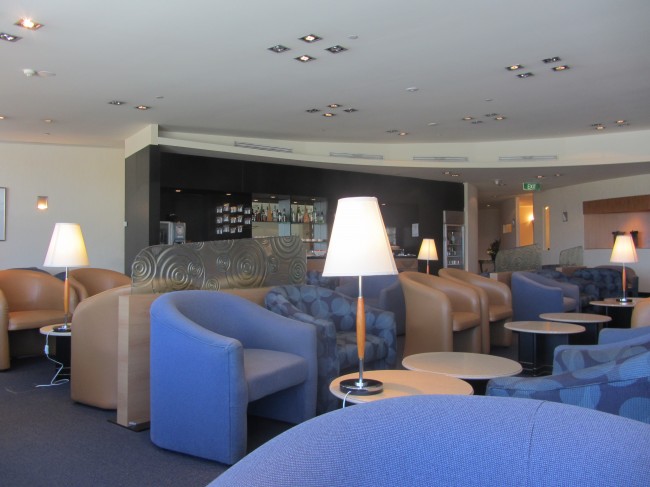 The various crackers they had out initially were quickly substituted for a wider variety of offerings.
From the seats near the window, I had a rather nice view of a Thai A340 while views of other aircraft were obstructed by various jet bridges.
Eventually, I decided to leave to visit the Air New Zealand lounge.
Initially, the lounge was quite full as many of the passengers were waiting for the United flights to San Francisco and Los Angeles. Nonetheless, I was able to find a recliner near the windows overlooking the tarmac.
As a testament to the utter confusion that code shares can cause passengers, a group of travelers sitting next to me near the window began debating when their "Continental plane to Los Angeles" was going to show up.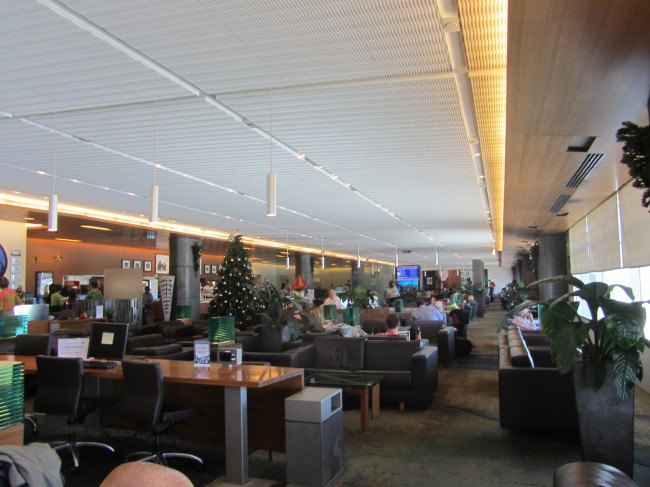 As the boarding calls for the United 747's were made, the crowd thinned out. I was quite appreciate that even while reasonably busy, the wireless internet remained speedy.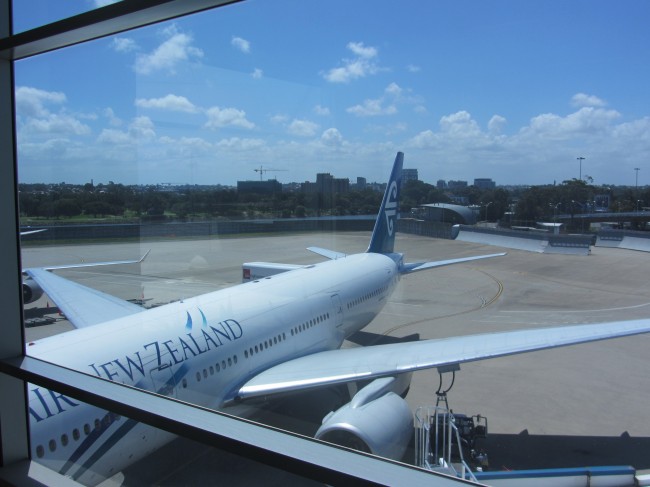 Based on the scarce award availability on this route even right up to the flight, I expected the business class cabin to be reasonably full. I was very mistaken.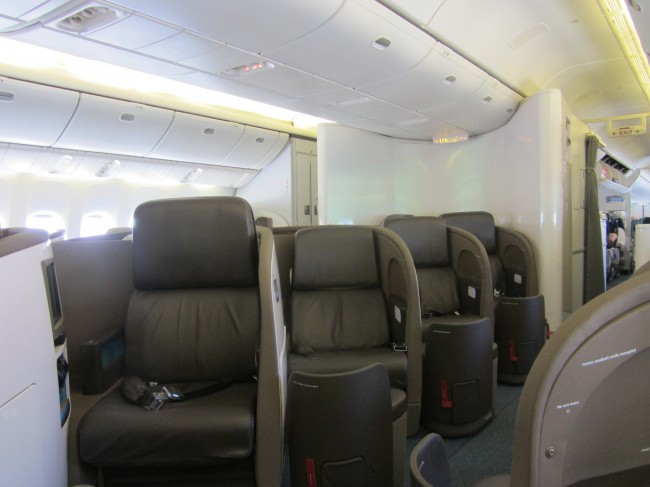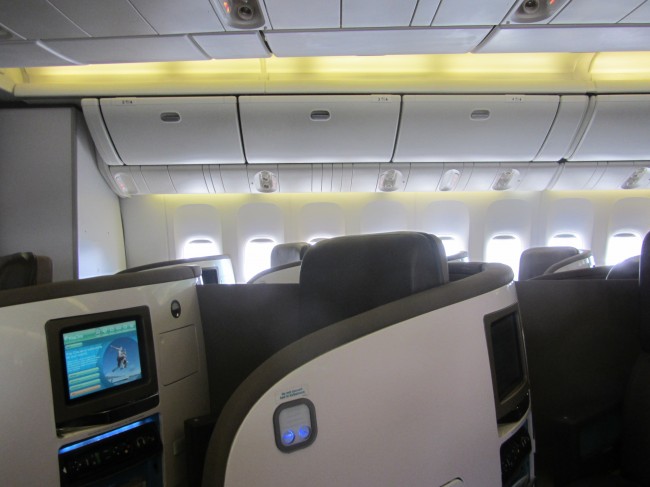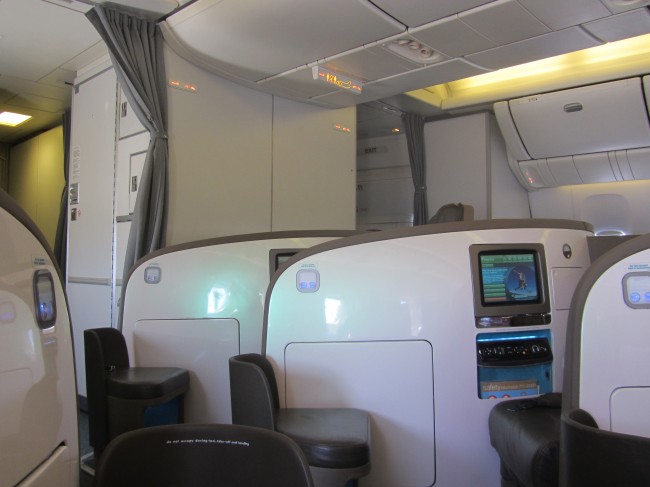 I was the only passenger on the left aisle. Three other passengers were seated on the right aisle. Most seats had a dedicated overhead bin, virtually assuring space for passengers in business class without resorting to placing bags in the various closets of the aircraft. One of the business class flight attendants greeted me, introduced herself by name, and offered a Auckland paper while offering a predeparture beverage. I took the orange juice.
Taxiing brought us past N197UA headed back to San Francisco having flown to Los Angeles and Melbourne since I left it.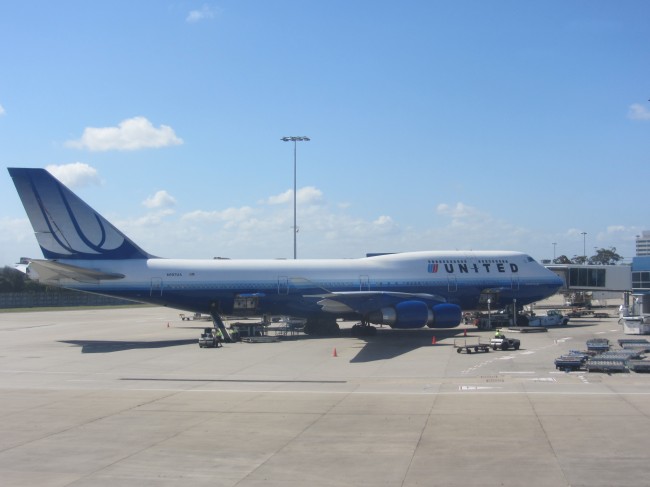 The
safety video featured the All Blacks
rather than
Richard Simmons
.
Upon takeoff, it was time for the initial flight show.
The menu read as follows: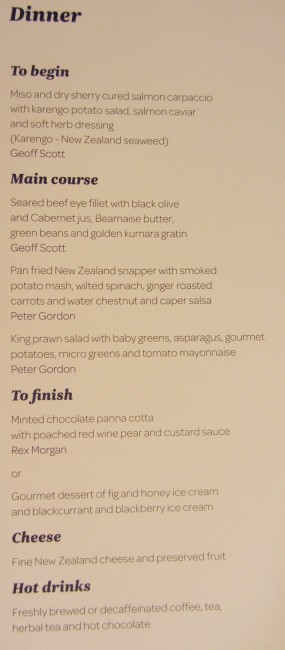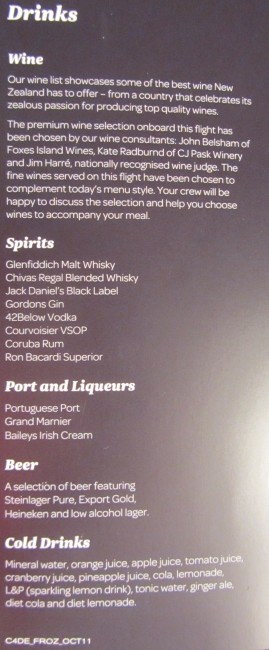 I had requested a vegetarian meal in advance.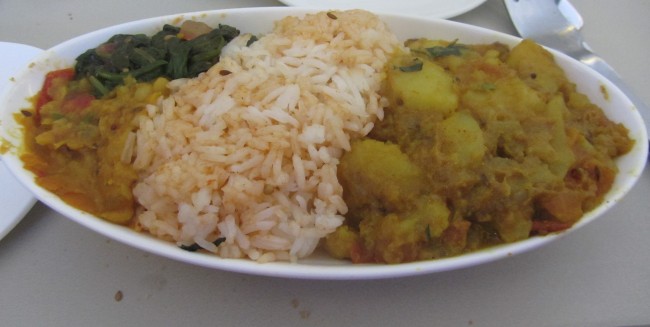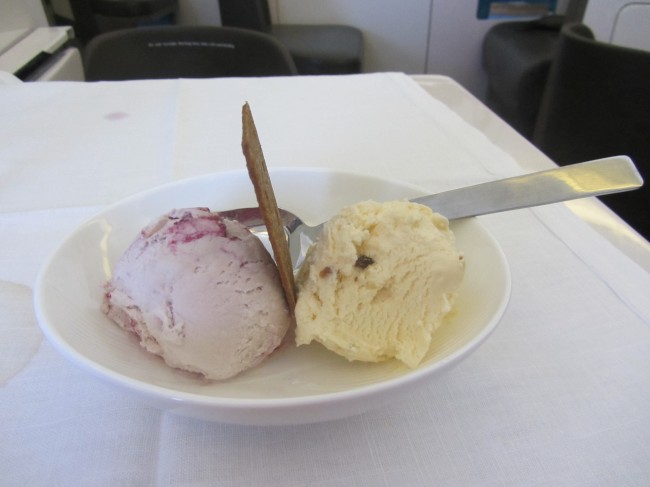 Upon arrival, we had to wait a few minutes to deplane for our jetbridge to be brought up to the aircraft. Overall, customs was quick and painless (and didn't require use of the express card handed out by the flight crew). The immigration officer asked me what I was doing in Sydney: ("Being a tourist" sufficed. The biosecurity officer asked me what sort of science I do: I started to offer an explanation, but he quickly passed on hearing it.
Feb 1, 12, 9:14 pm
Join Date: Nov 2010
Location: NYC
Programs: AA EXP, Hilton GLD, Marriott Plat, NEXUS/GE
Posts: 2,873
Best Western President Hotel Auckland
---
When I was looking for hotels in Auckland, I came across the Best Western President Hotel Auckland at 50% off via American Express Travel, bringing the nightly rate to just over 60USD. Had it been a complete disaster, I would have been able to walk away from the room and check-in to another Auckland hotel. For the rate, the stay was comfortable, but obviously not the lap of luxury.
The front desk clerk was friendly during check-in, but the more manager-type working the desk began muttering "look at the rate for his room." I played dumb and asked what the matter was to "discover" that the going rate was just over double what the hotel was being paid. I'm still not quite sure if the point of this exercise was to lower my expectations
even further
given the rate I was paying.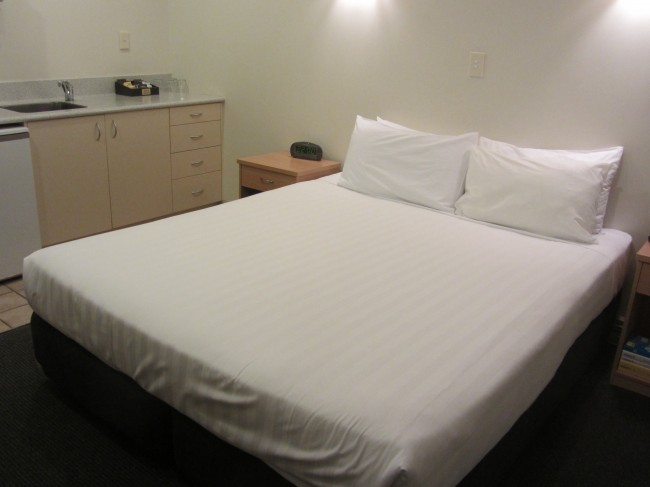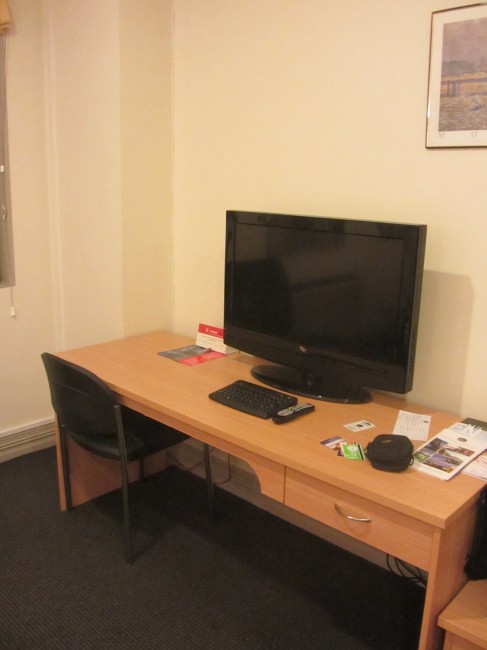 Feb 1, 12, 9:24 pm
Join Date: Nov 2010
Location: NYC
Programs: AA EXP, Hilton GLD, Marriott Plat, NEXUS/GE
Posts: 2,873
Air New Zealand Koru Club Auckland and Business Class Auckland to Vancouver
---
I arrived from the Airbus Express from downtown to the airport and began my trek to find the Air New Zealand check-in desks at the other end of the airport. I eventually came across a series of Air New Zealand counters and kiosks and got in line before wondering why I hadn't seen any signs for premium cabin passengers. I stepped out of line and returned to looking around, finding the business class check-in desk down a bit further and cloistered off from the rest of the airport.
The advantage of the business class check-in desk? A dedicated passport control line and a slightly faster security line. Compared to the hassle of a normal TSA security line, anything looks good.
Compared to the cheese and cracker fare at the United Clubs, the Air New Zealand lounge had a good variety of options.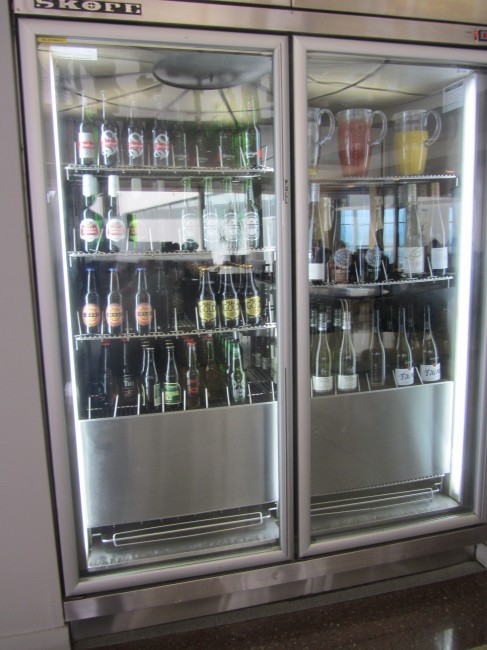 With boarding scheduled to begin shortly, I headed to the gate.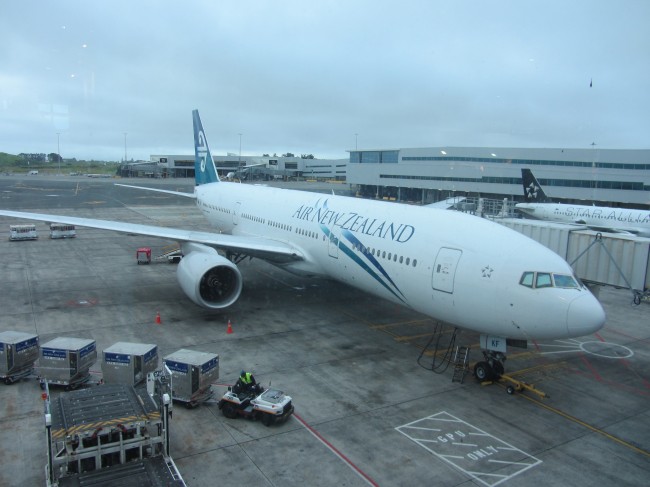 We had a delay in boarding. With moments to go before our scheduled departure, the gate agents announced that there was a problem with the avionics system and that there was no ETA, advising passengers with lounge access to return to the lounge. I decided to stick around while a Canadian couple behind me left for the lounge. As it turned out, boarding commenced shortly after the indefinite delay announcement. The couple had just reached the lounge when the boarding announcement was made. "Rebooting" (in their terminology) the aircraft electrical system caused the IFE to not be up and running during pushback and taxiing, leaving the crew to give the safety announcements the traditional way.
Once again, I was on a 777-219ER, so the Business Premier cabin was the nearly same as my Sydney to Auckland flight. The notable addition to the scene is a tightly rolled memory foam mattress pad and a pillow.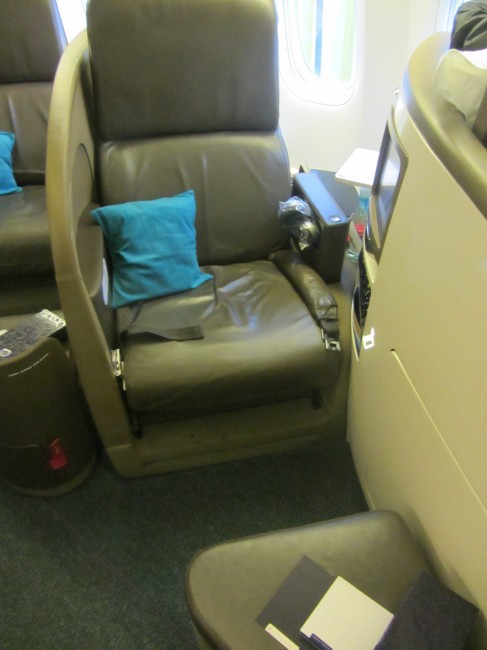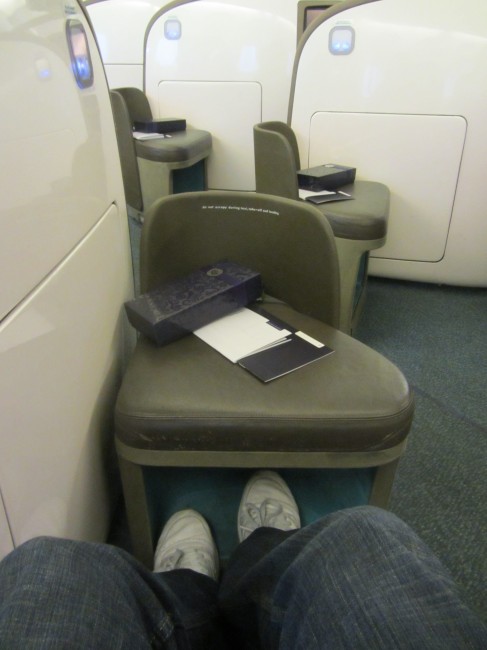 The amenity kit came with the standard contents.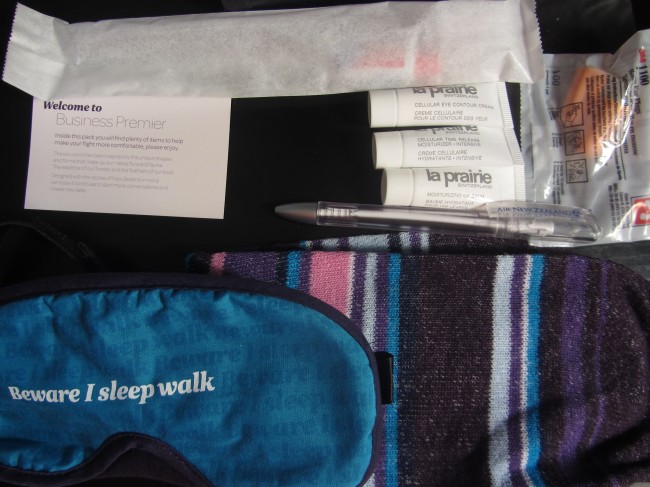 Immediately after takeoff, it was time for the obligatory airshow.
The menu read as follows: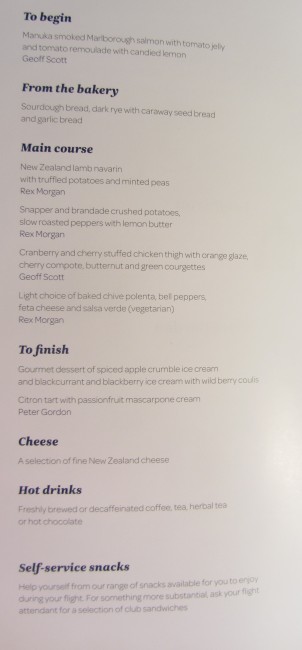 Air New Zealand puts quite a bit of attention into describing the alcoholic beverages, especially the wines (
in a separate guide
), served on board.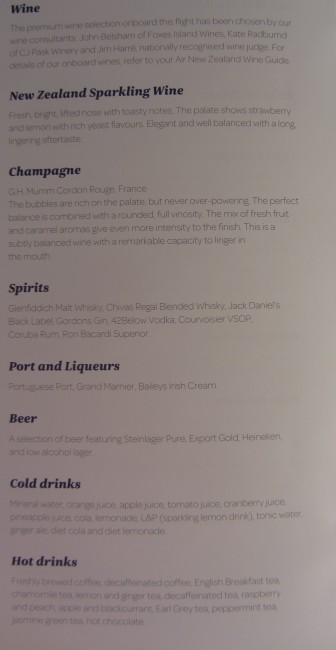 To open: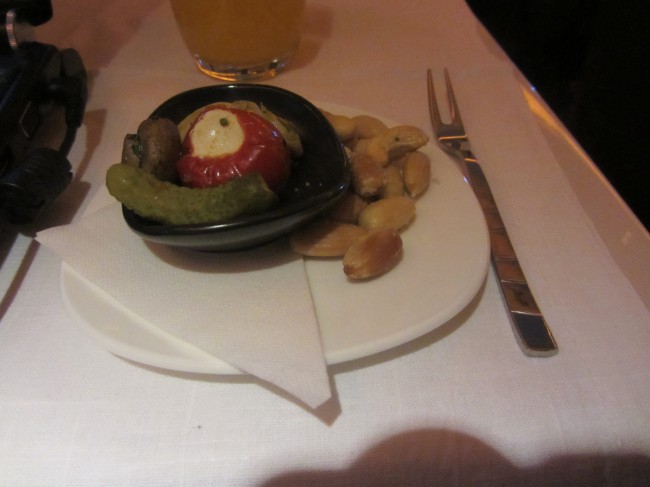 I had (obviously) requested a vegetarian meal in advance.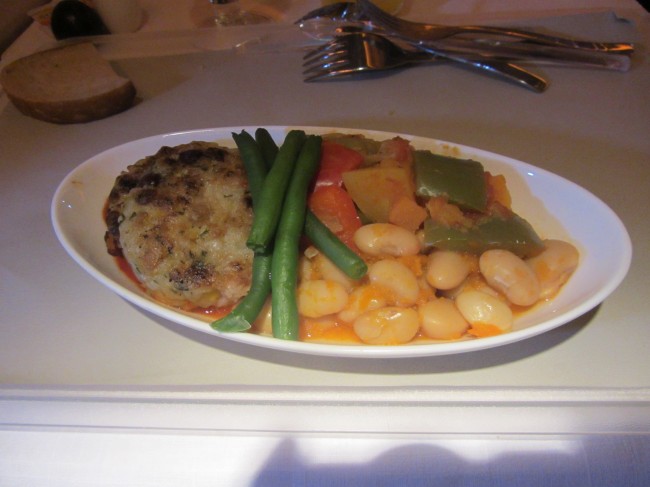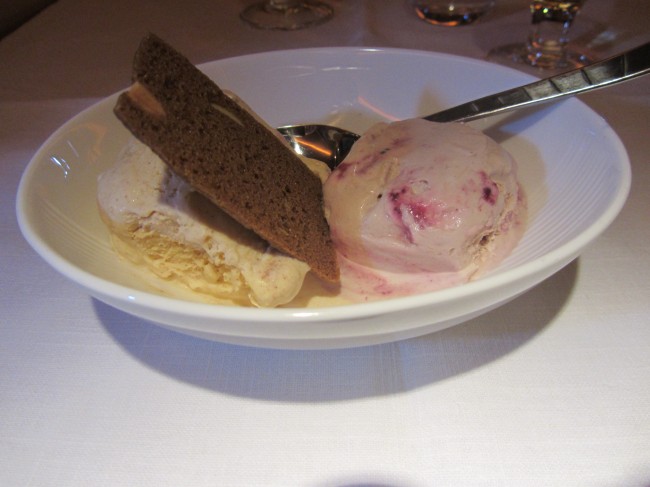 I decided to watch a movie and then asked to have my bed made up. While the bed was quite comfortable, I had a slight cold and didn't get the most optimal sleep I could. When I awoke, the flight attendants were going around serving fruit juices and smoothies.
The egg was sadly a bit over cooked to the point of being browned and crispy in parts.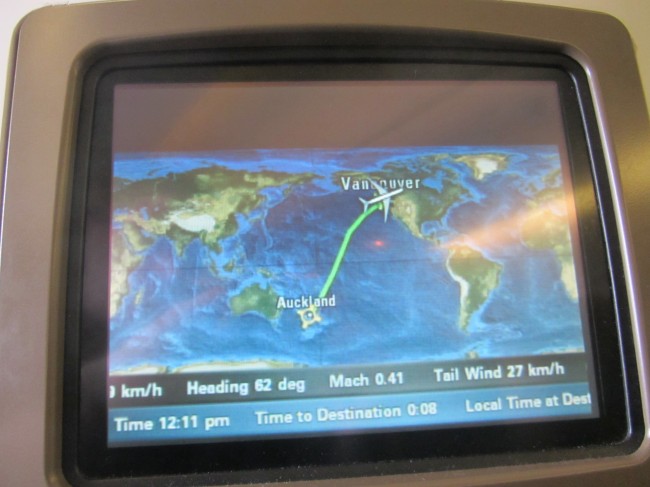 While my Vancouver layover was originally scheduled due to the mercy of award availability, it afforded me the opportunity to do my NEXUS iris scan on my way back to the United States.
Feb 1, 12, 9:27 pm
Join Date: Nov 2010
Location: NYC
Programs: AA EXP, Hilton GLD, Marriott Plat, NEXUS/GE
Posts: 2,873
Air Canada Transborder Maple Leaf Lounge Vancouver
---
For my stop in Vancouver, I was booked to have an approximately 5 hour long layover. I went into Canada to visit the NEXUS office to finally complete my iris scan, obtain my properly branded Air Canada boarding pass (rather than the one I had from Air New Zealand), and then reentered the United States. Amongst those activities, obtaining the boarding pass actually took the most time: The manned stations were swapped and the automated kiosk required that I massage the screen with my finger tips for minutes at a time to get it to respond to button presses to print the boarding pass and to try to standby for the earlier flight to Los Angeles.
I then walked in search of the Maple Leaf Lounge so I could take a shower. Having not studied a map of the concourse ahead of time, I wound up walking past it only to more carefully scan my surroundings for the entrance on my way back.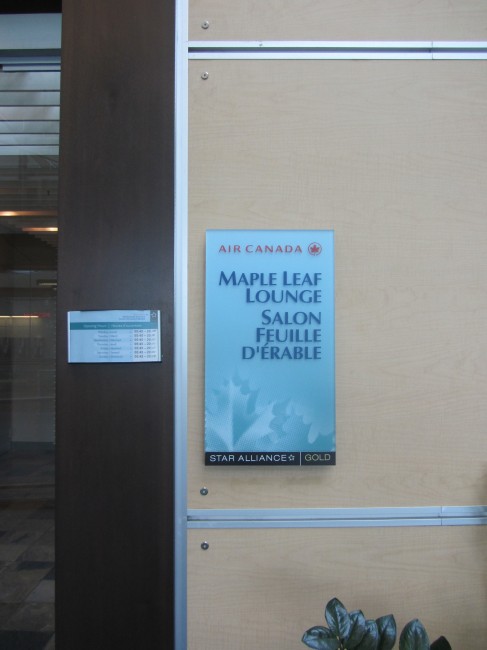 My chief priority was to take a shower after my flight from Auckland. Fortunately, the lone shower was unoccupied.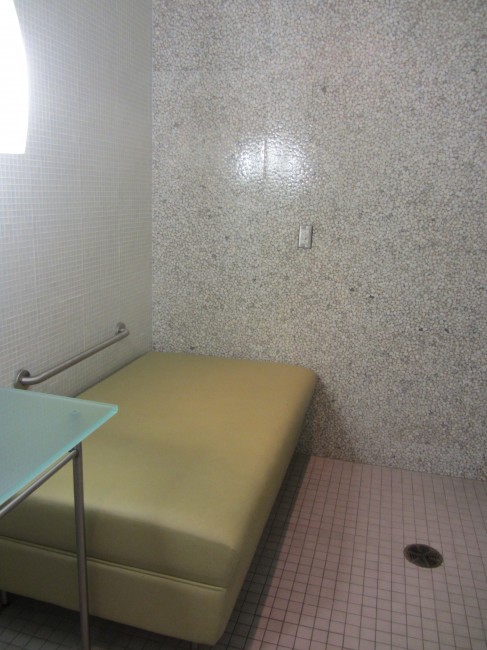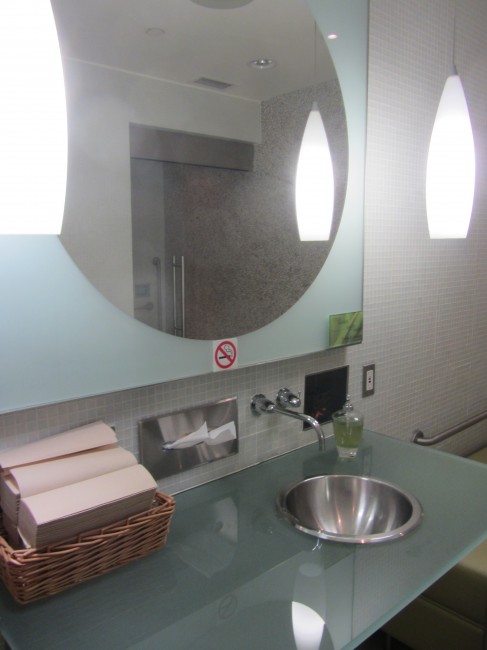 Unfamiliar with Air Canada's meal policies, I made myself a small salad to tide myself over if there wasn't a vegetarian meal on the earlier flight.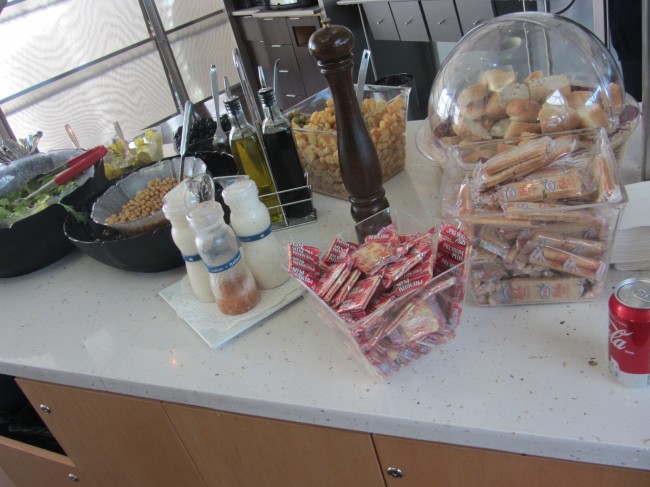 The lounge itself was reasonably empty.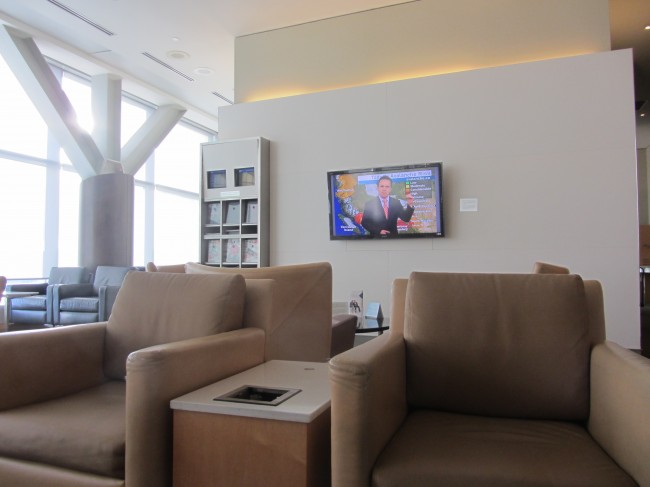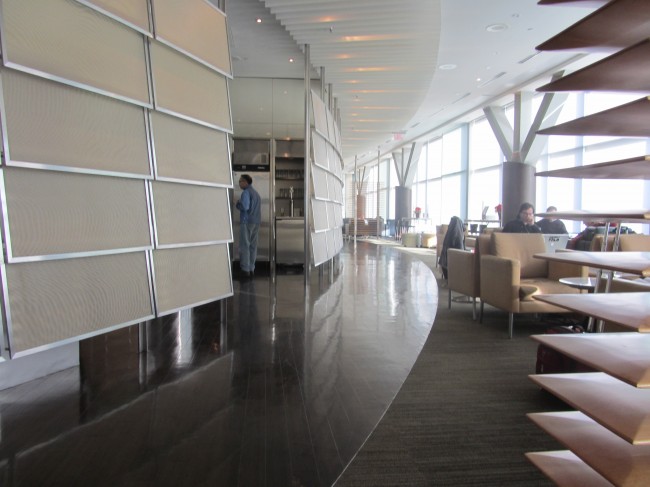 When I approached the gate, I found that my standby had cleared.
Since I was seated in a bulkhead in business class, I had placed my laptop bag and camera in the overhead bin, forgetting that I would want to take a picture of the meal. Amongst the choices of chicken, beef, and pasta as standard options. I chose the pasta. The meal came with cold (gasp) nuts to start, a roll, a salad with balsamic vinegar and oil dressing, and a small slice of chocolate cake.
Air Canada 554
Vancouver (YVR) – Los Angeles (LAX)
Saturday, December 31st
Depart: 3:21PM
Arrive: 5:52PM
Duration: 2 hours, 31 minutes
Aircraft: Embraer 190 (C-FMZU)
Seat: 1A (Business Class)
While I'm normally indifferent to in-flight entertainment options, a glitch in the air show map gave me a chuckle.