Geekin' my way 'round the US of A
Sep 27, 11, 5:36 pm
Join Date: Jul 2011
Location: LHR- ish
Programs: MUCCI, BA Blue
Posts: 4,299
Geekin' my way 'round the US of A
---
CAUTION - This TR concerns 2, (two), flights in a 10 day period with an intervening series of travel by bus and train. Also the flights were in Y and Y+. Readers of a certain disposition should look away now. Also round the USA is a slight exaggeration, I actually touched 5 states all on the East coast
About the author - exilencfc is a UK based naval historian who will eventually finish her PhD. She has no airline status. And yes she really is female, even if she does write like a bloke. Rumour has its she does know how to use spell check.
Geekin' my way 'round the US of A: In which our hero visits Annapolis, Baltimore and Philadelphia.
Way back in January I submitted my paper for the 2011 Annapolis Naval History Symposium to be held at the United States Naval Academy, Annapolis MD, on the 15th and 16th September. In true academic style I then forgot about it and went off to procrastinate about something else. Some months later, when the symposium organisers had finished their procrastination, an email arrived announcing that my paper had been accepted and enclosing a tentative schedule.
I set about planning my trip on the following principles - low cost, long duration (why go to America for two days?) and maximum chances of free food. I immediately came up against a rather major sticking point - Annapolis is the only state capital without an airport or railway system. For added entertainment I haven't got round to learning how to drive yet.
I eventually booked myself on BA 217 LHR-IAD, and congratulated myself on my cheap WT ticket. I then joined FT and cursed myself for not buying a ticket I could upgrade through MMB. Further cursing followed when the esteemed assembly professed doubt at my plans for getting to Annapolis. At this point a saviour arrived in the shape of a colleague going to the same conference, travelling on the same flight, and in possession of a drivers license. With this major problem solved, and my Annapolis hotel booked at conference discount rate, I was able to plan the rest of my trip - a couple of days in Baltimore (reached by bus and light rail) and four days staying with a friend in Philadelphia (travelling by Amtrak). Then finally home on BA 68 PHL to LHR
September 14th arrived and I made my way to Heathrow on the Railair coach, much to the delight of my Dad who had been worried i'd ask for a lift. I've used Railair from Reading station before and would recommend it, it's reliable, reasonably quick and comfortable and hassle free. Hoping for a quick exit at Dulles, I opted not to check in my luggage, thus obliging me to carry it around the terminal for two hours without whinging about how heavy and awkward it was. It was, of course, inside the maximum size and weight limits and actually not too bad to carry - if anyone wants a cheap high capacity bag look at a 43L skypak.
I eventually found the BA Customer service desk (i'm not sure whether they are badly labelled or if it's just my being an idiot) which meant I was able to ask about buying an upgrade. I was quoted the standard price of £179 and accepted with alacrity. And visa. The bloke at the desk did a great job, offering me a choice of seats, and phoning somebody along the food chain to make sure the one I wanted was still available. Armed with my new boarding pass (hooray a proper boarding pass) I was ready to make my way to terminal 5B. So I headed down to the platform for the terminal train.
There was a group of flightcrew waiting at the far end of the platform so I went there too, figuring they must know the best place to stand. The train stopped way short of where we were standing so we had to walk back to get on it. I began to hope the plane knew where it was going. Getting off the train, a pilot told me it was quicker to go up in the lift rather than the escalator. Hoping he and his colleagues had mastered the up and down bit of flight I followed them - turns out they were right this time.
I boarded the plane and found somebody in my seat. We argued about which row was which, then which seat was which. Then we compared boarding passes. He moved to his seat and I sat down in mine. Then stood up so the person in the window seat could sit down. The plane took off with no trouble and my seatmate decided to move off to the middle block which was empty. This left me in possession of 25J and K, the last row of WT+ on the 777. These seem to be pretty good seats- full recline but nobody behind you, a bit of extra space round the seats, a window, and a shortened overhead bin which is clearly their exclusive property
On the downside just behind the curtain are the bulkhead seats and therefore a screaming baby.
After wrestling the AVOD controls out of the holder, and getting my newspaper under control, I was able to get stuck into the entirely acceptable wine. By this stage my former seatmate was doubtless congratulating himself on sacrificing the window seat for having the middle block to himself. Well almost to himself, somebody else had moved in on the far side. Customs cards were handed out and I immediately filled mine in. By the time i'd finished the purser was resetting AVOD for a second time in the hope of restoring sound to all channels. He got it going eventually
Lunch arrived and I chose chicken in leek sauce rather than roast beef. The starter was a very tasty pasta salad; my plan to mop up the sauce with the roll was thwarted by the roll falling apart, it ended up basically thickening the leek sauce. I peeled the foil off my main meal to be greeted by lots of, joy of joys, not cooked to death carrots; a goodly lump of mashed potato, some slightly overdone looking chicken, and plenty of sauce. The whole lot turned out to be surprisingly tasty even if the chicken was overdone. The pear mousse (or possibly cheesecake? I can't remember) was also acceptable. The roast beef looked quite good too.
Several rounds of drinks followed, and at this point I realised I'd filled in my customs card wrong. Not wanting to be imprisoned for sneaking smoky bacon crisps into the USA, I asked for a new one, requesting the lovely Lee to bring one with him next time he happened to be passing. Half an hour or so later through the curtain came a curious apparition - a drinks trolley and above it a disembodied hand waving a US customs card. Spooky.
The plane arrived about 15 minutes at Dulles, which felt homely what with the Devonesque red soil, and had the added entertainment of an aircraft with chutes down and fire engines standing by. The mobile lounge delivered us to immigration, thanks to FT I made sure to stand by the doors. I sprinted to the non US line, which was endearingly short, and made my cheerful way to the chap at the desk. Who informed me I hadn't signed my card. Visions of Alcatraz or, worse still, the back of the now rapidly growing line swam before my eyes. Closely followed by a pen. Phew
Having entered the USA, I then spent 45 minutes waiting for my friends. They had ended up on the second mobile lounge and thus arrived at immigration after a planeload from Saudi Arabia. Unsurprisngly most of the people on said flight were Saudi Arabian. Surprisingly Saudi Arabians get to use the US Line. So much for my American friends waiting ages for me...
Some time later we found ourselves melting outside the airport whilst we waited for the shuttle to the car rental place. Our economy rental gave us a choice of 3 nondescript Ford Focus type things or a red Chevy. As the Chevy had the biggest boot we decided it was the car for us. No sooner had we finished loading our stuff and ourselves into it, then we were approach by a Germanic gentleman who asked us if we were taking the car. I'd like to say we replied politely but mum told me not to lie.
A couple of miles down the road the red chevy revealed itself to have almost as much acceleration as a snail in a tray of wallpaper paste. Next time a German wants to steal my car he's welcome. Actually the slow speed of the car was not a problem because the traffic was hell. Three hours later we arrived in Annapolis. Our hotel was the Doubletree by Hilton on the outskirts of town. Never having stayed in a Hilton before I was hoping for something impressive. The room was very nice, but the sheets had chocolate on and the breakfast ordering card had been used. This hotel is a long way from the city centre but if you're brave enough to cross a six lane road you can go to the shopping centre. It was at this point I discovered that in America a green light for pedestrians does not mean the cars have to stop...
Sep 28, 11, 2:21 am
Join Date: Sep 2009
Location: BRS
Posts: 335
I like your writing style - shame you're still a student, so we're unlikely to get too many more TRs from you in the immediate future.

Keep at the PhD. It'll be worth it in the end! Same goes for the Trip Report.

And +1 for the RailAir recommendation. Don't forget the free WiFi (although whether it will cope with me trying to stream the rugby on Saturday morning remains to be seen)!
Sep 28, 11, 2:11 pm
Join Date: Jul 2011
Location: LAX/DCA
Programs: AA, US
Posts: 50
only rural cities have no marked crosswalks and people will basically run you over. go to big cities where it's more pedestrian friendly. im sorry you had to experience that. not representative of america though
Sep 28, 11, 5:20 pm
Join Date: Jul 2011
Location: LHR- ish
Programs: MUCCI, BA Blue
Posts: 4,299
Glad people are reading and enjoying, it's inspiring me to keep it up
So I eventually made it to the far side of the road. There was an extremely unpleasent smell but it didn't seem to be coming from my underwear so I headed in the direction of the supermarket I'd found on google maps. Why did I need a supermarket? For laundry detergent and Reeces pieces. Yes i'm a Reeces addict, probably because they aren't available on this side of the Atlantic. My local Tesco occasionally has Reeces cups but they aren't the same. So having been in the country nearly six hours it was time to go after a fix. As i'd already discovered I didn't like the local tap water I also stocked up on juice. The shop was already full of Halloween junk so I was able to buy big multipacks of mini bags of Reeces. I headed back towards the scary main road and discovered the puddle from which the bad smell was coming.
Having stashed my shopping I went down to the hotel bar where pre-registration for the symposium was taking place. Why the bar? Well because that's where most naval historians can normally be found, so in the unlikely event of registration not being there I would surely find somebody who knew where it was. As it happens registration was taking place in a room just off the bar, apart from good company and conference goodies there was... FREE FOOD!
Sometime later, and stuffed with the curious combination of meatballs and spring rolls, I made my way upstairs to my now chocolate free bed. I was hoping the tiredness from a day of travelling, plus the fact that it was now about 4am UK time, would make for a good night's sleep. I was wrong - insomnia struck with a vengence.
The following day I more or less crawled down to breakfast (lots of coffee) and then outside for some fresh air and to wait for the symposium transport. Which turned out to be a yellow school bus. The non-Americans, thrilled by the chance to take a ride on this American icon, swiftly piled aboard. Wherein we discovered that yellow school buses are used for children because nobody else would put up with such a badly appointed vehicle.
We got thrown off the bus in a Naval Academy Car Park and then spent about ten minutes trying firstly to find the right building and secondly trying to find a door. I actually have no idea how we got in and I very much doubt I could find the same route again. The conference got going and I again confronted the question of why people go to such effort and expense to attend these things when they could sleep more comfortably in their own offices. That said, there were actually a lot of interesting papers to see, and a wide choice of panels to attend. And so took place two days of history, networking, cookie eating and wandering around the Naval Academy.
The United States Naval Academy, founded in 1845 but extensively rebuilt in the early twentieth century, is open to the public and makes for a few hours very interesting sightseeing. Highlights include Bancroft Hall, the largest dormitory in the western World; and the chapel which incorporates the crypt of John Paul Jones. There's also a replica of the Wright Brother's aircraft which is housed in Dahlgren Hall.
Chapel and Herndon Monument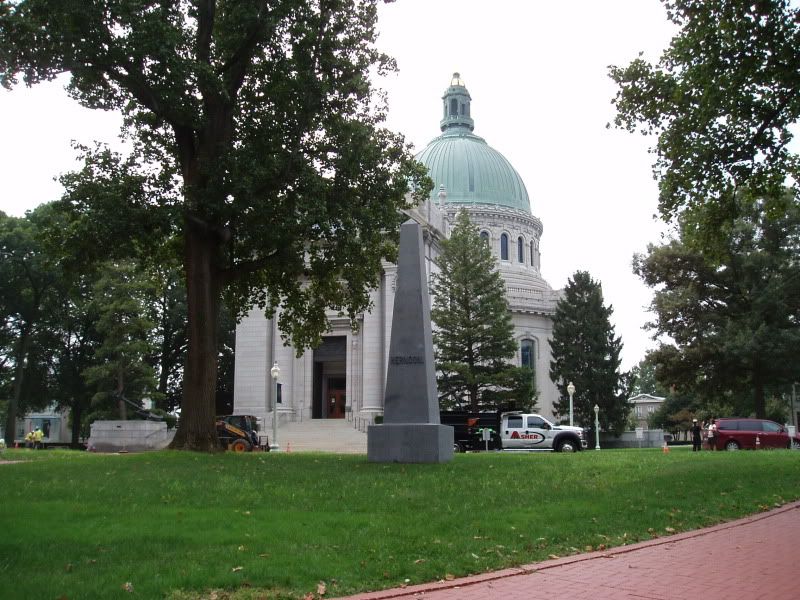 Stribling Walk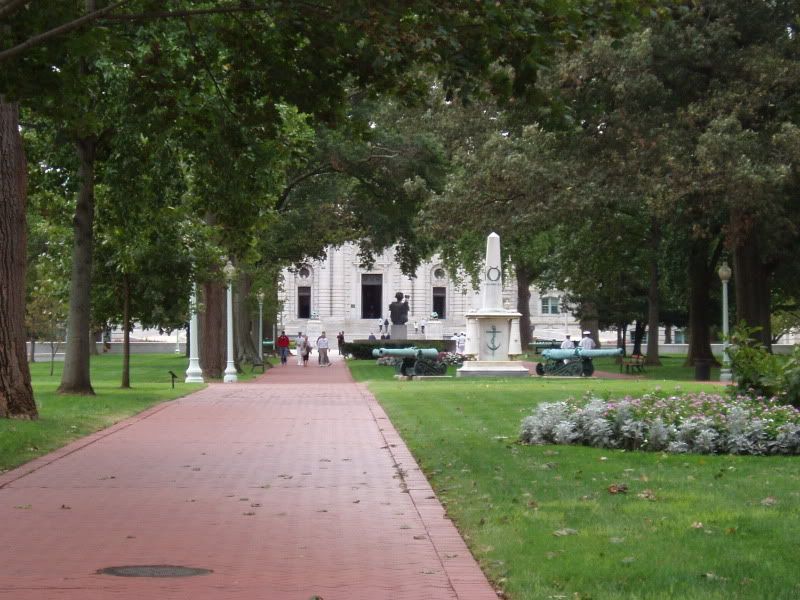 Crypt of John Paul Jones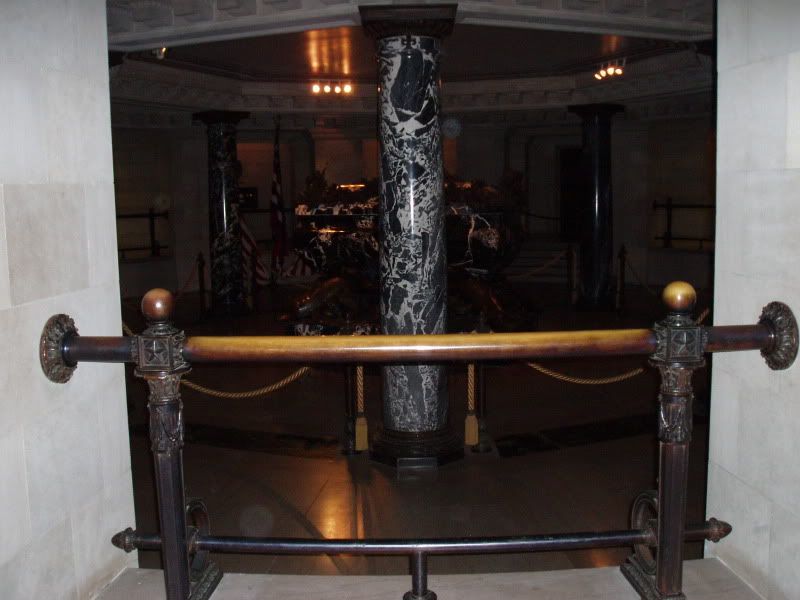 Dahlgren Hall and Wright aircraft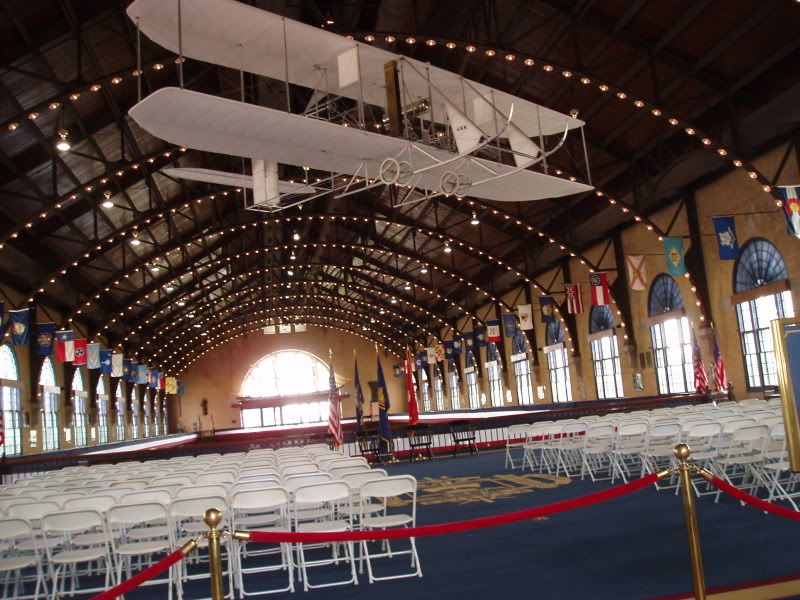 Interior and exeterior of Bancroft hall
Oct 1, 11, 5:56 pm
Join Date: Jul 2011
Location: LHR- ish
Programs: MUCCI, BA Blue
Posts: 4,299
Glad to hear that Stewie

A Day in Annapolis, to Baltimore by???
With the symposium over participants scattered to the far corners of the earth. My friends headed off to Florida (fortunately they were only relying on red chevy as far as BWI), and the guy who beat me out for a job earlier this year headed back to his 60 hour weeks. A hard core of three of us assembled outside the hotel to await the shuttle to take us back to the academy and to the United States Naval Institute conference on 100 years of naval aviation.
This event was held in Alumni Hall, more specifically in Navy's basketball arena which can be subdivided so as to provide a large presentation space. The star attraction, and the reason I came, was a panel of three astronauts - Wendy Lawrence (who has more hours on the shuttle than anyone else), Charlie Bolden (NASA director) and Jim Lovell (he commanded some mission called Apollo 13). This panel was well worth the $20 I would have paid had I not been a student and therefore entitled to free entry, three genuinely inspiring speakers with a lot of fascinating insights into the space programme.
All geeked out I passed on the afternoon session, instead heading out into the city of Annapolis. I've seen other FTers suggest Annapolis as a good place for a day trip and i'd second that - it is a pretty city, easy to walk around, and has lots of historic buildings and good shops. You can also take a segway tour. As an added bonus I got to watch my football team Norwich City beat Bolton courtesy of Fox TV and the Middleton Tavern. Norwich got promoted to the premiership at the end of last season, we last visited in the 2004/5 season - we got promoted one year and relegated the next. Now you may be wondering why this is relevant? Well last time I went to America I also watched Norwich play premiership football - the club should pay me to emmigrate.
One of the attractions of the Doubletree was the free shuttle bus. Turns out it wasn't such a great perk. Earlier in the day there had been no driver and so the hotel had to provide us with a taxi to the academy. Now when I tried ringing the hotel to ask for a pick up my phone decided it wasn't going to play - perfectly happy to call my parents a few thousand miles away but a hotel a few miles away? No chance. Not the hotel's fault but still bloody annoying.
Forcing my aching feet into action I set off in search of a taxi. Normally i'd try the local railway station but Annapolis doesn't have one. So I decided to try Main Street instead and there I found taxis. The taxi driver turned out to be from Pakistan but with a brother who lives in London. When I said I had to get to Baltimore the following day but I wasn't sure how, he kindly gave me his card and quoted me $50-60.
Back at the hotel I began to review my plans for getting to Baltimore. Plan A involved the number 14 bus and the Baltimore light rail. Plan B? Well I didn't actually have a plan B but I suspected it involved the smell of melting credit card... I went down to the front desk to ask about the bus. The staff didn't think it existed. Then they denied that a commuter bus could possibly run on Sundays. The only good news was that the terminus named on the bus timetable was within hotel shuttle range. I decided i'd attempt to catch the bus and, if that failed, I'd have to get a taxi. Which, with my phone on strike, and the bus stop rather a long way from hotel or city centre; looked like it might be rather interesting.
Sunday morning found me boarding the hotel shuttle complete with luggage and map. With this aid the driver was able to find the bus stop, which consisted of a post with a sign on top featuring a picture of a bus and the number 14 - not the most obvious bus stop ever. I waved by to the shuttle driver and waited for the bus which arrived slightly late. The journey to the outskirts of Baltimore was supposed to cost $1.60 - ridiculously cheap for an hour long journey. It actually cost nothing, presumably the money collecting apparatus was broken.
The bus wasn't particularly comfortable but it was adequate for the trip - clean and well maintained, and had lots of space for luggage. The driver seemed friendly enough and I felt pretty safe aboard although I wouldn't fancy it late at night. Maryland transit seems to be pretty well organised - the bus dropped us at Glenburnie light rail station and there was a train waiting to leave for Baltimore. We were able to biy tickets and board quite leisurely, the train left about ten minutes after the bus arrived.
Baltimore light rail was quite impressive: the ticket machines are easy to use, the trains are in good condition and they seem to be quite frequent. I felt very safe aboard, my only concerns would be the relatively limited luggage stowage and the steep steps - I wouldn't want to travel on these trains with lots of heavy luggage, especially during the rush hour. Otherwise a safe and reliable service, i'd have no qualms with relying on it to get me to BWI (I don't ever have huge amounts of heavy luggage!).
My hotel in Baltimore was the Days Inn Inner Harbour, less than five minutes walk from the Convention Centre light rail stop. This was by far the cheapest hotel I could find in the Inner Harbour area and I was quite impressed. It's handy for lots of things without being next to anything, the staff are reasonably friendly and efficient, and there was a good range of facilities. My sixth floor room was clean and comfortable and well equipped with a safe, fridge and microwave. My major complaint was that the lighting was poor - you couldn't work in there so I wouldn't use it for a business trip. It was also a bit lacking in space and not very stylish.
Conference Panel of Astronauts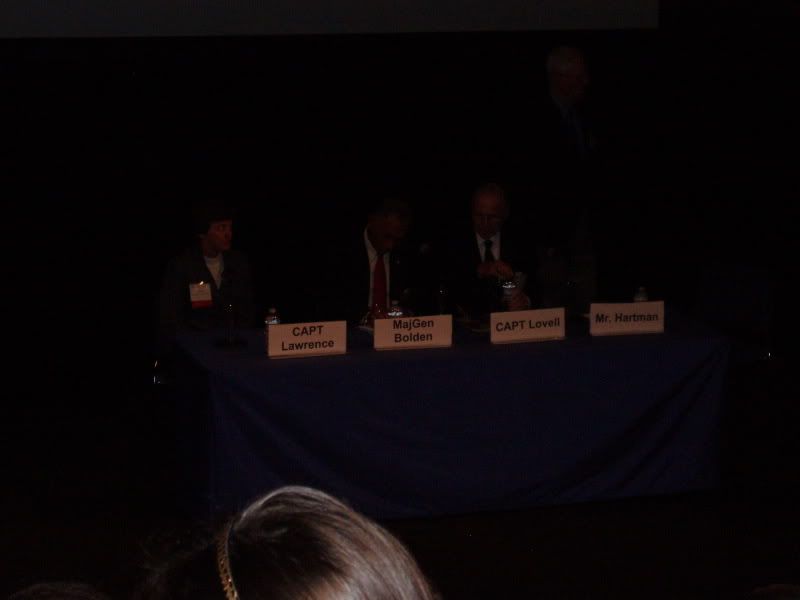 Scenes of Annapolis
Baltimore light rail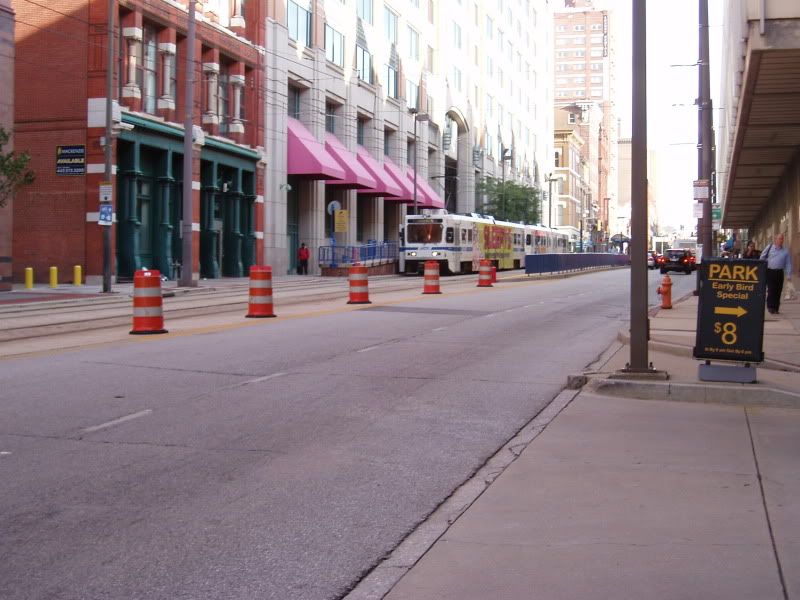 The view from the hotel corridor, sadly my room overlooked a multi-storey carpark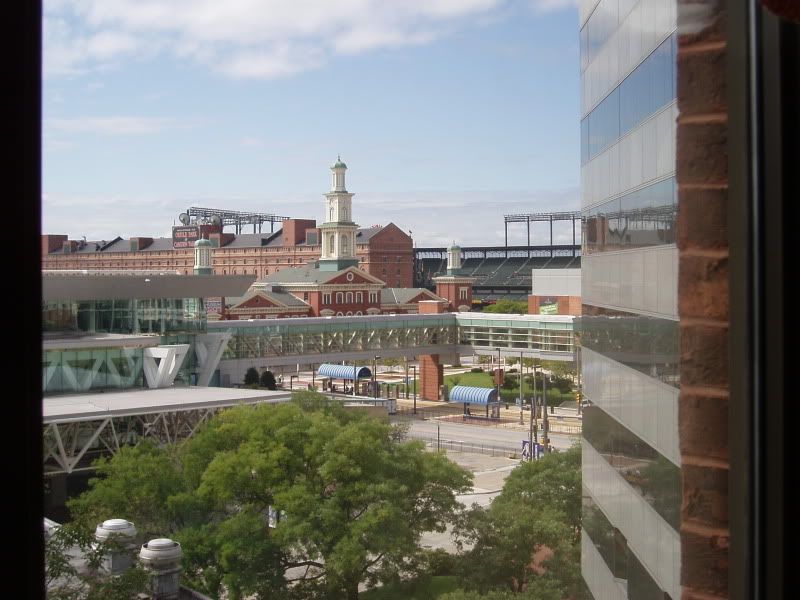 Oct 2, 11, 5:17 am
Ambassador: Finnair Plus
Join Date: Apr 2011
Location: HEL
Programs: AY+ Plat, HHonors Diamond, Hyatt Discoverist, Priority Club Plat Amb, Miles and Smiles Elite
Posts: 3,759
Originally Posted by
exilencfc
Having stashed my shopping I went down to the hotel bar where pre-registration for the symposium was taking place. Why the bar? Well because that's where most naval historians can normally be found, so in the unlikely event of registration not being there I would surely find somebody who knew where it was. As it happens registration was taking place in a room just off the bar, apart from good company and conference goodies there was... FREE FOOD!
Heh, it's not just naval historians. Economists, political scientists, sociologists... Everyone goes to the bar. Why, sometimes I almost think it is one of the main reasons to attend a conference!
But surely it can't be so...
Great TR! Annapolis looks pleasant.
Oct 2, 11, 4:00 pm
Join Date: Jun 2008
Location: Texas
Programs: American Airlines British Airways
Posts: 1,752
Very interesting report. Thanks for taking the time to post it for us.

However, in today's world I simply cannot fathom the notion that someone has never learned to drive a car. You limit yourself to such a huge extent, I just do not understand it.
Oct 2, 11, 4:58 pm
Join Date: Apr 2006
Location: YTZ
Programs: Avis PC; National EE; SPG & Hilton Gold; AC Tangerine
Posts: 5,862
Oct 2, 11, 5:06 pm
Join Date: Mar 2007
Location: Birmingham, West Midlands, UK
Programs: Mucci, BMI*G, M&M SEN, FB Gold, PC Plat, Father of GhettoIFE
Posts: 3,972
I'm in a slightly different position (and like a fair few city dwellers over here), to the point where I have passed my driving test, however there are excellent transport options where I live which don't make financial sense in any way (be it hire, a ZipCar etc) to have a car.
And driving "on the other side of the road" requires a fair bit of confidence too!
Oct 2, 11, 5:49 pm
Join Date: Jun 2008
Location: Texas
Programs: American Airlines British Airways
Posts: 1,752
Yes, I know there are many people who do not drive. That does not mean it makes any more sense, just because you can name more than one.

I do not want to highjack the OP's thread. If we need to continue this, let me know. I will open a thread somewhere.
Oct 2, 11, 9:19 pm
Join Date: Jun 2003
Location: Denver CO
Programs: HHonors Gold, National Emerald Club, no airline affinity status
Posts: 2,488
Great trip report. What is the significance of the picture of the multi-colored house with the people on bikes in front? Just wondering if there was a particular story that went with the shot.
Oct 3, 11, 8:01 am
Join Date: Sep 2009
Location: BRS
Posts: 335
You don't work in immigration, do you? I once had a few minutes delay getting into the US because the border guard wanted to see a second form of photo ID and couldn't quite believe that I didn't hold a driving liscence.
And I think I owe the OP an apology also. Keep up the good work - although sorry to see no in-flight photo's.
Oct 3, 11, 9:22 am
Join Date: Aug 2009
Location: Edinburgh
Programs: BAEC Gold
Posts: 143
Nice trip report. I wish I had the skills to write like this, and others on these boards.

It is also refreshing to see another city with an up and running light rail system....... as I listen to the never ending caucophony of jackhammers and drills as Edinburgh is once again torn apart in the vague hope progress might be made on the tram network.