A Road Trip to the Big Easy, April, 2011, at Hilton and Loews, with a few pictures
Apr 20, 11, 3:26 pm
Join Date: Jul 2004
Programs: NW Gold, '06. Good times.
Posts: 7,246
A Road Trip to the Big Easy, April, 2011, at Hilton and Loews, with a few pictures
---
Married life, especially married parental life, coupled with a full-time job as a public school teacher has greatly limited the amount of traveling I've been able to do of late. I have a couple of other trip reports in the works going back 18 months but this is a brief account of my most recent trip, a road trip from northeast Texas to New Orleans for an academic conference.
When most people think "Texas," images of cowboys, dusty plains, and large herds of cattle come to mind. While these are perhaps some of the state's iconic images, they apply more to West Texas than my present home in East Texas. Here, on the edge of the Louisiana bayou, lies the eponymous Piney Woods region, rich with Spanish oaks, southern pines, and a thousand kinds of springtime pollen. From the unseasonable East Texas heat, I would drive across the state of Louisiana and deep into the humid Mississippi Delta.
My trip would take me along I-20 towards Shreveport, Louisiana, down I-49 to Lafayette, and east on I-10 to New Orleans. Total distance: roughly 400 miles. I'd miss my wife and daughter but hoped that the conference would yield enough contacts and time with old classmates to be worth the trip.
Friday, April 8, 2011
Hilton Riverside
New Orleans, Louisiana
I left my apartment a little after 0700 and hoped to make it to New Orleans before the evening rush clogged the city's streets. The weather cooperated wonderfully, with clear skies and sunshine all the way down.
In this part of the country, even major highways are only 2 lanes wide in each direction. Traffic was light on the way to I-49, save for a short backup on Louisiana Route 3132 just west of Shreveport.
Shreveport is a growing city on the banks of the Red River, the flow of which was diverted from Texas into Louisiana following the New Madrid earthquakes of 1811 and 1812. Shreveport has the infrastructure of a small town and the traffic of a much bigger one, leading to delays in the damnedest places. Still, this was my only major delay during the entire trip so I can't complain.
The drive to New Orleans was otherwise uneventful - those of you who've visited central Louisiana will appreciate just
how
uneventful the drive can be - but the scenery was lush and the highways were empty.
Until I hit I-10.
Lafayette sits at a crossroads on I-10 between two of America's biggest port cities, Houston and New Orleans. The truck traffic on this stretch of highway was considerable. Merging from I-49, I had maybe three seconds to shake the rust off my urban driving reflexes and get back in the groove. Truckers are a pretty unforgiving bunch.
I-10 isn't much different from most other Interstates, except for an 18-mile elevated stretch through the Atchafalaya Swamp.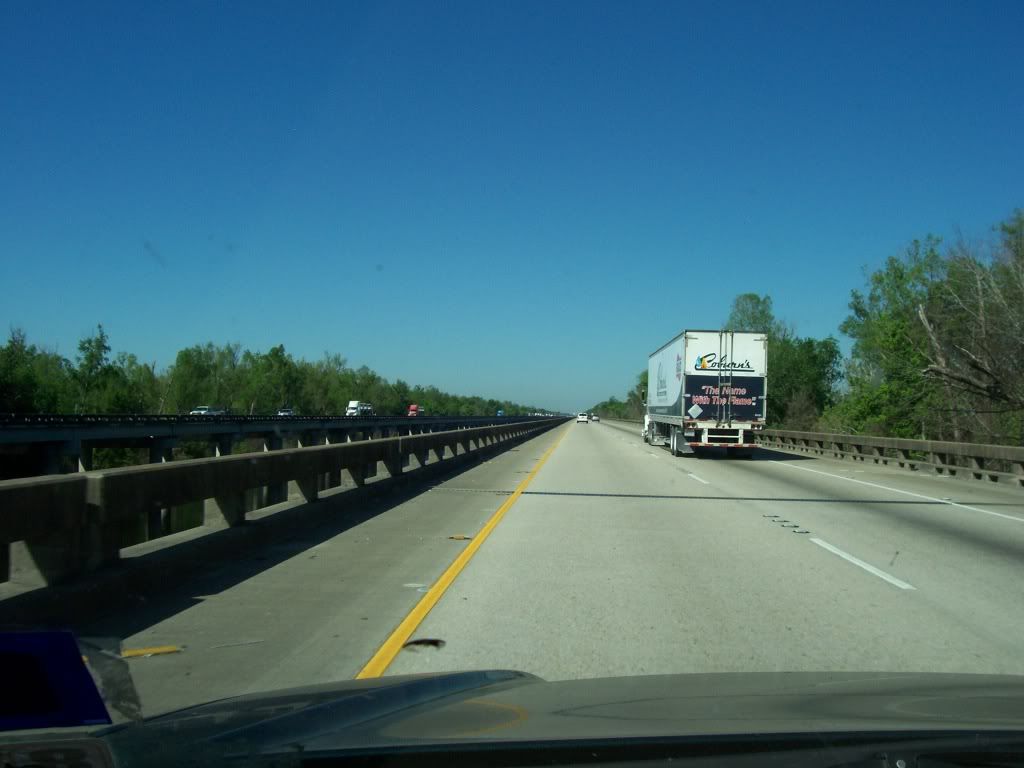 The channels cut through the swamp criss-cross underneath sections of the highway and it seemed as though some of the boats, judging by their wakes, were going as fast as I was.
I refueled on I-49, had lunch, and gassed up again about 30 minutes west of New Orleans on I-10.
After cruising the last few miles along the western edge of Lake Ponchartrain and passing MSY airport, traffic become heavy again. Still, I made excellent time, exiting the highway at the Superdome around 1530 in the afternoon, and following Loyola and then Poydras to my hotel.
Poydras Street with the Mississippi at my back.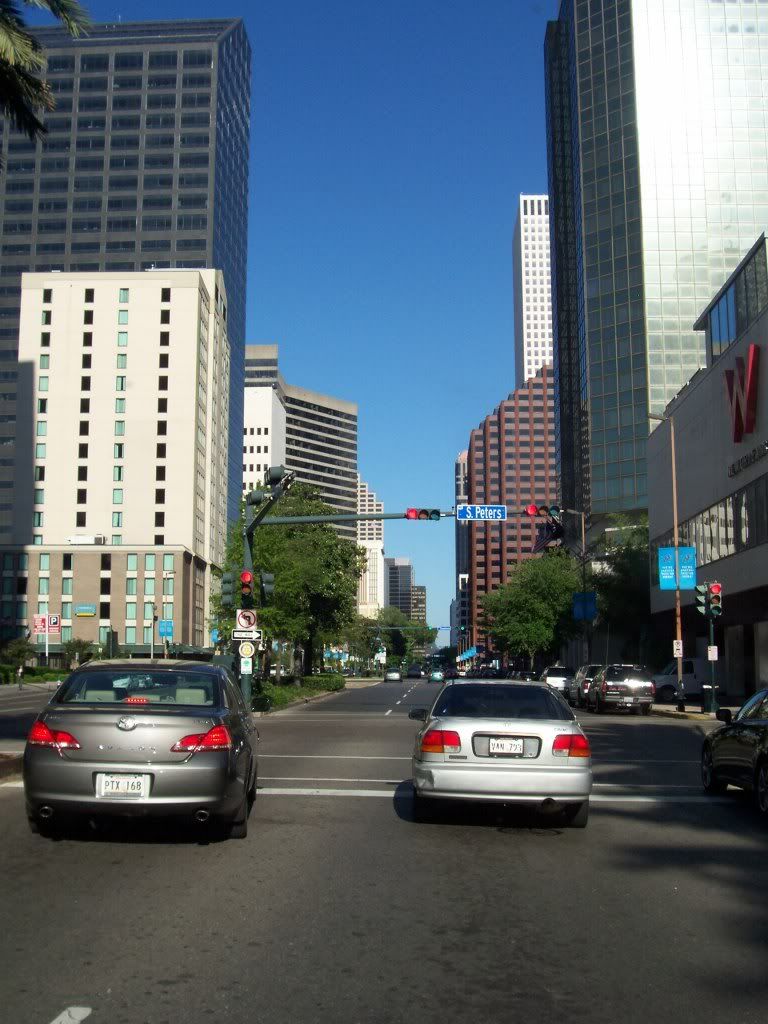 I'd booked one night at the Riverside Hilton and three at the Loews New Orleans. Apparently two conferences were in the city that weekend and reservations had been commensurately hard to get.
I was able to immediately park at the Loews, which is three blocks up Poydras from the Hilton, thereby saving $5.00 in parking. The Hilton charges an extortionate $40.00 a night for valet service and $34.00 a night to self-park. Loews, on the other hand, charges a slightly less extortionate $29.00 a night for the valet. Plus tax and tip, of course. I walked the three blocks to the Hilton in about 5 minutes.
Check-in for this hotel complex is on the second floor, up an escalator to the left of the main entrance. The check-in line was brief - 5 minutes or so - and the clerk managed to avoid announcing my room number to all and sundry. I always appreciate the staff who maintain this basic level of security awareness.
My room - I believe it was 2815 but I can't recall exactly - was part of a cluster in an adjoining Hilton-owned building on the other side of the trolley tracks that ringed a small outdoor patio.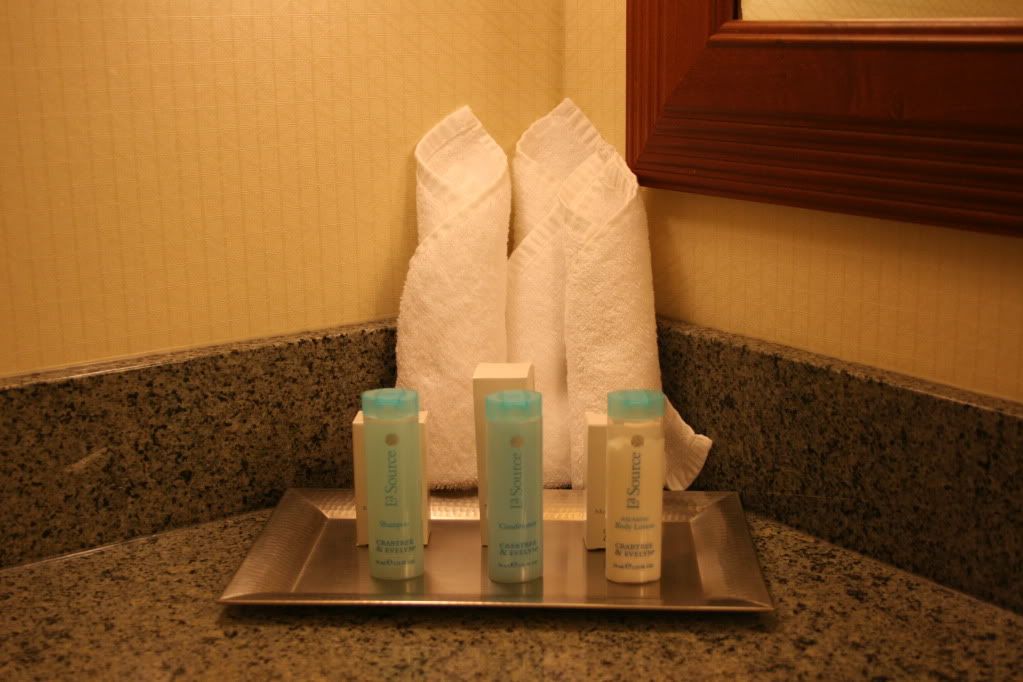 I stowed my belongings and went to the Sheraton, about 10 minutes away on foot, to get my conference materials.
I spent the rest of the evening at various sessions, including an interesting talk by New Orleans school superintendent Paul Vallas, and reconnecting with old friends.
Later that evening, I took my camera for a short stroll.
Riverwalk.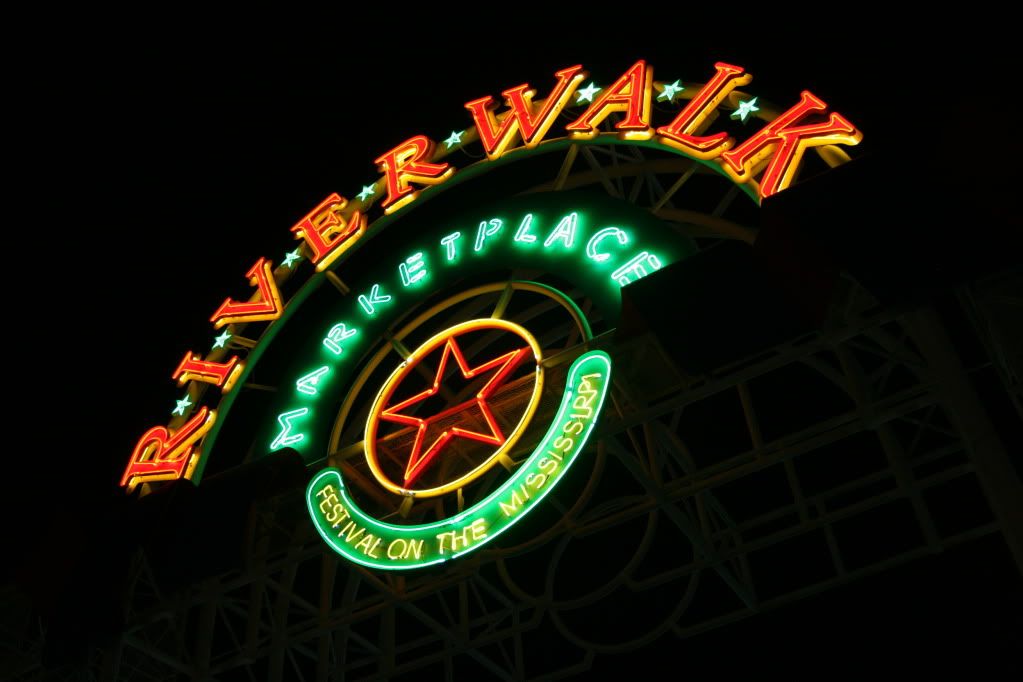 Bourbon Street on a Friday night.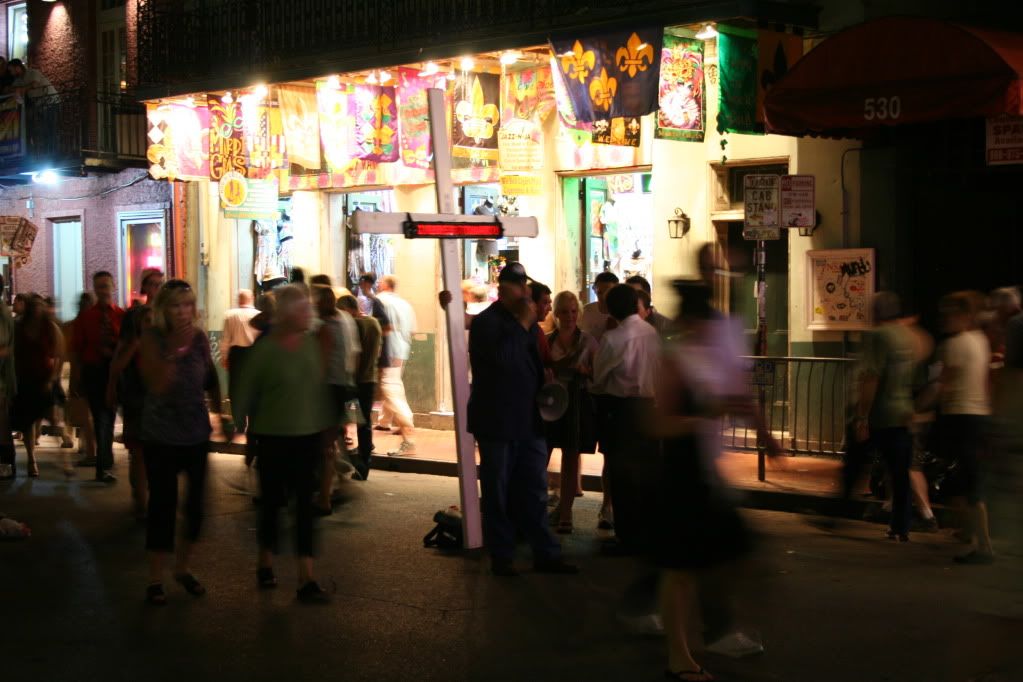 Hot Sauce!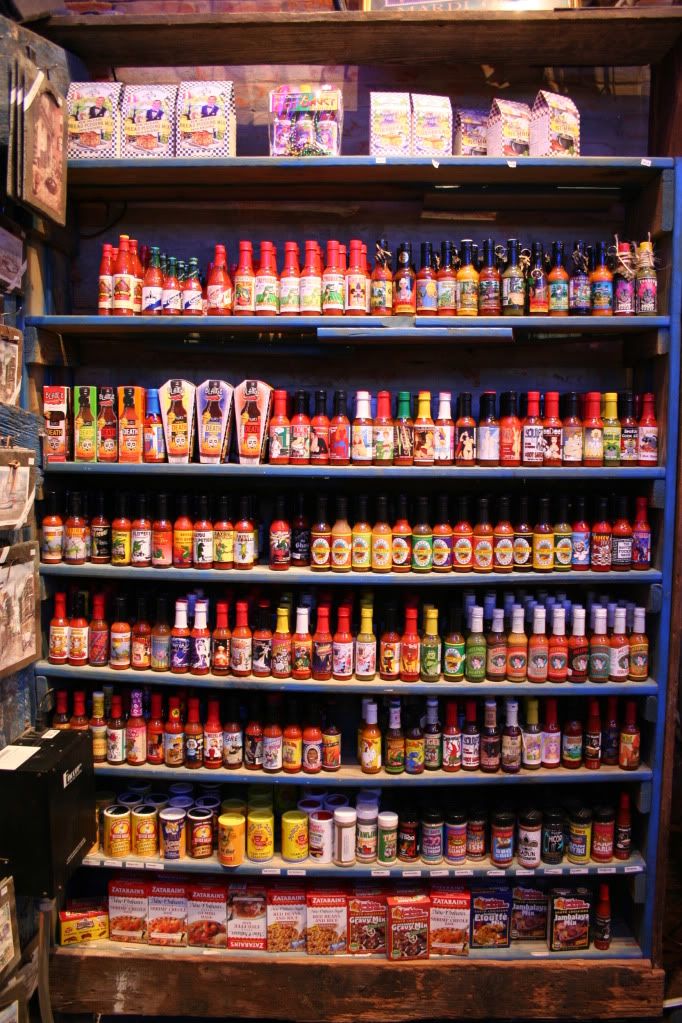 I've been to a lot of loud places in my life but Bourbon Street on a Friday night was up there with the loudest. I approached from the River side and could hear the competing live bands a block away. Scantily-clad women beckoned from the doorways of strip clubs on the 300/400 blocks, some reaching out and tugging on the arms of passing men. Families, too, took in the sights. One 12-year-old walked past Larry Flynt's Hustler Club with his oblivious father, his head swiveling as far as around as it would go. Women, young and old, lifted their shirts for revelers on second-floor balconies in the hope of gaining Mardi Gras beads. It seems some people didn't give up flashing for Lent. I neglected to take pictures of them. Sorry.
I wandered for about 45 minutes before a throbbing headache from all the noise sent me back to the hotel. I bedded down, exhausted.
April 9, 2011
Loews Hotel, Room 1806
New Orleans, Louisiana
Checkout was simple and I was able to deposit my belongings with Loews before proceeding back to the Sheraton/Marriott duo on Canal Street for the conference.
Sessions were actually scattered across several hotels, including the Monteleone and the Doubletree, so I got a fair bit of exercise wandering from place to place. A couple of old classmates with expense accounts treated me to a crawfish etouffee lunch at
Deanie's Seafood
while dinner was composed of the plentiful grazing available at assorted evening receptions. It was like being back in grad school again.
That afternoon, between sessions, I formally checked into Loews. I slugged down a refreshing cupful of the fresh-squeezed juice available at the check-in desk and received my keys to Room 1806.
This was my first stay in what you might call an "upscale" hotel. Loews may not play in the Ritz Carlton/Four Seasons league yet but it nonetheless impressed me with the service-oriented attitude of the staff.
My room.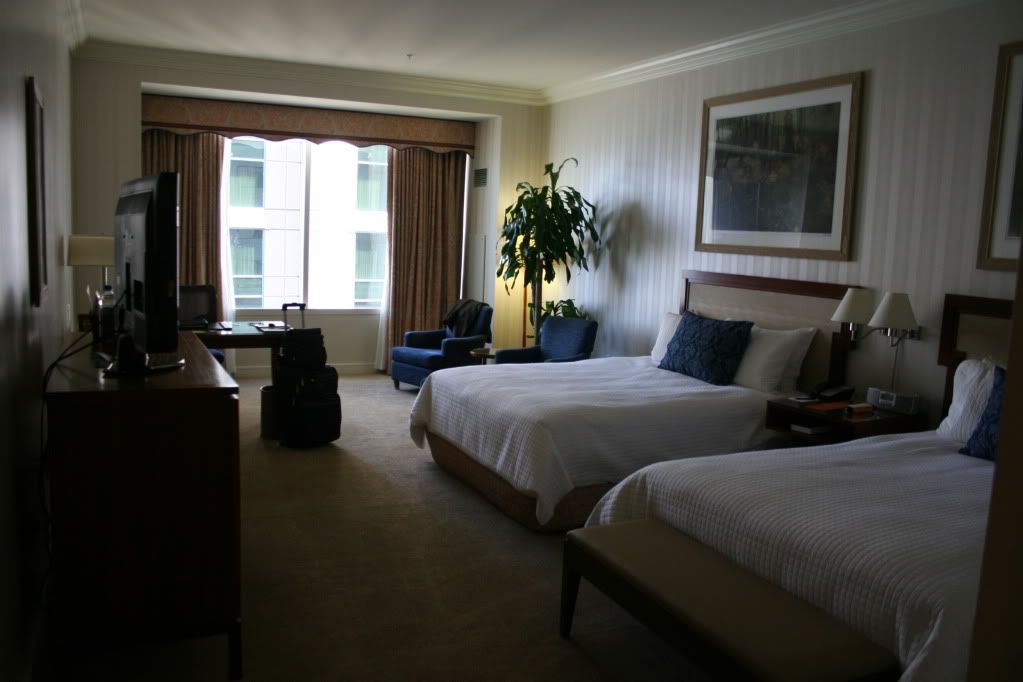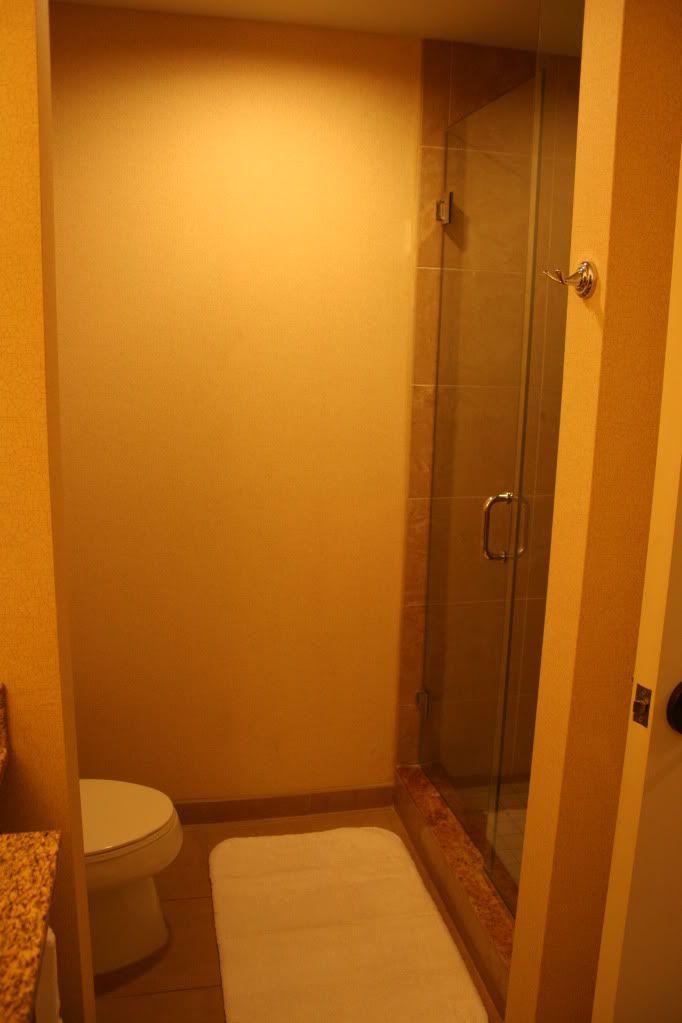 The room was a good size and had a view of Algiers Point, at 200 feet the deepest point of the Mississippi River. This depth enables ocean-going cargo ships and passenger liners to dock at New Orleans and is, I suspect, the city's primary economic lifeline.
Algiers Point from my room.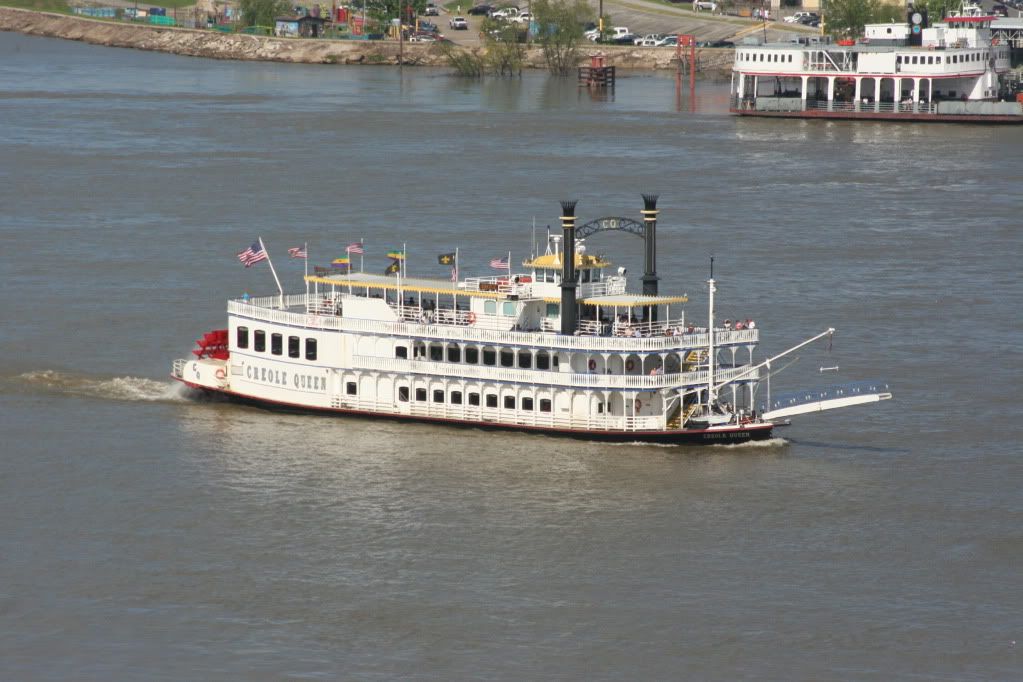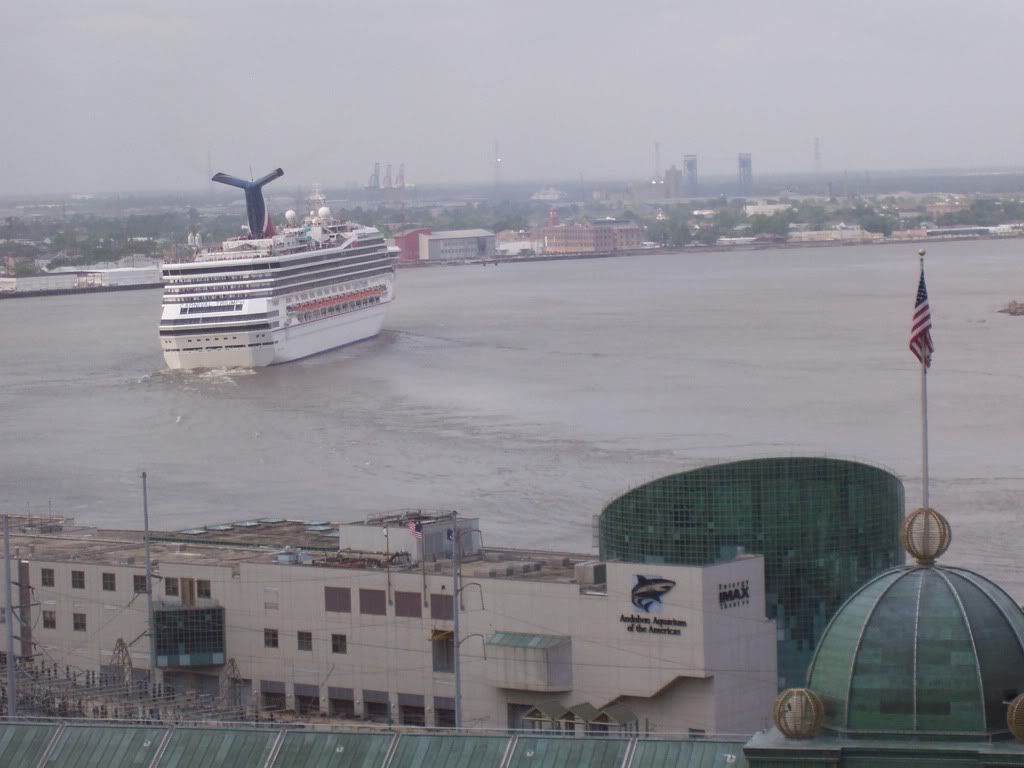 When I returned to my room later that night, I found a surprise on the table by the door.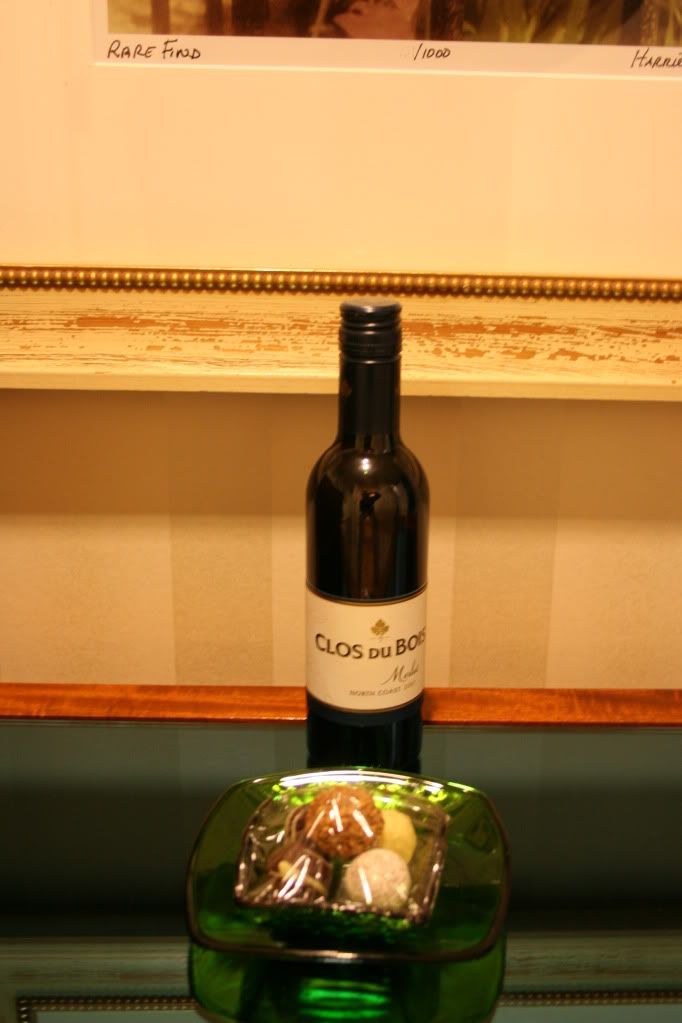 I called down to ask why this lovely gift had been left in my room along with a congratulatory card but the receptionist had no idea. She called back a few minutes later with what she thought was the answer.
"Are you on your honeymoon, sir?"
"No, I'm here alone."
"Is it your anniversary?"
"It is not."
"Your birthday?"
"Nope."
"Hmm. The note here says that you're on your honeymoon."
"My wife would be very upset to hear that."
I offered to return the chocolate truffles and wine.
"Oh, no, sir. Consider it congratulations for choosing Loews."
Fair enough. I decided to bring them home.
---
Last edited by hoyateach; Apr 20, 11 at

5:11 pm
Apr 20, 11, 3:28 pm
Join Date: Jul 2004
Programs: NW Gold, '06. Good times.
Posts: 7,246
April 10, 2011
Loews Hotel, Room 1806
New Orleans, Louisiana
More sessions, more networking, more grazing, more conference, more village. The only highlights were culinary: the oyster po-boy (sandwich) I had as a late breakfast at
Johnny's Po-Boys
on St. Louis (terrific food but they're a cash-only business) and the complementary jambalaya and gumbo at one of the receptions. The open bar was nice, too.
I also spent about 20 minutes at the city's
Voodoo Museum.
. It's actually very small but at $5.00, it was a decent value, crammed full of various voodoo-related items.
Voodoo Museum Zombie Description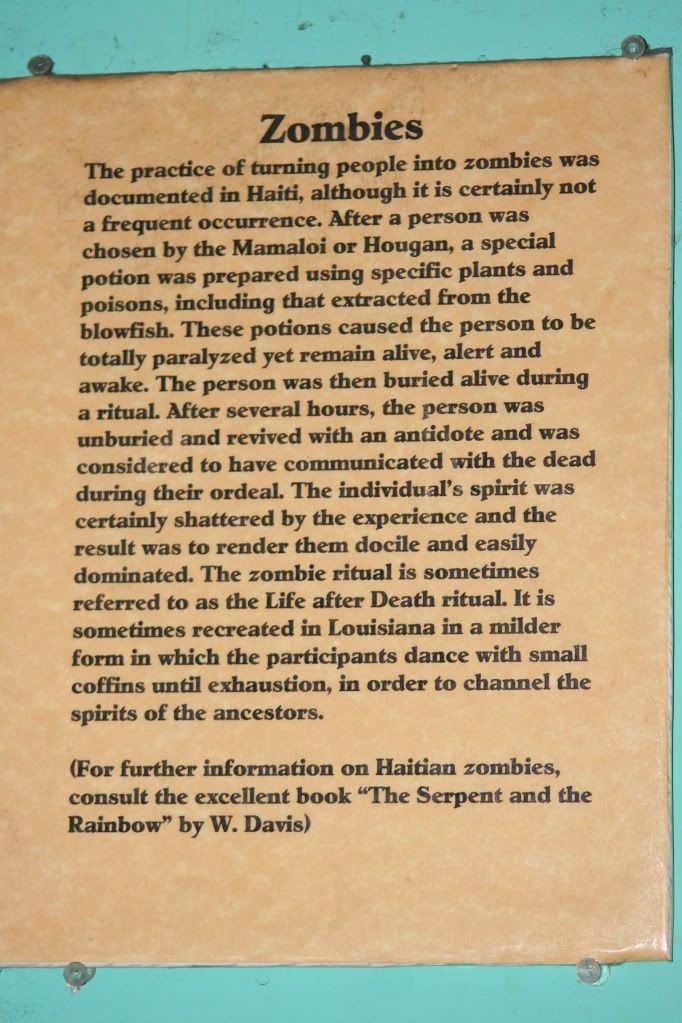 Apparently, the spirits like Mentos.
Voodoo Dolls.
If someone could give me this fellow's name, I'd be very grateful.
This will doubtless be quite useful in the coming zombie apocalypse.
I took a few more pictures around the French Quarter, primarily on Bourbon and Royal Streets, and turned in early on this Sunday night.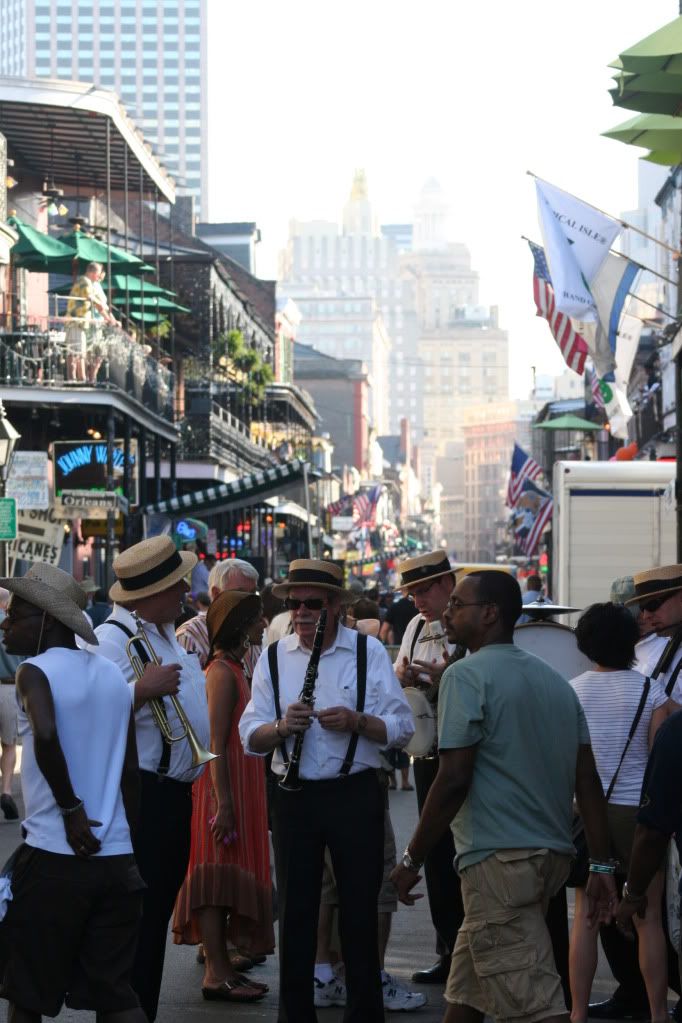 Apr 20, 11, 3:29 pm
Join Date: Jul 2004
Programs: NW Gold, '06. Good times.
Posts: 7,246
April 11, 2011
Loews Hotel, Room 1806
New Orleans, Louisiana
I took it a little easier on Monday, attending sessions only the morning. After a filling lunch of shrimp creole and red beans and rice with my former dissertation advisor at
Mother's Restaurant
across from my hotel, I walked to the
National World War II Museum
. I went completely camera-crazy in here but will spare you the full load of photos.
A Merlin engine for the Spitfire fighter. I want one for my Honda.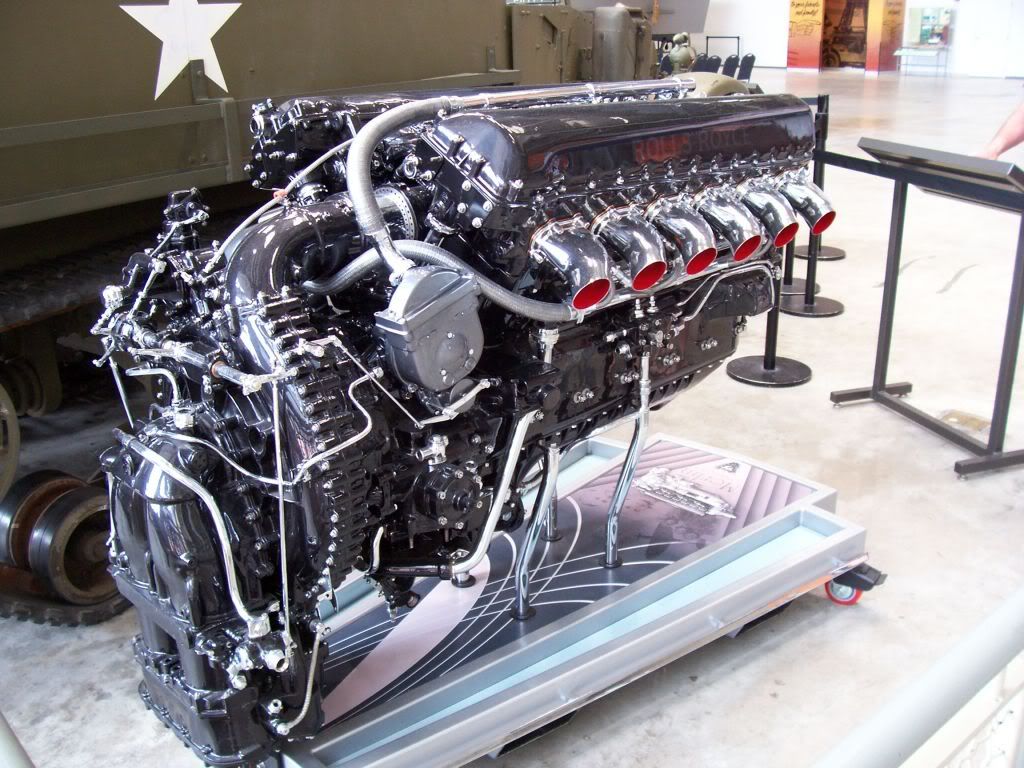 Rupert!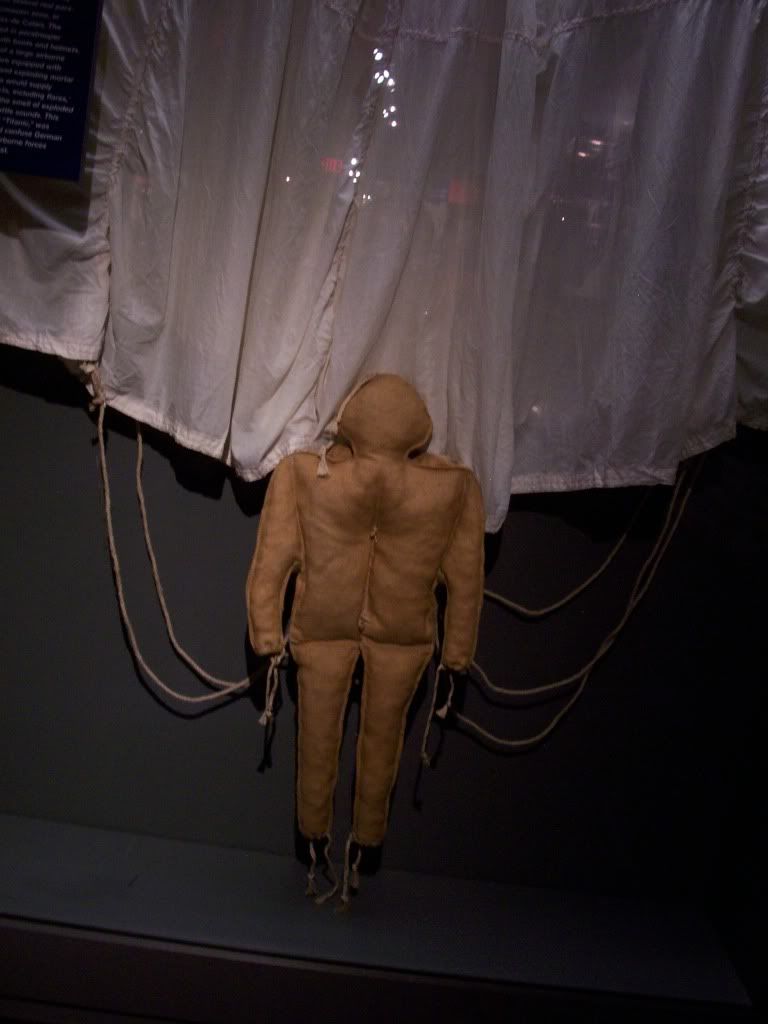 Prophylaxis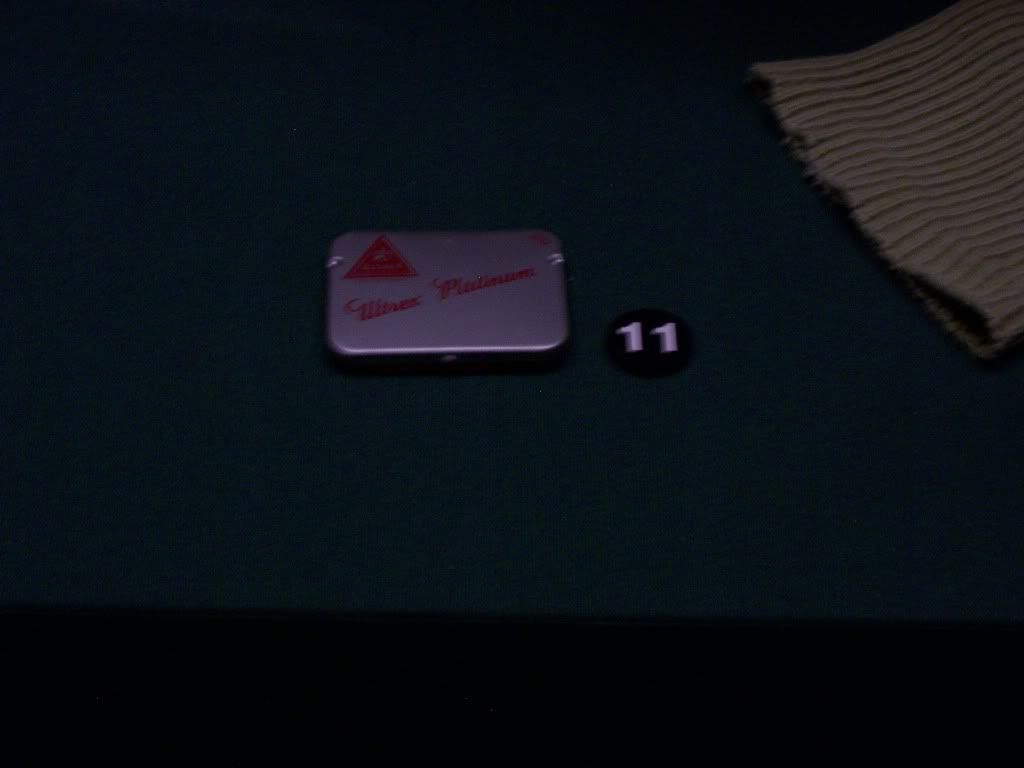 The Letter from Ike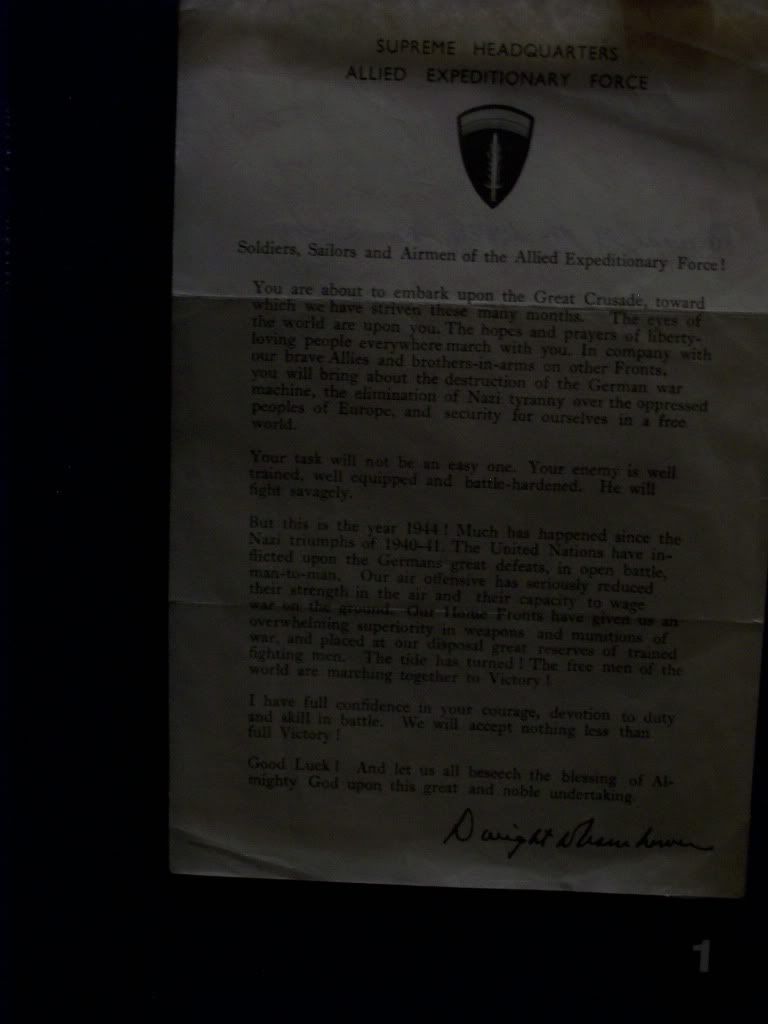 A Dauntless SBD carrier-based dive bomber.
A C-47 Skytrain.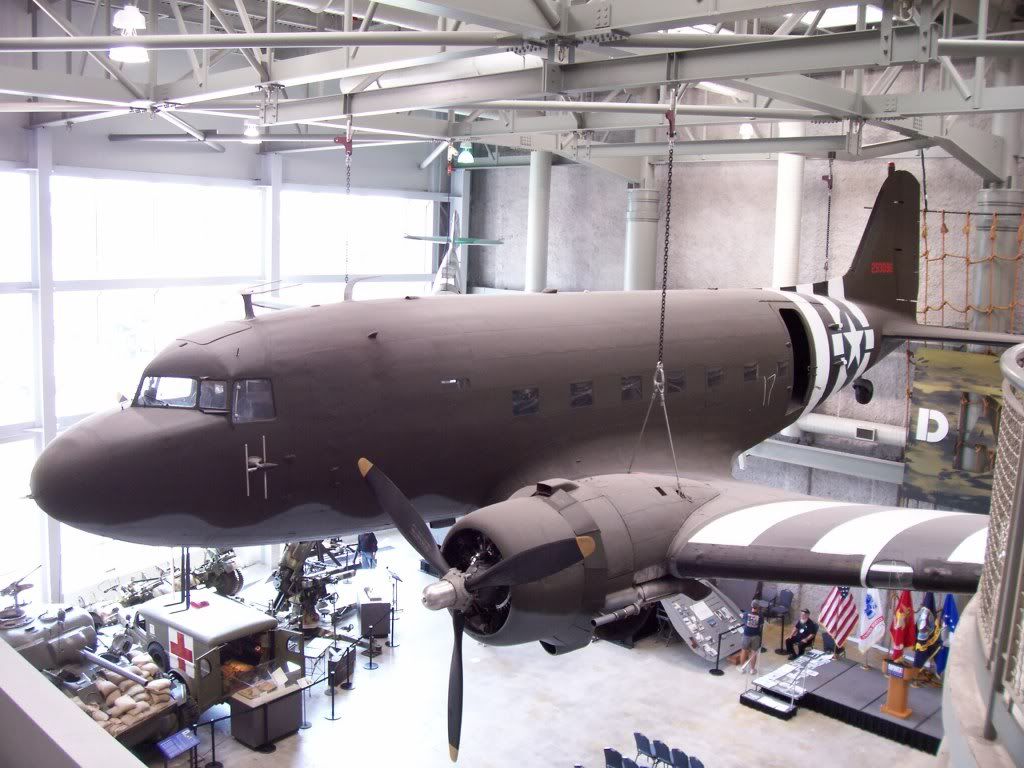 A German anti-aircraft gun.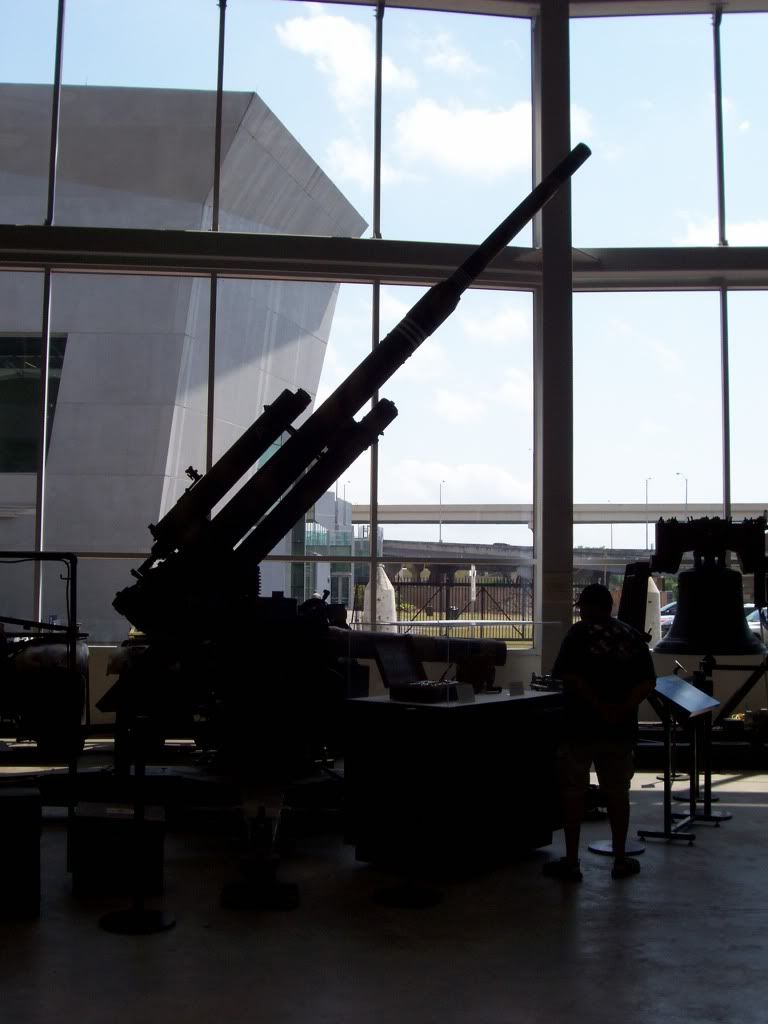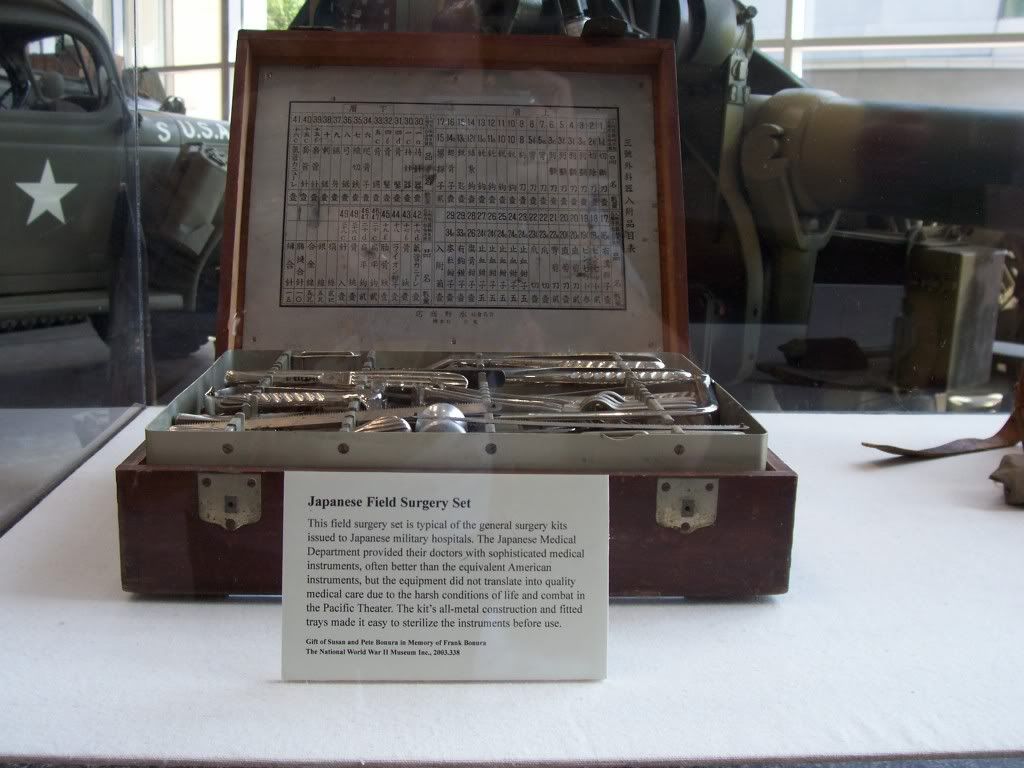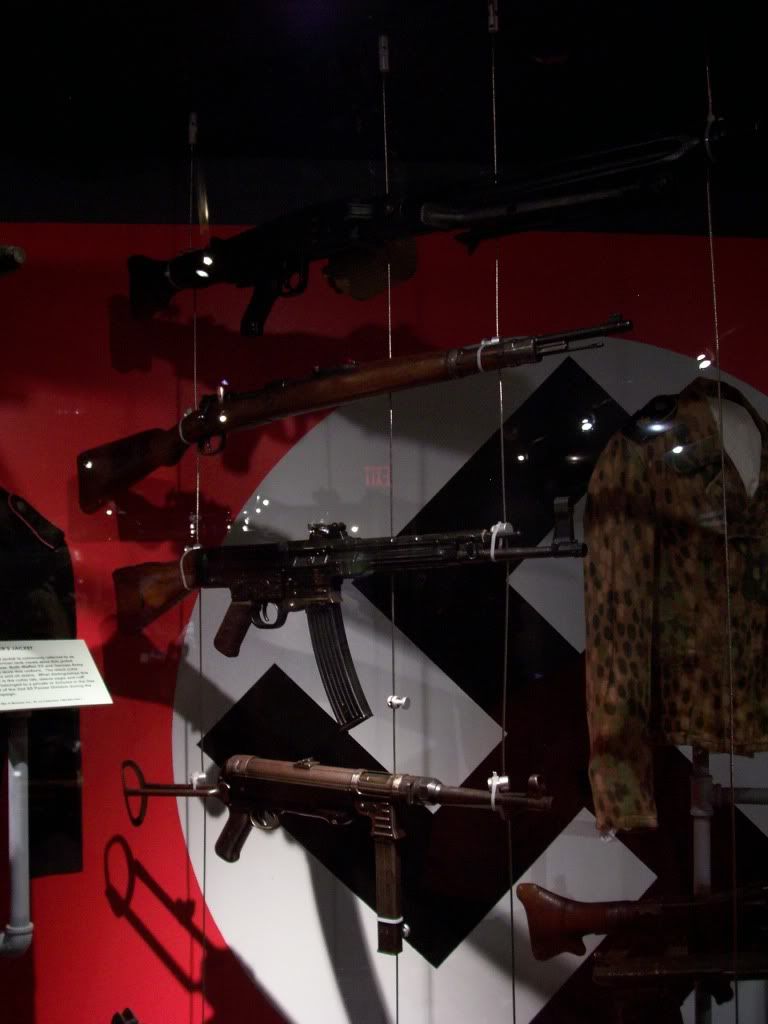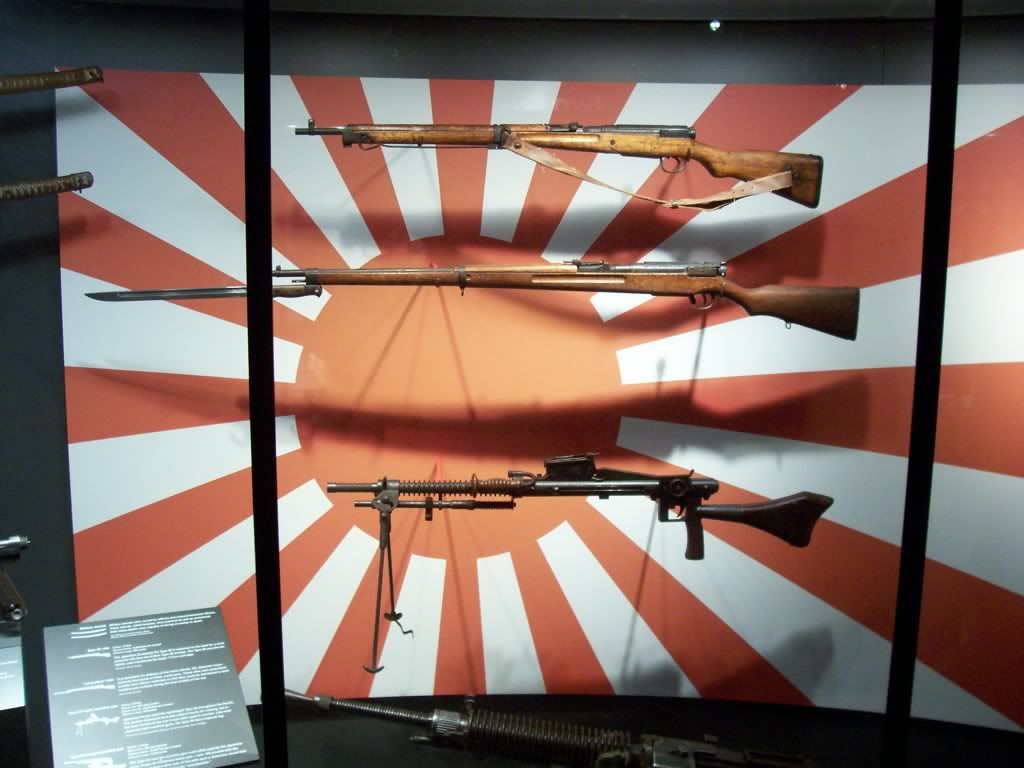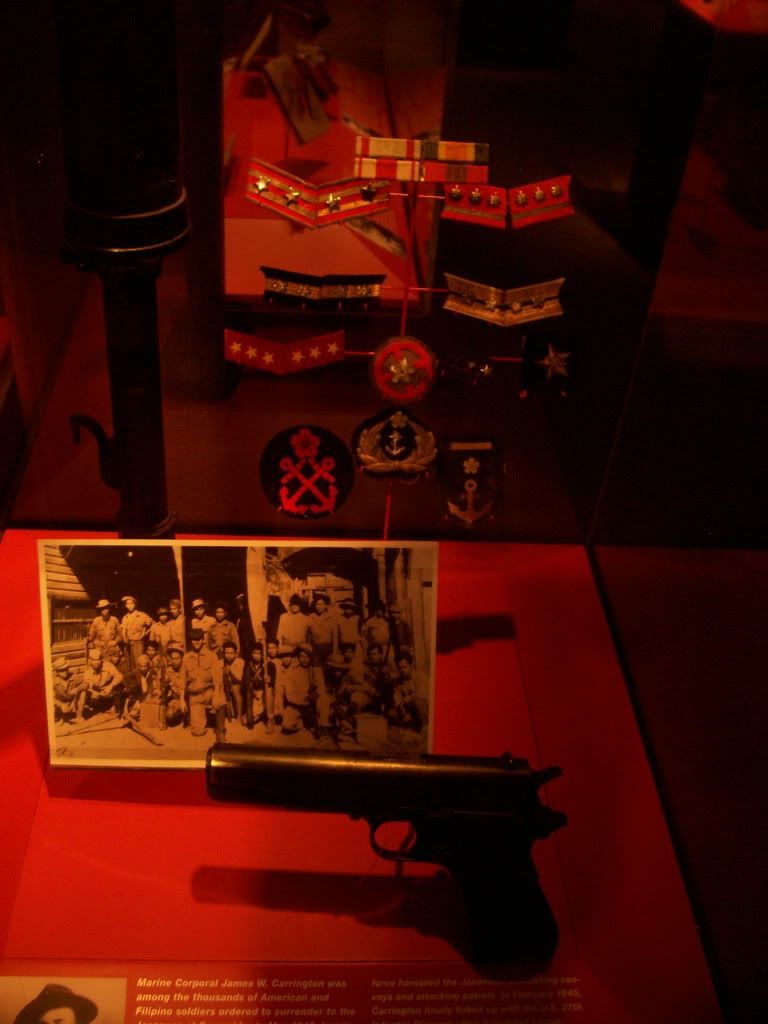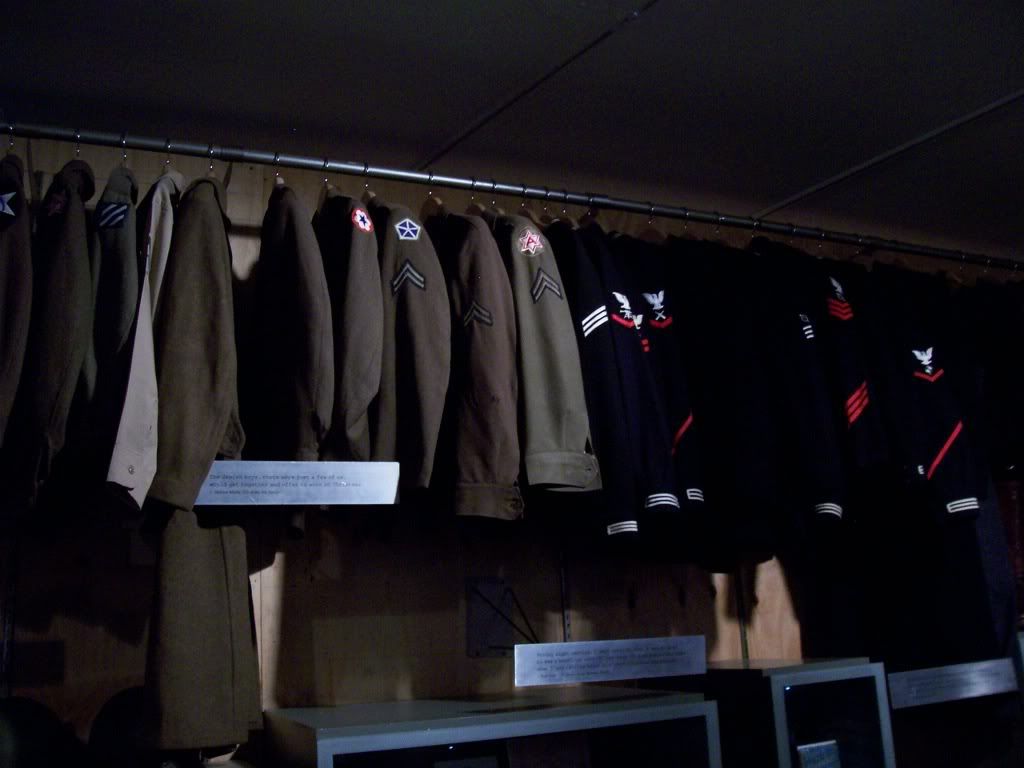 That night, I packed up the chocolate and wine, put the rest of my belongings together, and got ready to go home. I didn't visit some of the other tourist attractions, like Cafe du Monde and St. Louis Cathedral, as I had only so much time and will likely visit again in the future.
I like New Orleans. Fun town.
April 12, 2011
Loews Hotel, Room 1806
New Orleans, Louisiana
Checkout was painless, other than the high price tag. I got my car and was deep into the Garden District for a stop at Whole Foods - they carry gourmet cheeses unavailable in East Texas - when I realized I'd left a pair of sport coats in my room. I called the hotel and, when I got there 15 minutes later, the coats were already waiting.
In fact, other than the ridiculous $12.95/day Internet charge for a slow connection, a fickle bathroom light, and a broken luggage rack, Loews impressed. The staff was uniformly outstanding.
There was one other potential hitch: I signed up for their rewards program on my second night, only to learn that my stay at the NOLA wouldn't be credited as the rewards number wasn't attached to my reservation before check-in.
When I got a survey the next day, I complained about this and the other minor quibbles. The hotel manager contacted me directly and said he'd credited my stay and promised an upgrade for my next visit. I wrote back asking how to claim the upgrade but haven't yet heard back.
The drive home was anti-climactic. I had a pancake breakfast at a Cracker Barrel north of Alexandria and refueled at a nearby gas station but otherwise raced home. The trip was nice, NOLA was a lot of fun, but five days away from home is about my limit.
---
Last edited by hoyateach; Apr 20, 11 at

5:09 pm