Flying economy from Rio de Janeiro with TAP Portugal (many pics)
Apr 19, 11, 10:35 am
Join Date: Jun 2007
Location: LIS
Programs: FB LTPE, TP Gold
Posts: 953
Flying economy from Rio de Janeiro with TAP Portugal (many pics)
---
Here's a new TR, flying from GIG to LIS with TAP Portugal in a last minute ticket in Y (and the return in C soon to follow):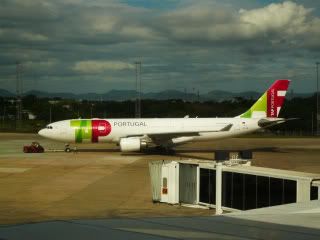 Flying economy from Rio de Janeiro, cidade maravilhosa, with
All comments are welcome!
Previous trip reports:
Alitalia PSA-FCO-FRA
Avianca EZE-BOG-CTG | Part I
and
Part II
Northwest Airlines LGA-MSP-SAN | Part I
and
Part II
TAP Portugal LIS-FCO
Lounge reviews:
Premium Lounge da TAP Portugal (LIS)
Blue Lounge (LIS)
Lisbon Lounge (LIS)
Salon Air France (LIS)
Other trip reports (in Portuguese):
Alitalia FCO-LIS
Air France LIS-CDG-JFK
Air France JFK-CDG-LIS
Continental Airlines EWR-FCO
Continental Airlines LGA-IAH-MGA
Delta Airlines JFK-PUJ-ATL-LGA
TAP Portugal LIS-EWR
Apr 19, 11, 2:57 pm
FlyerTalk Evangelist
Join Date: Jul 2002
Location: Durham, NC (RDU/GSO/CLT)
Programs: AA EXP/1MM, DL PM, UA Gold, HH DIA, Hyatt Discoverist, IHG Spire/AMB, Marriott Titanium, Hertz PC
Posts: 30,904
Thank you for the very enjoyable and well written report. I rather like TAP but my only experience with them is on short-haul flights so it was very interesting for me to read about how the longer flights are.
Apr 21, 11, 6:53 am
Join Date: Jun 2007
Location: LIS
Programs: FB LTPE, TP Gold
Posts: 953
Thanks,
CMK10
! Stay tuned, a trip report in in C/CL is coming soon.
It's not that bad. IB, AF's B744 (except in the upperdeck) or most US airlines would be much worse. Enjoy your trip,
SocialAdept
!
usud
!