Birthday Getaway/Mileage Run from New York – Tokyo via Hong Kong on Cathay Pacific
Mar 18, 11, 10:25 am
Join Date: Jan 2011
Location: Some hole
Posts: 2,783
4. Cathay Pacific Airways flight CX 505
Tokyo (NRT) - Hong Kong (HKG)
Departure Date – March 10, 2011
Arrival Date – March 10, 2011 (Same Day Arrival)
Aircraft – Airbus A330-300
Registration - B-LAB
Tokyo departure terminal and gate – Terminal 2 Gate 86
Hong Kong arrival gate – Gate 30
Seat Number – 19A (Business Class)
Scheduled Departure Time – 18:20
Scheduled Arrival Time – 22:35
Flying Time – 4:46
Distance – 1841 Miles
Check-in area at NRT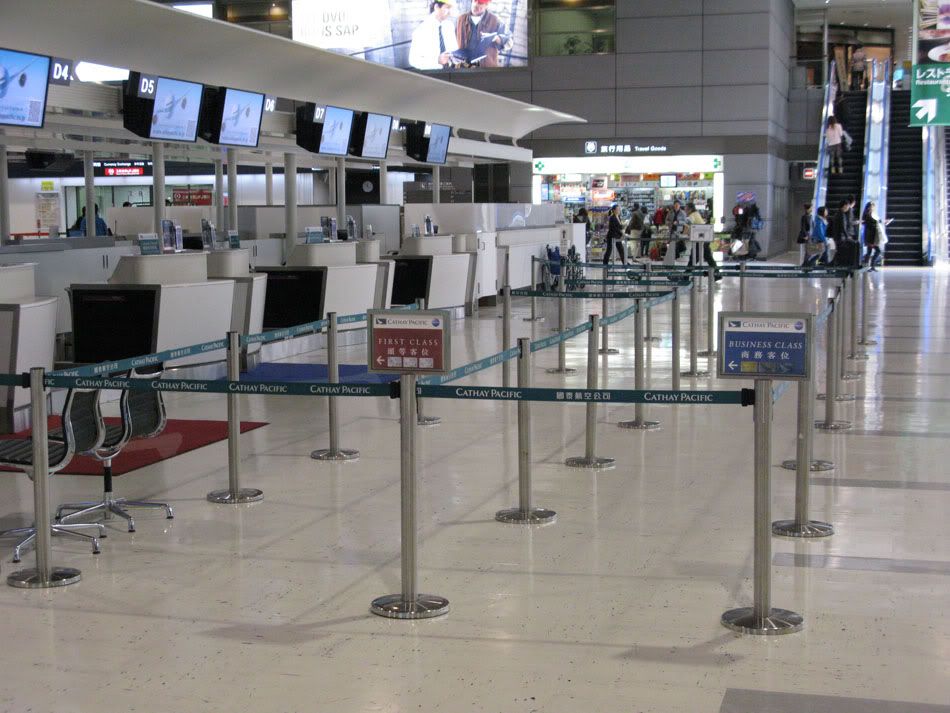 Gate 86 at NRT
Cathay's newer regional class seat used for regional flights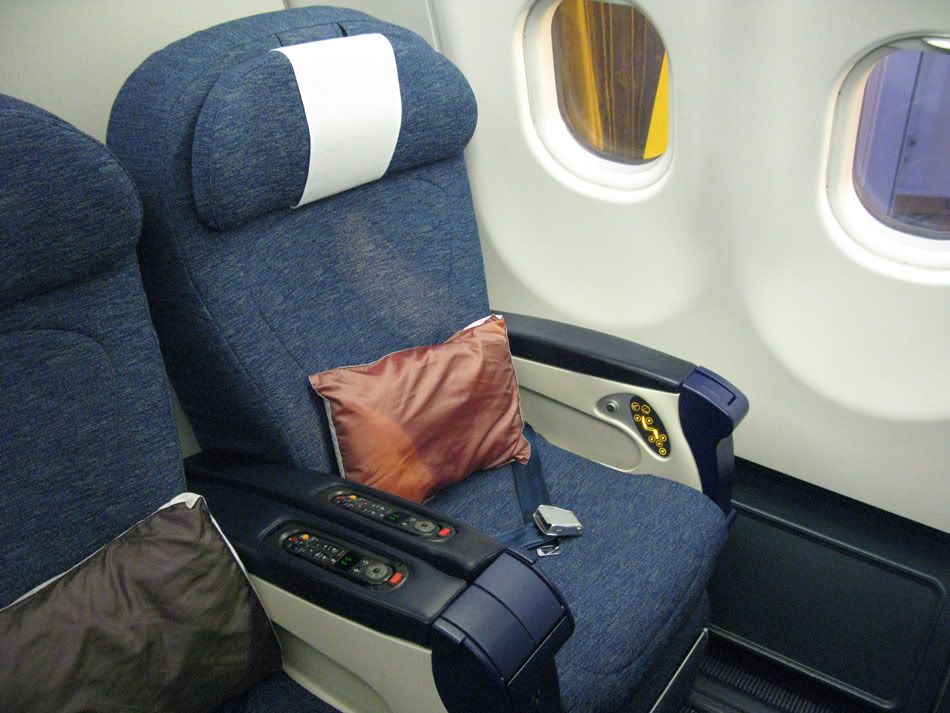 Legroom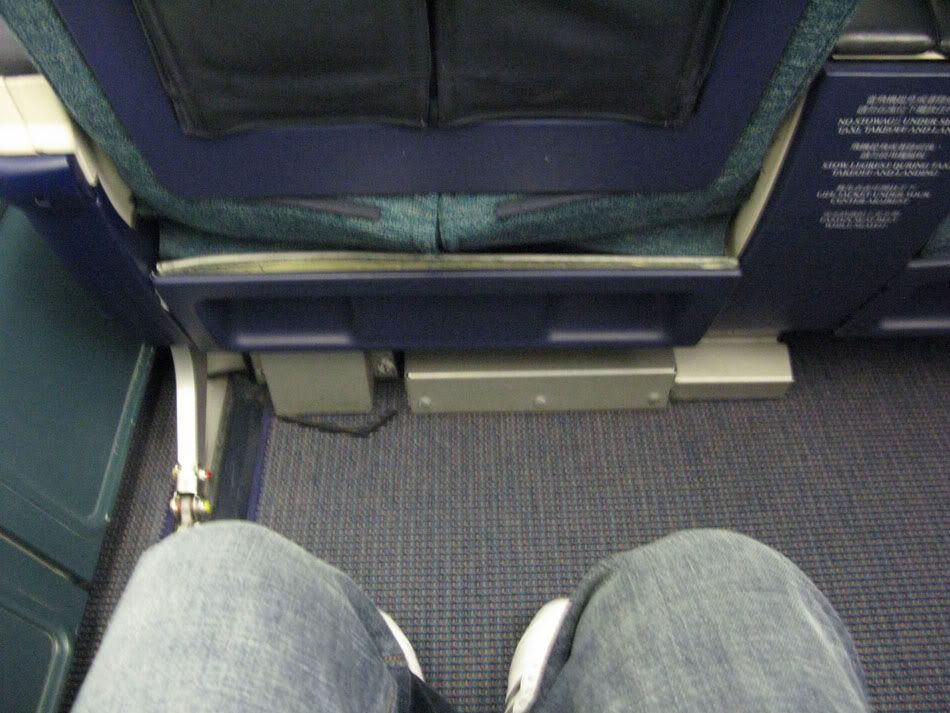 View of the cabin after boarding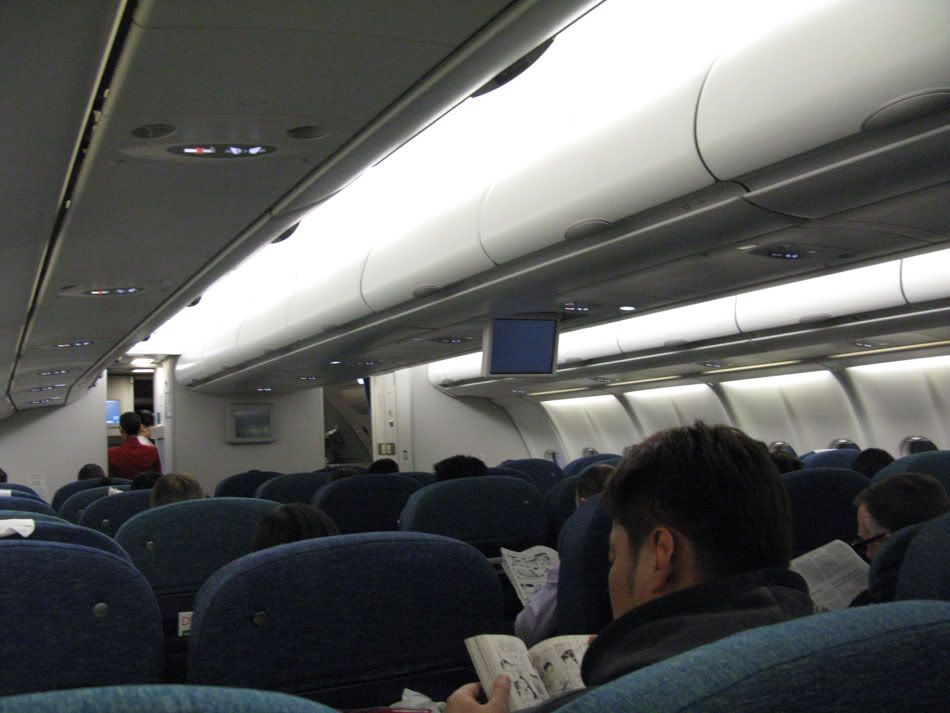 Takeoff from Tokyo/NRT:
http://www.youtube.com/watch?v=jsflw6bMACQ
Shortly after departure from Narita airport
Cocktail & Meal service
Traditional Japanese "otsumami" with a glass of water
Menu for today (3 main courses offered)
Starters: Seared peppery tuna with capsicum
Seasonal salad with Japanese sesame soya dressing
Soba noodles with shimeji mushroom
Main course: Chicken rolled with bean curd skin and quail egg, Japanese rice with sesame and vegetables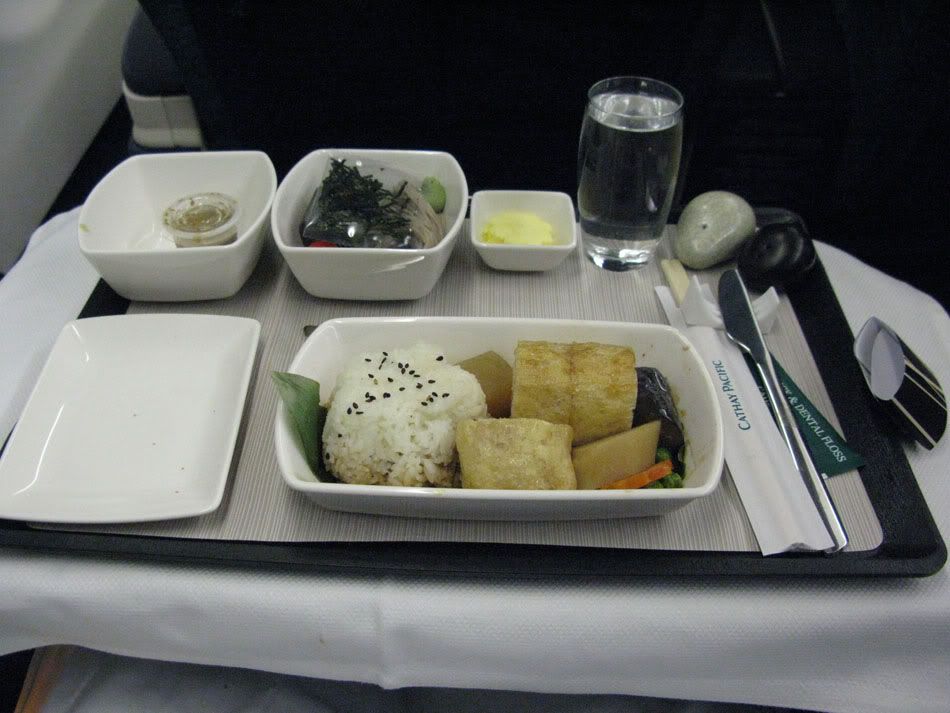 Dessert: Cheese selection, Fresh fruit, and Häagen-Dazs Ice cream. I just chose the fresh fruit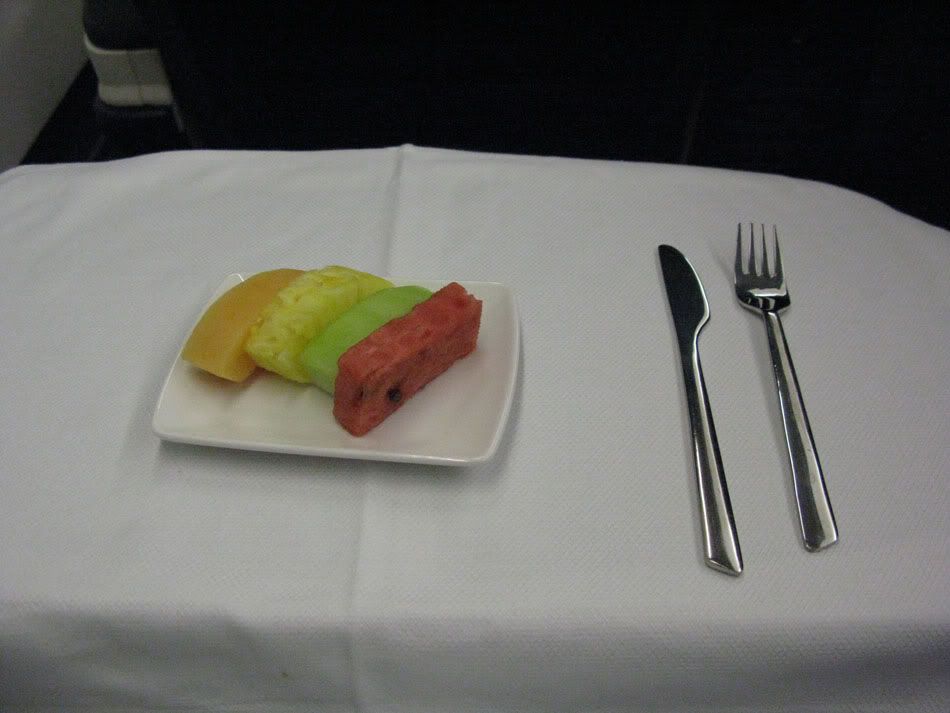 A nice hot cup of green tea to round up my meal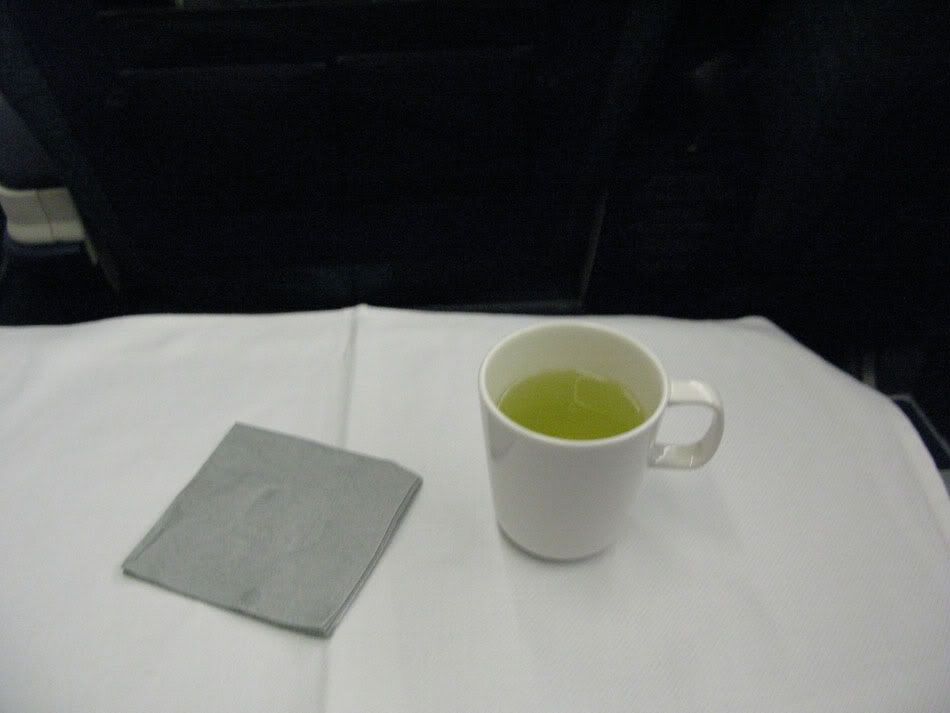 Washroom and amenities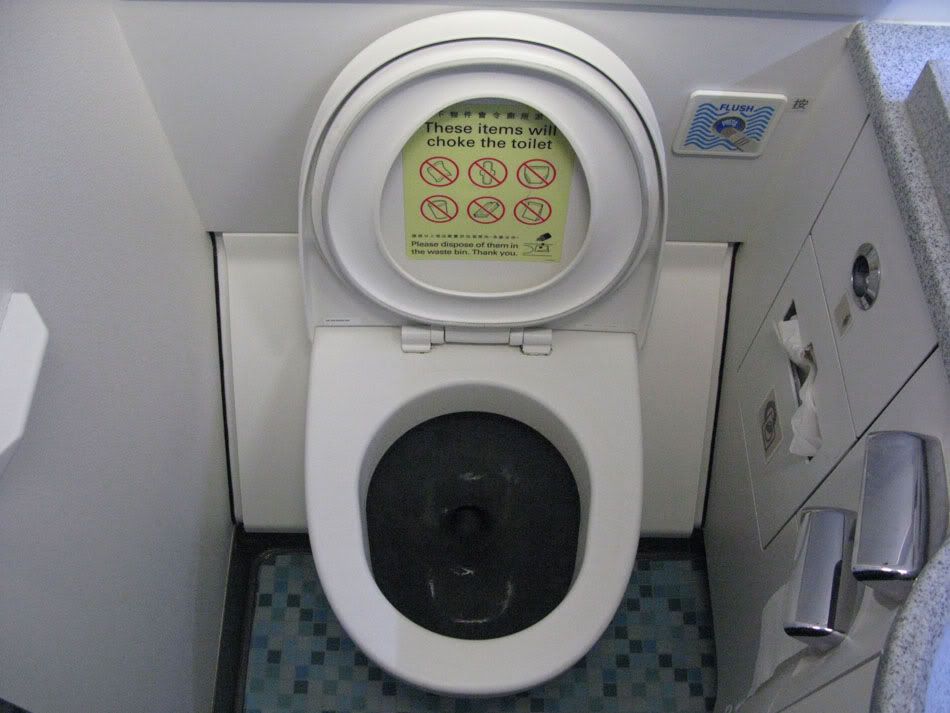 Another picture signed by the wonderful crew. My apologies for the poor lighting.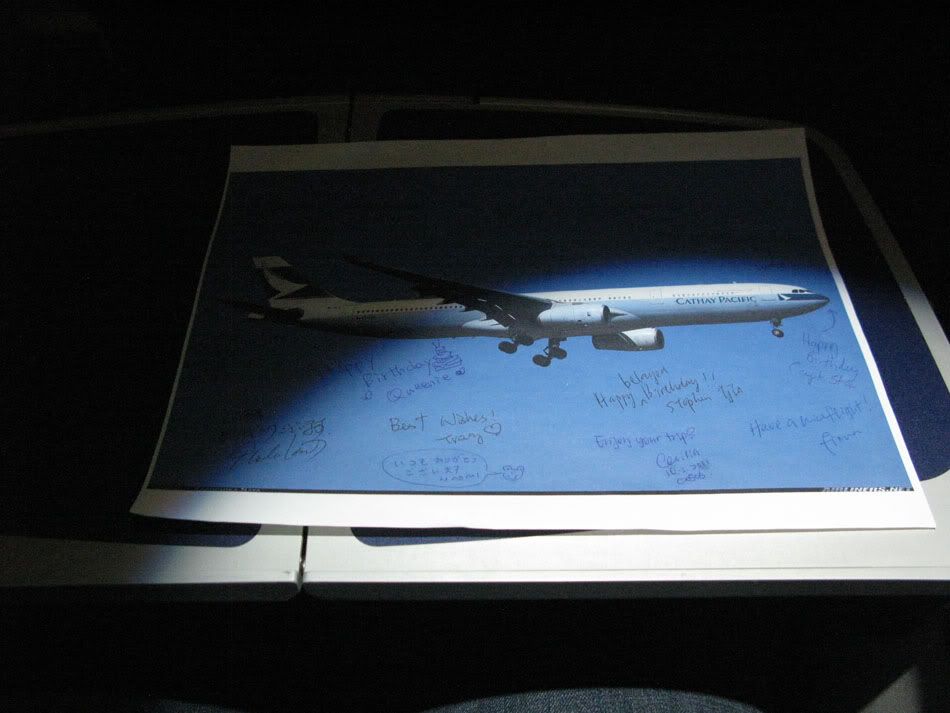 Landing in Hong Kong:
http://www.youtube.com/watch?v=3VnET...eature=related
Up Next:
Return on CX 840 HKG-JFK
Mar 23, 11, 8:24 am
Join Date: Jan 2011
Location: Some hole
Posts: 2,783
5. Cathay Pacific Airways flight CX 840
Hong Kong (HKG) – New York (JFK)
Departure Date – March 11, 2011
Arrival Date – March 11, 2011 (Same Day Arrival)
Aircraft – Boeing 777-300ER
Registration - B-KPP
Hong Kong departure gate - 4
New York arrival terminal and gate - Terminal 7 Gate 5
Seat Number – 42A (Economy Class)
Scheduled Departure Time – 17:25
Scheduled Arrival Time – 20:15
Flying Time – 14:53
Distance – 8059 Miles
Gate 4 at HKG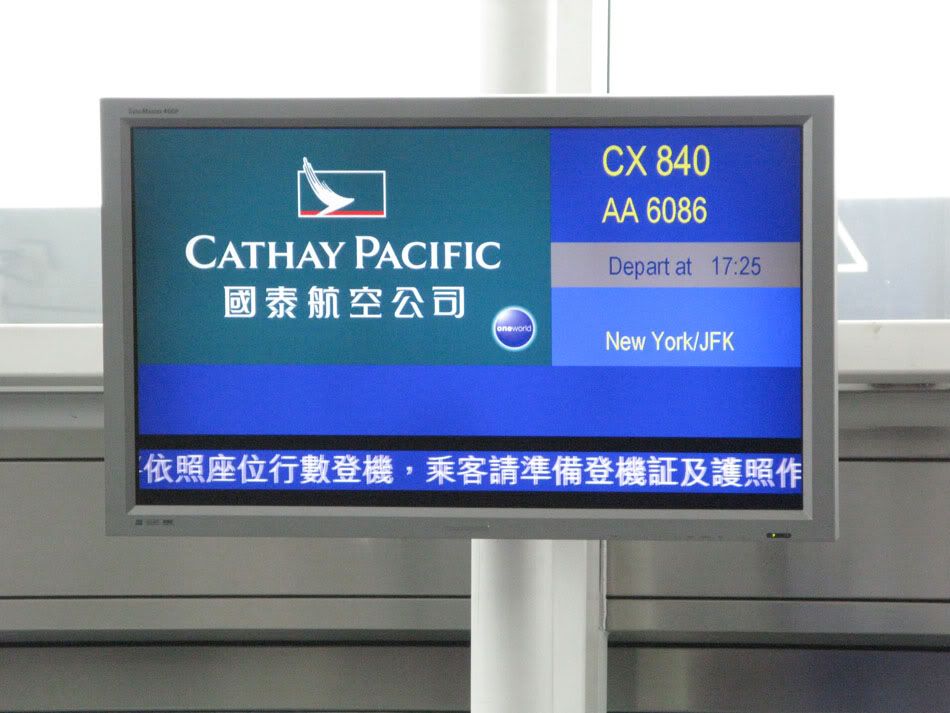 My seat for the 14 hour flight to JFK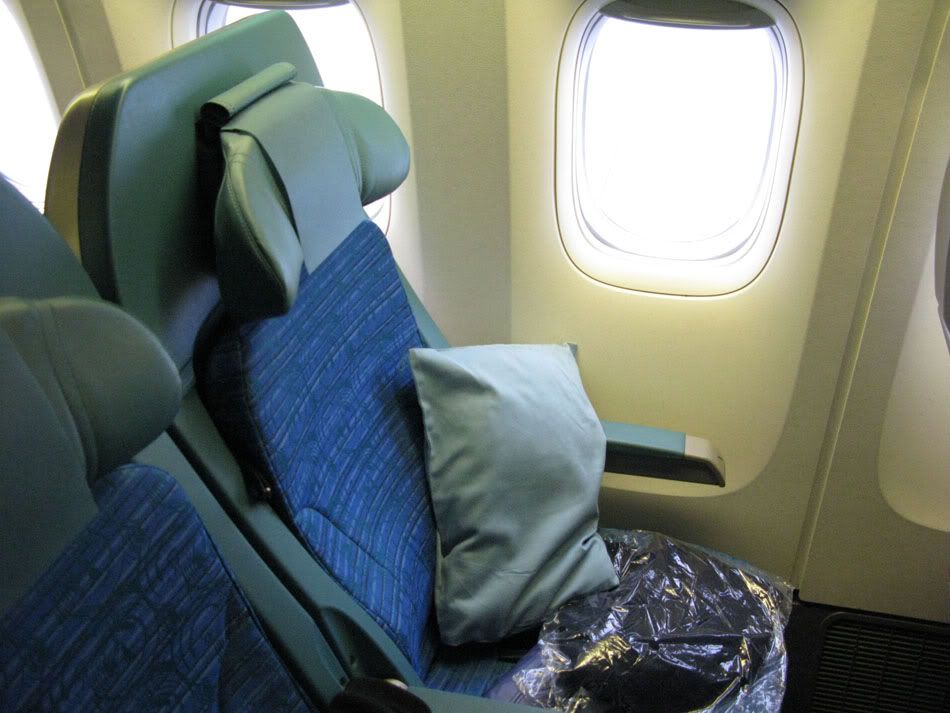 Legroom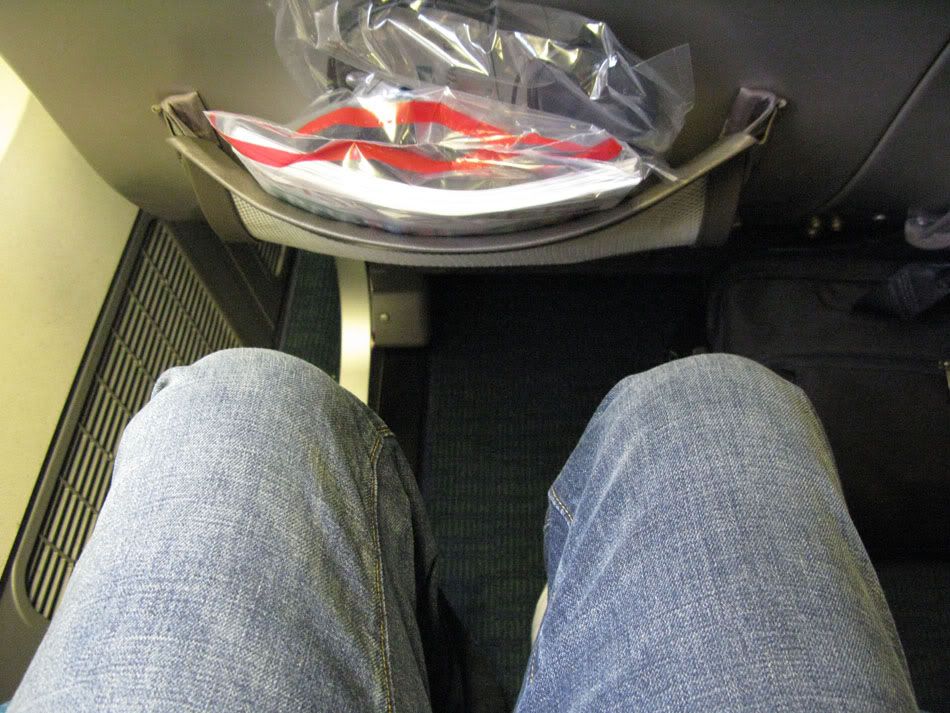 View of the cabin during boarding. Flight was packed.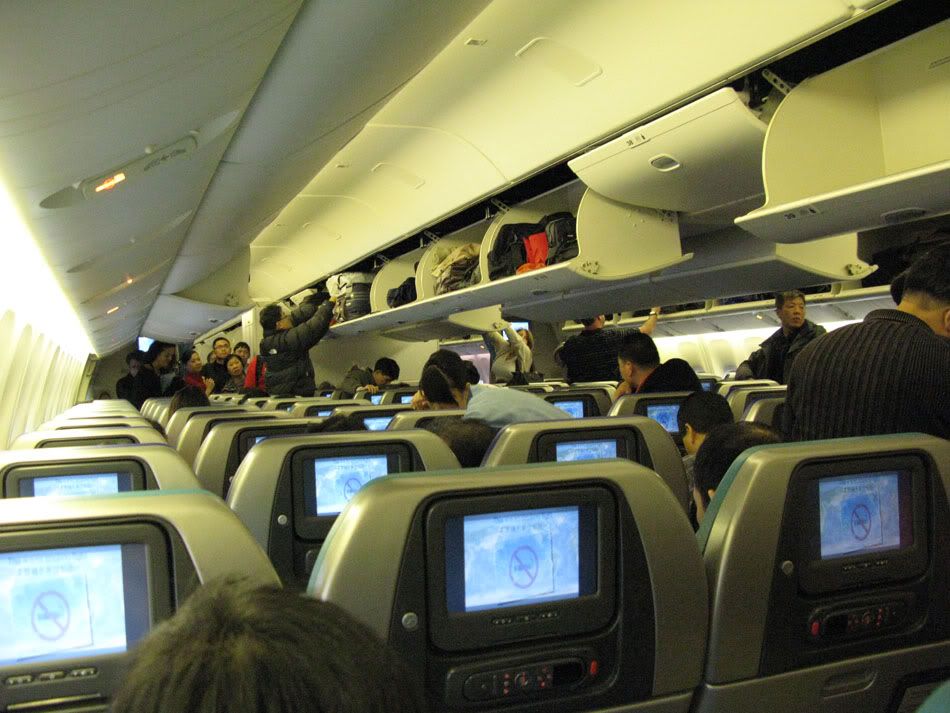 Taxiing to the runway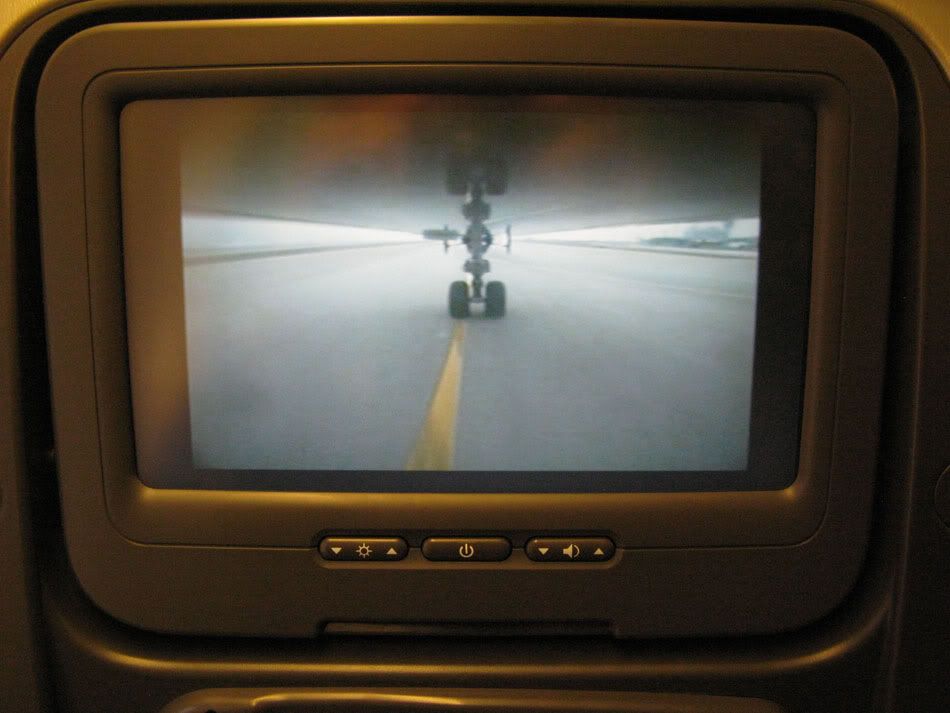 Takeoff from Hong Kong:
http://www.youtube.com/watch?v=e8ynr...el_video_title
Shortly after takeoff
Cocktail & Meal Service
Peanuts with the usual orange juice. I love these nuts!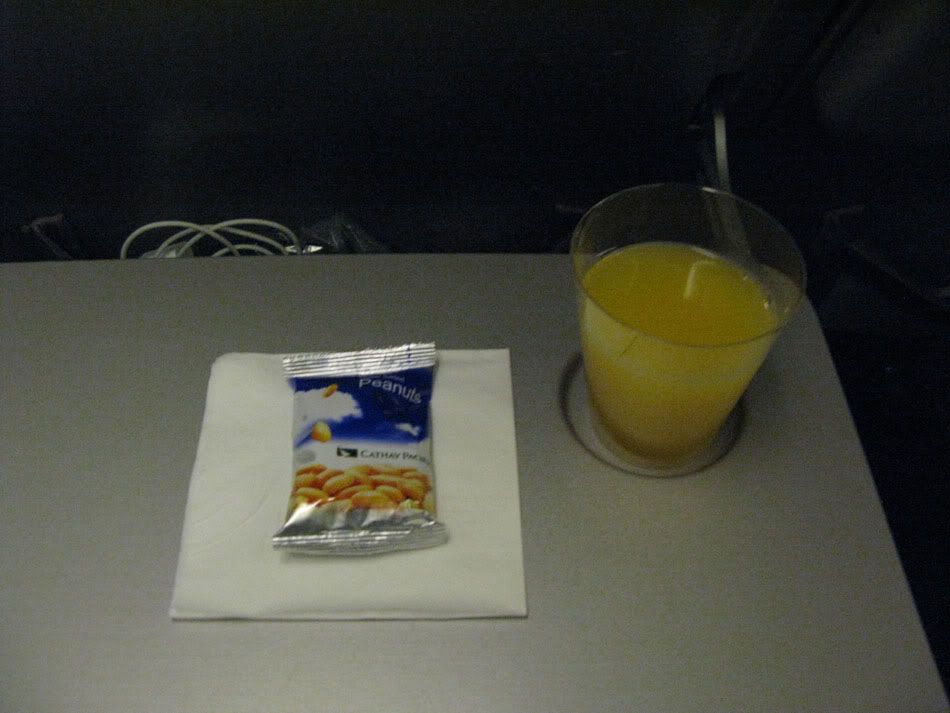 Our route for the long flight back to JFK. Since we were going eastbound, we wanted to take advantage of tailwinds hence the flight is not via the pole.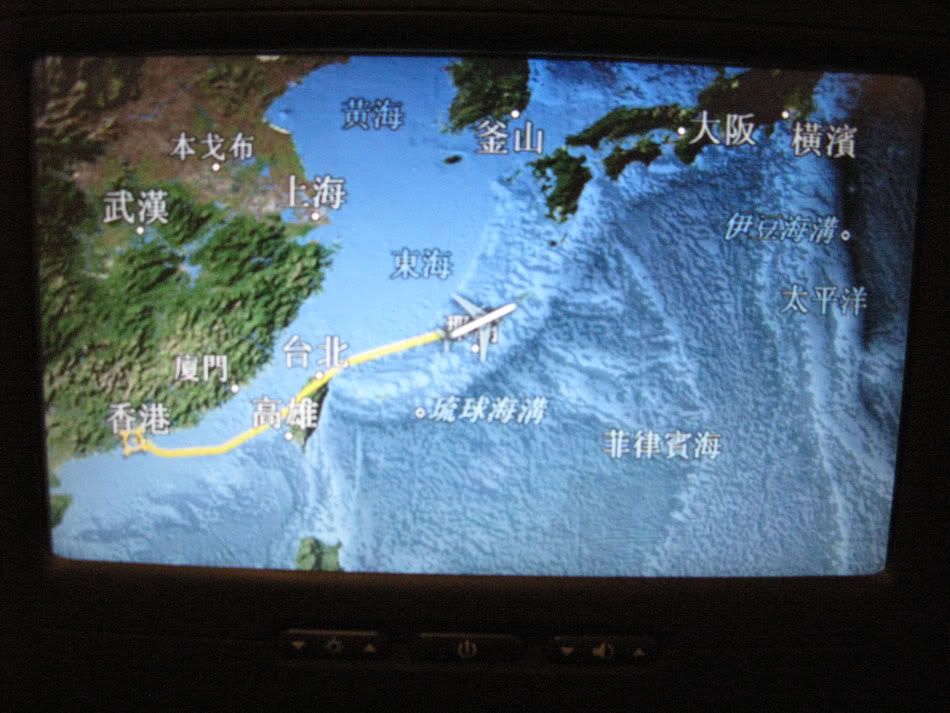 Menu for today (3 choices available)
Herb marinated turkey and vegetable salad
Braised chicken with tomato, mushroom in brown sauce, mashed potatoes, green beans and carrots
Marble cheese cake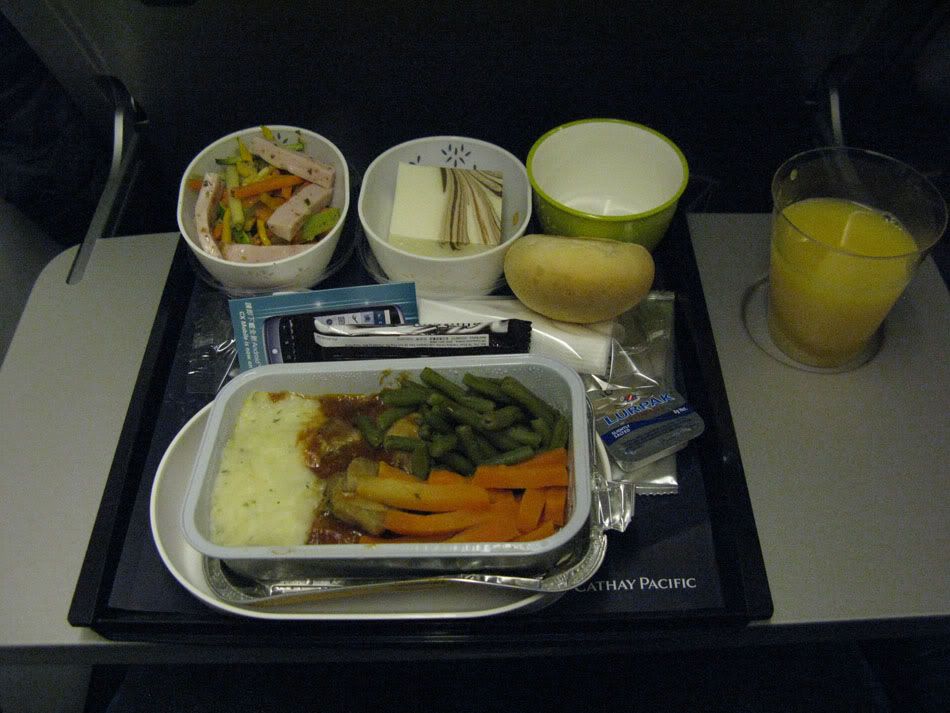 After the meal service, I fell asleep for most of the flight. When I woke up, were cruising over the Midwestern U.S. presumably over Nebraska.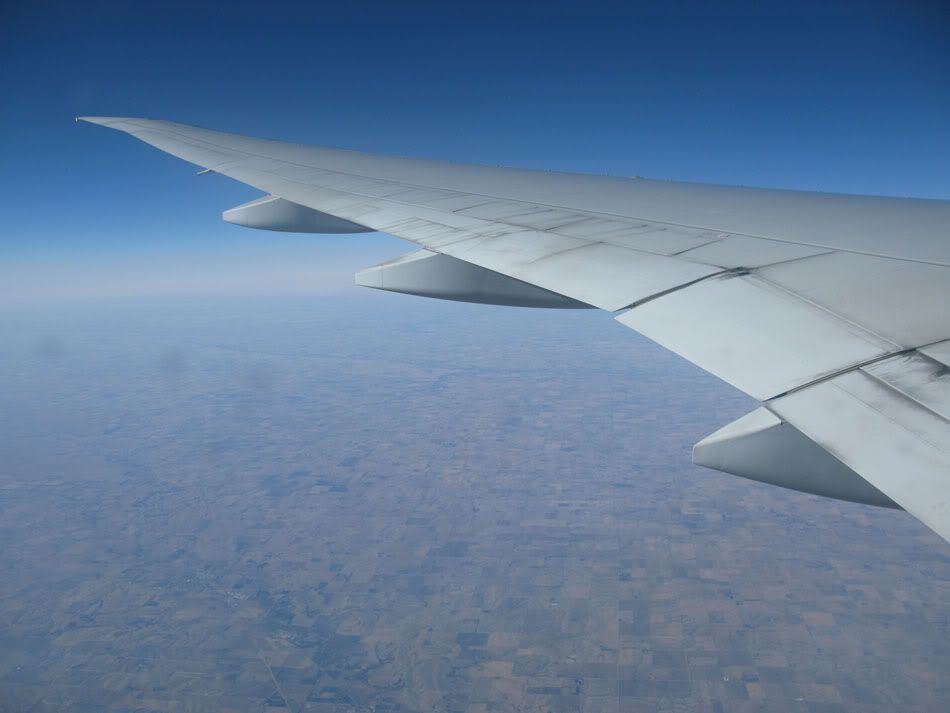 Meal Service. To my surprise as I have taken this flight multiple times before, instead of a late lunch/early dinner, breakfast was being served. Most likely for the passengers to adjust to time zone changes.
Menu for today (2 choices available)
Seasonal fresh fruit
Fruit yoghurt
Braised chicken with ginger, spring onion and oyster sauce on steamed rice roll
Croissant with fruit preserve and butter
A nice hot cup of Chinese tea to round up my meal
An aircraft cruising next to us. Looks like a Virgin America A320 but I could be wrong. My apologies once again for the poor quality.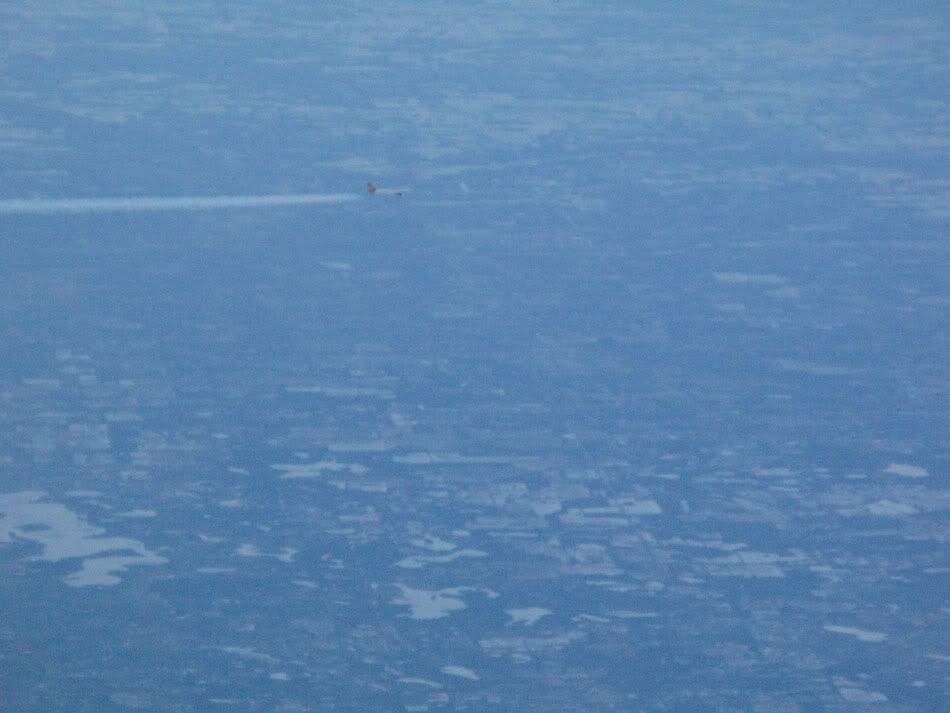 Washroom and amenities. Compared to the amenities business class, the amenities in economy class look rather cheap.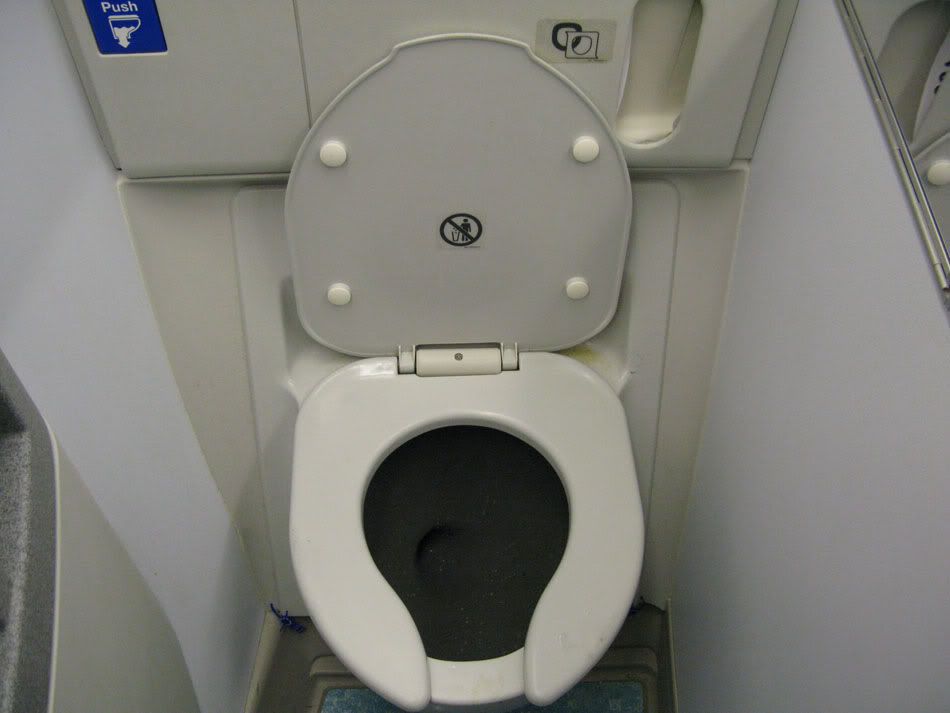 Approach into JFK. Beautiful lights on our way down.
Landing at New York/JFK:
http://www.youtube.com/watch?v=OZGXQ...el_video_title
Apr 2, 11, 5:15 am
Suspended
Join Date: May 2006
Location: HKG
Programs: A3, TK *G; JL JGC; SPG,Hilton Gold
Posts: 9,959
Originally Posted by
maortega15
Warm almonds and Krug. Krug is only offered in first class but since it was my birthday, the crew was delighted to offer me a glass of Krug as a good gesture!
I was also offered a bottle of Krug to take home but unfortunately I declined due to fear that the bottle might break. I rather not have Krug spilled over or bits of glass everywhere. I would have gladly accepted if this was HKG-JFK.
y not take it n share the love at the f lounge?
Apr 2, 11, 4:20 pm
Join Date: Jan 2011
Location: Some hole
Posts: 2,783