Air France/Finnair business class JFK-CDG-HEL-CDG-BSL-CDG-NRT-CDG-JFK
Mar 6, 11, 1:15 am
Join Date: Dec 2010
Location: New York city, NY
Programs: DL DM 1MM, DL reserve, Hilton Diamond, SPG Platinum, Hyatt Diamond
Posts: 407
Air France/Finnair business class JFK-CDG-HEL-CDG-BSL-CDG-NRT-CDG-JFK
---
I have read flyertalk everyday for the past year and have learned so much and gained so much more to make my travel life smoother and enjoyable.
This is my very first trip report and very first posting on flyertalk.
* all photo's unfortunately were taken with an iPhone 4 so might not be as clear and crisp*
1. AF 11 JFK-CDG
2.
AY 880 CDG-HEL (codeshare with AF1498)
3.
AY 875 HEL-CDG (codeshare with AF1099)
4.
AF 3286 CDG-BSL
5. AF 3283 BSL-CDG
6.
AF 276 CDG-NRT
7.
AF 275 NRT-CDG
8.
AF 008 CDG-JFK
AIR FRANCE 11
From:
New York, John F Kennedy Airport, US (JFK)
Terminal: 1
To:
Paris, Charles De Gaulle FR (CDG)
Terminal: 2E
777-200ER premium Affaires
Seat:
3B
Departure
9:45pm
Actual:
9:35pm
Arrival:
11:00am
Actual:
10:50am
I have diamond medallion status with Delta airlines and have racked up a hefty sum of skymiles this past year and decided to use them for an almost around the world trip. I have set out to travel to Finland, Switzerland, Germany and Japan via France. Flying Air France/Finnair/regional Compagnie.
I was hoping for a true round the world ticket but could not miss the opportunity to experience the A380-800 twice on AF CDG-NRT-CDG. So yes my final leg will be NRT-CDG-JFK instead of flying Delta Direct NRT-JFK.
Normally I always checkin online especially if not traveling no luggage but this trip I wanted to experience the full service of international business class from checkin to arrival. I checked in at the lone business class agent at JFK terminal 1 around 6:30pm. the agent warmly greeted me in French. With no bags to check I was given my boarding pass with 3B. My second leg flight was not available. (
I had to call Finnair which code shares the flight to Helsinki with AF and get the confirmation# so I could go online to print my boarding pass in the AF Salon lounge
).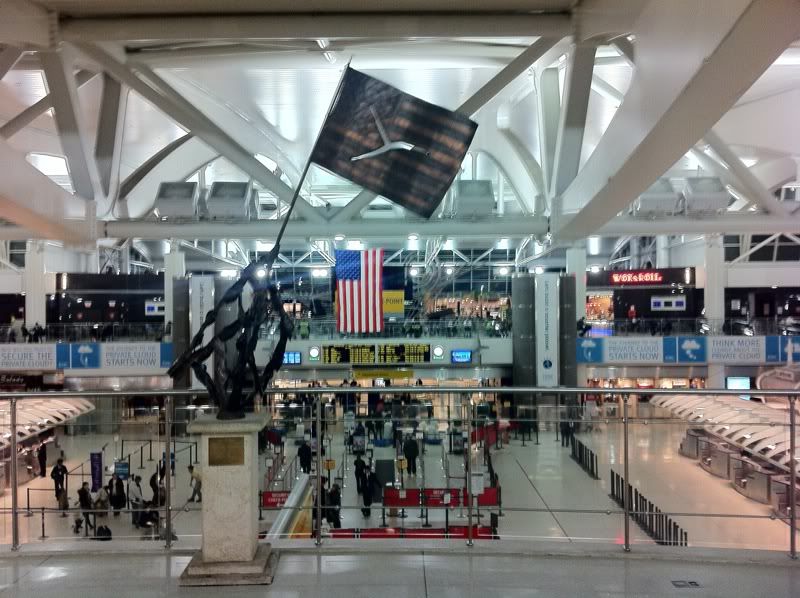 Quite a rare sight to see security at terminal 1 virtually empty but to my dismay I stood there for a minute for the TSA agent grab my boarding pass and passport and then proceeded to chat with his colleague without once glancing at my boarding pass. This totally irked me but I was not going to let this ruin anything so i just overly smiled at him till he gave back my passport and boarding pass.
Because I'm Delta Diamond medallion member & having Sky team Elite Plus I may enter any Skyteam lounge so of course I wanted to check out the Korean Airlines lounge at Terminal 1 JFK before going to Air France.
Korean airlines has a wonderful entrance to their Lounge and extremely courteous staff however I would have to say I was a little disappointed with the food offerings and array of liquor on display. (
Maybe because I wanted to drink Champagne and have some dinner
). I am not sure if this was due to the time I was visiting (
early evening
)and the only flights that had guest was for Aeroflot. It became apparent that I should venture off to the Air France lounge and because I was the only one in the entire Korean Airlines Lounge once the Aeroflot passengers departed.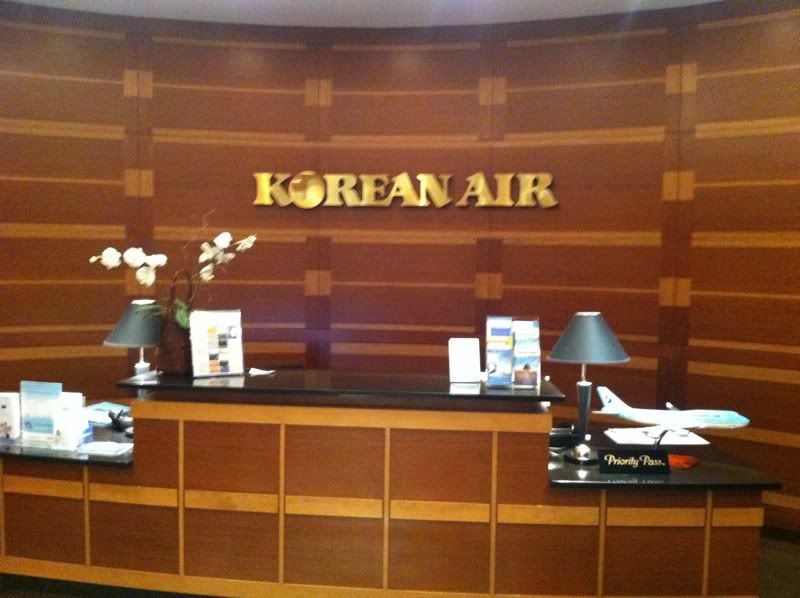 I will say the lounge does have a much better view of some of the aircraft on the ground. I watched as my AF 777-200ER aircraft arrived at the gate. At this point the excitement definitely increased and without the sort after champagne. I have not flown AF since 1997.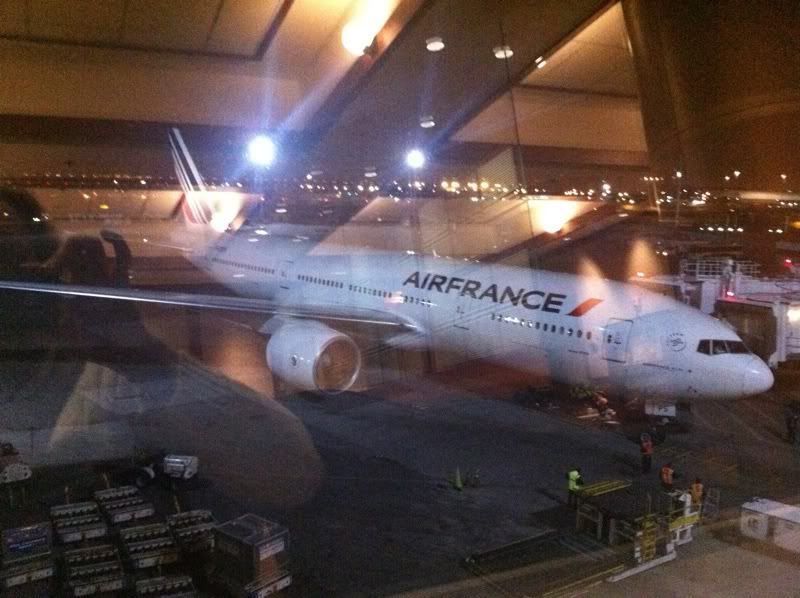 I headed down the concourse & headed to the AF lounge, I was almost tempted to check out Alitalia lounge but decided against it. Once the doors to the Air France lounge opened I was extremely impressed and greeted with a perky Bonsoir Monsieur. I have heard or should I say have read on flyertalk that the lounge can get overwhelmingly crowded but as AF7 was already boarding there was only three or so people in the lounge. An oasis compared to the Delta Sky clubs at terminal 2 & 3 JFK.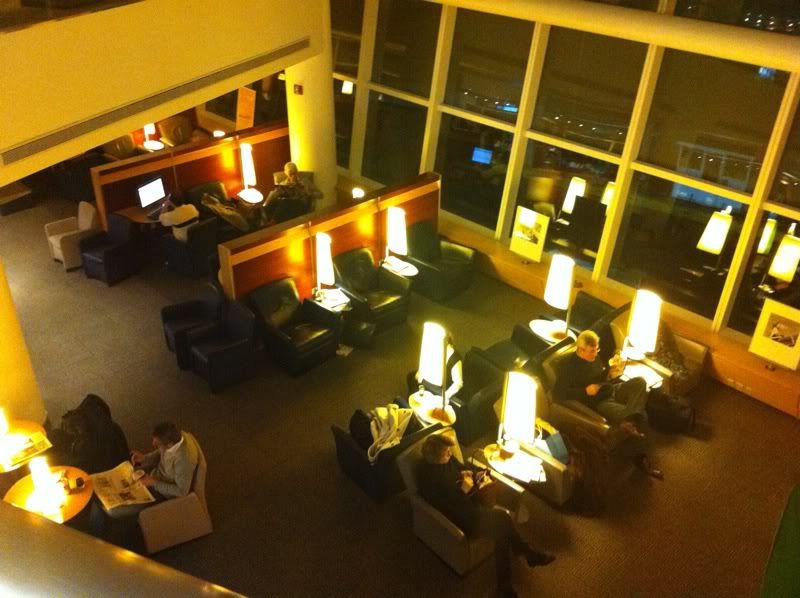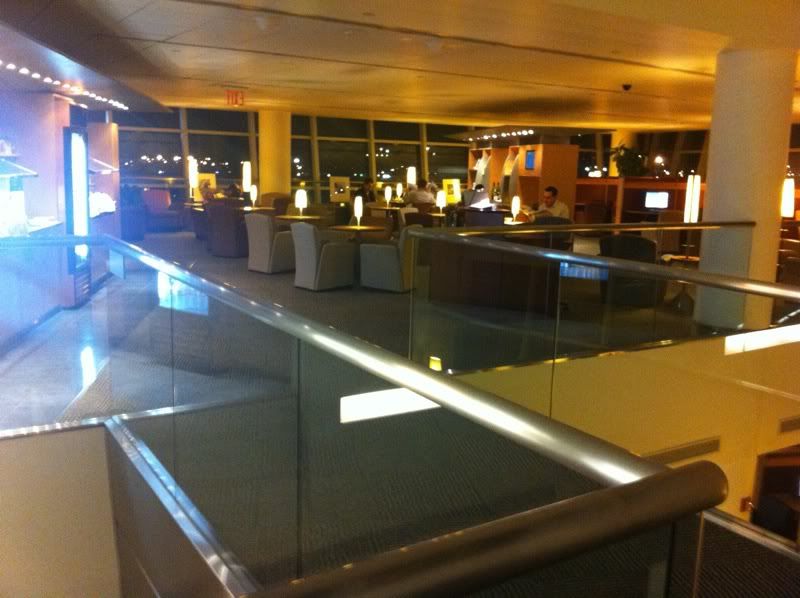 Even the decor of the lounge is quite impressive and stylish. There was a smorgasbord of food available, and of course I couldn't wait to have a glass of champagne. laid out on the counter tops of both levels were a beautiful display of leberwurst, salami, ham, antipasti, fresh baguettes, rolls, fresh plater of fruit; strawberries, melon,apples, oranges, soup; Cardiff and lentil. Dessert; whipped cream, warm chocolate sauce, petite fours and an array of cheeses, yogurts and chips. I typically like that they service gray goose a premium vodka but I was more interested in having a glass or two of champagne. ok maybe I had 2.5 glasses.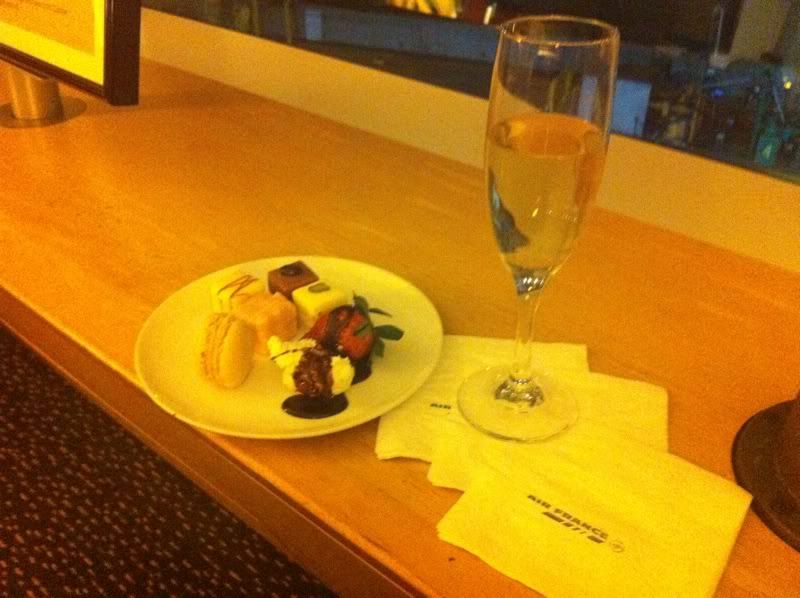 I'm also grateful to the wonderful staff who work the Lounge. I was able to print my boarding pass for the AY flight in the lounge and they helped with sorting things out.
An announcement was made for AF 11, ready to board (8:55pm) at gate 2 which was right next door to the Lounge so I was on board the 772 within 2 minutes.
I entered via door L1 and seated in the first row of the Affaires Cabin. I do love that there is a coat hanger (
no wire coat-hangers
) with your seat number ready on the chair for you. First class had one passenger and Business class was 90% full.
Pre-departure drinks of Champagne, water and orange juice were served 5 mins before the doors closed on a single tray. We taxied for a few minutes to runway 31L and off we went 10 mins early in our departure.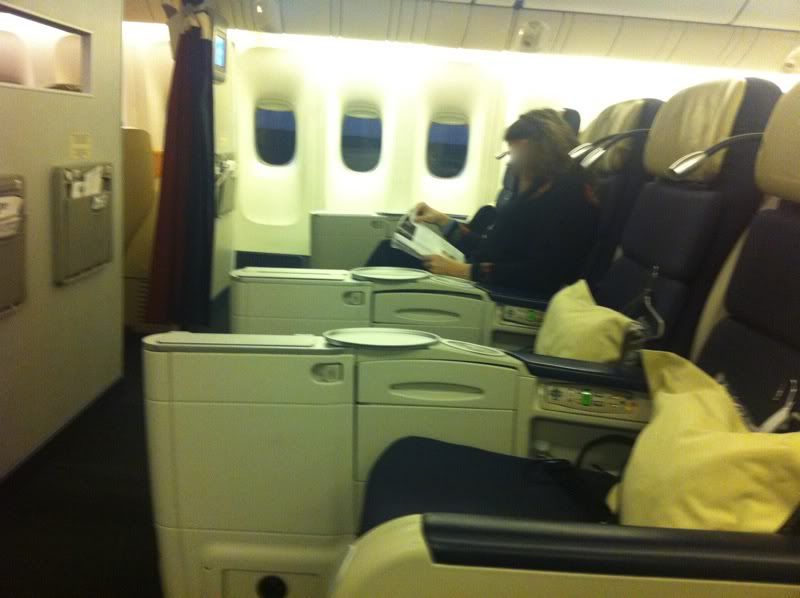 Once airborne within a couple minutes (
maybe 60 sec
) the seatbelt sign was turned off and the crew quickly began preparing for the main service. A far cry from the seat belt sign staying on for a long time after departure on US carriers. Though it was a little difficult to head to the bathroom to change into sleepwear as you had to pass through the galley to get to the quite small bathrooms. There was not much on offer in regards to products, more like an economy bathroom. I prefer other carries business class bathroom with all sorts of cleansers, toners, moisturizers etc. Though I do like the Business class toiletry bags which included eye shades, little clinque moisturizer, earplugs, toothbrush, toothpaste, socks and combo in a sleek leather pouch.
Menu's were handed out immediately and the cabin crew were incredibly polite, courteous and swift to make sure I had a comfortable flight. I spoke to them in French yet the gentleman and lady who severed me heard a conversation I had in English on the phone before the doors closed, so they proceeded to speak to me in part French and English sometimes in the same sentence and I in mostly French and then sometimes English yet never to the English questions.Lol.
Most of the passengers reclined and slept immediately on departure yet I was most certainly not going to give up my opportunity to get the full feel of the service on Air France. Dinner was exceptional though I was told that it was a quicker service as it was a late flight.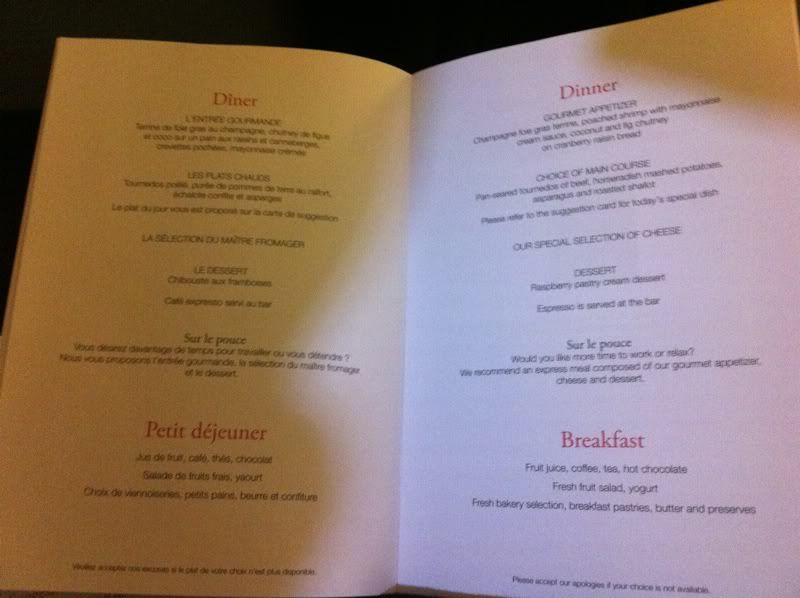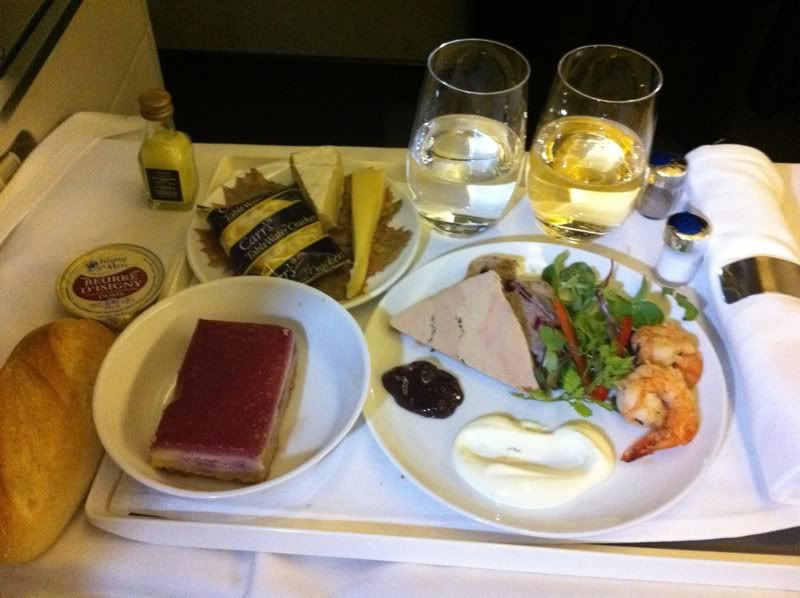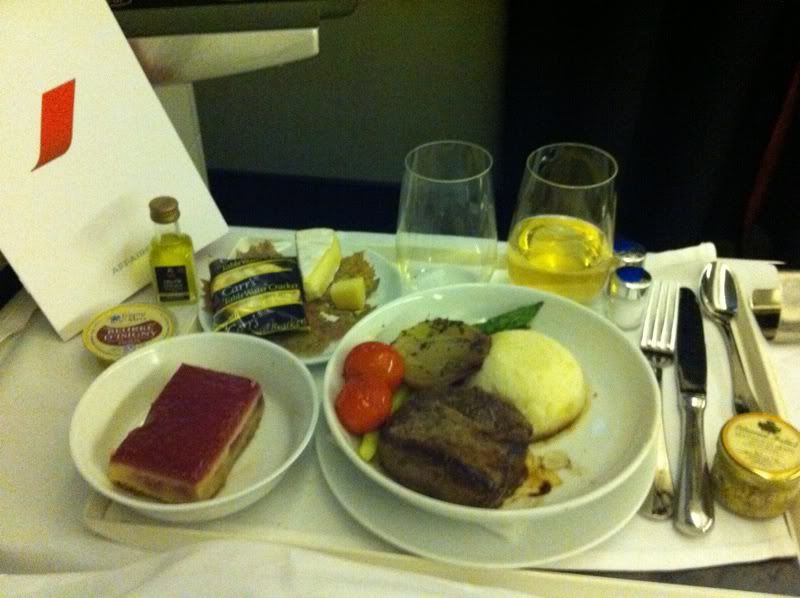 I have read many reports on flyertalk about the business class seats being uncomfortable to sleep on and some people slide off on the angle.
As I generally sleep on my side I found it a great bed to sleep on. I could see what people meant when laying on ones back, but if you position your body all the way up on the bed there really is no issue.
The Pillows are comfortable, small but comfortable yet the blankets left much to be desired. I think I prefer Delta Business Elite plush comforters, but then on this flight it was so hot in the cabin it wouldn't have mattered. I changed into track pants and a t-shirt to sleep in yet it would have been better to be in shorts but as I have read it's frowned on lol. I could have slept straight through for 4 hrs but because I was hot it was restless. Breakfast was served an hour out of CDG. Croissants, chocolate croissants, yogurt fruit, baguettes and array of other bread and coffee.
We landed in dense fog and taxied for what seems like for ever. I was a little nervous to make my connecting flight from 2E-2D. 12:20pm departure 11:45am boarding which gave me 45mins to make it. I was the 2nd person off the plane and thanks to reading flyertalk knew to use the Accés 1. Priority lane and was the first person at the border control. passport scanned, stamped and followed the detail signs to 2D where my Finnair flight would depart from. I chose to walk from 2E-2D and was through security quite quickly. From plane to connecting gate was 10mins max.... Incredible when you read so much on here about the chaos of CDG
Unfortunately I didn't realize that the Air France lounge was land side so never made it there but with 15mins free wifi in the terminals it didn't matter as I could download all my emails and update my Facebook and twitter and get ready for trip report 2.
---
Last edited by nycflyer75; Jun 3, 12 at

12:54 pm
Mar 6, 11, 1:38 pm
Join Date: Dec 2010
Location: New York city, NY
Programs: DL DM 1MM, DL reserve, Hilton Diamond, SPG Platinum, Hyatt Diamond
Posts: 407
(AY) FINNAIR 880
Code share: AF1498
From:
Paris, Charles De Gaulle FR (CDG)
Terminal 2D
To:
Helsinki Vantaa Airport, FI (HEL)
A321 business class
Terminal 2
Seat:
1A
Departure:
12:20pm
Actual:
12:40pm
Arrival:
415pm
Actual:
4:35pm
Flight time 2.5hrs
Once I arrived at terminal 2D after briskly walking from terminal 2E and working up a sweat, I used the Accès n°1 priority lines. Thanks to Flyertalk I knew to use this lane as there is no other information other than the sign "Accès n°1" Interestingly my boarding pass was scanned by a cheerful security agent before I entered the security line. Not sure what that was for I can only assume that it was to check if I had a boarding pass or simply to check if I would make the flight. The guard also thanked me in Finnish (
Kiitos
) assuming I was Finnish flying back to Finland.
Any flyertalk know for sure why they scan?
Security was virtually empty and I was through quicker than at any airport in the US. We were asked to take off our shoes which some of the passengers were annoyed about, but I am so used to taking things off,
(no pun intended
)
and emptying my carry-on at US airports I was ready to go through! They give you little blue plastic bags for you to put on your feet while your shoes go through the scanner. How civilized.
I was departing from gate 76 which unfortunately is a bus to aircraft gate. Boarding did not commence till 12:10pm due to the late arriving aircraft. In the meantime I used the free 15 minutes of wifi to check my emails, all 50 of them and to update my status on Facebook/twitter and Foursquare. haha
Announcements were made in French and English (
no Finnish
) that boarding had finally commenced (
You would think that it was an announcement for free beer
) everyone rushed to have their boarding passes scanned, it was free for all to get on the bus. It seemed like it was going to be a full flight, though I was not taken aback by the rush just eager to get on Finnair to experience Business class and the hospitality of the Finns. It took 5 mins to reach the parked aircraft, driving past terminal 2B around an Air Algérie A330-200.
We reached the aircraft stand but were not allowed off the bus for about 5 minutes, assuming the aircraft was not ready. Everyone was to board via door 1L so they let off passengers 5 or so at a time to board via the stairs.
Once entering the cabin I reached the first row of business class and put my iPad (
for writing my trip report of course
), iPhone and Bose headphone on my seat, 1A. Business Class on the A321 has no Business class seating just the regular economy seats of 3x3 with the middle seat blocked off. I do have to say that the seats were still wider than on Delta airlines or so it felt, well the rare times when I do fly coach in the US haha. There were only 5 passengers in 6 rows of business class on board today's flight.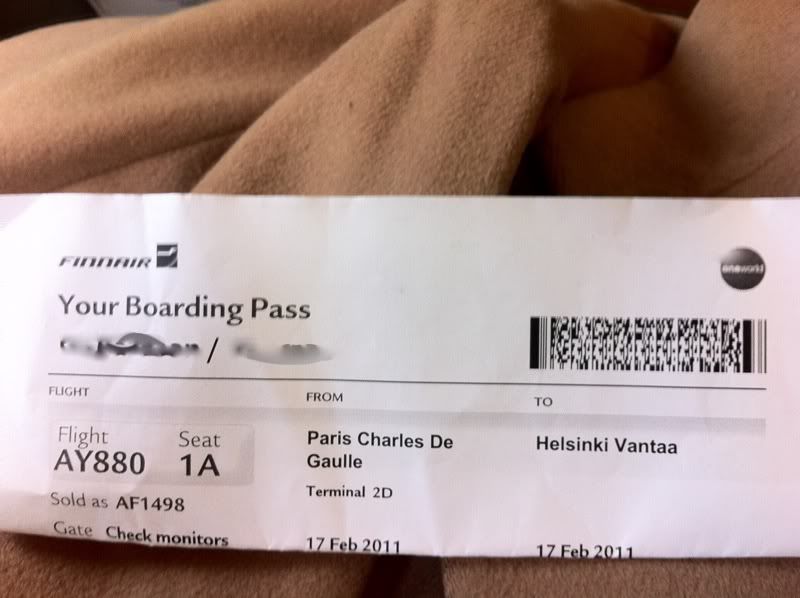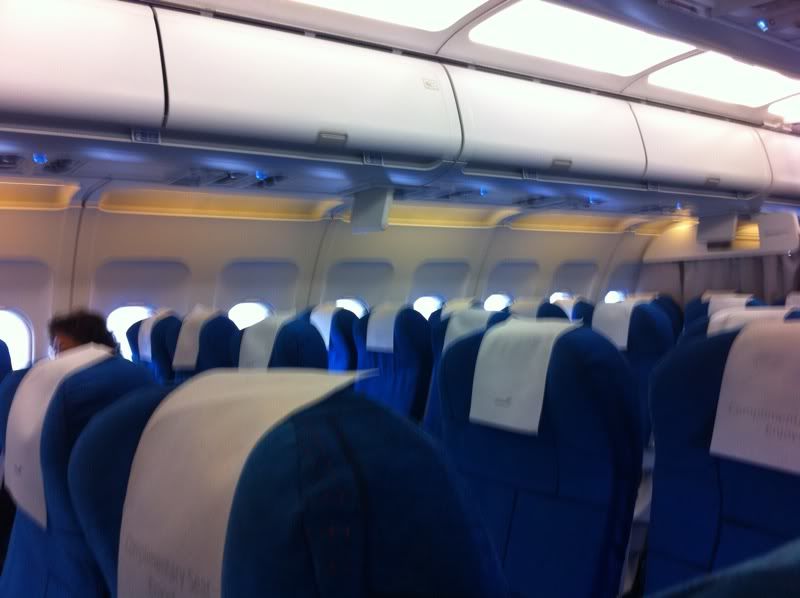 Unfortunately there was no pre-drink service on this flight, but while we were delayed on the ground the charming flight attendant handed out exquisite chocolates. The A321 has a mounted forward facing camera on the wheel well (
I assume
) and it was pretty cool to watch the aircraft movement though on such a foggy day we didn't get the full effect. We finally began our journey to runway 09R going passed terminal 1 and all the Star Alliance airlines.
The seat belt sign was turned off literally right after wheels up and still climbing. Drink Service was quick to begin, and once again I order champagne and was thrill to be given a mini bottle of my very own. Even though it was lunchtime in Europe it was early morning in NY so I order a glass of orange juice and proceeded to make my own mimosa's.ha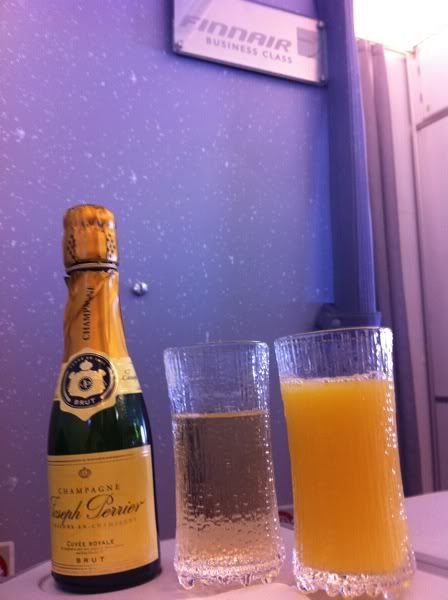 The flight attendant interestingly enough spoke English right away to everyone even when Finnish was spoken back. I speak Finnish well Enough to have a basic normal conversation and of course wanted to practice, however she spoke the entire time in English to me and the other 4 passengers so finally I gave up and spoke English. Before anyone comments I know she spoke Finnish as I heard her speak to her colleagues and over the intercom and must assume to be employed you have to speak the language of the home carrier except for the Middle East airlines where there, it's a multi-national flight crew. Of course on french and german carriers they speak their own languages to all the passengers waiting for the answer of the corresponding language of the passenger...I assume.
Anyways back to the trip report. Lunch was promptly served with warm basket of various northern European breads. The flight attendant quickly swapped out the one empty bottle(
mini
) of champagne for a new one and a topped off the OJ. Lunch was a tender succulent braised beef with gratin in a delicious cream sauce. Side order of some sort of cream cheese with peppers and oddly enough caviar inside. Not a big fan of caviar and not sure what type other than it was an blood orange color. Dessert was a light mousse with a white chocolate base.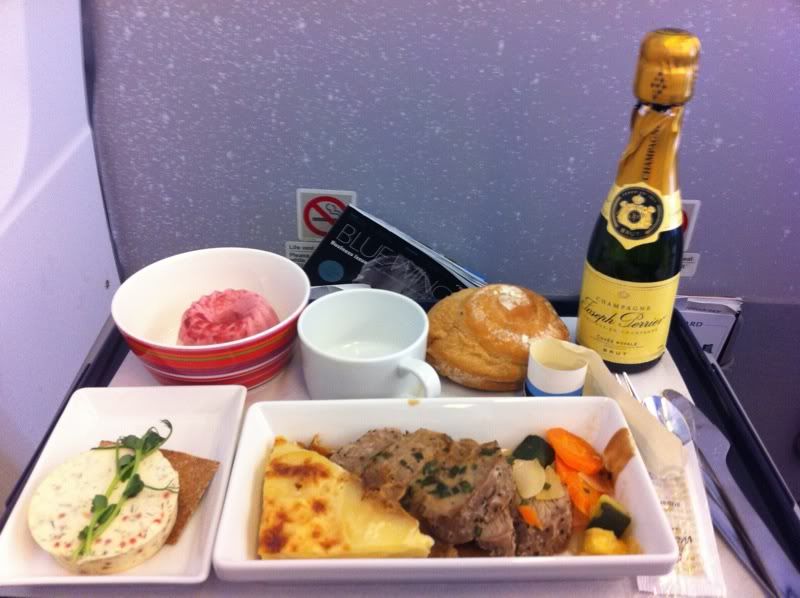 We began our decent into Helsinki Vantaa airport with stunning snowy views over the thousands of lakes and woodlands that make up Finland.
The usual announcements were made about arrival and then the captain said the 'current outside temperature is a balmy, ok little cold -20c at 4:15 in the afternoon....brrr The front camera was deployed again for a smooth landing on runway 04L. Tervetuloa and welcome to Helsinki Vantaa airport, arrival at gate 23.
From aircraft to outside was fast and efficient and complete in less than 5 mins. Side note that evening the temperature dropped to -29C (-22F)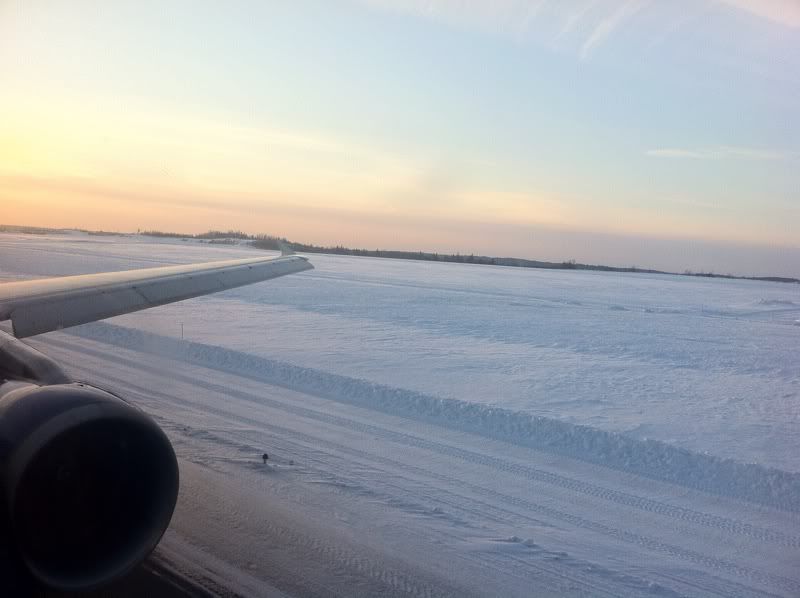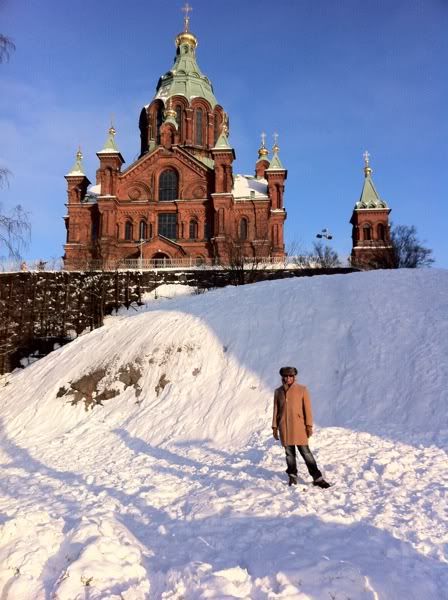 Uspenski Orthodox Church, Helsinki
Mar 6, 11, 7:34 pm
Join Date: Dec 2010
Location: New York city, NY
Programs: DL DM 1MM, DL reserve, Hilton Diamond, SPG Platinum, Hyatt Diamond
Posts: 407
(AY)FINNAIR 875
Codeshare AF 1099
From:
Helsinki-Vantaa Airport, FI (HEL)
Terminal 2
To:
Paris Charles De Gaulle, FR (CDG)
Terminal 2D
A320 Business Class
Seat:
3A
Departure:
12:15pm
Actual:
12:00pm
Arrival:
2:20pm
Actual:
1:59pm
Flight time 2.5hrs
After an amazing time in Finland, not only experiencing awesome hospitality and great cultural activities, not to mention the sheer unbelievable feeling of being in extreme frigid temperatures (
-31c/-24F one evening
) it was time to say good-bye to Finland and head back to central Europe.
Side note if you ever get a chance everyone must try a true Finnish Sauna and better yet if you get a chance to visit one of the typical Finnish Lake Cabins in the woods, you must try the Sauna/Roll in the snow/drink and sit outside!!!! (wrapped in a blanket and slippers of course)
What an experience that was to sit in a 170F Sauna and then run outside and roll in the snow (outside temperature -31c/-24F) and run back into the Sauna. The snow instantly melts and creates a cool layer over the skin and it's truly invigorating!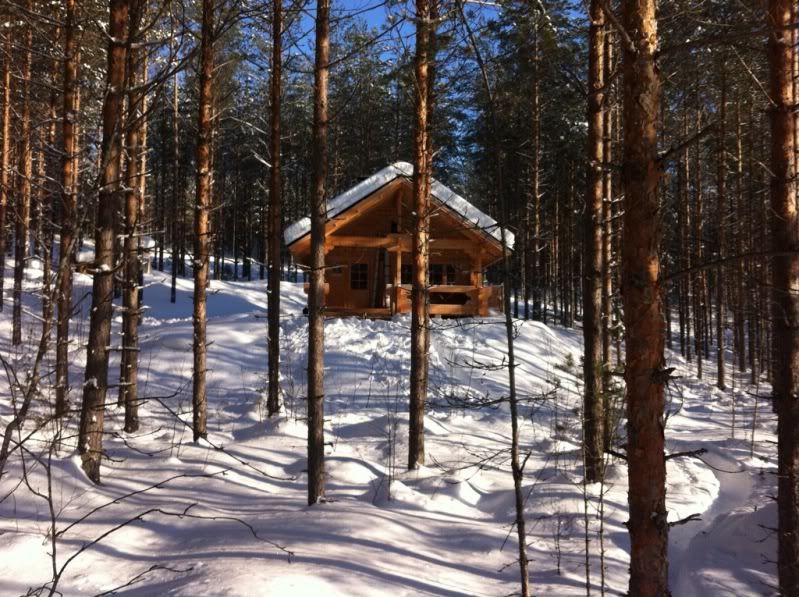 I was dropped off at the airport two hours before scheduled boarding, which gave me time to see the Finnair lounge. I proceeded to the business class check-in and was promptly assisted by a very helpful check-in agent and 5 sec later I had both my Finnair and Regional by air France boarding passes.
I headed to security and by American standards...deserted. The security agents were waiting for me to proceed. The TSA should really take note on how to treat people. Every security agent in Europe I have come across so far has been polite, courteous and willing to help a far cry from our sometimes, not all, but a large portion of rude, obnoxious and arrogant TSA.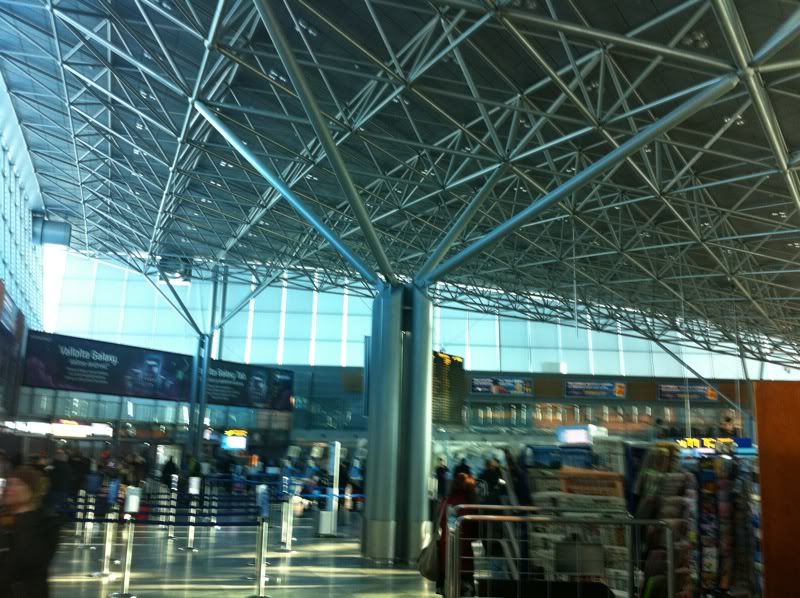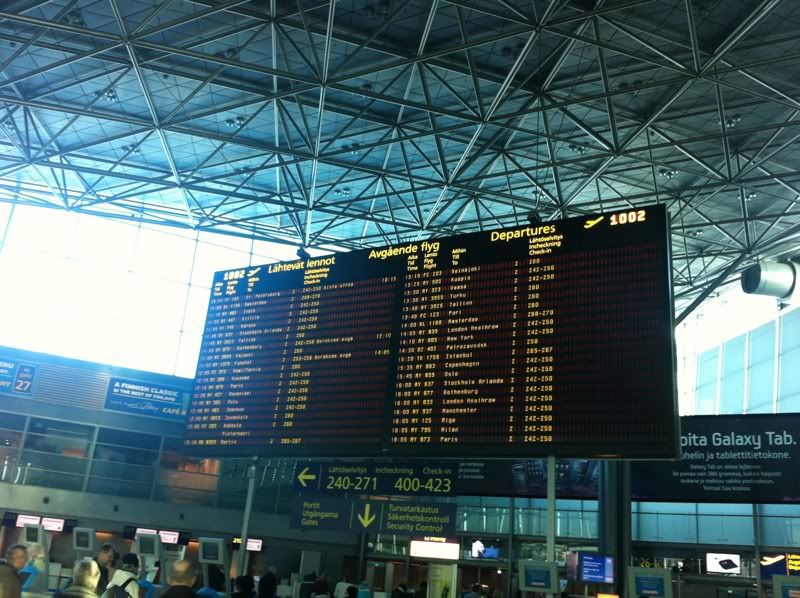 With that said, I headed towards the Golden Towers lounge reserved for Finnair business and partner airlines on the second floor of the Schengen Area. I was warmly greeted by the Lounge Dragon, (
I really should say Lounge Angel
) and proceeded into a small and little cramped Lounge. As small as it was it did have amazing floor to ceiling windows that overlooked the snowy landscape of Helsinki-Vantaa airport.
On offer in the lounge were the usual breakfast items. Cereal, muesli, assortments of breads *little dry*, cheese, ham, cookies, wine, juices and expresso machine. I was not in the mood to eat very much, so a good cappuccino slice of bread and cheese and I settled down to plane watch.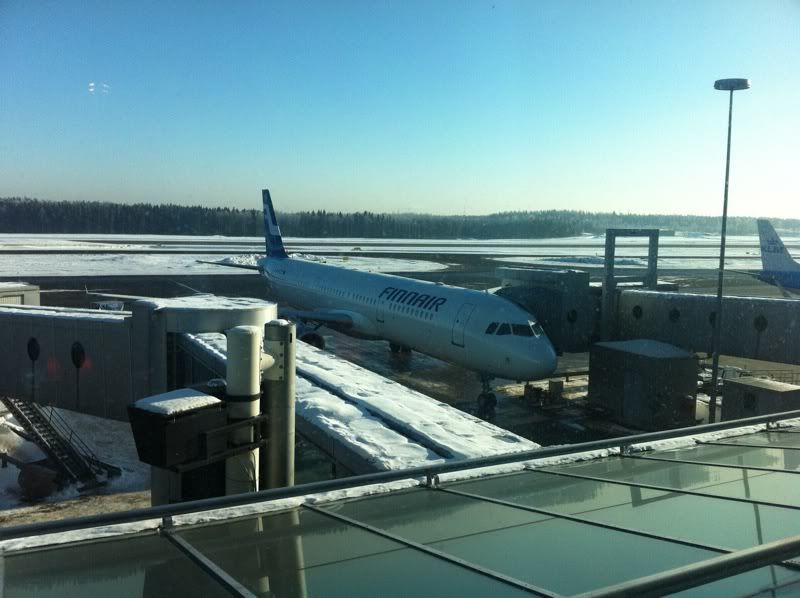 Boarding for AY 875 was a little chaotic with announcements for business class and One World emerald and sapphire members to board first yet every man and his dog, chicken or what have you charged the gate agent.
Thankfully there was only 3 business class passengers on board and room to move and breath. The flight attendants this time only spoke Finnish to me and it was quite welcomed.
There was no pre-drinks service but with an almost 20 min early departure it didn't matter. I am now assuming Pre-departure drinks are not served on intra-European flights. Once airborne drinks was served. I opted for a glass (min bottle) of champagne and pretzels.
The lunch menu was handed out written in Finnish, Swedish and English.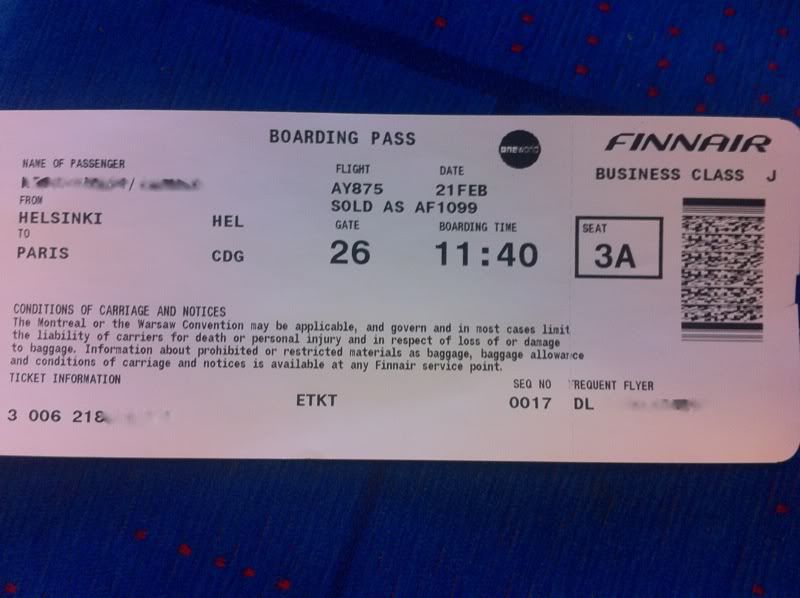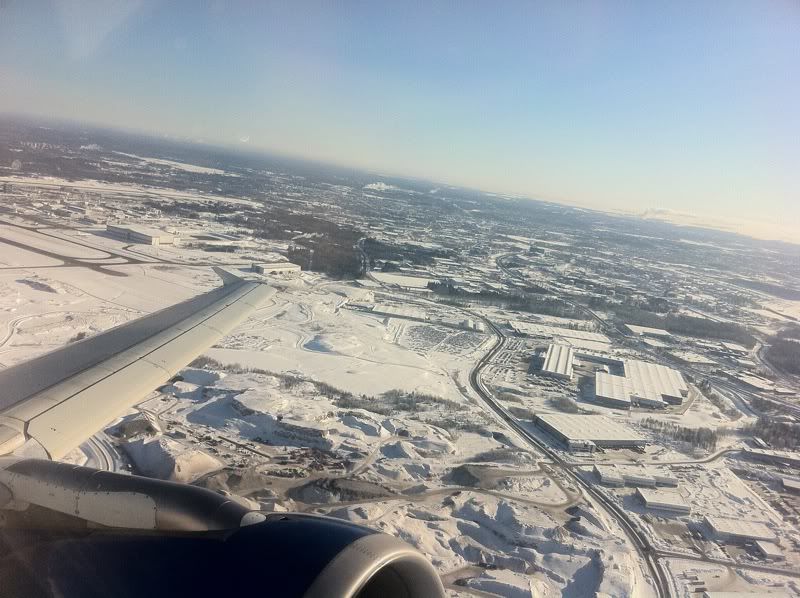 Beautiful and smooth take-off Helsinki-Vantaa
More Champagne, what else would I drink on this trip haha.
Menu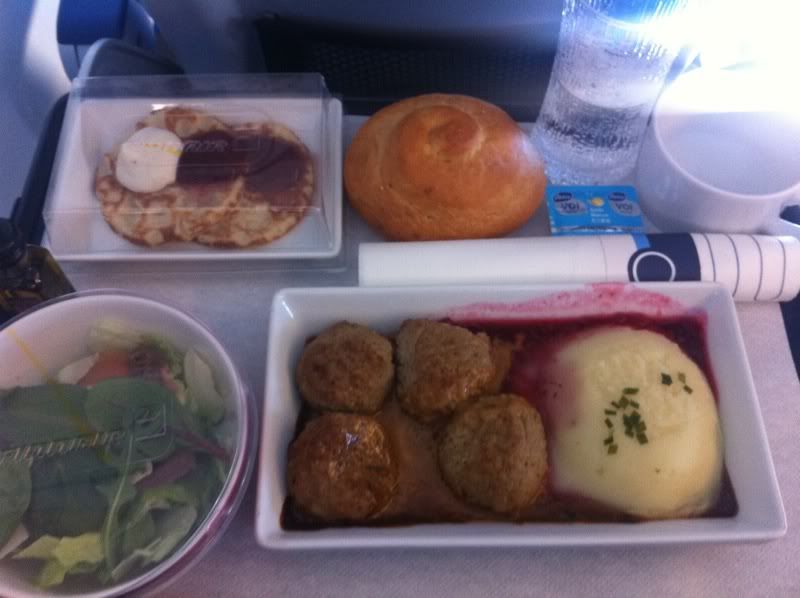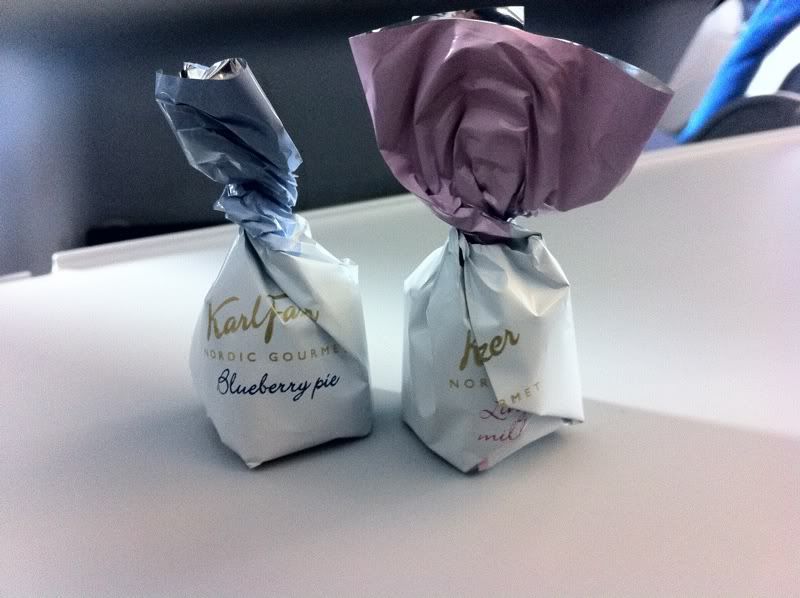 After lunch fine chocolates were passed out , too delicious to resist. With No AVOD or any type of audio on board I can see how this flight can become a bit monotonous but thankfully with Champagne in hand and typing away the trip report on my iPad we would soon be landing.
Decent into Paris CDG was smooth and quick and we landed on 09R. We taxied to Terminal 2D and thankfully we would dock at a gate instead of a remote stand which gave me more time to get to my next terminal 2G. Being 3rd off the plane and landing 20 mins early helped the transfers between terminals at CDG. 2D-2G
HD video of the departure from Frozen Helsinki-Vantaa
http://www.youtube.com/watch?v=Js16pYbF26w&hd=1
Mar 6, 11, 10:07 pm
Join Date: Dec 2010
Location: New York city, NY
Programs: DL DM 1MM, DL reserve, Hilton Diamond, SPG Platinum, Hyatt Diamond
Posts: 407
AIR FRANCE 3286
Operated by:
Régional Compagnie Aérienne Européenne
From:
Paris Charles De Gaulle, FR (CDG)
Terminal 2G
To:
Basel/Mulhouse/Freiburg EuroAirport (BSL)
Terminal 1
Embraer 190 Economy Class
Seat:
4A
gate: 26
Departure:
3:35pm
Actual:
3:30pm
Arrival:
4:38pm
Actual:
4:25pm
Landing 20 mins earlier and being 3rd person off the Finnair flight, I headed out of Terminal 2D following the posted signs to catch the bus from 2D to 2G. With all the horror stories of CGD I've read online I was a little nervous to make all my connections through CDG, but on contrary it was quite simple and easy to navigate with signs everywhere to help you along. Though of course I did do my research before hand to make sure I knew where to go and what to look for. I headed to the navette N bus transfer to 2G
(a new commuter terminal for Schengen states
).
It took perhaps 10mins to arrive at the terminal. I proceeded to the Security check point, handed my my boarding pass and passport to the cheerful security agent and he scanned the boarding pass using an automated machine above the conveyer belt for the X-ray machine.
The terminal is quite basic but vibrant with color and packed with commuters. Once again I used the free wifi for 15mins to check on Emails, Facebook, twitter etc. There is an Air France Salon Lounge but I've read that it's not open to Skyteam Elite Plus members yet all the skyteam logo's of the individual airlines are on the front door. As the sliding doors opened I peaked in and saw it was packed to the core with ties and suites so I opted to stay in the main departure area. Anyone know for sure if it's not open to Skyteam Elite plus?
20 mins before your flight the gate is announce only via the monitors, no oral announcements are made, so you have to constantly keep watching the monitors. Terminal 2G has no air bridges so you have to walk to the aircraft.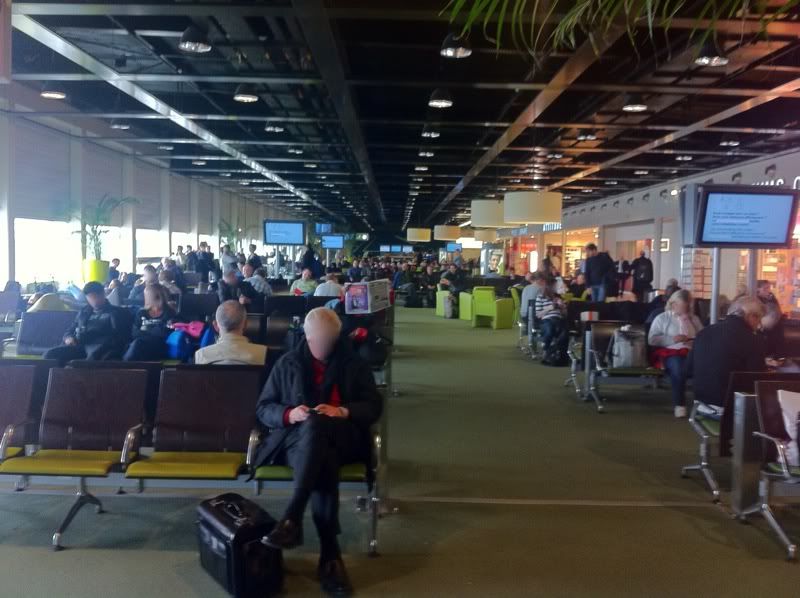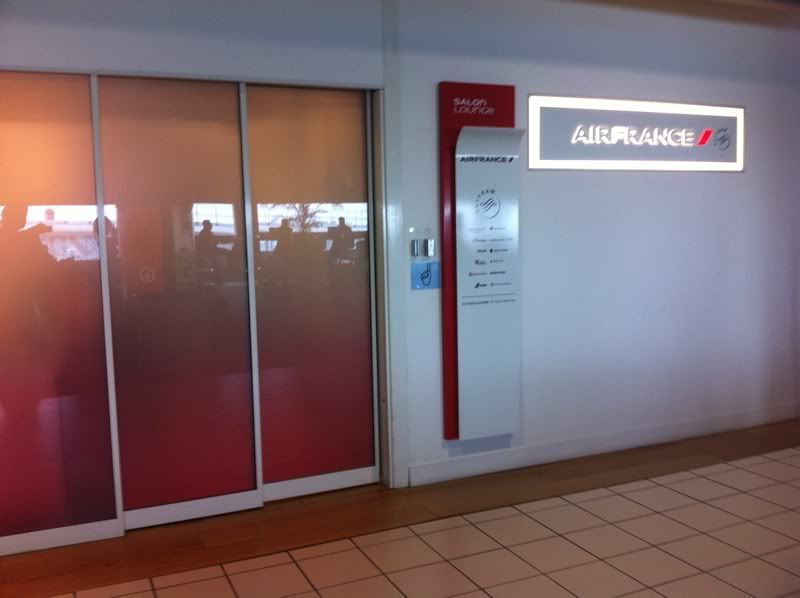 I have to say it's a strange set-up and gate areas are quite cramped. I boarded the aircraft on a yet another foggy and drizzly day in Paris. I sat in 4A and was lucky to have 4B spare. We departed 5 mins early and taxied toward Runway 08L and were #3 for take-off. As this is a short commuter flight, service was quick only water and juice were served. It's a basic serve but an efficient service. The load was about 80% full on the Embraer 190 and We landed on time at Euroairport (BSL) and parked at gate 20.
Freiburg, Germany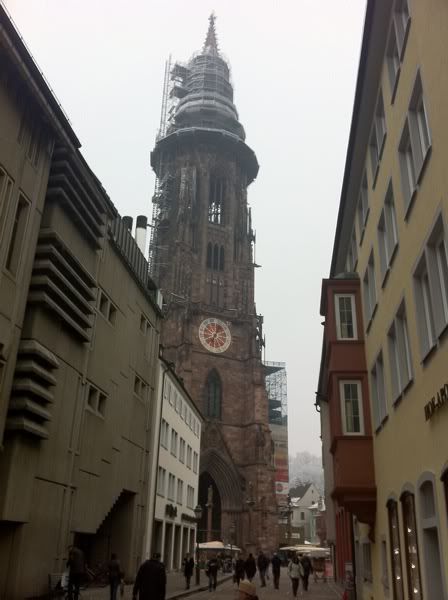 Freiburg, Germany 30 min drive from Basel EuroAirport
AIR FRANCE 3283
Operated by:
Régional Compagnie Aérienne Européenne
From:
Basel/Mulhouse/Freiburg EuroAirport (BSL)
Terminal 1
To:
Paris Charles De Gaulle, FR (CDG)
Terminal 2G
Embraer 190 Economy Class
Seat:
4A
gate: 21
Departure:
10:37pm
Actual:
10:35am
Arrival:
11:35pm
Actual:
4:25pm
Euro airport is housed in a large glass building that is three floors and seems like a big house in the middle of nowhere. The checkin area for Air France was quite deserted. Seems like my entire trip so far has been nothing but empty airports and security check points. I walked up to a Premiere/Affaires checkin agent at a kiosk and she checked me in personally for my flight rather me do it myself. Actually I could have done it myself...really... but she insisted on doing it lol
I was checked in to Paris and then onto Tokyo, Japan (NRT). I was only given one boarding pass with both flights on it, which was great and felt like we are helping with unnecessary waste.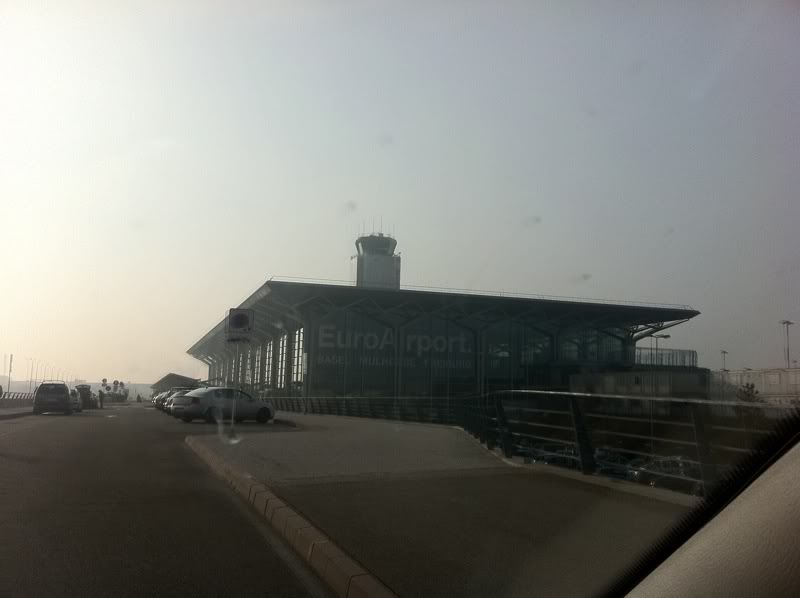 Security was again efficient and courteous and they waited for me as I was the only one waiting to go through the check point. about 10 seconds later a group of senior high school students heading to Africa or was it South America were lining up on the other side of the Premium line.
Interestingly Basel is German speaking and I am fluent in German but the staff spoke French. Switzerland is a multi-lingual country (
German/French/Italian and Romanisch
) so I was a little perplexed as it they didn't sound Swiss French. Maybe the security and airport staff are hired from France as technically the airport is on French ground but controlled by France and Switzerland, the only airport in the world to cross two borders within an airport.
There was virtually nothing to do at EuroAirport (BSL) on the Schengen side not even any duty free stores. So I sat and read the paper while waiting for boarding. Boarding commenced 15mins before departure with the group heading to Africa or South America can't remember huddled around the gate agents desk. As it seem liked a very light load maybe 45% full, I hung back a little as I would be sitting up front. As we climbed out of the fog the left side of the aircraft (
can you say Port side for aircrafts too?
) were greeted with spectacular views of the alps. Stunning!!!!! The flight was uneventful and I dosed off for about 10 minutes. I did notice that when we were making our initial decent, 10 minutes in we began climbing again and I knew were were going to circle around and the chance of landing late was possible.
We did end up landing a a few minutes late on runway 08R and we had to wait for a few minutes to cross runway 08L as two departing Air France aircrafts, one 777 and an A340 lined up to take off. We reached Terminal 2G and sped off the plane rushing to get to terminal 2E...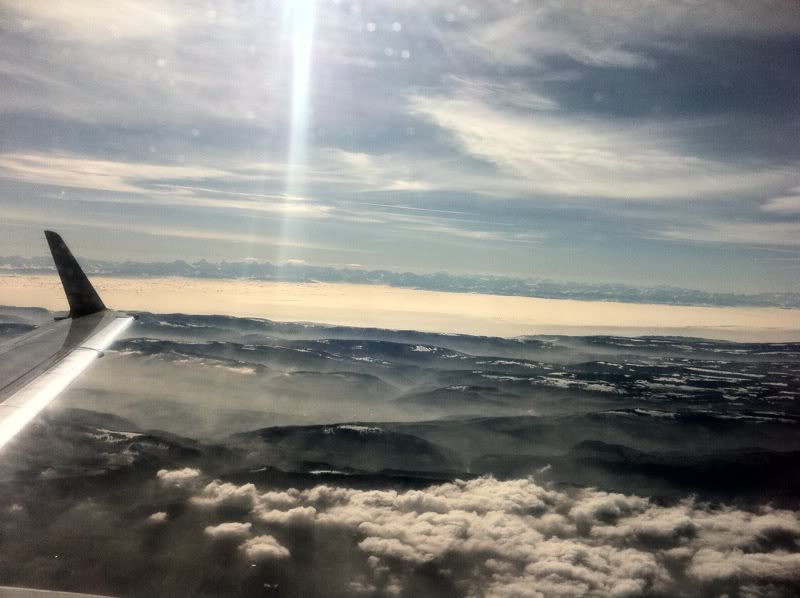 Stunning view of the Swiss Alps
HD VIDEO ON YOUTUBE
http://www.youtube.com/watch?v=vbdcuwUyLqE&hd=1
Mar 7, 11, 10:44 am
Join Date: Oct 2008
Location: Helsinki
Programs: BA Gold
Posts: 360
Thank you for a wonderful trip report so far. I was delighted to see pictures of my hometown. We've had lots of snow this winter and temperature has been way too cold for me. It seems that finally the cold days are over and spring is making its way towards Finland
I am glad that you seemed satisfied with your experience with Finnair. I think they have a good short haul business class product. The seats are the same than in economy (like most of the european carriers have), but you still have some extra space around you with the middle seat blocked. The lounge for business class passengers at Helsinki Airport Schengen side is awful. I am glad that I have access to much nicer Silwer Wings lounge.
Mar 7, 11, 9:47 pm
Join Date: Dec 2010
Location: New York city, NY
Programs: DL DM 1MM, DL reserve, Hilton Diamond, SPG Platinum, Hyatt Diamond
Posts: 407
I do love every time I go back to visit Finland.
I do enjoy the service on Finnair and it was pretty good for a short haul business class flight. The last time I flew Finnair was JFK-HEL-JFK.
I was a little disspointed with the golden tower lounge but at least it was airy. Where is the silver wing lounge? I assume that's only for One World status holders which I think I saw a sign for. Or is that in the non-schengen side with the sauna?
Mar 7, 11, 11:30 pm
Join Date: Dec 2010
Location: New York city, NY
Programs: DL DM 1MM, DL reserve, Hilton Diamond, SPG Platinum, Hyatt Diamond
Posts: 407
AIR FRANCE 276
From:
Paris Charles De Gaulle, FR (CDG)
Terminal 2E S3 Gate: 57
To:
Tokyo Narita International Airport, JP (NRT)
A380-800 Affaires
Seat:
70A upper deck
Departure:
1:33pm
Actual:
1:50pm
Arrival:
9:10am
Actual:
9:11am
As my transfer flight from BSL was late arriving I began to panic a little thinking I might not have much time to relax in the the Air France lounge so I rushed off the plane onto the tarmac and into the 2G terminal following the signs to the 2E transfer. Seconds later I was standing in front of an immigration officer who was waiting for passengers in a small booth shared with another immigration officer. A small waiting area was right behind their glass cubical. Passport scanned, stamped and I had officially departed France (
French immigration officers don't speak or ask questions, just smile
). I walked into the small waiting room and waited for a bus to take me directly to 2E.
Was it just that simple, for a moment I stood there thinking how awesome that was to arrive at 2G and go through immigration right there for my intercontinental flight at another terminal, almost felt like my own private waiting area. Ok maybe it's not like Lufthansa's First class terminal at Frankfurt (
dying to experience that one day
) but it sure beats a bustling crowd. There must have been only 5 people waiting for the bus...well until I was joined by the group of students going to Africa or was it South America, I really should have remembered that. They were so excited to travel! Well I was too!
I must have waited for about 2 minutes when the white bus rolls up and through the glass doors we boarded the bus. A friendly Haitian man helped everyone onto the bus and made sure we all knew where we were going and where to get off. He waved and wished us a wonderful onward journey.
There was going to be two stops. First stop was 2E S3 (
newer satellite terminal
) where I was going to get off and then the main terminal of 2E. Sweet!!! I was going to get there in plenty of time and I was much relieved. I wish they did the bus transfer between all the terminals so that you don't have to go through security every time.
We passed the new S4 terminal still under construction then drove past 2 Vietnam airlines 777's and their striking deep color scheme against a foggy Paris day. We then drove under the middle of the S3 terminal and were met by a gate agent to guide us up the flight of stairs from outside to directly into the S3 departure gate area. Again, I felt a little special, well its not like riding in porsche to the aircraft but still felt great or maybe it was that I was about to ride the A380-800. After this flight I would have traveled on all the Airbus planes. A300, A310, A318, A319, A320, A321, A330, A340, A380.
I quite like the look of the 3E S3 terminal with their big two level glass walls. But there was no time to walk around the terminal, I headed straight for the nearest Air France lounge. I took the elevator up to the lounge and was impressed with how big the lounge was with 3 seating sections. I was greeted by the desk agent and hurried to find a place to relax and have a glass of...yup, champagne! I wondered around and noticed there is a facial and massage room for passengers, bummed I wish I could have gotten there earlier and tried that. Next time!
Air France salon in quiet and has modern decor, the food selection has much to be desired especially for an intercontinental terminal, however there was a great selection of wine and champagne.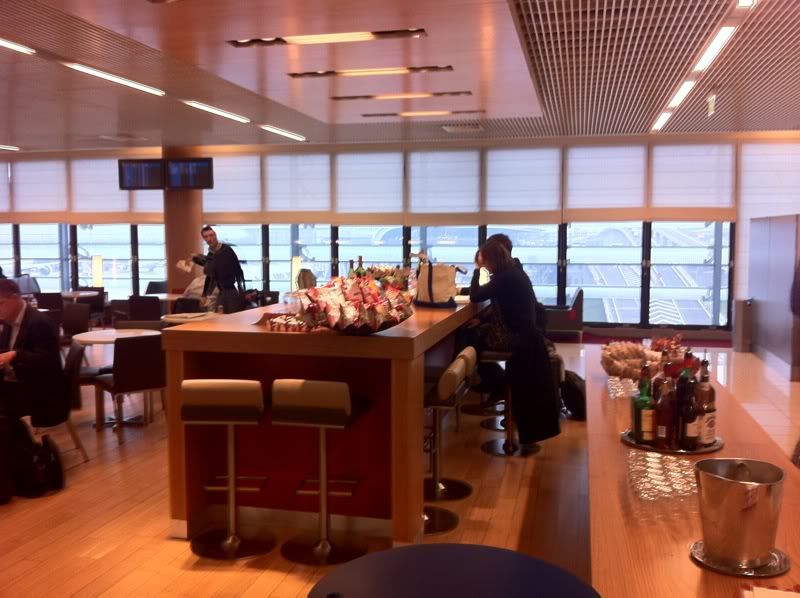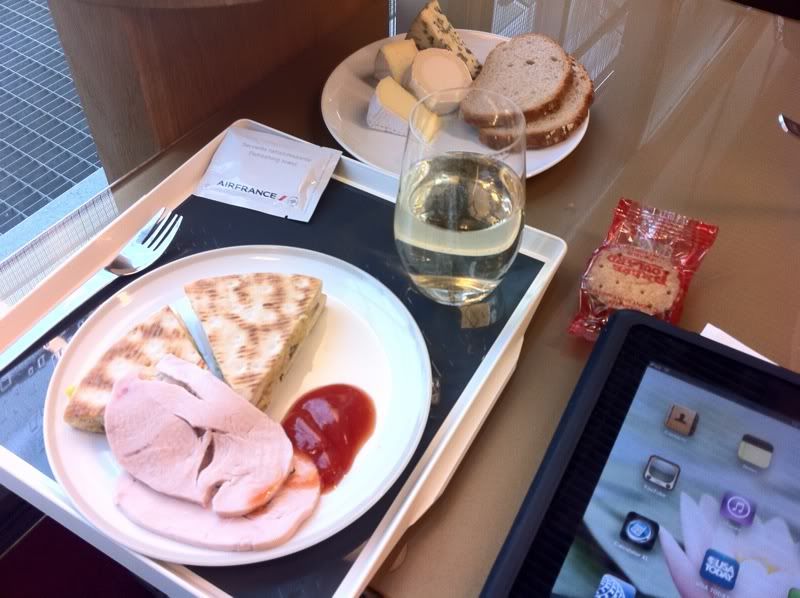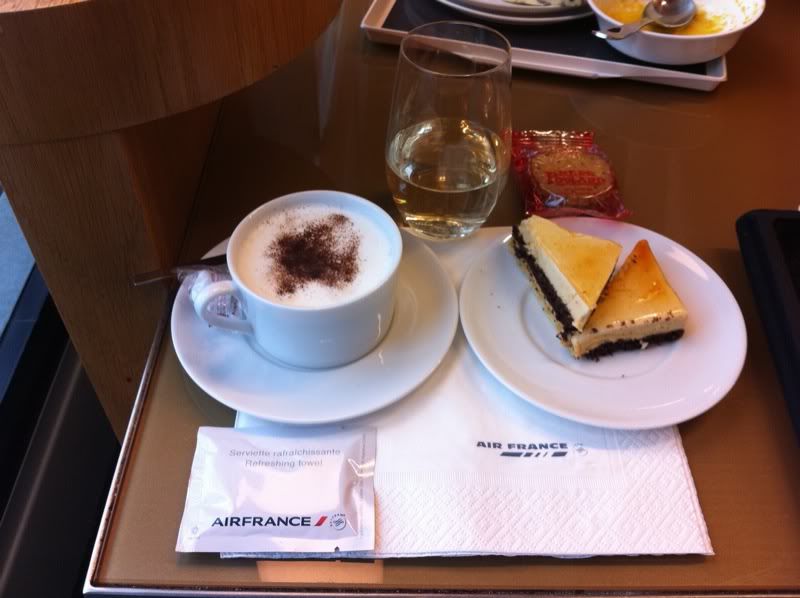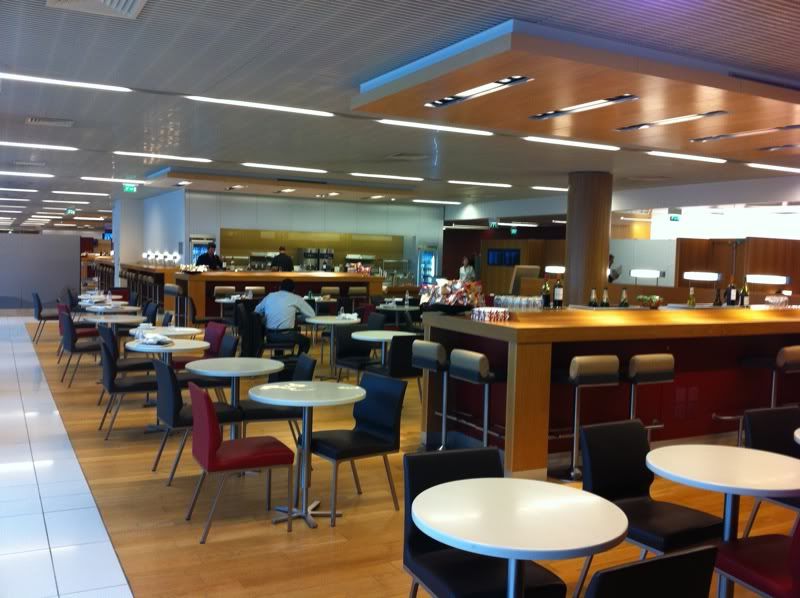 Boarding announcement was made in the Lounge at 12:55pm and by the time I arrived at the boarding area it was quiet. I can only assume La Première and Affaires had already boarded and there was a small trickling line for Economy. I walked straight up to the La Première/Affaires gate agents, boarding pass scanned and was wished a good day by the agent and off I went to take the escalators to the 2nd floor to board the A380-800 on the upper deck. Walking to the aircraft you immediately see outside of the air bridge as it's all glass, I really love that about CDG. Maybe all airports should have this too. You truly get to experience the magnitude of such a stunning aircraft like the A380. On entering the upper deck I was greeted by a French Flight attendant and a Japanese flight attendant, I turned right to the main Affaires cabin and took my seat 70A. Originally I was seated in the front cabin but changed seats once it was apparent it would be a light load on this Wednesday flight, so I could have the seat next to me free. I didn't realize until I was settled that in fact it was a very light load. There must have been 10 people in the main Affaires cabin. A few Passengers from the front were moved to the main Affaires cabin to give everyone more space. 3 non-revs , one being the daughter of the captain were later seated at the very back of the Affaires cabin. (
I saw them all get on the crew's bus at Narita
)
There was mixture of French and Japanese flight attendants on board obviously to attend to the Japanese passengers. I changed right away into comfortable clothes in the huge bathroom and settled into my seat. I do have to say it feels a little cramped once you first sit down in the Affaires seats. Maybe it was because I was in a bulkhead seat (
Affaires 3B
) from JFk-CDG and had gotten used to it. To my left was a large and deep window cabinet to put my clothes, toiletries, iPad etc and you could put your shoes in there too. (
my shoe's had to go above because I was wearing my heavy snow boots for the Finland section of my my trip
) I also love the fact there were slippers to put on which are really only for the flights to Asia nonetheless I donned them on and was settled in for a long 13 hour flight. Pre departure drinks were offered, champagne/orange juice/water about 10 minutes before departure. What do you think I chose....? Hum perhaps it was a glass of champagne haha. It felt like a private cabin as we had 4 flight attendants serving about a dozen people.
A380-800 at 2E S3 bound for Tokyo, Japan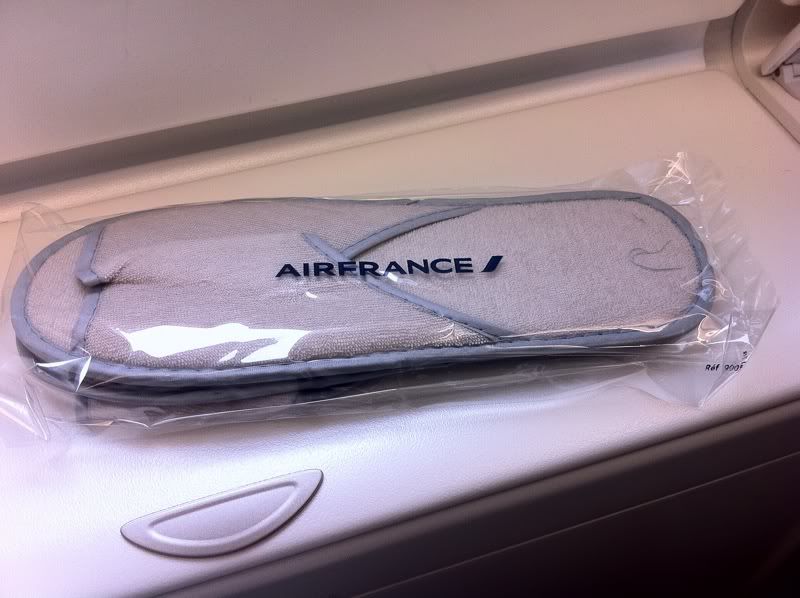 Comfy slippers only for flights to Asia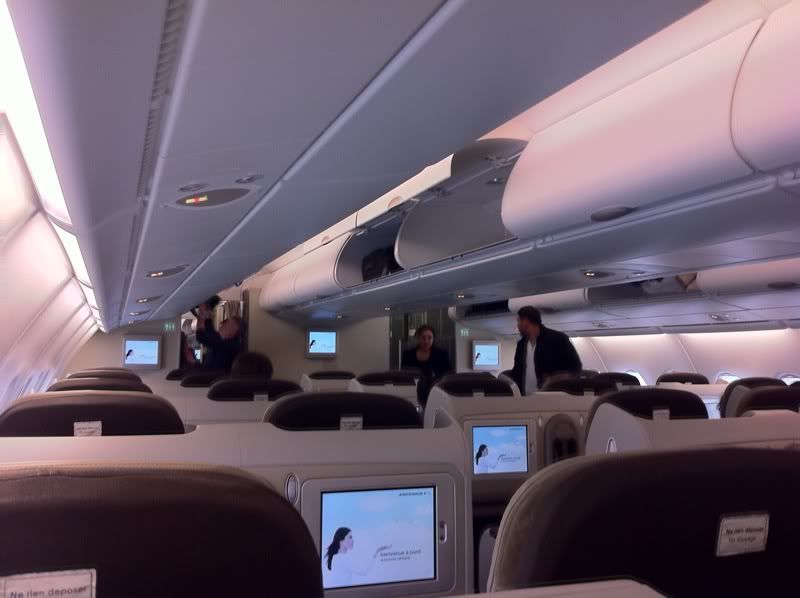 We pushed back a little late on a dreary rainy day in Paris. Right away you notice that from the upper deck you don't hear the noise of the engines, well taxing I didn't hear them. I am trying to remember but I think we took off from 27L so we must have taxied for at least a good 10 minutes.
What's truly impressive is the forward facing camera mounted on the tail during take off. As we began our roll down the runway the usual high pitch noise was not to be heard, in fact what you really hear is the rattle of the fuselage rather than the actual engines. It must have been a truly light load because what should have been a long roll down the runway was instead a few seconds and we were airborne.
The route today was over Denmark, through Sweden, past Finland, then over the tip of Siberia, Russia down through the sea of Japan and land heading south into Narita. There was a bit of turbulence as we climbed over northern France so this time the seat belt sign was kept illuminated for a few minutes. Once the sign was turned off the flight attendant went to work. The male flight attendant on my side was exceptional, I do wish I had asked his name. (
Air France flight crew don't have name tags
) he made me feel like I was the only one in the cabin or maybe because I pretty much was lol. Menus were handed out and of course with a top off of champagne. He most certainly kept the champagne and exquisite red wine flowing. The menu on todays flight had a lot more choices. First up
L'AMUSE-BOUCHE
cream cheese
Salmon
otsumami おつまみ
Apéricrêpes
GOURMET APPETIZERS
Exquisite duck & goose foie gras terrine, scallop tartare, herb creme walnut, fig and chestnut loaf, fig chutney and baby spinach
MAIN COURSE
4 choices from "suggestions of the day"
Japanese Specialty
Duck with teriyaki sauce rice,
Chicken fricassee with Madagascar lime
Baked fillet of groupe
Polenta with vegetables
CHEESE
Camembert, comté
I decided to have the Japanese meal of duck in teriyaki sauce, rice and vegetables. The rice was served on some sort of baking sheet which probably was meant not to absorb too much of the teriyaki sauce. I paired the dish with Bordeaux Rouge "vintage 2007, will delight you with a smooth harmonious palate..." which really was the most incredible red wine I've ever had on an aircraft, followed by an amazing dessert selection
DESSERT
dessert trio:
Cappuccino parfait
Fig shortbread
Chocolate cake
Sorbet and ice-cream
Fresh fruit
EXPRESSO SERVED AT THE BAR
cappuccino, cafe au lait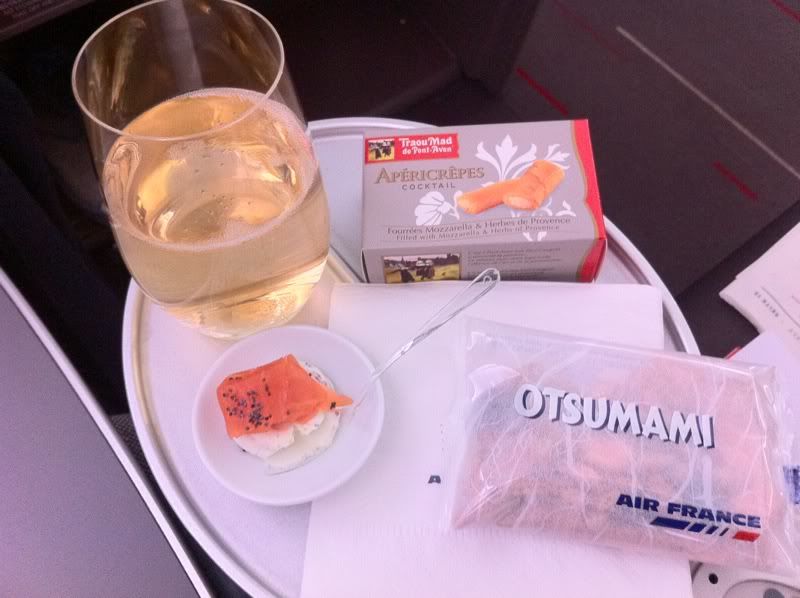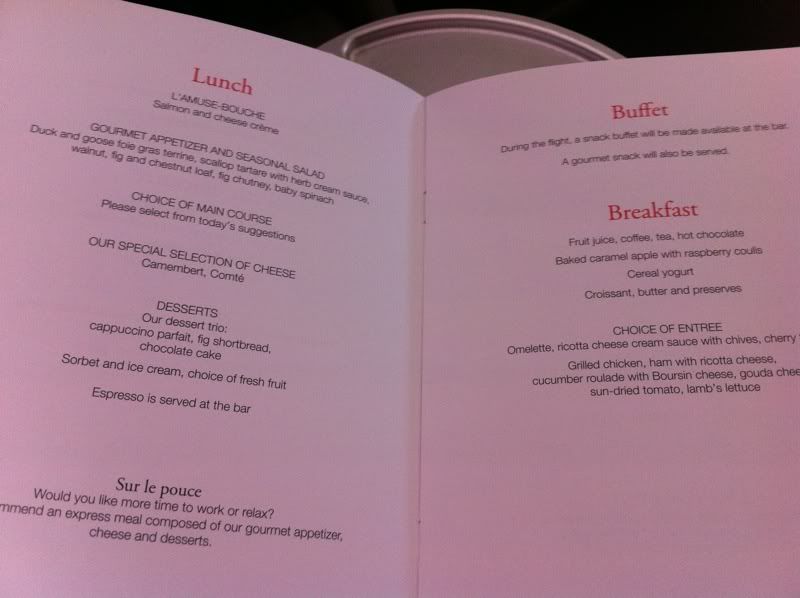 Duck in Teriyaki sauce with rice, may not look as appealing but tasted great!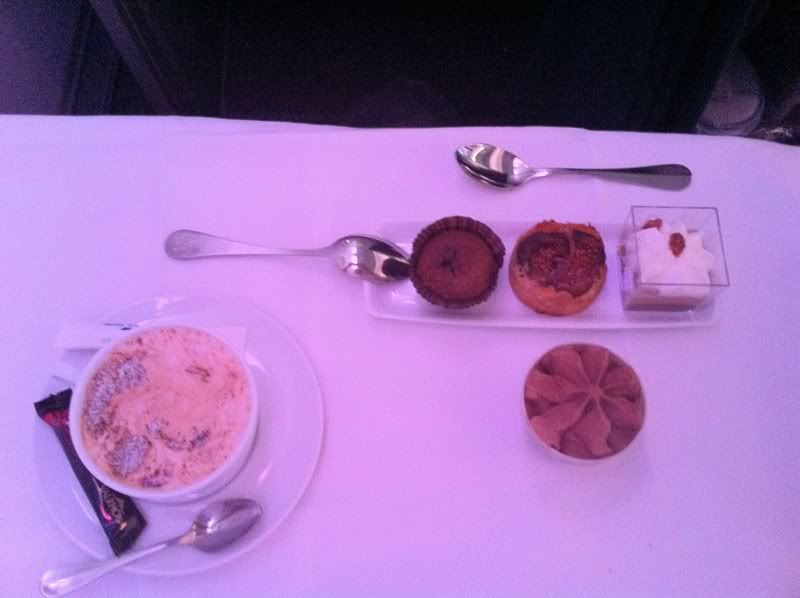 wonderful cappuccino, chocolate ice-cream and 3 little desserts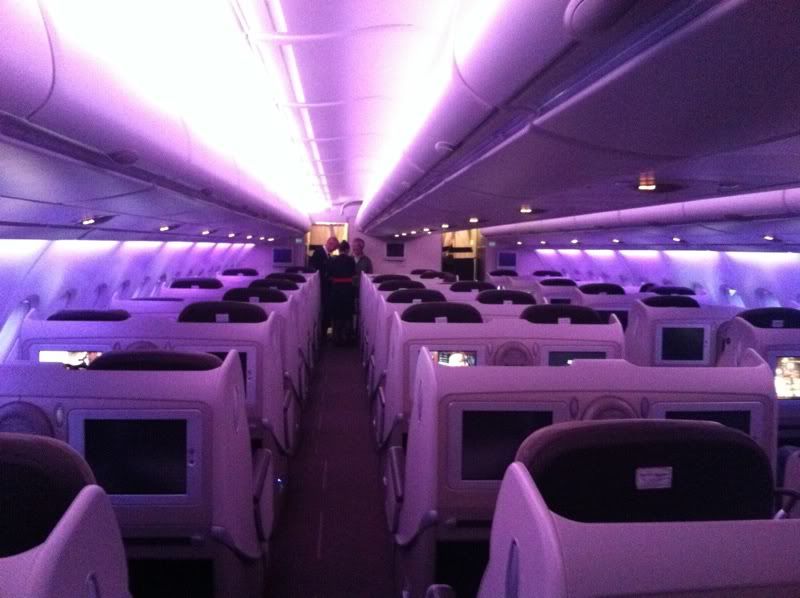 second section of the upper deck Affaires class. About to go to sleep
With the full meal service over I prepared to get some rest so off I strolled to the spacious bathroom, face cleansed (
random question why don't they have Evian facial spray bottles, those are awesome!
) and headed back to recline the seat to it's full flat position - almost (170 degrees) ear buds in, eye shade on and it was time to sleep. Once again the cabin was just too warm to sleep so I took the socks off and rolled up the track pants took a sleeping tablet and out I was for a full 6 hours of sleep. I woke to the aroma of coffee and breakfast as we were about an hour or so out of Tokyo. Some folks slept right till the cabin was prepared for final approach.
Side note; I would have liked to have tried the mid-flight buffet but sleep was a priority.
BREAKFAST
Fruit juice, tea, coffee, hot chocolate
Baked caramel apple with raspberry coulis
Cereal yogurt
Croissant butter and preserves
CHOICE OF ENTREE
omelette, ricotta cheese cream sauce with chives , cherry
Grilled chicken, ham with ricotta cheese,
Cucumber roulade with Boursin cheese, Gouda cheese,
Sun dried tomato, lambs lettuce
Once I sat up from my deep slumber, the male flight attendant appeared before me and cheerly asked if I would like some breakfast. As I wasn't very hungry and just needed some coffee I opted for the grilled chicken...what a mistake that was, talk about bland!
Coffee and croissant would have to do. After breakfast I used the spacious bathroom on the port side and changed back into my regular clothes freshened up, feeling vibrant, refreshed and ready to tackle a full day in Tokyo.
We began our final decent into Tokyo Narita on a gloomy day, guess we brought the weather from Paris with us. Landing on runway 16R. It's remarkable how soft and quiet the landing was, though we did take almost the entire runway to stop, exiting the 2nd last exit.
We parked at the gate and we waited for a few minutes for the upper Left door to open and then off the A380 wishing to fly her again (
which was going to be in a few days
) The walk towards immigration a bit long walking around the building through a long open air tunnel, down a few stairs and finally to the open Immigration hall. It was remarkable there was no one there at 9:15 in the morning. I stepped forward, presented my passport and landing card to the immigration officer who greeted me with a Good Morning and a smile. I had my photo taken and index fingers scanned. The immigration officer was so polite and it's the first impression of how courteous Japan is, efficient, precise and polite. It's good to be back in the land of the rising sun. Welcome to Japan. 日本へようこそ
5-10 mins after leaving the aircraft I was outside. I headed right to the limousine bus service, paid ¥6000 for a roundtrip ticket, first stop the ANA hotel in Akasaka where I would get off. Included in the fare was a two day unlimited subway rides on the Tokyo metro. This price is only for foreigners who present a foreign passport.
Off to Tokyo I go...
Breakfast - should have chosen something else!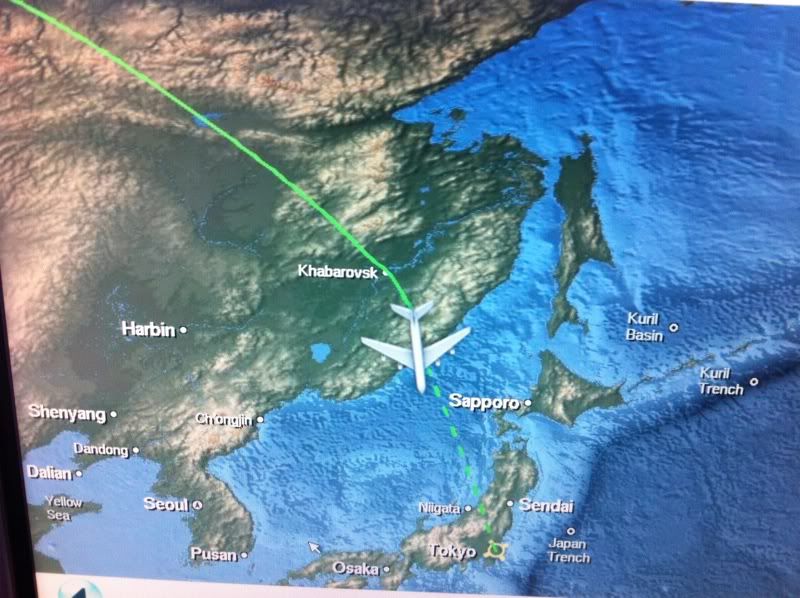 Over Russia early morning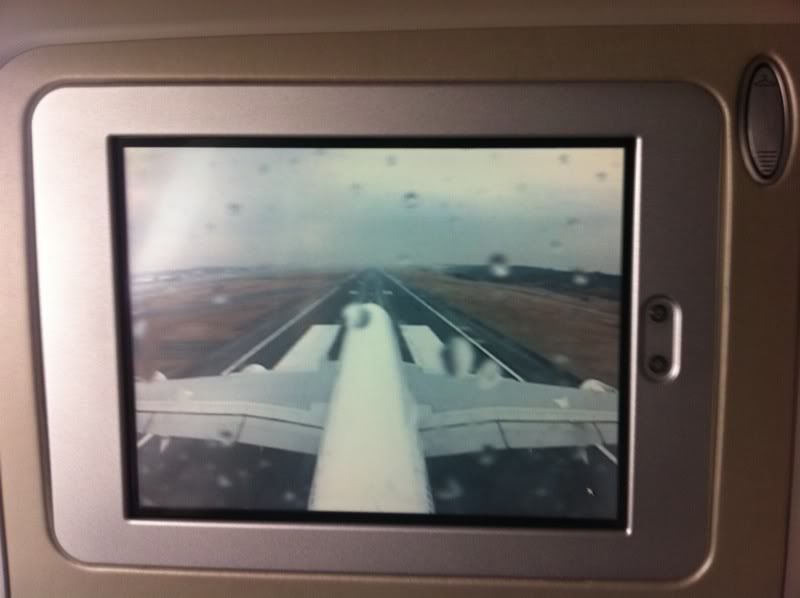 Front facing Camera from the tail
HD VIDEO TRIP REPORT AF 276
http://www.youtube.com/watch?v=AmCjbZXV5VE&hd=1
Mar 8, 11, 1:16 am
Join Date: Oct 2009
Posts: 314
Really enjoying this trip report. I recently took a trip to HEL myself. I think there's a chance we may have even been there at the same time! It's a wonderful place, I only had a few short days there but I truly enjoyed it.
I'm working on a possible TR myself about HEL and getting there. I used Finnair's lounge in the non-Schengen section of the airport. It was much nicer then the other lounge from what I can tell. I felt it was spacious and not as crowded as the other lounge I tried on the 2nd floor. Though I was there at 7 AM....haha.
Keep up the nice report!
Mar 9, 11, 5:50 pm
Join Date: Dec 2010
Location: New York city, NY
Programs: DL DM 1MM, DL reserve, Hilton Diamond, SPG Platinum, Hyatt Diamond
Posts: 407
AIR FRANCE 275
From:
Tokyo Narita International Airport, JP (NRT)
Terminal 1
To:
Paris Charles De Gaulle, FR (CDG)
Terminal 2E S3
A380-800 Affaires
Seat:
65E upper deck
Departure:
12:55pm
Actual:
12:45pm
Arrival:
5:15pm
Actual:
5:20pm
After an incredible few days in Tokyo東京 seeing old friends(
who've moved to Japan for work
) and meeting new one and thoroughly immersing myself back in Japanese culture and language (
I studied Japanese for 5 years and was an exchange student for 9 months in Narita, Chiba-prefecture
成田千葉県) It was sadly time to leave. The night before my flight I was taken out to the hotspots around Roppongi 六本木 and didn't get back until 4am....gasp I had to be up in 3.75hrs!!!!
If you've never been out in Tokyo smoking is still allowed indoors yet funny enough not on the streets unless around posted signs. Anyways when you leave you reek of cigarette smoke. My hair, all my clothes, even my skin reeked of it! I had to take a shower at 4 in the morning...tipsy...ok... drunk is not ideal!
I got up, got ready and headed down to the the pick-up point for the limousine bus service to Narita. I opted to take the 8:30am bus for a 12:55pm flight just to make sure I got there well ahead of time. Taking the bus from the ANA hotel - 1 hour later we arrived at the airport and at terminal 1. Dope!!! got there way too early.
Note to everyone make sure you have your passport on you and not below the bus as they do a police passport check before you enter the compound of the airport.
As I was 20 mins early for the counter check-in, I headed to the money exchange and switched over my Yen to US$ and exchanging coins is a plus, wish all countries did that!
Once I returned to the counter the checkin area was packed but alas no-one in the Affaires/ Skyteam Elite Plus/ Skyteam Elite lane. I was graciously greeted with a warm and really big smile...or maybe it's because I spoke Japanese to her or most likely it was because I looked worn out from the night before.. who knows ha. Then she said, "You are going to New York?" and I replied indeed flying to Paris then onto New York, JFK. Then she politely nodded and graciously smiled.... I giggled for a moment because had it been at a US airport traveling the opposite and most in-direct direction they would have looked at you and given you the "Are you F$%@ crazy!!!!" look.
I had originally booked 60E then switched to 70A the same seat I flew over in thinking I might have the seat next to me spare, as the front cabin was completely full. Before she printed the boarding passes I asked her if anyone was seated next to me. Indeed someone was, in fact the entire Affaires cabin was completely full. I asked if 65E was available and it was so I quickly snatched that up, so at least I had a bulkhead seat and easy access to the aisle and so did my seat mate so no-one would disturb me. (
How wrong was I on that!
)
Security was empty and immigration was empty as well. I had my index fingers scanned and off I went looking for the Delta Sky Club. I have read many reports how impressive the Delta Sky Club is at NRT and their offerings. Being right next door to the Air France lounge, it was perfect.
Right away I was impressed with the big glass sliding doors peaking into the vast Lounge. I entered and was greeted warmly. I handed over my Delta Diamond medallion card and my boarding pass for AF and I was in. I am also a Delta Sky club member yet I didn't think to show them that card. I asked for a shower room (
I needed to freshen-up again
) and I got one right away also assuming that there was no-one in the lounge as the next Delta flight was not till the afternoon and I was there at around 10:15am.
They kept my AF boarding pass and handed me a keycard and then I headed to the shower room. Well as I moved through the lounge, I was absolutely flawed how awesome it was and the fact it was virtually deserted. I was so glad I got there early.
I couldn't wait to try the food as I was famished I hadn't eaten since 4am! But first things first I needed to shower.
A:
for my own comfort
B:
the comfort of others!! I could still smell the lingering scent of smoke mainly in my hair. Time to have a good shower!!!!
I preceded to the shower room and I was taken aback by how small and old the shower room was. Yes I know this is Japan and space is scares but seriously it was not up to par with other shower rooms e.g.; if your ever at the LAX Delta sky club (which has been renovated) their show rooms, are huge, stylish and quite chic. The rest of the NRT Delta Sky Club was beautiful so they could at least redo the bathrooms. I will say this, the water pressure was just incredible and the best. But when you compare water pressure with New York City living, anything beat that!
Refreshed I sat down at one of the many iMac computers lined up against the windows looking onto the tarmac. Before me staring me down was the grand Air France, A380. There was so much on offer in the lounge and particularly loved that there was sushi.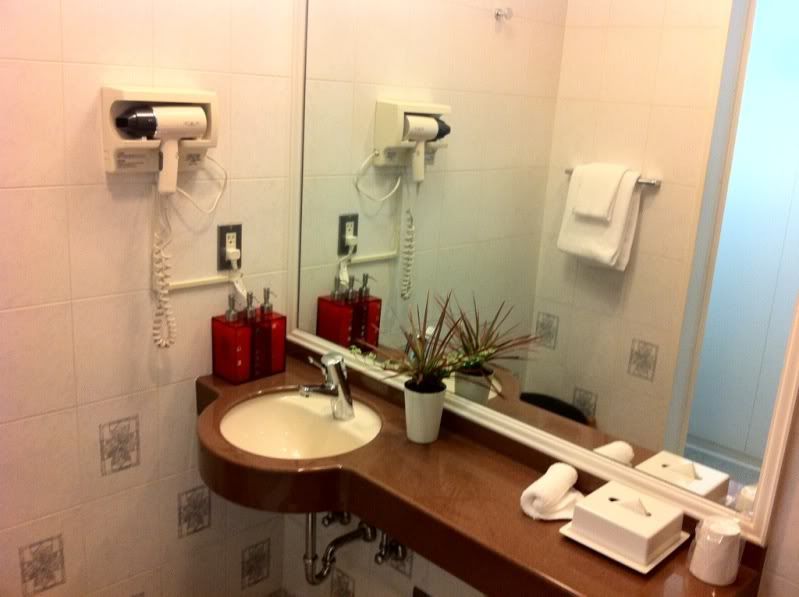 Tokyo Narita Airport Delta Sky Club Shower room
my ride back to Paris AF275 NRT-CDG A380-800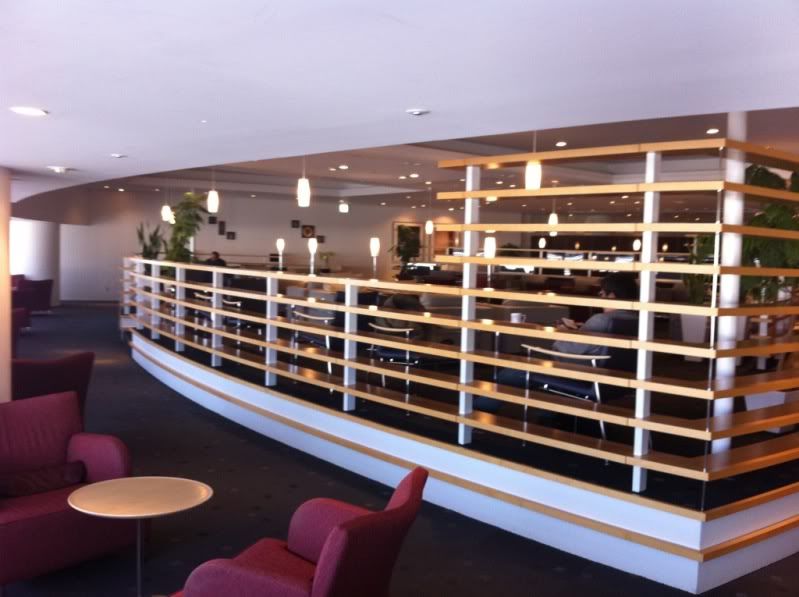 Delta Sky Club Narita Airport, Tokyo
Delta Sky Club Narita Airport, Tokyo
Food service area
BREAKFAST
yogurt
tortilla Egg parmigiano with rice
Pastries
fruit cups
cereal
sandwiches
LUNCH
changed over at 11:00am
salmon sushi
soup
chocolate cake
Sushi was truly delicious and a glass of green tea to wash it down
I was very happy to relax in the Delta Sky Club more so because I read up on the reviews of the club right here on Flyertalk. Not only was the sushi scrumptious, so too was the egg tortilla's. I am sure if you've read from the beginning of my trip report, you would assume that my drink of choice would be a mimosa but after the night before I held back from alcohol and stuck to drinking a few glasses of green tea. I enjoyed the lounge for about an hour then collected my belongs wished the lounge Dragons (lounge angels) a good day and off I strolled next door excited to enter the Air France lounge....
One word to describe the lounge...
Disappointment
. There was nothing to eat other than crackers, peanuts and biscuits, small,cramped and hot! For an international lounge, talk about pathetic! I was so glad to have spent most of my time in the Delta lounge and really could have done without but alas I stayed as they would make a boarding announcement from there.
Thankfully about 15 mins later it was time for boarding, I was packed and already to head to the gate. Note:
there is also only two elevators and with a full Affaires and perhaps La Premiere on this flight people would have waited for a while
. I, on the other hand was out the door faster than you can say sushi and down to the gate area which was right below the Lounges. Passengers were all lined up in a fashionable order and
of course they were, this is Japan, even in the crazy busy Tokyo metro they line up! Ever see that happening in New York City...ah no!!!! haha
the La premiere and Affaires boarding line was right in the middle of the two economy lines. I walked right through and turned, paused for a moment, bowed and said,
'Farewell Japan, it has been grand
', ok maybe I just thought that as I walked to the air bridge. I entered the upper deck, greeted once again by a dashing French flight attendant and a beautiful Japanese flight attendant, I turned right and I had arrived at my seat whipped right into the port side bathroom, changed into my comfortable flying clothes and put on my soft Air France slippers. I was ready!
Upper Deck Affaires
Pre-drinks were offered and I really should have taken the orange juice but I went straight for the champagne! Surprised, ha think not. We pushed back 10 minutes early as we were going to hit strong head winds, short taxi and we were number 1 for take off, runway 16R. It was obvious we were a heavy load as we rolled down almost the entire runway before lift off. We hit turbulence right on take off so the seat belt signs were illuminated for a few minutes. Signs turned off and the meal service began.
The more I tried to relax in seat 65E the more I had wished for the front Affaires cabin of 60E. I already got the sense this was not going to be as delightful experience as the one coming over. This time there was 6 flight attendants working the main Affaires cabin with two of them also working the upper deck economy section. Menu's were handed out. (
this time from back to front
)
As the beverage trolleys came trotting down it felt like this was a coach flight rather than a business class flight and the flight attendants seems frazzled and rushed, hum this was going to be an interesting flight, ha! Personal service was definitely going to be out the door on such a full flight...
More Champagne,otsumami おつまみ and Apéricrêpes were served but this time I was not offered the L'Amuse-Bouche of Calamari even though it was on their trolley....hum and my seat-mate was served his 5 minutes before. Would I be sitting on the wrong side of the aircraft and miss out on better service on that side? Time will tell...
I paired the rest of the meal service with the Bordeaux Rouge, too exquisite to change. The female flight attendant accidentally spilled some of the wine, might be because she was rushing and not paying attention to the glass.
I do appreciate and admire all the flight crew for the work they do, but I do believe care of service during meal times should be optimal such as pouring wine/champagne, placing of plates etc. Great care should ge placed on the service. I was not going to let this deter my Air France experience and brushed it off as lack of training.
Side note: I spoke French from the moment I entered the aircraft (
I have a very slight accent when I speak French and it's not my America accent they hear as I learned French while living in Germany right on the border with Alsace
at this point I switched right back to English for the rest of the flight...I was certainly no-longer in the mood.
Ironically when I completely switched to English my flight attendant became a little more pleasant and in fact softened her tone with me and became a little more fun and playful. Maybe I missed judged her carefree soul....nope more like the wine was kicking in and I was smiling at the world!
The main course was about to be served unfortunately grilled filet of beef was unavailable, not an issue so I chose the Japanese chicken teriyaki which was superb! Interestingly my seat mate chose the same thing right after I was served but also was given miso soup.... Ah...did I miss something? This was not on the menu but everyone on the right side of the aircraft seated in row 65/66 were offered miso soup. Argh I love miso soup...."let it go...drink your juice Shelby, drink your juice!"
Table cleaned and reset it was time for my favorite part, the dessert. The flight attendant could see the puzzled look on my face and suggested I try everything, well why not! So desert trio, cappuccino and both flavors of sorbet. Haven't been a real fan of sorbet but time to be carefree and sample them...yup still not a fan of sorbet.
After devouring the dessert trio I decided to recline my seat and order a cognac to wash it all down. I was feeling relaxed, buzzed and ready for a movie.Nothing was going to interrupt me or my little buzzed world.
Well scrap that, no sooner were the dessert trolleys whisked away, passengers began to congregate on both sides of the aisle waiting for the bathroom. Now I know the Affaires cabin was full but wasn't everyone still seated enjoying their desserts? Nope supposedly the upper deck economy section bathrooms were not accessible or simply long wait times for them, so those passenger were using business class. Fair enough I understand that but at least cross the cabin in the galley area rather in front of my seat. The front bulkhead of my seat became a party zone of ziplock toiletry bags and funky dance moves of musical toilets!!!!! Sucks for those who might have had too much to drink at this party because some tripped over my seat, or was it that I was reclined all the way. Each time they tripped I wished them Bon voyage!!!!
champagne,otsumami おつまみ, Apéricrêpes
breast of duck with orange, salmon tartare, scallops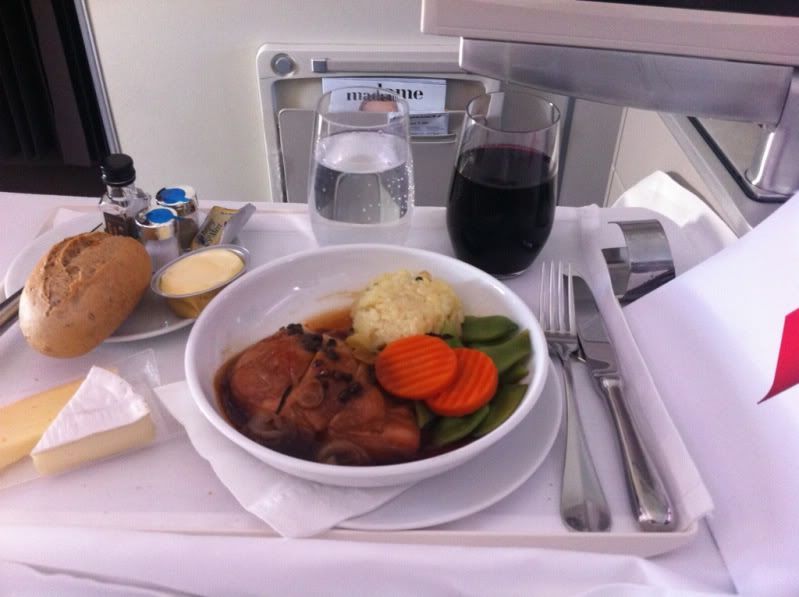 baked chicken teriyaki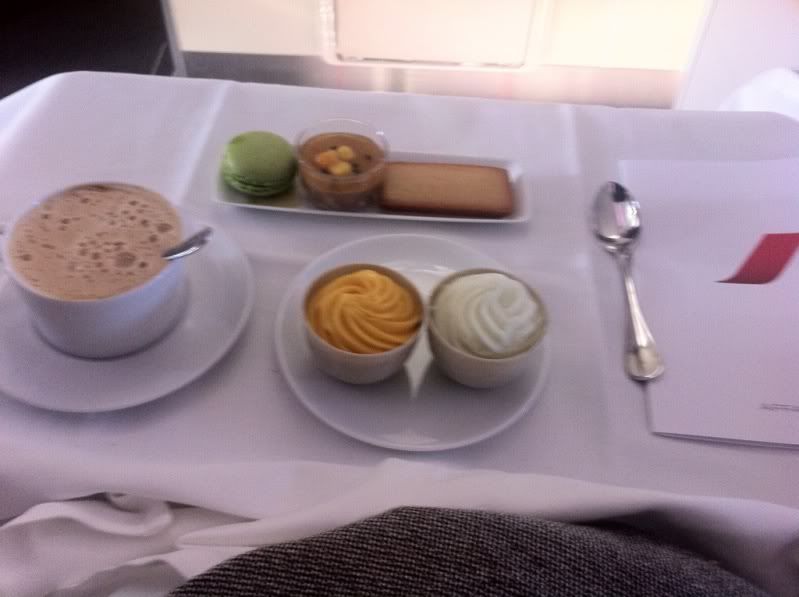 Dessert Trio, sorbet, cappuccino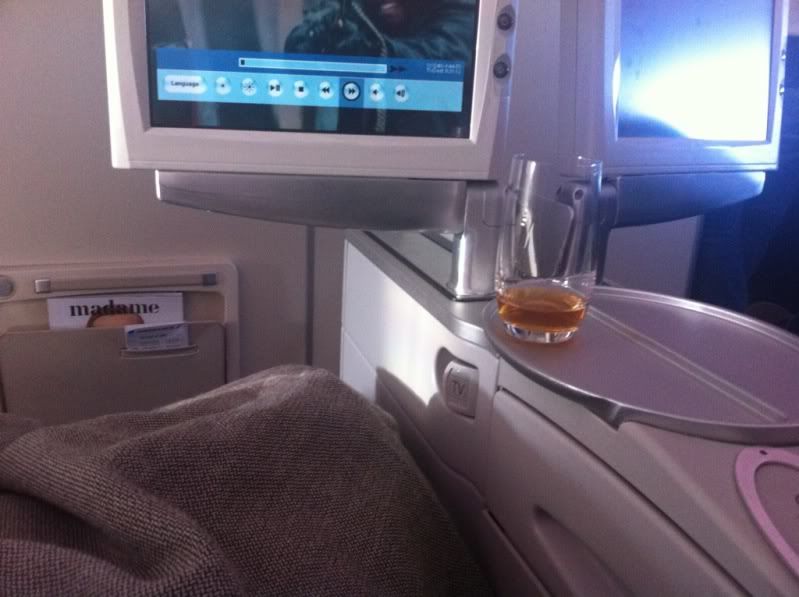 Cognac Tesseron lot n. 90 "XO selection"
LUNCH
L'AMUSE-BOUCHE
marinated calamari and vegetables with yuzu citrus fruit
GOURMET APPETIZER AND SEASONAL SALAD
roasted breast of duck with orange, salmon tartare, marinated scallops
with herbs
CHOICE OF MAIN COURSE
grilled filet of beef with red wine mustard sauce, buttered broccoli,
and potato croquette
*this was not available*
Filet of john dory fish and steamed shrimp, Marseille-style sauce,
steamed rice,
buttered red bell pepper and zucchini
*this was not available*
Ratatouille, vegetable medley with shimeji mushrooms,
yellow bell pepper coulis
Suggestion du jour
BAKED BREAST OF CHICKEN TERIYAKI
braised carrots, French green beans and rice with herbs
OUR SPECIAL SELECTION OF CHEESE
BASKET OF BREAD
DESSERTS
Our dessert trio:
chocolate mousse with mango and passionfruit,
almond pastry, green tea macaroon
Espresso served at the bar
CHAMPAGNE
Billecart-salmon Brut Réserve
LANGUEDOC BLANC
domaine de Cigalus 2007 ou 2008 Gérard Bertrand
la découverte d'Olivier Poussier
BOURGOGNE ROUGE
Chorey-les-beaune 2008 Joseph Drouhin
BORDEAUX ROUGE
Moulis en médoc château chqsse)spleen 2007
cru bourgeois exceptionnel
Tired of the "party" happening in front of my seat and the crappy movie it was time to pass out. The last of the cognac down, ear plugs in, eye shades on, seat fully reclined and I was OUT! About 4 or 5 hours into the flight, I woke up parched. The cabin was dark and people asleep. Time to hit the self serve bar, for mineral water off course. Besides who wakes up from sleep and drinks champagne...oh right...I do. Water in hand I decided to tour the grand mothership, I headed down to the back parting the heavy curtains, entering the upper deck economy and what a nice surprise seeing some of the "party" passengers from earlier.....right!
Down the winding staircase to lower deck and right away you get the sense that the aircraft is not as big as expected with so many compartments cut off with heavy curtains. I do feel it was a little cramped down there narrow aisles and low ceiling. Of course I know we have more room upstairs ha but I'm comparing to other economy aisles on other airlines or maybe I have had too much to eat this past 2 weeks and should be calling Jenny Craig...
oh wonder if the buffet will be served soon...
Downstairs tour over I headed back up the stairs and saw the buffet was being laid out. Yay my inner thoughts were answered or did I say them out loud for them to hear.....ah I was Peckish... ok maybe I was projecting more like Audrey II "f
eed me, seymour feed me
!"
I grabbed one of the cup a noodles, a sushi triangle and before I could pick something else up, my flight attendant grabbed the cup a noodles and went back into the galley to pour some hot water for me... How lovely finally some personal service...yay!
I walked through the front Affaires cabin shaking my head thinking what an idiot I was for not staying in this cabin. C'est la vie. Through the heavy curtain and I was relaxing in the gallery seating area which unfortunately none of the actual gallery touch screens worked, no matter I was in a peaceful area eating my noodles and my sushi.(
Japanese style you add the seaweed once opened so it has a crispy fresh taste to it.
) I am not sure if this is a perfect usage of space but just grateful for an area to relax.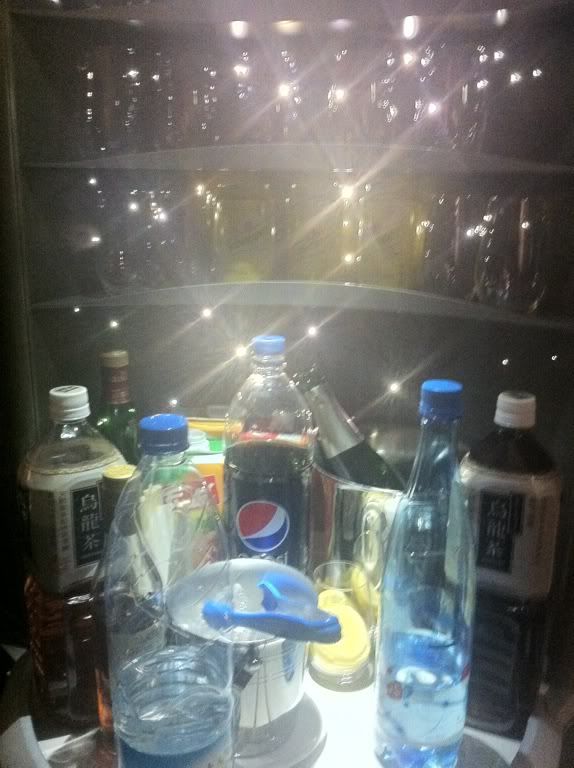 self service Bar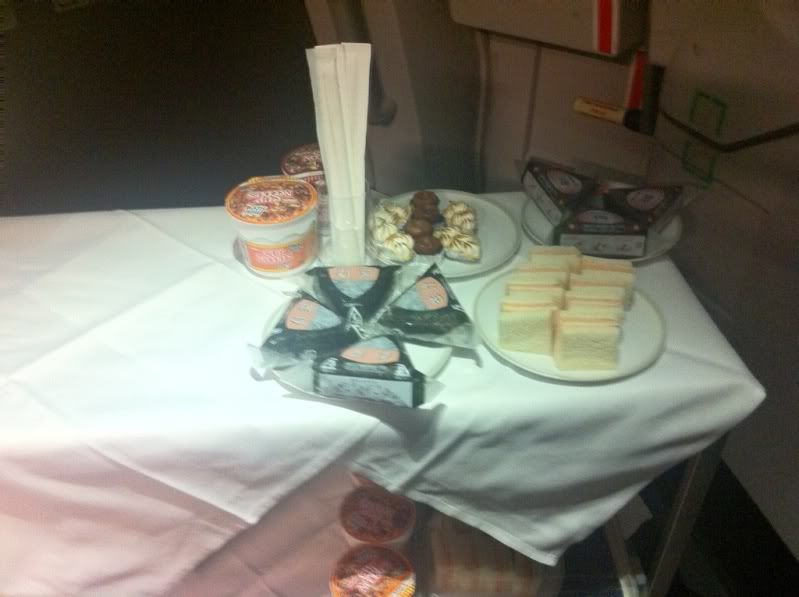 Buffet
BUFFET
cup a noodle
sushi triangles
ham and cheese sandwiches
*still somewhat frozen*
Magnum ice cream
*came out later after I took the photo*
custard meringue
macaroon
dessert trio
Half way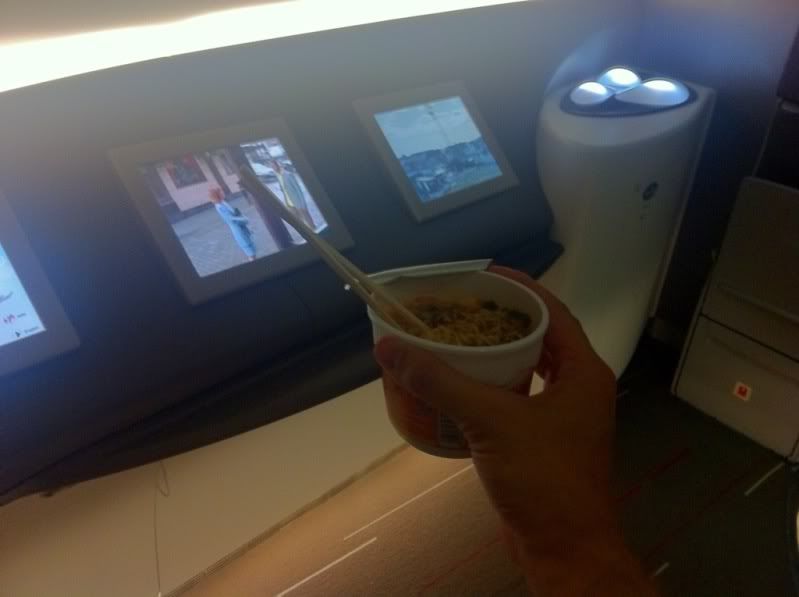 noodles in the front seating area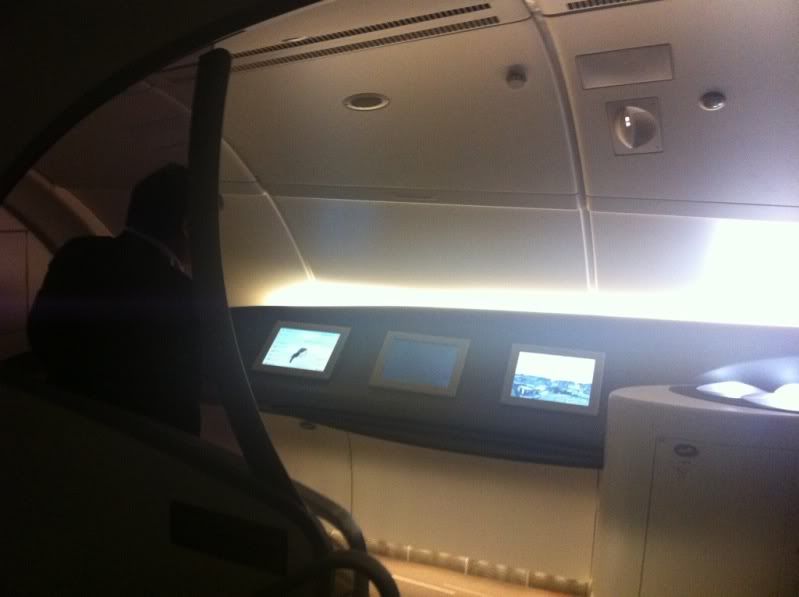 from the lower deck economy section
MEAL SERVICE
APPETIZER
Fresh salad with foie gras
and smoked breast of duck
CHOICE OF MAIN COURSE
Ratatouille lasagne with comte cheese and pancetta,
herb crea sauce
grilled fillet of salmon, orange cream sauce with pesto,
sauteed mushrooms, vegetable julienne
DESSERT
coffee-chocolate mousse flavored with star anise
After about a half an hour of relaxing, reading from my iPad I decided to head back to my seat to watch a few more movies. Even with a large selection I had seen pretty much all the movies. Mainly because I fly so much I tend to see all the movies on planes. Movie viewed lights up and it was time for our final meal service.
Dinner was served 1.5hrs out of Paris. I chose the Lasagna with a delicious cheesecake. Once I finished I quickly slipped into bathroom to change back into my clothes and also be prepared for the "party" about to happen in front of my seat again. Landing was smooth on runway though it took the entire runway to stop, coming to a hard stop stop before turning off, very heavy load.
We taxied for a few minutes and docked at terminal 2E S3. I was first off my flight on the upper deck and saying farewell to the A380.
Mar 10, 11, 10:52 pm
Join Date: Dec 2010
Location: New York city, NY
Programs: DL DM 1MM, DL reserve, Hilton Diamond, SPG Platinum, Hyatt Diamond
Posts: 407