Etihad Airways Diamond in the Sky MXP-AUH-NRT Jan 2011
Jan 24, 11, 1:08 am
Join Date: Oct 1999
Location: New York
Posts: 6,670
Etihad Airways Diamond in the Sky MXP-AUH-NRT Jan 2011
---
Etihad Airways Trip Report 2011
Well I wish all of you have a great traveling year in 2011 and this New Year starts with flying a new airline and finally learning to write a trip report with photos enclosed. I have finally subscribed to photo bucket and please be patient as I try to download photos to two different sites and learning all the techniques. I will continue to post a link to my corresponding shutterfly photo album for those who want more detailed cabin and meal pictures.
Etihad Airways is one of the Middle Eastern airlines that emphasize an excellent on board product and a boutique airline travel experience. I have been trying to get an affordable flight, and saw a number of very good ex-MXP (Milan Malpensa) first class fares to various Asian destinations. I first selected Seoul, as it is a bit cheaper than Tokyo Narita. Subsequently, I actually find Tokyo Narita a bit more convenient and the changing process is done rather speedily through expeida. Why don't I buy from Etihad website? It does not accept American Express, which is a big no-no on my book. I love AMEX so I go through expedia, especially I am allowed to select seats directly on the site.
However, after the change to Tokyo, there is an unwelcome aircraft downgrade from three-class to two-class on my original afternoon flight from MXP to AUH. Of course neither Etihad Airways or Expedia has the courtesy to call in advance, I found out as I saw the change at expertflyer. I first called EY directly and the agent could not do much, but asked me to call Expedia. I really did not see a difference here, but EY insists on me talking to expedia, and then expedia called them directly on the reissuing process. I asked about refund on that segment, but EY just could not give me any quote. It is obviously quite difficult to price that downgrade. Aircraft change happens frequently, but the way EY expects passengers to just accept the downgrade is rather arrogance and unacceptable. EY just expects me to bite my tongue and accept the downgrade. I actually don't mind EY rebooking me to fly thru one of its European hubs, but EY does not want do anything and not providing any solution. At the end, I found a flight with first class that departs the evening before, but my layover will be a ridiculous 16 hours. The EY agent tried to dissuade me from changing but I can't accept flying any less than first class especially I saved up for this flight. Well I am sitting in empty Etihad Airways first class lounge writing a report now. Transit hotel is available but for a rather steep price of $185. Not to mention it is under renovation and looks rather sad compared to its Dubai counterpart. Anyway, EY agents were polite at all times, but were just actually providing solutions. Very disappointed start, but most Middle Eastern airlines scores rather poorly on the booking aspect.
EY Diamond First Class MXP-AUH Jan 2011
January 22, 2011
EY 82 MXP-AUH Lv2105 Arr0605+1 Airbus A330-200 A6-EYK
http://share.shutterfly.com/action/w...8QbNHDNy5bqS2A
Check-in:
No pictures here due to previous bad experience in taking pictures of check-in counters by Italian police in Rome FCO before! Anyway, MXP is not that impressive and the airport looks rather cold and tired. But better than FCO! At least people here are friendlier than their colleagues in Rome. Etihad Airways uses a third party ground agent at MXP. First and Business class lines were empty, and this Italian agent, who seemed to have issues communicating with me, checked me in. She insists on finding out my place of residence, despite it is a return ticket with a return date within 30 days. Not sure what is going on, but as long as my bags were checked through to NRT, and I got my boarding passes, I was more than happy. Fast Track stickers were placed at my boarding pass and direction to the lounge was provided. Fast track definitely saved some times on this busy evening at the security check line.
Lounge:
Sala Pergolesi is a common airline lounge used by most non-Oneworld and non-Sky team alliance members. I have no expectation to most airline lounges in Italy, as my previous visit to the Alitalia lounge at MXP is rather poor. This lounge is at least modern looking and I am able to find a seat. There is complimentary wifi, but you have to ask for the card in the desk. Food is limited to sandwiches, cheese, and cakes and light snacks. Drinks are self-served.
Boarding:
We used B9 this evening. Boarding began early – an hour prior to departure, and an announcement was made in the lounge at 8:09am. The line was not that bad, and there was a separate first and business class boarding line. Once on board, I was pointed to my seat at 2A. A6-EYK still had the old diamond first class seats, but with only one other person in first class, it was an okay experience. There was no overhead compartment in first class and the hand carryon storage section could not take more than one piece, but with an empty cabin, the crew just asked me to put my roller on at another seat. James, the leading F/A in first class, immediately helped with hanging the jacket and took my order for pre-takeoff beverage. Hot towel was offered and interestingly, that was the only hot towel service during the whole flight. Issac assisted James in the Arabic coffee service, but for the rest of the flight, James did all the serving. Amenity kit and pajama were handed out, as well as menu cards. I was disappointed with the lack of design on the wine list and menu card – they were basically cardboard papers with no design at all. No leather folder on non-suite flights. The purser, Teodora Popescee, also paid her greeting after boarding was completed. She was available during the flight to talk to passengers and did her farewell.
Flight fact:
Door was closed early at 8:50pm, and we pushed back three minutes later. Milan was not particularly busy at this evening hour, and we took off from R/W35L at 9:08pm. I really enjoyed the nose camera function on the entertainment system. We immediately headed west after takeoff as we passed Brecia on our way to 37,000feet. Then we passed the city of Pula, Sarajevo, Sofia, and Plodiv, before climbing to 39,000 feet, before reaching the Turkish city of Istanbul. We continue towards cities of Sivas, Elazig, Kirkuk, Ba'qubab, Barsa, Al-Faw, and headed towards Qatar and AUH.
Cabin: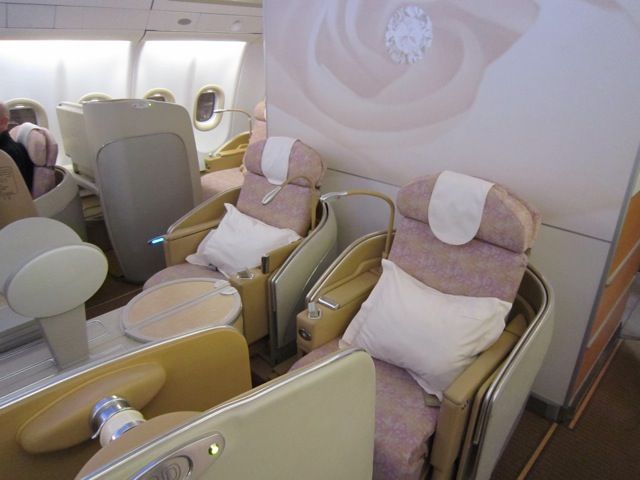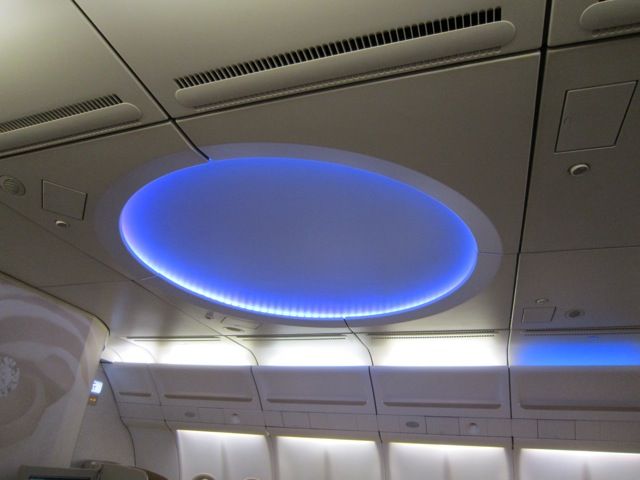 The Diamond First Class cabin was not as private as the suites, but quite nice. The seats started to show its age, and I had to change from 2A to 1A, as the seat function did not work at all. No problem on this lightly loaded flight. There are quite a number of positions one can choose from – dining position requires your seat to move forward so you can use the dining table. There is a mirror on the table as well. Universal power outlets are available, but storage space is a bit lacking. My pet peeve was the lighting system. The reading light is not aligned with the dining table. So it makes reading very uncomfortable, as well as taking meal pictures. I hate using flash but had to use it for a number of pictures. Thankfully it was a lightly loaded flight. I hope the diamond suite will address the issue better. I did not turn the seat into sleeping position because I was not particularly tired on this short flight. My body clock is on west coast time.
Entertainment system:
Etihad has an on demand system, and has the latest selection of movies and short subjects. But it pales compared to Emirates and Singapore Airlines. But I like the multiple map fuction. I just watched DVD using my laptop throughout the flight.
Jan 24, 11, 1:12 am
Join Date: Oct 1999
Location: New York
Posts: 6,670
Part II:
Meal service:
A la carte is the theme on EY dining in first and business class. Dinner and breakfast are both offered, and I highly recommend future first time EY flyers to time their meals accordingly. Don't be timid to use the call button! The F/As will refill beverages but do not really ask you about meals. If you want breakfast, you should really order before going to sleep. I choose a full four course dinner after takeoff and a continental breakfast prior to arrival.
Shortly after takeoff, your drink of beverage was served with a hot canapé dish – a grilled salmon and prawn brochette and a grilled vegetable skewer. Delicious and goes well with the Pink Champagne – Cattier Brut Rose NV!
Here is the wine list and menu:
First Class Wine List
Champagne
Bollinger La Grande Annee 2000
Cattier Brut Rose NV
White Wines
Louis Jadot Chassagne-Montrachet 2004, Burgunda, France
Jermann Pinot Grigio 2007, Villanova di Farra, Fruili venezia Guilia, Italy
Dog Point Sauvignon Blanc 2008, Marlborough 2008, New Zealand
Red Wines
Chateau Camensac Haut-Medoc 2005, Bordeaux, France
Terrabianca 'Il Tesoro' 2005, Tuscany, Italy
Carmen Reserva Merlot 2007 Rapel, Central Valley, Chile
Mt Difficulty Roaring Meg Pinot Noir 2009, Central Otago, New Zealand
Cape Mentelle Shiraz 2007, Margaret River, Western Australia, Australia
Dessert Wine
Gramp's Botrytis Semillon 2008, Riverina, New South Wales, Australia
Spirits and Liqueurs
Royal Salute 21 Years
Glenlivet 12 Years – single malt
Jameson
Jack Daniel's Old No 7
Grey Goose
Absolut
Bombay Sapphire London Dry
Gordon's London Dry
Bacadi Superior
A. De Fussigny XO
Taylor's Select Reserve Port
Lustau Deluxe Cream Capitaz Andres Sherry
Martini Extra Dry
Martini Bianco
Bailey's
Cointreau
Kahlua
Midori
Cocktails
Strawberry Daiquiri
Pomegranate Cosmopolitan
Pacific Mai Tai
Mojito
Liqueur Coffees
Irish Coffee
Cointreau Coffee
Bailey's Ice Coffee
Beer
Foster's
Heineken
Stella Artois
Water
VOSS Still
VOSS Sparkling
Teas
From Dinah's exceptional range
Udawatte Ceylon
Elegant Earl Grey
Arabian mint and honey
Berry Sensation
Fragrant jasmine green tea
Italian almond
Lively lime and orange fusion
Rose with French Vanilla
Sencha Japanese Green Tea
Chamomile
Decaffeinated
Coffee
Espresso
Macchiato
Latte
Cappuccino
American Filter
Decaffeinated filter
Soft Drinks
Seasonal fresh juices
Spiced tomato juice
Middle Eastern cooler
Coca Cola
Sprite
Diet Coke
Pocari Sweat
Tonic
Soda
Ginger Ale
FC-BEV MENU-0111
January 2011
Europe to Abu Dhabi
Late night departure
Express Dinner
Enjoy our Express dinner, a set menu which allows you to maximize your sleep onboard and will be served shortly after takeoff. Alternatively, choose a full menu from our extensive kitchen menu.
Baked chicken ratatouille tarte tatin
Mediterranean vegetables/ micro greens/ sun-dried tomato
Carrot and almond soup/ spicy chickpeas
Seasonal Fresh Fruit
Kitchen anytime
Carrot and almond soup/ spicy chickpeas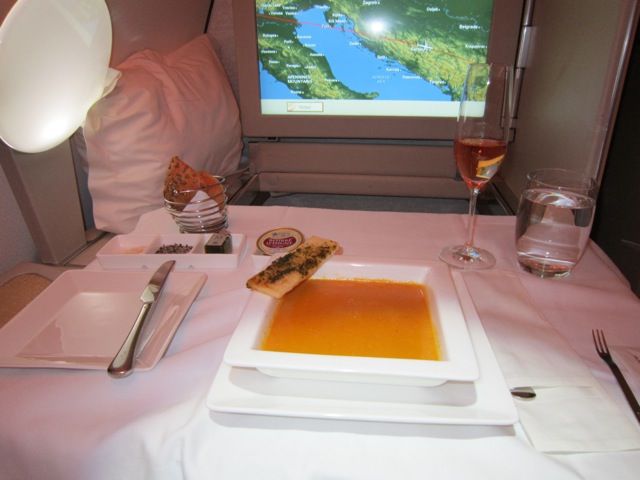 Traditional Arabic mezze
A selection of Middle Eastern appetizers [T]
Green leaf Caesar Salad
Warm spicy prawns/ air-dried bresola/ Parmigiano Reggiano
Baked brown trout
Baby corn/ boy choy/ Jasmine rice/ Asian oyster jus
Chicken chermoulla en papillote
Spiced lentis/ steamed white dill and fennel rice [T]
Steak Sandwich/ roasted cherry tomato/ red onion jam
Selection of cheese/ organic fruit paste
Vanilla and star-anise crème brulee
Seasonal Fresh Fruit/ Banana jelly
Providore Natural Ice Cream/ selection of flavors
Arabic thyme-marinated olives
Potato crisps/ selection of flavors
Popcorn
Baked cookies/ madeleines
Swedish crisp breads
Arabic baklava [T]
Jan 24, 11, 1:16 am
Join Date: Oct 1999
Location: New York
Posts: 6,670
Breakfast
Selection of Danish Pastries/ croissants/ muffins
Pretzel/toast
Energiser Drink
Assortment of Cereals
Full Cream milk/ low fat milk
Natural yogurt/ honey/ apricot/ toasted oats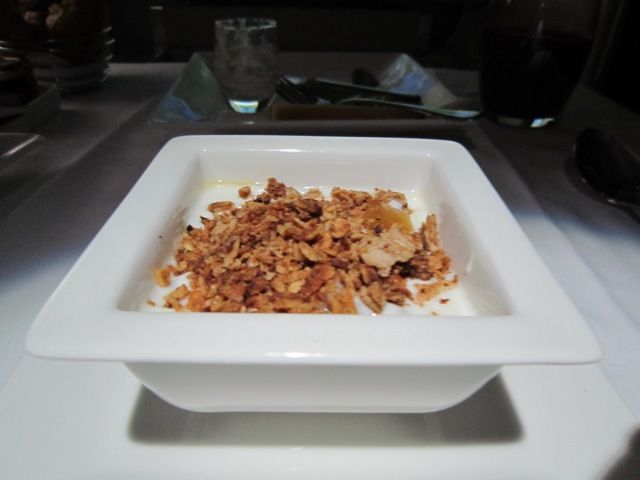 Cold cuts
Cheddar/ Emmental/ smoked chicken/ beef bresola/ hard boiled egg
Cinnamon pancakes/ poached dates/ maple syrup
Seasonal fresh fruit/ banana jelly
EUR-AUH-F1-XD-AM-1210 VER 1
I posted the full beverage list, as there was a limited amount of EY menus and wine lists documented.
To be honest, I am a little less than thrilled by this wine list, but at least the champagne collection is decent. The selection for red and white wines is rather unimpressive. I am not a wine expert and perhaps have better knowledge. However I appreciate EY having a different wine list for first and business class.
The menu is okay and for a late night flight, it is difficult to serve a full dinner. I started with the soup, and then the green leaf salad, and then the trout, and crème brulee for dessert. The meal was nice, and I like the trout much, but the rice was very undercooked. However, I am a bit disappointed for the breads, as they were all like stones. I did not even bother to bite into them. About an hour prior to arrival, I got a fruit plate and love the banana jelly concept, and the yogurt was nice as well. The breakfast pastries thankfully were much nicer. The Apple Danish and Pain au Chocolat were flaky and moist.
There is a lounge on these Airbus A330-200s, and a fruit basket was placed there as well. Nothing like the former Qatar Airways' A340-600 bar or Emirates A380 bar, but nice area for mingling without disturbing passengers!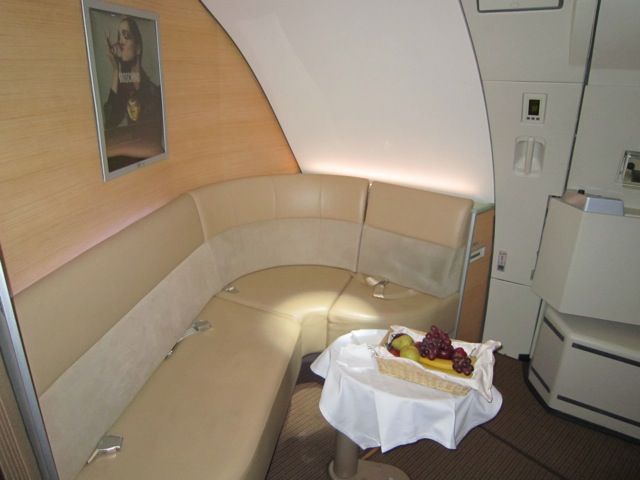 Fruit Basket mid-flight Snacks
Flight Attendants:
I honestly could not find faults with James or the purser, Teodora. The service was attentive and personable. However, out of the three Middle Eastern airlines I flew – EK, QR and now EY, I prefer Qatar Airways' crew, as they are still the best. Emirates still scores the lowest because of the inconsistency. However, Singapore Airlines needs not to worry, as the SQ boys and girls are still unbeatable especially in first class. It is just my first flight and let see how the next segment goes. However, I thank James and Teodora for a nice first Etihad Airways flight.
Arrival:
At 1:57am/4:57am, we began our first descent to 37,000feet, and then at 2:18am/5:18am, we began our descent towards Abu Dhabi Airport. Gears came down at 5:44am, and we landed three minutes later at R/W31L at a still sleepy Abu Dhabi airport. We were parked at gate 2/ 122 at 5:53am. Terminal one was definitely less than impressive, and T-3 was much better.
Please be patient with the next installment. This kind of trip report requires much time. But the next installment will include the lounge at Abu Dhabi and the new Diamond suites.
Jan 24, 11, 2:12 am
Join Date: Oct 1999
Location: New York
Posts: 6,670
EY AUH Lounge at T3
---
Etihad Airways First Class Lounge at Terminal Three
Entrance to the Lounge: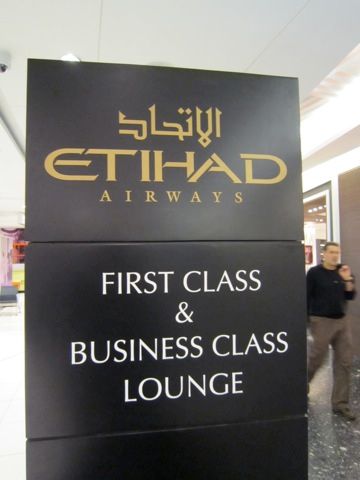 Well it was my home for the day, and the staff especially lounge agents could not be friendlier. You are treated like honored guests and there were staff looking over you at all time. Everyone knows where you are going. Once I walked into the lounge, my hand luggage was stored and my jacket was hung. Everything was waiter-service in the lounge, and I was immediately offered a hot towel and a menu card upon arrival. Just asked for anything you want. The lounge itself is not big, but very nicely designed and I like the brown cedar wood décor with the white leather. The lounge was never over terribly busy, so it was a nice cozy lounge. However, business facilities are insufficient with no individual business stations. I can't believe the business station does not have additional plugs for personal computers. There were two mac computers installed and various individual TV stations. There is no printer and copying service. I am disappointed in the lack of power outlets throughout the lounge. There should be lots of outlets for folks to recharge cell phones. There is a cigar lounge. Bathrooms and showers are available through the Sixth Sense Spa. There was also a restaurant and a bar. I had a late lunch and the cream of broccoli and scallop risotto entrée were nice. I was not too hungry so did not eat much throughout the day. I was provided a quiet room (which could be shared), which basically consists of two long sofas with pillow and blankets. I took a four hours nap on one of the long couch, which was not too classy, but an acceptable alternative. I sort of miss the real "hotel" room offered by EK on its first class lounge. In general, it is a nice lounge with good ambience and design. I think the photos will say more than enough.
Entrance: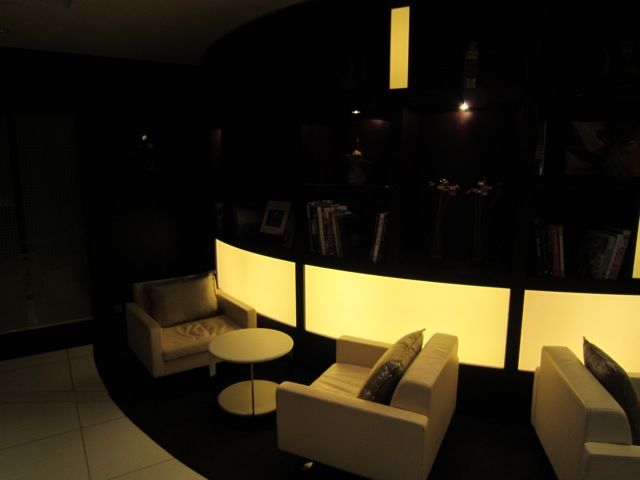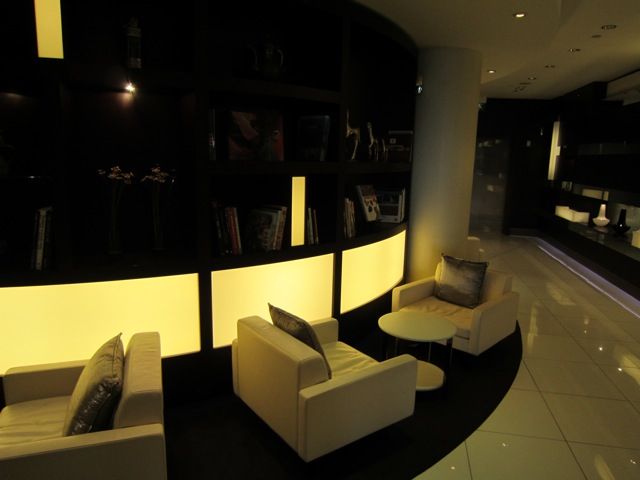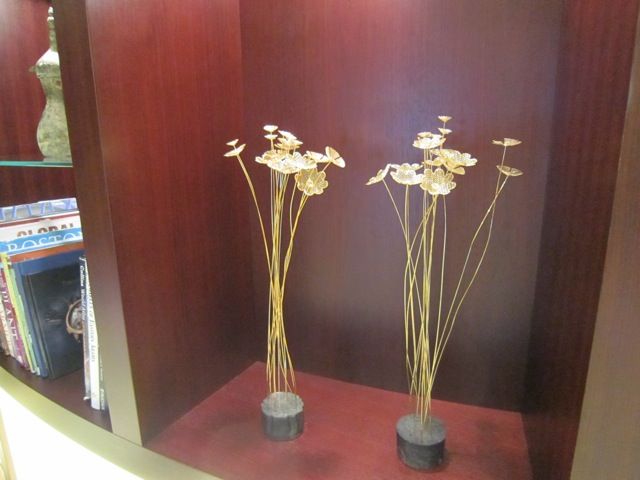 Jan 24, 11, 8:14 am
Join Date: Jun 2008
Programs: TK*G (E+), AA OWS (Plat Pro), EY Silver (compted), IHG Plat
Posts: 6,772
Fantastic report... I just checked EY F-class fares to AU... R fares are quite competitive... But their FF program is a crap - 300.000 miles for an award ticket Europa-Australia in F and only 3 year mileage validity (even for status passengers) - so even the super crappy Miles and More compares favorably with EY scheme...