Sydney, AU: Delta 777-200LR (Y), InterContinental Sydney (Pictures)
Nov 28, 10, 8:48 am
Join Date: Dec 2007
Location: Washington, DC
Programs: Delta SkyMiles, Hyatt Gold Passport
Posts: 7
Sydney, AU: Delta 777-200LR (Y), InterContinental Sydney (Pictures)
---
DELTA DL 1439 (DCA-ATL)
1:00pm - 3:00pm (2h00 - 547 miles)
Boeing 757-200
Seat 3D (First)
Well, at least one upgrade cleared on the trip. I went ahead and checked in at the First/Medallion counter at DCA having wanted the good old fashioned card stock for my boarding passes. Call me an airline junkie, but the flimsy facsimile paper used in all the machines these days just is not the same - I like the card stock for international. After heading through security I made my way to the SkyClub.
At the time, renovations were underway to the DCA SkyClub, removing the middle conference rooms to create additional seating. Having seen the completed renovations, I'm much happier. A lot more seating added, plus along the wall overlooking the main hall a bar with dozens of mini-cubes for charging laptops. Hopefully, this alleviates some of the pressure caused on the club during summer thunderstorms, delays, etc.
DELTA DL 2155 (ATL-LAX)
5:15pm - 7:07pm (4h52 - 1,941 miles)
Boeing 767-300
Seat 26B (Exit)
I headed over to the A17 SkyClub. Hopefully at some point, Delta will open the Centerpoint club on weekends.
The flight to LAX was a pretty standard transcon – no upgrade, as usual the flight was full of elites. Unfortunately, this particular plane did not have Wi-Fi installed, which was quite disappointing. I've become more and more accustomed to this service and certainly applaud Delta for rolling it out across the fleet. I entertained myself by reading from my Kindle (see review below) and watching a little television.
I selected the fruit and cheese plate from the EATs menu accompanied by some white wine; both of which were edible and hit the spot.
LAX SkyClub
I wanted to devote a little space to review the recently refurbished LAX SkyClub. I have to say I really like what they've done with the place. The look is refreshed and modern and the space definitely feels more open to me than it did in the past. Also, there was plenty of seating even given departing red-eye transcons and the SYD flight. Even before the DL-NW merger and SYD flight, it seemed crowded at nights when I was there in the past. Food and alcoholic beverages were arranged in a self-serve bar area, eliminating the need to wait on a bar tender. Hopefully, we continue to see renovations across the system, as many of the clubs are showing their age.
DELTA DL 17 (LAX-SYD)
10:45pm - 7:35am +2 days (14h55 - 7,491 miles)
Boeing 777-200LR
Seat 44C (Exit)
Boarded with Zone 1 and settled into my exit row seat. As I was carrying only hand luggage, I wanted to get on the plane and secure my overhead bin space. As boarding began to wind down, the Chinese woman who sat next to me in 44B (I say that to indicate there seemed to be some language barrier, and my knowledge of Chinese is VERY basic) asked if I would swap seats with her husband (on the starboard side). He pointed to seat 44G - another exit row, aisle seat. So I say, sure and walk over. When I get to seat 44G, there is another gent claiming the seat is his. Chinese husband persists it is his. Finally, husband gets his boarding pass out of the overhead to reveal he is seated in 44F, a bulkhead aisle. In addition, the guy in seat 44E (bulkhead middle) required the use of a seat belt extender. I politely decline and walk back to my original seat, wondering just how honest the intentions of this swap were.
Lesson learned
: Hold to your original seat until the other passenger produces their boarding card proving that you are indeed swapping with their true seat assignment.
After takeoff, the large gent spoke with a flight attendant and a subsequent move was made whereby he took 44D (bulkhead aisle), the woman there previously took 44B as my seat mate, and Chinese couple sat together. Frankly, this seemed the optimal solution for all, as my new seat mate was none too pleased to be seated next to a larger gentleman (and had actually spoken to the flight attendant before pushback).
Seat drama ended, the meal was served shortly thereafter. It was a standard international economy dinner, nothing special. I believe the choices were: "chicken, beef, or pasta." Essentially, it was an entree with a side salad, desert, and roll. Beer and wine were complementary. After dinner, I did some more Kindle reading. A midnight snack was served which consisted of a terrible tomato and mozzarella sandwich, an apple, and a small candy. Afterward, I put on my eye mask (see review below) to try and catch some sleep. I knew it was a futile effort, but I did eek out a few z's. The seat was great in that it had basically unlimited leg room – making the flight relatively comfortable for the length in economy.
Morning came and a standard coach breakfast was served about 1h30 out of SYD – choice of either omelet or French toast. I selected the French toast, which was fine. Some horrid looking fruit came with it, orange juice, yogurt, and a croissant I believe. We had to park at a remote stand and take a bus over to the International Terminal (from what I recall, this is only done on Sundays and Mondays).
Approaching Sydney: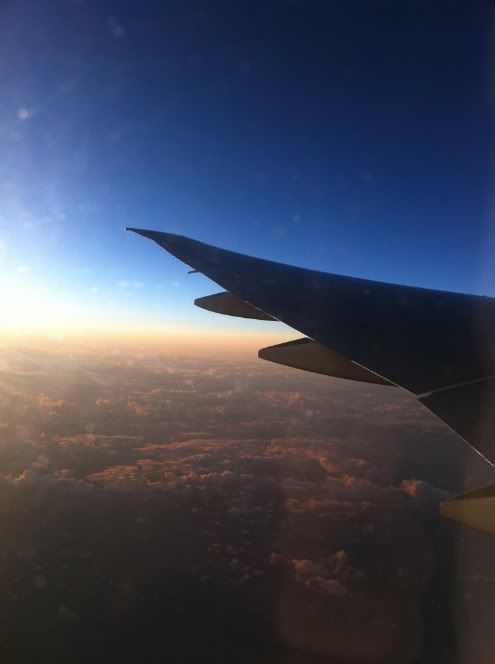 Airport Train, InterContinental Sydney and Sydney Day 1
After clearing customs, I took the Airport Train into the Sydney. The airport is conveniently only about 20 minutes from the city center and the train made the journey swiftly. The cost was about $18.50 to the Circular Quay, but didn't have to worry about traffic or anything – nor was it too full, which I was worried about on a Monday rush hour.
Airport Train Platform (International Terminal):
Made my way to the hotel a few blocks away, and luckily was able to check in immediately. My room was nice enough, but I ended up in an accessible room. It's my fault for booking too late, as when I tried to book the Amex FHR 4th night free special at the Four Seasons it was totally booked. That's what I get for booking one week out I suppose. The room itself was nice, but the bathroom was purely utilitarian and in need of a renovation. Not sure if this speaks for the entire property itself or only the accessible rooms.
Room and View from Room:
After a shower and fresh clothes, I decided to head down to the main shopping areas along Pitt Street and Castleraegh Street. I opted for this on the first day because it was pretty gloomy out and at times rained. Many of the international brands are around, though for menswear I would say it was somewhat disappointing. On top of this, given that the AUD-USD are near parity the economics were not compelling. I recommend going to the Strand Arcade and the Queen Victoria Building (while stores are still there, many are moving to the new Westfield Mall, which just opened whilst I was in Sydney). There were a number of unique boutiques for women in the aforementioned Arcade and QVB. Also, the David Jones department store has a pretty good food hall. For menswear, it's a strange mix between Macy's, Bloomingdale's, and a lower-end Saks Fifth Avenue.
Sydney Day 2
With much better weather today, I decided to check out the sites outdoors. I began with a relaxing walk through the Royal Botanic Gardens, which was right outside the hotel. They were quite nice and I imagine as spring progresses will be an even greater sight.
Royal Botanic Gardens
(IC Sydney is right behind the palm tree on first picture):
I wound my way down to a path along Farm Cove to Bennelong Point and the Opera House, which was magnificent, with excellent views of the water and city.
Views from Opera House: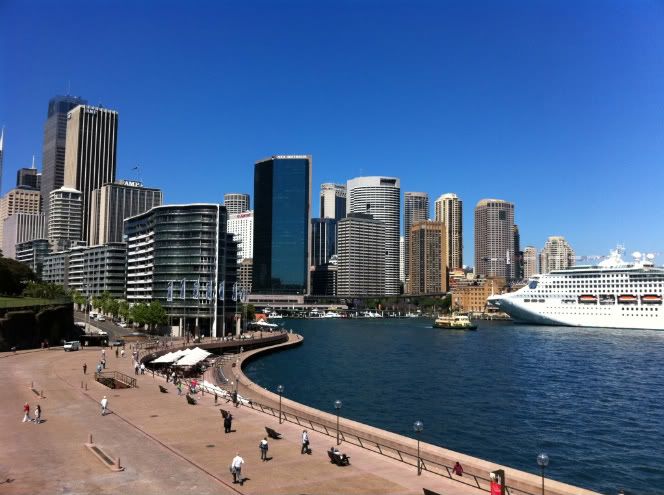 After enjoying the Opera House, I walked along the Circular Quay over to The Rocks. I first went into the Museum of Contemporary Art. For my tastes, a lot of the art was rather "out there." It's not just paintings, but a lot of mixed media work as well. The good news is that the museum is free of charge. There is also a restaurant with a patio overlooking the water.
I finished up the day with a walk through the stores and galleries in The Rocks. There are a number of decent galleries to browse through if you enjoy art. I found one in particular on George Street that had some nice aboriginal art.
Sydney Day 3
I began the day by walking down to the Australian Museum. It was not my favorite, but I would recommend it for kids. My favorite exhibits were on the first floor and detailed the Indigenous Australians (a.k.a. "Aborigines"). Additional exhibits were of skeletons of all types of animals, a floor devoted to minerals, and a dinosaur exhibit. Perhaps it was due to my lack of research, but I was expecting more on Australian history and culture. It is more of a nature oriented museum.
Australian Museum:
The next half of my day was spent at the Art Gallery of New South Wales. It's an amazing art museum and I highly recommend visiting if you are in town. In addition to great Australian art, there is a wonderful collection of Southeast Asian and Indian Art, as well as some European works. There is also a nice restaurant overlooking the water, in addition to a café where I enjoyed a relaxing lunch. HIGHLY recommend.
Art Gallery of New South Wales: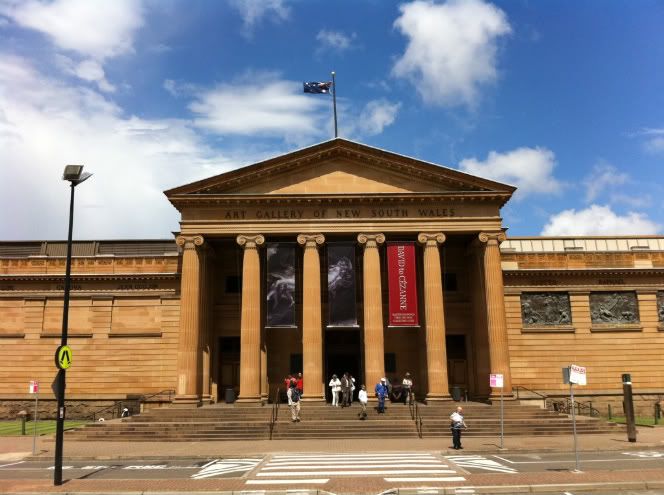 Sydney Day 4
On my final day, I visited the Museum of Sydney which is a fascinating account of the city's history from colonization to modern times. There were many interactive features and cool artifacts. I learned a lot of new things about the First Fleet and original settlement. HIGHLY recommend this one as well. As with other museums, this one had a nice café/bar with an open patio. The Australians really know how to enjoy their museums!
Museum of Sydney:
My last tourist stop was the Justice & Police Museum. There you can learn all about Sydney's crime syndicates, dirty cops, and even see a replica of the original Australian court rooms. Very interesting stories! I enjoyed it very much.
Justice & Police Museum: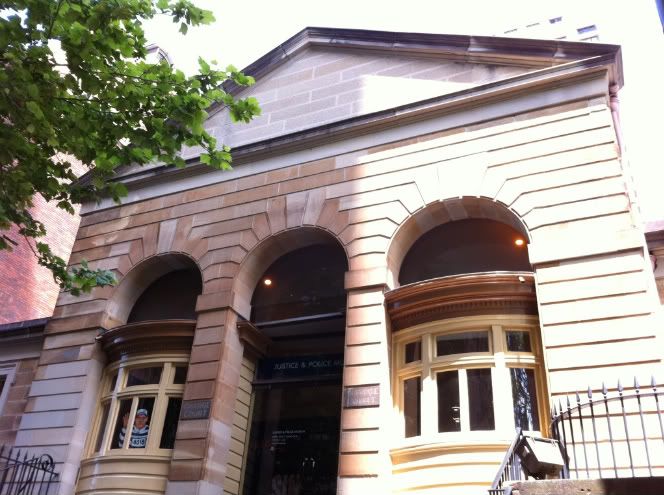 FYI – both the Museum of Sydney and Justice & Police Museum are right next door to the InterContinental Sydney.
DELTA DL 16 (SYD-LAX)
10:50am - 6:40am (13h50 - 7,491 miles)
Boeing 777-200LR
Seat 44J (Exit)
Check in at SYD was friendly and efficient. I made use of the Business Elite line, which in my usual twist of luck, ended up taking longer than had I just made use of the regular economy line. Ah well. I would describe Sydney airport as a shopping mall which happens to have gates attached to it. It really does not feel like an airport at all until you are in an actual gate. Both arriving and departing, passengers are essentially forced through extensive duty free shops. After that, many other airport shops abound. Interestingly, the Delta gate was cordoned off and only opened a little less than an hour before departure. I found this relatively annoying, as I just wanted to sit and read. Not sure why they do this.
This flight I was again in the exit row, but in a window seat (without a window – word of caution there). I found that the exit slide did not impede any of my legroom and was quite comfortable (I'm 6'0" / 183 cm).
Legroom in Row 44 (Starboard):
Shortly after takeoff, we were served drinks and peanuts, followed by a hot meal described to passengers as "lunch slash dinner" (?). I had pasta, which was fine enough. The first portion of the flight is during the day time, so I read from my Kindle and ended up watching about 4 movies, including two Chinese films and an Indian film. The 77L has decently-sized individual PTVs and a nice selection of current movies, international movies, "classic" movies, and television shows. I tried to sleep a little bit, but gave up.
Arrival was on time into LAX. The customs and immigration process at Terminal 5 is pretty horrid. First, passengers must walk basically the length of the terminal down a poorly lit corridor, down an escalator into a very dated customs area. After clearing that, you go down to a baggage claim area and collect luggage to proceed to customs. Then, there is a lengthy walk and security re-screening to get back in to T5. It seems very odd to have to go through security again given passengers are in a sterile area at all times. I headed to the SkyClub for some coffee before boarding my flight to ATL.
Sunrise at LAX SkyClub:
DELTA DL 124 (LAX-ATL)
9:00am - 4:20pm (4h20 - 1,941 miles)
Boeing 767-300
Seat 26B (Exit)
The flight to ATL seemed to go by very quickly. I again opted for the fruit and cheese plate accompanied by a Bloody Mary in an attempt to get some sleep. I did get a few winks, maybe about half the flight. Passed the time by catching up on e-mails (this plane had Wi-Fi) and watching the news of the recent terrorist activity from Yemen.
DELTA DL 1738 (ATL-DCA)
6:20pm - 8:04pm (1h44 - 547 miles)
MD-88
Seat 25D (Exit)
I enjoyed a couple of gin and tonics and view of the tarmac from the A17 SkyClub. It wasn't too busy, which seemed surprising for a Friday evening.
View from ATL A17 SkyClub:
By the time I got on the plane, I was quite tired. I slept on the plane for a decent amount of time. The flight was full (Friday night to DC), so no upgrade for me. Everything proceeded on schedule. As usual, I just missed a Metro train and ended up having to wait about 15 minutes on the platform. I wonder if my timing will ever be right…
Overall Impressions
I highly recommend Sydney, though caution to travelers, given the appreciation of the AUD, it is a rather pricy destination at the moment. I would try and time a trip when currencies are a little more advantageous. It is a friendly city and easy to navigate with many fun things to see and do.
Given the ease of getting into the city, this is a great mileage run destination. If you only have a limited amount of time, I would recommend seeing the Opera House, Art Gallery of NSW and Museum of Sydney.
Bucky 40 Blinks Ultralight Eye Mask
I purchased this eye mask from Amazon based on the positive reviews, which I echo. It gives room for your eyelids to move, so they don't feel squeezed down as with many eye masks in amenity kits. This was a must for sitting in an exit row near galley storage and lavatories, where lights pop on during night time constantly. It really did a good job keeping the light out. Best eye mask I've ever used.
Amazon Kindle (Wi-Fi Version)
In anticipation of the long travel times to Sydney, I broke down and purchased a Kindle. This a great product for traveling because you can take many books with you at once, without sacrificing precious luggage space or adding a ton of weight. Reading off of the screen is super easy and natural (i.e. no glare). The text is crisp but the screen is much less straining on your eyes than a computer screen. Given the current price point at $139, I advocate the purchase. The only downside is that it must be turned off for takeoff and landing.
Tumi Travel Charger and Converter
I bought mine on sale for about $65. I see my particular model was discontinued, but Style # 14375 is quite similar. It is GREAT! For one, it has all the attachments needed to charge iPhone, Blackberry, Kindle, etc., so there is no need to carry all of those chargers. On top of that, it is an electric adapter so you are all set for international travel. Certainly worth the price given all of the cords eliminated and space freed up in carry-on bag.
Thank You
Well if you've made it to this point, thanks for taking a read. I hope you enjoyed it!
DLJ
---
Last edited by DLJ; Nov 28, 10 at

1:01 pm
Nov 30, 10, 11:30 am
Join Date: May 2000
Location: Home: Arlington, VA; Home airports: IAD/DCA/BWI
Programs: Active: AA, UA, DL
Posts: 4,088
Thanks for sharing - such a short trip to Australia!
I'll be headed there next year to check out Sydney, Cairns, and Ayer's Rock in the span of a little over 2 weeks.
Why didn't you book DL16/17 between ATL and LAX to experience an international cabin (albeit with domestic service) on the B77L?
Looking forward to checking out the renovated SC in DCA in December.
I was about to write "Welcome to FT," with your post count at 4. However, I decided against that after seeing that you joined in 2007.
---
Last edited by Wiirachay; Nov 30, 10 at

11:51 am
Dec 1, 10, 1:15 pm
Join Date: Dec 2007
Location: Philadelphia
Programs: SPG, FPC, US
Posts: 255
Did the meals on the LAX-SYD flight have any obvious signs of dairy products? An odd question but I'm lactose intolerant and would rather not have to choose between starving or having an issue at 40,000 feet. I was thinking about booking the vegan meal but I would rather eat "normal" food.
Dec 1, 10, 9:16 pm
FlyerTalk Evangelist
Join Date: Nov 2005
Location: Phoenix, AZ
Programs: American Airlines AAdvantage, Rapids Reward
Posts: 33,927
That was short trip reports that you went to SYD for a few days? How did you get more miles out of DCA-ATL-LAX-SYD? I wasn't sure about this one. Do you enjoyed flying on newest 77L aircraft out of LAX-SYD nonstop. You didn't want to put on UA or QF from LAX-SYD on entire 744 or A380. Oh well! Are you still flying more mileage runs out of DCA-SYD? I wasn't thinking about us if we can flying to SYD for next year in 2011.
Dec 2, 10, 2:49 pm
Join Date: Feb 2008
Location: Atlanta, GA/New York, NY/Milan, Italy
Programs: DL DM MM, BIS 2.1MM, EK Gold, SQ Silver, Marriott Gold, HH Gold,
Posts: 4,417
Dec 9, 10, 10:14 am
Join Date: Dec 2010
Posts: 2
Great post!

The question i'm about to ask might seem ridiculous but i'm spoiled when it comes to flying.

I just booked Delta flight 17 from ATL to SYD and returning on Delta flight 16.
I am traveling with my girlfriend in economy class and right now we are booked for the Exit row seats in row 44. I travel every week for work and typicaly like to have the window seats to rest my head on when sleeping. However, with it being such a long flight I was wondering if its better to have the exit row seats that dont have the window and non-adjustable arm rests but do have the much needed extra leg room. Or would her and I be better off sacrificing the extra leg room by taking a standard middle and window seat together where we can rest head on window and lift arm rest to lean on eachother while sleeping?

Also, I notice the front economy section offers AC Power plug in boxes underneath the seats, does anyone know if these restrict the leg room for those seats at all?

Also, about to purchase those eye masks!

Thanks!

Adam
Dec 15, 10, 2:49 am
Join Date: Nov 2006
Location: In theory near BHD or ABZ, but usually a hotel in another country
Programs: Seniors Bus Pass, BA Silver
Posts: 5,002
Adamw12, you have posted this in the trip report section, and it will not really get the right viewing for your question.

Can I suggest that you edit the question you posted here so to delete it, and then repost it on the Delta forum (go to Miles& Points and scroll down).

You need to delete it here as you are not supposed to double post on different threads.
Dec 22, 10, 7:57 pm
Join Date: Apr 2001
Location: SYD
Posts: 1,361
What a wonderful report. Thanks for taking the time to post it, I really enjoyed the read.

I'm glad you enjoyed my home-town. May I suggest that next time you visit Sydney (or for any future visitors reading this), that you take the time to get out of the CBD for at least a day. As much as I love Sydney, spending 4 days straight in the CBD would make me go cross-eyed. Perhaps take the ferry across to Manly, and/or do one of the many awesome harbour walks (my favourite is the slightly less touristy Balmoral Beach to Taronga Zoo walk). Or head over to Bondi and do the Bondi to Coogee walk.
Dec 25, 10, 1:23 am
FlyerTalk Evangelist
Join Date: Nov 2009
Location: Lawrence, KS | MCI
Programs: UA*G, Hyatt Globalist, Marriott Plat., NEXUS, Amex, TSA Disparager Unobtanium
Posts: 20,193
Nice report! It was similar to my trip to Sydney in May. However, I was only there for eight hours
The things we do for miles!