TPA to IST in F via MUC/NRT (US/LH/TK with many pictures)
Nov 8, 10, 12:27 am
Join Date: Oct 2003
Location: TPA
Programs: DL Plat, AA Plat 2MM, HH Diamond, WoH Explorist, SPG Gold
Posts: 2,199
Sunday, November 7: Hanging around Beşiktaş
---
As I suspected, getting to sleep on Saturday night was a chore. After all, I had arrived at my hotel at 9:30 p.m. In Tokyo, that was 4:30 a.m., or about the time I had been waking up every morning. Eventually, I fell asleep after 3:00 a.m., but I was not able to sleep past 8:00 a.m.
It took me awhile to get myself going Sunday morning. My body clock was completely screwed up. I figured that since Monday would be a full day, I was entitled to spend Sunday hanging around the local area. Besides, I had to get a SIM card for my phone and call my contact at one of the local universities.
I had not looked outside at my balcony the night before, so I decided to take a look and see how cool it was outside.
Next step: get something hot to drink. I walked up Süleyman Seba Caddesi to the Caffe Nero near the W and ordered a grande latte and enjoyed it in the nearly empty seating area. I read the latest issue of
Time Out: Istanbul
which had been left in my room while the caffeine began to get my body jump started.
After the latte, I walked back downhill, crossed in front of the W, and cut through Sinanpaşa Köprüsü Sokak to Ortabahçe Caddesi. I wonder how many of the W's guests never venture over to this area. It's lined with shops and restaurants like any other regular Istanbul neighborhood. Mr. FB and I discovered it in late 2008, and it's one of the reasons I decided to stay at the W again this trip.
It was still too early for the shops and restaurants to open, so I reversed my route and walked back toward the W, stopping at the Migros Supermarket for water, snacks, and some of the tastiest clementines I have ever eaten. Back in the room, I began to feel tired again. My body wasn't sure if it should be eating dinner or sleeping. I relaxed in the room for a bit before heading out again.
Around noon, I headed to the Turkcell shop on the main road to get a SIM card for my phone. It was closed. No problem. There are Turkcell shops everywhere, and I found two on Ortabahçe Caddesi. I stopped in the first one and was helped by someone. Fast forward one hour. I left the shop without a SIM card. It seems that my phone has been "blacklisted." I am not sure how that happened or even what it means. The only thing I can guess is that the SIM card I was sold at a Turkcell shop in Antalya in June 2008 was not documented correctly.
The idea of being blacklisted did not affect my appetite. It was time for lunch, so I stopped at Ramiz Köfteişi on the main road for a helping of Turkish comfort food.
I felt like a pig, because I inhaled the köfte. Then I realized everyone, including the four ladies at the table next to me, was eating quickly. When the food is good, you enjoy it!
Continuing my theme of staying in the vicinity of the hotel, I decided to visit Dolmabahçe Palace. I had gone by it many times without visiting, so I figured this would be a good time to change that. Walking along Beşiktaş Caddesi is the best way to get an idea of the magnitude of this complex.
I finally made it to the main visitor entry and passed through a police security station. I walked past the impressive clock tower:
toward the main entry gate,
where I saw something that looked like a changing of the guard:
I thought this was a pretty good time to arrive. Then I discovered that the ticket office was closed. It was just a little past 3:00 p.m., and the palace was supposed to be open until 4:00 p.m. Whatever the reason, I would have to wait until another time to visit the palace.
I walked back up the road. There were people everywhere, enjoying the beautiful Sunday afternoon. Before I crossed the overpass to get back to the W, I realized that the people weren't the only ones enjoying the day. You see cats everywhere in Istanbul, and Turkey, for that matter.
Back at the hotel, it was time to call my contact at İstanbul Kültür Üniversitesi. I realized that would be a challenge or very expensive without a SIM card. Then I remembered Skype! We Skype'd for about half and hour and made arrangements for our meeting on Monday as well as dinner that evening.
After catching up on a few emails, it was already dark outside, even though it was just a little after 5:15 p.m. Dark outside = dinner! I exercised a little self-control and didn't leave the hotel until after 6:30 p.m. The area nearby was still full of activity. Many restaurants had tables set up outside, and people were eating outside even though the temperature was no more than 15C.
I was welcomed into Ali Baba İskender Kebapçısı. All the waiters were speaking to me in English, which caught the attention of the other diners. So much for just blending in. As soon as I was seated, I was presented with a tray with 8 dishes on it. Meze! What a wonderful tradition! I chose the eggplant and tomatoes marinated in olive oil. Next came a plate with raw kibbe and lettuce, a basket of bread, a plate of cheese, and a menu. The waiter tried to tell me how great the mixed grill was, but I figured I should have the dish the restaurant was apparently known for! I ordered the İskender kebap, and as soon as the waiter walked away with my order, he walked back with a bulgur kofte and a small lamahcun. I was supposed to eat all of this:
and
the kebap?
All I can say is that I hate to see good food go to waste.
After such a large dinner, I needed some exercise. I walked around the neighborhood and lost track of time. When I got back to the hotel, it was after 9:00 p.m. Somehow, I had managed to make it through a relaxing, food-filled day in Beşiktaş. Monday will be devoted to work-related activities, including taking the tram and metro all the way across the city. However, this is Istanbul, and there are always sights to be seen.
Nov 10, 10, 3:24 pm
Join Date: Oct 2003
Location: TPA
Programs: DL Plat, AA Plat 2MM, HH Diamond, WoH Explorist, SPG Gold
Posts: 2,199
Monday, November 8 and Tuesday, November 9: Istanbul
---
Monday, November 8
Monday's activities were very interesting to me, but probably not so fascinating from a trip report perspective. That's why it didn't get its own entry. I was scheduled to meet with a contact at İstanbul Kültür Üniversitesi around 11:00 a.m. I had set the alarm for 7:30 a.m., but I awoke an hour before that. After a visit to the Kahve Dünyası near the hotel, I got ready for my journey across Istanbul.
Before I left the hotel, I paid a visit to Cem Manglay, the W's concierge extraordinaire. Cem had been so helpful on our previous visit to the W that my TripAdvisor review of the hotel said something to the effect that he should train other concierges to do their jobs. When I introduced myself this time, he commented how my facial hair had changed since my last visit. Wow! On Monday I asked him to call Turkish Airlines to confirm my car for the airport at 0700 on Wednesday. After a brief conversation, I set out for my trip to the university.
Getting from the W to the university required a 15-minute walk to the Kabataş tram stop, taking the tram the full length of its route to Zeytinburnu, then switching to the Metro for four stops to Yenibosna, and finally another 15-minute walk to the university. The trip took over 90 minutes, but it only cost YTL3.50!
If you have ever taken the Metro or the main highway to/from the airport, you have passed the university. This week, it is commemorating the anniversary of the death of Mustafa Kemal Atatürk, the founder of the Turkish Republic.
I had a wonderful visit at the university. My contact there is actually the father of a former colleague of mine. His hospitality, and the hospitality of everyone I met while I was there, was nothing short of incredible. We discussed ideas for my course there in May and talked to faculty members who will be providing lectures.
Around 2:00 p.m., it was time for me to head back to the hotel. When I finally made it back a little before 4:00 p.m., I had time for a short nap before getting ready to meet my contact for dinner. He had chosen a restaurant in Nişantaşı, which was about a 20-minute walk up the hill behind the hotel. He suggested that we meet in front of the City's Mall and go to dinner from there.
I had no idea that such an area existed so close to the hotel. If you were dropped in this area and had no idea where you were, you might think you were on Rodeo Drive. It's full of upscale shops, upscale restaurants, and beautiful people enjoying them. I guess the traffic is the best clue that you are in Istanbul.
We walked to Café Zanzibar for dinner, and we both had the Beef Paillard. The thinly sliced beef was wonderfully flavored and served on a bed of some of the best rice I have ever eaten. It looked to be cooked in beef stock and it had a spicy but sweet flavor. Carrots, zucchini, and Brussels sprouts were served on the side. We enjoyed a coffee afterward, and then he told me he wanted to take me to a special place for dessert.
One look in the window told me all I needed to know about how special this place was.
I think that Saray Muhallebicisi has every type of dessert that has ever existed in Turkey. Of course we had the baklava, but he especially wanted me to try the Tavuk gögsü, a chicken breast pudding that has been around since the days of the Ottoman Empire.
I was on a sugar high after that, and I needed the 20-minute walk back to the hotel. We walked together and said our goodbyes at the hotel before he caught a taxi home. When I got back to my room, I collapsed into a deep sleep!
Tuesday, November 9
My last full day in Istanbul was devoted to sightseeing and taking it easy. I could have slept late, but the jet-lag would not let me. I was up by 6:00 a.m. After taking some time to respond to emails from work, I headed to Caffe Nero for a latte, and I watched people getting coffee on their way to work. Back at the hotel, relaxed a little before getting ready for my day.
The weather was beautiful as I walked down Dolmabahçe Caddesi to catch the tram at Kabataş.
I took the tram to Eminonu and walked around the area in front Yeni Camii and the Egyptian (Spice) Bazaar for awhile. Of course, I had to take the obligatory pictures.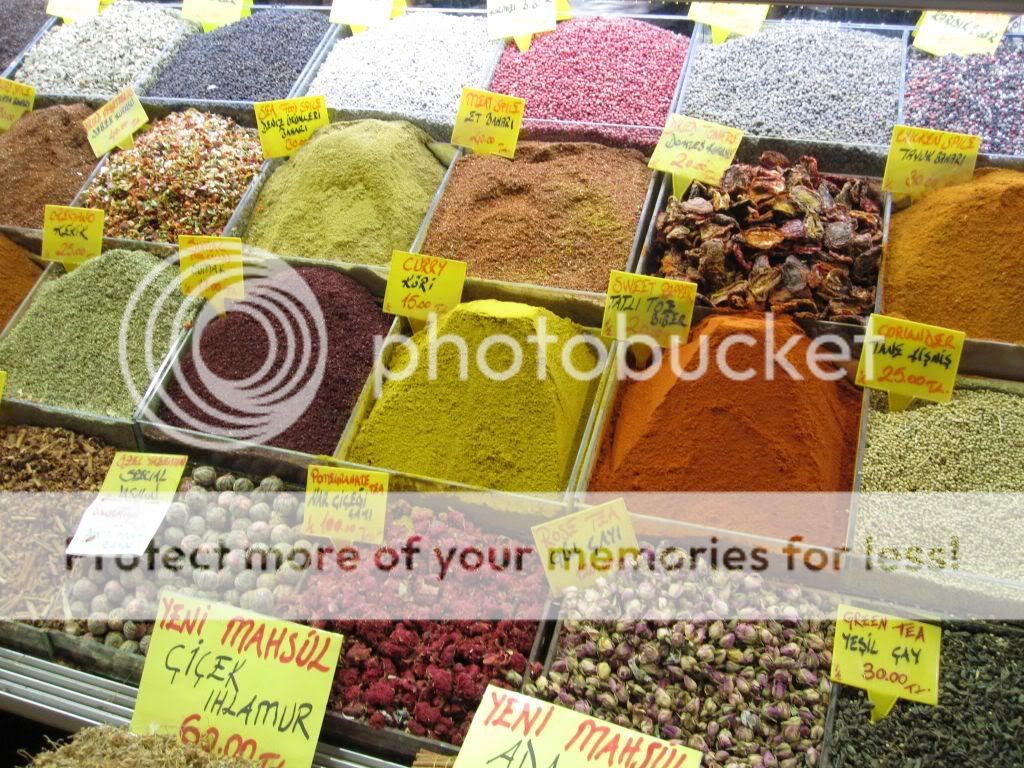 Places like the Spice Bazaar intimidated me during my first trip to Turkey. After that, I learned just to have fun with the hawkers, talk to them, and then finish by telling them that I am allergic to carpets. They usually don't have a response to that.
After my walk, I stopped for lunch at nearby Hamdi Restaurant. I took the elevator to the top floor and was led to a table with incredible views of Yeni Camii:
the Galata Bridge (and the Bosphorus Bridge):
and the Golden Horn and Galata Tower:
The food was pretty good, too. I started with Çoban salatası, Yoğurtlu patlıcan (fried eggplant in yogurt), and bread,
before moving to the Adana Kebap with pilav:
I ordered a lot of food, because I figured that would let me sit there and enjoy the view longer. Yeah, that's the reason!
After lunch, I wandered around the area behind Yeni Camii. I put the map away, so I had no idea where I was going. I figured that I was walking in the general direction of Aya Sofya and the Blue Mosque. As it turns out, I was a little off course, but I eventually found my way.
Having been to Aya Sofya twice, I resisted the temptation to return this time, but it is an incredible building. The church turned mosque turned is truly unique.
I did go inside the Blue Mosque, mainly because I am overwhelmed by its beauty every time I see the interior.
Of course, it's quite impressive from the outside as well, though pictures just can't capture its magnitude.
Next, I walked around the Hippodrome and admired the Egyptian Tower:
before walking to Sirkeci Station. In two prior trips to Istanbul, I had never visited the station, and I thought it would be worthwhile to do so. This station was the terminus of the legendary Orient Express, so there is a great deal of history here.
All this history made me hungry. After that enormous lunch, that does not seem possible, but when I passed Hafiz Mustafa Sekerlemeleri, I had to stop for a Sütlaç (rice pudding) and Çay.
I also wanted to get some lokum (Turkish delight) for gifts, and this was the best place to do it.
I had never liked Turkish delight until I got some at this shop in 2008. Now I love the stuff!
Loaded down with boxes of sweets, I caught the tram at Sirkeci and made the trip and walk back to the hotel. After relaxing for an hour or so, I took an inventory of my trip. What had I not done that I wanted to do, and could do on my last evening? Two things came up: go to a hammam and walk down Istiklal Caddesi.
For the hammam, I knew I did not want to go to one of the touristy ones. Having visited hammams in other parts of Turkey, I was always disappointed with how "assembly line" hammams in Istanbul were. I asked the other concierge for a recommendation, and he suggested the Galatasaray Hammam, so I made my way there. Somehow, I got lost and never found it. However, this is Istanbul, and I found another one while I was walking around. This was the Historic Firuz Ağa Hammam in an area a bit off Istiklal. The neighborhood had some nice shops and the hammam itself looked OK from the outside, so I decided to go in.
I asked for the "peel" as well as the soap massage. I went into the hot room to sweat for awhile, and then someone came to get me for an oil massage. Having had a few oil massages at hammams, I was concerned that I would end up being a punching bag and feel sore afterward. Things didn't start so well, because he led me up a staircase that didn't look very sturdy and moved farther away from the wall the farther you climbed. I managed to make it, though, and I was relieved that this guy knew what he was doing.
After the oil massage, he led me back downstairs and deposited me in the hot room again. A few minutes later he took me to another area for the soap massage. I never got my peeling/scrubbing, nor did he shampoo me. In addition, he left me to rinse myself instead of pouring wave after wave of water on me afterward as I have experienced at other hammams. At 60YTL, it was a bit less expensive than a visit to one of the larger hammams like Çemberlitaş. In addition, I think it was a better hammam experience than I have had at one of the larger hammams.
Feeling much more clean and relaxed, I walked back up the hill to Istiklal and found the river of people was still there.
I had a quick dinner of döner kebap served on rice with pickled on the side at a lokantasi, and took the fenicular from Taksim Square to Kabataş. Before walking back to the W, I paused to take a few pictures of the Bosphorus Bridge.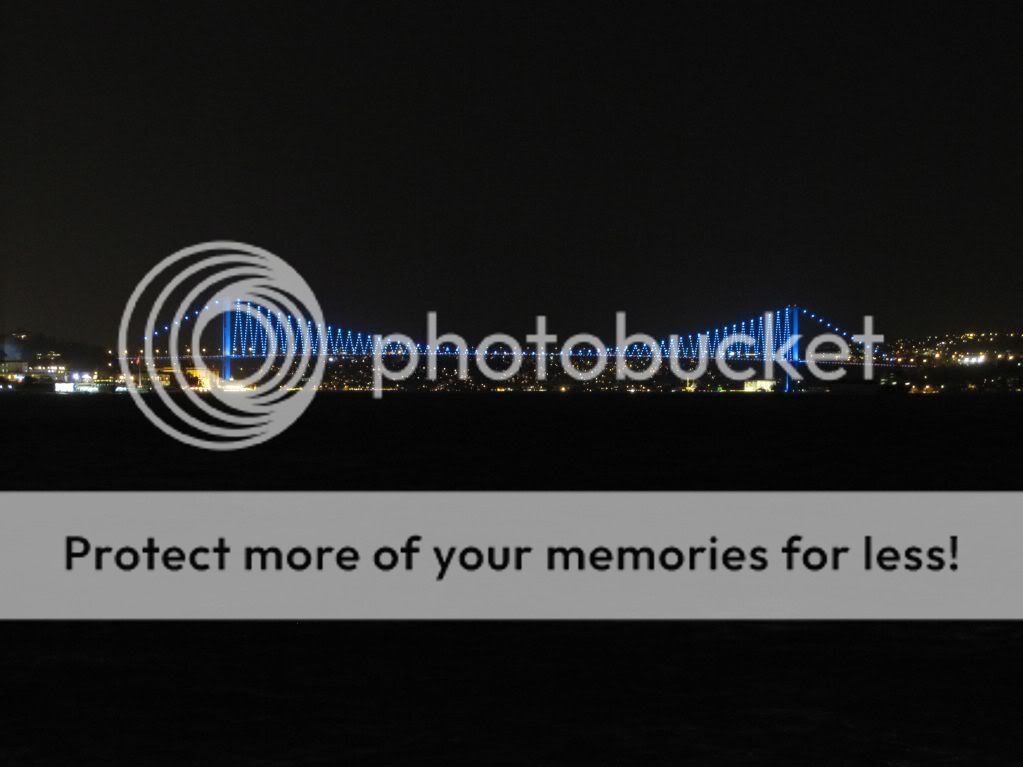 Back at the hotel, I did some packing, but I left the rest of it for the next morning. As was the case the night before, I was so sleepy that my eyes were crossing. I got into the W bed for a few hours of sleep before I had to head to the airport for the flight home.
Nov 13, 10, 5:25 am
Join Date: Oct 2003
Location: TPA
Programs: DL Plat, AA Plat 2MM, HH Diamond, WoH Explorist, SPG Gold
Posts: 2,199
Nov 13, 10, 5:47 am
Join Date: Oct 2003
Location: TPA
Programs: DL Plat, AA Plat 2MM, HH Diamond, WoH Explorist, SPG Gold
Posts: 2,199
Wednesday, November 10: The long trip home
---
(I apologize for taking so long to post the last installment of my trip report. Between catching up with a few things at home and my newly caught cold (thanks to the adjacent pax on US 1790), it took longer than I expected to finish it.)
I set the alarm for 5:00 a.m., but I awoke at 4:30 a.m. I still had more packing to do, so I finished that before taking a shower and getting dressed. I headed downstairs to check out around 6:50 a.m. I stepped outside, and one of the W employees took my bags and tried to put them into a taxi. I think he misunderstood me when I explained that Turkish Airlines was sending a car for me. Somehow, he got the idea eventually.
A little before 7:00 a.m., my driver showed up in a Mercedes mini-van. I don't think I explained before that these are outfitted as limousines with two seats facing forward and two facing backward. With my bags loaded, we set off for a drive that usually takes about an hour.
At 7:20 a.m., we were at the airport. I never thought such a quick trip would have been possible, and I still don't know how it happened, but he did it somehow. As soon as we pulled up to the Turkish Airlines business class entry, two people were there to meet me. They ushered me through security at the entrance and to the check-in desk. I didn't think check-in would open for my flight until 7:50 a.m. Maybe it didn't, but my lovely young usher and her male assistant got me to the check in desk, and a few minutes later we were headed to immigration. At 7:35 a.m., less than 40 minutes after I left the W, I was in the departure area being taken to the Prime Class Lounge.
The lounge was small and pretty occupied, so I took a seat at one of the three tables. A waiter brought me a three-tiered tray of pastries, including assorted
simit
. Everyone in the lounge got one of these trays and had the opportunity to select different breakfast items from a buffet. Because I was at a table, the waiter brought me a plate that included traditional breakfast items (cheese, olives, tomato, cucumbers) along with smoked salmon.
I leisurely nibbled at the breakfast while I took care of a few emails.
A little after 8:00 a.m., a family walked in and took one of the sofas (which was already occupied by a lady who was there when I arrived) and two of the chairs. The two children, a girl and boy whom I would guess were around 5 and 3, respectively, "entertained" the rest of the lounge guests for the next 45 minutes. The little boy immediately helped himself to the pastries that had been set out for a man sitting across from him. He would take a bite of one and put it back on the tray while the parents watched. The little girl was running back and forth to the buffet, and her brother joined her. The lady who had been sitting at the couch decided to leave the lounge for awhile for the relative quiet of the outside.
I know this seems to be something I write about in each of my trip reports, but parents who demonstrate no consideration for others should be barred from lounges or sent to separate "pens" before their flights board. I'm not saying that all families should be excluded from lounges. I have seen well-behaved children of this age group in lounges on many occasions, but parents who allow their children to run, yell, fight, and play with food on a buffet should be shown the door. Unruly children are the products of bad parents.
Thankfully, these folks left at 8:47 a.m. and those of us in the lounge enjoyed some peace until an older couple came in a little before 9:00 a.m. She was yelling at him while she ran into things and dropped dishes. As an aside, 9:05 a.m. on November 10 is an important moment in Turkish history. It was the moment of Atatürk's death in 1938. At 9:05 a.m., all Turks observe a moment of silence out of respect for the man who made Turkey what it is today. At that exact moment, the lady knocked over a garbage can and yelled at it.
Things calmed down a little, but that was short-lived. Around 9:30 a.m., a fellow with long hair and wearing dark glasses walked in with his female companion and sat at the table next to me. He had a conversation on his mobile phone, and then approached the desk before returning to the table. Then he went back to the desk and yelled at the attendant. Another employee followed him back to the table to explain something to him, but he got extremely angry and started yelling at the top of his lungs. Obviously, he was dissatisfied about something.
All in all, it was an entertaining stay in the lounge.
I began to get a little concerned at 10:20 a.m. that I should head to the gate because the flight was showing "Last Call." The attendant said, "You are first class, they will get you." OK, but what if they forget me? I moved from the table to a chair across from the man whose pastries had been taken by the little boy. He was also headed to New York, and also a little uneasy about waiting in the lounge. At 10:35 a.m., another employee came in and the attendant pointed to the two of us. The employee came over and said, "I will take you in 10 minutes." As someone who always likes to get to the gate early, this was cutting it close for me. I decided she knew best, so I trusted her.
At 10:45 a.m., the two of us, the loud man and his companion, and another man were taken to the gate in carts. Unfortunately for the drivers of the carts, they are extremely quiet and not equipped with and noise-making devices. It was interesting to be on a cart that was zipping through the airport and making sudden stops as it pulled up behind an oblivious pedestrian.
We made it to Gate 219 a few minutes later. I presented my passport and boarding pass, went through security screening, and then had my passport checked again before being taken onto the plane.
Wednesday, November 10, 2010

Turkish Airlines 1
IST-JFK
Scheduled Departure/Arrival: 10:50 a.m/2:45 p.m.
Actual Departure/Arrival: 11:20 a.m./3:00 p.m.
777-300ER
Seat 2K
This time, I was able to get the seat I had reserved. There was no one in the middle seats in row 2, so the cabin felt very open to me. A FA came by to welcome me, and another offered lemonade, champagne, or water along with mixed nuts. A few minutes later, I was given my amenity kit, along with pajamas, slippers, and a lavender sachet. I didn't receive pajamas and slippers on the NRT-IST flight a few days earlier, leading me to conclude that the substandard service I had received was due to a bad set of FAs more than anything else.
We didn't push back until 30 minutes past the scheduled departure time, and it was another 25 minutes before we took off. During the long taxi, I saw jets from quite a few airlines, including this MD-80 with a missing engine from Tarhan Air, a charter service that is no longer in business.
Immediately after takeoff, I enjoyed views of the coast of the Sea of Marmara, including this one with the airport on the far right and the large inlet known as Küçükçekmece Gölü.
Farther up the coast of the Black Sea, I was able to identify the Turkish town of Kıyıköy.
Farther along, after the flight track left the coast, I saw the Danube River separating Romania and Bulgaria.
I'm not exactly sure where this is. It looks to me as though it might be Ruse, Bulgaria and Giurgiu, Romania.
While I was snapping these photos, the cabin crew was preparing for the meal service by setting the tables in the suites. First came beverages along with canapés.
I'm not sure what the canapé on the left was, but the one in the center was smoked salmon while the one on the right was roasted pepper stuffed with goat cheese.
Next came the caviar and the cart with hors d'oeuvres. I chose the smoked salmon with horseradish cream, stuffed eggplant in olive oil with home made stuffed wine leaf, cheese puff pastry, and herbed white cheese with kalamata olive.
The other choices were a seafood salad, chicken Caeser [sic] salad, and air dried beef. All of the
meze
I tried were delicious, as was the bread.
Next came a bowl of traditional Turkish lentil soup with olive tapenade bruschetta, followed by a choice of main courses. I chose the "special from Turkish cuisine" şiş kebab which was served with creamy eggplant puree, Turkish style rice, and grilled green pepper and tomato.
The meat was grilled to the point of being well done, but was still pretty juicy. I was expecting lamb, but I am pretty sure it was beef. The rice was good, very similar to what I had been served at Café Zanzibar on Monday night, but not quite as tasty. The eggplant puree was very good, and I felt like a pig as I used a piece of bread to sop up the last bit of it.
The other choices for the main course were
catch of the day: grilled sea bass, lemon butter, Mediterranean vegetables, rosemary potatoes

Asian style: chicken machiani, sautéed mixed vegetables, steamed rice

Pasta: rigatoni with creamy tomato sauce, sun-tomatoes, pesto, olives, arugula, parmesan
I was stuffed (wonder why), but when the dessert cart came by, there were too many intriguing choices to bypass it completely. What caught my eye was the selection of Turkish desserts: revani (the sponge cake), ekmek kadayıfı (the two pieces flanking the revani), and clotted cream. One of the flight attendants serving me also gave me the home made sour cherry stroudel [sic] with vanilla ice cream, even though I did not ask for it. Honestly!
The Turkish pastries were not as good as what I had eaten on the ground, but probably better than any I will have before my next trip to Turkey. The ekmek kadayıfı was something I had tried at the dessert shop on Monday evening. It's basically a bread pudding with a sugar syrup that is so rich that you can feel your blood sugar rise with every mouthful. The strudel was just OK. The filling was good, but the pastry was soggy, even for strudel.
By the time I finished this feast, we were somewhere near the border of Sweden and Norway,
and all I wanted to do was sleep. I stepped out of my suite and put my seat in the bed position, and almost on cue, a FA came with bedding supplies. I stepped into the empty 2G suite while she made my bed, and I climbed into it. Before dozing off, I noticed the sparkles on the cabin ceiling.
I had not seen these on my NRT-IST flight. Maybe they were there and I had just missed them.
Once again, this was the most comfortable airline bed I had ever experienced. I slept for about 4 hours and never had any problems with parts of the seat protruding and spots of the bed that felt uncomfortable.
When I awoke, we were about 3 hours from JFK, so I started watching a movie. A little later, the next meal service started. I felt like I had just eaten, but when the first course arrived, I somehow managed to enjoy it.
The cold slices of herbed chicken breast were moist, as was the white eggplant, and the cherry tomatoes, pesto, and pine nuts were nice accompaniments.
The next course was supposed to be an arugula tomato salad with parmesan, but it was never offered. Just as well. Even though I love arugula, I wanted to save room for the main course. I tried the traditional Turkish creamy wedding soup with lamb cubes when it was served. It was OK, but I didn't want to overdo it.
For the main course, there was a pasta choice—wild mushroom ravioli with cream sauce—but I went for the Turkish dish: "Köfte" Turkish style grilled minced beef with herbed grilled zucchini, red pepper, and bulgur.
While it was not as good as the köfte I had enjoyed for lunch on Sunday, it was much better than the large majority of airline meals I had ever tried. I finished with a small dish of fresh fruit.
After the plates were cleared and my table stowed, I concentrated on my movie again. Pretty soon, the FAs started preparing for landing, and I had to return my headphones. However, I was watching a Bollywood movie in Hindi with English subtitles, so I was still able to see what was going on!
We landed at JFK at 2:40 p.m., taxied awhile, and then had to be towed into our gate. We deplaned and made the long march toward immigration. There was a very short wait at immigration, and the officer who cleared me told me that he had an uncle who lived near Tampa. Without thinking, I replied, "Doesn't everyone in New York have someone near Tampa?" and he laughed and welcomed me back.
I am not a big fan on JFK, and seeing that luggage cart rental cost $5 didn't do much to improve its standing in my eyes. I bypassed the cart, as did everyone else in baggage claim. While waiting for the bags to come out, I heard someone asking one of the employees if he could leave, purchase a ticket from Delta, and come back later to get his bag. Huh? That was pretty much the reply of the guy he asked. He explained that he wanted to catch a Delta flight that departed at 4:30 p.m. and needed to buy a ticket by 3:30 p.m. I looked at my watch and it said 3:16 p.m. Good luck with that.
My two bags were among the first few out, so I handed over my form to customs and exited, following the signs for connecting flights. However, there were desks for specific airlines. I asked one of the agents where I could drop my bags, and she asked which airline I had flown in on. When I said Turkish, she said, "Go to their desk." When I pointed out that they did not have a desk, she said, "You'll have to wait then." JFK is dropping a few notches as we speak. I told her that my bag was already checked to Tampa on US Airways. An Air France agent overheard the discussion, and he took my bags and dropped them on the belt. What a messed up system!
I took the AirTrain over to Terminal 7 and exchanged my TK-issued BPs for US BPs. After clearing security, I went to the United Red Carpet Club (using my US Airways Club card) and waited the nearly 3 hours for my flight to Charlotte.
Wednesday, November 10, 2010

US Airways 373
JFK-CLT
Scheduled Departure/Arrival: 6:29 p.m/8:40 p.m.
Actual Departure/Arrival: 6:33 p.m./8:33 p.m.
A-320
Seat 2A
Boarding started a little late from Gate 3. We were next to a BA flight for LHR, and there was no room to sit. Boarding started around 6:10 p.m., and it went very smoothly, even with a few pax whose roll aboards had to be checked. Push back was just a few minutes after scheduled departure time, and the pilot estimated about a 45-minute taxi. I slept during most of the taxi, so it was not much of an issue for me. It turned out to be a 43-minute taxi, and we took off at 7:16 p.m.
The flight to Charlotte went smoothly. A FA came through offering beverages and items from the snack basket. The actual flight time was only 70 minutes, and I spent much of that time dozing in and out of consciousness.
Once we arrived at CLT, I headed for the US Club between C and D and camped out in the Quiet Room. I had a little less than two hours, so I surfed the web for awhile before heading to the gate.
Monday, November 10, 2010

US Airways 1790
CLT-TPA
Scheduled Departure/Arrival: 10:20 p.m/11:57 p.m.
Actual Departure/Arrival: 10:32 p.m./12:03 a.m. (+1)
A-321
Seat 2A
When I arrived at the gate at 9:50 p.m., the gate was packed with pax. Even though it was boarding time, the plane was still being cleaned. Finally, a bit after 10:00 p.m., boarding started. Not surprisingly, most of the people standing in line were not in first class or even Zone 2. Some things never change. I boarded and settled into my seat. The FA offered pre-departure beverages while boarding continued. A woman who was coughing and sneezing sat in seat 1A. Great! A man with a hacking cough was in 2C. Even better!
Boarding took awhile, and we pushed back more than 10 minutes behind schedule. Taxi took nearly 20 minutes, but we were finally airborne. I wanted to take advantage of the WiFi on the flight, so I got out my computer as soon as two chimes signaled that we had passed through 10,000 feet. I opened my tray table and directed the air vents toward my computer. (If you own a MacBook Pro as I do, you understand why.) A few minutes later, the coughing/sneezing woman in 1A reclined abruptly, almost smashing my screen. A few minutes after that, she seemed disturbed and looked up. Then she turned around and said, "Your air vent is blowing on my head, could you close it?" I looked at her and said, "My air vent was directed toward my computer to keep it cool." I wanted to add that she was in my space, but instead I slightly adjusted the vent. I am 6'5" and had departed IST 19 hours earlier and didn't feel the need to recline, but different strokes, I guess.
The flight took 68 minutes from takeoff to landing, and that went quickly. Taxi was short at TPA, as it always is late at night, and we arrived at the gate 6 minutes past schedule. I took the shuttle to the main terminal and went to baggage claim. It took what seemed like an extraordinary long time for the bags to start arriving, and mine were in the second batch. It seems that TK's "First Class" tags don't mean anything on other airlines.
A bit after 12:30 a.m., I collected my bags and went to where the taxis were. It was a bit late for Mr. FB to come get me, and a taxi home would not be that much this late at night. My taxi driver put the bags in the back and, seeing my Turkish Airlines tags, mentioned that he was from Morocco. On the 15-minute ride home, we discussed Turkey, its food, and other things. I told him that I wanted to visit Morocco someday, and he encouraged me to do so. We arrived at my house, and the fare came to $16.30. I gave him an $20, and he thanked me.
It was hard to believe this trip was over. I had looked forward to it for months, and I enjoyed exploring Tokyo for the first time and visiting Istanbul for the third. I had my first experience with long haul First Class on LH and TK. Before the IST-JFK flight, I had wished that there had been a way to combine the service of LH with the hard product of TK. However, the FAs on this last TK flight had redeemed them in my eyes. Either way, I would not hesitate to fly in F on either airline again in the future.
I guess it's time to start getting more miles!
---
Last edited by Flying Buccaneer; Nov 13, 10 at

5:57 am
Nov 15, 10, 12:49 pm
Join Date: Jul 2003
Location: GRZ, ZRH
Programs: LH FTL, Marriott Plat
Posts: 411
Wow!
---
Thanks for the amazing report and pictures! The Do&Co catering on TK F currently seems to be in a class of its own.

Your report also remembered me that I should really start planning that long overdue trip to Japan. My first and only visit to Tokyo was in 2003, more than seven years ago!

-Tom
Nov 15, 10, 6:43 pm
Join Date: Sep 2008
Location: Racine, WI/VCE
Programs: AA EXP, MR LT PPE, Arise Mucci des Hommes de Fer
Posts: 1,047
Wow, thank you for a wonderful trip report. It brought back fond memories of early morning breakfasts of sushi at the Tsujiki market with my wife earlier this year. I had my 1st experience with the beer machine in the JAL F lounge!
---
Last edited by TheAAdmiral; Nov 15, 10 at

6:57 pm