6 Trains on 6 Continents ~ Connected by 44 Flights on 14 Airlines ~ PART 2
May 9, 10, 5:48 pm
Join Date: Apr 2001
Location: East Ester, Alaska
Programs: Alaska Airlines Million Miler, United Airlines Million Miler, Wyndham Rewards Diamond Level
Posts: 8,941
6 Trains on 6 Continents ~ Connected by 44 Flights on 14 Airlines ~ PART 2
---
March 29, 2010
Hong Kong - Singapore
Tiger Airways Economy Class
Airbus A320-200 9V-TAD Seat 13A
11:00am – 3:20pm
Although my reservation papers and the big departures sign at HKG initially indicated that this Tiger Airways flight was due to depart Hong Kong for Singapore at 11:30am, when I arrived at the counter I discovered that it had been moved up to 11:00am. I wasn't the only one surprised as a couple of other folks commented on it at the counter as well as down at the gate. In any event, I got my pack tagged and made my way all the way back over to Terminal 1 and gate 62. Sheesh – I was just across the concourse at gate 63 four hours ago. Since then I've walked a couple of miles around the airport. If only I'd been able to check my baggage through from JNB on to Tiger Airways, I might have been able to spend my time relaxing in The Pier.
Boarding started without announcement. It was about 10:45am and I was watching as a gate agent emerged from the jetway and left the doorway open. She then positioned herself at the entryway podium and passengers started approaching her with their boarding passes. Boarding had begun. Telepathically.
I had purchased a premium exit row seat for about $30.00 more when I booked this reservation over the internet . It was a good call because seating on Tiger's A320s is fairly tight, especially for a longer flight. My exit row window seat had heaps of legroom and, unlike US airlines, did not have the skimpy seat cushion at the window seat. Unfortunately, Tiger along with most international airlines insist that those of us sat in the exit row store all carry-on bags above us. Had I remembered this, I would have booked an aisle seat as both of my seatmates attempted to sleep through most of the flight.
Flight time down to Singapore was a speedy three hours and thirty-five minutes. Food For Sale was offered, including hot meals. Because I had neither Hong Kong nor Singapore currency, I had asked at the gate whether credit cards were accepted. Although the person I spoke to responded to English, unfortunately that response was limited to nodding and mumbled something or others. I used my credit card to purchase a sandwich and a bottle of water in the airport.
I slept through the last two hours of this flight. We landed on a typically muggy afternoon in Singapore. Thankfully the Budget Terminal was reasonably well air-conditioned and, after clearing customs, I stored my backpack with Left Luggage and took the MRT into town.
SINGAPORE
Back in 2004, I used Priceline to score a room at the Millennium Hotel on Orchard Road for just $55.00 USD. These days, $55.00 won't get you squat with Priceline. At least, not in Singapore. You're looking at a minimum bid of about $85.00 to even sniff a room. That's too much for me. If I worked a normal 48-50 week per year job and was taking my wife and kids out on a trip for a couple of weeks, I'd be compacting the bulk of the year's travel expenditures into one trip and we'd get a proper hotel. The difference however is that I'm a single traveler and this isn't some two week holiday I'm on. The way I see it, I'm taking my life on the road for a couple of months and as such, I can't afford to go tossing around $100.00 or more a night for accommodations. Actually, I can afford it but it wouldn't be fiscally prudent to pay it.
Maybe it goes back to my hitch-hiking days and all those nights I spent sleeping for free behind bushes or any place where I could be out of sight. Or perhaps it was all the trips I made to Alaska and Hawaii or wherever back in the 1970s where my travel budget was predicated upon camping out for most of those nights. The main thing was to
be there
. It wasn't to have a room with a view. My pride was never wounded by not sleeping in a private room and I generally always got a good nights' sleep. Quite possibly it's the hundreds of nights I've spent at
$30.00/night motels
in small towns along lonely highways that simply won't allow me to spend three or four times as much money for the right to sleep indoors or in privacy.
Over at hostelz.com I found a private room at a place named after its address – 1 Florence Close. The price was right - $37.00/night – and the location was easily reached via Singapore's MRT or rapid transit trains. Better yet, the MRT station was just two blocks away. A 10% deposit secured my reservation.
The young lady running the place greeted me with flawless English and, after collecting the balance due on my reservation, showed me to my room. It should be noted here that 1 Florence Close is definitely not a hotel. I would call it a small boarding house, catering mainly to local students. Most if not all of them stay in one of three four-bunk dorm rooms.
My private room measured about 9'x9' and included a queen sized mattress on the floor (Made up with sheets and a comforter), an air conditioner and a small color television. The air conditioner pumped out blessedly cold air and the mattress was comfortable. It'll do.
Down the hall was the kitchen and a communal bathroom with private showers. Two beautiful long haired cats, Romeo and Pepper, were also available for company and attention. After having walked two blocks in Singapore's 90° temperature and humidity, I was feeling pretty sticky so I enjoyed an intentionally cold shower and then spent the next hour reveling under the cool breeze from my air conditioner. At about 7pm I headed out for dinner at a Malaysian restaurant just up the street . When I returned, the buzz of activity and voices at 1 Florence Close had almost completely died down and by 10pm I was sleeping soundly in what was probably the coldest room in the building.
March 30, 2010
Singapore - Perth
Tiger Airways Economy Class
Airbus A320-200 9V-TAD Seat 13A
3:50pm – 9:20pm
I hadn't noticed any restaurants in the vicinity that offered anything akin to an egg breakfast, so after checking out I headed back to the MRT and, after a short connection to another line, got off at the Orchard Road station. I remembered a nice air conditioned coffee shop I'd eaten at back in 2004 that was just a short walk from the station. I suppose I could have eaten a local style breakfast but it was starting to get hot and I didn't want to get all sticky again since the restaurants near Florence Close offered only open air seating. Humidity and I do not get along well.
By 1pm I was back at Changi Airport. Although my flight to Perth wasn't scheduled to depart until 3:50pm, I needed to stop by the Air Asia sales counter to purchase a ticket to Kuala Lumpur for two weeks hence. Although Air Asia is the largest low cost carrier in Asia and operates a very nice looking and easy to use website, they don't accept most American credit cards. During the planning stages of this trip, I had researched the credit card problem over the internet and found a couple of forums on FlyerTalk that addressed the issue. In the Billing Address portion of the Payment section, Air Asia does not provide any US states. Instead you may select "Other" for foreign countries. Some folks were able to get approval on their cards simply by leaving this space blank. I was not. I also tried calling long distance but again, to no avail. My only alternative was to show up in person at an Air Asia counter.
Via its internet site, Air Asia offered seats on its 2:35pm flight to Kuala Lumpur for just $5.00 SGD. When all the taxes and incidental charges are included, the total comes to about $47.00. Unfortunately, these rates don't apply for those of us forced to purchase their tickets in person. I ended up paying an additional $30.00 for the same reservation. Even so, this was far less than I would have paid had I flown on Silkair, Singapore or Malaysian and although I could have purchased tickets over the internet on JetStar Asia or Tiger for less, I wanted to add Air Asia to my collection of 139 airlines flown.
Back at the Budget Terminal, I reclaimed my pack from Left Luggage and checked it through to Perth. Surprisingly, the baggage tag required the agent to hand write PER. I inspected the tag to ensure that the agent had written it clearly. With similarly timed Tiger departures to Kuching, Penang and Hong Kong, I didn't want my pack going astray for want of poor penmanship.
Tiger Air A320
Perth sits 2,430 miles south-southeast of Singapore. This translates into a five hour flight on which it is well worth the extra $30.00 to enjoy the legroom offered via an exit row seat. I might add that my total airfare, including the premium seat charge, came to just $193.00 USD – a steal compared to the almost $700.00 being asked by Qantas and Singapore Airlines.
We landed in Perth on a nice clear evening and I had my powdered coffee creamer confiscated by customs before being allowed into Australia. Something about sodium caseinate and the potential for imported hoof and mouth disease. Hmm… The customs agent and I had a fun chat about Sarah Palin and I assured him that she was unlikely to ever be more than a charismatic cheerleader for the Republican party via Fox's "news" channel.
* * * * * * *
Hotel accommodations in Australia are, by my standards, ridiculously expensive. My standards notwithstanding, the overall cost of living in Australia has become quite expensive over the past twenty years and so the $48.00 I shelled out for a hot, dingy room at the local YMCA was a deal compared to what I would have paid elsewhere. Even the tiny modular rooms at the airport Formule 1 hotel were going for an incredible $94.00 per night!
Back in the early 1980s when the Australian dollar was worth more than the US dollar, I thought the prices throughout Australia were quite reasonable, exchange notwithstanding. Even through the nineties the prices remained fairly reasonable, although the exchange rate was decidedly in our favor throughout much of that time. Something bad happened over the past ten years though. These days, a decent restaurant breakfast will run you the equivalent of $14.00 USD (Not including the $3.00
per cup
coffee) and most restaurant hamburgers I've seen have been running about $14.00 USD. When I was in Australia two years ago, there was a report in the news that Australian beef could be bought in Los Angeles for one third the price that was being charged in Australia. Worst of all, Australian beer costs way more here in Australia than it does in the US. I can buy a six pack of Cooper's Ale back home for $9.00 USD. I just paid the equivalent of $17.75 USD for that same six pack today. I've bought Cascade Premium for under $8.00 back home. Here, you're looking at about $14.00 for the same six pack. I just saw a bottle of Penfolds Bin 389 on sale for $60.00 or about $57.00 USD. Back home, I buy that same wine for about $23.00.
Mind you, I'm not complaining about these prices for my sake. I'm only a visitor here, so I don't have to deal with these prices but for a few days. However, for all you Aussies who have to pay these bloated prices day in and day out, there ought to be a revolution! How did things ever get so expensive for you all?
---
Last edited by Seat 2A; Mar 20, 14 at

8:47 pm
May 9, 10, 5:50 pm
Join Date: Apr 2001
Location: East Ester, Alaska
Programs: Alaska Airlines Million Miler, United Airlines Million Miler, Wyndham Rewards Diamond Level
Posts: 8,941
April 1, 2010
Perth - Kalgoorlie
TransWA Prospector Standard Class
Car 1 Seat 32
3:15pm – 10:00pm
The city of Perth has two railway stations – the large Perth Railway Station located downtown and the smaller East Perth Station, located in, well, East Perth. The main downtown station is served primarily by suburban commuter trains. The only "long distance" train would be
The Australind
, serving Bunbury, some 200-km to the south. Both the
Indian Pacific
to Sydney and The Prospector to Kalgoorlie arrive and depart from the East Perth station.
The East Perth Station is neither architecturally stunning like some big city stations nor quaint like some smaller country stations. It's just a big red brick building that's designed to be more functional than beautiful. Mission accomplished. It is also wonderfully air conditioned, something I very much appreciated after lugging my pack through 28°C heat and humidity whilst tramping up and across a bridge over the tracks used by the commuter train to the parking lot of the East Perth station on the other side. From there it was just another 200 yards to the entrance to TransWA's ticket lobby and waiting room.
My train to Kalgoorlie,
The Prospector
, was waiting at the station as I arrived at 2:00pm, a little over an hour early.
The train gets its name from the many thousands of prospectors who headed out to the Kalgoorlie gold fields in the late 1800s to begin mining what has since come to be known as "The richest square mile on Earth". Recently, the 50 millionth ounce of gold was retrieved from Kalgoorlie's mines.
The Prospector
began service between Perth and Kalgoorlie in 1971. At that time, it was Australia's fastest train and cut travel time between Perth and Kalgoorlie from fourteen to eight hours. Besides being the first train to offer an "airline style" full-meal service, it also introduced the local travelers to such luxurious and unprecedented features as air conditioning, personal call buttons and reading lights.
In 2005, a new version of
The Prospector
was introduced. Sleek and modern, it once again reclaimed the title of "Australia's Fastest Train". Mind you, we're not talking Japanese Bullet Train or French TGV speed here. The G forces remain quite manageable. At its fastest,
The Prospector
might rocket along at speeds approaching 150 kph. Still, the new train has shaved an additional hour and fifteen minutes off the old Prospector schedule.
The New Prospector
Boarding was called at 3:00pm, fifteen minutes prior to our scheduled departure. I had purchased my tickets in advance off the internet and so had only to present my printed ticket sent to me via PDF file. I had been assigned an aisle seat but when I asked if I might switch to a window, I was told that we were expecting a full train this afternoon so I'd best stay put.
Stepping into the main passenger cabin, I was immediately impressed by the modern airline style interior featuring enclosed overhead storage bins in addition to 2-2 seating that is both more comfortable and more spacious that that of its predecessor. One much appreciated addition were seat side power ports which allowed me to get in a fair bit of work on this report.
Prospector Interior
Spacious seating aboard the Prospector including power points
At 3:15pm on the dot, a hand blown whistle sounded and seconds later we accelerated out of the station.
The Prospector
consists of two or three self-powered diesel/hydraulic rail cars. Today's train consisted of just two cars. From a passenger perspective, it sounds as if the train is being "driven" which indeed it probably is though with an automatic transmission rather than the old manual transmission which I've clearly heard on some older railcars.
The first part of the journey took us through Perth's eastern suburbs before climbing into the lush hills outside of Perth.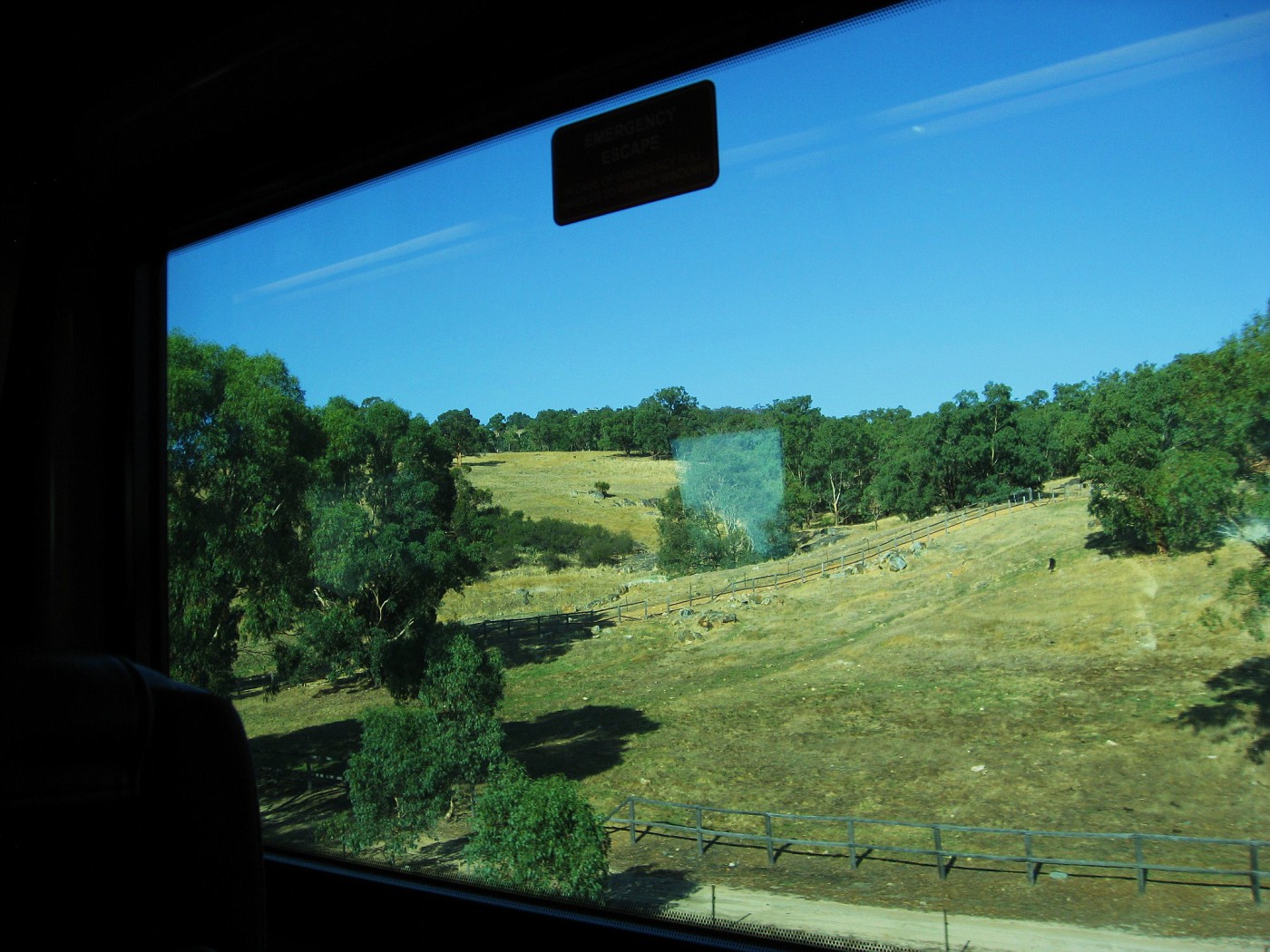 West Australian Hill Country
They weren't very big hills and in many cases it might be fairer to say that we traveled through shallow valleys rather than climbed up any hills, per se. By the time we'd gotten a couple of hours out of Perth, the landscape had changed to dry rolling savannah dotted with Eucalyptus trees. It reminded me a lot of Central California and the lowlands of the Western Sierras.
Alas, the days of an on board airline style meal service aboard
The Prospector
have long since disappeared. In their place a local concession, manned by the car attendants, sold hot and cold snacks such as Australia's ubiquitous meat pies and sausage rolls along with salads, sandwiches, candy and peanuts, juice, sodas and three kinds of beer. A buffet kitchen/serving area was located in the rear of my car and over the course of the trip I downed a meat pie and a couple of Emu Bitters.
The Prospector Buffet
TransWA must have borrowed a page from Amtrak's operations manual because on three separate occasions we were forced to pull onto a siding and wait for freight trains to pass. The result of this was that the first lights of Kalgoorlie didn't began to appear until about 10:30pm, forty minutes late.
I've booked accommodations at the Desert Rest Guest House, conveniently located just a five minute walk from the heart of downtown. Once a converted hospice for elderly Aboriginals, it now functions as both a guest house and a church. Many of the people staying here are long termers, working jobs in the area. There are a few visitors like myself as well. The owners, Patrick and Ronnie, are onsite every day. Patrick also serves as pastor of the attached Kalgoorlie Alliance Church. That said, I would guess that only a dozen or so of the tenants here actually attend church and Patrick does an admirable job of hiding his disappointment in us.
My room at the Desert Rest
This is my third visit to Kalgoorlie since 2004. I like these desert towns and I'm looking forward to just kicking back and blending in with the scene here for a week. I've already seen the famous Super Pit and travelled to some of the little towns in the area. I will go down to the museum and check out the Aboriginal art currently on display, but otherwise I'm content to just hang out and relax in Kalgoorlie.
Here's some pictures of classic Kalgoorlie architecture as seen in three Kalgoorlie hotels:
The Exchange Hotel
The York Hotel
The Kalgoorlie Hotel
---
Last edited by Seat 2A; Nov 3, 14 at

7:53 pm
May 9, 10, 5:52 pm
Join Date: Apr 2001
Location: East Ester, Alaska
Programs: Alaska Airlines Million Miler, United Airlines Million Miler, Wyndham Rewards Diamond Level
Posts: 8,941
April 09, 2010
Perth – Broome - Darwin
Skywest Airlines Economy Class
Fokker F-100 VH-FSW Seat 1A
I arrived at Perth's Terminal 3 at 9:00am, two hours in advance of departure time. Proceeding directly to the counter of the empty Skywest check-in area, I was subsequently ignored by each of the four agents as they chatted amiably amongst each other until I finally asked "Are you guys open?" At that point the agent in front of me broke away from the conversation and completed the check-in process in a more professional manner. I asked for and received seat 1A, then proceeded through security and on to Virgin Blue's lounge, accessible to me via Priority Pass.
All airline lounges offer comfortable seating and a quieter ambience that's more conducive to rest and relaxation or work. Based upon these two attributes alone, many of my favorite lounges are operated by U.S. airlines. Australian domestic airline lounges differentiate themselves from those of the rest of the world with outstanding food and beverage offerings that are on par with what many airlines offer only in their First Class International lounges. Knowing this, I held off on a proper breakfast until I'd arrived at The Lounge.
Strolling over to the coffee bar, I ordered a café au lait from the "Barista", then headed across the way to the food buffet to inspect the morning's breakfast offerings. Arrayed in front of me were an impressive selection of breakfast cereals, three different types of milk (including soy milk), an assortment of fruits, meats, cheeses and yogurt along with a variety of breakfast breads and muffins. I put together a continental breakfast fit for a king and then relocated to a comfortable work area where a table and a wi-fi connection awaited.
Virgin Blue's Perth Lounge
The Lounge Beverage Bar
The Lounge Breakfast Buffet
At about 10:30 I headed upstairs to the gate area. Parked way down at the end of what must surely be the longest jetway at Perth International Airport was the attractive blue and white Fokker 100 that would take us north to Broome and Darwin this morning.
My Skywest F-100 At The Gate
As this would be my first flight aboard Skywest and only my second flight aboard Fokker's largest jet, I was excited to get on board and see what this plane was like. There's always a bit of excitement and anticipation as I board what for me is a "new" plane. What's it look like inside? What color are the seats? What color is the carpet? I know… I know what you're thinking. Still, I am unrepentant. This is exciting stuff!
All Aboard to Broome and Darwin
Skywest operates its fleet of Fokker 50s and 100s in an all-economy class configuration. Their 100s are outfitted with just 100 leather seats, resulting in a seat pitch of 34" per row. Unless you're sat in Qantas' Business Class, a seat aboard one of Skywest's Fokker 100s must surely be amongst the most comfortable in Australian skies.
The load up to Broome was light this morning. The plane was only about 60% full and I was the only one seated in the first row. As we taxied out to the runway, we passed the hulk of an old BAe-146 parked out on the airport perimeter. The aircraft was stripped of its engines and based upon its location I would imagine it was now used for fire and/or anti-terrorism training. Clearly visible was its registration number, VH-JJT. That sounded familiar to me and sure enough, when I checked out my flight log later in the flight I found that this was the very same aircraft I'd flown with Ansett on a Cairns – Alice Springs – Ayers Rock – Perth flight back in 1995.
Flight time to Broome was projected at 2 hours and 24 minutes. Outside my window was a beautiful sunny day, nicely highlighting the reddish brown earth of Western Australia gliding by 35,000 feet below us.
Colorful West Australian River bed
Colorful West Australian River bed
In the distance lay the azure blue waters of the Indian Ocean. Against this colorful backdrop, luncheon was served. I started with a $7.00 bottle of Crown Lager, accompanied by a complimentary packet of Japanese style rice crisp snacks. Luncheon consisted of a salad of rocket and radicchio leaves topped with turkey, tomato, egg and croutons. Included on the tray were a roll, butter, a small Cadbury chocolate bar and a sealed cup of water. Not bad, not bad. Though I'm thankful that we received a meal at all, I couldn't help but wonder if any domestic airline still offers a hot lunch?
Complimentary Lunch Served Aboard Skywest Airlines
The last time I was in Broome was twenty-two years ago. I'd come in by bus from Perth, stopped for a meal, and then continued on to Darwin. That was a four day trip. Today I was making the same journey in just four hours and fifty minutes, seated in a decidedly more comfortable seat.
Because there was a crew change in Broome, all through passengers were required to disembark and head into the departure lounge. Temperatures in Broome this time of year are typically in the 90° range, so stepping off the nice cool Fokker and on to the hot tarmac was a bit of an adjustment.
Inside the airport, ceiling fans provided adequate cooling. I did like the layout of the departure area though. Once you've cleared security, you enter a large shady atrium. In its center are tropical plants set in a small pool. Surrounding that are tables and chairs, while off to one side are a bar/café and a gift shop. I bought an ice cold VB and took a seat underneath one of the fans. Ahh…
Departure Lounge at Broome Airport
Boarding At Broome
Your Fokker 100 Awaits
After about a half hour, boarding was called and I returned to the aircraft. Unfortunately, the APU had broken down resulting in cabin temperatures even hotter than those out on the ramp. The captain apologized for the lack of air-conditioning, we boarded as quickly as possible, closed up the doors and took off into the clear blue skies above where temperatures hovered in the -50° range. Inside the cabin we reclined in air-conditioned ecstasy while the Flight Attendants came down the aisle with drinks and a snack. Ice cold apple juice, a curried chicken roll, a spacious seat and a pretty view of the Australian coastline made this 1 hour and thirty-seven minute flight seem much shorter.
Complimentary Snack Aboard Skywest
Pretty Northern Australian Coastline
Upon landing in Darwin, I collected my backpack and caught the airport shuttle into downtown Darwin where and air-conditioned
villa at the Palms City Lodge
awaited.
The view from my villa doorway
Following a delicious dinner at a local Indian restaurant, I returned to my hotel, watched a bit of the AFL game between St. Kilda and Collingwood, and then called it a night.
Were that all travel days could be so pleasant.
---
Last edited by Seat 2A; Nov 3, 14 at

7:52 pm
May 9, 10, 5:54 pm
Join Date: Apr 2001
Location: East Ester, Alaska
Programs: Alaska Airlines Million Miler, United Airlines Million Miler, Wyndham Rewards Diamond Level
Posts: 8,941
April 11, 2010
Darwin - Singapore
Jetstar Airways Economy Class
Airbus A321 VH-VWW Seat 1A
5:15pm – 9:30pm
Darwin sure is a beautiful place, but given the oppressive tropical heat and humidity I can't help but feel as if I was melting whenever I ventured out into the sun. Or even into the night. As such, on my one full day in Darwin I walked into town for an air-conditioned lunch and then spent the afternoon over at the Darwin Military Museum. Dinner was at a Turkish bistro, washed down with a couple of ice cold beers.
Following a leisurely morning of laundry washing and Internet surfing, I caught an early shuttle out to Darwin International in the hopes that I might be able to get a seat on Jetstar's 4:00pm departure up to Singapore. I was confirmed on the 6:20pm departure but what the heck – I'm ready to go now.
Not so fast, said the Jetstar agent. Even though seats were available on the 4:00pm departure, confirming one of those seats would incur a change fee plus whatever the difference in fare was based upon my purchasing the 4:00pm flight as of today. This would have resulted in an increase of several hundred dollars which I was unwilling to part with. As a result, I was now faced with a four and a half hour wait until my 6:20 departure.
Despite the early hour, I was able to check in my backpack right away which allowed me to then head through security and on to The Qantas Club. Normally, guys like me are never allowed anywhere near a Qantas Club but this time I had a complimentary pass thanks to the largesse of fellow FTer
mwenenzi
. Thank you ever so kindly, Allan. I look forward to the day I can be in a position to return the favor.
It's a good thing I arrived early, because this Qantas Club closed at 3:30pm and would not reopen again until 6:00pm. This seemed a bit odd given that Jetstar had two international departures heading out at 6:20 and 6:30 respectively, but regardless I was happy with the hour or so that I did get to visit.
Like all Qantas Clubs, this one was well stocked with light refreshments (soup, small sandwiches, salads and dessert cakes) and plenty of good Australian beer. I requested a Coopers Ale and hoisted a silent toast to all the Australian FTers who contribute to making FlyerTalk such a vibrant community. Good on ya, mates! Then I had another beer.
This flight was only about half full so boarding went fairly quickly. Once again I lucked out and was able to procure seat 1A, a window seat on the sunset side of the aircraft. As you can see from the pictures below, that window seat paid off quite nicely.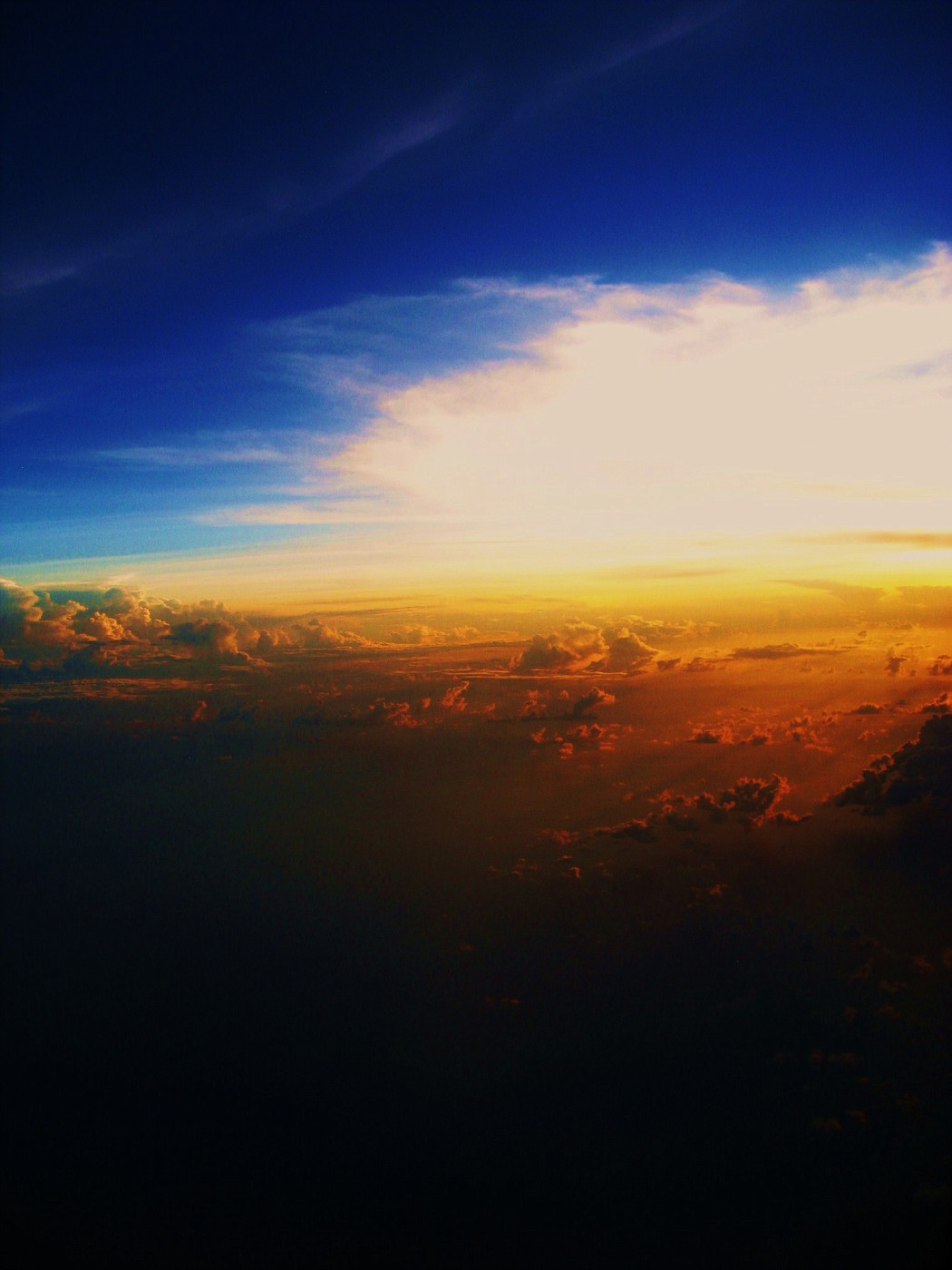 Beautiful evening over the Sea of Java
Beautiful clouds over the Sea of Java
Beautiful sunset over the Sea of Java
Onboard service was better than I remember from past flights with Jetstar. The crew were friendly and attentive throughout the flight and the food and beverages seemed reasonably priced. I had two cold beers and a hot cup of noodles while firing off those nice sunset photos and keeping this trip report up to date.
That's right, I am now current in my writing. My week in Kalgoorlie allowed me to not only get caught up but also to lay most of the vB code required to submit a report of this length at its best. For me that means using bold and italic lettering where appropriate as well as titling all of the photographs used in this report. It's a fair bit of work but I like to think it's all worth it in the end.
We landed in Singapore a few minutes early and, after storing my pack at Left Luggage, I caught the MRT over to my pad for the night at 1 Florence Close. Tomorrow I log my first flight on Air Asia and my first ride on a train in Asia.
My $30.00 room and bed at Florence Close
April 12, 2010
Singapore – Kuala Lumpur
Air Asia Economy Class
Airbus A320-200 9M-AFF Seat 24C
2:35pm – 3:30pm
Located at latitude 1° 18' N, Singapore sits just 75 miles off the equator. The temperature averages in the high seventies and the humidity averages in the low eighties year round. By contrast, I live at 64° 49' N in a land where the average year round temperature is 26.9°F with an average humidity of about 55%. To about the same extent that man requires oxygen when climbing the world's tallest mountains, I require air conditioning when visiting Singapore. In the absence of air-conditioning, I very quickly become hot and sweaty. Walking two and a half blocks to the MRT station warmed me up, the train to the airport cooled me down, but then the muggy airport terminal had me all hot and sweaty by the time I cleared security.
Fortunately I had planned for just such an eventuality by bringing along two extra shirts along with a change of underwear and socks. Thanks to my Priority Pass, I had access to two different lounges at Changi's Terminal 1. My Air Asia flight was scheduled to depart from the D Concourse, so I elected to visit the Skyview Lounge, which also serves as Cathay Pacific's First Class lounge. The showers there were on par with the ones at Cathay's Wing or Pier lounges at Hong Kong, meaning they were spacious and well stocked with everything from towels to toothpaste.
Twenty minutes later I emerged fresh and dry – ahh… - and helped myself to a couple of sandwiches and some dim sum before relocating to a comfy chair under an air vent. There I spent the next forty-five minutes catching up on the latest news and sports from the International Herald Tribune before finally making my way down to gate D36 where my brightly painted Air Asia airbus awaited.
Although it is possible – for a fee – to book a seat in advance on Air Asia flights, I decided to take my chances with this fifty minute flight up to Kuala Lumpur and book my seat at check-in. Unfortunately, my seat (24C) had been pre-assigned and since we had a full flight up to KL this afternoon, the agent was unwilling to broker any changes despite my having checked in two hours early. Oh well – at least I had an aisle.
A big sticker announcing that Air Asia had been voted the world's best Low Cost Carrier in 2009 by SkyTrax was appended to the fuselage next to the door. A bevy of pretty Asian Flight Attendants greeted passengers at the door and directed us to our seats, not a difficult chore as it involved inspecting our boarding passes and merely pointing to the left or right side of the aircraft cabin. Air Asia's A320s are operated in an all economy configuration, offering an attractive collection of dark gray leather covered seats set atop burgundy carpet. Though the cabin looked attractive, the seating was tight – no more than 30" pitch. I was unable to fully extend my legs under the seat in front of me but no biggie – it was just a 50 minute flight. Like most LCCs, service was strictly pay as you go. Despite the short flight time, snacks and drinks were offered, though we were just beginning our descent by the time the cart made it back to me. No worries, I'll get something in KL.
Air Asia operates out of Kuala Lumpur International Airport's Low Cost Carrier Terminal, a wholly separate facility located so far from the main International Terminal that I never did actually see it. Upon disembarking, we walked a good quarter to a third of a mile out in the mid-afternoon heat before finally entering the blissfully air-conditioned Immigration building. All comfort ended there however. Upon clearing Immigration, it was on into the incredibly muggy main terminal. I had plenty of time before I had to check-in for my 10:30pm train down to Singapore, so I decided to cool off at the Plaza Premium Lounge located landside just left of the International Check-In counter. Imagine then my disappointment to find this "lounge" was only a small, non-air-conditioned room that offered absolutely zero relief from the heat and humidity of the main terminal. By now my shirt and pants were sticking to me, my recently acquired sciatica was giving me a good limp and I was as close to the definition of "miserable" as I can ever remember being. Eventually I found a small measure of relief in an air-conditioned general store where I took an inordinate amount of time inspecting drinks and their ingredients in the refrigerated coolers before finally purchasing a bottle of Gatorade. Then it was back outside into the heat and humidity as I lurched down to the airport bus station. There I boarded a nicely air-conditioned bus that took me and a dozen or so others to a suburban train station where we caught a modern air-conditioned KL Transit train to Kuala Lumpur Sentral, the main railway station for the city. Along the way I caught my first view of the Petronas Towers, until recently the tallest buildings in the world.
April 12, 2010
Kuala Lumpur - Singapore
Malaysian Railways First Class
Car J1 Room 3
9:10pm – 8:15am
Many Malaysian words for their English counterparts are quite similar, but spelled differently. Sentral means central as in Central Station, and the international departures ticket office was located just past the local Polis station. Throughout the station the signage was excellent and I had no problem finding my way around. I had pre-booked my "Deluxe Sleeper" via long distance telephone call a month earlier, so I had only to show up at the ticket office no less than two hours before departure to collect the ticket.
KL Sentral offers travelers an impressive variety of shops and restaurants. A large food court housed eight different restaurants, although I had doubts as to whether any of them would have passed an American style restaurant inspection. The main problem was food sitting unprotected out in the open air without being kept either warm or refrigerated. Although none of the patrons in the food court appeared to be suffering from the early stages of salmonella intoxication, I didn't want to put my digestive tract to the test. Instead, I headed downstairs to the clean and shiny Kentucky Fried Chicken where a three piece spicy chicken dinner cost me just 12 Ringgits (About $3.65 USD).
A "VIP Lounge" is available for passengers who hold First Class or Deluxe Sleeper reservations. I can't imagine any "VIP"s would be very impressed with this lounge however. It was little more than a large room with a few couches and a couple of internet computer terminals. In one corner were a pot of coffee and hot water for tea, though I didn't see any tea bags. "Air-conditioning" was provided by a large floor mounted fan at the far end of the lounge. Still, I suppose it did provide some measure of sanctuary from "The Great Unwashed", so I spent an hour or so there working on this report before the call to board came at 10:15pm. The best benefit of this lounge was the "Ekspress" elevator which took us from the lounge directly down to the tracks.
Our train was pulling into the station just as I stepped from the elevator. One of the things I like best about rail travel is that unlike flights which are identified primarily by flight number, trains often have names as well. Tonight's train to Singapore, while identified on the schedule as Train #11, is also known as "Ekspress Senendung Malam" I have no idea what that means, but as I said, I like a named train.
Train 11 to Singapore: All Aboard!
As soon as the train stopped, we were free to board. A car attendant stood at the door to my car and smiled but otherwise offered little more in the way of assistance. I watched as the couple ahead of me struggled onboard with their two suitcases while the car attendant smiled and opened the interior hallway door for them. I had no such difficulties since I'd left my backpack in storage at Changi.
This train included only one deluxe sleeper car and it was very nicely air-conditioned indeed. My cabin provided two beds nicely made up with plump pillows and monogrammed wool blankets. Each cabin also included an ensuite shower and toilet, a television and individual reading lights. Unfortunately the television was broken, the reading lights didn't work, the window was missing half its curtain, there was no hot water in the shower and no towel was provided. Additionally, the carpet was worn and heavily stained.
A comfortable bed for the night
Nice compact toilet and shower
An interesting sign posted in the bathroom for those unfamiliar with western toilets
But wait, there's more! Also included in the fare was a small meal served upon departure from Kuala Lumpur. Soon after we'd eased out of the station, my smiling car attendant presented me with a plastic container of rice and chicken satay.
First Class Dinner on the KUL-SIN Ekspress
Unfortunately the meal was not hot, or even warm. Who knows how much time had passed since it had been cooked, then to sit in some box awaiting its presentation to some "First Class" passenger? Most laughable was the Chicken Satay. The portion I received looked more like bait than a proper meal. When I asked if there was anything cold to drink, I was offered a box of room temperature orange drink. "No beer on Malaysian train!" said my car attendant. "How about a soft drink or a bottled water?" A smile and a shrug. The Orient Ekspess this most definitely is not.
Still, the room was nicely air-conditioned and the bed was comfortable. For that alone I feel I got my $67.00 dollars worth. I actually slept fairly well until a knock at my door awakened me about 7:00am with an announcement that Malaysian Immigration would be coming onboard to inspect our passports and sign us out of Malaysia. This was accomplished quickly and easily, after which we rolled down the tracks another 15 minutes until we arrived at Johor Bahru. Singapore Immigration took place here and everyone was required to get off the train – along with all of their luggage – and head inside for processing.
It was 8:00am by the time we had re-boarded the train and powered down the tracks towards Singapore's Keppel Road Station. We were running about twenty minutes late and at the rate we were traveling through the Singapore suburbs, it was clear we weren't going to make any of it up. We were scheduled to arrive at 8:20am and my flight to Bangkok was scheduled for an 11:10am departure. Looks like I'd be taking a taxi to the airport.
Taxi! Where're the taxis? Normally taxis are all over Singapore so I'd envisioned that I'd just grab a cab and be on my way. That's what about a dozen of us were thinking as we stood outside the train station waiting at the taxi stand for about fifteen minutes before the first taxi finally showed up. Thankfully when they finally did start showing up, I was third in line and managed to arrive at Changi with more than enough time to reclaim my backpack from Left Luggage and check-in.
---
Last edited by Seat 2A; Nov 3, 14 at

7:56 pm
May 9, 10, 5:55 pm
Join Date: Apr 2001
Location: East Ester, Alaska
Programs: Alaska Airlines Million Miler, United Airlines Million Miler, Wyndham Rewards Diamond Level
Posts: 8,941
April 13, 2010
Singapore - Bangkok
Jetstar Asia Airways Economy Class
Airbus A320 VH-VQN Seat 1C
11:10am – 12:30pm
Anyone who's been following International news of late has to be aware of the ongoing conflict in Thailand between the government and the rebel "Red Shirts" who contend that the present government is illegally in power due to election fraud. Up until recently, their dissension had been limited to protest rallies in downtown Bangkok. Over the past couple of days however, those protests have turned violent. Twenty-one people were killed during riots in Bangkok yesterday. Some countries have issued travel alerts for Thailand.
I was not planning to visit Thailand but instead was merely transiting through Bangkok's airport on my way to Hong Kong. Although Tiger Air offers nonstop flights to Hong Kong at very affordable fares, I took advantage of Jetstar Asia's $57.00 fare between Singapore and Bangkok so that I could fly Royal Jordanian's affordably priced A310 flight between Bangkok and Hong Kong.
Two years ago, yellow shirted rebels actually seized control of Bangkok's Suvarnabhumi Airport for a few days. No doubt the airport remains an attractive target and so I did monitor the news as well as the websites of Jetstar and Royal Jordanian to ensure that there were no impending service interruptions. As of this morning there weren't, so I went ahead and checked my backpack to Bangkok and requested seat 1C for myself.
As ever in Singapore, I was beginning to feel a bit sticky and so upon clearing immigration I headed off in search of a shower. My flight was departing from gate C22, which afforded me an excellent opportunity to visit SAT's Rainforest Lounge, conveniently located at the top of the C Concourse.
Aside from a nice bank of showers, the Rainforest Lounge also provided an excellent breakfast buffet. I helped myself to a plate of scrambled eggs, sausage and a croissant before heading down to the gate for my 11:10am departure.
Although Jetstar Asia is Singapore based, the A320 operating this flight was Australian registered. The flight was not particularly full and so there was plenty of room to stretch out. Despite the fairly tight seat pitch on Jetstar's A320s, I was the only person in the front row. The flight up to Bangkok was your basic LCC experience, resulting in my having to pay out $3.00 SGD for a cup of instant coffee.
Arrival in Bangkok was right on time. It was a typically muggy / smoggy day in Thailand's capitol city, so I was thankful for both the air-conditioned terminal building as well as the complete lack of humanity at Immigration. Honestly, I just strolled right up to an open counter, had my passport stamped, and then went to collect my backpack which was already waiting for me on the baggage carousel.
April 13, 2010
Bangkok – Hong Kong
Royal Jordanian Airlines Economy Class
Airbus A310 JY-AGM Seat 14J
4:15pm – 8:03pm
This will be only my second flight aboard Airbus' smallest widebody, the A310. My first and last flight on one came aboard Singapore Airlines back in 1987. So, the chance to fly yet another A310 as well as add Royal Jordanian to my collection of 143 airlines flown were the principal reasons for my routing through Bangkok today.
Check-in for RJ 182 to Hong Kong didn't open until 1:45pm, two and a half hours prior to flight time. I didn't have long to wait and entertained myself with a book until then. The airport was quite busy with all manner of domestic and international travelers. I did not see any soldiers or excessive security at all and for all intents and purposes this appeared to be just another normal day at Suvarnabhumi Airport. At security however, I was required to remove my shoes, my belt and my wristwatch. I've never been asked to remove my watch before and the last time I recall removing my belt was back in 2001.
Colorful Thai Security Guard
As much as I would like to have flown on this flight in Business Class, I have neither the income nor the trust fund to allow me anything more than an economy class seat. Thanks to my Priority Pass membership however, I was still able to rub elbows with the privileged few (or at least sit nearby some of them) in the Lewis Tavern Lounge, conveniently located at the intersection of the E and G Concourses. This lounge offered an excellent buffet with a wide selection of sandwiches and assorted snacks. Also available was a well stocked bar and a beer cooler.
The Lewis Tavern Lounge Buffet
The Lewis Tavern Lounge Self-Service Bar
Over the next hour and a half I sampled three different reception sandwiches washed down with cans of Singha, Chang and Leo beers respectively. Then it was off to gate E3 where my A310 awaited.
Distinctive styling of Concourse E at Bangkok
I think Royal Jordanian has one of the most attractive liveries in the industry. For sure it certainly looked resplendent on the shiny A310 parked at the gate. I paused to take a quick photo, then sauntered down the jetway and on to the aircraft.
My beautiful A310 at the gate in Bangkok
Boarding through door 1L meant I got a brief tour of the Business Class cabin. The big beige seats looked plush and comfortable – indeed a couple of passengers already had theirs totally reclined. Continuing on into the main cabin, I located my exit row window seat at 14J, stowed my gear and settled in for the two and a half hour flight to Hong Kong. Seatmate arrived shortly thereafter, gave me a glare no doubt reserved for only the finest of infidels, and plopped heavily into his seat. He then removed his shoes and socks, lowered the Flight Attendant's jump seat in front of us and put his feet up on it. That lasted all of thirty seconds or so until a Flight Attendant came along and shooed his feet off her seat. Sheesh!
Unfortunately, 14J was over the wing so I was deprived of any stunning views of the Thai countryside as we climbed out of Bangkok and nosed toward Hong Kong. Service started shortly after we'd leveled off. The drink cart came first and lo and behold, drinks were still complimentary even for economy class passengers. Or infidels. I don't recall the selection of beers but I settled on a reasonably tasty German brand called Henniker. Dinner arrived with the time honored query "Beef or Chicken?". Chicken, please.
Chicken dinner on Royal Jordanian BKK-HKG
I was presented a 10" X 10" tray bearing the entrée dish, a good looking salad of sliced cucumbers, tomatoes and green peppers, a slice of cake for dessert, a dinner roll and a cup of water. The entrée consisted of flavorful chunks of chicken over rice accompanied by spinach and carrots. It was quite good, too.
Service throughout the flight was friendly and attentive with meal trays cleared in a timely fashion and coffee or tea served immediately after dinner. Overall, I was impressed and look forward to an opportunity to try out Royal Jordanian's Business Class someday.
---
Last edited by Seat 2A; Nov 3, 14 at

8:00 pm
May 9, 10, 5:58 pm
Join Date: Apr 2001
Location: East Ester, Alaska
Programs: Alaska Airlines Million Miler, United Airlines Million Miler, Wyndham Rewards Diamond Level
Posts: 8,941
HONG KONG AIRPORT
Hong Kong sits 1,600 miles north-northeast of Singapore and while the average daily temperature may not be as quite high, the climate is still extremely humid. As a guy who's lived high and dry most of his life, I'm more sensitive than most to humidity over 50%. On this particular night, the airport was uncomfortably muggy – so muggy in fact that I actually gave serious consideration to booking a hotel for my eighteen hour layover in Hong Kong. That is – until I saw the prices.
Evidently there was a huge trade show going on this week and practically every hotel in town was booked. I went to two different hotel booking services but to no avail. Amongst the remaining hotels that still had rooms available, the cheapest I could find was well over $300.00 USD a night. Even if I had $10000.00 cash in my pocket, spending $300.00 of it for the right to sleep in privacy would, for me at least, be just plain irresponsible.
I decided to see if space were available on Cathay's 12:30am departure to San Francisco. Although my preference would be to fly on a daytime flight, a suite on the midnight flight would give me a comfortable place to sleep for the night. Alas, this was not to be. I was informed that the flight was oversold and that my status as an award traveler standing by for First Class would not be favorable.
On a more positive note, I was informed that I was welcome to check in for tomorrow afternoon's flight right now. Checking in now would allow me to go airside where the Plaza Premium Traveler's Lounge offered an air-conditioned bedroom with a shower at $20.00 per hour. As it was now about 10:30pm, I repacked my daypack with a change of clothing, then checked in and headed to Cathay's Premium Class lounge - The Wing - for a shower and a few glasses of ice water.
Although The Wing offers comfortable cabanas, it closes at 2:00am, reopening at about 6:00am. It is not a good place to sleep undisturbed for the night. The Plaza Premium Lounge is, albeit at considerable cost. I purchased six hours for $120.00 USD and was led back to a small but well appointed room with a single bed, attached bathroom with shower, television and air-conditioner. I turned the temperature down to 18°, crawled into bed and was asleep within minutes.
A knock on the door at 7:15am served as my wake up call. I'd gotten nearly six hours of good sleep and was still allowed to shower and then head out to the dining room for a full hot breakfast buffet that was included in the cost.
Overall, this bedroom at the Plaza Premium Lounge is a great deal because under normal circumstances a room in Hong Kong, including transport out and back, would have cost at least $100.00 though probably more. Two airport hotels, the Regal and the Marriott, offer nightly rates starting at over $200.00. A Plaza Premium arrivals lounge offering similar facilities is also available landside, just across the hall from Cathay Pacific's arrivals lounge.
April 14, 2010
Hong Kong – San Francisco
Cathay Pacific Airways First Class
Boeing 747-400 B-HKF Seat 2A
2:05pm – 11:25am
I showed up at The Wing at about 10:00am – four hours before flight time. Although Hong Kong's airport offers a wide variety of shops and restaurants, the lounges took care of all my food needs and as usual there was nothing I needed to buy.
Interestingly, more than a couple of people have expressed surprise that I didn't head into Hong Kong to take advantage of good prices. Me, I'm like – What good prices? I've been in Hong Kong on a couple occasions back in the eighties and nineties and I didn't see any prices then that made me jump out of my skin. And even if there were low prices, I'm a lousy shopper. That is to say I don't go shopping for recreational purposes. I buy things when I need them, not because the price happens to be low at the time. Besides, with internet shopping these days I suspect that one can generally locate deals on a home computer that for most items would be just as good as the prices found in most any Asian city.
As for The Wing, it's a good solid First Class lounge. Certainly there are better lounges such as Lufthansa's First Class Terminal at Frankfurt or perhaps even British Airways' Concorde Room at Heathrow's Terminal 5, but The Wing definitely offers First Class travelers an excellent standard of food, drink and amenities for everything they might need during a typical airport layover. I took advantage of the quiet library to catch up on a bit of news from the extensive newspaper and magazine selection, then headed into the restaurant for a beer and a snack before finishing up with a bit of internet time to check out the latest sports scores and commentary.
Restaurant at The Wing
Salad Selections
This will have to tide me over until dinner is served onboard
Boarding for this afternoon's flight to San Francisco was from gate 4, conveniently located just a short stroll from The Wing. Interestingly, carry-on bags were individually inspected at a security checkpoint located in the jetway. I remember thinking it's a good thing the crew that inspected my bag in Belfast last month wasn't working this flight or we wouldn't have gotten out of here until 7:00pm. As it was, my daypack was essentially given a pat down and I was sent on my way.
Ah… it's good to be back in First Class again! Even the boarding experience is special. Whereas back in Business and Economy classes the cabin is filled with all manner of humanity trying to get their various carry-ons stored and themselves situated for the long flight ahead, up in First Class the Flight Attendants move unobtrusively through the cabin assisting passengers with settling in or serving welcome drinks such as chilled Krug Champagne or frothy Cathay Delights. Cathay's 747s seat just nine passengers up front, so the atmosphere is as serene and relaxed as my Cathay Delight is cool and delicious.
Suite 2A
Pushback was as punctual as a Swiss train's departure. The Captain offered us a cordial welcome aboard and then spoiled the good mood somewhat with his announcement that strong tailwinds would have us arriving in San Francisco a good half hour early. Flight time would be a mere eleven hours and forty minutes.
Bright sunlight flooded the cabin as we broke through the mist and clouds that seem to perpetually hover over Hong Kong. Just once I'd like to fly into or out of here on a nice sunny day. I'll bet it would be quite a nice treat for the eyes.
In the meantime, the Wine List and menu were presented and I had a decision to make. What would you choose?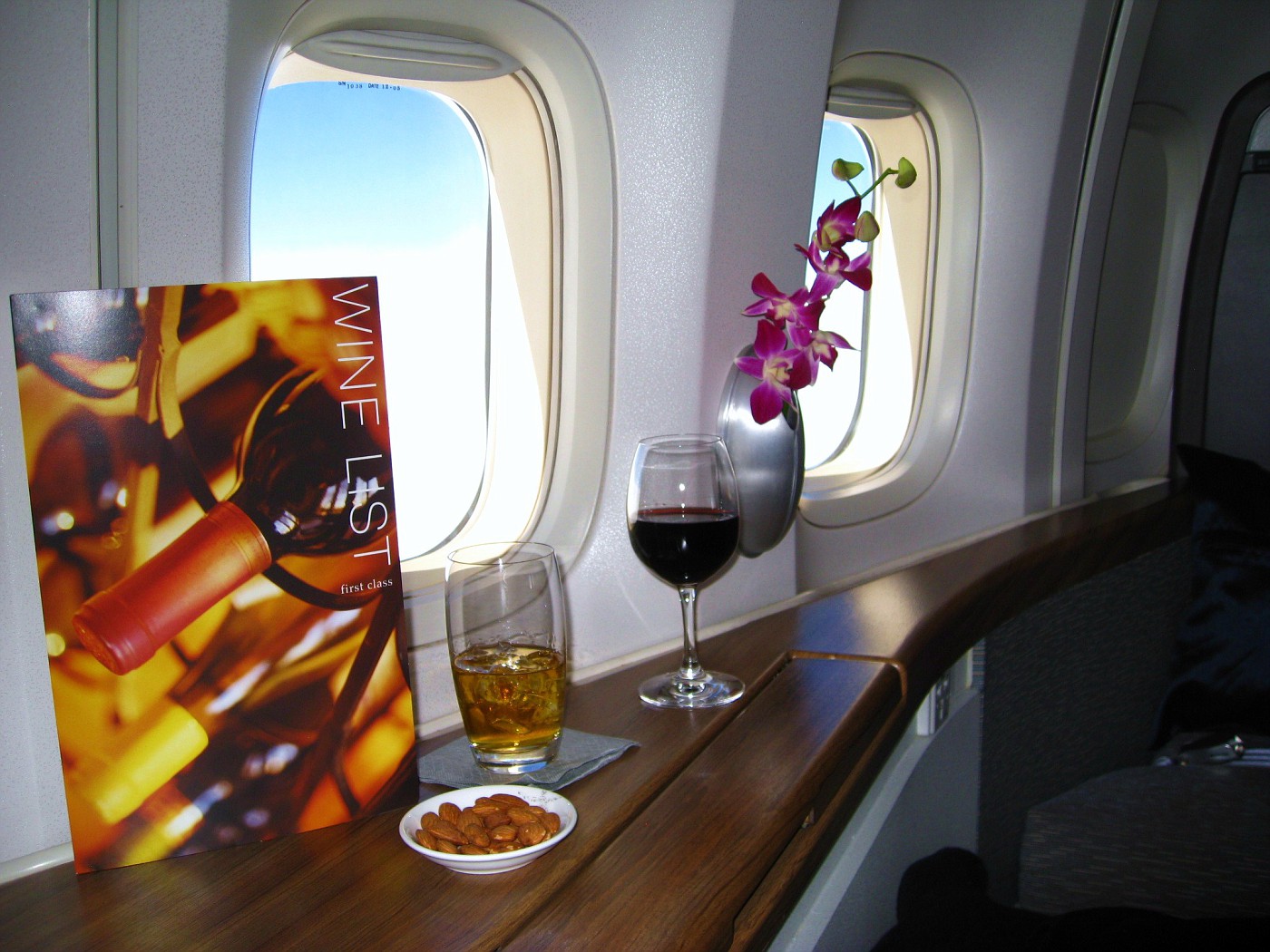 Wine List HKG-SFO
WINE LIST

Champagne
Krug Grande Cuvée Champagne
White Wines
Wente Riva Ranch Chardonnay 2006
Bouchard Pere & Fils Meursault Les Clous 2006
Red Wines
Chateau Lynch Bages 2003
Bouchard Pere & Fils Morgon 2009
Felipe Rutini Reserve Malbec 2006
Port
Ramos Pinto Quinta da Ervamoira 10 Year Old Tawny Port
Cognac
Tesseron Lot 76 XO Tradition
Whiskies
Chivas Regal 12 Years Old, Johnnie Walker Blue Label, Canadian Club, Gentleman Jack Bourbon, Glenfiddich Ancient Reserve Single Malt Whisky
I decided to start with a glass of the delicious
Bouchard Pere & Fils Morgon
. As an aside, I also requested that I be brought just a small sampling of the Gentleman Jack Bourbon. I explained that I just wanted to get a sense of the flavor since I'd never had this bourbon before. This was apparently not understood back in the galley however, and I was subsequently presented with a full serving of both the bourbon and the wine. The drinks were of course served with a smile, but I suspect that beneath their professionalism the First Class Flight Attendants may well have had me pegged as a serious lush.
Soon enough, it was time to consider the luncheon options. I was leaning towards the Chinese specialties but after consulting with Britney and learning that the chicken was really not that spicy, I decided to go with the Rack of Lamb. As for accompaniments, bring 'em on! I want it all – the caviar, the soup, the salad… We'll talk about cheese and dessert later in the flight.
Here's the luncheon menu:
LUNCHEON
Hong Kong to San Francisco
Caviar and Balik Salmon Delight
Oscietra Caviar and Balik Salmon "Tsar Nicolaj"
Served with Warm New Potatoes and Crème Fraiche
Soup
Creamy clam chowder with herb croutons
Salad
Mesclun salad with green olives, feta, sun-dried tomato
and Balsamic Vinaigrette
Bread Basket
Assorted Bread and Rolls
** ***** **
INTERNATIONAL FAVOURITES

Roasted Rack of Lamb
Served with pencil potatoes and ratatouille
Green Peas and Mint Agnolotti
With roasted capsicum and caramelized pearl onions
CHINESE FAVOURITES

Starters
Pork Soup with marrow and red dates
Cold Plate – Beef tendon sticks with mixed vegetables
Steamed Cod Fillet in Golden Bean Sauce
or
Chicken with Onion Chilli Sauce
Served with steamed jasmine rice, stir-fried pak choy with ginger and chilli
** ***** **
CHEESE AND DESSERT
Cambozola, Comte, Double Gloucester, Chaumes

Fresh berries with cream

Chocolate bread and butter pudding with vanilla ice cream and raspberry sauce

Green beans with kelp dessert
SNACKS
Grilled seafood skewer with tartar sauce and salad

Assorted sandwiches

Shui gaw with noodle in soup

Braised beef shank with noodle in clear soup

Ice Cream
This meal was a typical Cathay Pacific feast. Here it is in pictures:
The First Class Menu with Caviar
Chunky Clam Chowder
Savory Salad
Melt In Your Mouth Lamb Chops
Although there was not a lot of meat on the chops, they were surprisingly tender and in combination with everything else they had me feeling satisfyingly sated at meals end.
And now for a movie. While perusing Studio CX's April movie selections, I was surprised to see the addition of Clint Eastwood's classic police thriller
Dirty Harry
. I doubt this movie was shown on airplanes back in the early 1970s when it was first released. Recently I saw a History Channel documentary on
Dirty Harry
that helped explain why the movie was so well received in its time, a time of relatively high crime rates in America coupled with increasingly "enlightened" sentencing guidelines for violent offenders. The public was becoming fed up with the inability of the justice system to effectively address the rising crime rate. Harry Callahan and that big .44 Magnum of his settled things right away. I hadn't seen the movie in years, so it was fun to watch it again. All that was missing was the popcorn, so I settled for cheese, port and dessert instead. In terms of service, this is without a doubt the best place to watch a movie that I've ever been in!
Do you feel lucky?
Cheese and Port Service HKG-SFO
Chocolate bread and butter pudding with ice cream and raspberry sauce
That 10:55am arrival in San Francisco was now less than seven hours away, but the local time in Hong Kong was only about 7:30pm and I was far from tired. Maybe more whiskey… Then again, maybe not. Too much alcohol (except wine) tends to work against a good sleep for me, particularly inflight. Instead, I popped a melatonin and washed it down with a glass of red wine. Even then, I didn't fall asleep for another hour and ultimately only netted about four and a half hours for the entire flight.
I could have slept through breakfast like a couple of other passengers did but I placed a greater value on what could be my last meal for a while in Cathay Pacific's First Class. I know, I know… I could likely get an even better breakfast at any number of earthbound restaurants but there's the rub – I can go to one of those restaurants any old time. Very rarely do I get to enjoy the experience of being wined and dined like a plutocrat while watching the world go by 30,000' below me.
Cathay serves a pretty good breakfast, too. Check out this breakfast menu:
BRUNCH
Orange, apple or grapefruit juice

Forest berry smoothie

Fresh Seasonal Fruit

Natural or Low Fat Fruit Yogurt

Assorted Cereals
** ***** **
MAIN COURSES

Eggs
~
Freshly Scrambled, Fried or Boiled
Served with your choice of grilled breakfast steak, chicken sausage, fried potato, shimeji mushrooms, asparagus or mixed vegetables in tomato concasse
Minced Pork Congee
With baked barbecued pork pie
Dim Sum served with Chilli Sauce
Chicken and ham in bean curd skin, pork siu mai with crab roe, seafood dumpling, chive and pork dumpling
Bread Basket
Assorted Breakfast Bread and Fresh Toast
Served with Preserves, Honey and Butter

Tea and Coffee

Pralines
I'd had enough eggs of late, so I decided to blend Chinese and Western breakfast fare with a plate of dim sum accompanied by sausage, potatoes, steak and asparagus. Lots of good hot coffee washed it all down and by the time we landed in San Francisco at 10:47am, I felt pretty good.
Fruit Plate HKG-SFO
Dim Sum Bowl with Western Accompaniments
As usual, my only real complaint with Cathay Pacific is that the flights weren't longer. Although Cathay's First Class product is not quite the equal of airlines like Singapore and Emirates, it is still a very, very good service that certainly deserves to be ranked amongst the top ten in the world. I will always look forward to any and all future flights aboard Cathay. Hopefully, as with all of my past flights on CX, they will continue to be in First Class.
April 14, 2010
San Francisco - Seattle
Alaska Airlines Economy Class
Boeing 737-400 N793AS Seat 8C
Although I was booked aboard Alaska's 5:00pm departure to Seattle, our early arrival in San Francisco allowed me to standby for the 1:00pm flight. Unfortunately there were no First Class seats available, but on a 737-400 that offers one of the least spacious First Class cabins in the industry, I didn't feel too put out by my aisle seat back in steerage. In fact, I was so comfortable that I slept through most of the flight.
I could have stood by for another flight between Seattle and Fairbanks but by now jetlag was kickin' my butt pretty good, so I headed over to Priceline and booked a great deal for a night at the SeaTac Doubletree.
A nice room for $50.00
I wasn't doing myself any favors by going back to bed at 5:30pm but what the heck – I've got three days to recover. At about 11pm I emerged for a couple of beers and a burger at the grill downstairs. The Doubletree was hosting a tattoo convention and I hope you'll pardon the pun if I tell you the bar was filled with some colorful characters in every sense of the word.
April 15, 2010
Seattle – Anchorage - Fairbanks
Alaska Airlines First Class
Boeing 737-800 N517AS Seat 2F
Boeing 737-400 N706AS Seat 2A
I went back to bed at about three, woke up about eight and figured I've got this jet lag thing licked now. As things turned out, nothing could have been farther from the truth but that's another story for another time.
You know, it's hard to get worked up to write with any degree of passion or detail about flying on a US domestic airline – even if it is in First Class – after having just completed four flights aboard a First Class the caliber of Cathay Pacific's. I will try, however.
Let me begin by saying I saw a beautiful sight today over at SeaTac's North Satellite. For the first time ever, I saw a group of United Airlines airplanes all of which were decked out in United's attractive "new" colors. I think United now has one of the best looking liveries in the industry and to see four United aircraft all blue and white and shiny out there in the morning sun just warmed my heart. That livery was first introduced in 2004 but given the glacial pace at which United is repainting its fleet, it still seems "new" to me.
On a somewhat sadder note, I remember when that North satellite used to be filled with United airplanes. These days four of them at one time is about the most you'll ever see. Alaska is now the dominant carrier at the North Satellite, not to mention the airport as a whole. When I first flew Alaska back in 1976, they only needed six or seven gates over at the pre-expansion D Concourse.
My 10:00am flight to Anchorage was scheduled to depart from N-9, so once again I headed over to United's Red Carpet Club, conveniently located right downstairs from the N gates. I was impressed with United's breakfast offerings highlighted by three different types of cold cereal and a variety of yogurts. Oddly, I didn't see any breakfast breads but there were two or three different juices available. Wi-fi is also available – for free now – so I grabbed a cup of coffee and checked out last night's scores.
The boarding process was well under way by the time I arrived at N-9. It's weird – I'm often the first person to show up in First Class on international flights but on domestic flights I honestly could care less. I'd rather hang out in the lounge than sit around in an airline seat, especially when there's no compelling service perks available to me onboard.
Anyone who's flown Alaska much has probably come across the Flight Attendant who likes to model his pre-flight safety announcements after Scotty, the engineer in the early Star Trek series. This is all well and good but both myself and the guy sitting next to me had a hard time understanding his faux Scottish brogue and we speak English. I know, I know… nobody ever listens to those announcements but actually some people do. I've got nothing against a bit of humor, but clarity in those announcements should be paramount.
We used to have an FA at Frontier back in the 70s who would preface her safety announcements with "Please focus your attention on the flight attendant standing at the front of the cabin holding the rubber chicken." She was, too. Of course, upon hearing that everyone would look up whereupon she'd continue with "Now that I have your attention…"
Alaska Airlines First Class Sandwich SEA-ANC
Lunch was a good sized chicken, ham and cheese sandwich with the usual side salad. I thought it was pretty tasty despite still being in withdrawal from caviar as a first course. After the last of the plates and glasses were cleared, I fired up the laptop and got to work on this report.
Anchorage International From Above
Aside from taking notes, I haven't done much with it since Darwin. While I've got a two day break back home in Fairbanks to look forward to, this trip is far from over. I still have another 19000 miles of flying and 25,000 total miles still to go so I can't afford to get too far behind.
---
Last edited by Seat 2A; Nov 3, 14 at

8:05 pm
May 9, 10, 6:00 pm
Join Date: Apr 2001
Location: East Ester, Alaska
Programs: Alaska Airlines Million Miler, United Airlines Million Miler, Wyndham Rewards Diamond Level
Posts: 8,941
April 18, 2010
Fairbanks – Seattle – Newark
Alaska Airlines First Class
Boeing 737-900 N319AS
Boeing 737-800 N596AS
715a – 1124p
"
On the road again…
" Just can't seem to get that melody out of my mind lately…
Once again I'm faced with a 5:25am wake up call, which was not particularly pleasant since the effects of jetlag have yet to allow me a proper night's sleep. I put a pan of water on the stove for my shower, boiled up a cup of coffee, wolfed down a cup of yogurt, stepped into the shower and had barely dried off when the taxi arrived at 5:55am. I said six! But hey, better early than late and within five minutes I was ready to go.
Three months ago I took off out of Fairbanks on a 9:00am departure in complete darkness. Today the sun was just rising as I arrived at the gate lounge.
Early morning departure from Fairbanks
By the time we took to the skies, it was clear that Fairbanks would be in for a beautiful day. Temperatures were forecast to be in the 60s and here I am flying away to Newark, New Jersey. Just for the night though.
Not so long ago I read that Alaska had plans to upgrade their First Class catering on transcon flights. Although the 1533 mile Fairbanks to Seattle flight is normally flown in just three and a quarter hours, the breakfast that we were served this morning was bigger and better than anything I've seen offered on Alaska's transcons in a good long while.
Whereas only last month on this exact same flight I was presented a plate bearing a skinny slice of breakfast strudel accompanied by two little pieces of bacon and some fruit, today I was handed a plate bearing two large halves of French toast, a decent portion of scrambled eggs, two good sized sausage links and some fruit. As an added bonus the French Toast had been stuffed with yams and topped with walnuts. Hopefully we're not dealing with a one month aberration from the norm because this French Toast and Scrambled Eggs plate is by far the best breakfast I've been served on Alaska in a long time. Well done, Alaska!
French Toast and Scrambled Eggs Plate FAI-SEA
Any hopes I had towards adding another photo to my collection of beautiful inflight scenery evaporated in the thick cloud cover that started at about the Yukon border and didn't thin until we'd begun our descent into Seattle. Even then, the only memorable view I got came as we flew over Boeing Field and I saw two of the new 747-800s as well as a 787 painted in All Nippon's livery.
Anyone who's read my past trip reports knows that I not only log my flights, I keep track of a lot of interesting (to me at least) stats. Amongst them is how many of Alaska's fifty-two 737-800s I've flown. I mean, I've flown forty-two of them so far, so I might as well try and fly them all, right? As we pulled into gate C-15, I was surrounded by 737-800s that I hadn't yet flown. Four of them! Alas, none of them were going to New York in three hours.
The aircraft operating this afternoon's flight to Newark was N596AS, an aircraft I'd flown twice previously. Ah well, nobody said it was gonna be easy. It took me eleven years to fly each and every one of Alaska's 737-400s, so I reckon I've done pretty well after just five years of flying Alaska's -800s.
It's been a long time since I've flown First Class on an Alaska transcon lunch or dinner flight ~ at least a couple of years. After this morning's excellent breakfast, I was looking forward to seeing what we'd be served for dinner.
Service started with the distribution of menu cards followed shortly thereafter by cocktails delivered with a small ramekin of mixed nuts. Despite the late hour, I'd opted for a Bloody Mary – and then another. Meanwhile, our flight attendant had returned and was awaiting my dinner order. Here are the menu choices:
DINNER
Seattle to Newark
Appetizer Salad
Smoked Salmon Torte

Warm Rolls with butter
CHOICE OF ENTREES

Braised Beef Rib with Cherry Sauce
Garlic Redskin Mashed Potatoes
Baby Carrots and Brussels Sprouts
Chicken Wellington with Hollandaise Sauce
Grilled Asparagus
DESSERT

Fresh Baked Cookies
Chocolate Chip
White Chocolate Macadamia Nut

Coffee and Liqueurs
Cocktails, mixed nuts and a menu – a fine way to start a flight
I'm a sucker for meat wrapped in pastry. And if you're going to top it with Hollandaise Sauce, well, say no more! And yes please, I will have a refill on that Bloody Mary.
Back in the late Seventies, Frontier Airlines used to serve a fairly decent slab of Beef Wellington. Back then, airlines put more food on their coach meal trays than many airlines serve in First Class today. I'll bet that slab of Beef Wellington weighed out at 5-6oz. I had it a few times and it was always good. Once I had Pheasant en Croute aboard Aerolineas Argentinas that was not good. It was horribly overcooked and I remember having to chew hard and practically snap my head back to get it down. The thing is, it's hard enough to reheat meat properly in an airline oven, much less meat ensconced in a supposedly flaky crust. I've yet to ever enjoy that flaky crust inflight though Frontier did come close on occasion.
The Smoked Salmon Torte appetizer was quite good, and a bit of a surprise coming from Alaska of whom I'd have expected a less expensive salad greens based appetizer. Could this be evidence of Alaska's efforts to spruce up its transcon First Class catering? Perhaps someone who flies (or works) Alaska transcons more than I would care to comment.
Smoked Salmon Torte
The Chicken Wellington was impressive. No, the crust wasn't flaky but both the chicken and its vegetable based stuffing were moist and tender, their flavor accented nicely by the mildly tangy Hollandaise Sauce. I think Alaska's got a winner in this entrée.
Chicken Wellington with Hollandaise Sauce
Dessert consisted of two average sized cookies. To be honest, I thought as desserts go it was a bit of a letdown after such a nice meal. Don't get me wrong – the cookies tasted fine but for dessert in transcon First Class? Cookies are for like, dessert in your lunch bucket in fourth grade. No doubt the crowd that supports hamburgers in transcon First Class will cry foul over my sentiments, but I say cookies as dessert for the main meal in First Class cheapens the overall product, not just in cost but in essence. Ah, but what do I know? Most people just want the space and a couple of drinks and as for cookies for dessert? Sure, whatever…
With a good book to keep me entertained, the rest of this flight passed by fairly quickly. A tailwind pushed us along nicely and by the time we touched down at Newark, we were 25 minutes early. Overall, this was a very pleasant crossing of the continent and based upon the food served aboard this flight, I'll definitely be looking forward to what the chefs have cooked up for my next First Class flight with Alaska.
And now for the eccentric stat of the week: As of this flight I've logged over 200,000 miles on 737-800s. Yeah! Gimme five!
At Priceline I'd bid $50.00 on a 3.5 star property at EWR and ended up with a room at the Hilton Newark Penn Station. With taxes and fees it came out to $65.12 which, according to the driver who delivered me from the airport, was less than the employee rate. Interestingly, the reviews on this property at biddingfortravel.com were not good, but then the most recent one was over five years old. I thought my room was of decent size, well appointed and best of all, quiet.
In the morning I headed downstairs for a custom omelet along with a copy of the Newark Star Ledger. Good thing I checked the price on the coffee before automatically saying yes to it – they wanted $5.00. Okay, it wasn't as bad as Australia where they charge you by the little cup but even so, $5.00 for a cup of coffee – in Newark, New Jersey no less – is just wrong.
Although I'd wanted to go into New York City for a couple of hours before heading out to JFK, there are no longer any baggage storage facilities at Port Authority or any of the train stations. Well, dang! I ended up shelling out $30.00 for a shuttle direct from EWR instead.
---
Last edited by Seat 2A; Nov 3, 14 at

8:07 pm
May 9, 10, 6:02 pm
Join Date: Apr 2001
Location: East Ester, Alaska
Programs: Alaska Airlines Million Miler, United Airlines Million Miler, Wyndham Rewards Diamond Level
Posts: 8,941
April 19, 2010
New York – Santiago
LAN Airlines Business Class
Boeing 767-300 CC-CXE
800p – 650a
The shuttle arrived at JFK's Terminal 4 at 4:30pm, leaving me plenty of time to check-in and then explore each of the three lounges that Priority Pass allowed me access to. But first, a bit about this choice of flight and routing…
I picked this flight because I wanted the longest possible overnight flight to Santiago in order to maximize rest. Normally I like to route via Miami and catch a daytime two-stopper on LAN, but Alaska has gone back to its redeye schedule on the SEA-MIA run and I've had more than enough of those overnight eastbound transcons, even in First Class. The flights are too short and the seats don't recline nearly enough.
Last time I flew LAN to South America, I routed via LAX. Bad move. That 2:00pm departure to Lima is only a seven and a half hour flight, arriving in Lima at about 12:30am locally. Everyone has to disembark, go through security and then reload an hour and a half later for the three hour flight to Santiago. Once is enough of that for me.
Although I'm no fan of sleeping through any part of a quality First or Business Class flight, if I must then I want that flight to be as long as possible. This flight from New York to Santiago is scheduled for 10 hours and 50 minutes – more than enough time to have a nice dinner, read a bit, sleep at least 5-6 hours, enjoy a full breakfast and then arrive in Chile in reasonably decent shape.
LAN 533 Nonstop New York to Santiago
So, here I am – bag checked and boarding pass in hand for seat 3A on the 8:00pm nonstop to Santiago. Life is good. The flight doesn't depart for another three hours so let's go lounge hopping! LAN's lounge invite notwithstanding, I've got Priority Pass access to The Lounge, the Swiss Lounge and the Oasis Lounge which is the one LAN uses. All of these lounges are located landside on the Ticketing Level, so I decided to start with The Lounge and work my way down towards the Oasis which is located closest to LAN's gate on the A Concourse.
Tempting though it is to describe each lounge, it should be noted that this report has crossed the 40,000 word barrier and some of you may have started to nod off or are at some risk of getting in trouble with your employer, so - in the interests of brevity let me just say that each of the lounges is quite nice with the following differences:
1. The Lounge offers a menu from which you can order a variety of snacks and light meals
2. The Swiss Lounge has shower facilities and a nice little buffet
3. The Oasis Lounge is the largest, has the most comprehensive buffet and, I think, offers the best views.
I had a beer in each lounge (Sam Adams, Kingfisher and Heineken) as well as a small salmon and cream cheese bagel at The Lounge. As tempting as it was to check out the excellent buffets at the Swiss and Oasis Lounges, I wanted to have an appetite for whatever LAN was serving for dinner. All of the lounges had big windows looking out over the tarmac between Concourses A and B, but I give the nod to the Oasis because of the big TAM A330 parked just 50 feet away. Also in town and clearly visible were 777s from Emirates, Qatar, Air India, Egyptair and Delta along with A330s from Swiss and TAM. The tail of a lone KLM 747-400 could be seen on the far side of the B Concourse.
Dining facilities in The Lounge
The view from the Oasis Lounge
At 7:00pm I headed down to the security checkpoint. I wanted to beat any potential crowds or have enough time to deal with one if that were the case. It wasn't. A Concourse security was practically deserted! Well alrighty then! This gives me time to go check out the airplane!
Parked at Gate 5 and only partially visible was CC-CXE, a 767-300ER that had yet to celebrate its second birthday. Despite the diminishing daylight, LAN's attractive blue, silver and white livery practically sparkled off the shiny fuselage. I took a couple of photos and then went down to inspect an Emirates 777 parked down at the end of the concourse.
Back in the 70s and even into the early 80s I used to be able to walk down the concourse and get on board a variety of jetliners, just to look around. Once back in 1971 when I had about three hours to burn at JFK before my United DC-8 was scheduled to leave for Denver, I headed over to the American Airlines Terminal and asked if I could have a look onboard their new 747. I'd never been on one before and was just a kid full of enthusiasm. No problem, said the agent. He walked me down the jetway, told a couple of workers onboard the airplane what I was doing, and then set me free to go wherever I wanted without adult supervision. It was awesome! It was my first time on a 747 which back in those days came with all the whistles and bells of the era such as lounges in both Coach and First Class, 9 across rather than 10 across seating in back and a really large First Class cabin, i.e. about 50 seats. It was so cool to climb the spiral staircase up to the First Class lounge and imagine I'd be hanging out up there on American's noon departure to Los Angeles. I quickly used up all twelve pictures on my roll of 110 instamatic film and, after thanking the gate agent profusely, even managed to score a First Class menu. What a great day that was! I later years I talked my way onboard everything from a TWA 747SP to US Air's new 737-300 (They were the launch customer and PIT-DEN was one of the inaugural routes) and though I was rarely allowed free run of the aircraft like on that American 747, I thought it was great just to be able to have a look inside, especially at the First Class cabin.
Back to the present, there's no way me or anyone else who doesn't have gobs of security clearance is going anywhere near that Emirates 777. Heck, you can't even get down the concourse anymore without a boarding pass. In my younger years, it was hugely entertaining to bicycle 13 miles out to Denver's Stapleton International, chain my bike to any old post and then head down the concourses to watch Ozark DC-9s depart to exotic places like Waterloo, Iowa or colorful Braniff 720s push back and then fire up all four of those smoky Pratt & Whitney JT3C-12s before slowly taxiing away to brighten up the skies above on their way to Dallas. Once a day Western operated a big 707-320 out to San Francisco and on to Hawaii. What a beautiful airplane, especially in the classic Indian head livery. I could see myself on everyone of those planes even if I never did manage a flight on one. Over the years, I've done pretty well at turning many of my airline related dreams into reality but someday walking aboard that Emirates 777 with a First Class boarding pass in hand will be a little more difficult. But not impossible!
It's been three years since I last flew LAN and back then I only managed one flight aboard a 767 outfitted with the new Premium Business Class cabin. I understand all of the 767s and A340s now have the new interior, so I was anxious to head onboard and reacquaint myself with LAN's new interior. When boarding commenced at about 7:20pm, I was doubly pleased to see that a priority boarding lane had also been provided for Business Class passengers.
LAN's Premium Business Class cabin is one of the most attractive I have ever seen. Handsome cherry wood bulkheads accent the ivory walls, grayish blue seats and dark blue carpet. The overall ambience is at once light and spacious but smart and stylish.
LAN's Premium Business Class cabin on the 767-300
LAN's Premium Business Class cabin on the 767-300 - Looking Forward
Highlights of LAN's Premium Business Class include:
• Sleeper seats that offer 180-degree full-flat recline
• A back shell that surrounds each seat, providing improved privacy and quietness
• A seat pitch of 74 inches
• Dividing privacy panels between seats
• Four pre-programmed seating positions
• 15.4 inch high resolution video monitors mounted in each seatback
• AVOD IFE offering 30 movies, 20 short programs, 14 video games, 10 audio channels and 100 music CDs
• Noise canceling headsets
• Arm rests that lower when changing the seat position to a bed, resulting in a five-inch greater width for sleeping
Cabin improvements notwithstanding, my experience with LAN's international Business Class service has been mixed. That is to say I've enjoyed top flight service as advertised yet I've also had a fair number of flights where the service was sloppy and careless. How would tonight's flight rate?
Upon boarding, I was greeted in Spanish yet responded in English. Although I speak passable Spanish, I was curious as to the English proficiency of the crew. On past flights, I have always responded in Spanish and so have been addressed in Spanish throughout the flight yet I've also seen LAN's Flight Attendants have a tough time with passengers boarding out of cities like LA or Miami who either did not speak Spanish or spoke it poorly. Some of these passengers were not necessarily North American but were also northern European or Asian. For better or worse, English is the world's official international business language and many people from diverse parts of the globe will resort to it when neither understands say, Malaysian and Finnish. A OneWorld airline of LAN's status and reputation serving international business centers such as New York or Frankfurt should have at least two or three crew aboard who are proficient in the language of that destination. This is especially true for Business Class. I am happy to report that the Flight Attendant working my side of the cabin this evening spoke excellent English.
Shortly after settling into seat 3A, my Flight Attendant arrived with a tray bearing a choice of Champagne, juice or water. She also informed me that Pisco Sours were available. Well I can have Champagne any old time but it's not every day one gets a chance to have a Pisco Sour, so that's what I asked for. She returned moments later with my drink accompanied by a small bowl of almonds and raisins.
Alas, my Pisco Sour was served room temperature in a glass without ice. Now it could be that this is a cultural thing, because I know that there are many places in the world where ice is used sparingly in drinks as opposed to the US where it is used almost religiously. I used to drink Pisco Sours on Braniff back in the 70s, and theirs were always served with ice. Cool and refreshing. Tonight's drink was tasty and tangy but hardly cool and refreshing. Next time I'll try to remember to ask for ice.
LAN's Pisco Sour – served with almonds and raisins
Menus and wine lists had already been placed in each seatback, so now seemed like an excellent time to consider the epicurean delights that awaited. LAN has, in terms of presentation, what must certainly be the most impressive Wine List aloft. It is constructed of hard cardboard covered in real cork. The wine listings inside include large pictures of each bottle accompanied by excellent descriptions of each wine that would impress most any oenophile. Let's check out that list right now!
LAN's Wine List – Page 1-2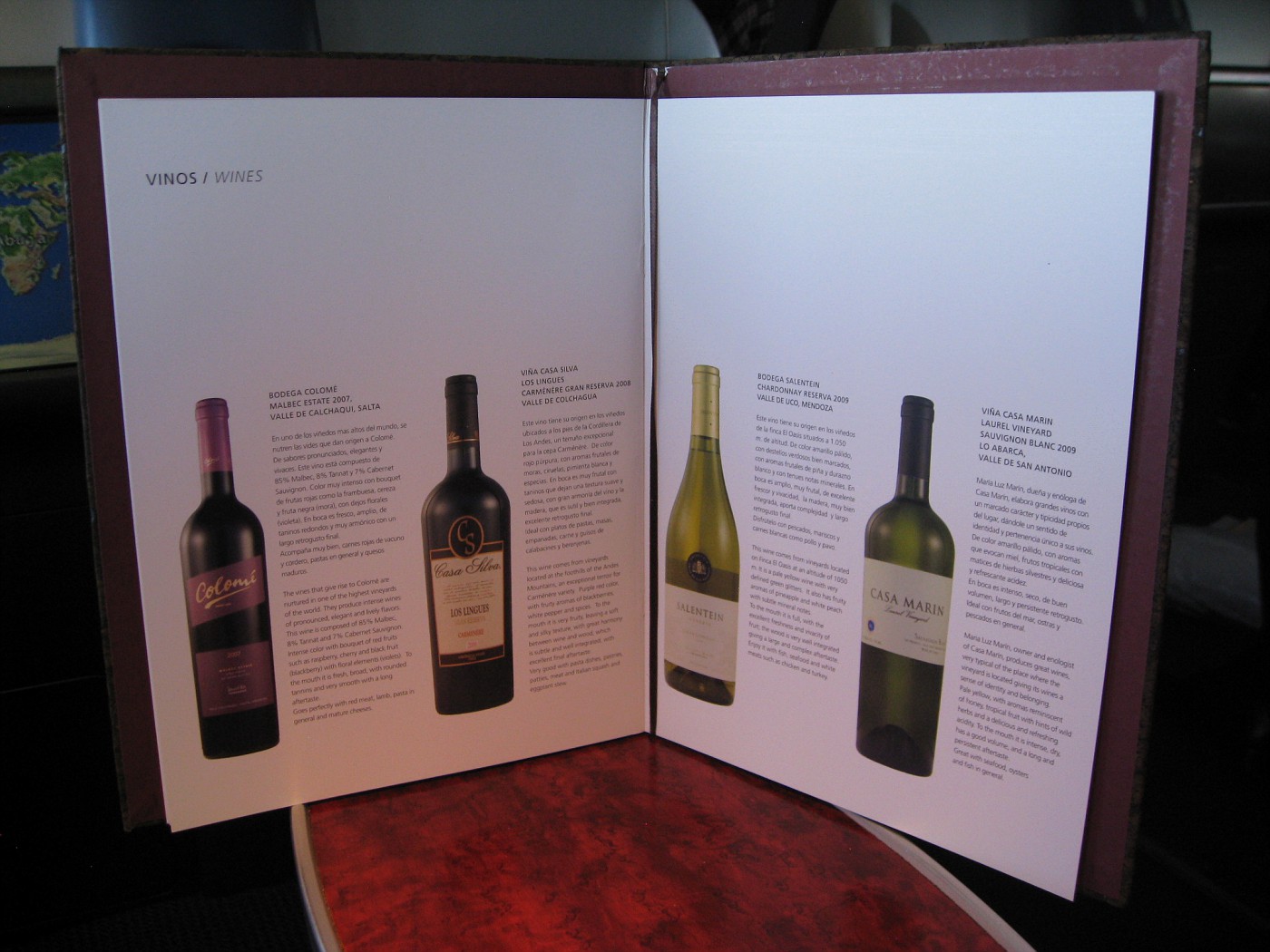 LAN's Wine List – Page 3-4
WINE LIST

Champagne
Maison Louis Roederer Champagne Brut Premier
White Wines
Bodega Salentein Chardonnay reserve 2009, Valle de Uco, Mendoza
Vina Casa Marin Laurel Vineyard Sauvignon Blanc 2009, Lo Abarca, Valle de San Antonio
Red Wines
Vina Montes Alpha M 2006, Valle de Apalta, Santa Cruz, Colchagua
Bodega Colome Malbec Estate 2007, Valle del Calchaqui, Salta
Vina Casa Silva Los Lingues Carmenere Gran Reserva 2008, Valle del Colchagua
Port
Croft Oporto Late Bottled Vintage 2003, Vila Nova de Gaia, Portugal
The dinner menu was somewhat less attractively packaged, embossed with a gray and white close up photograph of LAN's salt and pepper shakers. The meal described within however looked pretty nice:
DINNER
New York to Santiago
Appetizer
Margarita shrimp with jicama and mango salad
or ~
Asparagus soup
Salad
Salad greens with mixed vegetables
* * * * * * * * * *
MAIN COURSE

Stewed Short Ribs
Served with potato spinach mash and baby carrots
Grilled Salmon
With lemon risotto and sautéed snow peas with mushrooms
B]Marinated Chicken Salad[/b]
Presented with cherry tomatoes, sliced almonds and assorted lettuce
* * * * * * * * * *
DESSERT
Special Cheese Selection

Haagen Dazs Ice Cream
Tiramisu
Fresh Seasonal Fruit
A separate card listed a variety of breakfast options. It was designed to be filled out by the passenger and then presented to the Flight Attendant before turning in for the night. Unfortunately I neglected to transcribe it before handing it in, for which I now beg your forgiveness.
Flight time to Santiago was projected to be 10 hours and 10 minutes - just perfect for a nice dinner, maybe a movie and five or six hours of sleep. The flight crew must have sensed my anticipation because once we'd been disconnected from the tractor that pushed us all the way back out of the terminal area, they taxied the 767 briskly out to the airport perimeter, paused briefly as if only to insure that we were lined up on the correct runway, and then goosed the twin Pratt & Whitneys to their maximum power as we rocketed down the runway and verily leapt into the heavens.
Service began 42 minutes into the flight. Hot towels were presented and collected, dinner orders were taken, tables were set and appetizer trays were delivered. Meanwhile, I'm thinking that I've logged sixteen flights in LAN's Business Class so far and I don't believe I've ever been offered a drink before a meal.
Ever
. So is this a cultural thing or a LAN thing? I've ordered liters of beer with meals in both Chile and Argentina and had the beer delivered before my meal. I'm pretty sure a group of us once had a bottle of wine delivered before our meal in Argentina as well. Either way, I feel that LAN should offer its Premium Business Class passengers drinks or cocktails before dinner and why they don't is a mystery to me.
Aside from that issue, I thought that the meal was pretty good both in service as well as quality. The menu lists either shrimp or soup as an appetizer. You may not have both, so I requested the shrimp. It was delicious, although I wish we would have been provided with more than just one shrimp. I've had larger amuse bouché on some airlines.
LAN's Margarita shrimp with jicama and mango salad
The stewed short ribs were fall off the bone tender, made even better by the absence of a bone. The Balsamic oil and vinegar made for a delicious salad dressing and the assorted cheeses went down nicely with a glass of surprisingly tangy Port. Service was cordial and efficient throughout the meal. Empty plates were cleared promptly with the next course being delivered in short order.
Stewed Short Ribs with tray showing salad and cheese dishes
Tiramisu and Port
A serving of tiramisu brought this meal to a delicious close, after which I watched most of one of my all time favorite movies,
Scent Of A Woman
. Actually, I watched the entire movie but used the fast forward function to speed to my favorite scenes. What a great movie! Although the movie selection included a good selection of recent hits such as
Avatar
, I'd rather watch movies like that on a larger screen.
LAN's Premium Business Class seats advertise four pre-programmed seating positions, but the reality is even better than that. You can make separate adjustments to the back, the leg rest and the seat bottom, so be it reclining to relax or going flat to sleep, you're bound to find a position that suits you. The seat cushions are a bit hard, but that's nothing that a few more glasses of wine won't overcome. As planned, I managed about five and a half hours of sleep before waking for breakfast.
LAN's breakfast card offers an extensive variety of breakfast foods – everything from yogurt and cereals to eggs with a good selection of accompaniments. I started with a fruit plate followed by scrambled eggs, bacon and potatoes. A flaky croissant and a large cup of coffee accompanied the meal. Although the coffee was poured from a coffee press, I noted the distinct residue of powdered coffee in the bottom of my cup.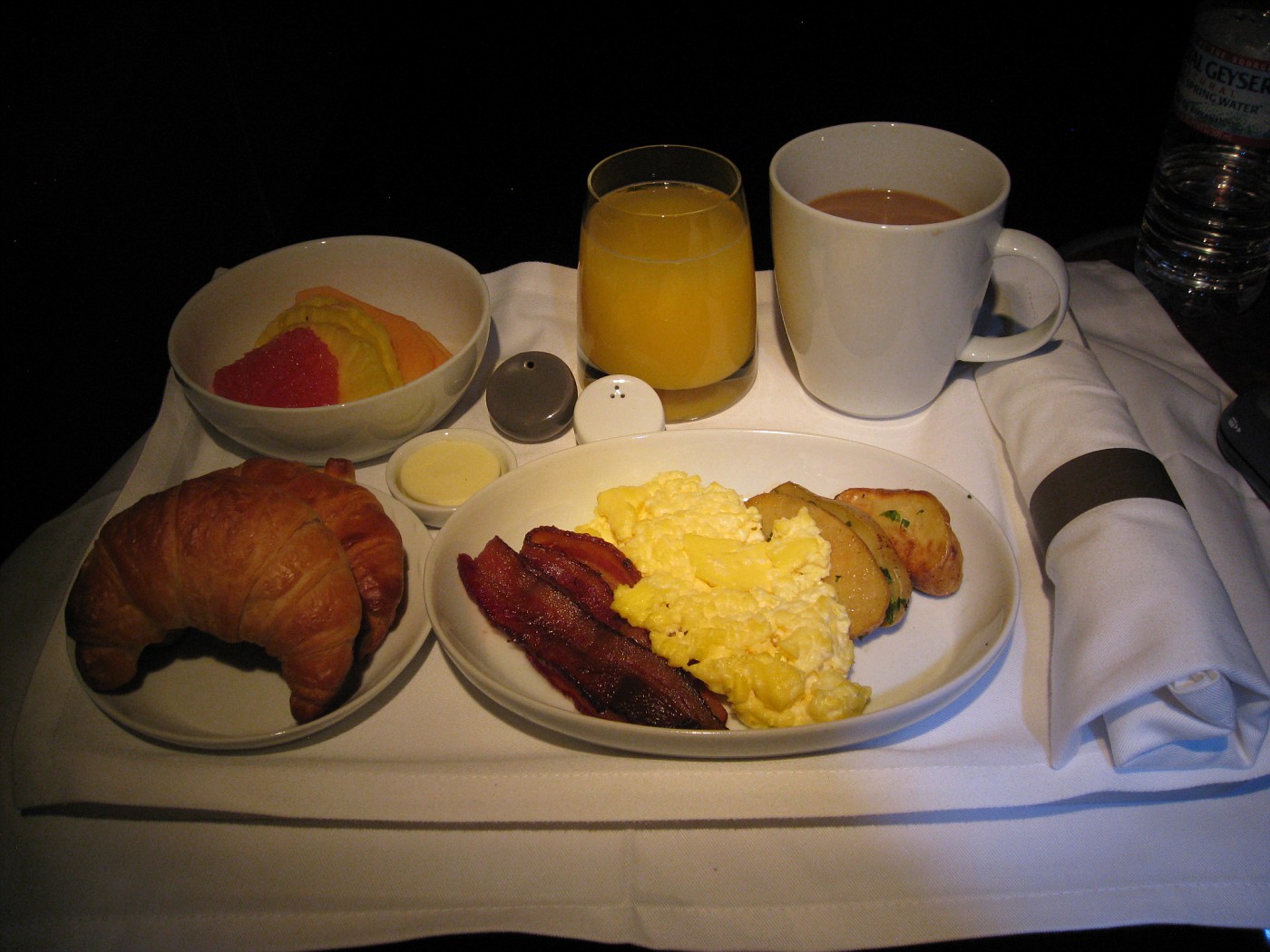 A great start to the day
The flight projection of 10 hours and 10 minutes was right on the mark, which meant we arrived in Santiago 20 minutes early. I was a transit passenger with a seven hour layover, so I made my way to LAN's Neruda Lounge where a hot shower and a chaise lounge awaited.
April 20, 2010
Santiago – Buenos Aires
LAN Airlines Business Class
Boeing 767-300 CC-CXL Seat 2A
210p – 510p
I've flown this plane before! Well sure, anyone who's read my trip reports knows this has happened hundreds of times before for me. This time is different inasmuch as this aircraft bore a different registration when I last flew it five years ago. Sneaky LAN!
By the way, those of you curious about your aircraft's history, you can enter the aircraft registration at airfleets.net and get all the details.
Since all of LAN's 767 fleet have now been outfitted with the new Premium Business Class cabins, this one and a half hour flight across the Andes to Buenos Aires offers the same comfort level as a twelve hour flight to Madrid.
The meal however is reflective of the abbreviated flight time. I was presented a tray bearing a delectable collection of sliced salmon and seasoned chicken slices accompanied by a flavorful avocado sauce, a tasty salad and side plate offering of three types of cheese. Bread and crackers were offered from the basket and I was allowed to taste and approve the deliciously crisp white wine before a full glass was poured.
Luncheon on the SCL-EZE flight
This can be a very scenic flight because you begin to cross the Andes Mountains soon after takeoff from Santiago. However, since the Andes are much longer than they are wide, the crossing takes only about fifteen minutes. Unfortunately, clouds obscured much of the range today, so I perused the inflight magazine and enjoyed lunch for most of this 1 hour and 22 minute flight.
We landed in Buenos Aires a good thirty minutes early and my pack was awaiting me once I'd cleared immigration. Unfortunately, I had to pay a $131.00 reciprocal fee for the right to enter Argentina over the next ten years or until my passport expires, whichever comes first. The fee is referred to as reciprocal because the American government charges a similar fee to residents of Chile, Argentina and Brazil amongst others. Why this fee is charged, much less only to travelers from select countries, is a mystery to me. Canadians and Australians were also similarly affected.
Overall, these flights on LAN offered decent food and service along with reasonably comfortable seating. There are better Business Classes out there, but LAN's Premium Business Class cabin is probably the best of its type flying to South America.
---
Last edited by Seat 2A; Nov 3, 14 at

8:12 pm
May 9, 10, 6:05 pm
Join Date: Apr 2001
Location: East Ester, Alaska
Programs: Alaska Airlines Million Miler, United Airlines Million Miler, Wyndham Rewards Diamond Level
Posts: 8,941
April 20, 2010
Buenos Aires – Jujuy
Flecha Bus Suite Premium
800p – 245p
For most people, the prospect of an 18 hour bus journey would not be greeted with enthusiasm. From a North American and perhaps European perspective, busses are fine for city transit and airport shuttles but to consider one for a long distance journey might suggest a measure of desperation on behalf of the traveler. A last resort. Indeed, many of us would gladly pay two or three times more money than the bus fare for an airplane ticket just to avoid the particular tribulations associated with long distance bus travel.
Any of you that share the above sentiments clearly have yet to ride aboard any of Argentina's finest busses. We're talking modern double decker machines built in Brazil and powered by efficient and reliable Mercedes or Volvo engines. Measuring over 45' long and rising over 14' high, these busses represent the pinnacle of comfort and technology available to over the road travelers.
In Argentina, three different levels of service are commonly available on most major inter-city markets. All long distance busses offer air-conditioning, water and toilet facilities.
Semi-Cama:
Four across, 2-2 seating but very nice seats with deep padding, leg rests and much greater recline that you'd experience on a typical Greyhound type service. Seat pitch is about 42". Movies and music channels are standard, and some companies provide headphones.
Semi-Cama Seating. Note the recline and legrests
Coche Cama:
Three across, 1-2 seating. The seats are wide, deep and plushly upholstered, about the same as a 767 First Class domestic seat but with more padding. Seat pitch is about 50". The recline is about the same as the original First Class sleeper seats of the 1970s and 80s, or about 150°. Blankets and good quality pillows are provided. Movies and music channels are standard, as are headphones. Hot or cold meals and snack services are always offered on longer trips, along with wines and cocktails. A bus Attendant is on board for all services.
Coche Cama on Cruz Del Sur
Cama Suite:
Three across, 1-2 seating, but these seats recline to 180° or very close to it. Food and beverage service is at least as good as that offered in Coche Cama, but often better. Curtains divide each seat at night. Also, some companies offer airline style VIP lounge access at large terminals like Retiro in Buenos Aires.
Cama Suite seat fully reclined. A leg rest comes up parallel to the seat bottom
Without a doubt, bus travel has been elevated to an art form down here in southern South America. Even though I could very easily afford plane travel given the current exchange rate, there's just something about relaxing in a big comfortable seat while watching beautiful countryside pass by just outside my window. If busses like these operated in the United States, I'd be riding them a lot – especially if they had a Frequent Rider Program.
From Ezeiza International Airport I caught a bus into the city, alighting at the massive Retiro Bus Terminal. I wouldn't be at all surprised if the Retiro Terminal is the world's largest. Housed in a gigantic building that is over a quarter mile long, the station has slots or "platformas" for seventy-five busses. On average, about 40000 travelers per day depart Retiro on 1400 to 2000 busses per day.
There are three floors – the top one is for ticket sales only, the middle one for shops, restaurants and departures and the lower floor for freight and baggage storage. The entire top floor is dedicated to ticket sales only. Think about that for a moment. Tickets are sold on both sides of the building so that's almost a half-mile of ticket offices. I would guess there are close to one hundred long distance bus companies operating out of Retiro.
My principal destination in Argentina is the city of Salta, located way up in the northwest corner of the country. Remember, the impetus of this trip is to ride a train on each continent and the train I want to ride in South America departs from Salta. That train would be the "Tren a las Nubes" or "Train to the clouds". More on that in a bit though. Tonight I am taking a bus to Jujuy (Pronounced Who-Who-ee), a city of about 300,000 located about 75 miles north of Salta. I've never been to Jujuy before and since my train doesn't depart from Salta until the 24th, I'll have a free day to check out Jujuy before heading down to Salta to catch the train.
There is an excellent website called
omnilineas
that provides information on bus departures from Retiro and can also assist you with reservations. They even have a toll free number from the US. They also have links to the bus company web sites. I gave them a call to inquire about a Cama Suite aboard the 8:00pm departure to Jujuy with Flecha Bus. Unfortunately
omnilineas
does not have an agreement with Flecha Bus that allows them to reserve seats and collect payment, they were able to tell me that there was plenty of space and that a reservation would likely not be necessary.
Sure enough, when I presented myself at the Flecha Bus ticket counter, I was informed that there were plenty of suites available and that I could pretty much pick whichever one I'd like. 3A please. That's the window seat upstairs in the very first row of the bus on the two seat side, directly above the driver. This seat is literally surrounded by windows – two big forward facing windows four feet in front of me with a large side window to my left. I was informed that my bus would be departing from somewhere between platforms 61 and 70. The exact platform would be announced about 30 minutes before departure.
One new addition to Retiro is a
VIP Lounge
for those passengers travelling in First or Suite Class. It offers comfortable seating, a couple of televisions and free wi-fi. Four computer terminals are also available along the back wall. A waiter will take and deliver drink orders from a bar out in the terminal. Though not quite as nice as a typical airline lounge, the Sala VIP sure beats sitting on the hard plastic chairs out in the crowded terminal.
Once the television monitor indicated that my bus to Jujuy would be departing from platform 62, I gathered my gear and headed right out there. Although my bus had not yet pulled in to take on passengers, I found it interesting to check out all the different busses and color schemes. Even someone who didn't like bus travel couldn't help but be amazed by all the brightly colored busses and their amazingly plush interiors. There are so many busses departing from Retiro each day that the amount of time they can spend in the platform slot is very limited – perhaps only 15-20 minutes. As soon as one leaves, another arrives to fill the slot within about five minutes. The entire operation looks very efficient with baggage loaders and ticket collectors swinging into action as soon as each bus pulls up.
When the bus to Jujuy pulled up at 7:50pm, I hauled my backpack to the rear of the bus, checked it through to Jujuy, received a claim check, tipped the baggage handler a couple of pesos and then proceeded to the doorway where tickets were being collected. My name was crossed off a list and I was directed upstairs to my seat.
Entering one of these big two-story busses is much more impressive than climbing aboard your average Greyhound or airporter motor coach. Stepping aboard the bus into a small foyer, you have a stairway to your immediate right, a small galley and large lavatory directly in front of you and to your left the lower passenger compartment which seats six in two rows of 1-2 seating. Just left of the stairway is a passageway to the driver's compartment. The upper level seats 24 passengers in six rows of 1-2 seating. Anyone who's ever ridden a large motor coach will know that only six rows means a lot of room between seats – enough room for each seat to recline 180° into a 6'2" bed. Television screens placed throughout the cabin ensure that no one is more than two rows from a screen.
The upstairs cabin of Flecha Bus' Suite Premium bus
Climbing the stairway to the upper level, I turned right and located my seat at the very front of the bus. A blanket and pillow had already been placed at each seat and there was ample storage on a shelf above my seat. With the load so light this evening, I just placed my daypack on the seat beside me. Then I sat down and reveled in the foam rubber ecstasy of my lounge chair…
The most comfortable seat on the road
Ahh… These large, well padded seats are much more comfortable to sit in than the Business Class seats on LAN's 767s. Though LAN's seats have a lot of electronic whistles and bells that will allow them to be adjusted in any number of ways, they are not particularly well padded. By comparison, these bus seats are downright plush, like sitting in a Lazy Boy chair. The seatback reclines 180° and a full length bed is created by raising a wide leg rest which can be adjusted to extend straight out from the seat itself. The leg rest can also be angled for daytime use. Bus travel simply doesn't get any better than this. But wait ~ There's more!
Soon after departing Retiro, a bus attendant arrived at my seat to enquire as to my drink preference. Water, sodas or red or white wine were available. I requested a glass of vino tinto (red wine) and was informed that dinner would be served shortly.
Dinner on a bus? No way!
Way, dudes ~ and not just a simple tray meal like you'd get on an airline either. Service began with the presentation of an appetizer plate containing slices of ham and cheese, a serving of potato and corn salad, some coleslaw and a slice of pastry bread. Next came a smaller plate bearing bread sticks, three small muffins and a flan dessert. Finally, the main course was presented: Turkey and stuffing with mashed potatoes and gravy. All of it was delicious, including the wine which was surprisingly full bodied, like a good Cab/Merlot. After dinner, we were offered coffee, Champagne or whisky. I requested a glass of whisky. Although it tasted more like Scotch, it was served at my request with a nice glassful of ice.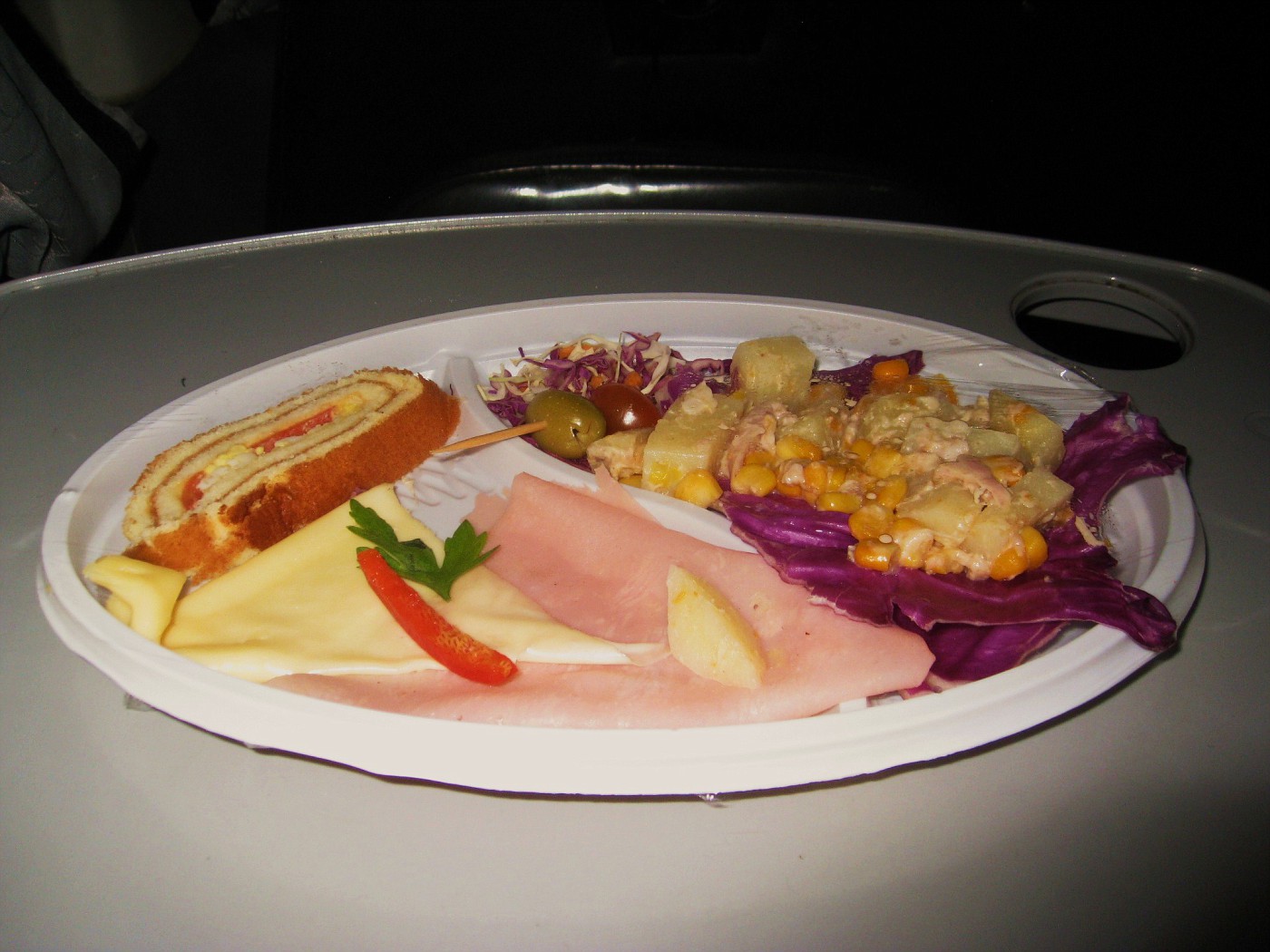 The appetizer plate
The entire meal
So here I am, relaxing after an agreeable meal in a big plush easy chair while sipping Argentinean whisky. You'd hardly believe I was in a bus, much less an airplane sitting in anything less than premium class on an international flight. The engine is so far back in the rear of the bus that all I hear up here is a quiet hum. First Class bus travel as experienced in Argentina is a wonderful mode of transport!
Like most busses regardless of manufacture, the overhead personal reading lights were very dim. Experience has taught me to travel with a Mini-mag light equipped with a headband mount. Although a movie was offered, I preferred my book and, after an hour or so of reading, I reclined my seat fully and slept comfortably for the next seven hours.
Breakfast was served at 8:30am. For a country whose restaurants serve some of the best food I've ever eaten on the planet, breakfast continues to be a notable disappointment. In all but the finest hotels and residencias, breakfast is often little more than juice, coffee and a plate of small sweet glazed croissants known as medialunas. If you're really lucky, occasionally cold cereal and/or yogurt might make an appearance. On the bus, juice and pre-sweetened coffee were served first followed by a tray bearing a collection of sugary breads and snacks. While I enjoy a breakfast pastry as much or more than the next guy, I generally like something a little more substantial to start the day.
Breakfast on the bus
Comfortable seat, decent meals and whisky notwithstanding, the fact remains that busses are a lot slower than airplanes and for many people who have the means to fly, the idea of spending eighteen hours sitting in a bus is simply unacceptable. So what's my excuse? Man, I'm just into the travel experience. Be it First Class on Cathay Pacific or Suite Premium on an Argentinean bus, I love sitting in a comfortable seat and watching the world go by while enjoying the occasional complimentary meal or cocktail. It's that simple.
Whereas many travelers can't wait to get to their destination because they want to see or experience some human related thing like an old building or a restaurant or some cultural event, I love just looking at this planet and checking out its physical features more so than its human ones. A lot of my best backpacking trips were spurred by having walked past some trail and wondering where it went because it sure looked pretty up there. And so I returned to check it out. As for the bus, I'm just not in that much of a hurry and I really do like watching the scenery roll by along the way. The comfy seat is a big part of it though because I would have no interest in riding around for nineteen hours aboard a Greyhound style bus, even if they plied me with good whisky along the way.
Upon arrival in Jujuy, I headed over to the taxi stand where I caught a ride over to the
Hotel Fenicia
, my home for the next two nights.
JUJUY
Unfortunately, Mother Nature decreed that my time in Jujuy should be spent in a torrential downpour. It was raining lightly when I arrived, harder throughout the night and into the next day, then lightly again the day I departed for Salta.
Although I'd brought a light jacket, it was not a rain jacket. Even so, I decided to venture into Belgrano Square, the city plaza, if only to enjoy a well prepared Argentinean steak dinner. I took a taxi into town, got pretty wet finding an appealing restaurant, enjoyed an excellent steak and potatoes dinner, then taxied back to the hotel. Sadly, that was the extent of my wanderings away from the hotel during my stay in Jujuy. It was raining that hard and steadily.
The view from my room in Jujuy
Most tourist guidebooks give Salta much better reviews than Jujuy, and indeed Salta is very deserving. Still, I liked what I saw of Jujuy, even if viewed though a lot of rain and mist. This is a place for travelers more so than tourists and so I look forward to my return at the earliest possibility.
On the 23rd, I caught the semi-cama service down to Salta. Because I was required to purchase my tickets on the Tren a las Nubes at least one day in advance of my travel date, I immediately caught a taxi from the bus terminal across town to the train station where my VISA card was quickly accepted for the $120.00 USD cost of the train journey. Then it was back to the bus terminal where I purchased all of the tickets necessary to get me back to Buenos Aires via Tucuman and Mendoza. More on that a bit later in the report though.
I'd booked a poolside room at the Petit Hotel, my favorite little hotel in Salta. Although room rates have doubled since I first stayed here in 2005, they are still quite reasonable at only $38.00 USD per night. The hotel is only a short walk from downtown with many excellent restaurants along the way. Because I had a 5:30am wakeup call the next morning, I had an early dinner. In Argentina, that means 8:00pm. Tonight I switched from steak to chicken and was not disappointed. A liter bottle of Salta Beer made an excellent accompaniment and by 11:00pm I was in bed and asleep an hour earlier than usual.
Looking out my door at the courtyard and pool at the Hotel Petit
---
Last edited by Seat 2A; Nov 4, 14 at

8:21 am
May 9, 10, 6:08 pm
Join Date: Apr 2001
Location: East Ester, Alaska
Programs: Alaska Airlines Million Miler, United Airlines Million Miler, Wyndham Rewards Diamond Level
Posts: 8,941
April 24, 2010
Salta – Viaducto La Polvorilla r/t
Tren A Las Nubes
7:05am – 11:00pm
"
Tren A Las Nubes
" translates to "Train To The Clouds". It is the third highest railway in the world, climbing 10,000 feet from Salta (elevation: 3,841') to the Polvorilla Viaduct at 13,845'. This certainly sounds impressive, but given the rainy weather of late it would seem the train won't have to climb nearly that far to reach the clouds that have settled upon northern Argentina during the past week.
I've been aware of this train for many years, but until recently my visits to Argentina haven't coincided with the train's limited operation. In 2005 service stopped altogether due to unreliability of the equipment. A new company called Ecotren took over operation of the train in 2006. A 15 million dollar investment was made towards upgrading the tracks and equipment, including a complete refurbishment of the railroad cars. Service resumed in August of 2008 and from all accounts this train now appears to be on the right track.
The train currently operates a roundtrip 16 hour schedule from Salta to La Polvorilla on Wednesdays and Saturdays from March until November. The cost is $120.00 USD for foreigners, while residents of Salta can ride the train for a mere $60.00.
I booked my reservations over the train's
Website
the day before leaving Alaska for Argentina. I received a reservation number and was instructed to call a number in Argentina for ticketing information within five days. I called two days later from New York and was informed that I would need to purchase my tickets at the Salta train station no later than one day before travel.
Having accomplished that upon my arrival in Salta the day before, I now stepped out of the taxi at 6:20am and joined the large crowd of passengers queuing up to have tickets and passports checked. Lines were arranged by car assignments printed on our tickets. Perhaps due to the early hour this didn't register for me and so I naturally chose the shortest line, which turned out to be for the E car. Fortunately for me, the other cars were quite full whereas the E car was only about 30% full. I was reassigned a seat in the E car and off I went to purchase a bottle of water.
Salta's General Belgrano Station at 6:30am
Colorful train cars of Tren A Las Nubes
Boarding for the 7:05am departure began about 6:45. Judging from language and/or accents around me, my fellow passengers sounded as if they were comprised of every nationality except Argentina. There were a lot of Germans in addition to a large tour group of elderly English travelers. In my car the ladies across from me were from Brazil while the couple behind me were from Canada. Australia and Japan were represented and of course there were a few Americans sprinkled about as well. Over the course of the trip I did meet some Argentines but none of them were from Salta.
Although seats were assigned by number, the seating arrangement in each car was 2-2 with seat pairs facing each other throughout the car. This was great for groups of four and it worked out quite well for me as well since I had a quartet of seats to myself allowing plenty of room to spread out and no competition for the windows.
Speaking of windows, as we pulled out of the station and rolled through the Salta suburbs, the car attendants instructed us to lower the metal window shades throughout the car because children alongside the tracks liked to throw rocks at the windows. Evidently dark windows were less appealing.
An announcement was made providing information about the train and the journey ahead. Please drop what you're reading and listen up: The total distance to be traveled today is 434km or 270 miles. Travel time will be about 16 hours with a projected return to Salta this evening at 11:00pm. Over the course of the journey we will cross 29 bridges, roll through 21 tunnels and over13 viaducts. As if that weren't enough, it will also ascend 2 spirals and 2 zigzags. More on zigzags in a bit.
There will be short 20 minute stops at the Polvorilla Viaduct and San Antonio de los Cobres, the highest town in Argentina at 3774 meters or 12,076 feet. The highest elevation reached is 13,845 feet at the Polvorilla Viaduct.
Because of the extreme elevation the train travels through, the journey can be quite literally breathtaking and for that reason a large self-service oxygen tank is available on each rail car. In addition, the train includes a fully staffed medical car should anyone suffer a more serious degree of altitude sickness. As if that weren't enough precautions, an ambulance would shadow the train on the road that parallels the tracks most of the way up to the Polvorilla viaduct. We were advised that we might minimize the effects of the thin air by drinking plenty of water throughout the trip and keeping movements about the train to a minimum.
To address potential mechanical failures, two service trucks would also accompany the train up to the viaduct and back. In addition, a spare locomotive was available at San Antonio de los Cobres. I was impressed. The train's new owners would seem to have effectively addressed most any potential mishap, be it medical or mechanical.
A dining car was located at the front of the train. It would be open for lunch and dinner. In between, a small snack bar located one car up would offer packaged snacks and non-alcoholic beverages. In addition, the train staff would provide us with a complimentary breakfast box as well as an afternoon snack.
The breakfast box consisted of – you guessed it - two medialunas and a sweet roll. Since I'd already started the day with some medialunas at my hotel, I settled for a cup of instant coffee.
We came to our first zigzag about two hours into the trip. Zigzags are a most unique way to ascend a mountain via train. Whereas most trains climb via a continual uphill grade, the zigzags allow the train to climb by driving back and forth parallel to the slope of the mountain. Here's a picture describing the operation:
Using the Zigzag approach to climbing mountains by rail
As an added bonus, we broke through the clouds shortly after the first zigzag. The majority of our trip was made under bright sunshine prompting more than a couple of people to comment that this train might better be named Train To The Sun.
Approaching the clouds
It was interesting to observe the climate zones as we climbed higher and higher into the Andes. Lush green valleys of the Valle de Lerma became the arid cactus strewn gorge known as the Quebrada del Toro. I was particularly impressed by the cactus, similar to the saguaro cactus of the Sonoran Desert but taller and thicker.
Lush scenery at the lower elevations
Getting higher and drier
Cactus on the mountainside
Colorful rock formations accented the surrounding mountains and wild llamas and alpacas were commonly seen as we climbed above 10000 feet.
Colorful mountains of the Andes
Colorful mountains of the Andes
Colorful mountains of the Andes
Colorful mountains of the Andes
The landscape got drier and drier the higher we climbed…
Arid landscape above 10000'
Arid landscape above 10000'
Arid landscape above 10000'
Climbing Higher
I should mention here that our two car attendants also provided excellent commentary throughout the trip (in both English and Spanish) about the lands, towns, cultures and history of the areas that we passed through.
Luncheon was by reservation so I signed up for the 1:00pm seating. Two main courses were offered at the time reservations were made. I believe the choices were chicken or beef but I can say for sure that I ordered the chicken. The price for either entrée was $65.00 Argentinean Pesos, or about $17.50 USD. This was extremely expensive by Argentinean standards but I've got this thing about train travel wherein I feel that a proper journey should include at least one meal in the diner.
A view of the altiplano from the diner – elevation approximately 12000'
At 1:00pm I made my way up to the diner and was assigned a table to myself. Seating was communal so I assumed that I would eventually have company but none ever arrived. In fact, for the 1:00 seating at least, the diner was never more than about half full. Perhaps the expensive prices scared off some of the passengers who would instead have the option of buying local fare from the townspeople during our brief stop in San Antonio de los Cobres.
The dining car was operated by a local Salta restaurant. A waiter stopped by to take my drink order while also delivering a coupon good for 20% discount should I visit the restaurant. I requested a can of Salta beer, a fairly decent lager when served cold. Unfortunately, my can arrived at room temperature. What is it with South American trains and warm beer? Most restaurants will serve you a properly chilled beer but somehow this protocol is mysteriously lost on railroad dining car staffs. The worst offender was the Chilean National Railway. Back in the early 1990s, I was riding a long since discontinued overnight train between Santiago and Puerto Montt. When the beverage cart was rolled through our sleeper accommodations, I requested a beer and was presented with a bottle that was downright hot. It turned out that all of the beverages had been stored in the kitchen where the ambient temperature was about 90°F. Although ice was available on board, there was only enough to use for cocktails, not chill beer. I switched to Pisco Sours for that ride until a lengthy stop in Concepcion allowed us to purchase a block of ice at a nearby store.
Getting back on track however, I will say that the meal I was served on this train - a stuffed chicken roll with rice and ratatouille – was quite good. In most Salta restaurants this meal would have cost no more than about $8.00 and had the prices been more reasonable I would have taken dinner in the diner as well. Alas, because I must spread my financial resources out over two months and six continents, I was forced to exercise restraint.
Chicken lunch in the dining car
Soon after I finished lunch, the train stopped just past San Antonio de los Cobres so that we could switch the engine from the front of the train to the back. The result was that we'd be pushed rather than pulled up to the Polvorilla Viaduct. There was no place up there to turn the train around and for the relatively steep downhill grade back to San Antonio, it made good sense to have the locomotive up front in a position to control our downhill speed than at the back of the train where that task would be decidedly more difficult.
The Polvorilla Viaduct is impressive. It's 700 feet long and just over 220 feet high. We were pushed all the way across the viaduct before slowly proceeding forward to a wide area at one end of the viaduct where local villagers awaited our arrival with a variety of crafts and clothing for sale. As I stepped off the train, I was indeed feeling a bit lightheaded but otherwise pretty good. Not everyone fared so well though. On the return trip down to San Antonio, one of the Brazilian ladies fainted and fell right in the aisle beside her seat. Medical staff were quick to respond and she was revived on the spot with smelling salts before being taken back to the medical car. She returned about a half hour later apparently no worse for the wear. A number of other people also made visits to the medical car where beds and oxygen were available until they felt better. Thankfully nobody had need of the ambulance.
La Polvorilla Viaduct
Don't look down (234 feet below)
How much for those llamas over against the wall?
In San Antonio de los Cobres, we stopped once again for about a half hour. The villagers awaiting us not only had crafts and clothing for sale, they also had food. By the way, Cobres means copper, the mining of which is the principal employment in this town of about 5000.
San Antonio de los Cobres – the highest town in Argentina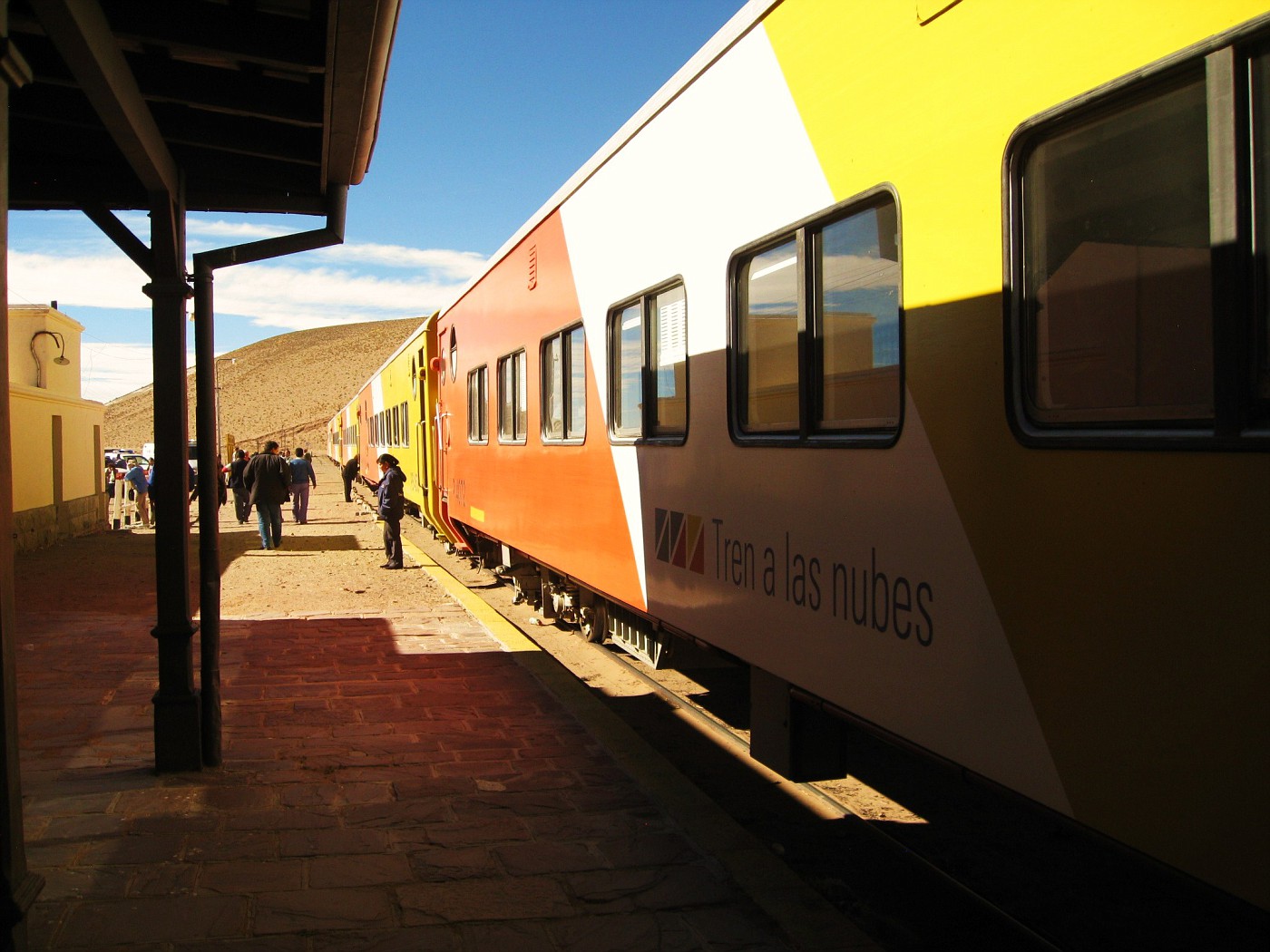 The station at San Antonio de los Cobres
By the time we departed San Antonio it was nearly 5:00pm. It had been a long day so far and there were still another six hours to go. The trip back down to Salta was scenic but otherwise non-eventful. A snack box was distributed around 6. I was hoping for a ham and cheese sandwich but instead received a nicely decorated box filled with cookies and other breaded sweets. With all this sugar and carbohydrates to snack on, I wouldn't be surprised if diabetes is a problem in Argentina. As for me I'd had enough sugary stuff for the day and was thankful that I'd thought to bring along a big bag of almonds and an apple. Without dinner in the diner, that's all I had to get me back to Salta.
About an hour and a half out of Salta, some local musicians boarded our car and entertained us with live Argentinean folk music. Lots of accordion, guitar strumming and good singing. There was even some dancing in the aisles!
The window shades went back down about a half hour before our arrival in Salta and we were then presented with certificates indicating our passage aboard the highest railroad in Argentina. This was done individually with each recipient's home country announced as well. Every presentation garnered lots of applause from the surrounding passengers. When we pulled into Salta's General Belgrano Station at 11:00pm, our attendants saw us off at the door, thanking each of us for riding the Tren A Las Nubes.
Overall, this was an excellent train ride, very well organized and well operated by Ecotren. The onboard staff were excellent throughout the journey and the dining car, while expensive, provided a delicious meal. To anyone traveling to northern Argentina in search of a scenic and entertaining day trip, I highly recommend the Tren A Las Nubes.
---
Last edited by Seat 2A; Nov 3, 14 at

8:36 pm
May 9, 10, 6:10 pm
Join Date: Apr 2001
Location: East Ester, Alaska
Programs: Alaska Airlines Million Miler, United Airlines Million Miler, Wyndham Rewards Diamond Level
Posts: 8,941
April 25, 2010
Salta – Tucuman – Mendoza – Buenos Aires
Almirante Brown Cama/Flecha Bus Suite Premium/CATA Royal Suite
3:00pm – 7:00am+2
I don't have to report back to work until May 10th, so I could easily spend another week down here in Argentina. At the same time, I've been on the road since March 1st and I'd like to have a week down in the Desert Southwest before returning to Alaska. So – it's back to the good ol' USA for me but first I've got to get down to Buenos Aires.
Now I could just hop a direct bus from Salta but, just as I like to fly upon different airlines to experience and appreciate the differences in product and service on each one, the same holds true with Argentina's bus companies. Is Flecha Bus better than CATA or PlusMar or Andesmar? And what about Via Bariloche's Tutto Letto Classe? These are the questions that keep me occupied in the planning stages of a trip like this, and of course there's only one way to answer them.
There are a lot of bus companies I haven't yet ridden that offer the 150° recline and service of Coche Cama, but for the long overnight segments I want the best product available – the full 180° recline and complete meal and beverage service of a Suite bus. Because I wanted to travel via Mendoza, that limited my choices a bit. Still, a little research yielded the following itinerary:
Salta to Tucuman: Almirante Brown
Coche Cama
3:00pm – 7:00pm
Tucuman to Mendoza: Flecha Bus
Suite Premium
9:00pm – 10:10am
Mendoza to Buenos Aires: CATA Internacional
Royal Suite
5:15pm – 7:00am
Andesmar operated a 3:00pm suite bus from Salta direct to Mendoza but it was sold out so I was forced to route via Tucuman where Flecha Bus had a suite departure at 9:00pm. This was no big deal since even the Andesmar bus would have to go through Tucuman anyway. Everything up in this part of Argentina goes through Tucuman eventually.
I added one new company by utilizing Almirante Brown's 3:00pm Coche Cama service to Tucuman. Unfortunately, the timing of the short four hour ride was such that all I got to experience was the wide spacious seat and a snack consisting of the ever popular pastry and cookies.
Tucuman is a fairly large city and its bus terminal is more like an enclosed shopping mall than a bus depot. Modern, well lit stores and restaurants surround the centerpiece attraction – a casino. C'mon honey – let's go down to the bus station for a little dinner and a good time tonight! Only in Tucuman.
A nice looking restaurant offered a complete chicken or steak dinner for only about $7.00 USD but I limited myself to a liter of beer in anticipation of the bus meal – how many other reporters would pass up a juicy Argentinian steak just to bring you a firsthand account of their bus meal?
When my big, beautiful Flecha Bus adorned with the colorful Suite Premium livery pulled up, I quickly checked my pack, headed upstairs to the upper level and settled back into the soft, cool leather of my single suite. We had a full load down to Mendoza this evening and the driver wasted no time in pulling out right at 9:00pm on the dot.
Flecha Bus Suite Premium Livery
For some reason the dinner we were served out of Tucuman was nowhere near as extravagant as the meal I received traveling from BA up to Jujuy. Just as airlines will often serve a nicer meal on longer flights, perhaps the shorter distance between Tucuman and Mendoza resulted in a smaller meal. It was still pretty good though and definitely better than anything you'd receive on a domestic airline serving this route. To wit, we were first presented with a tray bearing a lot of bread in the form of a slice of pizza, a package of Melba Toast and a dinner roll. Also included was a container of flan – the official dessert of Argentina's bus companies, if not Argentina. To those of you unfamiliar with flan, it is essentially the Spanish version of custard. The main course was a very tasty dish of roast beef and mushrooms with potatoes au gratin. A glass of red wine accompanied the meal after which I limited myself to just a sip of the sickly sweet "Champagne".
Roast beef and Mushrooms Dinner – TUC-MDZ
I got a kick out of our bus attendant. Like a lot of bus attendants in Argentina, he was a young guy just working a job. That is to say that he definitely did not display any of the skills you'd expect from a waiter in even a mediocre restaurant. But hey – it's a bus, not a restaurant. Yeah, but still… I mean, the service went kind of like this:
"You want dinner?"
"Sure"
"Put your tray out."
"Okay"
"What do you want to drink?"
"Uh… some wine I guess"
Pours a glass of red wine (It's all he brought) but what the heck – wine is wine, no?
The after dinner movie was some US high school based comedy so I got through a hundred pages or so of my latest cheesy paperback thriller before drifting off to sleep. These bus suites sure are nice when fully reclined. Though not as nice as a First Class suite with mattress on Cathay Pacific, they're unquestionably better than any lie flat Business Class seat I've ever attempted to sleep in.
I always sleep surprisingly well in these bus suites, evidenced this morning by my sleeping in until 8:00am. I skipped the usual sugary breakfast offering, preferring instead to take my chances in the Mendoza bus terminal. After checking my pack in the baggage storage facility, I decided to skip breakfast in favor of a cup of coffee and some Internet time before catching a taxi into the central business district.
Mendoza sure is a pretty city, especially for all the trees that are planted along the city streets. I took my laptop to a computer repair place I'd looked up and got a couple of screws replaced just before they closed for the day – er – I mean lunch. Well, it sure seemed like the day because they closed at 12:30pm and wouldn't reopen until 4:30pm. For a country trying to emerge from a severe economic crisis, I'm pretty sure that 4 hour lunches will not contribute towards hastening the recovery.
I managed to get through lunch in just under an hour before returning to the bus terminal to await my 5:15pm departure with an ice cold liter bottle of Andes Beer. I fired off six postcards, then reclaimed my pack and headed out to platform 56 to check out the big black Mercedes powered Starbus that would take us across Argentina to Buenos Aires.
I picked CATA International for the 14 hour trip into Buenos Aires because its Royal Suite looked to offer the most amenities of any of the four bus lines offering suite service. The bus certainly looked attractive, especially the Royal Suite printed in stylized letters below the lower cabin windows.
CATA Internacional Mercedes Bus
CATA offers six Royal Suites arranged in two rows of 1-2 seating in the downstairs cabin. Upstairs were 24 Cama Ejecutivo seats. Upon entering the bus, I was immediately impressed by the stylish red and black seats, the tartan blankets and the wooden walls of the Royal Suite cabin. Drop down individually controlled TV screens were mounted above each seat while large headphones hung on hooks behind each seat. Red curtains adorned the windows as well as a large red curtain across the entryway that afforded us some privacy from the prying eyes of jealous Cama Ejecutivo passengers who'd come downstairs to use the lavatory.
Royal Suite Cabin of my CATA Internacional Bus
Royal Suite Cabin of my CATA Internacional Bus
Service started about an hour into the trip with a glass of wine followed by dinner. CATA definitely gets my vote for the best bus dinner served on this entire trip. It was way better than most airlines meals, even those served in the old days. It started with a tray bearing a serving of prosciutto and cheese on thinly sliced bread, a potato and veggie salad, a beet salad, a tortilla filled with something I never could figure out but ate anyway, a dinner roll and a packet of bread sticks. The main course was a full chicken breast and wing served with roasted potatoes and peas. Dessert was – surprise! Tapioca.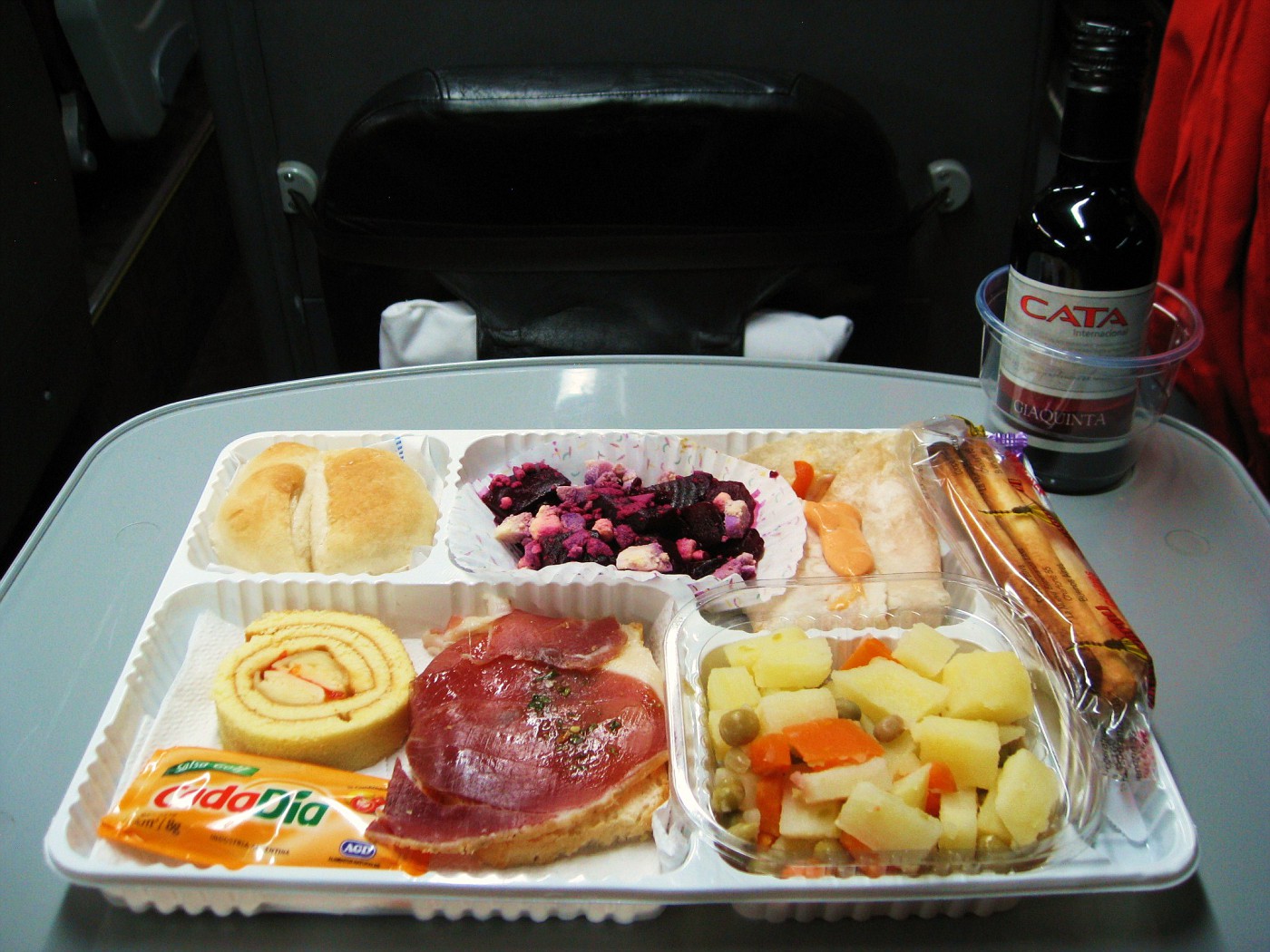 CATA Internacional Appetizer
CATA Internacional Main Course
Whiskey and a movie followed dinner but I passed on the movie in favor of chatting with a Scottish couple on delayed honeymoon from their marriage back in January. Like me they appreciated the finer things in life such as First Class bus travel in South America. Unfortunately their 12 hour flight back to London the next day was booked in steerage.
---
Last edited by Seat 2A; Nov 4, 14 at

8:25 am
May 9, 10, 6:11 pm
Join Date: Apr 2001
Location: East Ester, Alaska
Programs: Alaska Airlines Million Miler, United Airlines Million Miler, Wyndham Rewards Diamond Level
Posts: 8,941
April 27, 2010
Buenos Aires - Santiago – Mexico City
LAN Airlines Business Class
Boeing 767-300 CC-CWY Seat 3L
Boeing 767-300 CC-CWG Seat 2A
11:35am – 9:45pm
Because my bus arrived in Buenos Aires a half hour early at 6:30am, I arrived at the international airport in Ezeiza at 8:00am. Before checking in, I headed into a nearby men's room to change into some fresh clothing. Had I known that none of the Ezeiza lounges available to me had shower facilities, I would have taken a couple of moments to wash up a little more thoroughly. As it was, I managed to shave and brush my unkempt morning hair back as best I could before proceeding through security and on to the sanctuary of the Admirals Club.
My stopover on this ticket will be in Los Angeles. Rather than fly LAN's direct red-eye via Lima, I've opted to fly to Mexico City, overnight there and then catch Alaska's flight up to LAX the next afternoon. The attraction of the 4110 mile flight between Santiago and Mexico City is its midday departure. I'll have eight hours to enjoy the service, the comfort and the view while wide awake rather than sleeping through most of the flight as I would on the nighttime departure.
In the Admiral's Club I dialed up Hotwire and selected a 3 star hotel in Mexico City for a base rate of $36.00. With taxes and fees it came out to $49.50 and I was good to go. Interestingly, I'd wanted to bid the 2.5 star Camino Real Hotel at the Mexico City Airport but all the reviews on it were so consistently bad that I decided to pass. Once upon a time (back in the 70s), Camino Real was considered a standard bearer for quality Mexican hotel brands.
Onboard the 767, I spread myself out in the lightly populated Business Class cabin. I love flying aboard half full airplanes. It reminds me of the seventies when the average load was about 58%. A flight attendant stopped by with the usual preflight libations and I settled for a glass of juice.
The view looking forward from Seat 2A
Taxiing out to the runway, we passed a collection of classic 747s still wearing their old Aerolineas Argentinas liveries. One of them even had the old two tone blue and white livery worn through most of the seventies and eighties. I seem to recall these 747s being parked here last time I was down here in 2007. Also in the group were a few 737-200s along with a 747-400. Surely that airplane couldn't be mothballed just yet, could it?
Flight time for the 710 mile flight to Santiago was one hour and fifty minutes. Luncheon was served shortly after we'd leveled off and was the same meal I'd been served on last week's flight in the opposite direction – seasoned chicken and sliced salmon with salad, cheese and dessert. Good stuff.
The highlight of this flight is the crossing of the Andes. It only lasts for about 10 minutes though, so you'd better be ready. Thankfully we were blessed with a clear sunny day and I managed to get off a couple of halfway decent photos.
Crossing the Andes on a 767 EZE-SCL
In Santiago, transit passengers were treated to a ridiculously long line for transit recheck – mainly because only one x-ray machine was in use. What the – where the hell is the staff? Off on a four hour lunch?! Finally a couple more agents arrived and got the other machine up and running. Meanwhile, I spent 25 minutes in that line, seriously cutting into my shower time at the Neruda Lounge.
On my way to that lounge I came upon LAN's Mistral Lounge at Gate 18, coincidentally the gate from which my flight to Mexico City was also due to depart. Perhaps the Mistral Lounge has shower facilities? Yes!!!
Up at the gate lounge, it was clear we had a full load up to Mexico City this afternoon. A long line of humanity had formed that extended well out into the concourse walkway. Thank goodness for priority boarding! I took a moment to admire the attractive A340 parked next door before proceeding down the ramp and into the jetway.
Boarding LAN's 767-300 at Santiago
Fans of Boeing's original 737-200s would do well to come down to South America where many examples of this once ubiquitous airliner still ply the skies wearing the liveries of a variety of second tier airlines. I saw at least a dozen examples from PAL (Principal Airlines), Sky and Aerolineas del Sur. Also of interest were a couple of 767s wearing the flat grey livery of the Chilean Air Force.
Following a 42 second take off roll, we climbed out over the deep blue Pacific Ocean and soared ever higher into the warm autumn sky. It was a gorgeous day for flying and I found myself looking forward to every minute of the projected 8 hour and 10 minute flight to Mexico City.
Accepting a glass of fine Chilean Chardonnay, I reclined my seat a bit more and took in the vista outside my windows. Ah… I love a beautiful sunny afternoon out over the Pacific Ocean. For some reason I've always found the Pacific much more warming and comfortable to be around than the Atlantic or the Indian oceans.
A beautiful afternoon out over the southeastern Pacific
Turning to my flight log, I discovered that this flight between Santiago and Mexico City will bring my total mileage flown on 767-300s to over 100000. Not much by some standards, but noteworthy nonetheless.
The luncheon service commenced about an hour into the flight. It's interesting to note that this was the first flight I can remember where drinks were offered
before
the lunch or dinner service. Following are the wine list and menu:
WINE LIST

Champagne
Maison Louis Roederer Champagne Brut Premier
White Wines
Bodega Salentein Chardonnay reserve 2009, Valle de Uco, Mendoza
Vina Casa Marin Laurel Vineyard Sauvignon Blanc 2009, Lo Abarca, Valle de San Antonio
Red Wines
Vina Montes Alpha M 2006, Valle de Apalta, Santa Cruz, Colchagua
Bodega Colome Malbec Estate 2007, Valle del Calchaqui, Salta
Vina Casa Silva Los Lingues Carmenere Gran Reserva 2008, Valle del Colchagua
Port
Croft Oporto Late Bottled Vintage 2003, Vila Nova de Gaia, Portugal
LUNCHEON
Santiago – Mexico City
Salad
Salad greens with seasonal vegetables
Appetizer
Smoked salmon with sour cream
or ~
Carrot with cumin soup
* * * * * * * * * *
MAIN ENTREES

Wagyu "Plateada"
Thin flank steak with mashed potatoes and caramelized shallot
Golden Conger Eel
Pan seared with Chilean abalone sauce and celery rave pure
Roasted Turkey Salad
Accented with sautéed shiitake, pumpkin chips and assorted lettuce
* * * * * * * * * *
DESSERTS
Haagen Dasz Ice Cream
Chestnut Cream caramel
Fresh Seasonal Fruit
I like carrots as an accent to a salad, though I don't particularly care for them as a main dish. As such, the carrot soup was definitely out and I settled for yet another portion of salmon. On long distance flights, LAN presents its appetizer course on a tray with dessert, salad and cheese. A variety of breads and crackers are offered from the basket and refills on wine are always forthcoming. Once the appetizer plate is cleared, the main course is brought out. For my main course I chose the Golden Conger Eel.
Salmon appetizer with salad, cheese and dessert
Ewww – eel! That's what a friend's daughter said when I was showing some pictures recently. Okay, so eels don't look particularly tasty but then neither do groupers and they're delicious. The same holds true for the Conger Eel which I've had before in Chile and always found quite good.
Golden Conger Eel main course
Delicious Chestnut Cream Caramel dessert
After lunch, I watched Clint Eastwood's portrayal of disgruntled Korean War veteran Walt Kowalski in
Gran Torino
. A typically superb Eastwood movie, though I can't say I cared for the ending.
LAN's new Premium Business Class seats are equipped with 120v AC outlets, so after the movie I plugged in my laptop and put in some work on this report. It's been a busy week for down in South America and I've fallen over a week behind on this trip report. What better place to write from than a comfy seat whilst cruising 38,000' over the Pacific? The Galapagos Islands were just coming up off our port side. Unfortunately heavy cloud cover totally obscured any chance to see them so I had to settle for the SkyMap view instead.
SkyMap showing LA 622 flying just east of the Galapagos
About an hour out of Mexico City, the second meal service began. As described in the menu it looked like this:
SNACK SANDWICH

Sandwiches
Roasted Chicken and Avocado Sandwich
Warm Mozzarella Cheese Sanwich with aragula, olive tapenade and tomato

Toast, Water Crackers, Preserves and Butter
Dessert
Lemon Pie
It was a classic case of "what you see is what you get". There were no choices, so although I enjoyed my sandwiches I passed on the normally seductive lemon tart. After all those sugary snacks offered via Argentina's busses and trains, not to mention breakfast establishments, sugar just didn't call out to me the way it used to.
Second Meal SCL-MEX
We landed in Mexico City as if we were being chased by a swarm of hornets. Honestly, it was one of the fastest landings I can recall, and my memory goes back a ways. The pilot kept goosing the engines during the final stages of our approach, as if we were coming in a bit short and he wanted to maintain altitude. But what do I know? Four thousand plus flights notwithstanding, at the end of the day I'm still just a passenger, not a First Officer. Either way, the landing - while exciting - was executed without incident so there you go. On to immigration and customs.
At the baggage carousels, I watched through the floor to ceiling glass windows as the baggage carts arrived and our luggage was laid out on the belt leading into the baggage collection area. But wait! Not so fast, hombre… A group of Federal Police arrived in a fleet of black trucks and vans. Accompanying them was a drug sniffing dog. The cops took about ten minutes to get all the baggage prepped, which meant slicing through any plastic bags or the protective plastic wrapping so popular in South American airports. Then they set the dog loose for a thorough inspection, allowing him to run up, down, around and over the bags a number of times before finally allowing us to collect our bags.
Upon emerging from Customs, a number of "accredited" taxi companies are available to safely take you to your destination in the world's second largest city. My first stop was an information desk where I asked if there were any collectives or communal taxis into town. No Señor. You must take a taxi, bus or the subway. I knew only that my hotel was located in the Reforma District downtown and given the late hour – it was about 10:30pm – I just wanted to get to my hotel regardless of cost. Well, not quite. I didn't want to overpay, so my next question was how much should I expect to pay for a cab ride to the Reforma? About 100-150 Pesos. Mucho gracias, Señor.
The "accredited" cab companies immediately outside customs were asking 250 to 300 Pesos to get me to my hotel. Widening my search to include some kiosks just outside the terminal, I found a company that would take me to my hotel for a mere 150 Pesos. Not only that, they had a coupon good for a 20% discount on the return trip. Vamanos, amigo!
My Hotwire reservation was for a 3 star "Boutique" hotel called the
Casa De La Condesa
. It was located on a small side street just off an attractive park with lots of big trees and a large fountain. It was quite a nice place – once I managed to change my room. The room I was initially assigned was tiny with only an open window for air-conditioning. The night was fairly muggy, so the window was no relief. Worst of all, it was almost midnight and the person in the room across the hall had their television blaring. I trudged back downstairs and reminded the desk clerk that Hotwire had branded this hotel as a three star establishment and that brought certain standards into play with regard to room quality. Though I could have lived with the lack of air-conditioning, at the very least I was hoping to relocate to a quieter location. The clerk's initial response was that there were no other rooms available but then she relented and put me in a suite for which she said there would be no additional charge.
Wow! Now this was a much nicer room. We're not talking a suite by Starwood or Hyatt standards, but I was given a much larger room with air-conditioning, a kitchen, a large bathroom and a nice balcony overlooking the park across the street. Best of all, given the late hour, the room was blessedly quiet.
My room at the Casa de la Condesa Hotel
The view out my window
I awoke in the morning thoroughly refreshed. After a hot shower, I headed down to the courtyard to check out the breakfast offerings. A card in the room indicated that the hotel put out a breakfast buffet but when I arrived I found an attractive courtyard with a collection of tables and chairs but no buffet in sight. That because there is none, explained the waitress as she handed me a menu. No problema thought I as I scanned the menu and for the first time in nine days saw an offering of real breakfast foods like huevos prepared in a most appetizing variety of ways. I don't remember the name of what I ordered but it sure was good – a collection of eggs, refried beans, potatoes and tortillas all doused in two different sauces – one red and the other green. Qué sabroso!
---
Last edited by Seat 2A; Nov 3, 14 at

8:16 pm
May 9, 10, 6:15 pm
Join Date: Apr 2001
Location: East Ester, Alaska
Programs: Alaska Airlines Million Miler, United Airlines Million Miler, Wyndham Rewards Diamond Level
Posts: 8,941
April 28, 2010
Mexico City – Los Angeles
Alaska Airlines First Class
Boeing 737-800 N527AS Seat 2A
5:00pm – 7:03pm
The check-in counter for Alaska's single daily flight to Los Angeles opened at 1:00pm – four hours in advance of my flight. When I arrived at 1:45pm it was fairly crowded though thankfully there was a First Class/MVP Gold check in line which was fairly deserted. Was that a nasty look I just got from one of the coach passengers as I strolled unimpeded into the First Class check-in lane? It was indeed as the guy took a moment to remind me that the line started way back behind him. It must be the backpack thought I as I explained to him that I was in Primera Clase. The conflicting sentiments of "Sorry about that" and yet "So there!" ran through my mind as I sauntered up to the check-in counter.
Twenty minutes later I'm through security and trying to find the lounge complex. I've got access to four different lounges here in Terminal 2, including American's Admirals Club. Unfortunately, American and Alaska flights depart from a terminal extension located a good third of a mile from the closest airline lounge. Thankfully I had about three hours to hike out there and back.
The first lounge I visited was Mexicana's Elite Lounge. Experience has taught me that the airline using whatever airport I'm in as its home base will usually have the best lounge at that airport. See Qantas at SYD, Lufthansa at FRA or BA at LHR. Unfortunately an exception will have to be made at Mexico City's Benito Juarez International Airport where American's Admirals Club is far and away the best lounge in the terminal.
Mexicana's lounge was okay, but aside from a small tray of baked spinach and cheese tidbits there was very little to eat other expensive food that could be ordered and paid for from a restaurant menu. A large collection of wines adorned one wall of the lounge and I should imagine that wine drinkers could have a pretty good time in this lounge. I wanted a beer but didn't want to pay for it so after a brief session on the internet I bid adios and headed downstairs to American's Admirals Club.
Now this is a proper airline lounge! And a very attractive one at that with polished stone floors, lots of potted plants, large windows and comfortable seating areas. A buffet area offered an appetizing array of mini tacos, chips, great salsa and hot soup along with the usual crackers, cheese, etc. Cold beer was in the fridge so I put together a plate of tacos and grabbed an ice cold Modelo before retiring to an Internet area to fire off a few more messages.
I was having a such marvelous time with the Modelos and tacos in the Admirals Club that it was almost as an afterthought that I finally gathered my gear and headed across the hall to United's Red Carpet Club. Whoa! What a difference a bankruptcy makes! This lounge was certainly better than hanging out in the gate area but compared to the plush digs over at the Admirals Club it was little more than functional and utilitarian. There was no warmth to the furnishings or public areas and aside from pre-packaged snack items the only food available was a small tray of finger sandwiches. One redeeming quality was a fridge nicely stocked with Modelos and Coronas. I helped myself to another Modelo while perusing the latest USA Today. At about 4:00pm I began the long trek out to gate 30.
By the time I arrived at Gate 30 it was close to 4:20pm. We'd been advised to be in the gate area no later than a half hour out and while I often ignore this advice at US airports, I didn't want to take any chances at a foreign airport where they might actually enforce the rule. Well you can imagine my consternation upon arriving at gate 30 to find – nothing. There was no airplane, there was no agent or sign at the podium indicating Alaska Flight 245 to Los Angeles and perhaps most alarming, the TV monitor displaying all departing flights from MEX didn't even list the Alaska flight. Interestingly, none of the gates had clearly marked podiums displaying flight and destination. I approached some agents working an American flight to Miami and asked them if they knew anything about Alaska having a gate in the area but they professed to know nothing. There was no information desk in sight and I was beginning to worry that if the flight had been relocated to another gate – especially one in another part of the airport, I'd be looking at another night in Mexico City.
Finally, at about 4:40pm an announcement was made advising passengers that Alaska 245 had been moved to Gate 36. Again, no signage was ever posted and the flight was still not listed on the TV monitor. Oh well. At least I had a gate number and so I headed right over there. Boarding had already begun but was limited to people over 80 years old. I'm not kidding – there were a lot of seriously geriatric passengers on this flight and all of them seemed to require assistance in getting down the jetway. Eventually First Class was called and by the time the door was closed and we pushed back it was nearly 5:30pm.
Mexico City International is littered with dozens of mothballed or derelict aircraft. I saw all kinds of cool airplanes including a fleet of black Federal Police 727s, some long since grounded AeroCalifornia DC-9s and Avolar 737s along with lots of aircraft bearing no markings at all. As we approached the runway I could see we were lined up behind six different AeroMexico aircraft. Maybe Mexicana gets their own runway?
Mexico City sits at almost 7000 feet so I shouldn't have been surprised at our 49 second takeoff roll. But I was anyway. That's a long time to roll down the runway. I once got airborne aboard an Eastern DC-9 in just 18 seconds.
42 minutes passed before a flight attendant arrived to take drink orders. Other than that though, the service on this flight was surprisingly good. I'd heard horror stories detailing Alaska's substandard catering on the 4.5 hour Cancun to Los Angeles flights and so was expecting little more than the usual meat and salad plate. Imagine my surprise and delight then to be offered the very same catering that I'd recently enjoyed in First Class on my Seattle to Newark transcon just a few days earlier! Although we were not presented with menus, here's the breakdown:
DINNER
Mexico City to Los Angeles
Appetizer Salad
Smoked Salmon Torte

Warm Rolls with butter
CHOICE OF ENTREES

Braised Beef Rib with Cherry Sauce
Garlic Redskin Mashed Potatoes
Baby Carrots and Brussels Sprouts
Chicken Wellington with Hollandaise Sauce
Grilled Asparagus
DESSERT

Fresh Baked Cookies
Chocolate Chip
White Chocolate Macadamia Nut

Coffee and Liqueurs
The Chicken Wellington would be my natural choice but as variety truly is the spice of life I instead opted for the Braised Beef Rib with Cherry Sauce. And a glass of the red wine, please. While seatmate tucked into his huge portion of Chicken Wellington, I sawed into my much less impressively sized plate of braised beef. Truth be known however, the meat was tender and its flavor delicious. Besides, I'd snarfed down a few of those mini-tacos back at the Admirals Club so I was doing pretty well, so well in fact that I passed on the chocolate chip cookie dessert. That week in Argentina has just sort of put me off sugar for awhile.
Braised Beef Rib with Cherry Sauce
The Australian couple seated in front of me was very impressed with the service. I asked the flight attendant if tonight's meal represented enhanced catering for this flight and she replied that only the MEX-LAX flight gets this level of catering. The longer Cancun flights as well as those from cities like Mazatlan or Puerto Vallarta still get the standard catering much like you'd receive on a LAX-SEA flight.
Light haze diminished quality views of the mountainous land below us throughout the flight. This cleared a bit up near the top of the Gulf of California but none of the views were clear enough to warrant a photograph.
We landed in Los Angeles on a nice, cool evening and taxied briskly to a spot just beyond gate 30 at Alaska's Terminal 3. Busses pulled up, stairs were appended to the aircraft and we then disembarked from both front and rear doors onto the busses which delivered us to the International Terminal where Customs and Immigration awaited our arrival. Thankfully we appeared to be the only international flight to have arrived at that particular time because the lanes for immigration were deserted. Even my backpack showed up on the carousel in a timely fashion and soon I was on my way to the Alamo Car Rental lot where a silver Dodge Charger with satellite radio awaited me.
The next six days were spent blissfully cruising around the Desert Southwest. In Mojave I got a nice photograph of what was once the fastest jetliner ever built until the Concorde arrived on the scene in 1975. Are any of you familiar with this model of aircraft? It was operated – if only for a short time – by three major US airlines. Unfortunately its big early generation fan jet engines were huge gas hogs and that, coupled with the arrival of the more fuel efficient 727, relegated this jetliner to service in the Third World.
Besides me, who else recognizes this jetliner?
Mojave Desert Vista
Looking east into Arizona from the summit of Sitgreaves Pass on Route 66
Twilight in Monument Valley
May 04, 2010
Los Angeles - Seattle
Alaska Airlines First Class
Boeing 737-800 N597AS Seat 3A
6:30pm – 9:24pm
I intentionally returned my car a bit early this afternoon because I didn't want to risk getting caught in LA's legendary evening traffic. As a result I ended up checking in for my 6:30pm flight at 4:00pm. So – on to the Boardroom for a cold beer. Or two!
I remember visiting the facility that currently serves as Alaska's Boardroom back when TWA operated it as an Ambassador Club. The year was 1981 and I was flying out of LA aboard one of TWA's soon to be retired 707s. Back then, the terminal building still seemed reasonably up to date, even modern. Today, against a backdrop of renovations to every other terminal at LAX, Terminal 3 seems downright dowdy. Indeed, this terminal has changed little since it opened in 1959. Alaska will soon be relocating to Terminal 6, and while I look forward to the new upgraded facilities there, I will also fondly remember all the great times and flights I've had while flying out of Terminal 3 aboard Eastern, TWA, American and Alaska Airlines.
Awaiting me at Gate 33A was ship 597 (N597AS), a 737-800 upon which I'd flown six times previously. After this evening's flight I'll have logged seven flights and 8230 miles on this airplane. That's nothing! On ship 548, the dark blue Alaskaair.com airplane, I've logged twelve flights and 19460 miles. All that notwithstanding, the eleven Alaska 737-800s I've yet to fly continue to elude me. Oh well. I'll have two more chances tomorrow.
The flight attendant serving the First Class cabin provided a friendly and gracious service. Beverage orders were taken about twenty minutes after takeoff and the drinks were delivered shortly thereafter. Dinner was some kind of pasta creation the likes of which I've never before seen. Described as ravioli with cream sauce, I was expecting a plate of pasta pillows topped with a creamy sauce. What I received was a molded olive green pasta torte, fractured along the sides thus allowing gobs of creamy white sauce to ooze out. Although the presentation of this meal is unlikely to ever grace the centerfold of any airline catering publication (They do exist, you know…), it actually tasted pretty good. I never could figure out what the "ravioli" was stuffed with, but it was fairly tasty and seemed to be vegetarian.
Stuffed Ravioli in Cream Sauce LAX-SEA
We landed at SeaTac from the south, then taxied in to Gate D-11 located at the far end of the D Concourse. While one could effectively argue the exercise benefits of walking all the way down the D Concourse to Baggage Claim, just once I'd like to pull into Gate D1. I've done it before but it's been so long that I can't remember when last it was.
My connecting flights on to Anchorage and Fairbanks don't depart until tomorrow morning at 10:00am. I've been spending a lot of money on hotels lately so I think I'll spend tonight on the airport floor in my favorite little alcove. I've brought my Thermarest pad and pillow along for just such an occasion and the $53.00 that I save can be applied to an upgraded seat on the Durango-Silverton railroad which I'll be riding in about three weeks.
May 05, 2010
Seattle – Anchorage - Fairbanks
Alaska Airlines First Class
Boeing 737-800 N560AS Seat 2F
Boeing 737-800 N577AS Seat 3A
10:00am – 4:18pm
This is it – the final day of this magnificent adventure. Between trains, planes, cars and busses I've traveled approximately 92,830 miles over the past two months. At the end of a trip like this, many people would be excited to return home and/or exhausted from all the traveling. I'm excited to get back to Alaska, see friends and sleep in my own bed for five straight nights. I'm especially looking forward to returning to work where I'll be able catch up with old friends (many of whom have some great travel adventures of their own to relay) and start earning some money to pay off my sizeable credit card bill.
As for exhaustion – travel isn't exhausting, it's invigorating! Exhaustion is for marathon runners. Sitting in a spacious First Class Suite for a 14 hour flight to Hong Kong isn't exhausting, it's relaxing. The same holds true for the plush accommodations I've enjoyed aboard the many trains and even busses that have highlighted this trip. For those of us who by whatever means are fortunate to be able to travel in premium accommodations, the act of travelling is an exercise in well-appointed comfort with superior service and attention. Even though I'm happy to be back home for awhile, I could
easily
do another two or three months of traveling in this style.
Alaska flight 87 to Anchorage was scheduled to depart from Gate C-20, way out there at the end of the C Concourse. Once again, the most convenient lounge available to me was United's Red Carpet Club, located just a short train ride away from the lounge entrance at the North Satellite train station. It occurred to me while riding over the C Concourse stop that were I to include all the airport and city transit trains I've ridden of late, the total number of train rides in this report would be closer to 40.
Luncheon on today's 3 hour and 12 minute flight up to Anchorage was described as a Teriyaki Chicken Wrap. In presentation however, it looked more like chicken sushi with pieces of chicken surrounded by rice all wrapped up in a thin, golden tortilla, then sliced into ¾ inch rolls. A bowl of teriyaki dipping sauce was included on the side along with a half plate worth of shredded lettuce. Whatever this dish should be called, be sure to include tasty amongst the descriptions.
Sliced Teriyaki Chicken Wrap SEA-ANC
A two and a half hour layover in Anchorage allowed me to start loading all the Vb code that must go into a report like this. Actually it doesn't have to go in but I feel like if you're going to put as much time and effort as I have into writing a report of this scope, you might as well take the extra time to embellish it with italicized and/or bold lettering as well as imbedded pictures. That alone has been a gargantuan effort that took up most of the flight up to Fairbanks and many more hours at my humble abode here in the tall spruce forests outside of Fairbanks.
And so we've come to the end of this trip report. To those of you who have ridden along, hanging on to every sentence, paragraph and/or misplaced adverb,
Thank You
for your readership and I hope you've found this report worthy of the considerable time required to read it. As ever, your comments and questions are always appreciated for if nothing else, they are the currency that validates the effort we writers put into a report like this.
Happy Travels To All
---
Last edited by Seat 2A; Nov 3, 14 at

8:39 pm
May 9, 10, 6:43 pm
Join Date: Sep 2007
Location: Scottsdale
Posts: 2,941
Originally Posted by
Seat 2A
Pushback was as punctual as a Swiss train's departure. The Captain offered us a cordial welcome aboard and then spoiled the good mood somewhat with his announcement that strong tailwinds would have us arriving in San Francisco a good half hour early. Flight time would be a mere eleven hours and forty minutes.
I flew HKG-LAX on CX in F two weeks ago, and the flight arrived TWO HOURS earlier than scheduled because of the 230 knot tailwinds.
Talk about spoiling a good mood...