SEA-JFK-RDU-MEM-SEA on DL (some pics)
Apr 7, 10, 6:45 pm
Join Date: May 2006
Location: Carolina
Programs: HH Gold
Posts: 164
SEA-JFK-RDU-MEM-SEA on DL (some pics)
---
Disclaimer: This is my first TR, so please be kind. Thanks, and enjoy!
Part I--April 3rd:
I arrived curbside at SEA at approx. 4:30 in the am. Once inside, I proceeded to to DL ticketing area, and walked up to a kiosk to check in. When selecting seats, I saw 18D (exit aisle) open, so I immediately snagged it, along with 8D (exit window) for my second leg to RDU. After printing out my boarding passes, I walked to the concourse A checkpoint, which was not too much of a wait (5 minutes or so). After security, I got caught in the middle of a group of 40 or so teenagers on their way to ATL, presumably connecting onto another destination. After waiting for the satellite train, I got to gate S7 just before 5. I sat for awhile and took advantage of the free wifi, while waiting for the SkyClub to open up at 5:30...Some more time passed, and at around 5:25, I proceeded over to the entrance to the SkyClub, which was just about two gates over. Precisely at 5:30, the attendant unlocked the sliding doors, and I proceeded inside. After buying a daypass, I was the only one in the club, besides the attendant and another gentleman heading to MSP, I believe. I grabbed a bagel, cream cheese, mini-muffins and a glass of apple juice, and sat down at the area overlooking the tarmac. After sampling several of the foods, and two glasses of apple juice and a can of V8, I realized it was 5:55, and started packing up to leave. On the way out, I grabbed a couple magazines, and the attendant wished me a pleasant flight.
DL 30/ SEA-JFK
Scheduled--06:30-14:53 (5:23)
Actual--06:30-15:17 (5:47)
737-800 (winglets), Seat 18D (exit)
- gate S7 signage
Once I got to the gate, boarding had started for F passengers and Medallion members. I was in zone 3, and was the first from that zone to board. Once on the aircraft, I realized there would be the standard dropdown LCD screens instead of AVOD.
Finding space for my carry-on was no problem, and I settled into 18D. The man in 18F showed up about 3 minutes later, and before I knew it, the doors were closing, and the middle was open!
- legroom shot
Taxi-out time was about 10 minutes, and at approx. 6:46, we were ready for takeoff. Takeoff was to the south, before turning left to the east. After hitting 10,000 ft, I reached under the seat to get my laptop. I wanted to test out GoGo for the first time. Sure enough, it was available, and I used a promo code to get $4 off my session.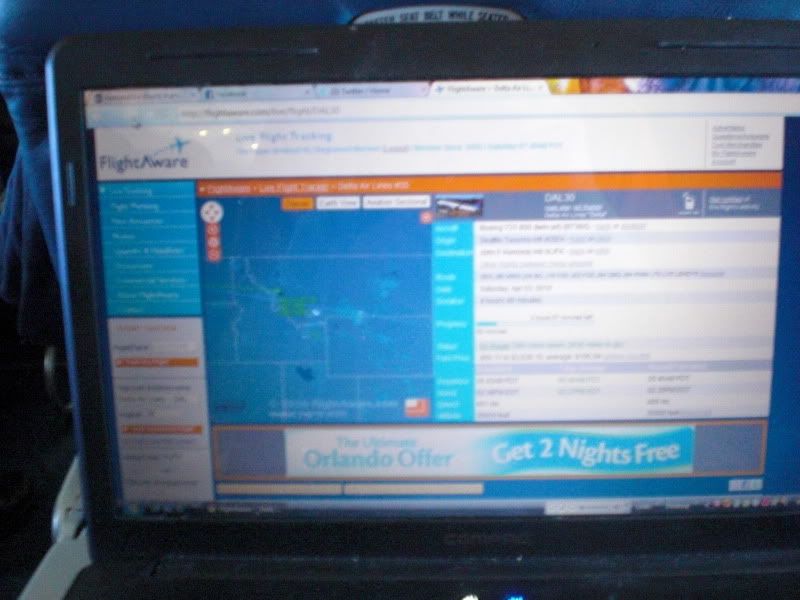 - GoGo on FlightAware, 35,000 ft over Montana
Once connected, the speed was fine, although I believe I might have been the only person onboard using it. Drinks were offered, along with snacks, and food for purchase. I chose my failsafe, Coke and Biscoff. To my surprise, I recieved the whole can.
I proceeded to Tweet and IM various friends just for the novelty of being able to talk from 35,000 ft up. Time really seemed to pass by rather quickly, and before I knew it, we were about an hour from landing, and the second drink service had started. Once again, I opted for Coke and Biscoff, but alas, didn't get a full can, but did get two packs of Biscoff at least.
Suddenly, for some reason over northern PA, we went into a circle of some sort, which delayed us a few minutes. We started the decent over northern NJ, and took a southeastern turn into Long Island, before making a left turn, going northeast, and finally making an approach into JFK from the north, landing late at 3:07. Taxi-in time was about 11 minutes, and we deplaned through gate 20, in terminal 2.
- empty exit row, while deplaning.
Layover at JFK:
Once off the 73H, I wondered around for a few minutes, since it was my first time in the T2/3 DL area, and second time at JFK. General impression was not very nice, but i've seen worse (eg: PHL concourses B/C/D/E). After a few minutes, I found a sign for the SkyClub, and followed a couple other signs, to a staicase proceeding up to it. Once inside I was greeted by a very nice woman (didn't catch her name), and asked if I could use one of the shower rooms. She walked me back, and I took a much-needed refreshing shower, and shaved. After I was all finished, I took a look at the two snack tables, and found the offerings somewhat dire, but reasonable. I grabbed a chocolate cookie, two packs of Biscoff, a packet of parmesan cheese, and stopped by the bar for a Coke with lime. I found a spot in the 'Quiet Area' (which had a man talking rather loudly on his Blackberry
), and settled down. After realizing the wifi reception wasn't very good, I decided to wait until I was finished with my drink and snacks before moving. That lasted around 15 minutes, and I moved over to the main area, near the snacks, where there were several open seats available. I picked up some more snacks, and got another Coke w/ lime from the bar, and settled down once again, this time for a good hour or so. I checked emails, surfed the web, etc. during this time.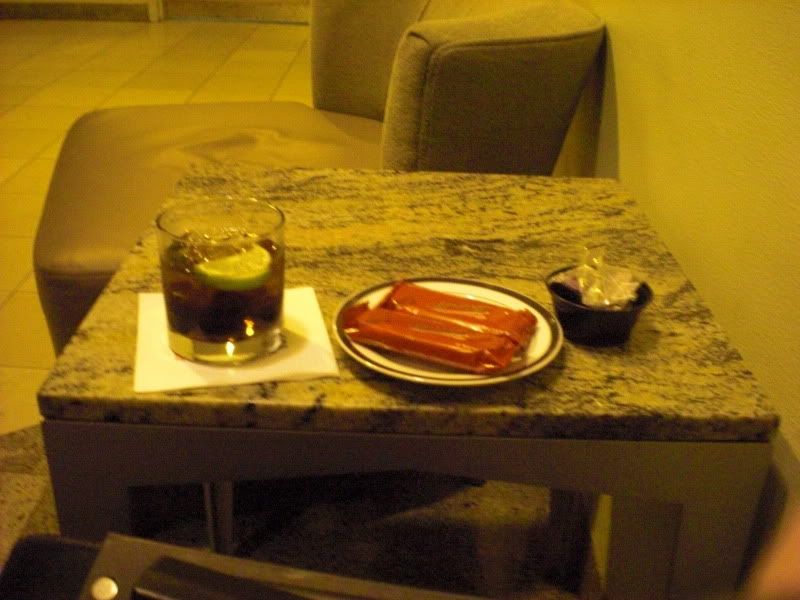 - my "lunch"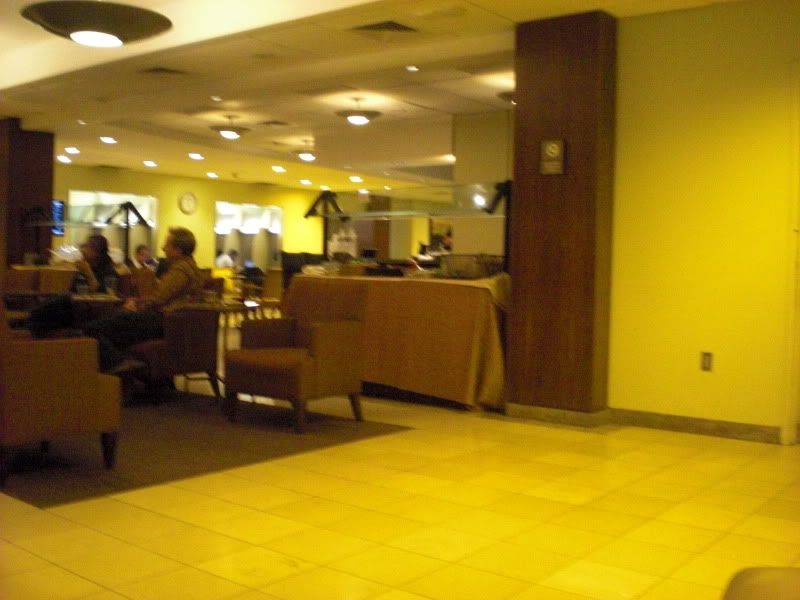 - JFK T2 SkyClub
At around 5:45, I decided to head back to the cattle heard before boarding started at 6. I went to gate 23, and found out my flight was moved to 25. So when I got to 25, I found out the inbound aircraft hasn't arrived yet, and I was told to standby for more info.
- the regional jet section reminded me of a Greyhound station...
DL 6547/ JFK-RDU (operated by Comair)
Scheduled--18:30-20:56 (2:26)
Actual--18:52-21:22 (2:30)
CRJ-100, seat 8D (exit)
Boarding began about 20 minutes late, and we walked through a jetway, down to a series of mini 'gates' down on the tarmac. I dropped my carry-on on the gate checked luggage cart, and walked up the stairs to the CRJ. Once onboard, I was greeted by Eric, a very friendly FA, based in CVG. I found my way to 8D, and settled in.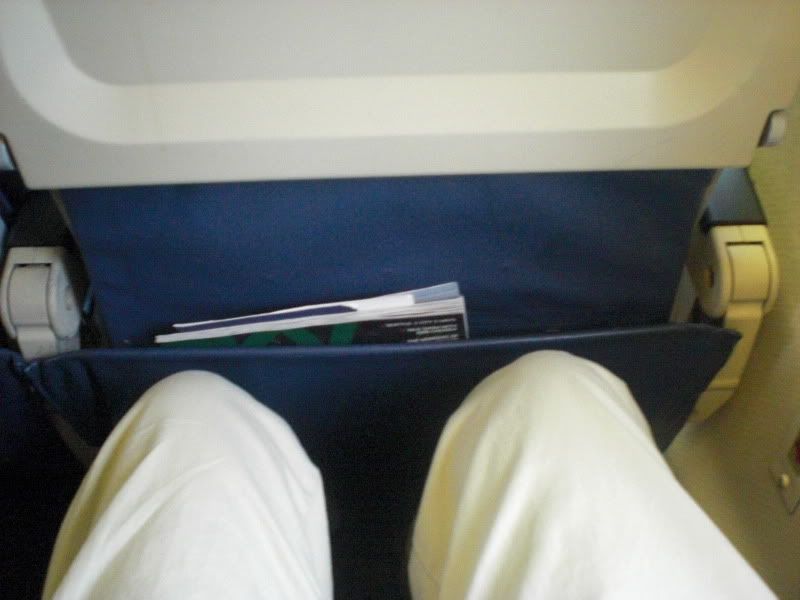 - legroom shot
After boarding was done, and 8C was still empty, I started to get excited, so I grabbed my laptop bag from the overhead and put it under 7C. Sure enough, the door was closed, and we were to be on our way. Of course, there was some fog in the NYC area, which prevented us from pushing back right away.
While taxiing out, I spotted this one...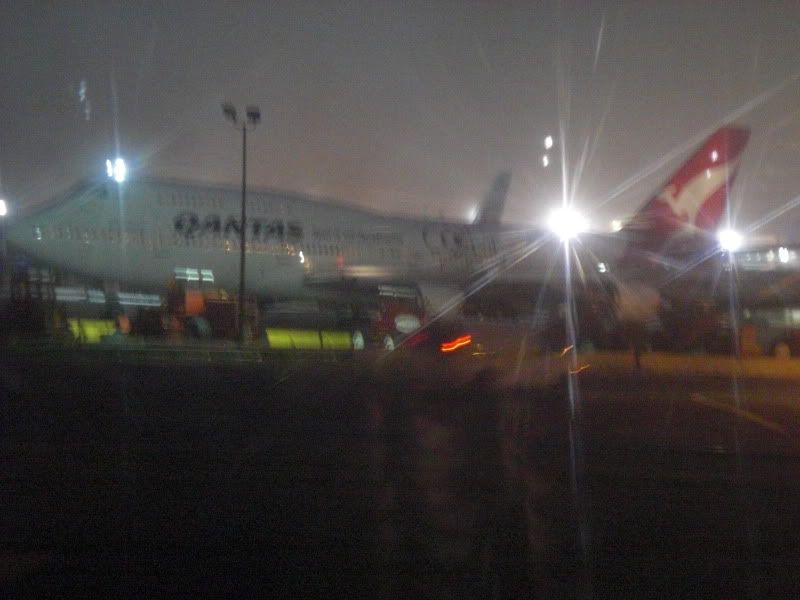 - Qantas 744, i'm guessing bound for SYD via LAX?
We sat on the tarmac for almost an hour, before finally departing the runway at 8:05. We took off to the southwest, before making a left turn to the southeast, and a few minutes later, making a right turn to the southwest. Once airbourne, I took out my iTouch, and listened to music, while Eric started the drink/snack service. When he came around to me, I decided I was tired of Coke, and opted for cranapple juice instead, and he gave me two more packs of Biscoff.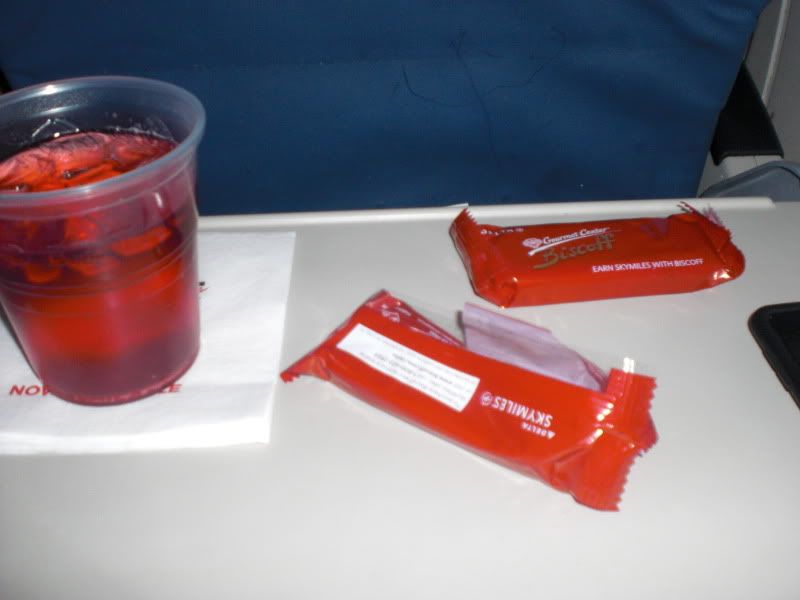 - cranapple juice and Biscoff's
After looking out the window for a good while, the captain announced the initial decent into RDU, and I stowed my iPod, and threw away my trash. We landed at 9:13, only 17 minutes behind scheduled arrival time. I guess thats the one good thing about DL scheduling extra time for a flight in/out of JFK. We taxied into gate C10, and I was out on the jetway about 5 minutes later.
I had to wait around for a few extra minutes for my gate-checked bag, and then I proceeded over to the ticketing area where I was greeted by my mother. After being awake and travelling for 15 hours at that point, I was pleased to be able to relax on the hour long car ride back.
Ratings (DL30/6547):
IFE-7(lost points for no AVOD)/4
Service-9/9
Comfort-9/7
Avg.-8.3/6.7 (out of 10)
Thanks for reading! Part II (RDU-MEM-SEA) will most likely be up on Monday (April 12th).
Apr 8, 10, 12:09 am
Join Date: Dec 2001
Location: ATX (Austin, USA)
Programs: United, AA Gold, InsideFlyer subscriber
Posts: 187
I'm not familiar with 'Biscoff' -- thought it was some kind of alcohol! Now I see that they are cookies of sorts -- a person after my own heart.

Congrats on the empty seats. That is always a welcome surprise.
Apr 12, 10, 4:30 pm
Join Date: May 2006
Location: Carolina
Programs: HH Gold
Posts: 164
Thanks for the kind comments everyone...now, as promised, part deux!
Part II--April 11th:
After a great week, I ended up at RDU a bit early (around 2 pm). I went inside to check in, and was able to select an exit window for my first leg (RDU-MEM), but my connecting flight (MEM-SEA) was unfortunately fully booked. I ended up killing some time by driving to the nearby Cary Town Center, and was back at RDU around 3:45. At precisely 4, I headed for the TSA expert line, and was through only three minutes later. I headed to gate C10, and found plenty of open seats. I sat for a bit and just peoplewatched until boarding started.
DL 4030/ RDU-MEM (operated by Pinnacle)
Scheduled--17:00-18:03 (2:03)
Actual--17:02-17:57 (1:55)
CRJ-200, seat 8D (exit)
- gate C10 signage
Boarding didn't start until around 4:45, but we still managed to depart only two minutes behind schedule. The CRJ was still in the now-ancient NWA "bowling shoe" livery. I boarded in zone 2, and was asked to gate check my larger carry-on. After putting the bag on the shelf, I headed down the jetway, and was greeted by Rod, our FA, who I am pretty sure is MEM based. I got to 8D, and my seatmate was already there.
- legroom shot
Boarding went rather quickly, and the door closed at 5:02. We taxied out, and were airborne by 5:20. A few minutes after the 10,000 ft announcement, beverage/snack service commenced, and I got my usual Coke and Biscoff. Rod was generous enough to give me two packs of Biscoff.
- more Coke and Biscoff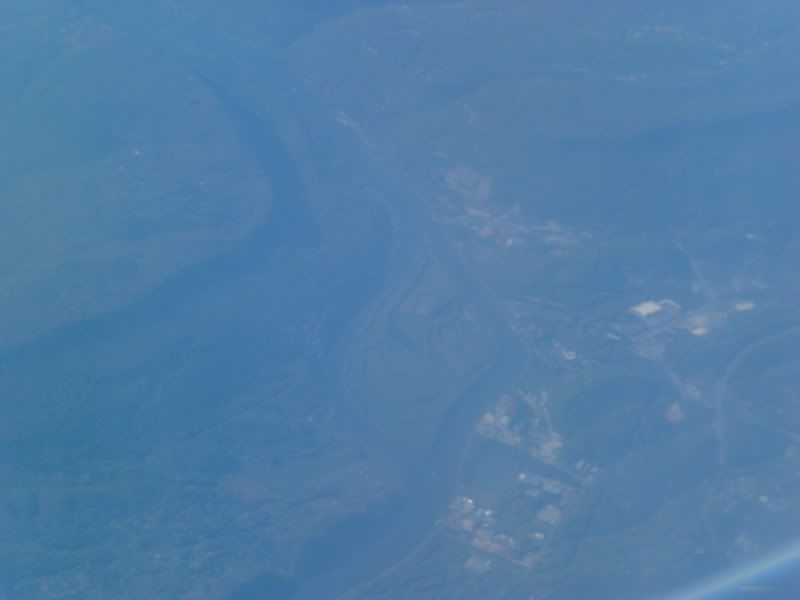 - blurry shot of Knoxville? (I think)
The rest of the flight was pretty uneventful, and I just stared out the window and listened to my iTouch until Rod announced our inital decent into the Memphis area. We landed at 5:53 local time, and ten minutes later, the door opened, and I was on my way.
Layover at MEM:
After walking off the plane, I had to wait five or so minutes for my gate checked bag. After that, I walked in to the Memphis terminal for the first time, and while it was nice interior-wise, it felt very cramped. Also, I don't think i've seen so many slow moving people at one place before.
- Jim Neely's Interstate BBQ
I stopped at Interstate BBQ in the concourse B rotunda food court for a shredded beef sandwich. Unfortunately I didn't have enough time to eat before boarding, because I had to wait nearly fifteen minutes for my sandwich. As it was about 10 minutes to boarding, I decided to head to B39 for my flight.
- crowded terminal, low ceilings
DL 2507/ MEM-SEA
Scheduled--19:20-22:05 (4:45)
Actual--19:30-22:10 (4:40)
A320, seat 12C
- gate B39, with a fellow gate louse waiting...
I arrived at gate B39 about five minutes prior to the scheduled boarding time. During the short wait, I looked across to B38, where the daily flight to AMS was boarding. I boarded with zone 3, and had plenty of overhead space. When I sat down in my seat, I was greatly surprised with the amount of space, considering it was an average aisle seat. I had no problem stretching my legs without them bumping into the seat in front. The flight was again completely full (or so I thought), and my seatmates consisted of a rather quiet woman in 12A, and a somewhat elderly man in 12B. The door closed late, because there were quite a few people coming in from a late connecting flight. Taxiout was just shy of twenty minutes, and we took off at approx. 7:49. Takeoff was to the south, before turning for a northwestern route. After we reached 10,000 ft, I stood up and got my BBQ sandwich from my bag in the overhead. After noticing it was too messy to eat on the plane, and because I forgot to get a fork, I decided to wait to eat, since I wasn't very hungry anyway. I put it back in my bag, and took out my laptop. All of a sudden, the purser made an announcement, asking if there was a doctor onboard, which grabbed everyones attention right away. It turned out that there was a child in 14A that accidentally stuck something up his nose, and nothing serious. Fortunatly, there were about three doctors onboard to help out, and they got it out within two minutes, leading to an applause from most of the plane. I watched one of my favorite films,
The Matador
. The drink/snack/buy onboard service happened right after I started the movie, and I got a full can of Coke and Biscoff.
The movie lasted just over an hour and a half, and I spent most of the rest of the flight listening to my iTouch and reading various magazines. When walking back to use the lav about an hour and a half before landing, I noticed quite a few open seats in the back, so the flight wasn't full like announced. We started our decent about 25 minutes out, and came in from the south, for a northern landing. We landed at 10:01, and pulled into gate S5 at 10:10. Deplaning was rather quick, and I was outside the terminal waiting to be picked up at 10:25.
All in all, I would say the outbound was better, but I guess I got lucky with an exit row with an open adjacent seat on both segments. I would probably try to avoid JFK and MEM in the future, and try to route via MSP, DTW, or CVG, but thats just my personal opinion. Thanks for reading!
Oh, by the way, I put my sandwich from Interstate BBQ in the fridge when I got home, and ate it for lunch today. It was quite tasty!
Ratings (DL4030/2507):
IFE-4/5
Service-4/7
Comfort-6/7.5
Avg.-4.7/6.5 (out of 10)
Apr 13, 10, 1:56 pm
Join Date: Oct 2007
Programs: Dividend Miles, AAdvantage, Hilton Honors, Marriott Rewards, Priority Club
Posts: 181
I must say, with RDU being my home airport (even though I currently live in the DC area), I do love those gate sign tv screens. They are huge and very nice... Not like some of the small potato ones I have seen elsewhere (uhm, MIA)..
Apr 13, 10, 2:46 pm
FlyerTalk Evangelist
Join Date: Nov 2005
Location: Phoenix, AZ
Programs: American Airlines AAdvantage, Rapids Reward
Posts: 34,061
Wow!!! That was great trip reports. I'm glad you are so enjoyable for flying on DL/NW out of SEA-JFK-RDU-MEM-SEA. So I remember that I was there in MEM years ago and it was very old terminals and its time to start underway renovations the entire terminal. it was too overcrowded where those passengers is flying through MEM.

So I know it was real problems with the nose bleeding. It should have to put the ice on it and keep head back for 5 minutes when the bleeding is stop. Because it was too dry out there. I remember what happened to me that I got nose bleeding during my flight out of ATL-PHX years ago. SO the nurse came by to see me and I have to stop nose bleeding. So it should have try to get better. I was called out to need help with my F/A in the First Class. I know it was very extremely hot weather in Florida. It will cause too much problems the nose.