Bula – Fiji With Air Pacific & Qantas (+ Pics)
Mar 23, 10, 11:58 pm
Join Date: Dec 2004
Location: Brisbane, Australia
Programs: Virgin Australia Velocity Gold
Posts: 1,425
Bula – Fiji With Air Pacific & Qantas (+ Pics)
---
"Give me a smile" is the title of Air Pacific's latest advertising campaign, released December 2009. I was certainly smiling listening to the tune as I began making travel-related bookings back in February for what would my first trip to the much publicised and majestic Fiji Islands.
Before you continue reading, I ask that you please download and listen to Air Pacific's "Give me a smile" tune as it really gets you into the Fiji holiday feeling and is certain to put a smile on your dial too!
Download
- "Give me a smile"
And for further information about the campaign -
click here
.
Fiji comprises of 322 islands and is located in the South Pacific, a mere 3 to 4 hours flight from the east coast of Australia.
(Source - Claycritters)
As the itineraries started flowing through, the dreaded credit card balance started to swell, however I knew in the end it would all be worth it, and funnily enough, after a number of challenges along the way, it proved to be one of the most enjoyable holidays I have had the pleasure of taking.
Not being the type to fly nonstop, and given this was partially a status run, the following itinerary was booked
Brisbane – Melbourne
Melbourne – Sydney
Sydney – Nadi
Nadi – Sydney
Sydney – Brisbane
Now, enough of the preamble and on to the important stuff – the flying!
Saturday 13 March
Brisbane to Melbourne
QF601
VH-TJR – Boeing 737-400
Seat 1K
This sector was relatively empty, likely given it was Saturday and it was a scheduled OMG departure.
Today, Qantas 737-400 VH-TJR would carry me to Melbourne, and while the aircraft was relatively old, a recent refresh made it look a million dollars.
A hot Breakfast option was made available; however I opted for the Muesli, complimented with hot bakery items. The rest of the flight was uneventful, however an inquisitive friend began talking to the paxing FO also in J class and to our surprise found he would be operating our 767-300 service from Melbourne to Sydney.
Saturday 13 March
Melbourne to Sydney
QF418
VH-ZXA – Boeing 767-300
Seat 5K
With a relatively short transit, a quick visit to the Business Lounge was on the agenda. After a short stop it was time to go to the gate, to board ex-British Airways 767-300, VH-ZXA – the nasty aircraft without directional air vents (brrrrr). Given the much more appropriate departure of this service, it was a given the aircraft would be fuller, with just a few seats spare up the front.
The friendly Flight Attendants offered pre-departure drinks (which is the norm might I add) and we were on our way for a northerly departure from Melbourne. A newly-delivered Philippine Airlines 777-300ER made its presence felt as it rotated past us, on its short flight bound for Sydney (a continuation of MNL/MEL).
Given the departure time, a refreshment would be served – this consisted of a quiche and accompaniments. Honestly, this was one of the nicest meals I have had aboard a flight, even if it was on the small size.
A scenic flight was on offer, passing to the west of Canberra, before flying directly over Sydney Airport, out towards Bondi Beach, parallel with the coast, before a large left turn for a 16R approach – definitely one of the most peculiar, albeit scenic approaches I have had into Sydney. Upon arrival, it was a short walk to the International terminal transfer desk, and before I knew it, I was on the airside bus on my way to T1 (for those that have done this transfer, yes admittedly it can be painful and somewhat of an annoyance, but for the aerosexual, it's a free airside tarmac tour, with an abundance of things to see).
Saturday 13 March
Sydney to Nadi
FJ910 – ticketed as QF391
DQ-FJL – Boeing 747-400
Seat 1K
After clearing Immigration and security, I met up with a Sydney-based best friend, who would be travelling with me (in Y class on staff travel). I waved goodbye to my two other friends, who proceeded to the Qantas First Lounge. My friend and I made our way to the perfectly adequate Qantas Business Lounge where for about 40 minutes we admired the view, caught up on one another's lives and made use of the plentiful array of drinks and refreshments.
Our gate was adjacent to the where the Air Austral flight to St Denis would depart, and the cynic in me questioned the viability of this flight, however much to my surprise, added to the stunning and breathtaking flight attendants, was a rather busy gate area (yes, P&Y 101 determines that heavy loads does not necessarily lead to profitable flying).
My flight to Nadi was due to depart full in Tabua (Business) Class (28/28 seats), with about 125 empty seats in Economy. Priority boarding was given to Tabua class passengers, as well as elderly passengers and families with small children – akin to the boarding process of mainly airlines worldwide.
After what was a seemingly long walk to the Aircraft via the aerobridge, I saw the Senior Flight Attendant, flower-in-hair and all, welcoming passengers aboard the 747-400. After being given a loud and courteous "Bula" and genuine smile, I was directed to my seat in Tabua Class, 1K in Zone A. If you have ever had the opportunity to fly aboard Air Pacific's 747-400 (or Ansett Australia's/Singapore Airlines'), you would note that Zone A is extremely spacious given the lack of galley near door L1 (see below).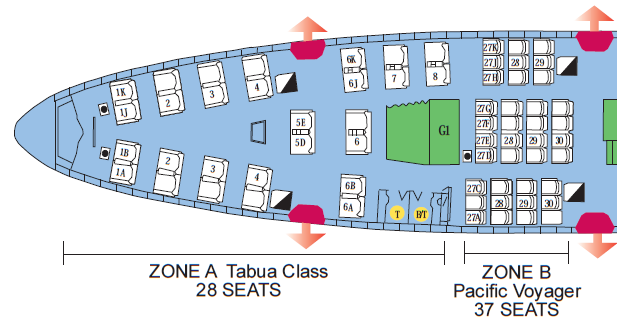 After a seemingly lengthy boarding time, we pushed back 2 minutes early and proceeded to 16R for a southerly departure. After a relatively quick rotation, I said goodbye to Sydney and the excitement truly began to set in.
Given I have promised photos, please see below (I will caption all photos and let this tell the story).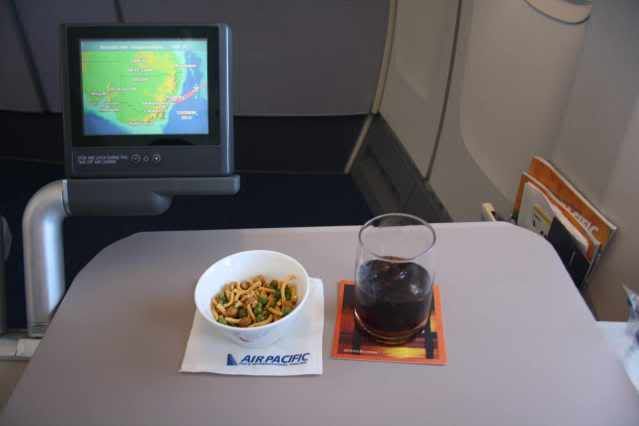 Spicy mix with drink – PTV has also been extended and offers loop-based entertainment.
Taken about 30 minutes after the departure from Sydney
Today's starter – prawns and calamari on a bed of salad. It definitely tasted better than it looked.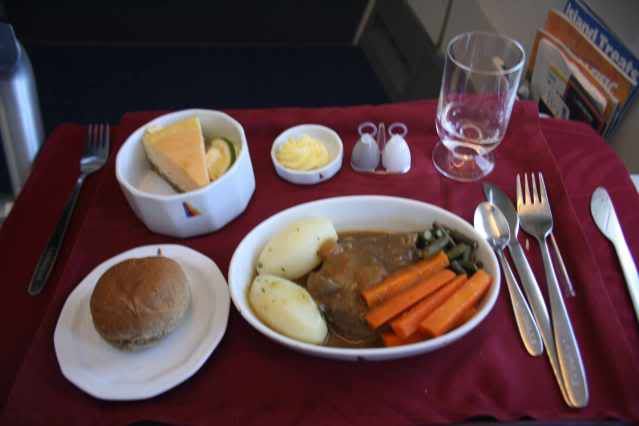 Main – Fillet steak with vegetables. One of 3 options available (other options comprised of a vegetarian or chicken filo pasty dish). A wide array of drinks were available, including a select few Fijian alcoholic drinks.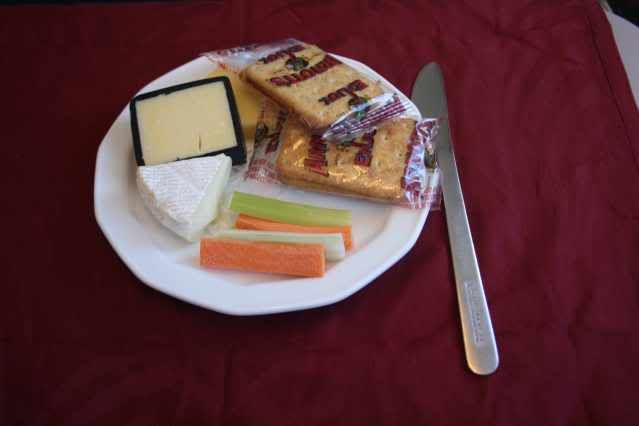 Cheese platter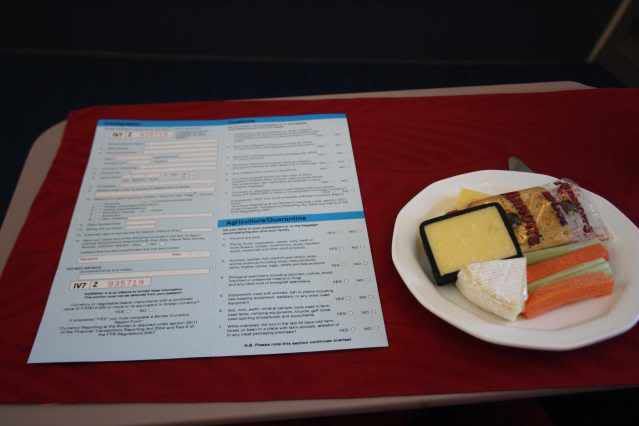 Cheese platter accompanied by a Fijian Immigration/Quarantine/Customs declaration form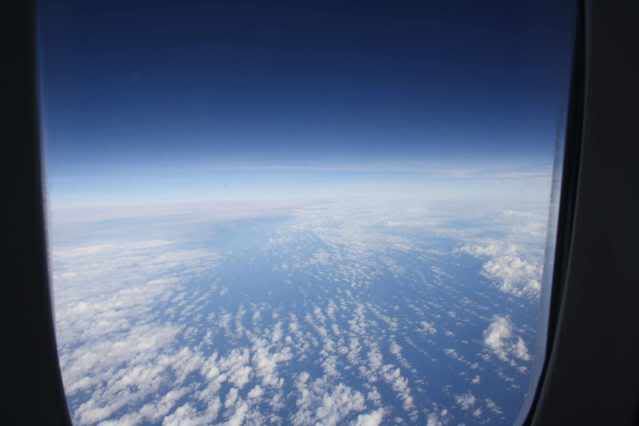 About 1 hour away from Nadi
Getting close to Nadi – we had already begun our decent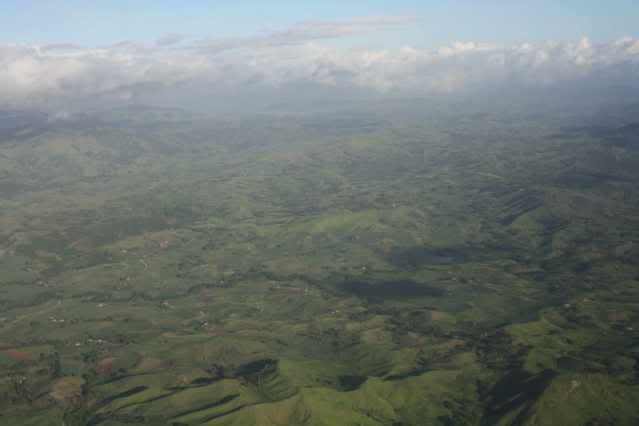 The majestic main Island of Viti Levu
Welcome to Nadi Airport, Fiji
Air Pacific 747-400 DQ-FJL – part of a fleet of 2 747-400s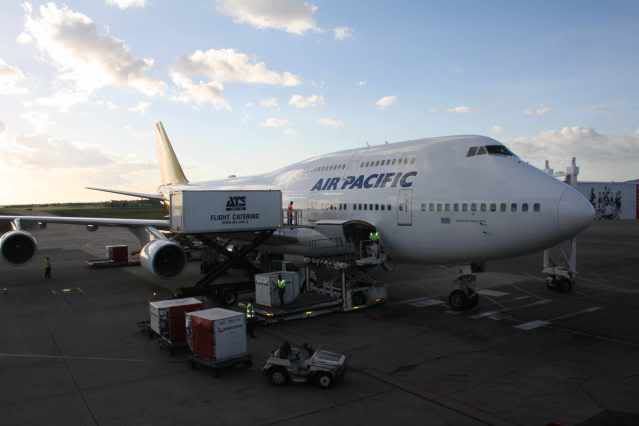 Nadi Airport has excellent, open paths to the aircraft, allowing for pictures such as this
After a short wait, the 747-400 load of passengers were processed by the bare-foot and seemingly sterile-faced Immigration officers (must just be a Immigration thing – happens in AU also!). While waiting, it was interesting to see the abundance of flights due to arrive in Nadi, including the FJ 737-800 service from Honolulu and Continental Micronesia's new 737-800 service from Guam.
After waiting about 15 minutes for my supposedly "priority" checked baggage I knew the blindingly obvious had occurred – my baggage had been left in Sydney, and I was not the only one! The overwhelmed Air Pacific baggage services officer confirmed it had been left in Sydney and would be sent to my Hotel the following day (Sunday) after arriving on the next Sydney – Nadi 747-400 service. I can appreciate that situations like this do often arise, and as a prepared traveller, I had packed a supply of clothes in my hand luggage.
Mar 24, 10, 12:00 am
Join Date: Dec 2004
Location: Brisbane, Australia
Programs: Virgin Australia Velocity Gold
Posts: 1,425
I then finally caught up with the lovely Hotel driver, who I had been in email contact with prior to the trip. He was an excellent fellow, answering many questions and pointing out landmarks and points of interest along the way. It was a 50 to 60 minute drive to the InterContinental, mostly in dark and at speeds no greater than 40 kilometres per hour (damn roaming pets, including horses!).
InterContinental Fiji Golf Resort and Spa
Natadola Beach, Fiji
Wow – easily the best Hotel I have ever had the pleasure of staying at. All staff were consistently friendly, pre-emptive of one's needs, professional and always showed a willingness to assist. I had long been advised that Fiji was the friendliest place on earth, and after having travelled there for the first time, it wasn't hard to agree.
The Hotel offers a large number of room types. I was fortunate to experience a Beachfront Suite (thanks to an upgrade as an IC Platinum Ambassador). The complex was extremely spacious, modern and had everything you needed, including a Cleopatra bath (ok, I didn't need that per se, but it was certainly a welcome addition!). The Hotel offers a number of bars and restaurants and good food, beverages and genuine service was always plentiful.
Check-in was a breeze, with the added touch of being sat down directly with the check-in agent (certainly beats standing as someone taps away at their computer). Pineapple juice and hot towels were also made available as part of the check-in experience, and while it was surprisingly not humid at all, after a lengthy day's flying it was a welcome touch.
Cyclone Tomas was fast approaching Fiji and had already begun to wreak havoc in the north eastern and outer-lying parts of the Fijian Islands, alas already causing a fatality. There was a sense of the "calm before the storm", with just a gentle breeze winding its way through the Hotel complex. I have already commended the staff (also advising senior IHG management) in terms of providing regular, in-depth and informative updates on the track of cyclone Tomas and the contingency plans in place for its forecasted arrival.
Please see various photos from the property below, ranging from the view from the room, the room itself and the stunning Natadola Beach and Island.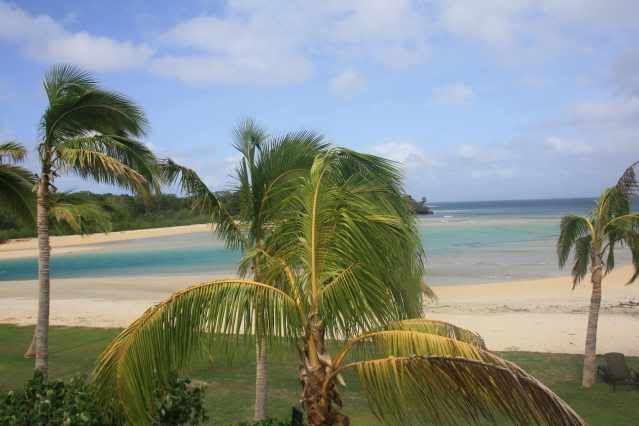 Natadola Beach and Island from my Room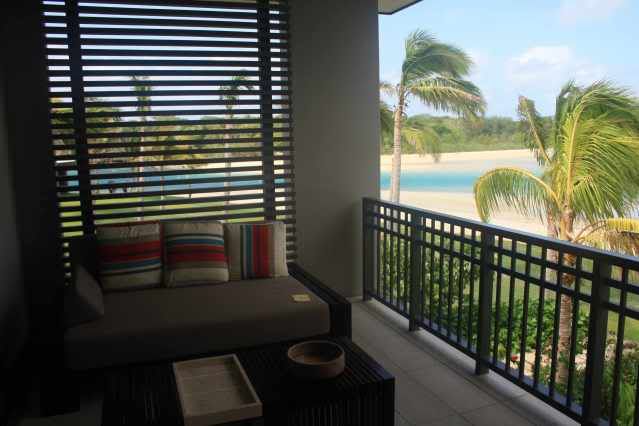 Natadola Beach and Island from my Room – this time a little more obvious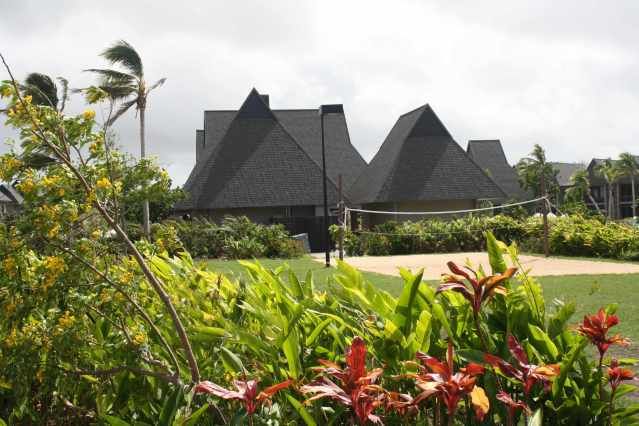 InterContinental Fiji Golf Resort and Spa – beach volleyball court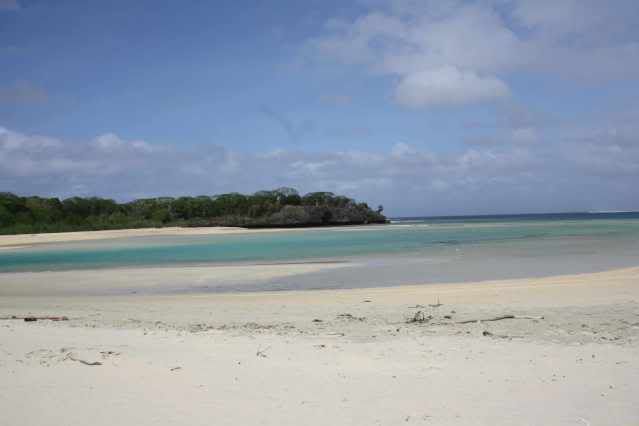 Natadola Island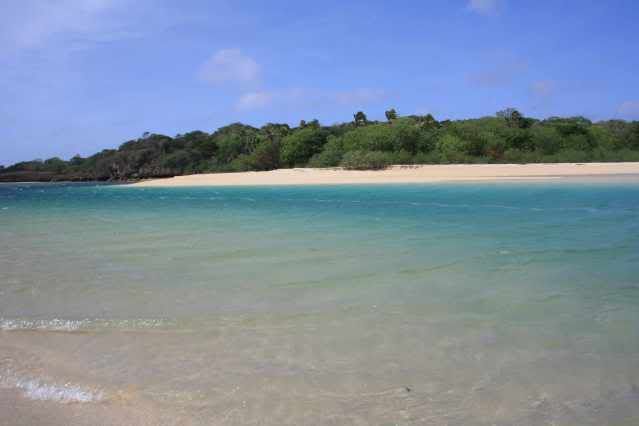 Natadola Island
Lovely isn't it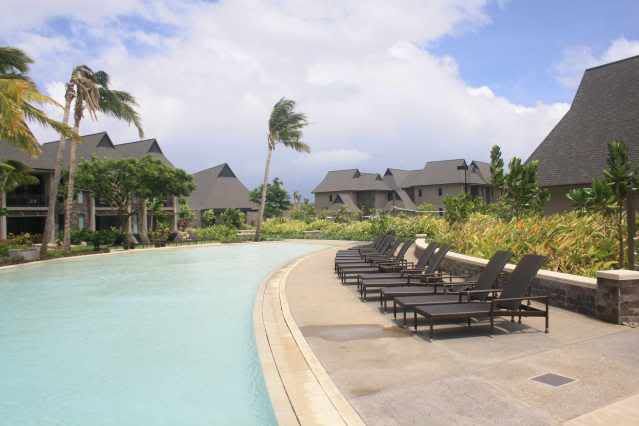 One of the many man-made pools located within the complex
One of the restaurants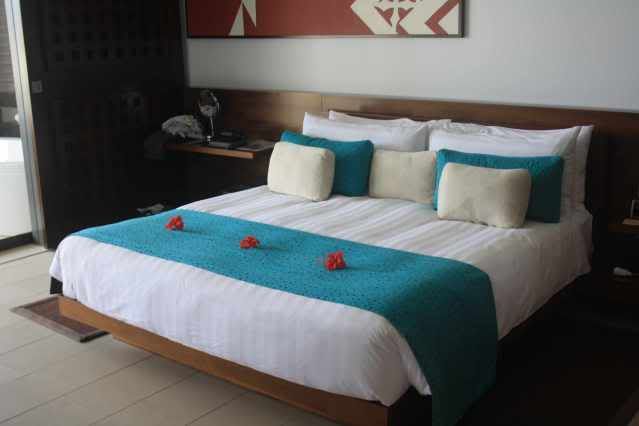 The luxurious King bed – damn it made for a good night's sleep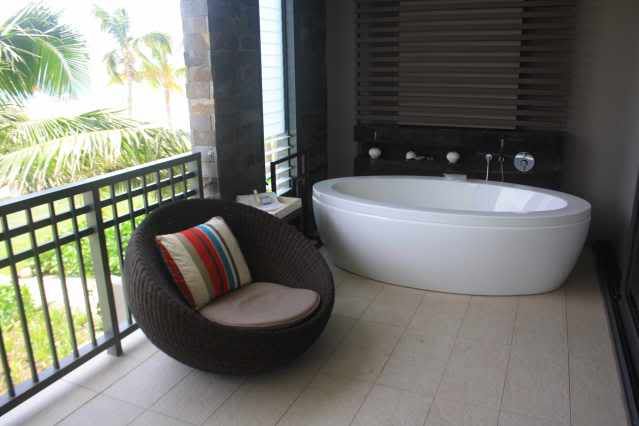 Cleopatra bath – located on the balcony
Lots of vegetation = good, but can also = pain in the neck, especially if it has to be secured because of an impending cyclone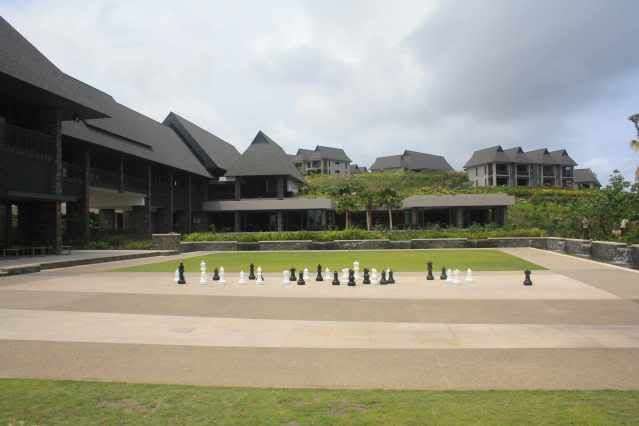 Looking towards the main Restaurant
A railway line passes through the Hotel
More of the property
Looking due west towards Australia – what a lovely sunset
Mar 24, 10, 12:01 am
Join Date: Dec 2004
Location: Brisbane, Australia
Programs: Virgin Australia Velocity Gold
Posts: 1,425
Tuesday 16 March
Cyclone Tomas passed Nadi and Natadola Beach leaving most areas relatively unscathed; however the damage was significantly greater in outer-lying areas and parts of north east Fiji. Given Air Pacific took decisive action the day prior (Monday), they left one of their 747-400s to overnight in Sydney and one of their 737-800s in Brisbane to escape the expected path of Tomas. This caused flights to be delayed and cancelled, and resulted in an itinerary change for myself.
Given I had a planned 09:00L departure from Nadi on the 747-400 service to Sydney; I would have connected to a 15:00L Sydney to Brisbane service with ease. However given most Australia-bound flights had a revised departure time between 17:20L and 17:45L, I would have arrived in Sydney close to 20:00L, breaching the MCT in Sydney and missed the last QF-operated service to Brisbane at 21:05L. Air Pacific kindly placed me on the nonstop 737-800 service due to depart at 17:35L.
Tuesday 16 March
Nadi – Brisbane
FJ921
DQ-FJH
Seat 2A
After a seemingly lengthy time in the refurbished Tabua Lounge at Nadi Airport, my flight was called. The flight was to be relatively empty, with just 4 of us in Business and a light load in Economy (if I remember correctly, there were about 60-100 free seats).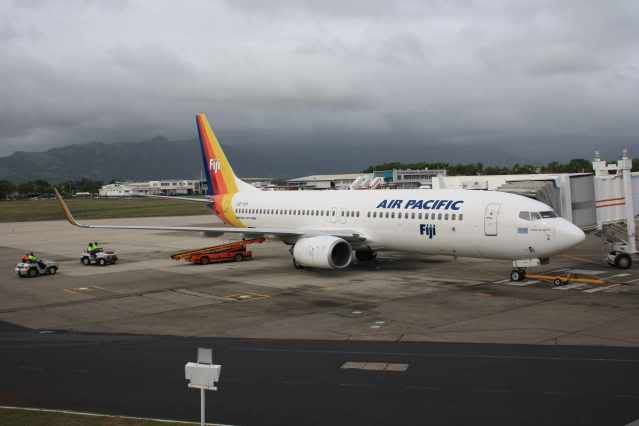 Once again thanks to the open-natured walkways, photos such as this are possible. DQ-FJH is one of two 737-800s belonging to Air Pacific and would be the aircraft that would take me home to Brisbane.
I was once again given a warm welcome onboard by the Senior Flight Attendant and directed to my seat. Air Pacific only has 8 seats in Tabua Class on their 737-800s (it puts the Qantas 737s to shame), and the seat pitch is rather good and PTVs with loop-based IFE are also available. Each passenger in J was given a window seat, resulting in spare seats next to all of us. After a seemingly quick boarding, the doors were shut and we were on our way.
Taken leaving the Fijian Islands (unfortunately)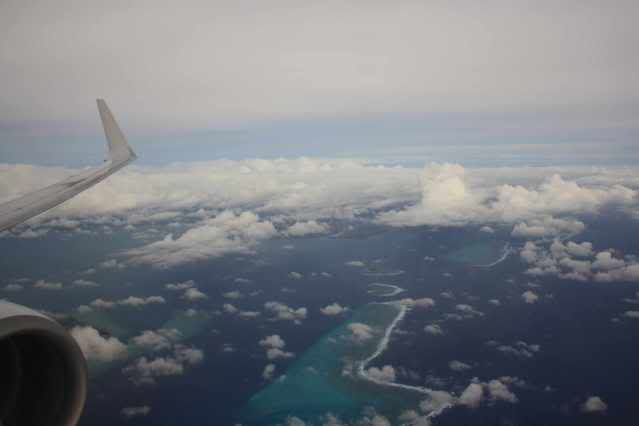 Lovely isn't it
The SFA serving the J cabin was one of the best cabin crew members I have ever come across. I don't think it would be appropriate to mention her name, however if you happen to come across an SFA with a name that is based on a colour, you will be in for a great flight. She was always available to assist, pre-empted passengers' requirements and was friendly enough and approachable for a quick chat (unfortunately due to Tomas, Air Pacific had been unable to load aircraft models, much to my disappointment. However I have since been in contact and have ordered some – yippee!). Other cabin crew could certainly take a leaf from her book and see how to conduct professional, friendly yet non in-your-face service. I have since been in contact with Air Pacific and they have greatly appreciated the feedback I gave about this particular crew member and have ensured it will be forwarded to her – excellent.
Warm nuts (hehehe) and a copy of Air Pacific's inflight duty-free sales magazine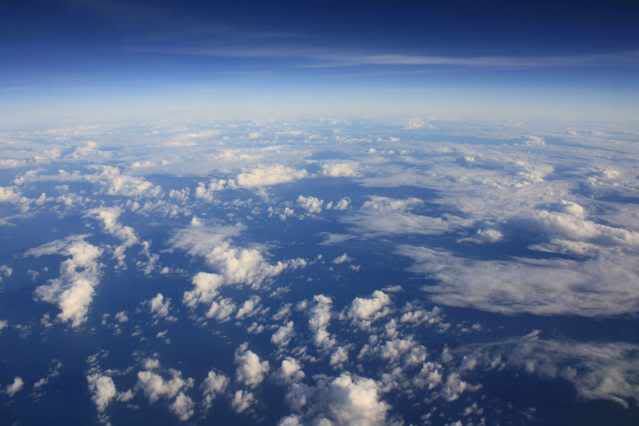 The mighty Pacific Ocean
Dinner is served – this time I opted for the Filo pasty chicken and glad I did, as it was delicious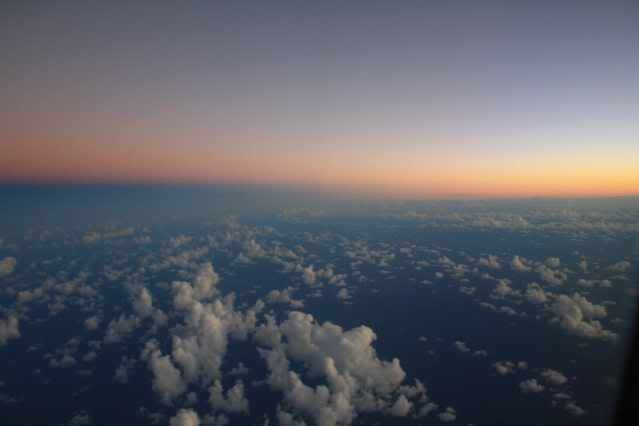 Brisbane-bound
Taken just before our decent into Brisbane
Fiji is easily the friendliest place on earth and certainly lives up to its name. Seemingly random people always made an effort to say hello and there is a great respect for tourists, regardless of where you come from. I enjoyed the laid-back nature of the Country as a whole and surprisingly all requests were actioned quickly – I had been warned about "Fiji time" prior to departure and that it may take 40 minutes just to get essentials such as a cup of coffee!
Air Pacific is by far one of the best airlines worldwide, even with an antique product offering. While the hard product may be lacking, it's in the area of service where the Airline really excels/shines. With one of the most attractive liveries in the industry, cheap and value-packed airfares and the ability to fly on a 747-400 on a relatively short sector, you've got to ask yourself why would you fly anyone else (and yes, I know I may eat my own words since V Australia has commenced 777-300ER services to Nadi). Air Pacific provided me with a wonderful flying experience and I hope to fly with the carrier again soon.
Bula to all the people of Fiji and I hope you have a speedy recovery in the aftermath of Cyclone Tomas.
Not only have I met with some lovely people, had a wonderful flying experience, had a seemingly calm experience with a dangerous cyclone, I have also recently acquired Qantas Frequent Flyer Gold or Oneworld Sapphire status, another added bonus. Interestingly Qantas responded to my query about the delayed baggage, less than 24 hours after lodging the feedback and are unable to explain why the bag wasn't transferred.
Qantas-issued boarding passes for my domestic sectors on 13MAR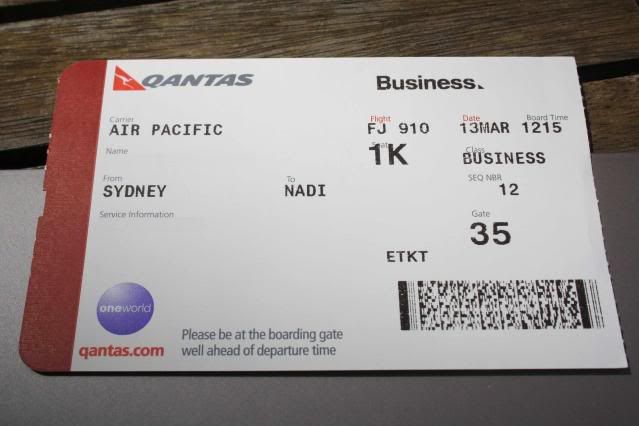 The refreshed Qantas boarding passes – rather nice I might add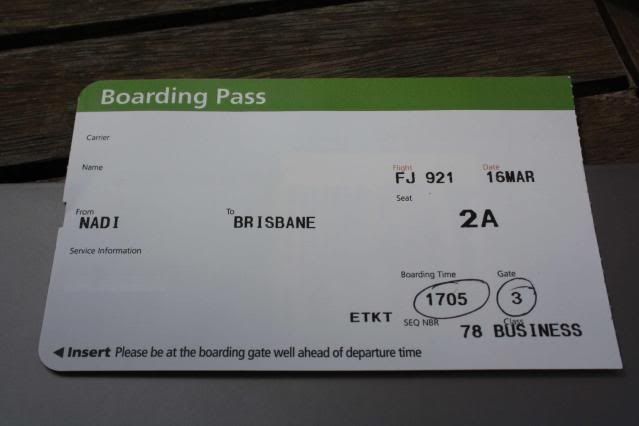 The rather bland NAN/BNE boarding pass issued by Air Pacifc – no fruit tingle colours here unfortunately
Vinaka for reading
Mar 24, 10, 10:55 pm
Join Date: Mar 2007
Location: PVG, China
Programs: Platinum Ambassador, SPG Gold, Krisflyer, Accor A-Card Platinum, Hilton Honours Gold, QF Bronze
Posts: 2,350
What a really refreshing trip report. You really seemed to enjoy your experience and look at everything positively.

Thanks for writing.
Mar 25, 10, 9:30 am
Join Date: Dec 2007
Location: PDX
Programs: AA,DL,BA,UA,SPG, and any other free trip!
Posts: 1,789
nice hotel and was this an award ticket?
---
that hotel looks real swanky---my kinda place. Its an ICH hotel so we can stay there with pts?? also...was your flight an award ticket or did you coff up the money for it? great trip report.....inspired me big time
Mar 25, 10, 12:49 pm
Join Date: Feb 2005
Location: Home
Programs: Virgin FC, Qantas, Golden Circle, Sofitel, Hyatt, Starwood, Nectar, and my Tesco Club Card
Posts: 1,693
I saw the "Bula" and immediately thought of a very happy holiday in Fiji a few years ago.

Anyone who has holidayed in Fiji is guaranteed to remember the word Bula.

Great report
Mar 25, 10, 3:20 pm
FlyerTalk Evangelist
Join Date: Nov 2005
Location: Phoenix, AZ
Programs: American Airlines AAdvantage, Rapids Reward
Posts: 33,847
Wow! I just noticed that I saw your TR details from entire a.net. So I'm glad that you are so enjoyable for flying on FJ or QF out of SYD-NAN-BNE. So you were dealyed the flight due to mechanical problems. So I am never see it before and the islands is looks so beautification and spacious, too. I am never been in Fiji before. Someday in the future if we can go to Fiji sometimes in the future. I can't wait to get on the this flight out of USA-NAN nonstop.

I'm glad you were so enjoyable for flying in the J class. I am never see more gorgeous islands before and it was so wonderfully time you went on the beach near the hotel. So let's the speculating about this one. I will try go to NAN someday in the future if we will have a nice vacation trip. Could be very interesting things to do for me that I can see exploring around of the islands.
Nov 7, 10, 7:50 am
Join Date: May 2001
Location: La Jolla, CA, USA
Posts: 736
We are palnning to fly SYD-Nani and Nadi-LAX in Tabua class. Seatguru says there's "12 inches of recline." This doesn't sound like much. Will we be able to sleep at all? Are there leg rests? There is a "picture" on seatguru showing a leg rest and modest decline, but it's hard to tell if it's at all comfortable.

Comments?
Dec 8, 10, 10:02 pm
Join Date: Dec 2010
Location: Australia and soon to be USA
Posts: 2
Hi,
Thanks for the review. I must say it was quite refreshing to read as I have been doing a few searches on AP and have not had the best reviews, but with yours there is hope yet!

I fly out on Dec 24.
Bris - Nadi (Air Pacific, Economy)
Nadi - Honolulu (Air Pacific, Business)
Honolulu - Portland, OR (Alaska Air, First Class)

What annoys me is that I couldn't get a Bus Class fare from Bris-Nadi and I cannot use the club lounge facilities in Brisbane as I need a Bus Class ticket.

I will post my review sometime after Christmas!
---
Last edited by AussieYankie; Dec 8, 10 at

10:28 pm
Dec 8, 10, 10:28 pm
Join Date: Dec 2010
Location: Australia and soon to be USA
Posts: 2
Originally Posted by
normcpa
We are palnning to fly SYD-Nani and Nadi-LAX in Tabua class. Seatguru says there's "12 inches of recline." This doesn't sound like much. Will we be able to sleep at all? Are there leg rests? There is a "picture" on seatguru showing a leg rest and modest decline, but it's hard to tell if it's at all comfortable.

Comments?
It will be a lot more recline than economy. You should be fine.