LH F FRA-AUH (with pics, incl FCT) - FEB 2010
Mar 7, 10, 9:42 am
Join Date: Dec 2006
Location: NYC
Programs: UA GS (1MM), DL Gold, Marriott Plat, Hyatt Globalist, Avis CC
Posts: 465
LH F FRA-AUH (with pics, incl FCT) - FEB 2010
---
So, given the unexpected popularity of my last TR
http://www.flyertalk.com/forum/trip-...eb-2010-a.html
I decided to go ahead and write a TR on my experience on LH F. Enjoy.
Background
As stated in my previous TR, this is a segment on the ORF-IAH-FRA-AUH, DXB-ZRH-ORD-ORF journey. In particular, I'll report on the LH segment FRA-AUH. I arrived from IAH the day prior and spent the night at the Sheraton hotel at FRA. A very pricey place (350€ for a pretty ordinary hotel room) but the location was great, attached to the airport by a walkway - oh, and I wasn't paying for the hotel! I took the S-Bahn into the city the night before to enjoy Frankfurt a little bit, but had dinner in the hotel. I woke up around 0800 for my 1130 flight to AUH and an experience in the FCT! The taxi from the Sheraton to the FCT cost me 12€ including a generous tip.
First Class Terminal
Wow. I've been to many "home airport" F lounges, and this, hands down, was the best I've ever been to. Upon arrival in my taxi, I was immediately met by two people - one would turn out to be my Personal Assistant and the other went straight to the trunk to get my bags. Amazing - I never had to look or think about my luggage! My PA asked me where I was going and for my passport. No check in process at all - he took me straight to security. It was really strange to be the
only
person at security - I had 3 security officers all to my own. Once on the otherside, my PA invited me to enjoy the lounge and would be back in a bit with my boarding pass.
One of the first things I noticed was the flight status board that only displayed the flights of FCT pax's destinations. It was really interesting to see where other F travelers were headed to. I took a seat in the main area with a TV with BBC on next to me.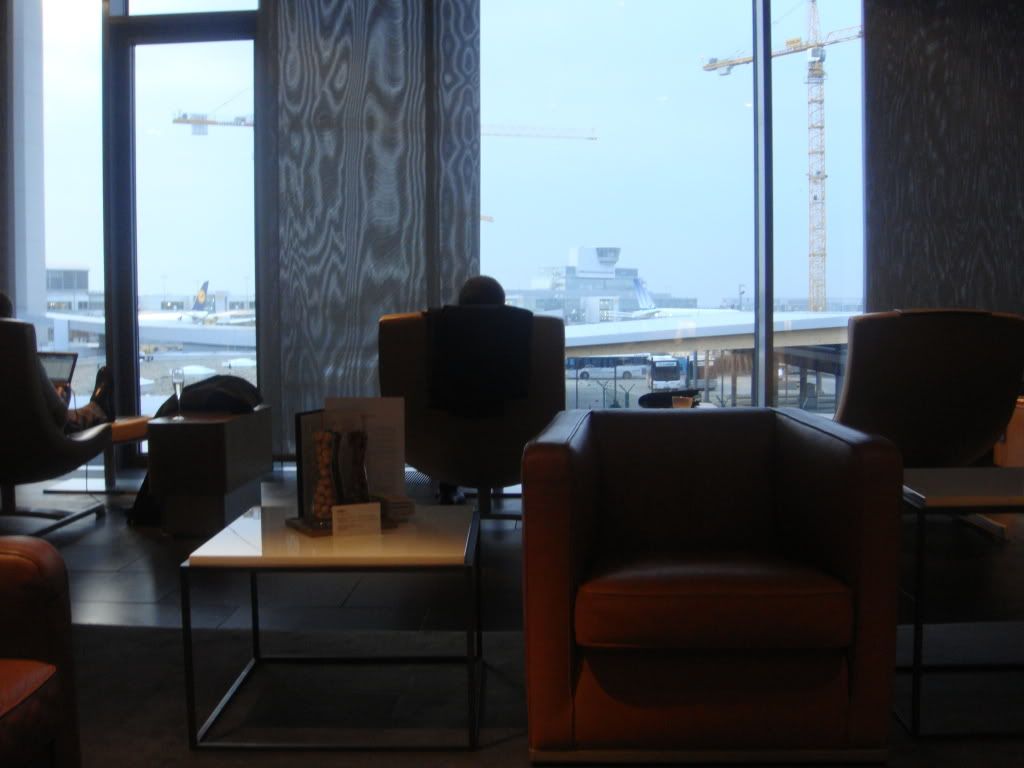 Notice the UA 772 in the background - gross.
As soon as I sat down, a lounge attendant came and asked me what I would like to drink - a tough decision given the extensive menu provided. I asked for some grapefruit juice and a glass of champagne. Both arrived moments later. The grapefruit juice was obviously fresh-sqeezed with pulp and even a slice of grapefruit - mmm. It's going to be hard to go back to canned juices in other lounges.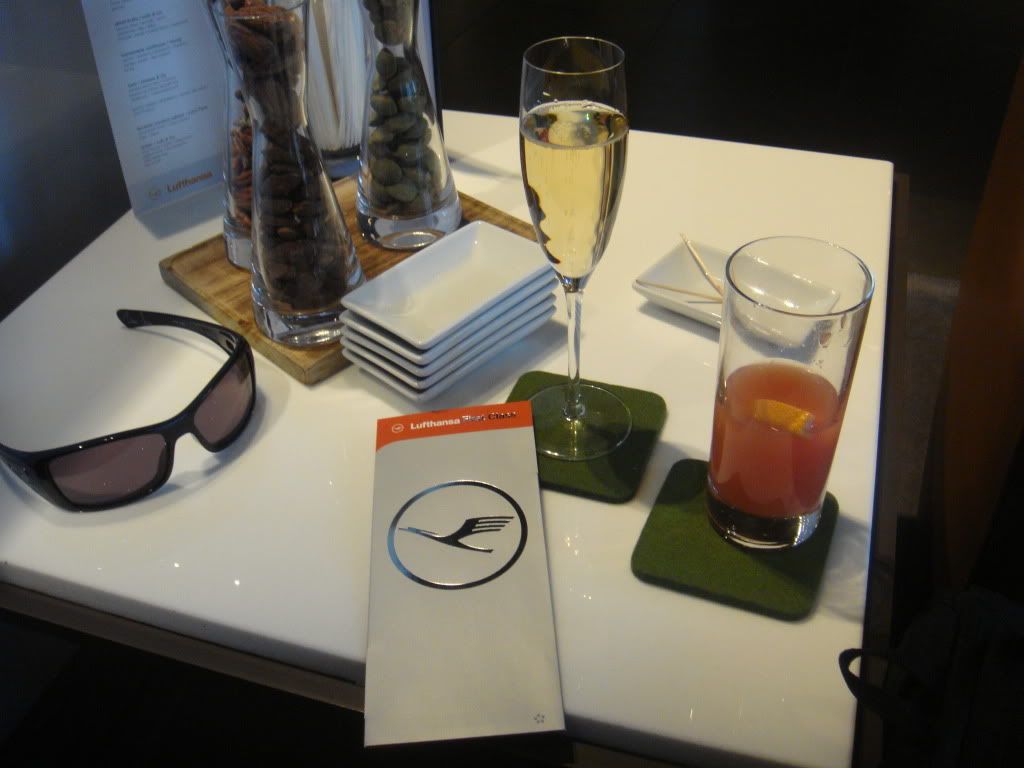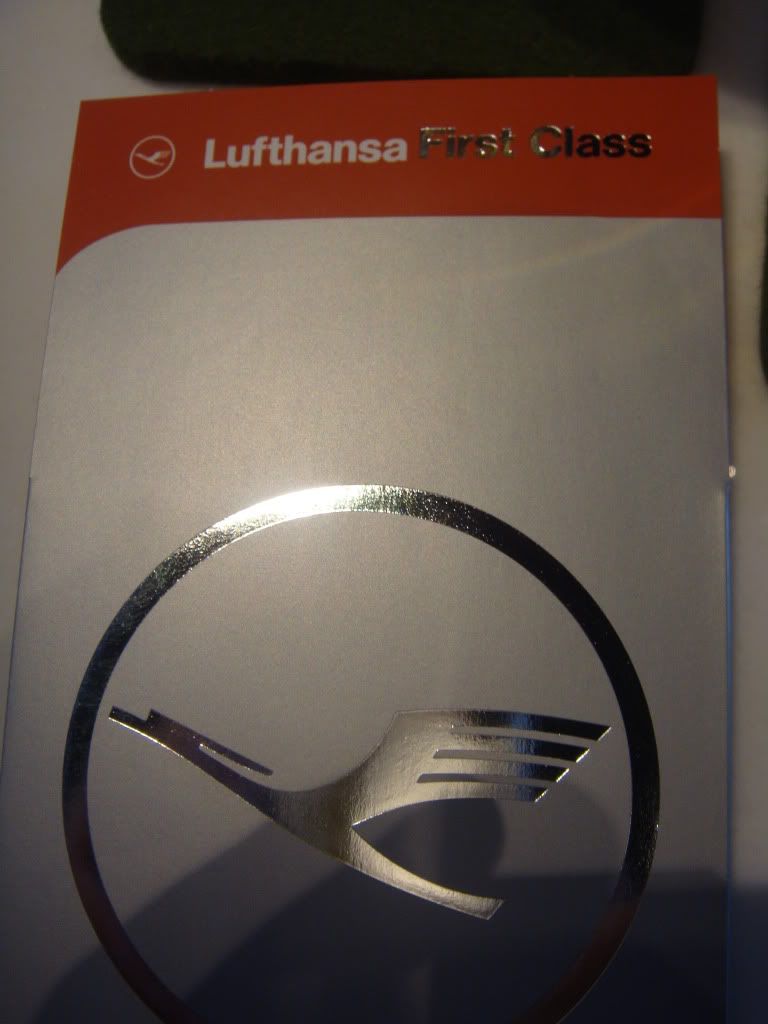 I went exploring in the lounge and saw the cigar lounge, restaurant, and dining area. I helped myself to a few pieces of salmon off the buffet but as I was picking up the tongs a lounge agent came and asked if she could prepare the plate for me! I declined her kind offer and threw some things on a plate. Everything was excellent. I bet the sit-down dining experience was top notch, but since it was still the morning, and I had a flight ahead of me, I refrained from eating much.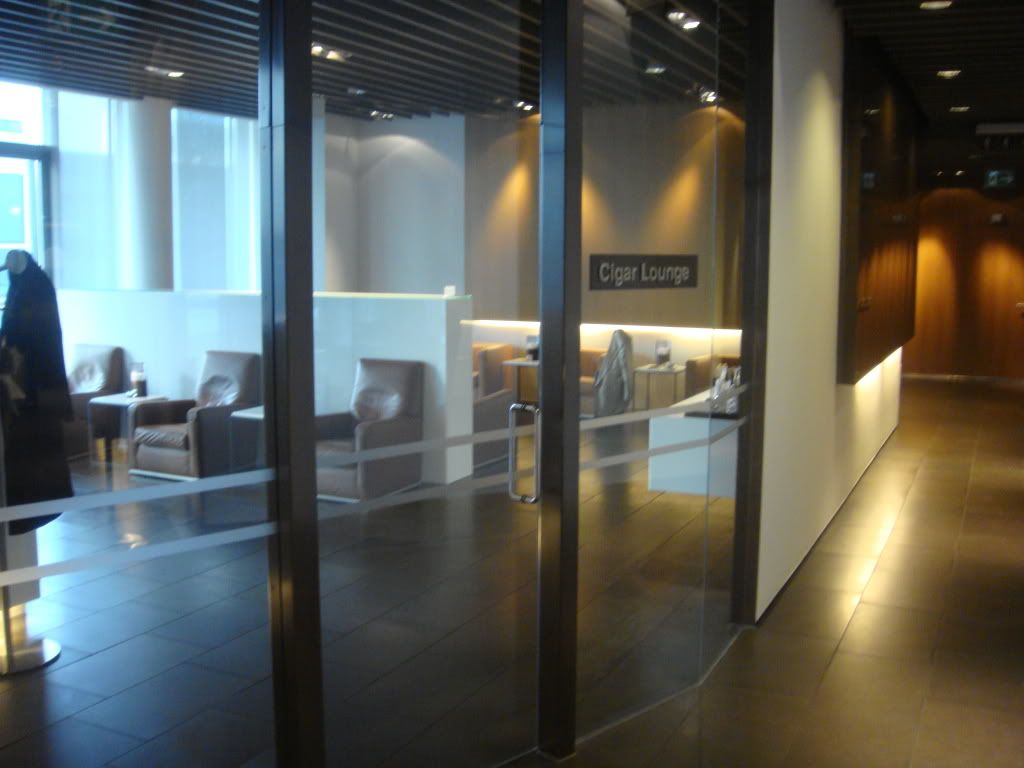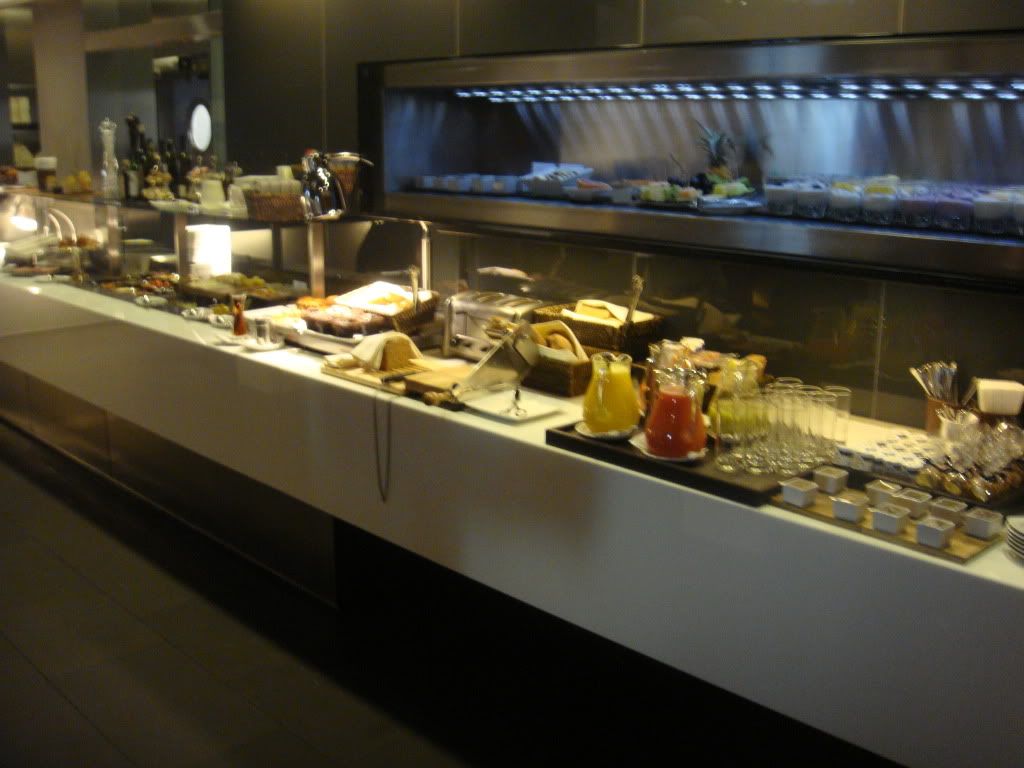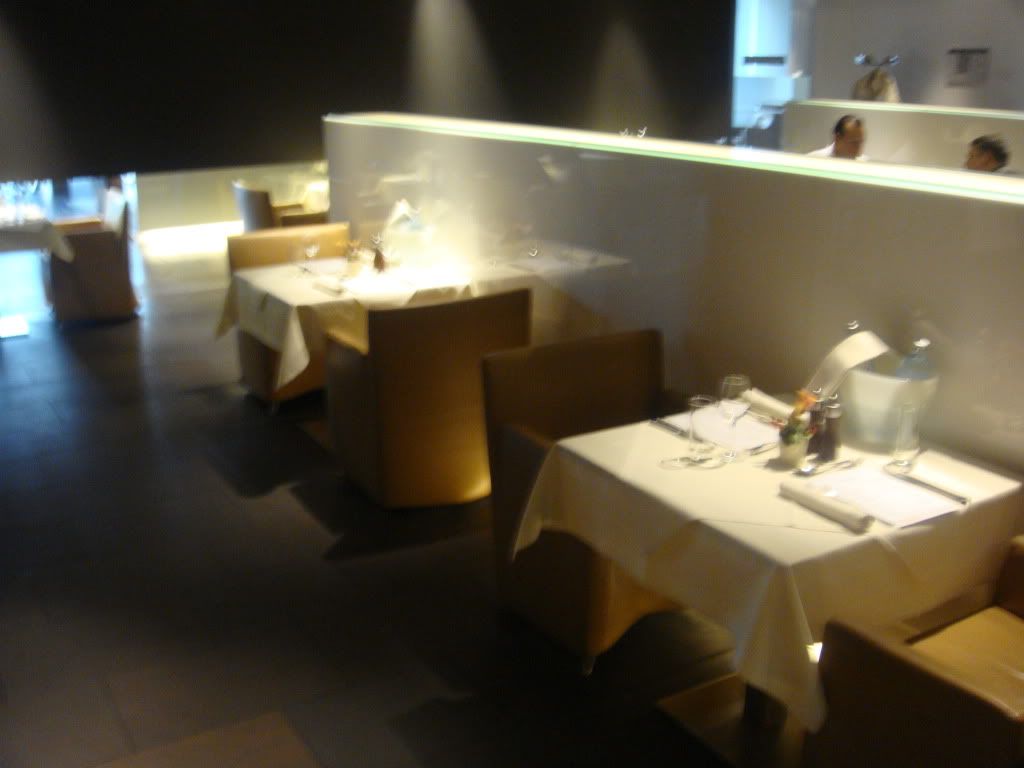 After several enjoyable hours in the lounge - and many glasses of champagne - my PA came up to me and said my car was ready to take me to the flight to AUH. He patiently waited as I turned off my computer and gathered my things then took me down to the cars. A black Porsche Panamera was waiting for me. My PA bid me
bon-voyage
and my driver took my backpack and opened the door. The drive to the remote stand where my A340 was waiting for me (literally! - all J and Y pax were on board, and I was the last F pax to arrive - they were all waiting for me!). My driver took my backpack and introduced me to the purser (by name) who then escorted me to seat 2A. The load in F that day was 4/8 - with all the window seats taken.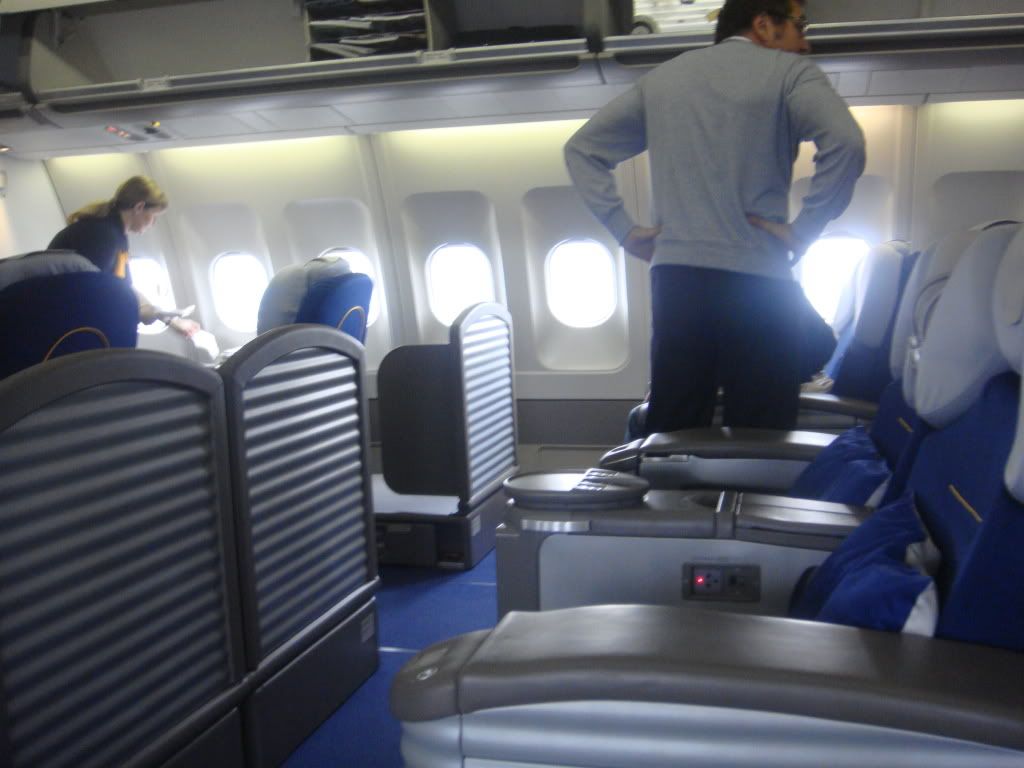 Menus (with a hand-written greeting), pyjamas, nuts, and drinks were offered to me. I took a German beer - I liked that there was a seperate menu for drinks than food. What impressed me is that the FA's set up an entire wine bar just for the pre-departure drinks. They re-set it once we were in the air with more elaborate options. You could help yourself - but the FA's made sure that it would never come to that!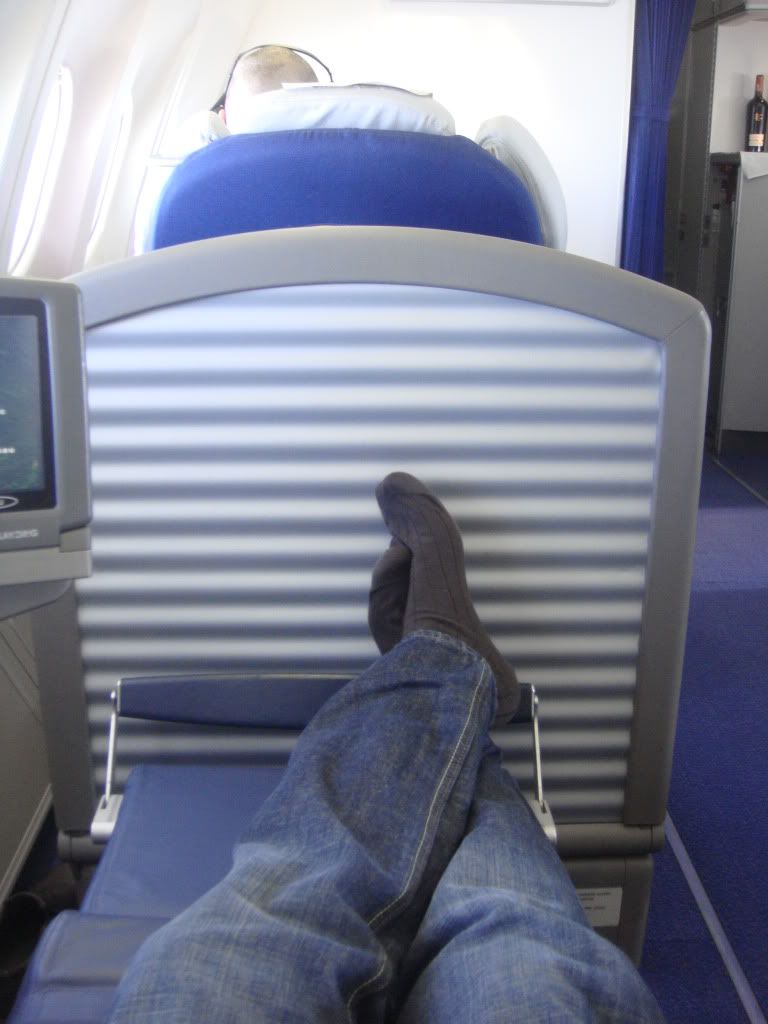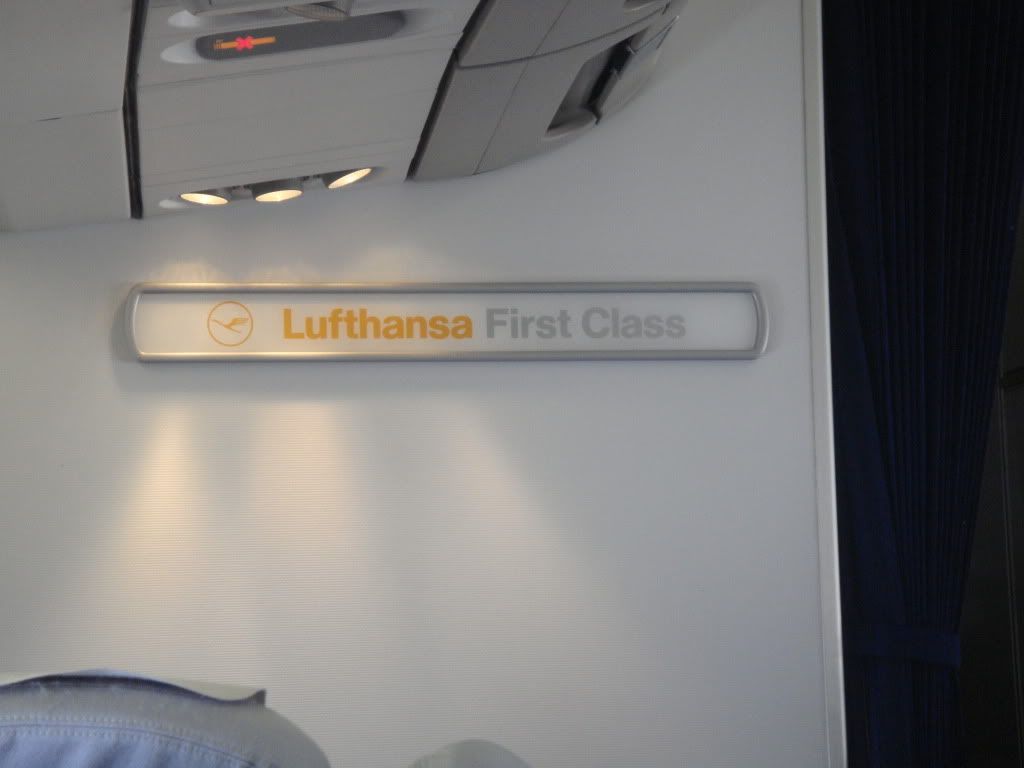 The (Food) Menu
Choice of Hors d'oeuvres
Caviar with the traditional garnishes
Saddle of Veal Involtini with Horseradish, Cucumber relish, Horseradish ice cream, Mustard grain vinaigrette
Smoked Eel with pear compote and green beans
Cauliflower and herb terrine, nut butter emulsion, vincotto

Salad
Frisee, radicchio, arugula, and romaine lettuces with fried oyster mushrooms, tomatoes, and roasted pumpkin seeds with your choice of ginger and lime dressing or yoghurt and dill dressing

Choice of Main Courses
Braised shoulder of beef served with Zweigelt vinegar jus, marrow balls, carrot, and lovage confit
Fried halibut in crab and dill stock, north sea crabs, marinated potato with dill oil
Chicory tart with mimolette, mimolette sauce, herb gnocchi, tomato compote
Roulade of quail and spring chicken, licorice and spice jus, bok choym, and mashed eggplant

Selection of Cheese and Dessert
Comte, bleu d'Auvergne, Coulommiers, Buchettes, and Goat Cheese Terrine, Cherry and vinegar jelly, and sesame crakers
Caramelized Brioche, braised quince, muscovado sauce, caramel ice cream, fleur de del
Slice of milk chocolate and honey pie, sliced pineapple with cubeb pepper and cilantro
Specialty dessert wines
---
Last edited by SteveHK; Mar 7, 10 at

12:02 pm
Mar 7, 10, 10:56 am
Join Date: Dec 2006
Location: NYC
Programs: UA GS (1MM), DL Gold, Marriott Plat, Hyatt Globalist, Avis CC
Posts: 465
The Flight
Once we took off, the FA's began preparing the tables for lunch. I asked for the empty seat next to me to be set for some sleep which was done immediately. All I had to do was eat and sleep! The flowers were put out - this time fresh and alive unlike the wilted rose I got from IAH-FRA (maybe these are provisioned in FRA and the return flights use old ones?).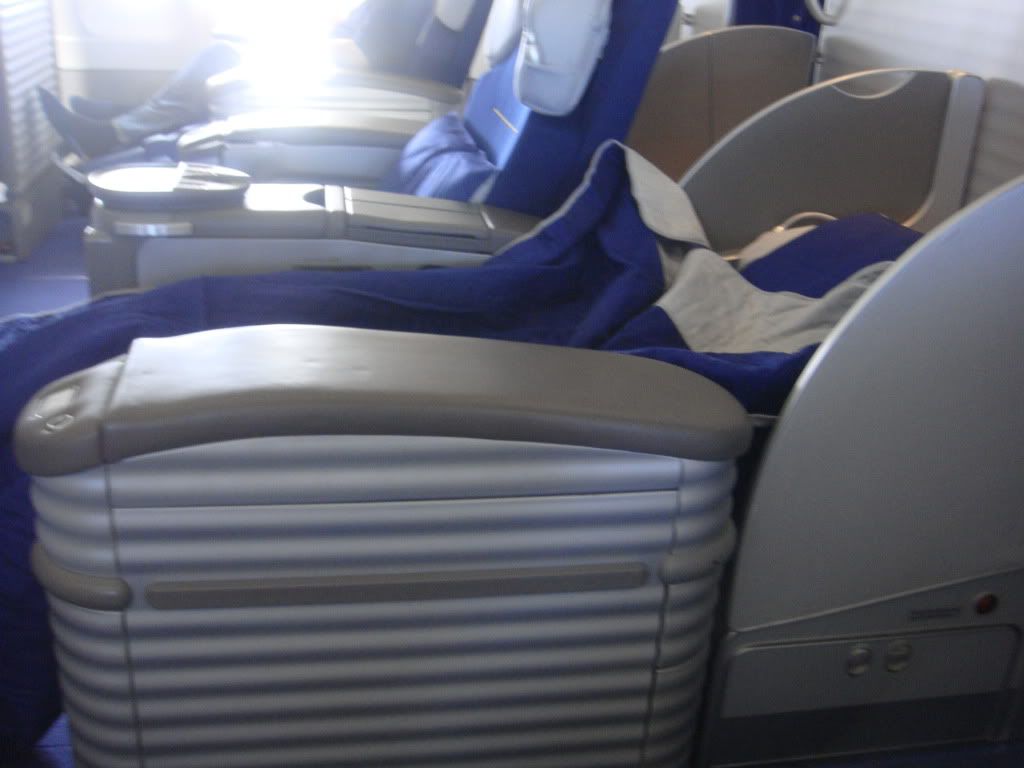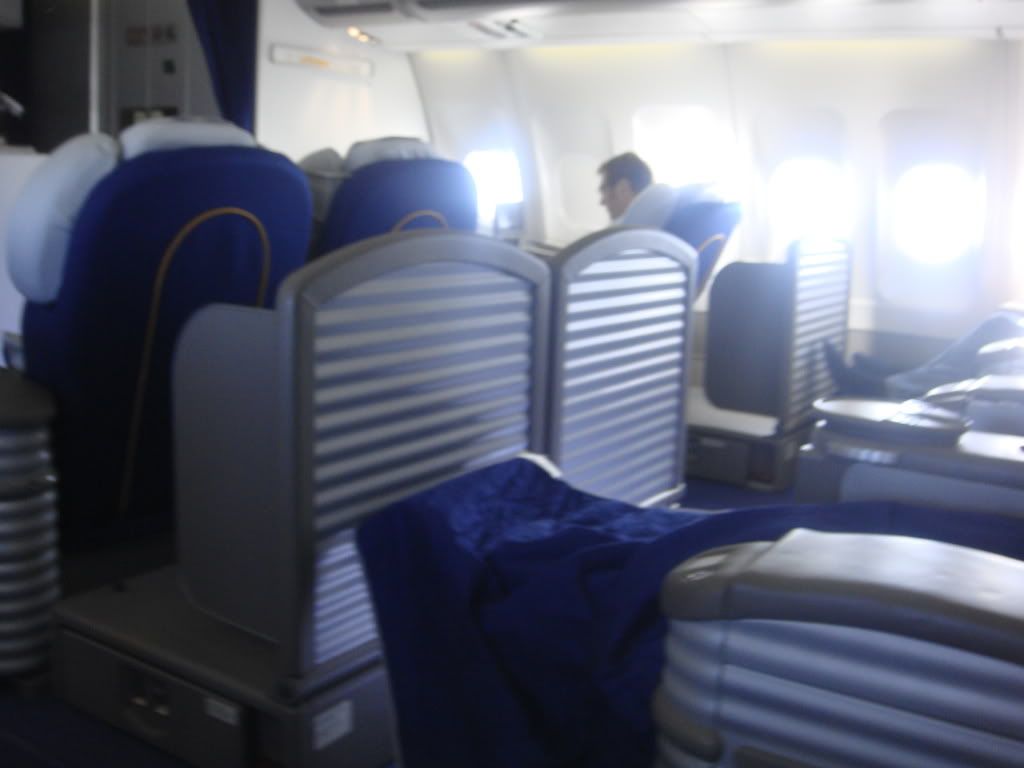 A selection of breads and the appetizer cart were brought around. I really like LH's use of the "appetizer tower" presentation. Unlike LX F, you get a single piece of bread at a time, which is much less wasteful, but not as cool! My FA recommended the pretzel - good choice!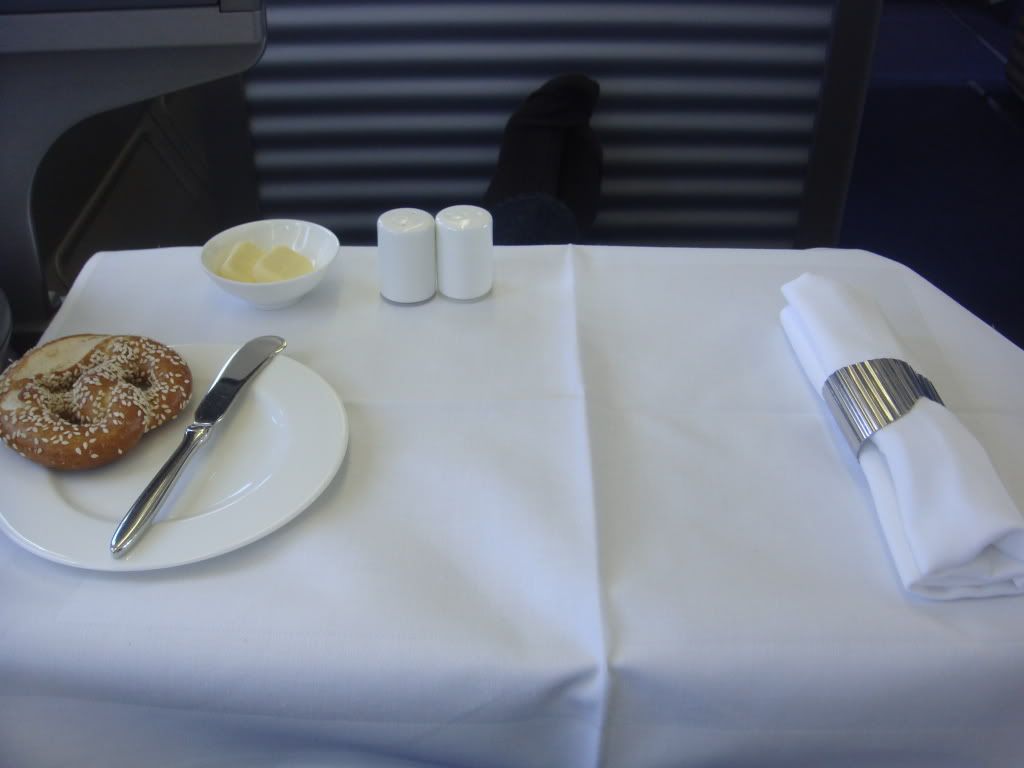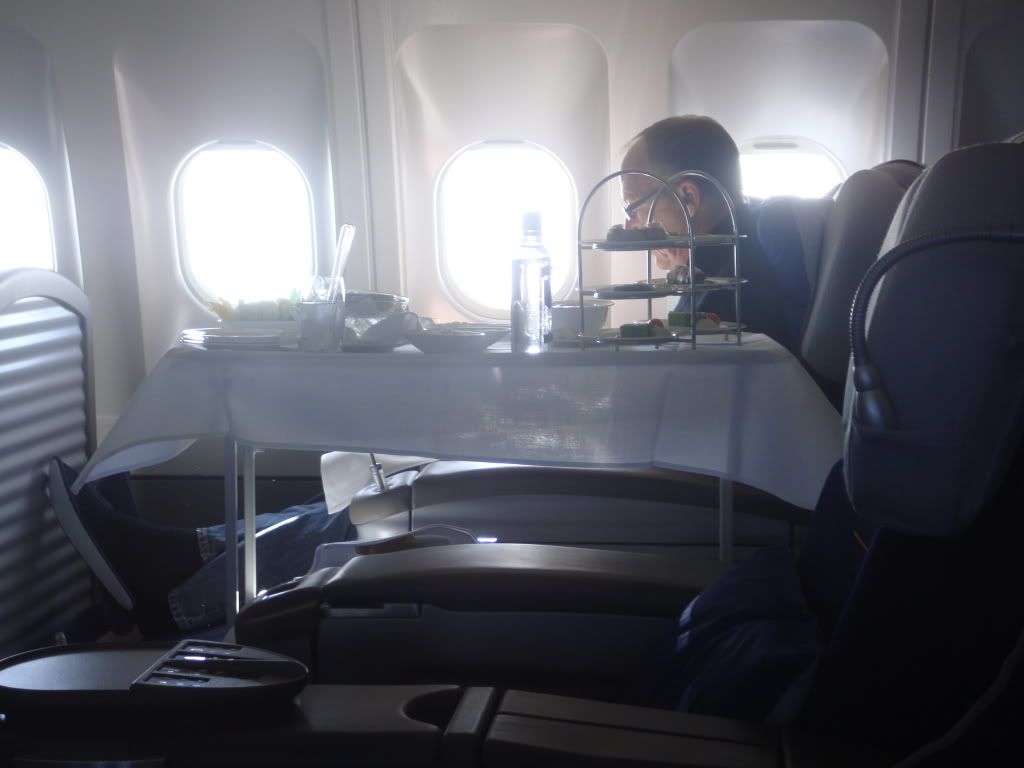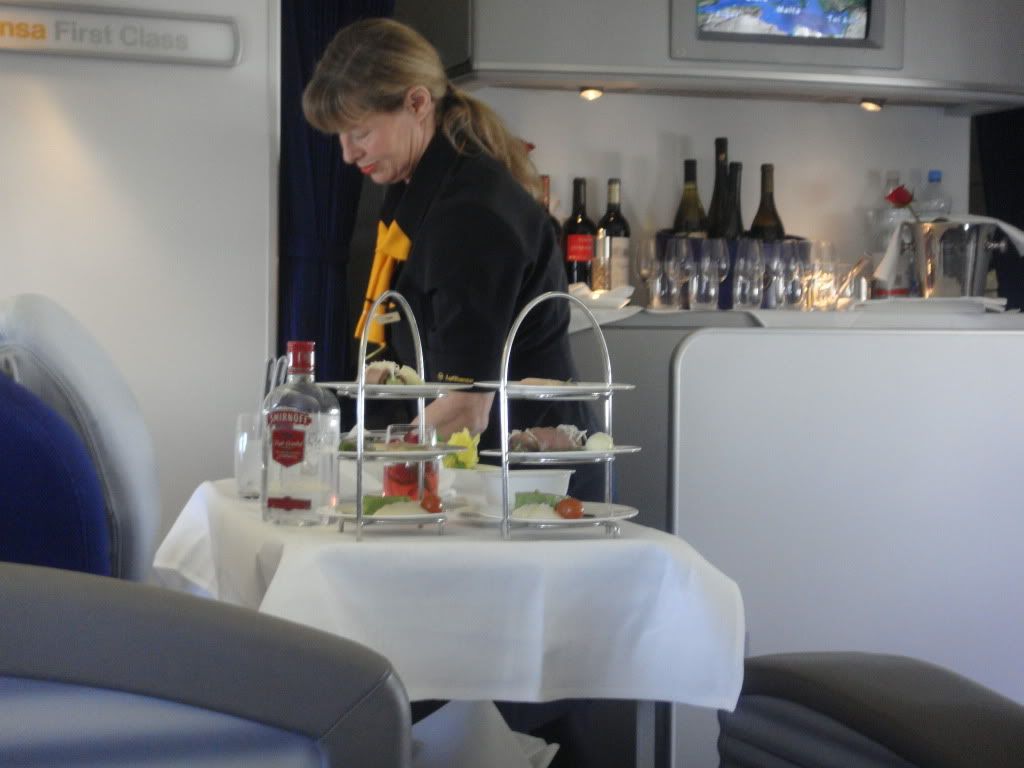 I had everything except for the veal (thus the plate missing on the tower). The caviar was excellent and came with an optional shot of chilled vodka - I think it would be nicer though if it wasn't a plastic bottle of Smirnoff. I also noticed that the butter pats are even stamped with 'First Class' in both english and german - classy! The salad was also good, but I liked LX's salad cart where you picked your own ingredients and had it hand tossed seat-side better.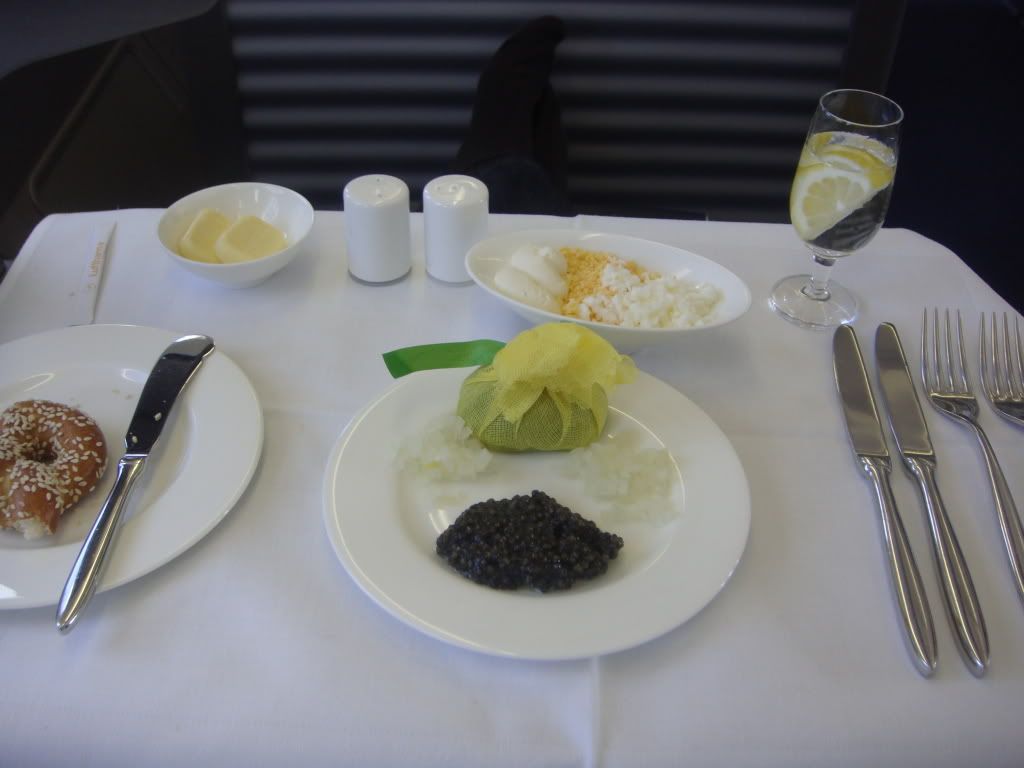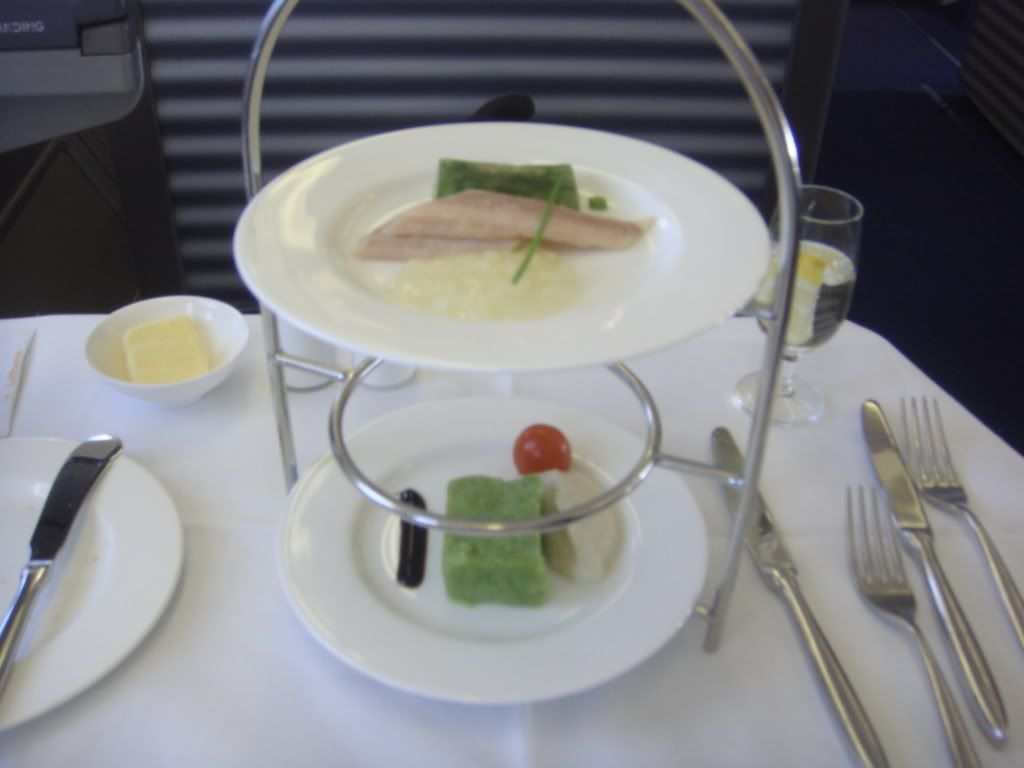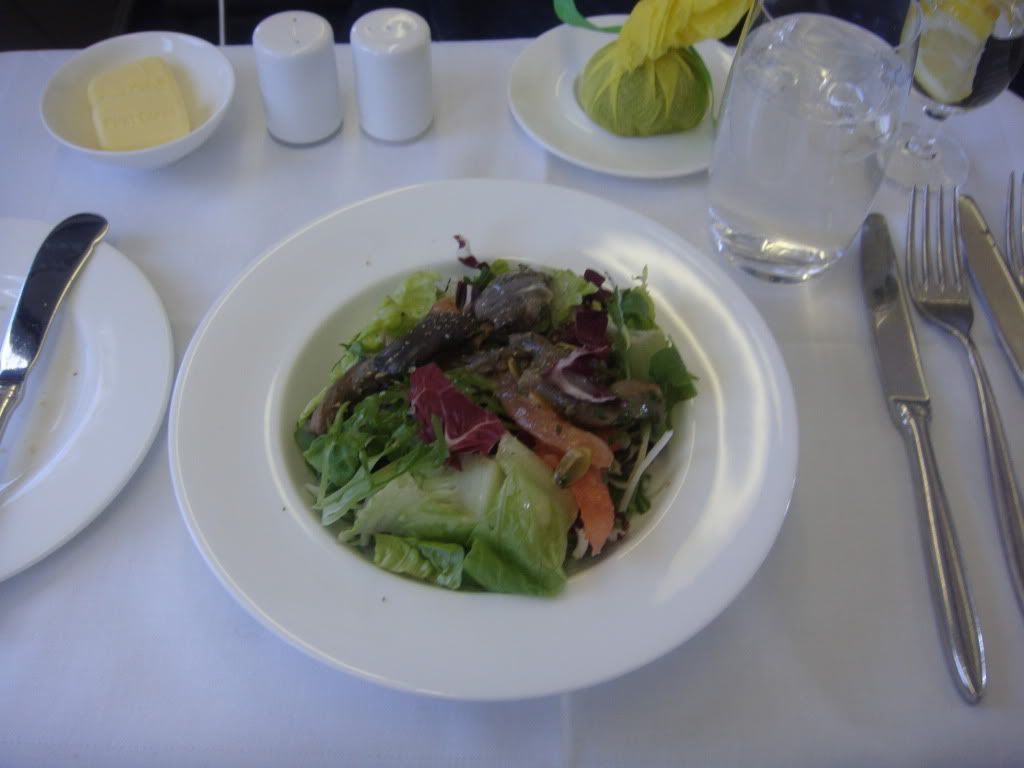 I also asked for a glass of chardonnay. The FA said that they had several good chardonnays - her favorite was one from the J cabin - and had some other good German whites. Since I couldn't decide - she let me try all of them in my own mini wine tasting at 36,000 feet!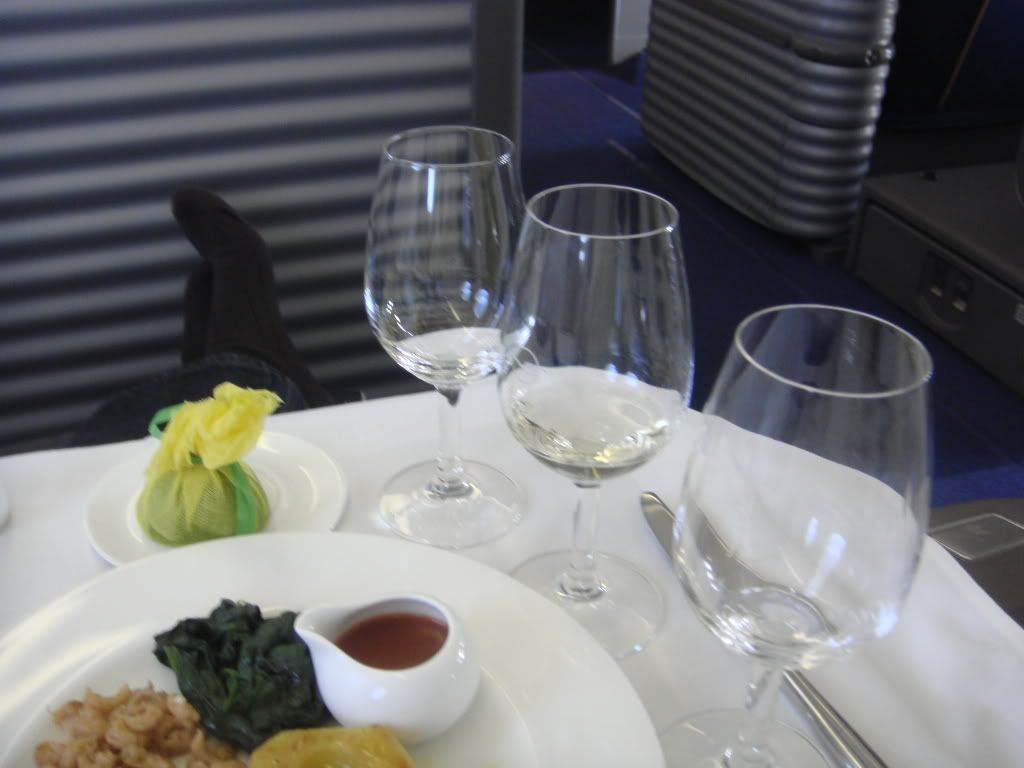 The 'wine tasting'
The main course then came out - not surprisingly, it was delicious and perfectly cooked. Another thing I noticed was LH's silverware; it's very heavy and solid! They certainly didn't skimp on the silverware! Excellent.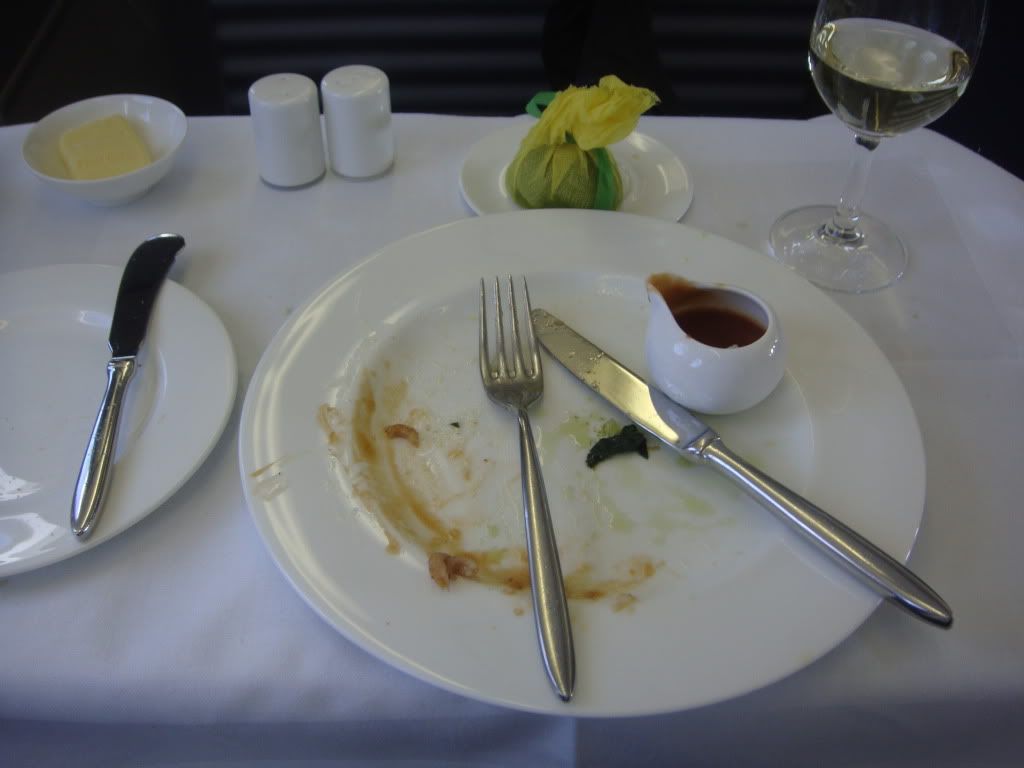 Just when you think you can't possibly eat anymore, they put this cart in front of you: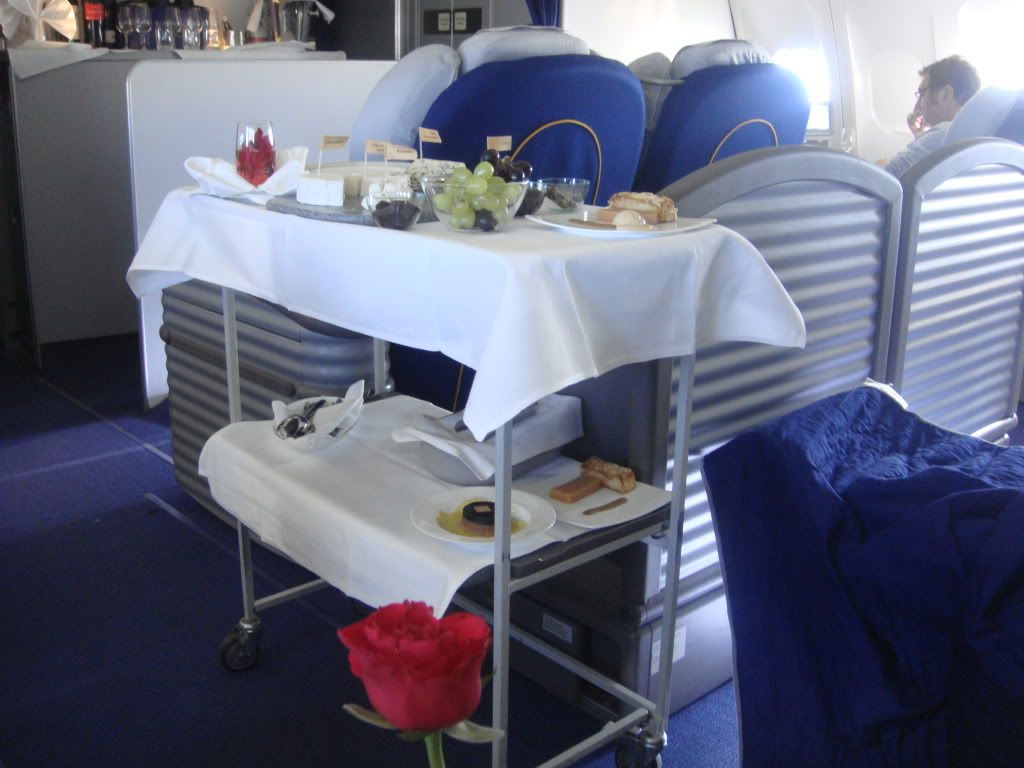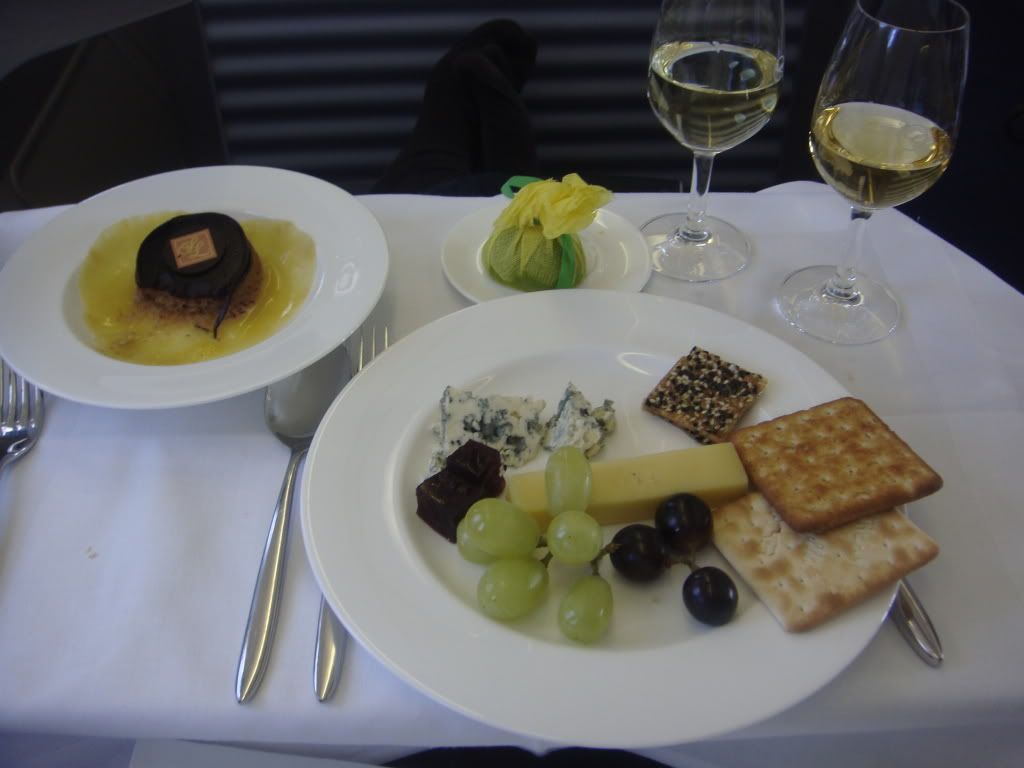 ---
Last edited by SteveHK; Mar 7, 10 at

12:08 pm
Mar 7, 10, 10:56 am
Join Date: Dec 2006
Location: NYC
Programs: UA GS (1MM), DL Gold, Marriott Plat, Hyatt Globalist, Avis CC
Posts: 465
Just like on LX, I asked for a pot of green tea and a glass of wine to go to bed. These were delivered while I changed into the PJs. They used the table on the seat next to my 'bed', essentially I was taking up THREE F seats! Score! The PJs are very comfortable - in fact, I think they are marginally more comfortable than LX's. I awoke several hours later to find that the thoughtful FA had placed a water bottle next to me!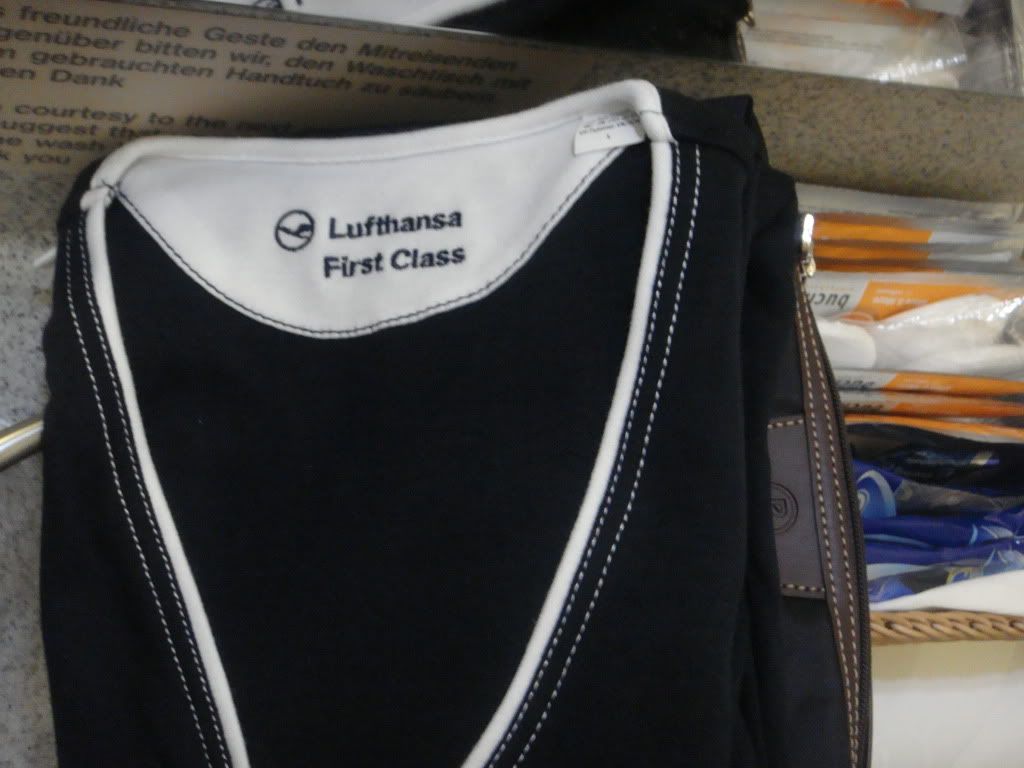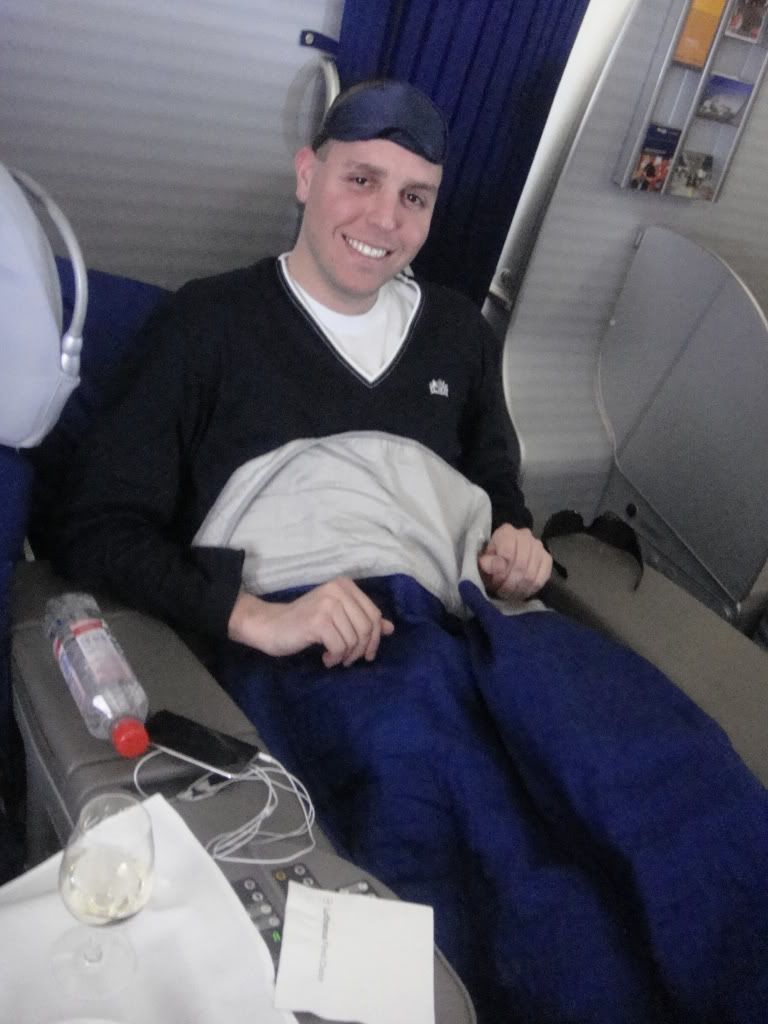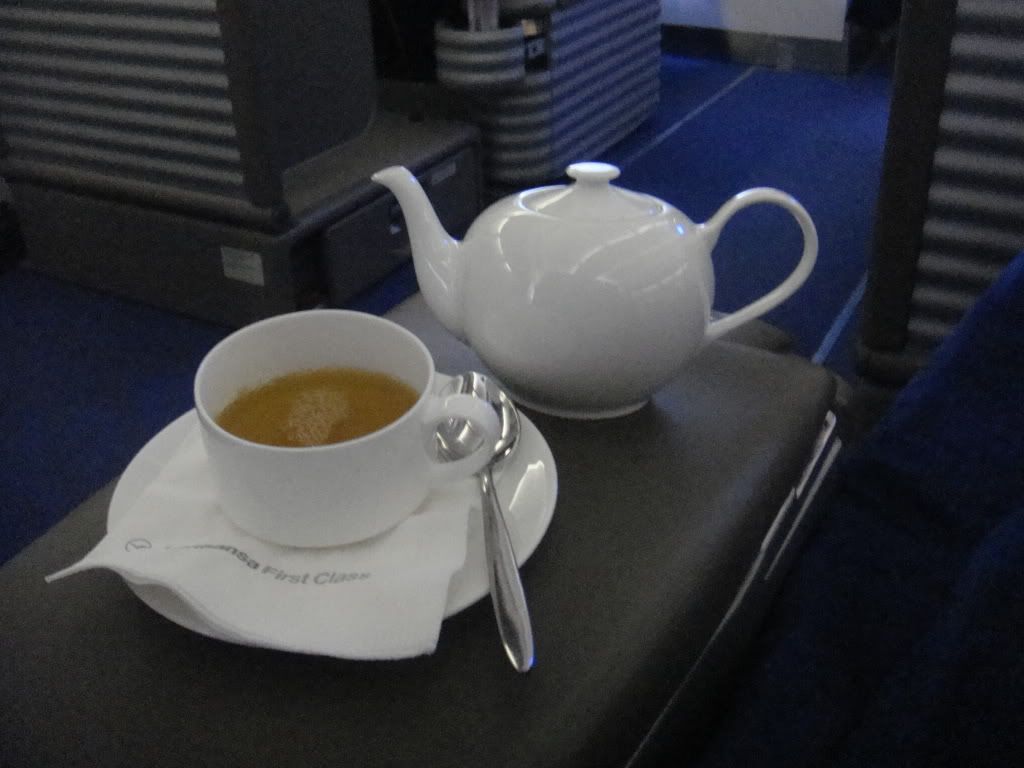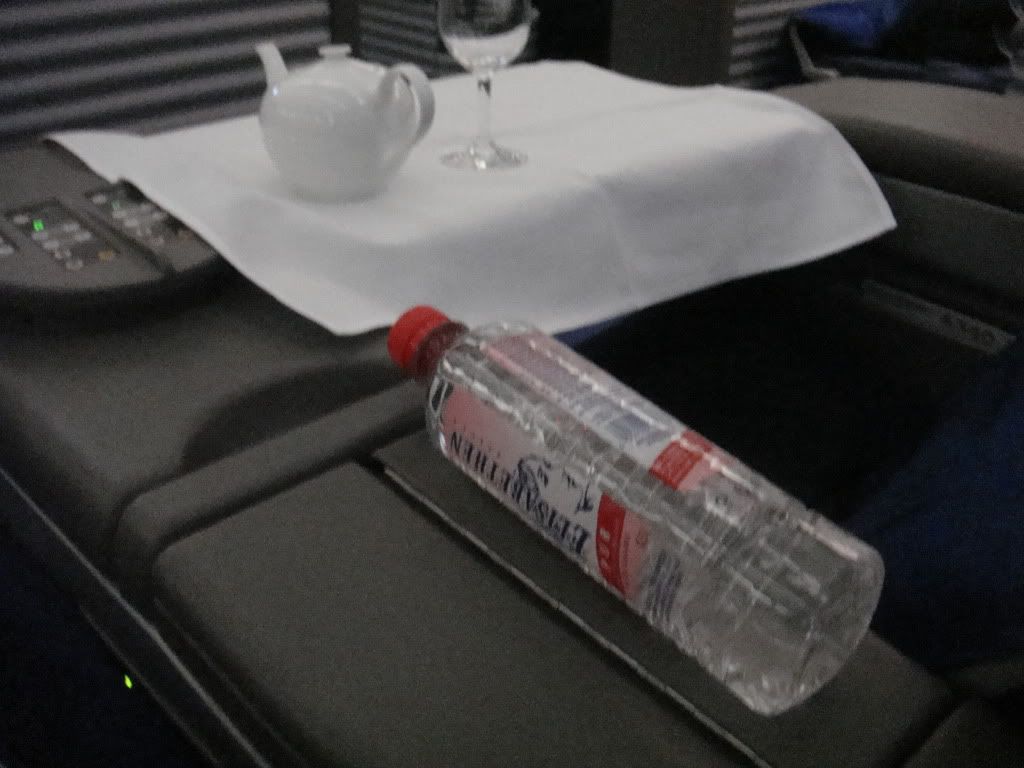 My 'real' seat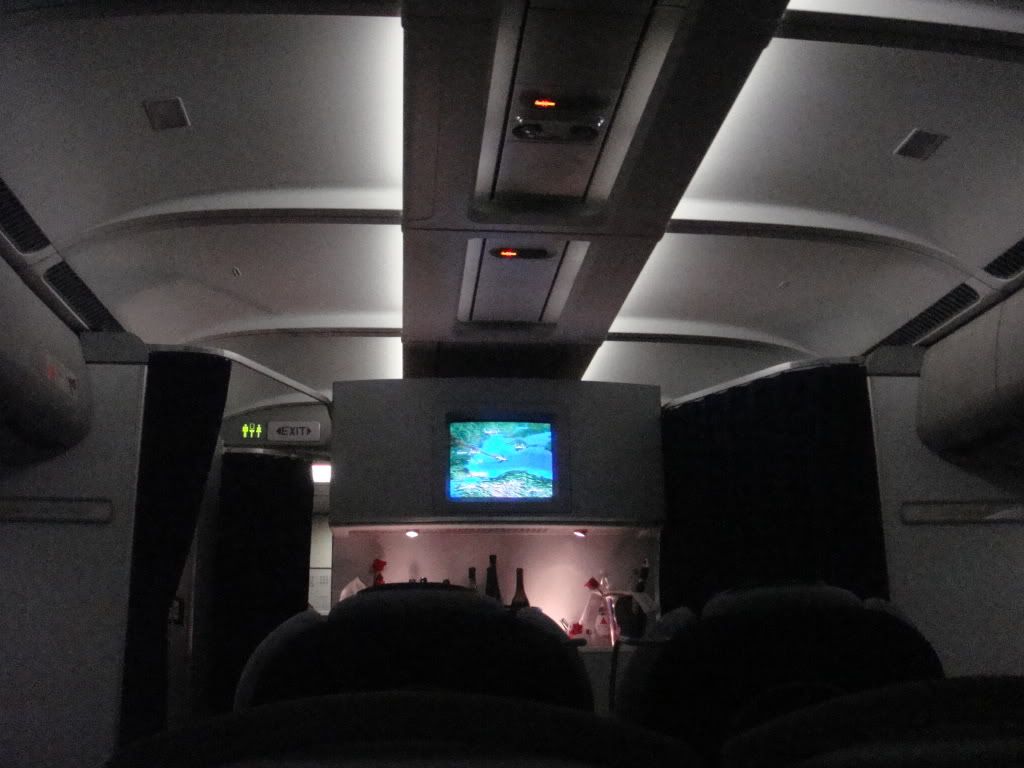 Bonus prize to anyone that can recognize where we are at this point!
About an hour before landing, my FA woke me up (as requested) to serve me a light refreshment of open-face sandwiches. Most of the F cabin was still snoozing, so she turned on the reading light on the seat next to me and set it up for my meal, so I could continue lying down.
Upon arrival, we were wished farewell by the flight crew. Unfortuntely, the priority lanes for immigration at AUH are for EY F/J pax only. After being denied at one, I just went to another and talked my way into letting the immigration official let a LH pax in. This is something that I also noted on my TR for LX in ORD. Why have all this amazing service in the air, just to dump you off to the masses on arrival?
Needless to say, I highly enjoyed my trip in F on LH. I think LX wins as my favorite F (especially with the new product), but not by much. The FAs should be commended for a job well done -especially the blonde lady. She was thoughtful and polite throughout and always referred to me by name.
... I'm dreading my tanscon in US Y coming up...
---
Last edited by SteveHK; Mar 7, 10 at

11:24 am
Mar 7, 10, 4:45 pm
Join Date: Jul 2003
Location: GRZ, ZRH
Programs: LH FTL, Marriott Plat
Posts: 411
great report! those LH F menus always sound so delicious and the cheese cart really is a nice touch! hopefully my miles will add up so I can finally try them in F on a future trip

concerning the location in the photo I agree with the others: definitely the Black Sea with Istanbul to the west, your plane approaching central Turkey
Mar 8, 10, 3:11 pm
Join Date: Dec 2006
Location: NYC
Programs: UA GS (1MM), DL Gold, Marriott Plat, Hyatt Globalist, Avis CC
Posts: 465
Mar 8, 10, 8:09 pm
Join Date: Jul 2009
Programs: CX Gold, Hyatt Platinum
Posts: 58