Martinfoss goes west on BA: The story of a non-typical norwegian "Christmas Table"
Jan 30, 10, 8:25 pm
Join Date: Mar 2007
Location: OSL
Programs: BAEC Bronze, M&M FTL, TK *G HHonors Gold
Posts: 878
Martinfoss goes west on BA: The story of a non-typical norwegian "Christmas Table"
---
As January approached, so did my now third annual trip to Seattle. As a member of the norwegian aviation community "Scanair", i have three times attended a "DO" every January, or as we call it in norwegian, "Julebord", which directly translated to english means "christmas table". In Norway, a julebord is something you usually attend with colleagues right before christmas, eating christmas food, getting senslessly drunk, and… yeah, I'm gonna stop there. I might as well admit that after my first julebord with my current employer, I couldnt stand the smell of gin & tonic for a couple of years. Well, enough about norwegian christmas traditions…
So, we are a bunch of norwegians visiting Seattle every year, some (including me) have been regulars all three times, some have been just once or twice. In addation, there are some of the members on Scanair who are norwegian expats living in the USA, who are the ones who started the tradition.
Anyhow, in early October, the dates (and cities) were set. Usually we had only been to Seattle, however this year, we would also visit Houston. All within the usual Thursday-Sunday timeframe.
Earlier years, In had flown SAS, who had the most practical connections from Oslo, with plenty of options between Oslo and Copenhagen, to connect with the SK937 from Copenhagen to Seattle. However, SAS has now closed down this route, so that was no longer an option. Also, since I had recently received a shiny silver card from BA, granting lounge access and priority on the ground, BA seemed the obvious choice, with their daily BA49 from London Heathrow to Seattle. They also operates twice daily to and from Houston, so the decision was made to fly BA. However, the connections from Oslo was now limited to four daily flights (actually, only three on some days, including the day I was flying), and only two of them arrives early enough to connect to BA49. The later of these, BA763, leaves Oslo around 11:40-11:50, and arrives at 13:05, giving just over an hour connection time, With my new silver card and lounge access, that was not an option, plus, there was a slight risk of delays, and a delay for not much more than 30 minutes would make me miss my connection. The first flight, BA761, departs at 07:40, which I must admit is way to early for my liking, expecially since that means I have to get up at aeound 4 in the morning. The solution was: Sofitel! I ended up booking myself on the flight BA767 the night before (17:10 - 18:40), and booked a room at Sofitel right next to terminal 5. All this was booked in economy (Euro Traveller/World Traveller), and I had also just booked my very first flights on a Boeing widebody, flying the 777 on the outbound to Seattle, and the 747 back from Houston.
Also, transportation was needed between Seattle and Houston, and the obvious choice there was Continental Airlines. The "official" flight, was CO166, departing Seattle at 08:35, and is operated by a 737-900. So, all flights were booked, and hotels were all being taken care of by one of the norwegian expats in the "arrangement comittee". As usual the Sheraton in Seattle, as well as the Aloft Galleria in Houston.
The day of departure, finally arrived, and I took the bus from where I live, down to Oslo airport, which is 15 minutes away when I drive there, 30 minutes by bus. Arrived some 30 minutes before check in was supposed to open, so I went to the self check in machine to print my boarding pass. In with my (silver)card, confirm my seat choices, and then.. The machine wanted to "see" my passport. Ok, I found it, and put it on the reader. Three attempts, before the machine gave up. Oh well, then I would just have to wait. While waiting, a friend showed up, on his way to work, behind the check-in counters for a different airline (however, in the same handling company). He was also happening to be my roommate on this trip. He left off, and I went to line up in the non-existing line at the counter for people travelling in Club (business) or First, as well as British Airways Executive Club Silver or Gold card holders. Since my card had a silver colour, I chose that line. Shortly, a couple joined the queue as well. The regular queue for people in economy and without satatus, was quite long. One check-in agent appeared, and opened up one of the economy counters, which there were two of in total. All the time, a Menzies employee was checking that everyone had printed their boarding passes, as you're supposed to do that when flying British Airways. After letting all the economy passengers through, he came over to us, asked what class we were in. The couple behind replied "Club", and I actually never got to reply "Silver" before he started figuring out if we were all travelling together or not, and then asking if we knew were the lounge was. Off course did I know that. As the first in line, I was quickly allowed to come forward to the First/Club/Gold/Silver counter, manned by a lovely, Swedish young lady. I gave her my passport and BA card, and she proceeded to print boarding passes and baggage tags. Then I noticed that the tag said both "LHR" and "SEA". I really wanted my suitcase with me during my sleep-over at Heathrow, so I quickly asked: "Are you sending that directly to Seattle?". I let her know that I wanted it in London, and she re-printed the tag, now only saying LHR
. I got my passport, BA card, and my boarding passes, gave her a "thank you" and went walked towards security.
Went through security with a breeze (after standing in line first. No Fast Track for BA passengers at OSL). Then a quick pit-stop in the duty-free store to buy a bottle of Aquavit (Norwegian "potato-liquor"), which was to serve as a gift. After that, I went up the stairs to the floor above, where the lounges are located. One is owned by SAS, and is being used my most Star Alliance airlines. The other one is called OSL Lounge, is owned/ran by the airport, and is being used by most other airlines that gives lounge access, including BA. There were quite a few people in there this evening, but I still manged to grab a small two-seated sofa, occupying the most of it with myself and my stuff. That being said, I would off course have moved it if someone had asked, but judging by the space situation in the lounge, it was not likely to happen. Had some food and some beer, and spent the time surfing the web on my netbook. I think there is free access in the lounge, however I usually log on to the public wifi, as my mobile provider gives me free access to several wifi spots throughout the Nordic countries.
After a while, it was time to go to the gate. BA uses the gates in the non-Schengen area, which requires the furthest walk from both security, as well as the lounge. Anyway, I was let through the passport control, and into the (rather small) non-Schengen area. There, I discovered they had put up a new ATM, so I decided to collect some US dollars before boarding. Meanwhile, my friend/soon-to-be room-mate appeared at the gate as well, so we talked for a little, before he proceeded to do some more work. Boarding started soon, and – for the first time I had heard at OSL – boarding was announced "by seatrow", however, passengers in Club and Executive Club card holders (no mention of status) could board at their own convenience. I boarded immediately, and went to find seat 7A, which was the first row in World Traveller. This row is configured exactly like Club Europe, with a 2x3 seating, with wider seats than the rest of Euro Traveller. Apparently, this is to avoid destroying knees as the cabin crew pushes their trolleys through the curtain.
This was my 15th flight with BA, and actually, only three of them had been in Euro Traveller. Two of the ET-flights were as far back as in 1999, and except a one way flight in 2008, all of them had been in Club Europe. I must admit that being so "spoiled", it was kinda "hard" for me to sit directly behind the curtain. That being said, I didn't mind the product in the back either. After departure, I was served a small pack of snacks, and a Gin & Tonic. Enjoyed this while listeing to my iPod on my way to Heathrow. A rather uneventful flight, which did a quite direct approach from the west, with no circling over London at all. Taxied past all the widebodies at T5, and I must admit it was rather exiting for me to know that I was going to fly one of them the already the next day. We arrived at a gate, and disembarked rather quickly. I made my way towards the UK border, where I was given access to the UK. A quick stop at the bathroom was also made, before any baggage had arrived. When it started to arrive, my (priority tagged) suitcase, was approximately number 20 on the belt. No big deal. I grabbed it, made my way through customs, and found the way to Sofitel.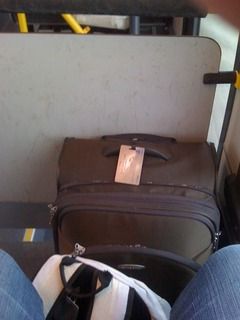 Great legroom on the local bus from my hometown to the airport
Meal, beer and internet i the OSL Lounge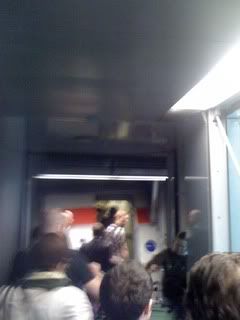 Boarding BA767 to London, Heathrow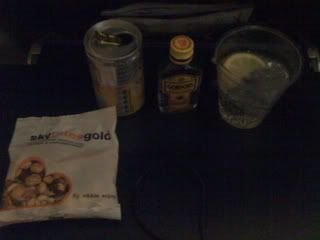 "Birdseeds" and G&T.
I've found it, I've found it!
---
Last edited by martinfoss; Feb 6, 10 at

8:11 pm
Jan 31, 10, 7:40 pm
Join Date: Mar 2007
Location: OSL
Programs: BAEC Bronze, M&M FTL, TK *G HHonors Gold
Posts: 878
Thank you, G_G
Yes, it will be continued. Part two comes right now
After locating the Sofitel, I entered the main lobby area, and located the front desk. The line was rather long, but again, there were several people at work behind the desk. Also noticing a lovely lady, functioning as a "dispatcher". When I was first in line, she asked if I was chacking in. "No, miss. I was just standing in this line with a suitcase and a backpack just for fun"
(What I really answered was "yes"
). She then asked for my last name, which I gave her. As soon as I had replied, she went off, telling me to folow her, towards and open position at the front desk. While I approached, she was already busy telling the girl behind the desk behind the counter my last name, and at the very same moment as I made it to the desk, the first lady had went back to her dispatcher position, and the lady behind the desk asked if I was Martin Foss. Since I was (and still is), I confirmed. Then all the regular questions if I had booked this and that, and if I was a smoker or not. Even though I had booked a pre-paid rate, she also wanted to swipe my credit card, so I could charge things to my room. I rather preffered that she didn't, and that was ok. That did however mean, that I would not be able to charge anything to the room, and that the phone in my room would not work for external calls. (guess what: I have an iPhone, if I should want to call anyone
). Got my key-card, and found my way to the room, which again was pretty ok. Loved the fact that the shower was not in the bath-tub, but in a seperate shower-cabinet.
Since I hadn't eated anything decent sine my breakfast that morning, I was now kinda hungry. I went back downstairs, and found one of the two (I think) restaurants in the hotel, which was a french one. The menu was in french, however, there were "subtitles" in english. I saw they had steak, and figured out I'd give the place a shot. Asked for a table for one, and was directed towards one. Sat down, and was handed the menu, as well as the wine menu. Now, I don't know much more about wine, than it comes in the colours of red and white, and that "red with meat, white with fish" is usually a safe bet
. As I was just quickly looking at the wine menu, a waiter with a french accent appeared, wondering if I wanted anything to drink. I tried with a carefull "a glass of red wine.. ?". He continued: "Anything special you like?" The correct answer would be "no". I just like wine, but can't really tell which one I like better than the other. I tried to explain that "I don't really know that much about wine..." before he continued with "any particular grape you prefer?". I was tempted to say "we get some really good seedless green ones in the fruit basket we get at work". He was still going on, asking "...full bodied or something light?". I figured out that "something light" would be "easier" to drink than "full bodied", and went for that. He then suggested one, and went of, came back with a bottle, and let me have a taste. I figured out that I liked it, and nodded a confirming yes, and he filled up my glass.
He then askked if i was ready to order the meal, and I was that as well, and went for the scottish rib-eye steak. I speak norwegian and english, and don't understand a single word of french - except a few including this one: entrecote - that's what we call it in norwegian too
Steak arrived, and it was good
Somewhere during this meal, I am pretty sure that the personell in the restaurant was having a pretty good laugh, about that bloke whi was having steak with
that
wine, but I couldn't care less. It tasted good to me
After dinner, I took a stroll back to terminal 5, found a Boots, bought a coke and a couple of chocolates, and "retired" to my room for the night.
---
Last edited by martinfoss; Jan 31, 10 at

7:46 pm
Feb 5, 10, 4:20 am
Join Date: Jul 2002
Location: London
Programs: BA Gold, LH Sen, MUCCI, Junior Jet Club.
Posts: 7,883
The restaurant you ate at in the Sofitel is, I think, Brasserie Roux which is the 'chain' of brasseries owned by the Roux brothers (famous Anglo-French chefs).

I have eaten here a few times and the food is normally excellent (last time I had Beef Wellington carved from the trolley which was superb) but sometimes the service has been a bit 'off'.

Still the best place to eat at T5 in my opinion.
Feb 6, 10, 9:25 pm
Join Date: Mar 2007
Location: OSL
Programs: BAEC Bronze, M&M FTL, TK *G HHonors Gold
Posts: 878
Ok, let's move on.
After a good nights sleep, the alarm on my iPhone was set to 08;00. I woke up at 07:30. Quick shower, and packed my final items back down, including a bottle of norwegian Aquavit that could not be carried as a carry-on. What? Aren't you supposed to check in 1-litre bottles of alcohol? Oh, well..
Down to the front desk, and informed the lady that my intentions was to leave her workplace. My reservation had already been pre-paid, however, I had used the wi-fi, and let her charge my credit card for another £15. If I remember correctly, You could choose either 1 hour, or 24 hours. Why not offer for example 12 hours? Og well.. Expencive or not, I paid for my internet usage, said goodbye, and proceeded towards the terminal. Inside T5, I found my way to the area for business class check-in (Can't remember which letter on that huge sign above the area). Since I already had my boardingpass, I went straight to bag-drop, and after queing for a few minutes, I could walk forward to what I remember as a lovely lady (I seem to remember all the ladys I met as lovely..), and said thank you and goodbye, and off to security I went. Fast track went rather smoothly, and I was through rather quickly. Now comes the part that might confuse some:
- I had entered the terminal in the northern end of the building.
- I had walked all the way to the south end to drop my bag and go through security
- Since I was now meeting a friedn flying in from Oslo, I knew he was coming through North Security, not far from Galleries CLub North, so I walk towards the north end of the building, and found the lounge.
Don't know why, but when I'm entitled to use certain perks, such as Club check-in and Fast Track, I feel like I have to use them, if not, I'm not getting what I should..
Anyway, I found the entrance to the lounge, and "armed" with a boarding pass and a BA Silver Card, A(nother) lovely lady let me in.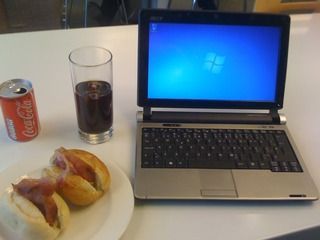 Breakfast: Bacon rolls and coke.. (yep, coke for breakfast
)
After a while, my friends flight from OSL had arrived, so I texted him to tell him to text me when he was through security. Got a reply straight away, informing me that he would do so. Not too much later, another SMS arrived, informing me that he was now through, and I walked out to meet him. We said hello, and we decided to go lounging. We were both travelling in World Traveller, but with my BA Silver Card, I was allowed one guest. Decided to go to the south lounge, which is the bigger one. At the entrance, boarding passes and my card was given to the drag... sorry, lovely lady at the desk, and I informed her that I would like to bring my friend in as a guest. That was absolutely no problem. She also informed us that our flight would most likely depart from the T5B-building (yes!!!), and that we should leave over there at approximately 13:00 (deparure was at 14:20) due to extra security checks. Later we found out that it was a rather generous amount of time..
As a first time lounger, my friend was quite impressed. Snacks, food and beer was consumed, and internet was used. Afte a while, our departure gate was showing, and it was indeed from terminal 5B. I was kinda happy about that, because that meant I would be able to go over there for the first time, as well as visit a new lounge. Off we went, down under the ground, and onto the train that would take us to terminal 5B. After a quick ride, we were inside T5B, and did first locate out gate (or, we could see it was over there somewhere..), and then found the escalators that took us up one floor, to the lounge.
Here comes the fun part:
As a brand new Silver Member, my expectations were quite high on my first Silver-journey. I had also been told by a friend who works for BA's agent at OSL, that my flight was overbooked in the back, so I was really hoping that the Silver-coloured card would use it's force to.. well, let's move on.
Proceeded to a rather young girl manning one of the two lounge entrances, and boarding passes and Silver card was handed over. At this time, I was standing next to her, watching her computer screen, when I saw the two magic words flash up: "SEAT CHANGE!!!". Well, at the moment it only meant that a seat assignment had been changed. She then said the magic words: "You've been upgraded to World Traveller Plus". YES!! Thank you BA!!
Not that World Traveller Plus is really that great compared to World Traveller (which again is quite ok), it was just the great feeling of actually getting an upgrade, and even on my very first BA long haul flight, as well as my second flight as a Silver Member. My friend ghowever, didn' t quite notice what actually happened, untill I told him after we had left the entrance.
What should be mentioned: I was a silver member, my friend had no status, and I don't even think he had flown BA at all before. We were on totally seperate bookings, and the only thing linking us together was that I had previously guested him into the lounge at T5A. Now I was even more impressed, as we had both been upgraded
. In factr, it was my friends boarding pass that was scanned first, and inititiated the Seat Change alert on her screen.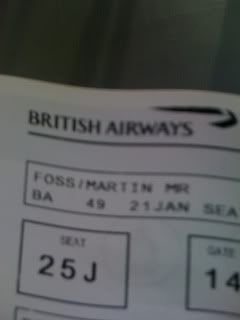 My new boarding pass
. Seat 25J, while the class I was booked in started at row 26
We went inside, and decided to celebrate: Coffee and cognac for my friend, and a Gin & Tonic for me, while we were wondering how the h**l this has happened. Well, for me it was the silver-status, but for him? We knew that there were other guys on their was to the christmas-table who worked for BA at OSL, but we found out later that they had nothing to do with it. A thread on FT though, confirmed that this had happened to others before. Just a tiny hint that you're travelling together, these things might happen.
After finishing our drinks, we decided to leave, to leave some time for the extra security check. Went down, and there was a BP-check for the security check, with a regular lane, as well as a fast-track lane. I showed my BP and card, and asked if I could bring a friend as well. No problems, and after navigating between the ropes, we were first in line. I was lead to a table, where my carry-on was inspecte.. sorry, some zippers on my backpack was opened, and the security guy looked inside it, while asking me quistions with an accent/low-volumed-voice I couldn't really understand, but I obviously managed to answer the correct answers. Then it was some touching of my body, and I was allowed to proceed. Met up with my friend again, and we now found out that we had left the lounge waaaaaay too early. But, better safe than sorry, so we found some chairs, and watched the big birds (that's planes) outside..
Our ride to Seattle, G-VIIJ, built in 1997, delievered on the 29th. December that year. Quite old for a 777, really.
After a little while, BA-personell were starting to appear at the gate, so we decided to get up, and get ready for boarding. Boarding started, and I decided to try the separate line for First/Club/Status-passenger. A few people in front of me did not belong there, so the personell had to remind everyone that this line was for passengers in First and business
only
!
I had to ask if Executive Club Silver passengers could board there as well. "British Airways Silver?" He asked. "No, Executive Club is the ff-program for Air Nepal"
. Actually, I just replied "yes", and it was confirmed that I could indeed board using that line. I decided not to confront him with the fact that he had just been lying about which passengers that were allowed in that line, but handed over my BP and passport. One person scanned my BP, while the other one looked at my passport, verifying that I was me. Both was given back, and I was on my way onboard my very first Boeing widebody, and being really excited about it
.
Feb 6, 10, 10:23 pm
Join Date: Mar 2007
Location: OSL
Programs: BAEC Bronze, M&M FTL, TK *G HHonors Gold
Posts: 878
Onboard the plane, BP was showed to the first FA greeting me, and I was told "to the right" or someting like that. I found my seat, and shortly after, my seatmate arrived as well. We had been assigned 25J and 25K, the two-seater to the right, in the back row of a 2-4-2 configured cabin. i turned out later that the cabi was exactly half full, and the four-seater to the left of us was emtpy, so I jumped over after take-off. We pushed approximately on schedule, and taxied to the other end of the airport, and eventually took off.
Cabin view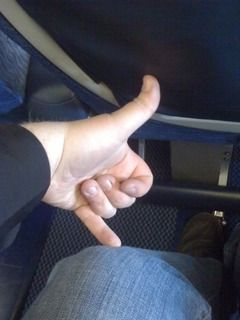 Decent leg-room
Yours sincerely enjoying his flight..
After departure, the bar service started, and I had a Gin & Tonic. I was also asked if I wanted wine for dinner, and I chose the red.
After another while, the meal service started, and here's my tray:
I had the beef option, which looked like this:
My friend went for the chicken: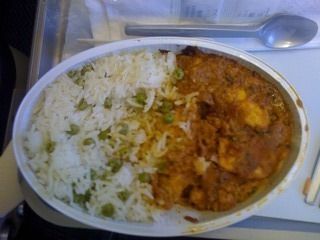 Now, I must admit that I wasn't 100% satisfied: While getting the food, I was asked if I wanted something to drink. Now, I already had been given a bottle of wine, but I thought some water would be good as well, and asked for water. The male FA pointed at my tray, and said: "You've got water there". Ok, I thought. I understood that it was probably a stupid question, asking for something I had already received.
Anyway, the food was, as I've heard other people say about BA-food, tasting better than it looked. The food went down, and so did the wine, as well as the little drop of water. At the time my tray was collected, I still had some more wine, so I kept the glass. after finishing it, I can't remember how may times a crew-member walked by eithout colelcting it. Another slightly bad impression of the crew and service onboard. Anyway, I couldn't complain. Flight was ok, the seat was descent, however, I missed the possibility to raise the amrrests. I had four seats to myself, but was still "locked" into just one of them. During the flight, I watched some comedy shows, as well as a bit of "This is it!" (The IFE was not On demand, so I missed the first part. Quite an interesting movie, I must say, giving me a totally different impression of the man, Michael Jackson.
Later, more food was served:
We finally started our descent, and arrived at Seattle Tacoma International Airport some 20 minutes early. Got off the plane rather quickly, and I think we were the only international arrival at the time, so not any long lines in immigration at all. Off the two lines serving non-US citizens, there seemed to be two agents for each line. We chose the one where one of the agents "switched" to "immigrating" all of the wheelchair passengers on this flight - and there were quite a few, did we find out. Anyway, it became my turn, and a few regular questions were asked. What I was doing/how long would I do it/what was I bringing with me.. I also noticed, that the agents in Seattle are quite nice. Last year, a female agent repliedm with a quite friendly tone "Wow, that's short.." when I replied to her question about how long I was staying. This year, I was asked what I was doing for a living. "I work for Federal Express", I replied, and got a "so you're escaping from that, eh?". I thinkg it's nice when they add in these little "lines", which are note one of those questions that they always ask. It may sound weird, but it gives me the impression that they human beings, as well as immigrations agents. Believe me, I have experienced those who are just immigration agents.
Both of us got through, as well as a third christmas table participant who had been on the same flight, and as my previous experiences with Seattle, the baggage arrived quickly. Then through customs, where the agent just took a quick look at the form, and said a quick "thank you", and we proceeded towards the train that would take us to the main terminal building.
As wee arrived there, we found our way towards the new railway, that had opened since my last visit. Tickets were bought, and we boarded an already waiting train. It was quite an enjoyable ride, as the view was kinda different that my previous SEA-to-downtown-rides, which had all (both) been by car.
Another interesting experience, was that there was no ticket control, so appearently rifing for free seemed quite easy. At one point, wearing yellow uniorms, carrung bicycles and being armed with guns, the transport police entered the train. Yes, there were armed guards on the train, but noonen ever checked if you had paid for your journey
We arrived at the final station, and found our way to the Sheraton, were rooms had been booked for all the Christmas Table-participants (except one who lives in Seattle). Two of us got checked in in each our room, while the third was given a keycard to a roome already being occupied by another participant who had checked in earlier. I did also inform that another guy would show up later, and should be given a key to my room.
We went to our rooms, and after a quick clothe-change, I was ready to hit the... island..
As per the tradition, the three of us (who were among the last to arrive in Seattle - my roommate was the only one arriving later) went down to the ferry terminal, where we catched up with the rest of the guys (or, most of them, at least). Shortly after, we were onboard the ferry that would take us to Bainbridge Island, where the Christmas Table would offivialy would start, with food and beer.
I should now tell about a friend. He lives quite close to me, and is at the moment serving his military service in the norwegian airforce, and, well, you don't make a lot of money there (it's a "mandatory" service that all boys/men in Norway "has to" go through, and it doesn't pay well, however they both clothe you and feed you). He had ever since I made my booking in early October, complained about not having the time or the money to go there, and being kinda jealous on me, who was able to go. While sitting at the pub on Bainbridge Island, someone tapped my shoulder. This guy love practical jokes, and it has after a while become quite difficult for him to surpise me, as I always expect trying to surprise me. This time, he really surprised me.. (Yes, it was him standing behind me..)
After a burger and a couple of beers, it was time to return. Ferry back, walk to the hotel, where my roommate had arrived as well. After travvling for amy hours, as well as it was now early morning where I live, we quickly went to bed..
To be continued..