Qf/AF/BA/MA Y & J BNE-HKG-CDG-LHR, LGW-BUD-LCA-LGW
Jan 30, 10, 2:02 am
Join Date: Apr 2008
Location: BrisVegas
Programs: QF SG,Velocity WP, Hilton Diamond
Posts: 389
Qf/AF/BA/MA Y & J BNE-HKG-CDG-LHR, LGW-BUD-LCA-LGW
---
In the never ending quest for status credits and points....

Now after my gap year(year working abroad between high school and University) doing a lot of flying on some very reasonable exLGW BA CE fares I had boosted myself up to Qantas Gold level aka SG. Now back in Australia studying, the time and also $$ available to keep the status were not so easy to come by. so when I was going to London to see friends from my year abroad I thought this was the best opportunity to find some reasonable CE fares to boost the balance, however it was not to be. Tried BA, IB, AY but nothing really was going my way until I remembered about Oneworld's dark horse...Malev and so for a reasonable sum I booked. However lets talk about the flights, the interesting part of this report!

Is my first TR so any comments would be most appreciated!
---
Last edited by austgap; Jan 31, 10 at

6:05 am

Reason: typo
Jan 30, 10, 10:32 pm
Join Date: Apr 2008
Location: BrisVegas
Programs: QF SG,Velocity WP, Hilton Diamond
Posts: 389
Brisbane-Hong Kong QF (Y)
---
Flight Number:
QF97
Aircraft:
A330-300
Route:
Brisbane –Hong Kong
Class:
Economy
Seat:
27D
Departure:
Scheduled 1105 (
Actual
1107)
Landing:
Scheduled 1750 (
Actual
1738)
Check-in:
Lined up at the Business class line, but it was busy so was asked by the Economy class agent for the flight, but wow some serious morning attitude. Ignored my question about seating and didn't pass me an immigration card, no real big by just unusual.
Lounge:
Went up to the Qantas Business lounge (which funny enough still had all the Qantas Club signing) Basic, quite small and was starting to get a bit busy. Offerings exactly the same as the Domestic QP, but still helped myself to a bowl of muesli and fruit, did notice plenty of people swiping the pancakes. Lounge "dragons' were anything but and did try and sort out my seating for my AF leg with no avail. Seemed though they had plenty on their hands with QF15 delayed for 5hours!
Boarding:
Used the gold status to enter via the J line so one of the first onboard. Unlike many other FT'ers I like boarding early, getting overhead room and then people watching...which in turn becomes more about praying that some of my fellow passengers are not sitting next to me.
A friendly, quite mature purser greeted me by name at the door and wished me a comfortable flight, if only I was doing it skybed style than I might of. Had been told before in the lounge that there was 70 seats open, don't know if that was both cabins or just Y but had been told to stick with my current seating as the middle seat was still open. Thankfully it stayed that way. Crew seemed the typical mixed bag which you read on the QFF section of FT, some full of similes and very helpful with bags and passengers, others standing idle barely getting a forced simile in.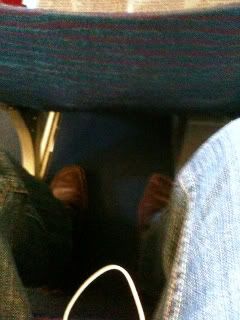 Legroom shot
During the flight:
Seemed to be a lot of passengers transferring to other flights Europe/Asia so the purser had an easy job walking around with landing cards he also then walked around greeting the two plats that I saw and asking if the needed anything special newspaper/glass of champagne..etc and thanked them for their loyalty which sounded quite genuine.
Newspaper (did sneak from the QPub...I know bad!) -Note dear old QF on the front page again and Headphones
IFE:
Exactly as I expect from my reading up of the A330 system. Slow to get going but otherwise good.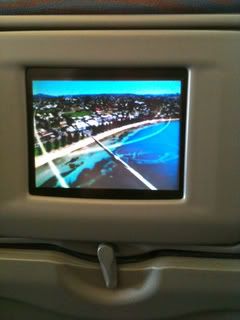 Would be nice to have the ability to have music playing while watching the new moving map (which I do like after many flights with the 744 one).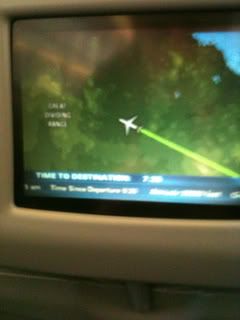 Moving Map
Watched a few top gear episodes and then Man on Fire, a fantastic Denzel Washington movie, however the rest of the selection weren't as appealing and knowing that I've got another two QF legs this month I thought to control the amount of watching so just flicked through some of the other tv programs during the flight.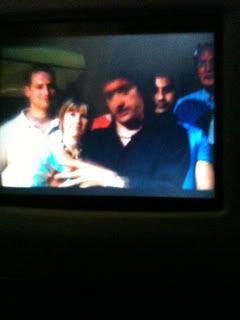 Top Gear
Lunch:
Mesclun Salad with Balsamic vinaigrette
(choice of): Szechuan style chicken with steamed rice and stir fried vegetables
Or Slow cooked pork withpaprika and lemon sauce and roasted potatoes
Belgian Chocolate Brownie
Cheese and crackers
Chocolate
Water bottles were distributed once crew were released. However we were told on the PA that no other bottles would be handed out and we should fill them up ourselves.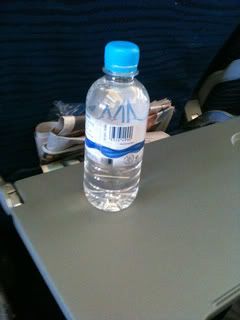 The FA's came out ready to serve lunch, then hey presto they went back to the galley. So then about an hour after take off attempt number two was done and I selected the chicken, which was tasty and hit the spot. Accompanied the chicken by some sauvignon blanc which was nice for economy. (Sorry didn't get its name) Did laugh when I saw the "Mesclun Salad," which obviously means simply rocket with a bit of lettuce!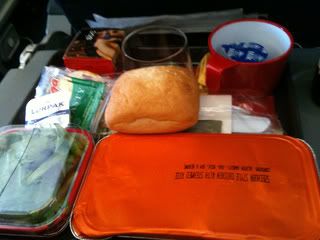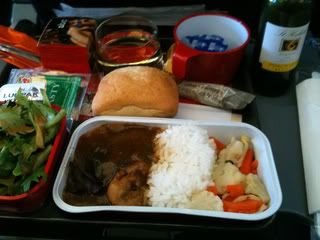 Rest of the flight:
Hit a bout of tubulance north of Darwin and a few pockets of it around the Timor sea which the captain turned back on the seatbelt sign, but otherwise compared to the next leg a very smooth flight. Crew did come around the cabin with water and apples which were great and of course the FT famous cup of hot chocolate – with two marshmellows!! (It's preseason for rugby in Australia..so I'm sure they wont mind).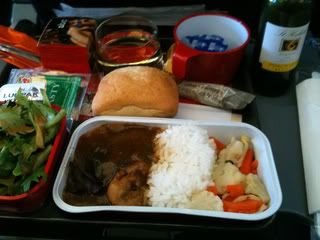 Went for a walk down to the back galley and asked the male steward for a coke which was given to me with a packet of mixed nuts and had a bit of a chat about flying and the change of QF97 to a redeye both ways. The little snack kept me going until the lights were turned on with just over two hours to Hong Kong.
Second meal:
Seasonal Melon salad with fruit juice
Cheese ravioli with a mushroom sauce
Chocolate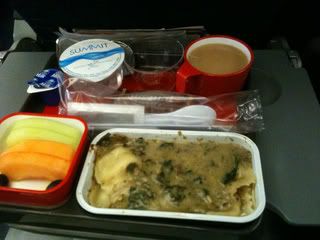 No choice for this refreshment, however it did taste a lot better than the photo portrays it. Interesting for Qantas to only have a western option but was good. Had a cup of tea with the ravioli (to get me in the swing of the English mass tea consumption). Do have to say that the fresh fruit was unbelievably cold!
Arrival:
Our American captain landed us into Hong Kong early, however by the time you taxi around to the gate it was roughly on time. Disembarked through the 2L, which seemed to surprise the FA manning that door as she got quite a fright when the ground crew knocked on the door! Left the plane and headed off to find the new QF business lounge
Transfer @ HKG
Qantas New Business Lounge
Well after quite a walk, maybe it was just me but not overly well signposted I finally find the escalator to head down to the lounge.( If memory serves me right it's like literally below the old QF/BA lounge??) Walked in and greeted after initial hesitation and welcomed in. Wow its a lot smarter than the previous lounge and while some have noted that it doesn't have any view at all, the decor especially the lighting I think makes up for it. With one of the BA flights cancelled till some time tomorrow the lounge was not very busy, quite a change from my last time there after the Australia v New Zealand rugby test in Hong Kong which was when the maintenance were having their strikes causing massive delays. Anyways enjoyed some Vietnamese spring rolls and a couple of glasses of the sparkling that was on offer, which somehow prompted me to do my OLCI for my BA flight, which went fine even got 9A (exitrow for the A319). It was only doing some surfing around the FT website which prompted to me that BA were still suffering extreme delays and cancellations – and what did you know that I looked on the departures for LHR to CDG and hey presto BA326 the last departure to CDG was cancelled. Damm! So off I went to the desk to ask about arrangements to put me on the next departure BA307, but the BA staff member denied that 303 was cancelled!??! His advice was just because the last departure was cancelled that it doesn't mean the first flight in the morning is.... I tried to call QF to see if they could do anything, but other than my flight was cancelled said there was so many people needing rebooking they couldn't even waitlist me, to be honest I had no idea how bad it actually was.
Back to the lounge, after this whole debacle I decided to increase to something a bit stronger and after a two Havana clubs and coke decided to hit the shower in preparation of my first AF trip.
Some pictures of the lounge: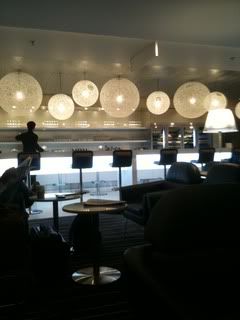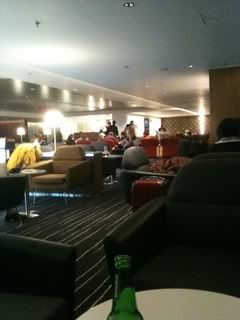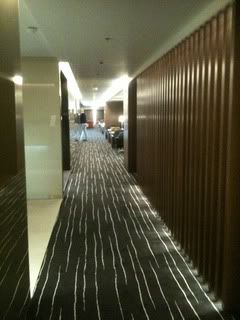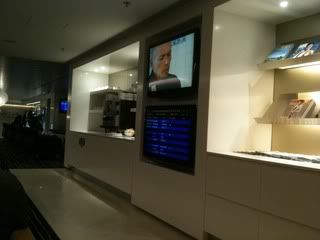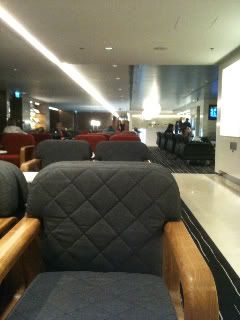 And some of the shower - to be honest the best thing that lounge acess offers on these long haul flights in whY.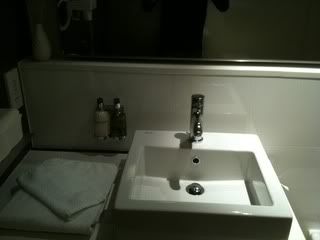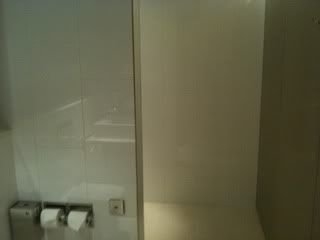 ---
Last edited by austgap; Jan 31, 10 at

1:56 am

Reason: error in links
Jan 30, 10, 11:59 pm
Join Date: Apr 2008
Location: BrisVegas
Programs: QF SG,Velocity WP, Hilton Diamond
Posts: 389
Hong Kong - Paris (Y)
---
Flight Number:
QF3976 operated by Air France as AF185
Aircraft:
B777-300ER
Route:
Hong Kong – Paris CDG
Class:
Voyages (Economy)
Seat:
23L
Scheduled Departure
2335 (
Actual
2339)
Scheduled Arrival
0550 (
Actual
0611)
Boarding:
Having seen the 777 just outside as I walking into the lounge, I left as the plane was put as boarding on the boards....rookie mistake! What didn't click is that it planes can change gates at airports bigger than dear old BNE. So after a ride on the tube-like train I found the gate and was greeted with mainly local Hong Kong based students heading to their European universities. After making my way to the gate, I was greeted by the crew which I thought I'd bring out my best French (even with my Australian accent) obviously worked a lot better than the ski trip to Les Arc 12months previous to which the purser gave me instructions on where to go in very quick French!! Thankfully, I know which side of the plane L is. Flight was packed! To make it worse, the overhead compartments were chocker with bags, jackets and all the like, by the time I got to row 23 my two seat companions were already sitting and busy into the study!! After moving some bags to get my carryon and jacket in, a woman from two rows back started screaming and shouting that her laptop bag could not be put like that (on its side..) and wanted me to move my bags immediately! Maybe it was me being tired or what not but my response to the laptop woman: parlez vous Francais? She didn't speak French so just sat back down.
After that episode I finally got to my seat, to be reminded of two things I really hate, passengers with terrible body odour and window seats! AF 10abrest didn't help my happiness on my first flight with them, it was narrow!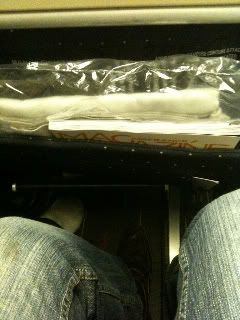 Token legroom shot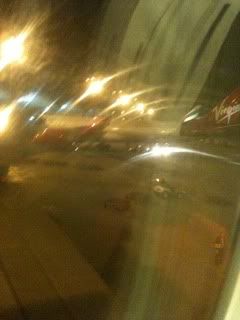 A very blury shot of traffic at HKG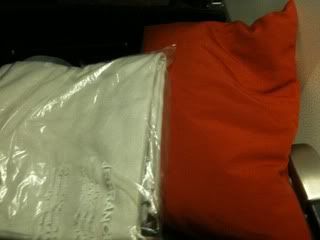 Pillow and blanket
Menu and headphones
Dinner: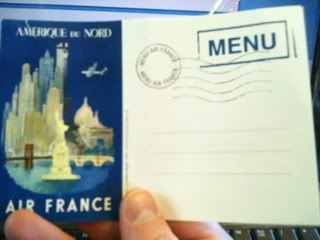 Menu Cover
Smoked breast of chicken served with Russian Salad

Choice of main course
Pork with vegetables accompanied by steamed rice (spicy)
-or-
Sauteed chicken with sherry sauce, linguine pasta, vichy carrots and snow peas

Cheese
Fresh fruit
Apple puff pastry
Coffee and Tea
Was served about 1.5hours after takeoff in what was an incredibly slow process with only one FA on the trolley who did all the food orders for two rows and then the drinks. She got very cross when my Asian seat neighbour asked for a glass of water as he was receiving his food he was told, "No! You wait!" which saved me who was about to ask the same question! Had the 'spicy' pork which was anything but spicy and was slightly burned on the sides and as the photo shows, very overcooked rice which I hardly touched. Was quite a fair bit of food for this time of night and I had been snacking at the lounge so didn't finish it.
Dinner which was as bad as it looks
After dinner was cleared away, I tried to get some sleep which for someone who doesn't sleep on planes, 3hours was a decent achievement. If I can say though the seat itself was sooo unbelievably hard to sit on. This resulted in a seriously "numb bum" so I then used the uselessly small and uncomfortable pillow to sit on - did it work, no not really.
IFE:
With not being able to sleep much I decided to see what was on offer, a system which seemed familiar to UA's, slightly bigger screen though watch two movies: Taking of Pelham 1 2 3 (yes..I know another Denzel Washington movie) and State of Play with Russell Crowe. The overhead video screens showed the moving map until lights were turned off.
The moving map
Breakfast:
Was served 1.5hours before landing and actually was very good and filling and more so than what I recall BA and CX had served on the HKG-LHR route before. Coffee however was disgusting, maybe they share their coffee with BA!! Crew still seemed to take an age to get through the process and the seat belt sign was turned on while I still had my breakfast tray!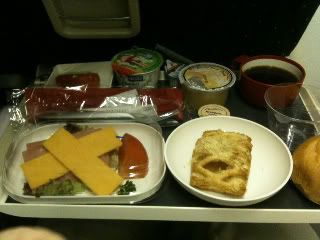 Breakfast
Arrival:
After a bouncy landing which involved a massive shudder, supposedly according to the captain we hit some ice on the runway we had a long taxi and arrived on the stand at 6.11am about 21minutes late. Headed to change to terminal 2A to which on arrival the BA transfer desk was empty?? Spoke to the woman manning the AA desk who shrugged and said you will need to clear customs and go to the ticket office landslide as they have cancelled not just my original flight but the one after it as well!
Jan 31, 10, 1:41 am
Join Date: Apr 2008
Location: BrisVegas
Programs: QF SG,Velocity WP, Hilton Diamond
Posts: 389
Paris to London BA (Y)
---
Flight Number:
QF3403 Operated by British Airways as BA303
Changed to BA 309
Aircraft:
A321
Route:
Paris - London Heathrow
Class:
Euro Traveller (Economy)
Seat:
23E
Departure:
Scheduled 1225 (
Actual
1250)
Landing:
Scheduled 1245 (
Actual
1305)
Check-in:
Well after I was able to clear immigration, which in itself was hard because I had changed terminals and was in the transfer area not arrivals, thankfully the nice security guard's poor understanding of English and my poor ability to speak French worked and I headed to the BA side of the terminal. I had already seen on the boards that they were cancelling the first two, but what I was not expecting was a massive snaking queue of people trying to get reticketed which was served by two BA contracted staff. The check-in staff were all just sitting drinking coffee, giving the impression that it was going to be ages before they were needed, and they weren't wrong.
Empty check-in desks while lining up, did take a photo of the massive queue but was told to delete it by the army officer patrolling
After an hour of queuing I was told frankly since I had no connection out of LHR that not to expect flying out of Paris today as they had a huge bottleneck of passengers to get through. It was only after she then mention that was a rank order starting with passengers with connections than BA/OW status for the first time ever had a DYKWIA moment.. A quick flash of my golden card got a: "ohhh..you one of them, why didn't you say earlier??" However was told that I was still on a waitlist like everyone else and would just have to sit around for another 4.5hours until 11.50 when they would process waitlist passengers. After breakfast and then sitting around at the Maccas using the free wifi, I returned to the BA check-in where the calm, organised queue had turned a bit heated there was heaps of people sitting around waiting some had been there since last night!
Because this was "weather" related, BA refused to provide anything other than a bottle of water - regardless that AF and EZY were still operating near 100% and this presented a lot of anger. I actually went over to terminal 2E to ask at the AF desk what a fare to LHR would be, i was quoted 1500euros!!
The lucky few who were to snag the last seats were called,in three rounds. First round was call to no avail. Then a second round and again nothing did notice a guy with a BA executive silver card walked up so I started to get a bit exicited but again nothing. This exicitment turned into realism that it would be my luck to just miss out and start looking to jump on the final flight of the day which was to depart at 5pm. Just as I was going to phone my driver in LHR to tell him it was now going to be 6pm, she was finishing off the 3rd list and what!?! My name is called, hurrah SG status finally does something!
Immigration was interesting because being an Australian my passport gets stamped when I arrived into CDG this morning, the immigration agent was very confused why I had only been in Paris for a few hours, but the minute I spoke English to him he stopped caring and let me continue on board
It was a bus ride to the flight so decided to whip out the iphone (sorry the camera died in brisbane so that explains the average quality, but its the 3S so hopefully its ok) to show you the sights of CDG.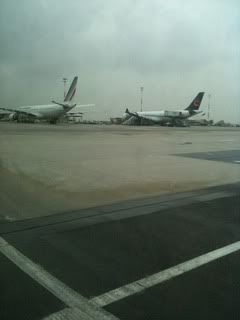 AF A330 and an Iberworld A330 being leased by XL (French charter company)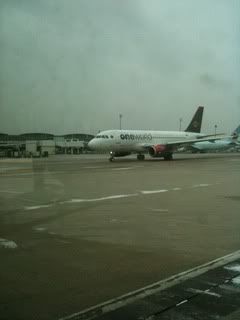 RJ A319 in the Oneworld Alliance livery heading back home to Amman
CX B744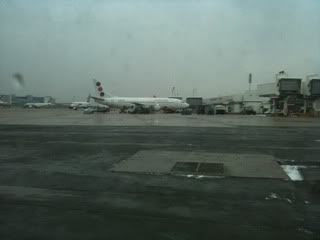 A rather unheard of airline in Australia - Jat Airways B733 heading to Belgrade
The apron with a mixture of my BA A321, AF A318/A319 and a Tarom A318 heading to Bucharest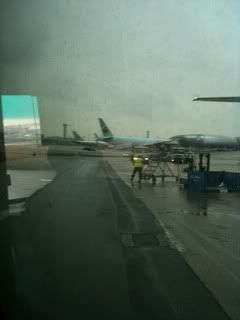 AC B773 and AA B752W Heading to Toronto and JFK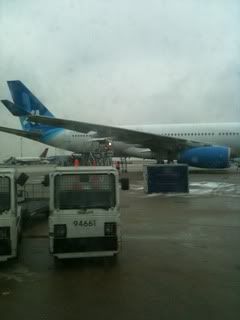 A XL A333 heading to Cancun, Mexico - never seen so many seniors push and shove to check-in, least kept me entertained waiting for my boarding pass!
Vietnam Airlines B772
During the flight:
Once on board after the long bus ride, the flight was naturally packed and we were thankfully on our way to LHR. A snack and drink was served which wasn't the typical birdseed but some little biscuit-y things which were actually quite tasty! Otherwise it was a normal ET trip – nothing out of the ordinary.
Arrival:
After waiting for our stand to clear we deboarded and went down to collect my bags which the check-in agent said were going to be transferred. Well shock horror they weren't! So a chat with the BA baggage agent who admitted they weren't loaded but would be on the second flight and will be delivered to me in the morning...how wrong was she.
Jan 31, 10, 11:59 pm
Join Date: Feb 2004
Location: VIENNA VA
Programs: BA emerald, AF rouge ,UA premier executive, SQ,ANA, HYATT,, AMENITI
Posts: 835
Excellent report so far. Waiting for more.
Just one question, did they really quote you 1500Euros for a one way ticket CDG-LHR? Is AF selling there tickets with a premium?