Final UA737 Milk Run flight with FT DO 10/28/09
Oct 29, 09, 9:50 pm
Join Date: Jun 2002
Location: ORD, HKG
Programs: UA GL*G (0.65 BIS MM), AA EXP, Wyndham Gold, Marriott Gold
Posts: 9,665
Final UA737 Milk Run flight with FT DO 10/28/09 (IAD)-ORD-DEN-LAX-SFO
---
Thanks to the thread
http://www.flyertalk.com/forum/unite...ober-28-a.html
with also
United PR
. Since there are a number of FTers have already bought tickets on this flight, I had started a thread in
Community buzz
so that all FTers can get to know each other.
http://www.flyertalk.com/forum/commu...7-do-list.html
This flight basically wasn't even in the timetable, basically just add on a short time ago. However officially UA said they actually planned this flight about 9 months ago, with this plane will be going through all UA hubs, IAD, ORD, DEN, LAX and SFO. UA also specifically noted in the site about all the segments, dates, departure and arrival times of the cities.
UA 737 IAD-ORD 6:04am-7:21am
UA 737 ORD-DEN 10:37am-12:24pm
UA 737 DEN-LAX 1:37pm-3:09pm
UA 737 LAX-SFO 4:37pm-5:59pm
I had never thought about it until I check out the price of the ticket if I want to be on board. LAX-SFO price out to be the cheapest of course, but I still have to fly to LAX to be on board, so why not start from ORD. Since it is leaving IAD at 6am and I am base in ORD, there is also no reason for me to go to IAD especially it leaves at 6am so early. I priced it out all together is almost $400. I was wondering why, so I decided to look at it from the expert mode on UA site. LAX-SFO is zero out in S, T, and L. All other segments ORD-DEN and DEN-LAX still showing S9, T9, and L9. With one segment the lowest bucket is W, all other segments will price in W as well. When I put in the one before and the one after, everything drop to T. I was doing a same day turn back to ORD as well. Still it price out altogether about $329.
At that time I couldn't really confirm as I was still waiting to see if I have to work that day. Finally when I know I can skip that day and after of work, it was just under a week of departure, but the price already jumped up close to $700. It just make no sense to buy a ticket anymore. I had decided to use 25,000 miles for a XY award. Even though I want to save for int'l F award, but I think about this is one in a life time chance I can experience something like this, I decided to jump ahead and call the award desk. (online cannot do it there is no multi city search)
The agent basically offer all I want except LAX-SFO, I have to booked on a later or earlier flight. I had decided to booked on a later one so that I can still standby for UA737.
Three days departure, UA 737 on LAX-SFO finally open up XY space, so I ask the agent to move me to that flight. My return to ORD is a little complicated, either I do the nonstop SFO-ORD UA152 at 6:40pm, I don't like this one as I wouldn't get in ORD til past midnight. The redeye UA158 is a 2 class 777, however the best Y seat on board exit 16 AB HJ are gone, all windows and aisles in E+ are gone as well. Since I am using miles, I don't want to sit in the back E- to get window or aisle. The only other option is to do SFO-LAS-ORD, I can also try out LAS PC as well. So finally come up with the routing.
UA 737 ORD-DEN-LAX-SFO (733)
UA 887 SFO-LAS (752)
UA 968 LAS-ORD (319)
--------------------------------------------------------------------------
My past trip reports
http://www.flyertalk.com/forum/trip-...-c-photos.html
http://www.flyertalk.com/forum/trip-...lots-pics.html
---
Last edited by ORDnHKG; Nov 3, 09 at

9:39 pm
Oct 29, 09, 9:52 pm
Join Date: Jun 2002
Location: ORD, HKG
Programs: UA GL*G (0.65 BIS MM), AA EXP, Wyndham Gold, Marriott Gold
Posts: 9,665
I got to ORD around 7am, the chcken basically print out 2 boarding pass, one for ORD-LAX, and the other for LAX-SFO, and on the LAX-SFO one, it had listed me as "
THROUGH PASSENGER ORD-SFO
" I will be using the same boarding pass to board DEN-LAX segment.
I tried to get there early to see if there is any activity around the gate C24, it had just gotten in from IAD, the pilots already deplaned, but a few are left still taking pictures. I stayed in RCC at C16 for some breakfast not until 9am, finally the gate next to C22, there was another 737-300 in old color for the earlier nonstop flight to SFO as UA 541.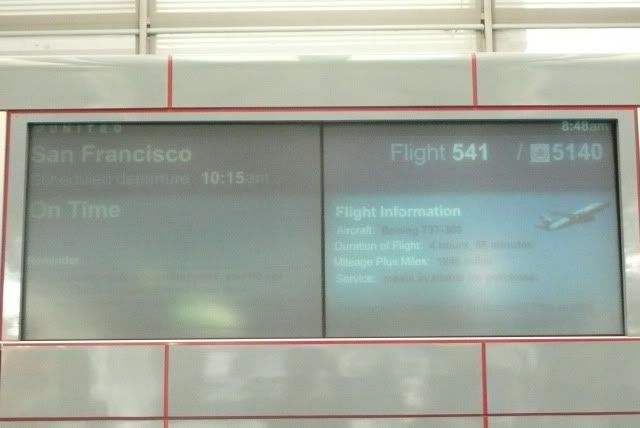 Two last 737 flights leaving close to each other also with close departure time, and same destination, UA 541 leaving roughly 20 min before UA 737. Noted the 737 require close to 5 hours for nonstop flight ORD-SFO, compare basically a 767 or 777 only need 4 hours and 30 min. Who is really going to fly on that plane ? On top if it there is audio only, no video, almost no difference than flying a AA MD-80.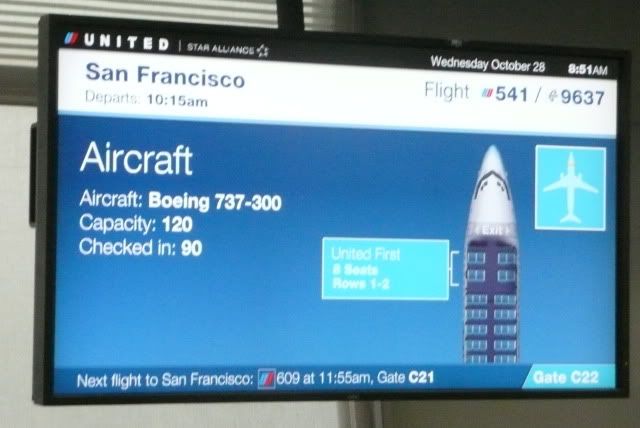 N334UA (9934)
as the plane's last revenue flight as
UA 541 nonstop ORD-SFO at C22
, further down was my plane
N331UA (9931)
as
UA 737 ORD-DEN-LAX-SFO at C24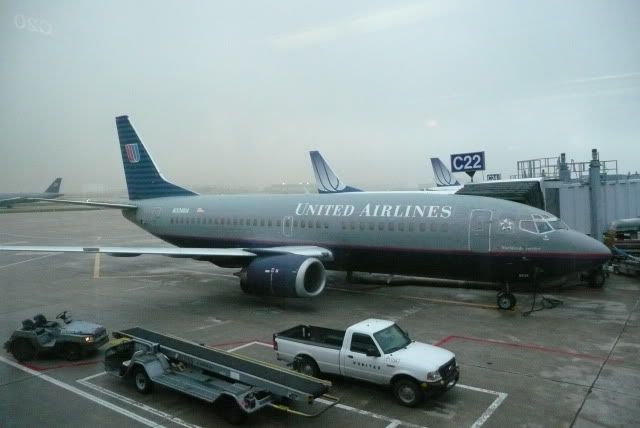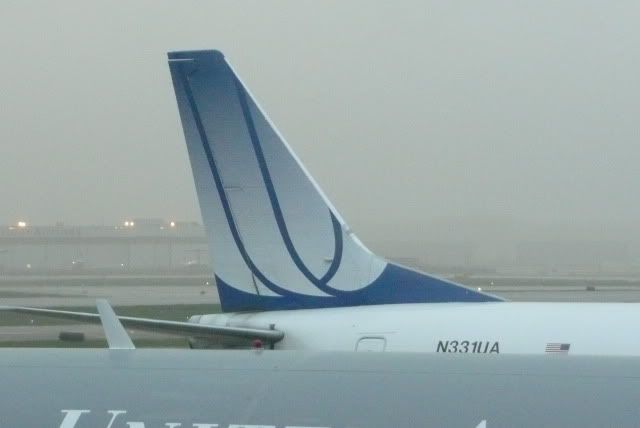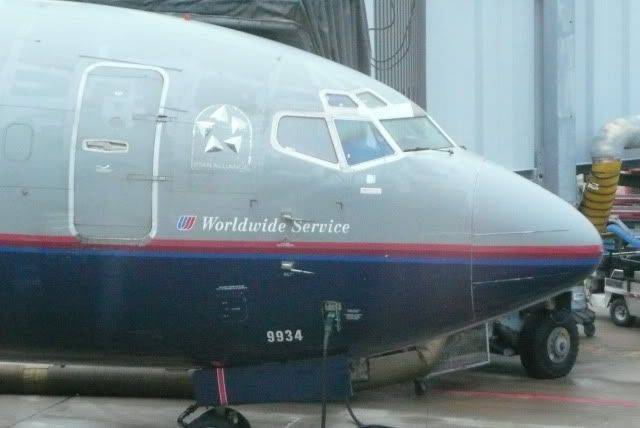 The old 737 is going to replace with all those RJ, CRJ-700 and Embrarer 170 specifically. E70 basically a better plane than 737, as they are 2+2 seating, compare to 737 3+3 seating, hence eliminate the middle seat. However, I would definately choose 737 over CR7, as CR7 has low ceiling plus small overhead luggage space.
Gate C24 and the further down gate C22 also showing San Francisco. The gate C24 actually was flashing Denver, Los Angeles, and San Francisco. As technically this flight is going to make 2 stops on the way.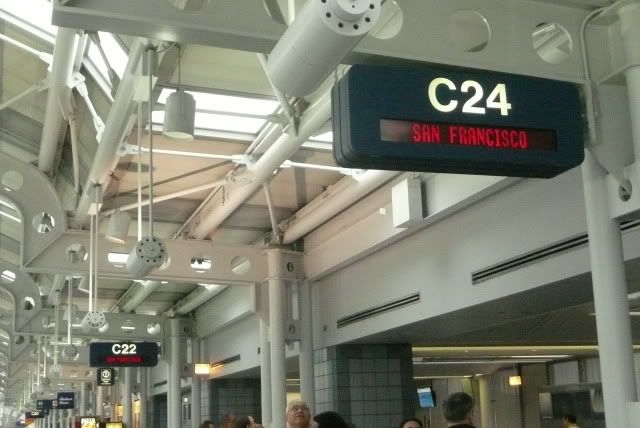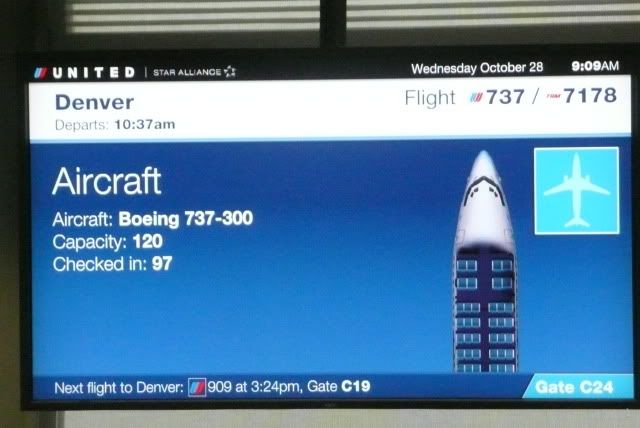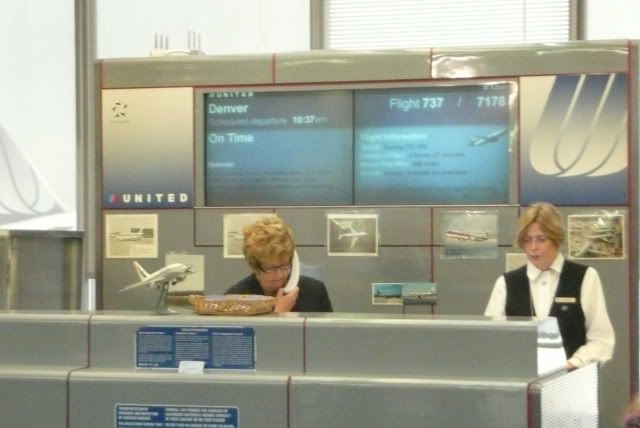 There is a
737-200 model
in the original UA scheme first wear in UA 737, as well as
737 fact cards
and
UA wings
at the podium desk, behind it also various UA 737 photos in various years.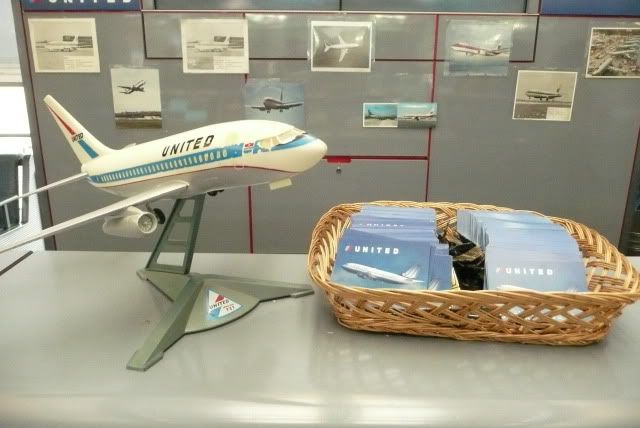 Setting up with a table of coffee, there was another table set up with bottles of Tropicana's juices.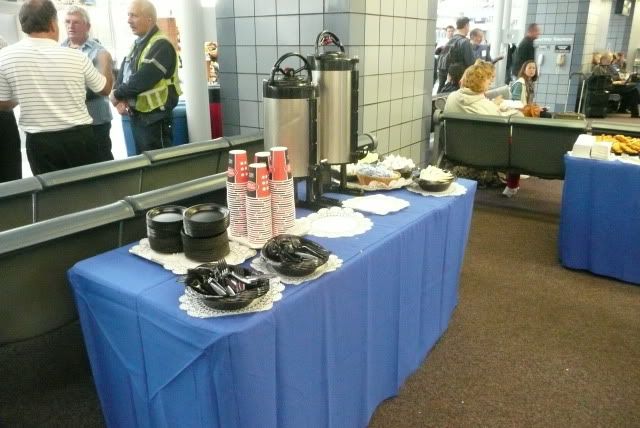 This was quite a spread with different pastries alongside with assorted fruit spread. Compare with the celebration in DEN and LAX, this is actually the most they have.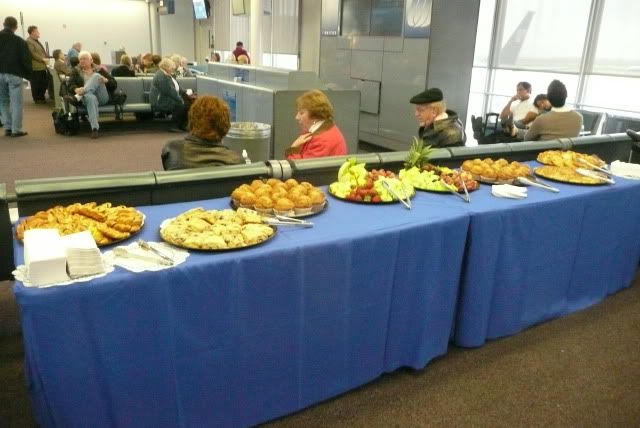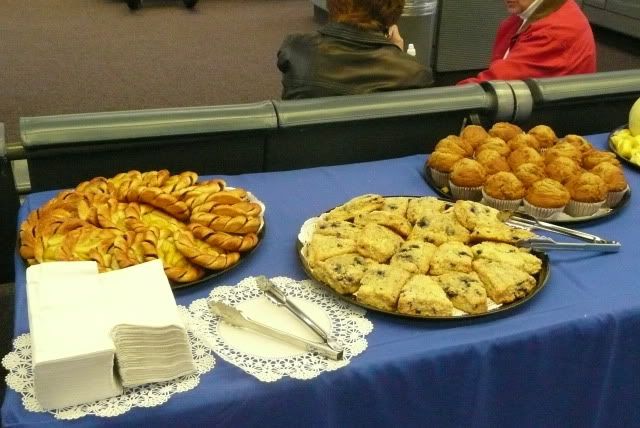 Quoted from A.net from the UA employees page.
Chicago-based Captain Bob Russo loves piloting the "guppy" so much that he decided long ago that if United ever retired the B737, that would also be his cue to exit.

Bob, who has logged more than 17,000 hours in B737 cockpits, has been a United pilot since June 1978 and except for a few years in the B727, has flown the B737 on milk-run hops ever since. He will be the captain on October 28 for three legs of Flight 737, our last revenue trips for the fleet.

The flight starts at Washington Dulles at 0600 that morning, with Dulles Regional Chief Pilot Walt Clark at the controls. It then flies to Chicago-O'Hare, where Bob will take over.

He will fly, with First Officer Paul Fletcher, to Denver, then Los Angeles, and finally to San Francisco, where he will be greeted by a water cannon salute when the plane taxis to the gate at about 1800.

"We have more modern, advanced planes in our fleet now," Bob says. "But the fact is, the 737 is the most fun to fly, and the most hands-on.

"I know that's unusual at an airline like United," Bob says. "Most pilots want to fly the bigger equipment and handle the glamorous routes. But I know I wouldn't look forward to coming to work if I had to fly 14 hours nonstop. I like flying out to the smaller airports, picking up people and taking them back to O'Hare, the busiest airport in the world."

Bob grew up near Chicago's Midway Airport when it, not O'Hare, was considered the busiest airport in the world. He still lives on the same block.

"Commercial airliners were always flying over my head, and from as early as I can remember, I wanted to be a commercial airline pilot -- a specific type of commercial airline pilot.

"When I was 12, I read an article in Flying magazine, called 'The Best Job in the World.' It was written by a North Central Airlines captain flying DC-3s out of O'Hare, and described his typical day. It was all short-haul flying. That's exactly the kind of flying I wanted to do."

Bob took flying lessons at Midway starting at age 15, and soon earned his commercial and instrument rating. He was a flight instructor and charter pilot during and after college, "the best civilian way to build flight hours." When United was hiring pilots in the late 1970s, Bob was accepted and started flight training in Denver in 1978.

United attracted Bob in part because it offered "such a wide array of routes. It satisfied a lot of what I wanted to do." It also enabled Bob to stay in his hometown except for his first year, when he was based in Cleveland.

Bob has landed B737s about 5,500 times; when he touches down in San Francisco at dusk on October 28, he will be greeted by a rare water cannon salute. He'll have his wife, Sherry, with him on the final flight. After returning to Chicago, Bob plans on spending much of his retirement time flying his Cessna 182, for pleasure and also as a volunteer for Angel Flight, which provides free air transportation for charitable and medical needs.

"I understand the hard decisions we need to make," Bob said about the fleet retirement, "but it's really a shame that we're not going to have the guppy anymore. I've always considered the B737, particularly the 737-200, the ultimate flying machine."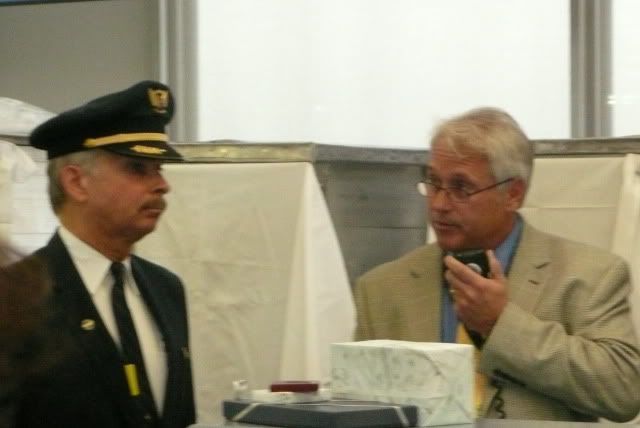 Captain Bob Russo with his wife along his side. UA also present him gifts of a statue of long time flying. Ground agnets of ORD also gave him a jar of milk, since this is a "milk run"
---
Last edited by ORDnHKG; Oct 30, 09 at

12:16 pm
Oct 29, 09, 9:53 pm
Join Date: Jun 2002
Location: ORD, HKG
Programs: UA GL*G (0.65 BIS MM), AA EXP, Wyndham Gold, Marriott Gold
Posts: 9,665
---
Boarding started a little late, there are no long lines like for other usual flights, basically only exactly 8 people on the F, GS, and 1K line, no line at economy line at all. So I guess not many elites at all. Even after that when they call prem.exec. and star alliance gold, there were only a few people go ahead, with me being first in the line. Right at the door, two agents are handing out
Final flight certificate
, as well as a
737 fact sheet.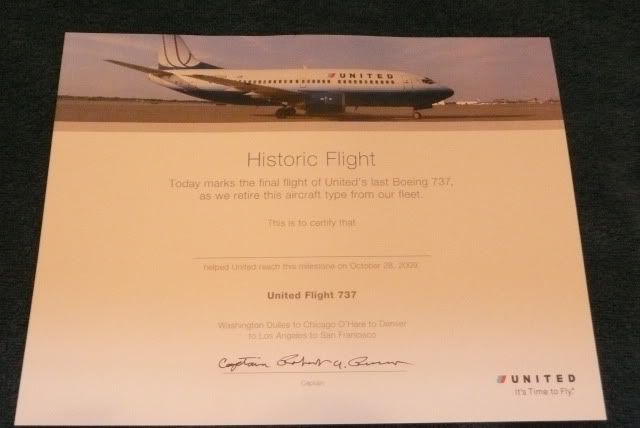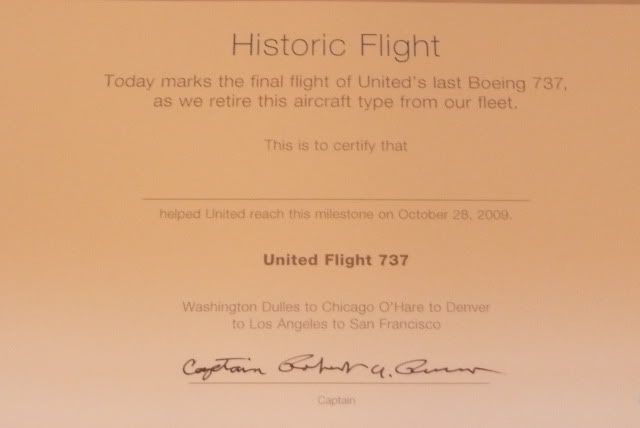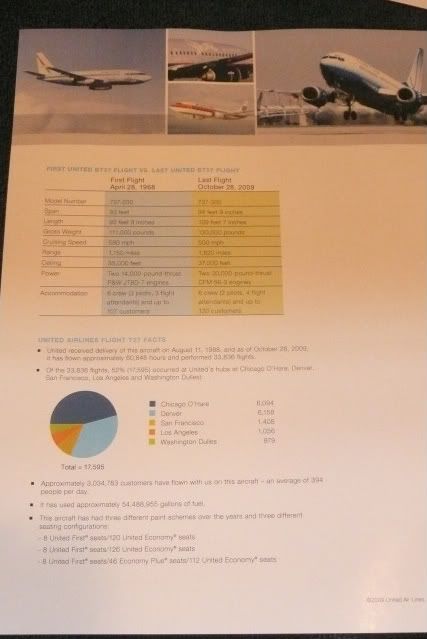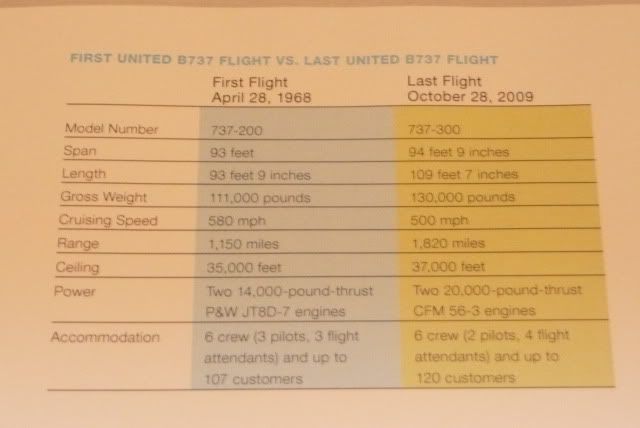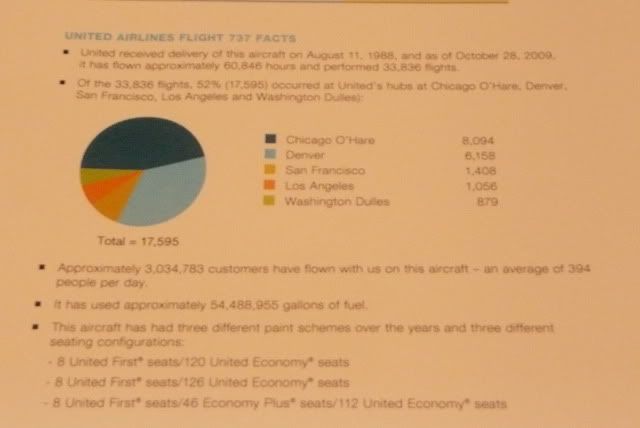 UA 737 ORD-DEN
N331UA 2 class 737-300
Seat 8A Y class
10:35am departure 10/28/09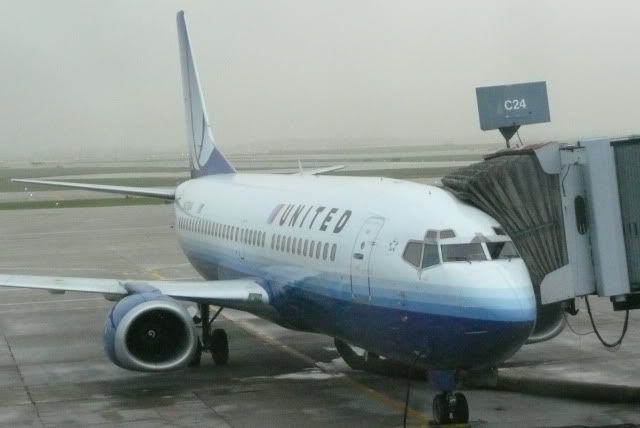 Since I am the first to board in economy, I got to take a picture in the empty Y cabin. When I got on the plane, I also asked the purser for the pilot to turn on the Channel 9 right away.
A view to the back from row 8
My seat 8A is a window in E+, it is not actually a good seat, as it is non-reclinable due to exit behind me. After the push back, luckily I was seated in the A side window, got to take a picture of all the ground employees at the gate C24.
The flight was 100% full, I am guessing with over half of NRSA, any empty seats were sorted out by any NRSA at the gate instead of revenue pax. It was just full of UA FA, mechanics, ground agents. After I got seated, I also try to find the FTers on board base on the list.
http://www.flyertalk.com/forum/commu...7-do-list.html
From that I met
United737522 at 4F
, I forgot it was from TPA ? or MCI ? Also has
bodei with her baby and her mom at 3D and 3E
, nearby has
blort at 10F
We passed by
NH 77W as NH11 to NRT
, and
JL 77W JA741J as JL9 to NRT
and taxi to runway 22L for take off.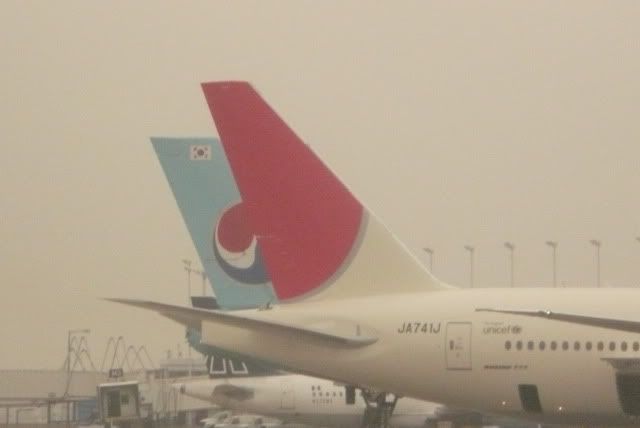 After takeoff, we started with drinks and snack boxes for sale. My seatmate was not specifically booked for this flight. He was originally booked at the later one to DEN continue to OKA. I am not a big fan of the snack box for purchase on UA, as I can get the snacks from RCC. He ordered one and was told by the FA they couldn't find the card swipe machine. As no machine to charge for the card, it was free, what a coincident.
So I ask for one as well since it is free.
There was no announcement for free snacks at all. I guess FA just want to play it safe or everyone would want something, then back of the bus would get nothing at all.
After the FA done with the drink and snack service, collect the trash. Then the FA make an announcement about the name of the person who has the most lifetimes miles on board to ring the call button, as well as the person had flown the most segment on ORD-DEN during the year. Those were actually seated in F, I didn't know what they were getting at first, but later I took a glimpse it is a paper weight with the last flight certificate embrodded inside.
After that, FA also said they took a draw of the flights pax name, 3 lucky pax is going to get the
UA hard cover book "The age of flight".
The book was published back in 2002, I had bought that book right after it published, and it was $39.95. Although they said it is a random draw, from what I can see, it is those non-UA elites win the prize.
I didn't win the prize, but this is the copy I bought years ago.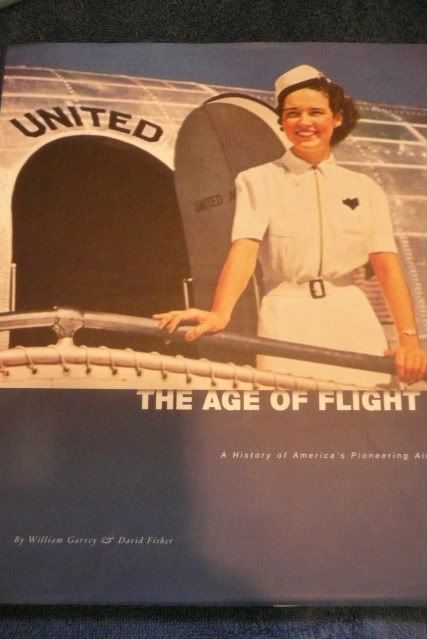 Landing in DEN in the winter's first snow storm, spoilers were up as well as thrust reverser. Notice the background full of snow.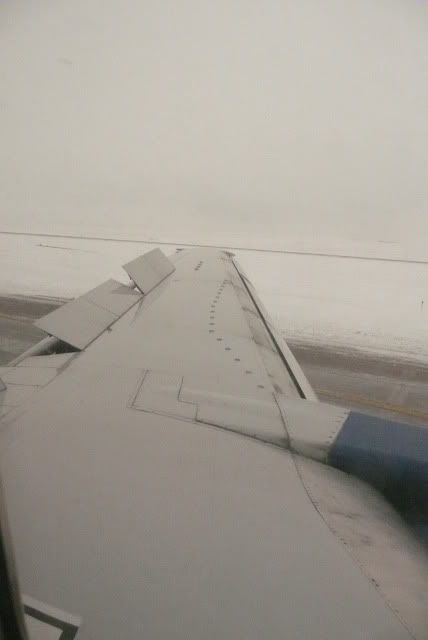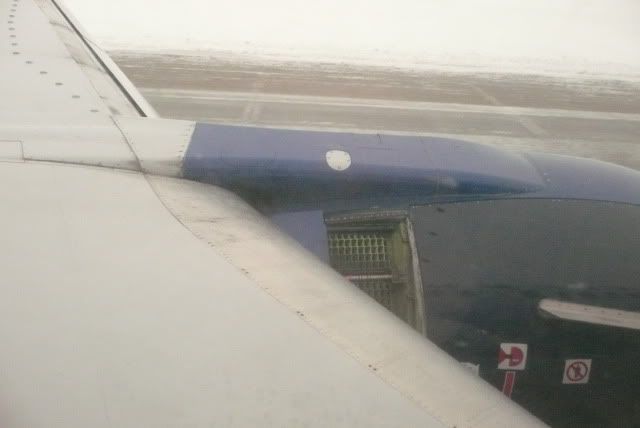 The Alaska 737-800 75th anniversary N569AS
---
Last edited by ORDnHKG; Oct 30, 09 at

1:48 pm
Oct 29, 09, 9:53 pm
Join Date: Jun 2002
Location: ORD, HKG
Programs: UA GL*G (0.65 BIS MM), AA EXP, Wyndham Gold, Marriott Gold
Posts: 9,665
The layover time was not that long in DEN, originally was scheduled to park at gate B25 from the night before I check on UA site for flight status, who knows it got changed to B16 the last minute, which means that is the farthest gate in the terminal.
After I got off the plane, I walked all the way to the smoking lounge for several cigs, since I know I wouldn't have a chance for a smoke til back to chicago the next day. The Smoking Lounge is actually a bar, in order to smoke in there, you have to buy a soda the minimum, $2.75. Kind of expensive for a soda, but at least get to satisfy my need of nicotine and hopefully last til the next day.
I saw someone on board reading an article about the last United 737 flight in the USA today, so after I smoked several cigs, I quickly went to the RCC to get a free copy. There were nowhere to be found any newspapers or magazines, I finally had to ask the RCC agent, who knows they were hiding behind her desk. I mentioned to her about that article, she also knew about the flight.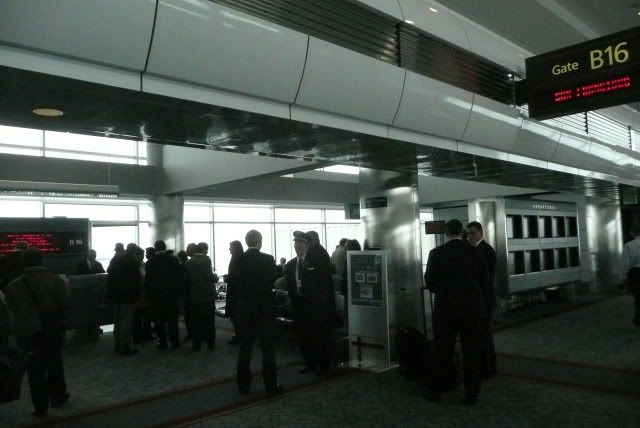 After I got back to the gate, it was about to start boarding. The celebration in DEN was much smaller than in ORD. There was only a small table set up right behind the flight monitors, with some cookies, sodas and bottle water. There were also no large crowd of UA employees, I am guessing because of the snow storm at DEN, most employees have to stay at their stations for any rebooking of flights for pax, didnot have any free moment to stay at the gate. I just grabbed a large bottle of the Aquarius Spring and get on board, using my ORD-LAX boarding pass, scan for the second time without any problem. Unlike in ORD, there are no one at the gate handing out last flight certificate, 737 fact sheet, or the mini 737 cards.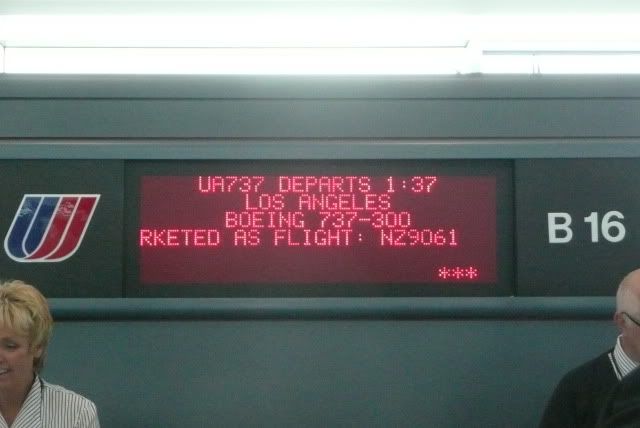 UA 737 DEN-LAX
N331UA 2 class 737-300
Seat 8A Y class
1:37pm departure 10/28/09
Once they get to each airport, they put a sticker for each stations employee to put in their signature. I didn't see anyone at the ground taking pictures at all when we pushed back, it is only the lady who worked the jet bridge taking pictures and waving to the pilot. I am guessing no one want to stand outside at the 30 degrees temperature at DEN.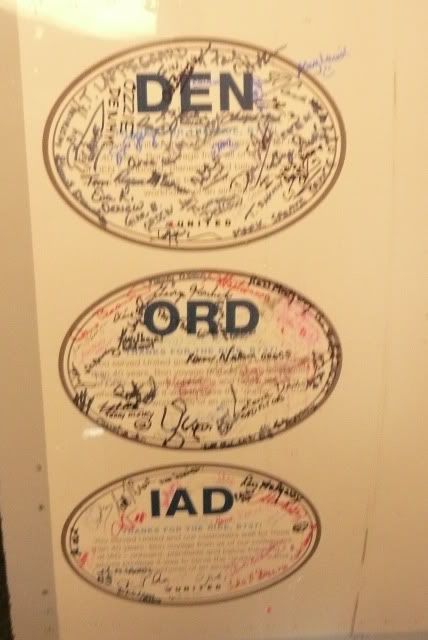 We have to taxi to a remote spot for deicing, luckily this spot was not that far from B16, and this spot seems to be just for UA planes. We parked at the deicing spot for just 5 minutes when those guys just about to finish deice for the UA 777 N780UA to AMS.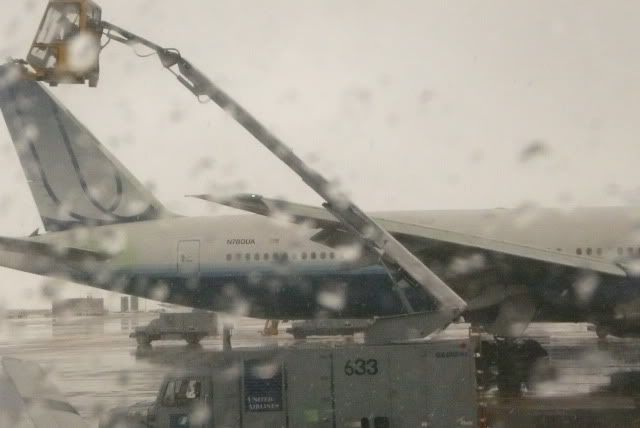 It seems like at first they spray a pink liquid, then a green liquid throught the entire plane especially the wing. This is the first time I saw this people deice the plane close up, as in ORD, they usually do the deicing at the gate.
Right before we took off DEN, captain asked the FA the notify the deadhead pilot on board seated in 9E to check the wing to see any ice on the wing so that we can clear for take off.
Once we reach the cruising altitude, FA began to start serving snacks and drinks. Since I knew from the previous flight the snack box is free, I didn't hesitate to ask for one in this flight again. She also pass out the mini 737 cards same as the one I got from ORD at the podium.
There was another older guy I am guessing some serior UA management, passing out the 737 last flight certificate and the 737 fact sheet, those are exactly the same as in ORD.
There were several more
FTers
joined in this flight include
ualdenver
right in front of me at 7A, who flew from BKK for this flight. Also it has
DEN
at 1D,
bodei and her mom
remained at 3D and 3E, so did
blort
at 10F.
United737522
got upgrade to 1C for this segment. I try to find other FTers who signed on the list suppose to be at the back of the plane,
dsldog400
and
steve64
, but couldn't find where they were.
They were doing the usual stuff like on my previous flight, 2 pax with the highest lifetime miles and segments got the special gift, it appeared to be FTer
DEN
and
United737522
got those. As well as 3 randomly selected pax got UA book. My seatmate at 8C who was a kid travelling with his dad appear got the book. I had seen his boarding pass show he is not even a UA MP member.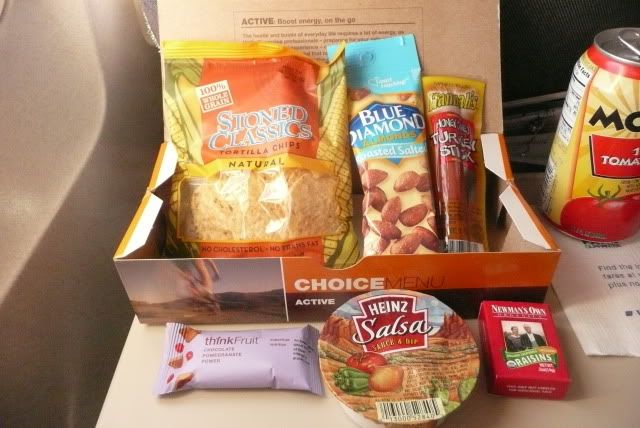 FA announced a message from
United PR
that for those are the flyertalk community, please ring the call button.
United PR
then walk thru the cabin and give us the segment information, also with the flight plan with the captain signed on the bottom. I saw she was handing out something to several pax on ORD-DEN segment, I didn't know that was actually the flight plan, so I told her I am a FTer, and she grabbed one from her file for me. Thanks for the special treat to FTer from
United PR
.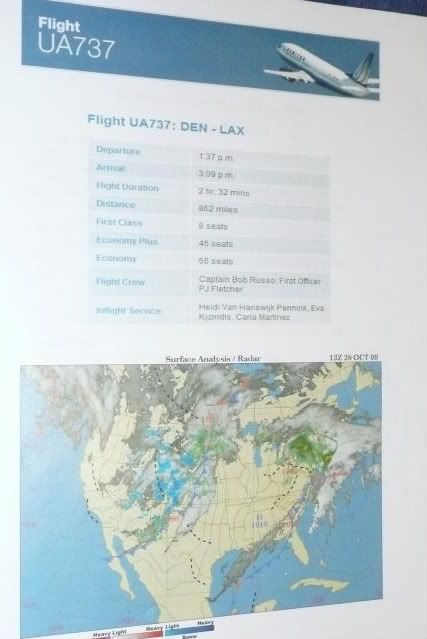 ---
Last edited by ORDnHKG; Nov 3, 09 at

9:35 pm
Oct 29, 09, 10:35 pm
Join Date: Jun 2002
Location: ORD, HKG
Programs: UA GL*G (0.65 BIS MM), AA EXP, Wyndham Gold, Marriott Gold
Posts: 9,665
Once they are done with the meal service, it still had an hour before landing, I decided time to take some pictures of the plane.
Here is
guppy's birth certificate
,
21 years and 2 months old
. The certificate is right above door 1L.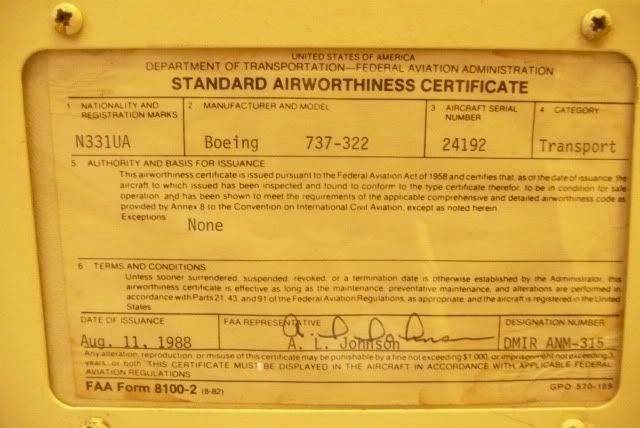 A view from the back of the plane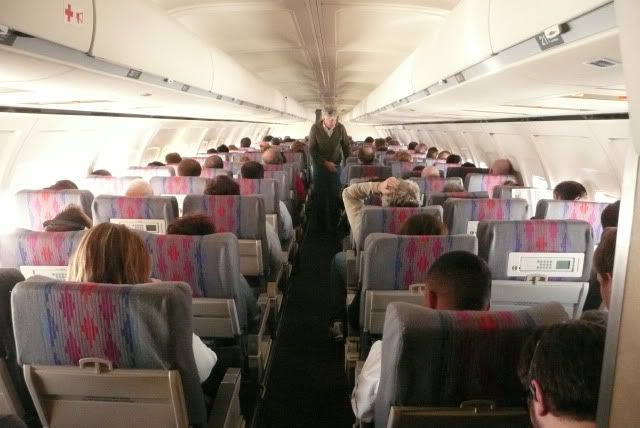 Ceiling lights and call buttons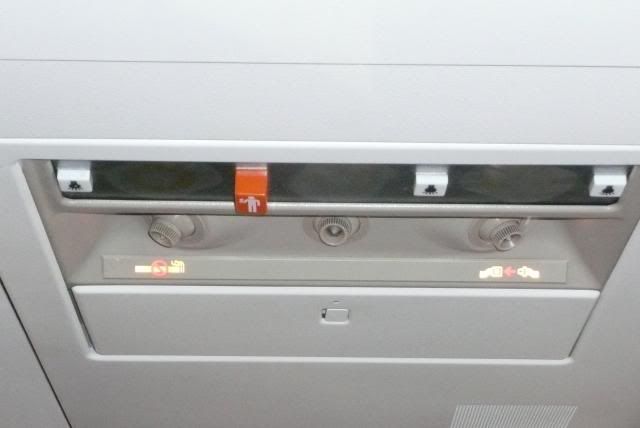 Door 2L and the jumpseat.
Galley in front of door 2L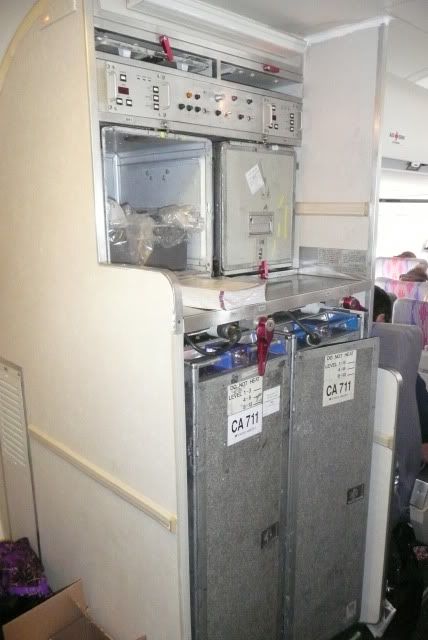 Door 2R and the back galley.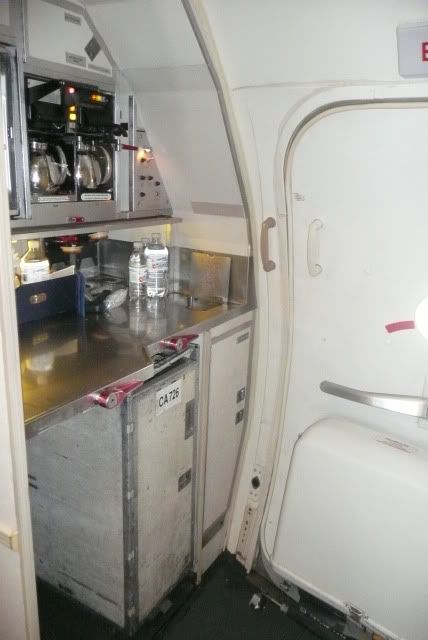 The two bathrooms at the back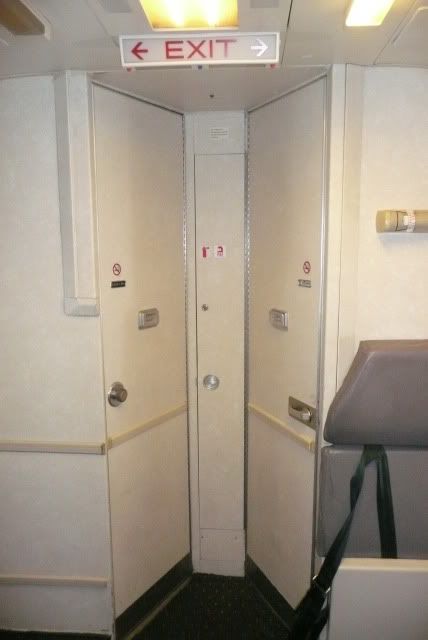 Inside the bathroom: The sink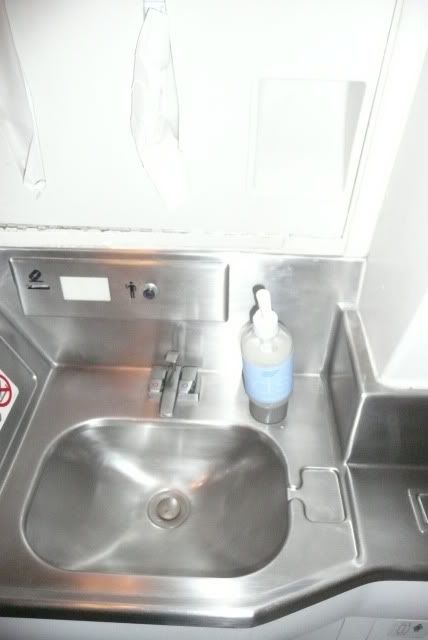 And the toilet
The jumpseats, a bathroom for F pax and the cockpit door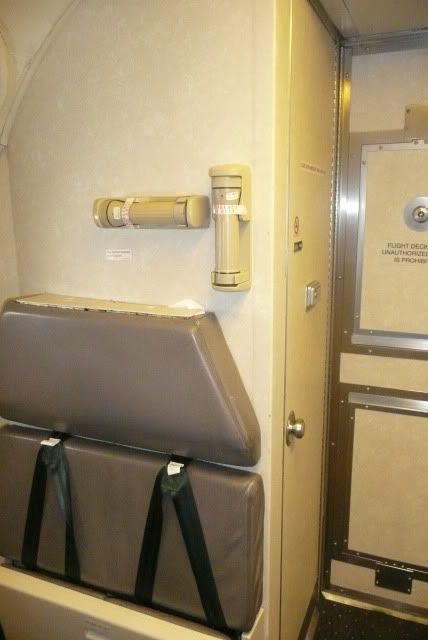 Door 1R and the front galley.
Spoilers were up for decend into LAX. Despite sunny weather, it was really rough going into LAX the last 20 min of the flights. I was already feeling nausea, FA probably saw someone in the back throwing up already, she pick up the PA, and said "if some of you feeling uncomfortable, there are sick bag in the back of the seat, please pass along for other pax. I thought that I almost need one.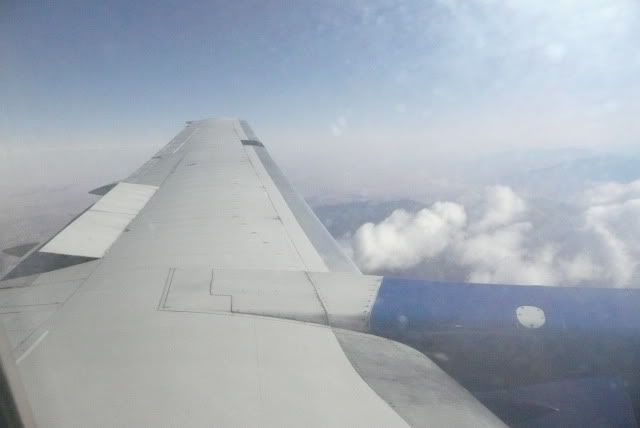 Finally landed in LAX, I took a shot of the OZ 777 still in old color.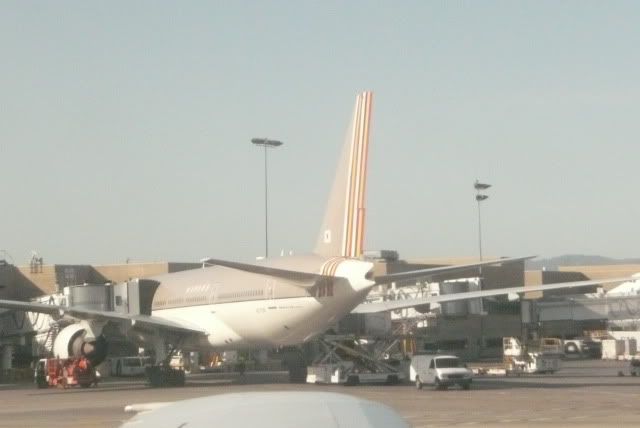 I thought that if I wait til SFO, probably the pilot and captain will be too busy for everyone, so I took a shot with them at the cockpit.
Captain Bob Russo
and
First Officier PJ Fletcher
---
Last edited by ORDnHKG; Nov 3, 09 at

9:49 pm
Oct 30, 09, 7:07 am
Join Date: Sep 2000
Location: Indian Harbour Beach, Fla, USA
Programs: AA Lifetime Plt
Posts: 1,986
Oct 30, 09, 12:17 pm
Join Date: Mar 2005
Location: BOS and any place close to a lav
Programs: UA 1K (1.5MM)
Posts: 5,409
Originally Posted by
ORDnHKG
Two last 737 flights leaving close to each other also with close departure time, and same destination, UA 541 leaving roughly 20 min before UA 737. Noted the 737 require close to 5 hours for nonstop flight ORD-SFO, compare basically a 767 or 777 only need 4 hours and 30 min. Who is really going to fly on that plane ? On top if it there is audio only, no video, almost no difference than flying a AA MD-80.
Great photos!
I was on UA541 and got to enjoy some of the festivities at the gate next door. Great flight. Great crew. My report will be posted shortly.
Oct 31, 09, 12:50 am
FlyerTalk Evangelist
Join Date: Nov 2005
Location: Phoenix, AZ
Programs: American Airlines AAdvantage, Rapids Reward
Posts: 33,940
I agree with you. It is excellent trip reports. I'm sad to see last UA 733 aircraft to be retired. So unfortunately, I didn't have to chance to get on 733 for a long time. I am already know that I flown on WN by few years ago. I have been done it for almost few of the times. I am gonna miss 733 will be phase out of the fleet. I am already been flown on DL operated 733 aircraft out SFO-DFW but, it is my last ride on operating 733 out of DL fleet.
Also, I am already been flown on B737-200 aircraft by 4 years ago but, it was my last ride on DL fleet of 732 is phasing out of fleet. I am already flown out TPA-CVG back on August 2005. it was so much more enjoyable for flying on 737-200 aircraft. So its time to be retired by older fleets.
Oct 31, 09, 6:42 pm
Join Date: Jun 2002
Location: ORD, HKG
Programs: UA GL*G (0.65 BIS MM), AA EXP, Wyndham Gold, Marriott Gold
Posts: 9,665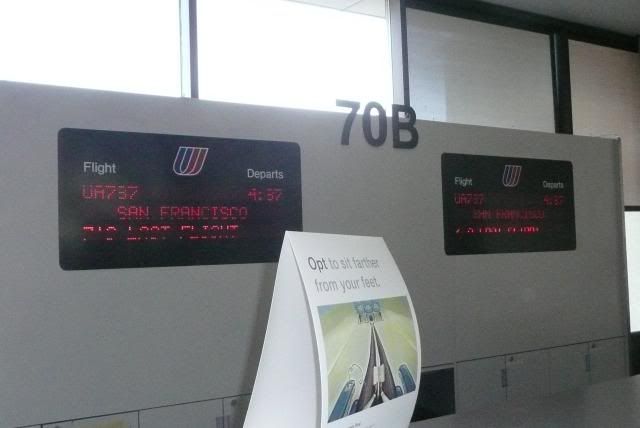 The screen at the podium actually flashing
"737's LAST FLIGHT"
LAX set up basically just like DEN, just cookies, sodas, and bottles of water, but at least they try to set it up nice, with some older UA 737 pictures.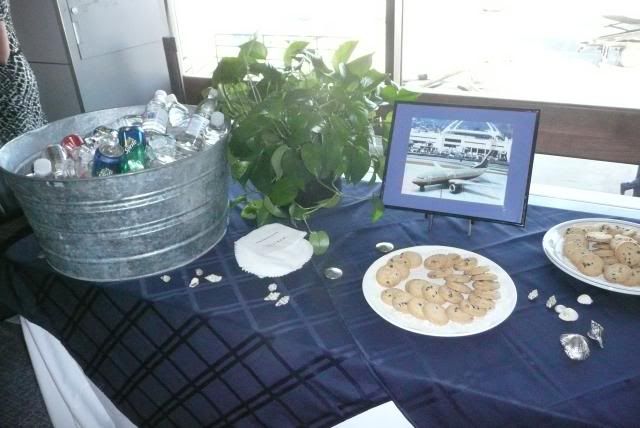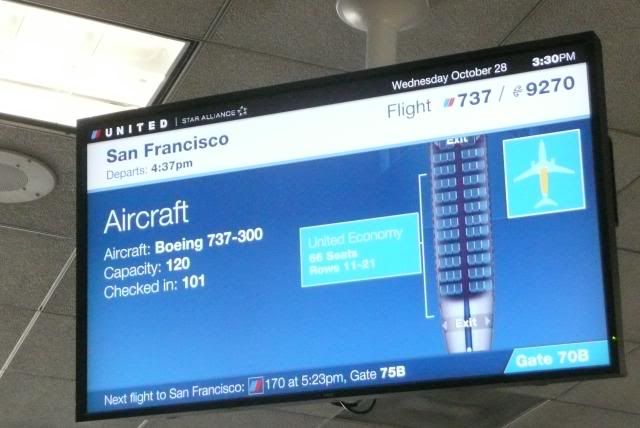 9 seats left, but still has 36 people on standby, it is going to leave many sad employees couldn't get on the last flight.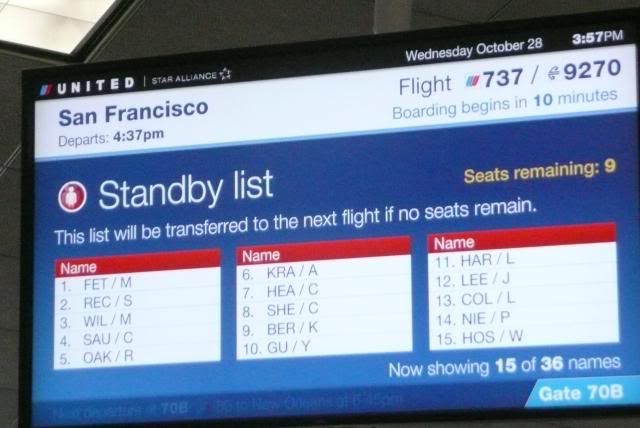 UA 737 DEN-LAX
N331UA 2 class 737-300
Seat 9E Exit Y class
4:37pm departure 10/28/09
N331UA
picture with company's
757 N515UA
, and the background with
777 N799UA (2999)
Another sticker for the LAX employees.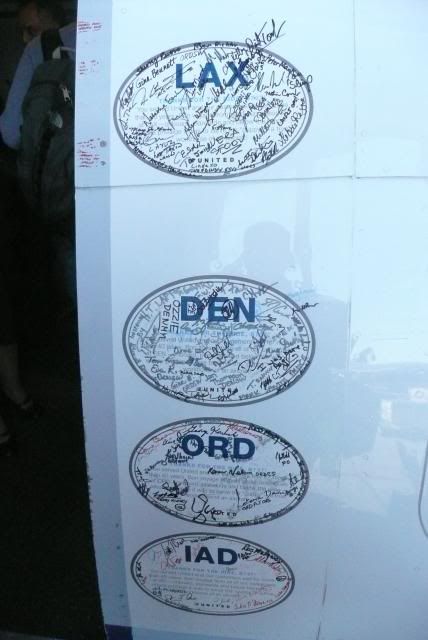 Once I stepped onboard, I immediately recognized the FAs, they were actually the same crew from DEN-LAX.
Purser
Heidi Van Hanswijk
Flight Attendant
Eva Kyziridis
Flight Attendant
Carla Martinez
For this segment, I finally get to move to another seat other than the non-reclinable 8A. The exit 9E is quite nice, this are only 2 seats with no window F seats. There is a metal bar on the floor right under the seat 8F, that is for the pax at 10F Exit to store the carryon bags, the metal bag hold the bag from slipping out hitting someone when there is turblence.
There were lots of people taking pictures cameras flasing everywhere, people were even taking pictures when FA doing the safety demonstration, holding up the 737-300 safety card.
They push back flavor my side again even I have changed seat. There were lots of UA employees want to get on the flight, but there are not as many on the tarmac as ORD to watch the plane push back from the gate.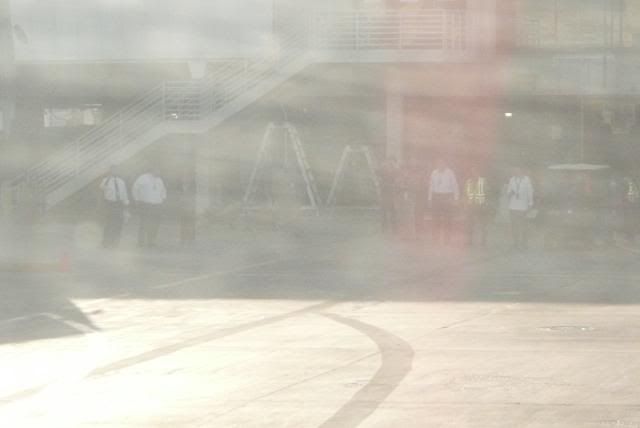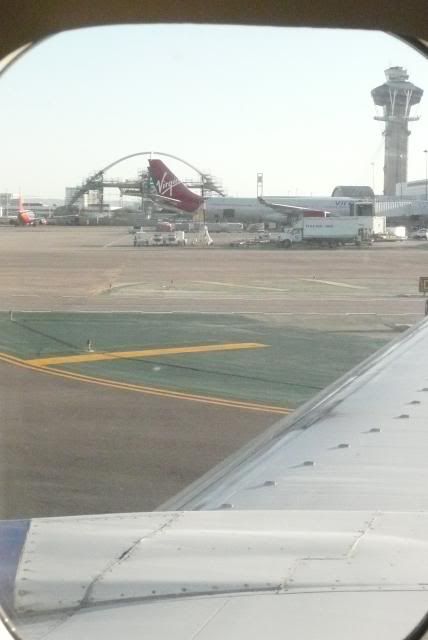 The plane took off from the west towards pacific ocean.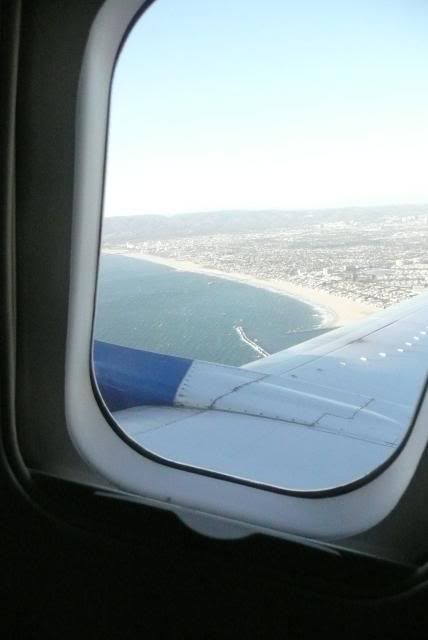 This is the shortest of all 4 segments, thank god even we were getting out from where we came from DEN, there are no more turblence. The flight went mostly smooth. For this flight, the final flight certificate and 737 fact sheet already been put on the seat. And just like the past two segments, they announce thru the PA the pax who got the most lifetime miles for the segment as well as most roundtrip.
United PR
also ask the flyertalkers to ring the call button, so that she know the person to give out the flight plans once again. This flight has a lot more FTers on board, F basically already has 4 FTers,
DEN
from the DEN-LAX segment, also joining
steve64
,
SFO 1K and his partner
. There are also new on board FTers in the back like
legalien
a row behind me at 10C.
Flaps all the way down for the final time, ready for landing at SFO the final destination of this flight.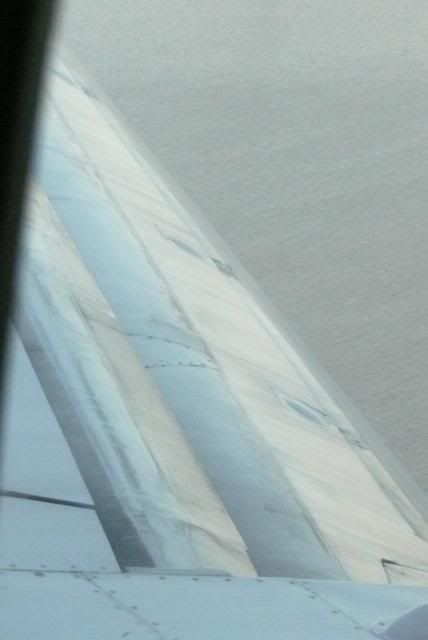 THe plane landed smoothly at SFO's runway 25L, everyone were clapping their hands, the captain would have no idea about it.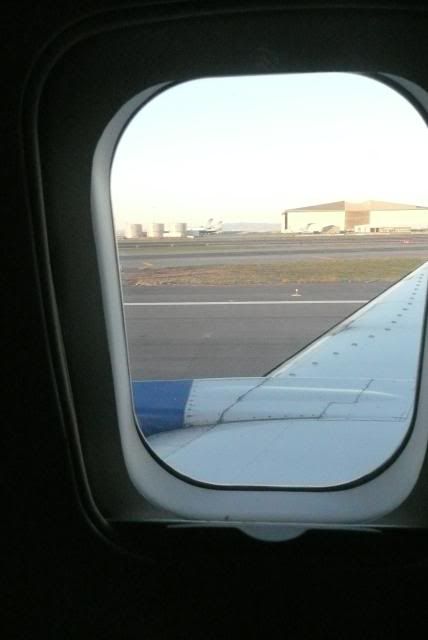 There were 4 fire engines, 2 on each side. At first after the plane landed, I was keep looking to see where are the fire engines, who knows they are actually parked right between T3 and International G. This is also my first time ever experience stream of water falling down right at the plane's window, kind of like "car wash". It is indeed a very good salute to the retirement of Captain Bob Russo, as well as final United 737 flight.
THe plane finally pulled to the last stop
SFO at gate 72
.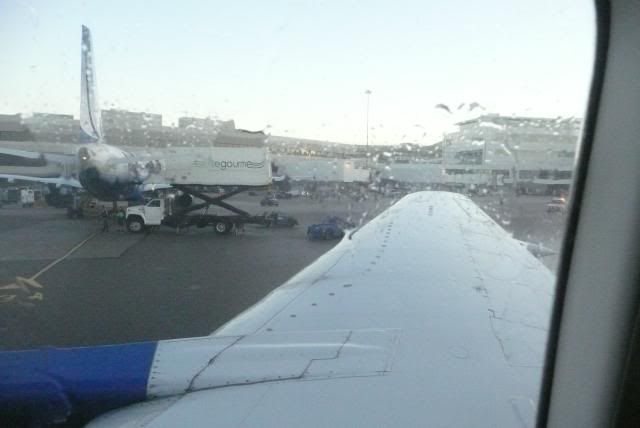 ---
Last edited by ORDnHKG; Nov 3, 09 at

9:54 pm
Oct 31, 09, 6:43 pm
Join Date: Jun 2002
Location: ORD, HKG
Programs: UA GL*G (0.65 BIS MM), AA EXP, Wyndham Gold, Marriott Gold
Posts: 9,665
At the end of the flight, there were still many people taking pictures insdie the plane, and many pax also take pictures with Captain Russo. It took almost 30 min for the captain finally leaving the plane. There were more than 50 UA employees already gathered around the gate area, clapping hands, celebrating the retirement of Captain Russo and UA's final 737-300. hence those two cakes just to make for them.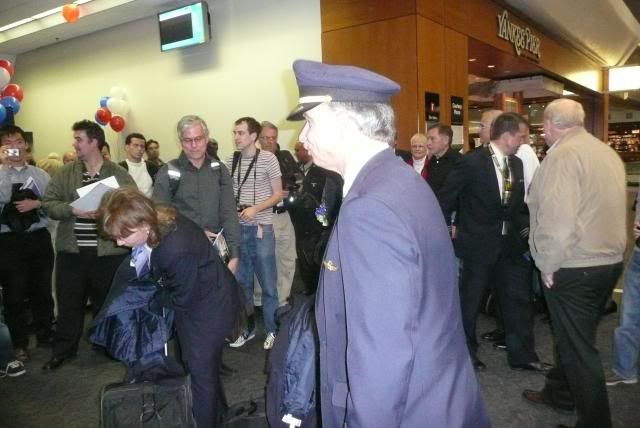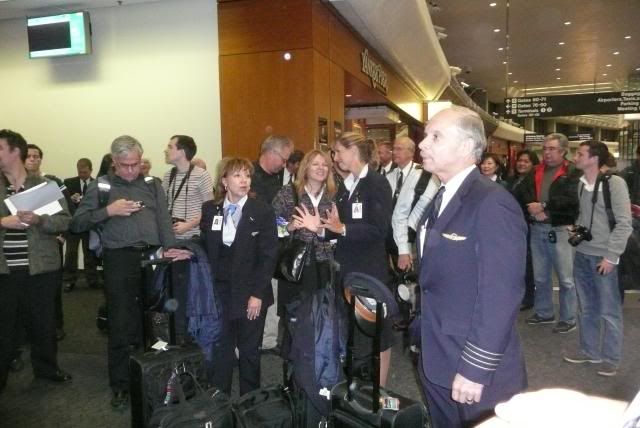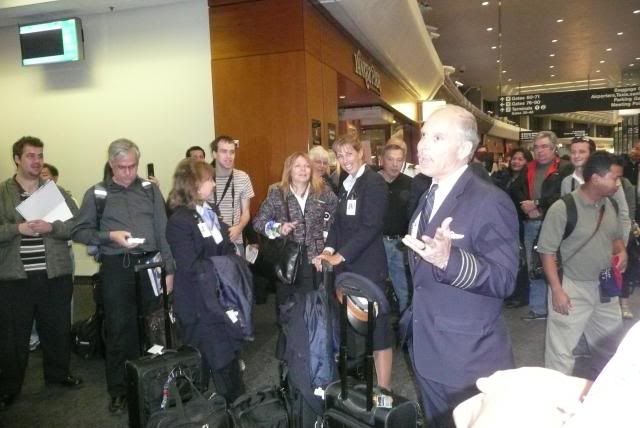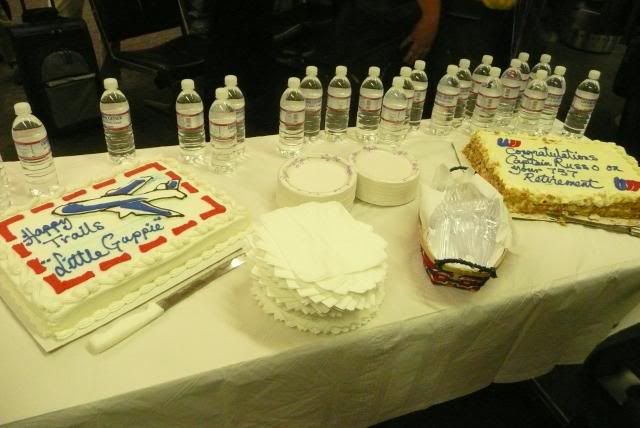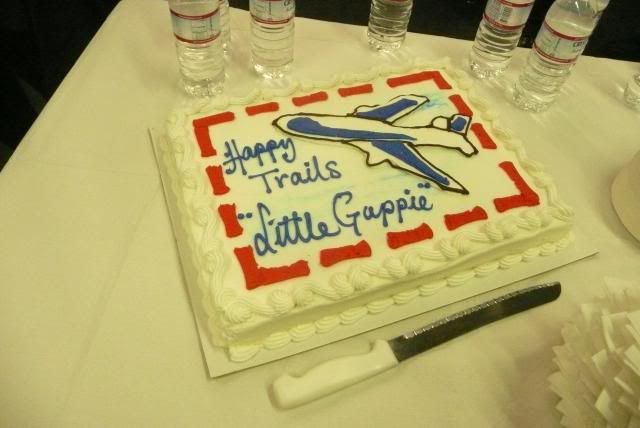 Some of the FTers on the LAX-SFO segment. from the far left
snowed, dsldog400, leagalien, ualdenver, DEN, me
, behind me is
sdg12, SFO 1K and his partner.
After almost 20hours, I got back to ORD, back at C24 as well, with my flight UA 968 from LAS A319 N829UA.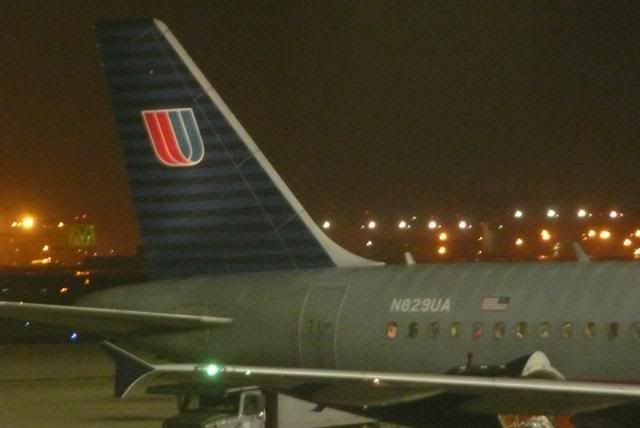 ---
Last edited by ORDnHKG; Nov 3, 09 at

10:03 pm