Route maps now online: OpenFlights meets Airline Route Mapper
Jun 26, 09, 2:41 am
Join Date: Sep 2003
Location: Terra Australis Cognita
Posts: 5,348
Route maps now online: OpenFlights meets Airline Route Mapper
---
Two of FlyerTalk's favorite tools are now available in one handy package:
OpenFlights
the flight logger (
thread
) now incorporates the awesome 53,000+ route database from
Airline Route Mapper
(
thread
), so you can just point and click on more or less any airport in the world to see where you can fly from there. Here's a screenshot: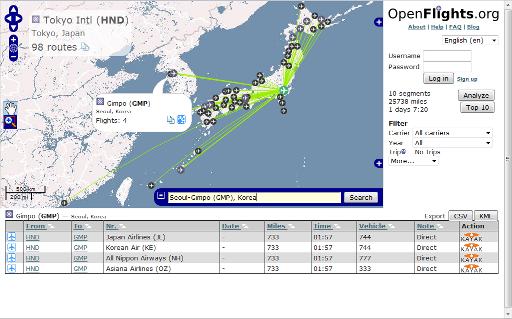 To try it out, just browse to
http://openflights.org
, enter the name/city/IATA code of your favorite airport in the new Search bar at the bottom, and click on
Search
. You can also
read more about it in the blog
.
Let me know what you think, and even more importantly, what you'd like to see next! Airline route maps are probably the next on the to-do list... and a big thanks to
cockpitvisit
, without whose data this would never have been possible.
Jun 26, 09, 8:19 am
Join Date: Jul 2005
Location: Abu Dhabi
Programs: EY Platinum
Posts: 1,571
The airline routes don't quite work for routes that have an intermediate stop. For instance, BA flies from LHR to EZE with a stop at GRU, but if I enter LHR as a starting point, the mapper shows the flight terminating in GRU.
Jun 27, 09, 12:11 am
Join Date: Sep 2003
Location: Terra Australis Cognita
Posts: 5,348
Yes, this is a limitation of the ARM database, it only contains point-to-point data. A few more from the
blog
:
The route map covers routes, not schedules. We don't know exact flight days, times or route numbers; however, click through to Kayak, and it can usually tell you.
The route map covers non-stop flights only. Singapore Airlines flies SIN-ICN-SFO, but if you click on SIN, you'll only see the first leg.
The route map does not support route finding. If there's no direct connection, we can't find it for you… yet.
Route maps are offered per airport, not per airline (although this is on the to-do list).
Filters, Analyze, Top 10 etc don't work on route maps (yet?). If you try to use them, it will just show you the data for your flights.
However, I'm currently working on extracting route data from users' actual flights, which should fill in some gaps.
Jun 27, 09, 11:56 am
Flyertalk Evangelist and Moderator: Coupon Connection and Travel Products
Join Date: Jul 2000
Location: Milton, GA USA
Programs: Hilton Diamond, IHG Platinum Elite, Hyatt Discoverist, Radisson Elite
Posts: 18,850
Am I missing something? When I put in PVD... I get 25 lines... but no map in the background... have to actually click on each plane to see what airport it is... while I can guess on most... it would be much nicer to have maps in the background for reference.
Jun 27, 09, 12:02 pm
A FlyerTalk Posting Legend
Join Date: Apr 2001
Location: NYC
Posts: 69,210
Jun 29, 09, 12:43 am
Join Date: Sep 2003
Location: Terra Australis Cognita
Posts: 5,348
To be more precise, to keep our bandwidth bills somewhat sane, we're using the free MetaCarta third-party server for the map files. They're pretty reliable (this was the first outage in months), but you do get what you pay for...
Click the + sign on the top-right and then choose the other radio button option there. That might work better.
Perversely enough, the second map option (NASA Global Mosaic) was
also
down this weekend.
First time that's ever happened though, and they're both up again.
Jun 29, 09, 1:53 am
FlyerTalk Evangelist
Join Date: Nov 2005
Location: Phoenix, AZ
Programs: AA Gold AAdvantage Elite, Rapids Reward
Posts: 37,340
Wow! Those website are so incredible. I am never seen it before. It was so much easier for me where I can find for which specific routes. Here some of specific routes:

FLL is 132 nonstop destinations cities
MIA is 200 nonstop destinations cities
LHR is almsot 400 nonstop out of Heathrow. It is lot of routes where come from. It was too many airlines are flying into Heathrow. I didn't realize know that.

You can select for which routes will look it up to tell you which airlines are already flies out of FLL, MIA, LHR, GRU and anywhere whole of the world.

Thank you so much for giving me best your new website. I am really likes it lot. Now, I can tell you for which airlines are already direct or codeshare.
Jul 2, 09, 5:29 am
Join Date: Mar 2007
Location: WAS / NYC / TYO
Programs: churning and burning
Posts: 3,931
Keep in mind that those numbers include codeshare routes, so many operated routes get counted twice, or five times, depending on how many airlines are interested in adding their code to the flight in question.
Still an awesome feature, and my hat is definitely off to
jpatokal
for implementing it. Bravo!
Jul 3, 09, 3:04 am
Join Date: Sep 2003
Location: Terra Australis Cognita
Posts: 5,348
Yup, this is a known bug, I'll see if I can fix it in the next release without murdering performance. Also, I'm still not entirely sure if a "route" should be defined as an airline operating between airports (as now), or simply as a pair of airports.
Still an awesome feature, and my hat is definitely off to jpatokal for implementing it. Bravo!
Thank ye muchly! And for my next trick, I'll be pulling airline route maps out of a hat and enabling airline filtering of airport maps -- tune in next week for more.
Jul 15, 09, 3:25 am
Join Date: Sep 2003
Location: Terra Australis Cognita
Posts: 5,348
Ta-dah!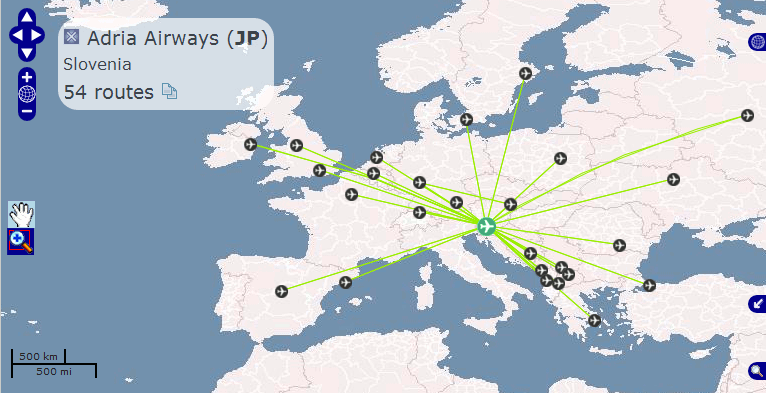 Also implemented is filtering by airline, so you can see flights on airline X from airport Y, and codeshare flights are now shown as dotted lines.
Details on the blog
.
Jul 18, 09, 2:05 am
Join Date: Sep 2003
Location: Terra Australis Cognita
Posts: 5,348
A few usability tweaks to the site:
Airline route maps now default to show "actual" (non-codeshare) flights only, which is less cluttered, faster to load and faster to zoom around. You can still switch on codeshares by selecting "XX and codeshare" from the Filter.
Switching airlines in the filter no longer causes the map to resize to fit, which makes it much faster to cycle through them.
Non-IATA and inactive airlines no longer show up in the Quick Search results.
A bit more detail
on the blog
-- including why we're still double-counting codeshared routes.
Jul 18, 09, 2:17 am
Join Date: Jan 2008
Posts: 127
That is really cool. Thanks a lot
Added to Bookmarks.
PS - Is there a way to hide the HUGE white box that says "<Your Selected Airport> <X> Routes" and takes up 1/4th of the screen?
---
Last edited by UnoriginalGuy; Jul 18, 09 at

2:21 am

Reason: question