Poll - how many countries have you visited?
Oct 19, 18, 8:49 am - Wikipost
| | | |
| --- | --- | --- |
| Please read: This is a community-maintained wiki post containing the most important information from this thread. You may edit the Wiki once you have been on FT for 90 days and have made 90 posts. | | |
Apr 14, 17, 1:23 pm
Join Date: Mar 2003
Location: DCA, HNL, SYD
Programs: UA 1K 2MM, AA EXP, DL Diamond, AS MVP75, AmEx Cent, Misc Hotel Bling, Moms love me
Posts: 4,915
Apr 15, 17, 8:25 pm
Join Date: Jul 2014
Location: Rowley, MA / Edgartown, MA / Christiansted, St. Croix (USVI)
Programs: UA LT GS/4.8MM, Marriott LT Titanium, IHG Platinum, Global Entry, TSA Pre✓, Korea SeS, APEC
Posts: 502
Here's what I can recall.

USA
Mexico
Canada
Honduras
Dominican Republic
Costa Rica
St. Lucia
St. Vincent and the Grenadines (several of them)
Bahamas
Puerto Rico
British Virgin Islands (several of them)
US Virgin Islands (all of them)
England
Scotland
Ireland
Spain
France
Holland
Belgium
Germany
Austria
Switzerland
Lichtenstein
Italy
Slovakia
Slovenia
Croatia
Monaco
Andorra
Sweden
Denmark
Norway
Israel
Dubai
Japan
Korea
Taiwan
China, many places, including Hong Kong and Macau
Thailand
Singapore
Malaysia
Australia

That's about all I can recall at the moment. Lots more to see in the world.
---
Last edited by John Aldeborgh; Apr 15, 17 at

8:31 pm
Apr 21, 17, 12:54 pm
Join Date: Aug 2016
Location: BQH / LHR / LGW
Posts: 51
Not including transiting through airports...
Australia
Austria
Azerbaijan
Bahrain
Belgium
Brazil
Canada
China
Czech Republic
France
Germany
Hungary
India
Ireland
Italy
Japan
Korea (South)
Macau
Malaysia
Mexico
Monaco
Morocco
New Zealand
Portugal
Russia
Singapore
Spain
Turkey
United Arab Emirates
United Kingdom
United States
Hoping to visit a couple more countries this year. I haven't been to any of the Nordic countries so they're definitely on the wish-list.
May 5, 17, 7:25 am
Join Date: May 2010
Location: Los Angeles
Posts: 61
At last count, 81:

Albania
Andorra
Argentina
Australia
Austria
Bahamas
Belgium
Bosnia and Herzegovina
Botswana
Brazil (10)
Bulgaria
Cambodia
Canada
Chile
China
Costa Rica
Croatia
Czech Republic
Denmark
Dominican Republic (20)
Egypt
Estonia
Finland
France
Germany
Greece
Hungary
Iceland
India
Indonesia (30)
Ireland
Israel
Italy
Jamaica
Japan
Jordan
Kenya
Laos
Latvia
Luxembourg (40)
Malaysia
Mexico
Monaco
Montenegro
Morocco
Myanmar
Nepal
Netherlands
New Zealand
Norway (50)
Oman
Panama
Peru
Philippines
Poland
Portugal
Qatar
Romania
Russia
San Marino (60)
Serbia
Singapore
Slovakia
South Africa
South Korea
Spain
Sri Lanka
Sweden
Switzerland
Taiwan (70)
Tanzania
Thailand
Turkey
UAE
United Kingdom
USA
Uruguay
Vatican City
Vietnam
Zambia (80)
Zimbabwe (81)
---
Last edited by mahlerfan; May 15, 17 at

4:57 pm
May 7, 17, 6:15 am
Join Date: Oct 2012
Posts: 728
How many countries in the world?
---
Hi! I would like to hear your feedback.
Just arriving in Brunei as my 95th country, I took some time to
update
the list of all countries visited and wanted to know how you count the overall countries in the world.
There are many ways to count and I explained my way
here
. In short: I counted the 193 UN nations, Holy see (aka Vatikan), Palestine and Kosovo. Maybe I will add Taiwan as well after visiting it later this year.
How many countries do we have in the world according to you?!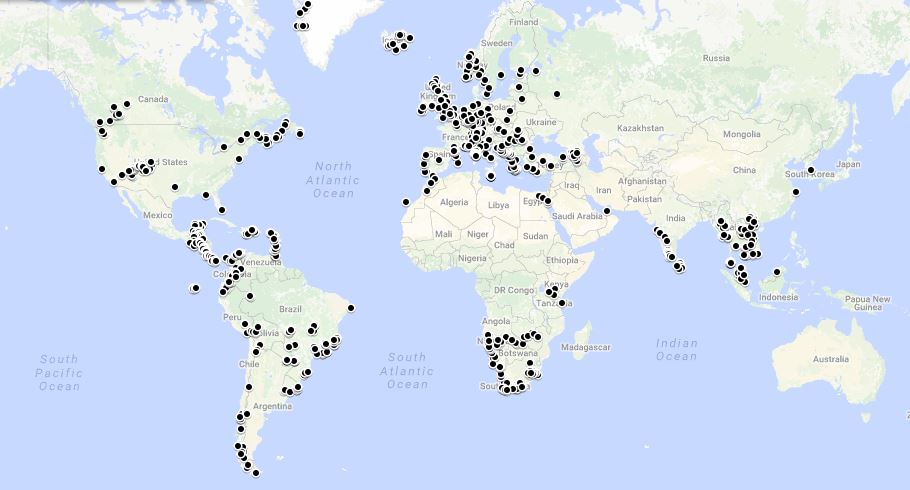 Cheers,
Chris
May 7, 17, 10:20 am
Moderator: Trip Reports
Join Date: Jul 2013
Location: Dubai
Posts: 3,132
Congrats on
#95
, Chris
.
Both Taiwan and China mainland agree there is only one China, they just disagree on who governs/controls it. So it doesn't make sense to me to count them separately as two countries.
May 9, 17, 10:20 am
Join Date: Mar 2003
Location: DCA, HNL, SYD
Programs: UA 1K 2MM, AA EXP, DL Diamond, AS MVP75, AmEx Cent, Misc Hotel Bling, Moms love me
Posts: 4,915
Jul 7, 17, 2:04 pm
FlyerTalk Evangelist
Join Date: Apr 2002
Location: Madison, WI, USA
Posts: 13,777
28 countries that I've stayed overnight in, mostly in Europe. Next week I'll add Malaysia. All except Canada came after I was 40 -- I didn't have the money or desire when I was younger.
---
Last edited by PaulMSN; Jul 7, 17 at

2:12 pm
Jul 7, 17, 3:00 pm
Join Date: Jul 2013
Location: HSV
Programs: UA 1K MM, HH Diamond, Global Entry
Posts: 439
1. Germany
2. Netherlands
3. Belgium
4. France
5. Luxembourg
6. Italy
7. Switzerland
8. Vatican
9. Poland
10. Czech Rep
11. Austria
12. Turkey
13. Kuwait
14. Bahrain
15. Qatar
16. UAE
17. Saudi Arabia
18. Iraq
19. Egypt
20. Thailand
21. Philippines
22. South Korea
23. North Korea
24. China
25. Hong Kong (when a British colony, so I'll count it)
26. Federated States of Micronesia
27. Rep of Marshall Islands
28. Mexico
29. Jamaica
30. Caymans
31. Haiti

Wow, not as many as I thought. But some of these I routinely go to 2 to 4 times a year.
Jul 9, 17, 8:42 pm
Join Date: Jul 2015
Location: Florida
Programs: Delta SkyMiles; Hilton HHonors; NEXUS; National Emerald Club Executive
Posts: 253
---
I've been to 36 so far:

Andorra
Australia
Austria
Bahamas
Belgium
Canada
Costa Rica
Croatia
Czech Republic
Denmark
France
Germany
Gibraltar
Hungary
Iceland
Indonesia
Italy
Jamaica
Liechtenstein
Luxembourg
Malaysia
Mexico
Monaco
Netherlands
Norway
Poland
Qatar
Singapore
Slovakia
Slovenia
Spain
Sweden
Switzerland
Thailand
United Kingdom
United States
Jul 10, 17, 4:36 am
Man, these flight deals keep popping up, and I can't seem to stop myself from booking them. Anyways, age 33 now at 56.
Africa:
Egypt
Morocco
Asia:
Brunei
Cambodia
China
India
Indonesia
Iran
Japan
Jordan [10]
South Korea
Laos
Malaysia
Maldives
Myanmar
Nepal
Oman
Philippines
Qatar
Singapore [20]
Sri Lanka
Syria
Thailand
Turkey
UAE
Vietnam
N. America + Caribbean:
Belize
Canada
Costa Rica
Cuba [30]
Guatemala
Mexico
Panama
USA
S. America:
Argentina
Brazil
Chile
Colombia
Peru
Uruguay [40]
Europe:
Austria
Belgium
Czech Republic
France
Germany
Greece
Hungary
Italy
Portugal
Serbia [50]
Spain
United Kingdom
Oceania:
Australia
Fiji
Palau
Vanuatu
For 2017, I have the following new countries planned/already booked:
Denmark
Lebanon
Netherlands
New Zealand
Stockholm
Originally Posted by
solewalker
I'm currently at 41 (by the 193 count). Aged 31:

Africa:
Morocco

Asia:
Cambodia
China
India
Indonesia
Iran
Japan
Jordan
South Korea
Laos
Malaysia
Myanmar
Philippines
Singapore
Syria
Thailand
Turkey
UAE
Vietnam

N. America + Caribbean:
Belize
Canada
Costa Rica
Cuba
Guatemala
Mexico
Panama
USA

S. America:
Colombia
Peru

Europe:
Austria
Belgium
Czech Republic
France
Germany
Greece
Italy
Portugal
Spain
United Kingdom
Vatican City

Oceania:
Australia

For 2016, I have the following new countries planned/already booked:
Argentina
Brazil
Brunei
Chile
Maldives
Sri Lanka
Uruguay