Acceptable Food To Bring Onboard
Sep 5, 18, 2:22 pm
Join Date: May 2013
Location: JFK
Posts: 269
Moderator note: Deleted off-topic reference to service animals

My go to in flight snacks have been dried chickpeas and a banana. I'm sure that my choices will offend someone, somewhere, but the chickpeas are satisfying yet relatively quiet and I can put the banana peel in the empty chickpea bag for easy clean up.
---
Last edited by obscure2k; Sep 6, 18 at

7:43 pm
Sep 6, 18, 7:57 am
Join Date: Aug 2004
Location: Austin, TX
Programs: Platinum AA, Gold Skymiles, *wood Platinum
Posts: 342
Originally Posted by
Redhead
My only requests are: nothing that smells, nothing that spills easily, and please try to stay away from nuts (or at least be willing to not eat them if your seat mate is allergic) since nut allergies are incredibly common (and becoming more so. 1 in 13 people!) and nuts generate a dust which can set off an allergic reaction in some. I always travel with extra epi-pens for my peanut-allergic daughter but I wonder if we could get to the ground in time if she reacted.

Other food allergies are less common and also generally less likely to cause a reaction unless the allergic person actually eats them

Thanks for asking
I appreciate this answer and maybe shouldn't do this as a reply but my wife is a celiac.
i just think it 100% makes sense to ask the person next to them if they have a food allergy. Be polite to people.
Sep 6, 18, 11:50 am
Join Date: Aug 2003
Location: msp
Programs: DL Gold, Marriott Gold, Hilton Gold
Posts: 726
Originally Posted by
txaggiemiles
Do eggs smell? I've never thought of eggs as a particularly offensive scent. "Rotten eggs" is an offensive odor but has a very particular connotation to me beyond just "eggs" (I.e. sulphur)

Ive always thought it was somewhat rude for people to bring fast food on board like McDonalds or a pizza as literally the whole plane would smell it. Any type of cold cut sandwich whether homemade or not would be fine. And I do like the chocolate idea for sharing.
I agree! The smell of McDonalds is NASTY and most definitely on the NO list. Cold foods only, hot foods stink things up.
Sep 6, 18, 2:58 pm
Join Date: Jun 2013
Location: Ontario, Canada
Programs: Aeroplan
Posts: 4,307
There comes a point where courtesy reaches its limits and no matter what you bring there is a risk of offending someone. Until which time the cabin crew admonishes me about the impact of my take-away food I'm probably not going to be all that troubled by the opinions of other passengers. If I can buy it on the airside then I'm fully prepared to bring it on the aircraft. At Heathrow that would include, depending on the terminal, chicken curry, miso and shimeji ramen, a hamper of caviar and smoked fish among other pungent delights.
Sep 6, 18, 5:09 pm
Join Date: Jul 2014
Location: JRF
Programs: Marriott PP, UA Silver, National EE
Posts: 1,003
>tfw no smelly shumai to bring on your next Shinkansen trip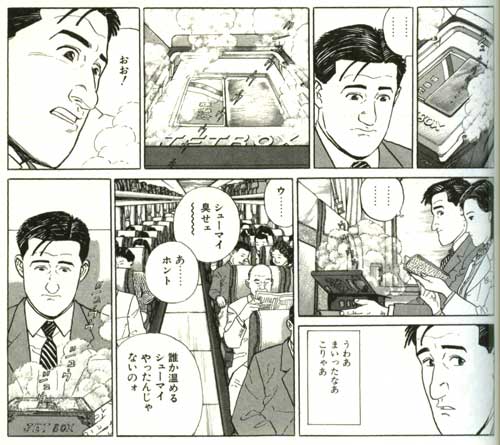 Sep 6, 18, 6:39 pm
Sep 7, 18, 8:53 am
A FlyerTalk Posting Legend
Join Date: Jul 2002
Location: MCI
Programs: AA Gold 1MM, AS MVP, UA Silver, WN A-List, Marriott LTPP, HH Diamond
Posts: 45,283
Sep 7, 18, 3:53 pm
Join Date: Jul 2018
Posts: 47
Just to update, my flight is now over and I took the following -
M&S ham & mustard sandwich.
M&S Percy Pigs (offered to share but, thankfully, no takers)
Millionaire shortbread bar
Some weetabix porridge bar.

No dirty looks (that I noticed) so I think those were all good choices.

I should add, it had been 4 or 5 years since I last flew United, and they seemed to have upped their game on a number of fronts.
Cabin crew were much less surly, and one was even what you might describe as actively pleasant. That was a surprise, given my previous experiences with them.
And the food was actually pretty tasty (chicken risotto, and some very nice ice cream). So I could've went without bringing my own, were it not for my requirement to eat at specific times (short term medication issue).

The seat next to me was empty, which may have made it a much better experience than it would normally be.
But certainly one to be considered again, given that I get a direct flight from EDI to ORD, and miss Heathrow.
Solid 8/10.

And thanks to all the people who provided helpful input.
Sep 7, 18, 4:32 pm
Join Date: Mar 2007
Location: SJC/SFO
Programs: UA 1MM/*A Gold, WN A+ CP, MR LT PP, IHG Plat, HH Gold
Posts: 4,992


Be empathetic when deciding what's "smelly". There might be foods you enjoy which have very strong odors that turn off a lot of people. For example, some love the taste of deviled eggs; but some of us gag at the sulfuric smell.
Sep 8, 18, 3:43 pm
FlyerTalk Evangelist
Join Date: Sep 2003
Location: Living the dream in Antigua
Programs: AA PLAT 2MM, *A Gold, WN detractor
Posts: 25,176
Sep 8, 18, 10:55 pm
Join Date: Jun 2006
Location: California
Programs: AS,WN,UA,B6,hotels
Posts: 4,235
Posting Rules
You may not post new threads
You may not post replies
You may not post attachments
You may not edit your posts
---
HTML code is Off
---